Today's lomi lomi salmon recipe may take some time to make, but it's actually simple and requires only minimal effort. Let's begin!
What Is Lomi Lomi Salmon?
Lomi lomi salmon is a popular Hawaiian side dish.
In the Hawaiian language, the word "lomilomi" means kneading or massaging. The name hints at the technique used to prepare the salmon.
Traditionally, Lomi lomi is made with homemade salted salmon. A particular type of Hawaiian salt is rubbed onto a salmon fillet to cure it.
Similar to our healthy, low-calorie ceviche, this cured fish has an enjoyable texture and addictive flavor. We're willing to bet that once you take a bite, you won't be able to stop.
Once the fish is salted, you can begin making your lomi lomi salmon.
Cut the cured fish and mix it with sweet onions, tomatoes, scallions, cilantro, and whatever spices your heart desires.
Is Lomi Lomi Salmon Healthy?
Like many of our other recipes, today's lomi lomi salmon also follows our healthy eating guidelines. This means that you don't have to worry about excessive amounts of calories, saturated fats, or sodium.
Now, let's take a look at salmon's nutritional values.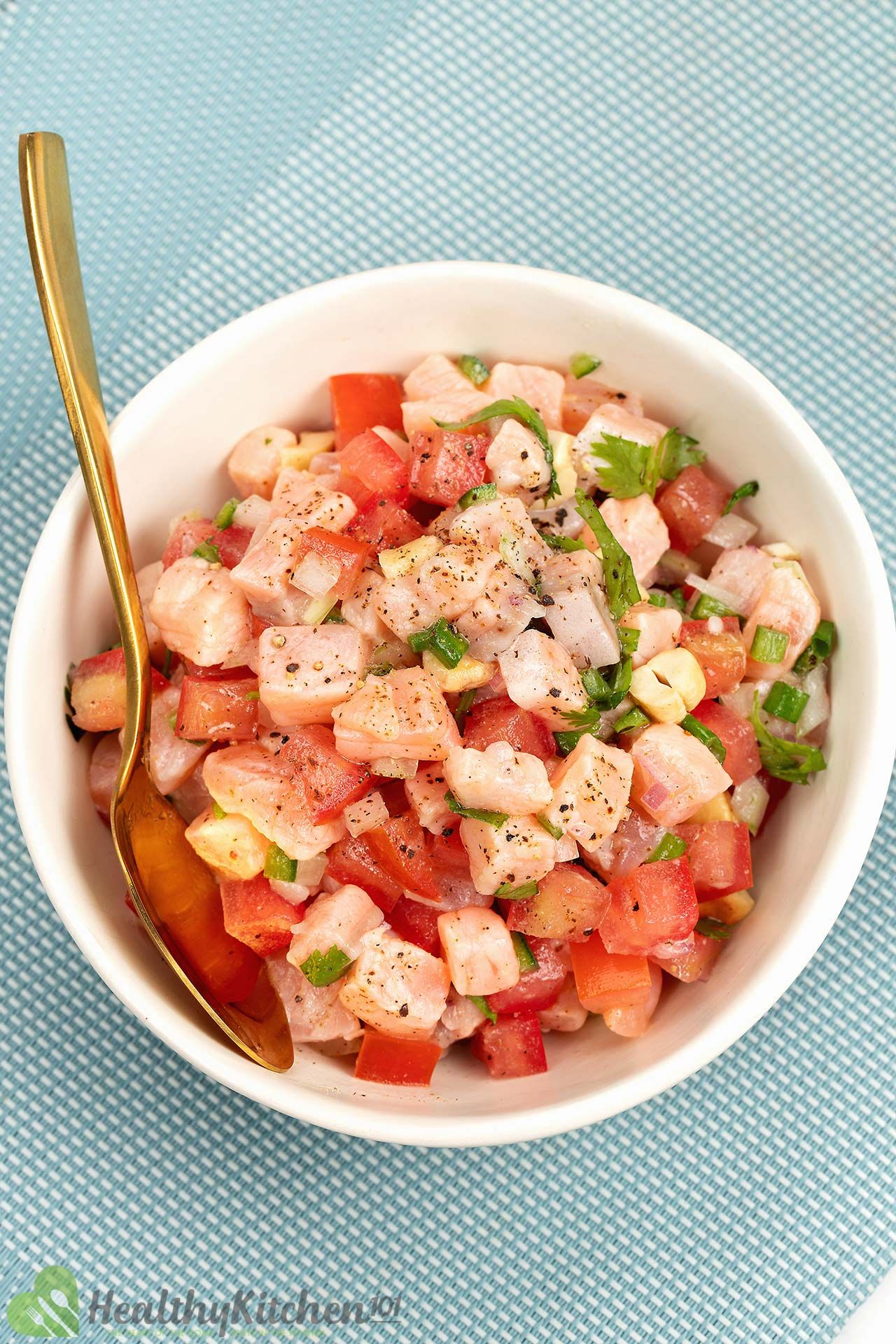 Salmon is high in protein. A 3-oz fillet can give you roughly 19g of protein, which is relatively high compared to other types of fish.
Overall, though, salmon is fairly low in calories compared to many similar protein sources. So, when you eat salmon, you consume fewer calories but feel full longer.
Not only does salmon provide you with protein, but it also gives the body omega-3, a good type of fat that can have positive effects on your cholesterol levels.
In addition, salmon also provides the body with many antioxidants and micronutrients such as potassium, selenium, and B vitamins.
How Many Calories Are in Lomi Lomi Salmon?
Our lomi lomi salmon contains about 207 calories per serving. One serving provides you with a hefty portion of protein and vegetables.
Since this is a side dish, you will want to pair it with another dish in order to feel full. You will also need more calories to fully fuel your body and keep it functioning.
Main Ingredients for Lomi Lomi Salmon
The main ingredients for this dish are often salted salmon, tomatoes, onions, and scallions. However, we have customized the recipe to make it more flavorful and enjoyable.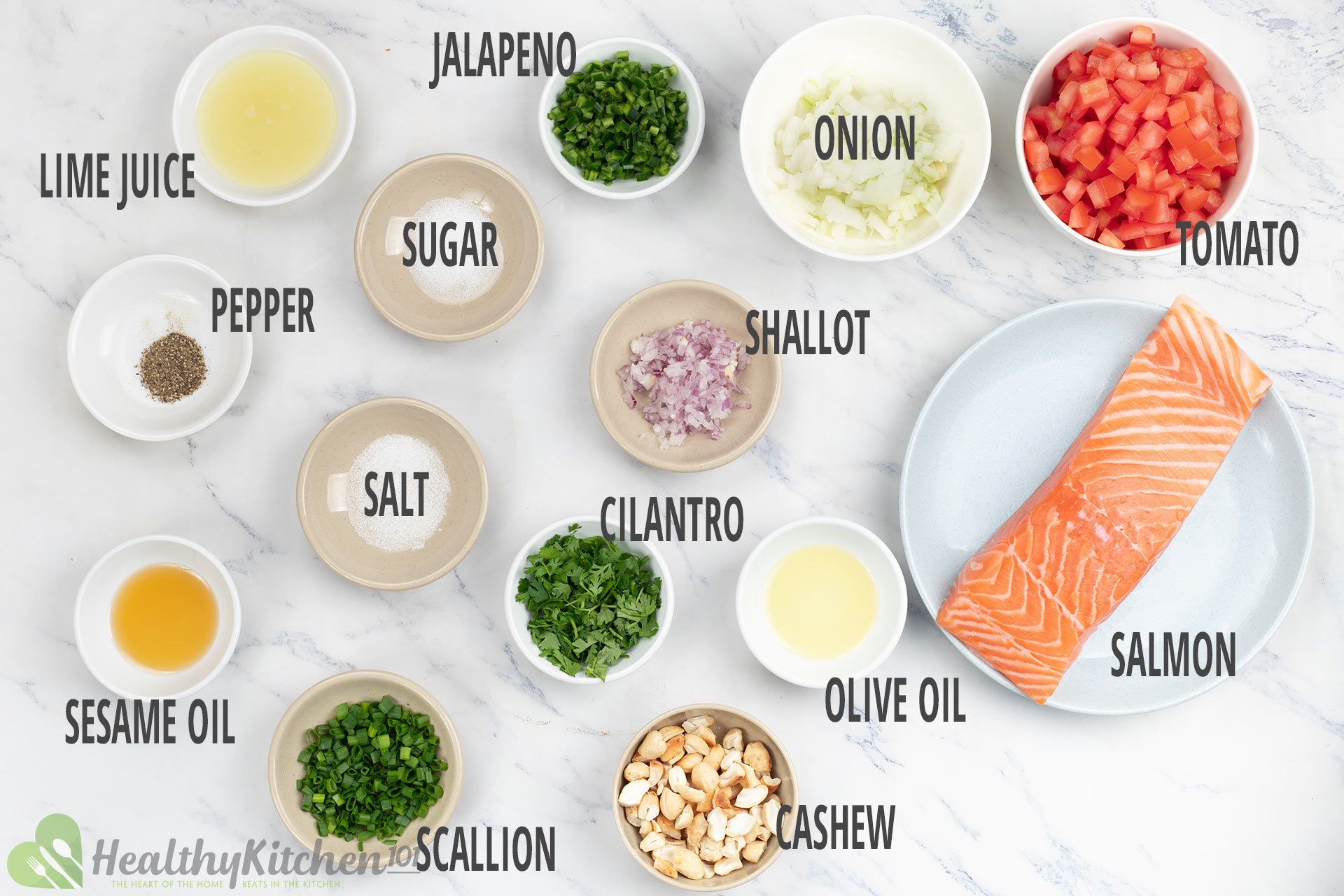 Here are our ingredients:
Raw salmon: We'll use a boneless, skinless sockeye salmon for today's recipe.
Onions and shallots: You may think these are quite similar in taste, but shallots are actually milder and a bit sweeter.
Tomatoes: We'll use roughly one part of diced tomatoes for every two parts of salmon so that you get a bit of freshness in each bite.
Lime juice: This adds acidity and brightens up the dish. It also helps "cook" the salmon, reducing the raw taste as well.
Olive oil and sesame oil: The oils add fragrance and bring the dish together.
Jalapeño: These spicy peppers add heat to your dish. The spice also balances out the lime and fatty olive oil.
Cashew: Adding these crunchy nuts to the dish will give it an interesting mix of textures.
Salt, sugar, and pepper: Sugar is not a traditional seasoning in a lomi lomi recipe. However, it helps to cure the fish better and makes the sour taste of lime less sharp.
Herbs: Scallions and cilantro. These fresh herbs give the dish more flavor and aroma, making it tasty and wholesome.
How to Prepare Salmon for This Recipe
As mentioned, salted salmon is a crucial ingredient in today's recipe. You can find it in a fishmonger, or save on costs by making it yourself.
We recommend buying a boneless, skin-on fillet and curing it yourself to make the salted salmon. Here's how you prepare it:
Place the fillet on a cutting board, skin-side down. Cut into the fish, as close to the skin as possible, and remove the skin.
Rinse the salmon gently to remove any scraps.
Thoroughly pat it dry with a kitchen towel.
Now your fish fillet is ready to be salted.
It doesn't make a difference whether you plan on curing or cooking salmon, the preparation is essentially the same. Check out these maple glazed salmon, pan seared salmon, and poached salmon recipes and give it a try.
How to Make Lomi Lomi Salmon
Here is a brief step-by-step instruction of our lomi lomi salmon recipe: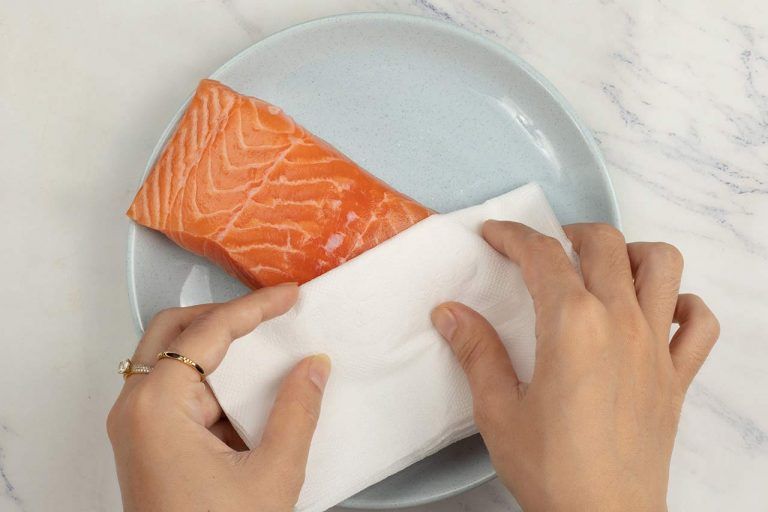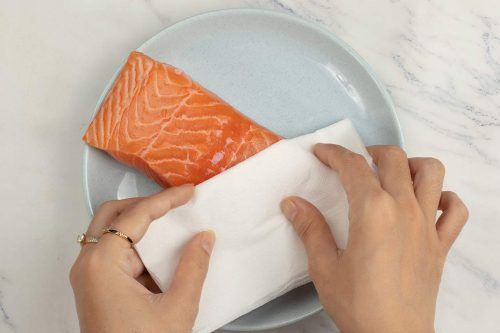 Prepare the fish.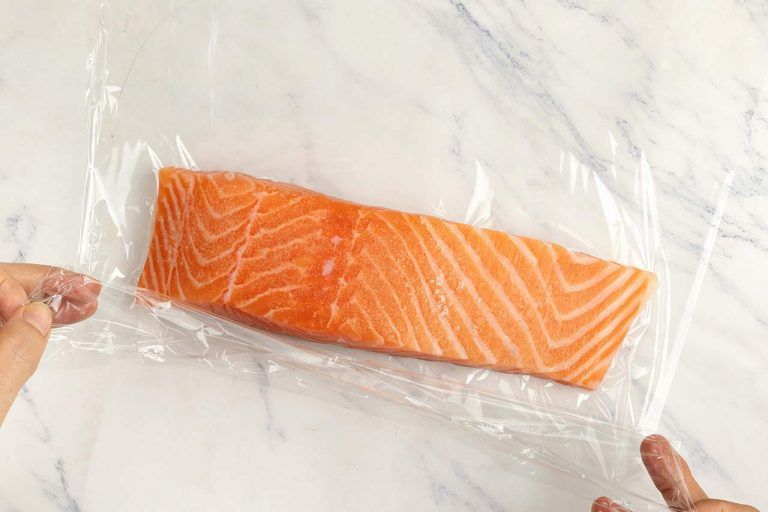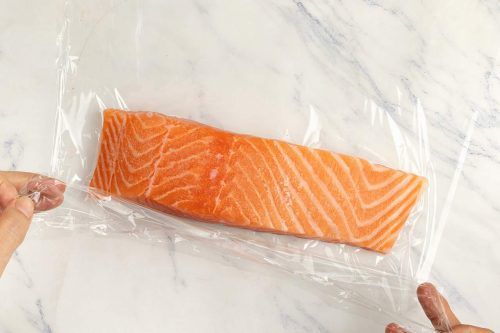 Cure the fish.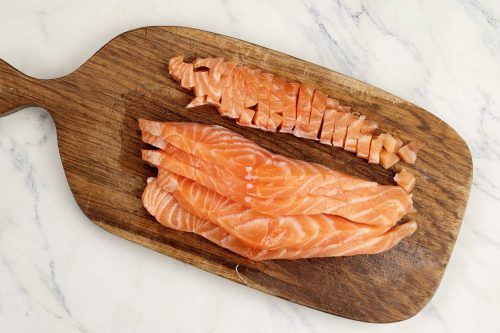 Cut the fish.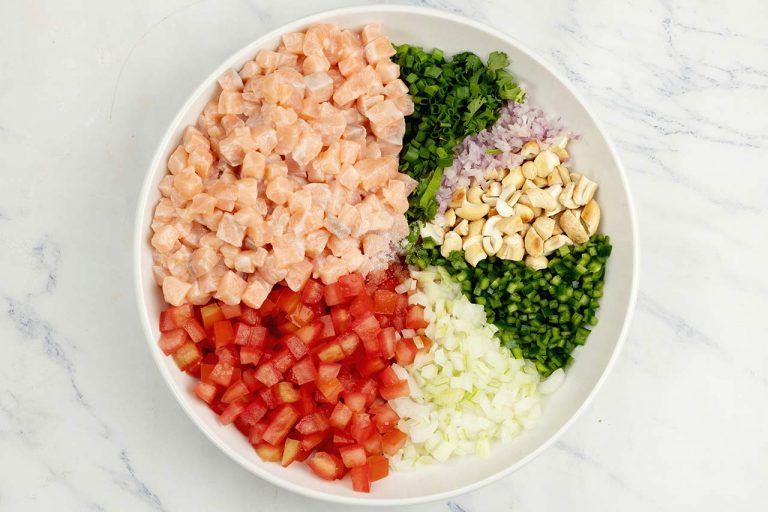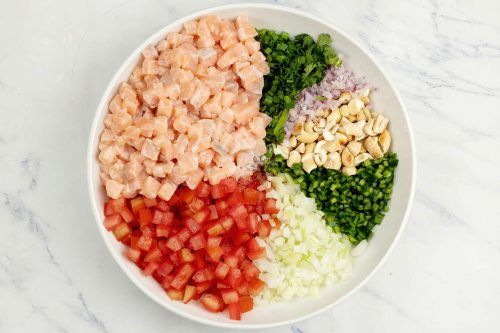 Mix the salad.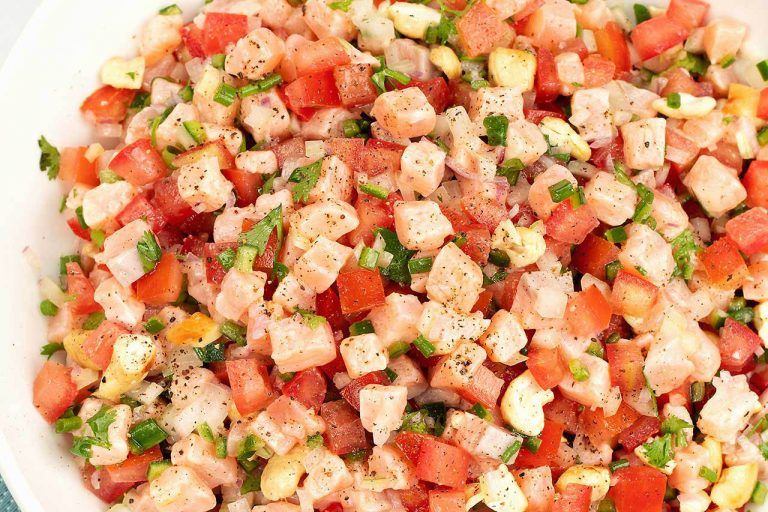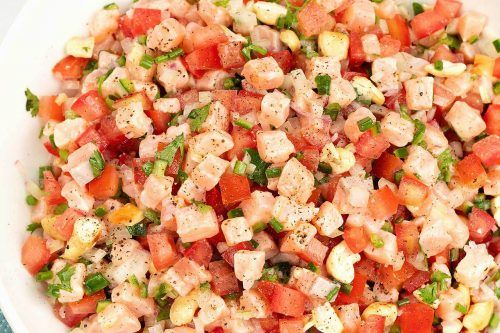 Serve.
Full ingredient measurements and detailed instructions are available in the recipe section below.
Other ways to prepare fish include heating it to make pan fried salmon, baking like in this honey mustard salmon, or this perfect way to cook salmon with…
Tips on Serving Lomi Lomi
Lomi lomi salmon can be served at room temperature but it will taste better when chilled. If you have the time, we recommend putting it in the fridge for a couple of hours before serving.
More Salmon Recipes to Try Out:
How Long Does Lomi Lomi Salmon Last?
Since our lomi lomi salmon contains cured fish mixed with vegetables, it can only last about 3 days.
That being said, the salted fish alone can last up to 5 days. We recommend keeping it in its curing salt and in an airtight container to prolong shelf life.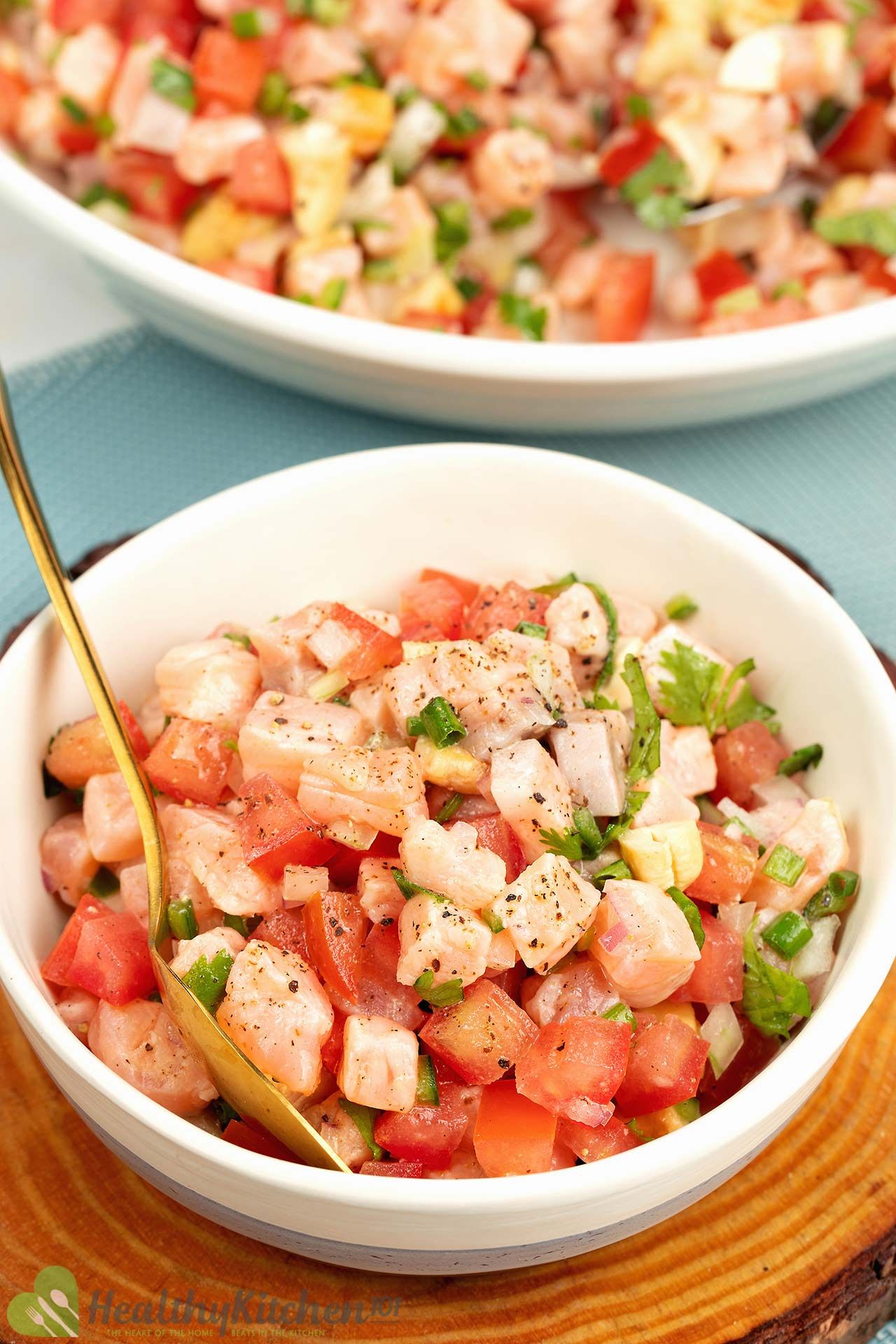 Can You Freeze Lomi Lomi Salmon?
Since this lomi lomi salmon is so addictive you may need to make a big batch to satisfy your cravings.
Although this cured fish will only last 3 days in the fridge, it can be preserved for a month in the freezer. Putting it in a ziplock bag or an airtight container will help prevent freezer burn and retain more flavor.
Keep in mind that you should freeze the cured fish only, and leave all fresh ingredients out. When you want to eat lomi lomi salmon, prepare the fresh ingredients while you wait for the fish to thaw.
We also have this top salmon ideas, dedicated to salmon lovers. The recipes are easy to follow and complied with our healthy eating standards.
Other recipes you may want to try: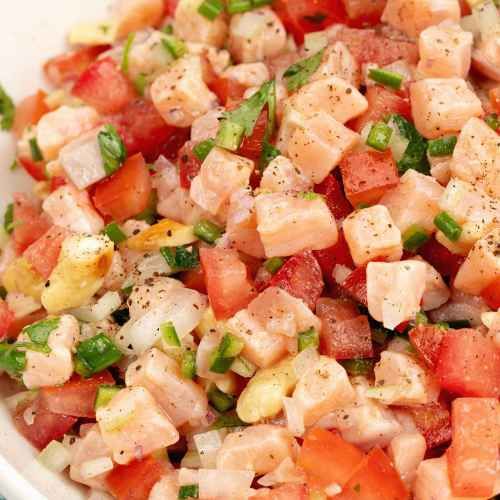 Lomi Lomi Salmon Recipe
Although this lomi lomi salmon recipe is easy, it can be quite time-consuming. But be patient. It's worth the wait.
Ingredients
12

oz

skinless boneless salmon

1/4

tsp

salt

1/2

tsp

sugar

divided

2

tbsp

lime juice

freshly squeezed

1/4

tsp

black pepper

1

tsp

olive oil

1

tsp

sesame oil

2

oz

onion

finely diced

0.5

oz

shallot

finely minced

1

oz

cilantro

roughly chopped

0.2

oz

scallions

finely chopped

1

oz

jalapeno

finely diced

7

oz

tomatoes

seeds removed, finely diced

1.5

oz

cashews

roasted, roughly chopped
Instructions
Prepare the fish: Gently rinse and clean the salmon. Use a kitchen towel and pat it dry thoroughly.

Cure the fish: Place the salmon on a piece of plastic wrap. Sprinkle ¼ tsp salt and ¼ tsp sugar on the salmon. Coat all sides evenly. Fold the plastic wrap over the salmon to cover and put it in the fridge for at least 8 hours.

Cut the fish: Once cured, rinse the salmon to remove the salt and sugar. Pat it dry with a paper towel. Place it on a cutting board and cut into small cubes. Put the salmon into a bowl and marinate with lime juice for 5 minutes.

Mix the salad: In a large bowl, combine ⅛ tsp salt, ¼ tsp sugar, the rest of the ingredients, and the salmon along with lime juice. Mix gently.

Serve: Transfer the salmon to a serving platter. It will taste better when served chilled.
Nutrition
Nutrition Facts
Lomi Lomi Salmon Recipe
Amount Per Serving (1 serving)
Calories 207
Calories from Fat 90
% Daily Value*
Fat 10g15%
Cholesterol 63mg21%
Sodium 196mg9%
Potassium 660mg19%
Carbohydrates 9g3%
Protein 20g40%
Vitamin A 978IU20%
Vitamin C 23mg28%
Calcium 34mg3%
Iron 2mg11%
* Percent Daily Values are based on a 2000 calorie diet.