This pan-seared salmon burger recipe can help you make luxurious burgers out of inexpensive ingredients.
Do you sometimes find yourself wanting a burger, but not the home-cooked version of fast foods? If so, try our flavor-packed salmon burgers with juicy salmon patties, rich sauce, and bundles of fresh greens.
And, besides guaranteeing a restaurant-like experience, we also care about what nutrients go into each burger. It is a perfect balance between macros and flavors.
What Is Salmon Burger?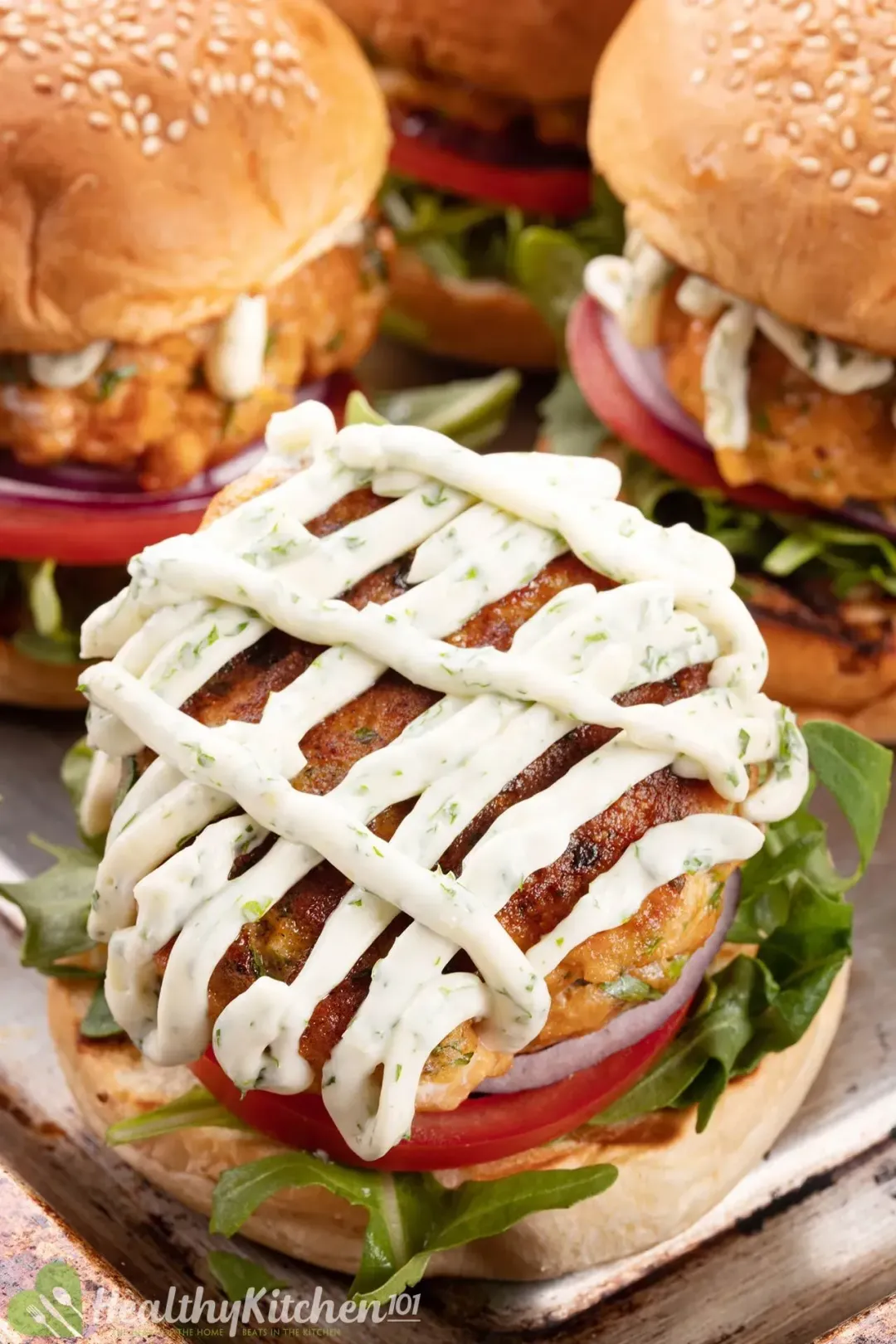 A salmon burger bears features of a regular beef burger and more. Instead of a flat beef patty, sandwiched between the buns is a 1-inch-thick salmon patty infused with herbs, flavors, and juiciness.
Besides the large patty, our salmon burger also has complementing toppings and a delicious homemade sauce. They are pretty basic ingredients that you should have in your pantry.
You can use what's listed in the recipe, or get creative and assemble your very own salmon burger. It's the patty that needs the most attention.
Are Our Pan-seared Salmon Burgers Healthy?
Burgers often get a bad rap for being a fatty food, yet it is not always true. Burgers can be especially good for your health, and salmon burgers provide even more health benefits.
To start with, let's see what burgers bring to the table in general. We see a protein-packed patty, an abundance of veggies with plenty of fiber and vitamins, and burger buns, a good source of carbs.
With salmon in place of red meat or poultry, plenty of good fats are added to the burger. Mackerel and salmon are the foods richest in DHA— omega-3, which is proven to bring many health benefits.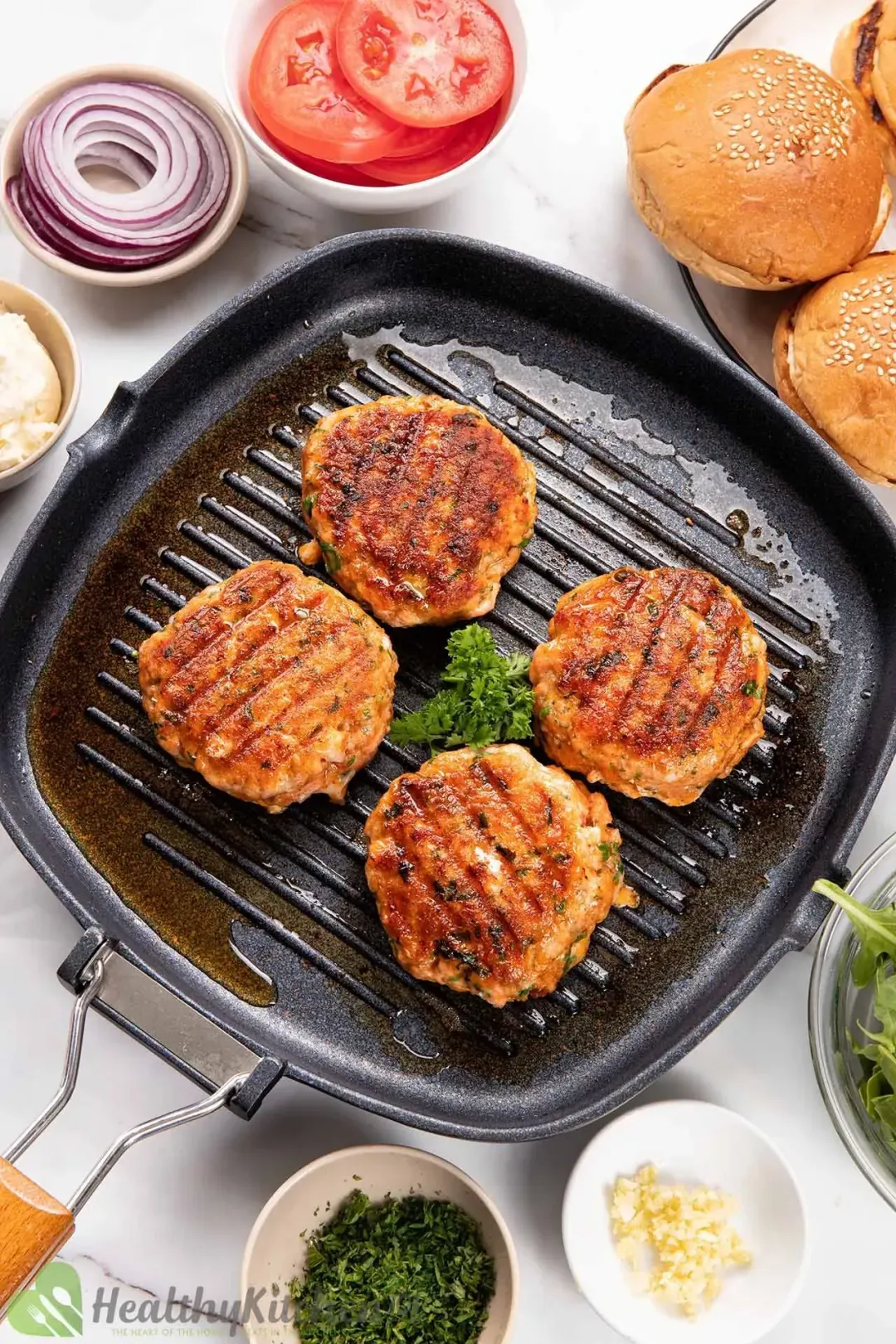 Not to mention, beef, or red meat in general, contains a lot of saturated fat, which is bad for the heart. Salmon is a much better alternative for your heart, tastebuds, and the body overall.
Now if the salmon happens to be of good quality, you may also want to try this Lomi Lomi salmon recipe. Not cooking the fish helps to preserve the fragile unsaturated fats better.
A delicious burger needs a well-seasoned patty, complementing toppings, and sauce.
Salmon Choice
Of course, you'll need some salmon to make the patties. Some like to cook the filets whole then flake it with a fork and make patties, but we don't like our salmon overcooked. We cut the filets into small cubes, and make the patties with raw fish.
If you've got some leftovers, how about keeping those in the freezer for tomorrow's tacos? We have a quick recipe for you.
What to Put on a Pan-seared Salmon Burger?
Salmon may taste delicious on its own to some, but we are not keeping ours plain. A delicious burger needs a well-seasoned patty, complementing toppings, and sauce.
1. Salmon Patty Seasoning
The patty contains a combination of fresh herbs and seasoning powders: scallions, cilantro, garlic, and coriander powder. Fragrance is really important, and we're keeping it moderate instead of overwhelming.
We also incorporate mustard into the patties. It adds a certain je ne sais quoi that makes the burgers extra appealing.
Of course, there are the must-haves, salt and pepper. They might not make a burger perfect, but a perfect burger definitely doesn't start with a bland patty.
And finally, a dash of lemon juice. It really brightens the flavor and makes a difference in taste.
2. Salmon Burger Toppings
Burger toppings not only add flavor and texture, but also make the burger mouthwatering, and reset your palate.
We first went for the classics, tomato and red onion. But instead of lettuce, we opted for arugula, which has more nutrients and pairs better with salmon.
Feel free to add or subtract whatever toppings you feel like. It's important to get creative.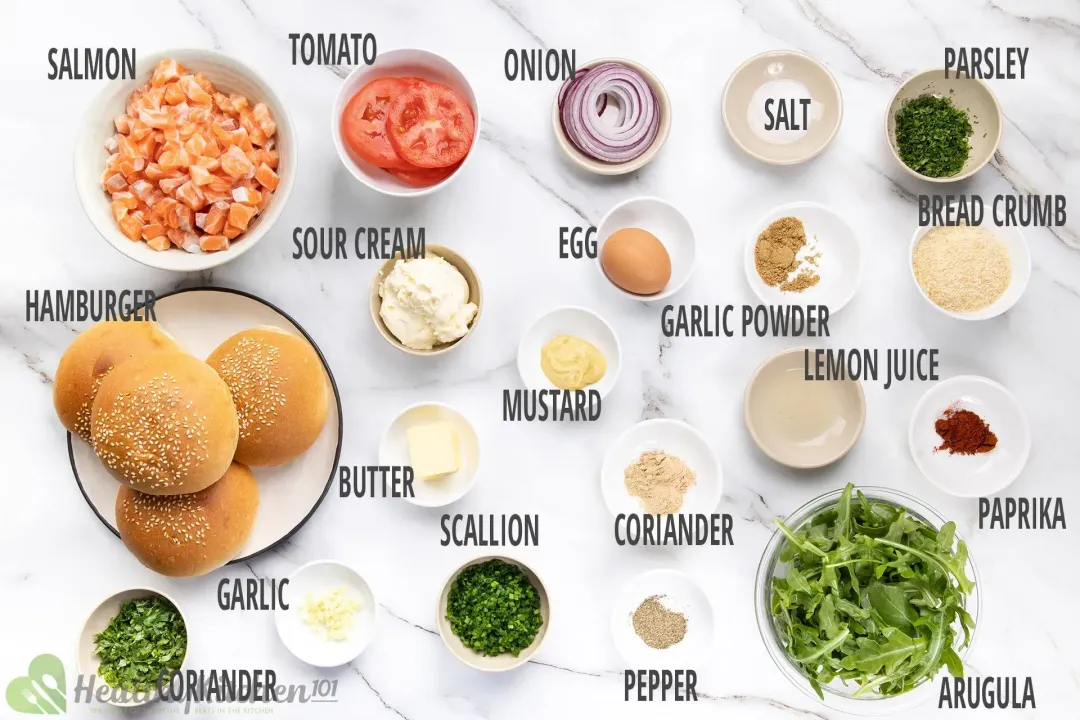 3. Salmon Burger Sauce
A classic mayo-tomato sauce would do nicely with this burger, but we didn't want to stop there; we're open to new experiences.
We tried out a sour cream sauce and everyone fell in love. It's made by combining sour cream, lemon juice, parsley, and garlic— really refreshing.
If you prefer something more tangy and fragrant, try making a lemon dill sauce. It has sour cream, a handful of dill and parsley, salt and pepper, and cayenne for a mild kick.
How to Make a Pan-seared Salmon Burger
This is an overview of our pan-seared salmon burger recipe. For a detailed how-to, refer to our recipe card down below.
Tips for Making the Best Salmon Patty
Because salmon is delicate, it should not be ground like beef. Instead, we first give it a rough chop, then pulse in a food processor so there are still large bits.
Our salmon patties also use egg as a binder to prevent the patty from falling apart. It's the secret to a moist patty.
There are also breadcrumbs added to the patties, which make them lighter.
As a side note, wet your hands while you're forming the patties so the patties don't stick.
What to Serve with a Pan-seared Salmon Burger
Nothing complements a good burger like a side of salad, fries, and iced coke. But today, we're trying something new: a beetroot salad and a pineapple cucumber juice: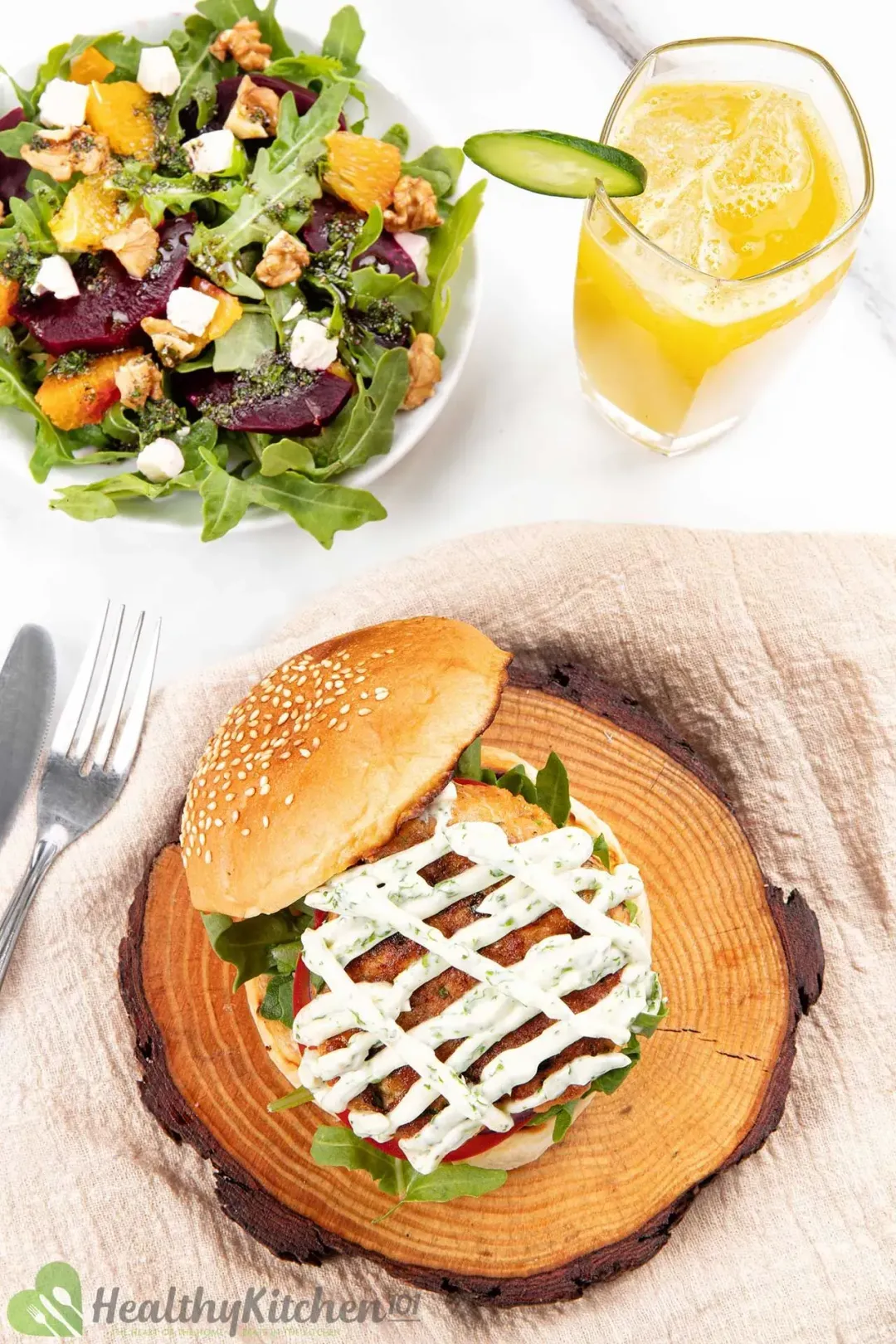 We love how unusual the combination is, yet it made so much sense. Something about the juicy citruses, boiled beetroots, and the arugula dressed in zingy, zesty dressing that kept us wanting more bites from the burger.
And the pineapple cucumber juice? It's a simple juice that we whipped up using leftovers in the fridge, yet it was so good.
How Long Do Pan-seared Salmon Burgers Last?
You can store cooked patties, burger buns, sauce, and fresh veggies in the fridge separately and they'll last for up to 3-4 days. If you want to store raw patties, we recommend putting them in the freezer.
Can You Freeze Salmon Burgers?
Raw patties can last up to 3-4 months, whereas cooked patties can last for 4-6 months. Store each patty in individual Ziploc bags so you can take them out to cook or reheat whenever you want.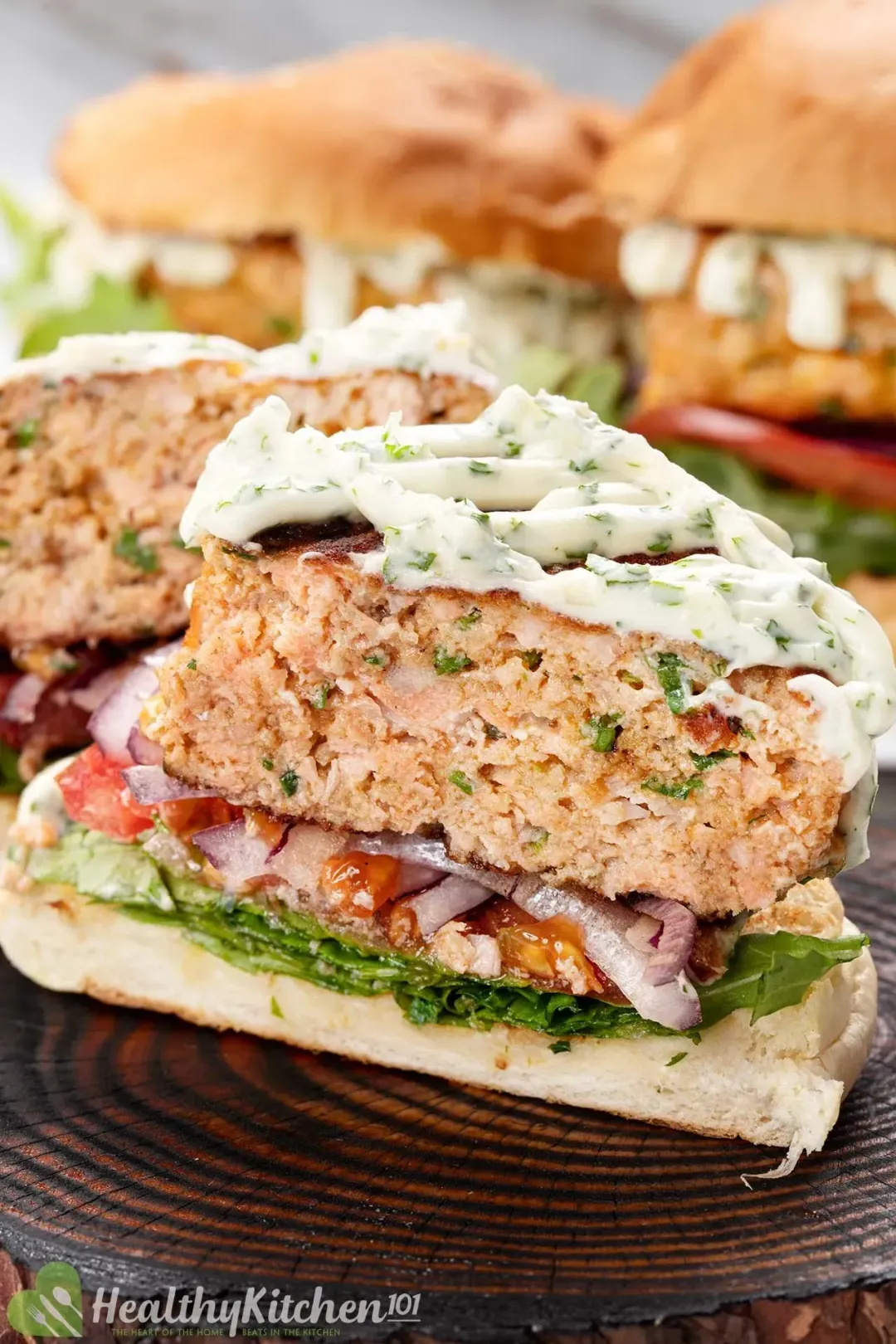 Pan-seared Salmon Burger Recipe
This pan-seared salmon burger recipe only has simple steps and inexpensive ingredients. Give it a try for an effortless meal that tastes divine.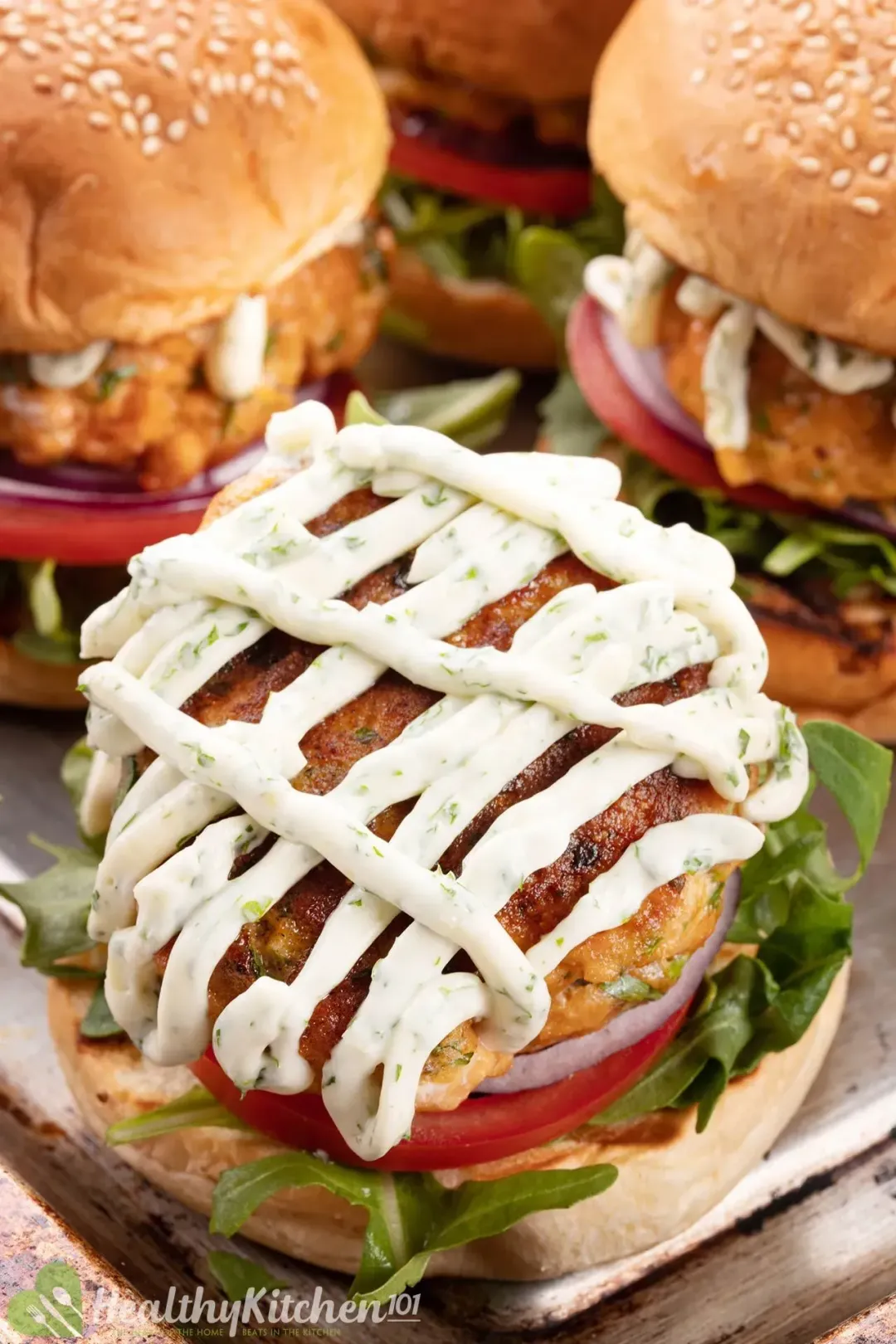 cook TIME

15 mins

prep TIME

15 mins

total TIME

30 mins
COURSE

Main Course

CUISINE

Global

SERVINGS

servings

CALORIES

445 kcal
INGREDIENTS
17 oz

skinless boneless salmon

(roughly chopped)

1/4 cup

plain panko breadcrumbs

0.5 oz

scallions

(chopped)

0.5 oz

cilantro

(chopped)

2 1/2 tbsp

unsalted butter

(divided into 1 and 1 1/2)

1 tbsp

traditional Dijon mustard

1 tsp

lemon juice

(divided)
INSTRUCTIONS
1
Add chopped salmon into a food processor and pulse it several times. Scrape down the sides and repeat the process 3-4 times. We want a mixture with bits of fish instead of a mushy paste.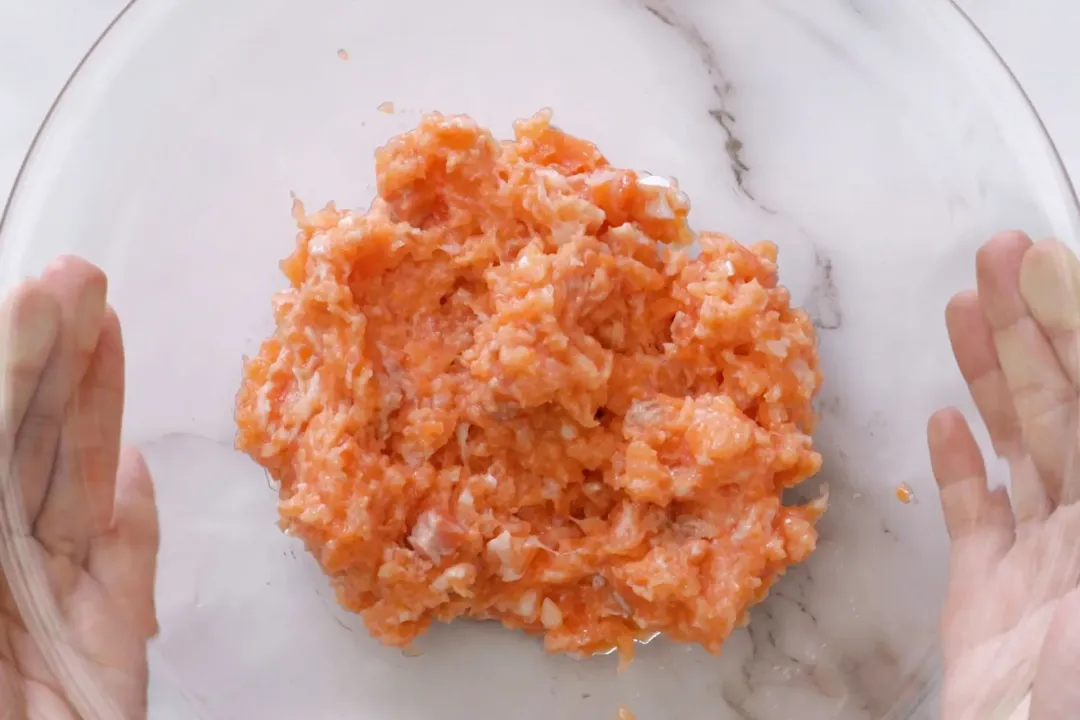 2
Dump the mixture into a bowl and, with a spatula, mix in the 1 medium egg, 1 tbsp mustard, 0,5 oz scallions, 0,5 oz cilantro, 1 tsp garlic powder, 1 tsp coriander powder, 1/2 tsp paprika, 1/4 cup breadcrumbs, 1/4 tsp salt and 1 tsp pepper, and 1/2 tsp lemon juice.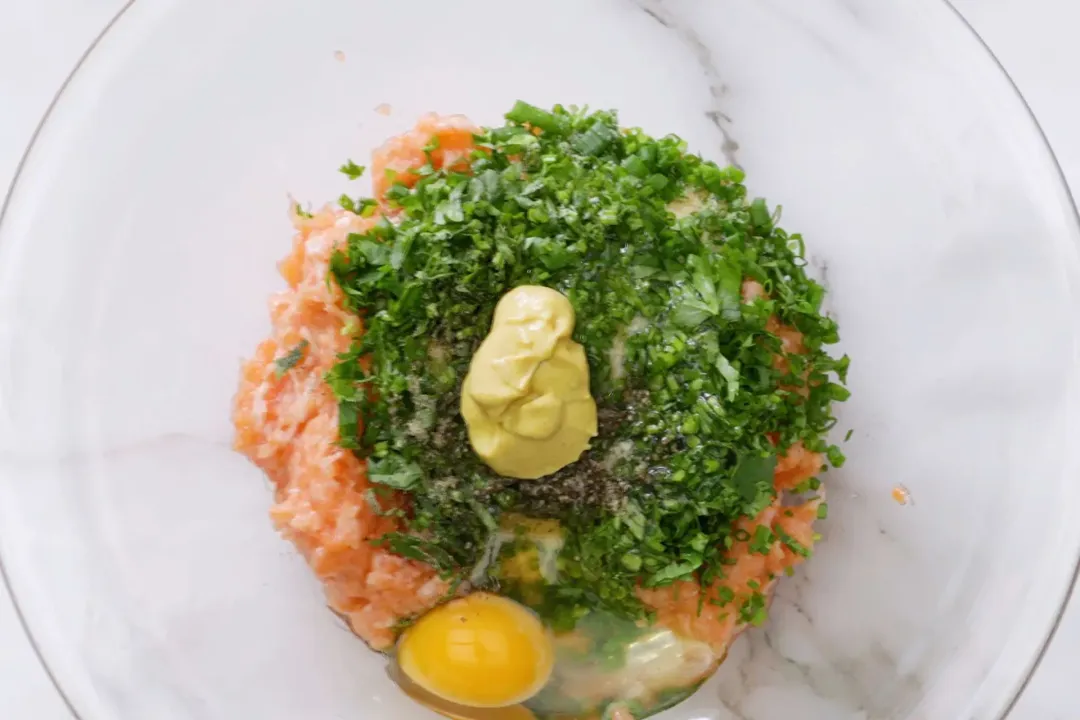 3
Wet your hands and form 4 patties. Place the patties onto a wide surface, such as a large cutting board or baking sheet.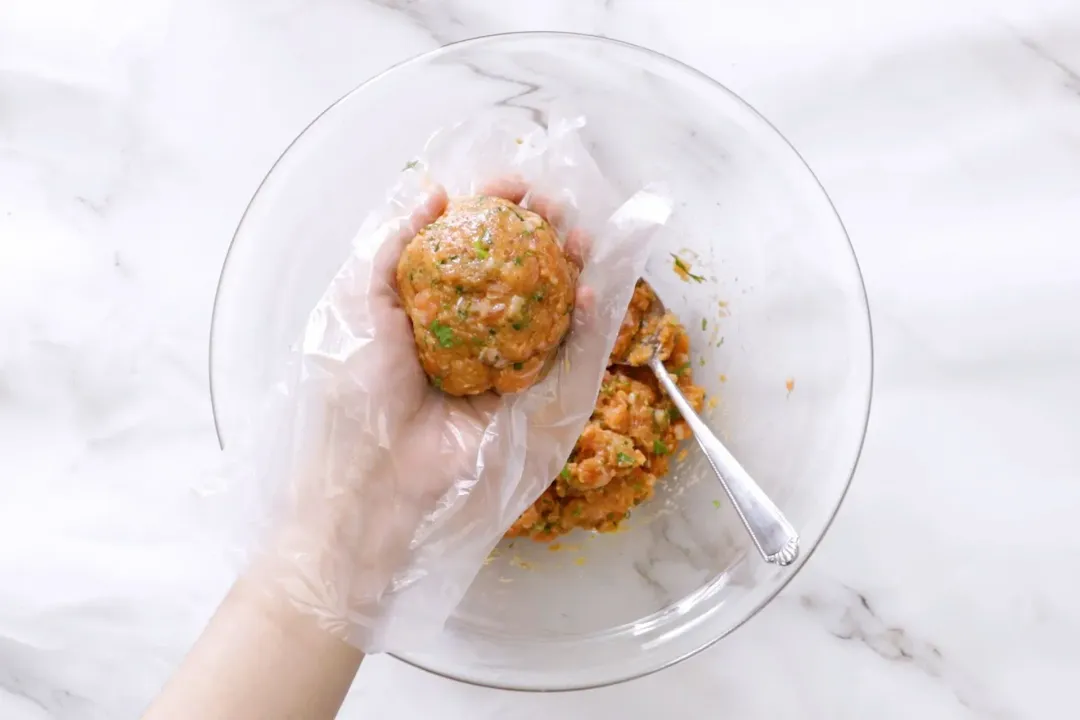 4
In that same pan, melt 1 1/2 tbsp butter and sear the patties for 5 minutes on each side. Take them out and place them onto a large, flat dish.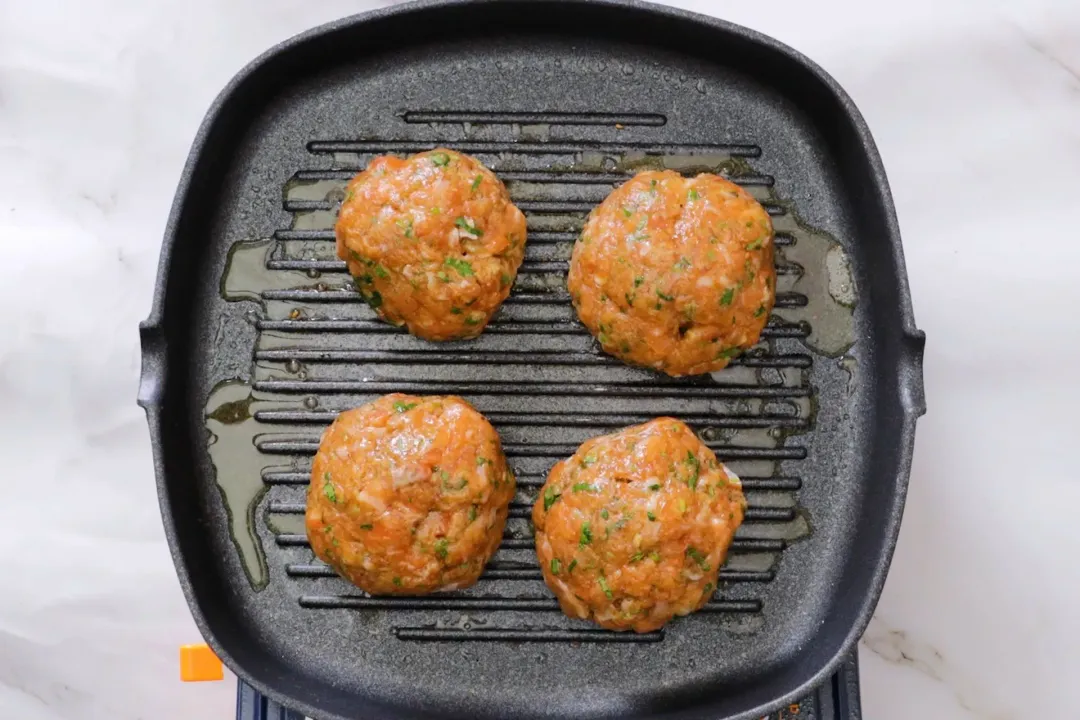 5
In a small bowl, whisk together sour cream, parsley, garlic, and the remaining lemon juice (1/2 tsp).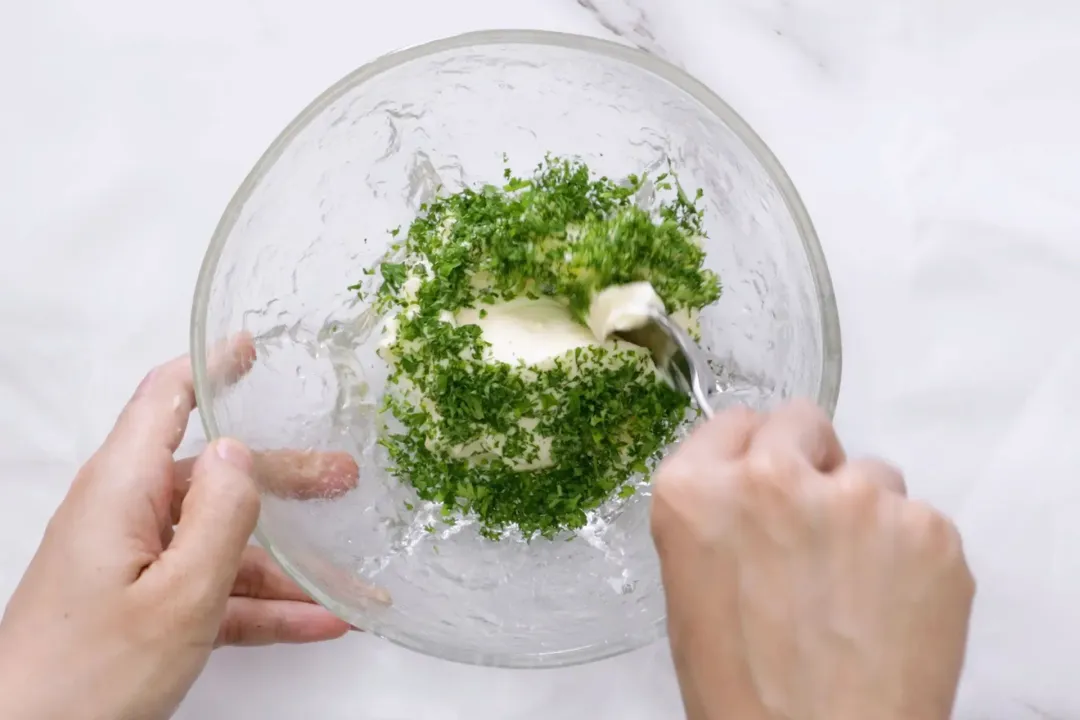 6
Melt the remaining butter (1 tbsp) in a grilling pan over medium heat. Sear the buns for 2 minutes or until they are charred a bit. Take them out of the pan.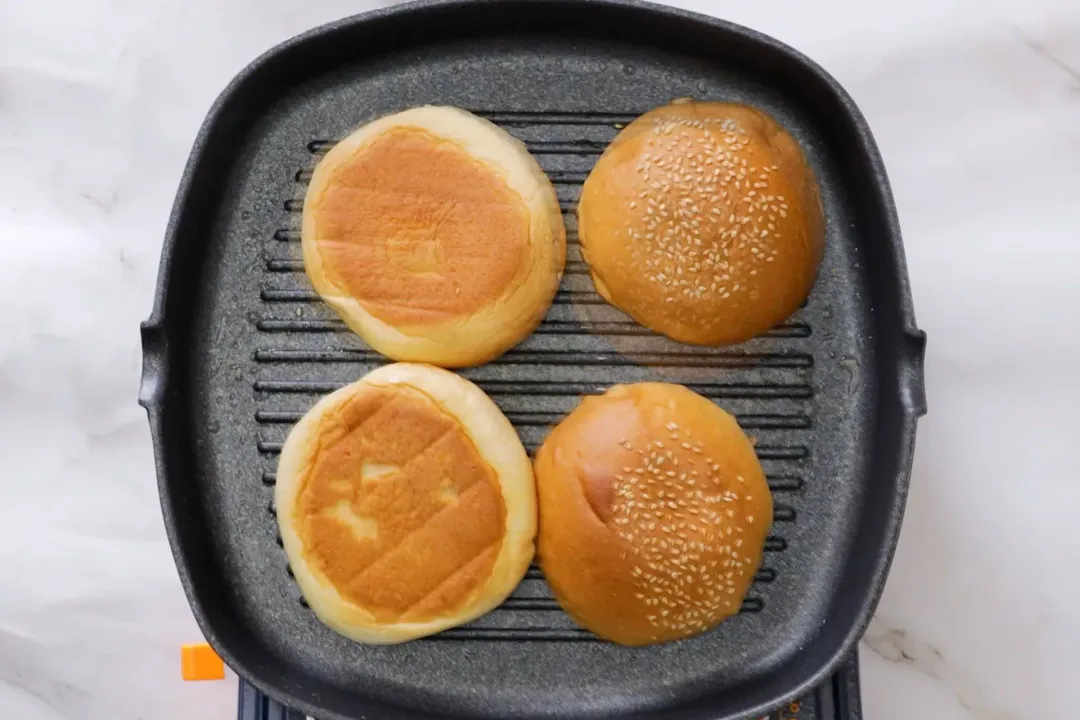 7
Assemble the burgers: bottom bun, 2 oz arugula, 4 oz tomato slices, 1 oz red onion slices, the patty, sauce, and the top bun. Serve these burgers right away!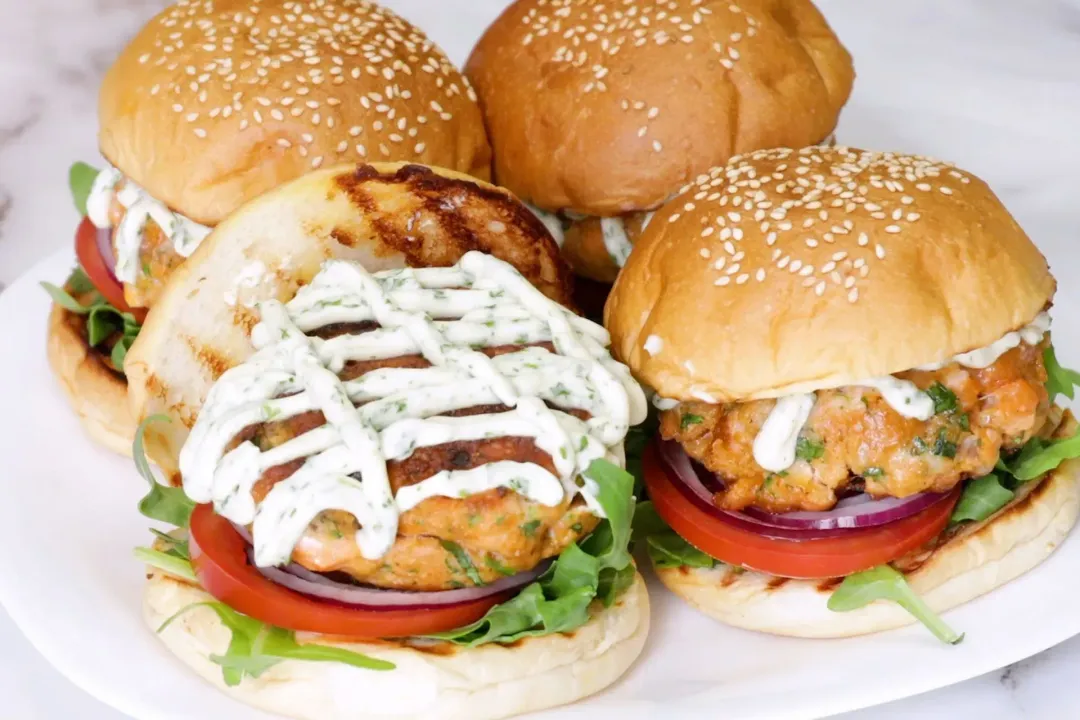 NUTRITION
Nutrition Facts
Pan-seared Salmon Burger Recipe
Amount Per Serving (1 serving)
Calories 445
Calories from FDA
% Daily Value*
* Percent Daily Values are based on a 2000 calorie diet.
Keywords: How to make salmon burger, Salmon Burger, Salmon Burger Recipe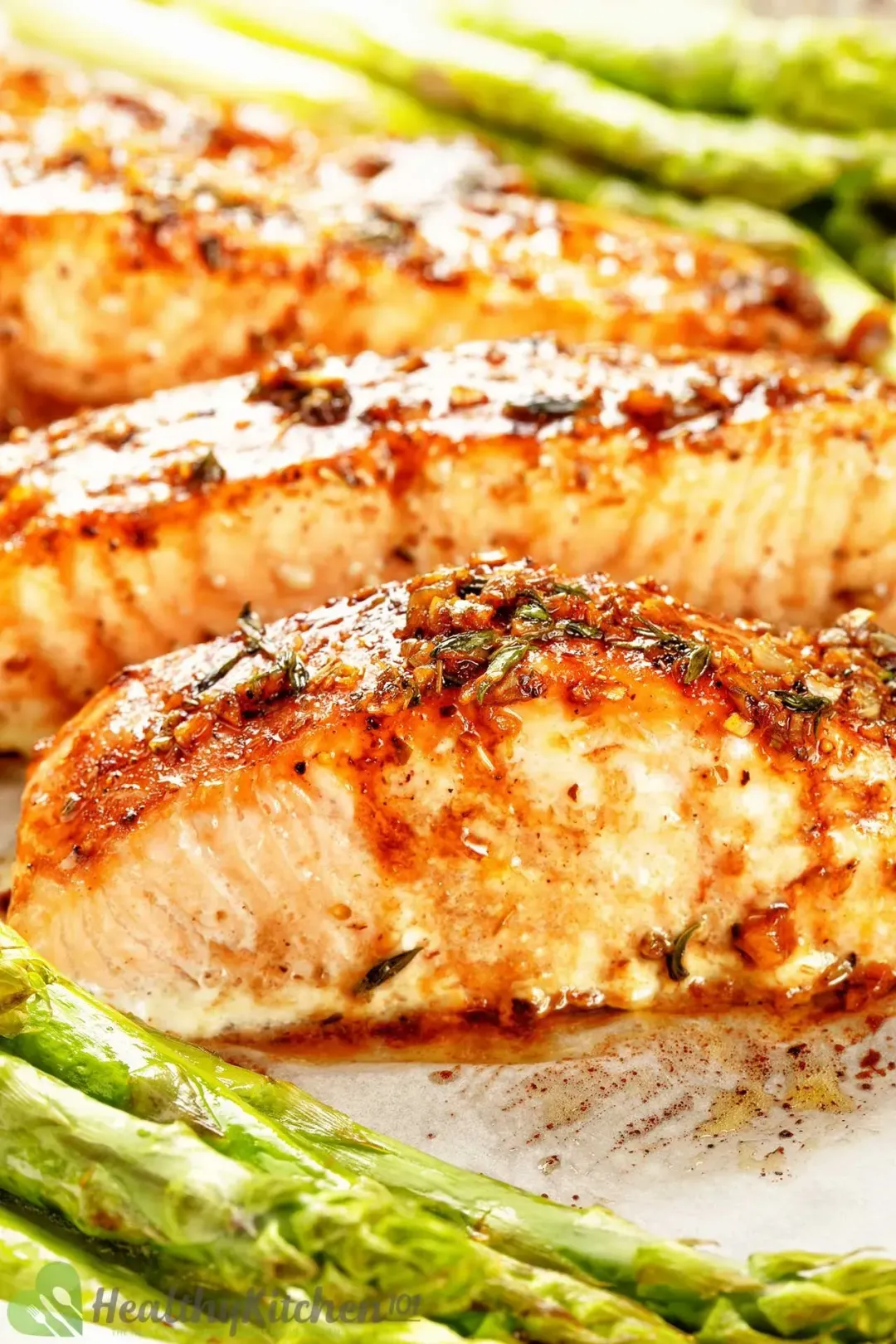 Previous Recipe
Broiled Salmon
Broiled Salmon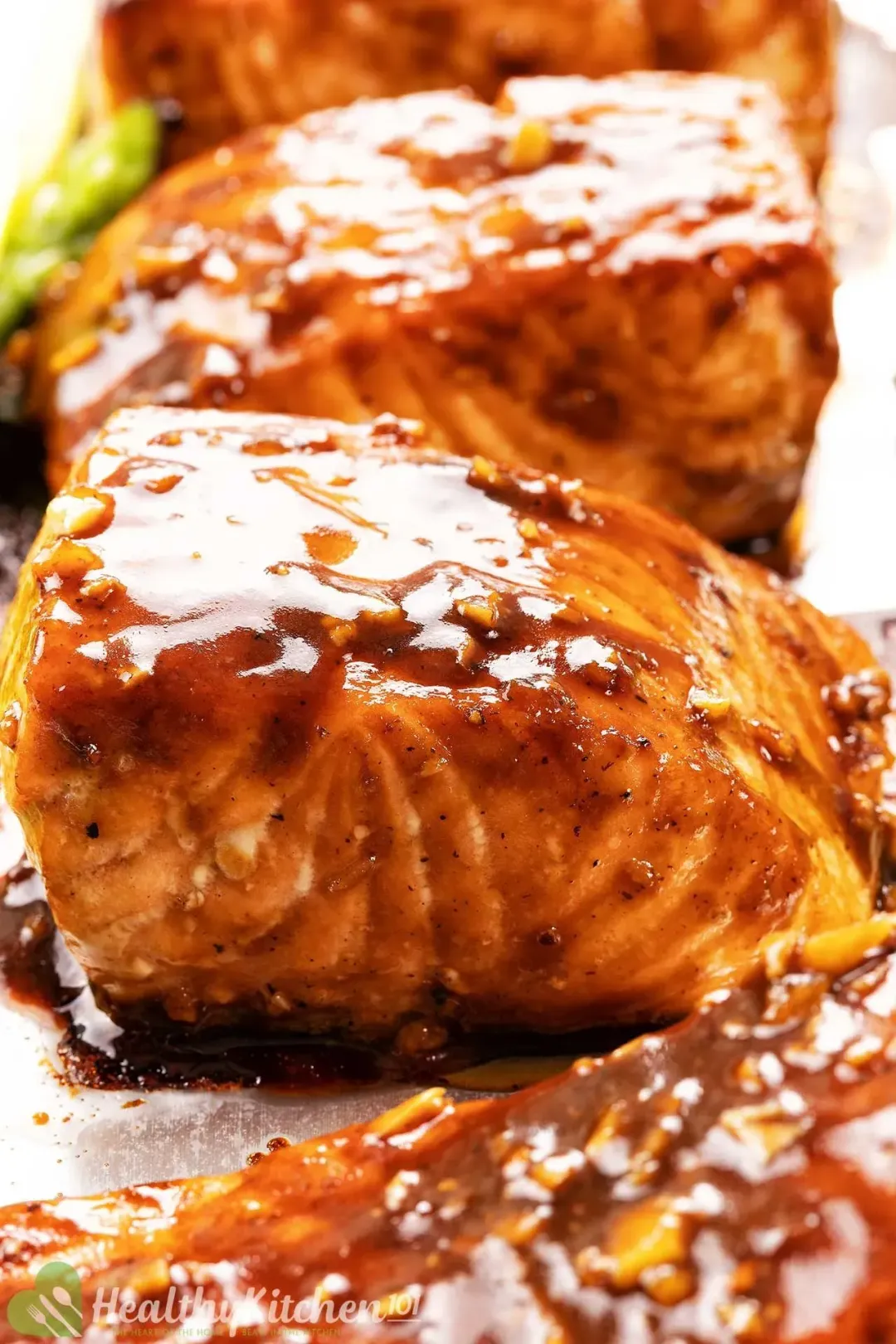 Next Recipe
Baked Teriyaki Salmon
Baked Teriyaki Salmon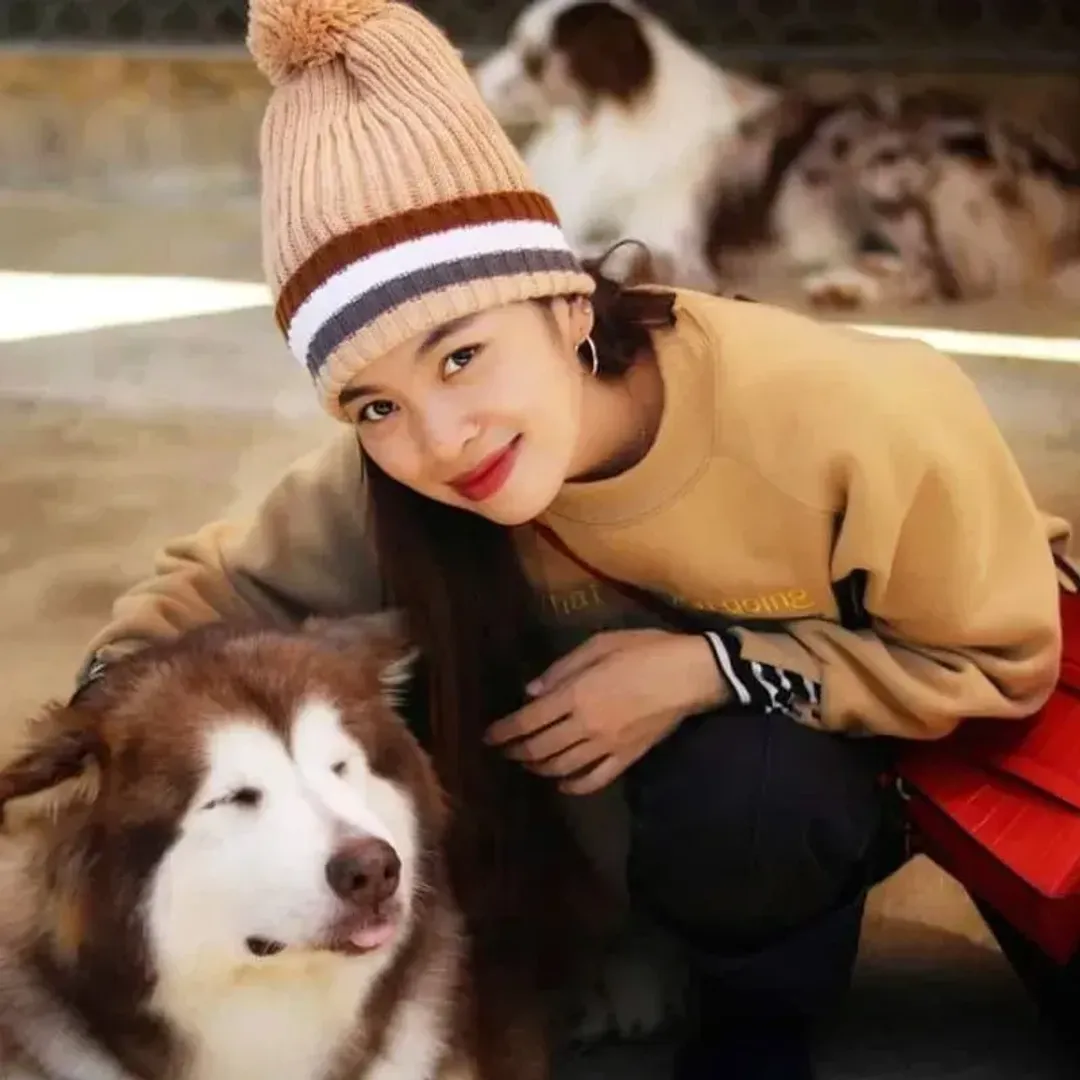 Chef, Culinary Consultant
Tuyet Pham is an award-winning Saigonese chef who believes that joy is the secret ingredient to delicious food. At Healthy Recipes 101, Tuyet personally tests and simplifies every recipe, ensuring maximum flavor with minimal effort. With a background at prestigious French restaurants P'TI Saigon and Le Corto, Tuyet knows how to make every dish exceptional.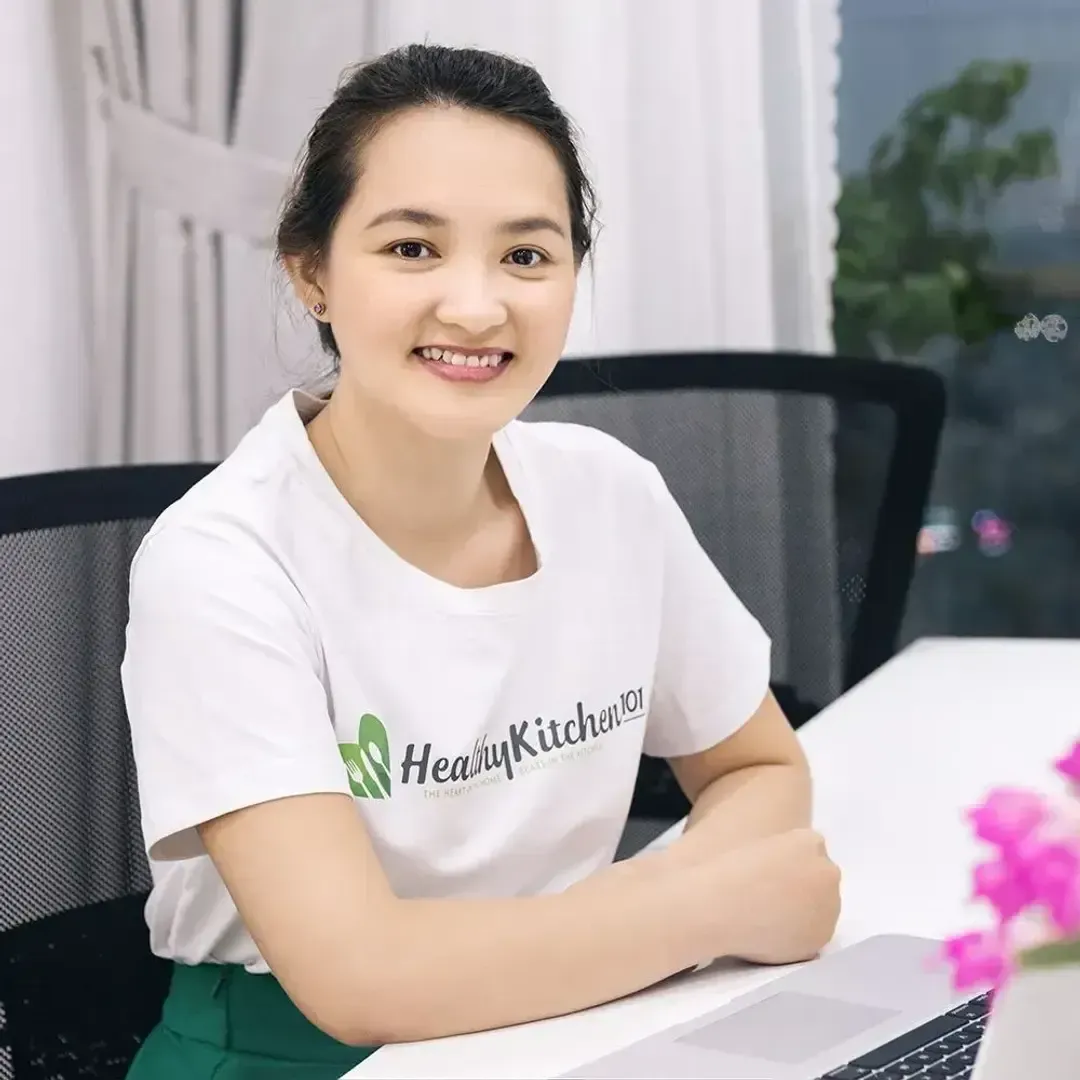 Writer, Author
Luna Regina is an accomplished writer and author who dedicates her career to empowering home cooks and making cooking effortless for everyone. She is the founder of HealthyKitchen101.com and HealthyRecipes101.com, where she works with her team to develop easy, nutritious recipes and help aspiring cooks choose the right kitchen appliances.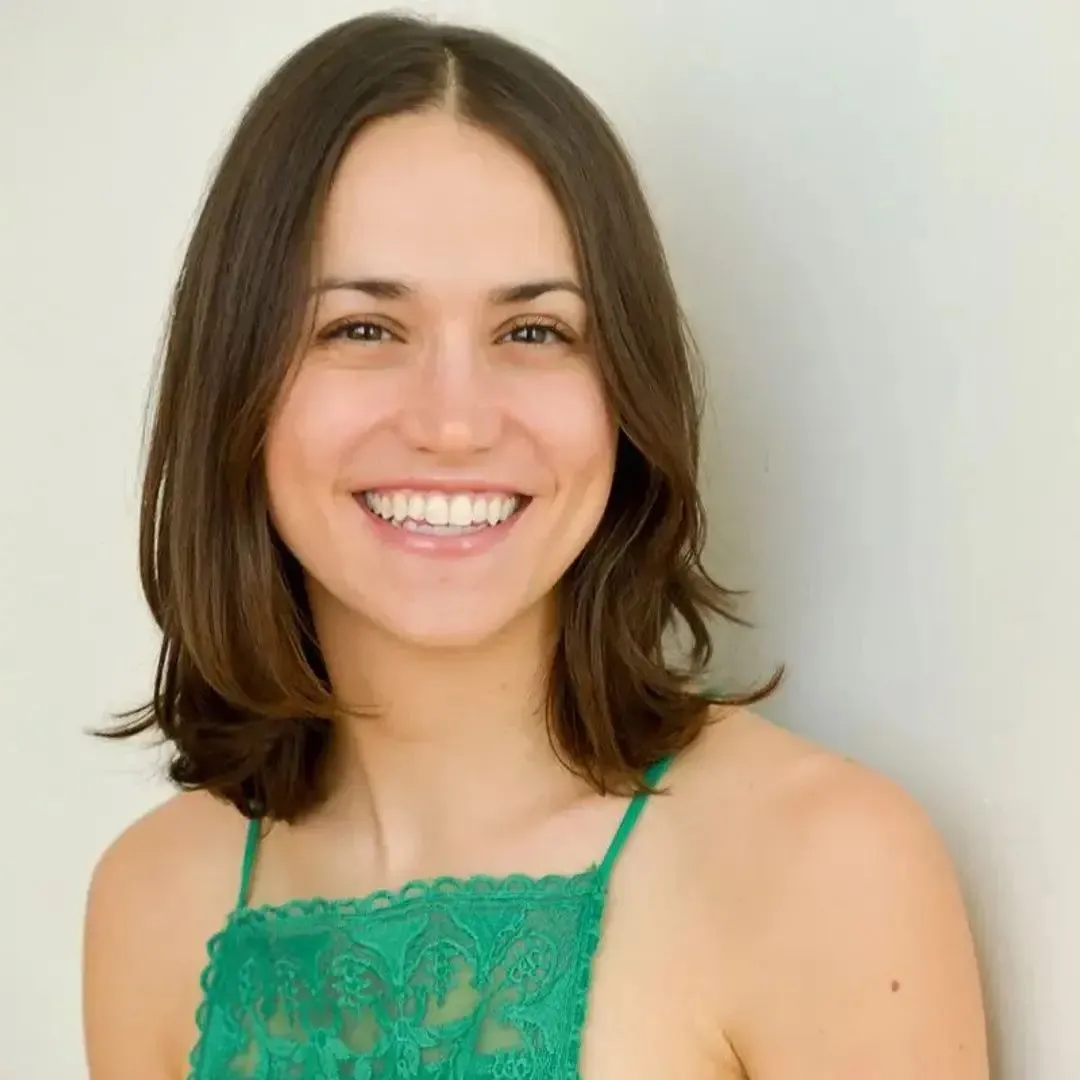 Nutrition Reviewer
Lizzie is a Minneapolis-based dietitian and founder of It's a Veg World After All. She completed her MS in Human Nutrition from Drexel University, and is an expert in culinary nutrition, recipe development, and nutrition communications.
Comments/ Reviews