Our pineapple green smoothie recipe is a great way to sneak more veggies into your diet. It's nutritious and tastes great.
Is This Pineapple Green Smoothie Healthy?
Green smoothies are a great way to consume more veggies, especially if you're not exactly the biggest herbivore. Ours is a delicious combination of pineapples, bananas, kale, spinach, and orange juice, giving you loads of vitamins and minerals in various amounts.
One serving gives you only 135 calories, and about 17 come from added sugar. These are reasonable amounts that make the smoothie easy to implement into any diet.
For instance, a 2000-calorie diet suggests that the number of calories from added sugar should not exceed 200. That means one glass of this smoothie contains just 8.5% of this recommended upper limit. This smoothie is a great choice to include in a healthy well-rounded eating pattern since it contains low amounts of added sugars.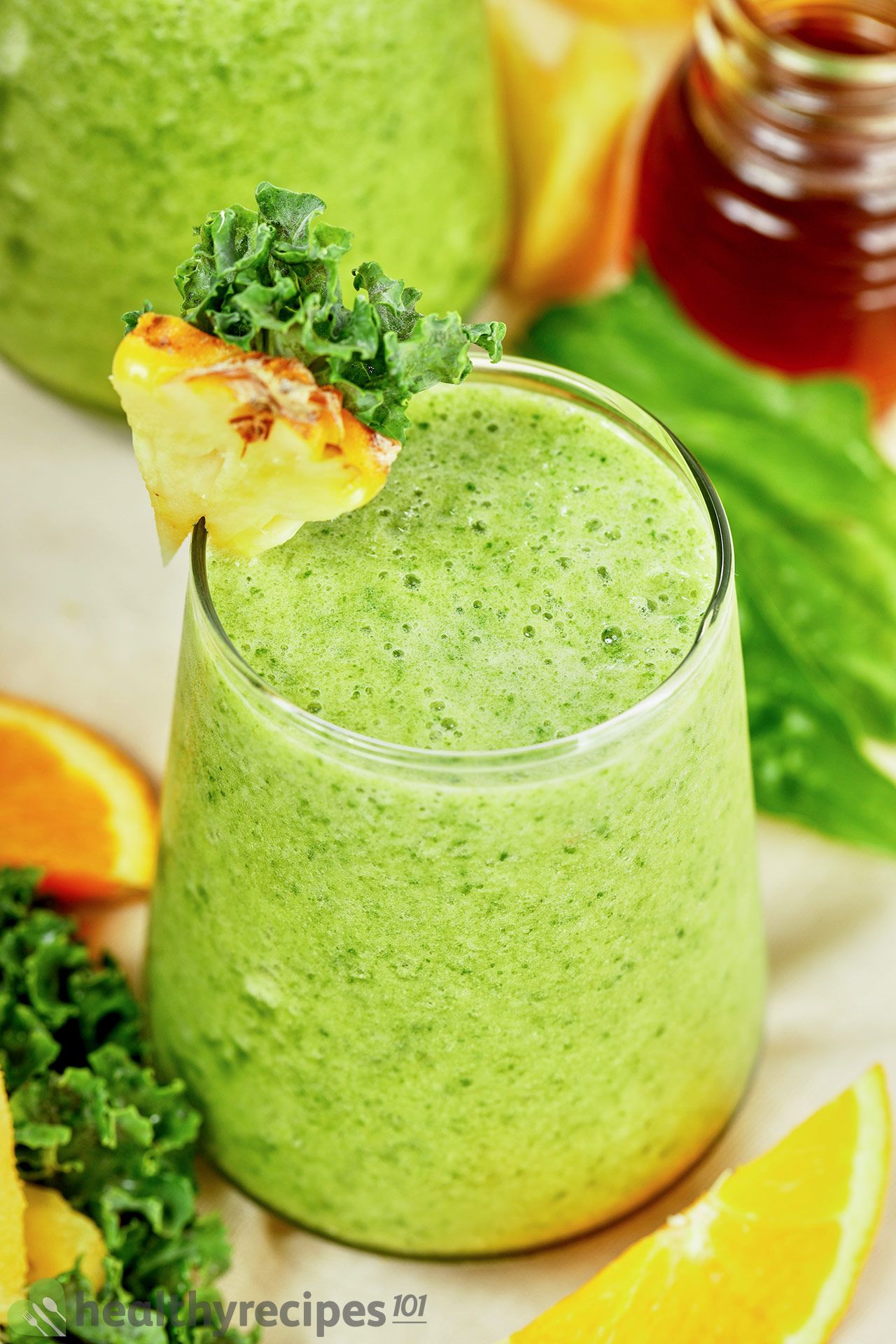 For more details, learn more in our healthy eating guidelines.
Ingredients for Pineapple Green Smoothie
Our pineapple green smoothie calls for kale, spinach, pineapple, banana, orange, ice, and honey:
If you're not familiar with picking ripe fruits—so the smoothie will taste more sweet than tangy—these tricks might be helpful:
Ripe pineapples emit a strong aroma at the bottom. Take a sniff and if it smells sweet, it's one ripe fruit.
For oranges, compare the weight of the ones similar in size and go for the heaviest. The skin should be smooth, finely textured, and firm.
Bananas are generally sweet, and those sitting in your fridge with a dark skin are even sweeter. Unless they smell foul, are watery, have molds, or feel wimpy, they are the perfect material for banana bread or smoothies.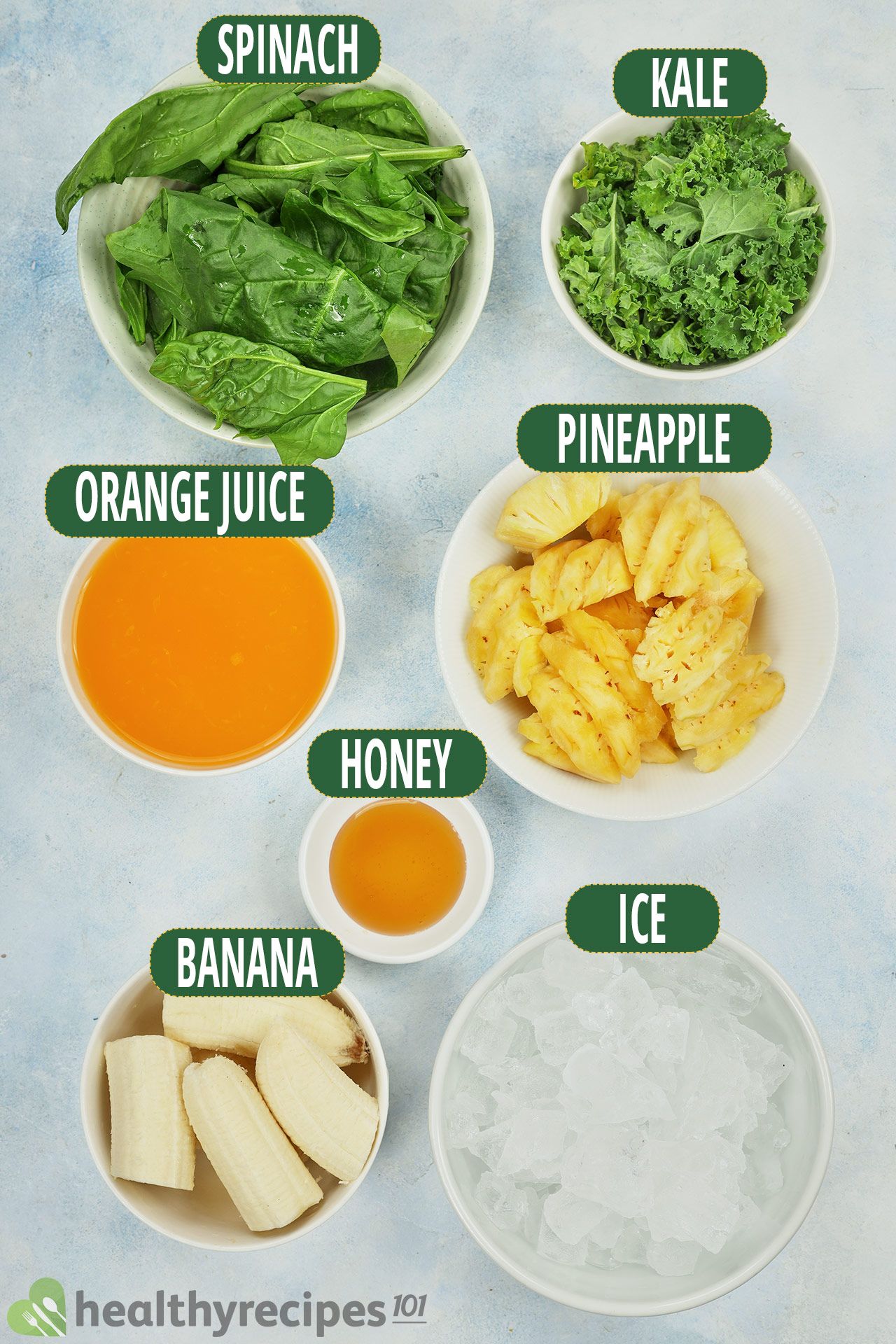 If in doubt, you can always go for canned products. Be sure to wash off the brine they sit in, and when it comes to choosing liquids, pick an unsweetened product.
For the veg, you can either use fresh or frozen produce. Either way, make sure that the fibrous stems are discarded — they're not smoothie material.
What Liquid Is Best for Green Smoothies?
Milk and yogurt work great with smoothies that are rich and smooth in texture, whereas fruit juices work better with the rest, especially those with a tangy, sour taste. Still, the sky's the limit — there are some wonderful combos that don't follow this rule.
As a safe option for green smoothies, we suggest milk—or plant-based milk—and orange juice if there's a tangy component like berries, citrus, apples, pineapples, etc.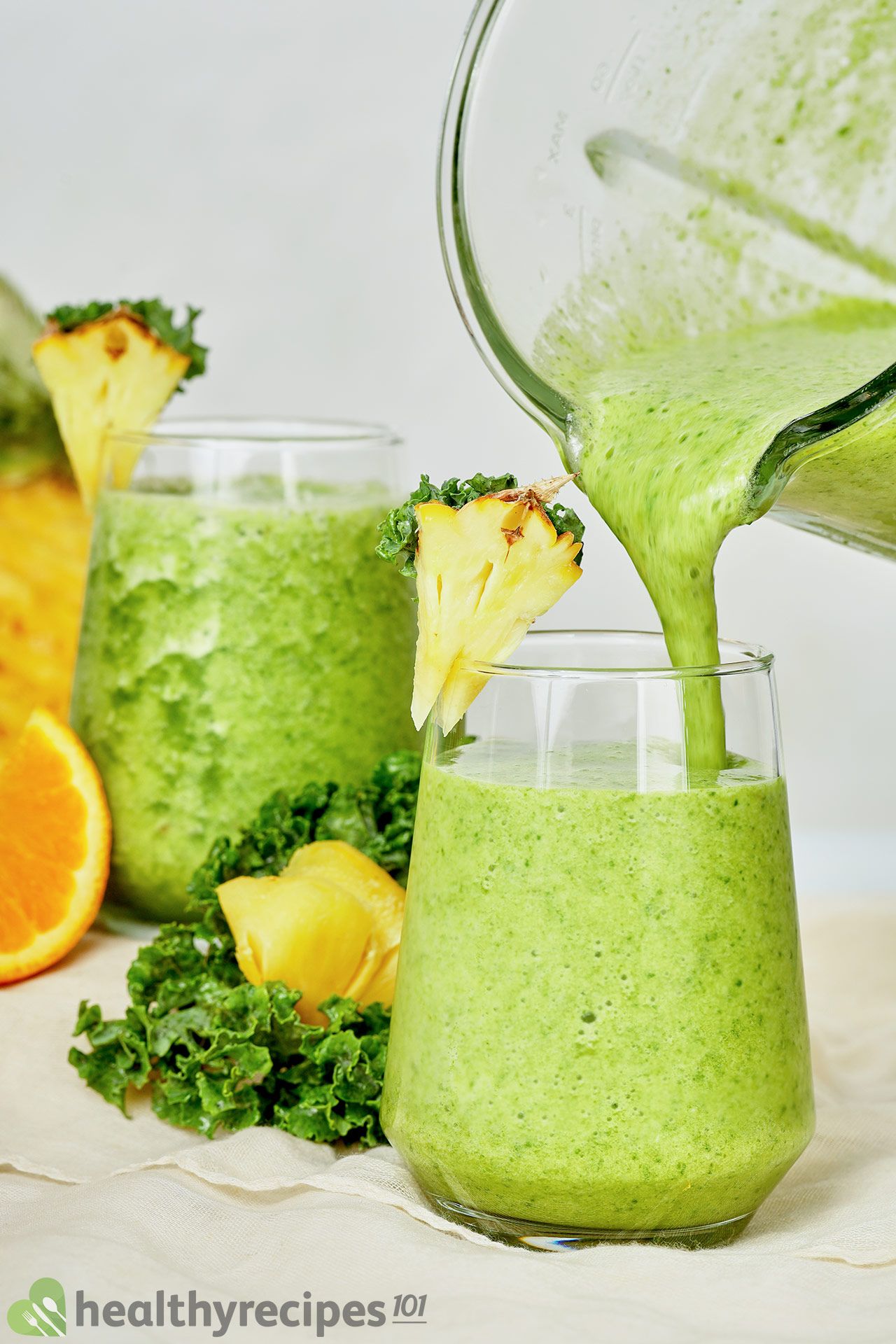 How to Make Pineapple Green Smoothie
Once we've gathered the pineapple, orange juice, banana, kale, spinach, ice, and honey, we blend everything together until smooth. Since we use soft ice and our blender has a strong motor, the smoothie comes together in just 15 seconds.
You may want to help your blender out if it can't process hard ice, like crescent ice: Fill a cloth bag with the hard ice and pound it finely with a mortar before blending.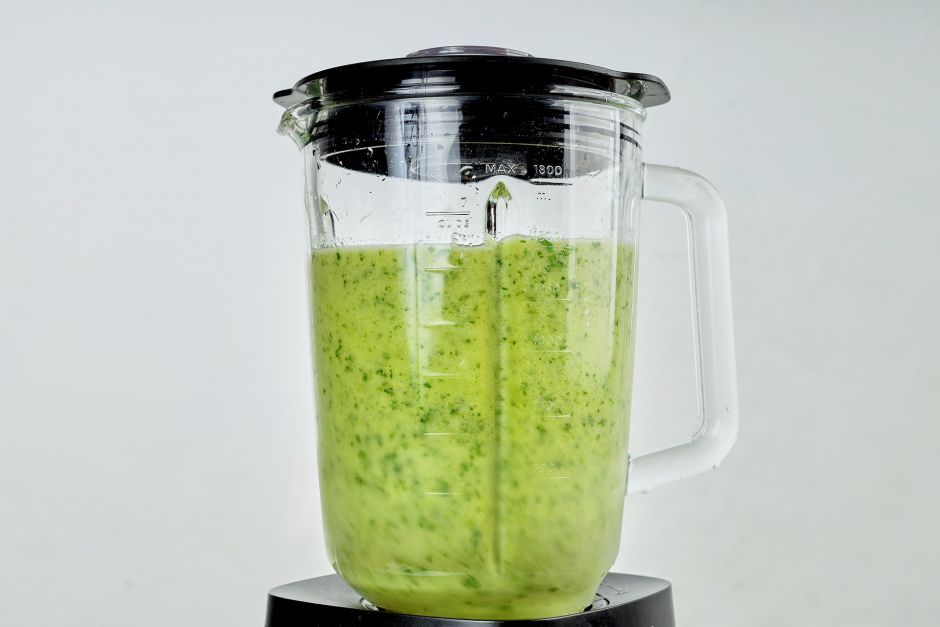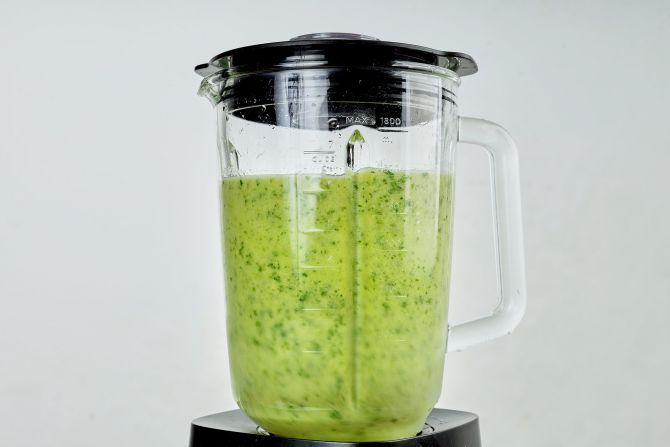 Blend ingredients.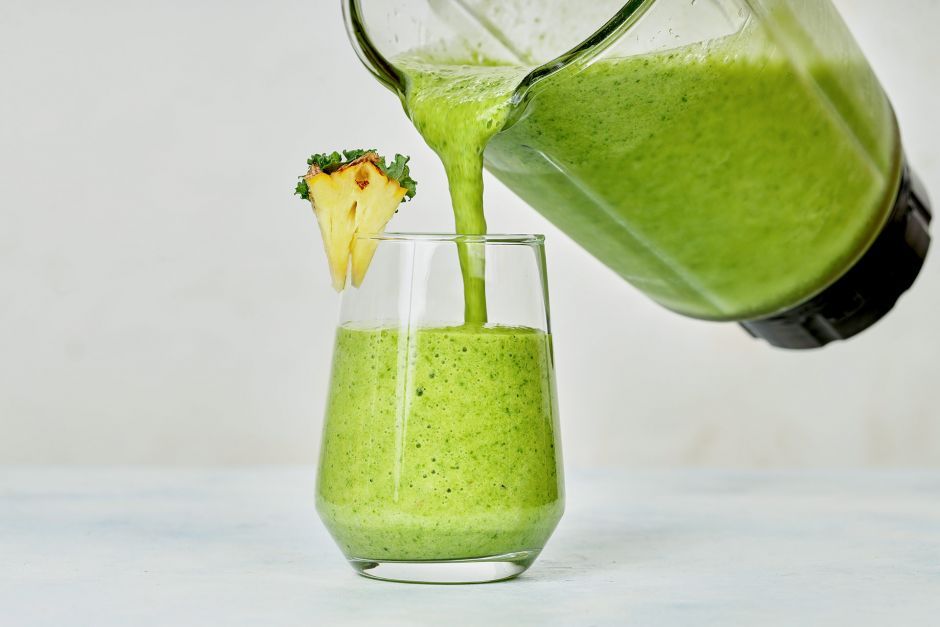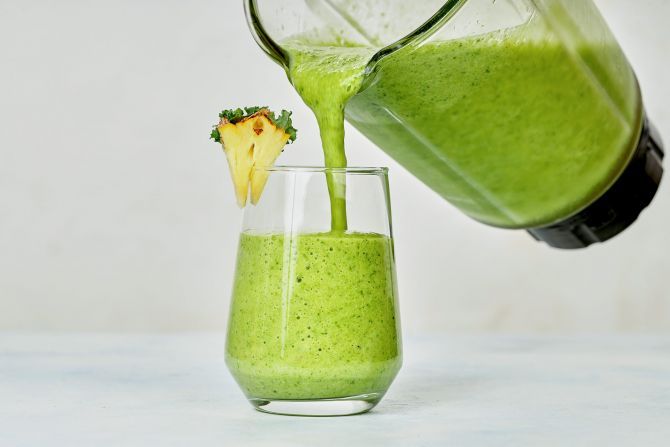 Pour into serving glasses.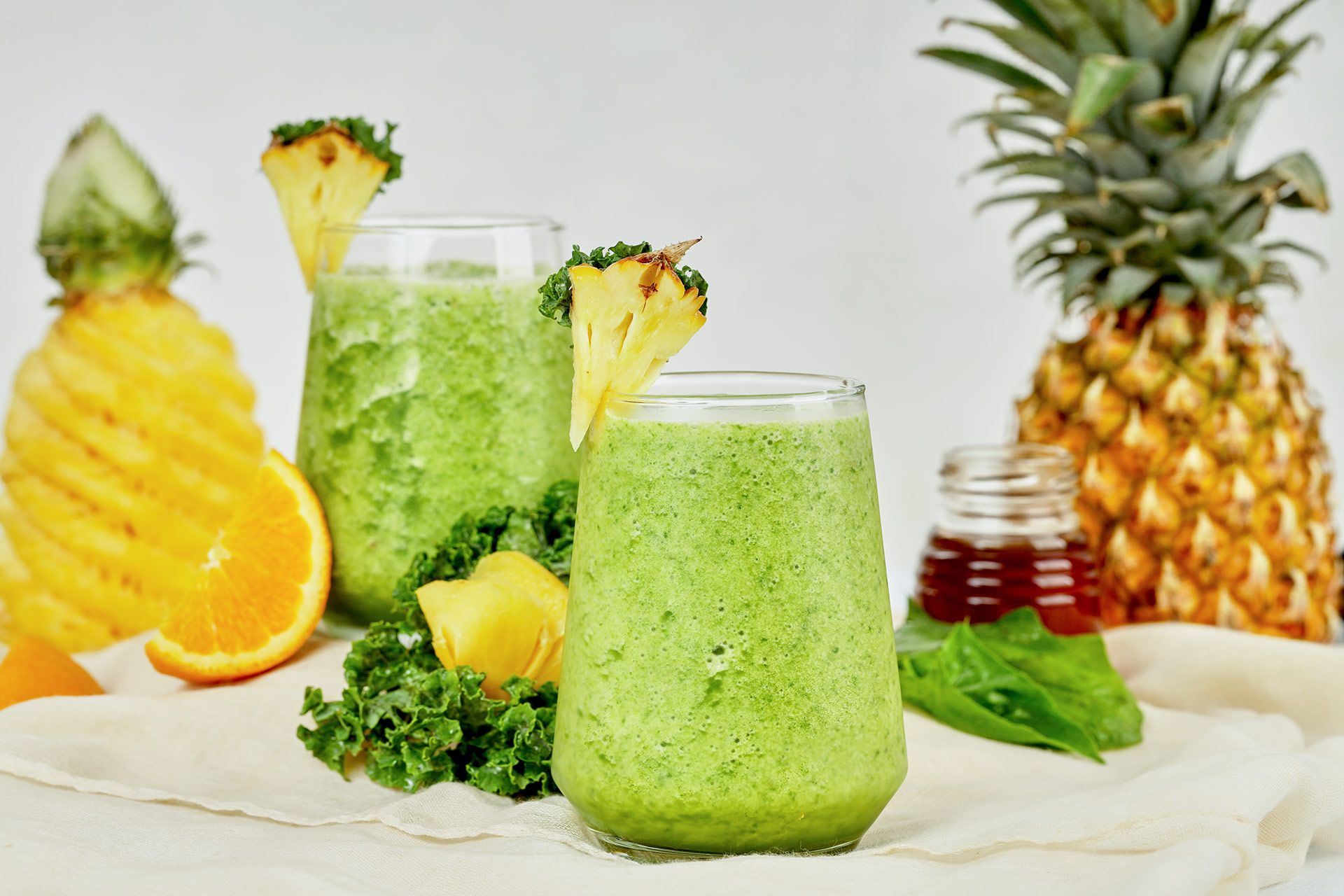 Serve immediately.
What Happens When You Drink a Green Smoothie Every Day?
If you're prone to minding your calorie count and intake of added sugar, having a daily green smoothie provides you with a good amount of nutrients. The ingredients also contain plenty of fiber, so your digestive system will function more smoothly as well.
Without moderation, however, excessive consumption of any food can lead to weight gain; green smoothies are no exceptions.
How Long Does This Smoothie Last?
Carefully sealed, it can be stored in the fridge for two days. However, although edible, the smoothie will probably be watered down, discolored, or even have separated into different layers — not very appetizing.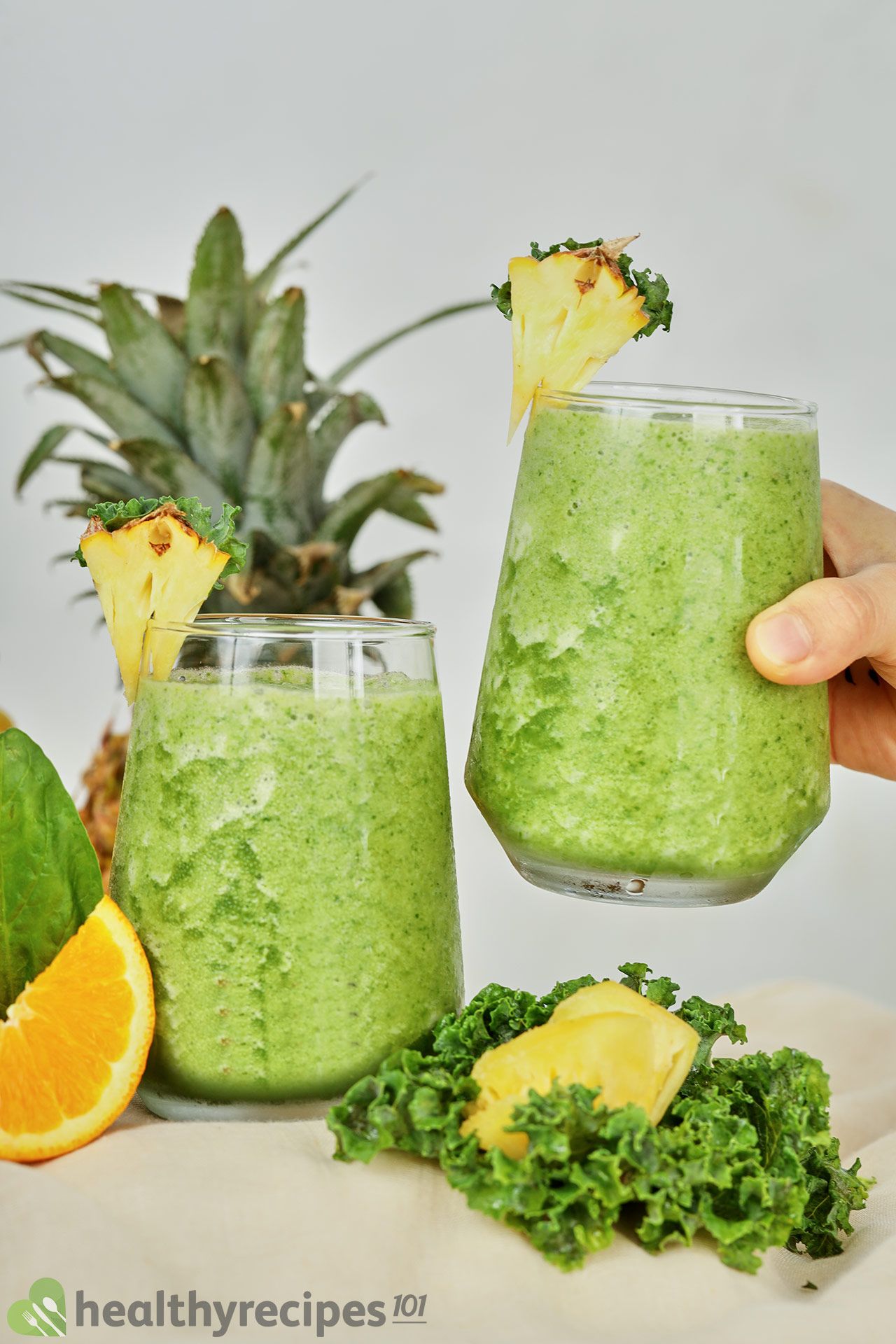 Freezing, on the other hand, keeps it fresh for up to 3 months but does not prevent degradation of its quality. Without a proper storage method, however, it will be difficult to thaw and use.
Our suggestion is to blend the ingredients together without ice, portion the mixture in Ziploc bags, seal, and lay them flat in the freezer. Whenever you need, blend one portion with ice for a super cool, delicious smoothie.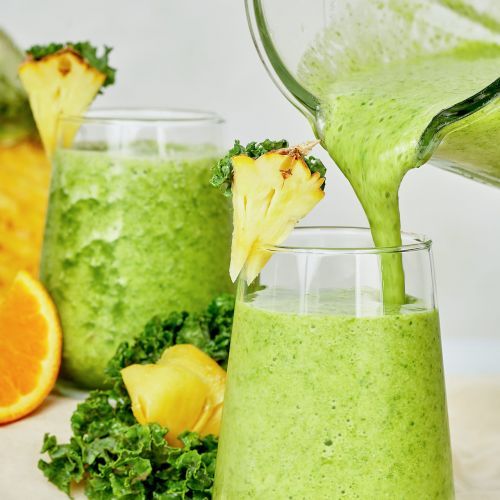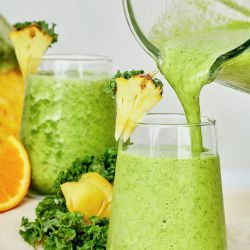 Pineapple Green Smoothie Recipe
This pineapple green smoothie recipe is an easy way to include more vegetables into your diet. It masks the taste of greens with delicious fruits.
Ingredients
10

oz

pineapple

8

oz

banana

2

oz

spinach

0.5

oz

kale

stems removed

2

cups

ice

1

cup

orange juice

1

tbsp

honey
Instructions
Place all ingredients in a blender, starting with the ice. Cover and blend until smooth.

Pour into serving glasses.

Serve immediately.
Nutrition
Nutrition Facts
Pineapple Green Smoothie Recipe
Amount Per Serving (1 serving)
Calories 135
% Daily Value*
Sodium 21mg1%
Potassium 498mg14%
Carbohydrates 34g11%
Protein 2g4%
Vitamin A 1885IU38%
Vitamin C 77mg93%
Calcium 46mg5%
Iron 1mg6%
* Percent Daily Values are based on a 2000 calorie diet.