This raspberry banana smoothie recipe combines two great flavors.
If you love bananas and raspberries, what's better than turning them into one treat? The berries' tartness is mellowed out by the bananas' sweetness, making for a balanced smoothie base that tastes good even on its own.
To this base we're adding milk, ice, and some almonds for some fun, nutty bits to chew on. Plus, we're using frozen raspberries instead of fresh, making the smoothie super cool and thick.
Is Raspberry Banana Smoothie Healthy?
Yes, this smoothie is packed with healthy ingredients.
1. Rich in Micronutrients
For starters, it contains plenty of nutrients like vitamin C, B vitamins, manganese, potassium, calcium, and so on, from the raspberries, bananas, almonds, and milk. The almonds can also give you a small amount of healthy unsaturated fats.
2. Moderate Calorie Content
Our raspberry banana smoothie recipe makes 4 servings of a 192-calorie smoothie. It calls for 22 ounces' worth of sweet fruits, 1 cup of milk, 1 tbsp of honey, and a small number of other ingredients.
3. Low Added Sugar Content
In grams, each serving contains about 4 g of added sugar, from honey. Compared to the USDA's suggested upper intake (50 g per day), this accounts for only 8%.
Still, you can leave out the honey if you prefer your smoothie unsweetened.
Ingredients for Raspberry Banana Smoothie
Our raspberry banana smoothie recipe calls for:
Fruits: As mentioned, we are using frozen raspberries. You can also use frozen bananas, to make the smoothie even thicker and more luscious.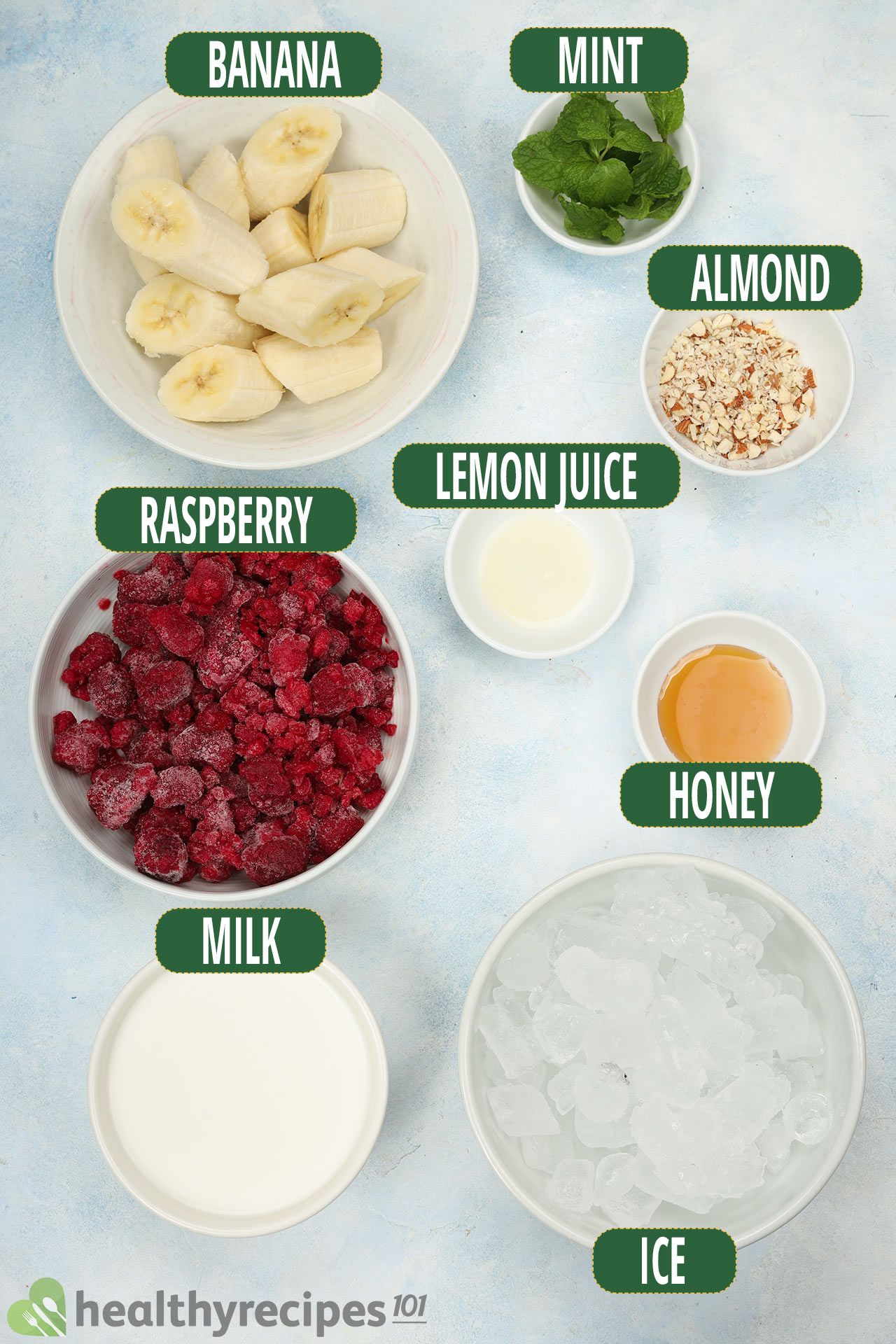 These ingredients are usually available in the frozen section of the market, but if you can't find them, make them at home:
For the berries, place them all into a bag and freeze away.
For the bananas, slice and freeze them on a tray lined with parchment to prevent them from sticking. Once they're frozen, transfer them to a container/bag.
Raspberries have noticeable seeds that may not be pleasant to eat. You can discard the seeds by simmering the (fresh) berries in water for about 10 minutes, strain the mixture to remove the seeds and freeze the pureée to make smoothies.
If you don't have sliced almonds, you can also pound roasted almonds into fine pieces. They will add a fun texture to the smoothie.
To enhance the cooling effect, we blend the ingredients with some mint leaves. Feel free to add more to your liking.
Can You Freeze Raspberries Without Washing Them?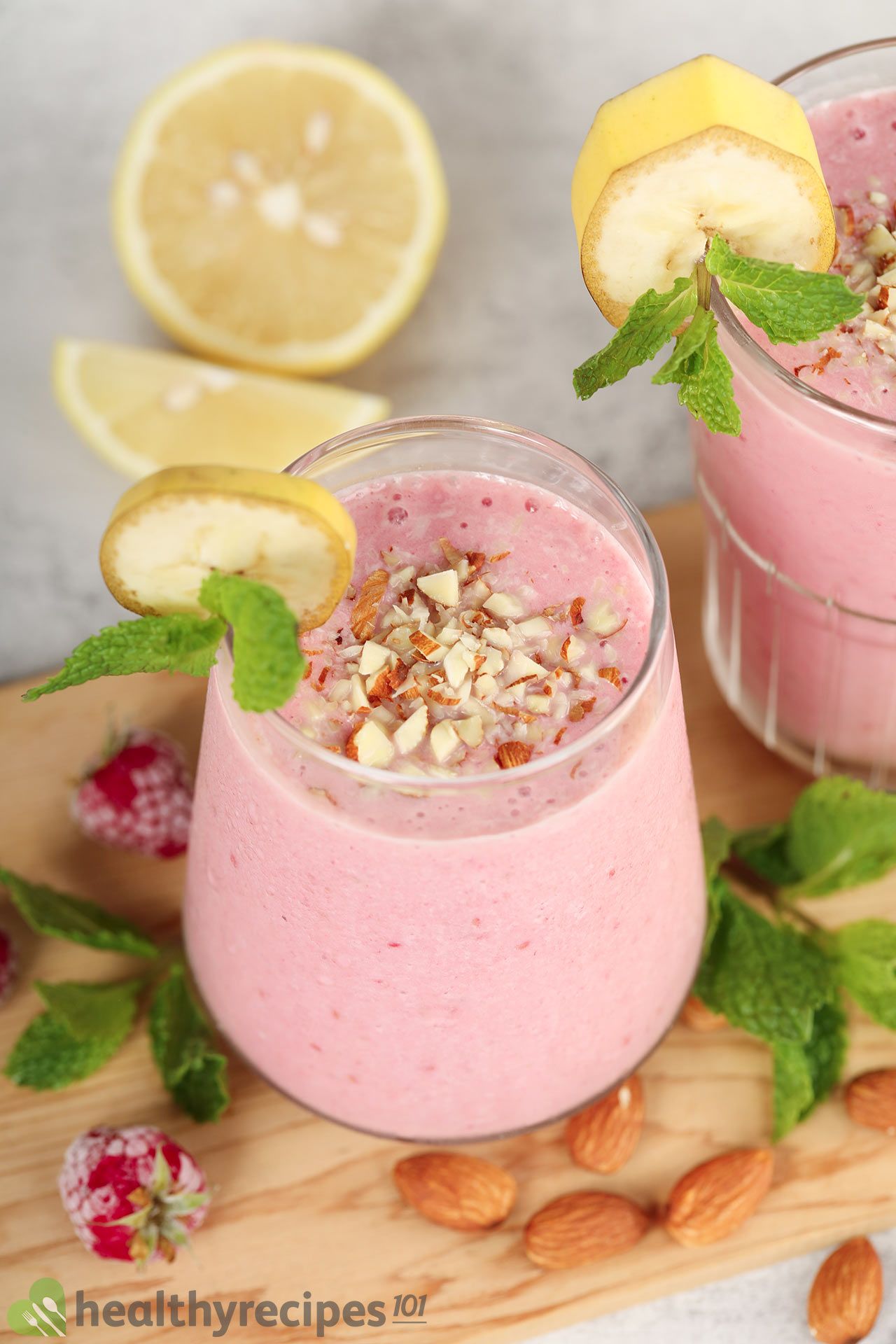 Since we have no idea what bacteria or harmful substances might linger on the surface of the fruit, it's best to wash them first. Even if your fruits are organic, a thorough wash can remove dirt, bacteria, or even viruses that won't be killed by the freezer's temperature.
Once cleaned, the berries should be patted dry before freezing to prevent sticking.
How to Make This Raspberry Banana Smoothie
Once you've gotten your frozen raspberries, bananas, honey, lemon juice, milk, and ice, blend them all together until smooth. Pour into serving glasses, sprinkle sliced/crushed almonds on top, and enjoy.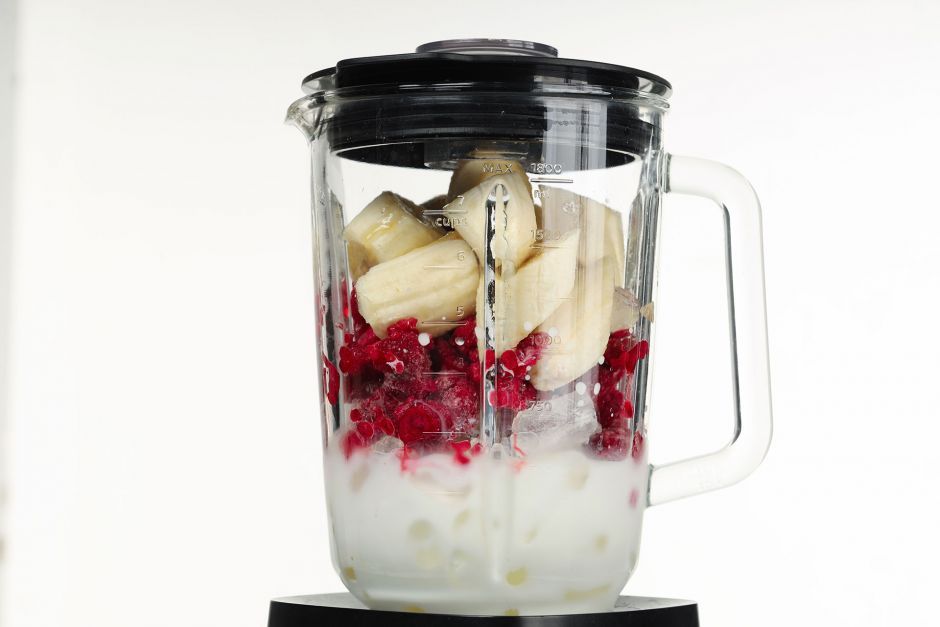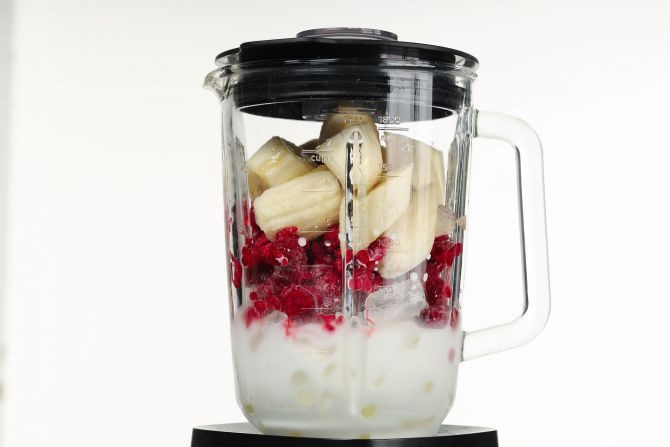 Blend ingredients.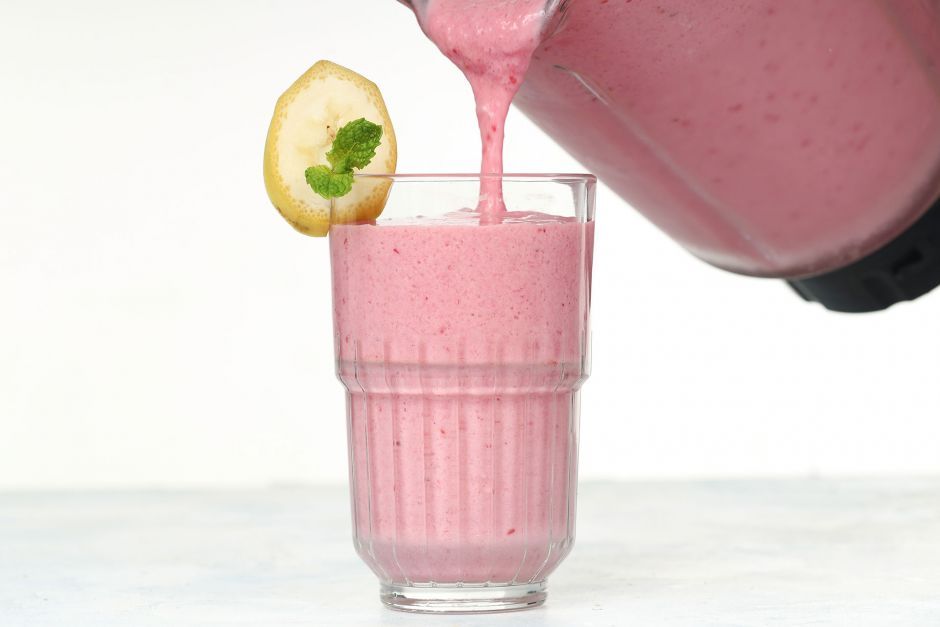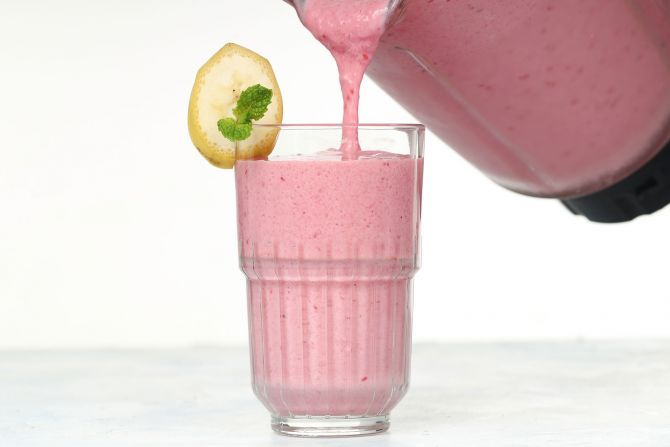 Pour into serving glasses.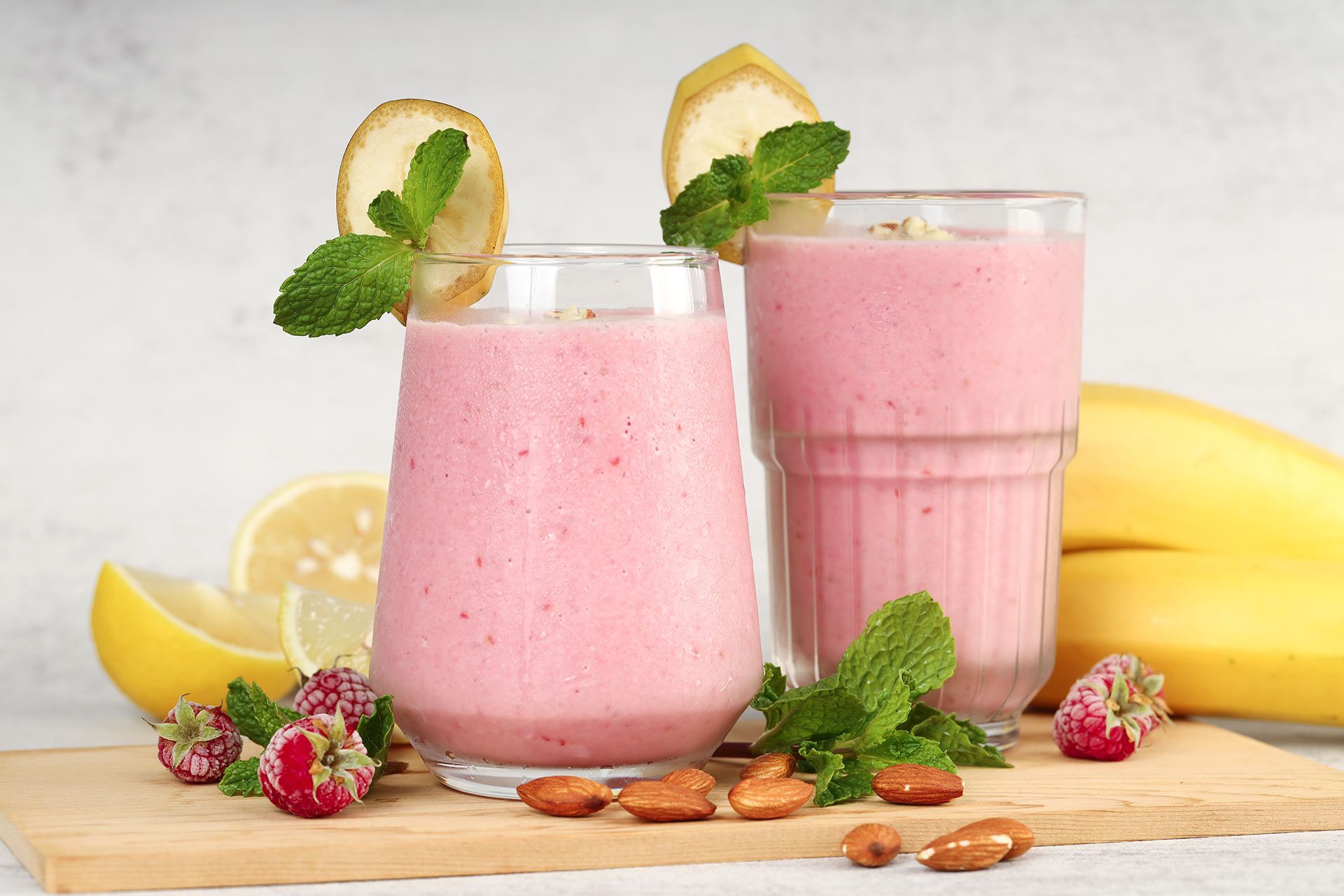 Garnish with the sliced almonds and serve immediately.
Jump to Recipe
For details on measurements, check out our raspberry banana smoothie recipe at the bottom.
Storage and Freezing the Leftover
Once you've blended the smoothie with ice, don't keep it around for too long or it'll become watery. Instead, leave the ice out, blend the ingredients, and divide the mixture into small freezer bags. These smoothie pouches keep for up to three months and, removed from the bag, blend swiftly with ice for a refreshing, healthful treat.
Our preferred container is small Ziploc bags or biodegradable bags. We can usually thaw one pouch in around 5 minutes, and once the smoothie is removed, the bag may be rinsed and reused in the future.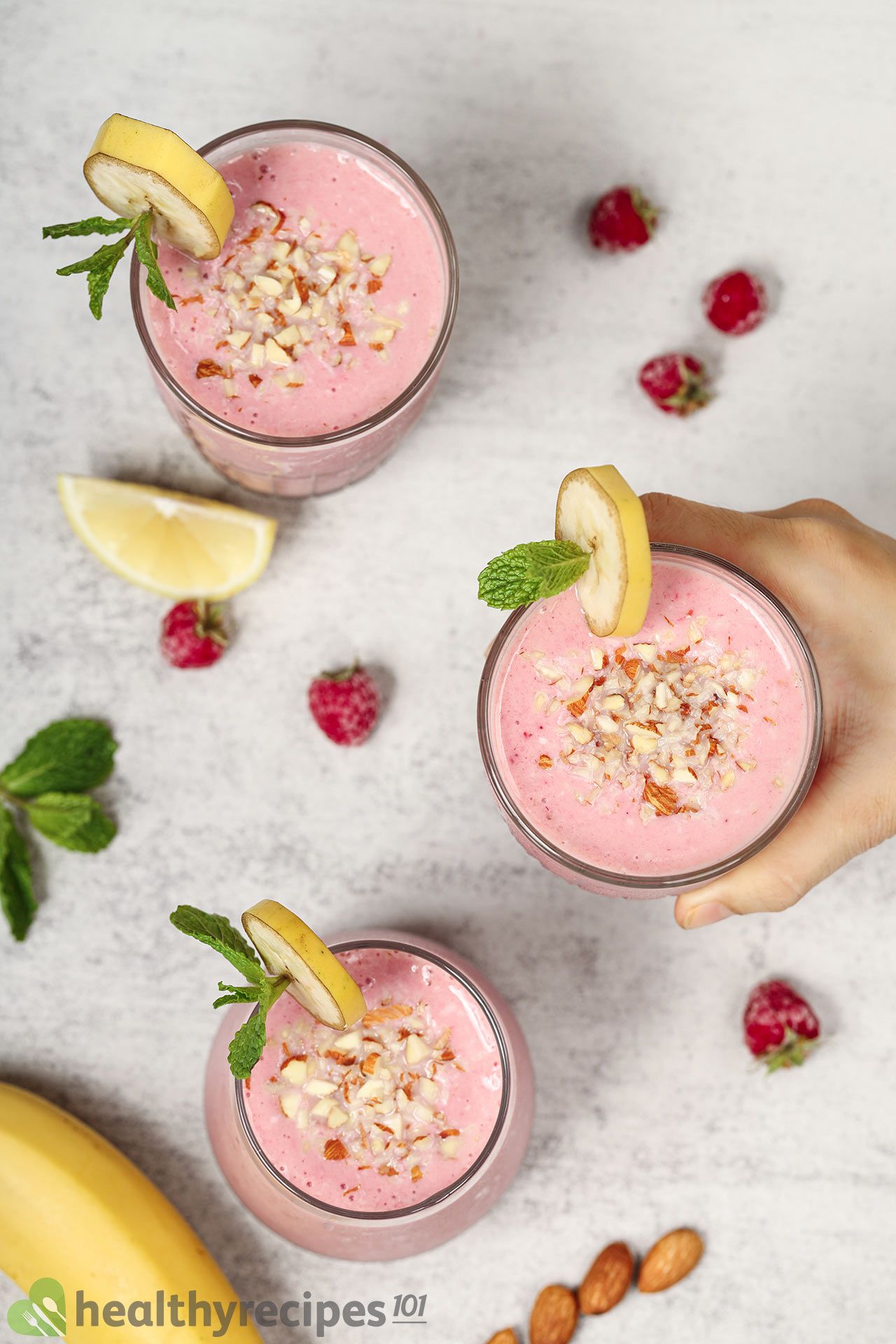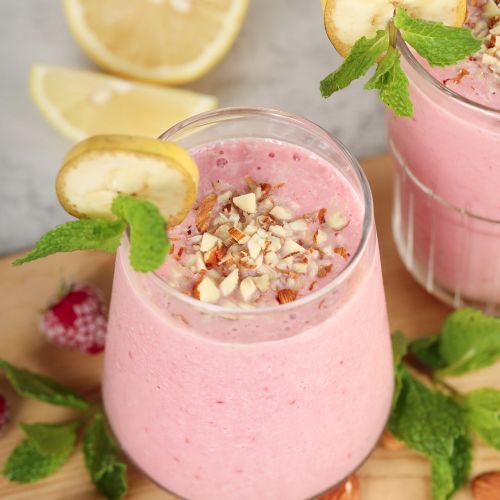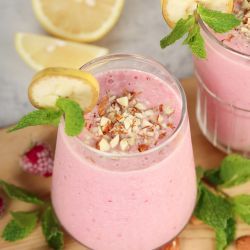 Raspberry Banana Smoothie Recipe
Our raspberry banana smoothie recipe makes a sweet and tangy smoothie that's super thick and concentrated in flavor. It also has fun almond bits.
Ingredients
14

oz

bananas

cut into chunks

8

oz

frozen raspberries

2

cups

ice

1

cup

whole milk

1

tbsp

honey

1

tsp

lemon juice

8

mint leaves

0.5

oz

sliced almonds
Instructions
Place all ingredients in the blender (except the almonds), starting with the ice. Cover and blend until smooth.

Pour into serving glasses.

Garnish with the sliced almonds and serve immediately.
Nutrition
Nutrition Facts
Raspberry Banana Smoothie Recipe
Amount Per Serving (1 serving)
Calories 192
Calories from Fat 36
% Daily Value*
Fat 4g6%
Cholesterol 7mg2%
Sodium 32mg1%
Potassium 574mg16%
Carbohydrates 38g13%
Protein 5g10%
Vitamin A 266IU5%
Vitamin C 25mg30%
Calcium 112mg11%
Iron 1mg6%
* Percent Daily Values are based on a 2000 calorie diet.