This salmon en croute recipe features salmon that is seasoned with a mixture of salt, pepper, and lemon juice, then placed on a bed of sauteed veggies. They are then wrapped in a dough and baked until the crust is golden brown and crispy and the salmon is tender.
Serve this French classic pie as the centerpiece for special occasions or small gatherings with friends and family. The dish is surely impressive enough to satisfy even the pickiest eaters.
What Is Salmon En Croute?
In the culinary world, the term "en croute" defines a food that is wrapped in pastry dough and then baked in the oven. The dough can be puff pastry or ordinary pie dough.
Salmon en croute has another name — salmon wellington. And as the name implies, it has a great popular cousin, beef wellington.
Back in the 14th-16th century, beef wellington was the fashionable dish among the higher classes. A fillet of beef is coated with paté and mushroom before being wrapped in ham and pastry and then baked.
Chefs have since experimented with this recipe using various types of proteins, especially those that might be easier to find and more affordable. Over time, salmon emerged as the ideal ingredient for this scrumptious and impressive recipe.
Is Salmon En Croute Healthy?
Baked dishes, in general, are often considered unhealthy due to their high saturated fat and sodium content.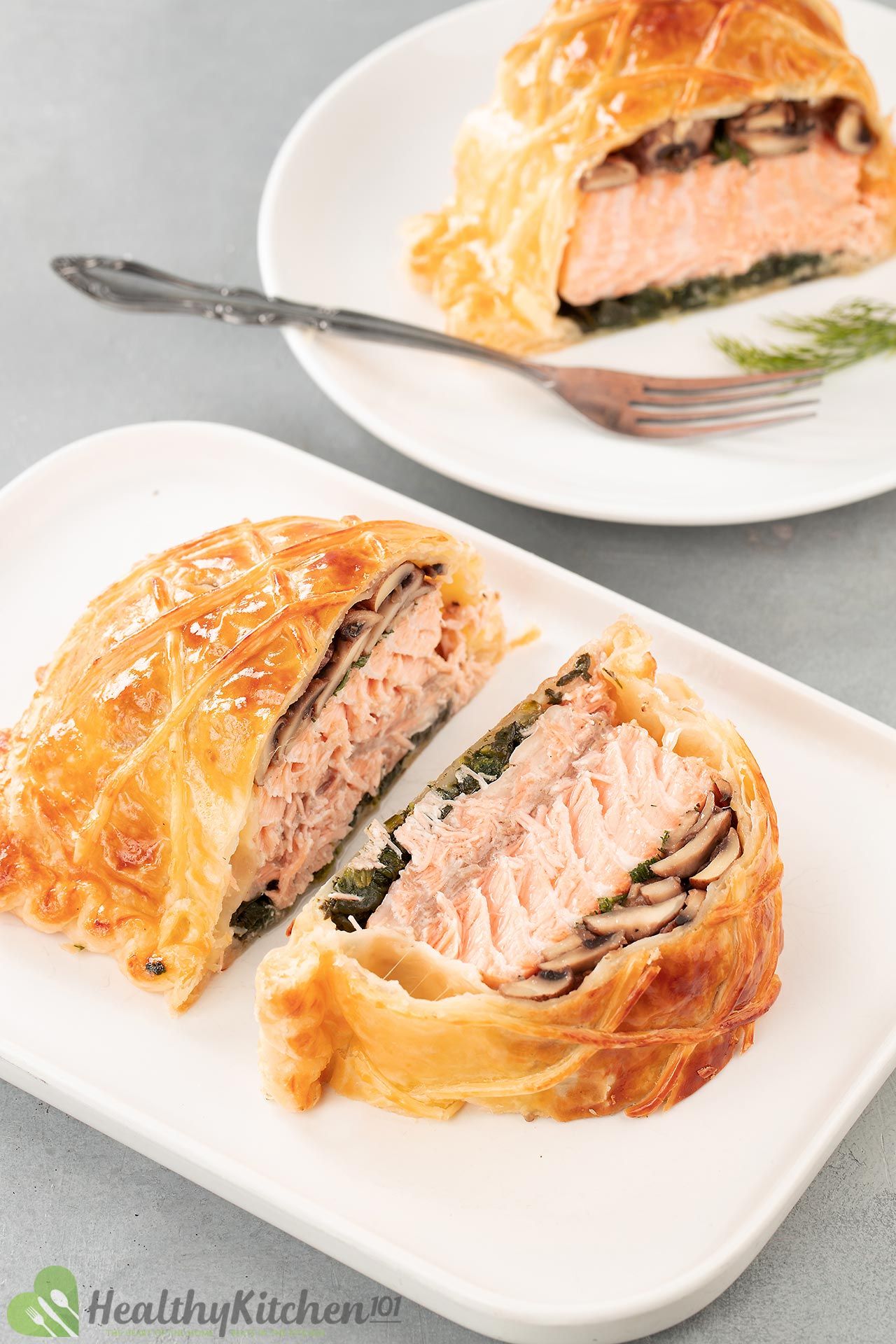 It's understandable since eating too much saturated fat can raise "bad" cholesterol in your blood, which can increase the risk of diabetes and heart diseases. Consuming too much sodium in the diet can also lead to high blood pressure and stroke.
For this salmon en croute, we've calculated carefully to create a delicious dish and more importantly, nutritionally healthy. Each serving contains 9.3 grams of saturated fat and 495 milligrams of sodium, keeping the dish in line with USDA eating guidelines.
Salmon, the star in this recipe, is a powerhouse of omega-3. This is an essential fat that our bodies can't produce and have to absorb from food. The most impressive health benefits of salmon include supporting heart, skin, and cognitive health.
If you want to incorporate more salmon into your daily diet, check out our honey and mustard salmon recipe and salmon coulibiac recipes. They are both delectable and nutritionally balanced!
Main Ingredients in Salmon En Croute – Wellington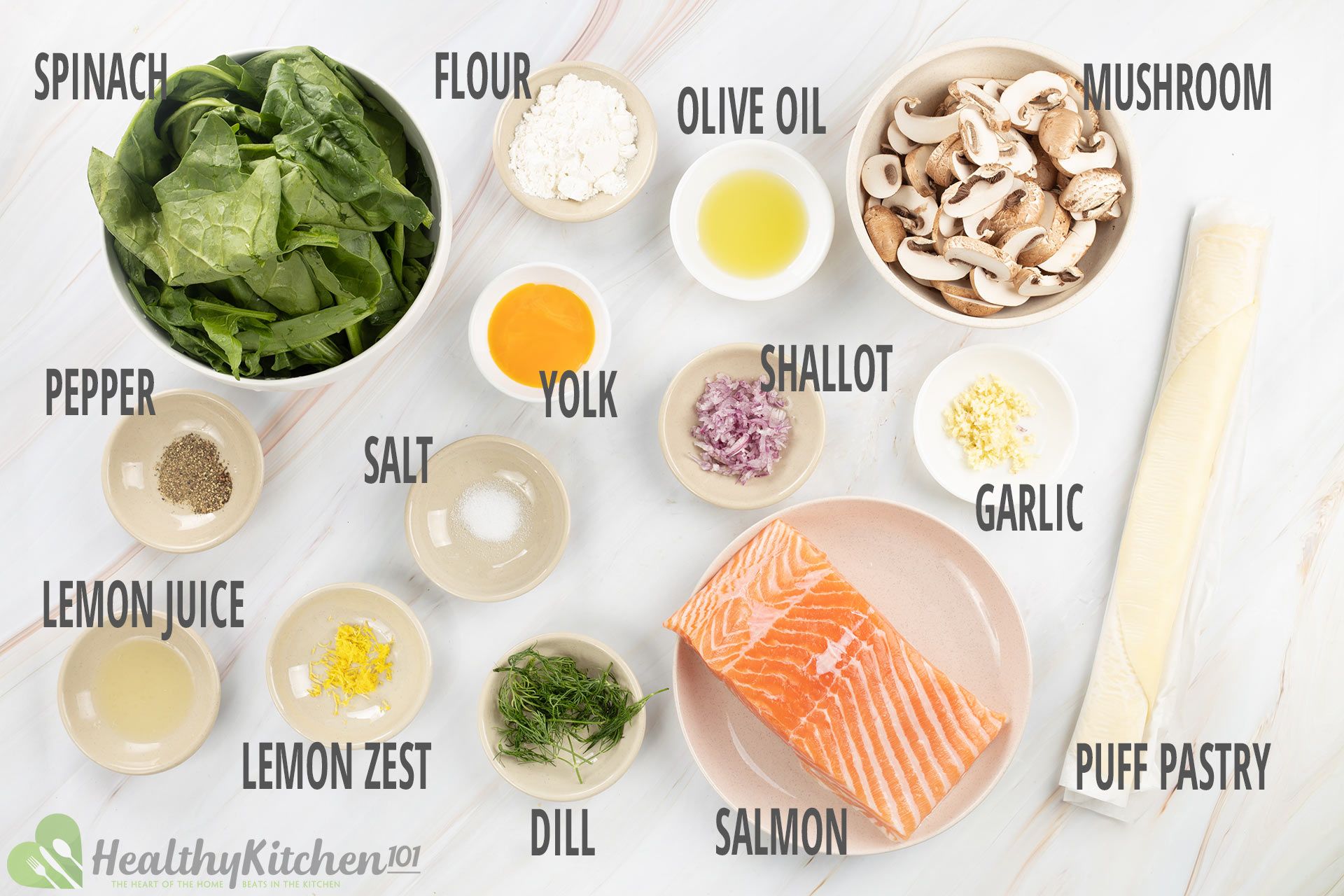 Before we go in, let's take a look at the required ingredients for this salmon en croute recipe:
Salmon fillets: After seasoned, salmon is wrapped in the puff pastry to soak up the goodness of other filling ingredients. The fish then comes out moist, buttery, and irresistible satisfying.
Puff pastry: The pastry dough becomes buttery and crunchy once baked. It also acts as a shield to envelop the salmon fillet and keep the filling succulent.
Mushrooms: This hearty element is sauteed in olive oil and garlic until softened. This combination provides subtle moisture that sneaks into the salmon and keeps it tender throughout the baking process.
Spinach: Spinach adds a scrumptious flavor and a moist layer to the filling. Plus, this veggie is packed with folate, vitamin C, K, and A.
Lemon zest: We use it to add a dose of freshness and bright acidity to salmon.
Egg yolk: Brush the egg wash over the top of the pastry is a simple technique to help it turn out golden brown in the oven.
Don't be imitated by salmon en croute's long-list ingredients, the dish is quite straightforward and easy to make. Read the below to unwrap the recipe and get some handy tips.
How to Make Salmon En Croute – Wellington
This is a short version of our how-to for salmon en croute. For the full cooking details, please reach the recipe card further down the page.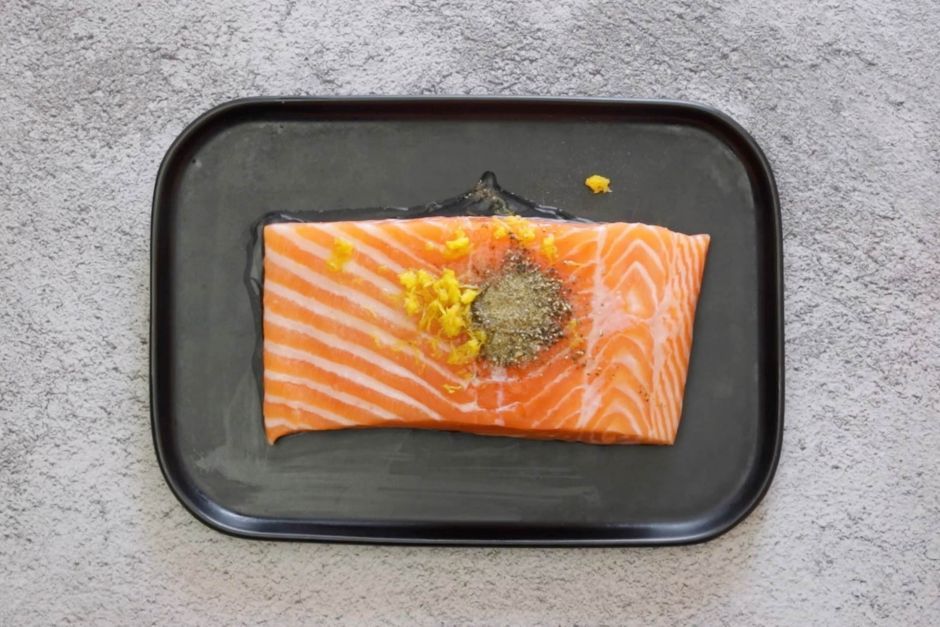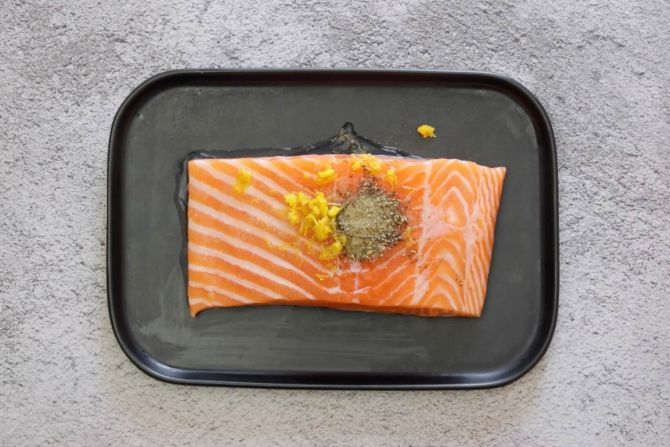 Season the salmon.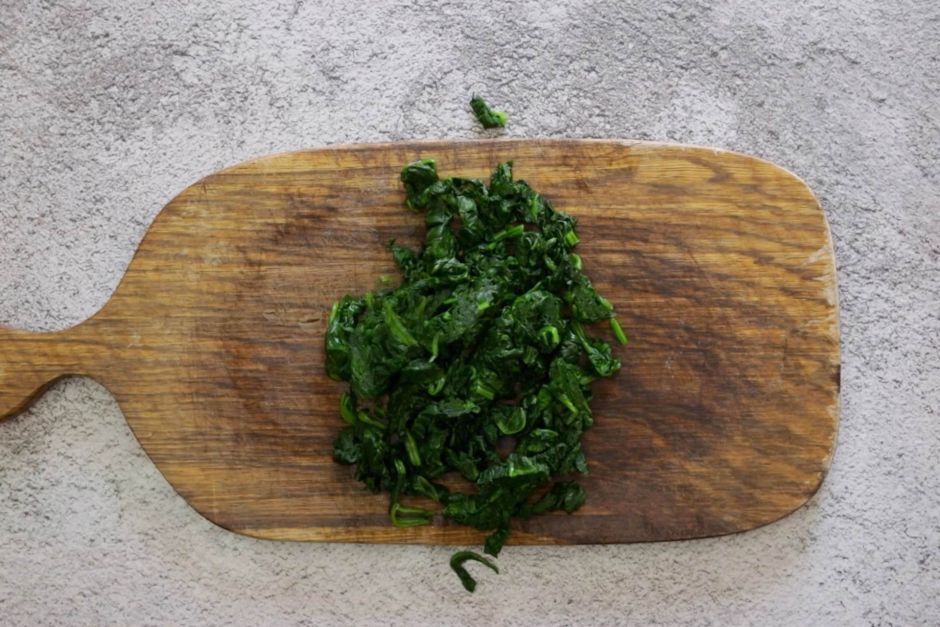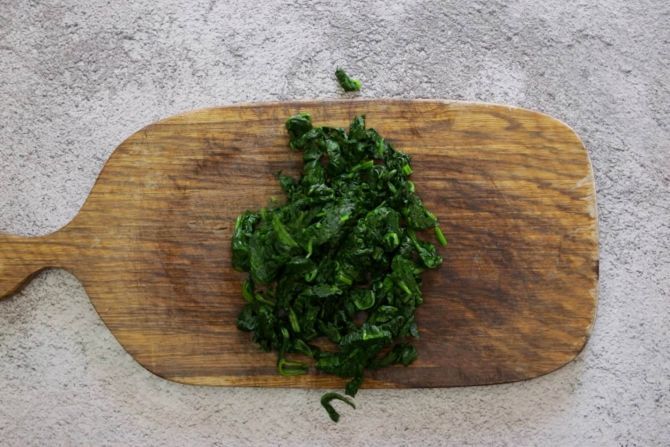 Boil and chop spinach.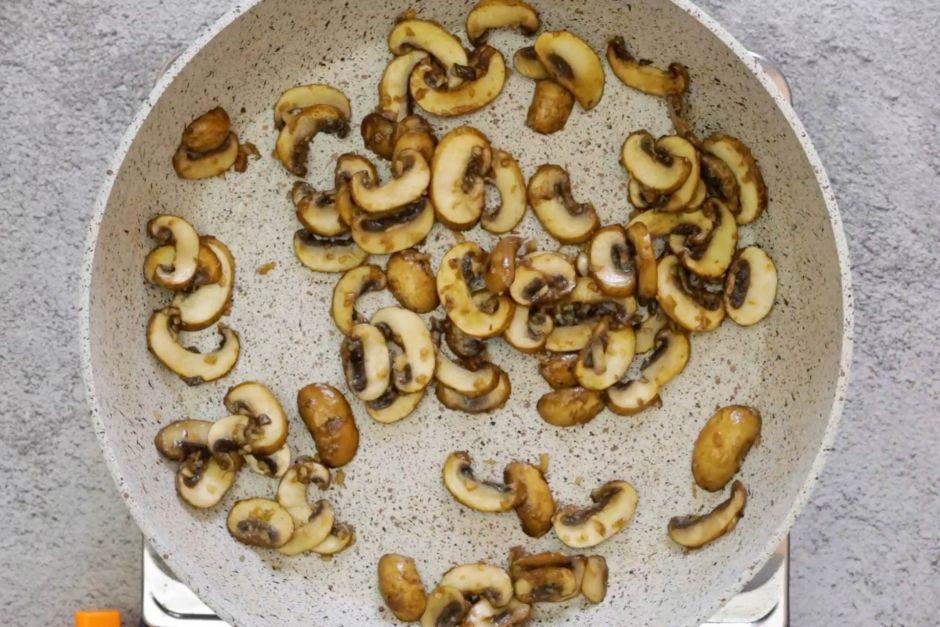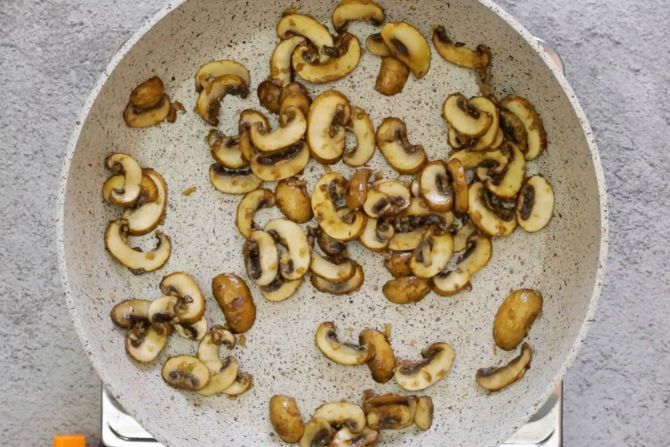 Stir fry mushroom.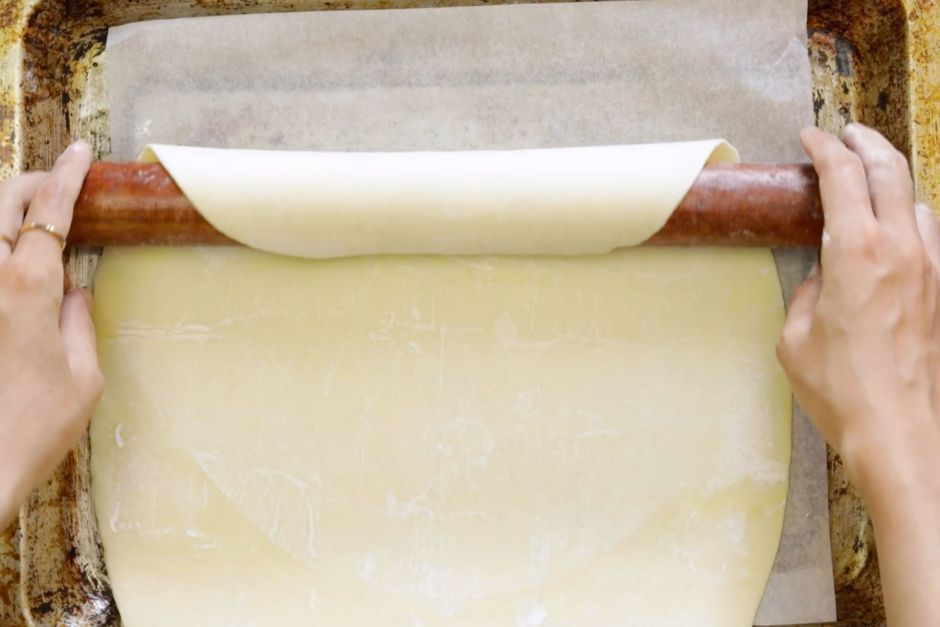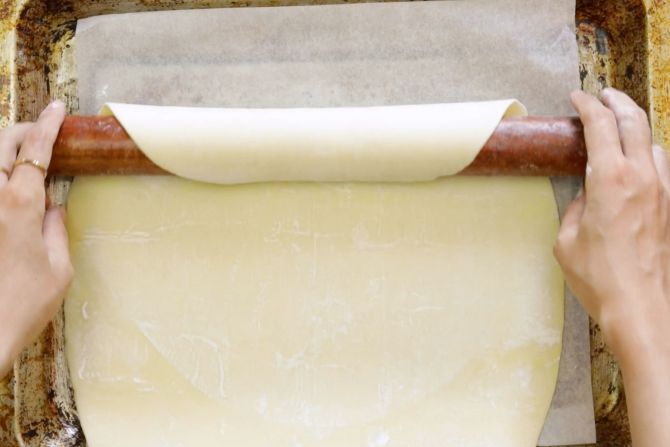 Roll the dough.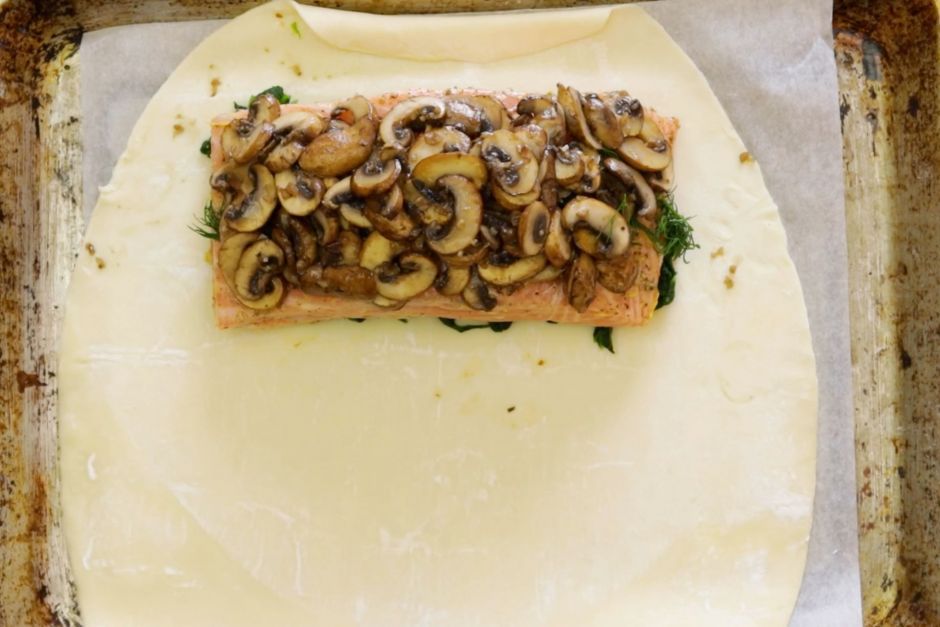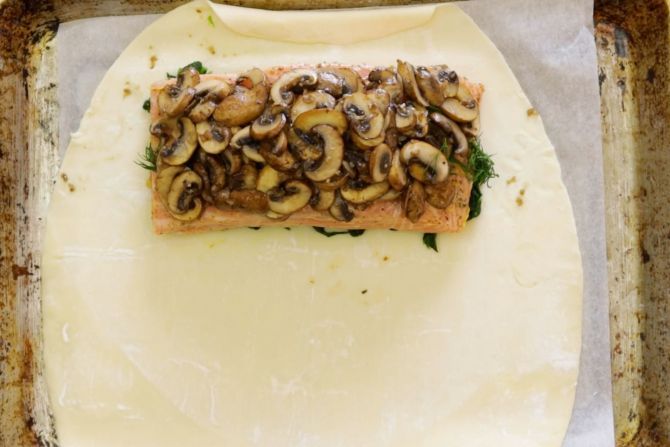 Place the filling of salmon and vegetables on the rolled dough.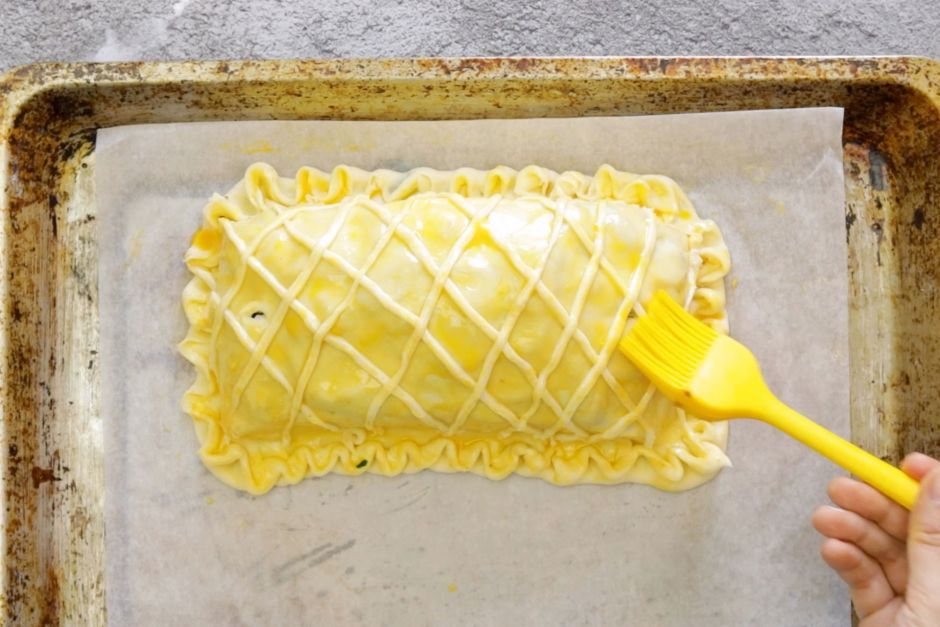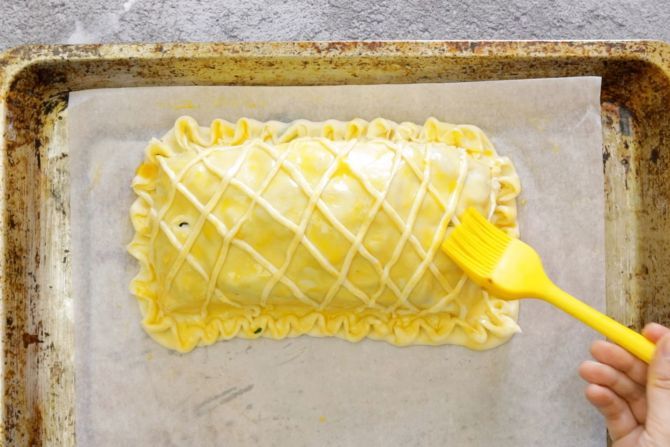 Shape the dough into a loaf. Brush the egg wash over the surface.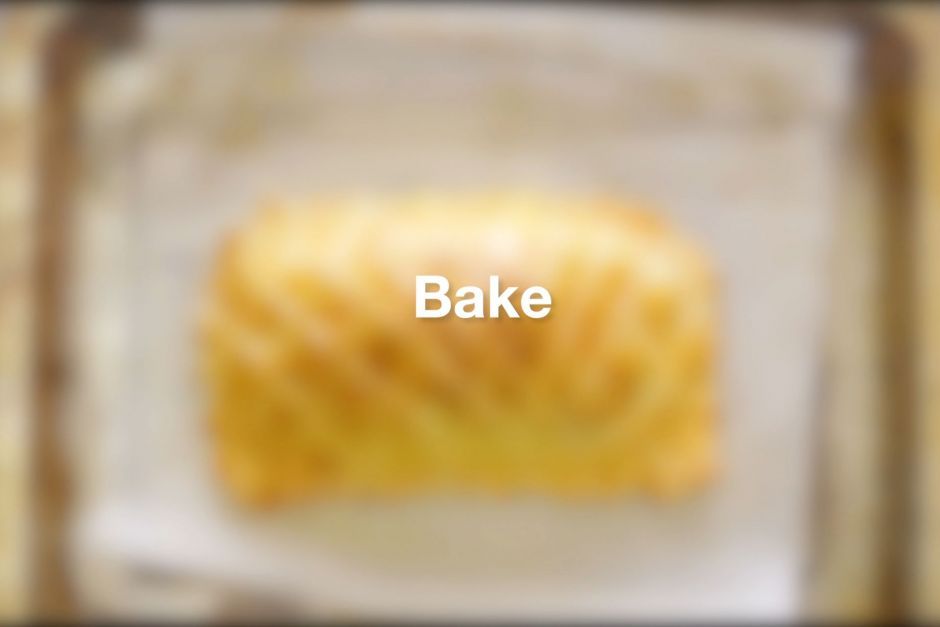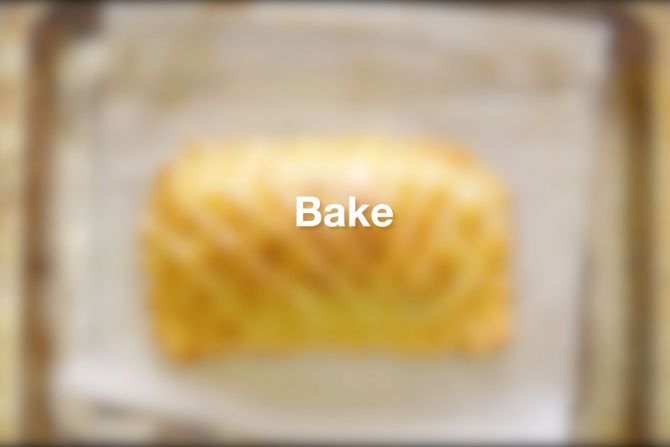 Bake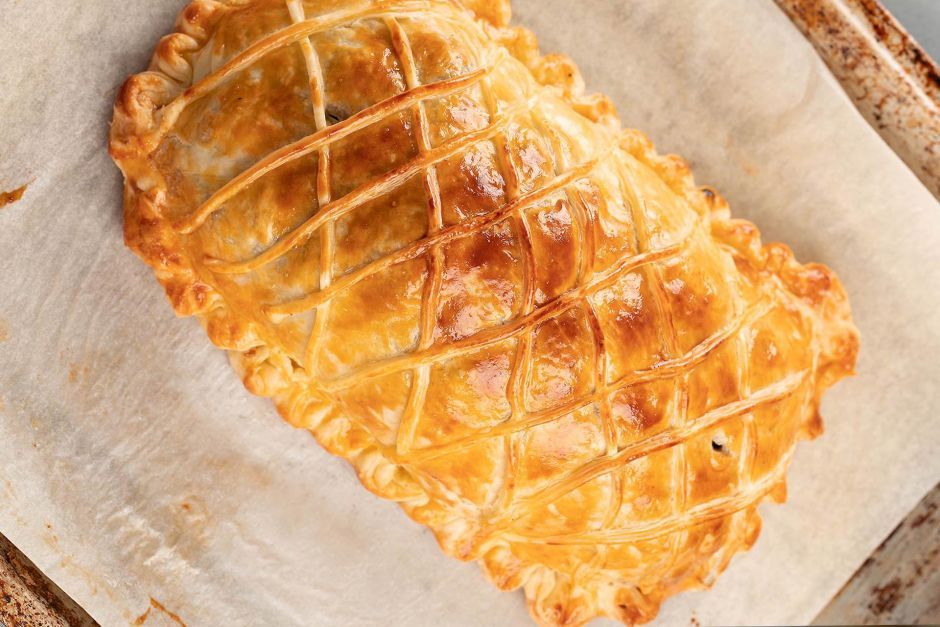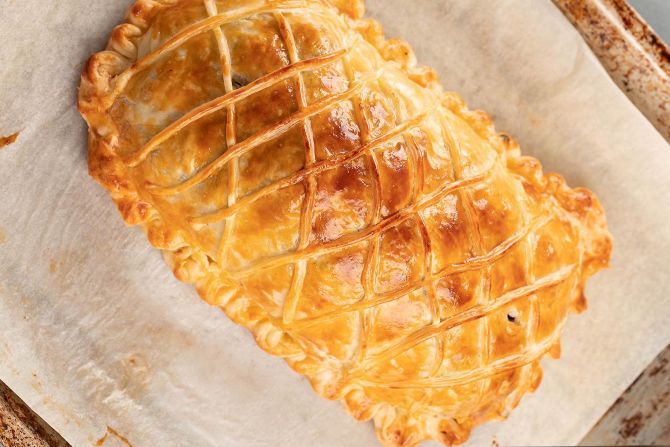 Serve
Jump to Recipe
Follow the next section for some tips to help you master up this fish pie recipe.
Tips
Salmon can pair nicely with a great wide range of herbs and spices due to its bold and rich flavor. Some of the best complements are dill, fennel, tarragon, parsley, basil, and thyme. You can go wild and try on new combinations to find out your favorite.
A common mistake when baking pastry dishes is allowing your crust to go soggy. To prevent this unpleasant situation, make sure your filling is dry without any excess moisture.
You can also make a hole in the pastry to allow the steam to escape in the oven. This way the liquid will not leak, resulting in a nice crunchy base.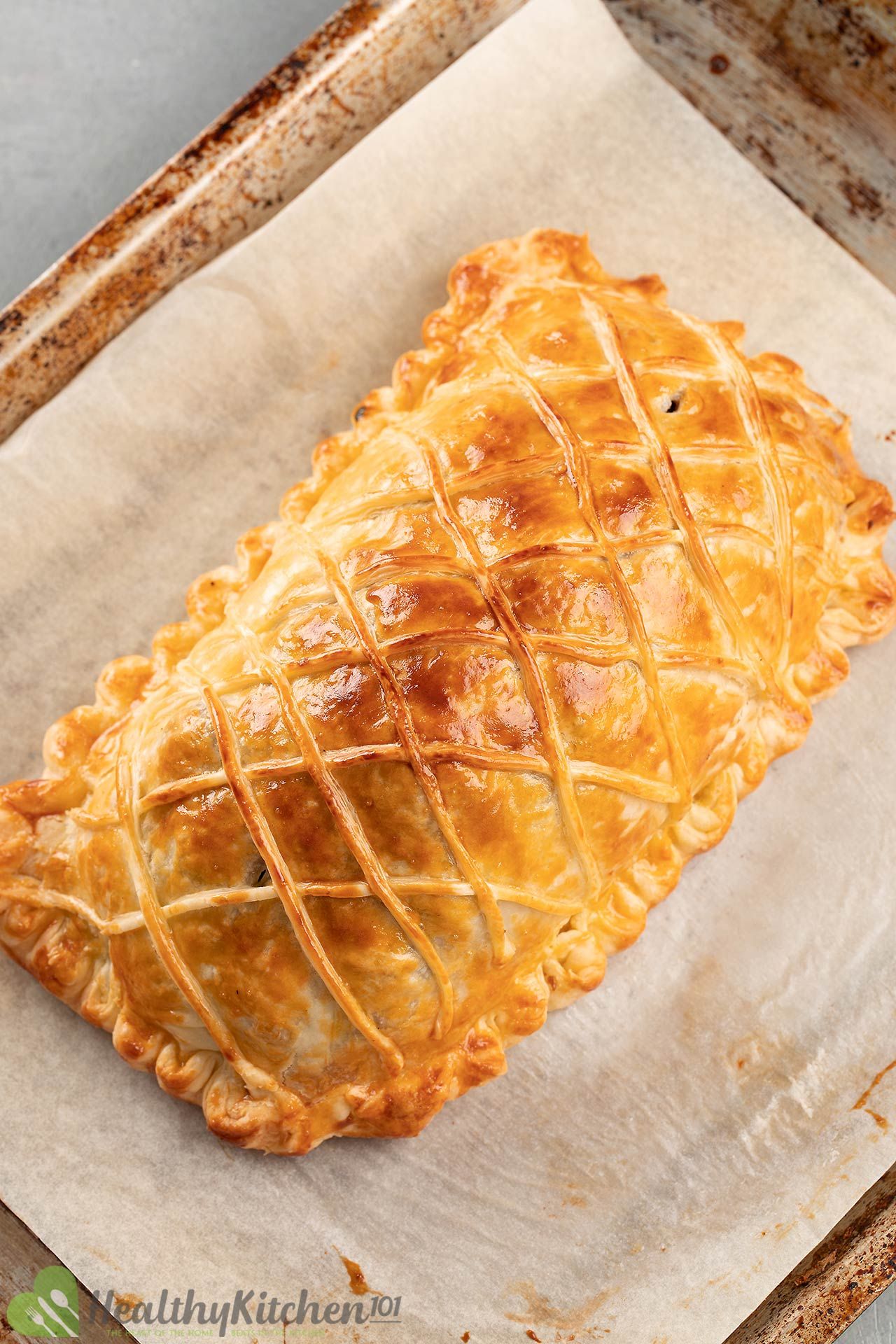 Can I Cook Salmon from Frozen?
For this recipe particular, we don't recommend using salmon from its frozen state. The frozen fish will release excess water during the baking process, resulting in a runny filling and soggy crust.
How Long Does Salmon En Croute – Wellington Last?
Cooked fish can last for a maximum of 4 days in the fridge, and up to 2 – 3 months in the freezer, according to the USDA. To store the dish properly, we suggest placing the salmon in an airtight container or a freezer ziplock bag before refrigerating.
Note that salmon en croute is best eaten on the day of baking rather than reheated later. The longer the dish sits.
What to Serve with Salmon En Croute
If you are looking for ideas for side dishes that go well with salmon en croute, here are some great sides:
1. Mashed Potatoes
Traditionally, salmon en croute is served with some baked potatoes or baked vegetables. Mashed potatoes, creamy texture, and rich flavor, complement the fish and turn each bite into a wonderful experience.
2. Salad
Salmon en croute is not a light dish, so you can have it with something simple and fresh like a green salad. Besides giving a healthy dose of vitamins and nutrients, most green salads can be made in only a few minutes while the pie is in the oven.
We serve salmon en croute with mustard potatoes salad and watermelon cucumber juice on the side. They contribute a 750 – calories meal that is both fulfilling and delicious.
Other ideas on how to serve salmon are featured in this easy idea for a salmon dinner and this quick, easy weeknight meal. The following recipes also add taste and a tang to your salmon dish repertoire.
Check out these fried salmon patties with cornmeal, one of our salmon recipes done in 30 minutes, or this popular side dish in Hawaii.
Nutritional values in this table vary somewhat to those below due to different app calculations. Read more...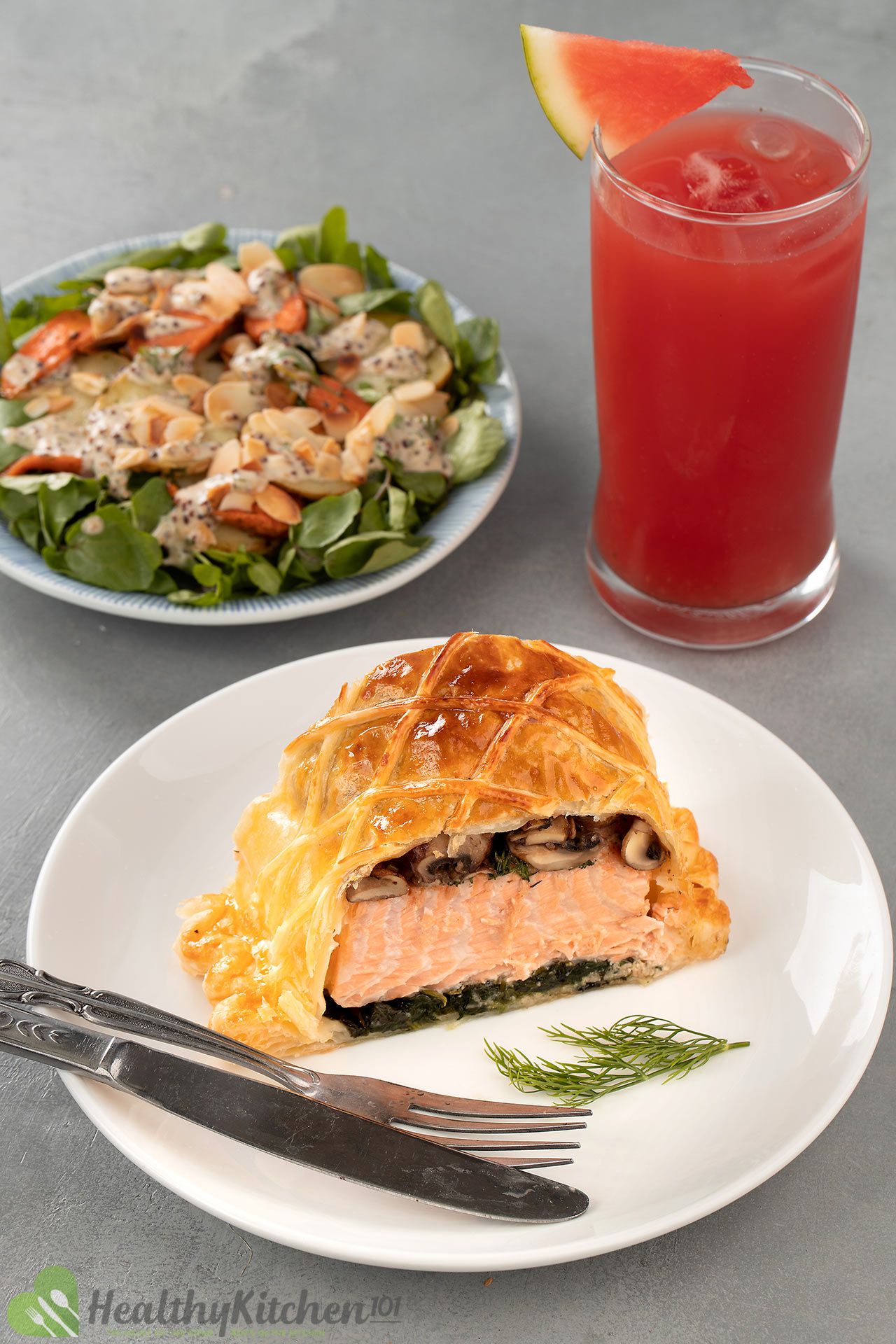 More Mouthwatering Salmon Meals: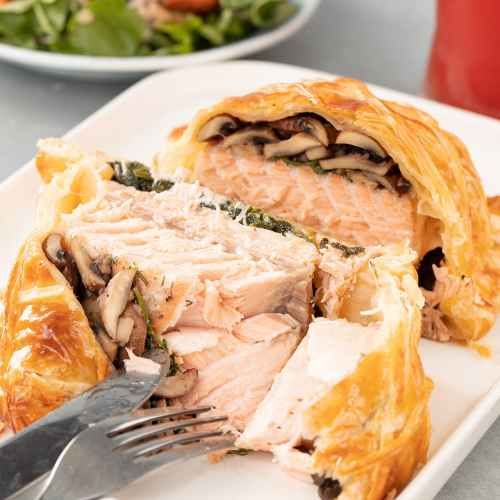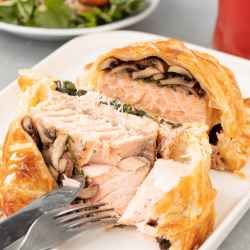 Salmon En Croute Recipe (Wellington)
This easy salmon en croute recipe (Wellington) combines layers of crispy buttery pastry, tender fish, hearty mushroom, and sweet spinach to make a palatable treat.
Ingredients
17

oz

boneless salmon

1/4

tsp

salt

1/4

tsp

ground pepper

1

tsp

lemon juice

1

tsp

lemon zest

6

oz

spinach

6

oz

cremini mushrooms

sliced

1

tsp

garlic

chopped

1/4

tsp

shallots

chopped

1/2

tbsp

olive oil

2

tbsp

all-purpose flour

9

oz

puff pastry dough

1/2

tbsp

fresh dill

1/2

egg yolk
Instructions
Season the salmon with ⅛ teaspoon of salt, ground pepper, lemon juice, and lemon zest

Boil spinach in a small pot. Squeeze water out of spinach and chop them roughly.

Once the spinach is done, in a nonstick skillet, stir fry mushrooms, garlic, shallots with olive oil, and ⅛ teaspoon of salt over medium heat until softened. Transfer the vegetables to a bowl.

Dust your work surface with flour, unwrap the puff pastry dough, and roll it out slightly with a rolling pin. Then transfer the dough to a parchment-lined baking sheet.

Place the spinach on half of the dough, top with salmon, dill, and stir-fried mushrooms.

Bring up the other half of the pastry dough and fold over the salmon filling. Trim the edges and press with your finger to seal. Brush the egg wash over the surface.

Bake at 360F for 20 minutes. Then transfer the dish to the lowest rack in the oven and bake for another 10 minutes. To get a golden brown crust, we bake for another 2 minutes at 480F.

Remove the salmon from the oven. Serve.
Nutrition
Nutrition Facts
Salmon En Croute Recipe (Wellington)
Amount Per Serving (1 serving)
Calories 450
Calories from Fat 216
% Daily Value*
Fat 24g37%
Cholesterol 85mg28%
Sodium 495mg22%
Potassium 899mg26%
Carbohydrates 27g9%
Protein 33g66%
Vitamin A 4218IU84%
Vitamin C 13mg16%
Calcium 67mg7%
Iron 3mg17%
* Percent Daily Values are based on a 2000 calorie diet.