We made today's salmon coulibiac recipe as a guide to a brilliant dinner party idea. This amazing fish pie certainly is a great choice for special occasions and holidays to impress your party guests.
Inside the appetizing golden crust, you'll find juicy salmon fillets layered with basmati rice and mushrooms. It's easy to put together and can be prepped ahead of time to speed the final cooking process.
Though this dish may look a bit sophisticated to new cooks, rest assured that the results will be worth the effort. Now, onto the preparation, shall we?
What Is Salmon Coulibiac?
A coulibiac — originally kulebyaka ("кулебя́ка" in Russian) — was a traditional Russian delicacy. It's a type of Russian pirog, which is a baked case of dough stuffed with filling.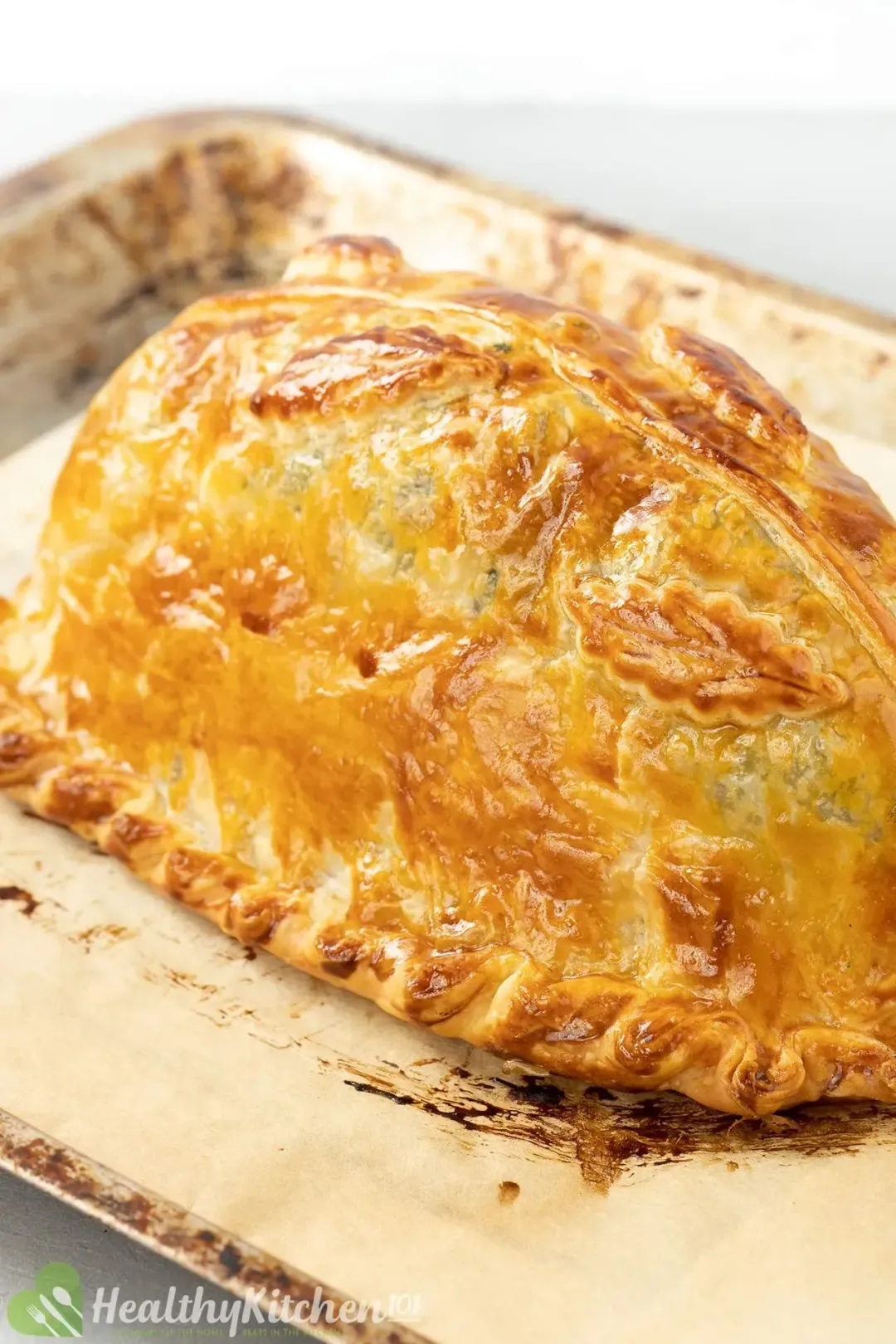 In the early 20th century, a famous French chef, Auguste Escoffier, brought kulebyaka to his homeland and included the recipe in his cookbook. From that time on, the dish was rechristened and popularized as "coulibiac" in the West.
Kulebyaka traditionally includes layers of salmon fillets, rice, boiled eggs, onions, and mushrooms, all wrapped in a puffed pastry. Our coulibiac follows in these footsteps, wrapping up all these tasty ingredients in a crisp dough parcel.
With a thin layer of paté in place of cooked rice, the dish has a strong resemblance to Salmon en Croute, a fish filet also wrapped and cooked in pastry. One can't say for sure, but considering Auguste was a French chef, an interesting connection between the two can be inferred.
There are plenty of choices for stuffing — try salmon, sturgeon, trout, or eel. For the pastry shell, either puff pastry or brioche will do.
Is Salmon Coulibiac Healthy?
Generally, salmon offers a good source of healthy fats and lean protein. Among these are amino acids — organic compounds that have been proven to be beneficial for muscle growth.
Salmon is also a rich source of DHA — a type of omega-3 fat that can only be absorbed into your body through eating. It's not exaggerating to say that you'll do your heart a great favor by consuming salmon.
In this salmon coulibiac, it's necessary to note that the puff pastry wrap adds a significant amount of carbohydrates. A serving of this dish yields 207 calories and 18 grams of carbs from the pastry alone.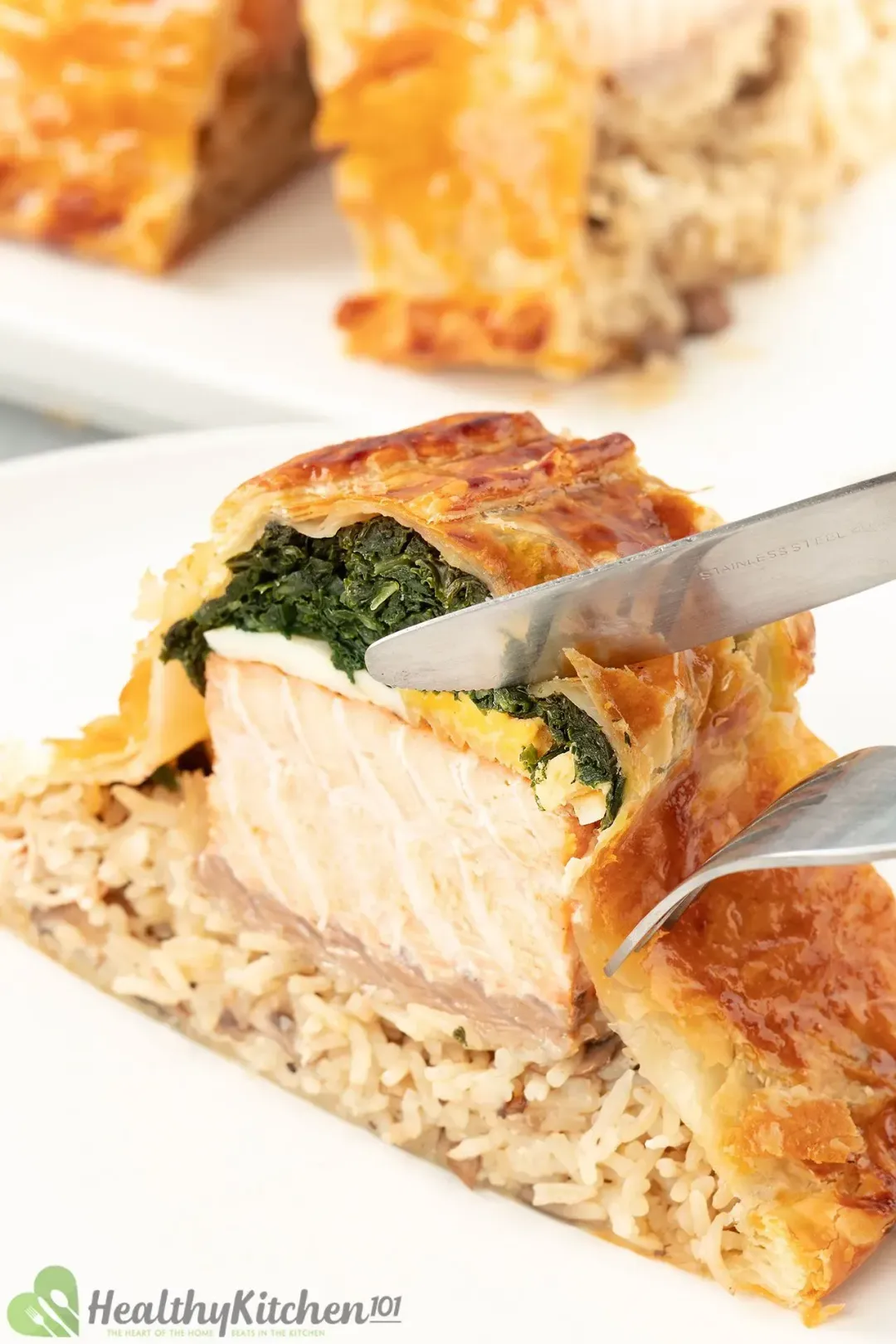 However, please rest assured that the amounts of pastry and flour used in our recipe have been carefully monitored. Based on a 2000-calorie diet, these nutrients stay within the USDA's recommended DRI.
Main Ingredients for Salmon Coulibiac
Inside the golden exterior of this fish pie, you'll find layers of goodness including salmon fillets, mushrooms, hard-boiled eggs, and kale. They're all layered onto one another for a fantastic celebration of savory flavors. 
The main ingredients and the order in which they're arranged inside the pastry loaf are all totally up to you. However, we believe if you're new to salmon coulibiac, sticking with these basic ingredients is a safe bet for your first try.
1. Salmon Fillets
Salmon is easily accessible, and also one of the most nutritious and fool-proof fish for cooks and diners alike. Although wild salmon is particularly coveted for its rich flavor, any variety of salmon can work well in this dish.
When preparing salmon, you might need to trim the sides of the fillets so they fit the shape you're planning on. To enhance the smoky flavor, consider seasoning your salmon with salt, pepper, and cayenne before layering.
If you can't get your hands on salmon, other types of seafood including sturgeon, trout, and eel are just as acceptable. In our opinion, the best possible substitutes for salmon in this dish are cod, haddock, and red snapper fishes.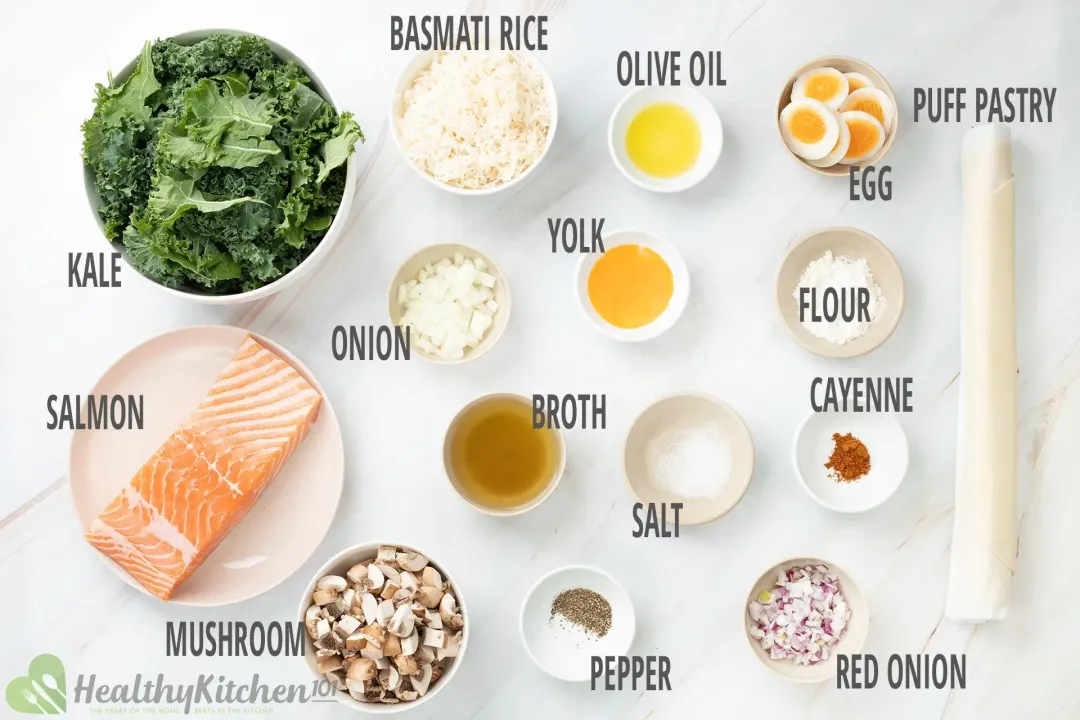 2. Mushrooms
The style we chose for this salmon coulibiac recipe was brown mushrooms, also known as cremini mushrooms. They stand up well to grilling without drying out and becoming wilted.
Cremini mushrooms are actually button mushrooms in the mature state. They're firmer in texture and deeper in flavor compared to white mushrooms, with colors ranging from tan to deep brown.
Tips for Best Results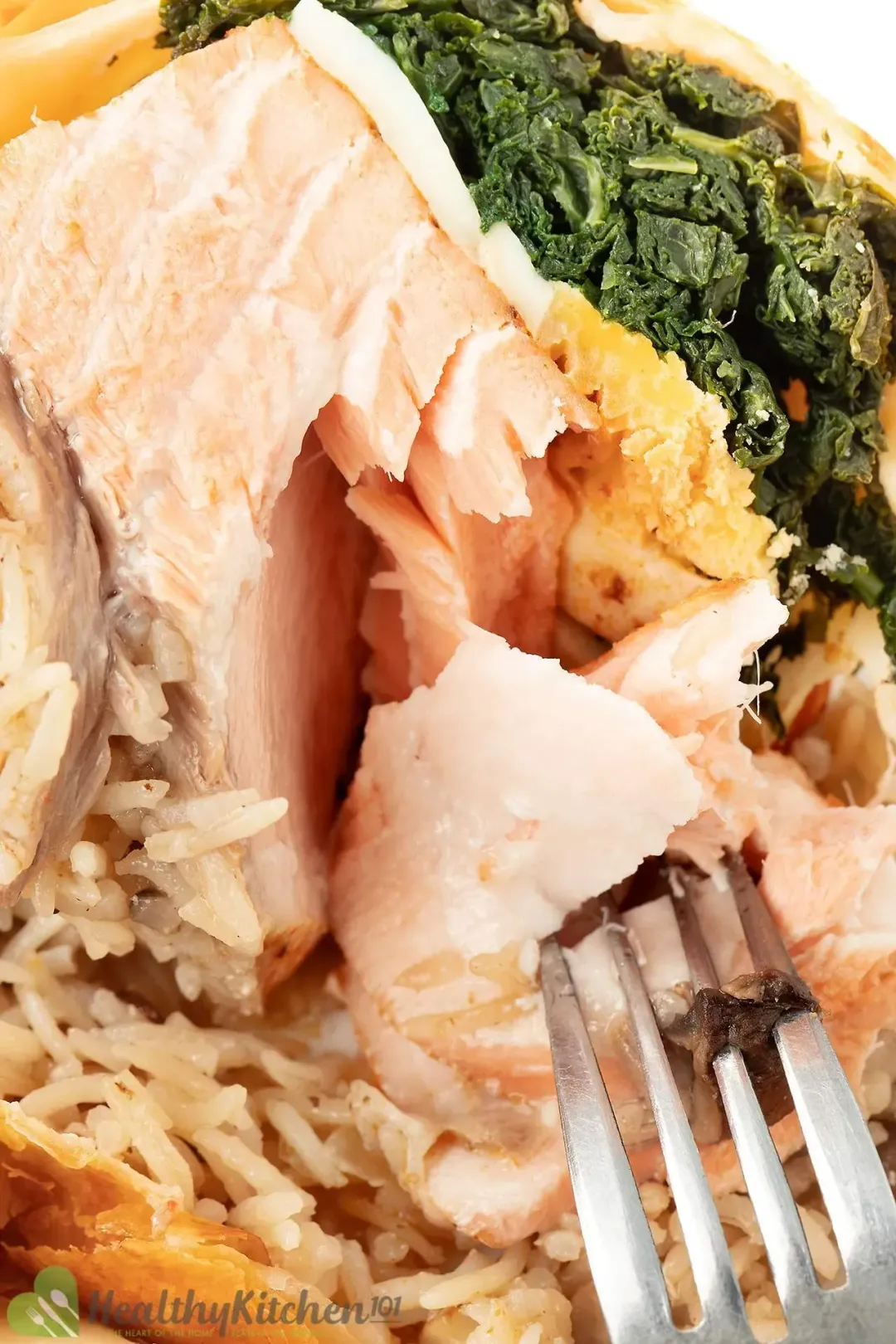 Here's the most important things we've learned from our experiments with this salmon coulibiac recipe:
Do the layering quickly. After the pastry dough receives heat from the fillings, folding and tucking will become impossible.
Coat both the rolling pin and the parchment paper with generous amounts of flour so the dough won't stick.
For those who're unfamiliar with making pastry, it's not unusual to fail in your first attempts. You might need to reform and reroll the dough multiple times to truly get the feel of it, so be patient.
How Long Does Salmon Coulibiac Last?
Leftover salmon coulibiac can last up to 3 days. Cooked ingredients, if covered tightly and stored separately in the fridge before prepping, can stay good for a week.
Although being labor-intensive, salmon coulibiac is easy to make in advance. Here's how you do it:
First, spend your free time preparing the ingredients for the filling beforehand. Assemble everything on the pastry wraps in layers, enclose the wraps tightly, then cover the whole loaf with clingfilm.
Next, refrigerate the unbaked salmon coulibiac until your tablemates are ready to eat. When needed, simply unwrap, pop it into the oven, and wait for a few minutes.
What to Serve with Salmon Coulibiac
When serving, salmon coulibiac is cut into thick slices and divided into small portions. Since this is a protein-rich delicacy with rice included, it matches well with green salad and a frosty fruit juice.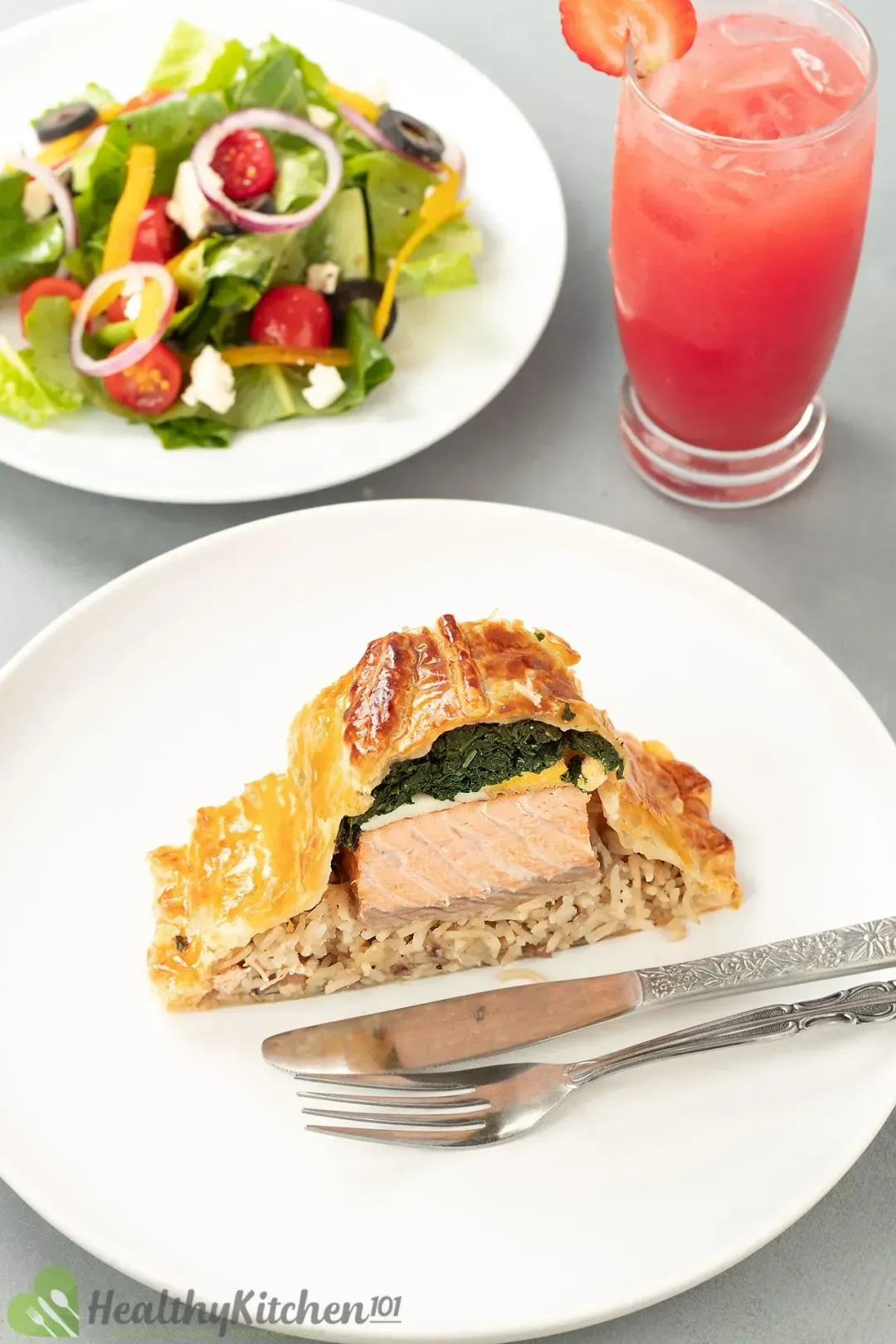 1. Greek Salad
Fresh mixes of greens are always great complements to savory main dishes, so Greek salad is our first choice to pair with this salmon coulibiac. Thanks to the addition of feta cheese, this salad also offers an extra powerful source of healthy fats.
2. Strawberry Watermelon Juice
After a few crunchy and nutritious bites, let's take a sip of this low-calorie strawberry watermelon juice for some cool refreshment.
Loaded with vitamins and antioxidants, strawberry watermelon juice is a healthy and incredibly refreshing summer drink. It also contains only a small amount of added sugar, so it can still help you manage your calorie intake.
For more nutritionally-reviewed salmon and rice recipes, have a look at this collection of ours.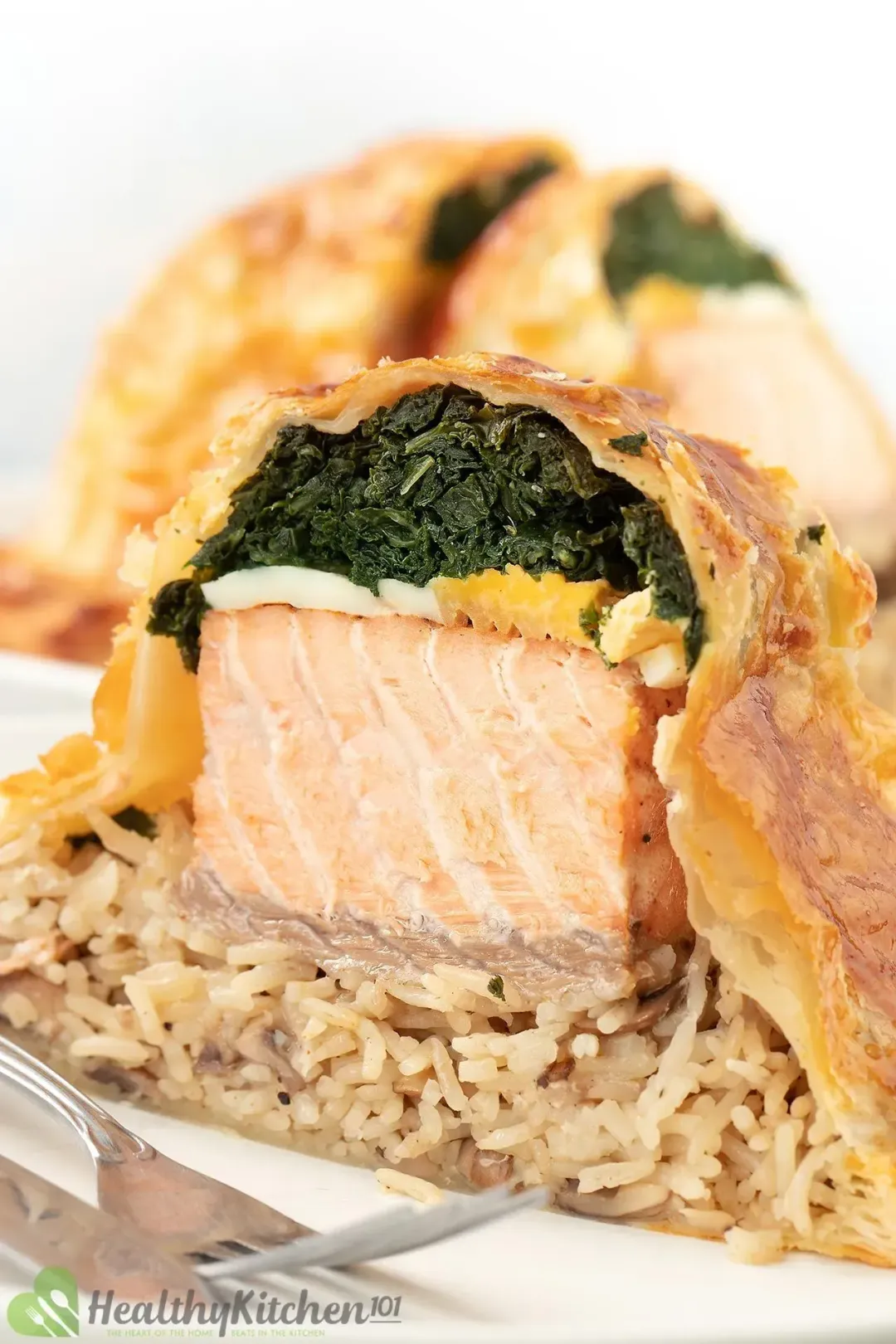 Salmon Coulibiac Recipe
This salmon coulibiac recipe requires some effort to put together — nearly 2 hours of cooking. However, the resulting explosion of exquisite flavors in an aesthetically pleasing package is a worthwhile reward for the time and work you put into it.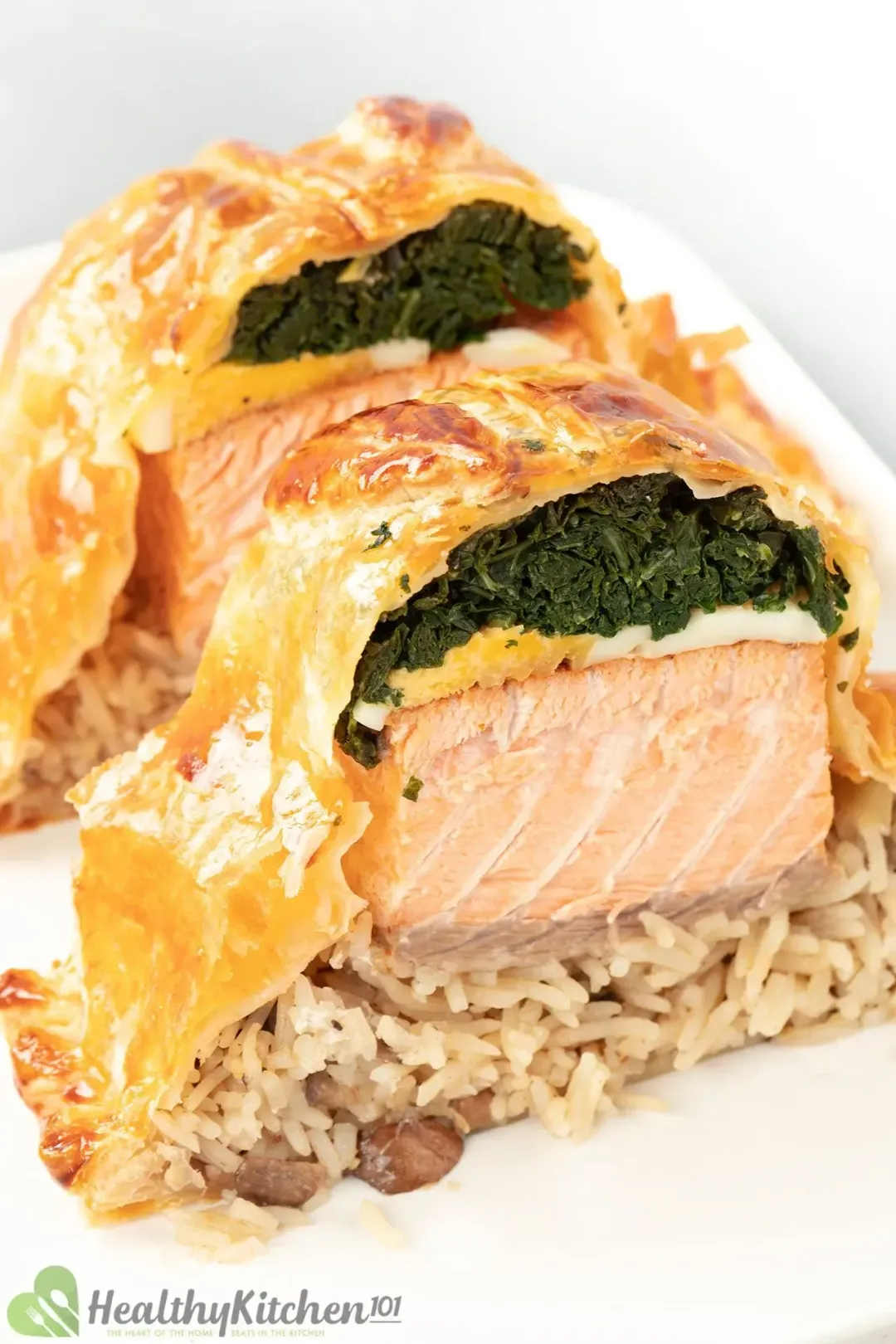 cook TIME

1 hr 25 mins

prep TIME

15 mins

total TIME

1 hr 40 mins
COURSE

Main Course

CUISINE

Russian

SERVINGS

servings

CALORIES

504 kcal
INGREDIENTS
1/4 tsp

ground black pepper

(divided)

1 oz

yellow onions

(diced)

0.5 oz

red onions

(diced)

4 oz

cremini mushrooms

(quartered)

1/2 cup

uncooked basmati rice

(equals to 1 1/2 cup cooked)

1/4 cup

unsalted chicken broth

2

medium eggs

(hard-boiled, sliced)
INSTRUCTIONS
Make the filling:
1
Season the salmon fillets with 1/8 tsp of salt, 1/8 tsp of ground black pepper, and 1/4 tsp cayenne.
2
Place 4 oz kale in boiling water for 1 minute then fish it out quickly.
3
Run the kale through cold water, let it drain, then squeeze to remove excess liquid. Chop the kale small and set it aside.
4
Heat 12 tbsp olive oil in a skillet over medium heat. Add the 1 oz onions and 0,5 oz red onions, sauté for 5 minutes until fragrant.
5
Add the 4 oz mushrooms, sauté until golden.
6
Add 1/2 cup cooked basmati rice, 1/8 tsp of salt, 1/8 tsp of ground black pepper, and 1/4 cup chicken broth to the skillet. Sauté everything together until the chicken broth is absorbed and the mixture is almost dry. Remove the skillet from heat and set it aside.
Wrap and bake:
1
Preheat the oven to 360℉.
2
Dredge 1 tbsp flour on parchment paper, roll out 8 oz puff pastry, then place it onto a baking sheet.
3
Spread your rice mix onto the pastry to create a bed for the salmon. Then, place your salmon and lay successive layers of 2 hard-boiled eggs and kale on top of the salmon.
4
Use your hands to gently press everything into a dome shape. Roll out the second sheet of puff pastry (wider) to wrap the fillings tightly.
5
Use a fork to press and seal the pastry layers together. Brush the 1/2 beaten egg yolk over the outer surface.
6
Bake for 20 minutes in the middle rack of the oven, then transfer the baking sheet to the bottom rack and bake for another 10 minutes.
7
Turn the heat up to 480℉ and bake for an extra 2 minutes to create a golden outer shell.
8
Remove from the oven. Divide the loaf into smaller portions and serve hot.
NUTRITION
Nutrition Facts
Salmon Coulibiac Recipe
Amount Per Serving (1 serving)
Calories 504
Calories from FDA
% Daily Value*
* Percent Daily Values are based on a 2000 calorie diet.
Keywords: how to make salmon coulibiac, salmon coulibiac, salmon coulibiac recipe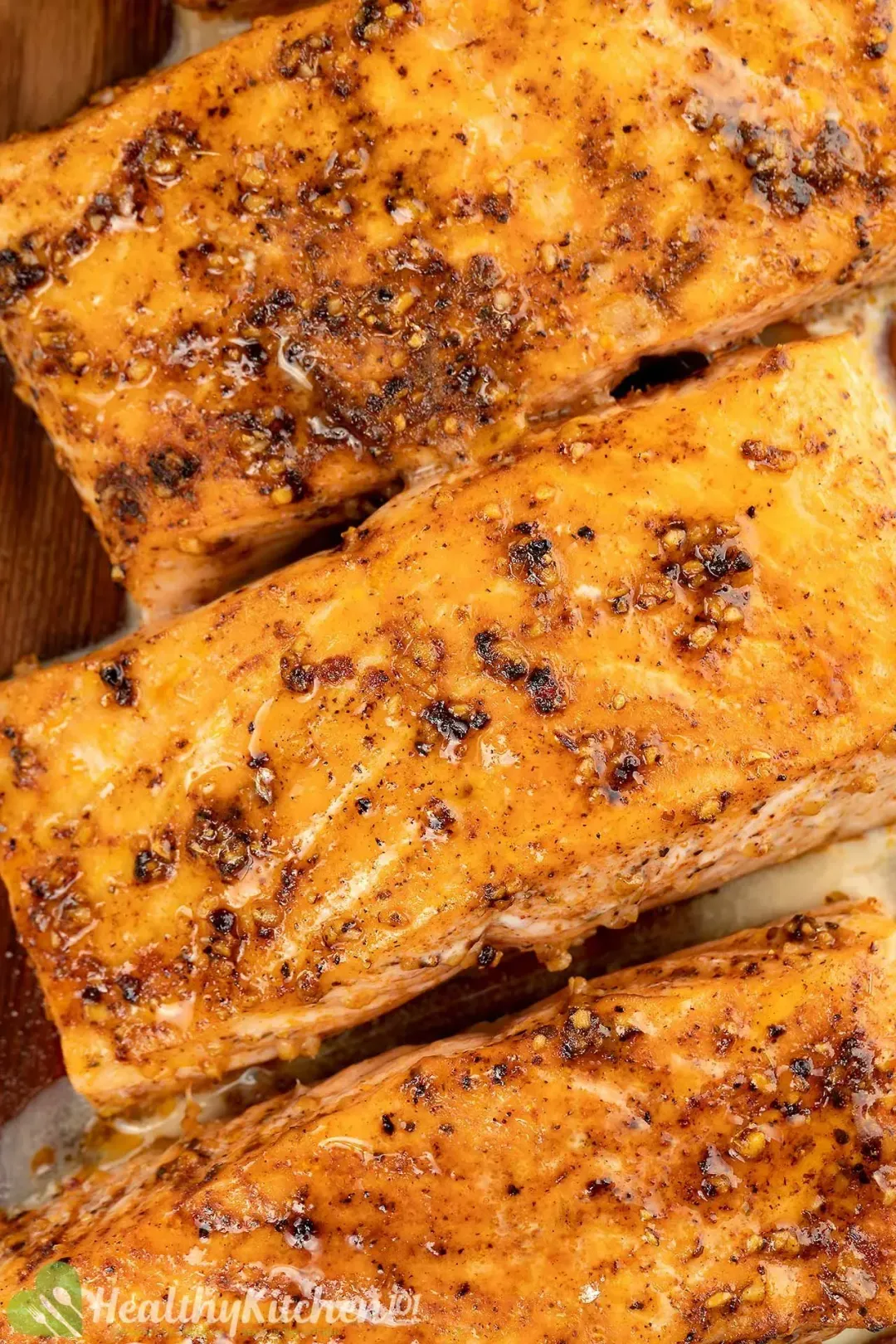 Previous Recipe
Cedar Plank Salmon
Cedar Plank Salmon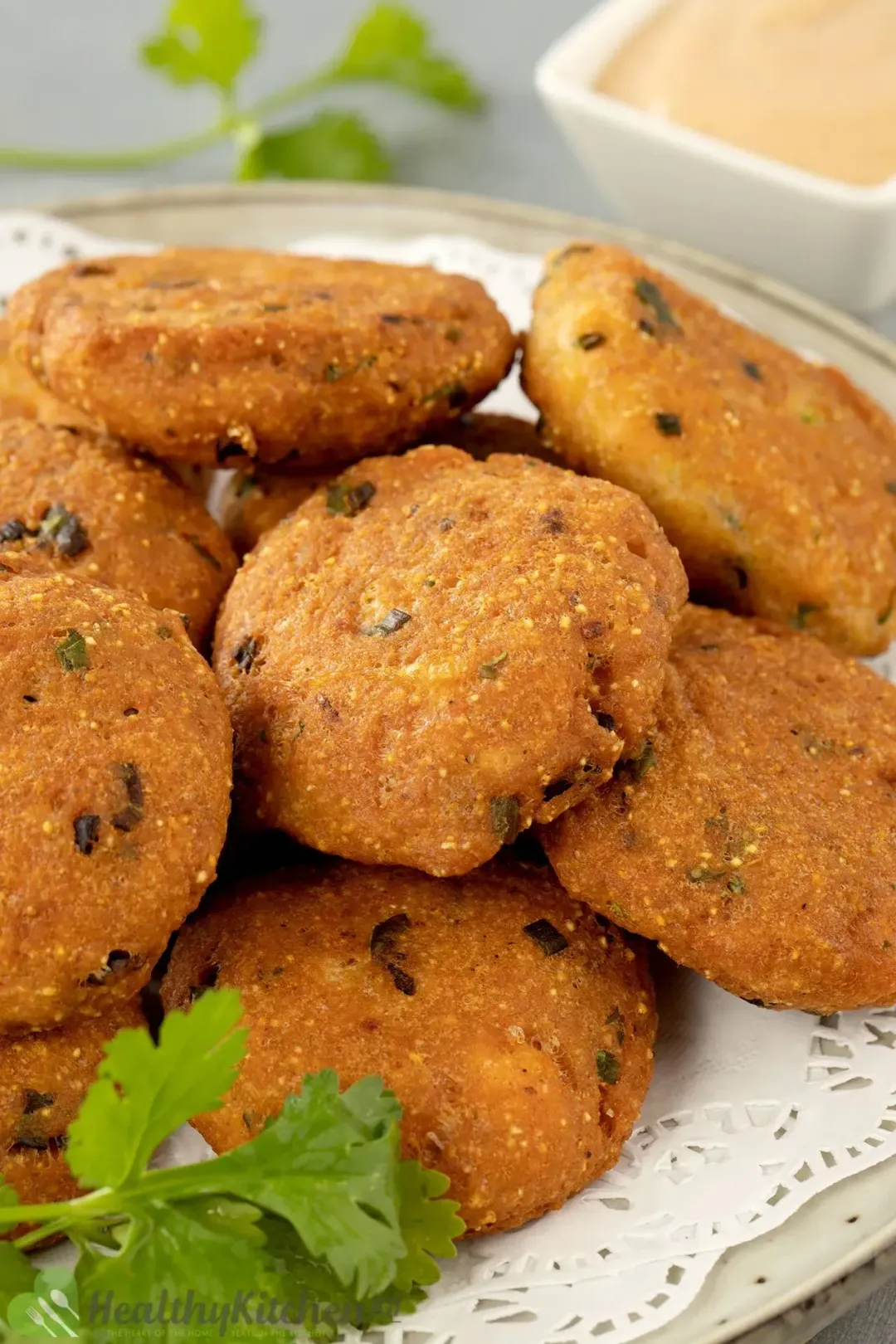 Next Recipe
Salmon Patties With Cornmeal
Salmon Patties With Cornmeal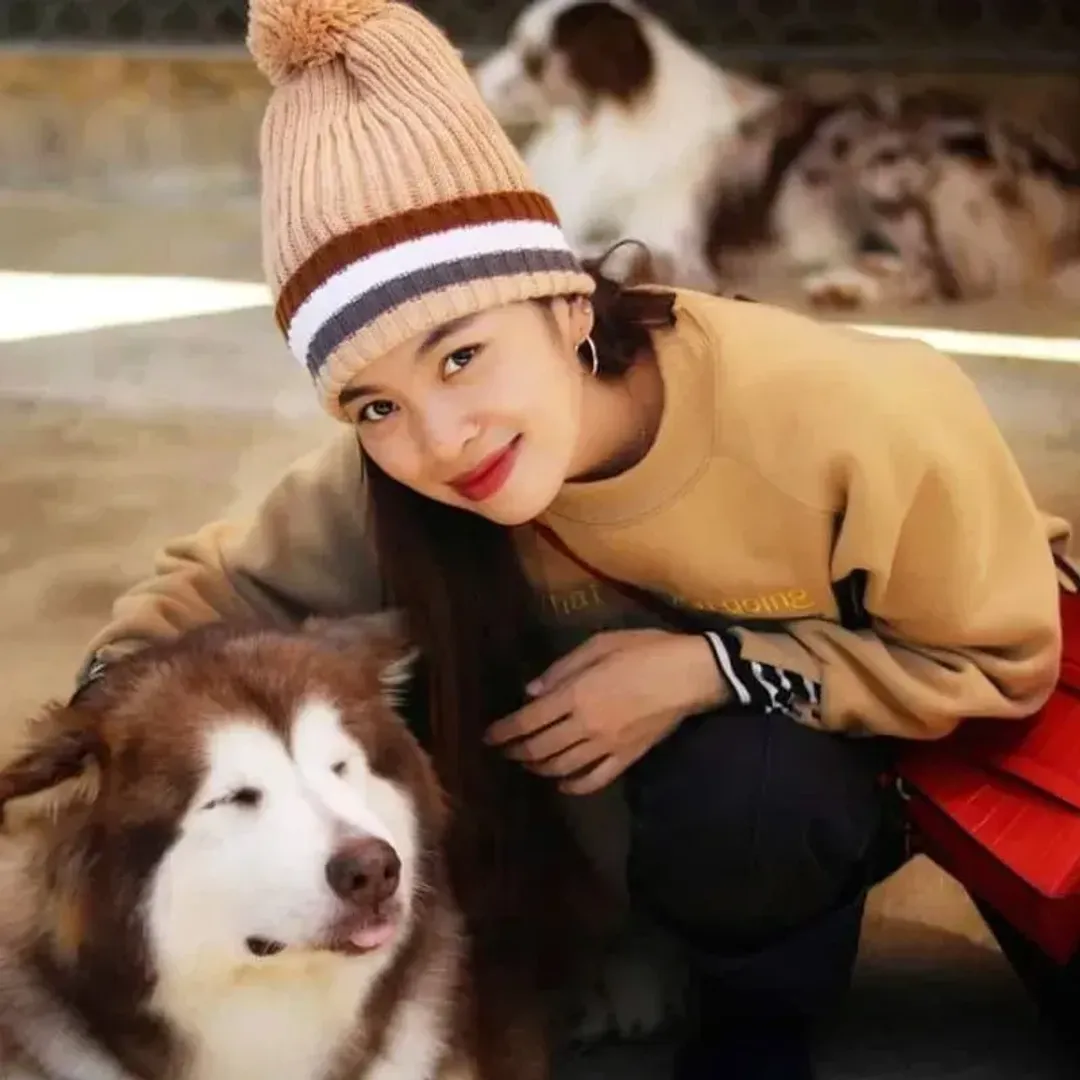 Chef, Culinary Consultant
Tuyet Pham is an award-winning Saigonese chef who believes that joy is the secret ingredient to delicious food. At Healthy Recipes 101, Tuyet personally tests and simplifies every recipe, ensuring maximum flavor with minimal effort. With a background at prestigious French restaurants P'TI Saigon and Le Corto, Tuyet knows how to make every dish exceptional.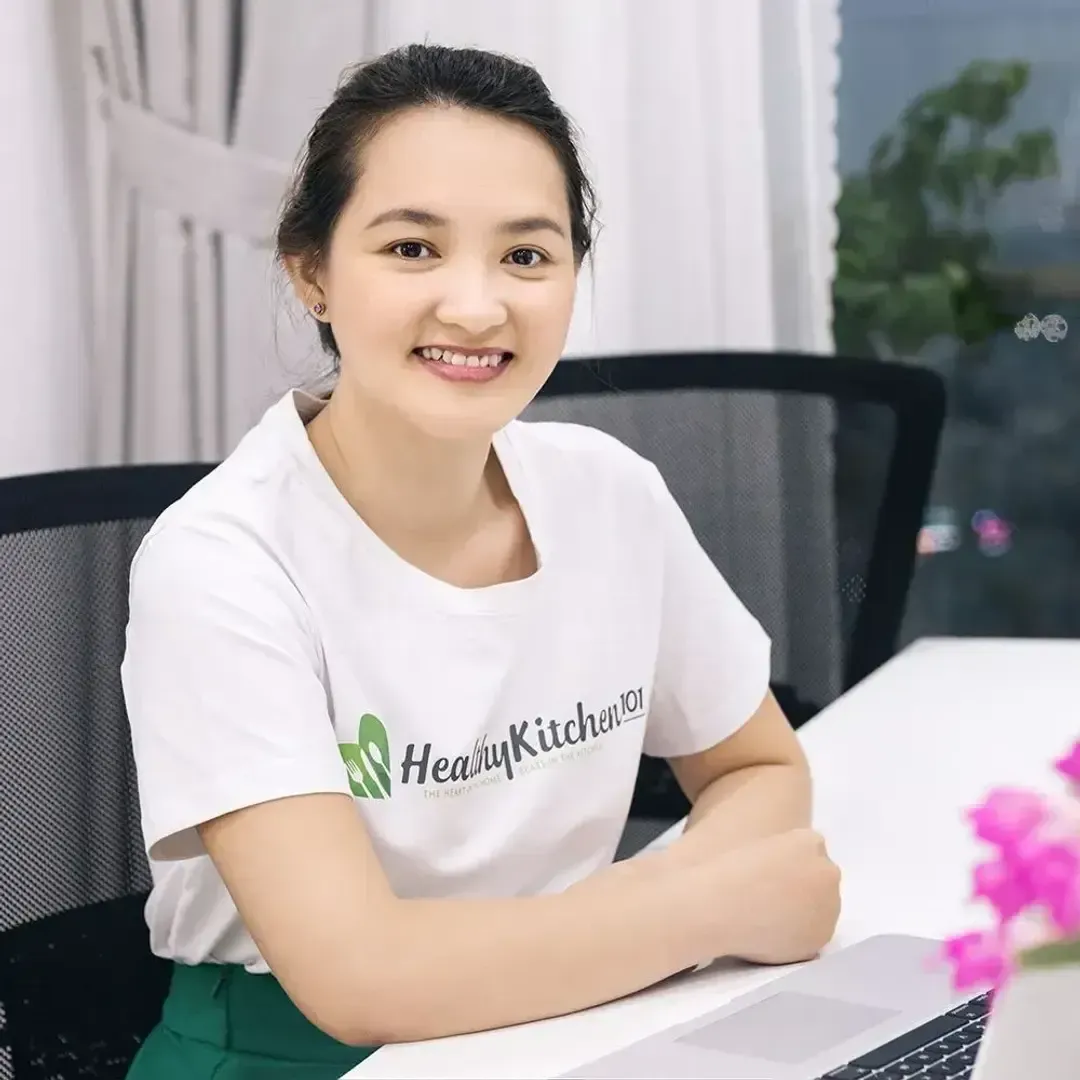 Writer, Author
Luna Regina is an accomplished writer and author who dedicates her career to empowering home cooks and making cooking effortless for everyone. She is the founder of HealthyKitchen101.com and HealthyRecipes101.com, where she works with her team to develop easy, nutritious recipes and help aspiring cooks choose the right kitchen appliances.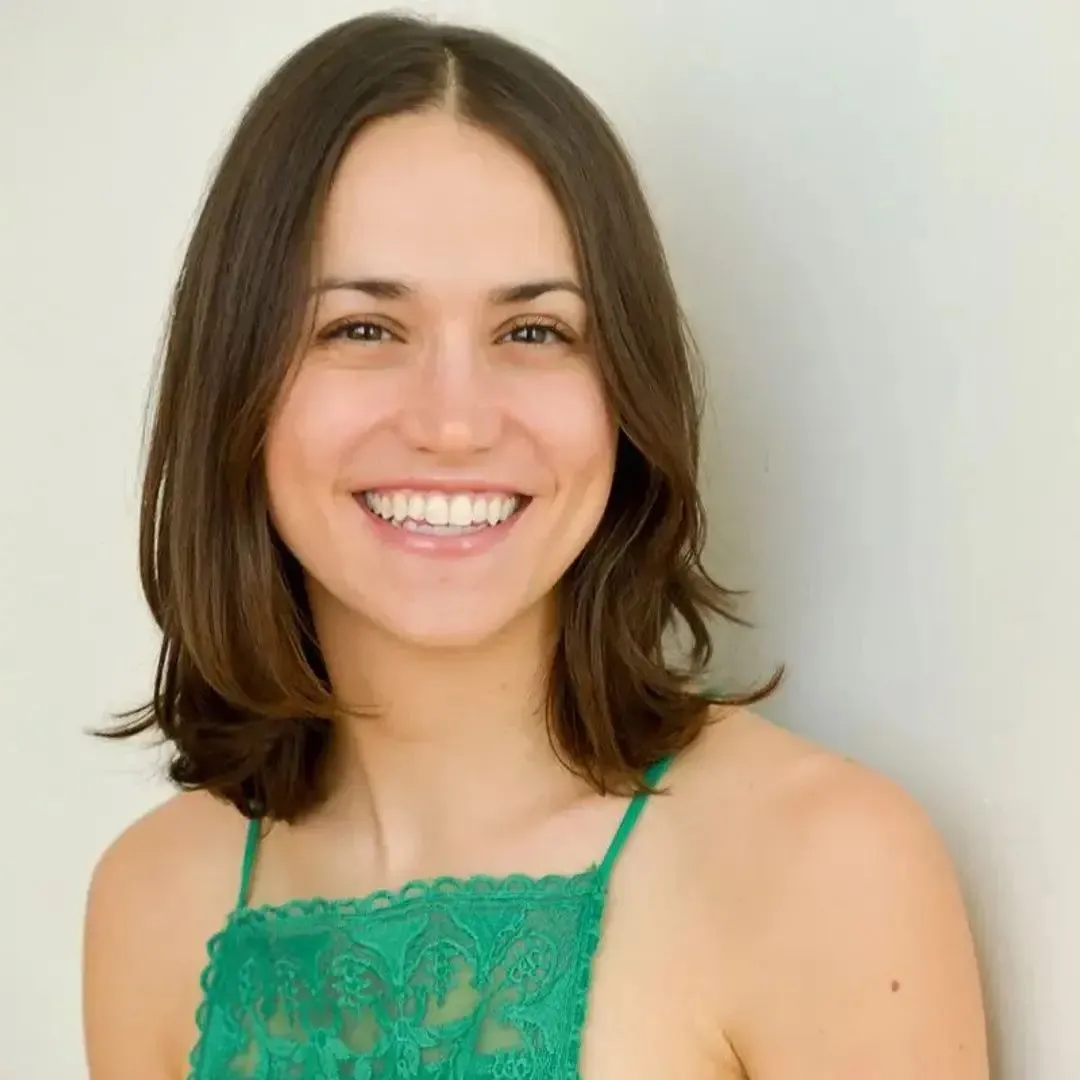 Nutrition Reviewer
Lizzie is a Minneapolis-based dietitian and founder of It's a Veg World After All. She completed her MS in Human Nutrition from Drexel University, and is an expert in culinary nutrition, recipe development, and nutrition communications.
Comments/ Reviews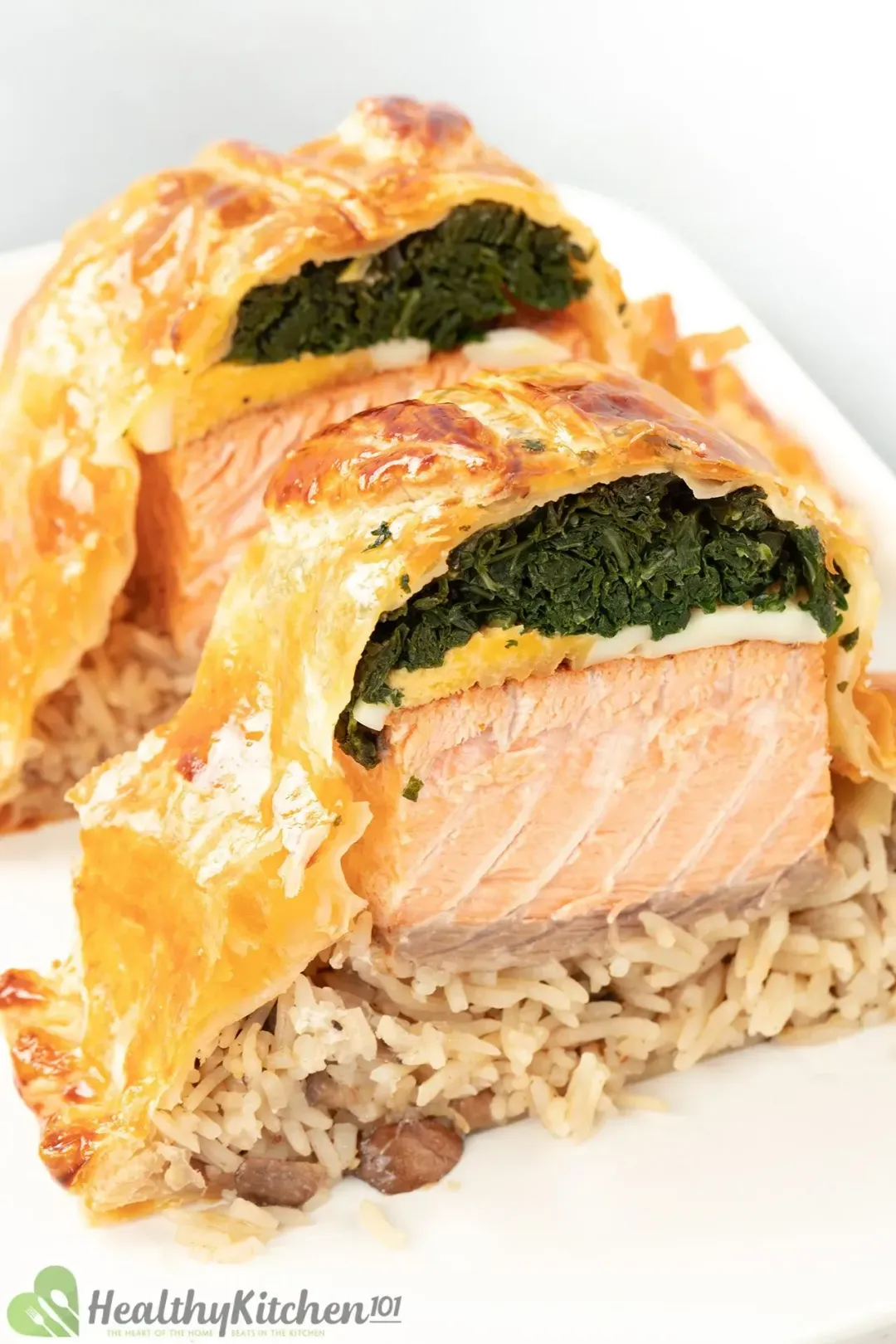 Padilla

March 17, 2023 at 3:22 AM

Just finished making the salmon coulibiac and it turned out great! The puff pastry was fluffy and provided a nice contrast to the smoky-tasting salmon.