Today's cedar plank salmon recipe features smoked cedar flavor and juicy, flaky grilled salmon. It's sure to leave you satisfied.
This dish takes only 35 minutes and little effort to grill. It offers a moist, flavorful, and woodsy goodness with a comforting aroma and soothing warmth.
What Is Cedar Plank Salmon?
Cedar plank grilling is a traditional cooking method that originated in the American Pacific Northwest. The meat is grilled directly on a water-soaked and heated plank of cedarwood.
The wood itself gets hot (we're cooking, after all), but doesn't burn up. Instead, the steam coming off the cedar infuses into the tender meat.
As a result, you'll get a subtle woody flavor and smoky aroma that melds with the meat's natural flavors to create something distinct and delicious. And all that steam helps keep your food moist and tender.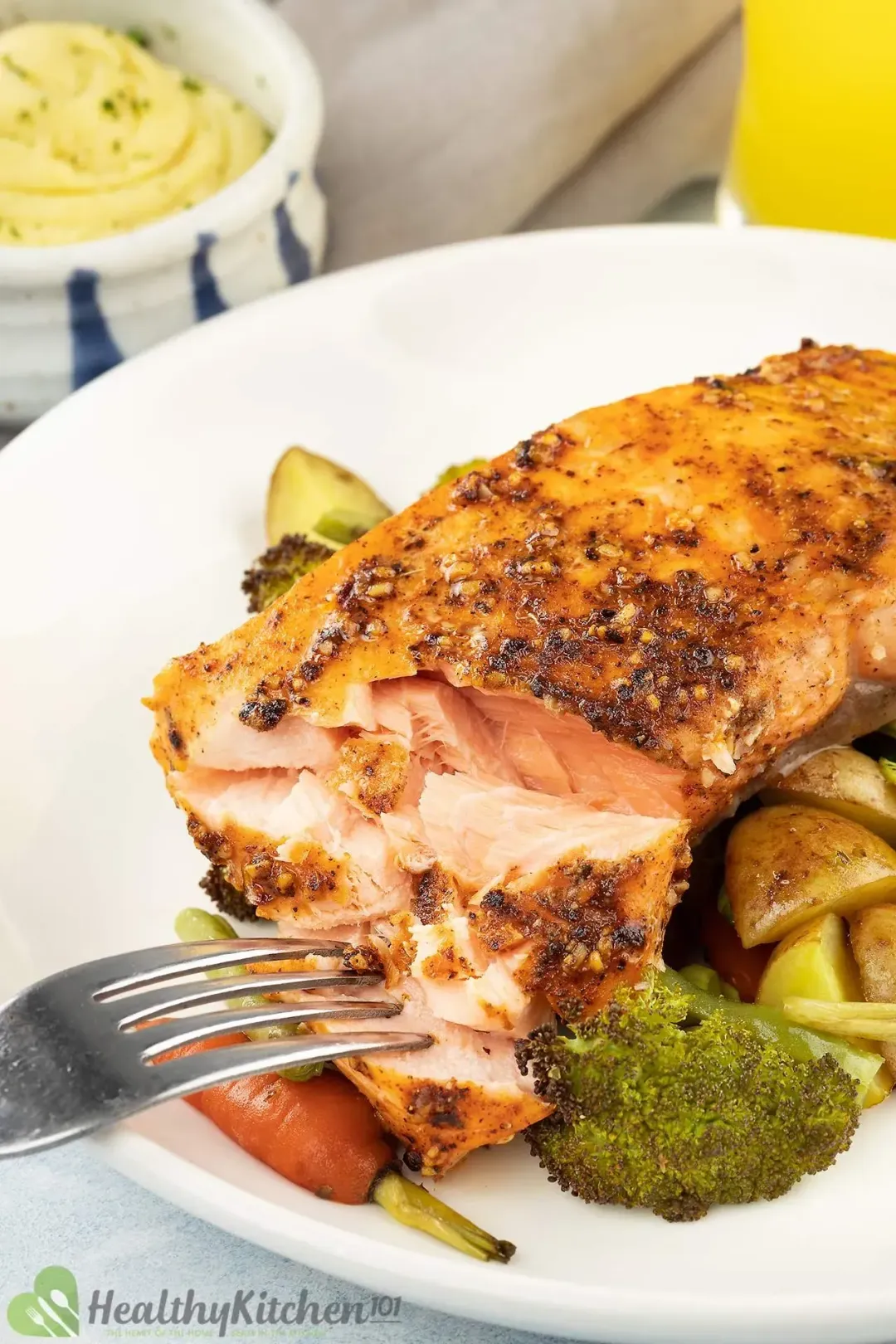 Cedar plank barbecues are versatile, working equally well with seafood (shrimp, scallops, fish, etc.), poultry, or red meats in general. Most meats are great candidates for plank-style grilling.
Cedar plank grilling has been a classic way to add flavors and create complexity in otherwise ordinary dishes. And as grilling goes, it's an easy-going method that allows a chef to get creative with their favorite food.
We decided to take a slightly different tack for our recipe. Not everyone has a barbecue grill, after all.
So rather than cooking on a traditional grill, we will be doing ours in the oven. That way, even if you live in a small apartment, you can still enjoy this classic smoky recipe!
Also, if you're looking for a baked salmon with both an extra kick of cheese and a smoky crunchy exterior, check out this parmesan crusted salmon recipe.
Is this Recipe Healthy?
In short, yes, it is!
Not only is this cedar plank salmon recipe convenient and laden with flavor, but it also piles on the nutrients. Salmon is a protein-rich fish that's packed with omega-3 fatty acids and vitamins, so it's nearly always a healthy choice.
To access more information about the health benefits of salmon, please visit here.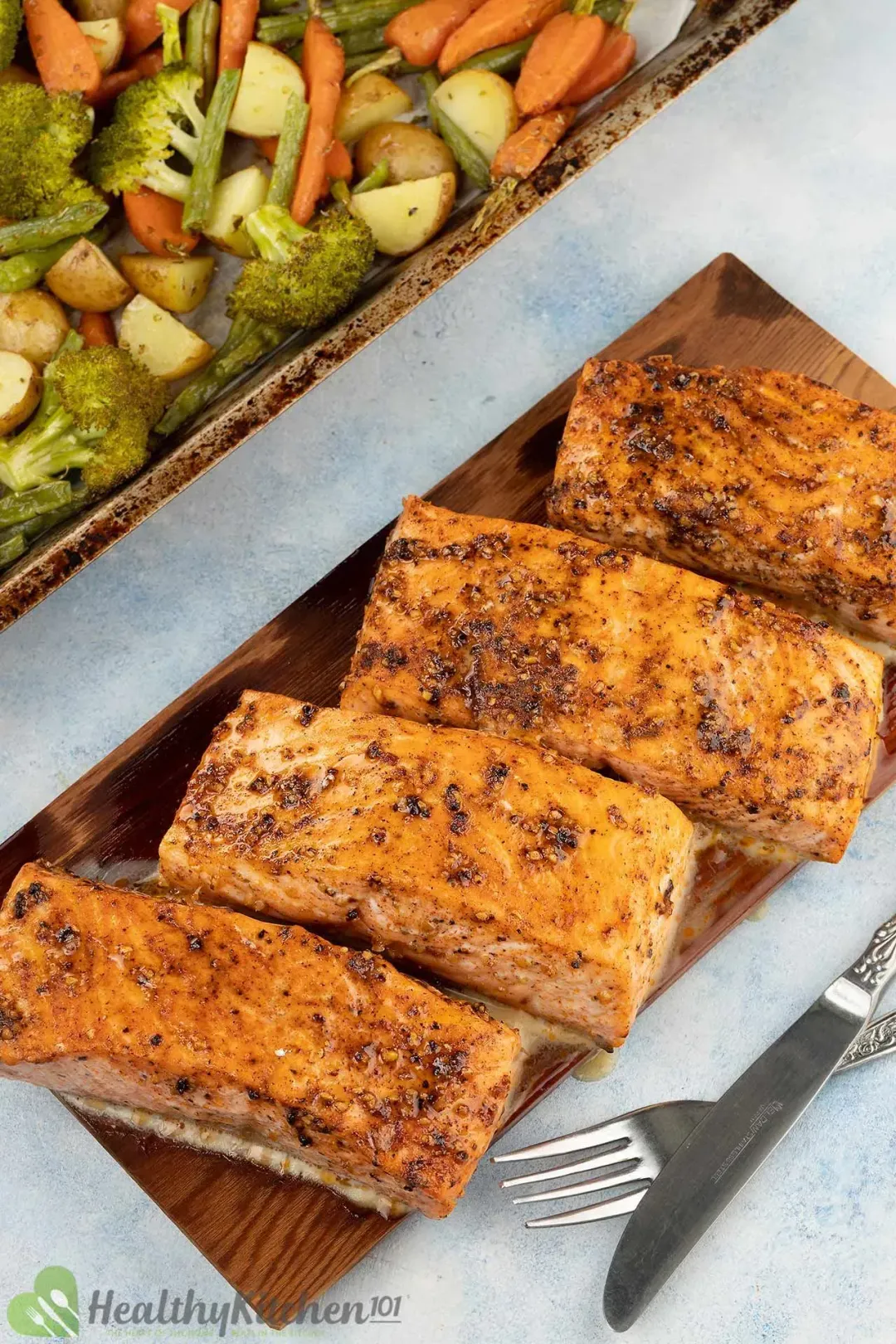 Ingredients You Will Need
1. Preparing the Salmon
We'll be cooking our salmon fillets whole for this recipe. The flavor will infuse just fine into a whole fillet and the end result is a beautiful charred fish that we can present directly on the cedar plank.
Some people prefer to slice the fish into individual portions before grilling so it's more convenient to serve. Either way will work fine and it comes down to personal preference.
2. How to Prepare Cedar Planks for Grilling
When planning a cedar plank grill session, remember you absolutely must soak the wood for at least 1 hour before cooking. A dry cedar plank will easily catch fire under high heat. It will also release too much smoke, which can toxify the salmon and completely ruin the dish.
When soaking, place a heavy object on top of the cedar plank to keep it fully submerged in water. We also recommend getting creative — for instance, wine or cider can make great soaking liquids as they offer complex tartness and lingering flavors.
Before grilling, preheat the soaked cedar plank in the oven for a couple of minutes. Place it in the middle rack of the oven so the hot air can circulate around the plank evenly.
3. Choosing Cedar Planks for Grilling
Planks used in baking most often come in two varieties: cedar and alder. Cedar planks give you a distinct woodsy flavor while alder infuses a slight sweetness to the meat.
Cedar planks can easily be found on Amazon, local food stores, or kitchen supply shops, and come at very affordable prices. Before buying, though, check whether the cedar plank is untreated and labeled as a food-grade product for safety. You don't want chemically-treated wood in your oven!
Since we're cooking whole fillets, we picked up 6″x12″ cedar planks. Opt for smaller sizes if you plan on slicing the fish fillets into individual portions and prefer serving each slice on a separate plank.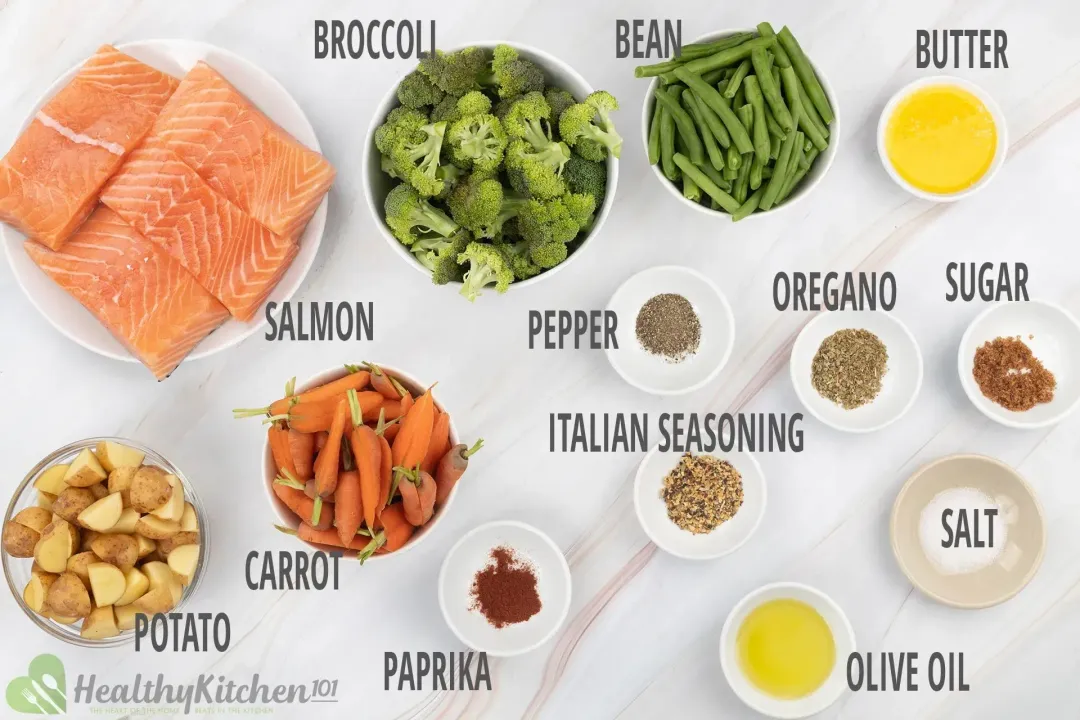 4. Seasoning
Our salmon rub is a mixture of ground black pepper, paprika, Italian seasoning, olive oil, brown sugar, andsalt.
Once it's soaked into the salmon, this spice rub will work with the woodsy flavor from the heated cedar plank. Together, they promote the unique smoky aroma.
What to Serve with?
Cedar plank salmon is best served with a side dish that's light in flavor to complement the smokey notes from the salmon. For that option, we decided to prepare a small serving of creamy mashed potatoes and a tasty, lip-smacking pineapple ginger juice to go with it.
1. Mashed Potatoes
Featuring russet potatoes, heavy cream, milk, butter, salt and pepper, and fresh parsley, mashed potatoes can act as good carb-heavy sides. They're rich, velvety, and come together in just 30 minutes — well-rounded and super convenient.
2. Pineapple Ginger Juice
Thanks to a slightly spicy note from the ginger, this version of pineapple juice serves a beautiful balance of sweet and tangy flavor. Pour this vitamin-packed juice over ice and enjoy it between dishes to reset your taste buds.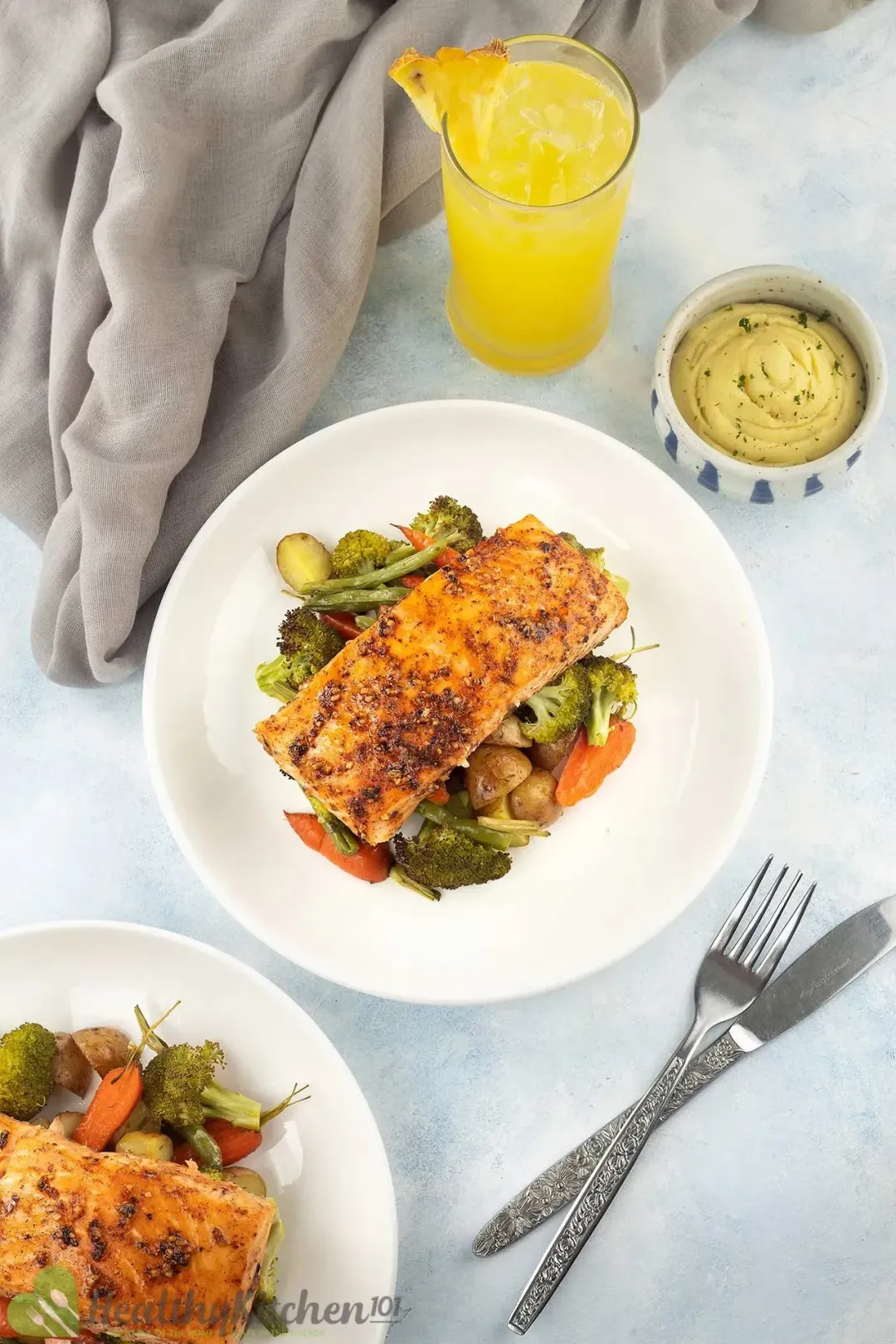 FAQ
1. Are Cedar Planks Safe for Cooking?
Yes, they are.
Cedar planks work best under high heat; however, they need to be heated up evenly so the salmon cooks all the way through without needing to be flipped.
After the first time cooking, a cedar plank can retain moisture so it'll impart flavors and keep the food moist for the next time. And since it retains some of the natural juices and oils, you don't necessarily need to oil it to prevent food from sticking to the surface.
2. Can You Reuse a Cedar Plank for Grilling?
Absolutely yes.
Grilling cedar planks are purposely designed to be reusable and durable when exposed to high heat. You can use them until they crack or become too charred.
After every use, scrub off any leftover food pieces on the plank with hot water, then allow it to drain and dry naturally.
However, if you notice any fissure on the surface of the plank, throw it away immediately. Bacteria that are locked inside the cracks can be hazardous to your health.
A cedar plank absorbs flavors from everything that's been cooked on it. Much like how you use separate cutting boards for vegan foods and meats — it's always best to have different planks for different types of meat.
3. How Long Does It Last?
This cedar plank salmon is best eaten within two days. If frozen, it can last up to 2 months.
Though soaking the plank may sound demanding, please set your mind at rest — you can easily prepare it ahead of time.
If you expect to be pressed for time, soak the plank a few days in advance, seal it tightly in a plastic Ziploc, and put it in the fridge. Whenever you're ready to cook, simply bring it out and spend about 5 minutes preheating.
Creative Ways to Cook Salmon
Have you ever had a salmon curry? It's a Thai curry, but the spices and flavors are made gentle to complement the delicate taste of salmon. We thought it didn't work, but it really changed our point of view on curries.
And if you're into meatloaf, try salmon loaf. It's potato and salmon seasoned and mixed with milk and cream, then shaped and baked to golden perfection. Thanks to the dairies, each slice turns out really moist and super flaky.
Want some more ideas? Check out our list of oven-baked salmon recipes.
Cedar Plank Salmon
In this cedar plank salmon recipe, we chose to cook our salmon fillets whole rather than dividing them into individual servings. The large fillets create an intriguing charred display arranged nicely on the cedar plank that acts as both a platter and flavoring.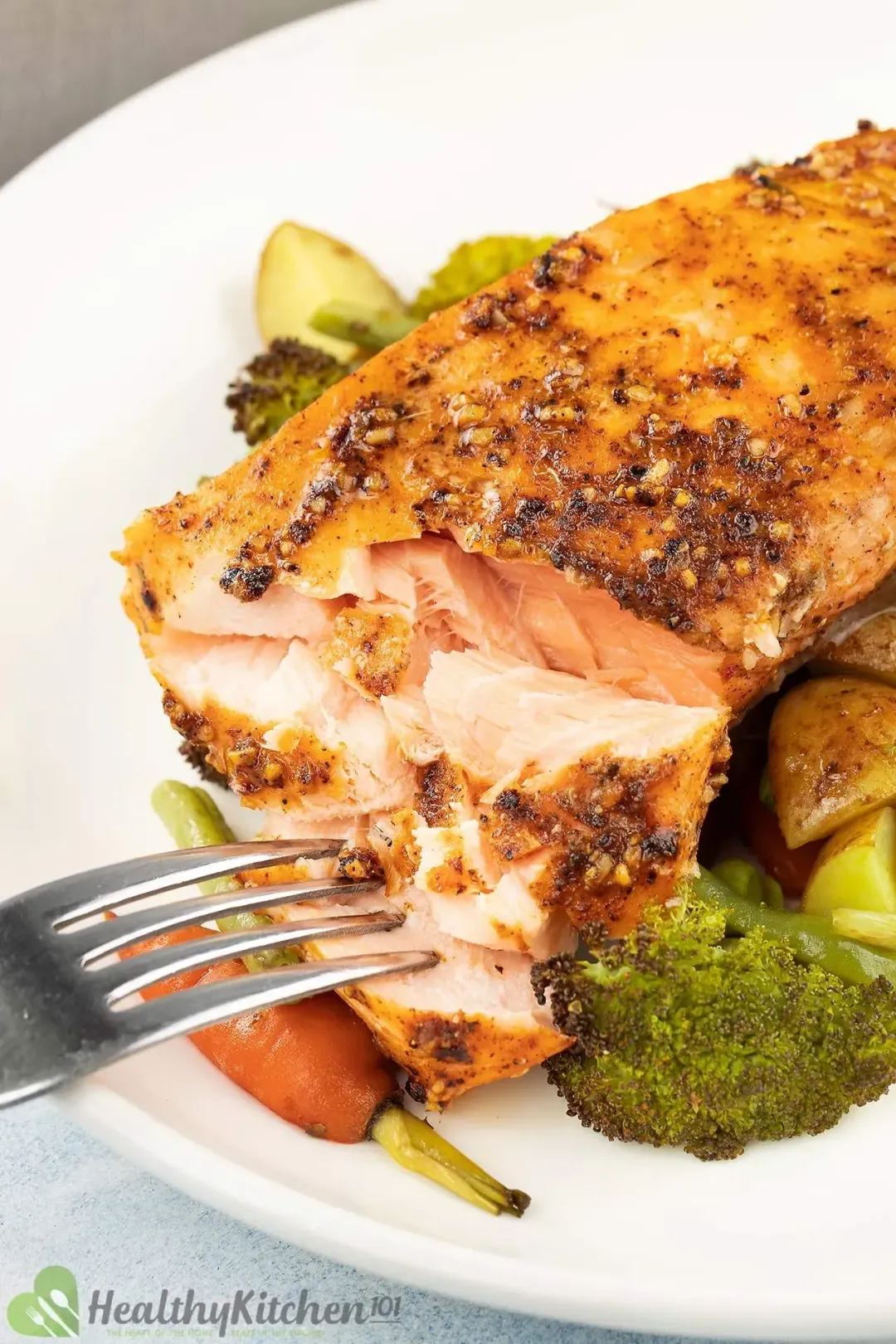 cook TIME

35 mins

prep TIME

30 mins

total TIME

1 hr 50 mins

INACTIVE TIME

45 mins
COURSE

Main Course

CUISINE

American

SERVINGS

CALORIES

458 kcal
INGREDIENTS
10 oz

baby potatoes

(quartered)

2 tbsp

unsalted butter

(melted)

1/2 tsp

ground black pepper
INSTRUCTIONS
1
Soak the cedar plank in water for 1 hour. While waiting, complete the following steps.
2
Rub the salmon fillets with a mix of 1/2 tsp ground black pepper, 1/2 tsp paprika, 1 tsp Italian seasoning, 1 tbsp olive oil, 1 tsp brown sugar, and 1/4 tsp of salt. Set aside.
3
Toss 10 oz baby potatoes, 8 oz baby carrots, 12 oz broccoli, and 6 oz green beans with 2 tbsp melted butter, 1 tsp oregano, and 1/4 tsp of salt. Set aside.
4
Preheat the oven to 375℉.
5
Remove the cedar plank from the water and shake off excess water.
6
Place cedar plank onto a baking sheet lined with baking foil. Put it in the oven to heat up for 5 minutes.
7
Place the salmon on the heated cedar plank skin-side down. Add the vegetables to the same baking sheet.
8
Return the baking sheet to the oven. Bake for 20 minutes, then remove the cedar plank salmon and continue to bake the veggies for another 15 minutes.
NUTRITION
Nutrition Facts
Cedar Plank Salmon
Amount Per Serving (1 serving)
Calories 458
Calories from Fat 171
% Daily Value*
* Percent Daily Values are based on a 2000 calorie diet.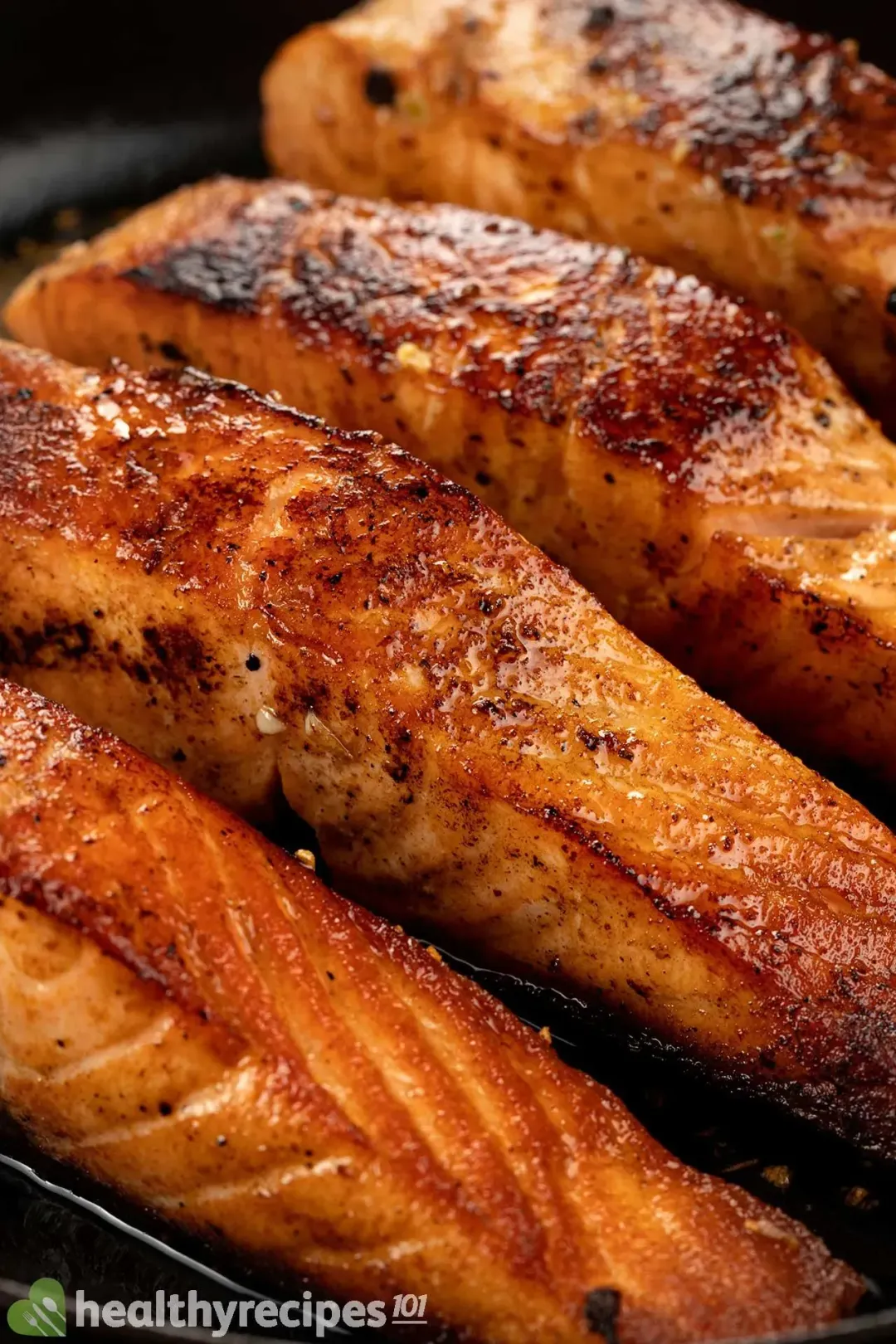 Previous Recipe
Pan Seared Salmon
Pan Seared Salmon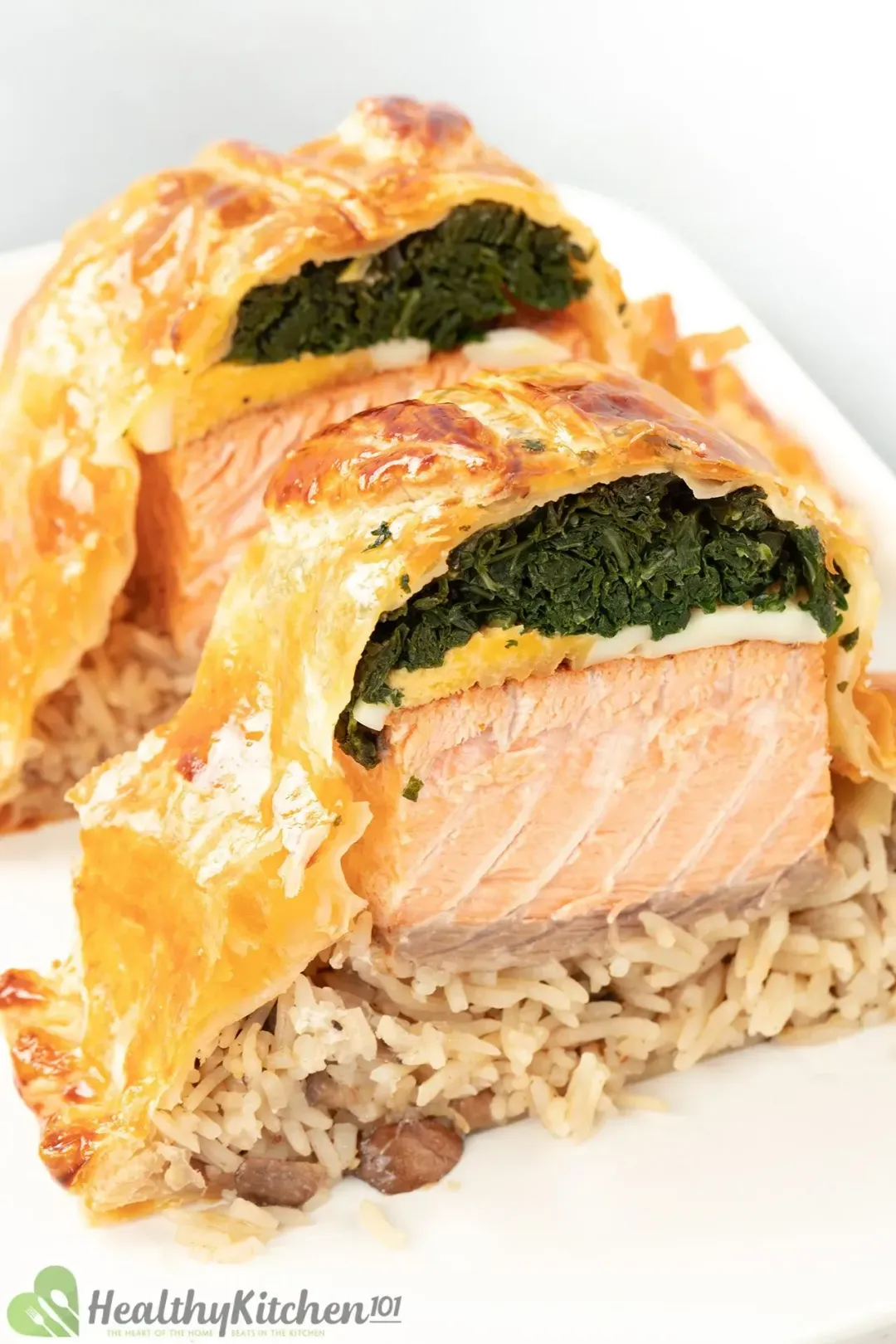 Next Recipe
Salmon Coulibiac
Salmon Coulibiac
Head Chef, Culinary Consultant
Tuyet Pham is an award-winning Saigonese chef who believes that joy is the secret ingredient to delicious food. At Healthy Recipes 101, Tuyet personally tests and simplifies every recipe, ensuring maximum flavor with minimal effort. With a background at prestigious French restaurants P'TI Saigon and Le Corto, Tuyet knows how to make every dish exceptional.
Writer, Author
Luna Regina is an accomplished writer and author who dedicates her career to empowering home cooks and making cooking effortless for everyone. She is the founder of HealthyKitchen101.com and HealthyRecipes101.com, where she works with her team to develop easy, nutritious recipes and help aspiring cooks choose the right kitchen appliances.
Nutrition Reviewer
Lizzie Streit is a Minneapolis-based dietitian and founder of It's a Veg World After All. She completed her MS in Human Nutrition from Drexel University, and is an expert in culinary nutrition, recipe development, and nutrition communications. Lizzie's philosophy is centered around making nutrition recommendations, and especially the advice to eat more vegetables, approachable and realistic. She is excited to be working with the team at Healthy Recipes 101 to ensure that their recipes are both nutritious and delicious.
This was super easy and delicious! Definitely will make it again!