This maple glazed salmon recipe can help you cook up an awesome meal in minutes.
Tonight's schedule's gonna be hectic, yet you decide to cook because you're tired of living on take-outs. With our recipe, you can make a nutritious meal with tender salmon, cooked rice, and vegetables in just 15 minutes.
We'll help you cook salmon quickly and glaze it in a thick, flavorful sauce with a hint of maple. We'll also help you multitask — cooking fish in one pan, and broccoli in another.
So, let's waste your time no longer — click here to go straight to the recipe section. Or, you can spend some time learning about:
The different kinds of maple syrup;
How healthy maple glazed salmon is;
How to cook it quickly;
What to serve it with;
Preserving tips;
What Is Maple Syrup?
It came to me as a surprise that maple syrup has nothing to do with maple leaves. The maple syrup containers may take the shape of a leaf, but syrup actually comes from inside the tree.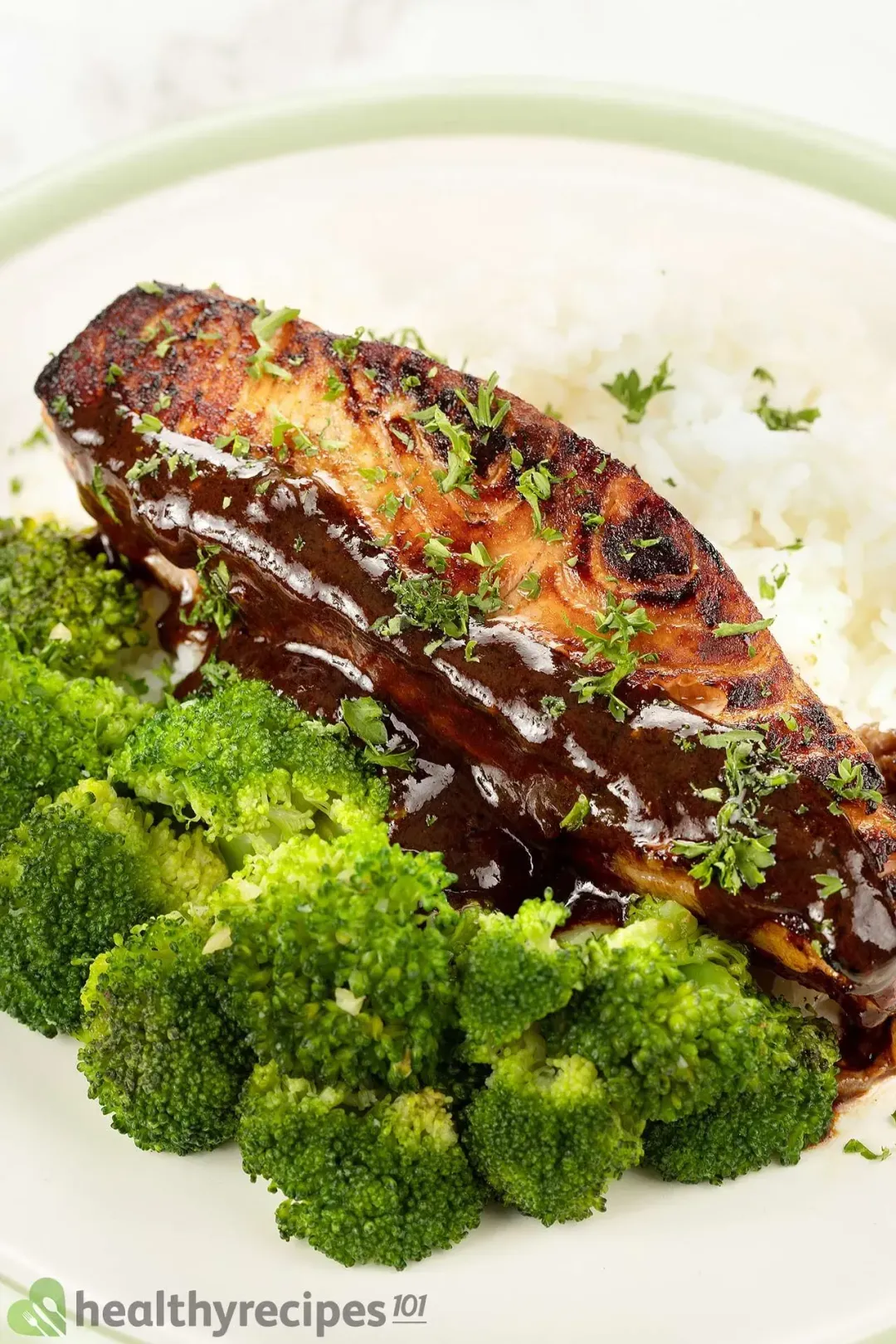 To make maple syrup, the maple sap needs to be harvested first. Then, this thin, clear liquid is heated to become thick in consistency, before being filtered to produce a crystal-clear syrup.
Is This Recipe Healthy?
Yes, it is. Not only is it healthy because of the salmon, but maple is also a healthier option for glazes.
To begin with, salmon is a healthy food choice because it has loads of omega-3. Omega-3 is rarely found in nature, and there is evidence that it's good for our hearts.
To see why maple is a good glaze choice, we need to look at how glazes are made.
Glazes are a thick, sweet sauce used to coat food. It's often made using sugar, honey, or corn syrup, all of which are 78-100% sugar.
By using maple syrup (around 66% sugar), we're getting the same caramel flavor with much less sugar intake. This is important, because the USDA recommends that no more than 10% of our daily calories should come from sugar, and we want to save space for sweets and juices.
Looking for other salmon recipes with delicious sauces? Check out our:
Ingredients
Let's have a look at what's required for this maple glazed salmon recipe:
1. Salmon Fillet
For this particular recipe, we want lean cuts of salmon instead of those near the belly. If you have a fatty fillet, you might want to use it for another dish instead of this one.
Here's why: we'll be searing the fillets, skin-side down, and all of the fat will be rendered out. Discarding this fat would be wasteful, yet including it in the sauce makes for a fishy glaze, not five-star material.
Picking lean salmon fillets is, thankfully, an easy task. You simply need to look for pink cuts with no white area at the ends, which is the fish's fat.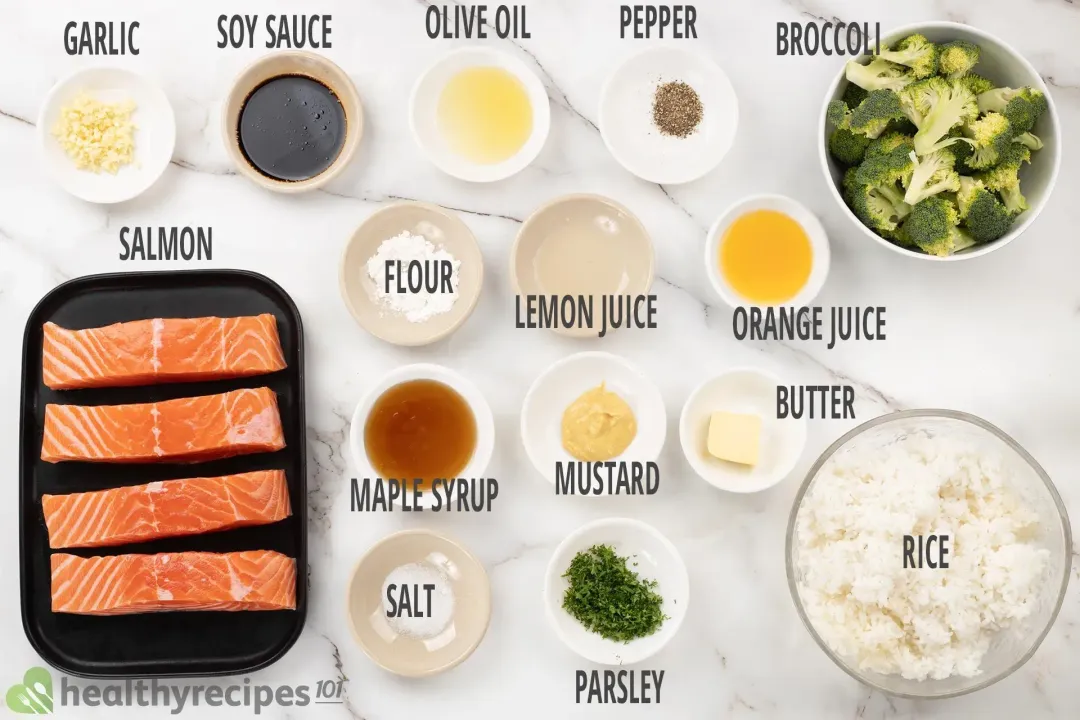 2. Maple Syrup
The Canadian staple comes in a variety of shades.
The shade indicates the syrup's thickness, how long it's been reduced, and how sophisticated its flavor profile is. We went for the "dark amber" because it's suitably complex for making glazes.
To get the dark amber shade, look for those labeled "grade A dark" or "grade A dark amber". Don't go for the darkest shade, or "grade B", because it will overwhelm the delicate aroma of the salmon.
Also, make sure you don't pick "maple-flavored syrup". It's a play on words that means "a sugary syrup made to taste like maple", not the healthy syrup we want.
3. Seasoning
Other things we'll be adding to the maple are soy sauce, orange juice, lemon juice, and mustard. Together, they form a tasty sauce with a certain je ne sais quoi that makes for a luxurious dining experience.
How to Prepare Salmon
Sometimes, you can cook the fillet right away, but other times, the fillet comes with scales. You can tell by touching its skin — it should feel smooth, and slightly slippery.
Before cooking, you need an additional prepping step — descaling.
You can use a scale scraper, but our chefs recommend not to. An easier option is to take a knife and carefully slice off the scales. Be careful not to remove the skin in the process.
After the scales are removed, let's get into cooking. To save time, you'll need to do some multitasking.
What to Serve with?
We served the fillets with white rice and broccoli, a side of tangy salad, and a glass of pineapple cucumber juice to round off the meal.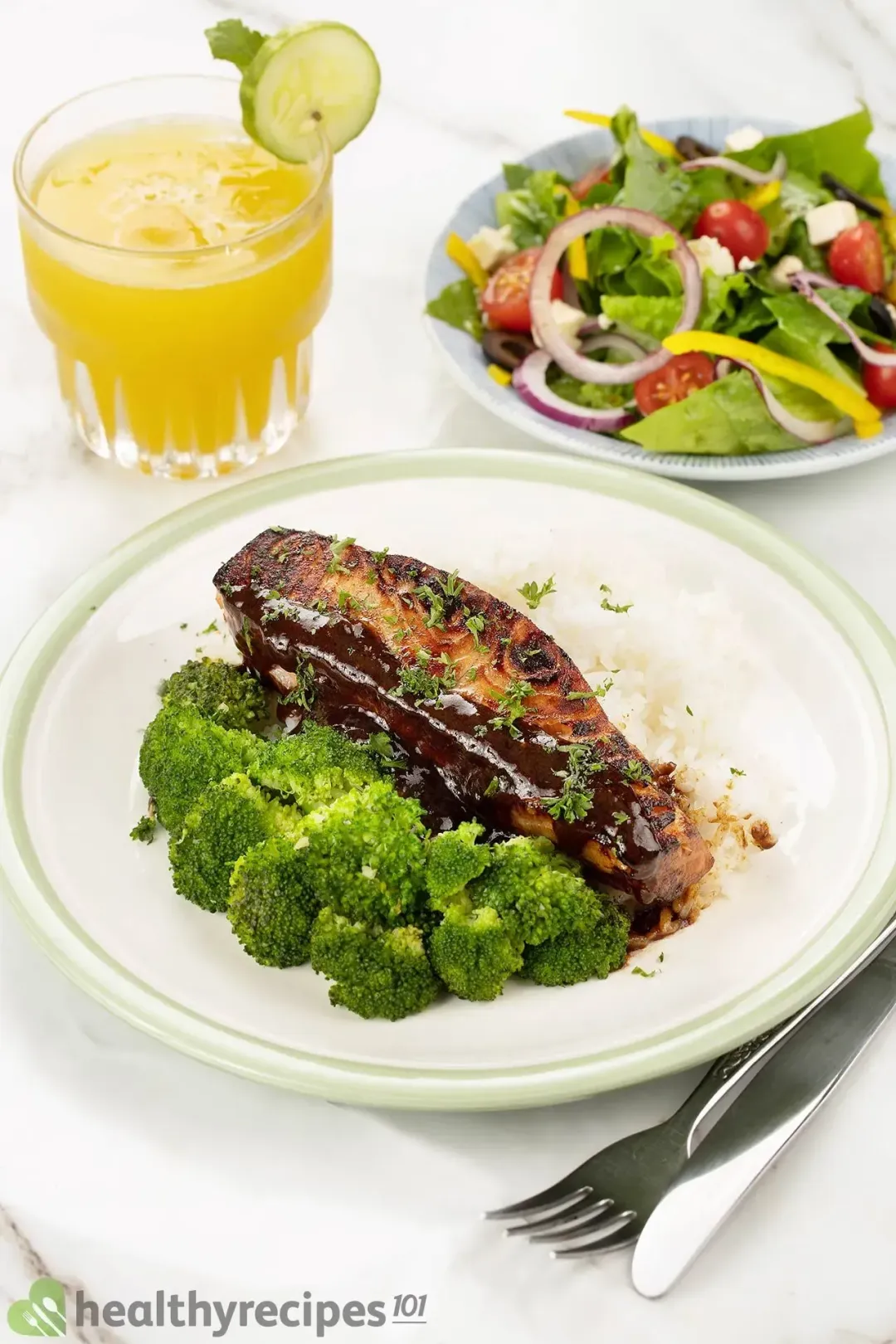 FAQ
1. At What Temperature Does Salmon Cook?
The FDA recommends that the inner temperature of salmon should reach 145°F for safe consumption. Measure by sticking the thermometer in the thickest part of the fillets.
Since we're cooking thawed fillets that are rather thin, they will cook really quickly and still have this inner temperature.
2. How to Store
You might be wondering how to store your leftover maple glazed salmon and how long it will keep for.
The FDA states that cooked salmon lasts for 4-5 days in the fridge and longer than 3 months in the freezer. We recommend storing leftovers in the fridge, and if you have more than four portions, store them in the freezer.
In terms of containers, air-tight containers that are microwave- and oven-safe are the best. They'll keep your food edible for the longest possible time.
If you've got plenty of portions on hand, we find Ziploc bags more useful as they take up less space in your fridge. Divide the portions into individual bags, zip them up while squeezing out excess air, and store away.
Maple Glazed Salmon
This maple glazed salmon recipe is a delicious dish to make when you're in a rush. It takes 20 minutes or less and results in a wholesome meal.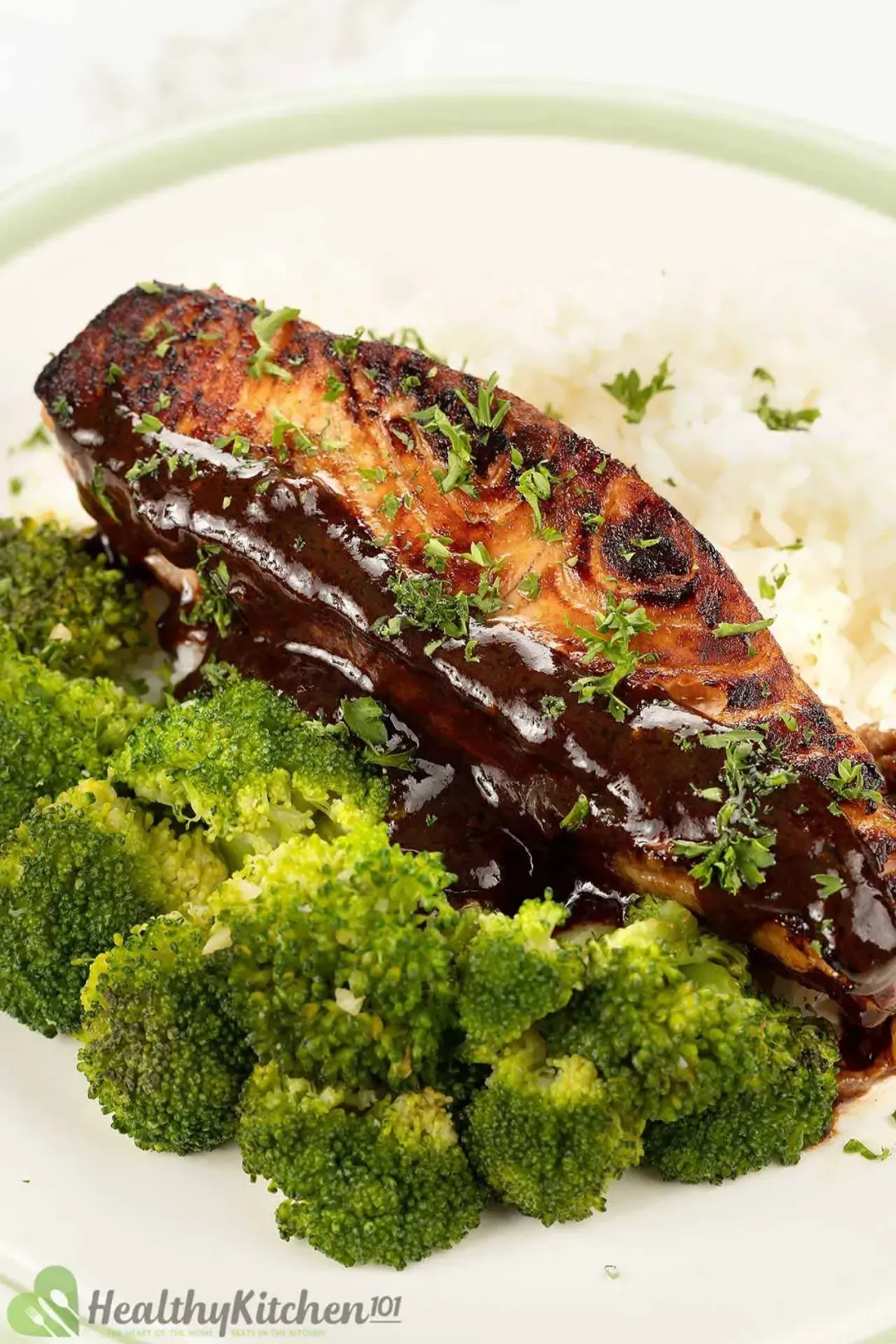 cook TIME

15 mins

prep TIME

5 mins

total TIME

20 mins
COURSE

Main Course

CUISINE

Global

SERVINGS

CALORIES

489 kcal
INGREDIENTS
20 oz

boneless salmon

(4 fillets)

8 oz

broccoli

(cut into florets)

3 cups

cooked medium-grain rice

1 1/2 tbsp

reduced sodium soy sauce

2 tsp

traditional Dijon mustard

1/4 tsp

black ground pepper
INSTRUCTIONS
1
Boil broccoli: Bring a pot of water to a boil and add 8 oz broccoli to cook for 2 minutes. Drain the water.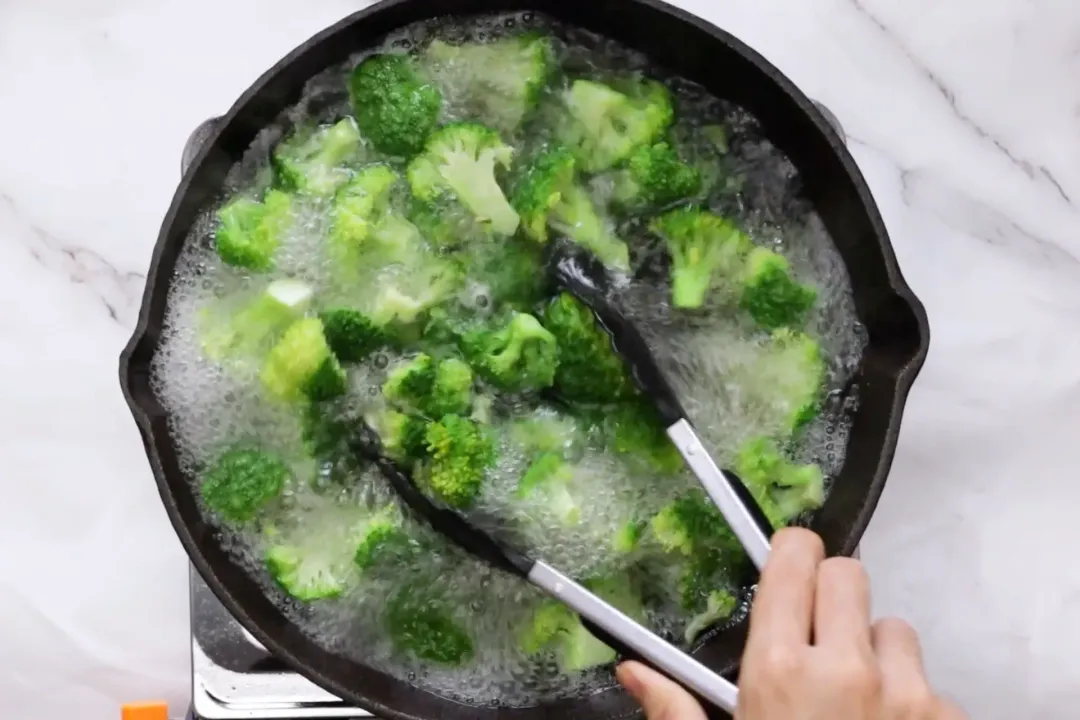 2
Cook broccoli with butter and garlic: Heat a clean skillet and melt 1 tbsp unsalted butter. Add 1 tsp garlic and when it's fragrant, add the broccoli to cook for 2 minutes then remove from heat.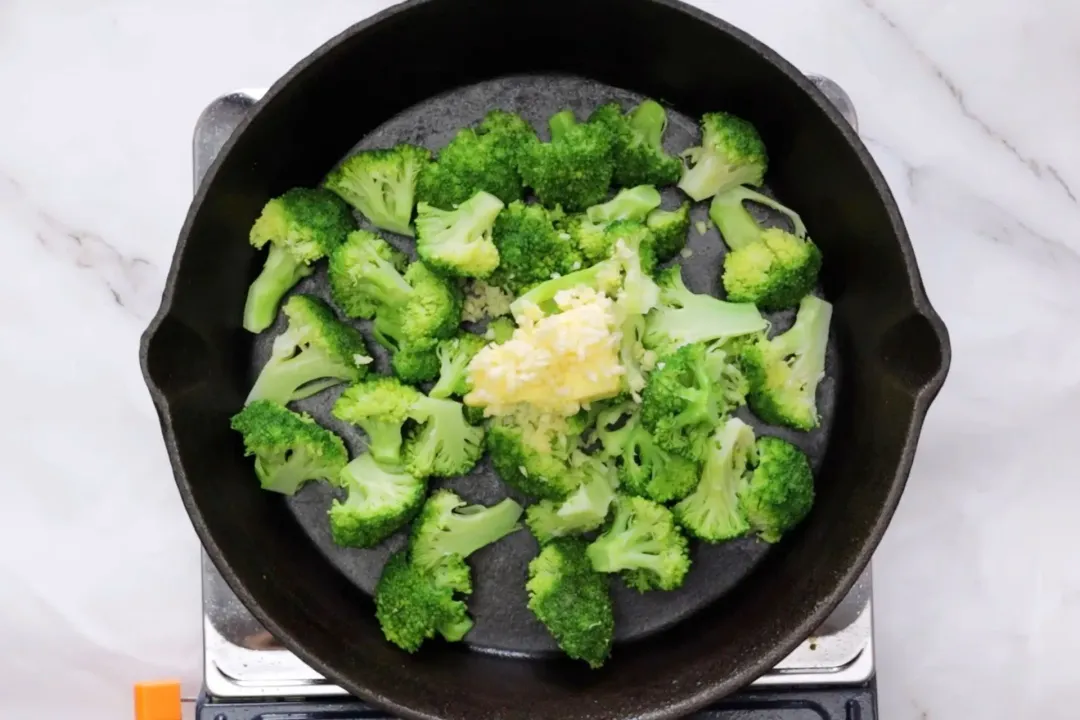 3
Mix the sauce: Combine 2 1/2 tbsp maple syrup, 1 1/2 tbsp soy sauce, 2 tbsp orange juice, 1 tsp lemon juice, 2 tsp traditional Dijon mustard, 1/4 tsp black ground pepper, 1/4 tsp salt in a large bowl.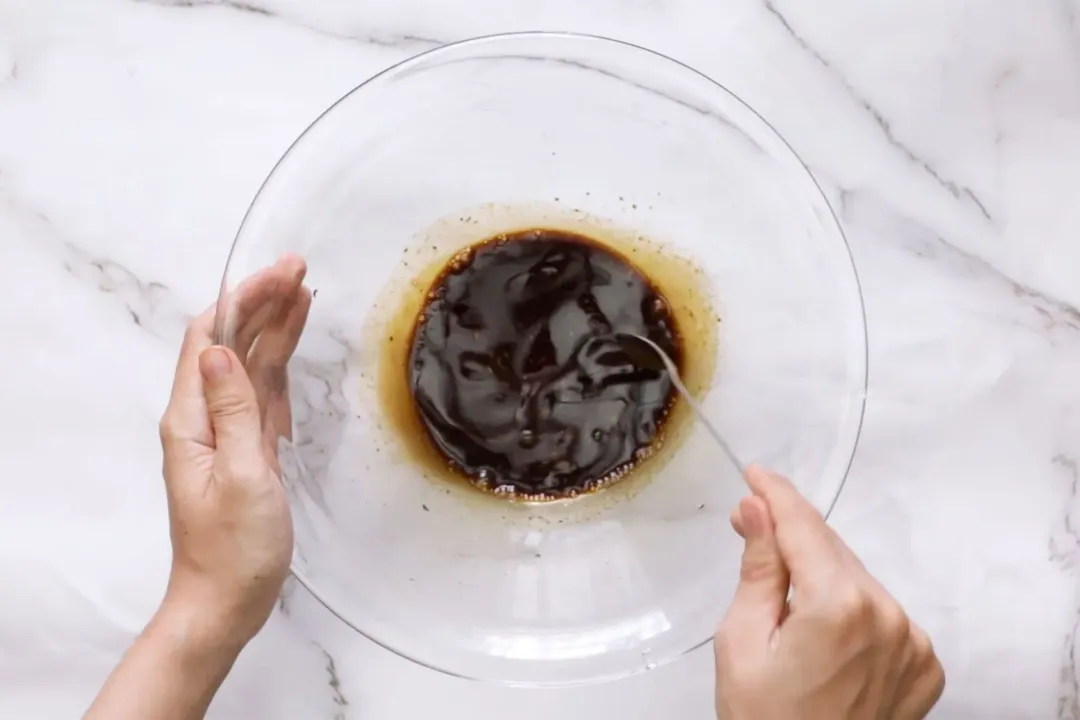 4
Marinade the fish: Place 20 oz salmon fillets in and marinade for 5 minutes. Make sure all of the sides are coated in the marinade.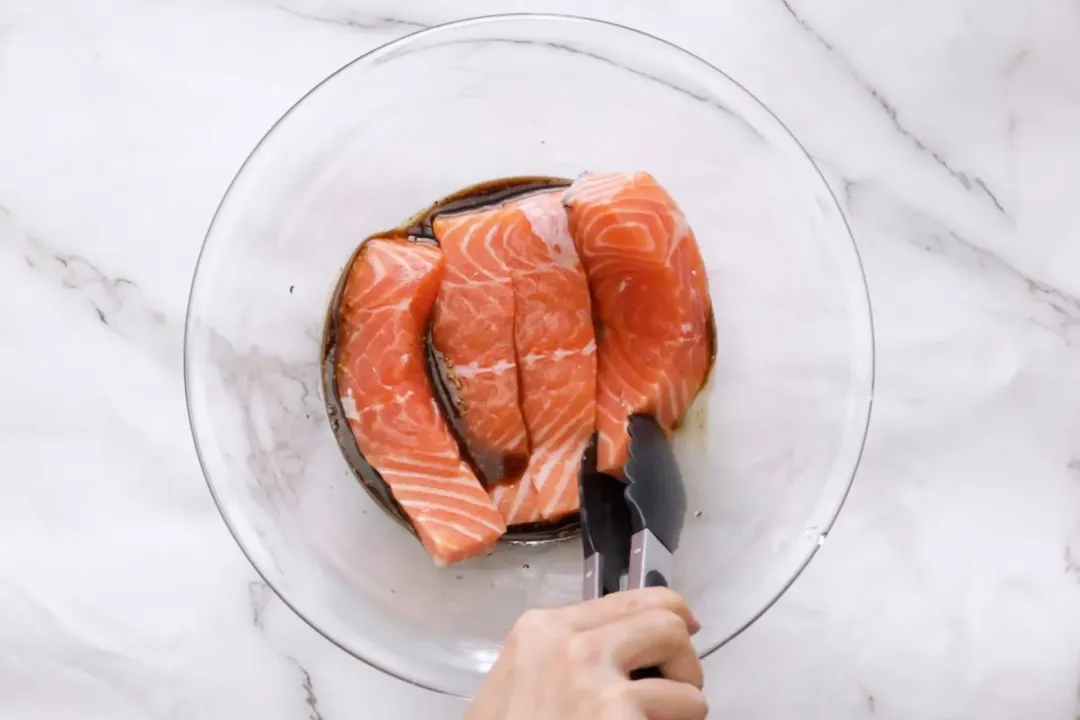 5
Sear fish with olive oil: Heat 1 tbsp olive oil in a nonstick skillet over medium heat and when it's hot, place the skillets skin-side down and sear for 3 minutes. Flip the fillets and cook for another 2 minutes.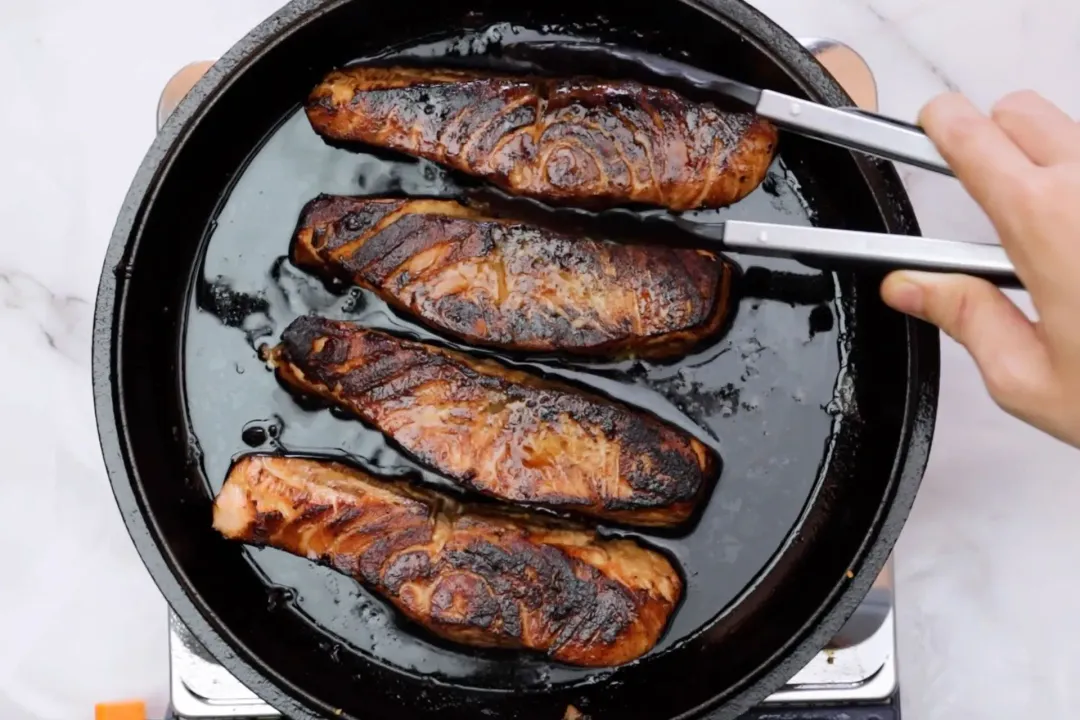 6
Reduce the sauce: In that same skillet, add the marinade, 1 tsp all-purpose flour in and reduce on medium-low heat for 2 minutes.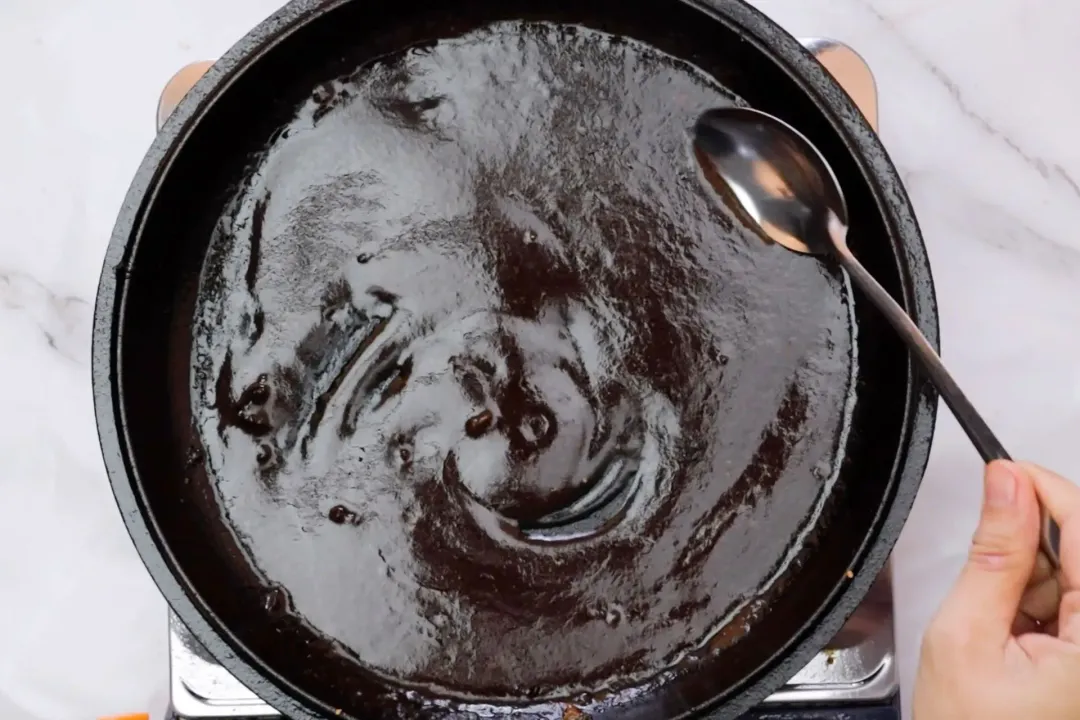 7
Decor and serve: Add cooked rice to a serving plate. Place the broccoli on the side, and the cooked fillet on top. Drizzle the fillet with sauce and sprinkle parsley to decorate.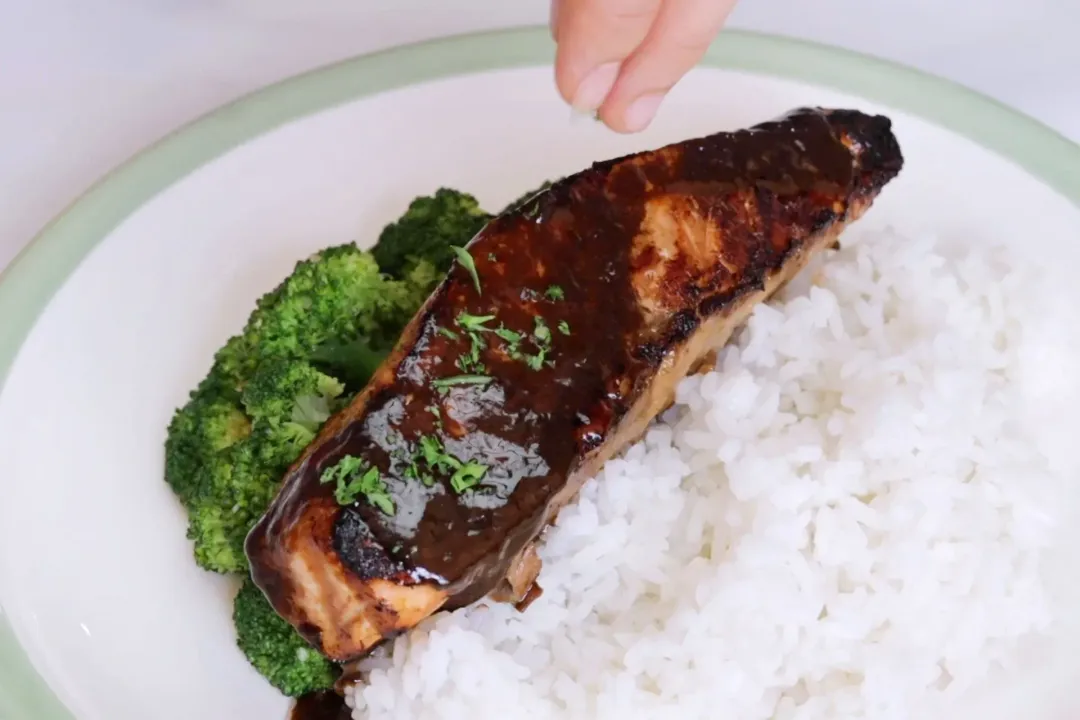 NUTRITION
Nutrition Facts
Maple Glazed Salmon
Amount Per Serving (1 serving)
Calories 489
Calories from Fat 126
% Daily Value*
* Percent Daily Values are based on a 2000 calorie diet.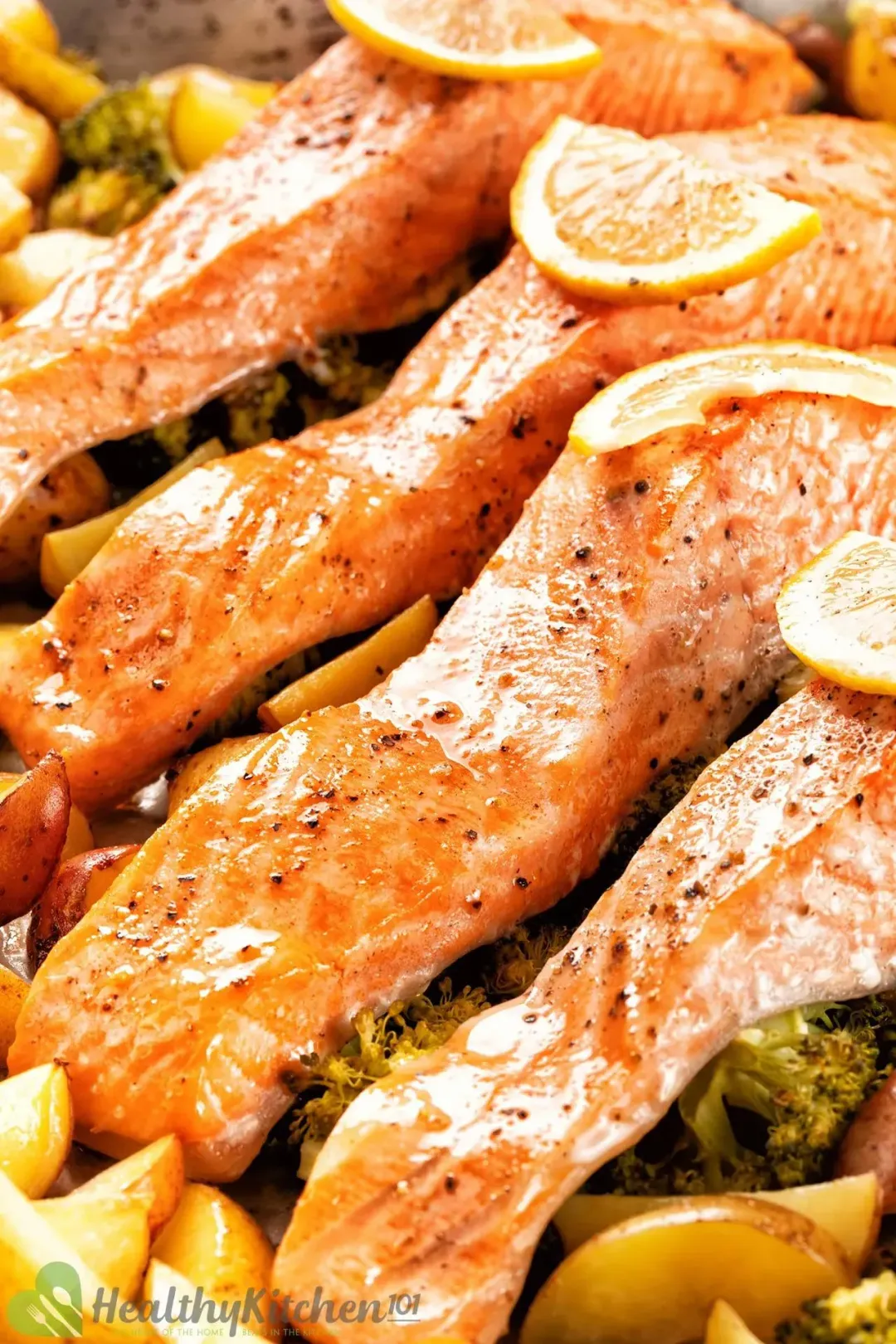 Previous Recipe
Lemon Pepper Salmon
Lemon Pepper Salmon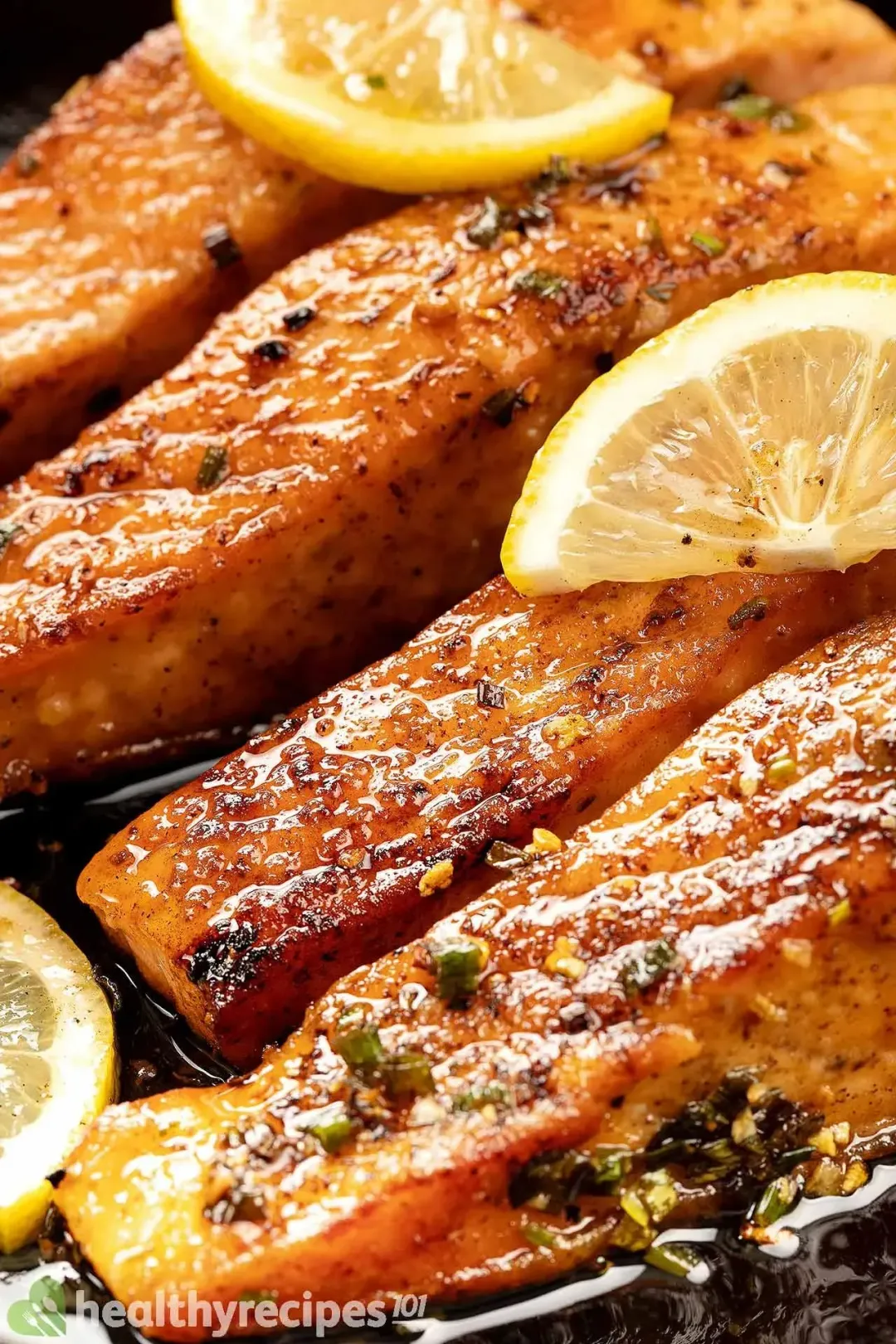 Next Recipe
Salmon Meuniere
Salmon Meuniere
Head Chef, Culinary Consultant
Tuyet Pham is an award-winning Saigonese chef who believes that joy is the secret ingredient to delicious food. At Healthy Recipes 101, Tuyet personally tests and simplifies every recipe, ensuring maximum flavor with minimal effort. With a background at prestigious French restaurants P'TI Saigon and Le Corto, Tuyet knows how to make every dish exceptional.
Writer, Author
Luna Regina is an accomplished writer and author who dedicates her career to empowering home cooks and making cooking effortless for everyone. She is the founder of HealthyKitchen101.com and HealthyRecipes101.com, where she works with her team to develop easy, nutritious recipes and help aspiring cooks choose the right kitchen appliances.
Nutrition Reviewer
Lizzie Streit is a Minneapolis-based dietitian and founder of It's a Veg World After All. She completed her MS in Human Nutrition from Drexel University, and is an expert in culinary nutrition, recipe development, and nutrition communications. Lizzie's philosophy is centered around making nutrition recommendations, and especially the advice to eat more vegetables, approachable and realistic. She is excited to be working with the team at Healthy Recipes 101 to ensure that their recipes are both nutritious and delicious.
Sweet and savory maple-glazed salmon recipe!