Our broiled salmon recipe is a must-try for salmon lovers.
Need to cook salmon quickly and still end up with a satisfying eat? This broiled salmon recipe takes 20 minutes, and it makes to-die-for fillets.
Besides the melt-in-your-mouth salmon, we'll show you how to pack boring quinoa with flavors. Here's what will be on your plate: a tender fillet laying on top of a bed of quinoa, with cooked asparagus on the side.
If our broiled salmon looks good, this baked salmon in foil is also something for you to try. It's more tender, juicier, and as flavorful.
Is Our Recipe Healthy?
This sought-after fish is well worth its popularity. In the list of foods that yield DHA and EPA, salmon takes second place, which is amazing because DHA is rare in nature.
DHA and EPA are the good fats that only exist in certain kinds of fish and seafood. It does the body wonders and, unlike fad diets, its benefits are backed by science.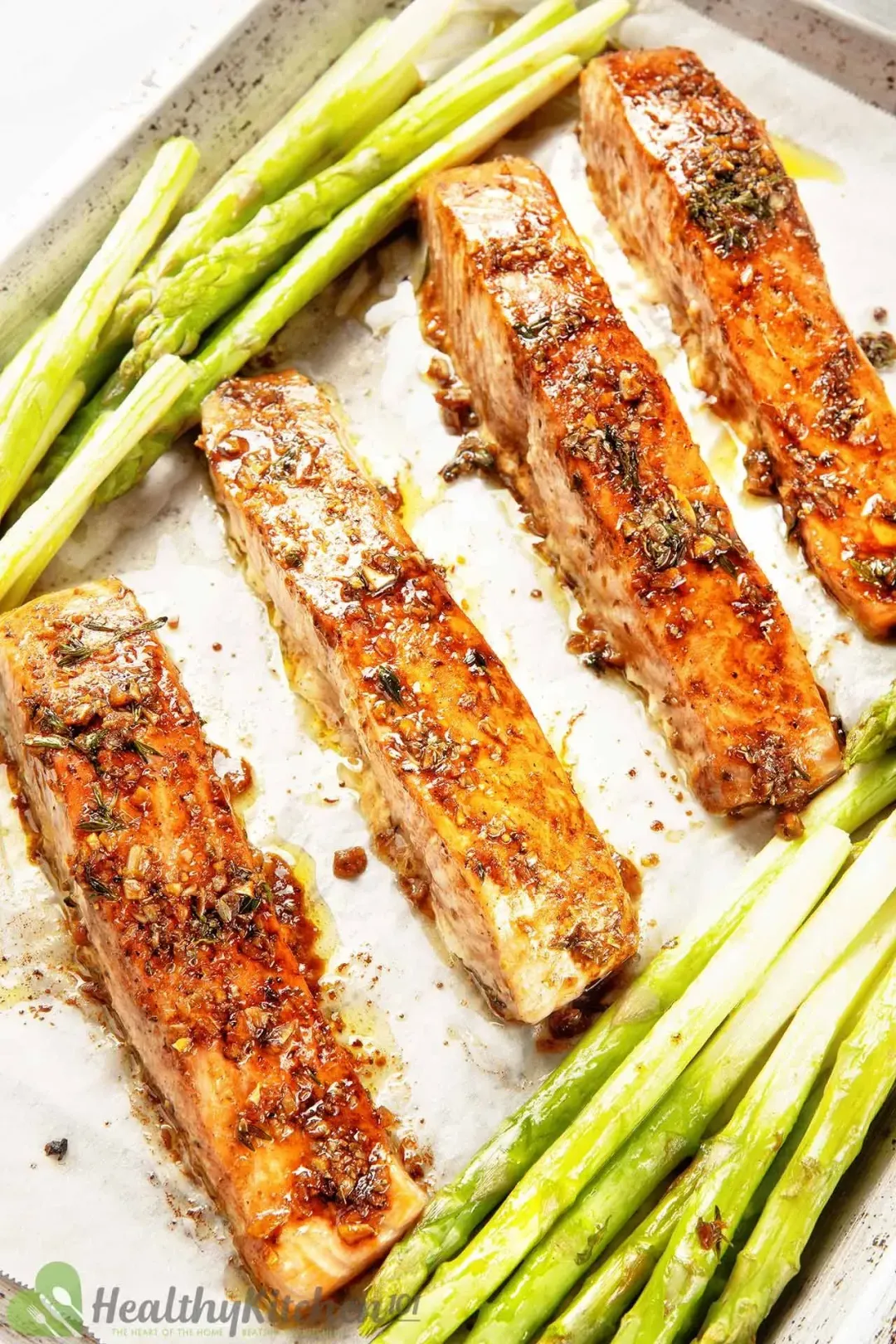 "EPA and DHA have been credited with several health benefits, such as decreasing inflammation, lowering blood pressure, reducing the risk of cancer and improving the function of the cells that line your arteries," says Healthline. With each benefit backed by Pubmed-published studies, there's no doubt that salmon is a healthy food.
Not only does it yield good fats, salmon is also a lean protein source. Like beef, salmon contains the essential amino acids for muscle growth.
So instead of a beef burger, you can make a salmon burger. It's a tastier take on burgers that's also better for your health.
As you can see, we don't want to serve you only fish because over-consuming protein has consequences. We want balanced meals for you, so there are a few additions to this recipe to complement the salmon and make a wholesome meal.
Calories
Each serving of this broiled salmon recipe gives 470 calories. Up to 70% of the calories come from protein and good fats.
What Flavors Go Well with
All good dishes start with fresh ingredients, then the seasonings. We, however, favor glazes and do not marinate the fish prior.
In this broiled salmon recipe, we make a honey-butter glaze fragrant with garlic, thyme, and oregano. It's quick and deserves a chef's kiss.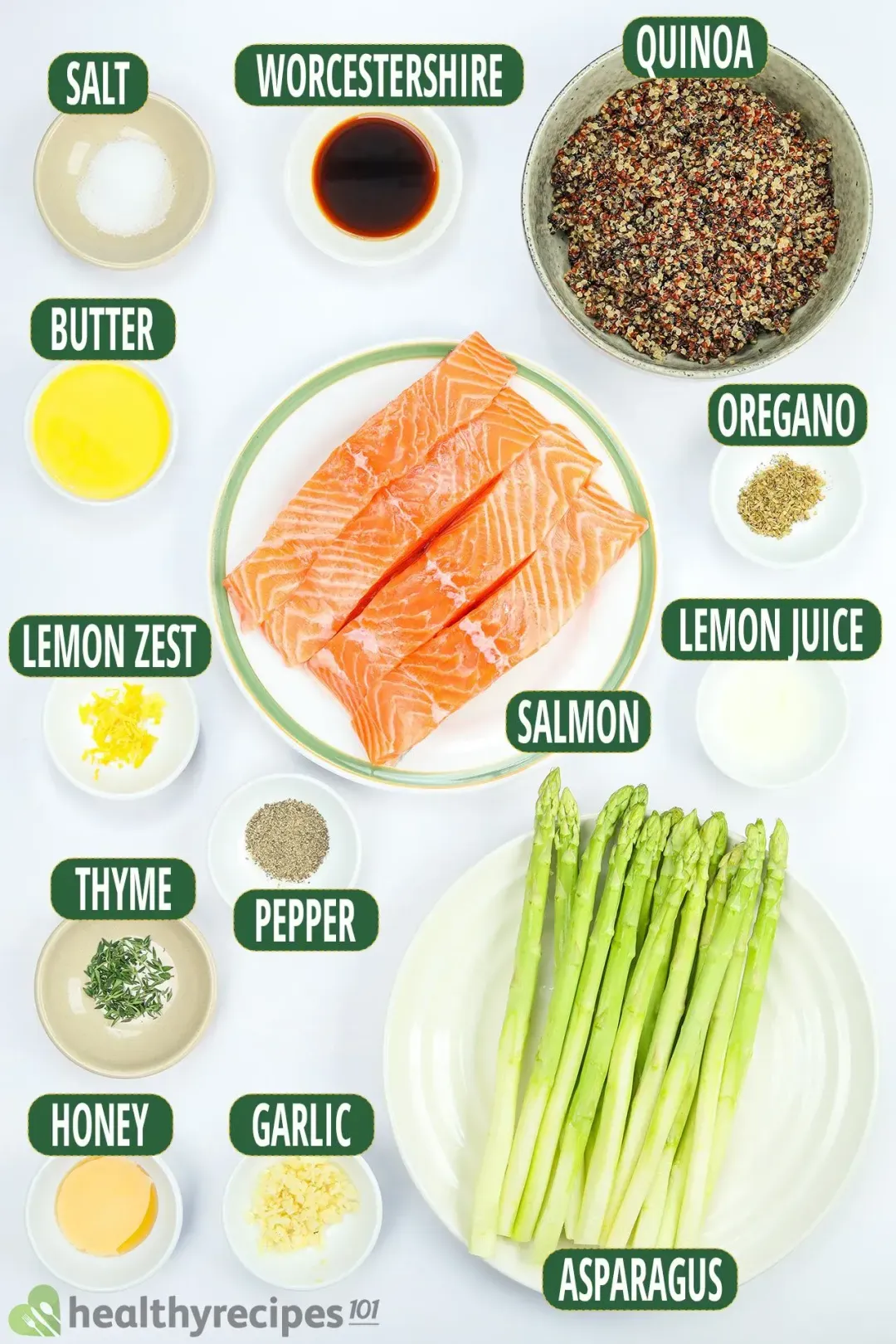 What is The Difference Between Bake and Broil?
Baking and broiling are very different, despite their oven connection.
Baking means exposing food to hot air, allowing it to cook slowly and evenly on all sides. Broiling, however, requires intense heat so the food is both thoroughly cooked and golden on top.
Foods like pork chops often come in thick chunks, so broiling can lead to a half-and-half chop— golden on top, and freezing raw on the bottom. Instead, they are first baked, and finally broiled for a golden, crisp crust.
But when it comes to delicate foods like certain vegetables or thin slices of fish, broiling is brilliant. Take this broiled salmon for instance: it cooks top-down, possessing a caramelized top and is still cooked throughout.
To bake, we make sure both upper and lower heat are turned on so whatever's in there is cooked and cooks slowly. The time may vary depending on whether the food is thick or thin, meat or vegetables. You can have a look at our oven-baked salmon recipes for preference.
How to broil, on the other hand, depends on what type of oven you own.
Typically, we first reheat the oven, then switch off the lower heat and crank up the top heat to an intense temperature. Slide the fish into the middle rack and allow to broil until the top's golden.
In this broiled salmon recipe, we broil the salmon according to the following scenario. Our oven has two racks, one for broiling and one for baking, and it's really convenient.
If your oven's similar to ours, broil the fish on the first rack (the broiling rack) and leave both heats on. The temperature should be intense, of course, but not too intense because the fillet is close to the heat now.
How to Make
1. Temperature Best for Salmon
We adjusted the heat to 350°F and it worked phenomenally.
If you're broiling with a single-rack oven, go for 370°F, or simply allow the fillet to cook longer. You'll end up with a glossy fillet that's cooked through either way.
It's important not to crank the heat too high, because the juice will come out, leaving you with a dry fillet.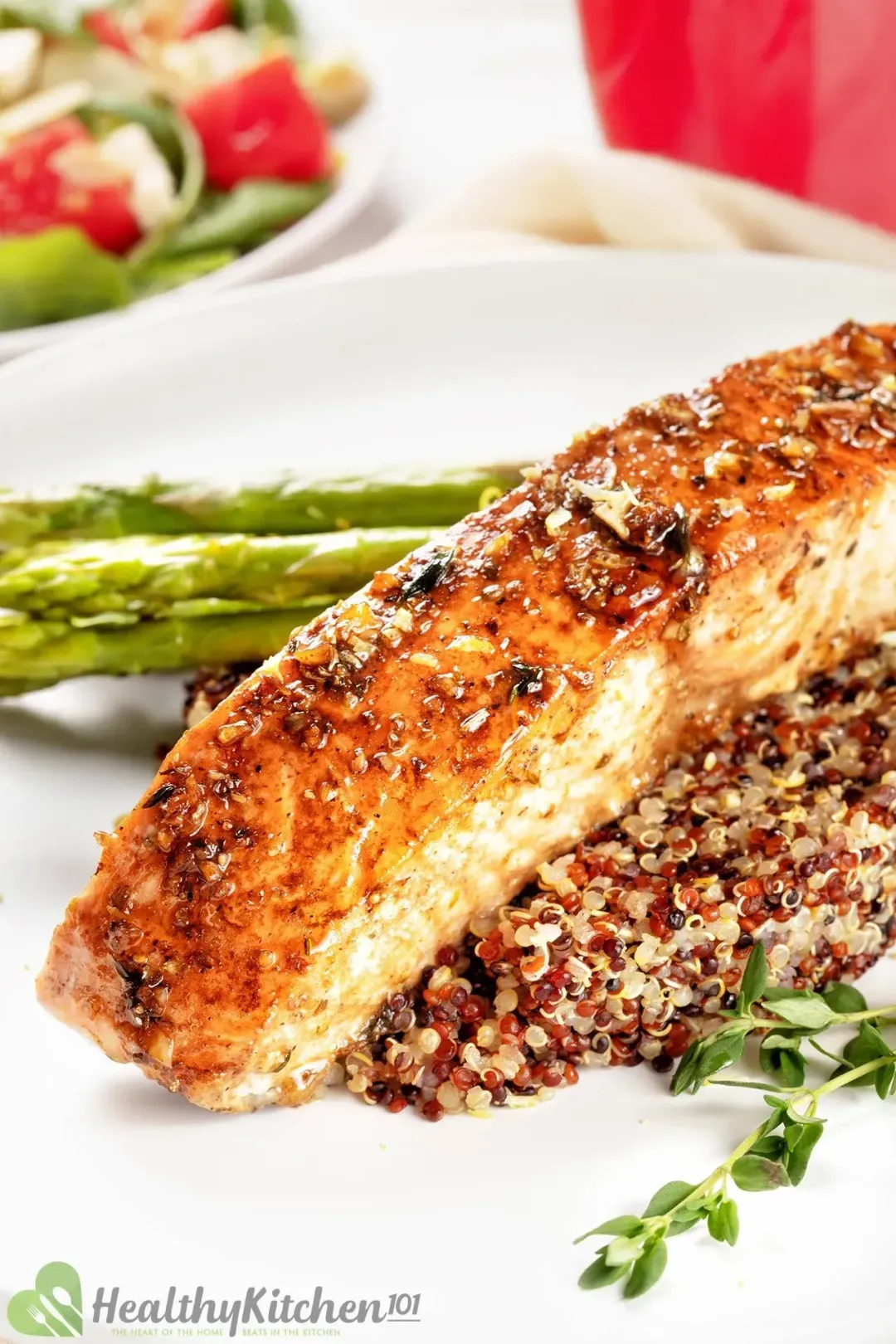 2. How Many Minutes do You Broil
Our fillet's thickest segment is around one inch, and it's completely thawed. We allow it to broil for 5 minutes, brush the top again with glaze, then broil for another 7 (12 minutes in total).
If your fillet is thicker, it probably needs another 1 or 2 minutes to cook all the way through. If it's too thick, we suggest playing it safe by baking, then broiling.
As we mentioned, the fillet needs to be thawed completely. It allows the fish to cook evenly, which is especially crucial when broiling.
To thaw, transfer the fillet from the freezer to the fridge and let sit overnight, or at least 8 hours. Then, submerge it in room-temp water for half an hour before broiling.
3. How Do You Know When Broiled Salmon Is Done?
Sometimes salmon might look cooked, but is pink and raw in the center. If you're unsure, stick a thermometer in your fillet and make sure its inner temperature reaches 145°F before serving it.
Some people slice open the fillet and check whether the color looks translucent (raw) or opaque (cooked). This is unsafe because the salmon might be cooked, but bacteria might still be thriving.
What to Serve with
Although the fillet already tastes amazing, why stop there? It'll be much better with a complementing side, like this watermelon arugula salad we have here— a perfect palate cleanser.
Plus, what better way to end the meal than freshly-made juice? We asked the chefs for a chilled glass of watermelon juice, and it was satisfying gulping it down our throats.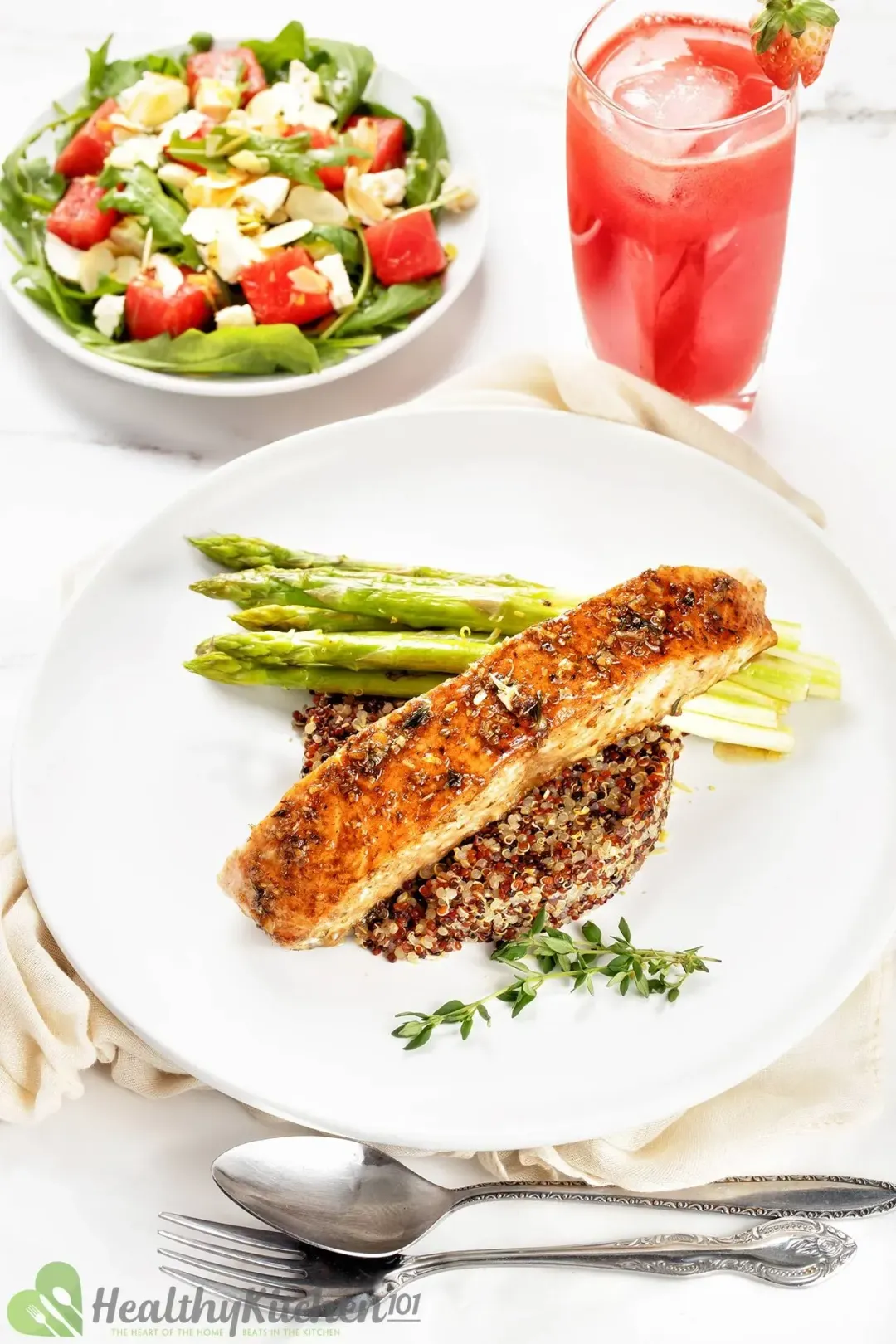 Can You Freeze?
Cooked salmon can be frozen for 4 to 6 months, says the FDA.
However, the tender, juicy fillets lose their succulence once cooked, frozen, and reheated. We highly recommend you enjoy the dish freshly cooked.
Easy Broiled Salmon
This easy broiled salmon recipe is quick and simple. The salmon is juicy and tender, and the glaze is to-die-for. With quinoa and buttery asparagus, it is indeed a wholesome meal.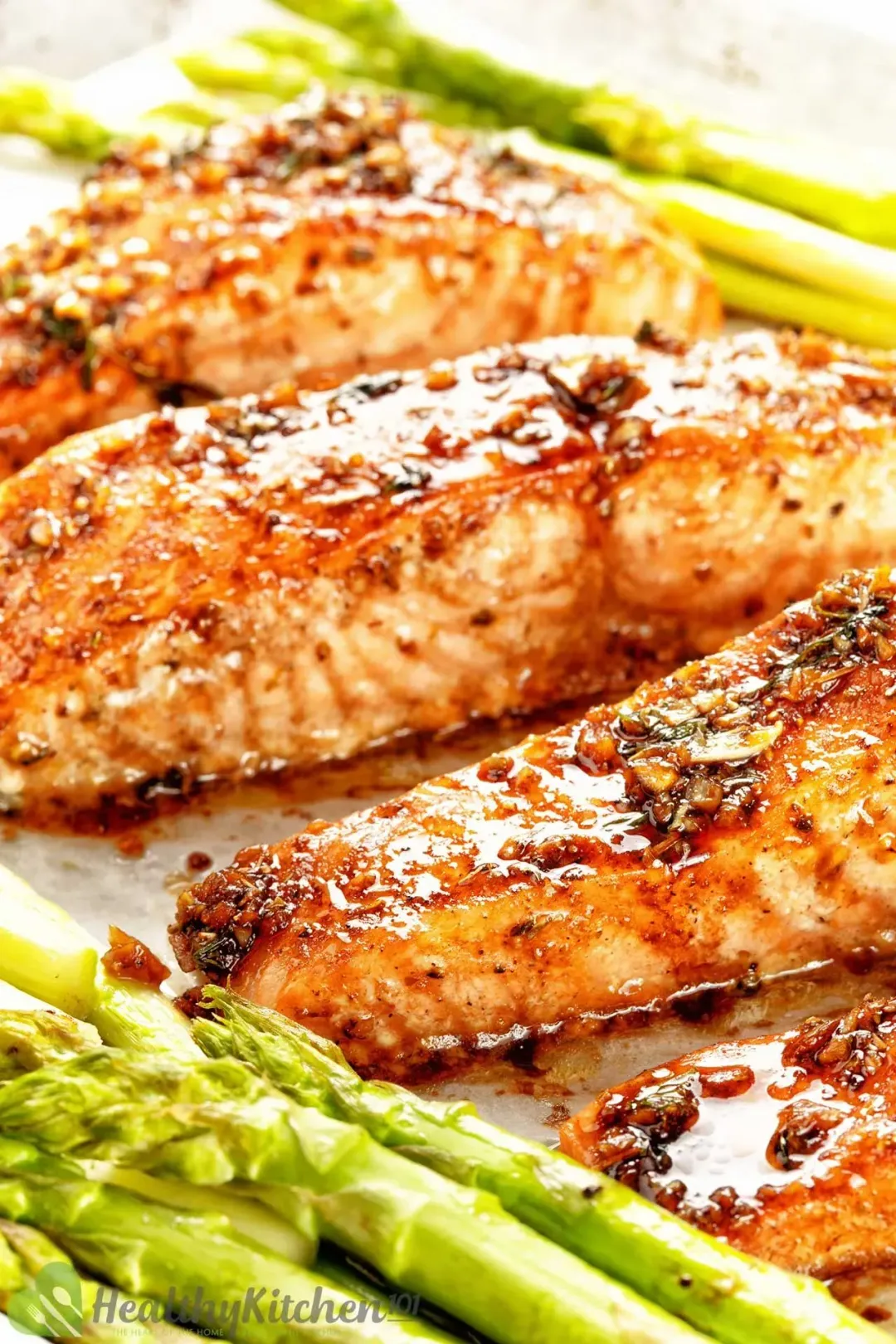 cook TIME

15 mins

prep TIME

5 mins

total TIME

20 mins
COURSE

Main Course

CUISINE

Global

SERVINGS

CALORIES

486 kcal
INGREDIENTS
3 1/2 cups

cooked quinoa

(~1.5 cups uncooked)

3 tbsp

unsalted butter

(melted, divided into 3)

2 tsp

garlic

(minced and divided into 2)

1 tbsp

Worcestershire sauce

1/4 tsp

ground black pepper

1/2 tsp

salt

(divided into 2)
INSTRUCTIONS
1
Preheat the oven to 350°F.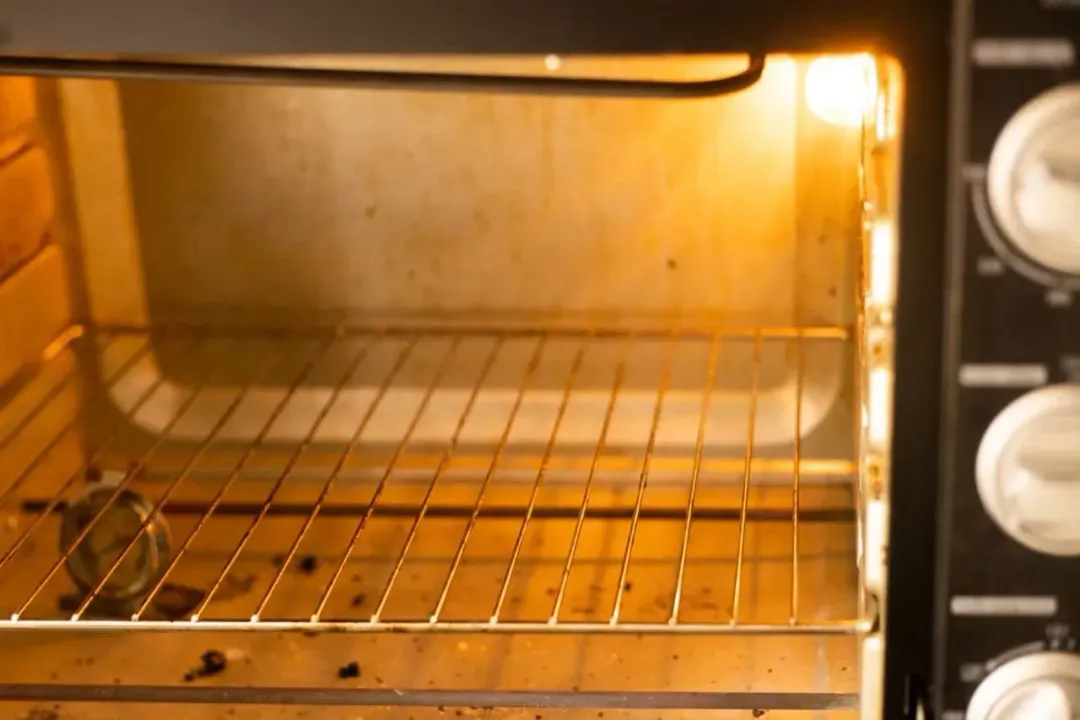 2
Add 1 tbsp of melted butter in a skillet over medium heat. Stir in 1 tsp minced garlic and cook until fragrant.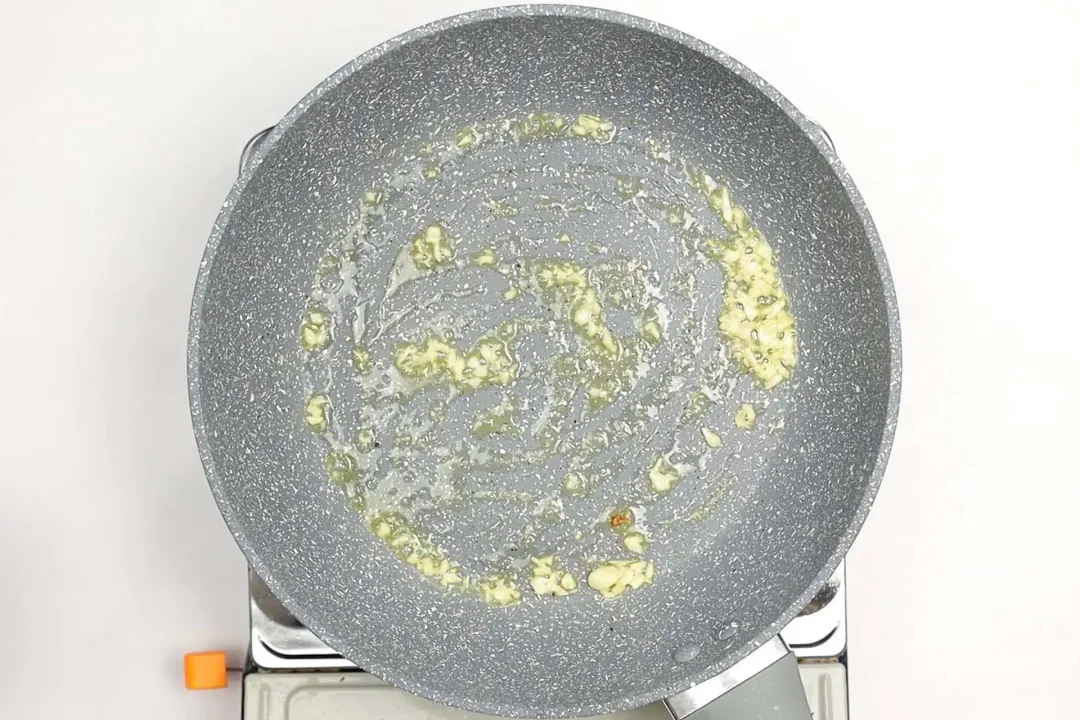 3
Make the sauce: Add 1 tsp lemon juice, 1/2 tsp thyme, 1/2 tsp oregano, 1 tbsp Worcestershire sauce, 1 tsp honey, 1/4 tsp salt, 1/4 tsp black pepper, and stir to combine. Remove from heat.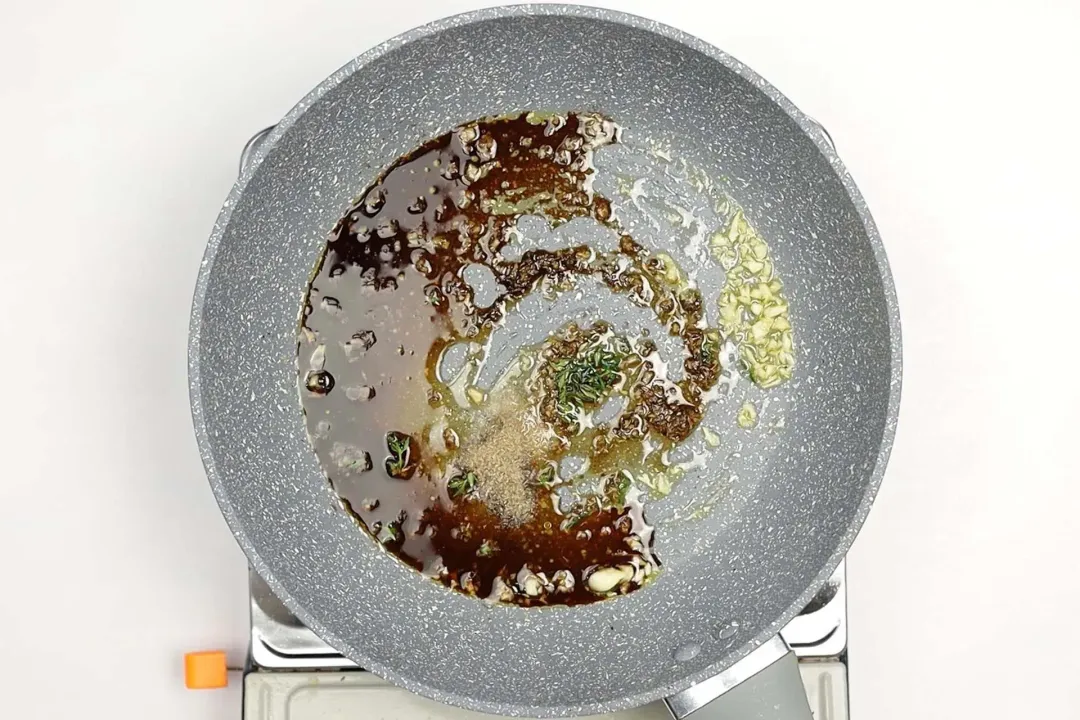 4
Prepare the salmon and asparagus: Place 20 oz salmon fillets onto a baking sheet lined with parchment paper, skin side down. Brush the top of each fillet with half of the glaze and save the other half for a later retouch. Place 12 oz asparagus onto the baking sheet and brush it with 1 tbsp butter.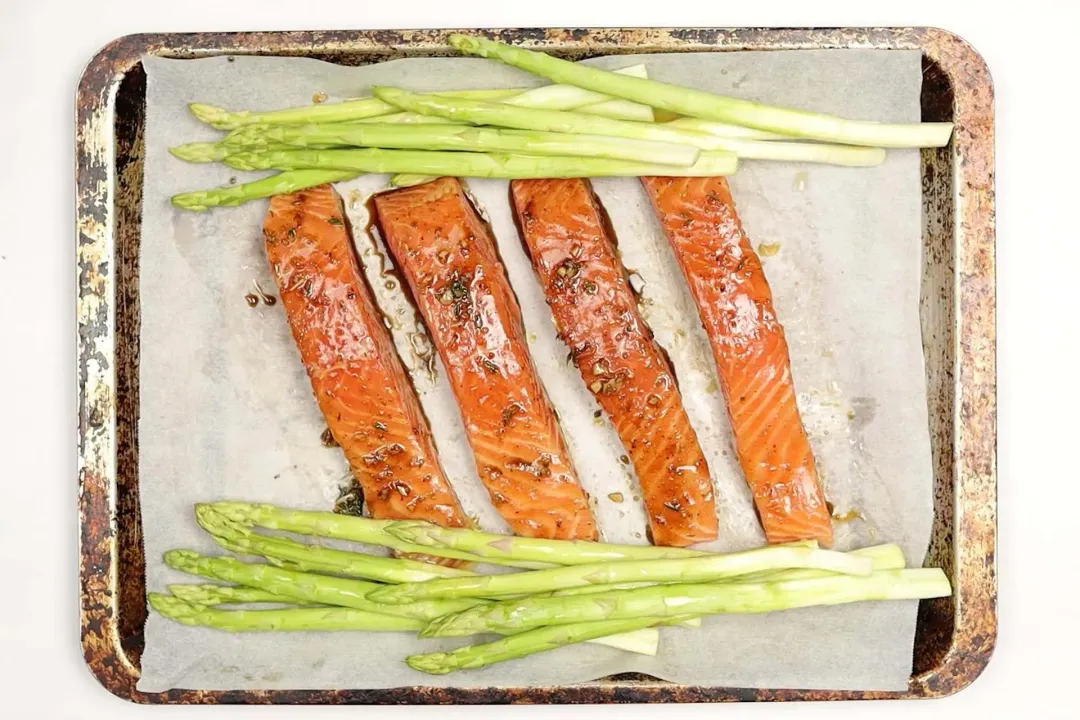 5
Broil the salmon and asparagus: Slide onto the top rack of the oven and broil for 7 minutes. Remember to set the timer.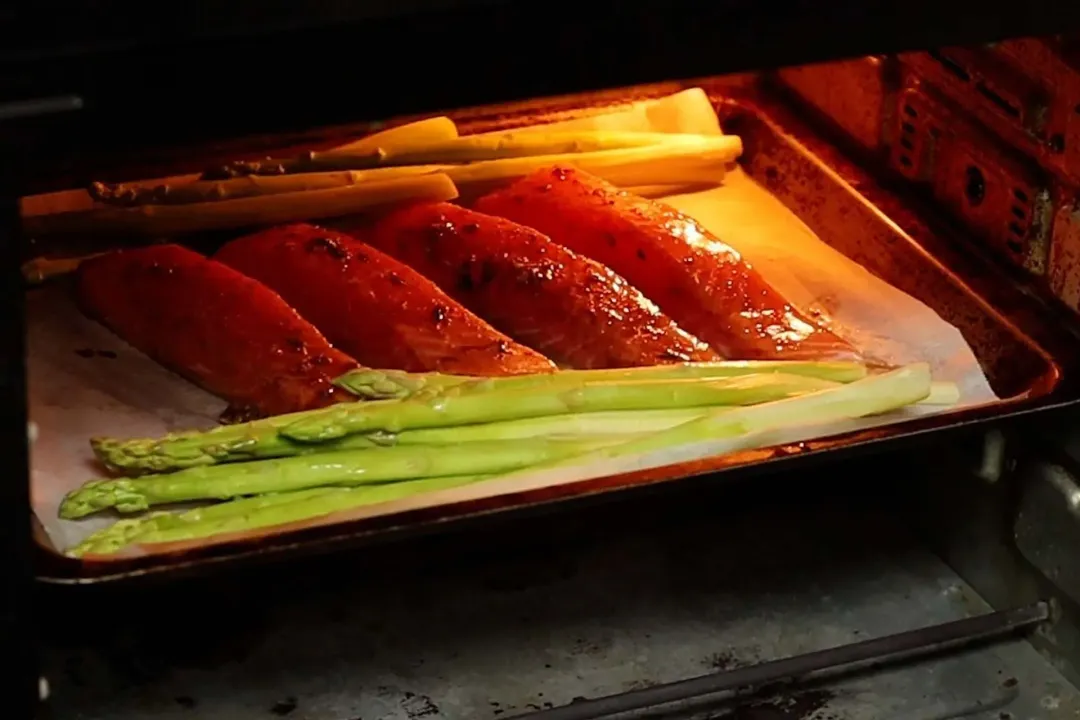 6
Cook the quinoa: As soon as the tray's back in the oven, add 1 tbsp melted butter to the skillet and stir-fry 1 tsp garlic over medium heat. Add 3 1/2 cups cooked quinoa, season with 1/4 tsp salt, and cook for 3 minutes. Remove from the heat and prepare to assemble.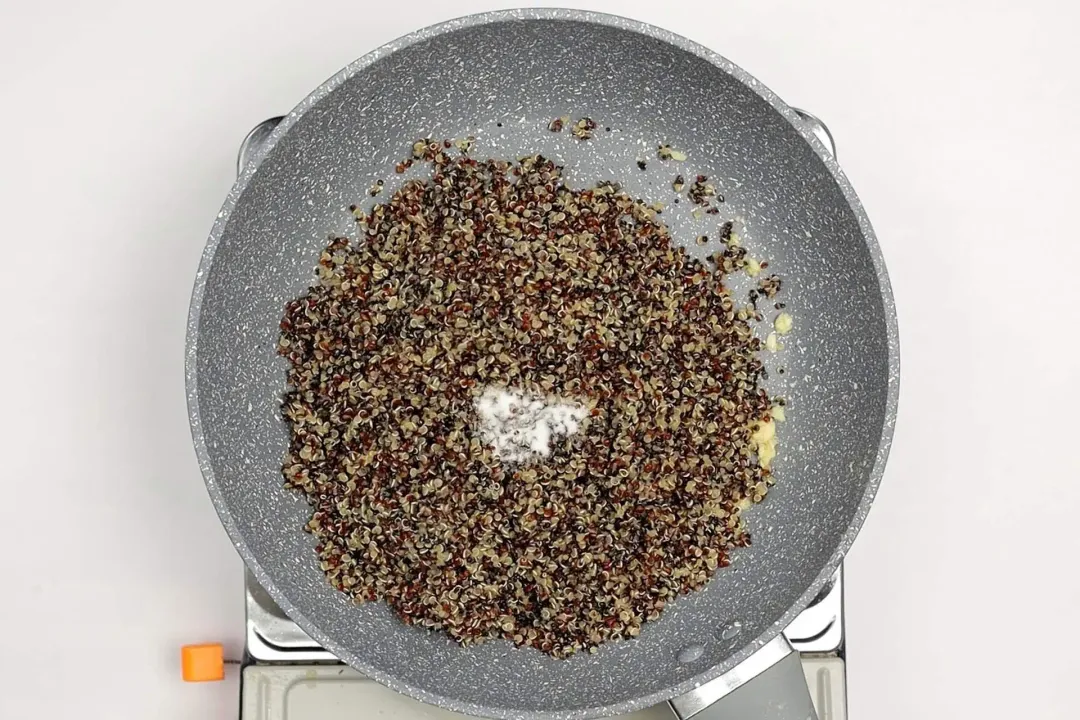 7
Brush the salmon and broil again: When the timer dings, take the baking sheet out and brush the fillets once more with the remaining glaze. Slide it back onto the broiling rack and cook for another 5 minutes.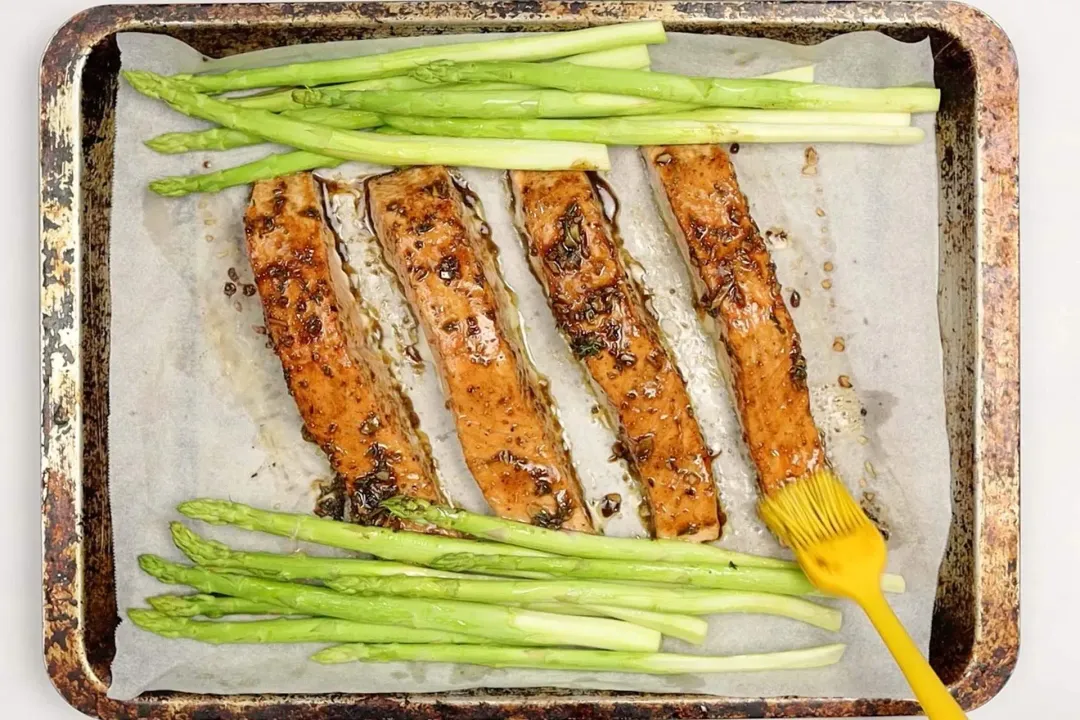 8
Plate: When the fish is cooked, place the baking sheet on the kitchen counter and begin plating. Place a pile of quinoa in the middle, lift the fillet with a spatula and place it on top, and put the asparagus next to the fillet.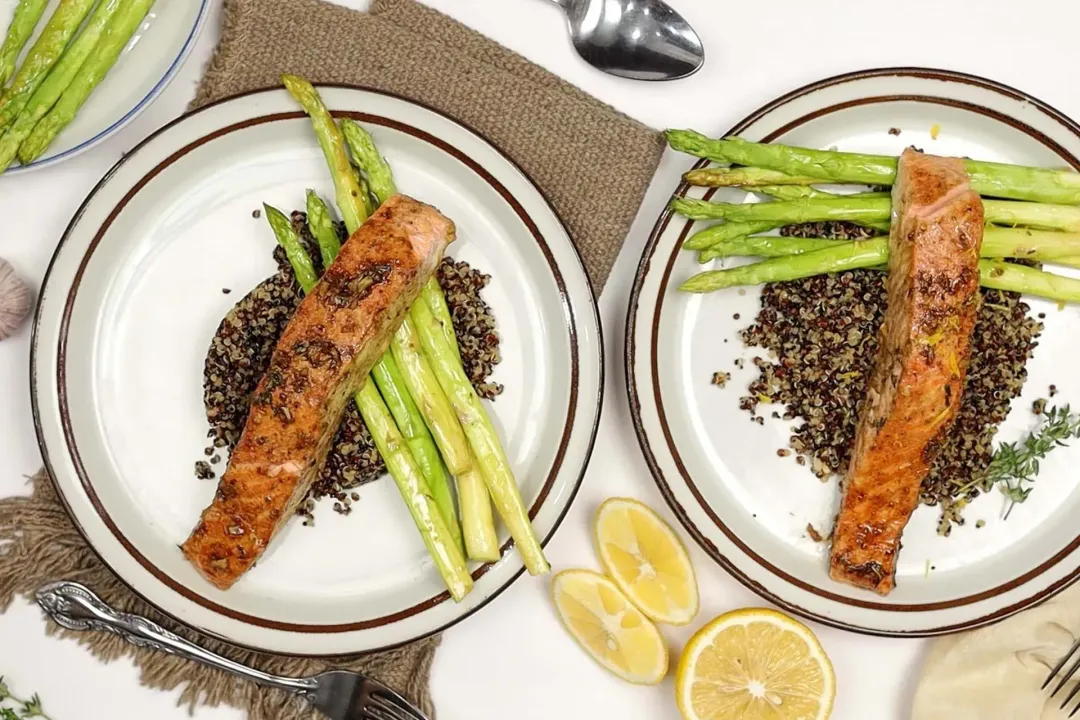 9
Serve: Grate 1/2 tsp lemon zest over the top, and enjoy.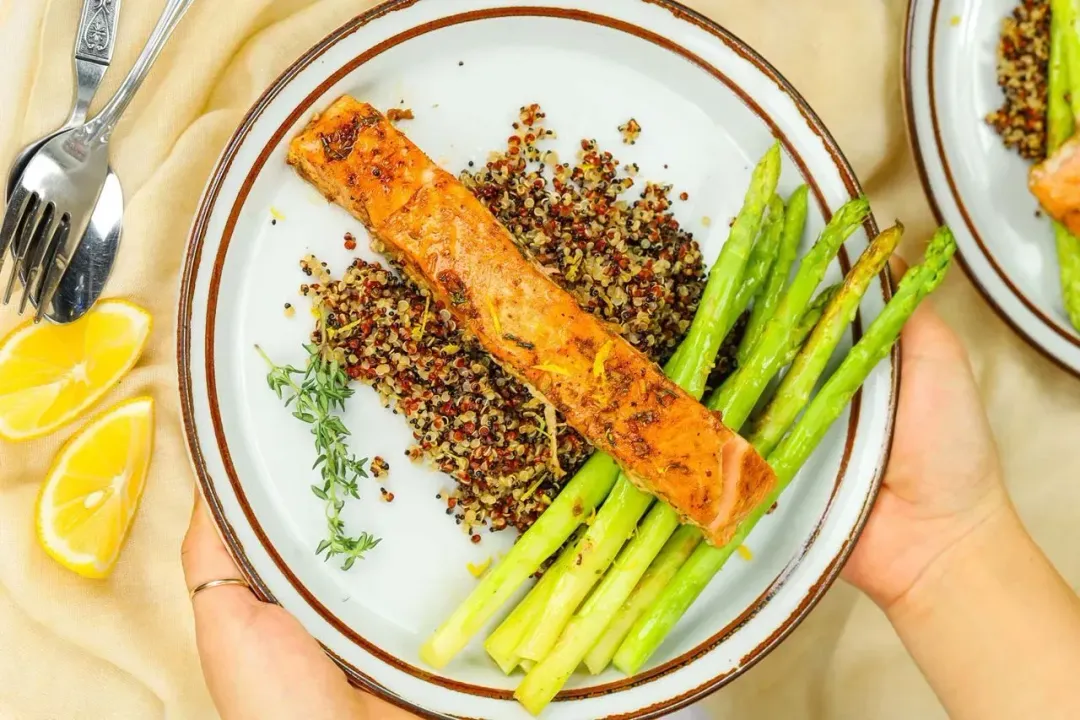 NUTRITION
Nutrition Facts
Easy Broiled Salmon
Amount Per Serving (1 serving)
Calories 486
Calories from Fat 171
% Daily Value*
* Percent Daily Values are based on a 2000 calorie diet.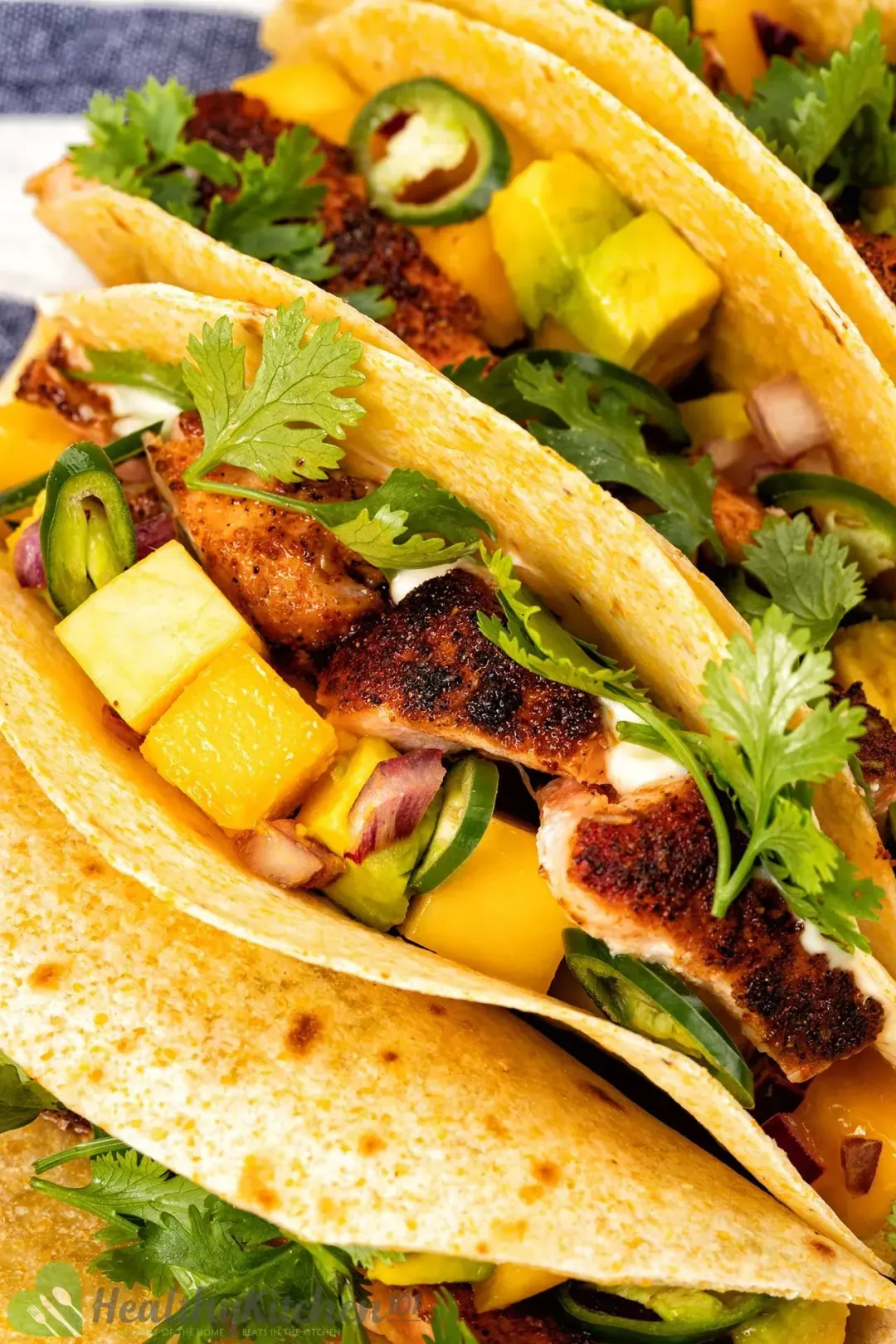 Previous Recipe
Blackened Salmon Tacos
Blackened Salmon Tacos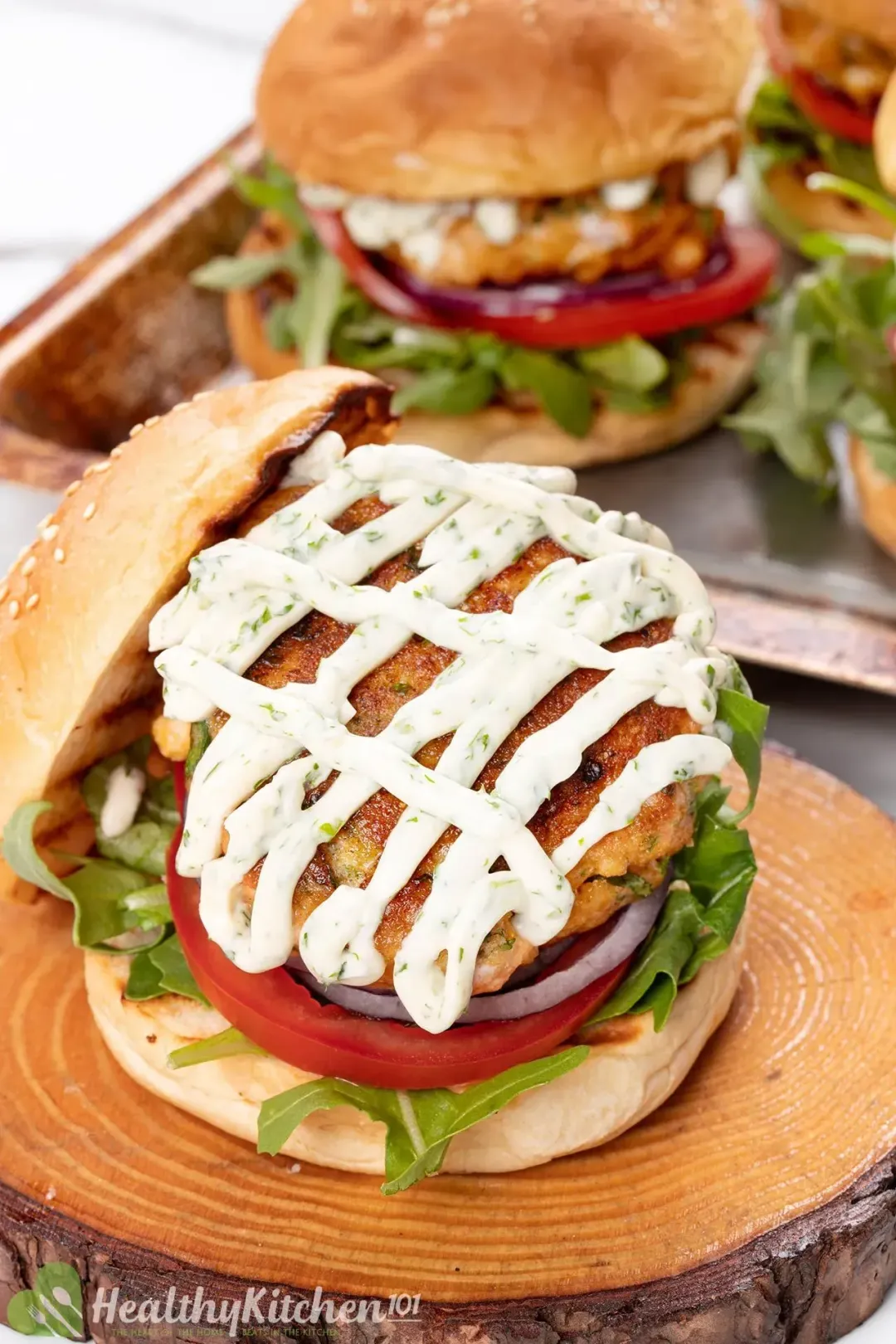 Next Recipe
Pan-seared Salmon Burger
Pan-seared Salmon Burger
Head Chef, Culinary Consultant
Tuyet Pham is an award-winning Saigonese chef who believes that joy is the secret ingredient to delicious food. At Healthy Recipes 101, Tuyet personally tests and simplifies every recipe, ensuring maximum flavor with minimal effort. With a background at prestigious French restaurants P'TI Saigon and Le Corto, Tuyet knows how to make every dish exceptional.
Writer, Author
Luna Regina is an accomplished writer and author who dedicates her career to empowering home cooks and making cooking effortless for everyone. She is the founder of HealthyKitchen101.com and HealthyRecipes101.com, where she works with her team to develop easy, nutritious recipes and help aspiring cooks choose the right kitchen appliances.
Nutrition Reviewer
Lizzie Streit is a Minneapolis-based dietitian and founder of It's a Veg World After All. She completed her MS in Human Nutrition from Drexel University, and is an expert in culinary nutrition, recipe development, and nutrition communications. Lizzie's philosophy is centered around making nutrition recommendations, and especially the advice to eat more vegetables, approachable and realistic. She is excited to be working with the team at Healthy Recipes 101 to ensure that their recipes are both nutritious and delicious.
Perfectly broiled salmon with a delicious char!

It's really good! I can't wait to make it again :)