This recipe for blackened salmon tacos will help you prepare one of the most delicious Taco Tuesday dishes we know. Like our simple poached salmon with dill and this salmon recipe with piccata sauce, this dish is quick, easy, and centers around a lovely pink fish.
Fish tacos are an original Mexican dish, and this version is a modern take on the North American flavors. It's hearty and filling, but— like all flavor-packed dishes— will take a bit of effort.
The only real challenge after that is not to overindulge in this flavorful salmon taco dish.
Is This Recipe Healthy?
Yes, a blackened salmon taco can be a rich source of healthy fats and protein.
Salmon is replete with omega-3 fatty acids, which are considered to be essential. This means the body cannot produce these fats, but they are important in functions that lower the risk of heart disease, cancer, dementia, and Alzheimer's.
In cases of heart disease, the consumption of omega-3 fatty acids can lower inflammation. This reduces blood clotting to prevent issues such as heart attacks.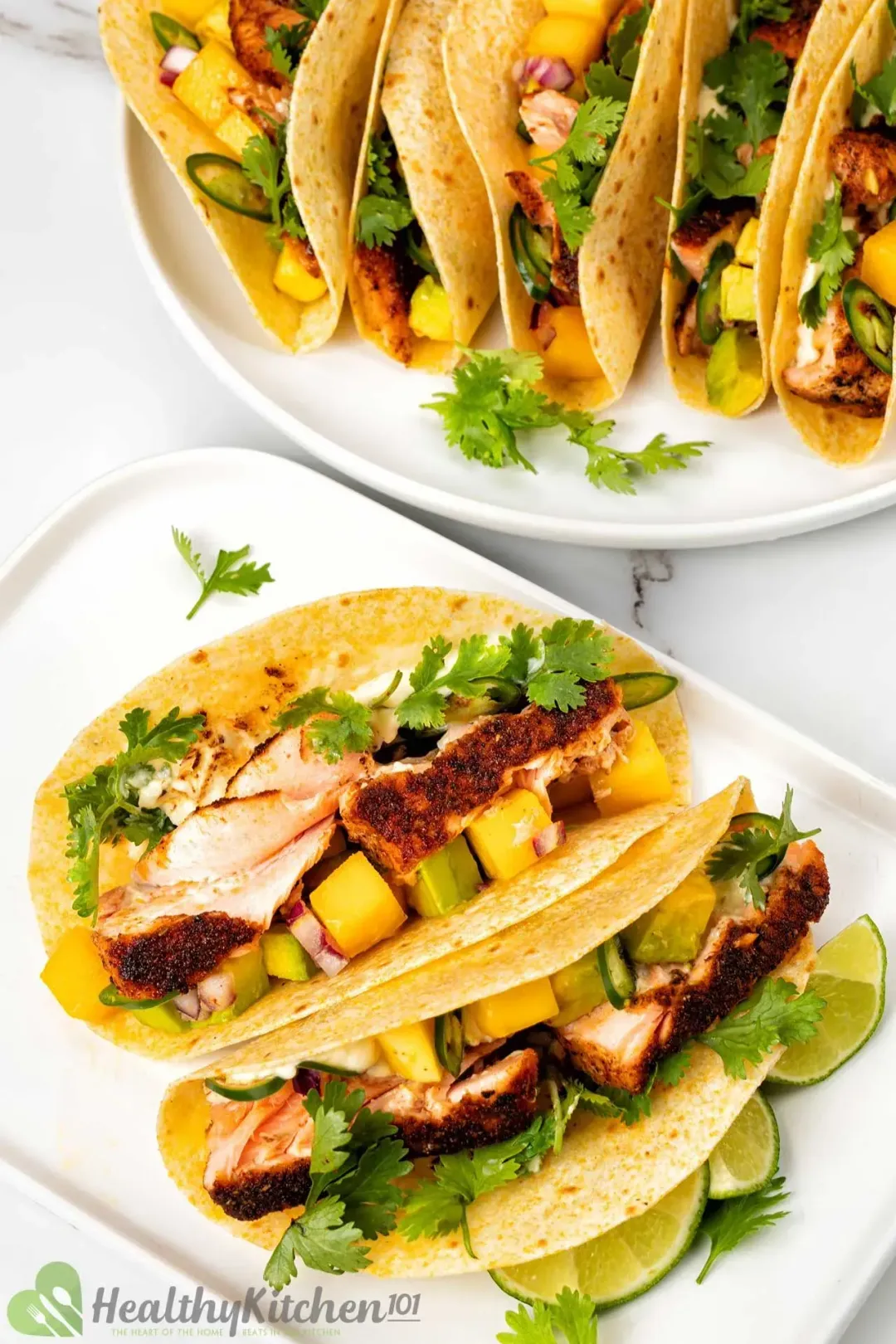 Fatty fish, in general, has been shown to protect brain health. One study involved participants over 65 years of age.
It was shown that their mental clarity declined at a slower rate with more regular fish consumption.
What Is the Difference Between Grilled and Blackened?
To make grilled salmon, you first have to season it with salt, pepper, and any herbs of choice. Next, you place the salmon onto a heated grill rack.
From there, you cook it, flipping to ensure it's cooked through until the salmon is medium-rare.
Meanwhile, typical blackened salmon recipes require dredging the fish in melted butter before coating it with cajun or creole seasoning. Cajun spice seasoning is typically made with cayenne pepper, paprika, black pepper, garlic, and oregano.
After coating, fry the fish in oil as it toasts while cooking.
Seasoning for This Recipe
Our blackened salmon seasoning closely resembles that of traditional cajun seasoning. It consists of cayenne, paprika, cumin, Mexican spice mix, chili and garlic powders, and salt.
It has a peppery flavor base to lend a spicy kick, with delicate aromas that set off an enormous appetite! You can enjoy this cajun seasoning with salmon as well as other meats like chicken.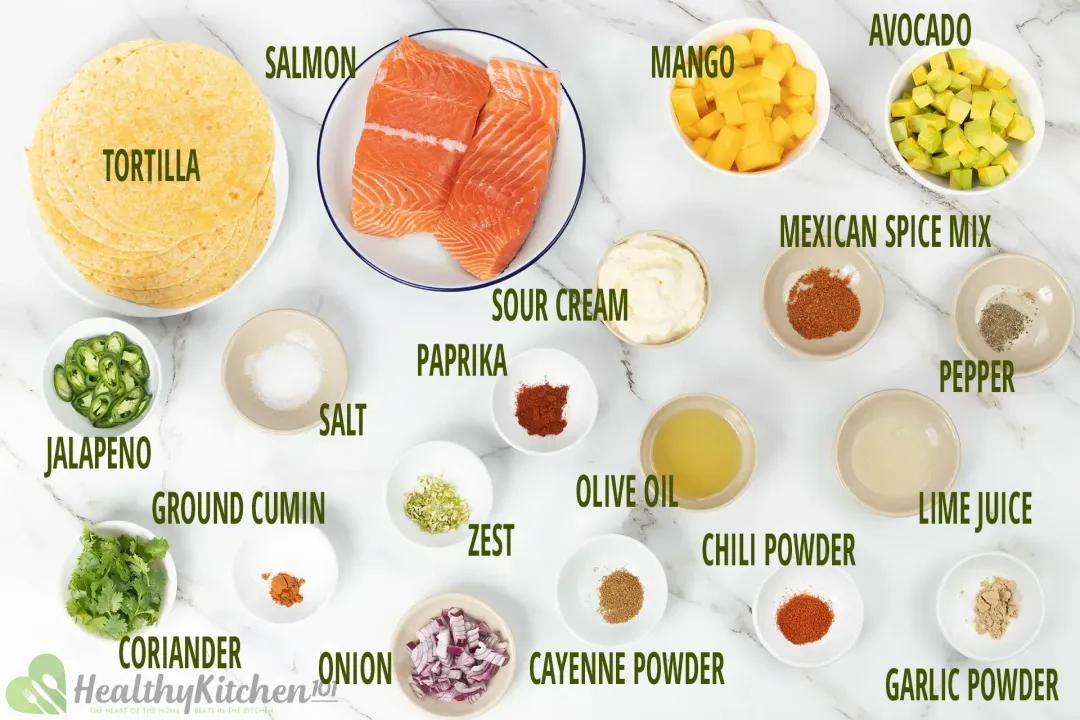 Sauce
While blackened salmon and tacos are a mouthwatering combination, the sauce is the creamy agent that binds the flavors together. In this recipe, a sour cream and lime mix imparts fresh essence to give a zesty edge to the salmon.
Cooking Frozen Salmon
It's not often you forget to take out that piece of frozen salmon from the freezer. When you do, however, here's a foolproof method to make sure you'll have it ready in minutes.
Heat the center of the frozen salmon to the right temperature. To do this, start by cooking it flesh side down so the heat cooks it right through.
If the flesh flakes when you scrape it with a fork, that means it's ready to serve.
You can definitely use frozen salmon in this blackened salmon tacos recipe. All you need is to ensure it cooks to an internal temperature of 150°F.
How to Defrost
A less rushed approach involves preparing the salmon by defrosting it. Leave it to thaw in the refrigerator for anywhere between 1 and 24 hours.
Salmon doesn't take long to defrost, but you can leave it in the fridge if you are out all day.
What Goes Well with This Dish?
Now if you have some extra salmon left, go ahead and make yourself a protein dense with this salad on the side. It's full of greens as well, to up your nutritional intake of the day. Or, make a salmon dip and enjoy the meal together with vegetable sticks.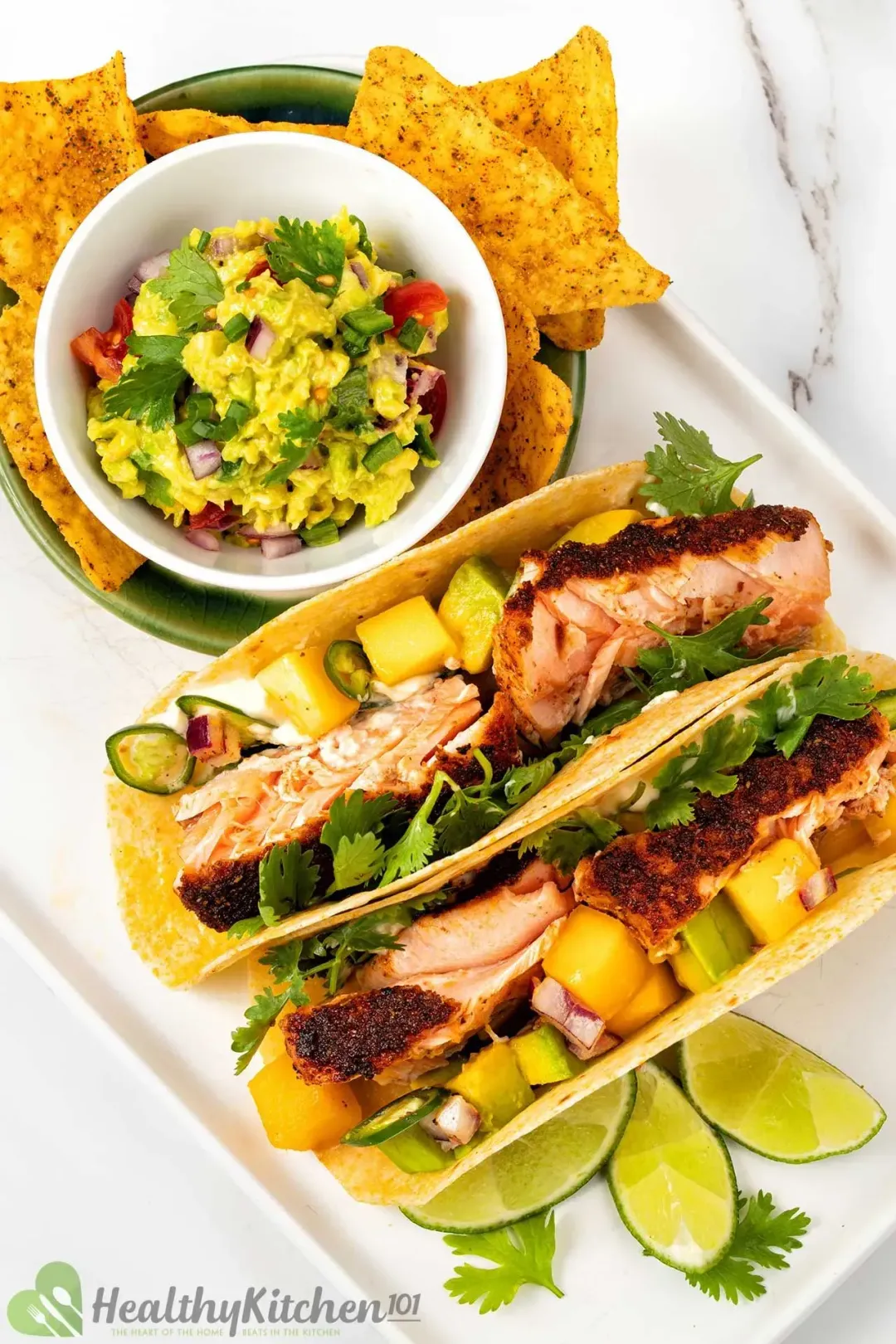 Apart from them, here are some pairings we found to go well with blackened salmon tacos in this recipe.
1. Mango Salsa
Blackened salmon with mango salsa is an excellent sweet and savory pair. Mango enhances the dish with fresh flavors that keep you begging for another bite.
We added mango salsa to our blackened salmon tacos and were blown away by how vibrant it made the dish.
2. Cabbage Slaw
Cabbage slaw and blackened salmon is a pair that adds vinegary flavor and crunchy texture to the dish. We didn't include it in this recipe, but if you do, let us know how much you enjoyed it!
FAQ
1. How Many Calories?
This blackened salmon taco dish contains 490 calories per serving. Most of these calories come in the form of protein.
This means one serving leaves you feeling full for hours, preventing you from munching on empty calories laced with sugars.
2. Can You Freeze It?
Yes, you can freeze the cooked fish from blackened salmon tacos. Cool the fish down and transfer it into a Tupperware or any airtight, freezer-safe container, and store in the freezer.
To reheat, leave it in the refrigerator to thaw. After that, place it on a pan and reheat in the oven until warm through the center.
3. How Long Does It Last?
You can store frozen salmon for up to 6 months without losing its quality. However, for the complete blackened salmon tacos dish, you can keep it in the fridge for up to 3 days.
In this recipe, fresh mango and avocado may cause the dish to lose its quality faster. To store safely, cover the blackened salmon tacos and keep them tucked away in the refrigerator until ready to use.
If you enjoy salmon and would love to have more, try our healthy salmon burgers, this delicious broiled salmon, or our easy pan fried salmon, and let us know what you think!
Blackened Salmon Tacos
These blackened salmon tacos are a filling treat full of protein. Don't let the long list of ingredients intimidate you— they'll be ready in just 35 minutes!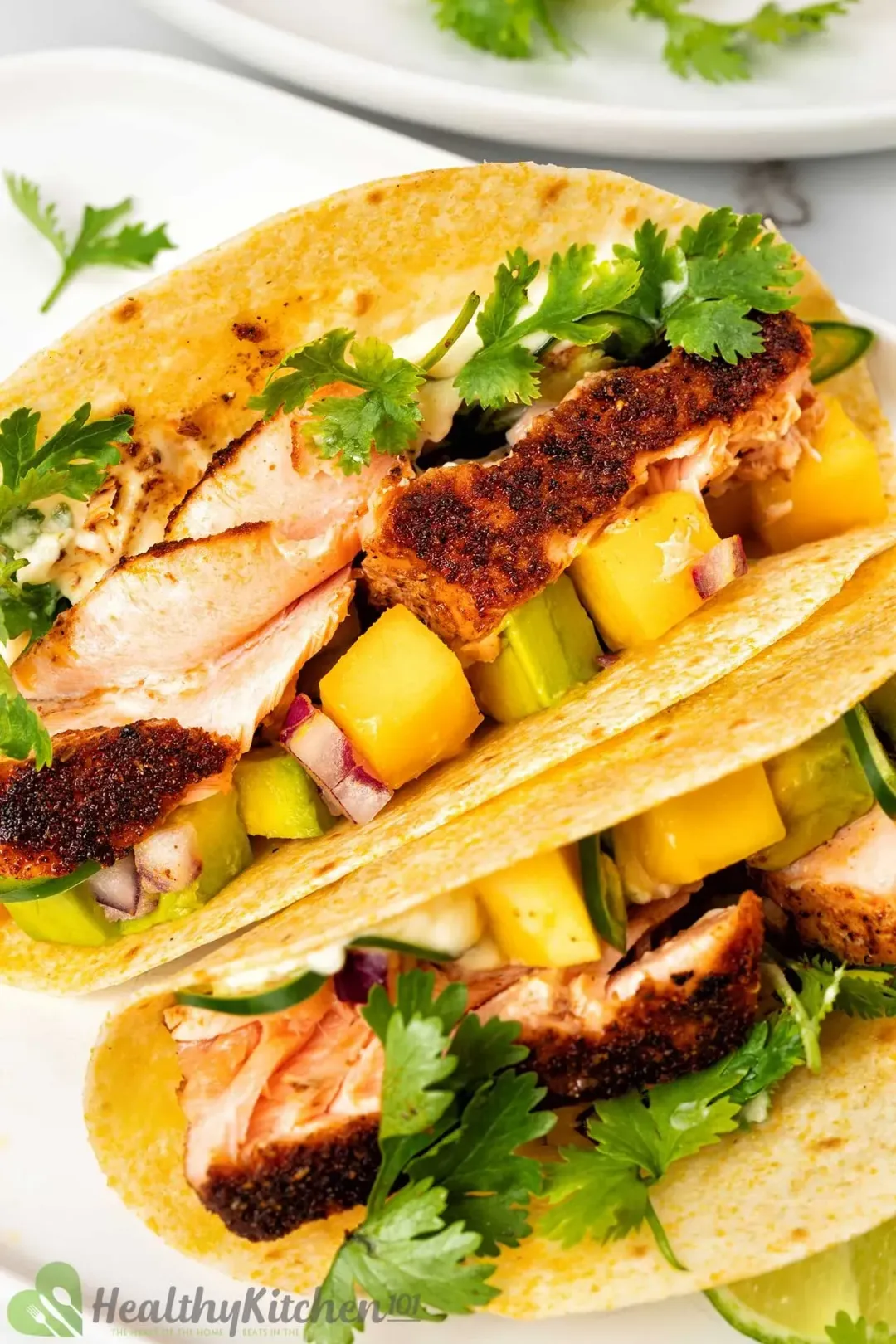 cook TIME

25 mins

prep TIME

10 mins

total TIME

35 mins
COURSE

Dinner, Lunch, Main Course

CUISINE

Latin American

SERVINGS

CALORIES

490 kcal
INGREDIENTS
1.5 oz

red onion

(chopped)

1/2 cup

coriander

(roughly chopped)

1 1/2 tbsp

olive oil

(divided)

2 tsp

lime juice

(divided)

1/4 tsp

black pepper

(garnish)
INSTRUCTIONS
1
Preheat the oven to 150°F. Start by splitting the salt, oil, and lime juice in half.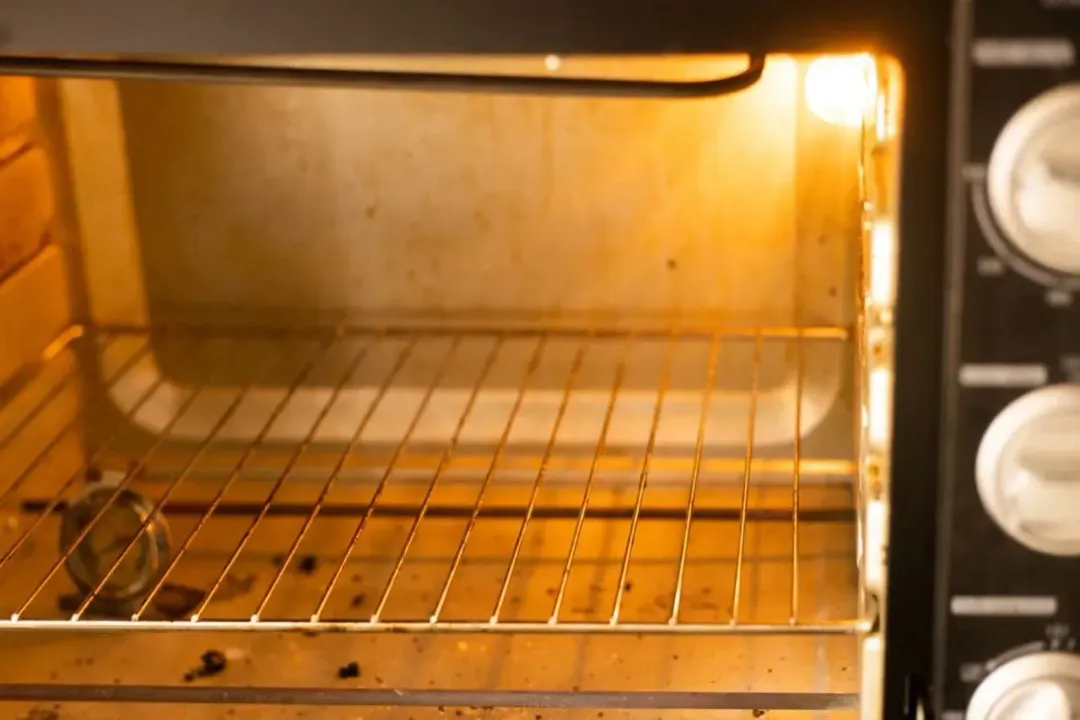 2
In a small bowl, mix 1/2 tsp chili powder, 1 tsp Mexican spice mix, 1/2 tsp paprika, 1/2 tsp garlic powder, 1/4 tsp cayenne, 1/4 tsp cumin, 1/4 tsp salt, and 3/4 tbsp olive oil. Marinate the fish with this mixture for 5 minutes.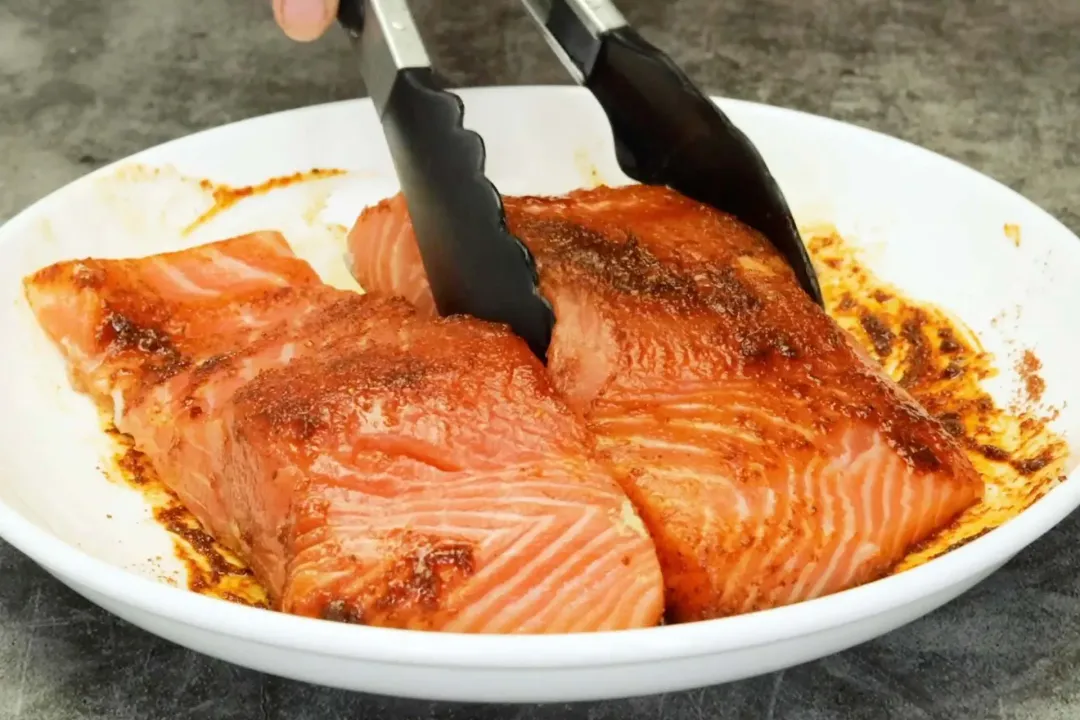 3
Meanwhile, in another bowl, mix 5 oz avocado, 6 oz mango, 1.5 oz red onion, and 1 tsp lime juice to make the salsa.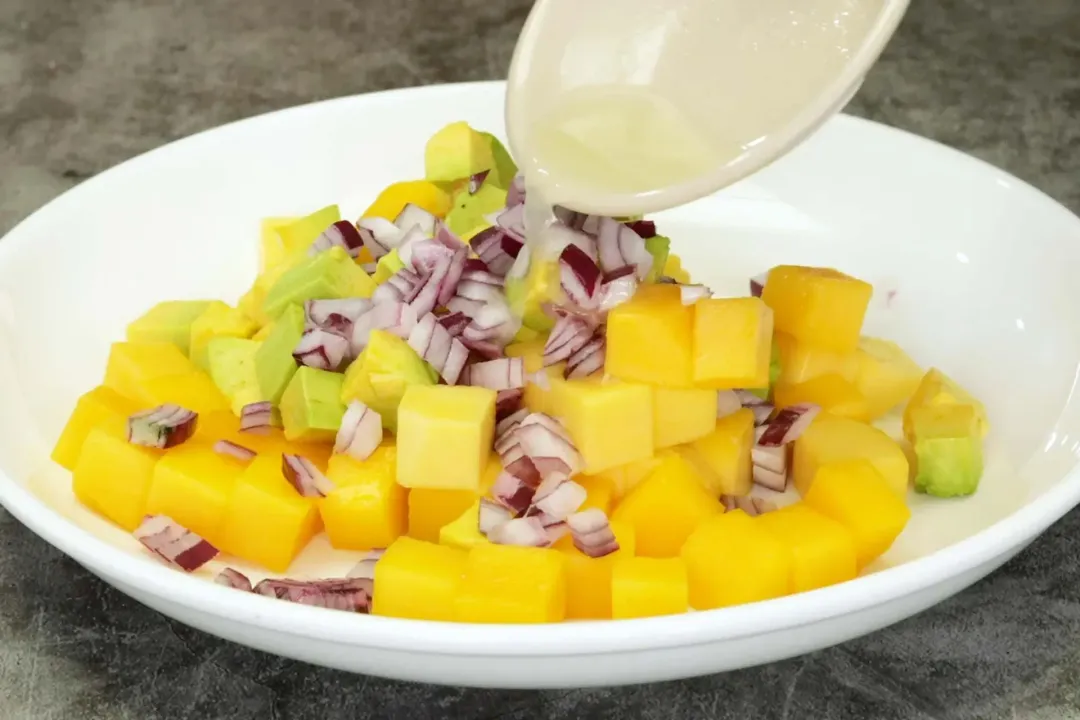 4
In a pan over medium heat, use the remaining 3/4 tbsp oil to sear the fish for 8 minutes until it's brown. Remove the fish from the pan and discard the skin.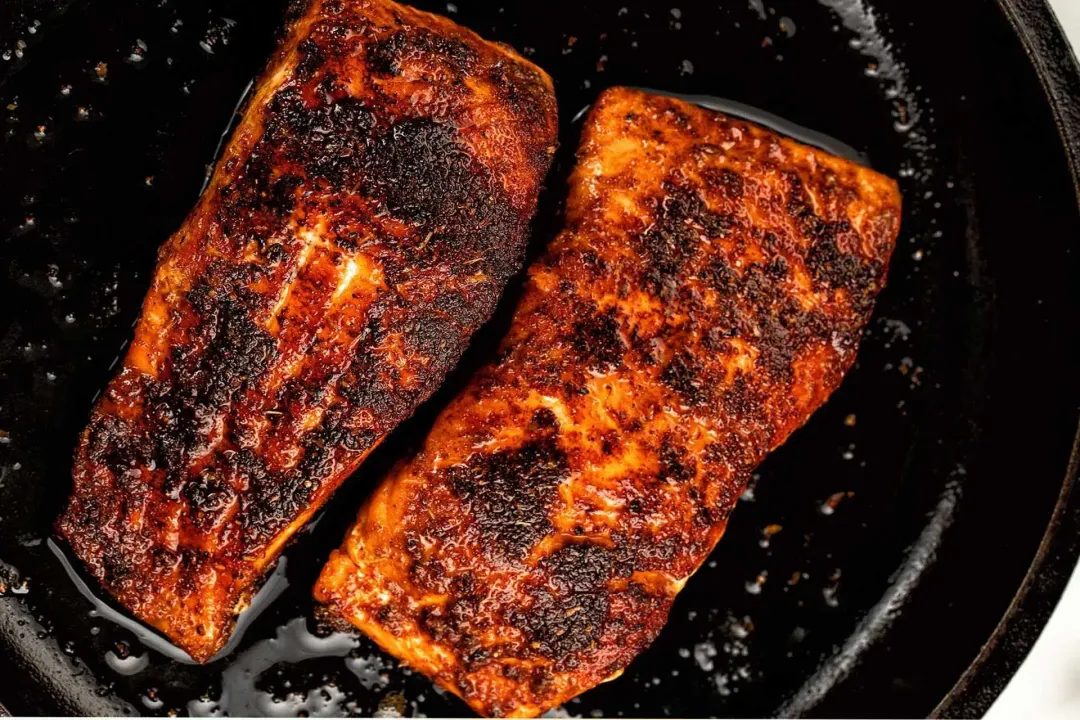 5
To make the sauce, mix 1/2 cup sour cream, 1/2 tsp lime zest, remaining 1 tsp lime juice, and remaining 1/4 tsp salt in a bowl until well combined and smooth.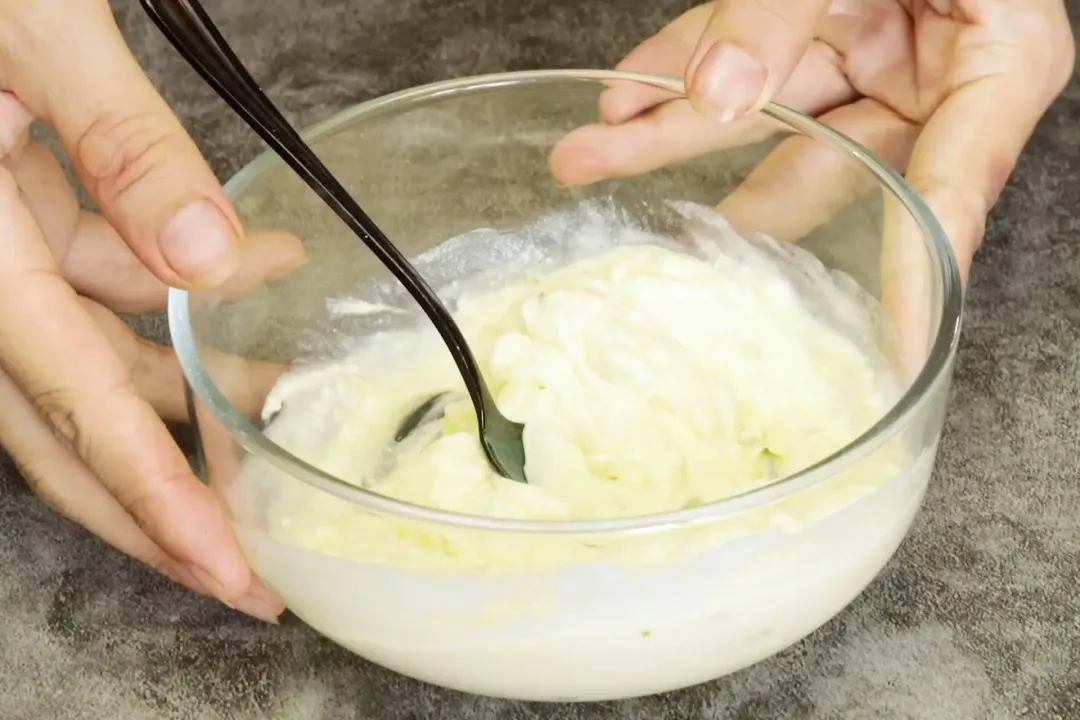 6
Bake 8 tortillas for 5 minutes.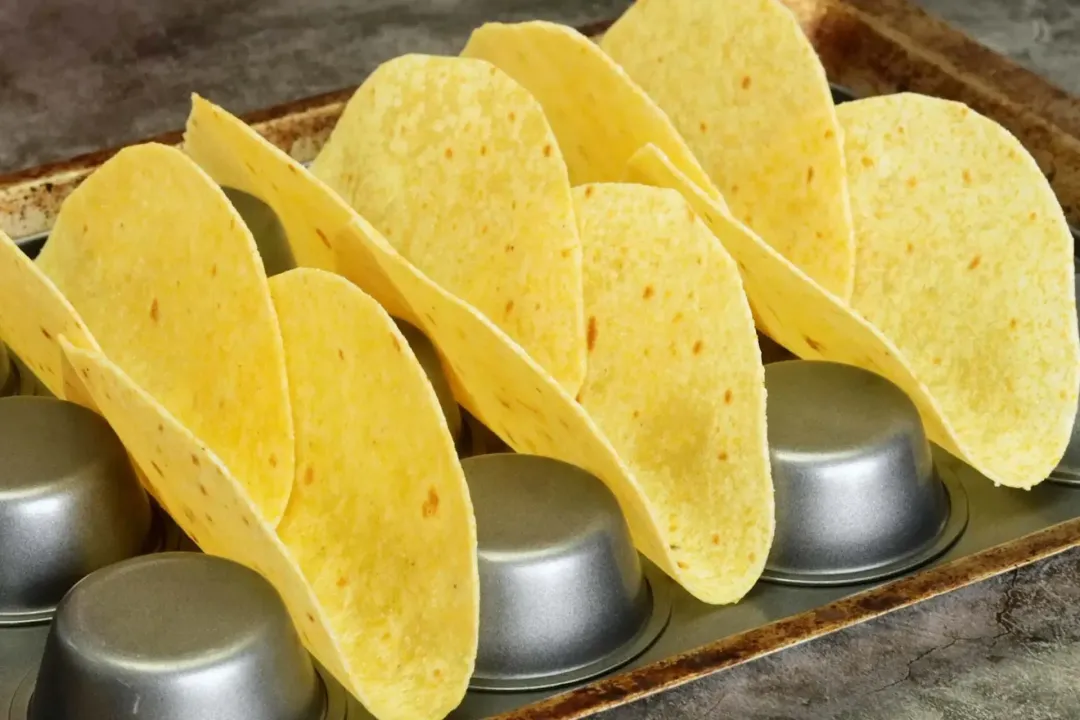 7
To assemble, shred the salmon and add the pieces onto the tortillas together with the salsa, jalapeno, and coriander. Pour the sauce on top with pepper.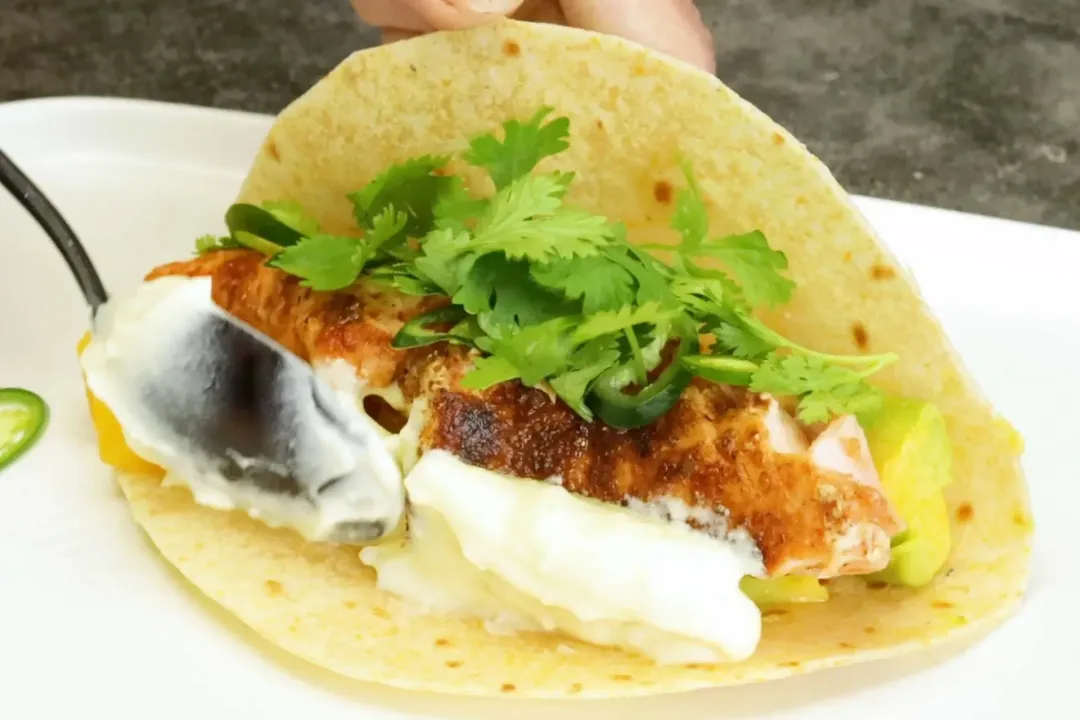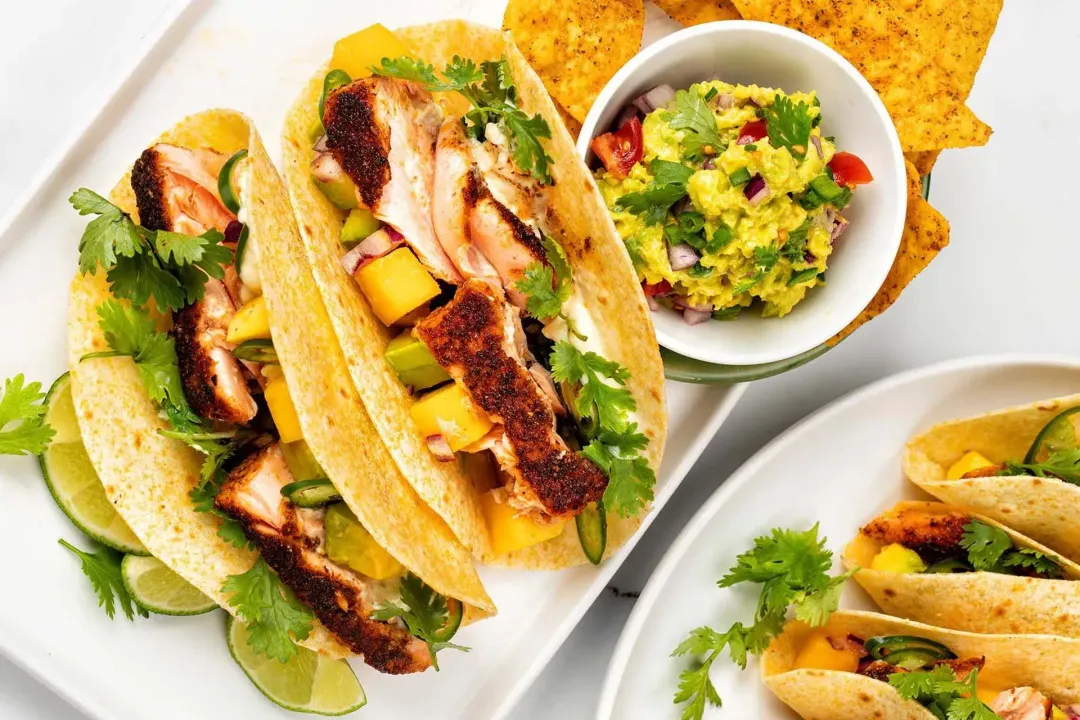 NUTRITION
Nutrition Facts
Blackened Salmon Tacos
Amount Per Serving (1 serving)
Calories 490
Calories from Fat 216
% Daily Value*
* Percent Daily Values are based on a 2000 calorie diet.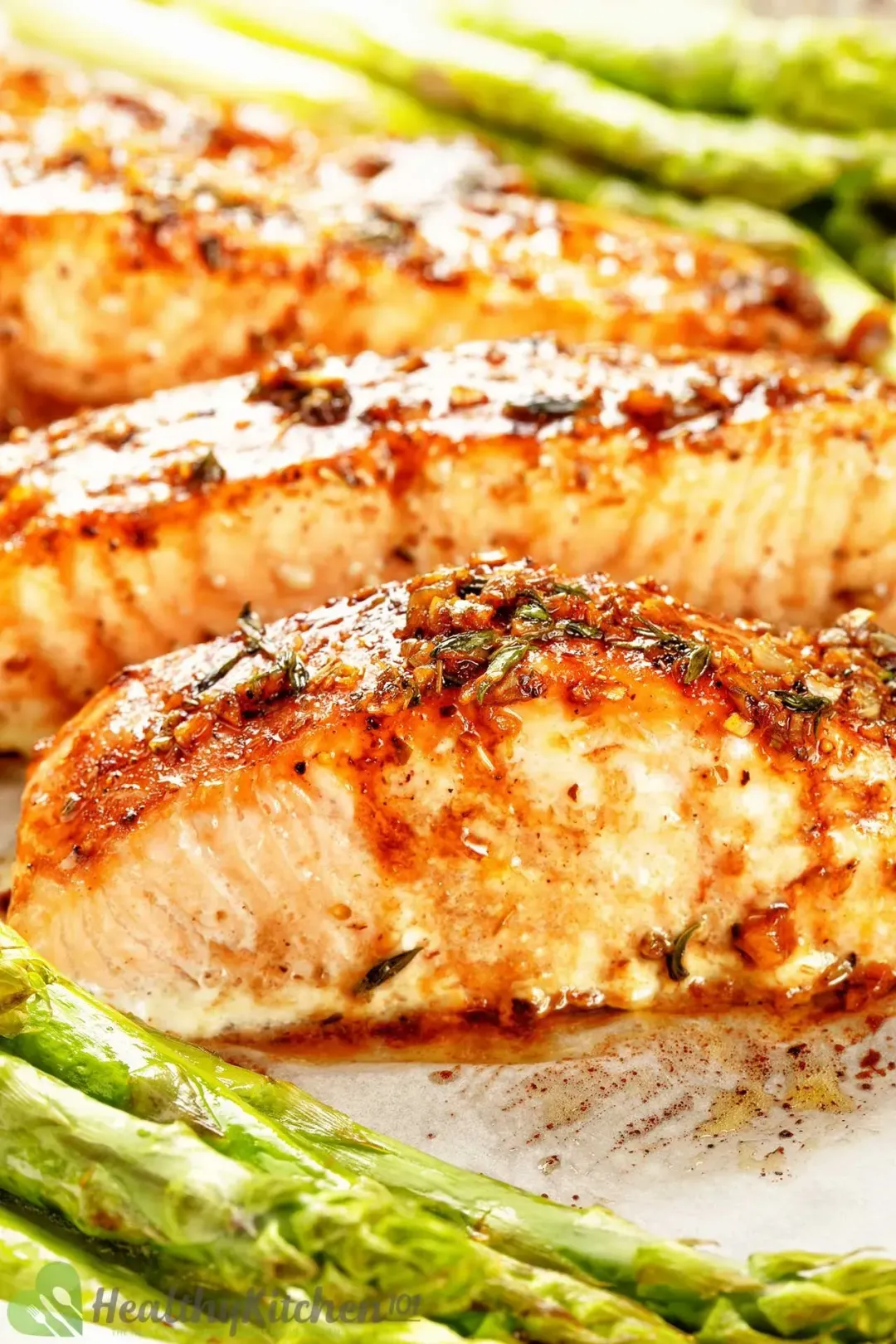 Next Recipe
Broiled Salmon
Broiled Salmon
A delicious and unique twist on traditional tacos, perfect for a fun dinner night.

Spicy and delicious blackened salmon tacos.