Our salmon Alfredo is incredibly easy to make and takes just 30 minutes of your time. The pasta is quickly tossed in the luscious, rich Alfredo sauce and topped with flavorful seared salmon for a creamy taste with a delicate aroma.
While the recipe is straightforward enough for a weeknight meal, it's also delicate enough for a fancy dinner entrée.

Is This Salmon Alfredo Recipe Healthy?
Yes, our salmon Alfredo recipe is healthy.
A creamy pasta sauce like Alfredo can be high in calories and loaded with excessive saturated fat. However, this problem can be eliminated with a few adjustments to the original recipe.
As the dish contains calorie-dense ingredients, it's important to be mindful of the size of each portion. Each serving contains a balanced amount of 505 calories. This allows you to combine more green veg and fruits with the meal.
We also used just enough butter, cream, and milk to create the velvety, creamy sauce while keeping the saturated fat at approximately 9 g for each serving, complying with our nutritional guidelines.

Ingredients for Salmon Alfredo
1. Salmon
Salmon is our favorite fish. Its flavor is less overpowering than other fish, and whether you sear or bake it, the flesh still ends up tender and buttery. 
If you want to add protein to your pasta repertoire, any kind of seafood makes a wonderful alternative: shrimp, squid, or scallops.
2. Pasta
Fettuccine is the traditional option for a thick Alfredo sauce. It has the perfect length to gather onto your fork in a single or double swirl and the perfect surface area to soak up that delectable cream sauce.
3. Vegetables
A balanced dish often requires additional veg. They not only add a touch of freshness, but also provide a nutritional boost. Mushrooms and green peas are heaven in this Alfredo recipe, but the list could go on: spinach, broccoli, asparagus, you name it.
4. Alfredo Sauce
Alfredo sauce is traditionally delectable and rich, so salt is the only main flavor enhancer in our recipe. Other spices like oregano and Dijon mustard complement the creamy taste but should not overpower the sauce.
As an Alfredo sauce is a little on the rich side, we finish it off by adding a squeeze of fresh lemon juice to balance out the creaminess.

How to Make Salmon Alfredo
Our salmon Alfredo only requires simple ingredients but still delivers delicious layers of flavor. We promise the recipe is quick and straightforward, and here's how we made it:
Step 1: Season the salmon fillets.
Step 2: Sear the salmon and set aside.
Step 3: Sauté the garlic in butter.
Step 4: Stir-fry the mushrooms and green peas.
Step 5: Glaze the skillet and add the seasoning and spices.
Step 6: Stir in the fettuccine.
Step 7: Return the cooked salmon to the skillet.
Step 8: Sprinkle with parsley and cheese. Serve.
For detailed instructions and ingredient measurements, please refer to the recipe card below.

How Long Is Cooked Salmon Good for?
Salmon provides plenty of protein with a quick cooking time, thus it's ideal for meal prep. According to the USDA, cooked salmon should be consumed within 3 - 4 days.
If you wish to store the salmon leftovers, it's best to keep them in an airtight container and place them in the refrigerator. This will help maintain the food's freshness.
We recommend labeling the container with the 'use by' date so that you can keep track of your food storage.
How to Reheat Salmon Alfredo
When reheating salmon Alfredo, there is a chance the fat in the sauce will separate, with a less than appetizing result. Here are a few ways to recreate the pasta almost as perfectly as the first serving.
1. In the Oven
The oven is a great way to reheat pasta, and the method is simple: Simply place your salmon Alfredo in a baking dish with 1 - 2 tablespoons of water (depending on how much pasta you have).
Cover the dish with aluminum foil and bake at 375℉ until thoroughly heated. Stir halfway through to ensure the pasta is cooked evenly.
2. On a Stove
This method is more time-consuming than in the oven, but it's more effective for creamy sauces like this Alfredo. Place everything into a non-skillet pan with a tablespoon of olive oil and simmer over low heat. Don't forget to stir frequently during the heating process.
If your pasta is becoming a little dry, add a couple more tablespoons of milk or chicken broth to loosen up the sauce. Do this until the pasta reaches its full heat.
3. In the Microwave
Microwaving is perfect when you're in a hurry. Place your Alfredo pasta in a microwave-safe bowl, add a few tablespoons of water or milk, and cover the bowl with plastic wrap.
After 1 minute on high power, remove the bowl and stir. If you notice it's dry, add a little more water before returning it for an additional 1 - 2 minutes.

What to Serve With Salmon Alfredo
As with any rich main dish, we want to naturally balance the flavors out with a fresh salad such as a kale salad. It combines crisp greens, juicy fruits, and crunchy nuts to create a combination that is both nutritious and appetizing. 
Finally, we pair the meal with a glass of fresh lime juice to round out the meal. This tangy, sweet beverage is made with simple ingredients and in less than 5 minutes. It's our delicious, aromatic finishing touch to the meal.
Salmon Alfredo Recipe
With our salmon Alfredo recipe, you can quickly knock up a delicious, wholesome dish. It's perfect for those busy nights when you still crave a flavorsome meal.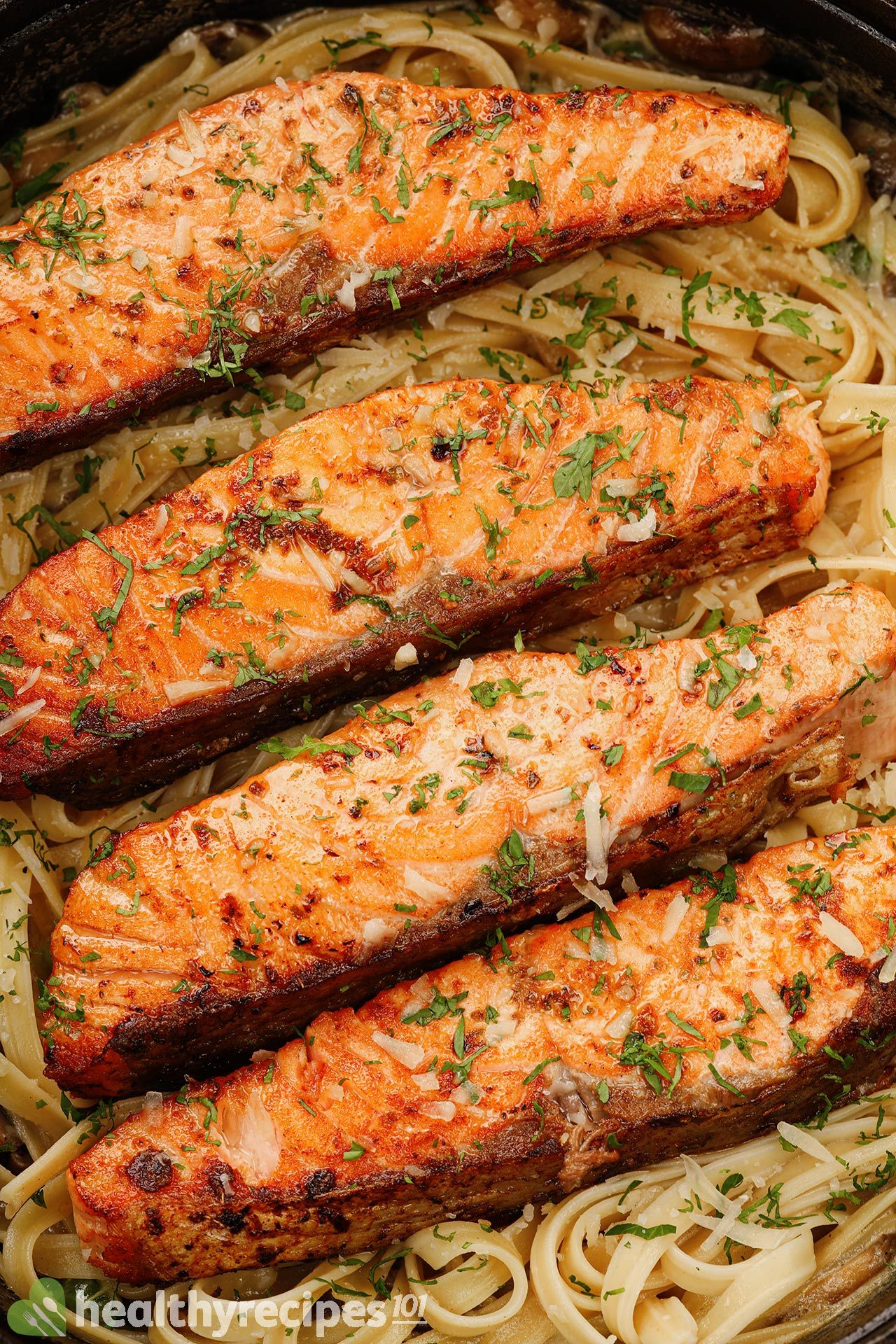 PREP TIME

15 mins

COOK TIME

15 mins

TOTAL TIME

30 mins
COURSE

Main Course

CUISINE

American
Italian

SERVINGS

servings

CALORIES

505 kcal
INGREDIENTS
20 oz

salmon fillets

0.5 tsp

black pepper

0.5 tsp

paprika

0.5 tsp

garlic powder

1 tbsp

olive oil

1 tbsp

unsalted butter

1 tbsp

garlic chopped

6 oz

white mushrooms sliced

2 oz

green peas thawed

0.3 cup

unsalted chicken broth

0.5 cup

milk

5 tbsp

heavy cream

0.5 tsp

salt

1 tsp

lemon juice

0.5 tsp

oregano

1.5 tsp

traditional Dijon mustard

12 oz

cooked fettuccine

2 tbsp

parsley finely chopped

0.5 oz

shredded parmesan cheese
INSTRUCTIONS
1
Season 20 oz salmon fillets with 1/2 tsp black pepper, 1/2 tsp paprika, and 1/2 tsp garlic powder. Set aside.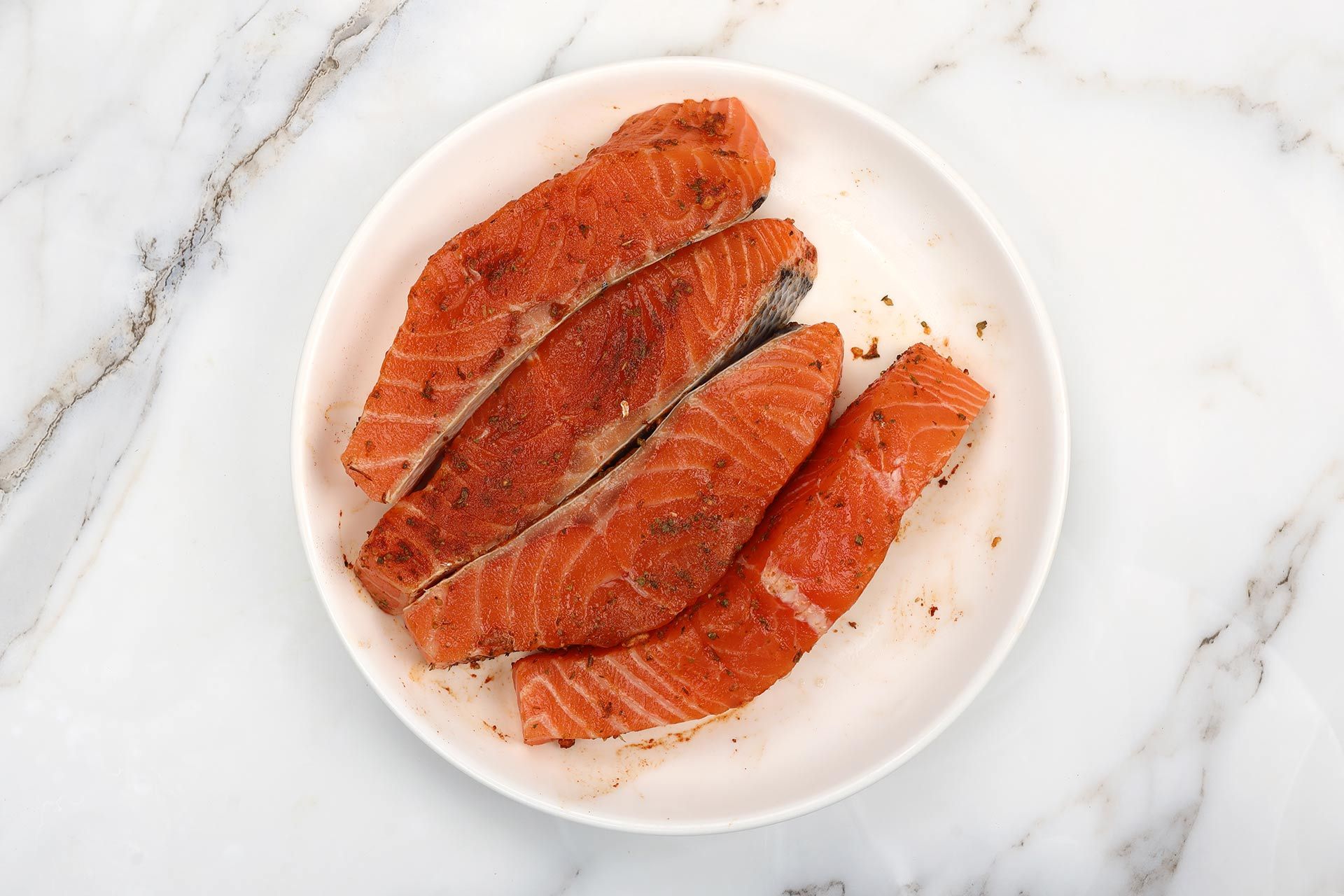 2
Heat a skillet over medium heat. Add 1 tbsp olive oil and sear the seasoned salmon fillets, skin-side down. Then flip to sear the other sides for about 5 minutes total. Transfer the salmon fillets to a plate and set them aside.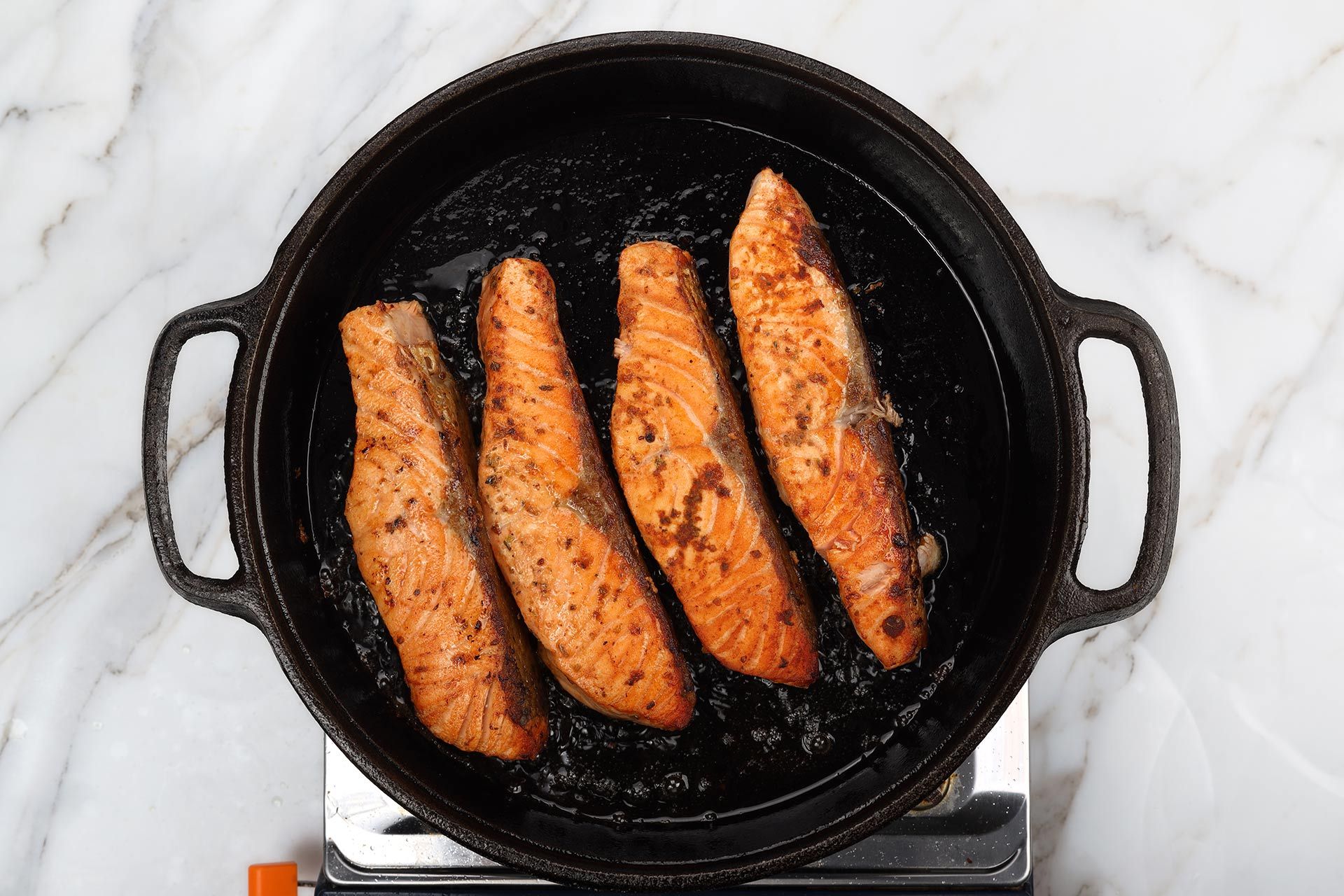 3
Add 1 tbsp unsalted butter and 1 tbsp garlic to the skillet and sauté for 30 seconds until fragrant.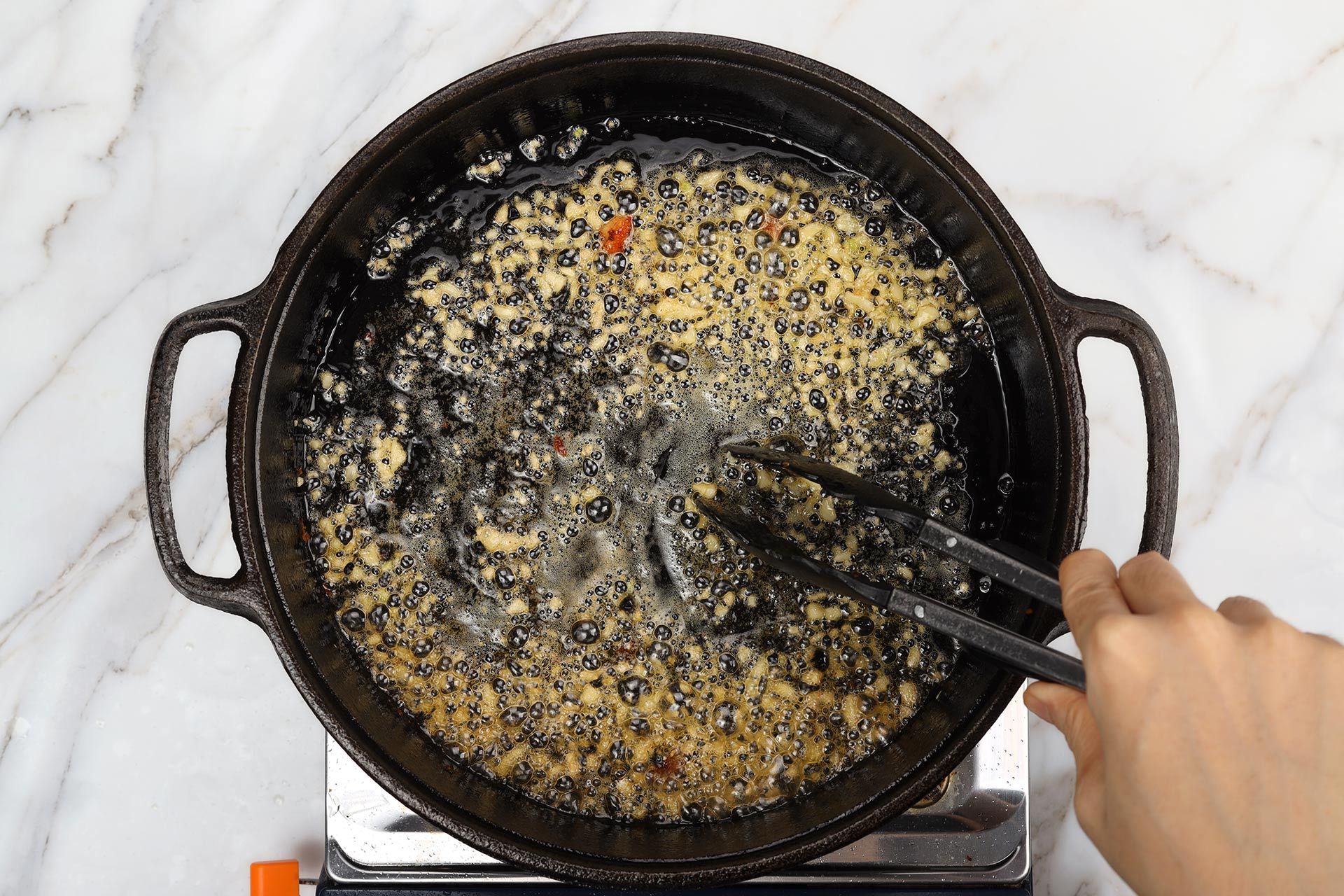 4
Stir in 6 oz white mushrooms and sauté for 3 minutes. Then add 2 oz green peas and stir frequently for an extra 1 minute.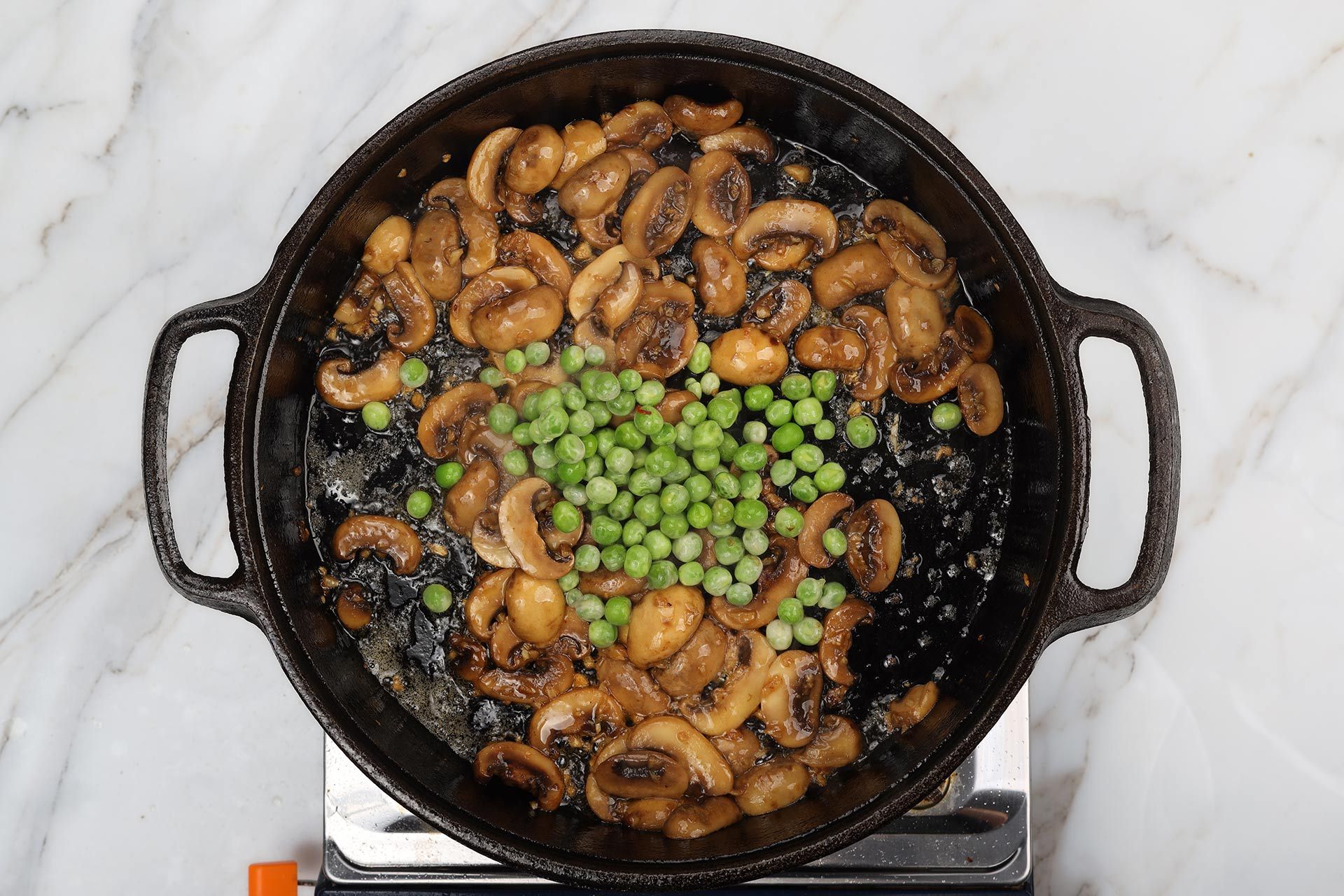 5
Add 1/4 cup chicken broth, 1/2 cup milk, 5 tbsp heavy cream, 1/2 tsp salt, 1 tsp lemon juice, 1/2 tsp oregano, and 1 1/2 tsp Dijon mustard and cook the mixture for 1 minute.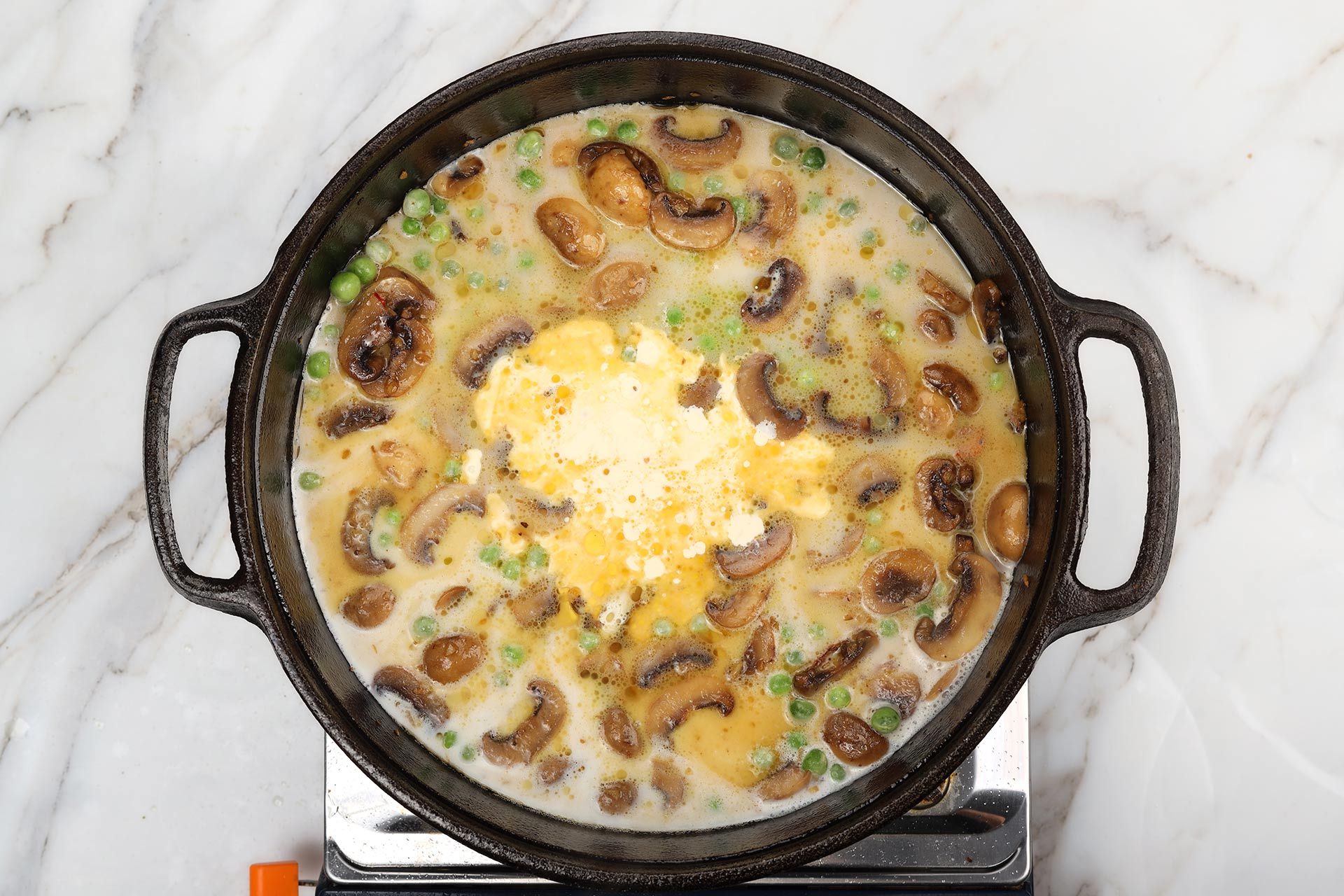 6
Toss in 12 oz cooked fettuccine and stir to fully coat, about 30 seconds.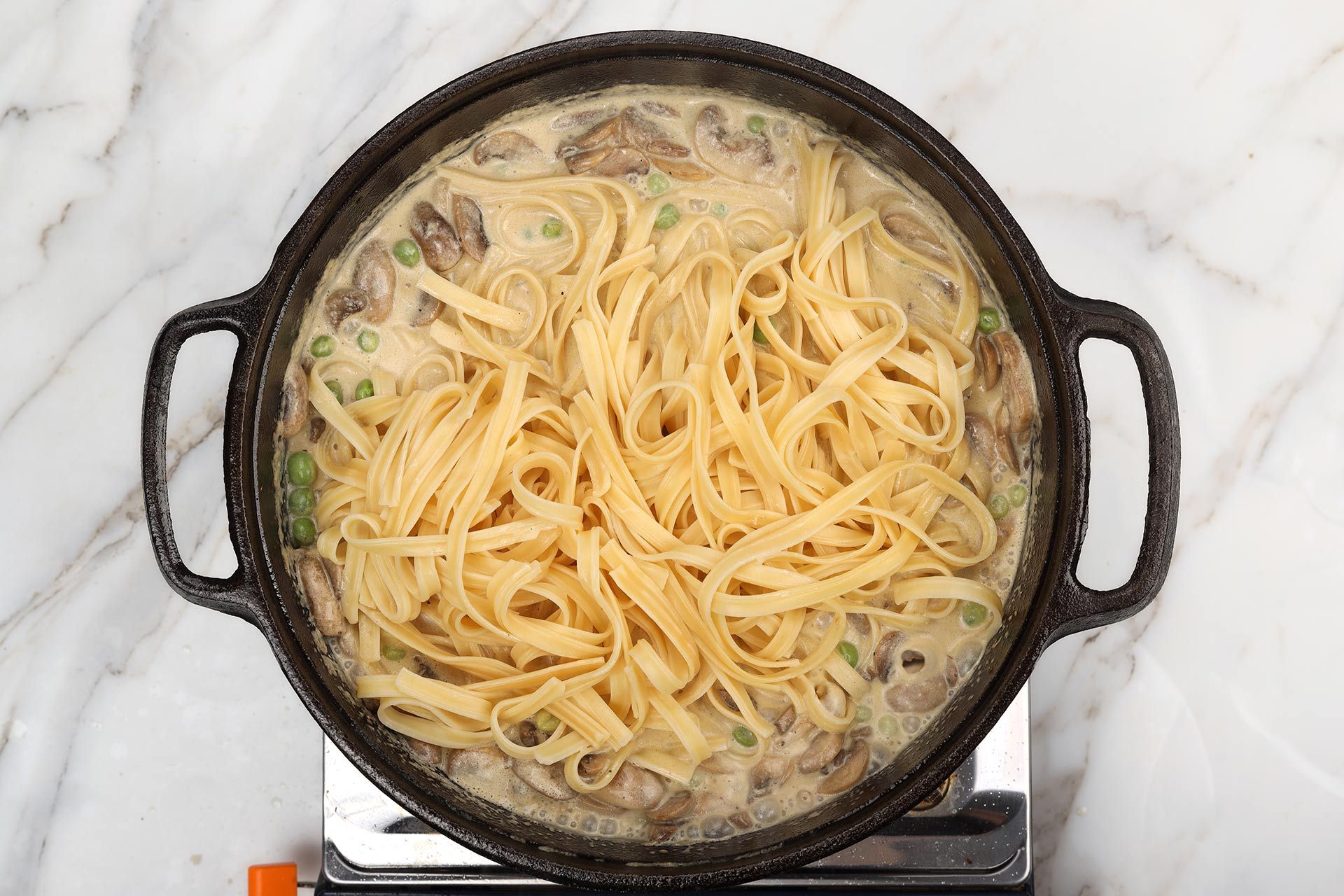 7
Return the salmon to the skillet. Take off the heat.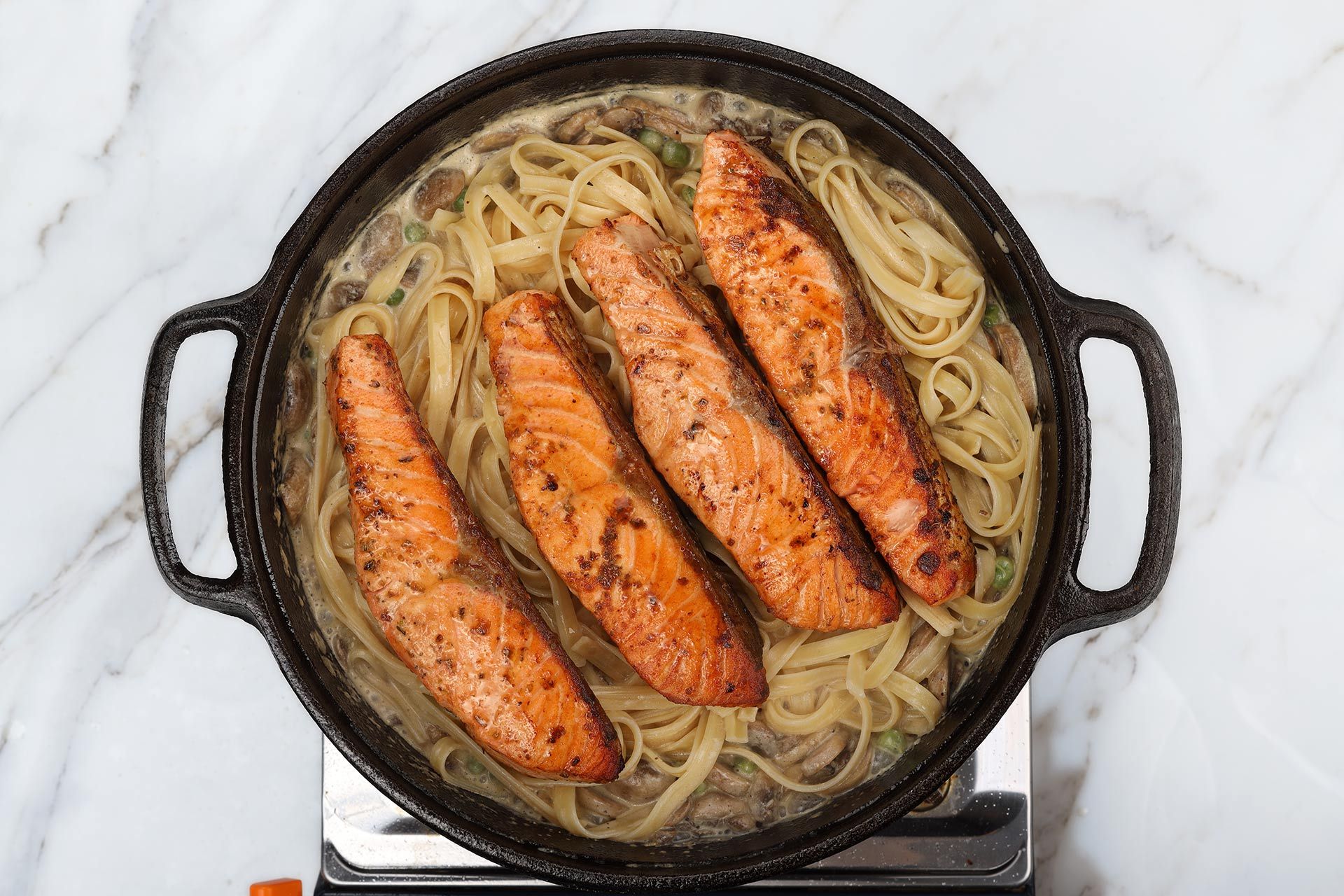 8
Sprinkle with 2 tbsp parsley and 0.5 oz parmesan cheese. Serve hot.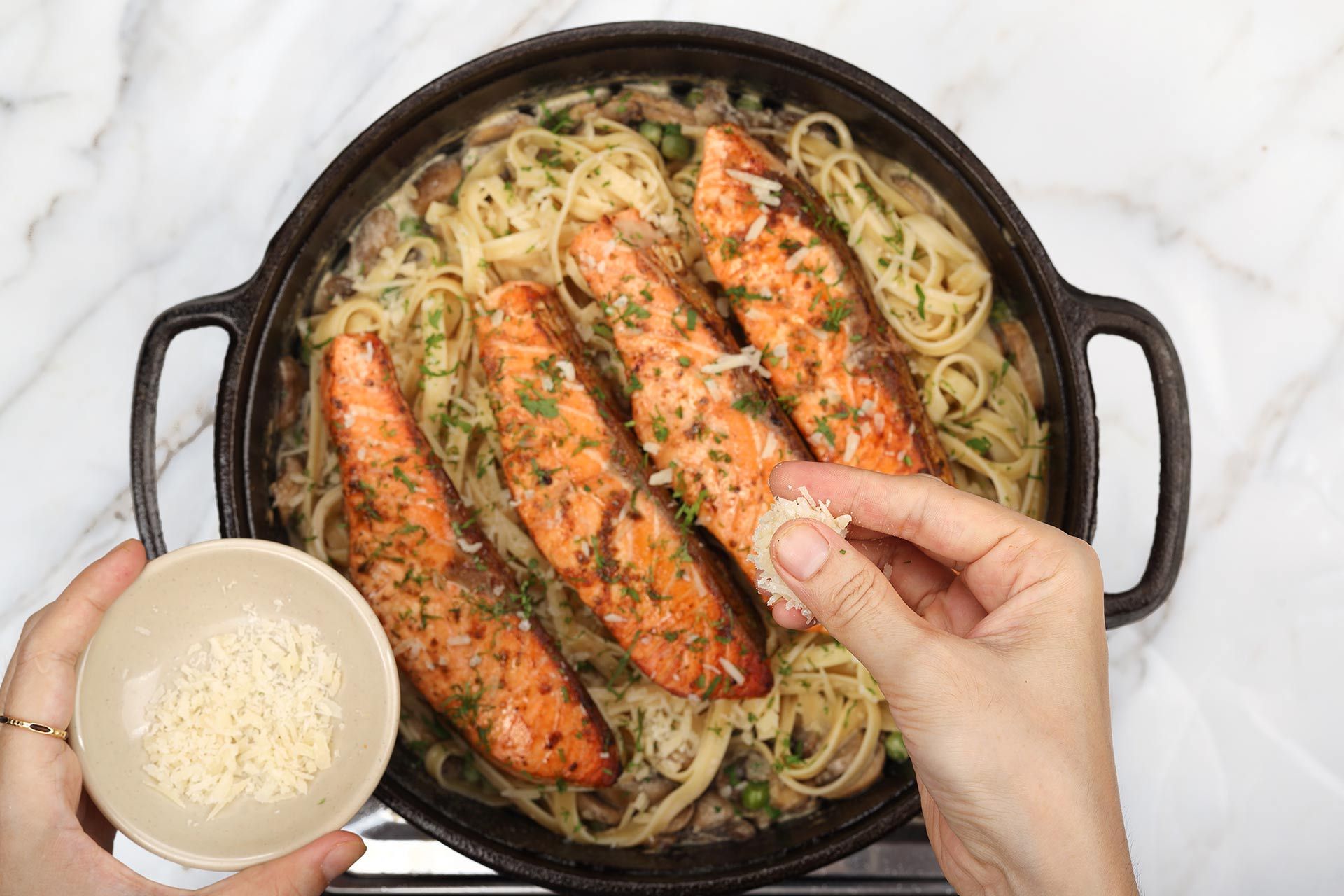 NUTRITION
Nutrition Facts
Salmon Alfredo Recipe
Amount Per Serving (1 serving)
Calories 505
Calories from FDA
% Daily Value*
Fat 23g29%
Trans Fat g
Polyunsaturated Fat 3g
Monounsaturated Fat 8g
Cholesterol 107mg36%
Sodium 550mg24%
Potassium 823mg18%
Carbohydrates 33g12%
Protein 42g84%
Vitamin A 876IU18%
Vitamin C 7mg8%
Calcium 131mg10%
Iron 2mg11%
* Percent Daily Values are based on a 2000 calorie diet.
Previous Recipe
Lemon Butter Salmon
Lemon Butter Salmon
Next Recipe
Salmon Curry
Salmon Curry
Luna Regina
A writer and entrepreneur, Luna's day doesn't start at the computer keyboard, but in the kitchen.
Half of her working hours are spent on mixing ingredients for her recipes. The other half involve working with the tech team to research and test the tools and appliances that promise to make kitchen work effortless and mess-free. From a kitchen knife or water filter to the Instant Pot, if it can help save time and effort for the home cook, Luna and her team are on it.
Luna's extracurricular pastimes include camping, travel, and photography.