Our simple salmon sushi roll recipe features great flavors from the land and sea. The firm and fresh salmon combines with cucumber, avocado, rice, and sauce for some truly stand-out deliciousness.
All the textures and flavors are exquisitely balanced to ensure that our sushi roll offers a unique eating experience.
What Is Sushi?
Sushi is a staple of Japanese cuisine. It involves seasoned rice — usually prepared with vinegar and sugar — accompanied by various fillings and toppings. The dish has an interesting history that is well worth exploring. Plus, variations based on disparate preparation methods are quite common.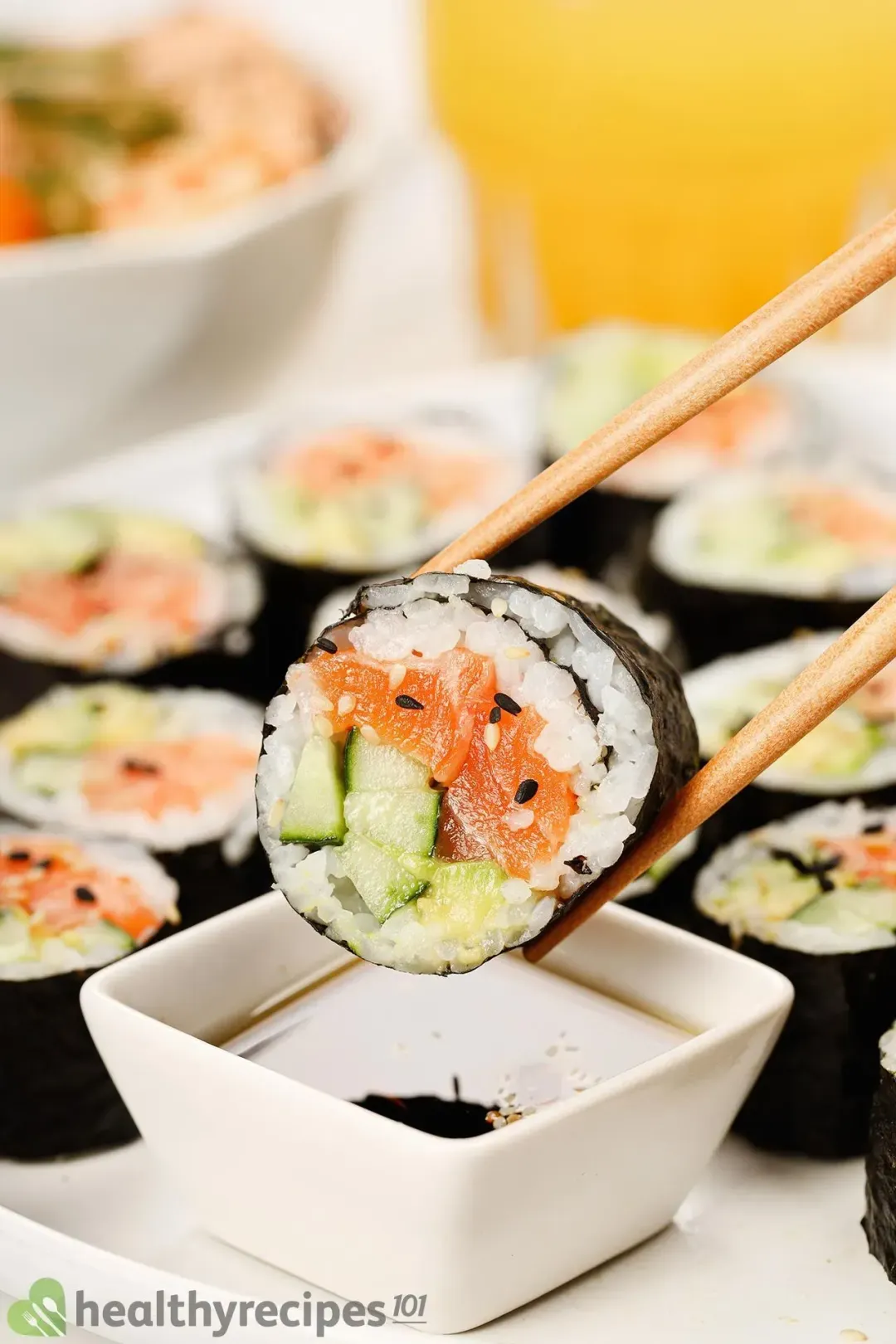 Sushi originated in China between the 5th and 3rd century BC as a means of preserving fish by placing it in fermenting rice. This is known as narezushi, and the rice is often discarded, leaving only the fish to be consumed.
Later, in the 16th century, another concept was invented — namanazezushi. Instead of throwing the vinegared rice away, the rice could be tossed with just a bit of vinegar, and a small piece of fish placed on top, making it a delicious bite-sized treat. 
This tasty meal then spread and local regions created their own types. Today, most of the popular ones come from Japan such as:
Nigiri: An oval-shaped mound of rice with a raw slice of seafood on top.
Maki: The fish and rice are rolled in a seaweed sheet called nori.
Temaki: Cones are made using nori seaweed sheets and filled with rice and seafood.
Gunkan: Small cups of dried seaweed sheet with sushi rice are topped with various ingredients.
In America, gunkan is popularly known as 'sushi cupcakes'.
Is Our Sushi Roll Recipe Healthy?
Baseline sushi rolls make for healthy meals. They're great sources of healthy omega-3 fatty acids thanks to the salmon. Plus, avocado also provides a good amount of fiber and monounsaturated fat.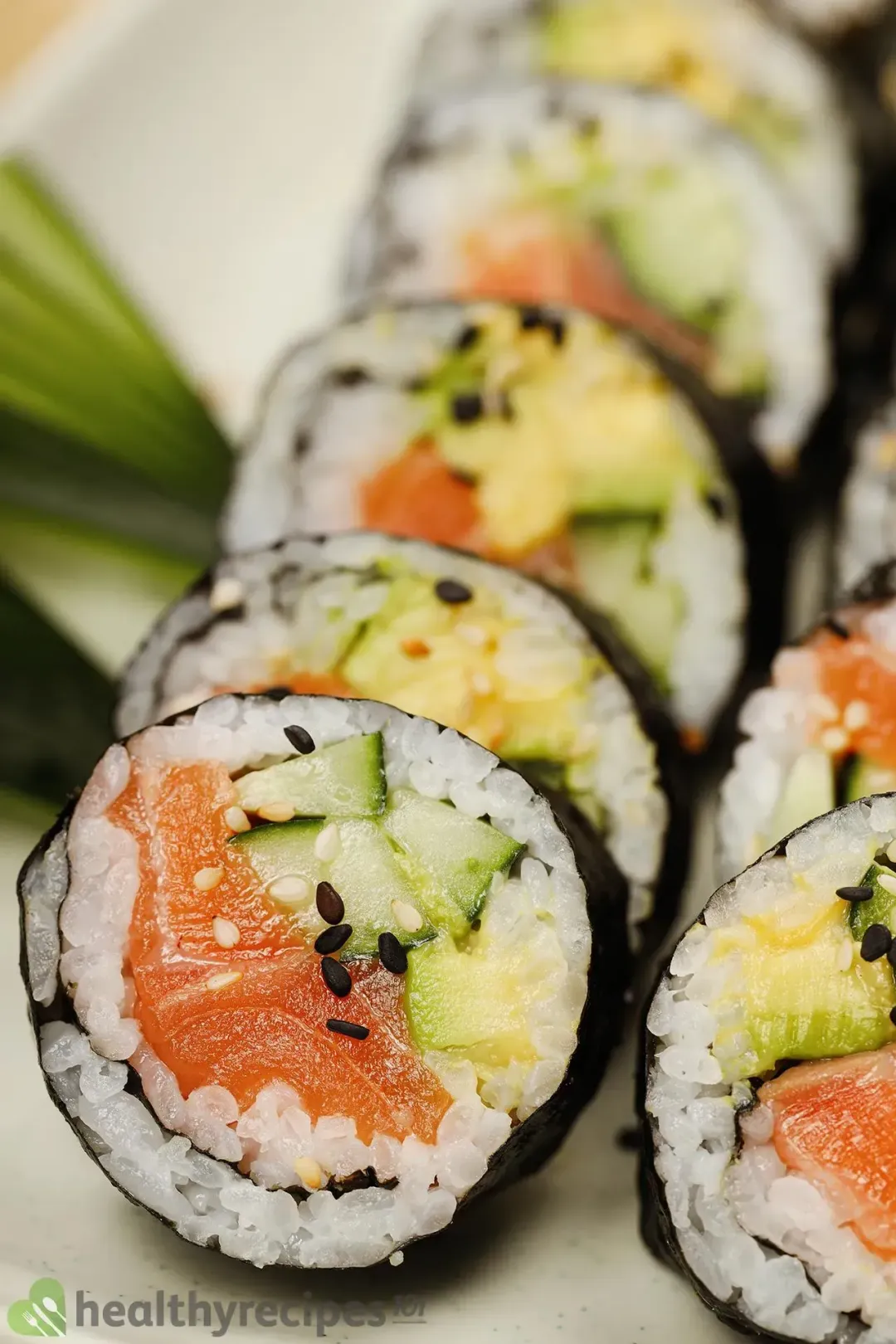 The biggest concern of consuming sushi comes from the raw fish. Eating raw fish can pose some potential health hazards. Contaminated fish may bring with it harmful bacteria and pollutants and increase the risk of food poisoning. 
Thus, we encourage you to prepare your sushi with high-quality, sushi-grade fish and seafood from reputable sources. They are specially treated and are identified as safe for raw consumption.
How Many Calories Does Sushi Contain?
Our sushi roll is a nourishing dish with fish, cooked rice, and add-ins like cucumber and avocado. Each serving of our sushi roll (about 10 - 12 pieces) contains approximately 500 calories. This leaves a reasonable amount of space to add a soup or salad to the meal, making it a more wholesome experience overall.
For something that's as delicious but with less calories, you might want to check out our salmon salad for a change. It's filled with vibrant greens and chunks of tender, rich salmon.
How to Prepare Ingredients for Sushi
1. Sushi Rice
You might associate the word 'sushi' with raw fish, but it actually refers to rice. It translates to 'sour tasting,' which implies the rice is mixed with vinegar.
Proper sushi uses Japanese short-grain rice that is steamed and flavored with vinegar. It is firm in shape yet sticky in texture and ideal for constructing the sushi and complementing key ingredients like fish or seafood.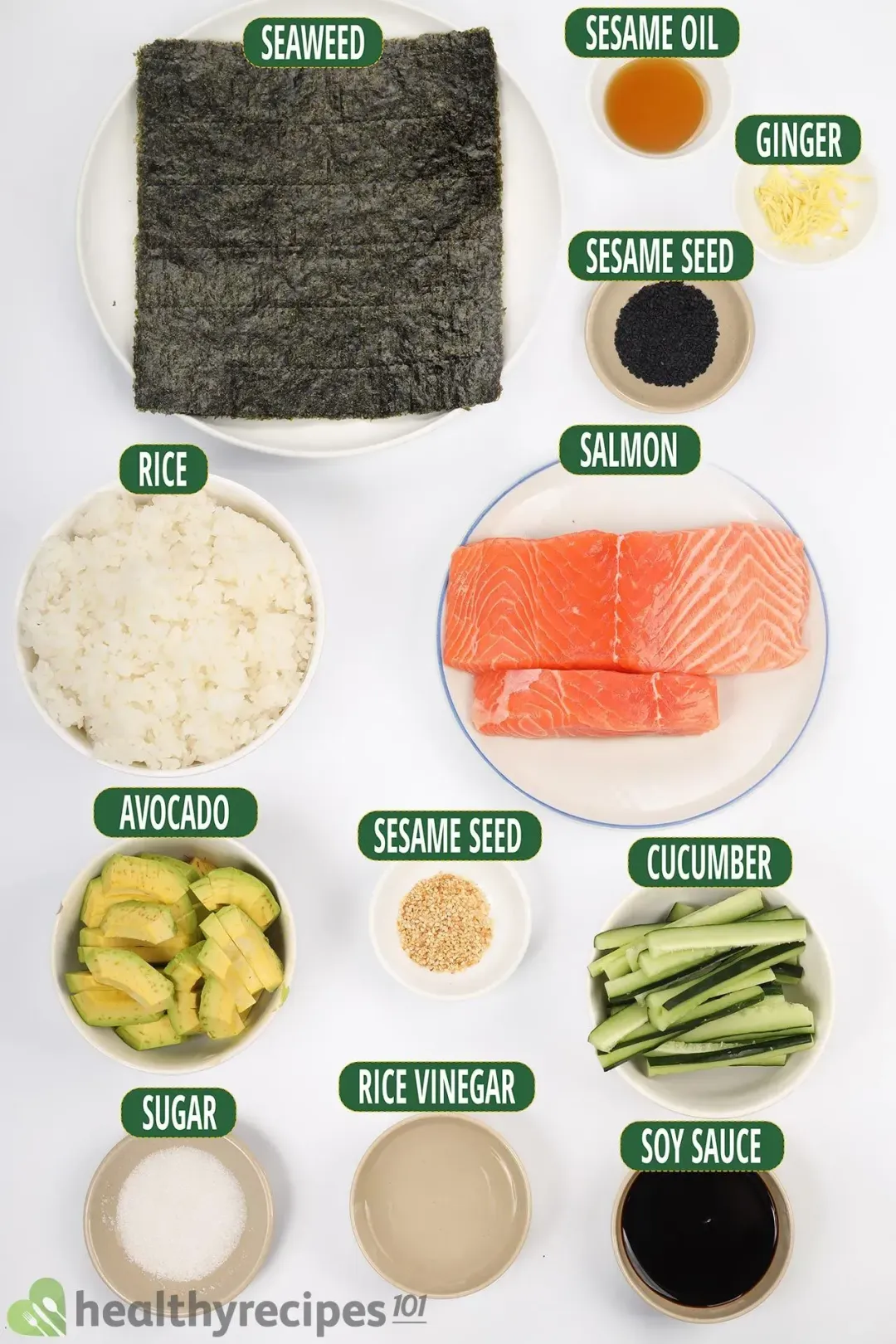 2. Types of Fish for Sushi
Traditional sushi is made with raw fish which is carefully selected to be sushi-grade (safe to eat raw). Don't pick just any fish filet for your sushi! It's a bad idea for both taste and health reasons. Here are the most popular types of fish and seafood used for sushi:
Salmon
Tuna
Yellowtail
Mackerel
Monkfish
Eel
Octopus
Shrimp
Squid
How to Roll Sushi
Though you can roll sushi with a tea towel or your bare hands, a bamboo mat is the most convenient way to shape the rolls. Here's how to create a sushi roll with a mat:
Lay a nori sheet (seaweed sheet) on the bamboo mat. The mat's slats should run horizontally. Make sure the dried nori has its rough side facing upward. 
Use your hands or a wooden spoon to spread a thin layer of rice evenly over the nori sheet while leaving a 1/2-inch space at the top and the bottom of the sheet.
Arrange the fillings across the center of the rice.
Use your thumbs to lift the near edge of the mat and roll things up with the fillings inside. Your other fingers can hold the fillings in place and gently press along the roll as you go.
Continue rolling until all the rice is covered with the nori and you get a firm roll. Use a sharp wet knife to cut into pieces 1 - 2 inches thick.
These bamboo mats are easy to find at any Asian store and are also quite affordable (less than $4.00).
Sushi Roll vs. Hand Roll
Sushi rolls (makizushi) and hand rolls (temaki) share the same ingredients but are constructed differently.
The main difference is the appearance: a sushi roll is rolled into a cylindrical shape using a bamboo mat while the hand roll is rolled by hand into a cone shape. After rolling, the sushi roll is cut into pieces and eaten with chopsticks. A hand roll, on the other hand, is usually eaten by hand.
What to Serve With Your Sushi Roll
Sushi is a complete main dish in and of itself; it's got protein, vegetables, and starch. But you can turn it into a fantastic feast at home with these Japanese-inspired sides.
Miso Soup: To complete the Japanese flavor tour, we love to pair sushi with miso soup. Filled with soft tofu, juicy shrimp, flavorful salmon, and seaweed, the soup is nourishing and appetizing.
Orange Pineapple Juice: All that rice in sushi can be a bit much, but our orange pineapple juice breaks up the heaviness, adding a fresh and delightful contrast.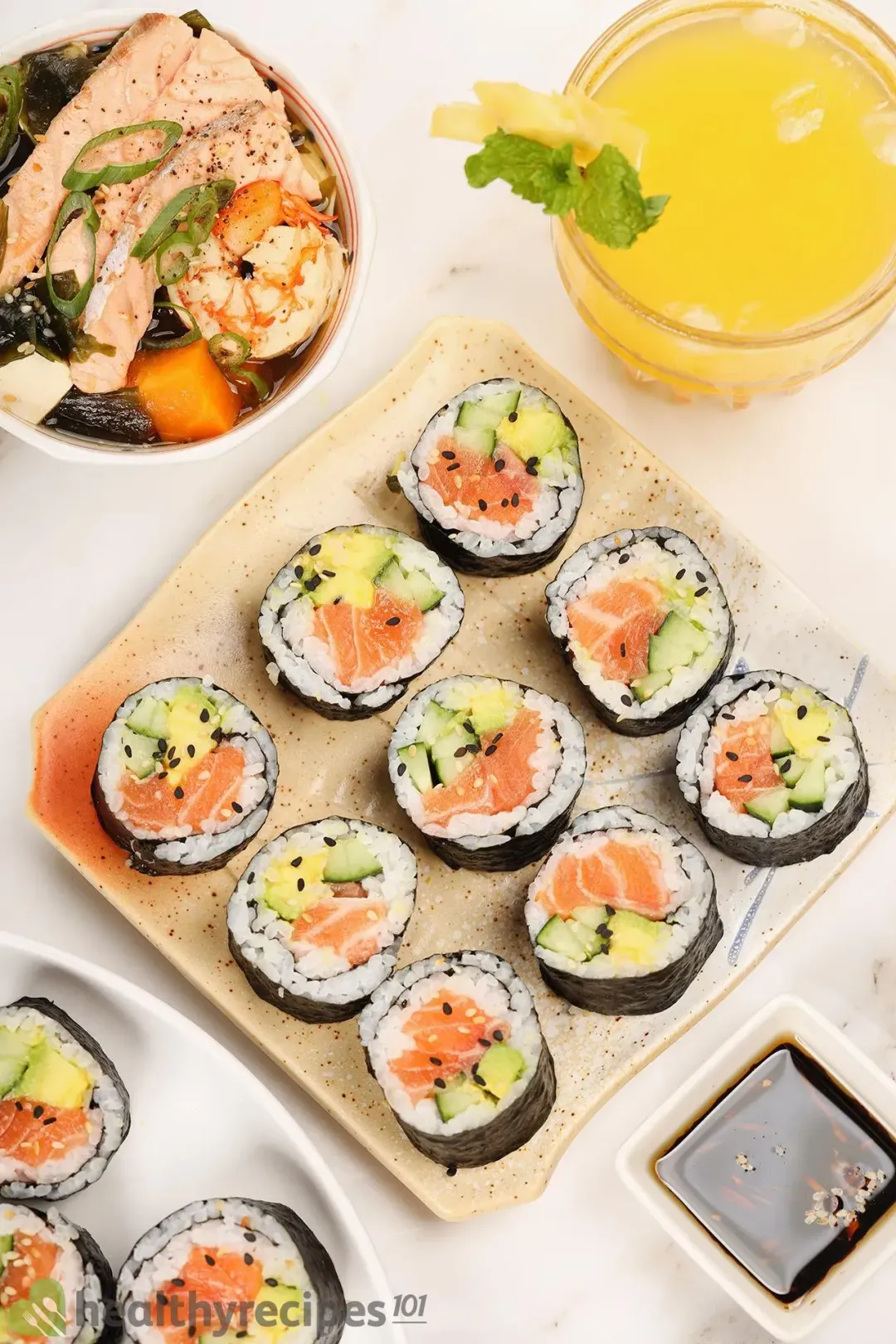 FAQ
1. What Is the Difference Between Sushi and Sashimi?
A very common misconception is that sashimi is a type of sushi. It isn't.
Sashimi, translated roughly to 'pierced meat,' refers to thin slices of raw fish or other types of meat. It is served without rice and instead gets seasoned with soy sauce, wasabi, ginger, or some other dipping sauce.
2. How Long Is Sushi Good for?
The truest sushi experience should give you a fresh ocean flavor with sweet fruits and vegetables. Leaving the fish exposed too long will attract bacteria and spoil the flavor.
Thus, it's best to consume the sushi roll within 2 hours at room temperature or keep it in the fridge for no more than a day. Sushi is not a food that can be stored.
For more delicious salmon recipes this summer, have a look at our summer salmon recipe roundup.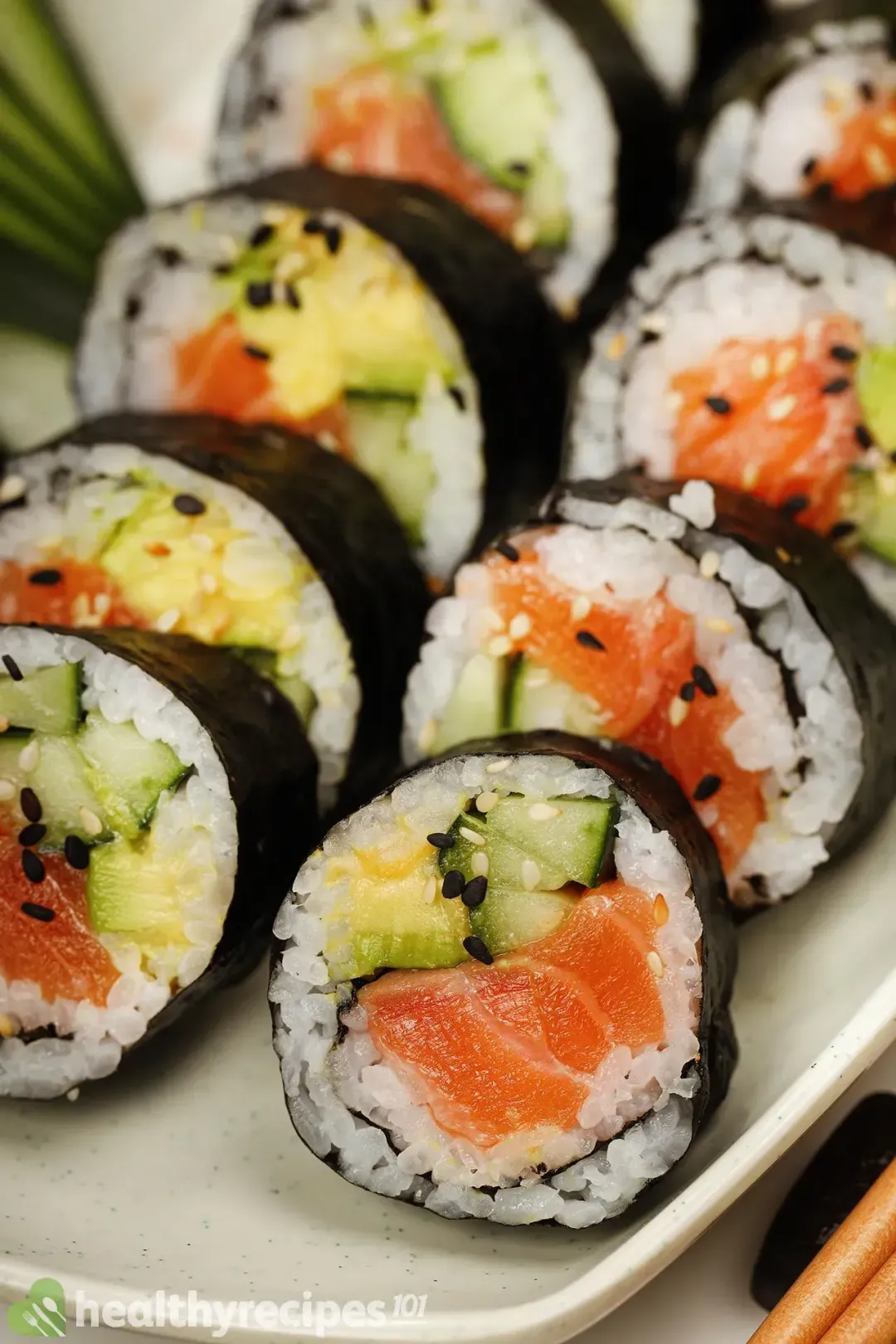 Sushi Roll Recipe
Drawing lovingly from Japanese cuisine, our sushi roll recipe uses salmon, avocado, cucumber, and nori sheets to make a restaurant-quality treat at home.
prep TIME

30 mins

total TIME

30 mins
COURSE

Main Course

CUISINE

Japanese

SERVINGS

servings

CALORIES

504 kcal
INGREDIENTS
4 oz

cucumber

(cut into strips)

4 cups

cooked medium-grain rice

3 1/2 tbsp

reduced-sodium soy sauce

1 tbsp

ginger

(finely sliced)

1/2 tbsp

white sesame seeds

1/2 tbsp

black sesame seeds
INSTRUCTIONS
1
Make the sauce: In a small bowl, whisk together 3 1/2 tbsp soy sauce, 1 tbsp sesame oil, and 1 tbsp ginger. Set aside.
2
Transfer 4 cups of cooked rice to a large bowl. Drizzle with 3 tbsp rice vinegar and 1 tbsp sugar. Use a wooden paddle or your hand with plastic gloves to stir and combine the ingredients evenly. Set aside.
3
Cut 12 oz salmon fillet into strips ¼ - ½ inches thick.
4
Place your sushi mat on a working surface and put a seaweed sheet on the bamboo mat. Spread the rice across the nori sheet, leaving 1/2 inch of space along the top and bottom edges. Arrange the filling: sliced salmon, 7 oz avocado, and 4 oz cucumber about 1 inch from the bottom edge of the nori sheet. Roll up the rice mixture over the filling and use the bamboo mat to lift and compress while rolling. Remove the mat once rolled.
5
Transfer the roll to a big plate and repeat the process with the remaining ingredients to make 6 rolls. Cut each into 8 pieces. Sprinkle with 1/2 tbsp white sesame seeds and 1/2 tbsp black sesame seeds.
6
Serve with the soy sauce mixture.
NUTRITION
Nutrition Facts
Sushi Roll Recipe
Amount Per Serving (1 serving)
Calories 504
Calories from FDA
% Daily Value*
* Percent Daily Values are based on a 2000 calorie diet.
Keywords: how to make homemade sushi roll, how to make sushi roll, how to roll sushi, sushi roll, sushi roll recipe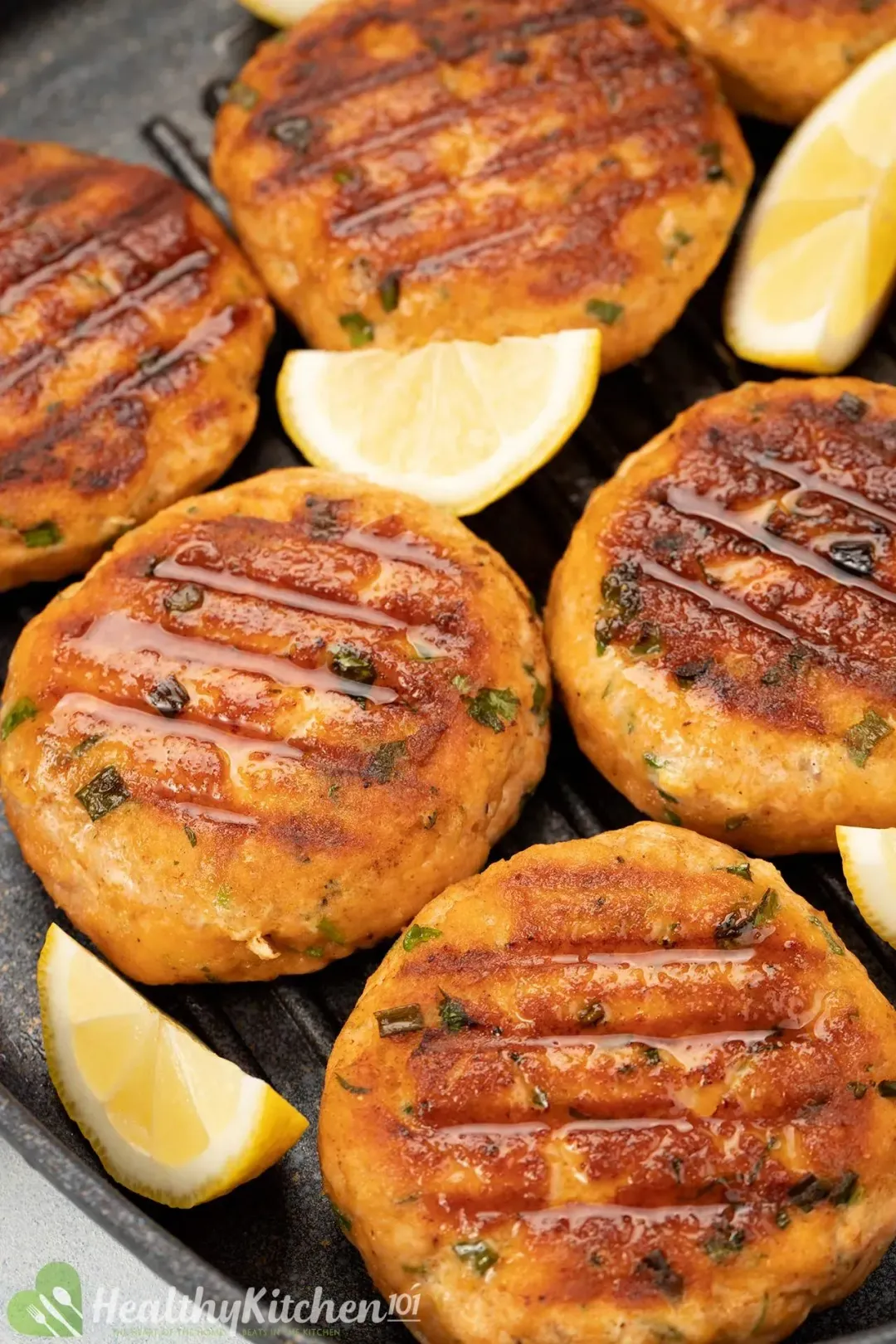 Previous Recipe
Salmon Croquette
Salmon Croquette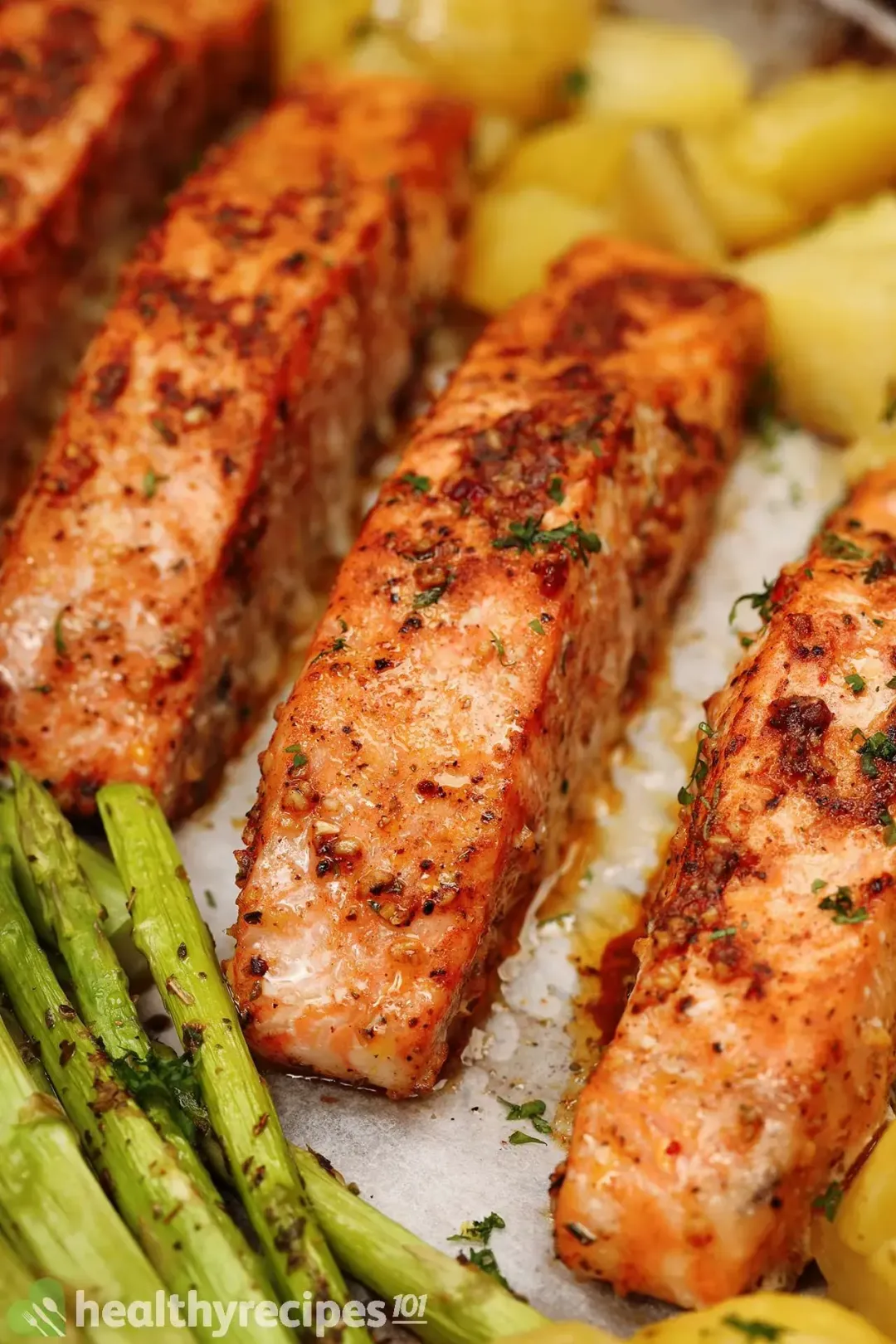 Next Recipe
Oven-Baked Salmon
Oven-Baked Salmon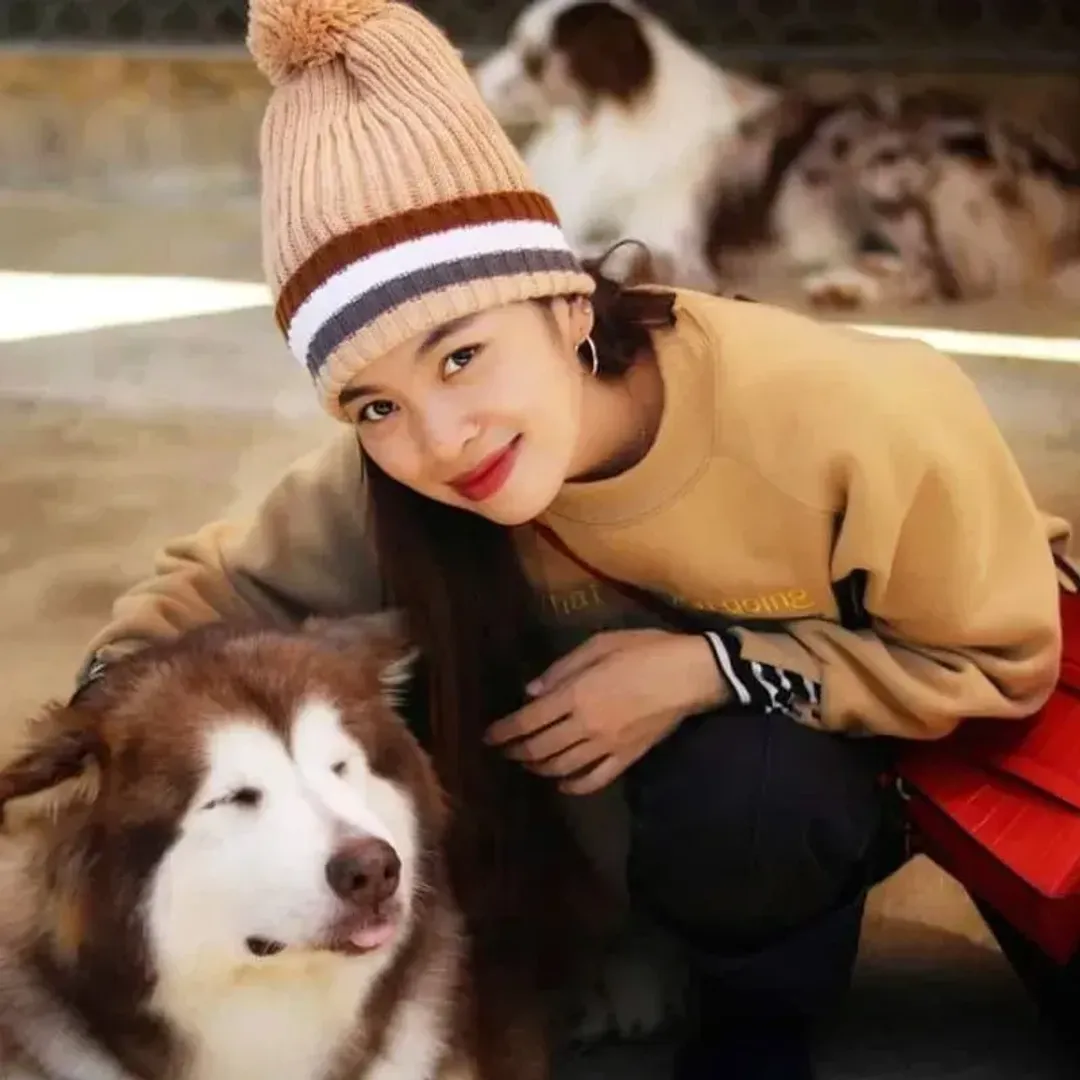 Chef, Culinary Consultant
Tuyet Pham is an award-winning Saigonese chef who believes that joy is the secret ingredient to delicious food. At Healthy Recipes 101, Tuyet personally tests and simplifies every recipe, ensuring maximum flavor with minimal effort. With a background at prestigious French restaurants P'TI Saigon and Le Corto, Tuyet knows how to make every dish exceptional.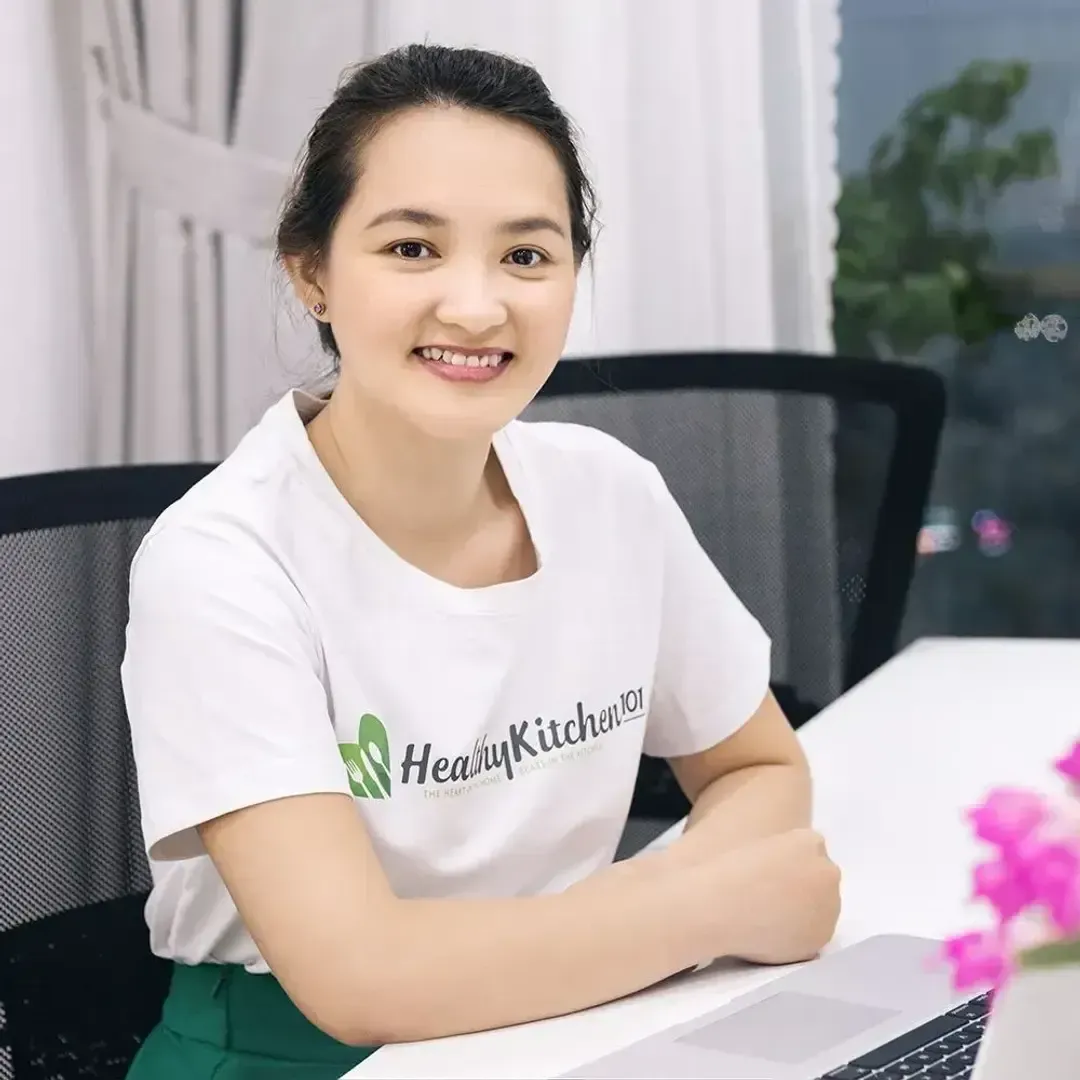 Writer, Author
Luna Regina is an accomplished writer and author who dedicates her career to empowering home cooks and making cooking effortless for everyone. She is the founder of HealthyKitchen101.com and HealthyRecipes101.com, where she works with her team to develop easy, nutritious recipes and help aspiring cooks choose the right kitchen appliances.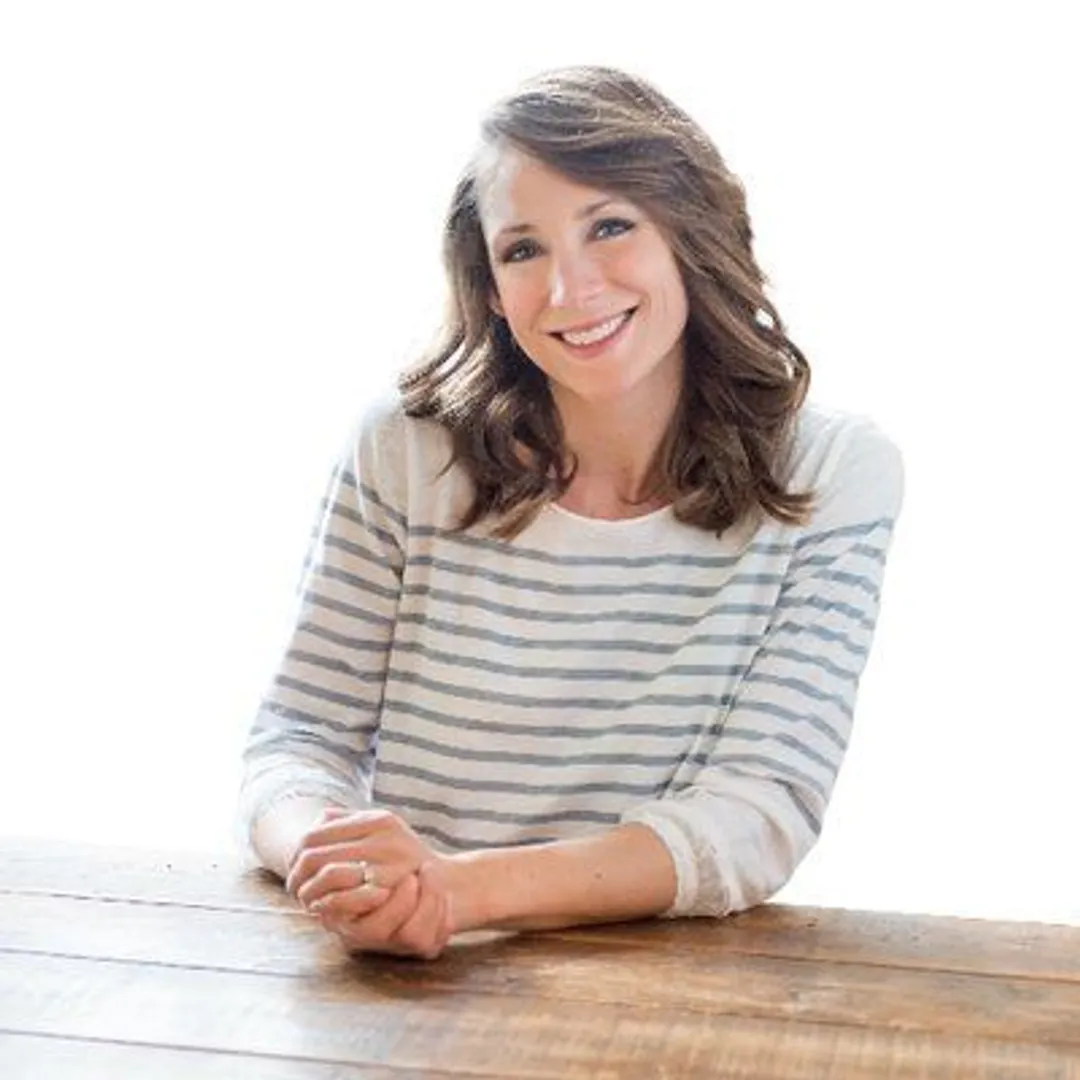 Nutrition Reviewer
Natalie is a registered dietitian nutritionist with a passion to help others live their best life through food, fitness, safer beauty and a healthy lifestyle. She has expertise with a variety of diets and diseases and believes that there is no one-size-fits-all approach for health.
Comments/ Reviews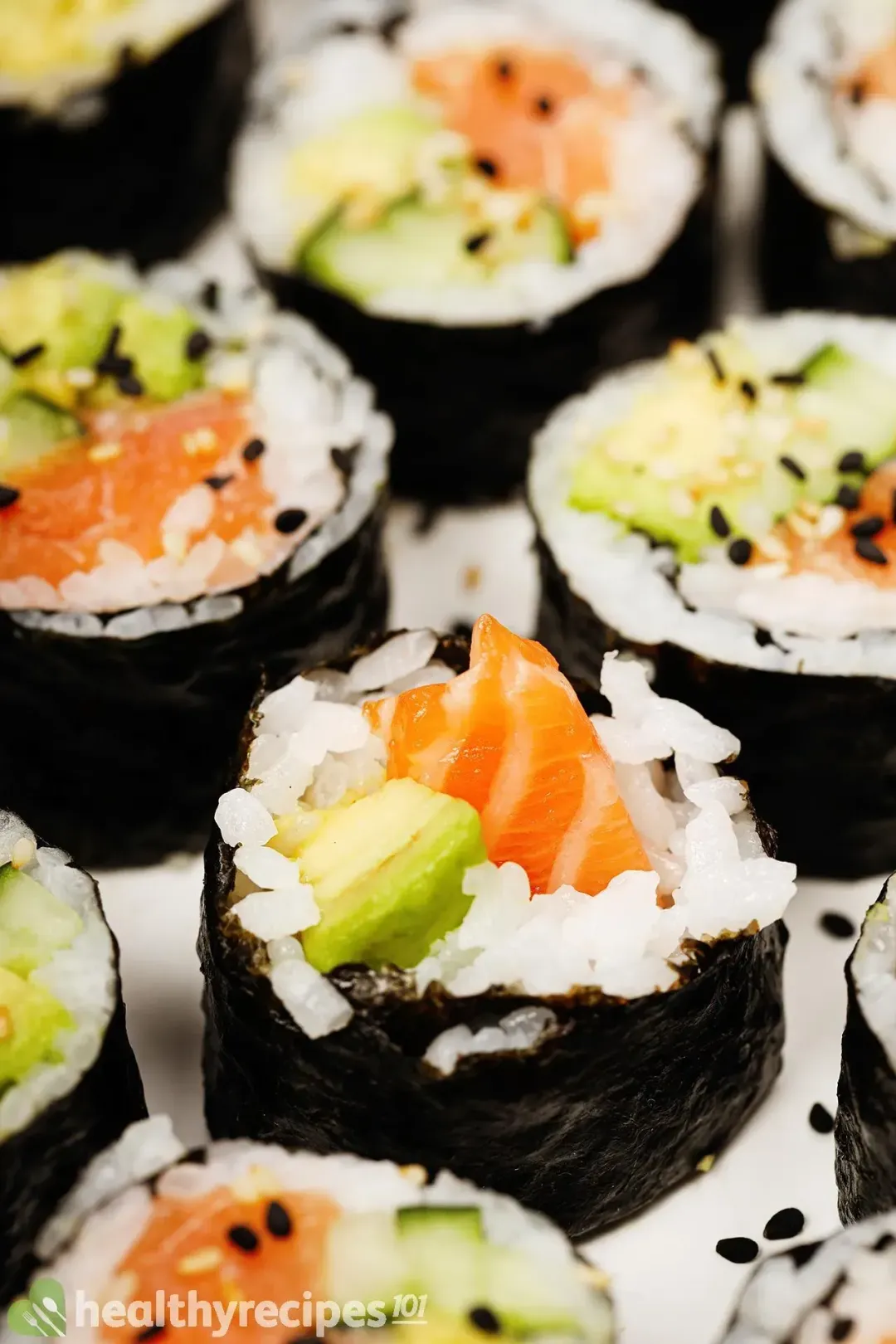 James Rock

February 28, 2023 at 4:28 AM

An awesome recipe for beginners!