If you are looking for a new alternative to red meat steaks, why not try salmon? Our list of easy-to-make and nutritious salmon steak recipes guarantees an enjoyable cooking experience for everyone - including salmon newbies.
Best Salmon Steak Recipes That We Recommend for a Flavorful Meal
With no further ado, let's take a look at our collection of salmon steak recipes.
1. Salmon Steak
Calling all salmon lovers, this salmon steak recipe is for you!
The salmon is seared to perfection with a slightly crispy exterior and flawlessly tender, flaky insides. It's served with a creamy, buttery sauce drizzled over the top and a side of roasted vegetables—creating a restaurant-worthy dish that makes every meal feel like a fine-dining experience. The best part? It comes together in just 30 minutes with very simple steps.
Go to Recipe
2. Maple Garlic Salmon Steaks
Salmon steaks covered in glossy, luscious maple syrup is all you need for a sophisticated yet effortless dinner. Each bite brings a symphony of sweet and garlicky flavors that will have your taste buds singing with joy. This dish pairs the seafood with a colorful side of sautéed vegetables and white rice, so not only is it delicious and filling, but it also provides a decent and diverse amount of nutrients. 
Go to Recipe
3. Salmon Steaks With Caper and Anchovy Salsa
Salmon steak and salsa is a combination that will entice you from the very first bite. With this recipe, the salsa is an herby, peppery mix of anchovies, capers, red onion, lime juice, wasabi, and herbs. It's an excellent pairing for the smoky grilled salmon, creating a dish filled with a unique taste and fragrant notes.
Go to Recipe
4. Air Fryer Salmon Steak
Eight ingredients and 20 minutes, that's all it takes to whip up this delectable, golden salmon steak. Briefly marinated with soy sauce, mustard, and intense spices, the fish comes out drenched in tangy, subtly spicy flavors that make it utterly irresistible. Serve it with a side of roasted vegetables or fresh salads for a restaurant-worthy meal.
Go to Recipe
5. Grilled Salmon Steaks With Mustard Chive Sauce
Smoky grilled salmon gets a flavor boost from the creamy, tangy, and herbaceous mustard chive sauce that has you hooked from the very first bite. This dish comes together in just three simple steps and 15 minutes—a formidable choice for any meal, fancy or otherwise!
Go to Recipe
Differences Between Salmon Steak and Salmon Fillet
Salmon is one of the most well-loved seafood for its flavors, textures, and nutrition value. This fish possesses a rich and mild fishy taste with a firm feel to the touch.
Due to its large size, salmon is versatile and can be bought in different forms. Our chefs will help you distinguish between salmon steak and salmon fillet - the most common types you can find in any fish market.
Salmon steak, also known as salmon cullet, is the crosswise cut of the fish. If you're planning to have grilled salmon over the open fire, steak is a better option. Unlike fillets, salmon steaks usually come with skin and bone attached to the flesh, which helps protect them from falling apart during cooking. Also, those big bones can be removed easily after the fish is cooked thoroughly.
On the other hand, salmon fillets are cut parallel to either side of the spine. This thinner cut doesn't come with big bones, instead, smaller pin bones may remain on the flesh. If you are not confident in your knife skills, you can have the fishmongers remove those bones for you.
What Spices and Herbs Go Well With Salmon Steaks?
For a flexible protein like salmon, spices help enhance the natural flavor while herbs infuse a unique fragrance in the fish. Here is a list of seasonings that pair excellently with your salmon steaks.
1. Spices
Black pepper: Black pepper is widely used for flavoring dishes across many cultures and our salmon steak is no exception. Its woody notes and mild heat bring out a bolder version of our beloved fish.
Garlic powder: It's garlicky but not as strong as fresh chopped garlic. Garlic powder lends a hint of sweetness and caramel undertones to our salmon.
Cayenne powder: No spicy-food fan can turn down a salmon steak with a sprinkle of cayenne powder. Besides, you can adjust the heat to your preference - a pinch for little kicks and a splash for direct hits.
2. Herbs
Dill: A moderate amount of dill will not overpower the dish but add a delicate note of anise.
Sage: This herb gives off a warm taste and earthy, lemony scent, for a crowd-pleasing salmon steak.
Thyme: The buttery taste of salmon and the minty flavor of thyme work harmoniously with any cooking method - grilling, baking, or air-frying.
Best Ways to Cook Salmon Steak
If you are wondering what to do with a perfect salmon steak on hand, do not stress out, as the options are endless.
Before we take a glance at all the possibilities, keep in mind that room-temperature salmon is more suitable to cook. Using frozen fish makes it harder to infuse flavors and control the cooking temperature. Just let the fish defrost in the fridge for a few hours and it's good to go. Also, opt for a 1 1/2 to 2-inch-thick salmon steak for an ideal cut.
Instant Pot Salmon Steak: For those busy bees, Instant Pot is a life-saver as it helps reduce 70% of the cooking time. All you need to do are: pour in water, arrange the cooking racks, place the salmon steaks on top, secure the lid, and cook on high pressure for 5-7 minutes followed by a quick steam release. There you have it - the ultimate flaky salmon!
Air-fried Salmon Steak: An air-fryer is a healthy-eater's best friend. Unlike the deep-frying method, air-frying does not require tons of oil. After 10-12 minutes of frying at 400°F, with no preheating involved, a golden brown salmon steak is ready to serve.
Pan-seared Salmon Steak: Time management is the key to a successful salmon steak dish. Place one side of the fish steak over medium heat on a pan, and sear for 3-4 minutes. Be sure to flip the fish before it sticks to the pan. After flipping, continue to cook for 3-4 more minutes. When the salmon flesh turns completely opaque, your fish is done.
Oven-baked Salmon Steak: If you have a little time to spare, this cooking technique is worth trying. Make sure to preheat the oven to 400°F before placing the salmon in. After 25-30 minutes of baking, you can check the doneness of the meat by gently pressing the fork into it. If the flesh flakes - meaning that it separates easily - it's finished cooking.
How to Store and Reheat Leftovers
If you end up with some leftovers, place them in an airtight container and store them in the fridge for up to 3 days.
If you want to reheat salmon steak properly, check out these tips below:
Reheat slowly, at a low temperature: Warm the leftovers in a 275°F oven for about 10-15 minutes. Low heat won't make your fish dry out.
Cover the dish with foil: This helps prevent the edges of the fish from drying out or burning.
Avoid the microwave if possible: It's easy and convenient yet you may suffer from overcooked fish. Plus, microwaved fish sometimes may have an off-putting smell due to the oxidation of its fatty acids.
Walking through our list of recipes, we hope you will find ones that speak to your heart. Do not hesitate to share your thoughts with us by leaving a comment below.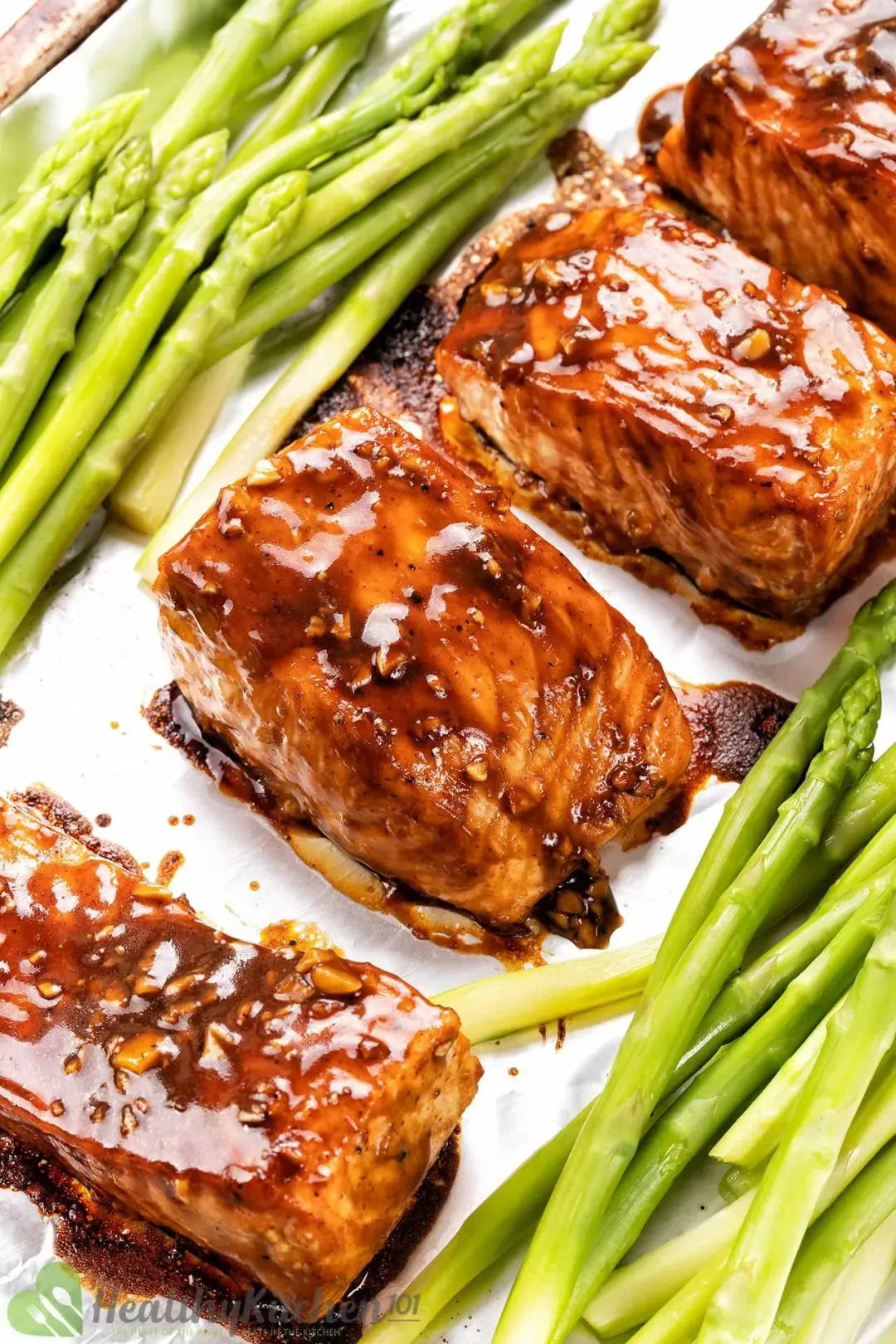 Previous Recipe
Teriyaki Salmon Recipes
Teriyaki Salmon Recipes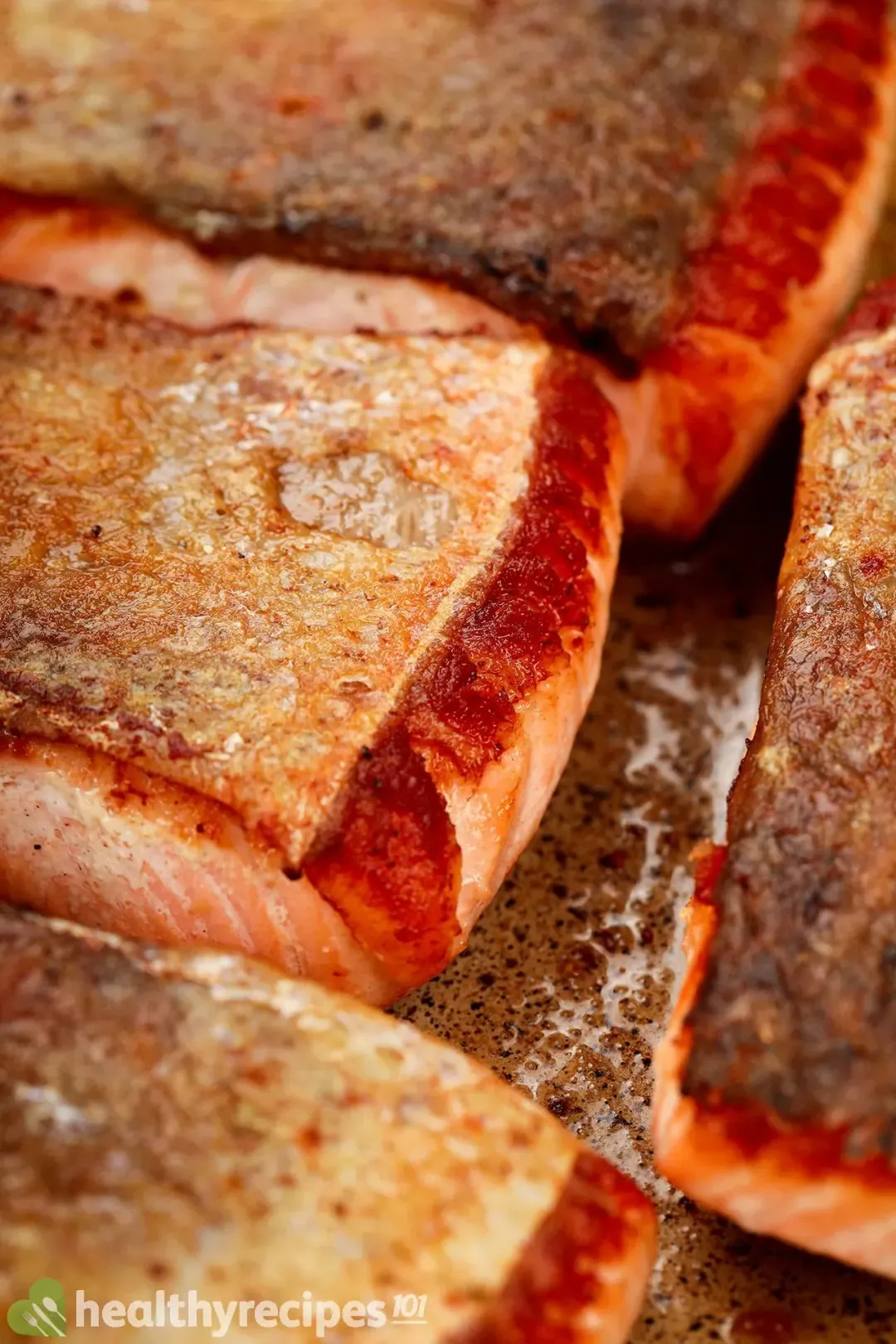 Next Recipe
Crispy Salmon Recipes
Crispy Salmon Recipes
Writer, Author
Luna Regina is an accomplished writer and author who dedicates her career to empowering home cooks and making cooking effortless for everyone. She is the founder of HealthyKitchen101.com and HealthyRecipes101.com, where she works with her team to develop easy, nutritious recipes and help aspiring cooks choose the right kitchen appliances.
Comments/ Reviews