Want to make a quick-to-fix salmon dish that is both satiating and nutritious? Look no further. Today's air fryer salmon patties recipe is an awesome go-to for a healthy snack, light lunch, or weeknight dinner.
With each bite, you can taste rich moist melt-in-the-mouth salmon. And the best thing? Everyone loves salmon patties, especially the kids. Serve the crowd with this tasty treat and they'll be coming back for more!
Are Our Air Fryer Salmon Patties Healthy?
Yes, they are.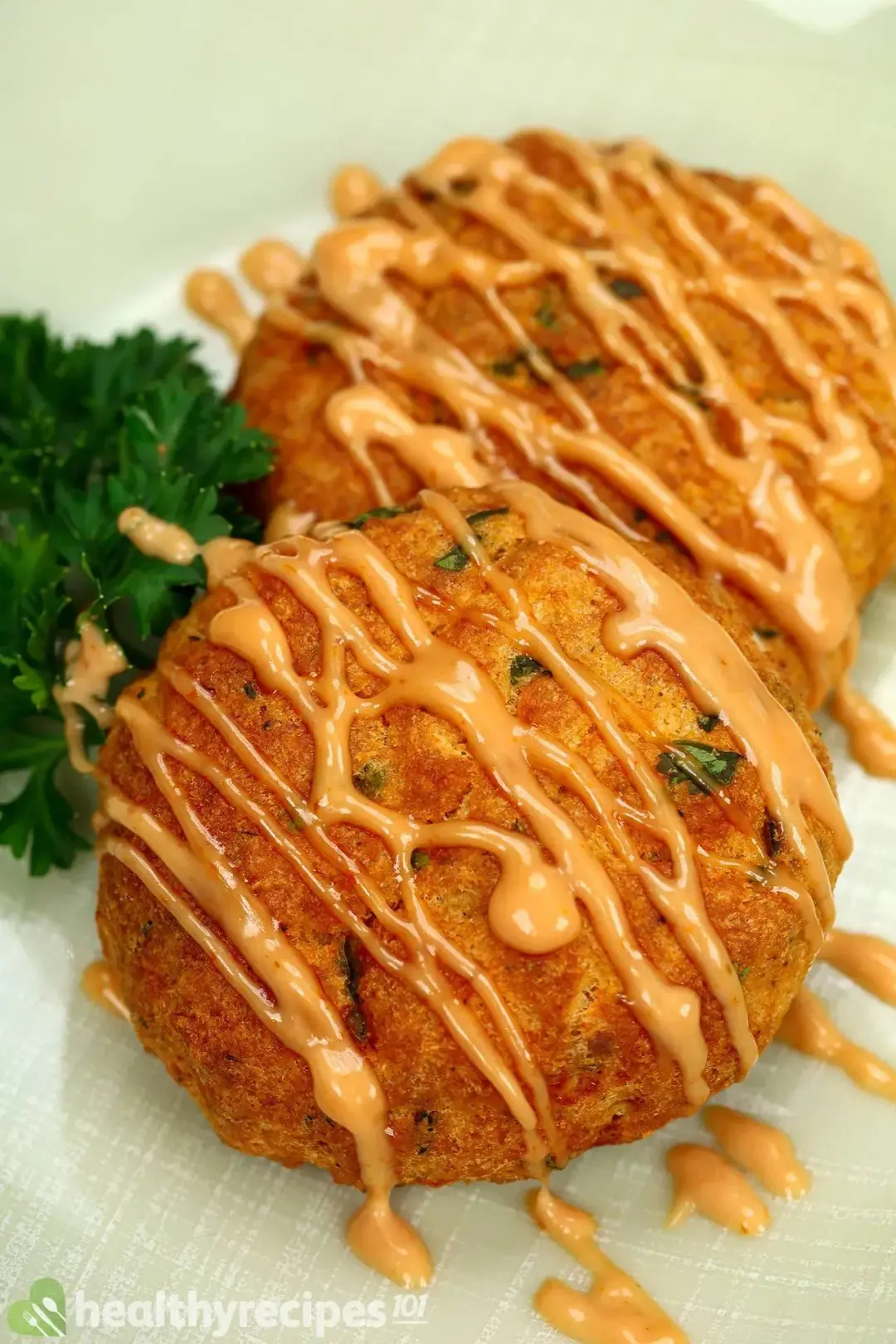 The health benefits of this dish mainly come from salmon, a superfood packed with nutrients and rich in omega-3 fatty acids.
These acids are incredibly important for your brain and body, and highly beneficial to your mental health, eye health, and heart health.
If you're wondering about the cooking method, rest assured there won't be any greasy fried food involved, for our appliance of choice today is an air fryer.
Air frying is a much healthier option compared to normal pan-frying since it requires very little oil or no oil at all. The hot air flowing in a circular motion inside the air fryer makes sure your food cooks evenly on all sides without flipping.
Ingredients for Air Fryer Salmon Patties
Here are what it takes to make delicious salmon patties: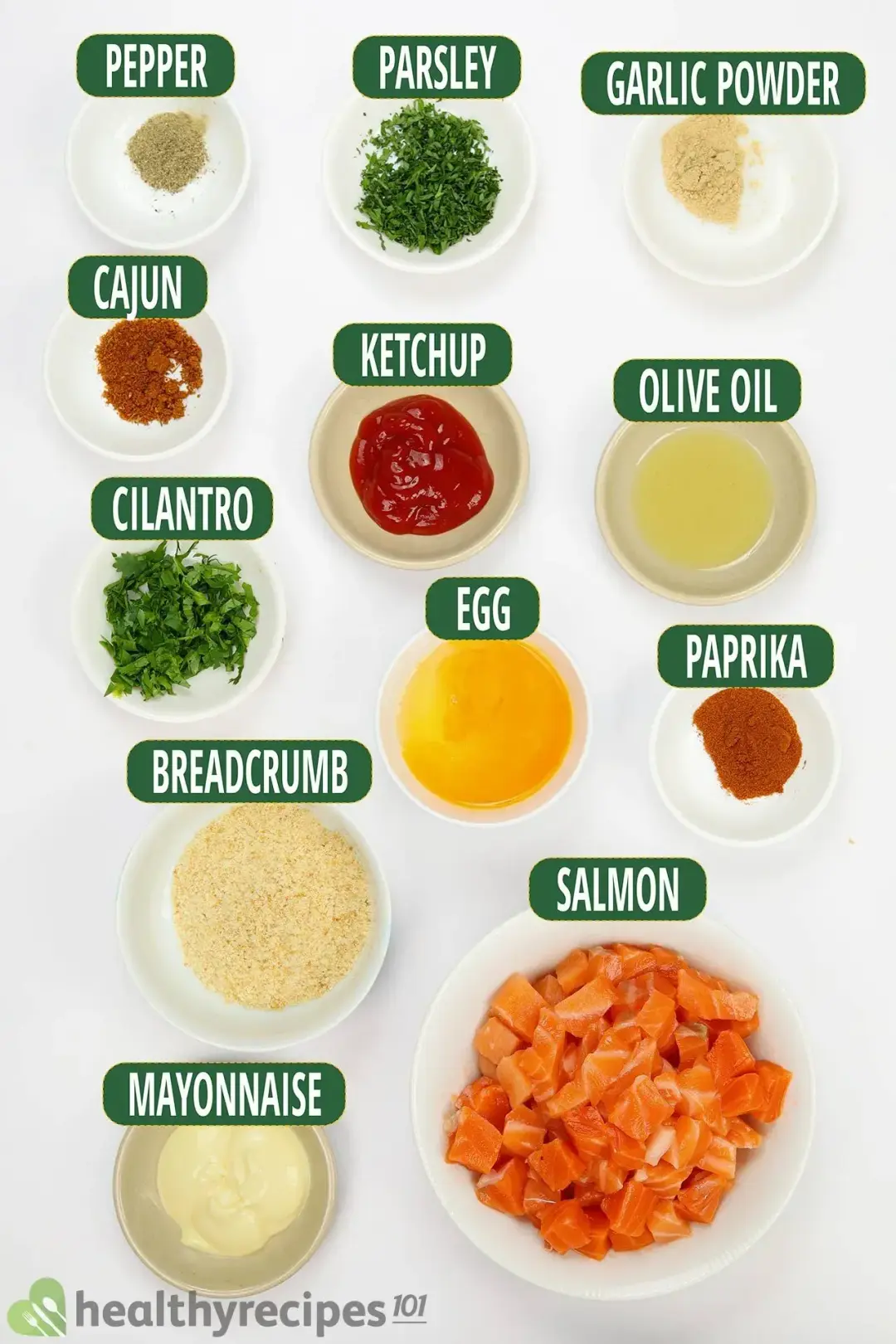 Salmon: Different types of salmon vary in their fat content. For salmon patties, you should choose a type with a high amount of fats for the ultimate moist and buttery taste. Though we recommend fresh salmon, you can use canned salmon if it's more convenient for you. Remember to pick high-quality brands with a high fat level (check the label before buying).
Egg: Egg works as the binder in our patties mixture. If your salmon feels too dry, feel free to add in more of this eggy liquid to thicken it up.
Panko bread crumbs: Panko bread crumbs are the extender for our salmon mixture. If you don't want to use panko bread crumbs, other possible alternatives are cornflakes and crackers.
Seasonings: We add paprika, pepper, cajun seasoning, garlic powder, parsley, and cilantro to our salmon patties for a deliciously warm and savory flavor.
Mayonnaise and ketchup: These two simple ingredients make up the luscious sauce for our salmon patties. Its slightly sweet and sour taste with a smooth creamy texture beautifully complements the overall flavor of our salmon patties.
Tips for the Best Results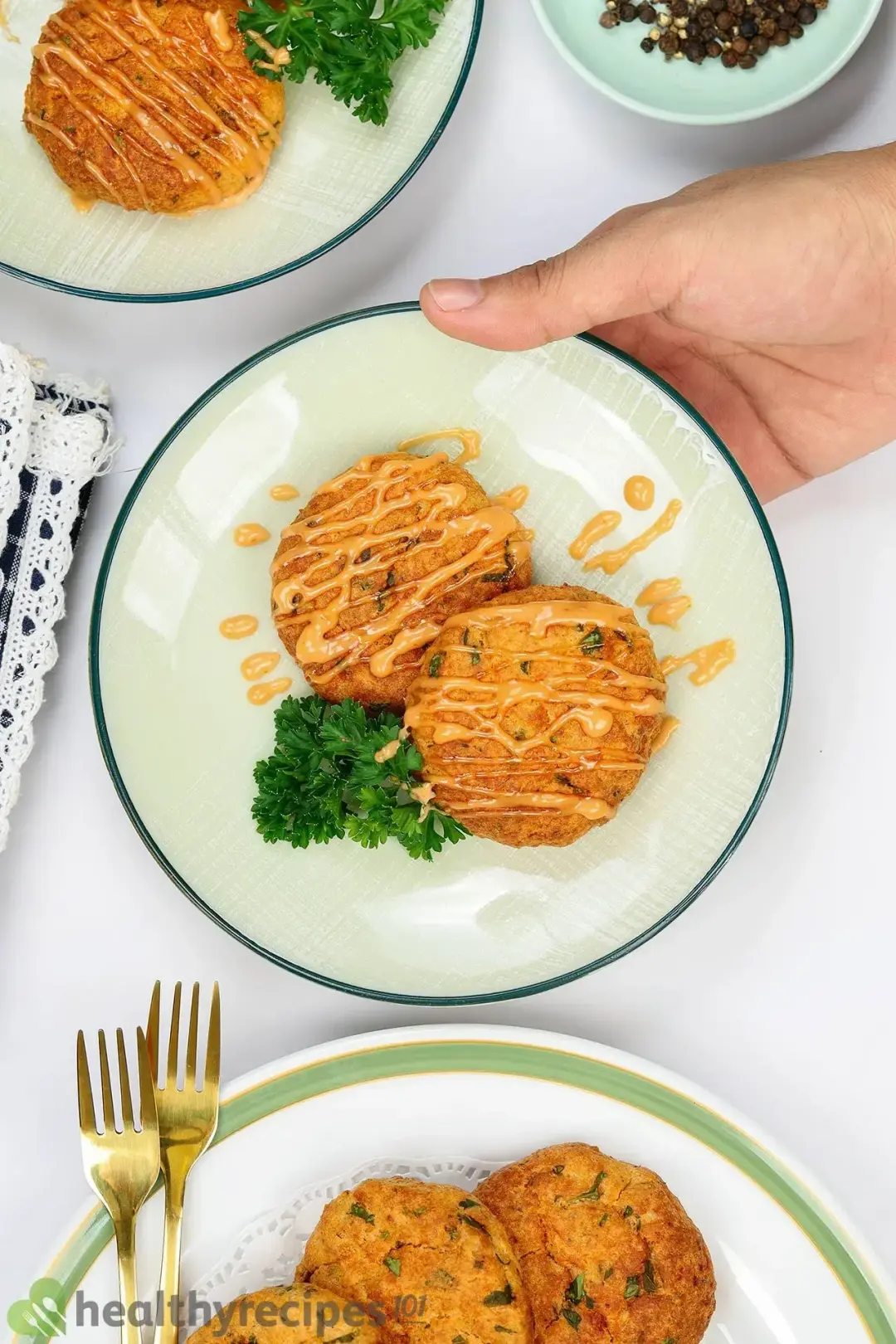 Use salmon with a high fat content. The patties will be much more moist and tender.
Coat your salmon patties with a layer of olive oil. Do this before air frying to lock in the moisture. Since air fryer foods tend to be a little dryer, this step is essential.
Don't overcook them. When done, transfer them immediately to a serving plate. If you leave the patties inside the air fryer after it has finished cooking, the remaining heat will dry them out.
How to Store, Reheat, and Make Ahead
For the leftover air fryer salmon patties, you can keep them chilled in airtight containers in the fridge. They should last up to 2-3 days. For reheating, place the patties inside the air fryer basket and cook at 375 °F for 3-4 minutes. 
If you want to prepare ahead for a quick-to-fix meal, simply place the raw salmon patties that are already shaped in a container in the freezer. Remember to leave some space between the patties so that they won't stick together.
Thaw your patties a night before in the cooling compartment and follow the instructed cooking time in the recipe card. If you want to air fry frozen patties, then increase the time to about 4 or 5 more minutes.
More Patties Made From Salmon
If you want something more indulgent, try these salmon croquettes. They're basically salmon patties, but seasoned Southern-American style, and are served with a fresh vinaigrette salad. The portion looks small, but don't be fooled—they're really satisfying.
These cornmeal salmon patties, on the other hand, errs more on the cake side. Their cakey texture greatly resembles cornbread, but it has notable chunks of salmon inside and seasoned with spices and fresh herbs.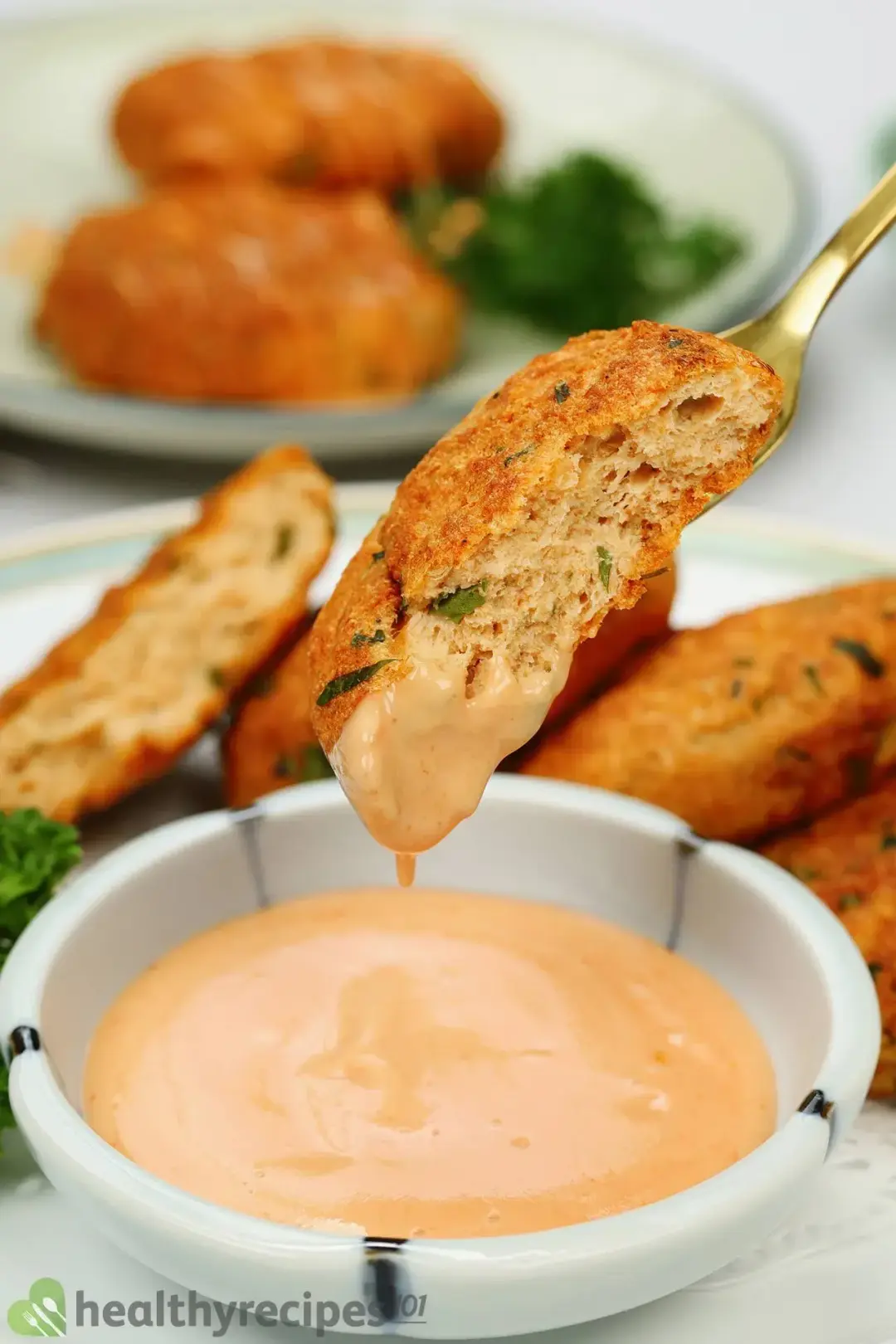 How to Make Salmon Patties in an Air Fryer
Healthy, delicious, and quick to make, these air fryer salmon patties will surely please everyone's taste buds and keep them coming back for more.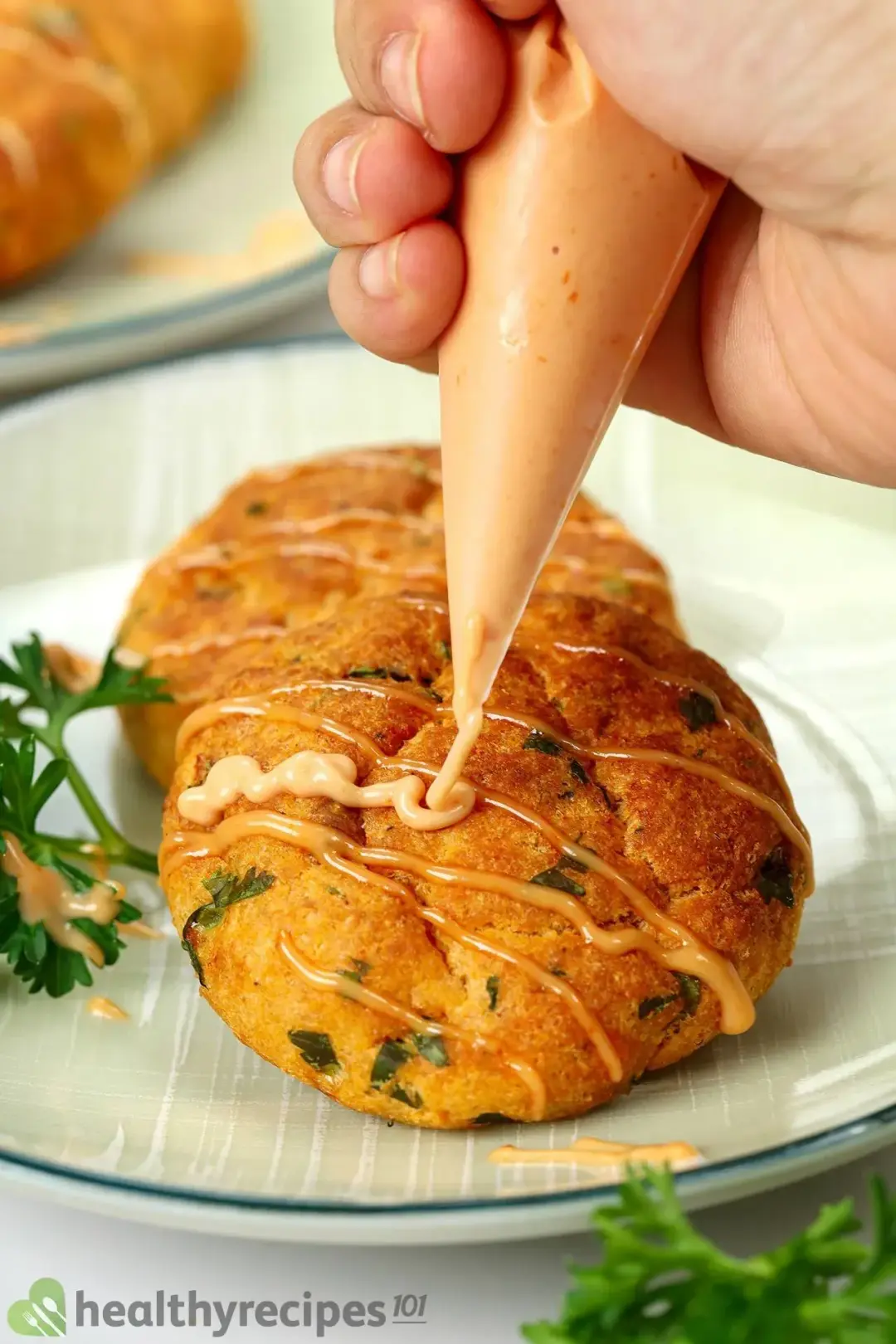 cook TIME

15 mins

prep TIME

10 mins

total TIME

25 mins
COURSE

Side Dish

CUISINE

American

SERVINGS

servings

CALORIES

251 kcal
INGREDIENTS
0.5 tsp

paprika

2 tbsp

parsley chopped

1 tbsp

olive oil

0.5 tsp

garlic powder

1

medium egg

0.5 tsp

pepper

0.3 cup

cilantro

12 oz

boneless skinless salmon cut into cubes

3 tbsp

Japanese mayonnaise

2 tbsp

Heinz ketchup

0.3 cup

plain panko breadcrumbs

0.5 tsp

cajun seasoning
STEP BY STEP VIDEOS
Grind the salmon
Show less
Place 12 oz salmon in a food processor and grind until it reaches a smooth consistency.
INSTRUCTIONS
Preparation
1
For the salmon: If you buy a fresh skinless salmon fillet, then first rinse it with clean water, pat dry, then cut it into small pieces for easier grinding.
Cooking
1
Grind the salmon: Place 12 oz salmon in a food processor and grind until it reaches a smooth consistency.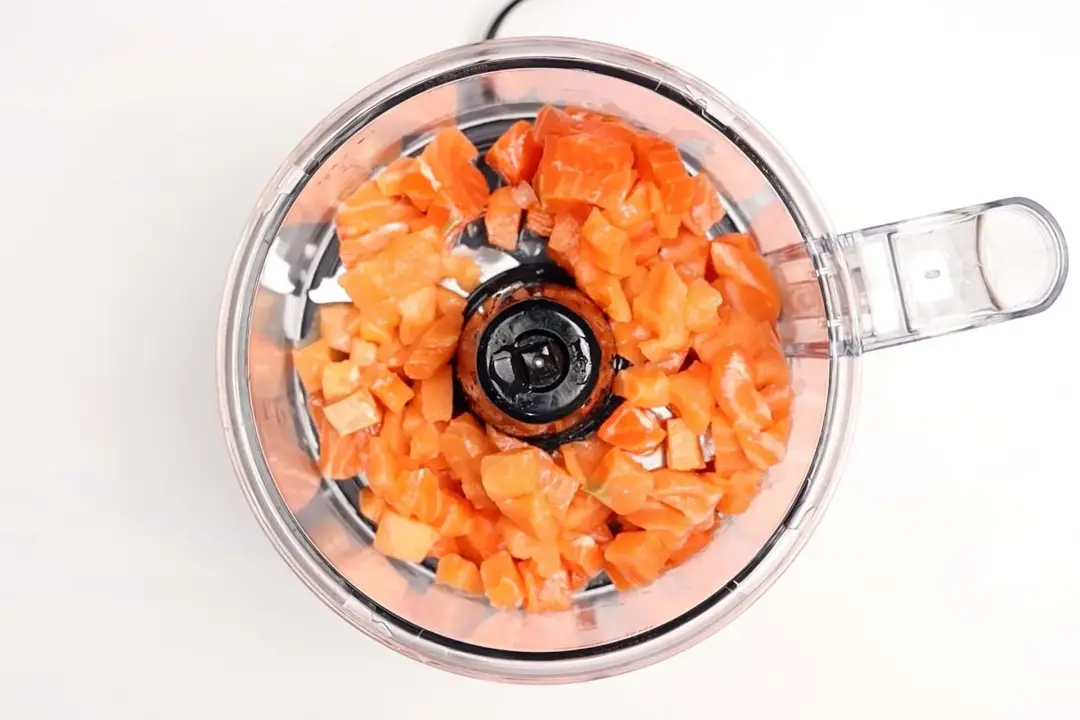 2
Mix the salmon with other ingredients: To a mixing bowl, add the ground salmon with 1/4 cup plain panko breadcrumbs, 1/2 tsp paprika, 1/2 tsp pepper, 1/2 tsp cajun seasoning, 1/2 tsp garlic powder, 2 tbsp parsley, 1/4 cup cilantro, and 1 medium egg. Stir to combine.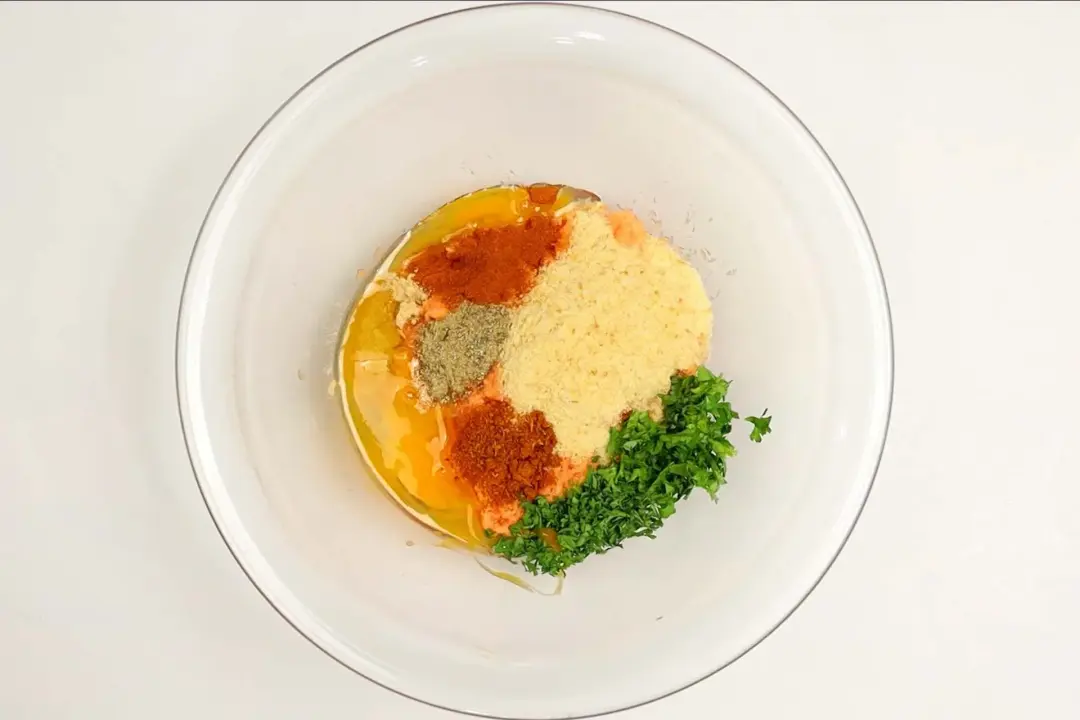 3
Make the patties: Use your hand to shape the patties (this recipe calls for 8 patties for 4 servings).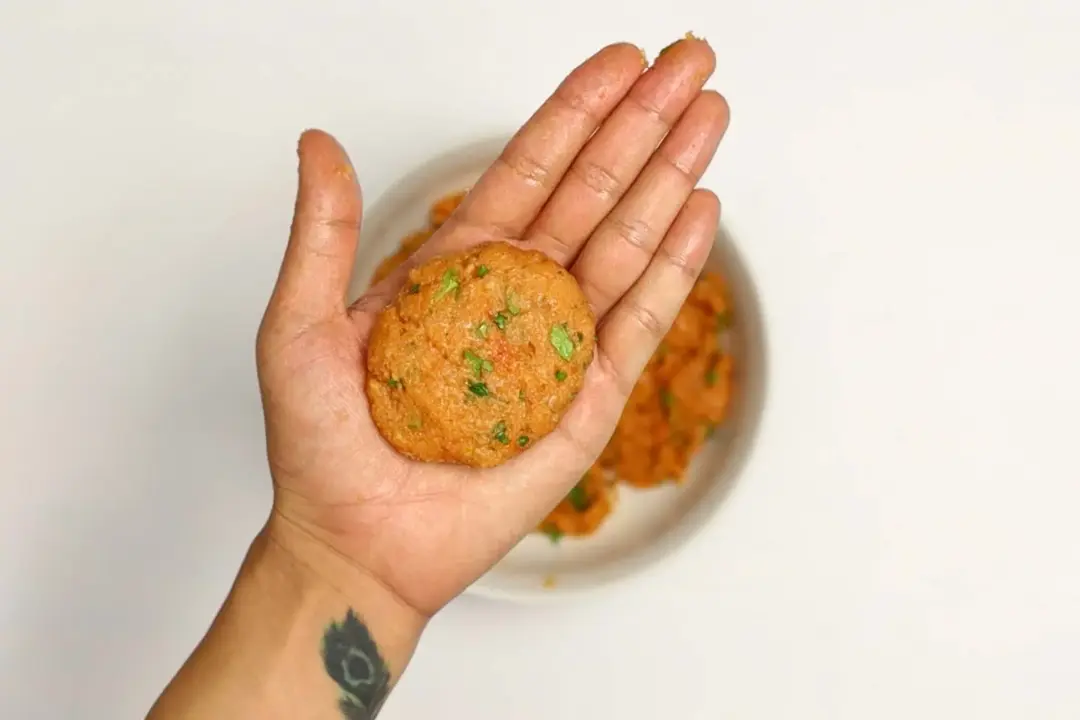 4
Air fry the patties: Place the patties into the air fryer. Spread a layer of olive oil on the patties' surface, then set the temperature at 375 °F and cook for 10 minutes.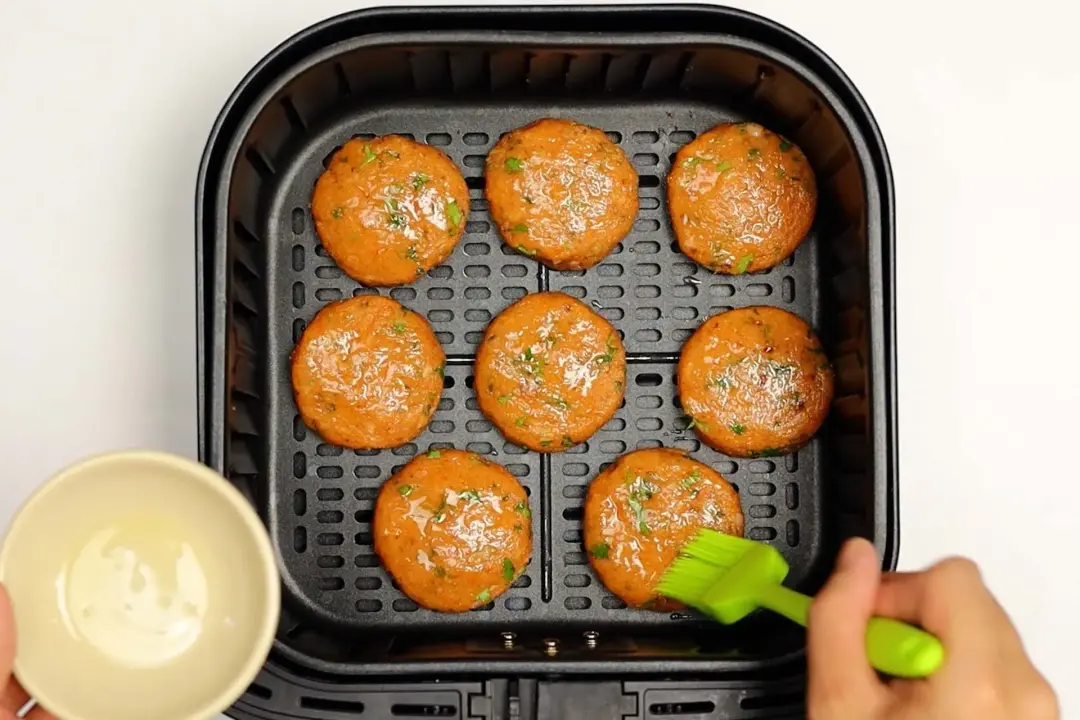 5
Make the sauce: While waiting for the patties to cook, add 3 tbsp mayonnaise and 2 tbsp Heinz's ketchup to a bowl, then mix well.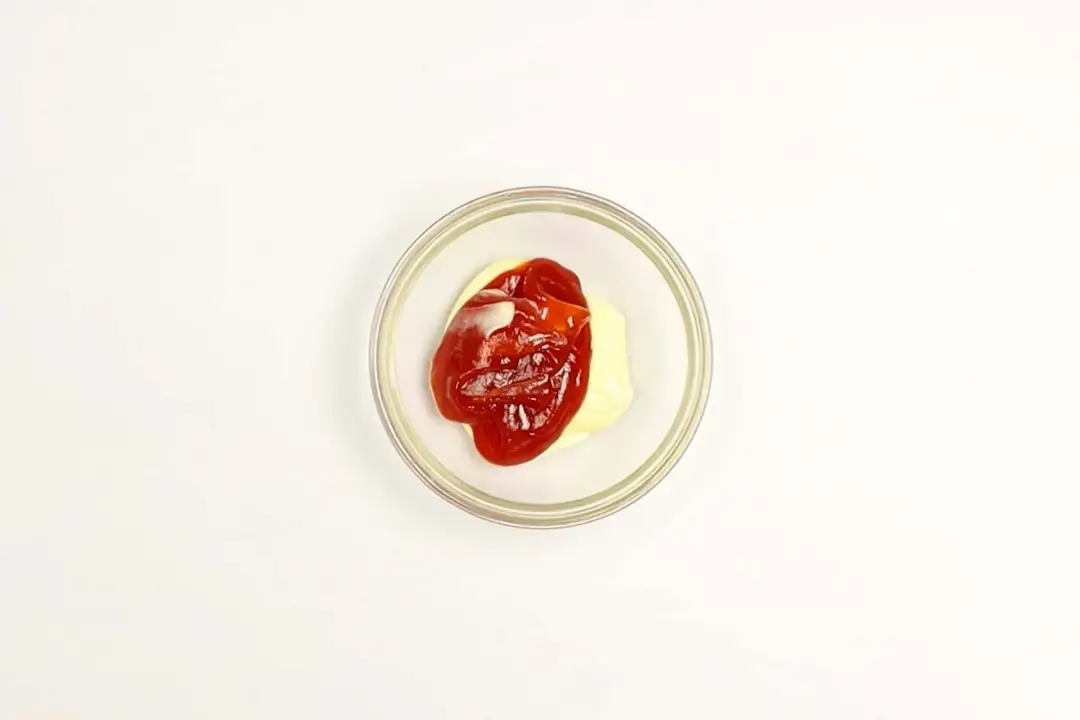 6
Garnish and serve: Transfer the salmon patties to a serving plate, then drizzle with the sauce before serving.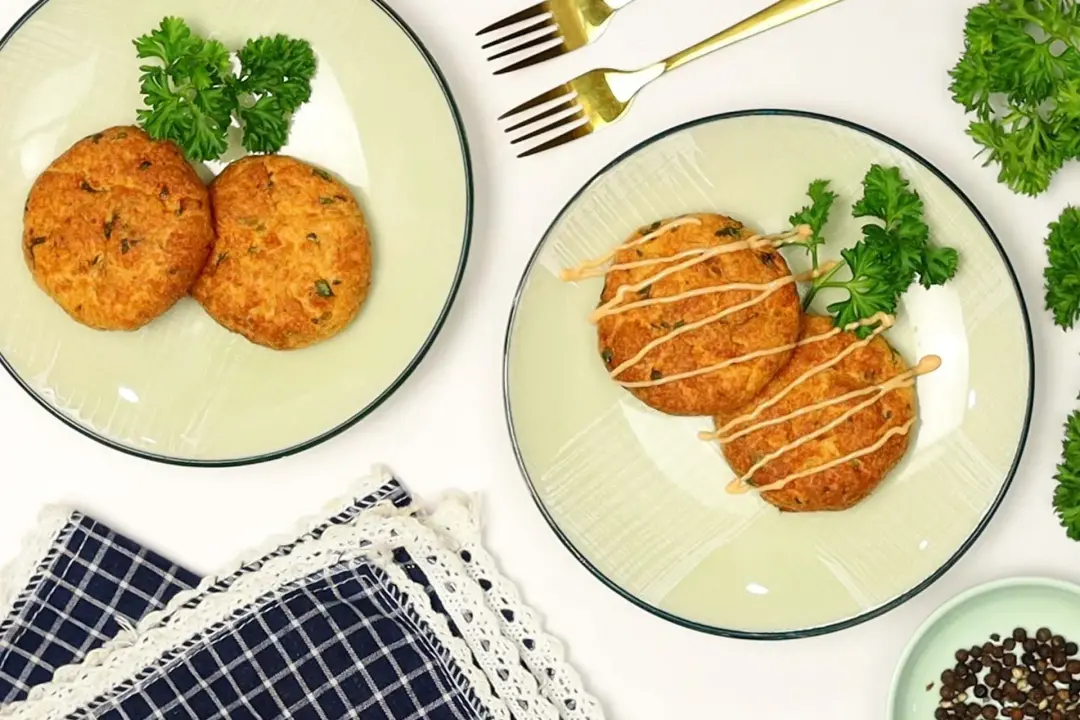 NUTRITION
Nutrition Facts
How to Make Salmon Patties in an Air Fryer
Amount Per Serving (1 serving)
Calories 251
Calories from FDA
% Daily Value*
* Percent Daily Values are based on a 2000 calorie diet.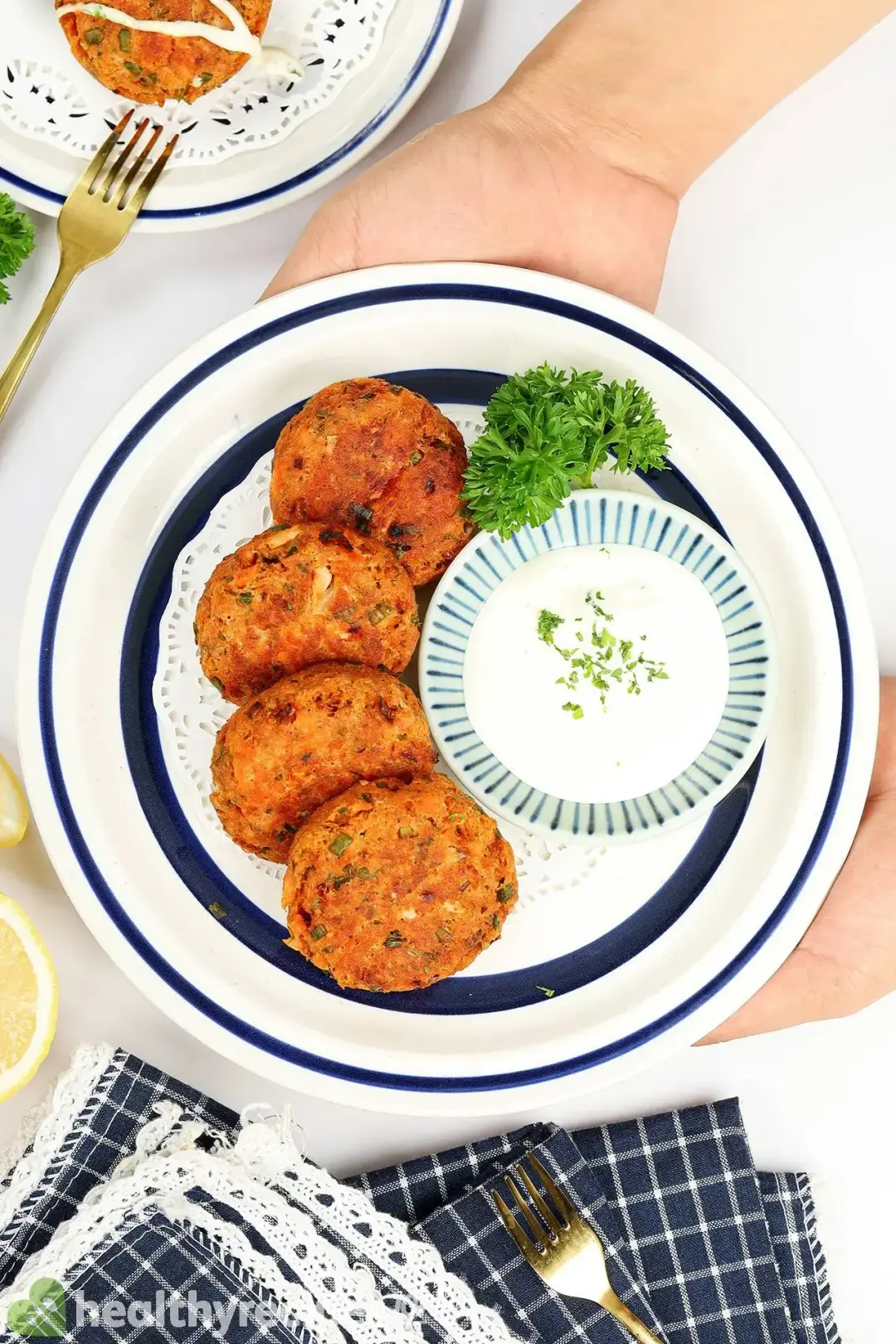 Previous Recipe
Fried Salmon Patties
Fried Salmon Patties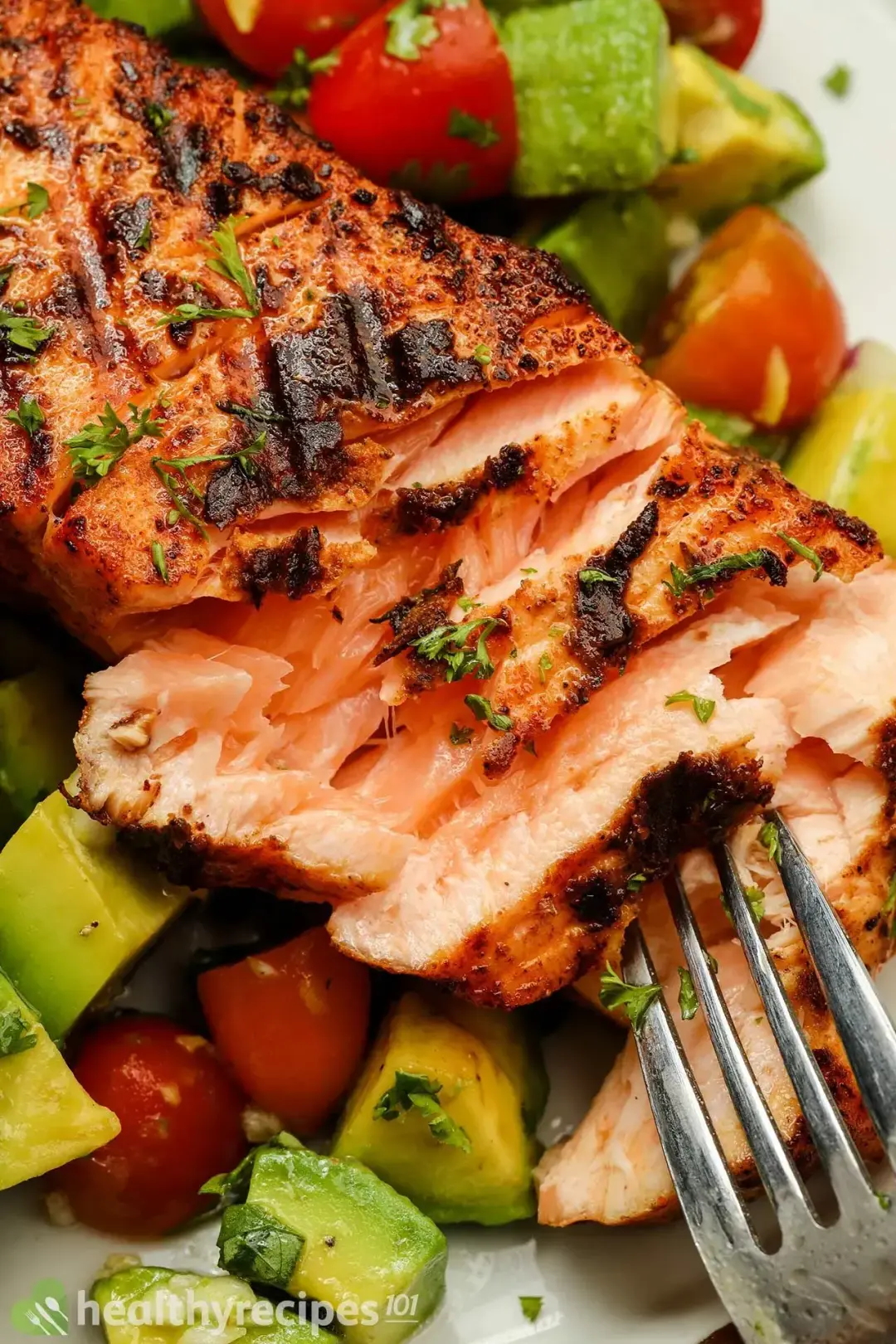 Next Recipe
Salmon Avocado
Salmon Avocado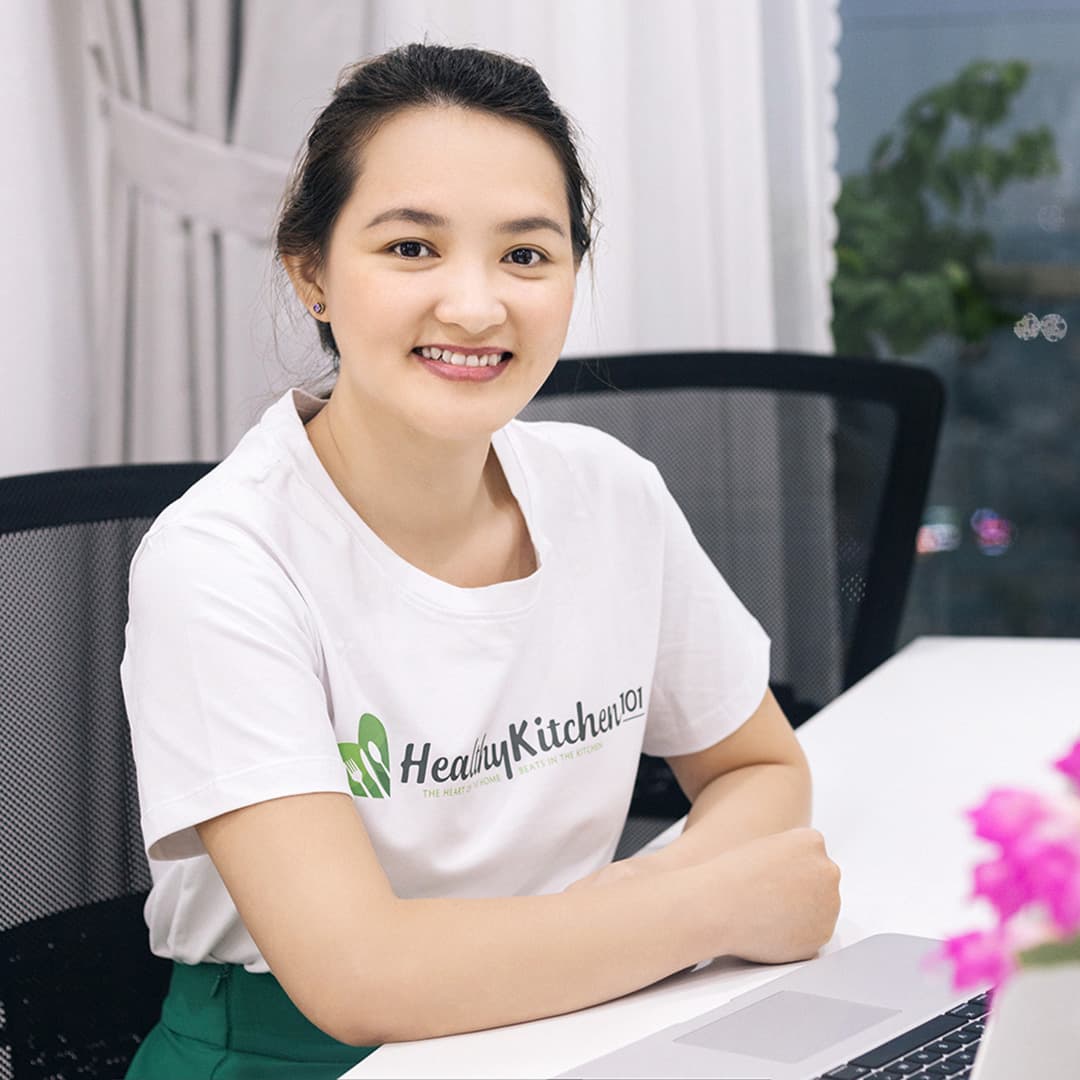 Luna Regina
A writer and entrepreneur, Luna's day doesn't start at the computer keyboard, but in the kitchen.
Half of her working hours are spent on mixing ingredients for her recipes. The other half involve working with the tech team to research and test the tools and appliances that promise to make kitchen work effortless and mess-free. From a kitchen knife or water filter to the Instant Pot, if it can help save time and effort for the home cook, Luna and her team are on it.
Luna's extracurricular pastimes include camping, travel, and photography.
Comments/ Reviews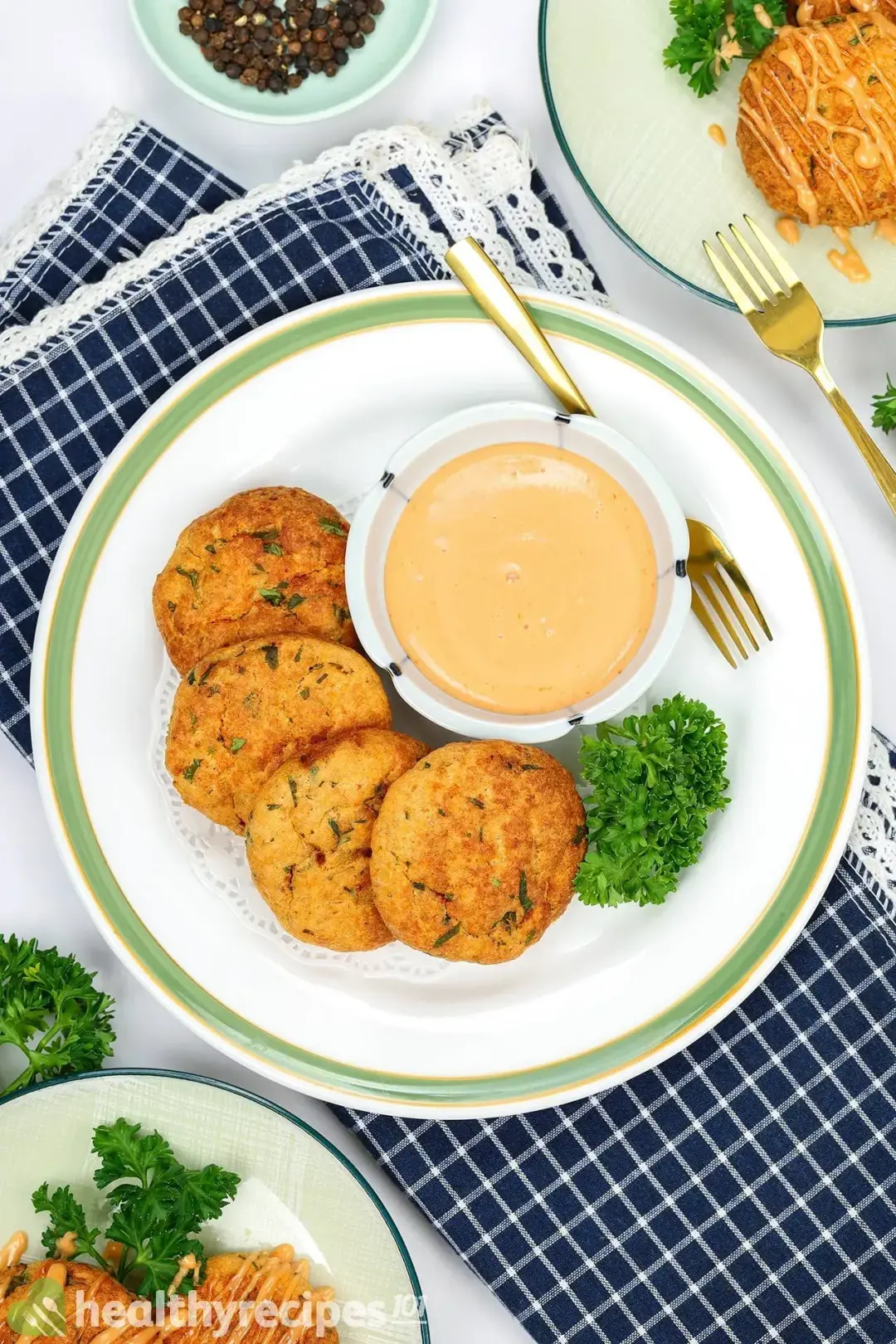 Air Fryer Salmon Patties Recipe