If you're a fan of salmon and Western cuisine, searching for some cooking inspiration, we have just the thing for you right here in our list of Italian salmon recipes. 
They're easy-to-make and healthy-to-eat recipes, so why not give them a go?
What Spices and Herbs Are Used in Italian Salmon Dishes?
In Italian cuisine, salmon is often marinated in special herbs and spices. While seasonings like salt and pepper give the salmon a bold flavor, herbs infuse the fish with a distinctive aroma. 
The most often used include:
Basil: This annual herb belongs to the mint family. Basil has glossy and deep green leaves which give off subtle flavor notes of pepper, anise and mint. 
Oregano: Coming from the same family as basil, oregano also has a trace of mint with a slightly bitter aftertaste. It can be used in dried and fresh form to add more fragrance to your fish.
Parsley: While basil and oregano are treated as seasonings, parsley is mostly used as a garnish for roasted vegetables and pasta. However, sprinkling chopped parsley on top of salmon helps add a freshness and enhance the flavor too.  
Rosemary: This herb is cherished by the Italians for its woody scent with notes of evergreen and pine. Rosemary is a versatile herb. Whole rosemary leaves can be cooked with pan-seared salmon whereas minced ones can be added to salad dressing.  
Thyme: The earthy and slightly lemony taste of thyme will enhance the rich taste of salmon whichever way it is cooked.
Spices: Paprika, garlic powder, mustard powder, salt, and pepper are some of the most commonly used seasonings for an authentic Italian dish.
Best Italian Salmon Recipes
Now that you know the Italian salmon secret seasonings and sides, let's dive into our list of recipes. 
How to Marinate Salmon
Marinating a salmon filet can be tricky for beginners. However, we've prepared a list of tips to make a beautifully seasoned salmon filet.
Do not rinse salmon under the faucet: Most people think washing salmon filets will keep them free from bacteria, but that's not true. It's more likely that the water will make those bacteria spread to other foods and surfaces.
Do not marinate frozen salmon: Frozen fish don't absorb the marinade. If your filet is fresh out of the freezer, you should let it thaw in the fridge for a few hours before seasoning.   
Do not remove the skin: The skin acts as a protective layer to capture the moisture of your fish. If you do not fancy the skin, you can remove it after the cooking process is done.
Pay attention to the time: The marinating time differs depending on the thickness of your fish and the marinade you use. For high acid-based marinades (including citrus juices or vinegar), you shouldn't let the salmon sit for more than 5 minutes, or it will become mushy. For other types, the maximum time is 10 minutes.
Side Dish Options
Italian salmon is a versatile main dish that pairs well with many side dish options.  
Salad: A light-hearted salad works as a wonderful side dish for any Italian-style salmon dish. Salad helps add to the freshness of the dish, balances the richness of the salmon and adds nutrition. 
Baked/Roasted vegetables: A flaky, juicy piece of salmon on top of baked potatoes, carrots, asparagus or broccolini is simple yet irresistible.
Focaccia/Garlic bread: These herb-infused breads possess a buttery taste and a wholesome feel. They add more texture and substance but don't overpower the flavor of the fish. 
Reading through our collection of Italian salmon recipes, we hope you've picked out some ideas to make sophisticated salmon effortlessly. Feel free to try out our recipes and share them with your friends and family.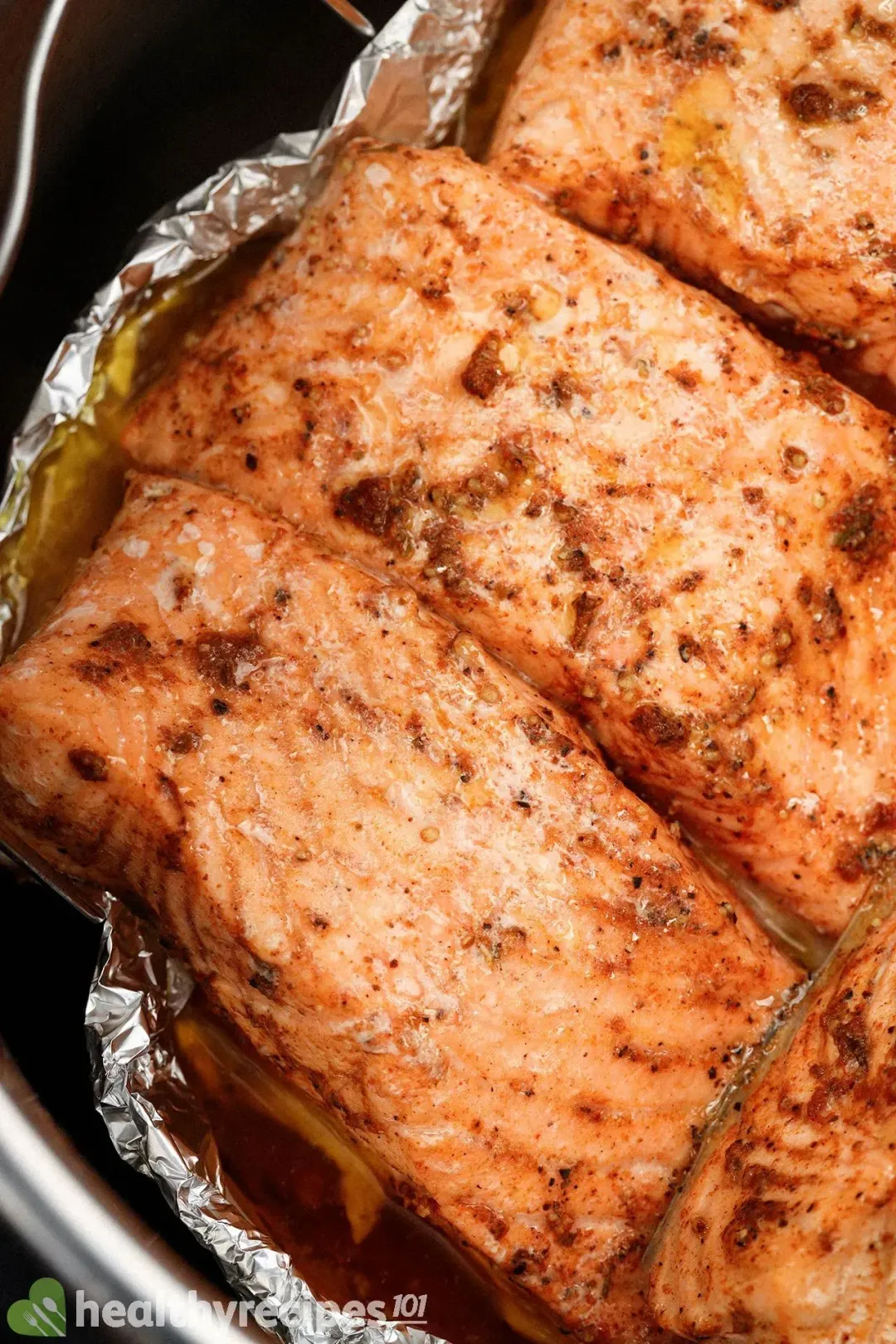 Previous Recipe
Instant Pot Salmon Recipes
Instant Pot Salmon Recipes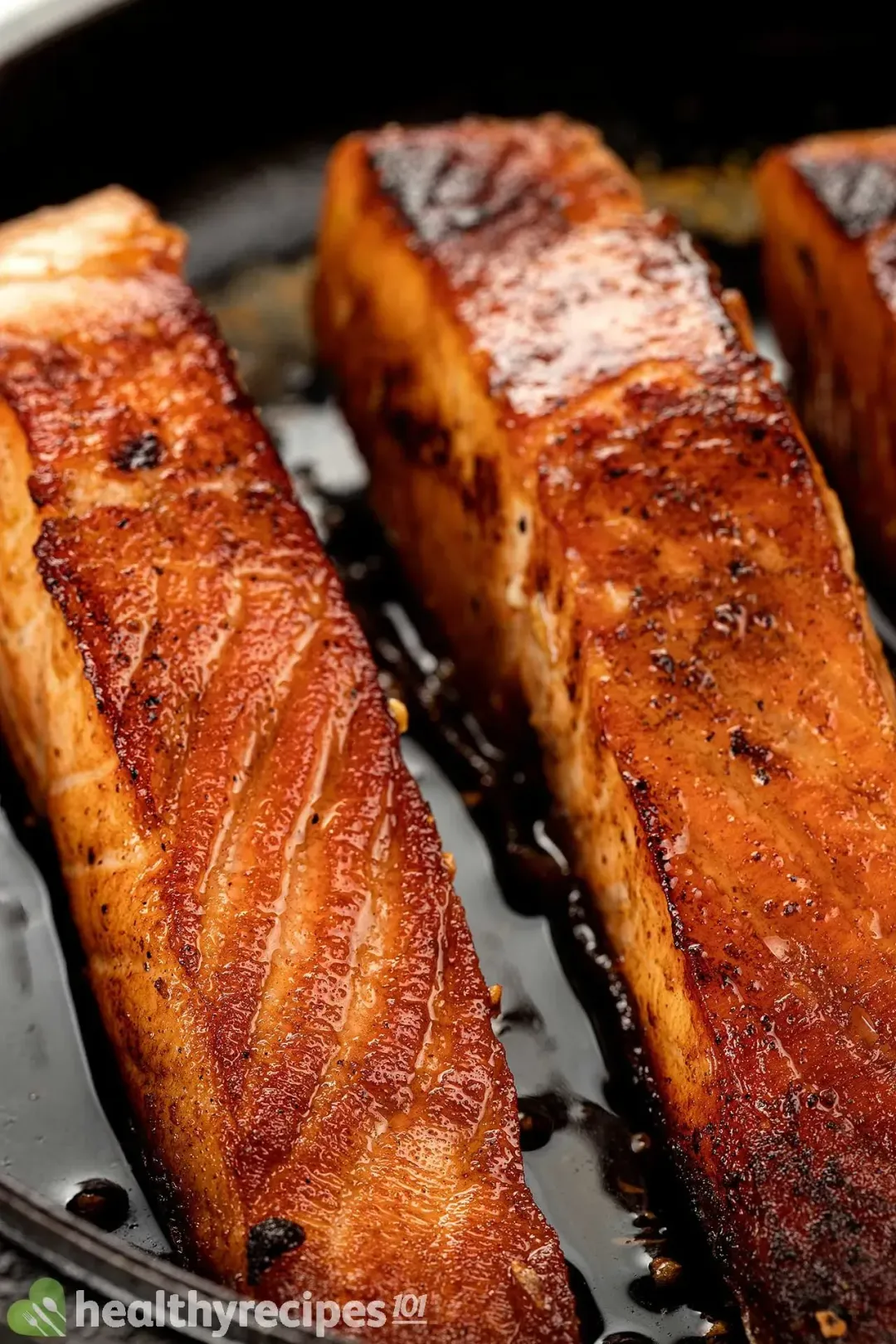 Next Recipe
Pan Seared Salmon Recipes
Pan Seared Salmon Recipes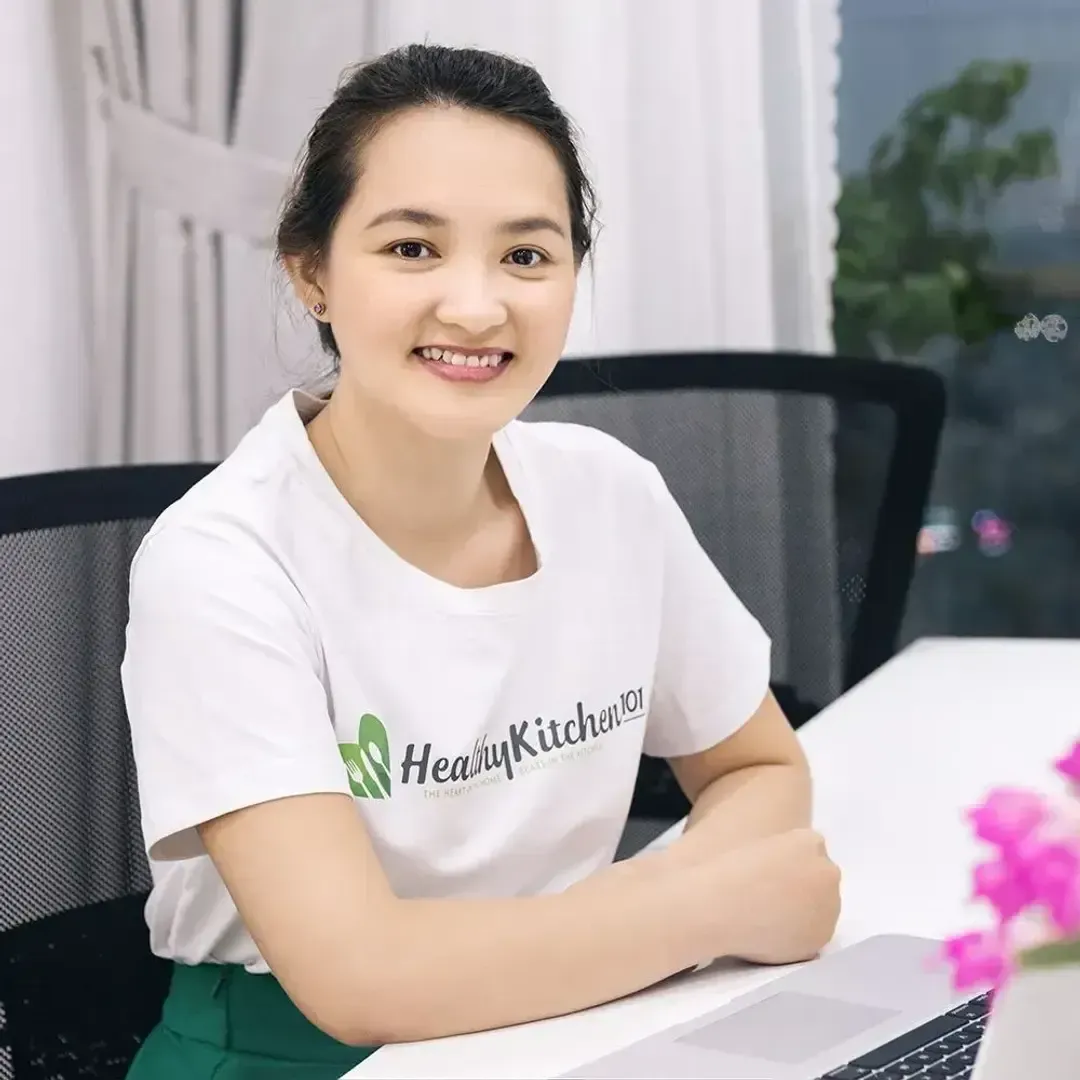 Writer, Author
Luna Regina is an accomplished writer and author who dedicates her career to empowering home cooks and making cooking effortless for everyone. She is the founder of HealthyKitchen101.com and HealthyRecipes101.com, where she works with her team to develop easy, nutritious recipes and help aspiring cooks choose the right kitchen appliances.
Comments/ Reviews