The perfect time to make our exquisite pesto salmon recipe is summer, when fish and herbs, particularly basil are in abundance. The juicy fish filets are doused in a rich herby paste for an easy yet delectable supper.
Although this recipe asks for homemade pesto, do not be intimidated. The paste is really easy to make and tastes much more superior to any store-bought version.
Is Pesto Salmon Healthy?
Yes, our pesto salmon recipe is healthy.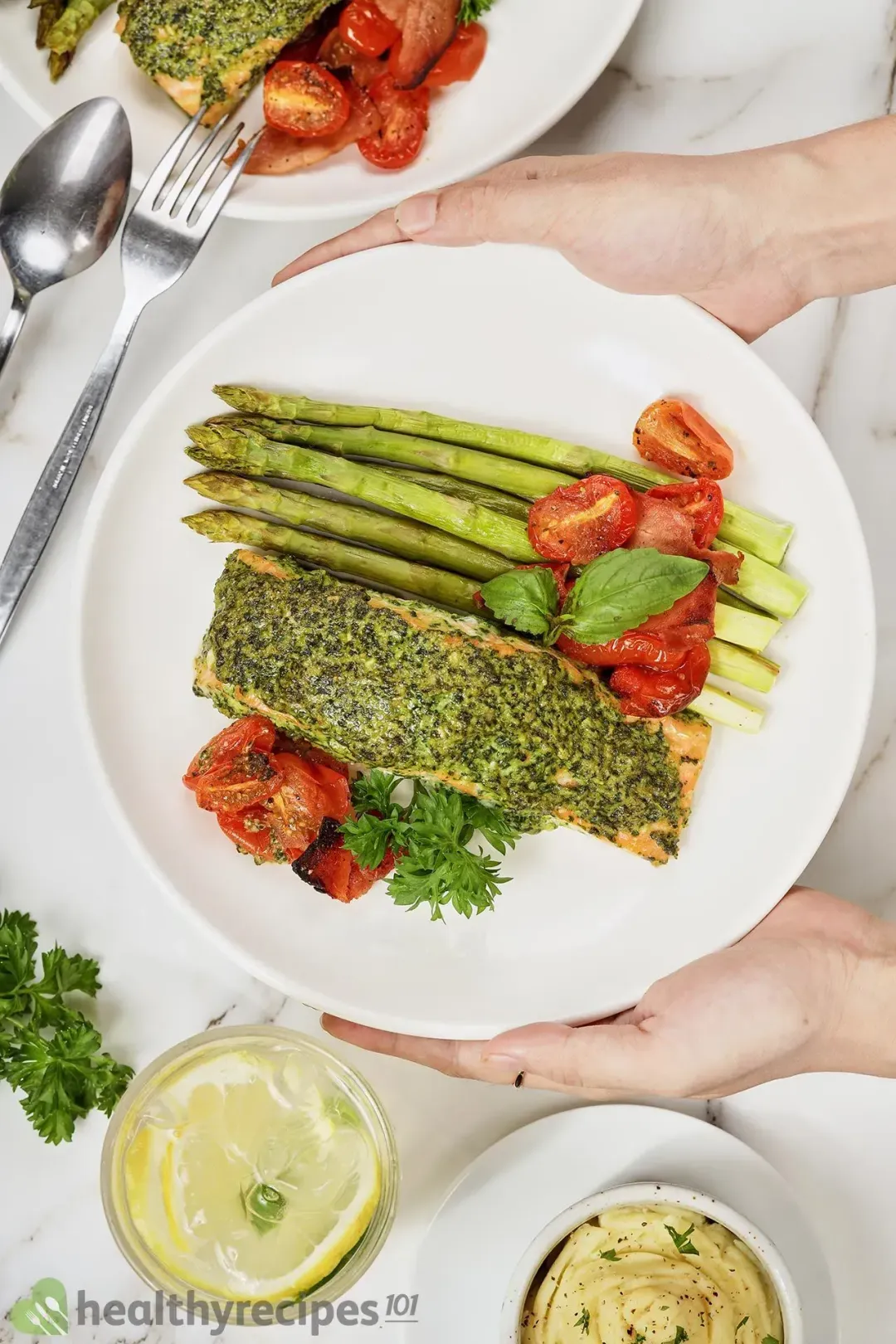 With salmon as the primary ingredient in this recipe, the meal is high in protein. Each serving contains around 43.3 g of protein.
Store-bought pesto can sometimes be rich in saturated fat and sodium due to the paste's high levels of salt, nuts, olive oil, and cheese.
To combat this, we rationed the quantities, adding just enough of each to flavor the meal. Thus, each serving contains around 502 calories, 533 mg sodium, and just 6 g saturated fat, all of which adhere to our healthy eating guidelines.
If you're a fan of healthy fish dinner recipes, you may also like our lemon pepper salmon recipe.
Ingredients for Pesto Salmon
Our pesto salmon recipe includes:
Salmon: As always, we're using boneless salmon for our recipes. You can remove the scales from the filets yourself or ask the fishmonger to do this when you're buying.
Vegetables: Our recipe asks for asparagus and various colors of cherry tomatoes. They all provide crisp texture and natural sweetness to help mellow out the fatty fish and pesto paste, resulting in a more balanced taste.
Bacon: We're baking the bacon with the cherry tomatoes to give the sweet tomatoes a savory flavor.
Seasonings: We're seasoning the veggies simply with freshly cracked black pepper. As for the main protein, we can take advantage of the savory pesto to season the fish filets.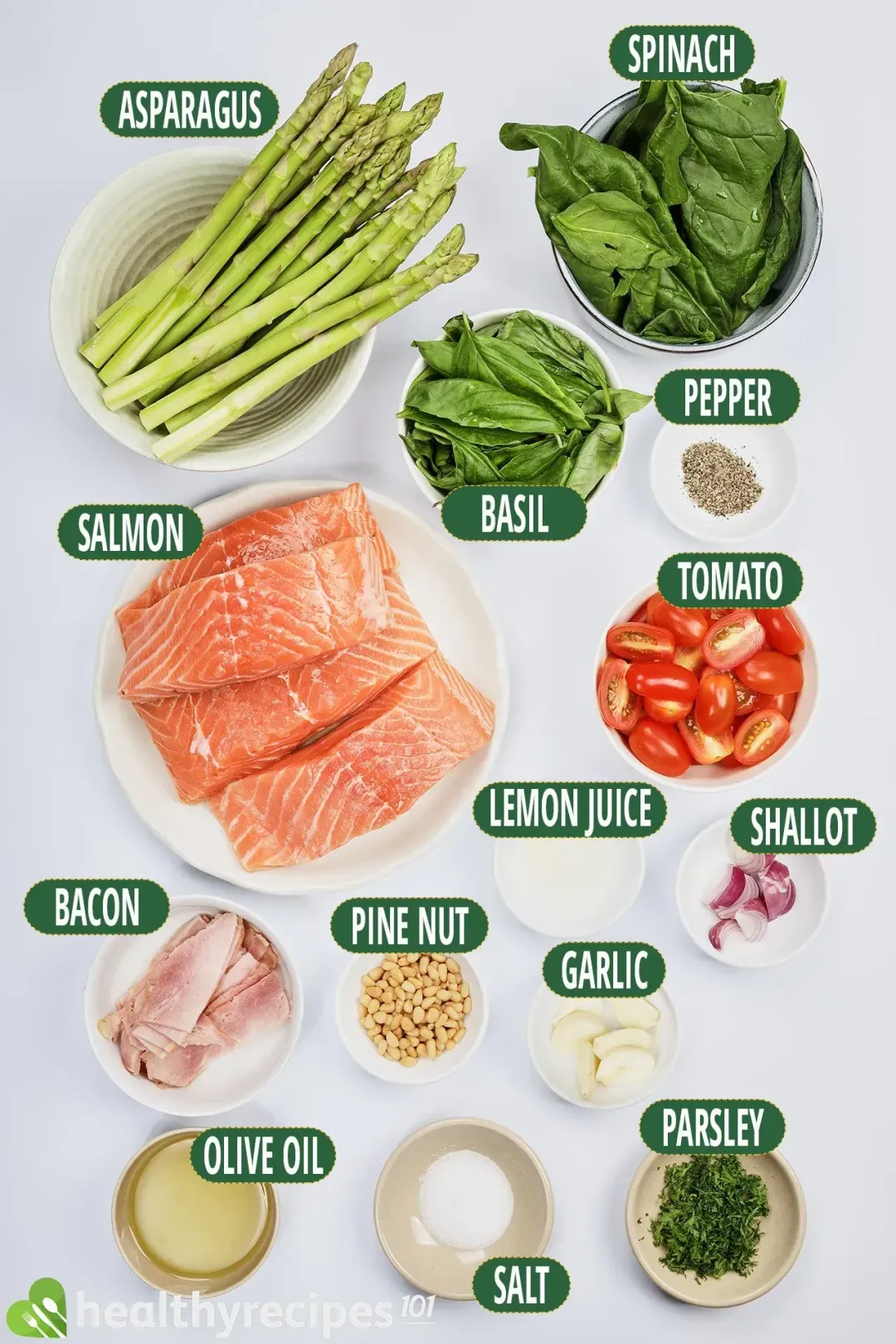 1. Veggie Alternatives
Besides cherry tomatoes and asparagus, you can use different types of vegetables with this recipe:
Mushrooms: Sauté the mushrooms until browned and then remove them from the heat. You can add a spoon of pesto to season them as well.
Broccoli: Crunchy steamed broccoli makes an excellent side dish, adding a contrast in texture to your meal.
Roasted vegetables: Roasted carrots or potatoes are both great fillers; you'll feel satiated as well as up your fiber intake.
2. Pesto for Salmon
Pesto is a fatty, herbaceous, and savory paste combining the scent of fresh basil with the aroma of pungent garlic. Our homemade version, on the other hand, has a milder flavor with a sweet aftertaste thanks to the addition of shallots and lemon zest.
Our homemade pesto also goes well with other seafood such as shrimp, crab, or clam, not to mention other proteins like chicken and steak. Alternatively, simply dress your pasta with pesto alone for a quick and easy lunch.
If you're curious about why our pesto looks nothing like the store-bought varieties with its bright, vibrant green color, we have a little trick up our sleeve and we will tell you later. Stay tuned!
How to Make Pesto Salmon
Before you start, it's important to get all the ingredients ready for quick access.
Rinse and drain the cherry tomatoes. Gently pat them dry with a paper towel.
You should also rinse and drain the spinach and basil leaves as well. Be sure to pat them dry before adding them to the food processor when you make the pesto.
Once all of your herbs, veggies, and seasonings are prepared, you should check on the salmon filets to make sure that they are free of bones and scales.
After that, preheat the oven. It's important to preheat the oven at least 10 to 15 minutes before use to make sure that it's reached the correct temperature.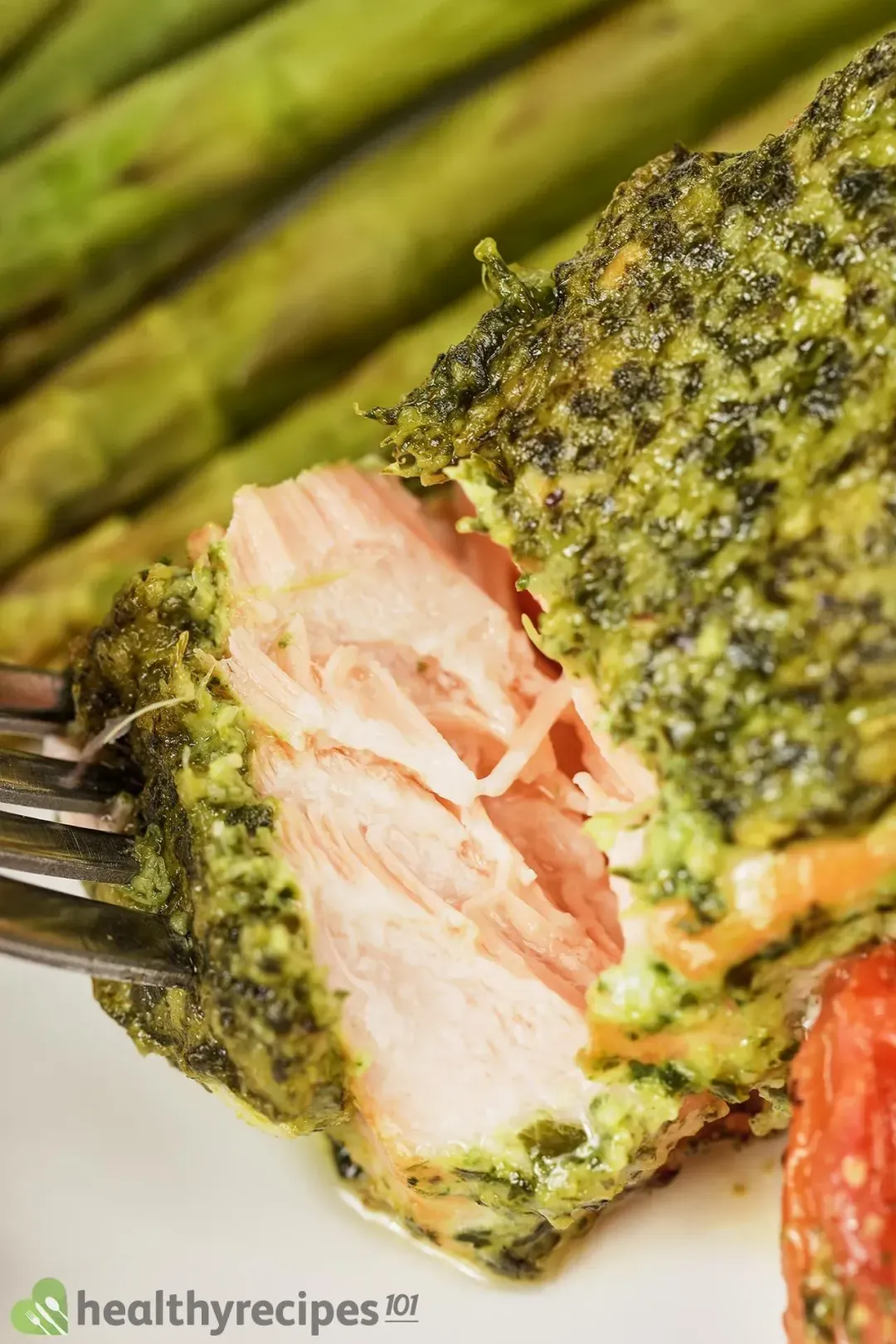 Start by blanching the basil and spinach in boiling water. Then, shock them immediately with iced water to stop the cooking process.
Put all the pesto ingredients into a food processor and blend until fairly smooth. And since we quickly blanched the herbs earlier, your pesto will have a vibrant green color instead of a mossy hue.
Once the pesto is ready, use it to coat the salmon on all sides. This fatty, herby paste will season the fish and keep it moist and juicy as it cooks in the oven.
Here is a summary of our pesto salmon recipe:
Blanch spinach and basil.
Make the pesto paste.
Bake the tomatoes.
Season the salmon.
Bake the salmon.
Garnish and serve.
How to Store and Reheat Pesto Salmon
We recommend storing each item separately to keep them fresh for longer:
Leftover pesto: Keep it in a clean jar with a tight-fitting lid and store it in the fridge. It should last about a week.
Leftover pesto salmon: Keep the salmon in a Ziploc bag or airtight container and it will last for three to five days in the fridge.
Leftover veggies: You may need to put the asparagus and cherry tomatoes in separate containers. Since the tomatoes are so juicy and have a high-water content, they may spoil faster.
To reheat, place a serving of pesto salmon and veggies on a microwavable plate or bowl. It will only take 2 minutes to warm up.
What to Serve with Pesto Salmon
If you don't know what to serve with pesto salmon, we have the perfect meal plan already lined up: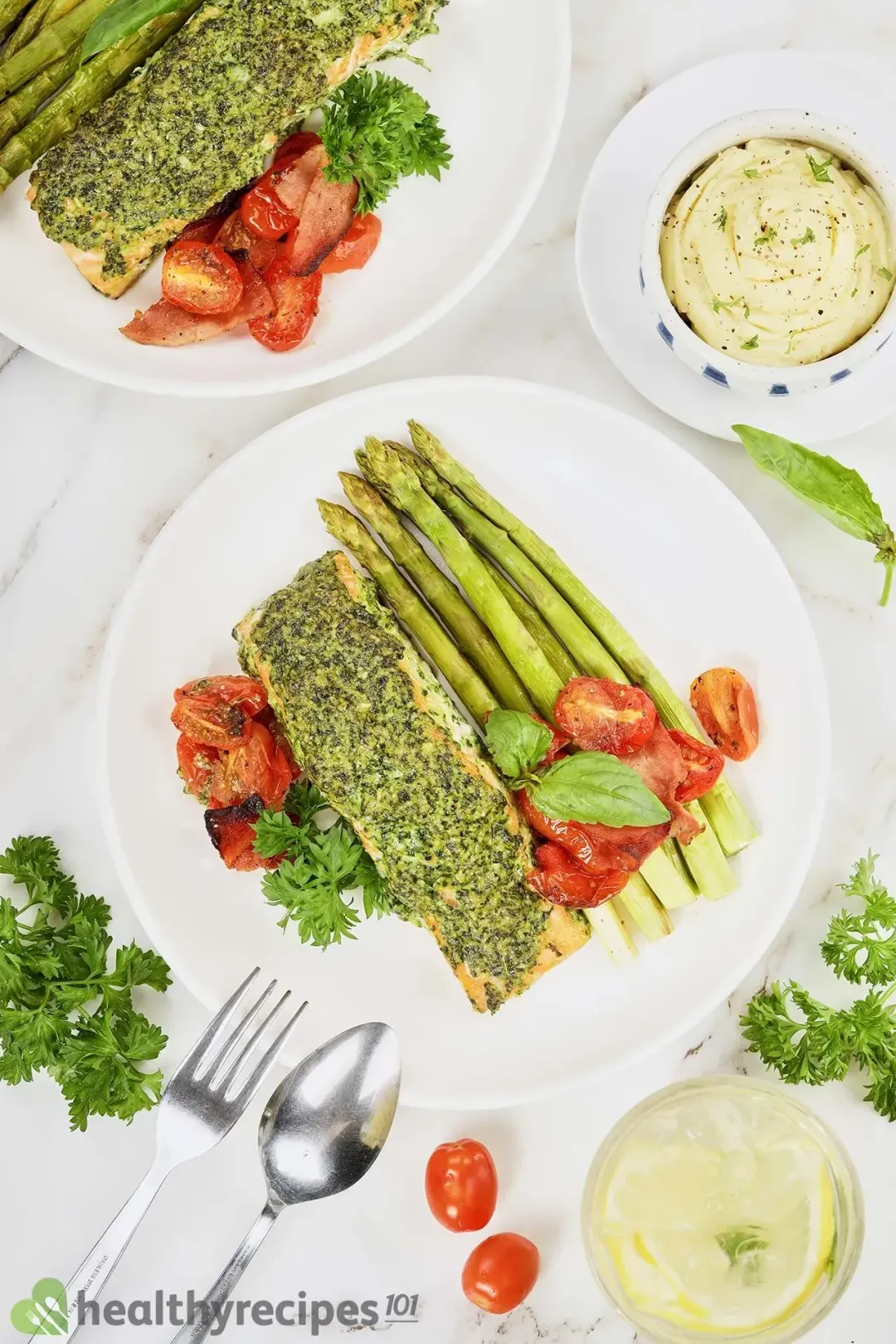 1. Mashed Potatoes
Mashed potatoes are great to pair with almost any main course.
On the one hand, the silky-smooth texture makes it an excellent accompaniment for chicken, steak, and fish. On the other hand, its buttery flavor perfectly complements our rich pesto.
2. Lemonade
Finish your meal with a refreshing sweet and sour lemonade to cleanse your palate. It'll wash away all that rich and fishy taste from your tongue.
Here are the combined nutrition facts of this meal:
If you have a thing for saucy salmon filets, this roundup of ours might be what you're looking for.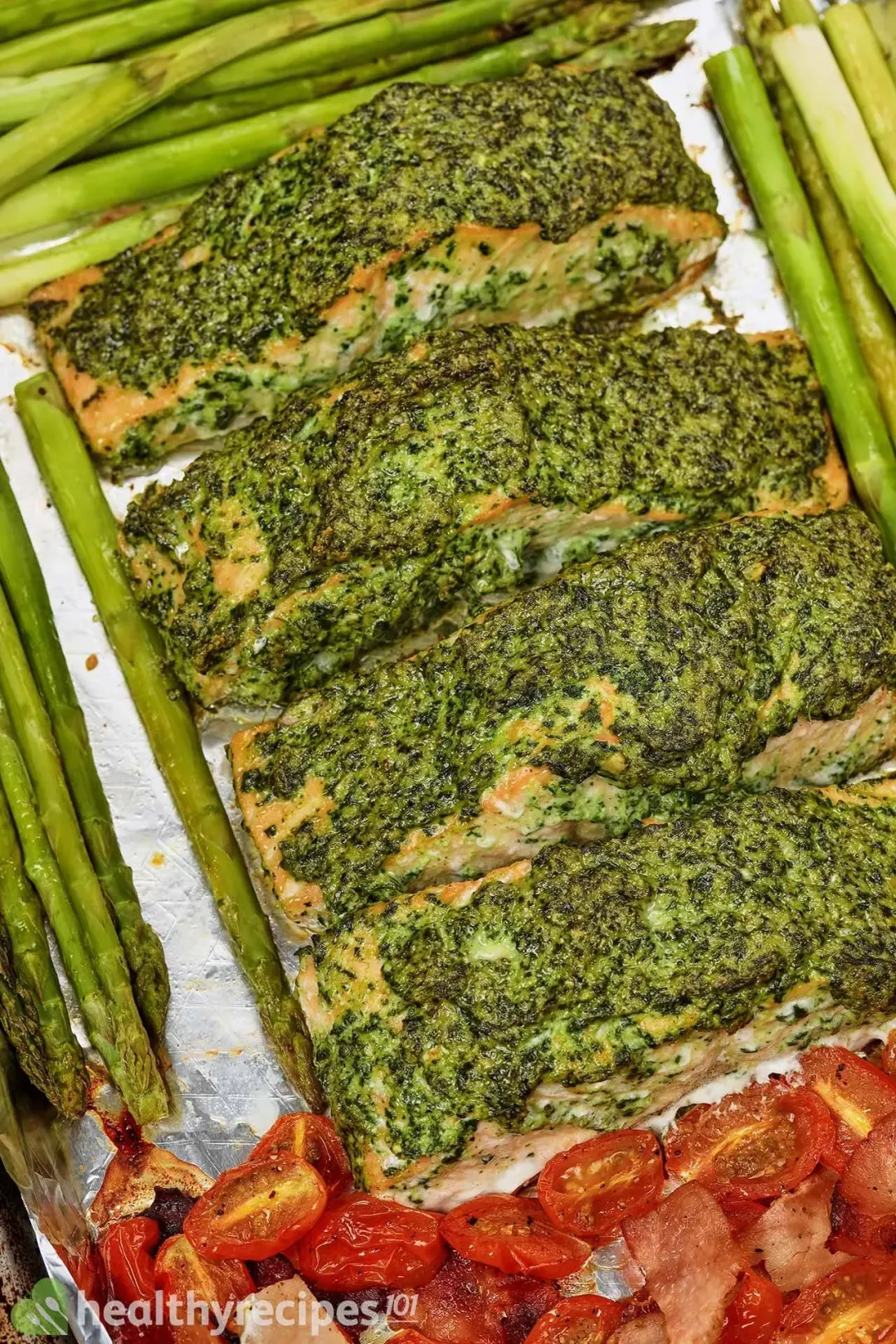 Pesto Salmon
Today's pesto salmon recipe brings you a fantastic dinner menu; it's easy to make and tastes amazing. Let's check out the ingredients.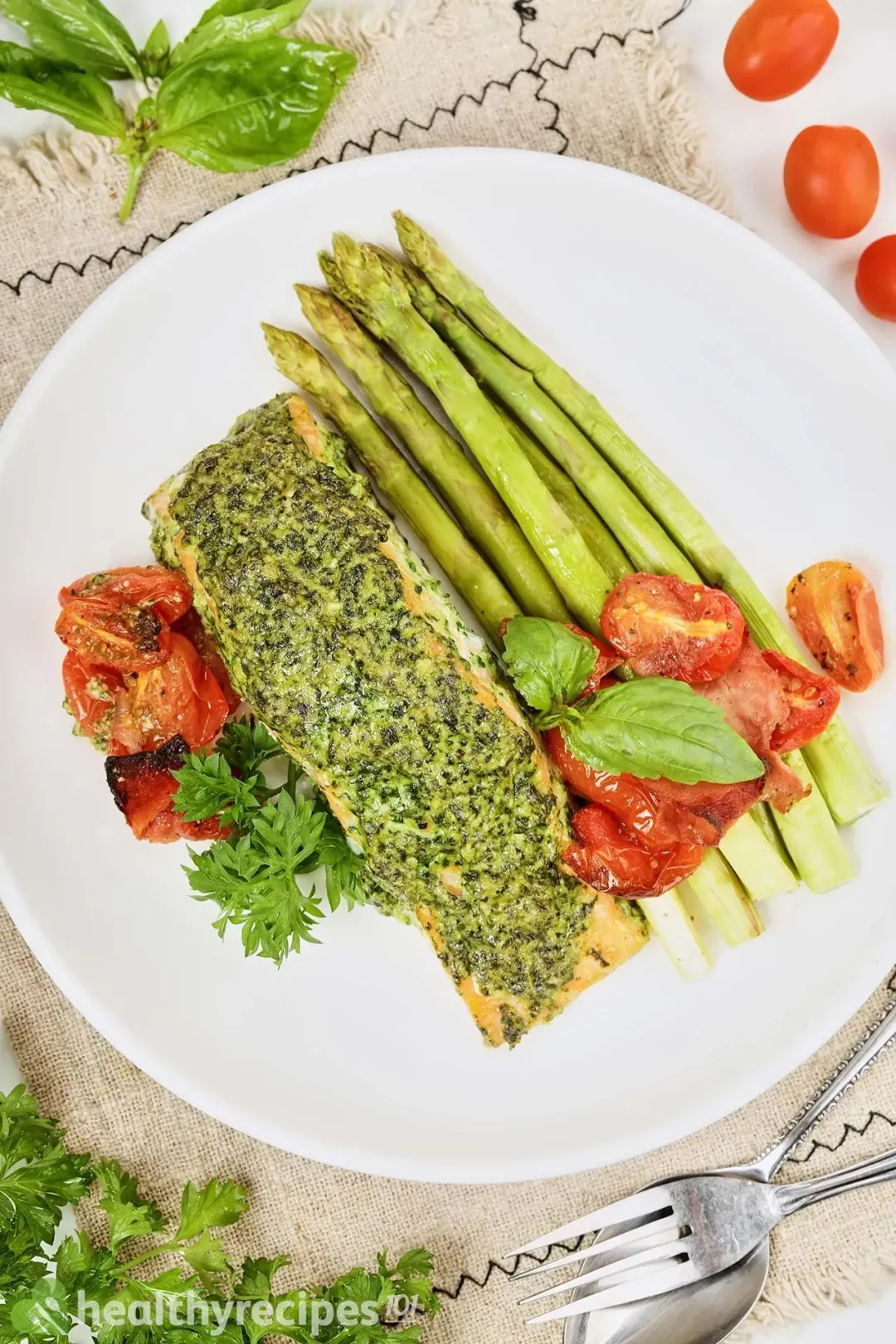 cook TIME

25 mins

prep TIME

10 mins

total TIME

35 mins
COURSE

Main Course

CUISINE

Italian

SERVINGS

CALORIES

504 kcal
INGREDIENTS
2 oz

raw bacon

(cut into long strips)

6 oz

cherry tomatoes

(cut in half)

1 oz

spinach

(leaves only)

2 tbsp

parsley

(roughly chopped)

4 3/4 tbsp

olive oil

(divided into 3 ¾ tbsp and 1 tbsp)

2

garlic cloves

(whole, peeled)
INSTRUCTIONS
1
Blanch spinach and basil: Before you start, preheat the oven to 375°F. Then, bring a large pot of water to a boil. Add 1 oz spinach and 1 oz basil to the boiling water using a sieve or spider strainer. Blanch for 30 seconds. Immediately transfer the blanched veggies and herbs to an ice water bowl to stop the cooking process. Squeeze the excess water with your hands and set the greens aside.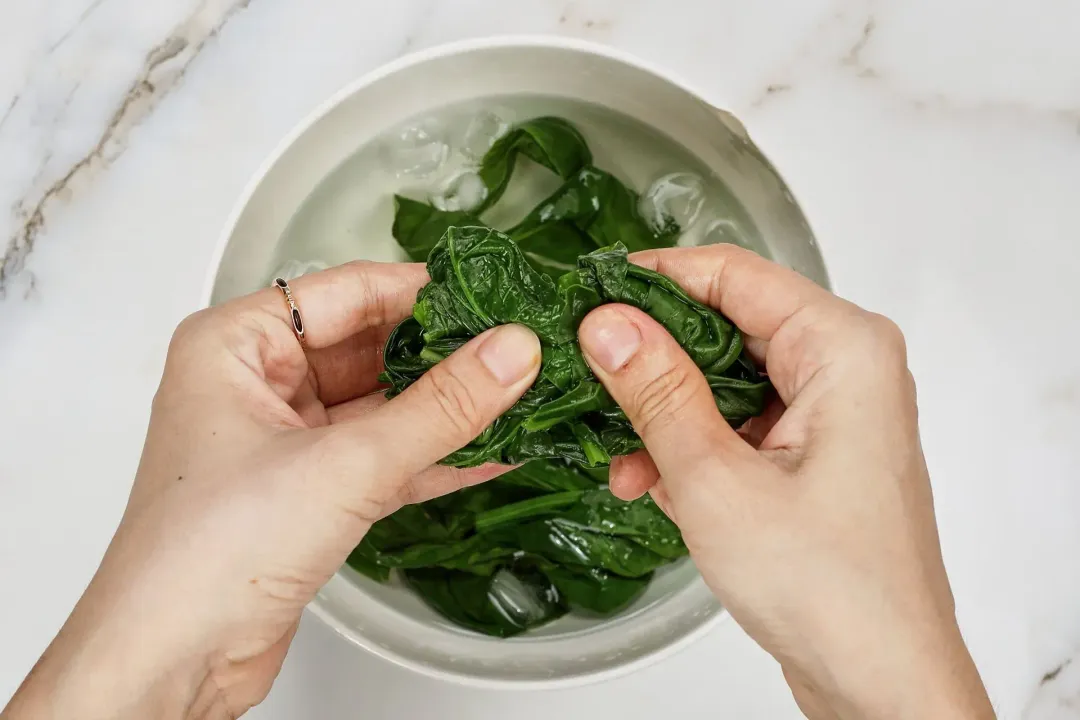 2
Make the pesto paste: To make the pesto, combine the blanched basil and spinach with 1/2 tsp salt, 2 garlic cloves, 0.5 oz shallot, 1 oz pine nuts, 3 3/4 tbsp olive oil, and 1 tsp lemon juice in a food processor. Blitz until smooth. Set the pesto aside.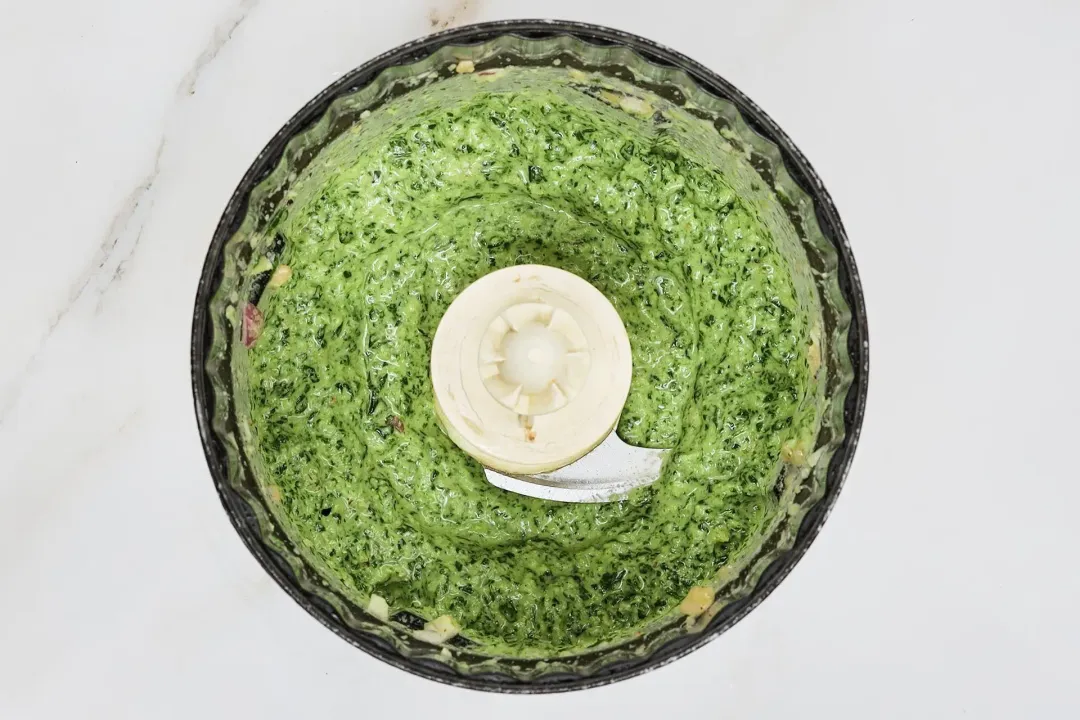 3
Bake the tomatoes: On a lined baking tray, toss 6 oz cherry tomatoes and 2 oz bacon with the remaining 1 tbsp olive oil and 1/2 tsp black pepper. Bake in the preheated oven for 5 minutes.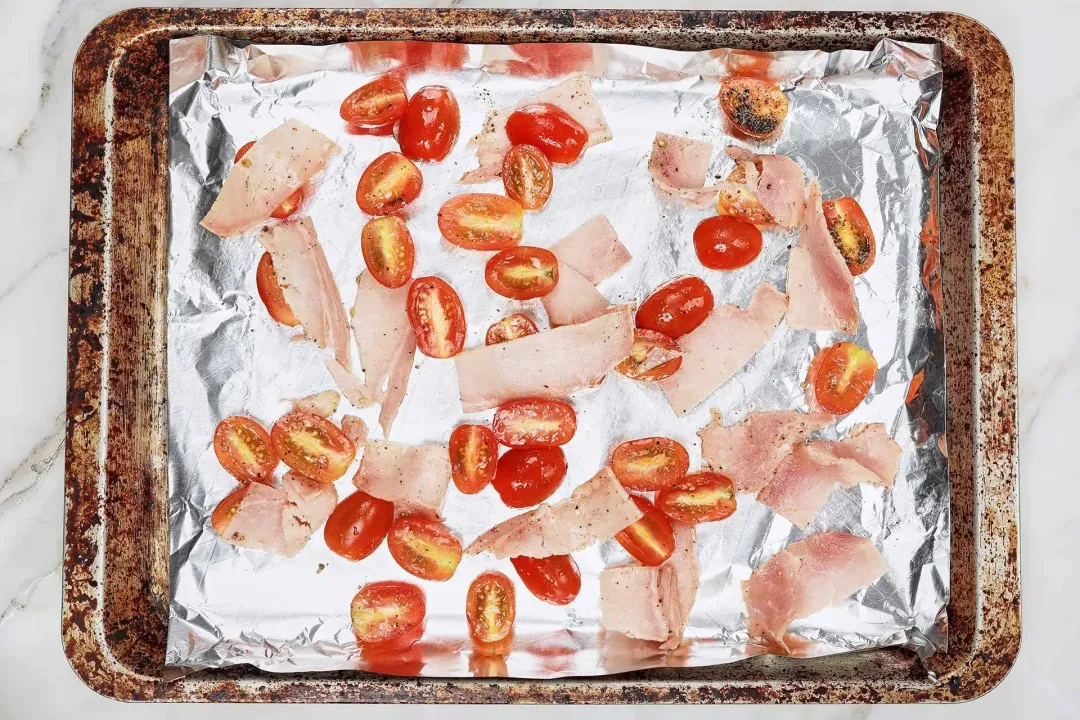 4
Season the salmon: While you wait, put the boneless salmon filets in a bowl and coat each filet evenly with the pesto paste.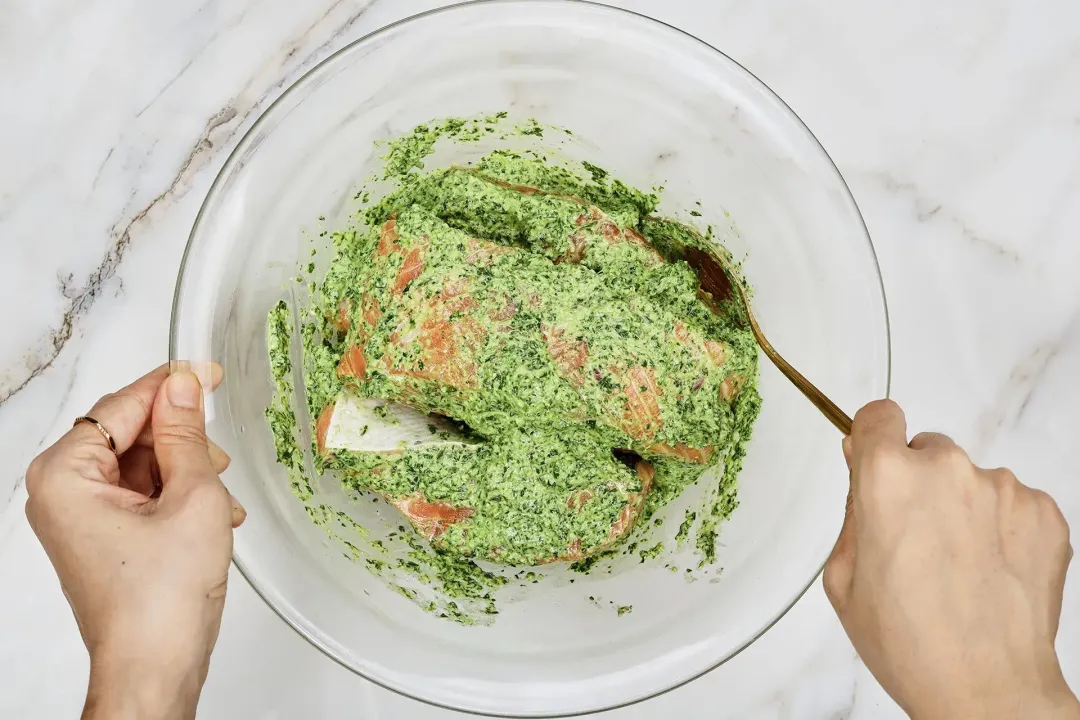 5
Bake the salmon: Remove the baking tray from the oven. Move the tomatoes and bacon to one side of the tray using a pair of tongs. Arrange the salmon and 12 oz asparagus on the tray and bake for another 20 minutes at the same temperature.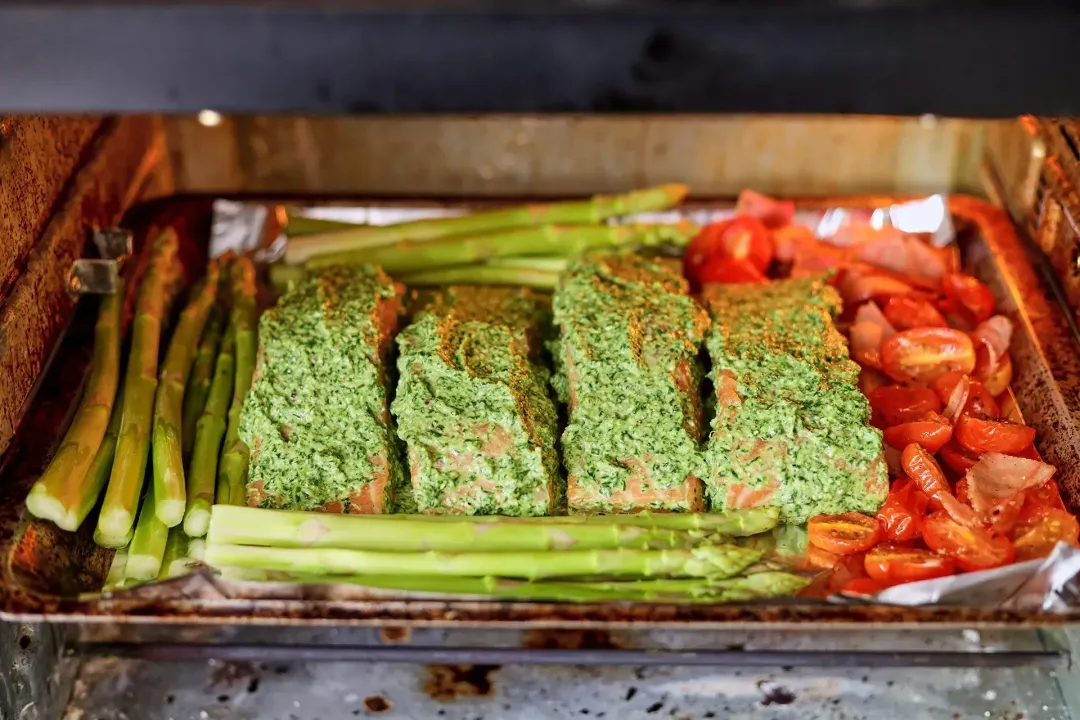 6
Garnish and serve: Transfer the salmon and its side to a plate. Garnish with freshly chopped parsley and serve immediately.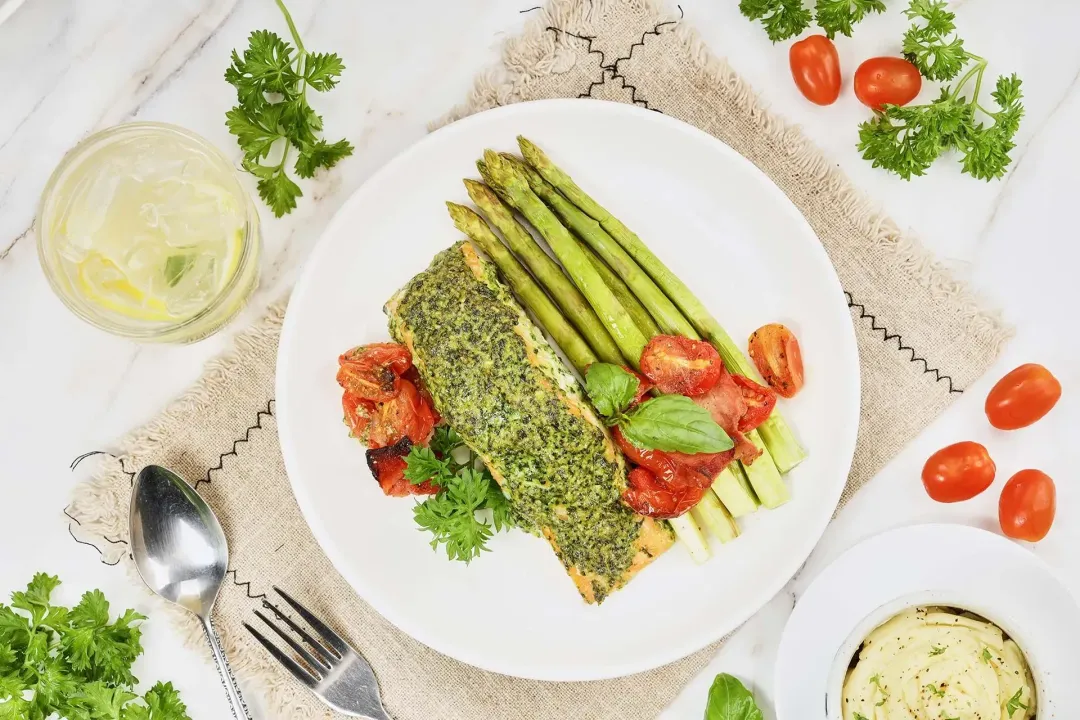 NUTRITION
Nutrition Facts
Pesto Salmon
Amount Per Serving (1 serving)
Calories 504
Calories from Fat 315
% Daily Value*
* Percent Daily Values are based on a 2000 calorie diet.
Keywords: how to make pesto salmon, pesto salmon, pesto salmon recipe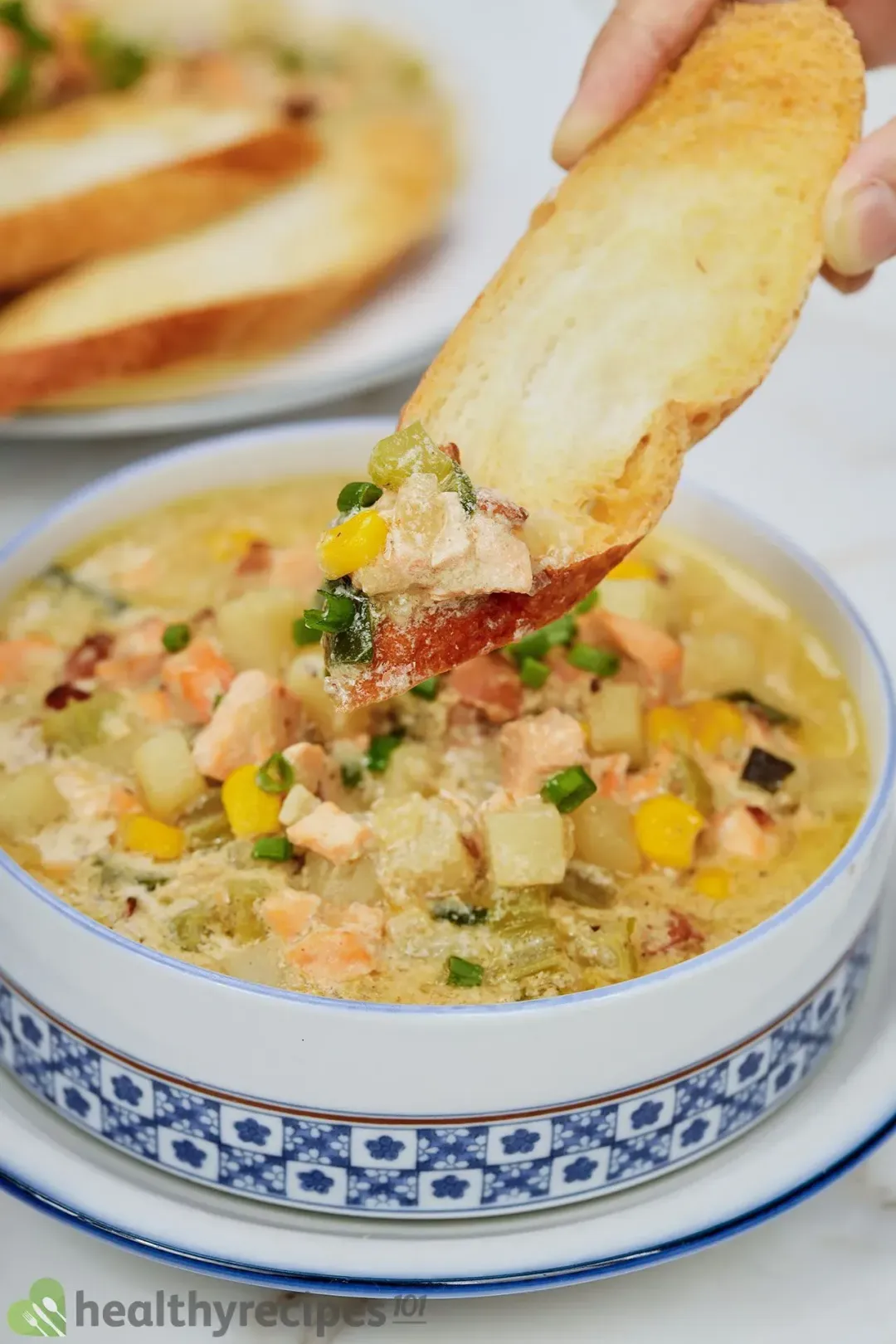 Previous Recipe
Salmon Chowder
Salmon Chowder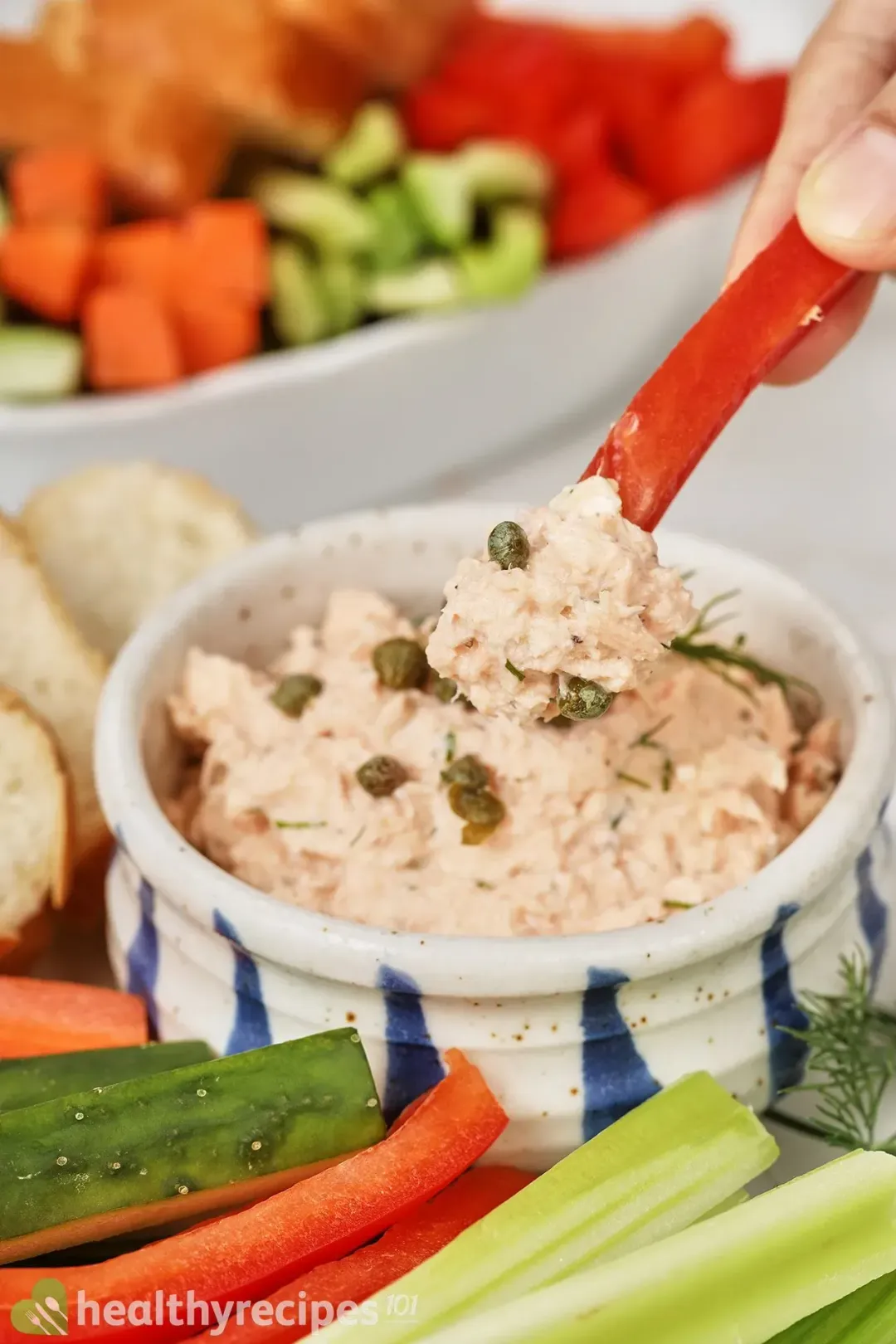 Salmon Dip
Head Chef, Culinary Consultant
Tuyet Pham is an award-winning Saigonese chef who believes that joy is the secret ingredient to delicious food. At Healthy Recipes 101, Tuyet personally tests and simplifies every recipe, ensuring maximum flavor with minimal effort. With a background at prestigious French restaurants P'TI Saigon and Le Corto, Tuyet knows how to make every dish exceptional.
Writer, Author
Luna Regina is an accomplished writer and author who dedicates her career to empowering home cooks and making cooking effortless for everyone. She is the founder of HealthyKitchen101.com and HealthyRecipes101.com, where she works with her team to develop easy, nutritious recipes and help aspiring cooks choose the right kitchen appliances.
Nutrition Reviewer
Natalie Butler is a registered dietitian nutritionist with a passion to help others live their best life through food, fitness, safer beauty and a healthy lifestyle. She has expertise with a variety of diets and diseases and believes that there is no one-size-fits-all approach for health.
Healthy twist on classic pesto salmon

Pesto adds flavor to salmon.