When it comes to cooking salmon, perhaps there's no better place to find inspiration than Japanese food. Whether raw or cooked, this exquisite cuisine knows how to bring out the best in salmon for dishes that taste as good as they look. 
Our Miso Salmon Recipes list introduces you to miso, a traditional Japanese condiment that's beloved for its complex flavors and culinary versatility. Good for more than just the classic soup, this condiment will surprise you with the different ways it can transform a salmon dish. 
What Does Miso Taste Like?
Miso is a staple Japanese cooking paste typically made by fermenting soybeans with salt, rice, barley, and koji - a mold used in the production of many traditional condiments. This ingredient combination creates a unique mixture of salty, savory, and sweet with a lingering umami aftertaste.
Depending on the specific ingredients, miso's colors can range from a pale tan to reddish or dark brown. The flavors also vary accordingly, with the light types being sweet and mellow and the dark ones being more savory and hearty.
Check out Our Most Popular Miso Salmon Recipes
Despite the diversity in flavors, these miso salmon recipes are not all that difficult to make. Here are our top picks for easy and delicious dishes you can make with this delectable condiment.
1 of 1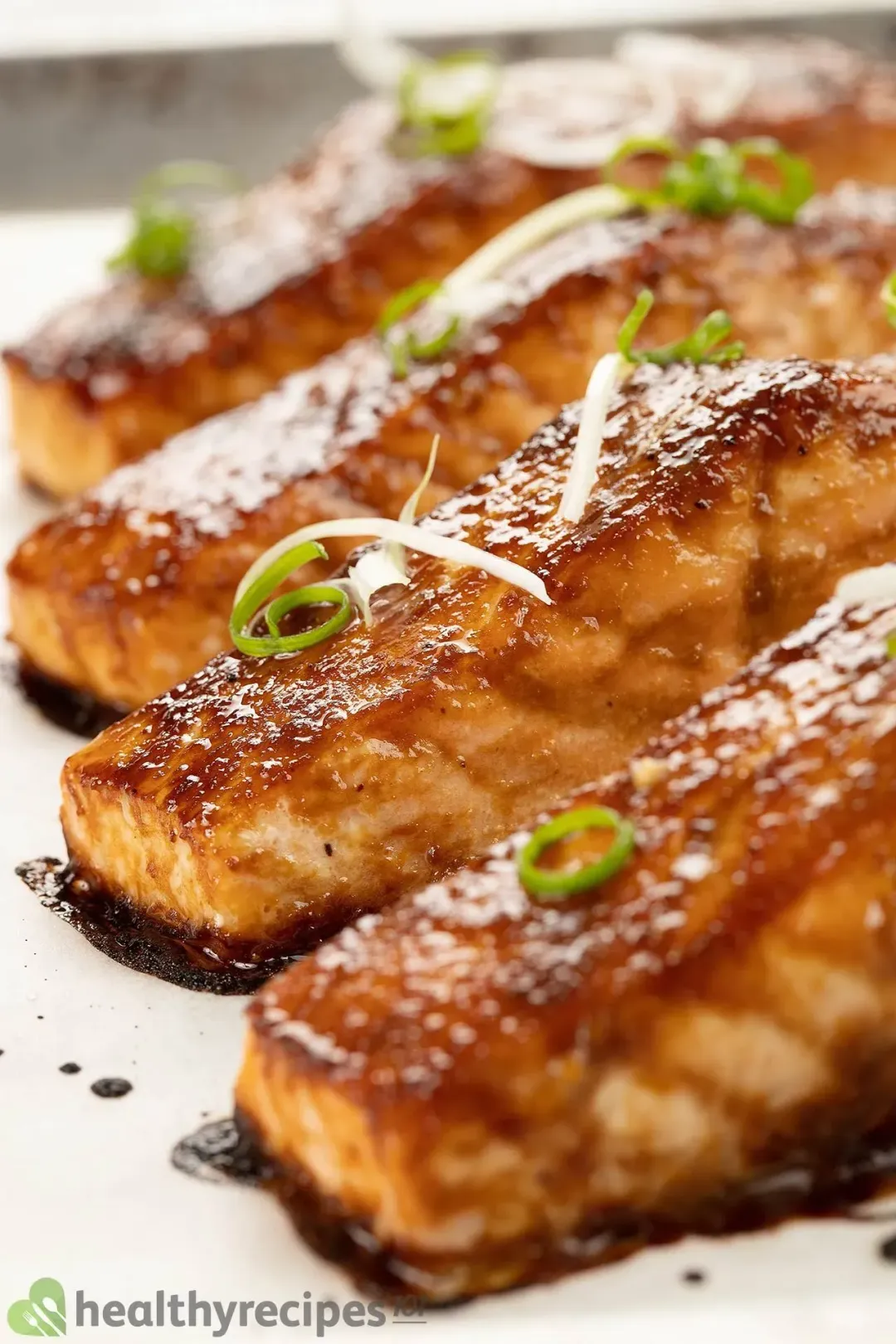 1 of 1
Miso Salmon Recipe
If bold, unapologetic flavors are what you seek, you've found your winner. Miso Salmon has a basic soy, sesame, and mirin base that is deeply umami. Some say the fish sauce essence is too strong, others say it's just the right amount of punch. Either way, there's only one way for you to find out: make it today.
Get the
recipe
.
What Is Miso Used for?
Miso is typically used as a seasoning. This paste can be added to almost any savory dish to enhance the flavors and enrich the textures. It's incredibly adaptable, so it works great both as a key ingredient and a complementary side condiment. 
The most common use for miso is perhaps miso soup, a classic side dish that appears in most Japanese meals. This unique paste can also be used in many other ways such as making salad dressings, glazes, marinades, gravy, and broths. 
Substitutes for Miso Paste
Miso's deeply complex layers of flavors can be difficult to replicate. However, if you don't have this ingredient readily available, here are some alternatives that you can use to achieve a similar taste and texture. 
Made from the same main ingredients, soy sauce has similarities that make it an excellent substitute for miso. Its salty and savory notes are better suited for replacing the darker varieties. 
It's also worth noting that in terms of consistency, soy sauce is quite thin and watery, while miso is creamy and thick. Ergo, it's better as a substitute in recipes where miso isn't the main ingredient. 
Flavor-wise, tahini doesn't have the same umami complexity as miso. It leans more towards nutty and earthy with a slightly bitter undertone. However, its creamy consistency makes for a decent substitute in recipes where miso is used to set the base texture. 
This pantry staple is a good way to give your dish the umami undertone that miso is famously known for. You can add additional herbs, sauces, and spices to enrich the overall dish and give it similar qualities to the Japanese paste. 
Tips to Make the Best Miso Salmon
Miso can be a relatively foreign ingredient to western cooks, especially if you're unfamiliar with Japanese cuisine. Here are a few tips for minor adjustments you can make that will result in a better miso salmon dish:
Choose the Right Type of Miso
As mentioned above, miso has a broad spectrum of flavors suitable for different types of food. White and yellow miso go better in dressings and soups, while the darker varieties' strong taste is more suitable for glazes, marinades, and stews. 
Wipe the Marinade off Before Cooking
Miso burns pretty easily so you should wipe it off when cooking salmon with high-heat methods. As it is a marinade, the meat should already be thoroughly infused with rich flavors. If you still want a caramelized glaze, you can brush a thin layer over the fillet, but don't leave it drenched like you might with other sauces.
Thin the Miso to Avoid Lumps
Miso's thick texture means it can turn out quite lumpy when used to make soups, dressings, and sauces. You can counter this by thoroughly mixing the paste with another liquid, such as olive oil, lime juice, water, broth, etc., or simply putting it through a strainer.
What to Serve With Miso Salmon
Miso salmon recipes are generally quite flavorful and filling, so your side dish choices don't have to be too complicated. You can consider the following dishes for when you want to make a complete meal:
Regardless of what your miso salmon tastes like, a steamy bed of fluffy rice is always a suitable companion. Jasmine rice has a delicate and mildly fragrant taste that complements the savory miso quite nicely. You can also consider brown rice or cauliflower rice if you want something low-carb. 
Similar to rice, noodles are also incredibly versatile, thanks to their simplicity. You can stir-fry some egg noodles with vegetables, then top with sesame seeds. If you have other Japanese condiments on hand, you can also quickly whip up a bowl of ramen or soba noodles.
Roasted or sautéed vegetables are flavorful side dishes you can put together in a few simple steps. These veggies are infused with delectable spices and cooked to crispy perfection, making them the ideal choices to accompany your tender miso salmon. 
Miso is a marvelous condiment that offers a flavorful twist to any dish it appears in. If you're looking for new and refreshing ideas for salmon dishes, take a look at our list of Miso Salmon Recipes and get inspired.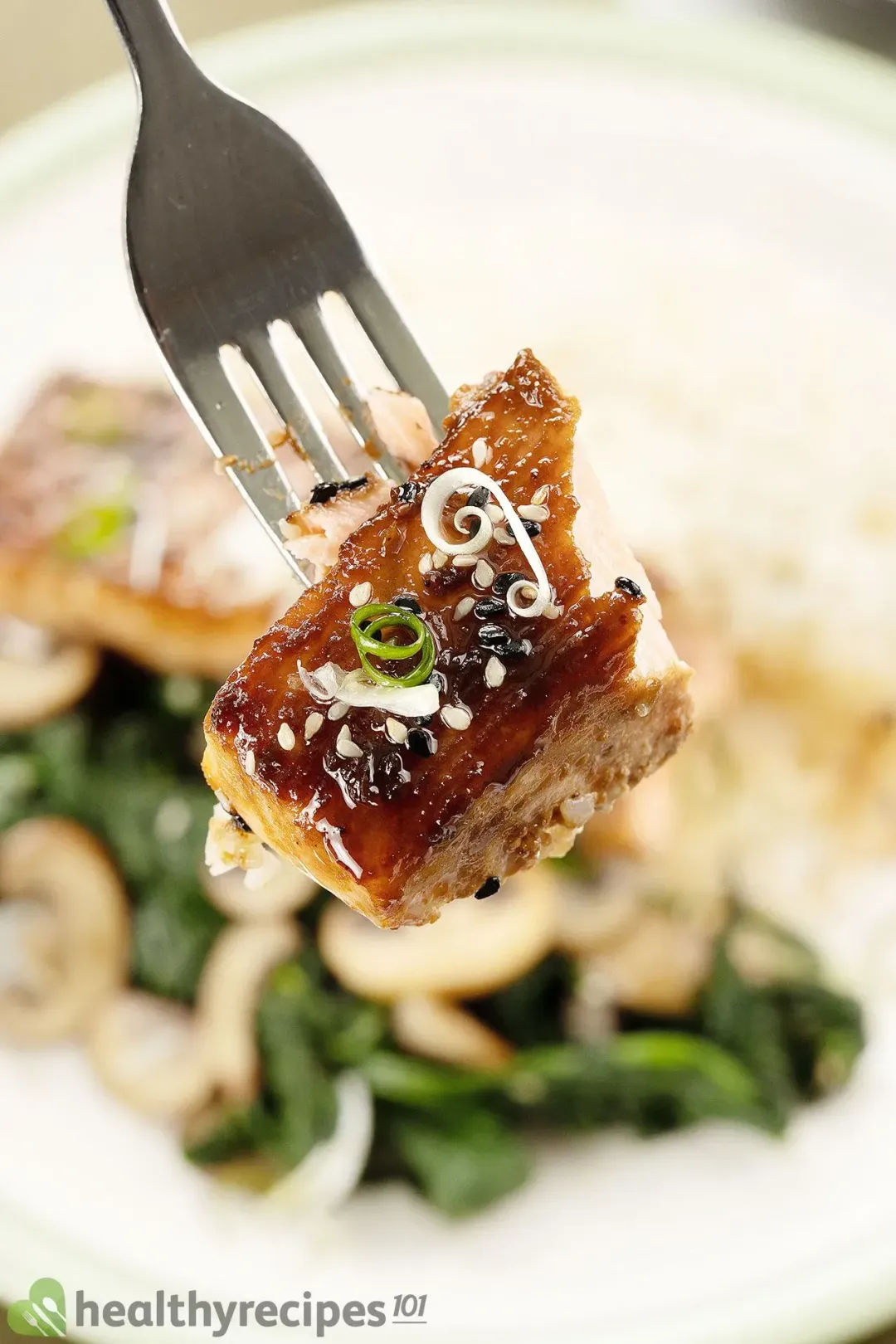 Miso Salmon Recipes
Our Miso Salmon Recipes list introduces you to complex-flavored and Japanese-inspired dishes that you can put together without a hitch.
Ingredients
Directions
Choose a recipe that you like.
Assemble all the essential ingredients.
Follow the instructions to give you incredibly tasty Miso salmon recipe in less than 40 minutes!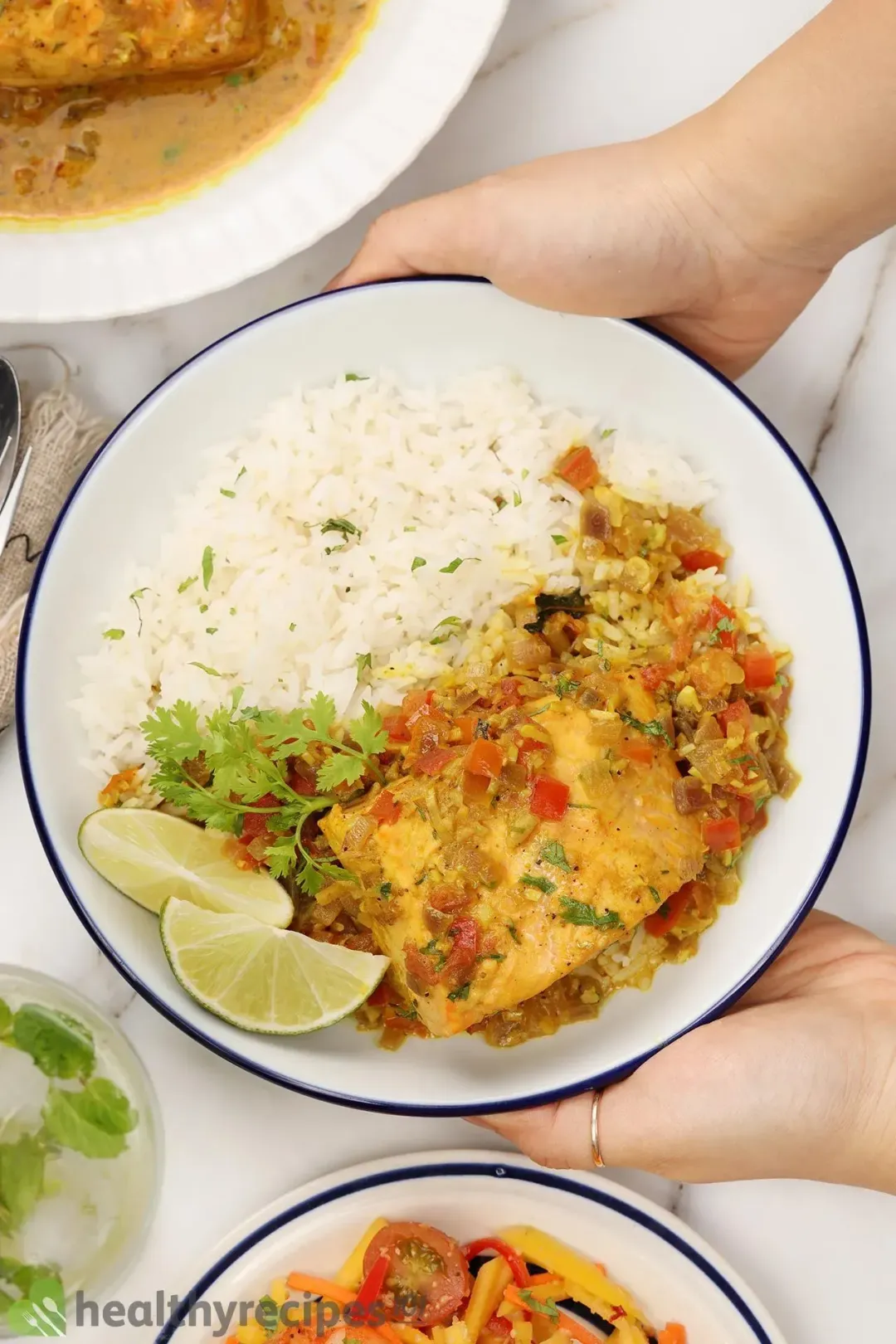 Previous Recipe
Salmon and Rice Recipes
Salmon and Rice Recipes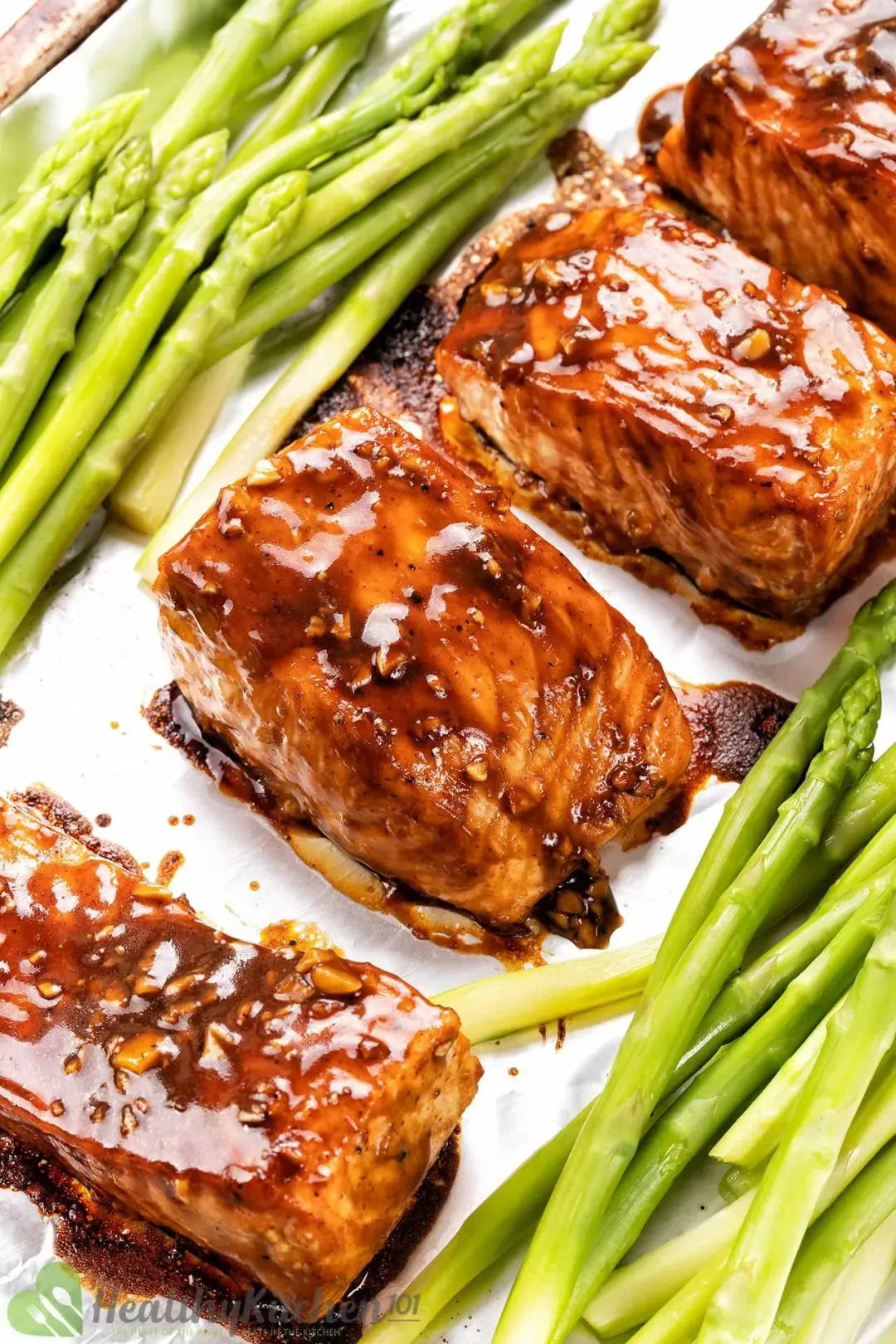 Next Recipe
Teriyaki Salmon Recipes
Teriyaki Salmon Recipes
Writer, Author
Luna Regina is an accomplished writer and author who dedicates her career to empowering home cooks and making cooking effortless for everyone. She is the founder of HealthyKitchen101.com and HealthyRecipes101.com, where she works with her team to develop easy, nutritious recipes and help aspiring cooks choose the right kitchen appliances.
Comments/ Reviews