These salmon salad recipes feature salmon cooked in all ways you can imagine.
Salads are blank canvases that you can feel free to use your creativity on. Salmon can go well with different vegetables and many types of dressing.
So what are you waiting for? Grab a mixing bowl, prepare beautiful salmon, and let's get tossing!
What Kind of Salmon Is Used for Salad?
Raw salmon is edible, and tastes delicious once you get used to its unique flavor and texture. It's rich, buttery, and melts in your mouth. Raw salmon is a very popular ingredient of poke bowls, where the fish is marinated with spices and seasoning to create a delectable salad.
Preparing and storing raw salmon correctly is important for  safety and good health. Aside from that, children, pregnant women, and people with illnesses should avoid eating raw salmon.
This is where you can let your creativity take over. If you want to enjoy the natural taste of salmon, opt for poached or steamed salmon. You can incorporate more flavors into the salmon by grilling, baking, or searing the salmon with herbs and spices. 
Smoked salmon needs no further cooking. It has the flaky and meaty texture of cooked salmon, with its signature smokiness.
Canned salmon is both a cost-effective and time-saving option. You may be reluctant to use canned products because of their sodium content, but rinsing the salmon can significantly reduce sodium levels.
Best Salmon Salad Recipes
Prepare a mixing bowl and toss up a feast with these salmon salad recipes!
1 of 2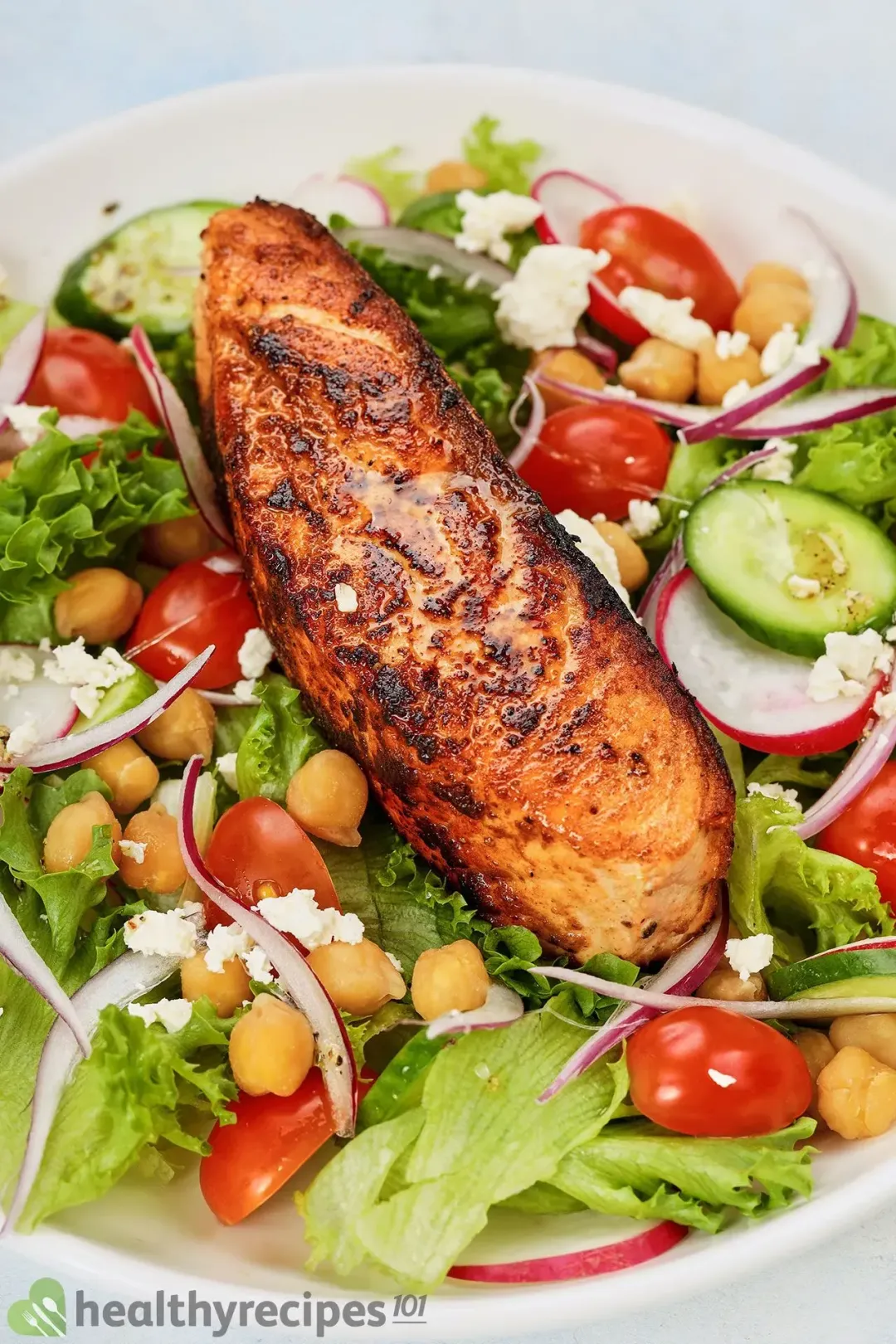 1 of 2
Salmon Salad Recipe
This Salmon Salad is so texture-rich and tasty you'll want to eat it all week long. Salmon, by itself, is easily enjoyable, and including it in a salad is a simplistic way to make its flavors shine through. Here we added lettuce, tomatoes, cucumbers, and radish to accompany salmon with crunchy textures that complement it flawlessly.
Get the
recipe
.
2 of 2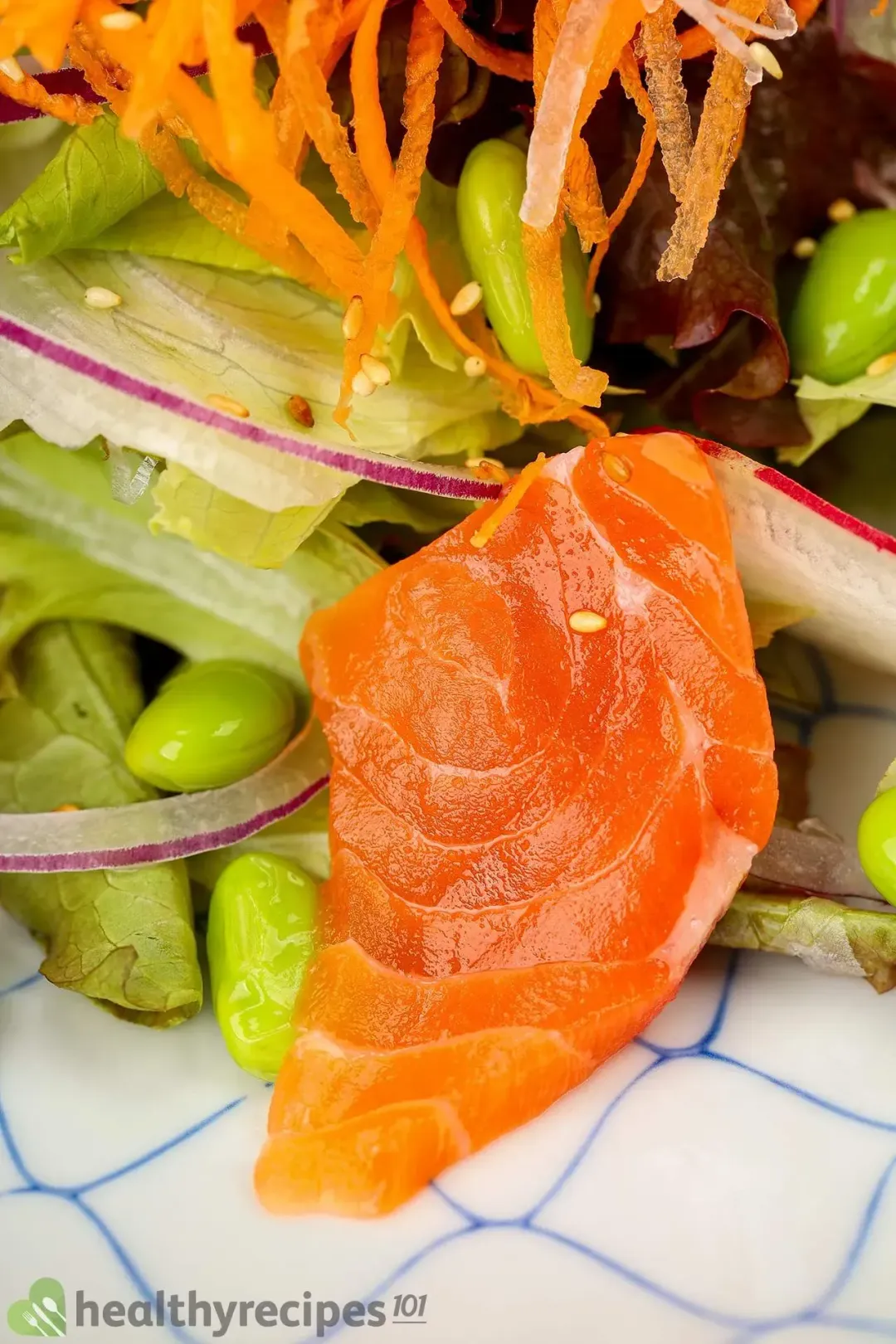 1 of 2
Japanese Salmon Salad Recipe
This Japanese salmon salad recipe features a collection of Japan's signature ingredients for a delicious meal.
Get the
recipe
.
Other Ingredients Used in a Salmon Salad
Diversity can make your dish stand out. Leafy greens like lettuce, spinach, or kale can be the base of the salad. Onions, cucumber, or asparagus add an extra crunch. Enhance the flavors of your salads with herbs like parsley, dill, or rosemary.
Seafood usually goes well with fruits because they infuse the salad with a sweet and sour taste. Some popular choices include apples, oranges, lemon, and pineapple.
Along with crunchiness and another layer of flavor, nuts offer a ton of health benefits when added to your salad.
The cheese acts as an anchor to everything else in the salad. It lends an interesting texture to the vegetables while complementing dressings with multiple layers of flavors..
Which Dressing Is Best for Salmon Salads?
Choosing the right dressing is all about its compatibility with the ingredients. 
If you want to highlight the natural taste of the salmon, dress the salad with a light and fresh vinaigrette. A creamy mayonnaise or yogurt-based dressing is the right choice if you're looking to add more texture.
How to Make Salmon Salads Taste Better
Freshness is the most important factor when preparing a salad. Choose the best quality vegetables and wash them carefully before assembling the salad.
We eat with our eyes first so try to choose ingredients of different colors and textures so that the salad is colorful and diverse.
The third rule is there are no rules. Don't hesitate to experiment with flavors and add whatever ingredients you think would go well with salmon. You may end up creating a whole new dish.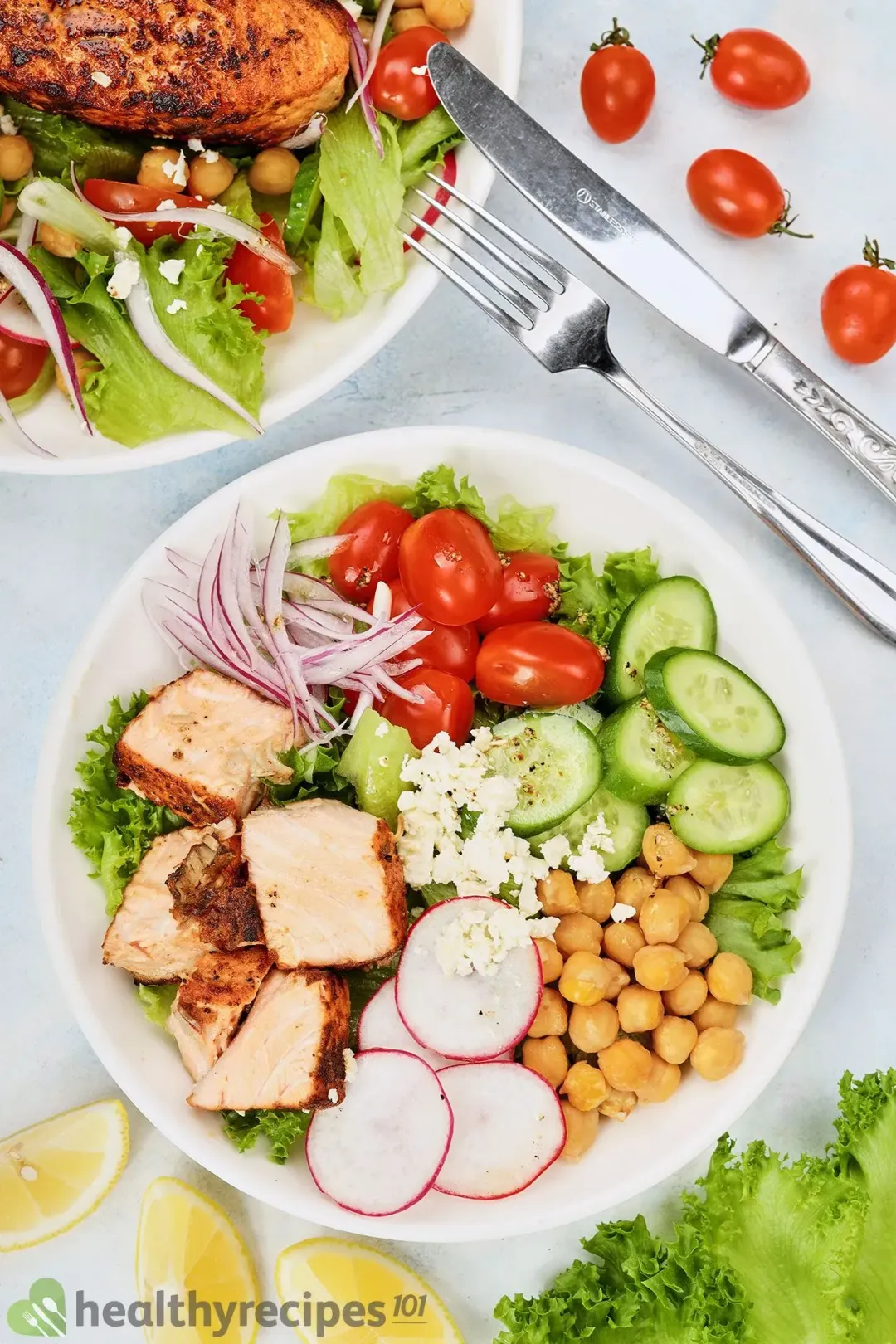 Salmon Salad Recipes
These salmon salad recipes are great go-to options if you're short on time. Pair salmon with fresh vegetables to put together a light and healthy meal.
Ingredients
Directions
Pick your favorite recipe.
Gather the ingredients.
Follow the instructions to give you incredibly tasty salmon salad dishes ready in less than 30 minutes!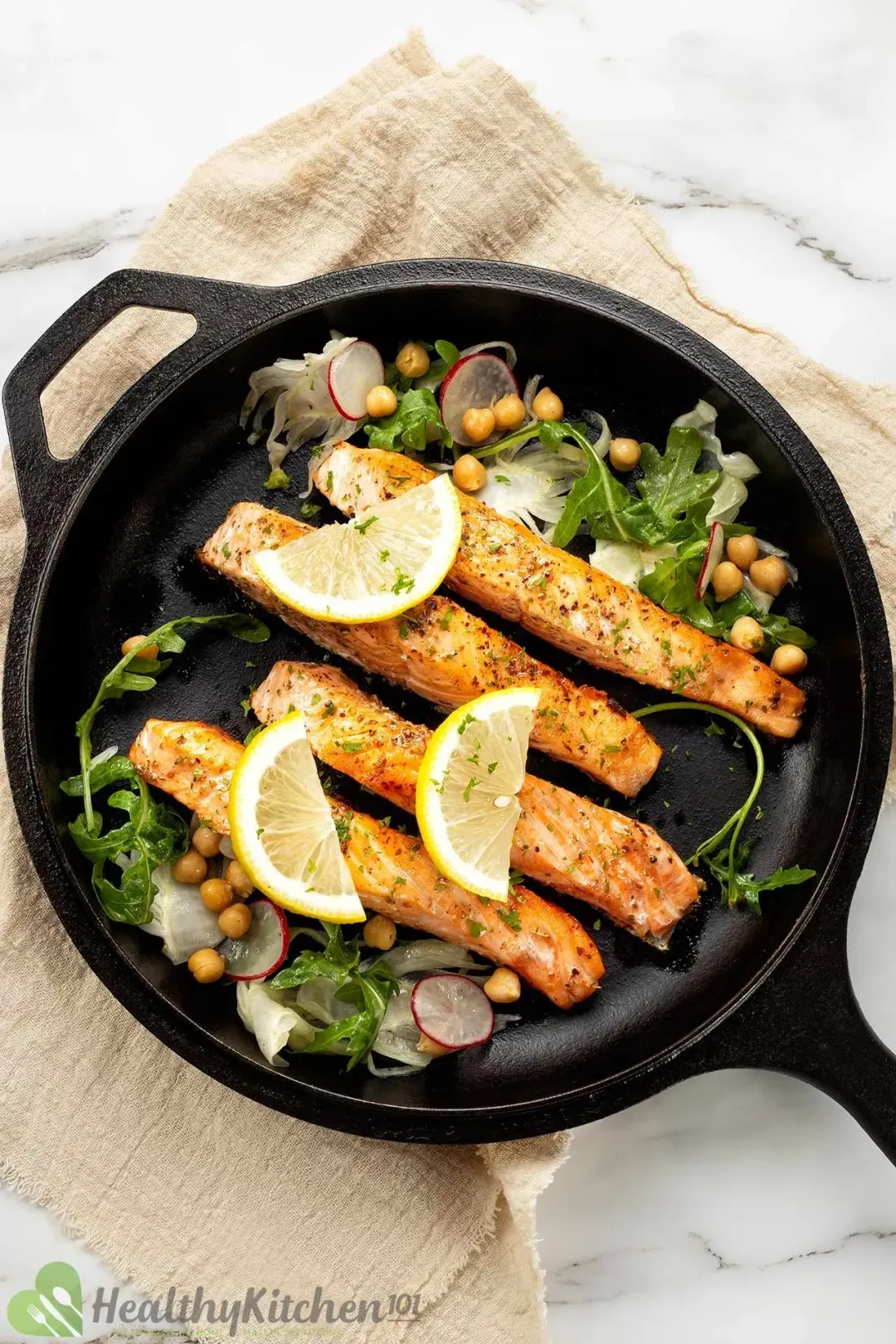 Previous Recipe
Pan Fried Salmon Recipes
Pan Fried Salmon Recipes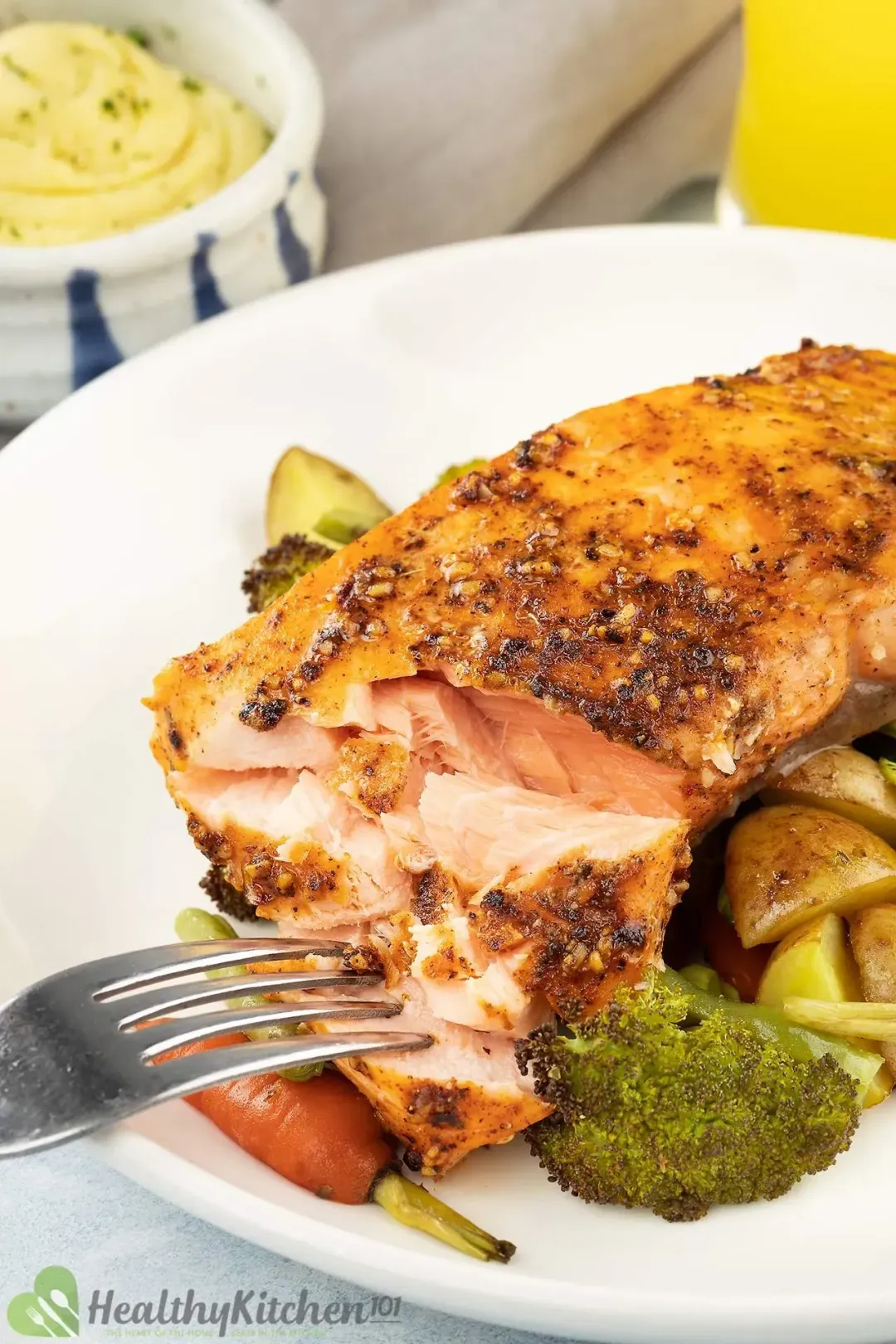 Next Recipe
Grilled Salmon Recipes
Grilled Salmon Recipes
Writer, Author
Luna Regina is an accomplished writer and author who dedicates her career to empowering home cooks and making cooking effortless for everyone. She is the founder of HealthyKitchen101.com and HealthyRecipes101.com, where she works with her team to develop easy, nutritious recipes and help aspiring cooks choose the right kitchen appliances.
Comments/ Reviews