Today's Japanese salmon salad recipe offers you a dish with Japan's finest. When you think of Japanese cuisine, sushi or sashimi may be the first food that comes to mind, and this salad features one of its most prominent ingredients.
Raw salmon is the hero of this salad, accompanied by edamame, radish, lettuce, and carrots. All these ingredients are coated with a delicious layer of creamy and nutty dressing. If you want to explore Japanese cuisine, this salad is a good starting point.
Can You Eat Raw Salmon?
The answer is yes.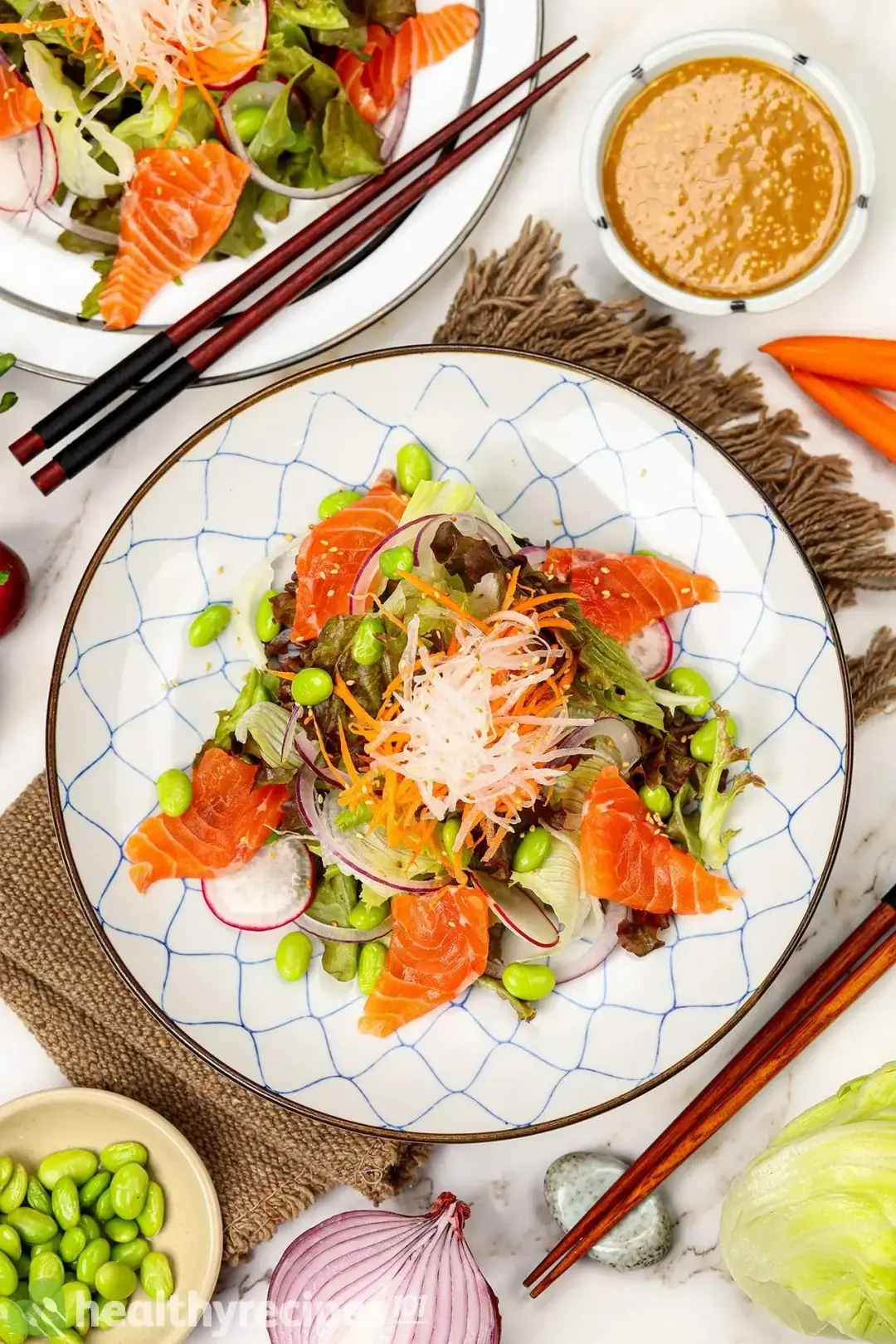 Raw salmon is a primary ingredient in world-famous dishes like sushi, sashimi, or poke bowls. The known-and-beloved sushi rolls and sushi cupcakes wouldn't be popular without the delectably soft, melt-in-the-mouth texture from raw salmon.
Despite being a common ingredient, raw salmon do carry risks, like other animal protein. You can, however, reduce those risks by storing and preparing raw salmon correctly.
Check out this roundup of ours for more salmon salad ideas.
While shopping for salmon, pay attention to the appearance, which may include bruising, discoloring, or off-odor. 
Wrap the salmon tightly and store it in the freezer to avoid cross-contamination. Thaw the fish by transferring it to the fridge and keep it refrigerated until serving.
Make sure to clean your kitchen surfaces and utensils carefully while preparing the fish. 
Lastly, pregnant women, children, older adults, and immunocompromised people should avoid eating raw fish altogether.
Is Japanese Salmon Salad Healthy?
Yes, we believe this salad is healthy.
This dish contains 211 calories in each serving, which is reasonable for an appetizer, side dish, or a light snack.
By adjusting the amount of mayonnaise and choosing the reduced-sodium version of soy sauce, we limit the saturated fat and sodium levels to 2 g and 239.1 mg, respectively.
This salad also provides you with 12.6 g of protein, thanks to salmon and edamame beans.
Aside from protein, salmon is a source of omega-3 fatty acids and vitamin B12, both may benefit different bodily functions.
Edamame is rich in folate, which may support pregnancy and fetal development.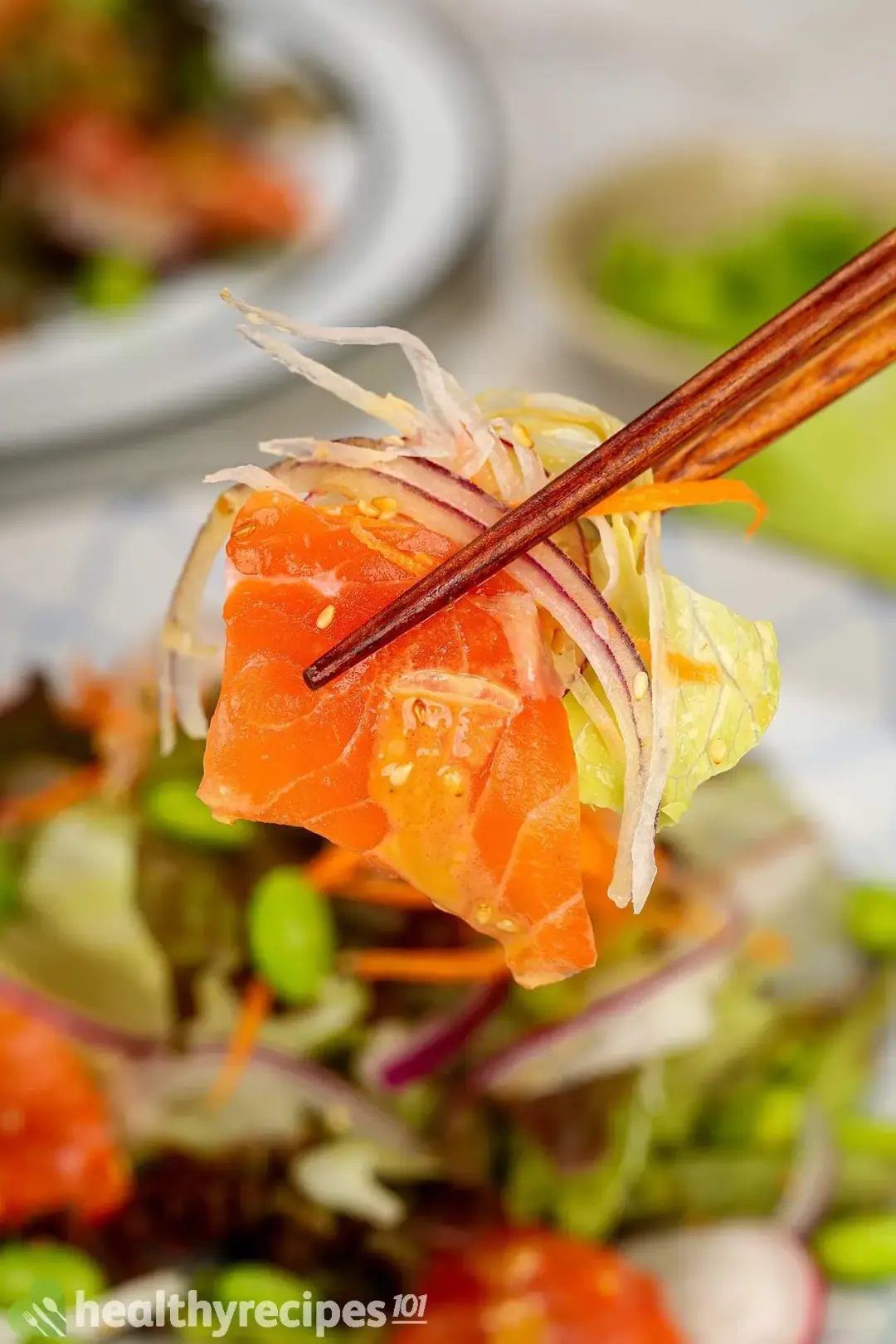 Ingredients for Japanese Salmon Salad
Raw salmon's delicate flesh simply melts in your mouth. As such, salmon's natural flavor stands out more than cooked salmon.
This is also a chance for you to show off your knife skills. Slicing raw salmon requires finesse. When you master the technique, the result will be beautiful. The trick is to use a sharp and flexible knife and slice diagonally.
Remember to keep the salmon in the fridge before slicing.
Edamame is green and young soybeans. Unlike the mature soybeans used for tofu and soy milk, edamame is soft and has tons of flavor. The texture of edamame is somewhat similar to peas but firmer, while its flavor is sweet and nutty.
The pod of edamame is inedible. For this recipe, we recommend that you buy the hulled version of edamame to save you some time.
This salad features two types of lettuce (iceberg and red leaf), two types of radish (white and red), red onion, and carrots. The textures of these vegetables contrast the buttery salmon nicely, giving this dish more diversity.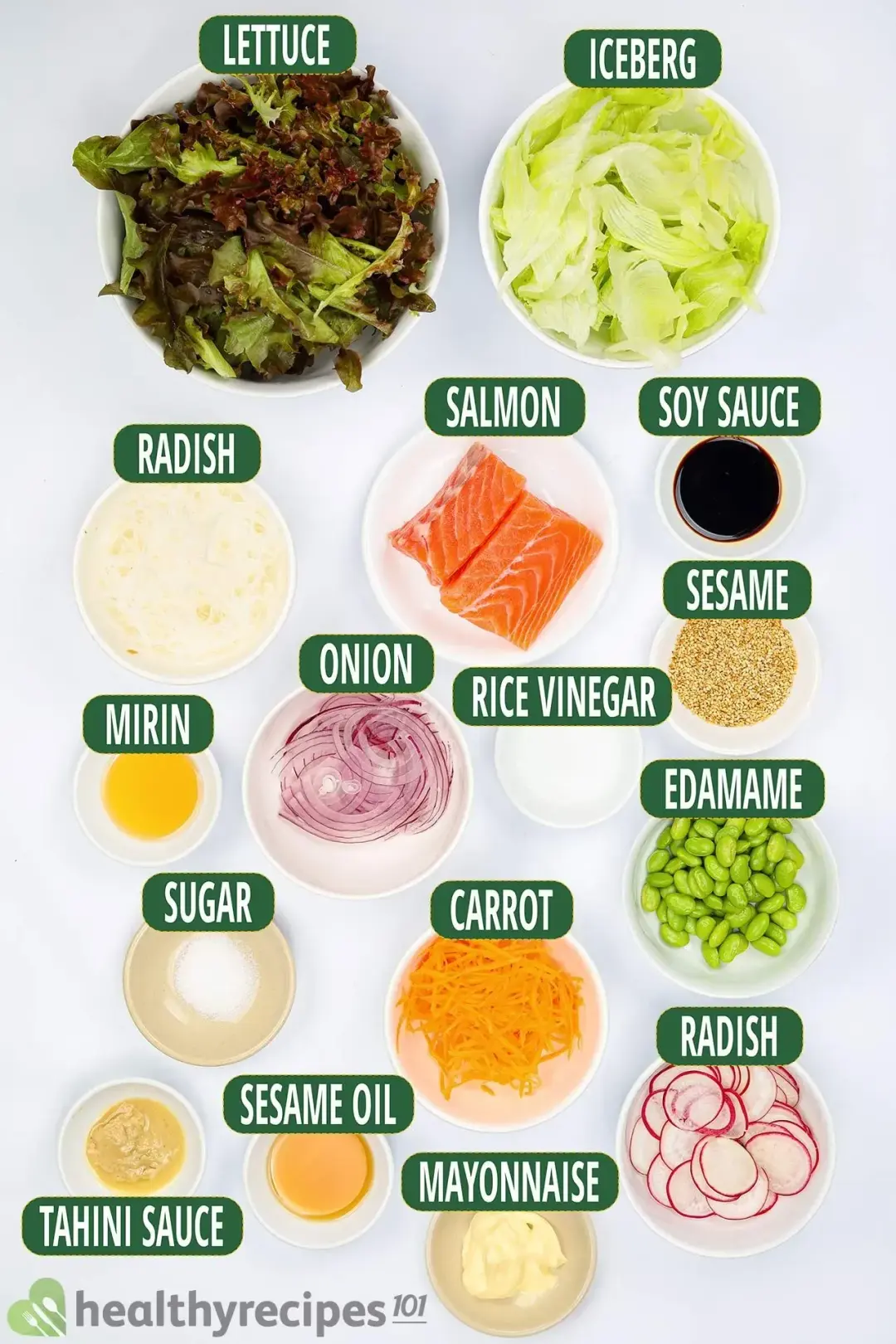 The dressing is sweet, salty, and nutty. It includes some popular ingredients in Japanese cuisine like mirin, soy sauce, sesame seeds and oil, and Japanese mayonnaise. Tahini paste seems to be the odd one out.
Tahini paste is made from sesame seeds. Its appearance resembles peanut butter, but it's not as sweet. Instead, its nutty flavor is strong and earthy.
How to Serve Japanese Salmon Salad
This Japanese salmon salad makes a great start to any meal. 
You can serve it as an appetizer or alongside some rice or noodle dishes. Doubling down on the Japanese theme is also an option, gyudon (Japanese beef rice bowl) or teriyaki chicken both work well with this salad.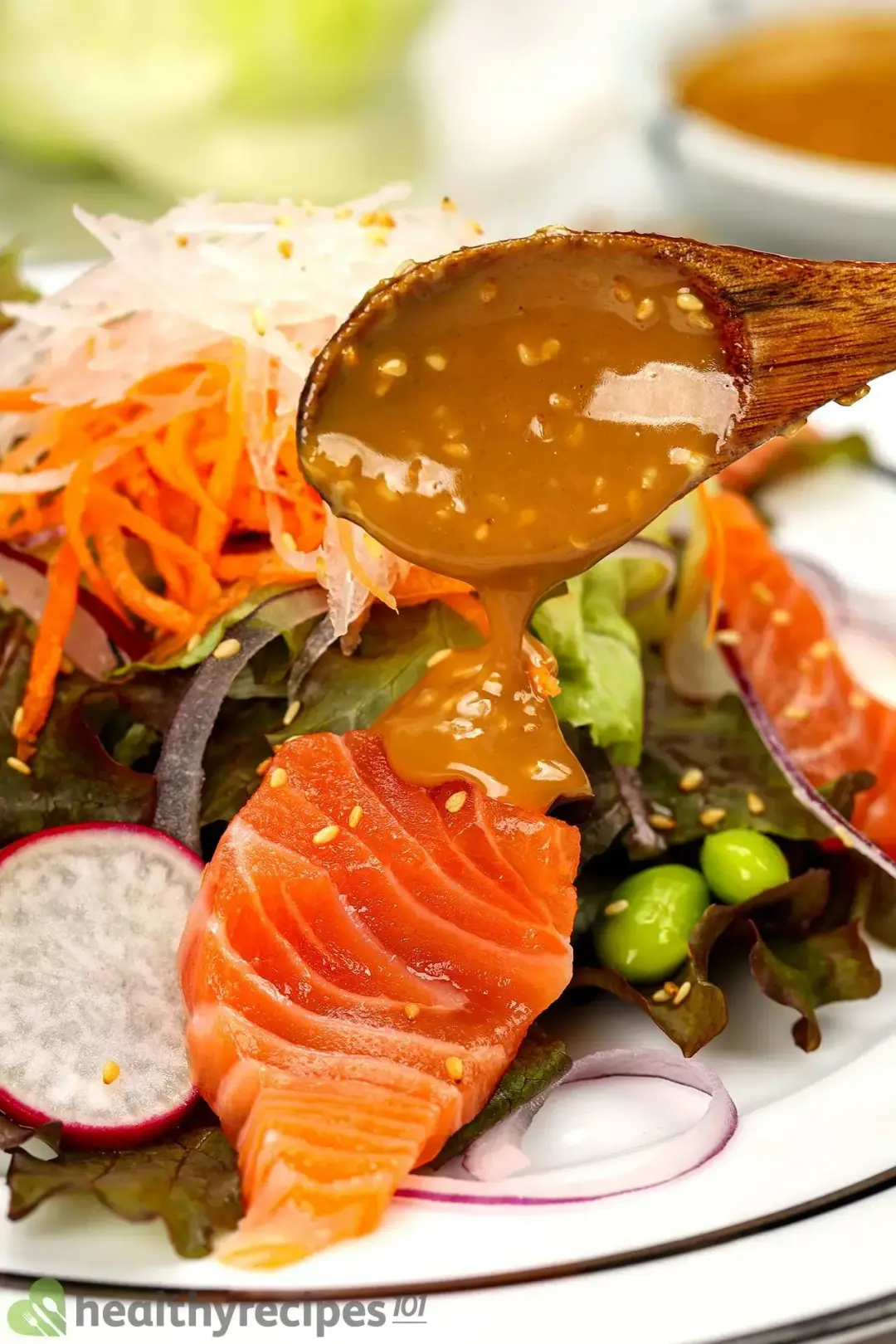 How to Store Leftovers
You can store this salad in the fridge. However, since the dish contains raw salmon, we recommend that the leftovers be eaten within the day.
Salads shouldn't be frozen to avoid losing the texture of the vegetables. Besides, the mayonnaise-based dressing cannot be thawed as it will break.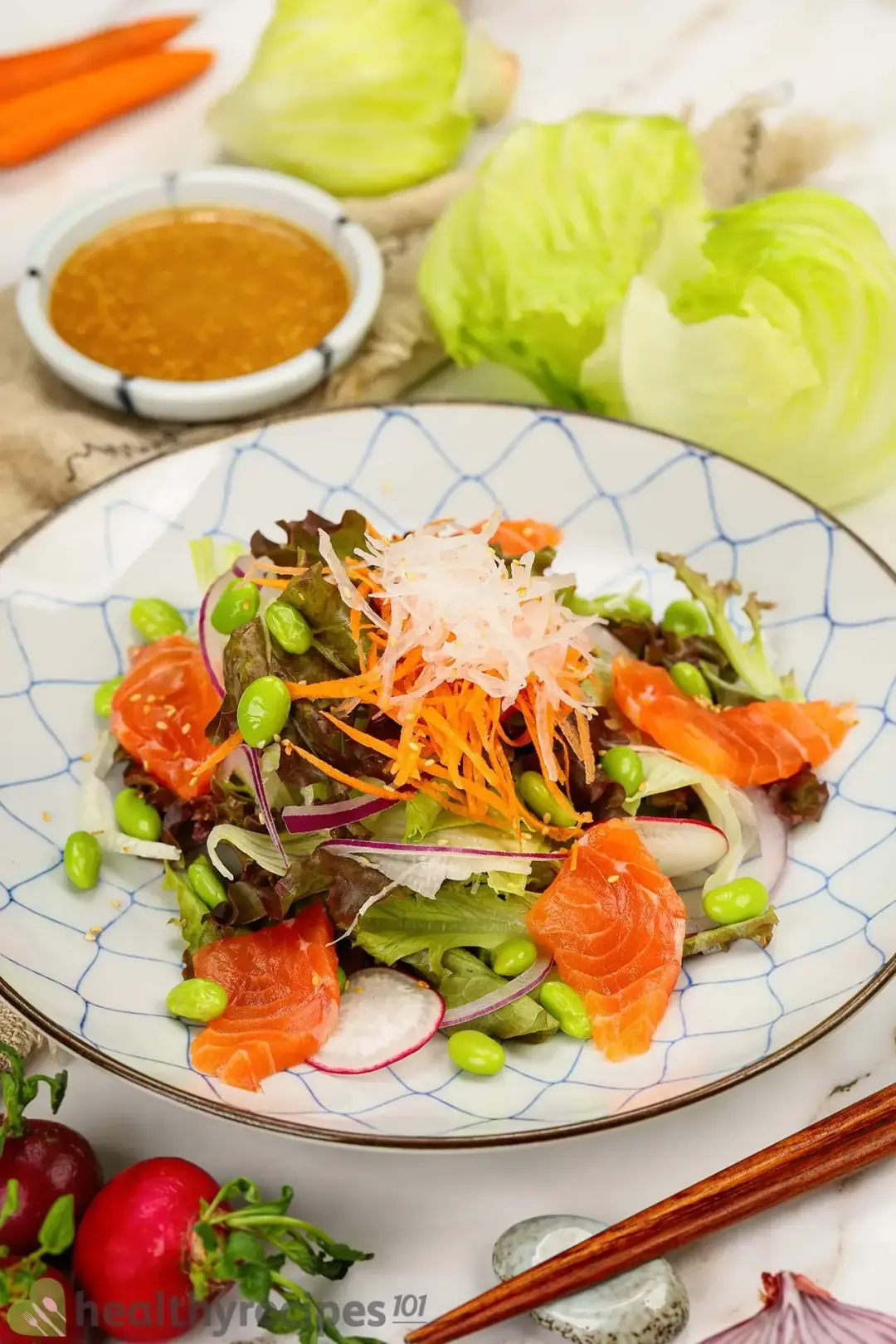 How to Make Japanese Salmon Salad
This Japanese salmon salad recipe features a collection of Japan's signature ingredients that can give you a delicious meal.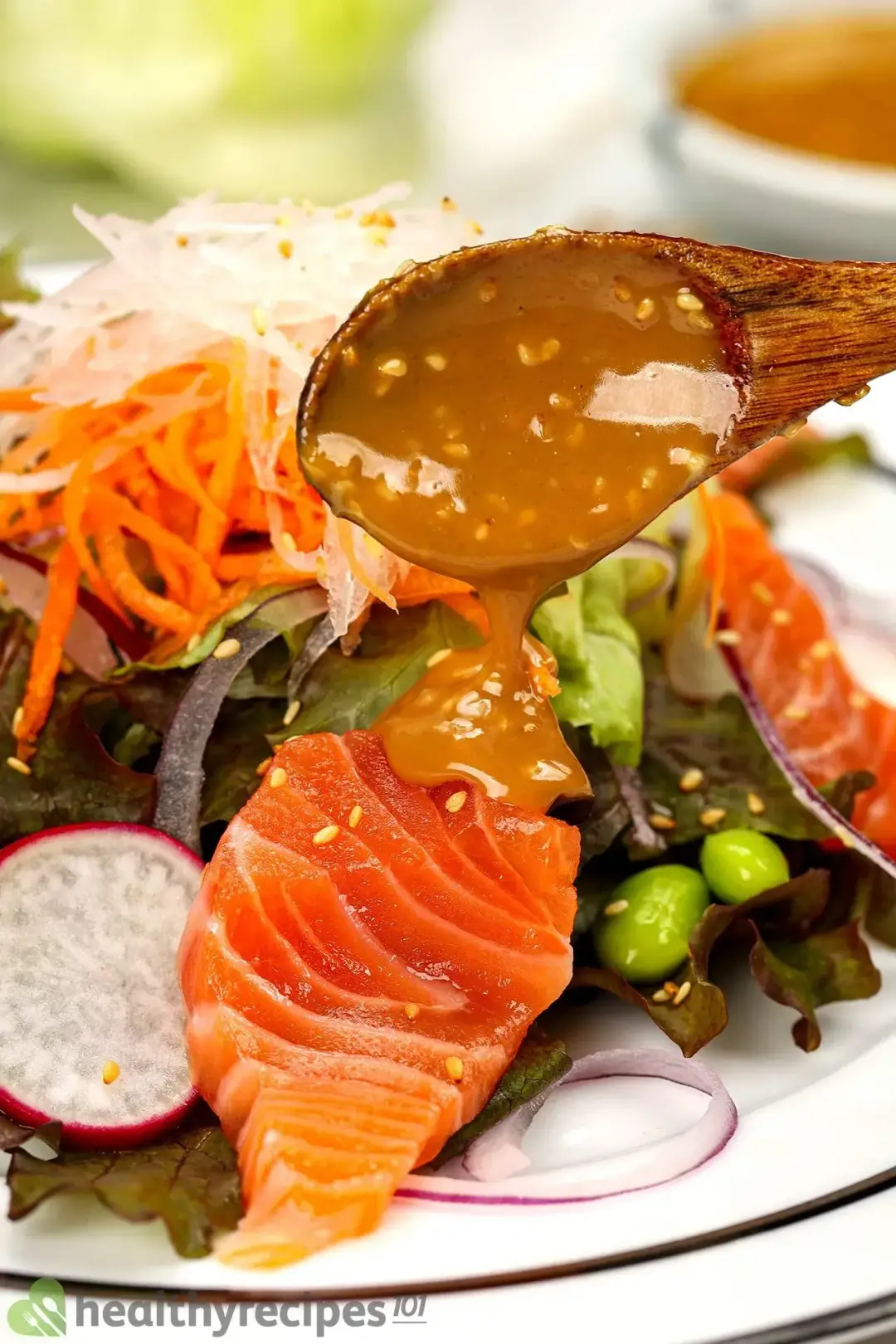 cook TIME

10 mins

prep TIME

12 mins

total TIME

22 mins
COURSE

Side Dish

CUISINE

Japanese

SERVINGS

servings

CALORIES

211 kcal
INGREDIENTS
6 oz

skinless boneless salmon

2 oz

red leaf lettuce

2 oz

iceberg lettuce

2 oz

edamame beans

1 oz

carrot julienned

1 oz

white radish julienned

1 oz

red onion julienned

1 oz

radish sliced

1 tbsp

rice vinegar

1 tbsp

sesame oil

1 tbsp

cooking mirin

1 tbsp

Tahini paste

1.5 tbsp

Japanese mayonnaise

1 tbsp

reduced-sodium soy sauce

2 tbsp

unsalted roasted sesame seeds

1 tsp

sugar
INSTRUCTIONS
1
Make the dressing: Mix 1 tbsp rice vinegar, 1/2 tbsp sesame seeds, 1 tsp sugar, 1 tbsp sesame oil, 1 tbsp cooking mirin, 1 tbsp Tahini paste, 1 1/2 Japanese mayonnaise, and 1 tbsp soy sauce.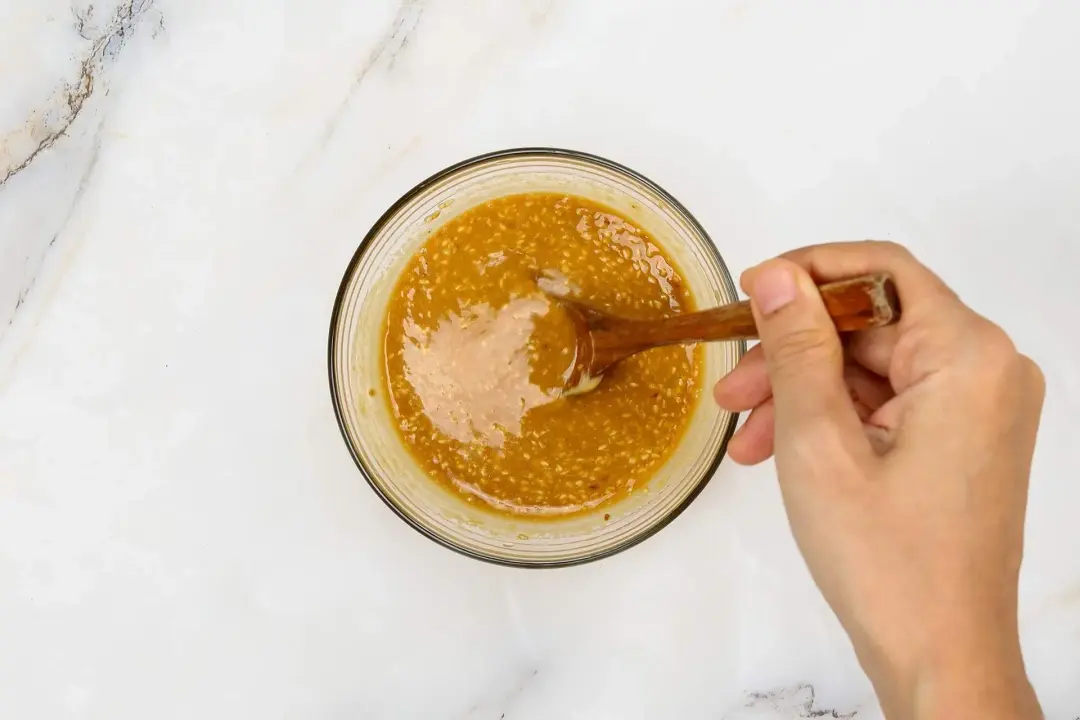 2
Slice the salmon (make sure to keep salmon in the fridge before slicing)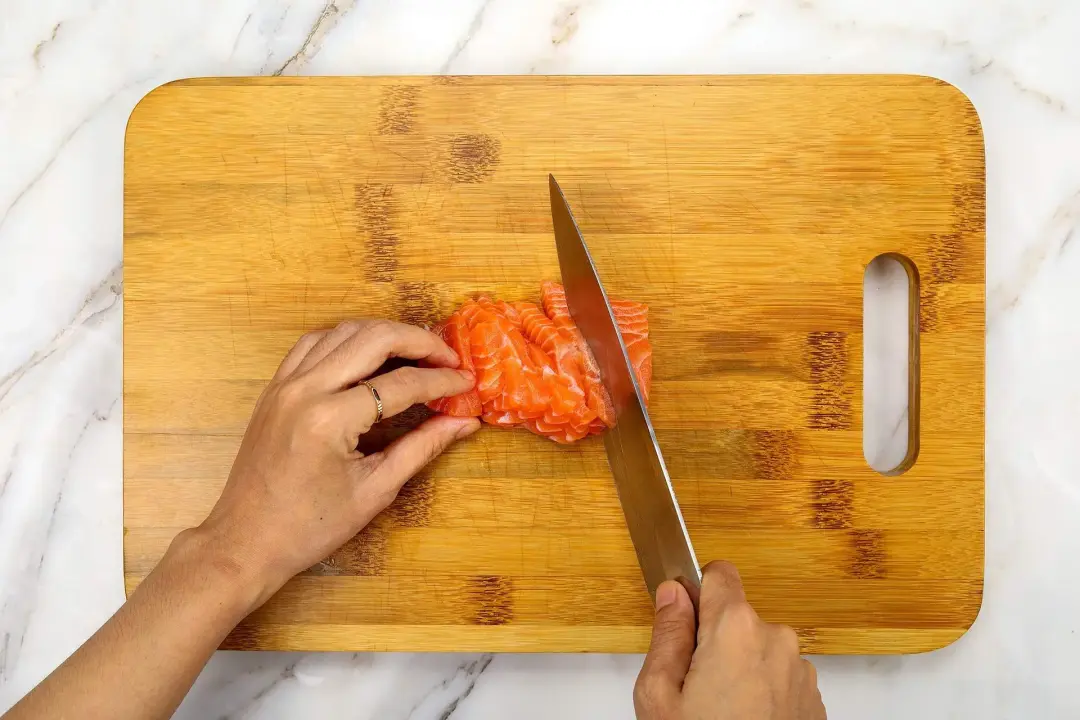 3
Add 2 oz red leaf lettuce, 2 oz iceberg lettuce, 1 oz red onion, 2 oz edamame beans, 1 oz radish, 1 oz white radish, 1 oz carrot, 1 1/2 tbsp sesame seeds, and 6 oz salmon. Mix carefully.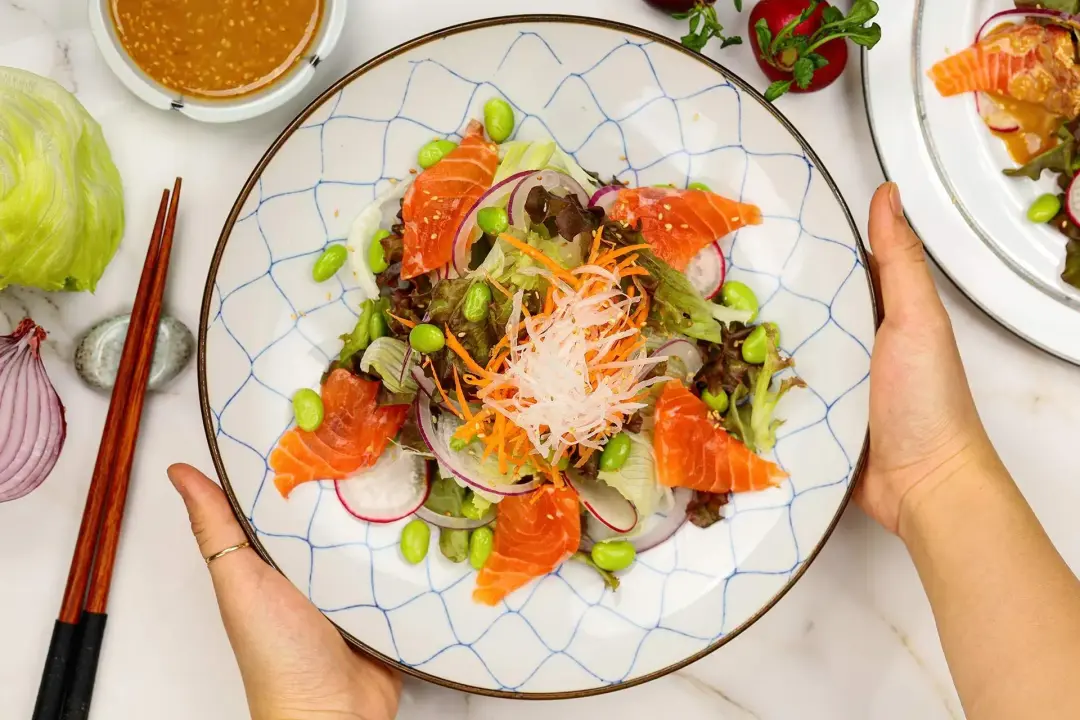 NUTRITION
Nutrition Facts
How to Make Japanese Salmon Salad
Amount Per Serving (1 serving)
Calories 211
Calories from FDA
% Daily Value*
* Percent Daily Values are based on a 2000 calorie diet.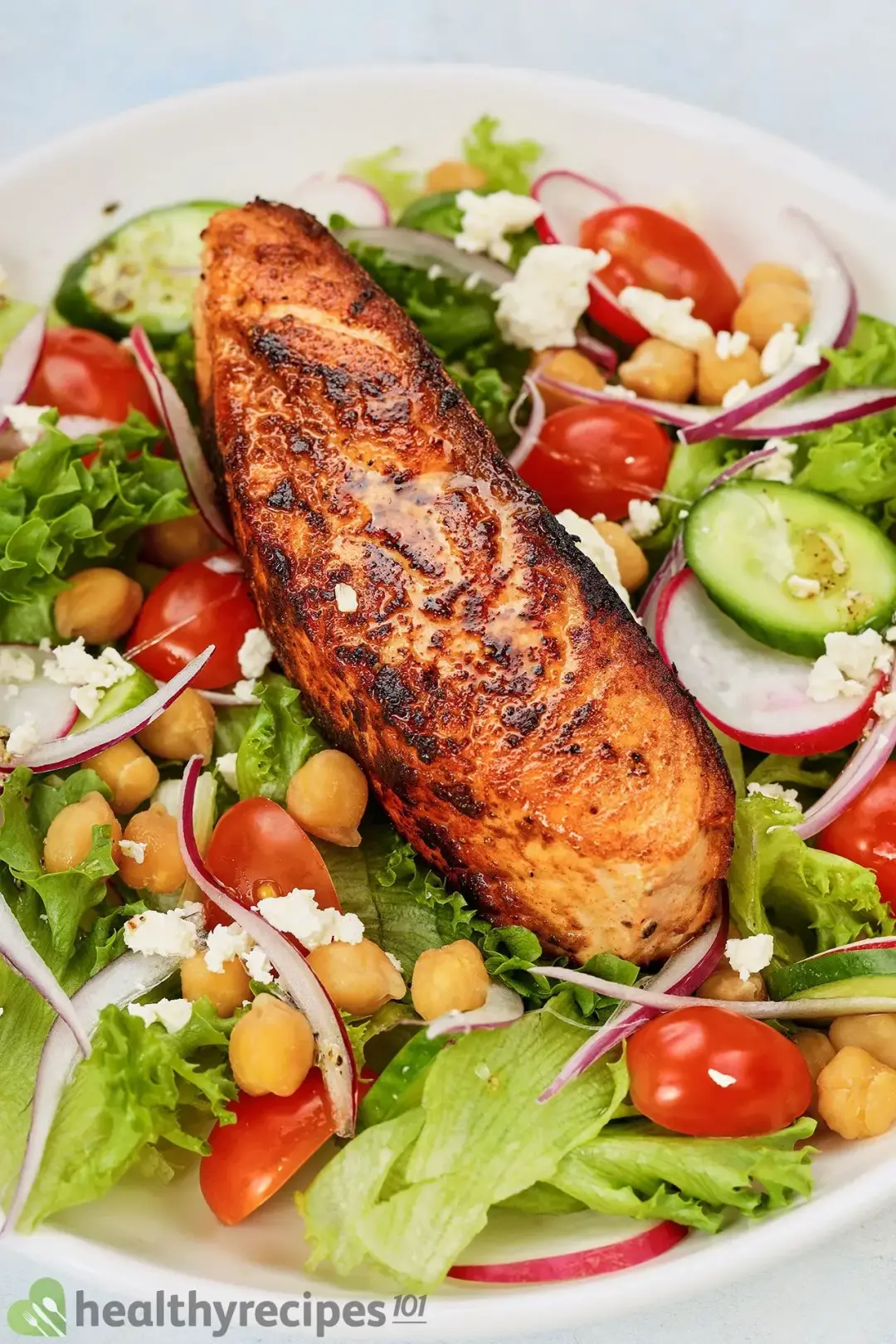 Previous Recipe
Salmon Salad
Salmon Salad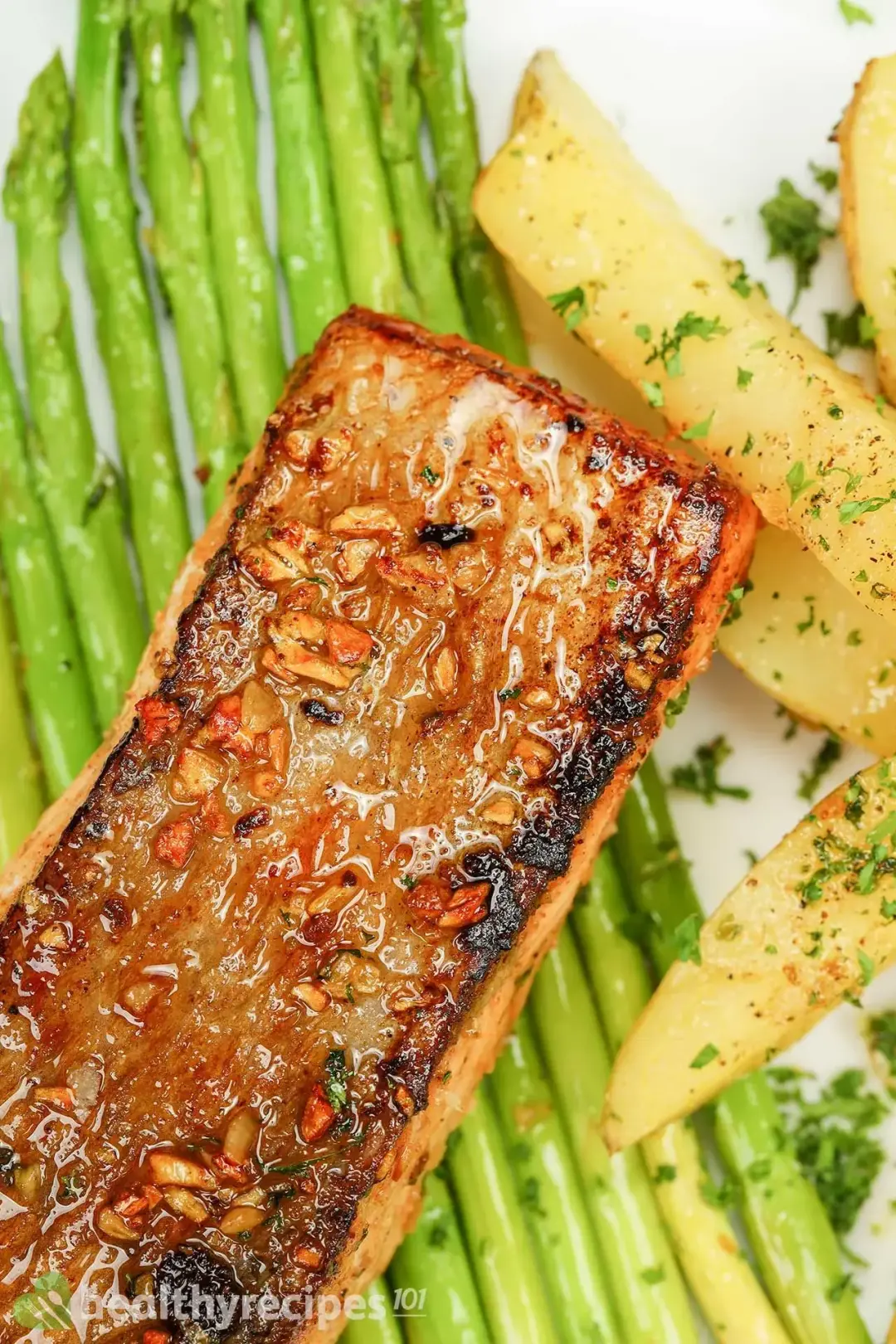 Next Recipe
Garlic Butter Salmon
Garlic Butter Salmon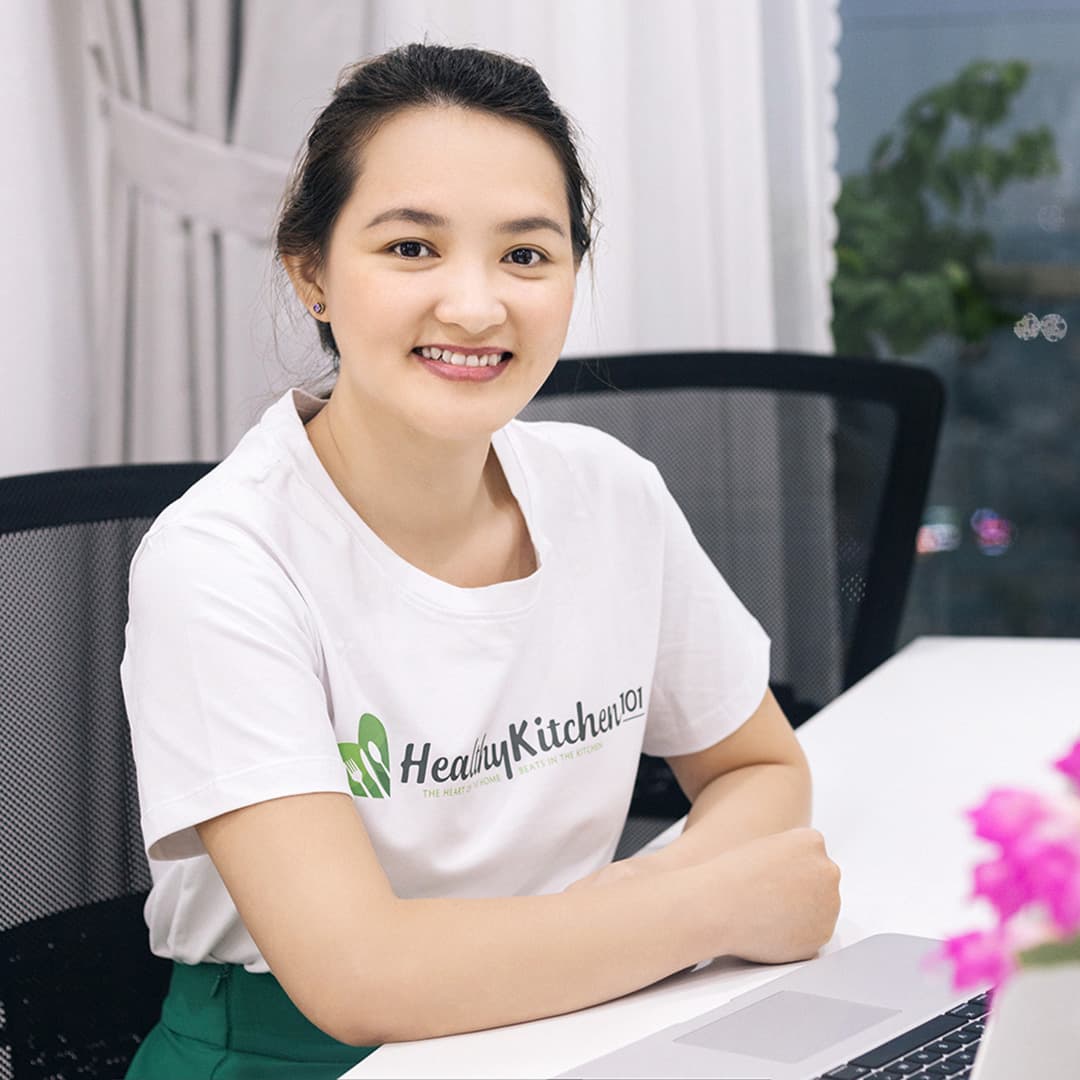 Luna Regina
A writer and entrepreneur, Luna's day doesn't start at the computer keyboard, but in the kitchen.
Half of her working hours are spent on mixing ingredients for her recipes. The other half involve working with the tech team to research and test the tools and appliances that promise to make kitchen work effortless and mess-free. From a kitchen knife or water filter to the Instant Pot, if it can help save time and effort for the home cook, Luna and her team are on it.
Luna's extracurricular pastimes include camping, travel, and photography.
Comments/ Reviews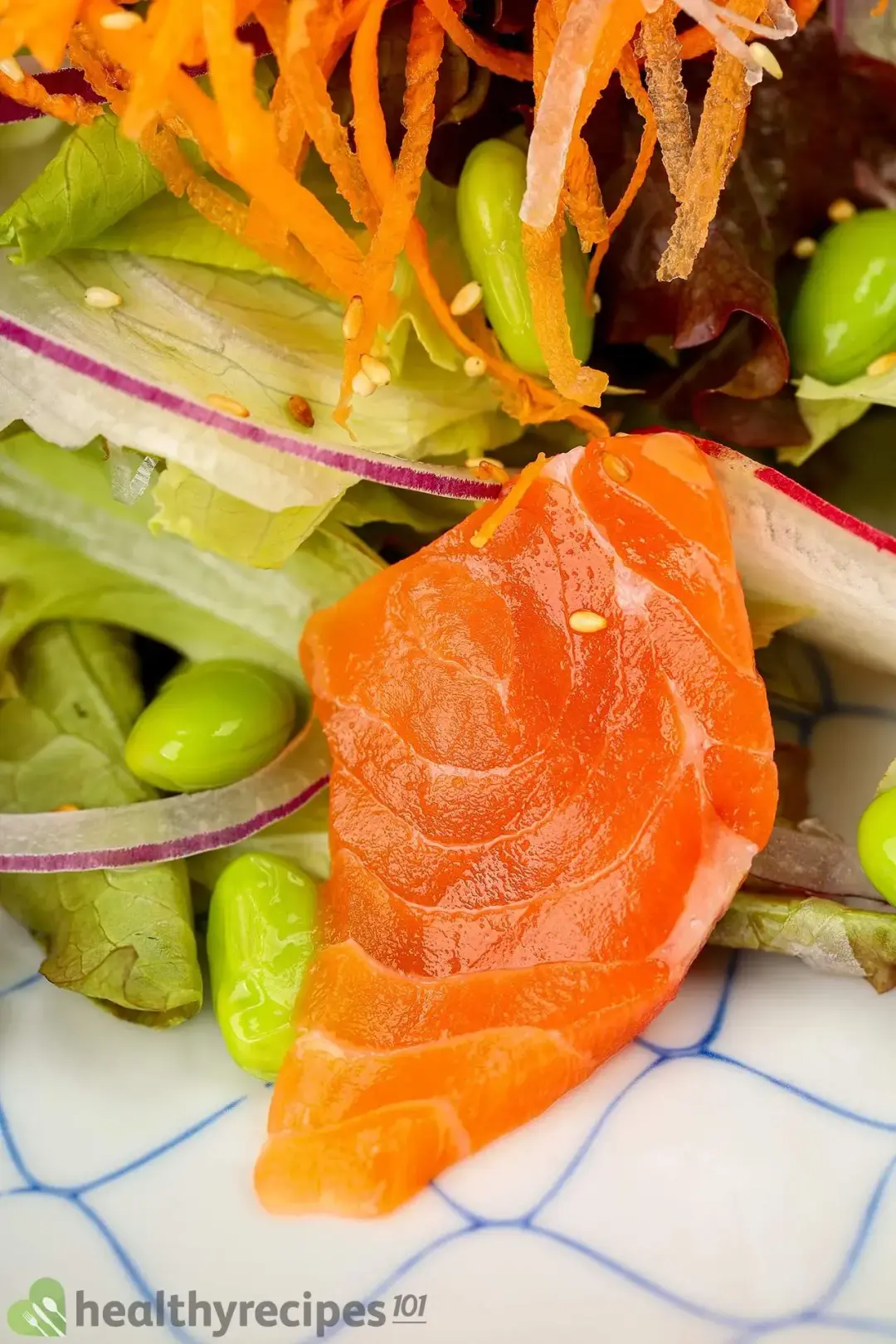 Japanese Salmon Salad Recipe