For those pursuing a healthy lifestyle but still want to enjoy that classic crispy, savory taste of fried shrimp, our air fryer shrimp recipes are for you. With the magic of the air fryer, you can indulge in all the mouthwatering goodness, but without the excess oil. Plus, it makes the cooking process 10 times easier and quicker, so whether you're new to cooking or have been doing it for years, you won't have any trouble whipping up crispy, golden shrimp in a blink of an eye!
Why We Love Air Fryer Shrimp
Shrimp has an impressive nutrition-dense profile and versatility that makes it a stellar main ingredient for salads, soups, stews, fried dishes, and more. However, most healthy eaters skip the last option as fried food has been proven to bring various health risks. Yet, we believe consuming fried shrimp in moderation and opting for a suitable frying technique – using an air-fryer – will solve this problem. Here are reasons why air fryer shrimp work wonders.
They're a healthier substitution for deep-fried shrimp: Unlike the deep-frying method that submerges your shrimp in tons of cooking oil, the air fryer needs considerably little to no added fat. Using hot circulating air to cook, your shrimp will come out crispy and delicious just the same.
They're easy and quick: With no preheating required and a hands-off cooking process, all you have to do is place your battered shrimp in the fryer and wait some minutes for a perfectly golden brown shrimp dish.
They require less cleaning than deep-frying: While the deep-fryer may leave you with a messy kitchen and greasy utensils, the air-fryer doesn't. You can take the frying basket out and clean it easily with warm soapy water.
Best Air Fryer Shrimp Recipes
Now that you learned all the tricks, let's put them into practice with our top-grade air fryer shrimp recipes. Also don't forget to check out our collection of Shrimp Salad Recipes and Baked Shrimp Recipes for more easy, healthy, and unbelievably tasty shrimp dishes to make for dinner, lunch, and anytime you need a good meal to fill your stomach.
1. Air Fryer Shrimp With Mayo Sauce
Is there anything better than biting plump, tender shrimp with a crispy exterior? We can hardly think of an answer. 
Made in the air fryer, these shrimp offer the same golden, irresistible qualities of regular fried shrimp, but require only one tablespoon of oil and 10 minutes of wait time. You can serve them as an appetizer alongside the delectable mayo-ketchup dipping sauce, or add them to tacos, salads, pasta, etc. to make a hearty, satisfying main course. Either way, it's a great treat guaranteed.
Go to Recipe
2. Air Fryer Coconut Shrimp
For those who love that crispy, crack-in-your-mouth quality of deep-fried shrimp, these air fryer coconut shrimp are worth a try. Coated in breadcrumbs and coconut flakes, their exterior is an absolute joy to bite into. Even better, the insides remain plump and tender, creating a striking but undeniably magical contrast that's impossible to miss out on.
Go to Recipe
3. Air Fryer Honey Garlic Shrimp
Sweet, savory, and garlicky, these honey garlic shrimp bring a party of flavors right onto your taste buds. Serve them over white rice with a side of bok choy or wrap them in a tortilla alongside a few other veggies and you've got a toothsome meal to delight everyone in less than 30 minutes.
Go to Recipe
4. Air Fryer Cajun Shrimp
There's no denying Cajun's extraordinary ability to instantly elevate a dish's flavors. With this recipe, it infuses the shrimp with a gentle warmth from the smoky, spicy flavor notes. There's also a touch of lemon juice to impart that zesty brightness. Should you find yourself in need of a quick but flavorful and impressive dish to carry the meal, this is the one to go for.
Go to Recipe
5. Air Fryer Bang Bang Shrimp
Brace yourself for a whirlwind of flavors with these glossy, luscious, and tender-crisp bang bang shrimp. The shrimp is coated in panko breadcrumbs, air-fried to golden perfection, and coated in a sweet, subtly spicy bang bang sauce. It's unfailingly addictive and no matter how many times you eat it, it tastes just as good as the first one. There'll be no need for ordering take-outs when you've got this healthier version cooking up in the kitchen.
Go to Recipe
6. Vermouth Air Fried Shrimp
This is a two-step recipe that you can make in a blink of an eye but still yield out-of-this-world results. Marinated in vermouth, soy sauce, garlic, and ginger, these shrimp are exceptionally complex in flavor, with umami, subtly spicy, and light herbal notes intertwining seamlessly together. Serve this at your next get-together and leave everyone in awe for the rest of the night.
Go to Recipe
7. Air Fryer Mexican Shrimp
Cumin, chili powder, paprika, garlic powder, and oregano give these shrimp a kick of heat and aromatic undertones that will knock your socks off from the very first bite. Flavorful and magical, they go so well with a great variety of dishes. You can serve them on their own with a dipping sauce, over a side of white rice, top them off over salads, or stuff them into tacos. Whatever it is, it's a satisfying meal guaranteed.
Go to Recipe
8. Air Fryer Lemon Pepper Shrimp
Plump, succulent shrimp coated in crispy breadcrumb and flavored with lemon, pepper, paprika, and garlic powder? Sign us up! Even better, they're served with a sweet-spicy cocktail sauce that completely elevates their flavors to brand-new heights. 
Go to Recipe
9. Air Fryer Garlic Sriracha Shrimp
Coated in spicy Sriracha seasonings and peppery garlic then air-fried to perfection, these shrimp are the epitome of flavors. Serve them with a squeeze of lemon and ranch sauce for a heart-stealing, crowd-pleasing appetizer at your next party, or add them to any of your usual main courses for a fun twist that instantly makes them taste brand-new.
Go to Recipe
10. Air Fryer Hibachi Shrimp
This recipe brings a Japanese twist to air fryer shrimp by mixing them with classic Asian condiments like soy sauce and sesame oil. The shrimp are air-fried alongside zucchini and mushrooms, then served with a Yum Yum dipping sauce that's delectably flavorful. For those who love Japanese food and looking to branch out beyond the usual sushi and ramen, this recipe might be worth a try.
Go to Recipe
We hope our list of air fryer shrimp recipes has fulfilled your fried food dreams most healthily. Don't hesitate to try out these ideas and share your thoughts with us.
Tips for the Best Air Fryer Shrimp
There is a thin line between well-done shrimp and overcooked ones. We have some tips to ensure your fried shrimp are at their finest every single time.
What Shrimp Should You Use?
When cooking with this shellfish, size is a crucial element to take into account. Whereas small-sized shrimp are great for tossing in salads or simmering in soups, medium to large-sized ones are ideal for frying.
How Long to Cook Shrimp in the Air Fryer?
The cooking time varies depending on the type of shrimp you use. You can air fry unthawed pre-cooked shrimp for 6-8 minutes, sprinkle on some salt and pepper, garnish with herbs, and enjoy. Raw shrimp needs more time so you should air fry them at 370℉ for 10-12 minutes.
Can You Use Foil in Air Fryer Shrimp?
Though - technically - you can wrap your shrimp in aluminum foil and place them in the air fryer basket, it's not advisable for air-fryer beginners. In the worst scenario, the foil may get stuck in the heating element and catch fire. Still, if you want less cleanup, lining the basket with parchment paper will do.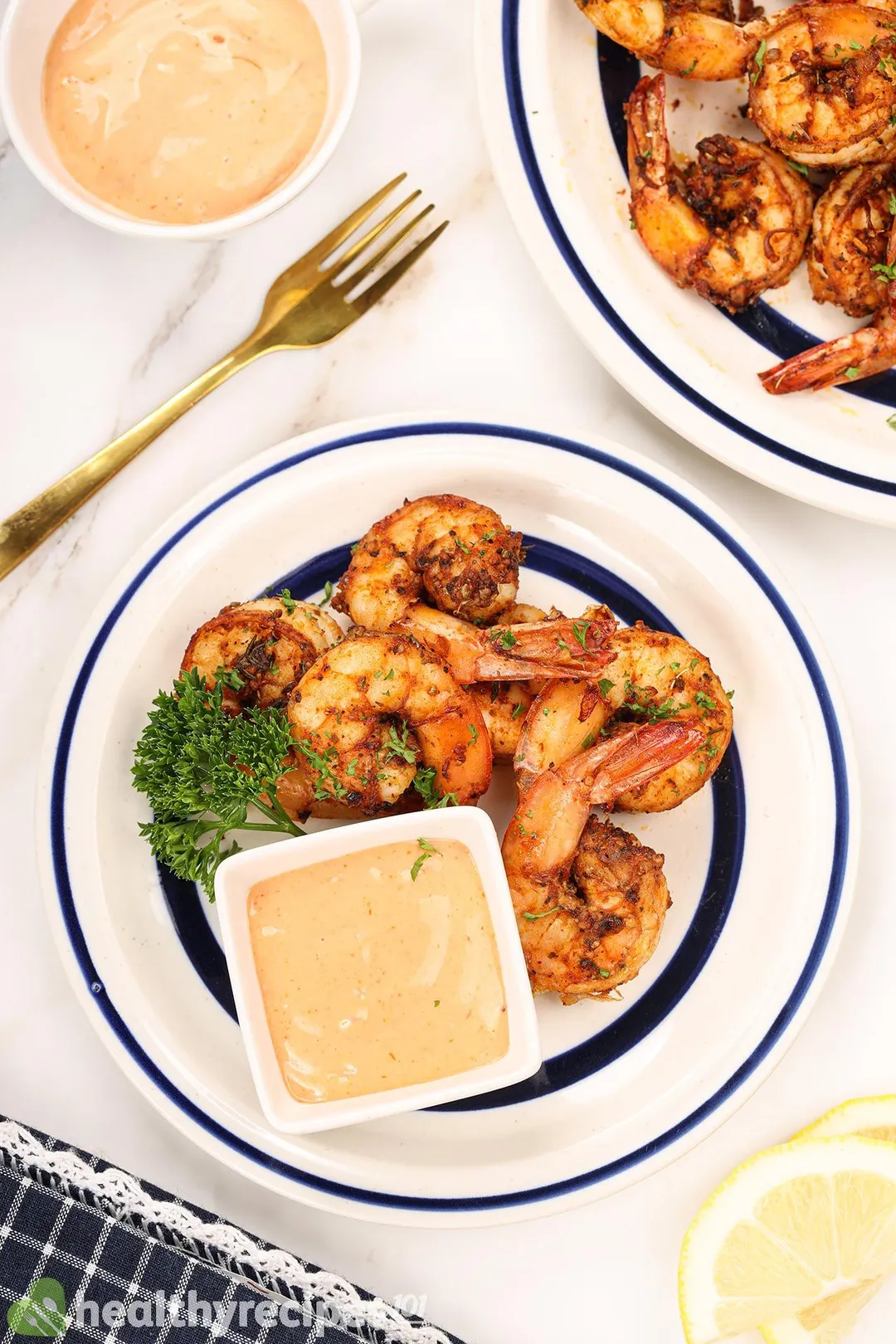 What Can You Coat Shrimp With for Air Frying?
Have you ever wondered why we have to coat shrimp before frying? The answer is straightforward – for that extra layer of crispiness in each bite and delightful textural contrast with the soft, tender meat inside. Here are the three most popular coatings to use:
Cornstarch/ All-purpose flour: Using flour to coat fried food is not a novel idea, but the final product looks and tastes surprisingly delicious – tender shrimp with crackly, barely-there coating.
Panko breadcrumbs: Breadcrumbs help retain the moisture of the shrimp during the air-frying process while adding a more noticeable crispy texture.
Coconut-panko breading: This provides our air-fried shrimp with both texture and flavor – crispiness and creaminess from the desiccated coconut.
How to Keep Air Fryer Shrimp Warm and Crispy Longer?
For those who make multiple batches, you may be interested to know an efficient way to maintain the crispiness of your air-fried shrimp. Place your freshly-cooked shrimp separately onto a cooling rack lined with baking paper. Keep them warm in a low-temperature oven while frying the rest of your shrimp.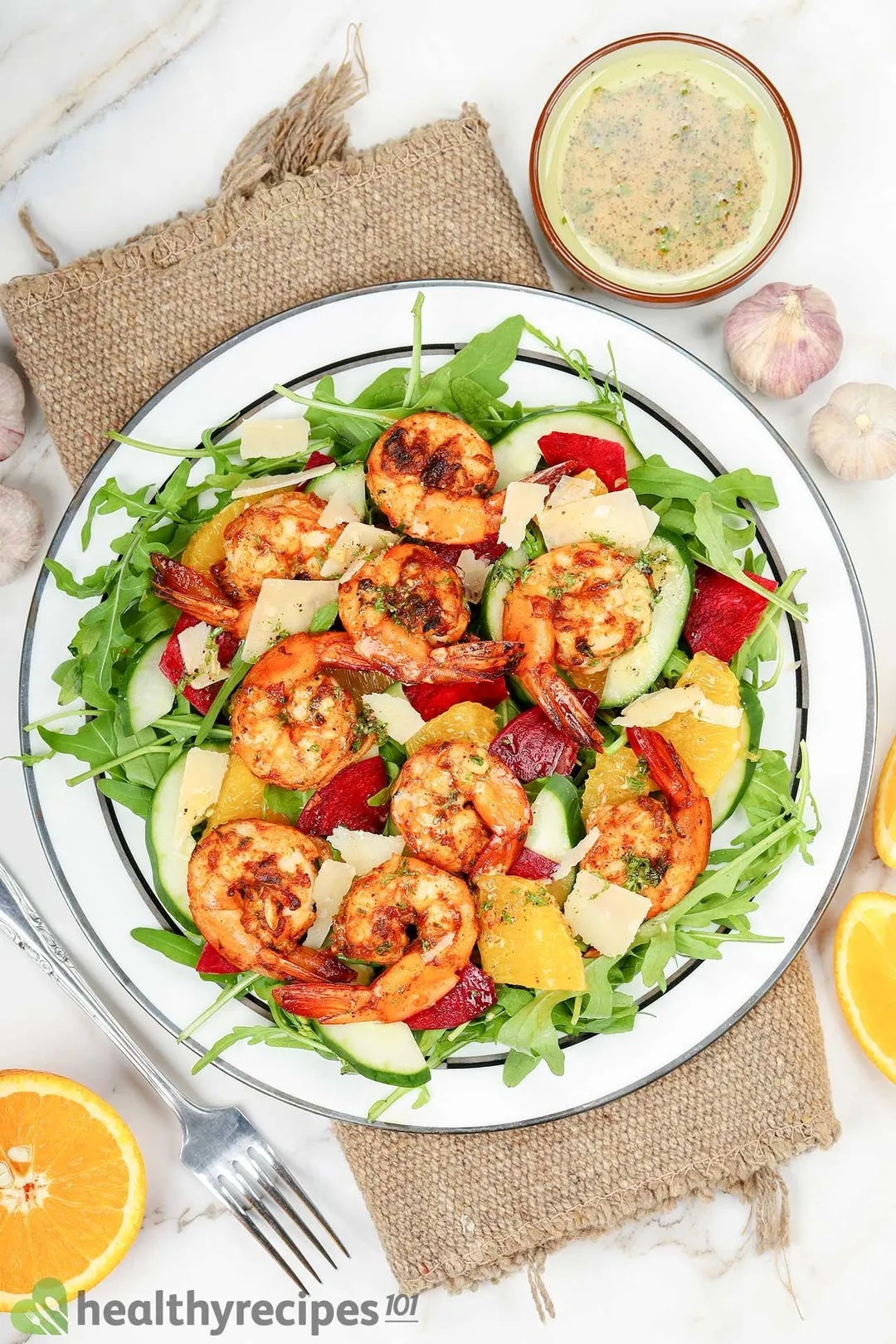 Previous Recipe
Shrimp Salad Recipes
Shrimp Salad Recipes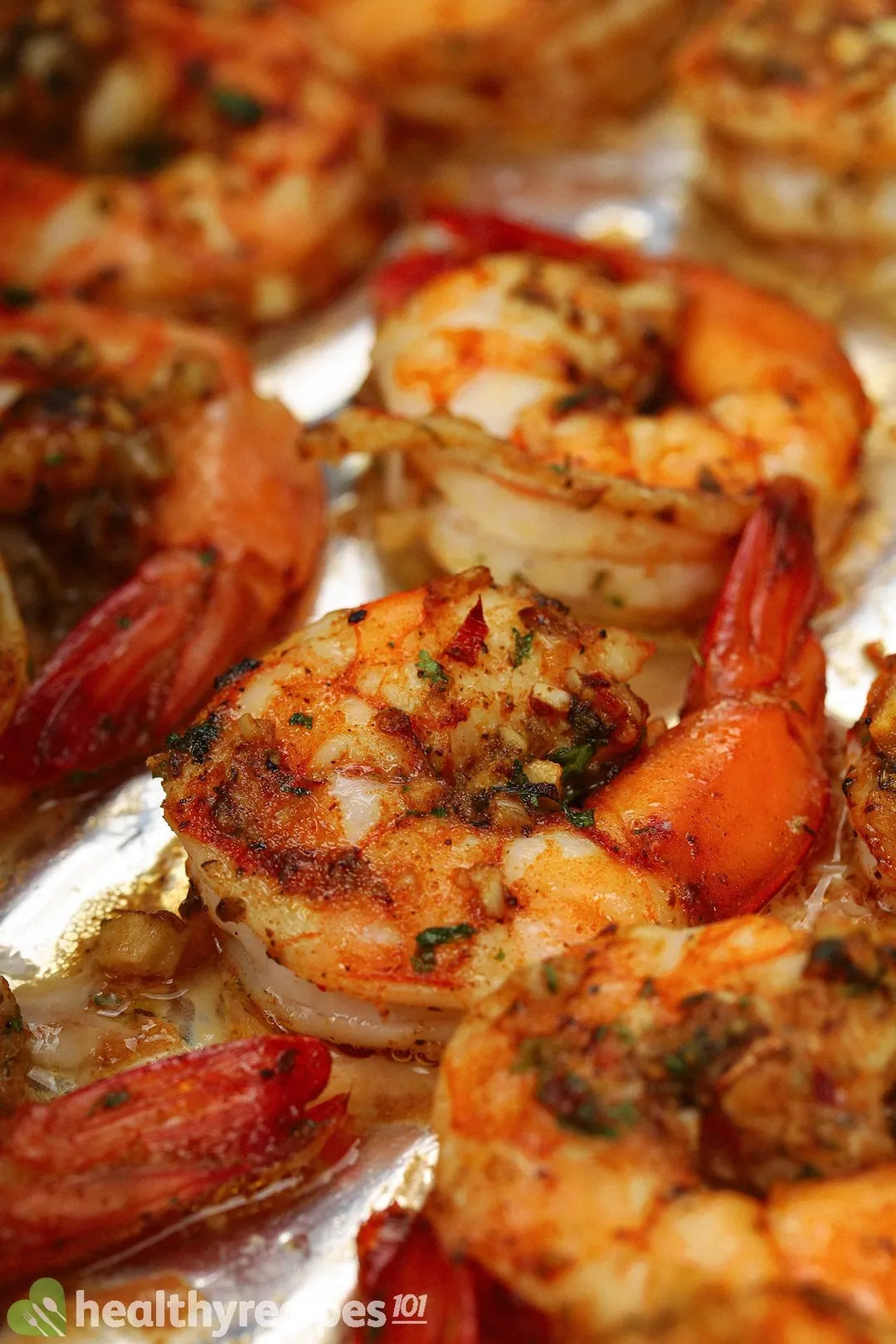 Next Recipe
Baked Shrimp Recipes
Baked Shrimp Recipes
Writer, Author
Luna Regina is an accomplished writer and author who dedicates her career to empowering home cooks and making cooking effortless for everyone. She is the founder of HealthyKitchen101.com and HealthyRecipes101.com, where she works with her team to develop easy, nutritious recipes and help aspiring cooks choose the right kitchen appliances.
Comments/ Reviews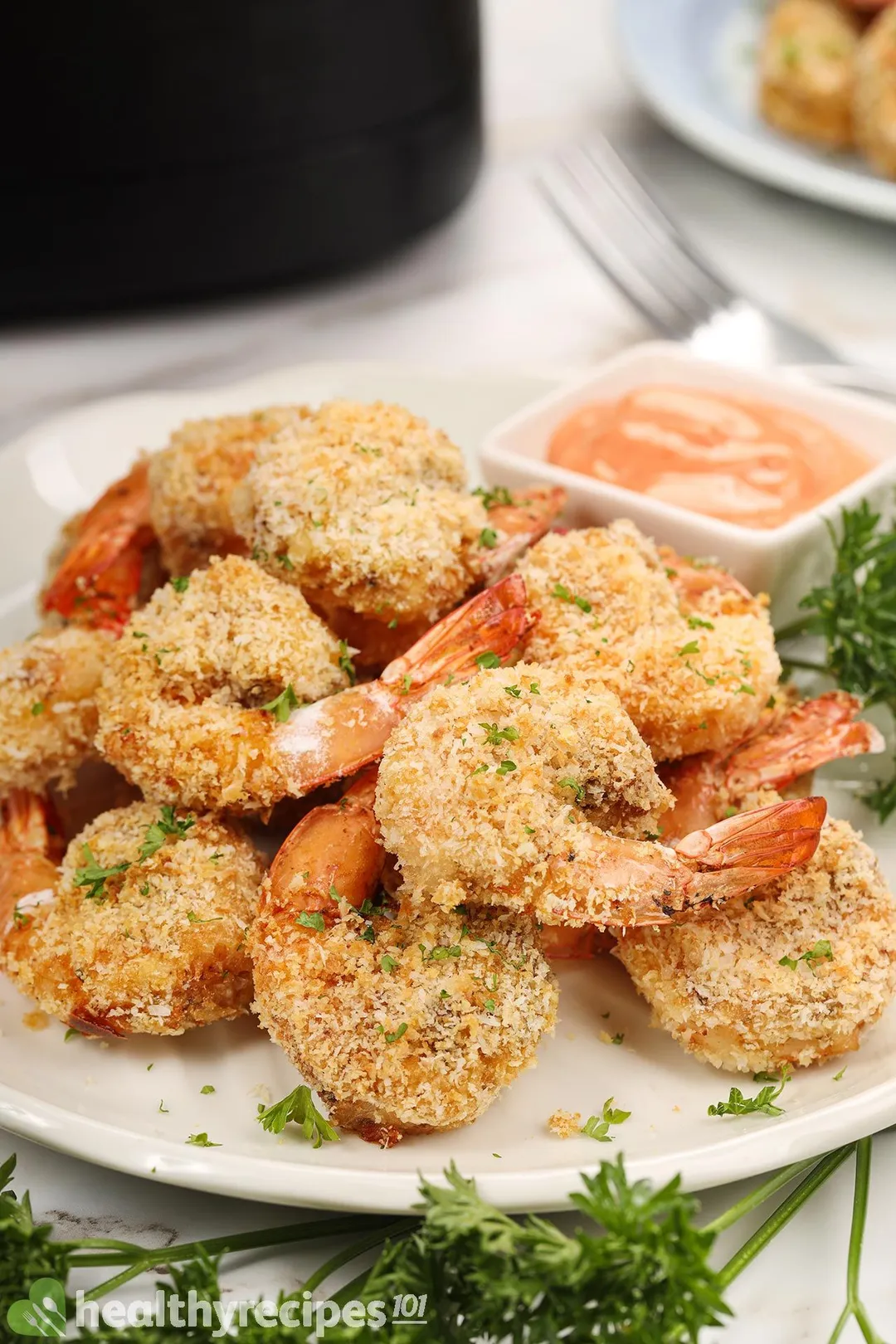 This roundup offers a variety of delicious and healthy options for seafood lovers to enjoy.