This shrimp jambalaya recipe makes a super moist batch of rice, shrimp, and tender veggies coated in plenty of complex flavors. It's wholesome, nutritious, and convenient to make.
Is Jambalaya Good for You?
Jambalaya has a balanced nutritional profile with healthy veg, some cooked rice, and protein-rich shrimp. Shrimp also contains brain-healthy fats like EPA and DHA (omega 3 fatty acids).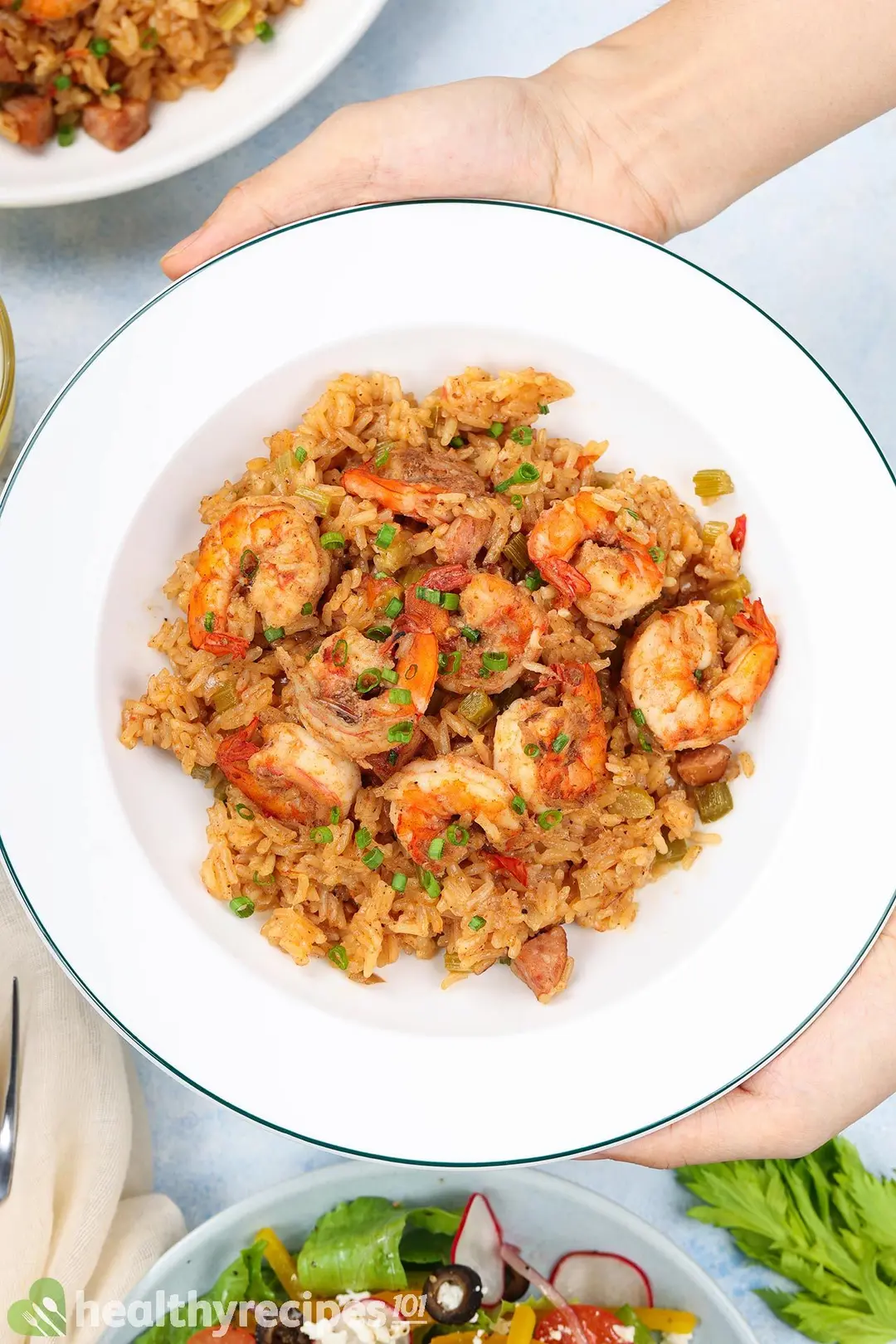 To make this recipe healthier, once we were happy with how it tasted, we tweaked the portion size. The result should taste good, fill your belly, and have moderate levels of saturated fat, sodium, and calories.
Since the ingredients contain minimal saturated fat, the problem shrinks down to the other two.
Sodium and Calories in Jambalaya
One portion of this shrimp jambalaya recipe has around 578 mg sodium (25% of the daily recommendation), and 497 calories (about 18 - 23% of the recommended range). These amounts make it easier to stay within healthy eating guidelines.
Ingredients
1. Rice for Jambalaya
Like many Louisiana rice dishes (gumbo, for instance), Jambalaya uses long-grain or medium-grain rice. Compared to other kinds, these two have less starch and won't turn the dish into a pile of mush once cooked.
2. Shrimp for Jambalaya
Although any shrimp will work, we prefer small ones as they give an illusion that there are more shrimp. Plus, they're often cheaper than large, presentable shrimp used in cocktails.
Peeling little shrimp can be a daunting task, so try to find some that are already peeled, de-veined, and sealed in an air-tight package. They can typically be found in the frozen foods section.
3. Vegetables for Jambalaya
Louisiana dishes often use what they call the 'holy trinity' consisting of onions, bell peppers, and celery. They add a gentle sweetness and mild fragrance to the dish.
Jambalaya is sometimes prepared with tomatoes to add extra tanginess, umami, and savoriness. We can't see how that could be a bad idea, so we threw plenty in.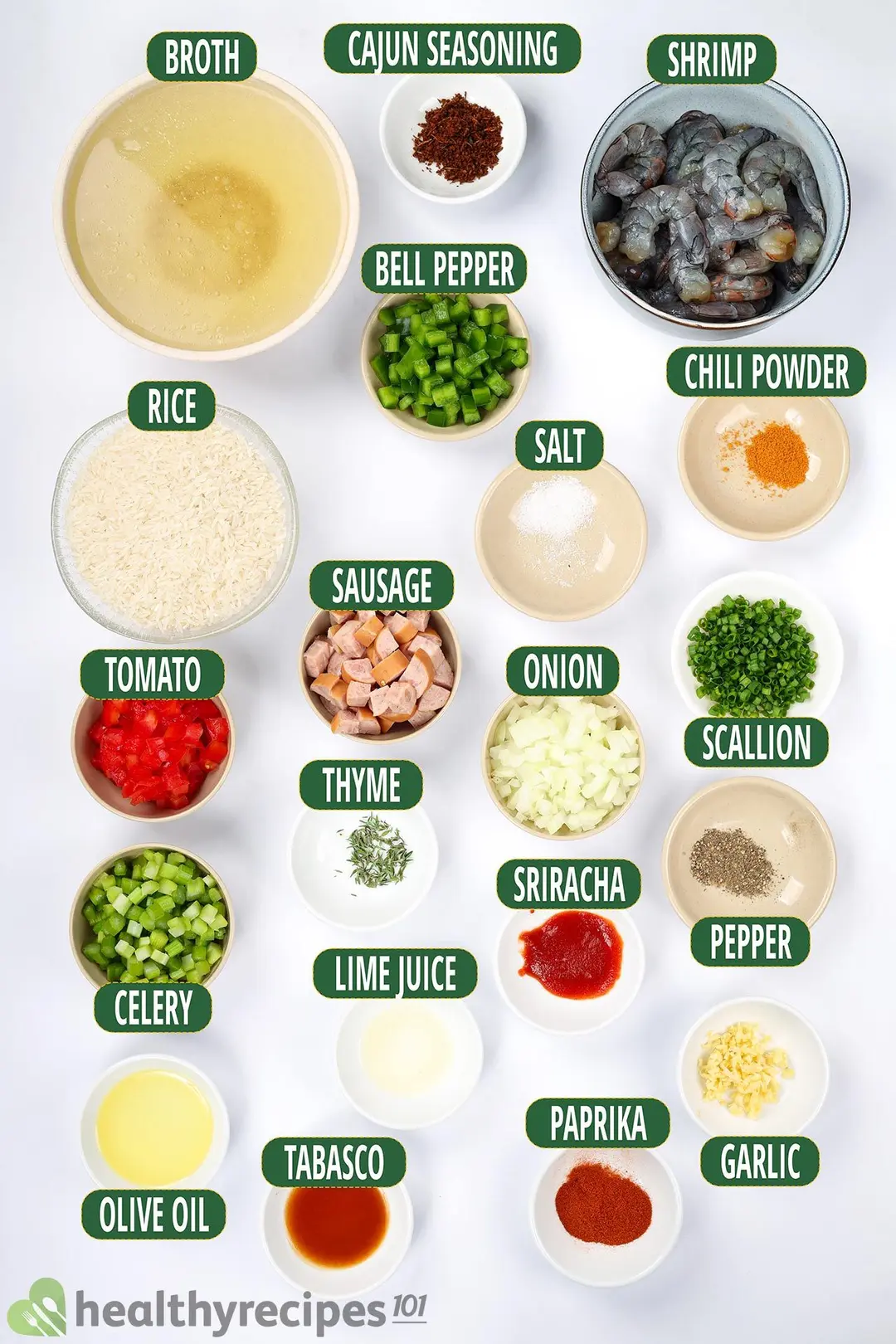 Jambalaya Seasoning
It's pretty basic: red powders (Cajun, paprika, red pepper powder, etc.), hot sauces, salt, and pepper. These ingredients give the dish a signature chili aroma, savory taste, and moderate saltiness.
Besides the basics, we added our own touch: a bright tang and citrusy aroma from lime plus fragrance from a sprig of thyme. They make this dish taste and smell much better.
How to Make Homemade Jambalaya
Here is the overview of what needs to be done. For more details, refer to the shrimp jambalaya recipe card at the bottom of this article.
Sear the Shrimp.
Sauté the sausage.
Add the veg.
Add the rice and season.
Simmer everything with broth.
Add the seared shrimp, garnish, and serve.
Before you cook, remember that:
Three minutes is enough for the shrimp to cook and turn crunchy (if they're fresh enough). Don't overcook shrimp or you'll lose that desirable texture.
If you're using frozen shrimp, spend an additional 3-4 minutes. To check its doneness, cut one in half with a pair of scissors and see if the inside has turned white yet.
It's essential that you cook the dry rice in the veg and oil first, then add the broth. It allows more flavors to infiltrate the rice grains.
Don't simmer cooked shrimp. Wait until the end to add them.
Some recipes use more seasonings and chicken broth to make it saucier. We're going for the dryer version (don't worry, it's still moist) as it's easier to store.
How Long Is Jambalaya Good for?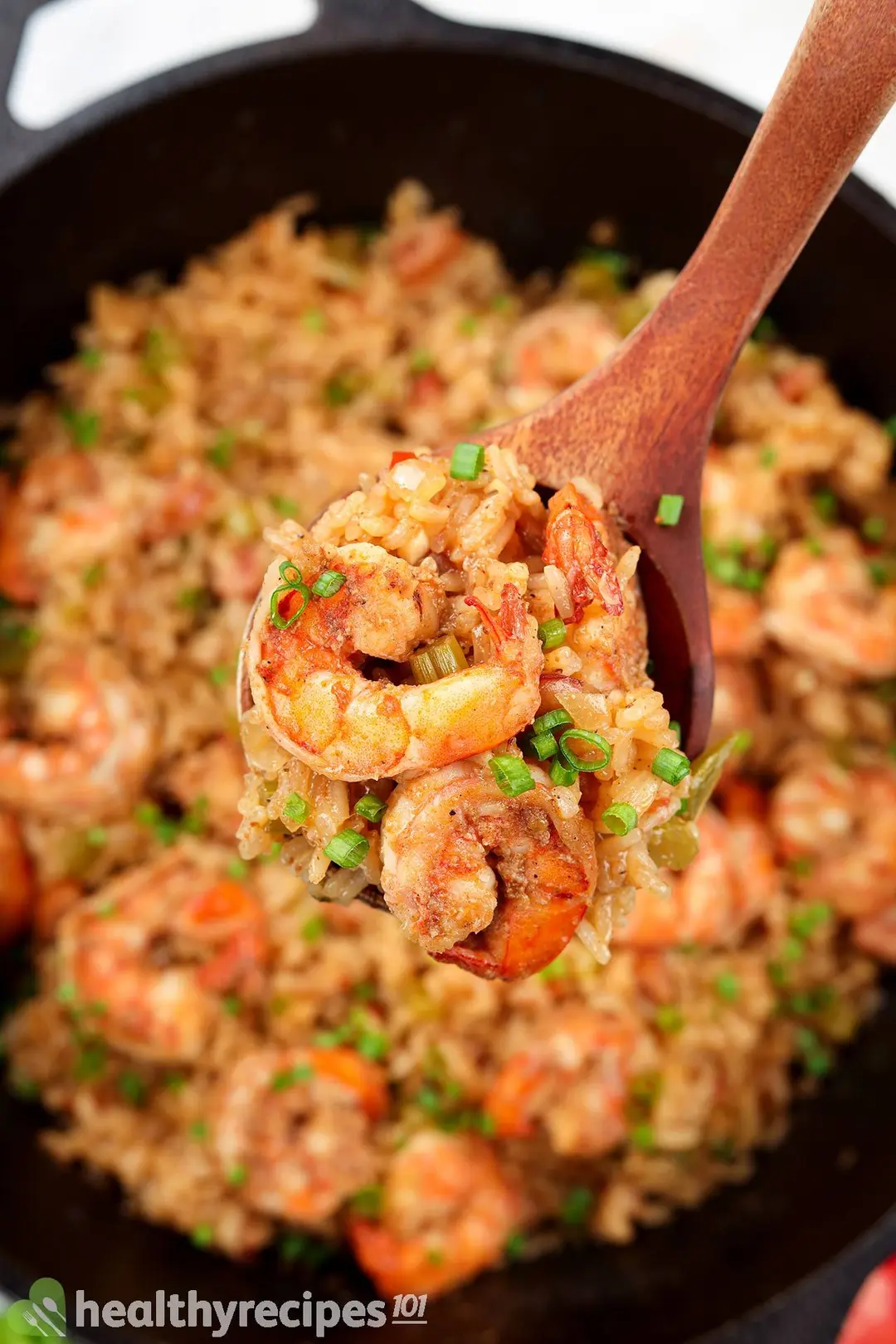 Dishes with cooked seafood like this shrimp Jambalaya last 3-4 days in the fridge if sealed tightly in air-tight containers. We don't recommend freezing; the freeze and thaw process kills rice's soft, fluffy texture.
To reheat, either stir it in a non-stick pan until heated or zap it in a microwave.
Jambalaya will get dryer the longer it sits, as the rice absorbs moisture non-stop. If you're doing meal prep, avoid this by cutting the cooking time in half and using only half the broth. Then store it away. This leaves no moisture behind and cooks the rice halfway through.
When you're ready to eat it, cook it with the remaining liquid, fluff it as you would normally, and serve. It'll be quicker and just as delicious.
Sides for Jambalaya
To cut through the intense flavors of this rice, something fresh and tangy like Greek salad is the best candidate. It's easy to make, too.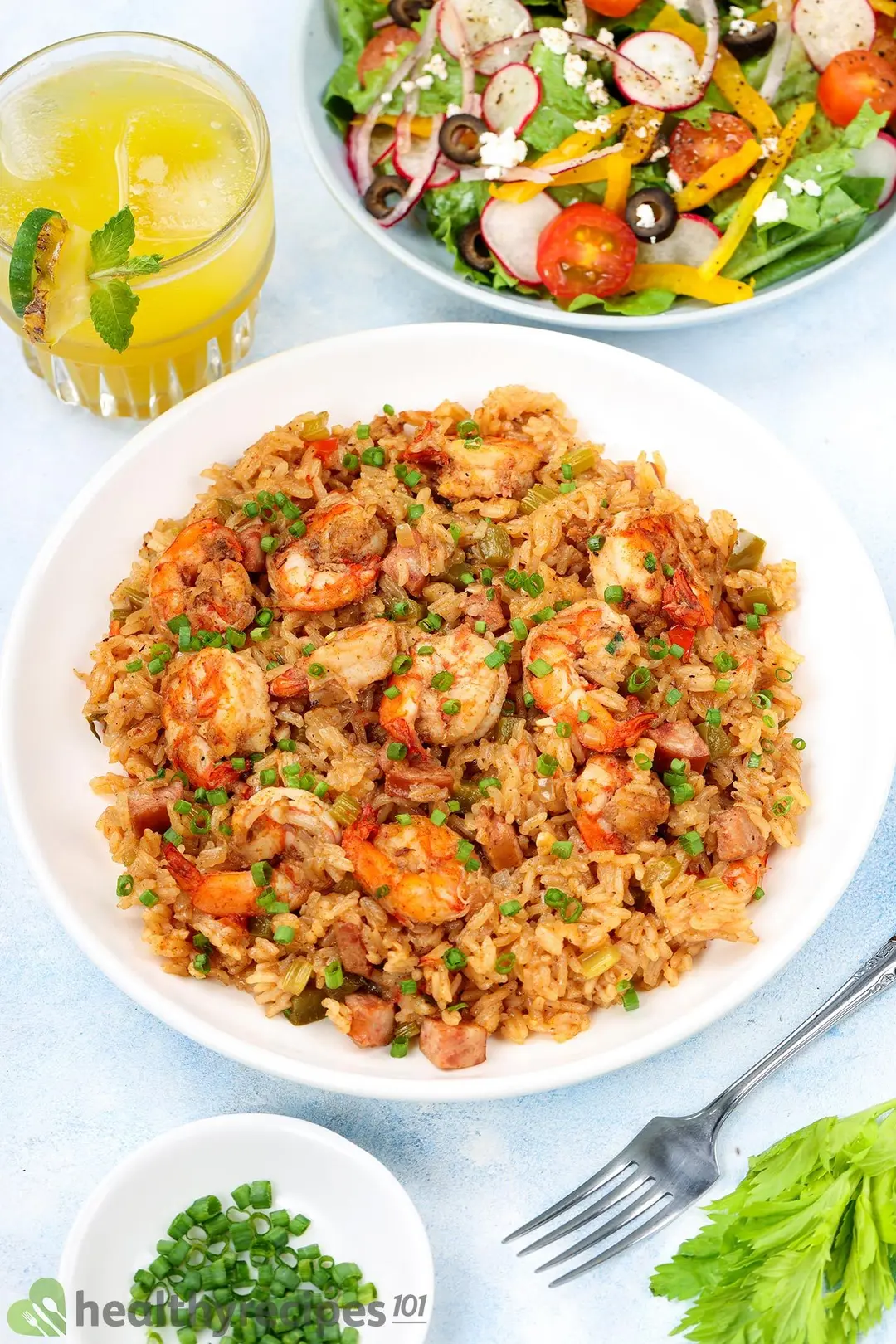 As always, we end the meal with a beverage, and today's is pineapple cucumber juice. It brings a fresh, tropical vibe to the meal.
Paella vs Jambalaya
Although the two belong to different cuisines — Paella from Valencia, Spain, and Jambalaya from Louisiana, USA — people still mistake the two. After all, they're both rice dishes cooked with meat, vegetables, stock, and plenty of seasonings.
Still, paella takes on the golden color of saffron (or turmeric), whereas jambalaya packs plenty of red powders (Cajun seasoning, red pepper, paprika, etc). Because of this, jambalaya has a little heat to it while paella tastes milder.
There are two kinds of paella — seafood and meat, and the seafood version bears the least resemblance to jambalaya. It has no veg whatsoever — only seafood, rice, seasoning, and the staple golden color.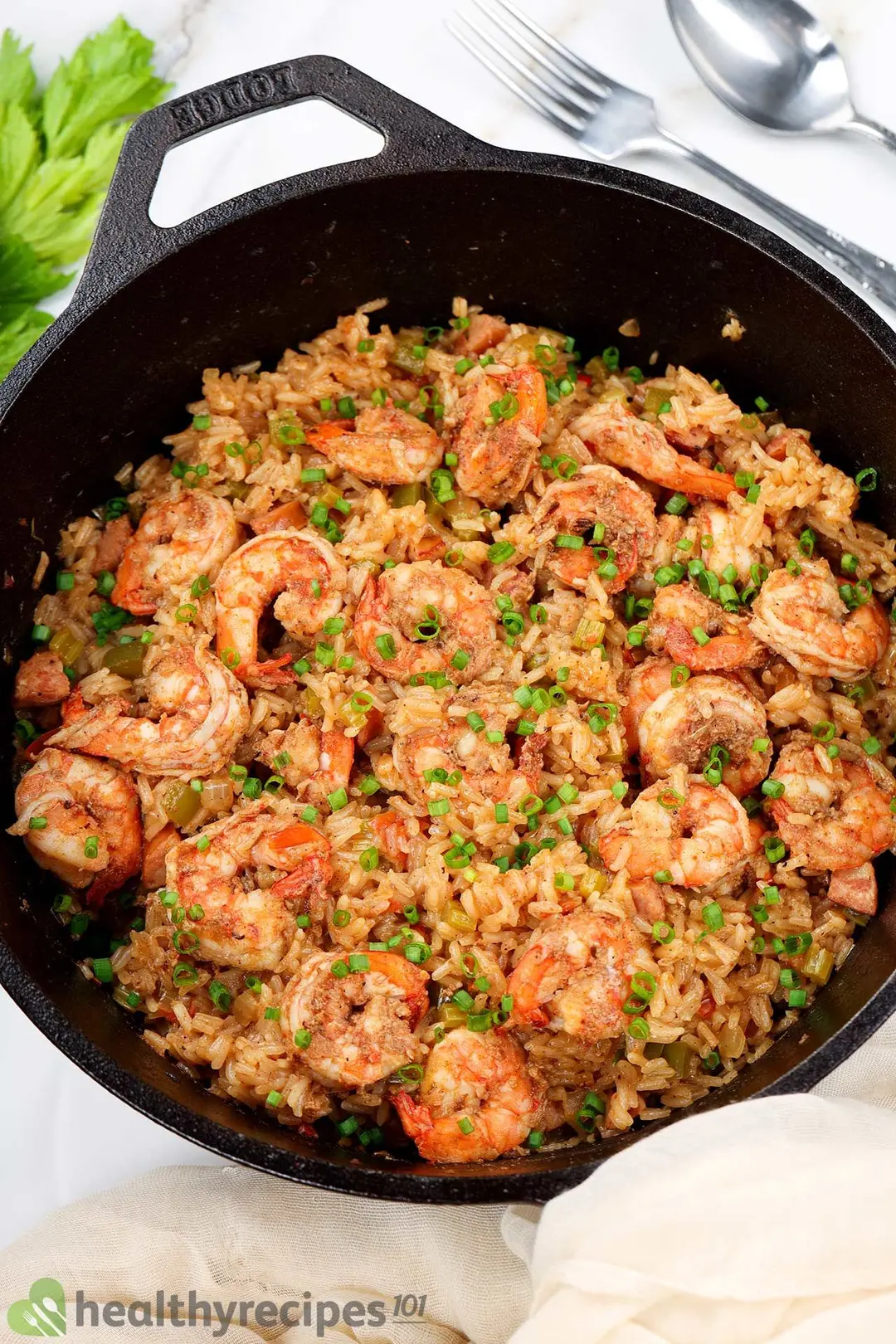 Shrimp Jambalaya Recipe
This shrimp jambalaya recipe takes 42 minutes, 20 of which are hands-free. The result is a moist batch of rice filled with flavors you love.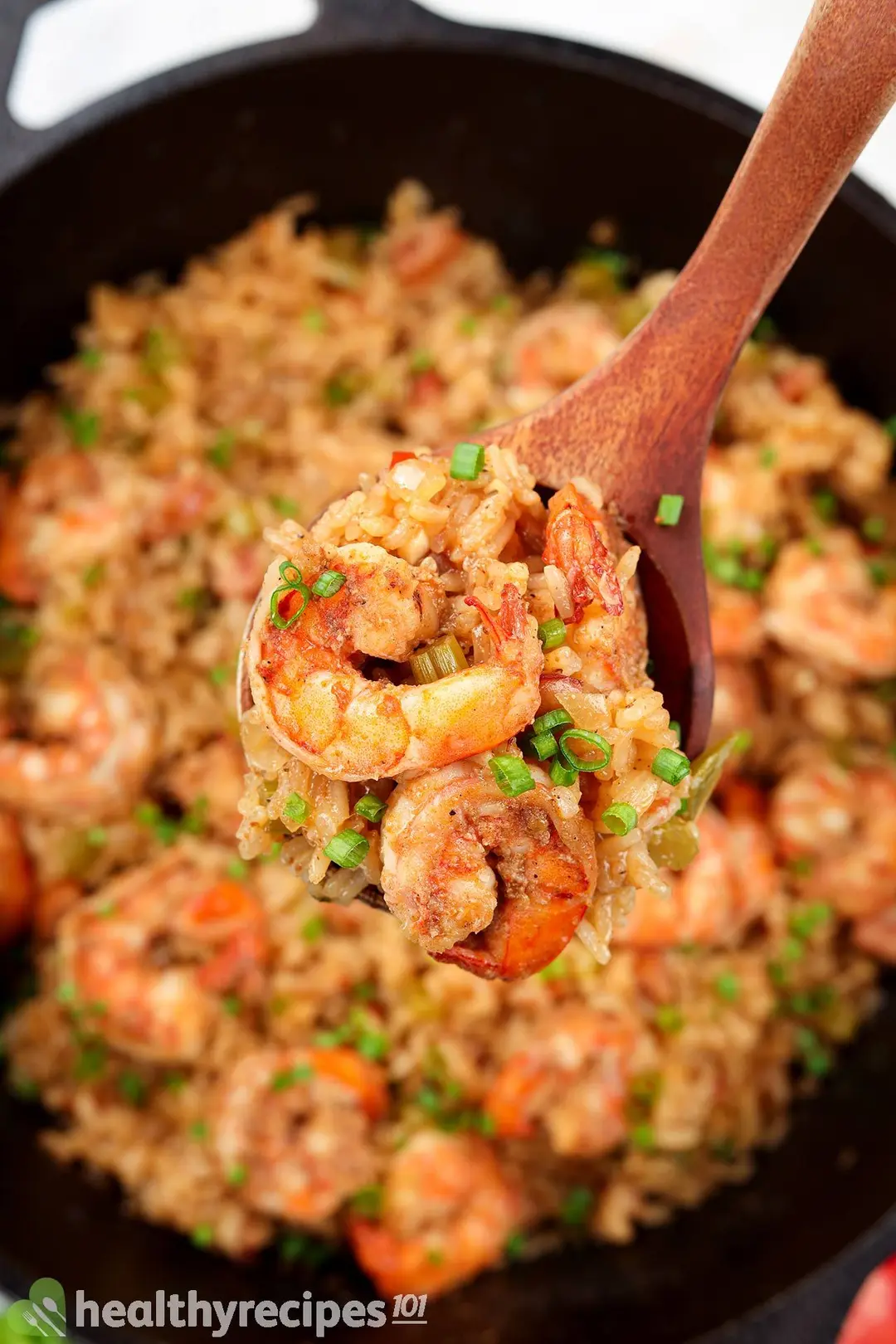 cook TIME

35 mins

prep TIME

7 mins

total TIME

42 mins
COURSE

Main Course

CUISINE

American, Louisiana Creole

SERVINGS

servings

CALORIES

497 kcal
INGREDIENTS
9 oz

peeled shrimp from 18 oz raw

1 tsp

paprika divided in half

2 tbsp

olive oil divided in half

2 oz

smoked sausage sliced

2 oz

onion about half a medium, chopped

1 tbsp

garlic about 3 cloves, minced

4 oz

tomato about 1 medium, chopped

2 oz

green bell pepper about half a medium, chopped

2 oz

celery about 1 large, chopped

1.5 tsp

Tabasco sauce

1 tsp

Sriracha

1 tsp

Cajun seasoning

1 tsp

lime juice

0.3 tsp

chili powder

0.3 tsp

salt

0.3 tsp

ground black pepper

0.3 tsp

thyme

1.5 cups

uncooked long-grain rice

3 cups

unsalted chicken broth

2 tbsp

scallion finely chopped
INSTRUCTIONS
1
Heat 1 tbsp olive oil in a non-stick pot (be sure it has a lid) over medium heat. Coat 9 oz peeled shrimp in 1/2 tsp paprika, and sear for 3 minutes (2 for the first side, 1 for the other). Place in a bowl and set aside.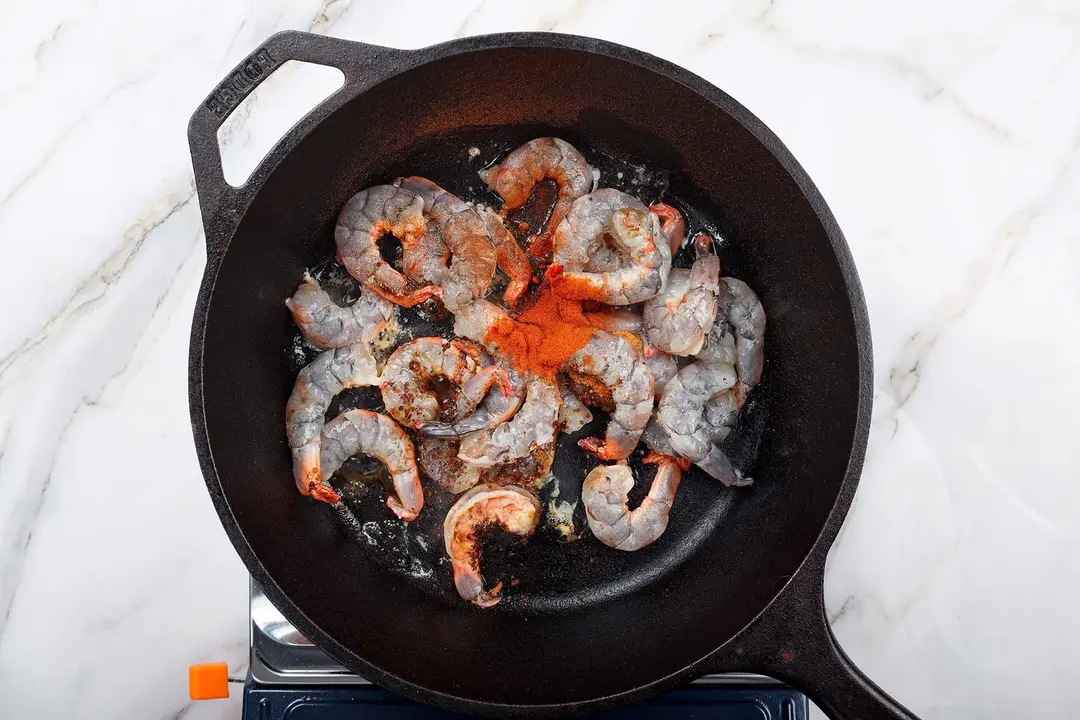 2
Add the remaining 1 tbsp olive oil and sauté 2 oz smoked sausage slices for about a minute or until they're a bit charred.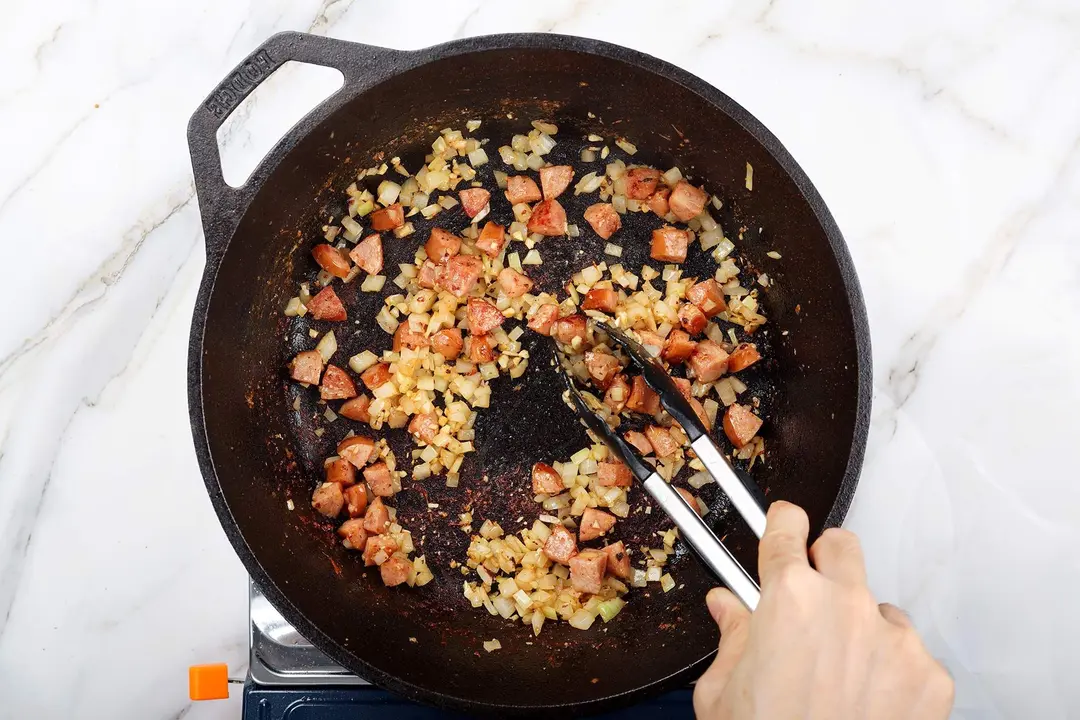 3
Stir in 2 oz chopped onion and 1 tbsp minced garlic. Cook for about 1 minute, then add the veg: 4 oz chopped tomato, 2 oz green bell pepper, and 2 oz celery. Stir everything for 2 minutes.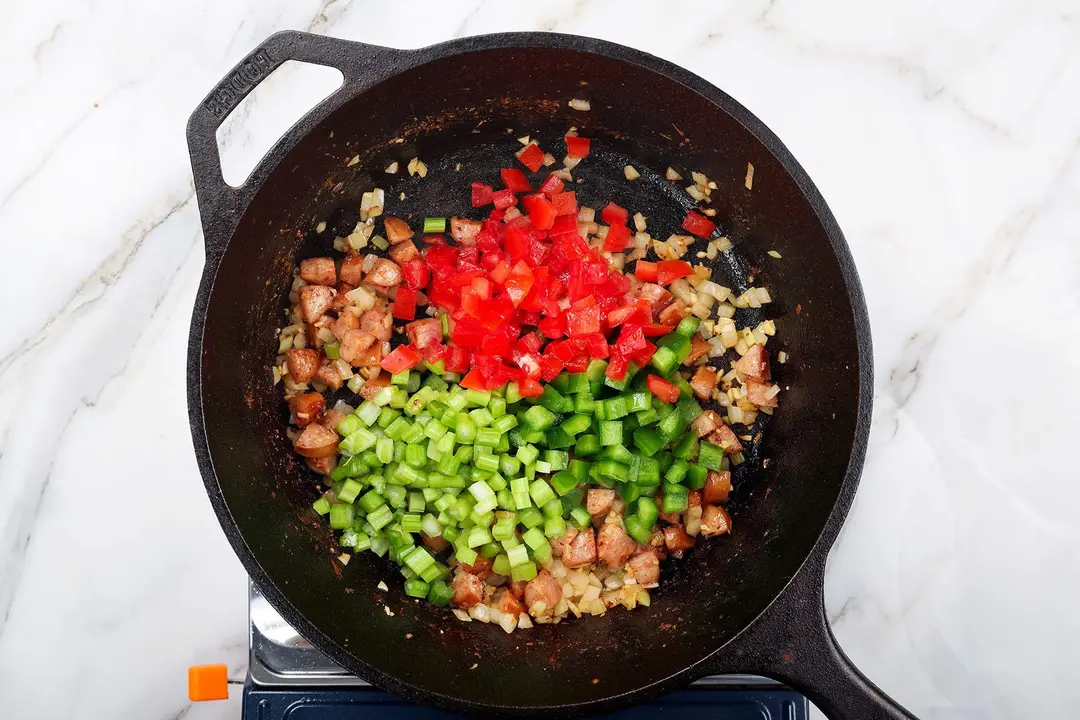 4
Add the seasonings: 1 1/2 tsp Tabasco, 1 tsp Sriracha, 1 tsp Cajun seasoning, 1 tsp lime juice, 1/4 tsp chili powder, 1/4 tsp salt, 1/4 tsp black pepper, and 1/4 tsp thyme. Stir to incorporate.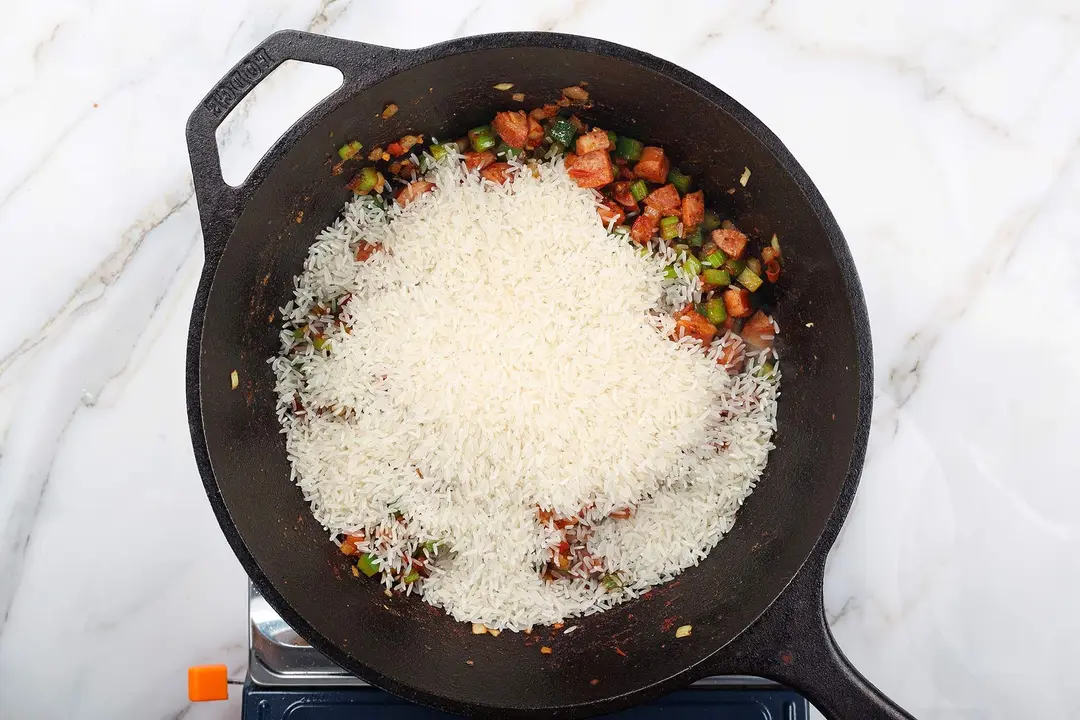 5
Tip 1 1/2 cups uncooked rice in and stir for about a minute or so, then pour in 3 cups unsalted chicken broth. Scrape the bottom using a wooden spoon, then place the lid on and simmer everything on low for 20 minutes.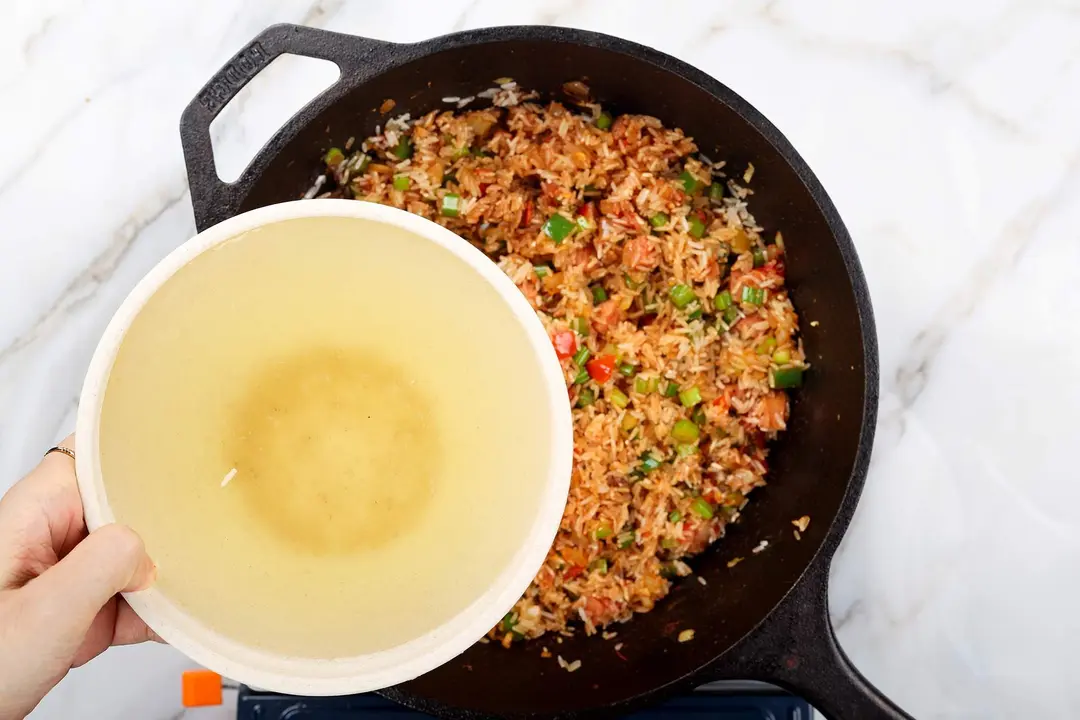 6
Carefully remove the lid, add the shrimp back in, and fluff the rice. Turn the heat off, sprinkle 2 tbsp chopped scallion on top, and enjoy!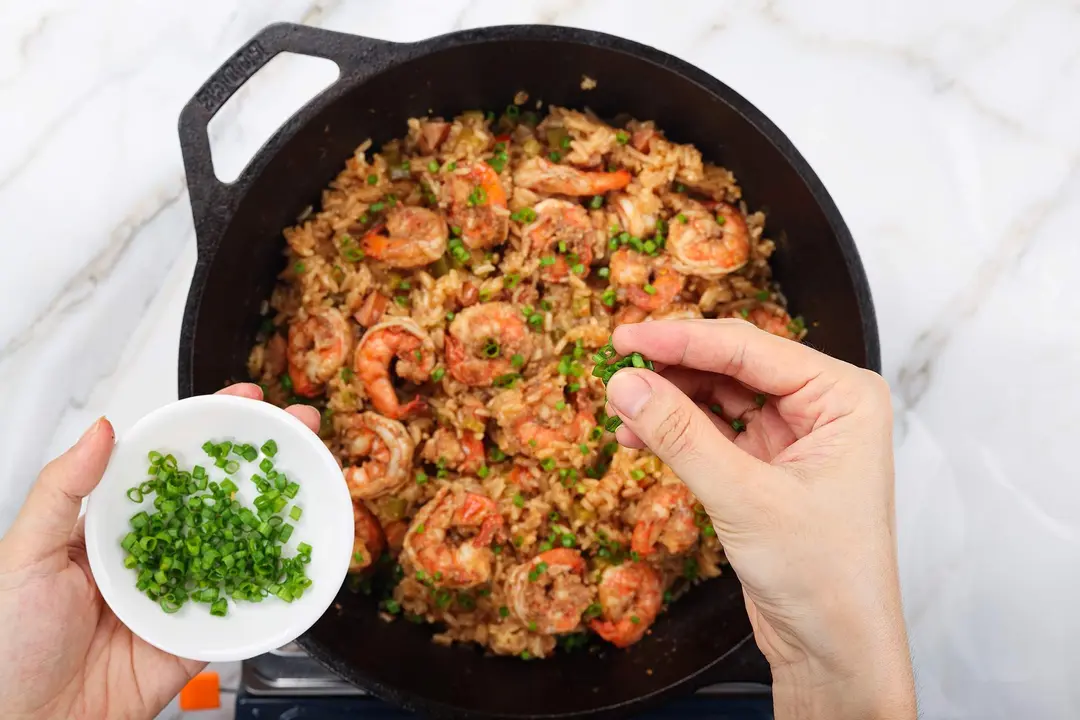 NUTRITION
Nutrition Facts
Shrimp Jambalaya Recipe
Amount Per Serving (1 serving)
Calories 497
Calories from FDA
% Daily Value*
* Percent Daily Values are based on a 2000 calorie diet.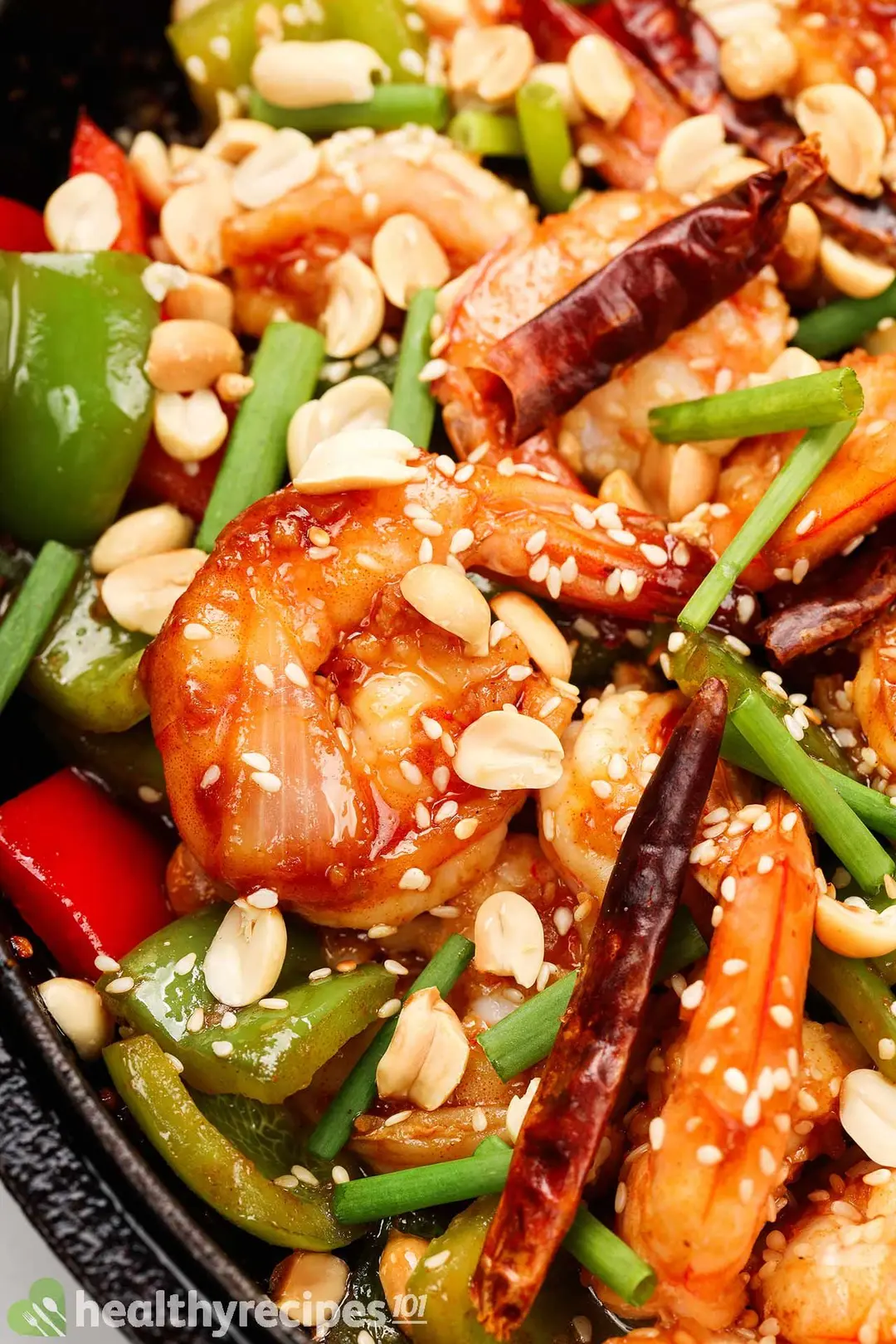 Previous Recipe
Kung Pao Shrimp
Kung Pao Shrimp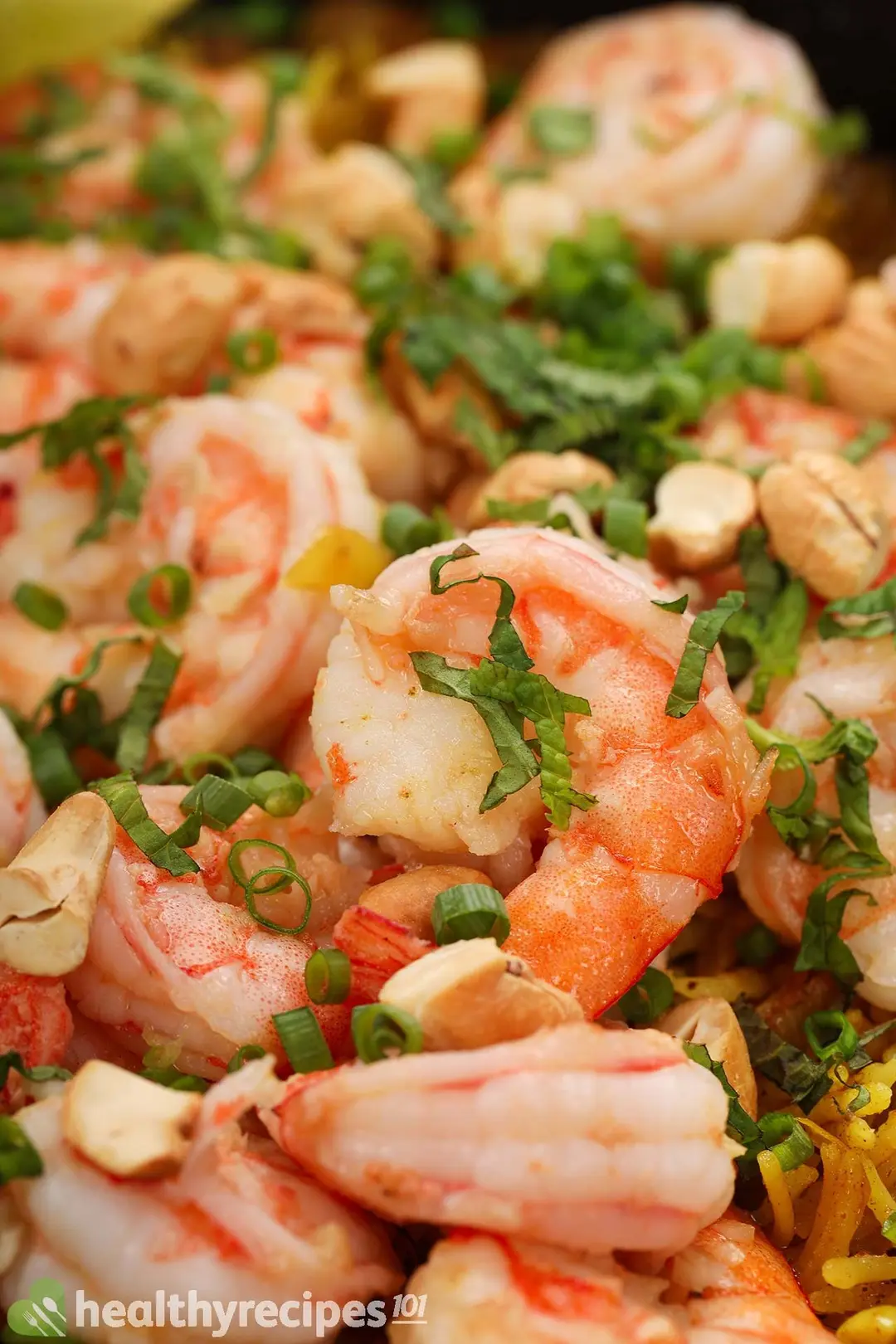 Next Recipe
Shrimp Biryani
Shrimp Biryani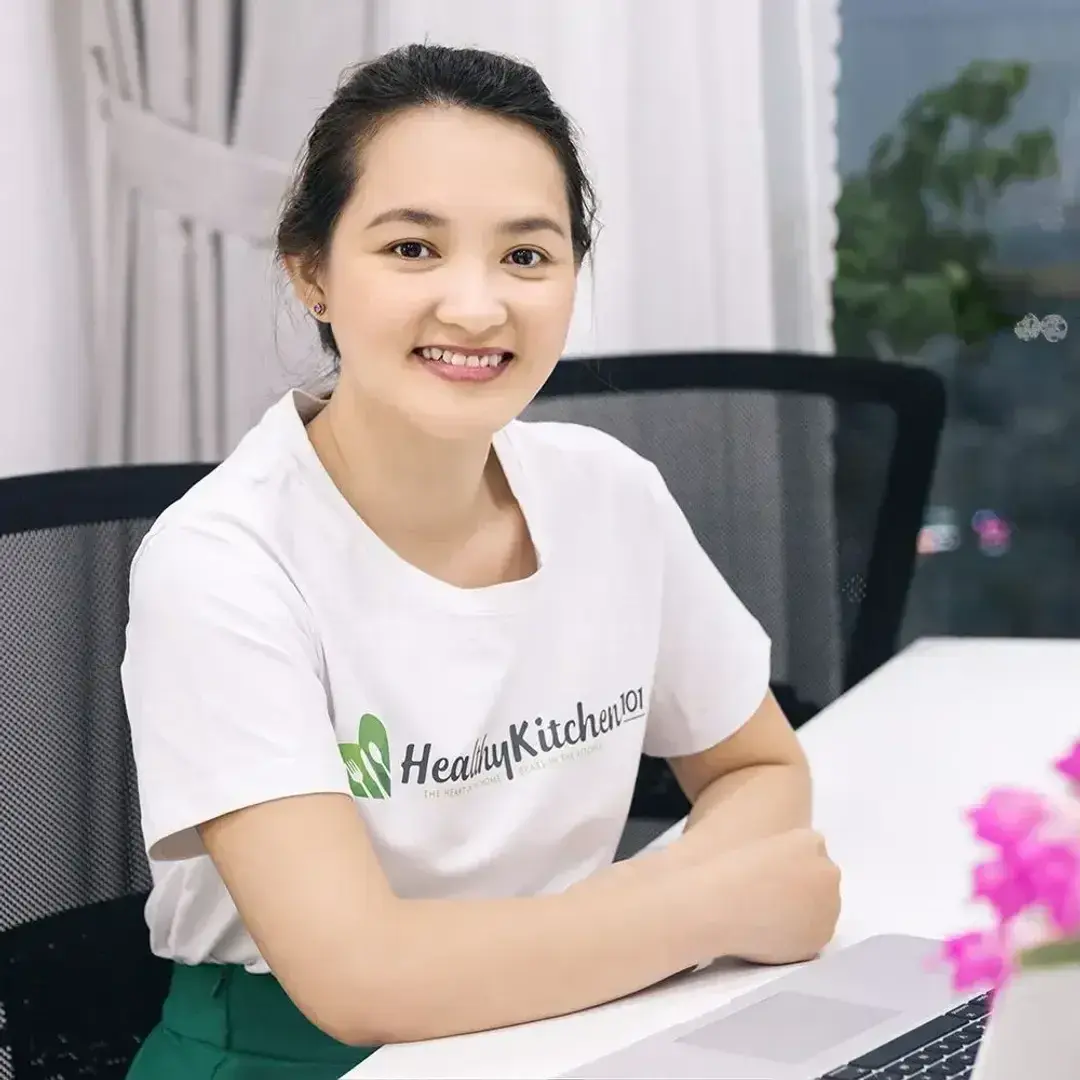 Luna Regina
Luna is the founder and chief recipe developer of Healthy Recipes 101. Apart from cooking, she also loves reading, programming, exploring the outdoors, and collecting useless facts about everything.