No summer party would be complete without a shrimp dish, and our shrimp boil with potatoes and corn recipe is never the wrong choice. It champions the succulent shrimp, smoked sausage, creamy potatoes, and sweet corn; all smothered in southern-inspired seasoning.
The vegetables are boiled in a flavorful broth before being assembled on a serving tray with stir-fried seafood and sausage. The result is a deliciously savory and spicy spread of food.
The rainbow mix of components from the sea and land can be served up on a big platter, making the dish a great excuse to get stuck in with your hands.
Is This Shrimp Boil with Potatoes and Corn Recipe Healthy?
The short answer is yes, our shrimp boil with potatoes and corn recipe is healthy with its fresh ingredients and offers a wonderful nutritional profile.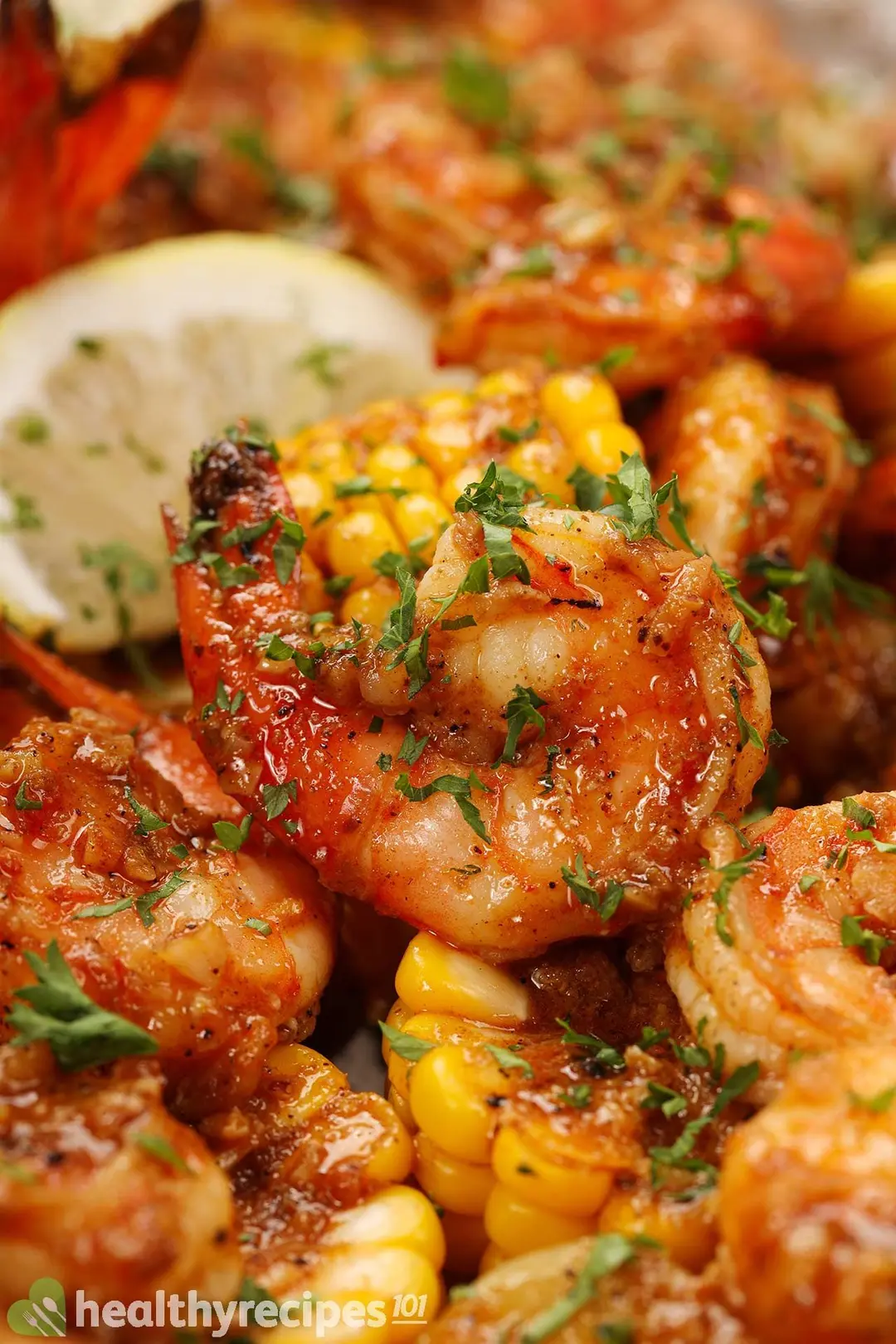 To be specific, this shrimp boil is an excellent source of DHA, EPA and other health-beneficial omega-3 fatty acids. Each serving contains approximately 40 g of protein — up to 80% of our daily recommended intake from the USDA.
As the recipe contains shrimp and various types of vegetables, the dish also provides a great deal of fiber, vitamins, and minerals. Those nutrients are all essential to maintaining good physical and mental health.
Ingredients for Shrimp Boil with Potatoes and Corn
The combination of seafood, vegetables, and spice mixture is what has made this casual Southern meal become the classic dish to serve at cookouts or beachside gatherings. Here's what you need for the recipe:
1. Shrimp
Juicy and well-seasoned shrimp is the star on our baking sheet. Shrimp boils are also great for feeding a crowd since they're easy to prepare, you can make a lot, and it can be ready in no time. 
This recipe is sometimes also known as seafood boil and can include all sorts of seafood along with shrimp: crab, clams, or crawfish.
2. Smoked Sausage
The delicious Italian smoked sausage is not always present in traditional recipes, but we love to add them to the patter. The sausage will give the platter a rich and smoky addition.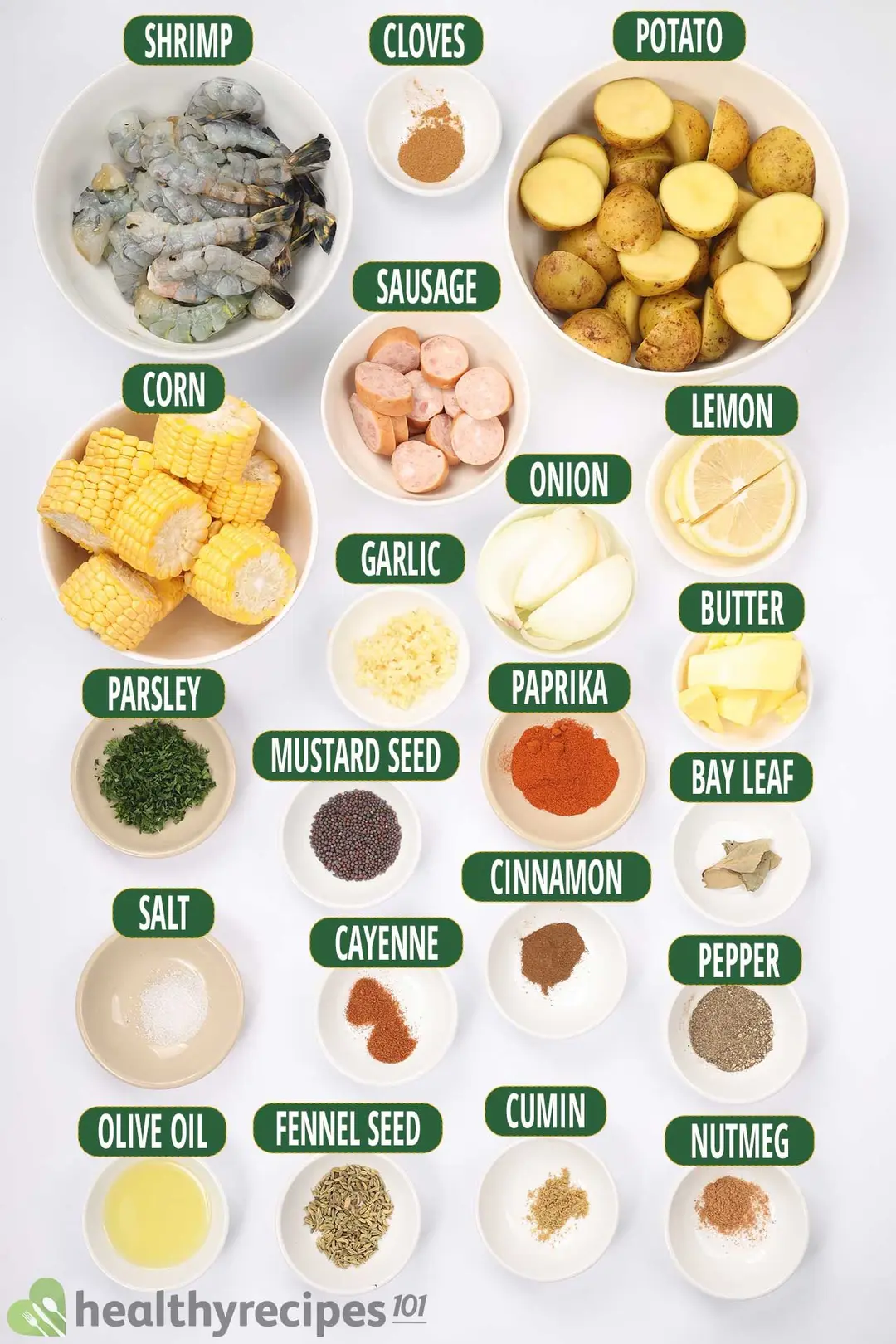 3. Potatoes
The recipe calls for baby potatoes since they hold their shape well when boiled. If you prefer the bigger varieties like waxy or Yukon Gold, it's best to cut them down to about 1-inch chunks to ensure even cooking.
4. Corn
Sweet corn is the perfect complement to all the savory ingredients on the baking sheet. Chop the ear of corn into smaller cobs for quicker cooking and easy serving.
Shrimp Boil Seasoning
The magical thing about these delicious shrimps is that they all lay in the seasoning added to the stir-frying pan. The flavor comes from 2 components: the broth (from boiling water) and the spice mixture.
With spices added to the water the vegetables are boiled in, it's not an exaggeration to say that the resulting broth is packed with flavor. It has fennel seeds, mustard seeds, bay leaves, cloves, cinnamon, paprika, fresh onions, and lemon. 
These seasonings add tons of flavor to the potatoes and corn, elevating your regular vegetables. The broth is later added to the shrimp cooking pan to give a distinct and more complex taste.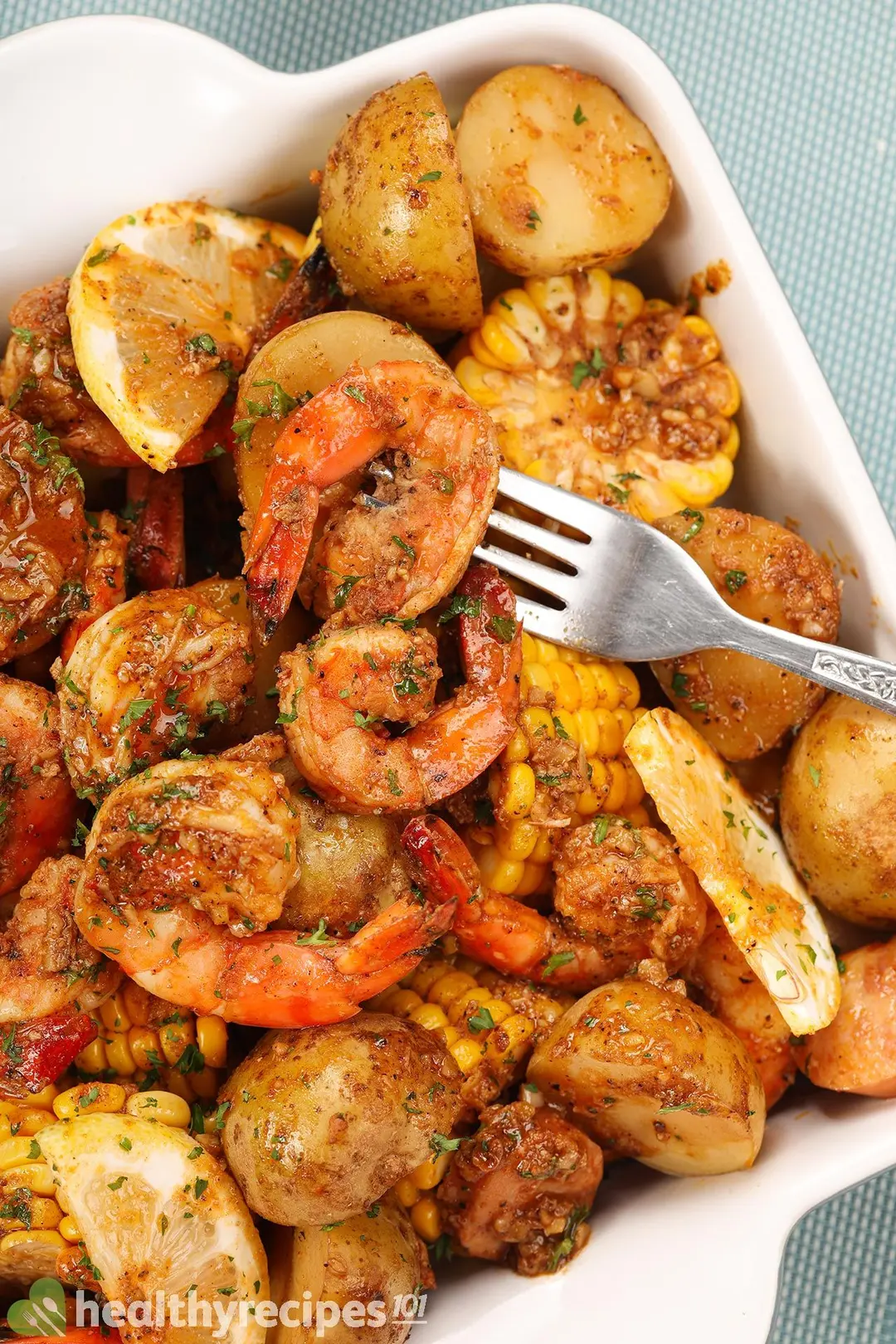 The recipe also calls for cumin, nutmeg, salt, and pepper to season the shrimp and sausage. We experimented by giving the traditional Southern meal a double dose of heat from paprika and cayenne. 
The final taste is so satisfying: the perfect salty, sweet, smoky balance with a pleasantly spicy kick.
How to Cook Shrimp Boil with Potatoes and Corn
Shrimp boil is straightforward to make at home. Even if you've never done it before, we'll break down the process for you. However, it does help if you cook the ingredients in the order we give below so that all the components come out together, cooked perfectly.
Step 1: Make the spice bag.
Step 2: Season the boiling water.
Step 3: Boil the corn and potatoes.
Step 4: Sauté the garlic.
Step 5: Add the spices.
Step 6: Cook the shrimp and sausage.
Step 7: Assemble the boiled vegetables and cooked seafood mixture on the tray.
Step 8: Garnish and serve.
When peeling and deveining the shrimp, it's best to keep the tail on since it lends a lot of flavors and makes your seafood tray more appealing.
How to Store and Reheat Shrimp Boil
1. How to Store
Since the shrimp boil contains seafood, it's best to keep any leftovers in an airtight container and place them in the refrigerator. The cooked shrimp boil can last for up to 3 days in the fridge and for 2 - 3 months in the freezer.
If the amount left over is more than two servings, we suggest portioning them into multiple containers or Ziplock bags so you can take out single servings at a time. Also, when freezing for future use, you should note the date you freeze them on the packaging.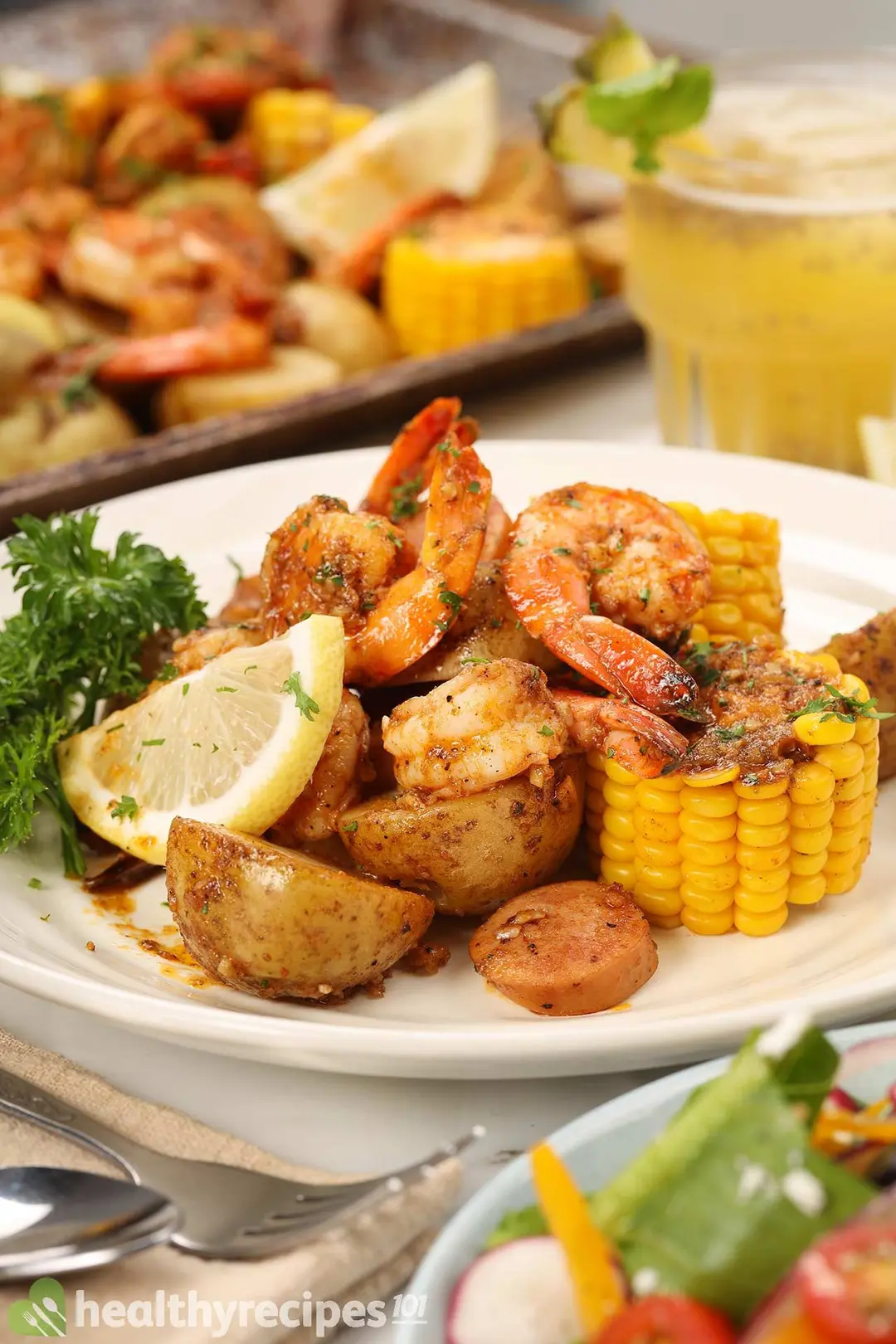 2. How to Reheat
For the best quality taste and texture, we recommend reheating the shrimp boil using the oven. But you'll need to separate the shrimp from the rest of the meal since the seafood and boiled vegetables need different baking times.
Another great technique is reheating on the stovetop. Put them (shrimp and vegetables in different batches) in a pan with a bit of olive oil or butter and heat them until they are warmed through.
Side Dishes for Shrimp Boil
There are countless ways to serve a fancy-looking, savory shrimp boil tray. The most common is to serve as the main dish; and we love to pair it with a side dish to round out the meal. Some great companions include Greek salad, Nicoise salad, cornbread, or French bread.
We recommend our no added sugar pineapple juice as a beverage to refresh and cut through the richness of the protein. This mix of pineapple, apple, grape juice, and coconut water is healthier than store-bought drinks and makes the meal all the more irresistible.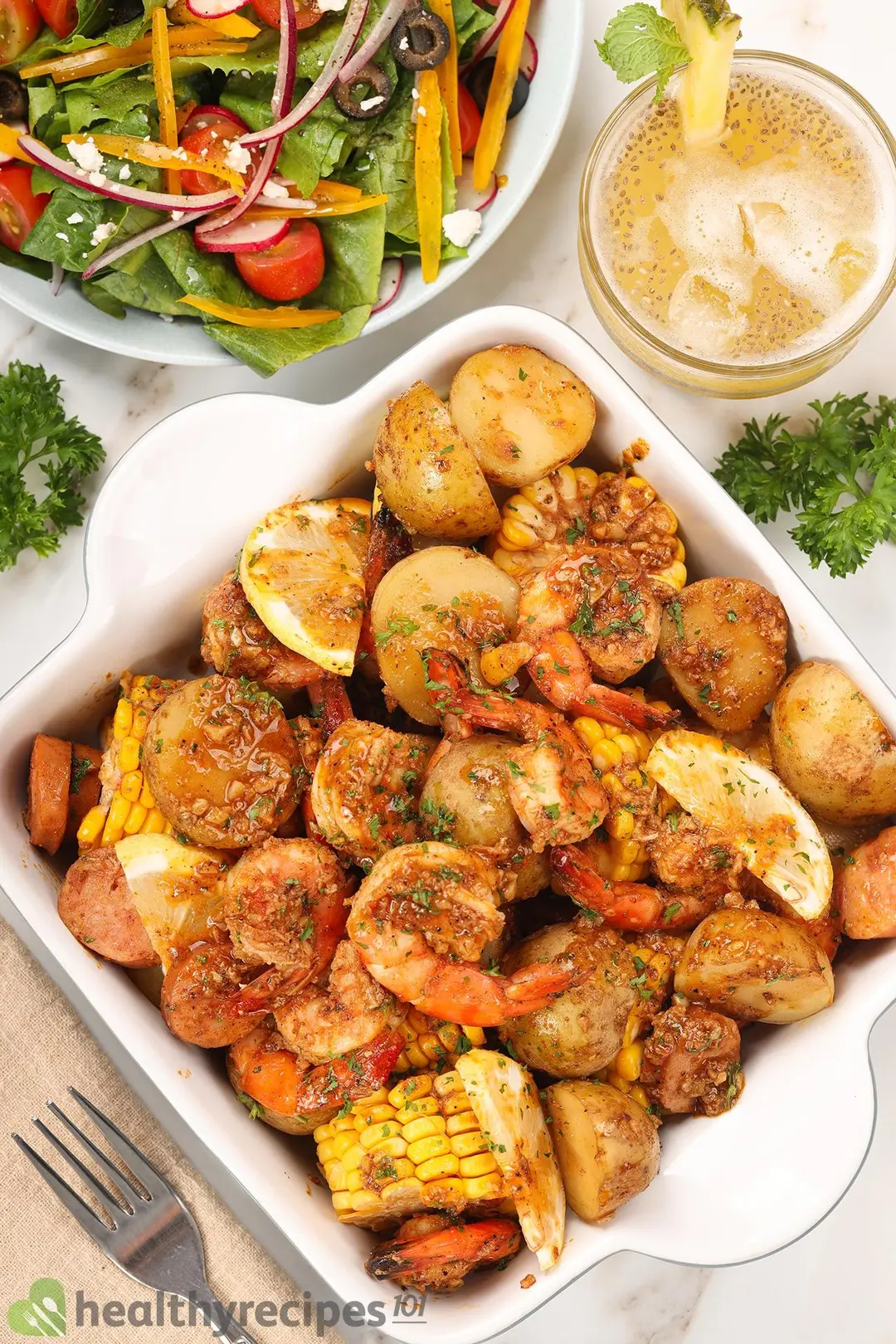 Shrimp Boil with Potatoes and Corn Recipe
Whether you love seafood or are impartial, our flavorful yet straightforward shrimp boil with potatoes and corn recipe is made for you. Perfect for summer and gatherings, you can't help but love this dish.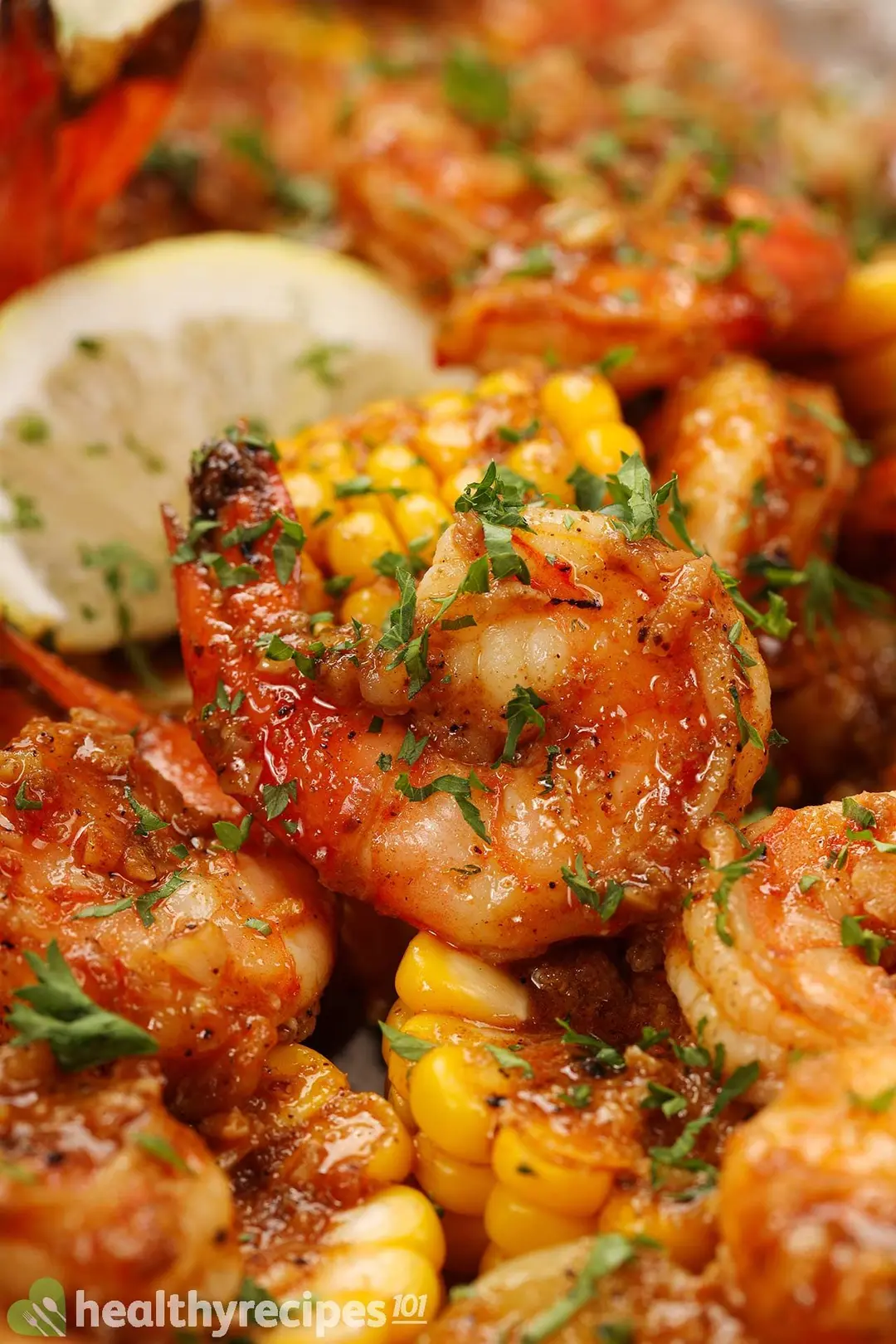 cook TIME

30 mins

prep TIME

10 mins

total TIME

40 mins
COURSE

Main Course

CUISINE

American

SERVINGS

servings

CALORIES

481 kcal
INGREDIENTS
11 oz

peeled and deveined shrimp medium size, 22 oz raw shrimp

0.5 tbsp

fennel seeds

0.5 tsp

ground bay leaves

1 tsp

mustard seeds

2 oz

onion cut into wedges

2 oz

lemon sliced

2 tsp

smoked paprika divided

0.3 tsp

ground cloves

0.3 tsp

cinnamon

15 oz

ear of corn 12 oz corn

18 oz

baby potatoes

3 tbsp

unsalted butter

1 tbsp

olive oil

2 tbsp

garlic chopped

0.5 tsp

cumin

0.3 tsp

salt

0.3 tsp

cayenne

0.3 tsp

nutmeg

0.5 tsp

black pepper

3 oz

smoked sausage link sliced
INSTRUCTIONS
1
Make a spice bag: Place the spice mixture of 1/2 tbsp fennel seeds, 1/2 tsp ground bay leaves, and 1 tsp mustard seeds in a square of cheesecloth. Gather the sides of cheesecloth together to form a pouch. Secure the bundle with a piece of kitchen twine. Set aside.
2
Fill a large pot with 4 cups of water. Stir in the spice bag, 2 oz onion, 2 slices of lemon, 1 tsp paprika, 1/4 tsp ground cloves, and 1/4 tsp cinnamon. Bring the mixture to a boil over medium-high heat.
3
Add 15 oz corn and 18 oz baby potatoes to the pot and continue to cook for 20 minutes or until the potatoes are tender. Remove the pot from heat. Transfer the cooked potatoes and corn to a plate. Reserve 1/2 cup of the broth.
4
Heat a skillet over medium heat. Add 3 tbsp butter, 1 tbsp olive oil, and 2 tbsp garlic. Sauté for 30 seconds until the garlic is fragrant.
5
Add 1 tsp paprika, 1/2 tsp cumin, 1/4 tsp salt, 1/4 tsp cayenne, 1/4 tsp nutmeg, and 1/2 tsp black pepper and stir until well combined.
6
Reduce to low heat, stir in 3 oz smoked sausage and 11 oz shrimp to cook. Stir frequently for 5 minutes or until the shrimp are opaque.
7
Place the cooked potatoes and corn on a baking sheet. Layer the shrimp and sausage on the vegetables and gently toss to combine everything.
8
Serve immediately with 2 tbsp parsley and lemon wedges.
NUTRITION
Nutrition Facts
Shrimp Boil with Potatoes and Corn Recipe
Amount Per Serving (1 serving)
Calories 481
Calories from FDA
% Daily Value*
* Percent Daily Values are based on a 2000 calorie diet.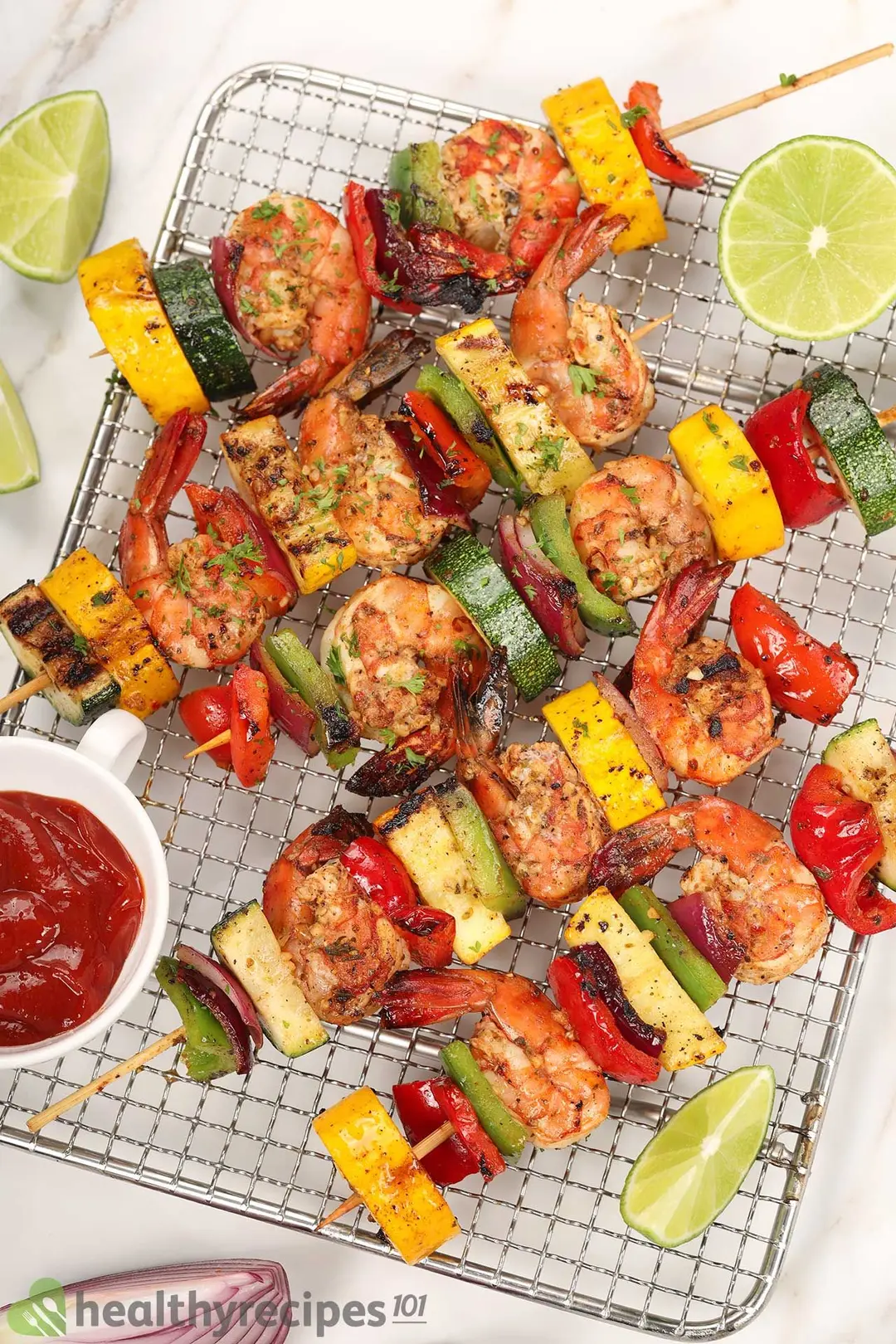 Previous Recipe
Shrimp Kabobs
Shrimp Kabobs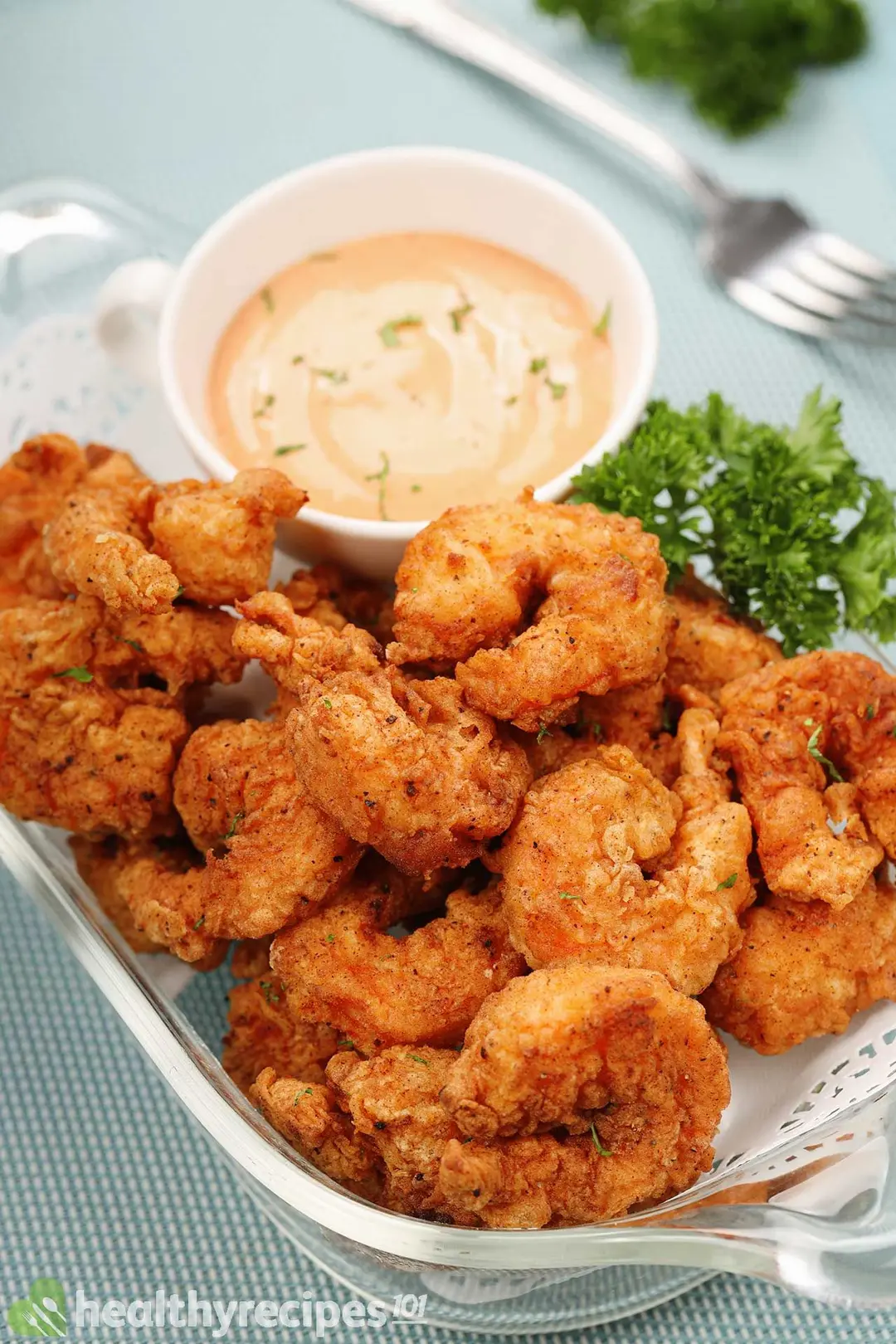 Next Recipe
Popcorn Shrimp
Popcorn Shrimp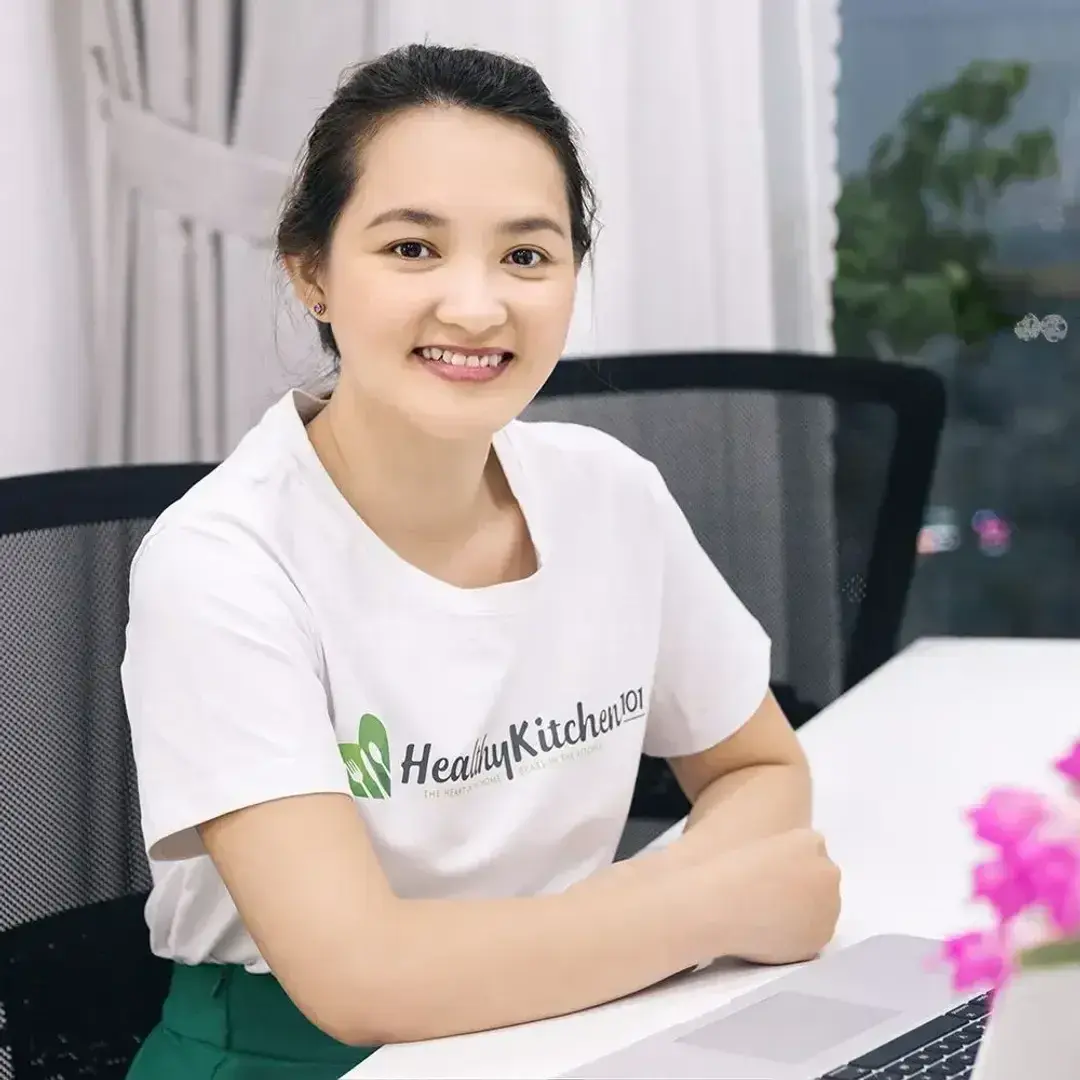 Luna Regina
Luna is the founder and chief recipe developer of Healthy Recipes 101. Apart from cooking, she also loves reading, programming, exploring the outdoors, and collecting useless facts about everything.