Summertime calls for friends and family gatherings, and we know that preparing meals for a big crowd is never easy. Our shrimp boil recipes make things simple to help you cook an enjoyable feast for any occasion. 
With some basic ingredients and minimal prep work, you can whip up a hearty meal with fresh, juicy plump shrimp.
Our Top Favorite Delicious and Easy Shrimp Boil Recipes
Here are our suggestions for a wholesome, flavorful meal. Pick your favorite recipe to whip up a delicious shrimp boil!
1. Shrimp Boil
Not only is this shrimp boil a sight to behold, but it's also an absolute crowd-pleaser to have at any outdoor summer party or casual dinner get-together. It's packed with shrimp, sausage, corn, and potatoes boiled in a broth infused with intense spices and aromatic herbs. Each bite is a flavor-packed adventure that will have your taste buds beaming with joy.
Go to Recipe
2.  Air Fryer Shrimp "Boil"
This air-fryer shrimp boil recipe is a quick shortcut for those busy or tiring nights. It still features all the quintessential ingredients—jumbo shrimp, potatoes, corn, and sausage coated in delicious spices and seasonings. However, instead of being boiled for a more flavor-infused taste, it's air-fried in just half an hour. Serve it with a fresh salad and you've got a delicious, nutritious, and filling meal that comes together in a blink of an eye.
Go to Recipe
3. Cajun Grilled Shrimp Boil
This recipe brings a Cajun twist to the classic shrimp boil, giving it an extra layer of smoky, spicy goodness. Even better, the savory sausage, tender shrimp, and creamy potatoes are grilled, so they have that extra BBQ-esque taste that makes this dish a perfect fit for those summer parties. If you don't have a grill, no worries, the oven broiler works just as well.
Go to Recipe
4. Shrimp Boil With Lemon Brown Butter Sauce
The lemon garlic brown butter sauce gives this shrimp boil a bright, zesty zing that feels like sunlight dancing on your taste buds. Intertwined with the dish's signature smoky, savory intensity, it gives this dish a gorgeous complexity and nuanced flavors, making each bite absolutely memorable and irresistible.
Go to Recipe
5. Shrimp Boil Kabobs
If you're a fan of kabobs and all things skewer, then this recipe is the one to try out. The potatoes and corn are boiled, then threaded into skewers with shrimp and sausages then grilled to perfection. It's such a fun and exciting twist that gives you the best of both worlds—the hearty, wholesome comfort of a classic shrimp boil dish and the summer festivities of BBQ grills.
Go to Recipe
6. Vietnamese Cajun Shrimp Boil
This fusion dish carries the spicy touch of a classic Cajun dish and the hearty comfort of Vietnamese flavors. The large juicy shrimp, corn, baby potatoes, and sausages are boiled in an aromatic lemongrass Viet-Cajun broth and made all the more irresistible by a coat of Cajun butter garlic sauce. Served with a lime-black pepper dipping sauce, this dish offers a beautiful, complex blend of flavors that will have your taste buds singing with joy.
Go to Recipe
7. Shrimp Boil Vegetable Bowls
This shrimp boil vegetable bowl recipe offers a simplified version of the classic dish that keeps you from breaking too much of a sweat, especially on these sweltering hot summer days. The vegetables are boiled and plunged into an ice bath, then tossed together with the cooked shrimp, Old Bay seasoning, lemon zest, capers, and a handful of seasonings. The result is a simple, easy dish that still carries the flavor-packed irresistibility of a classic shrimp boil—a perfect choice for those lazy days when the seafood craving strikes.
Go to Recipe
8. Garlic Loaded Southern Style Shrimp Boil
Any food aficionado will tell you that garlic makes everything better, and this recipe is perfect proof. The broth is boiled with garlic heads, herbs, lemon juice, and spices to infuse the main ingredients with a beautiful, aromatic blend of undeniably gorgeous flavors. Serve it with lemon butter to tie in that zesty goodness for a vibrant dish to enjoy on carefree summer days.
Go to Recipe
9. Instant Pot Shrimp Boil
When it comes to quick cooking and mess-free cleaning up, the Instant Pot is a more than ideal option. With this helpful appliance, your shrimp boil can be made in less than half an hour. Obviously, the traditional method will yield a deeper and more intense taste, but if time is of the essence, this recipe is an amazing alternative.
Go to Recipe
10. Shrimp Boil Foil Packets
Wrapping shrimp boil in foil helps to trap the moisture and flavors, which results in a dish with irresistible flavor depths and a more-intense-than-usual aroma. With this recipe, the seasonings include red pepper, black pepper, paprika, and celery salt, which infuse the foods with a hearty, fragrant spice. Give it a try to treat your senses to an unforgettable culinary experience.
Go to Recipe
Armed with some easy, quick-to-make recipes, you can prepare a delightful feast.
What Is a Shrimp Boil?
As the name suggests, this is a type of seafood boil with shrimp as the main star.
Traditionally, a shrimp boil is an outdoor dish in the coastal regions of Georgia and South Carolina, USA. This classic Southern one-pot also goes by different names, such as Frogmore stew or Lowcountry boil.
What makes this dish unique is the addition of sweet corn, tender potatoes, smoked sausages and, if preferred, more seafood and veggies of your choice.
All these ingredients are cooked in a single pot filled with a flavorful broth that's been seasoned with aromatics.
When ready, the shrimp boil is typically served on a big tray or on newspaper-covered tables for convenience and easy clean-up.
The entire process of making a shrimp boil is a breeze: get your ingredients ready, toss them into the pot, one at a time, and serve when done.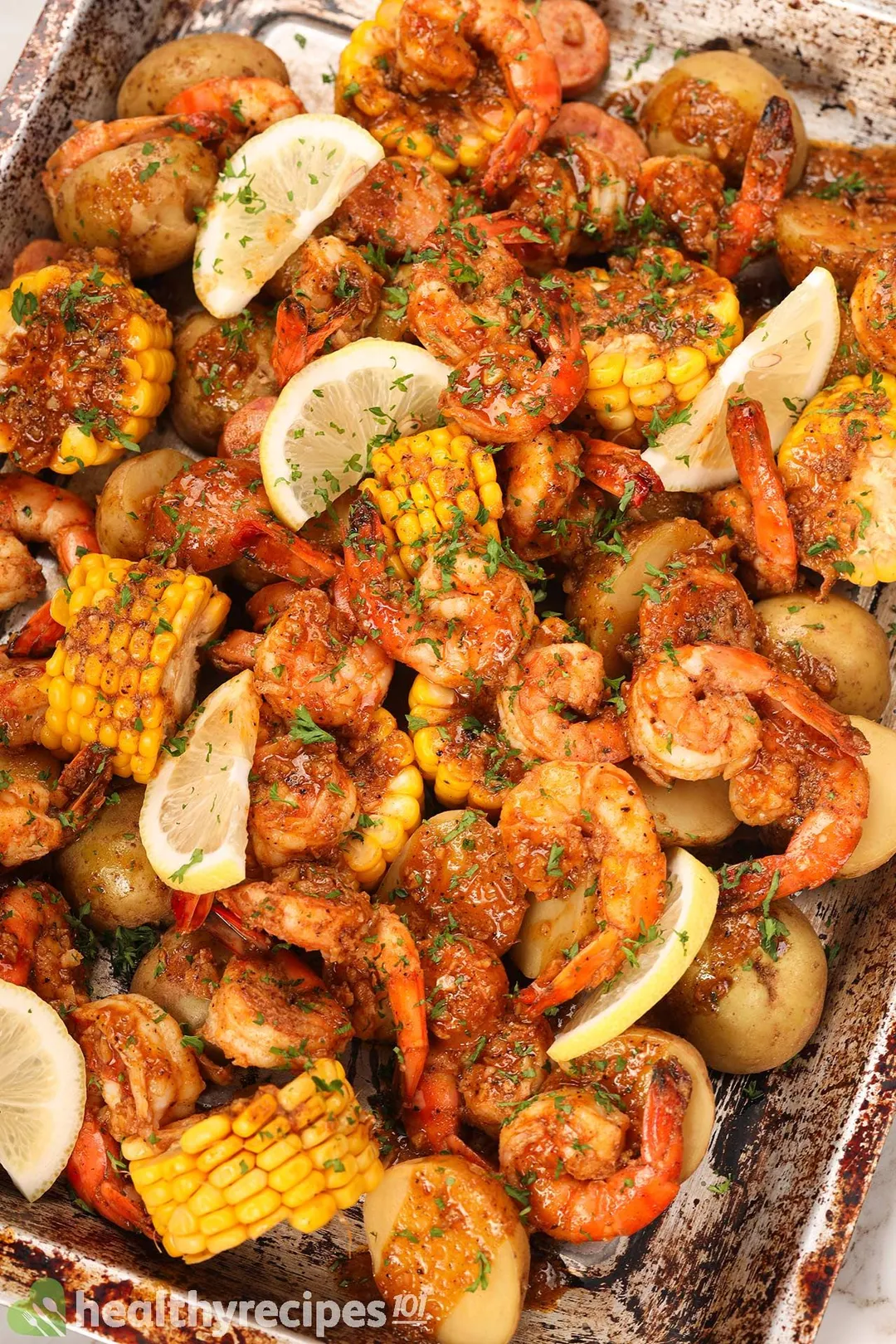 How to Season Your Shrimp Boil 
While the use of fresh ingredients is essential for this dish, a well-seasoned broth is equally important to make a delectable shrimp boil.
For the broth, herbs and spices are used generously to bring out an appetizing aroma and enhance the overall flavor. Some commonly used ingredients include bay leaves, cinnamon, cloves, paprika, fresh onions, lemon, fennel seeds, and mustard seeds.
A handy tip: Put all the herbs and spices into a spice bag and place it in the boiling pot. Remove after you finish cooking. This ensures the broth is infused with all the flavors and aroma, leaving behind cloves, cinnamon and the other rough bits that are not palatable.
This tip is for those of you who love to taste and adjust the broth to their liking. If you prefer the store-bought ready-made mix for convenience, you can go with seafood boil spice blends or Old-bay seasonings.
Should You Boil Shrimp With the Shell On?
It's a matter of personal preference, but most people prefer shrimp to be peeled.
This is because the shrimp's shell can be tough to eat. Plus, leaving the shell on will make it harder for the shrimp to absorb the flavors from the seasoned broth, while shell-off shrimp will be more flavorful.
Another tip to remember is that you don't need to peel the entire shell off; leave the tail on for an appealing presentation so that the shrimp look more appetizing when served.
Variations and Add-ins
With a shrimp boil, feel free to experiment with different add-in ingredients to make a favorite version of your own.
Usually, smoked sausages are added into the Lowcountry boil, along with sweet corn and baby potatoes.
You can also add other types of seafood to give your boil a refreshing feel, such as crabs, clams, scallops, and squids.
And if you are a veggie lover, you may want to try some vegetables that go well in a shrimp boil, such as bell peppers, brussels sprouts, radish, and asparagus.
What to Serve with Shrimp Boil
Any kind of summer salad with a light and vibrant taste would pair beautifully with a seafood boil. Fresh and fruity salads are an excellent choice, such as Greek chicken salad and watermelon salad.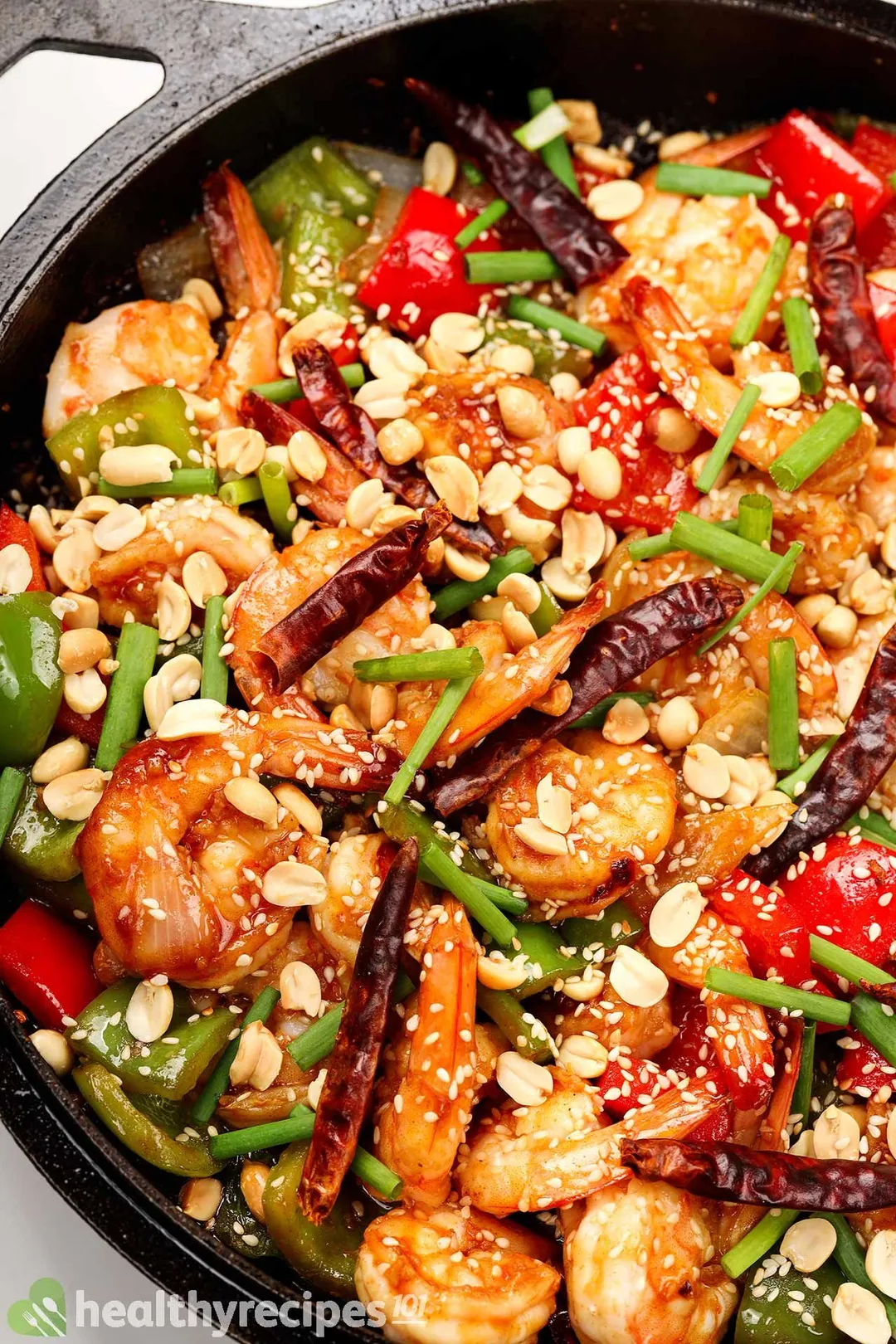 Previous Recipe
Chinese Shrimp Recipes
Chinese Shrimp Recipes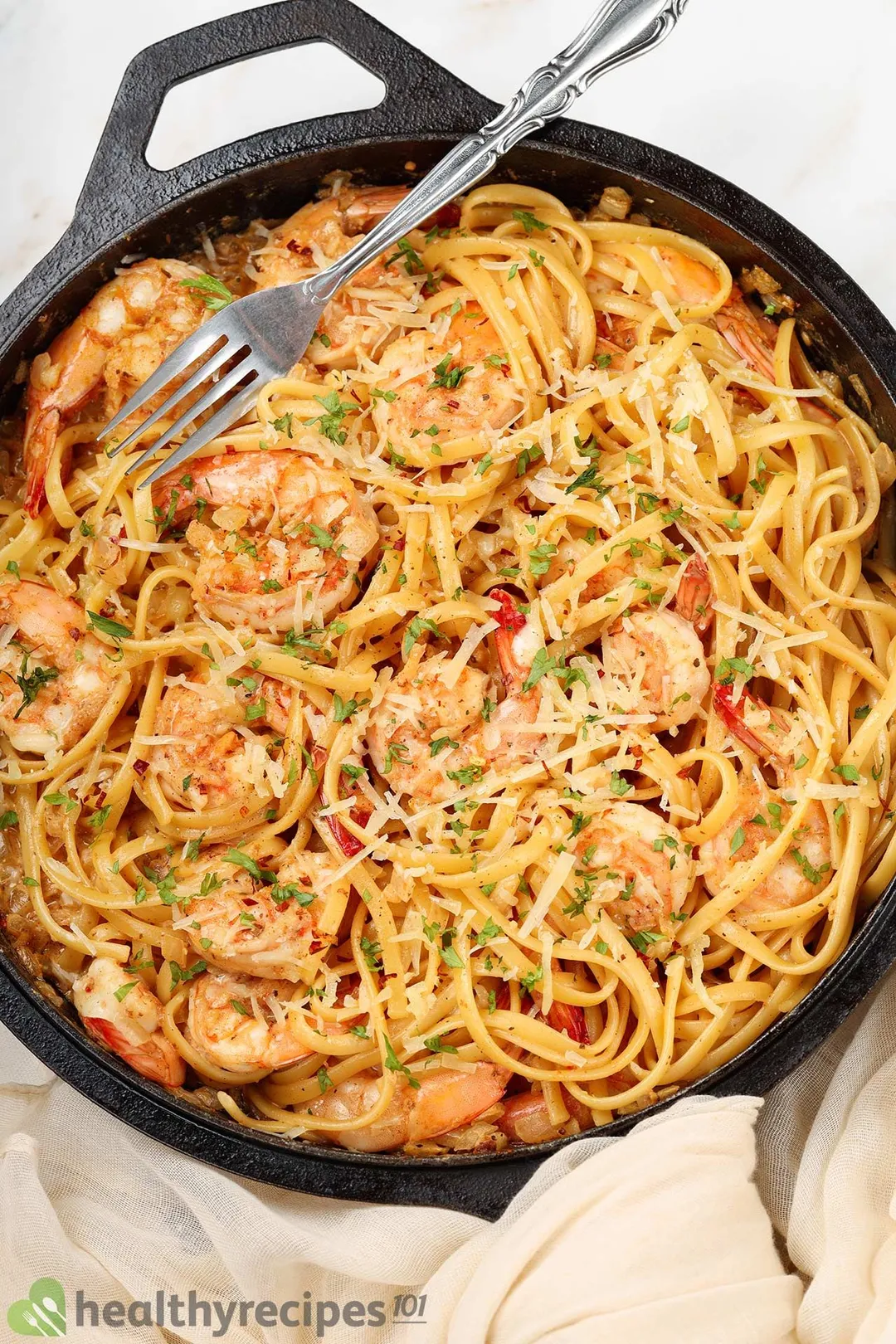 Next Recipe
Creamy Shrimp Pasta Recipes
Creamy Shrimp Pasta Recipes
Writer, Author
Luna Regina is an accomplished writer and author who dedicates her career to empowering home cooks and making cooking effortless for everyone. She is the founder of HealthyKitchen101.com and HealthyRecipes101.com, where she works with her team to develop easy, nutritious recipes and help aspiring cooks choose the right kitchen appliances.
Comments/ Reviews