Our shrimp soup recipe makes a creamy soup that's infused with bold shrimp flavors. It's everything you look for in a comfort food.
Is Shrimp Soup Healthy?
Packed with vegetables and shrimp, this soup contains plenty of the crucial nutrients your body needs. The abundance of ingredients give you complex carbs, complete proteins, and tons of vitamins and minerals.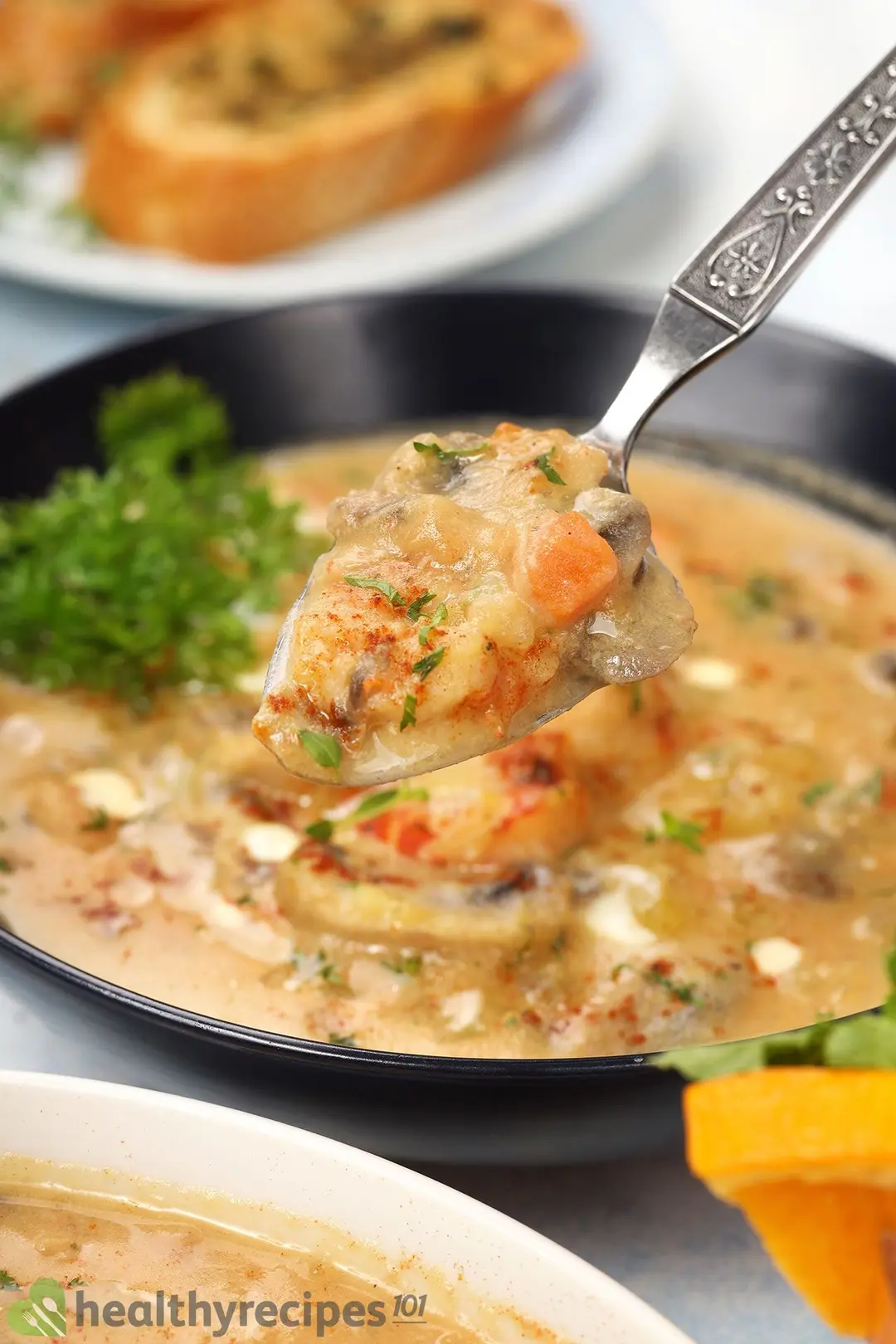 To make this soup even healthier, we made several tweaks to limit its calories, sodium, and saturated fat levels. Ultimately, each delicious portion contains 496 calories, 8.4 g saturated fat, and 597 mg sodium.
To learn about the limitations we aim for, check out our USDA-inspired dietary guidelines.
Ingredients for Shrimp Soup
To cook this hearty and wholesome soup, you'll need shrimp, the proper mix of veggies, and a few key spices, and other ingredients.
1. Shrimp
Convenience is important when it comes to cooking, so we recommend that you buy peeled shrimp instead of whole. You can find them easily in the frozen foods section, all packaged and ready to cook by the time you get home.
Packaged shrimp come in all sizes and this soup welcomes any of them. Our preference is for small ones — they're usually cheaper and present better in a soup.
If you're going for whole shrimp, though, aim for larger options as they take less time to prepare. In case you're not yet an expert in peeling and deveining shrimp, check out this recipe of ours for some tips.
2. Vegetables
In terms of veggies, our shrimp soup recipe calls for the heartiest ones:
Potatoes: starchy potatoes like russet or Yukon gold are the best. Once tender, they're to be mashed and fused with the creamy broth as key components of the soup's satisfying thickness.
Onions and carrots: they lend the finished product a gentle sweetness, something crucial in soup making.
Celery: it gives the broth a strong pungent aroma and a savory flavor.
Mushrooms: these add a nice chewy texture to almost any dish, and soups are no exception. We used white mushrooms, but brown ones work just as well.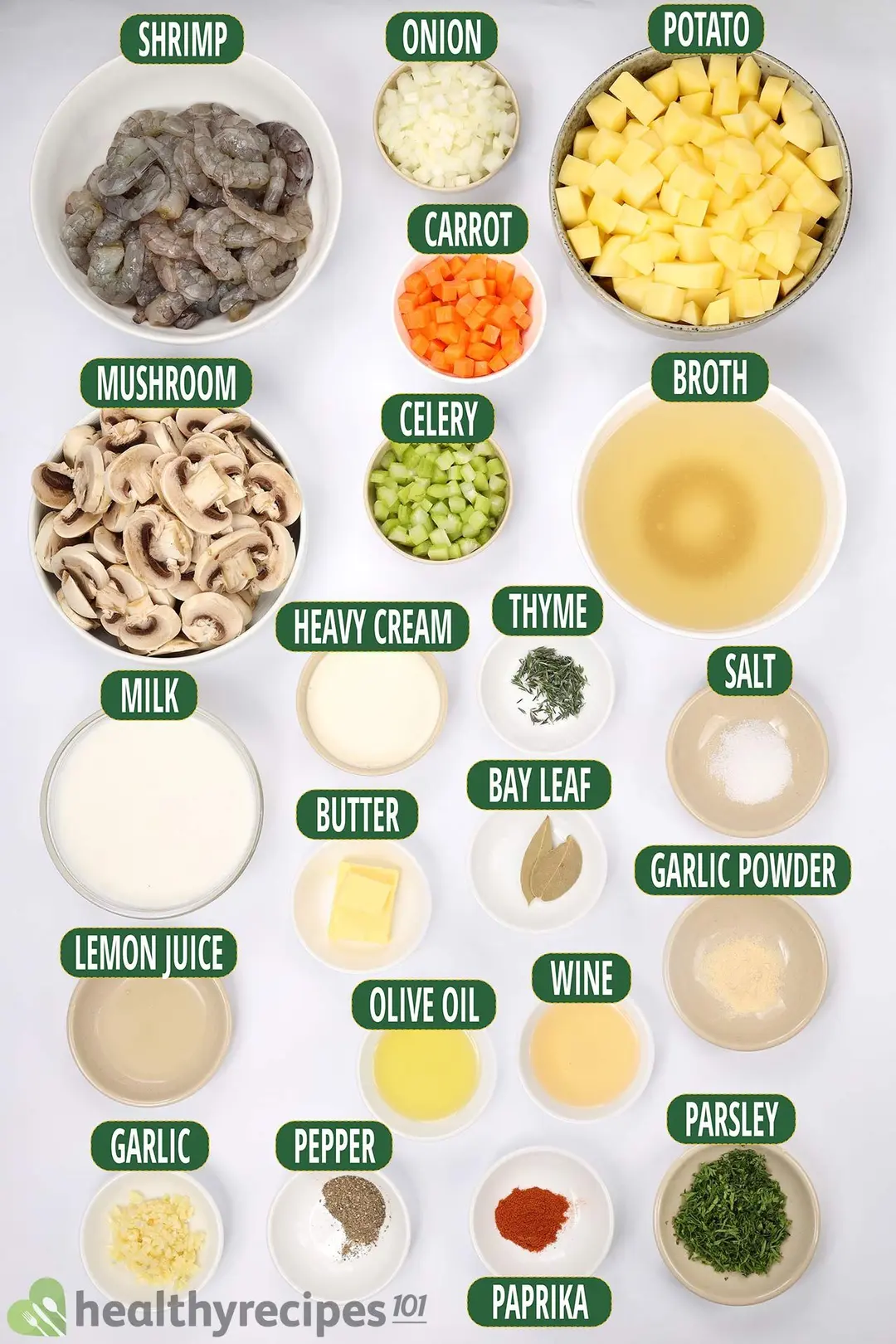 3. Other Ingredients
To enhance the shrimp flavor, we used both fresh garlic and garlic powder. We also added a dash of paprika so the shrimp would look nicer in the end.
When working with shrimp, we love using white wine to deglaze the pan. Not only does it loosen the flavorful brown bits, it also makes shrimp or seafood in general smell better.
Of course, we seasoned everything with salt and pepper. You can add as much pepper as you like, and it won't hamper your diet.
Since the base of this soup is chicken stock, cream, and milk, we added some butter to the shrimp as well. It has a complementing aroma that works for many dairy-based dishes.
For soups made with chicken stock, we found that fresh thyme is an outstanding addition. Still, it has quite a bold aroma so you might want to use just a little.
Finally, we added several bay leaves to increase the savoriness.
How to Make Shrimp Soup
Here's what you need to do:
Sauté the garlic.
Add the onions, celery, and carrots.
Add the shrimp and seasonings.
Deglaze with white wine.
Add the white mushrooms.
Add the potatoes.
Add the stock, milk, and bay leaves. Simmer for 30 minutes.
Mash the potatoes.
Add heavy cream.
Garnish with parsley and enjoy.
After 30 minutes, the potatoes should be tender enough to be broken up using just a whisk. Still, if yours don't turn out as tender, feel free to use a potato masher. We're looking for a soup texture about midway between silky and chunky so there's no need to pull out your food processor.
Feel free to set a 30-minute timer while everything simmers. We spent that time making a pair of sides: garlic bread and carrot orange ginger juice. You can check these recipes out simply by scrolling past the shrimp soup recipe card section.
Can You Cook Frozen Shrimp Without Thawing?
Frozen shrimp that are peeled can technically go straight from the freezer to the pot, although we'd let them thaw at room temperature for about 5 minutes first. If the shells are still on, you need to thaw them at room temperature for about 15 minutes, peel, devein, then cook them like you normally would.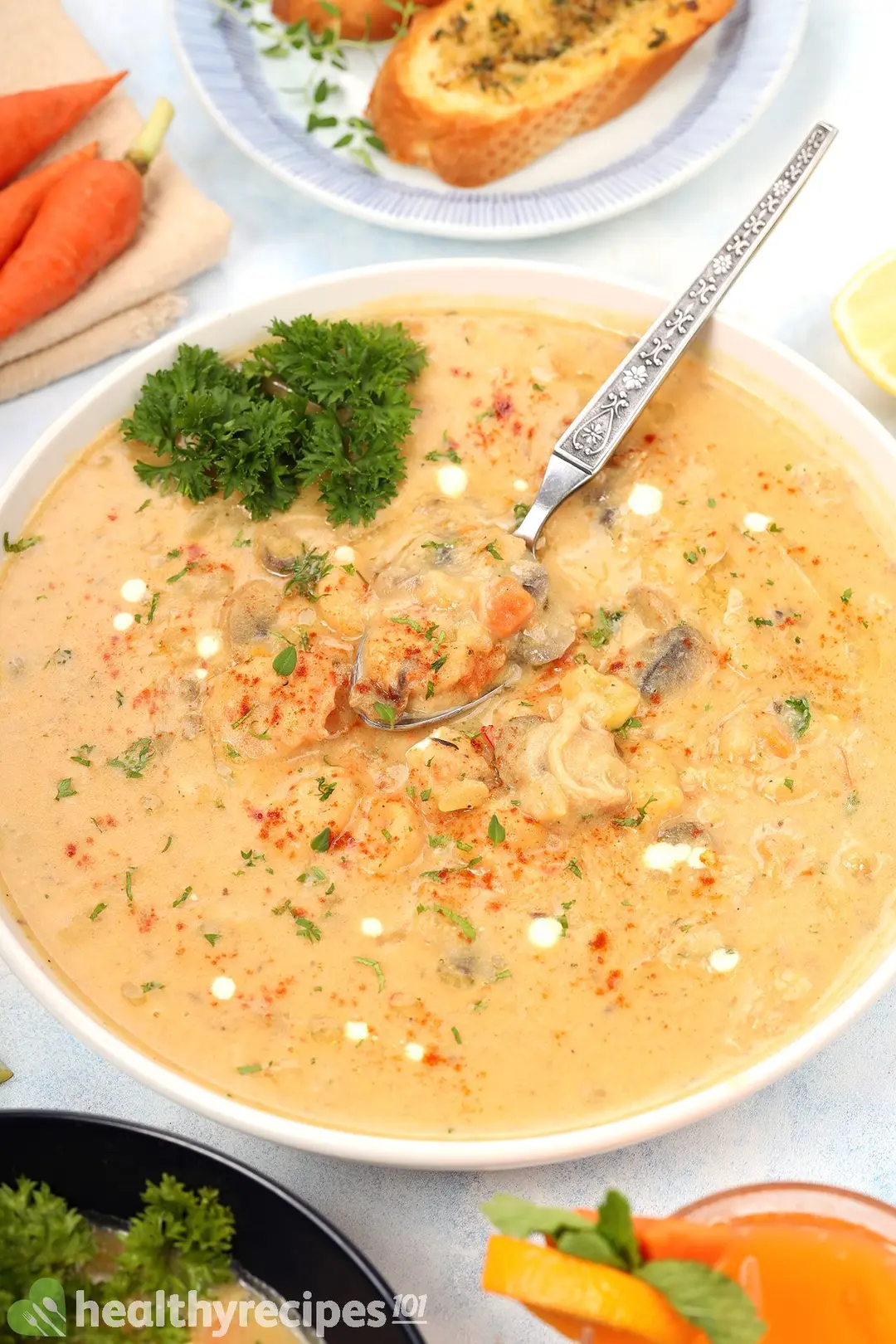 How to Store and Reheat Leftover Shrimp Soup
Seafood dishes only last for about 4 days in the fridge. In the freezer, however, they can be kept for up to 3 months.
You can transfer the leftovers to a smaller air-tight container, or store the entire pot if your fridge is large enough. Whatever you choose, make sure to cover your container with a lid or plastic wrap.
To freeze liquid dishes like soups, it's best to portion them out into individual Ziploc or biodegradable bags for easier storage. That makes it easy to select and reheat exactly the amount you need later.
To reheat, remove your frozen soup from its container and drop it in a pot. Simmer on low heat until everything melts. Let it bubble for an extra 5 minutes and it'll be ready to go.
What to Serve With Shrimp Soup
The best way to enjoy soup is with some crispy garlic bread. We love coating each crunchy, garlicky bite in the tender soup, fusing plenty of flavor and texture together.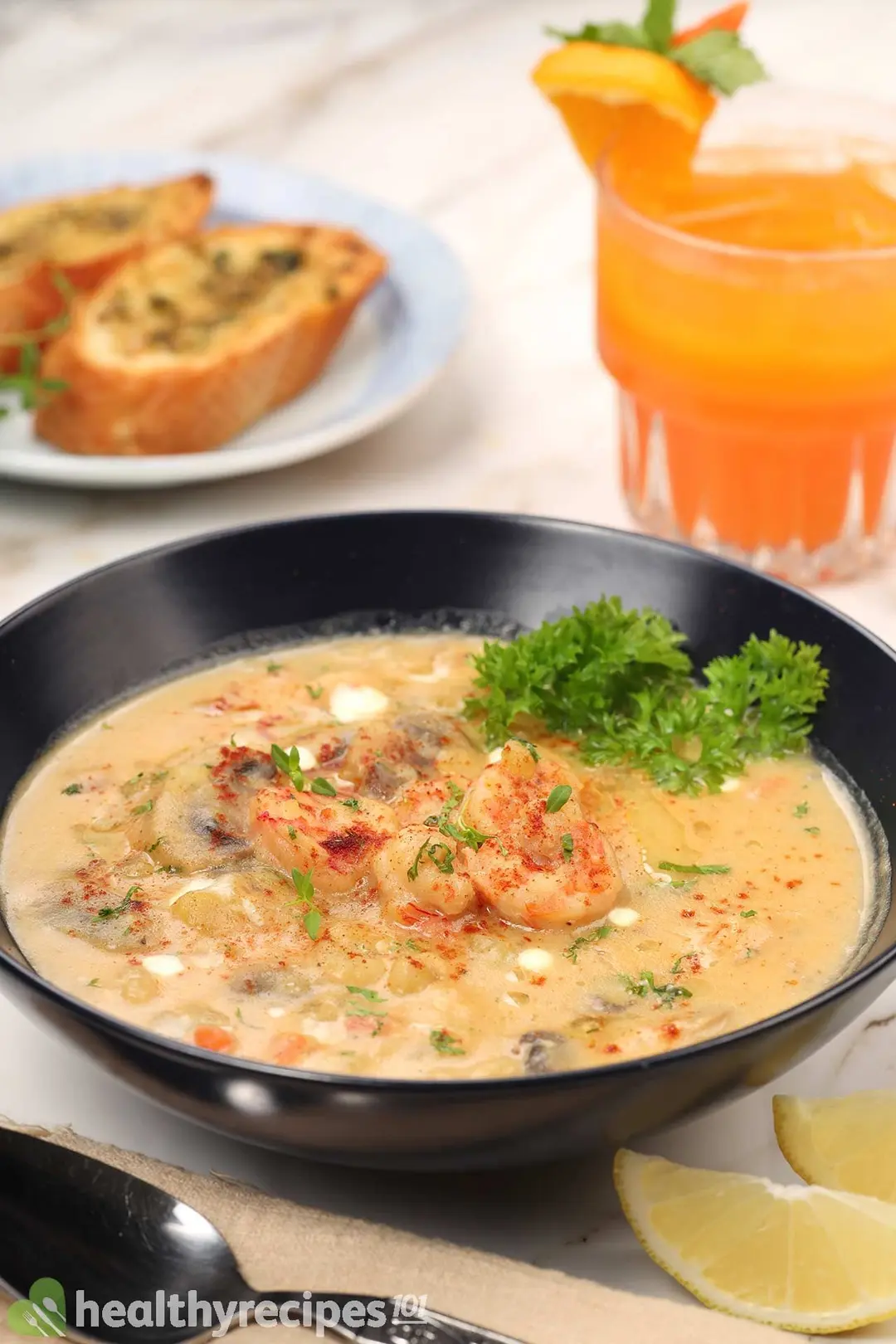 We rounded off the meal with some carrot orange ginger juice, a tangy beverage with warm, floral notes of ginger. It all makes for a cozy meal that's great when the weather gets cold.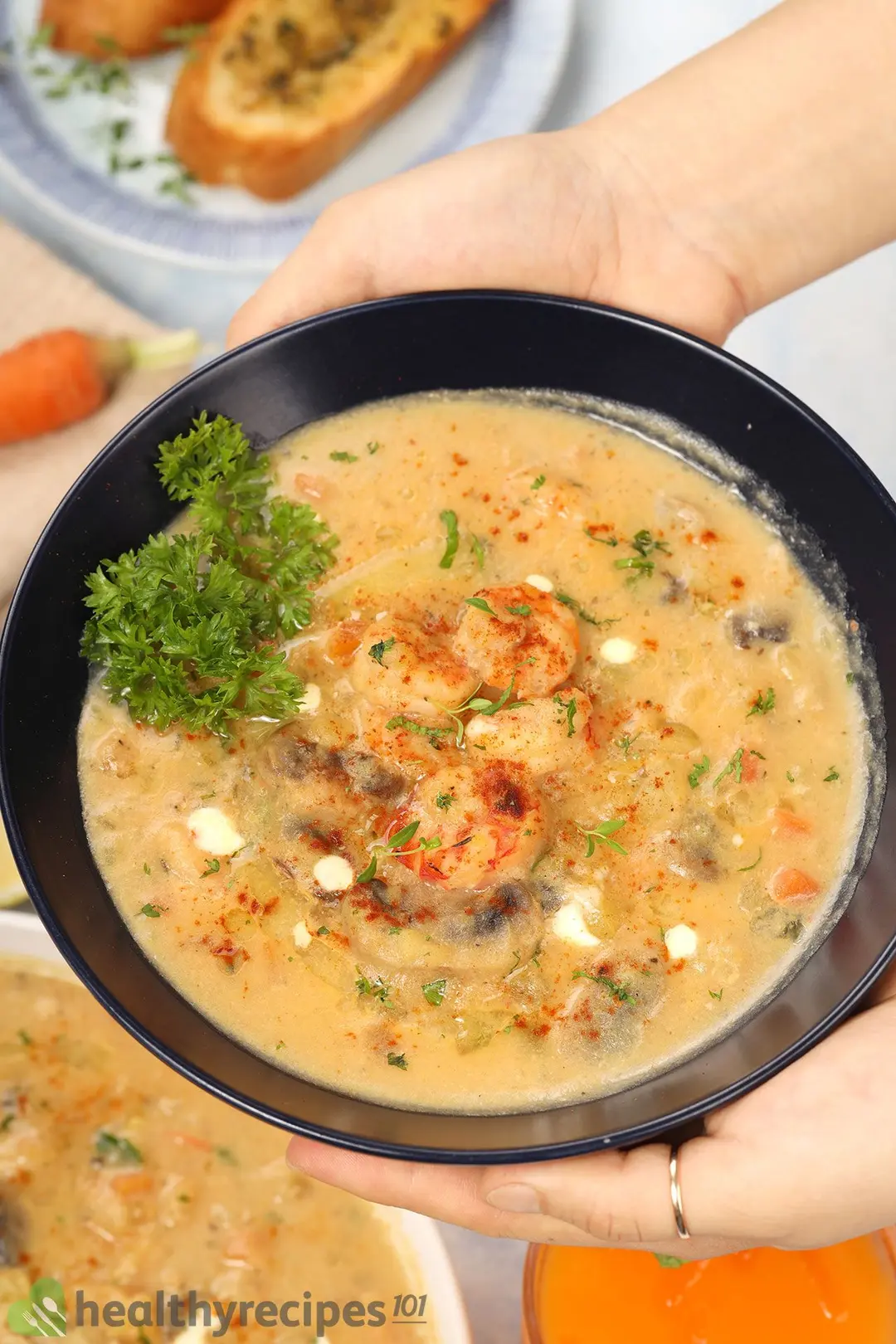 Shrimp Soup Recipe
This shrimp soup recipe makes a hearty bowl of shrimp and veggie soup. It may not cook quickly, but the result is worth your time.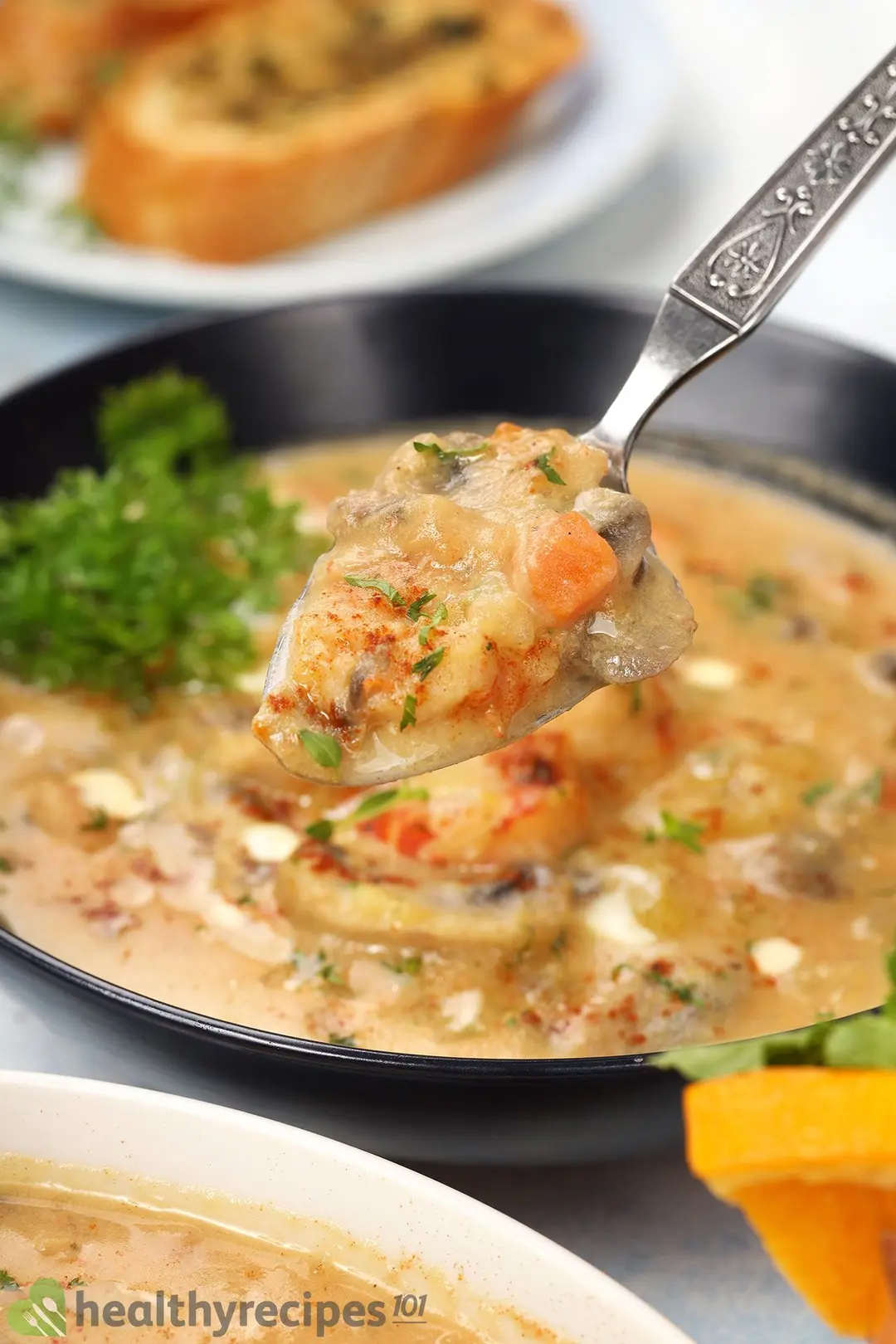 cook TIME

53 mins

prep TIME

7 mins

total TIME

1 hr
COURSE

Main Course

CUISINE

American

SERVINGS

servings

CALORIES

496 kcal
INGREDIENTS
2 tbsp

olive oil

1 tbsp

garlic about 3 cloves, minced

3 oz

onions about 3/4 a medium, chopped

2 oz

celery about 1 stalk, chopped

2 oz

carrots about 1 medium, cut into chunks

1.5 tbsp

unsalted butter about 0.75 oz

12 oz

peeled shrimp from about 24 oz whole

2 tsp

lemon juice from about half a lemon

0.5 tsp

thyme about a sprig

0.5 tsp

paprika divided

0.5 tsp

garlic powder

0.5 tsp

salt

0.5 tsp

ground black pepper

2 tbsp

white wine

8 oz

white mushrooms sliced

24 oz

potatoes about 3 medium, cut into chunks

2 cups

unsalted chicken broth

1 cup

whole milk

2

bay leaves

0.3 cup

heavy cream

2 tbsp

parsley chopped
INSTRUCTIONS
1
In a non-stick pot, heat 2 tbsp olive oil over medium heat and stir in 1 tbsp minced garlic for 30 seconds.
2
Add 3 oz onions, 2 oz celery, and 2 oz carrots. Sauté for 5 minutes.
3
Make space in the pot and add 12 oz peeled shrimp to sear. Add 1 1/2 tbsp butter, 2 tsp lemon juice, 1/2 tsp thyme, 1/2 tsp paprika, 1/2 tsp garlic powder, 1/2 tsp salt, and 1/2 tsp pepper. Give everything a nice mix and allow it to cook for 3 minutes.
4
Deglaze the pot with 2 tbsp white wine. Scrape the pot with a wooden spoon (or heat-resistant spatula) to release any stubborn browned bits.
5
Add 8 oz white mushrooms and stir to cook for 3 minutes.
6
Add 24 oz potatoes, stir, and allow to cook for 5 minutes.
7
Gently pour in 2 cups chicken broth and 1 cup whole milk. Add 2 bay leaves. Turn the heat on high to bring it to a boil and then reduce it to low. Simmer for 30 minutes.
8
Use a whisk to beat the soup until the potatoes are mashed. If they're still a bit stiff, use a potato masher or fork and mash them right in the pot. We're looking for a texture about halfway between chunky and silky.
9
Add 1/4 cup heavy cream and cook for another 2 minutes.
10
Remove from the heat. Garnish with 2 tbsp chopped parsley and the remaining paprika (1/4 tsp) and enjoy.
NUTRITION
Nutrition Facts
Shrimp Soup Recipe
Amount Per Serving (1 serving)
Calories 496
Calories from FDA
% Daily Value*
* Percent Daily Values are based on a 2000 calorie diet.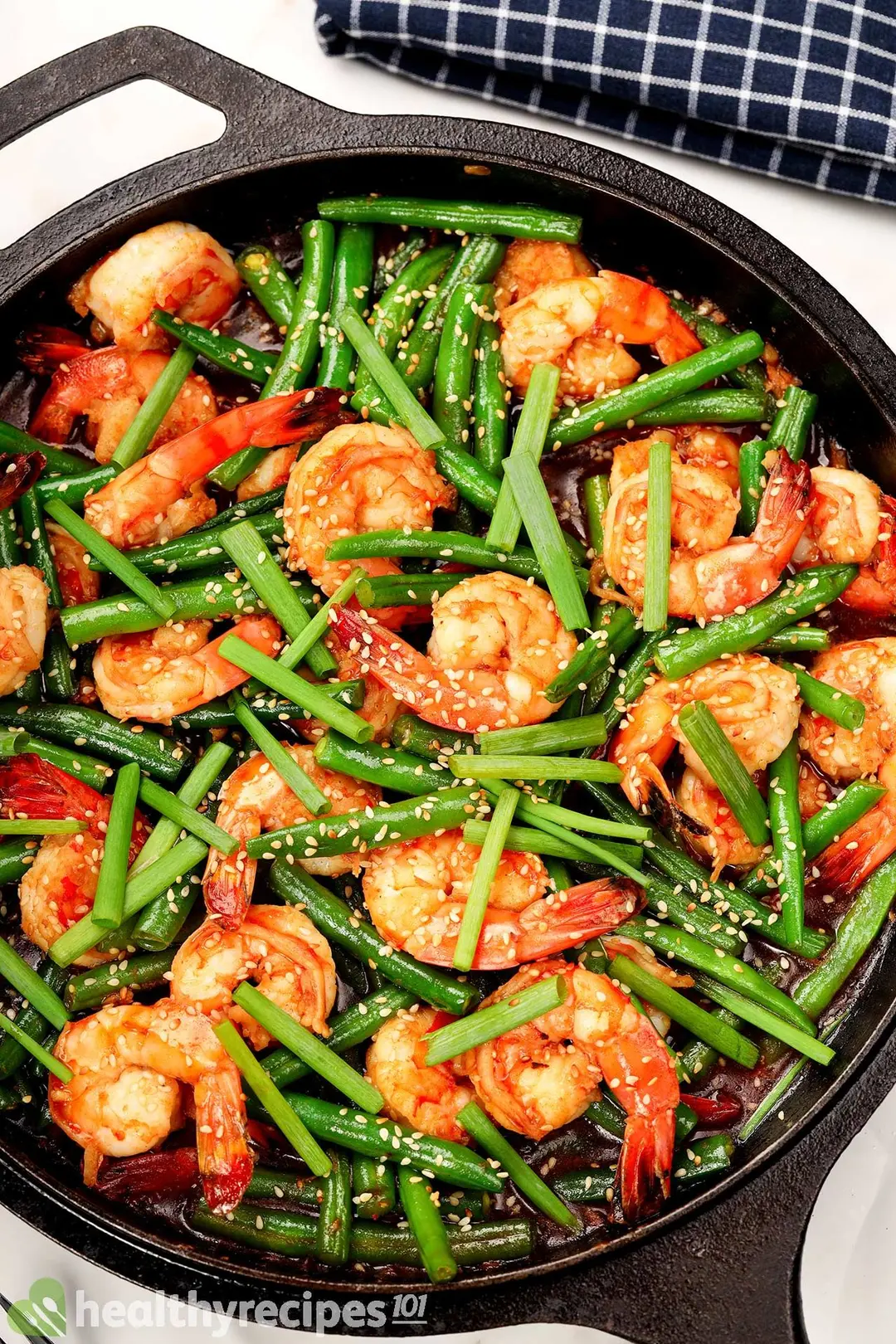 Previous Recipe
Hunan Shrimp
Hunan Shrimp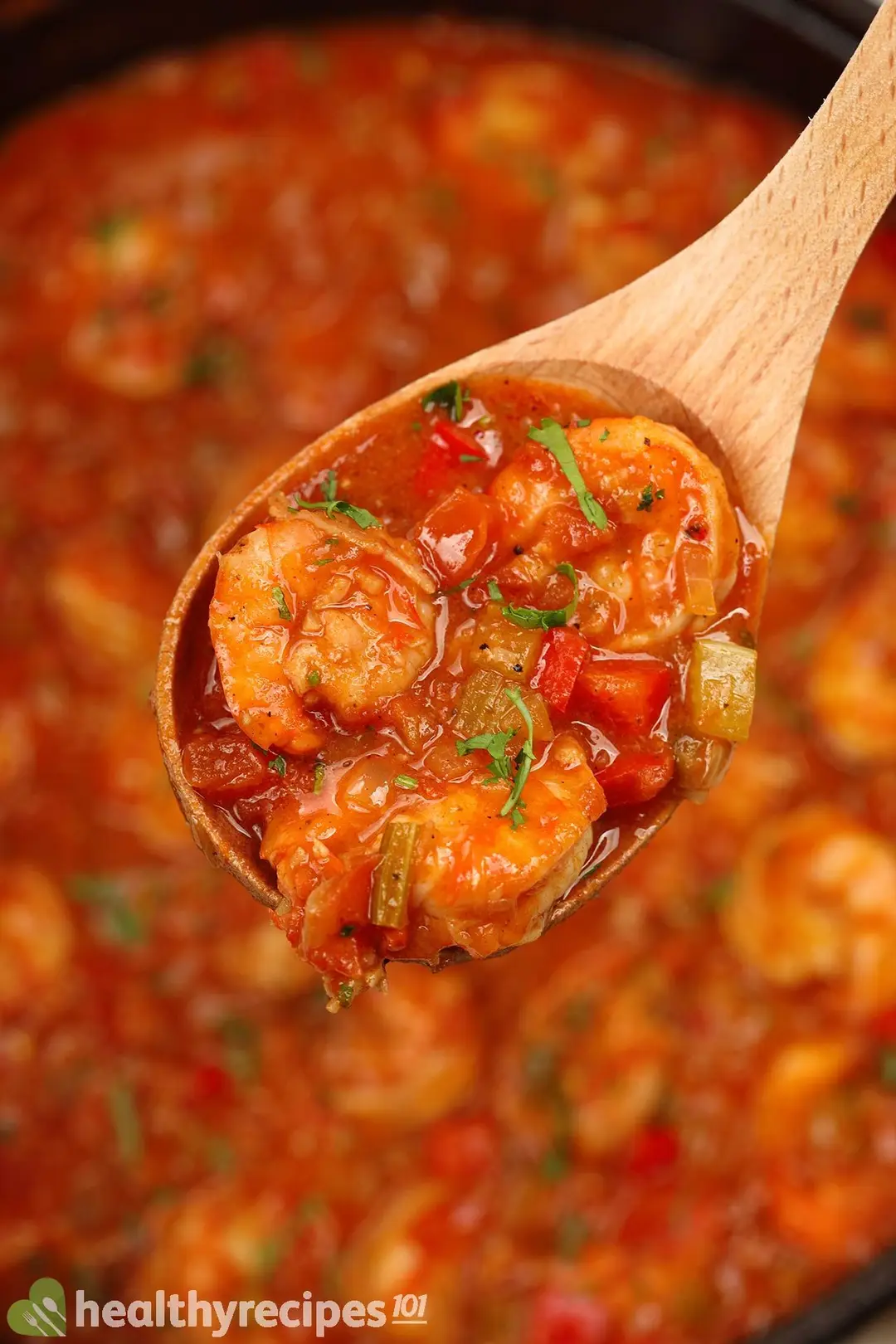 Shrimp Creole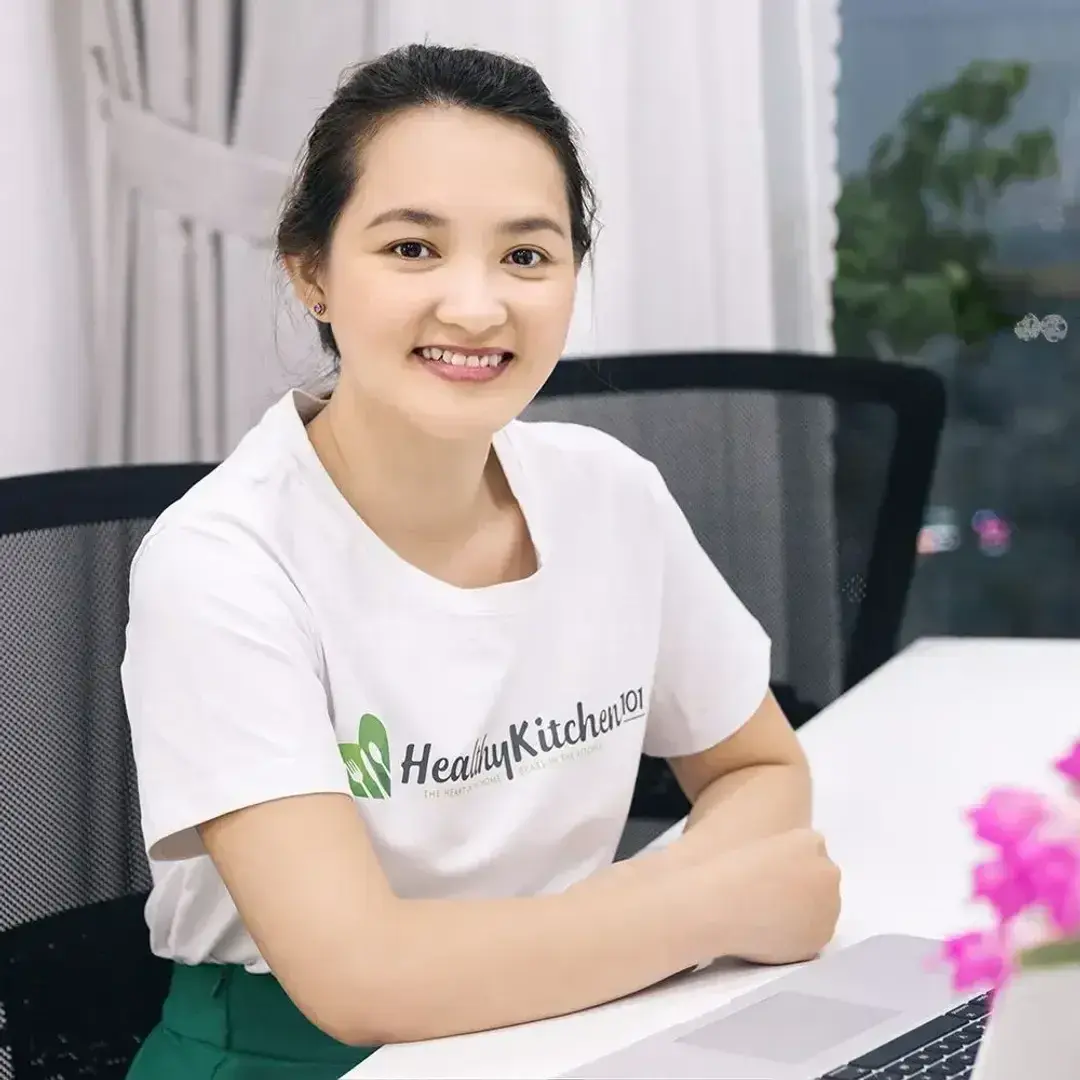 Luna Regina
Luna is the founder and chief recipe developer of Healthy Recipes 101. Apart from cooking, she also loves reading, programming, exploring the outdoors, and collecting useless facts about everything.