Our shrimp chowder recipe is a creamy blend of shrimp, corn, and potatoes that lightens up the taste buds like no other. It has a melt-in-the-mouth sweetness and comforting warmth, creating the kind of wholesomeness that only homemade soup can. 
The goodness doesn't stop there. This chowder can also be made with pantry staples in a few simple steps, making it the perfect dish to quickly whip up on busy weeknights.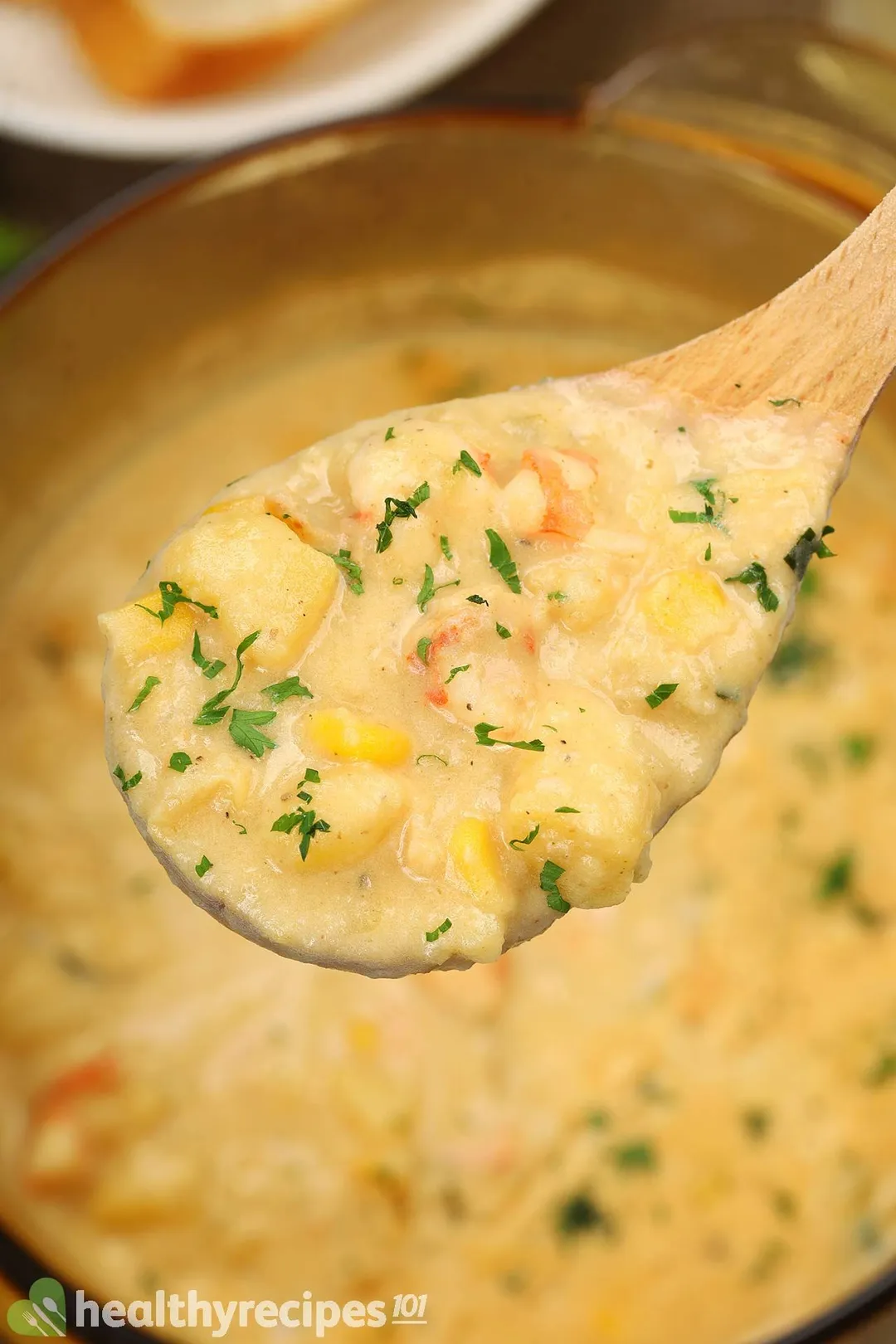 Is Shrimp Chowder Healthy?
Considering that shrimp and potato are this dish's main ingredients, we believe the answer is yes. 
Shrimp is a good source of omega-3 fatty acids – essential fats that may have beneficial effects on the heart and ease inflammation. This seafood is also low in calories while containing a decent amount of potassium, protein, and antioxidants. 
Potatoes have multiple possible health benefits, such as lowering blood pressure and decreasing the risk of heart disease. Most prominently, they have resistant starches, which could potentially improve gut health and lower the risk of type 2 diabetes. 
Additionally, this dish is quite high in protein. However, it only contains 598.7 mg sodium and 9.7 g saturated fat, the amounts of which are moderated based on the standards set by our guidelines.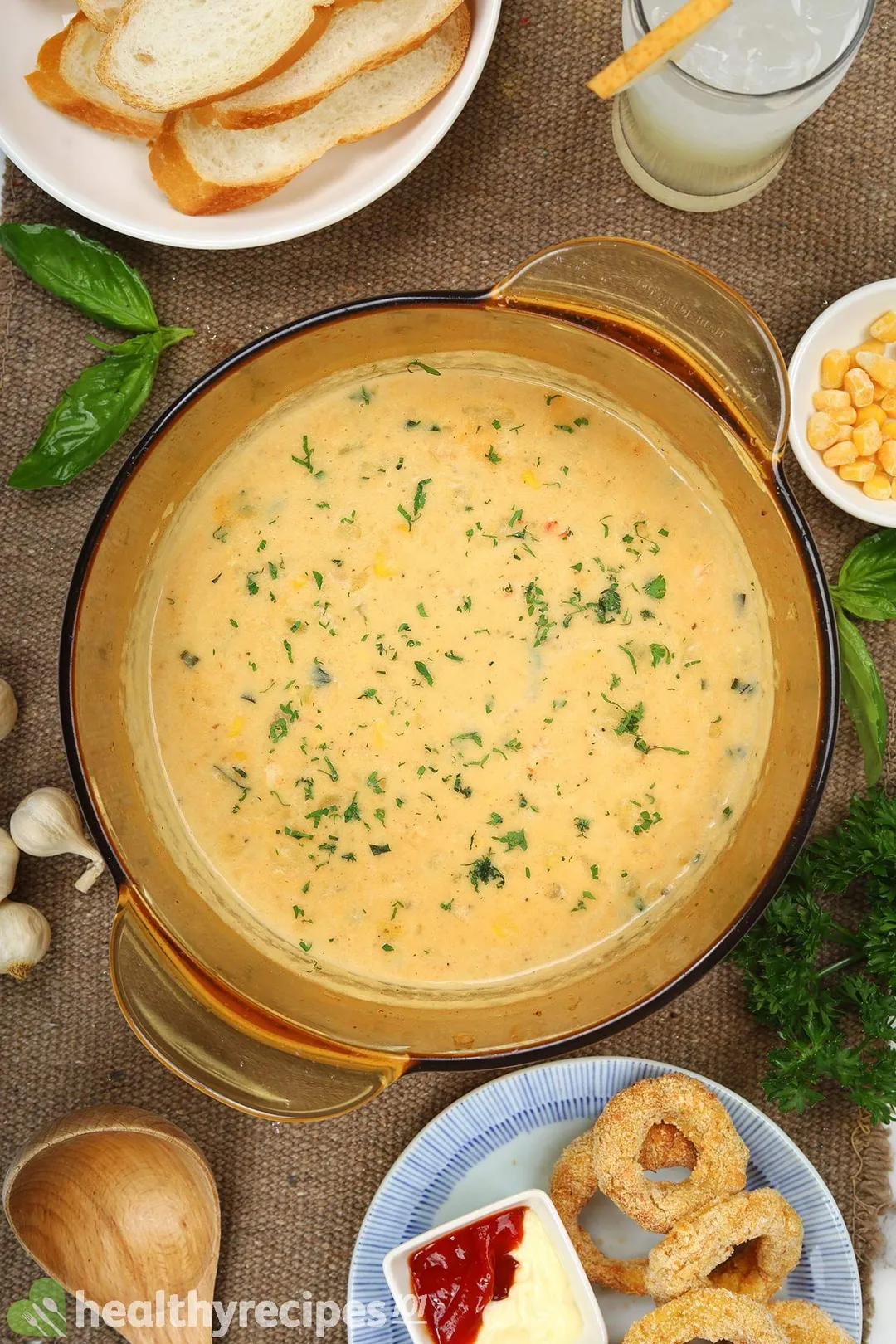 Shrimp Chowder Add-ins and Substitutions
We've kept it simple with our shrimp chowder by including mostly pantry staples such as corn, onions, and celery. However, since this recipe is entirely customizable, you can freely adjust it to your liking. Keep in mind, however, that the changes will affect the overall nutrition value. 
Here are a few of our suggestions:
1. Add-ins
You can use almost any veggie that's available in your fridge. However, since the chowder has a creamy consistency, we recommend crunchy ones like bell peppers, carrots, broccoli, etc. for texture contrast.
Other kinds of seafood such as crab, scallops, white fish, and more will also go well in this shrimp chowder. If you're looking for something more savory, sprinkle in a few pieces of bacon. 
2. Substitutions
Our recipe uses heavy cream to achieve a smooth consistency. However, we understand you may be wary, this being a high-fat dairy product. If so, you can replace it with plant cream or half-and-half. You can also skip it altogether, although this might slightly affect the dish's overall texture and taste.
For convenience, we used canned corn in this recipe. You can also use frozen corn or fresh corn, which should require approximately one ear of corn.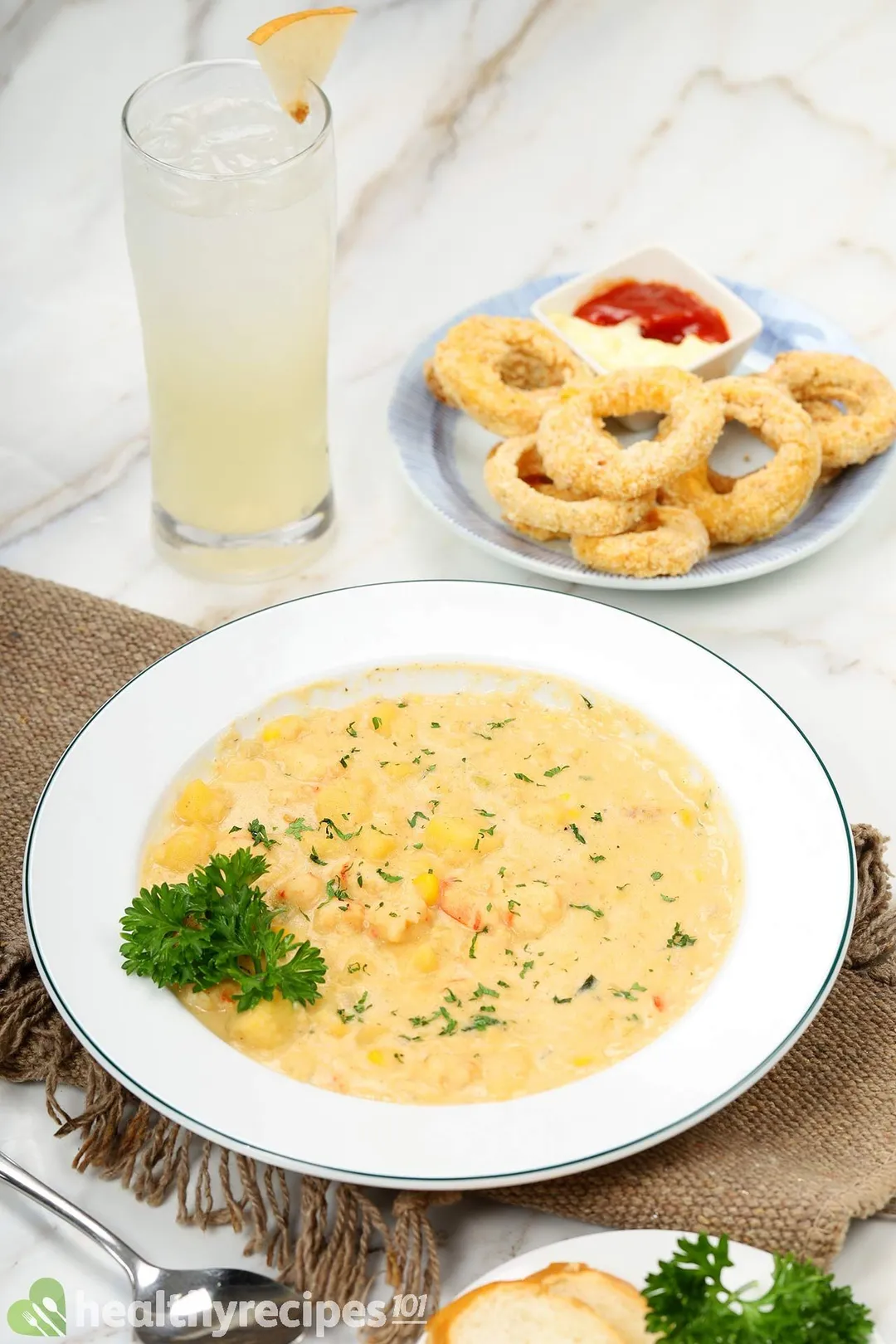 How to Store and Reheat
Since this dish contains milk and heavy cream, we recommend that you only keep the leftovers in an airtight container in the fridge for two days at most.
Reheating can be done either with a microwave or on the stovetop. For the microwave, cover the bowl's surface with plastic wrap and set a 1-minute timer. As for the stovetop, leave it on medium-low heat, add a little water or milk if it's dried up, and lightly stir until the chowder is warm and creamy. 
What to Serve With Shrimp Chowder
This shrimp chowder can be eaten on its own as a light meal. To add a little more texture and flavor, try serving it with the following foods:
Any bread of choice will work. We also suggest quickly toasting to make it more crunchy. Either way, it makes a fantastic dipping food to accompany this gorgeous chowder.
You can whip up a bowl using any veggies that you have on hand. We recommend leafy ones like arugula, lettuce, kale, etc. to refresh the palate.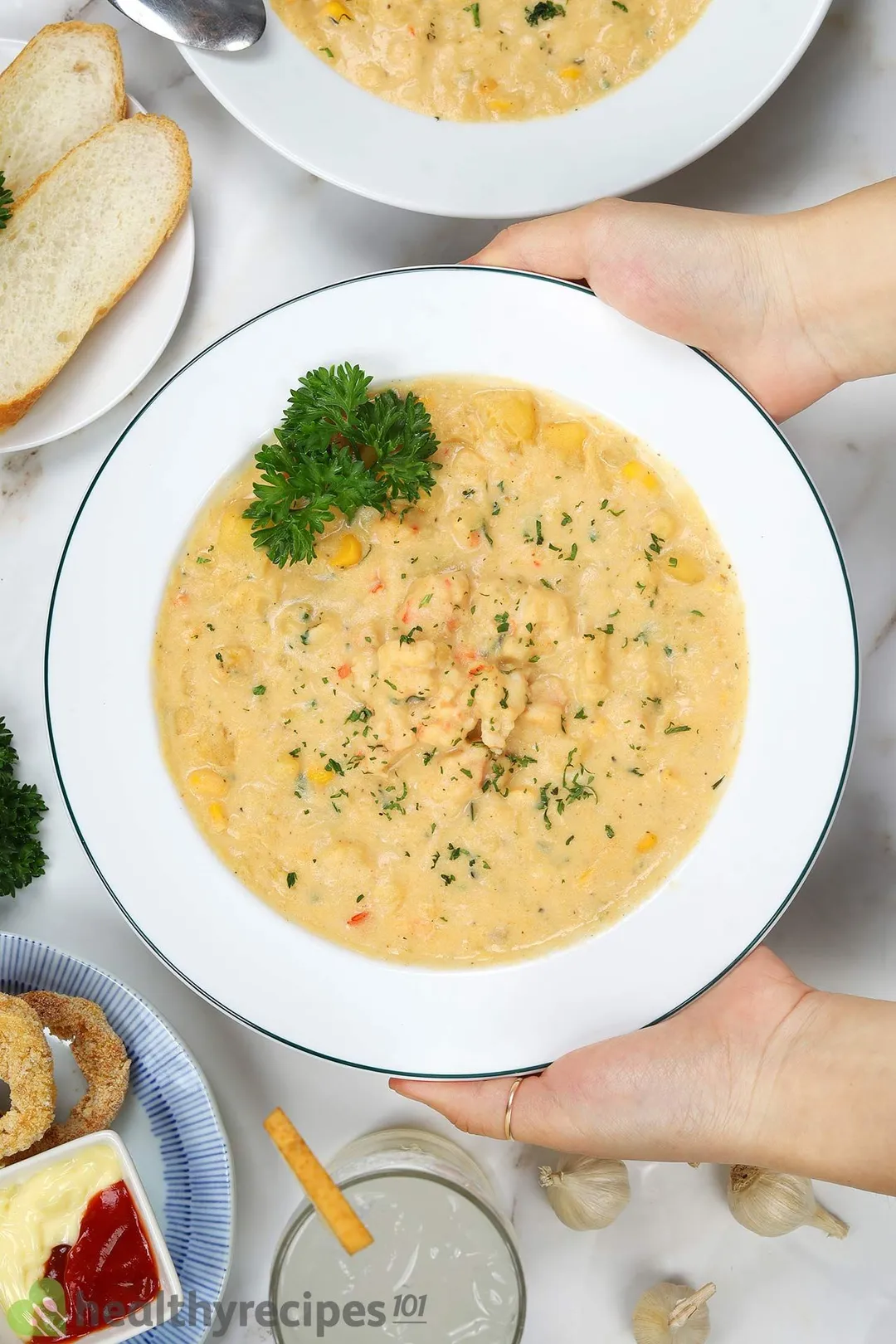 Other Shrimp Recipes to Try Out
How to Make Shrimp Chowder
Warm yourself up from inside out with this creamy and delicious shrimp chowder recipe. It's comforting, simple, and so easy to make.
cook TIME

30 mins

prep TIME

10 mins

total TIME

40 mins
COURSE

Main Course

CUISINE

American

SERVINGS

CALORIES

483 kcal
INGREDIENTS
9 oz

shrimp

(peeled, deveined, tails removed from 18 oz medium whole shrimp)

22 oz

potatoes

(peeled, large diced)

2 oz

french baguette

(sliced)

1 cup

unsalted chicken broth
INSTRUCTIONS
1. Preparation for the Vegetables
1
Peel the potatoes: With your dominant hand, move a peeler or a paring knife in downward strokes. Rotate the potato as you go until the skin is entirely removed.
2
Dice the potatoes: Use a sharp knife to slice the potato in half lengthwise. Repeat the action with the sliced halves to make 1-inch sticks then line them up, rotate them into horizontal positions, and vertically cut through them to create large cubes. Rinse the cubes once you're done.
3
Dice the onion: Cut off the top and bottom ends of the onion then slice it in half lengthwise. Peel the skin off then lay one of the halves horizontally flat on the chopping board. Slice it vertically into small sections, then turn them sideways to make a stack and cut into small cubes by slicing the knife in downward motions.
4
Dice the celery: Prepare the celery by separating the stalks and removing the white parts at the end. Slice them in half lengthwise, line a few up then rotate them horizontally and cut crosswise to make small cubes. While cutting, pinch your other hand's fingers on the stalks to hold them in place and keep them stable.
5
Chop the herbs: Remove the stems and collect the parsley leaves. Gather them into a small mound and use your non-dominant hand to hold them together. Grab a sharp knife and gently slice through in downward motions.
6
If the leaves are still too big, swiftly run the knife through the cut pile in circular motions a few more times to make fine cuts. This time, lay your non-dominant hand flat on the knife's spine, near the tip, to keep it steady.
7
Mince the garlic: Separate the cloves, trim off the ends, then crush them with the middle part of a chef's knife's flat side.
2. Preparation for the Shrimp
1
Rinse the shrimp: In a colander, wash the shrimp thoroughly with cold water. Check for signs of spoilage like discoloration, slime, or bad odor to weed out any bad ones.
2
Peel the shrimp: Hold the body and use your other hand to pinch the head with your thumb and index finger. Gently twist and pull to remove the head. Shrimp heads have bad smells so make sure you place them in a sealed bag to discard quickly.
3
Devein the shrimp: With a paring knife, make a shallow slit along the shrimp's back. Use the knife's tip to lift the black line then pull it all the way out. When you're done, rinse the shrimp one more time then pat them dry with paper towels.
Cook:
1
Chop the shrimp: On a chopping board, hold together 2 or 3 shrimp with your non-dominant hand and coarsely chop them into bite-sized pieces with a chef's knife.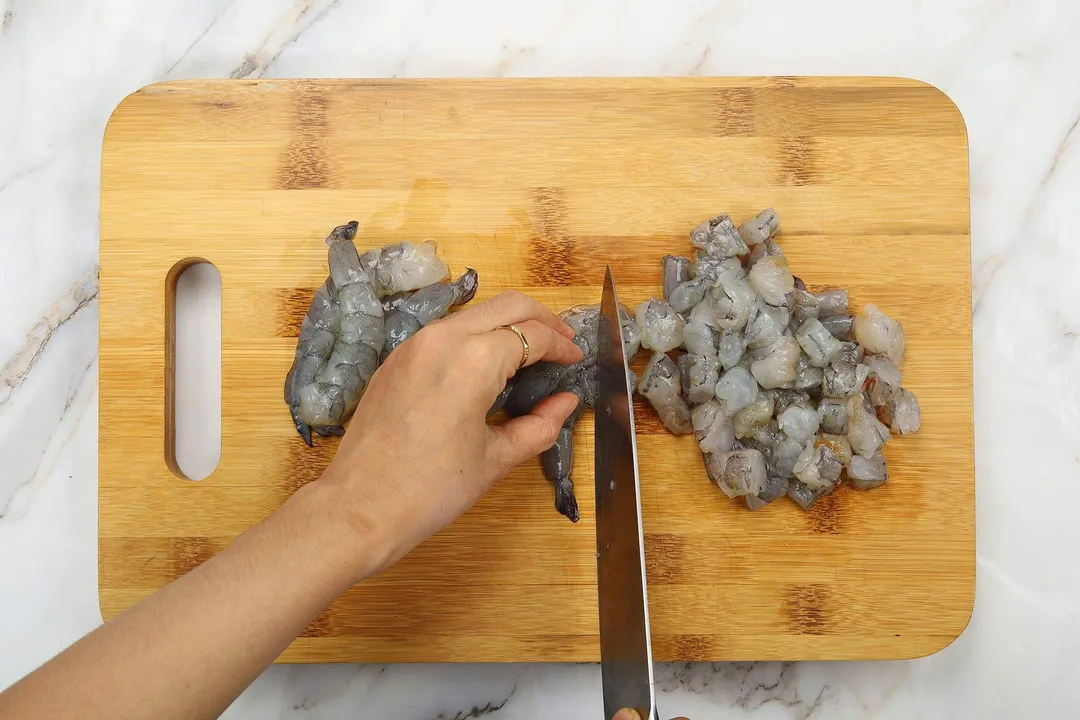 2
Sauté the veggies: In a saucepan, sauté 2 tbsp unsalted butter, 2 oz onion, 1 oz celery, 1 tbsp garlic, and 2 tbsp olive oil over medium-high heat for 2 minutes.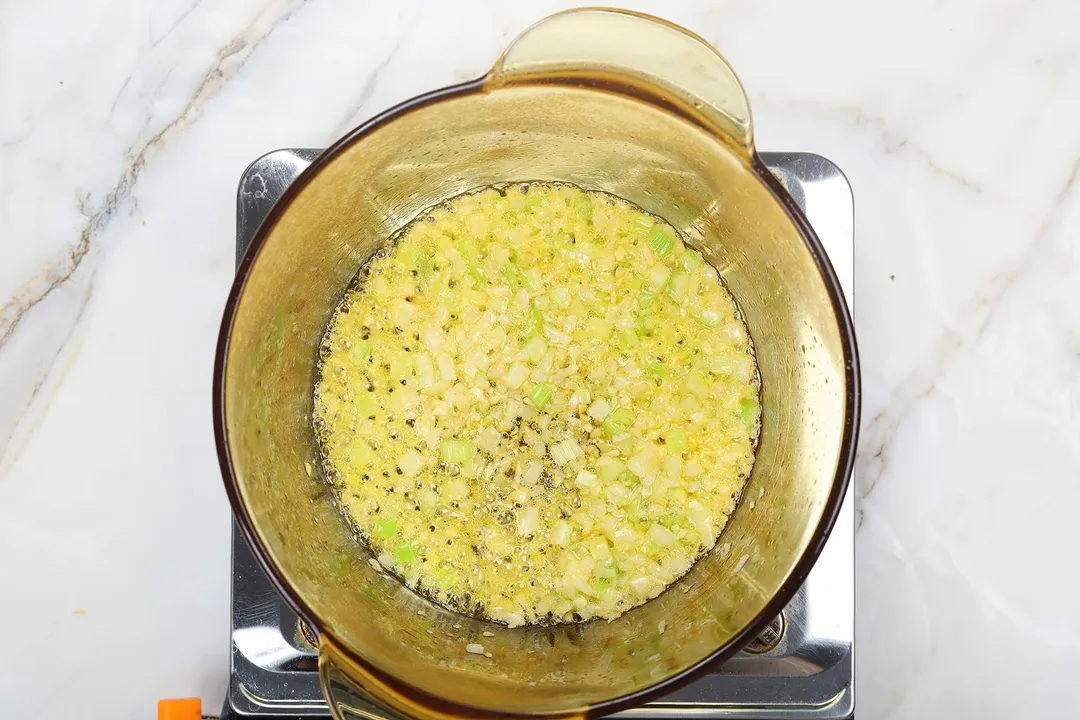 3
Sauté the shrimp: On the same saucepan, continue adding 9 oz shrimp, 1/2 tsp paprika, 1/2 tsp salt, and 1/2 tsp pepper, and sauté for another 2 minutes.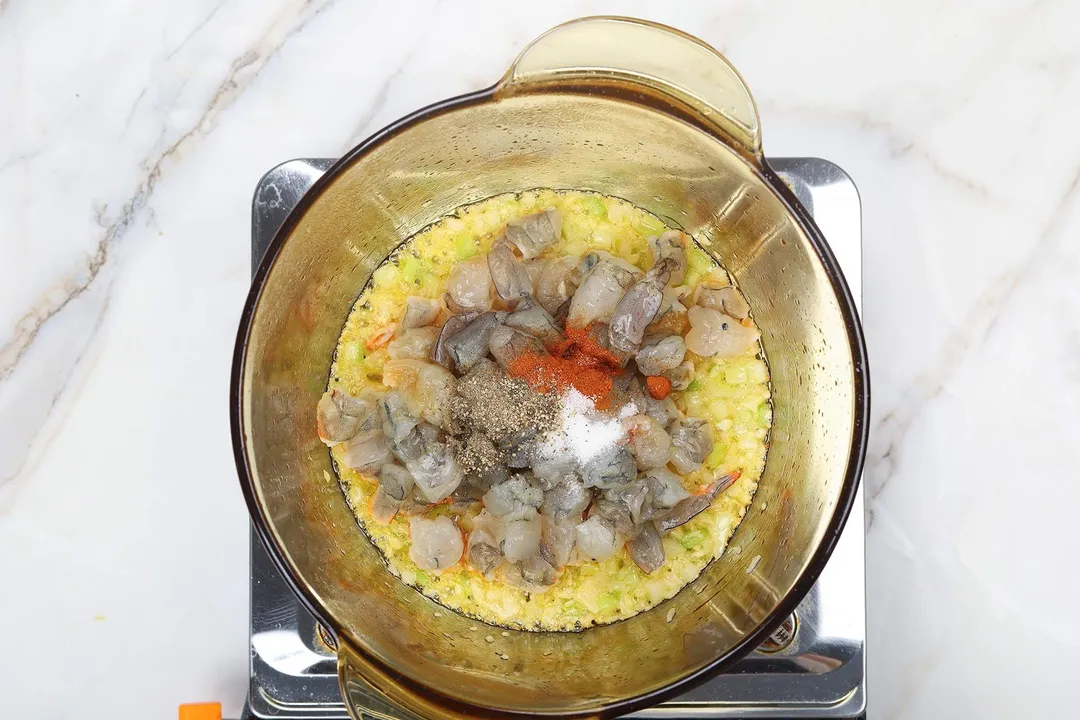 4
Stir the saucepan: Gently stir the saucepan with a spatula so the ingredients blend nicely into one another. The shrimp cooks relatively fast so they should turn bright orange after a short while.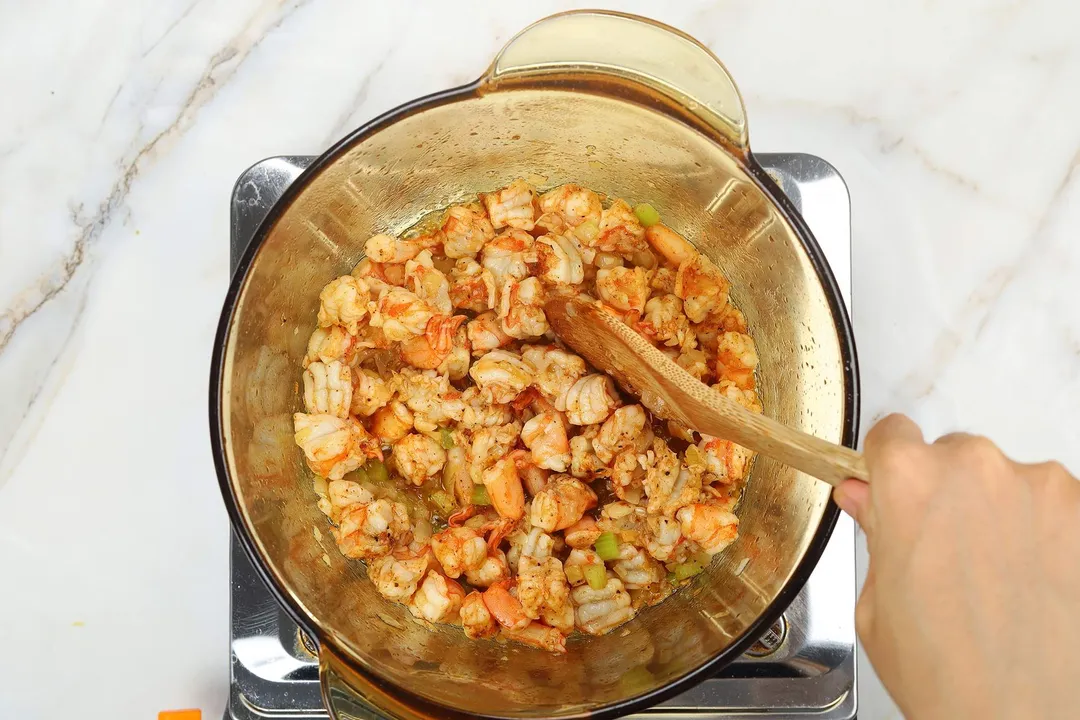 5
Add the potatoes and corn: Continue adding 22 oz potatoes and 2 oz corn to the saucepan. Repeat the same stirring motions for another 3 minutes.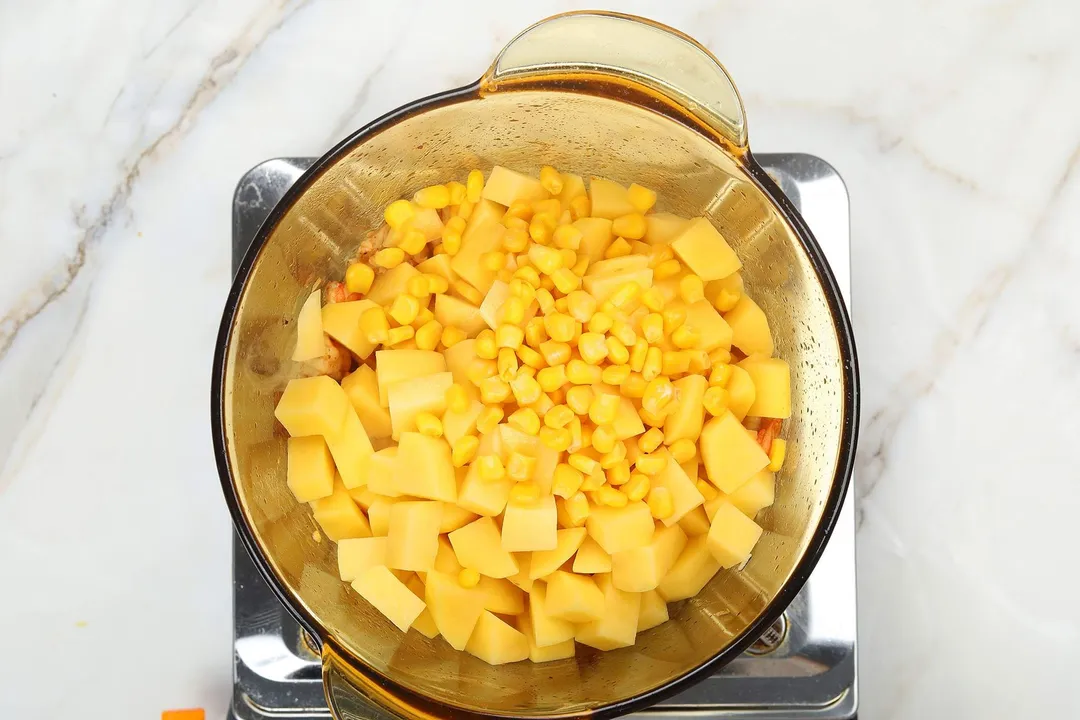 6
Add the liquid: Add 1 cup unsalted chicken broth, 4 1/2 tbsp heavy cream, and 1 cup milk to the saucepan. Bring it to a boil then lower the heat and let the mixture simmer for 20 minutes.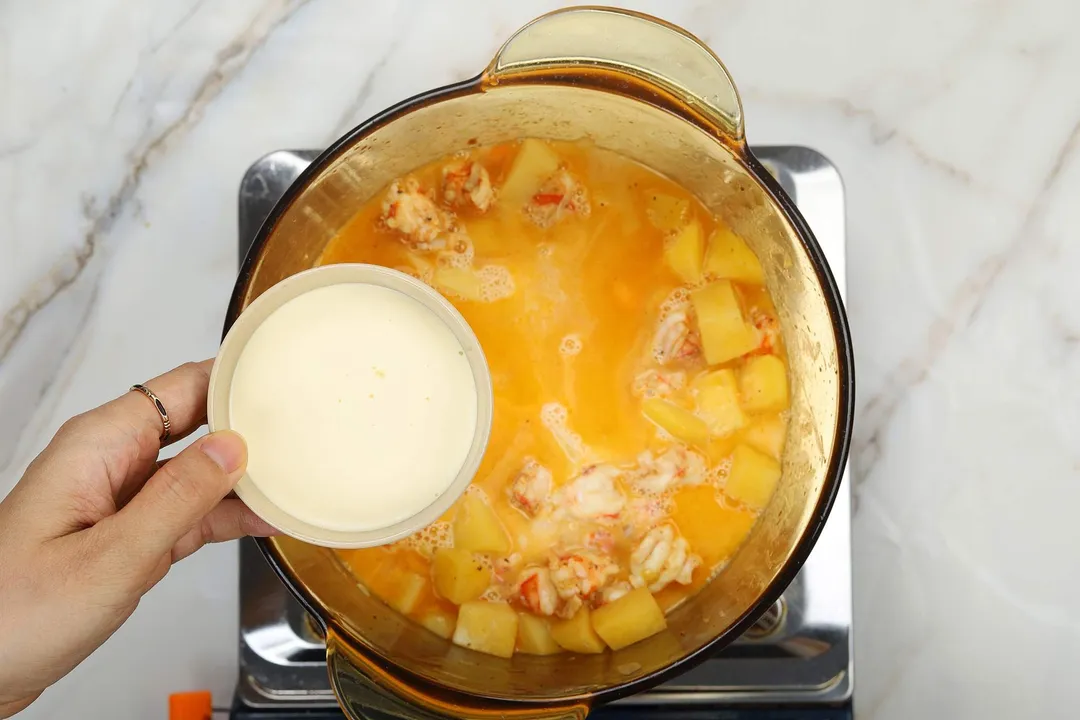 7
Air Fry the baguette slices: In the meantime, cut the baguette into slices then place them in the air fryer to cook at 330°F for 4 minutes.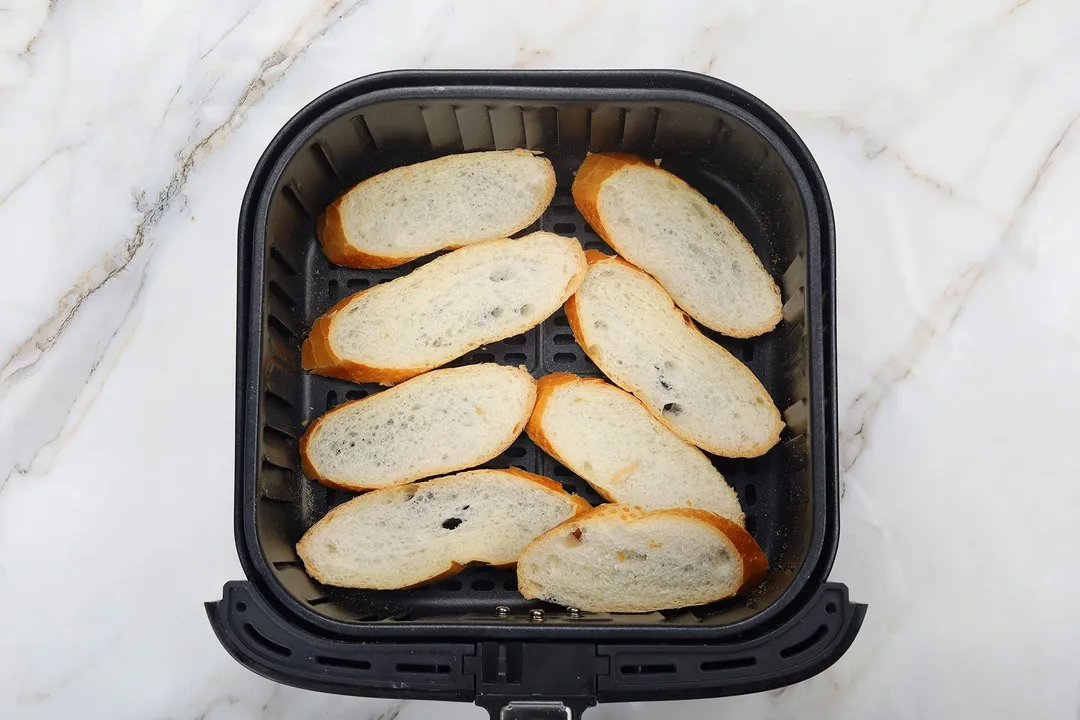 8
Stir the mixture: Gently stir in circular motions with a whisk to blend the potatoes into the soup. Do this for around 3 minutes or until there's a thick consistency.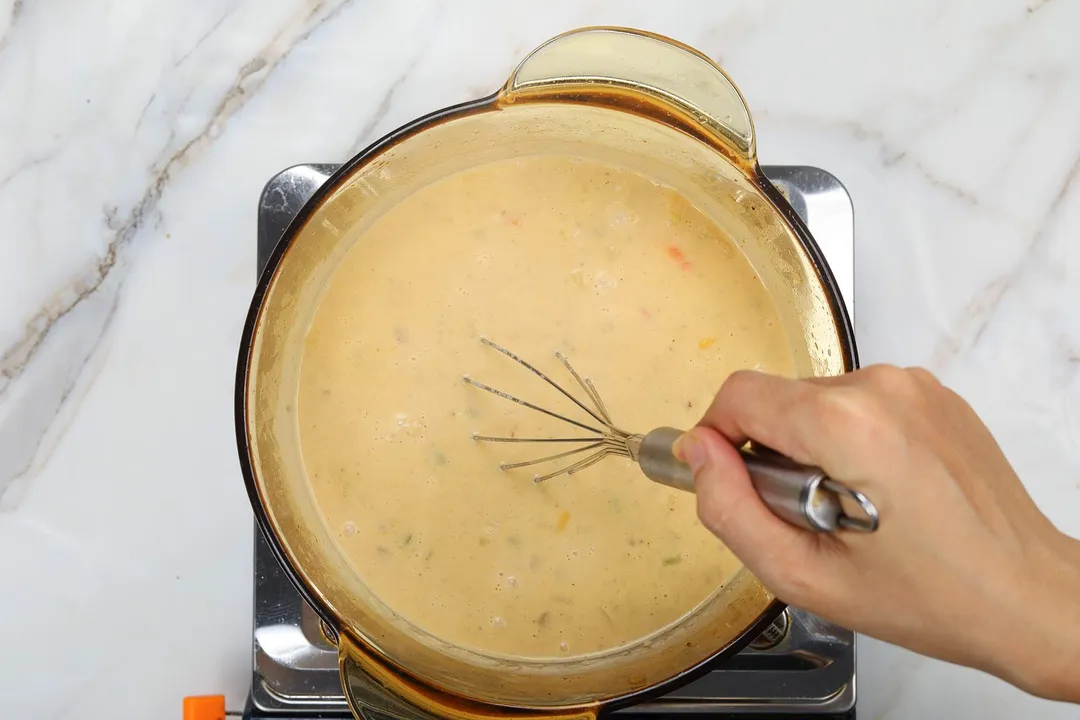 9
Garnish the soup: Garnish the soup with 2 tbsp parsley and 2 tbsp basil.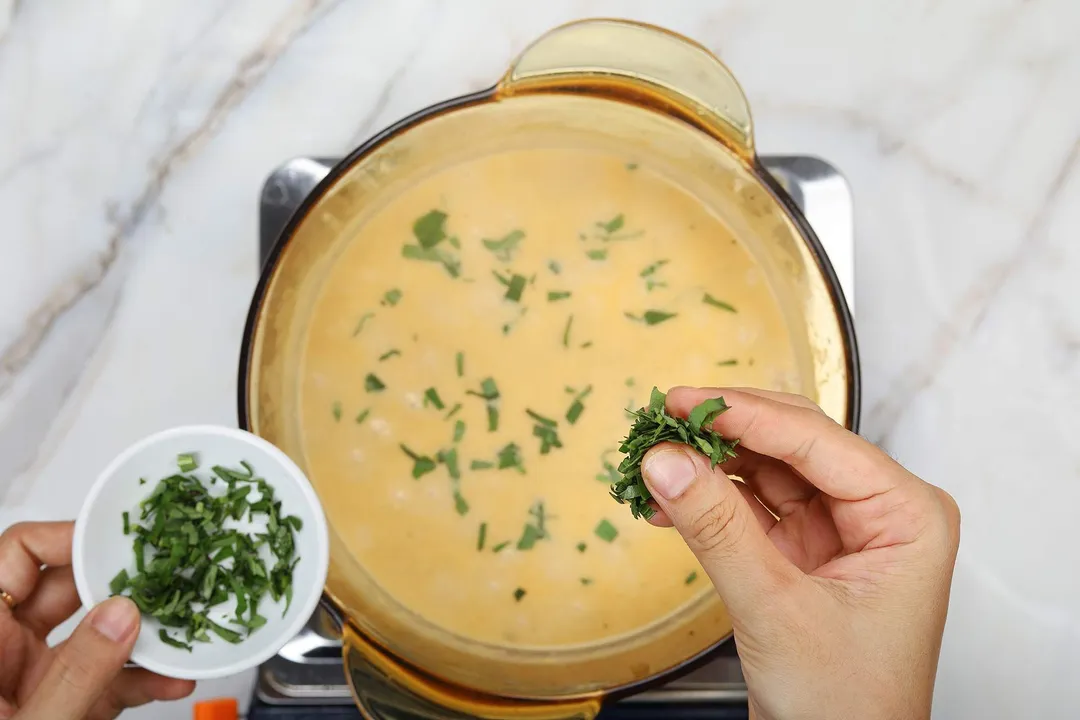 10
Serve the soup: Take the saucepan off the heat and serve hot in a soup bowl.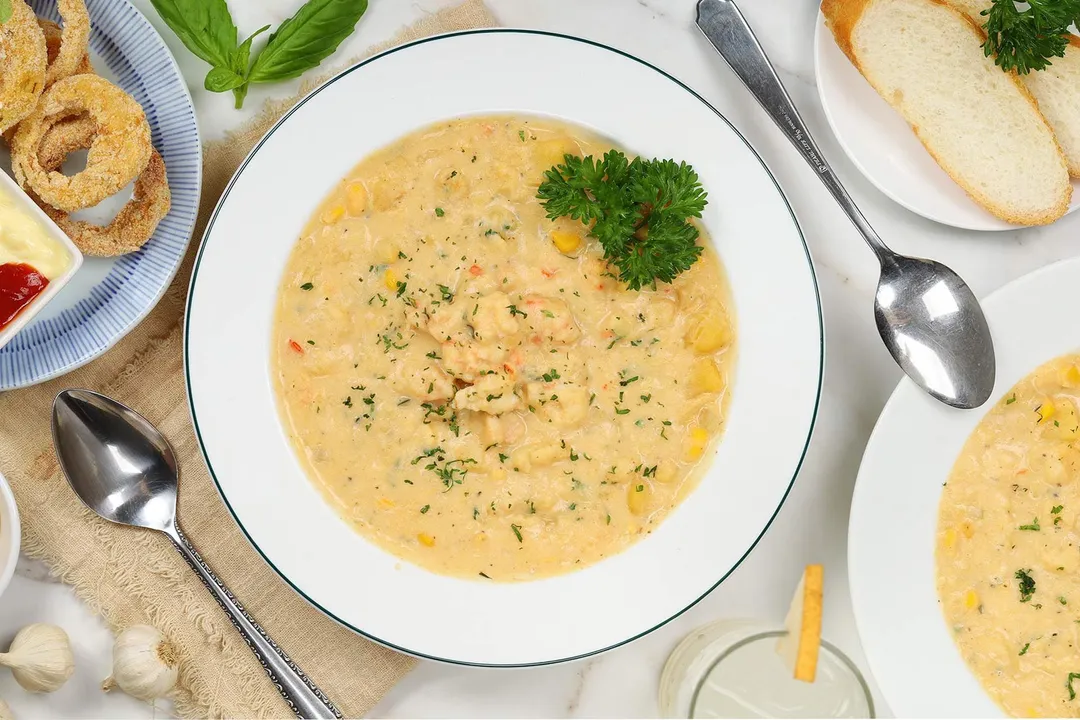 NUTRITION
Nutrition Facts
How to Make Shrimp Chowder
Amount Per Serving (1 serving)
Calories 483
Calories from Fat 198
% Daily Value*
* Percent Daily Values are based on a 2000 calorie diet.
Keywords: how to make shrimp chowder, shrimp chowder, shrimp chowder recipe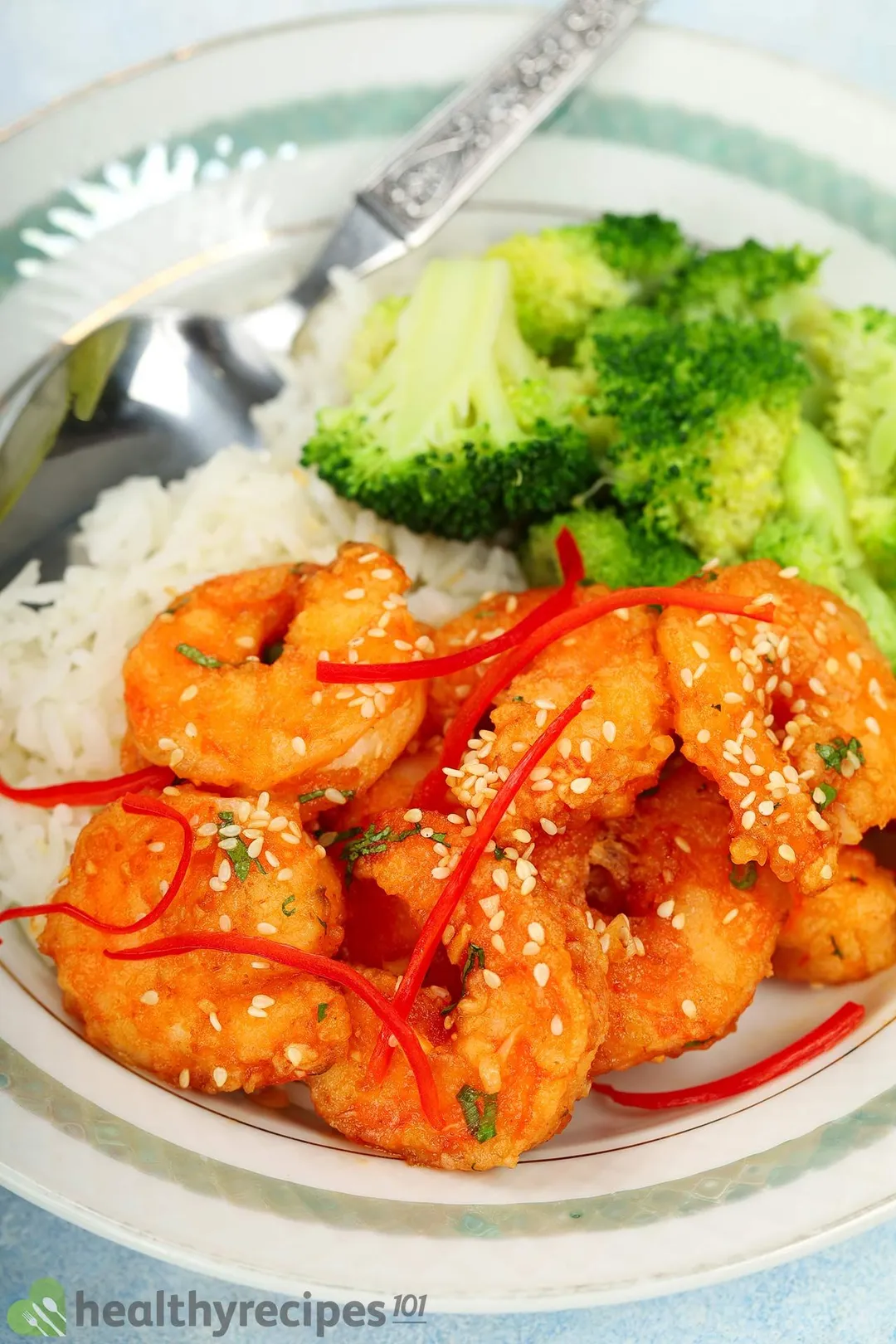 Previous Recipe
Firecracker Shrimp
Firecracker Shrimp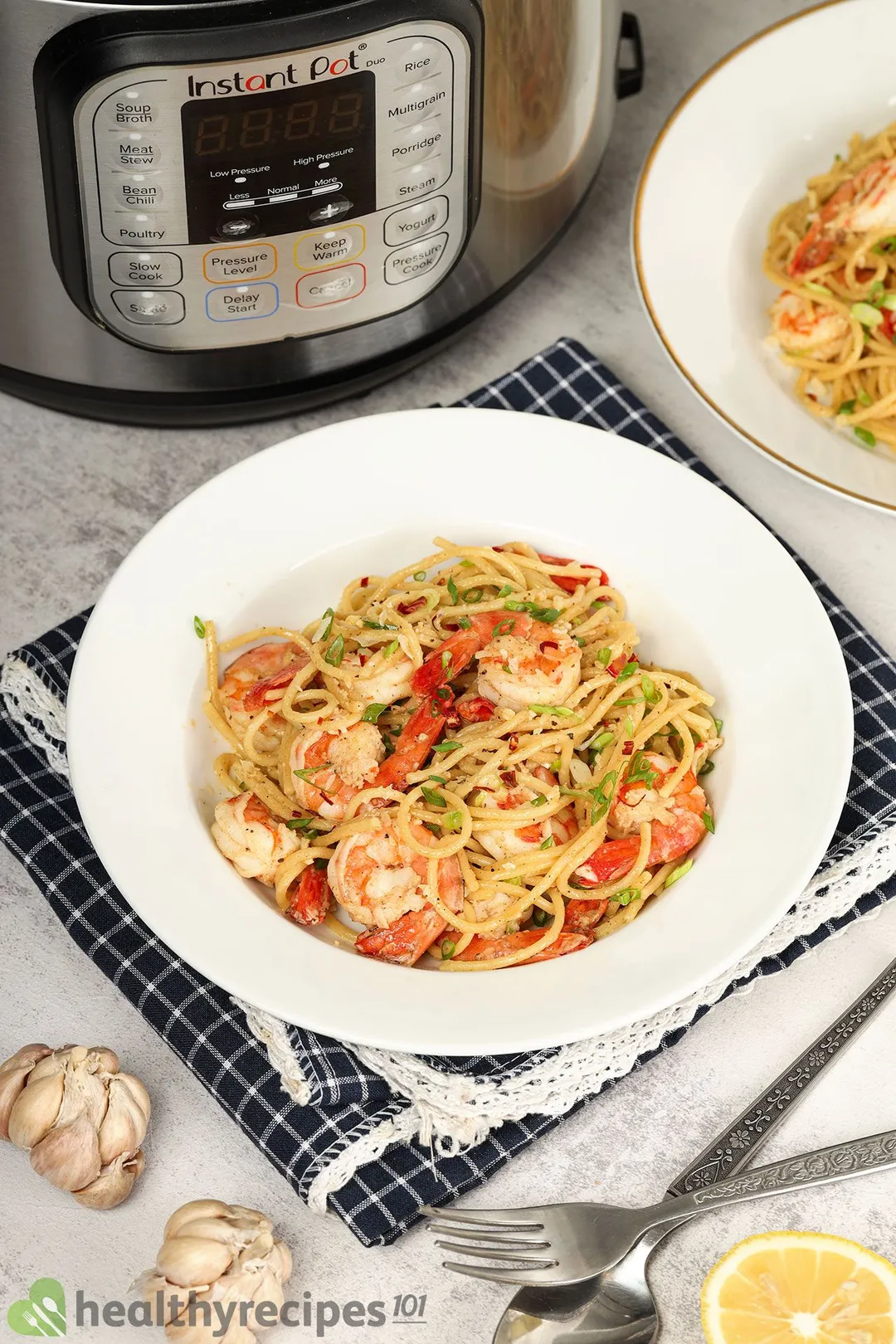 Next Recipe
Instant Pot Shrimp Scampi
Instant Pot Shrimp Scampi
Head Chef, Culinary Consultant
Tuyet Pham is an award-winning Saigonese chef who believes that joy is the secret ingredient to delicious food. At Healthy Recipes 101, Tuyet personally tests and simplifies every recipe, ensuring maximum flavor with minimal effort. With a background at prestigious French restaurants P'TI Saigon and Le Corto, Tuyet knows how to make every dish exceptional.
Writer, Author
Luna Regina is an accomplished writer and author who dedicates her career to empowering home cooks and making cooking effortless for everyone. She is the founder of HealthyKitchen101.com and HealthyRecipes101.com, where she works with her team to develop easy, nutritious recipes and help aspiring cooks choose the right kitchen appliances.
Nutrition Reviewer
Natalie Butler is a registered dietitian nutritionist with a passion to help others live their best life through food, fitness, safer beauty and a healthy lifestyle. She has expertise with a variety of diets and diseases and believes that there is no one-size-fits-all approach for health.
Looks like a comforting meal on a cold day. The addition of potatoes and spices give it an extra flavor boost!