Although the title of this article is "how to season shrimp", we won't be giving you specific measurements of each ingredient. Instead, we lend you a helping hand by listing herbs and spices and how to combine them according to different cooking methods or cuisines.
But before we do, we figure you may be wondering when would be the best time to season your crustacean.
Do You Season Shrimp Before Cooking?
You can, but that might not be necessary. Since shrimp are typically small, you don't need to season them ahead of time and wait for them to absorb the flavor.
Instead, you can season the shrimp and toss them evenly to distribute the spices before they go into the pan.
Another way is to cook the shrimp as is and add seasonings to them as you cook. Or, you can leave out all the spices and later serve them with a dipping sauce.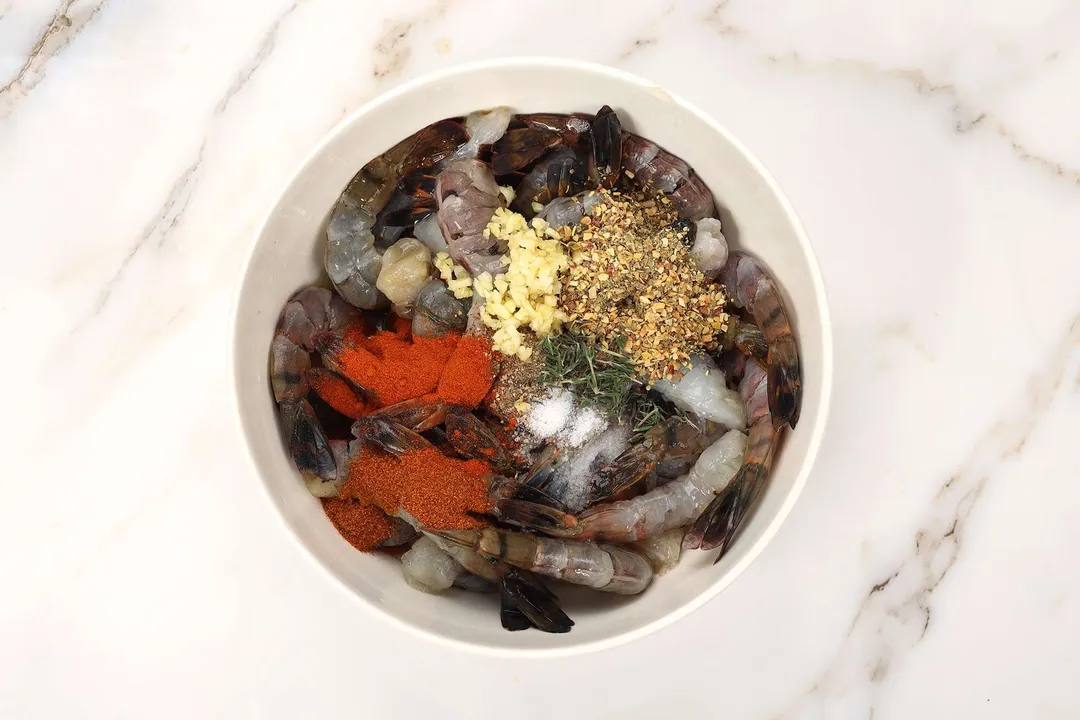 Shrimp and Sodium
Before we tell you when and how to season shrimp for different cooking methods, we need to talk about shrimp's sodium content.
If you look at the nutritional content of shrimp, you can see that it contains quite an amount of sodium. This is because shrimp's natural habitat is a saltwater environment. So, when cooking with shrimp, you should pay extra attention to the amount of sodium when you season.
We can't give you a specific amount of salt you should put on your shrimp. Different recipes with different ingredients can also affect the overall sodium content.
Therefore, we recommend putting your recipe and all of its ingredients into an app or website (such as nutrifox) to calculate the amount of sodium as well as other nutritional values.
You can refer to our healthy eating guidelines if you're unclear about the recommended sodium intake.
How to Season Shrimp
1. For Boiling
When boiling shrimp, it's not the shrimp that need seasonings but the water. Here are a few suggestions of what you can add to give more flavor to the water:
Salt: Boiled shrimp are generally served with a dipping sauce, so you don't need to season the shrimp or water heavily at this stage. We reckon maybe one teaspoon of salt would suffice if you're cooking shrimp with 4 quarts of water.
Herbs: Fresh dill has a subtly sweet aroma and is often a great choice to pair with possibly any seafood. Alternatively, you can try fresh parsley or thyme because it has a similar yet earthier flavor profile.
Spices: If you want your boiled shrimp to have a grassy, peppery aroma, adding black or white peppercorns to the water would be the best choice. You can also add some star anises to infuse the water with a warm and sweet aroma.
Other creative options: Adding a teaspoon or so of lemon juice to the water can make your shrimp taste fresh without the additional sharp tanginess. If a citrusy, floral aroma is what you're looking for, simply add a few slices of lemon peel.
2. For Grilling
When grilling shrimp, we recommend seasoning your crustaceans before cooking.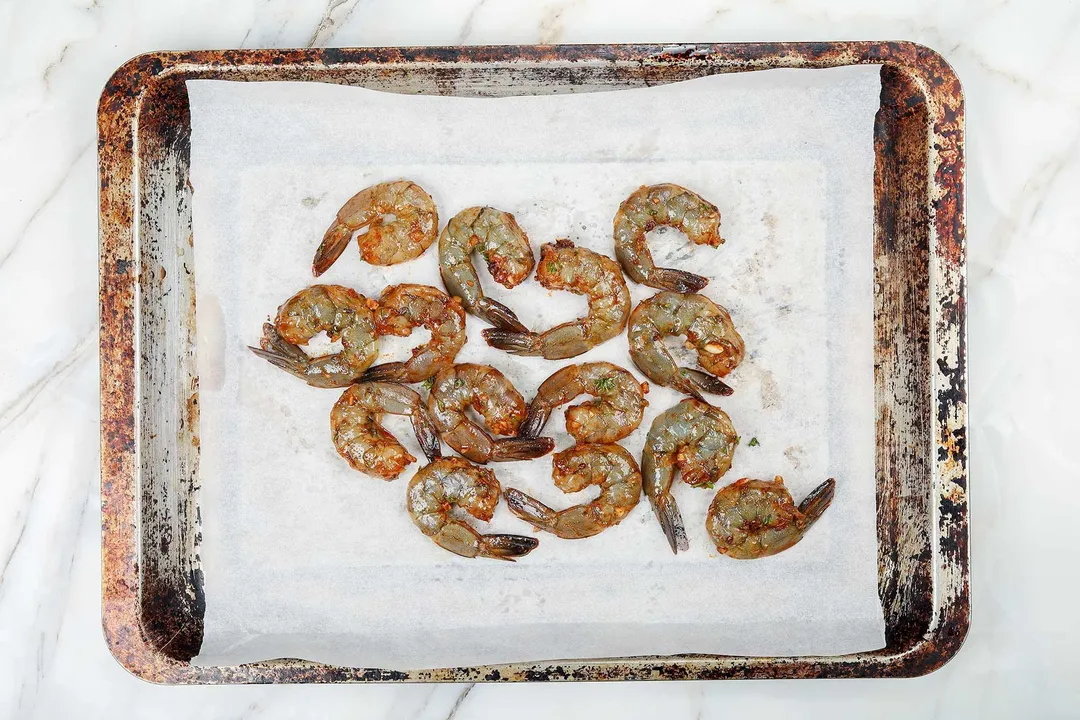 We generally prefer a dry rub of salt, cracked black pepper, and red pepper flakes. This spice combo appears in most of our recipes since it delivers a deep savory flavor to any dish. That being said, you can alter the seasonings to your preference.
Once the shrimp are seasoned, brush them with a thin layer of olive oil. The oil acts as a barrier to protect the spices from burning on the grill, retain the shrimp moisture, as well as prevent them from sticking to the grill.
3. For Sautéing or Searing
When sautéing or searing, you can wait until the shrimp are in the pan and season them as they cook.
We generally season the shrimp with salt, black pepper, paprika or red pepper flakes, minced garlic or garlic powder, and onion powder for these two cooking techniques. Depending on which cuisine you feel like cooking, you can also add ground cumin or dried oregano.
Additionally, you can use unsalted butter to sauté the shrimp to give the dish a richer flavor.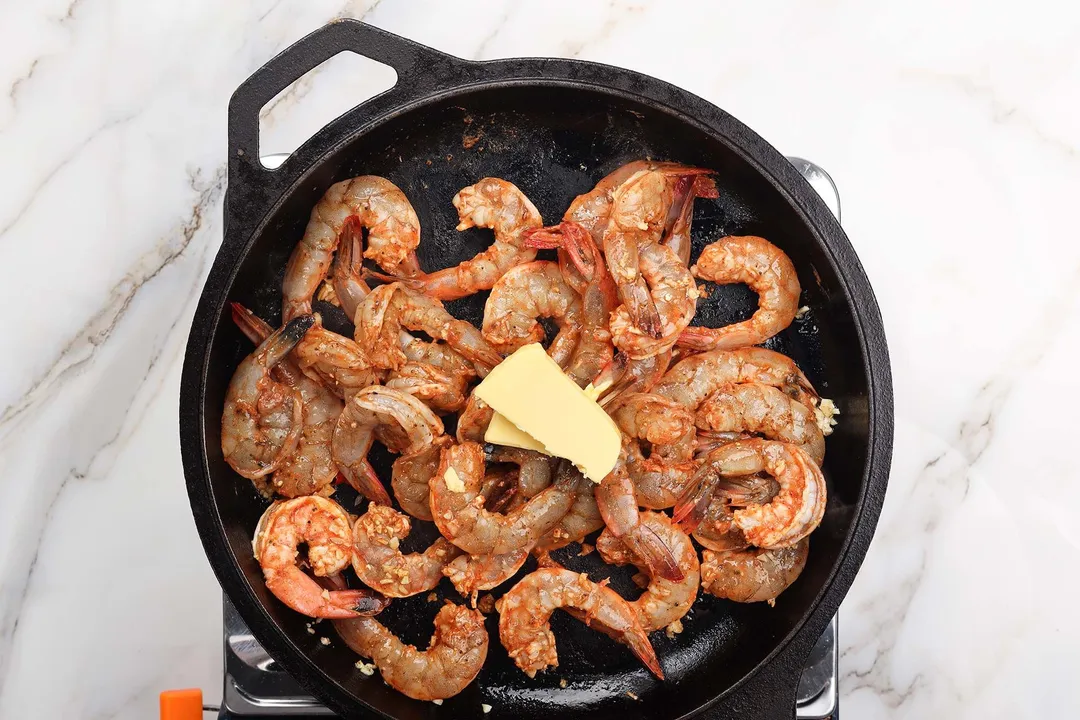 4. For Deep-Frying
Unlike the seasoning methods above, deep-fried battered or breaded shrimp should be seasoned twice:
After the shrimp are prepared and cleaned, season them lightly with salt and black pepper.
This next step depends on whether you're coating your shrimp in a batter or breadcrumbs:
The shrimp are ready to go into the oil.
For the batter: Season the batter lightly with salt and black pepper. You can also add red pepper flakes or smoked paprika for a spicy kick.
For the breadcrumbs: Mix your breadcrumbs with either salt or grated parmesan cheese and black pepper. The parmesan cheese adds a nutty and savory flavor with a hint of umami to the shrimp.
It's important to go easy on the salt when you season the batter or breadcrumbs. If you serve the deep-fried shrimp with a dip, the overall sodium content of the dish may exceed your recommended daily intake.
5. For Tacos or Other Mexican Dishes
Salt and black pepper are essential to give the shrimp a savory profile, but herbs and other spices are what give them more character. So, if you want to know how to season shrimp for Mexican-style dishes, we suggest the following ingredients:
Ground cumin: This common spice appears in countless Mexican recipes. Its strong earthy flavor with sweet notes can give any dish a signature Mexican flavor.
Garlic and onion powder: Readily available, these powders are a great substitute for the freshly chopped veg.
Coriander: Sprinkle some dried coriander over the shrimp as you cook for a refreshing and citrusy aroma. Fresh coriander is excellent for garnishing.
Mexican oregano: The difference between Mexican and traditional oregano is quite vague as they both have an earthy flavor. However, Mexican oregano has a more citrusy flavor with a faint note of licorice.
Mexican spice mix: This seasoning blend consists of warm spices that make up the iconic aroma that we all know and love in Mexican food.
6. For Alfredo or Other Italian Dishes
Similarly, to breathe an Italian soul to your shrimp dish, you can try adding:
Garlic: If you've ever wondered why Italian food always has an alluring aroma, that's the garlic working its magic. Freshly minced garlic or garlic powder can be used interchangeably, but don't use the same amount if you switch the two. Since garlic powder is more concentrated and potent, you may want to cut the amount by half.
Oregano: This aromatic herb has a mellow earthy flavor that pairs well with parmesan cheese. In particular, you can try adding some dried oregano to your shrimp and Alfredo sauce.
Basil: Basil has a sweet aroma with a slightly minty note. While fresh basil is excellent for tomato-based dishes, dried basil would be a great addition to your dry rub for grilled shrimp.
Italian spice mix: This is a spice mix consisting of the herbs and spices mentioned above. One of the perks of using a spice blend is that it's more economical than buying individual herbs. And, you don't have to measure each ingredient when you season your food.
7. For Soups and Stews
We can't give you a guide on how to season shrimp for soup or stew dishes because there's no need for that.
You don't need to toss salt and pepper to your shrimp because they will go into the soup or stew later. All the herbs and spices in the broth will season your shrimp as they cook and by the time they're ready, they will have become wonderfully flavorful!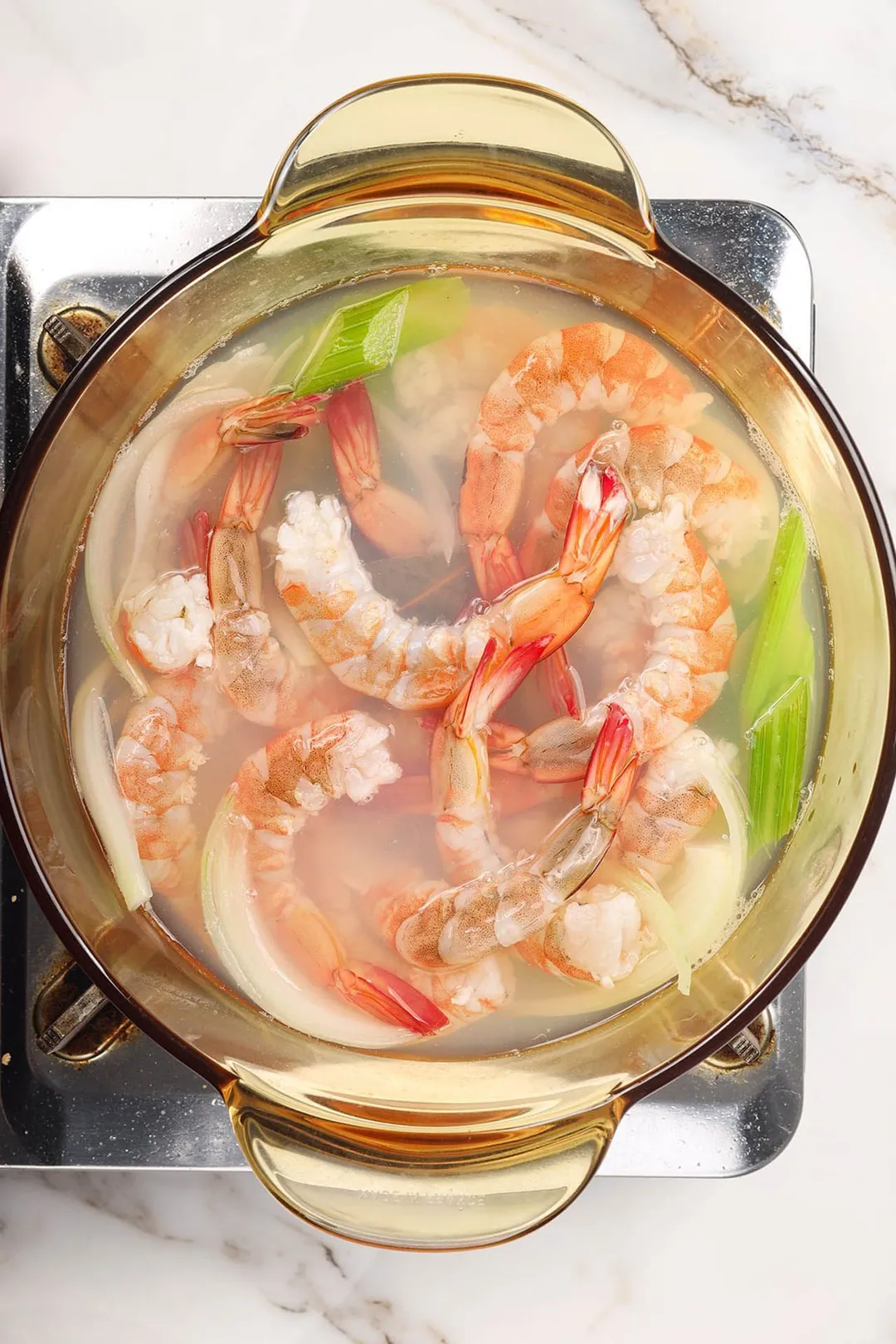 Previous Recipe
How Long to Boil Shrimp
How Long to Boil Shrimp
Comments/ Reviews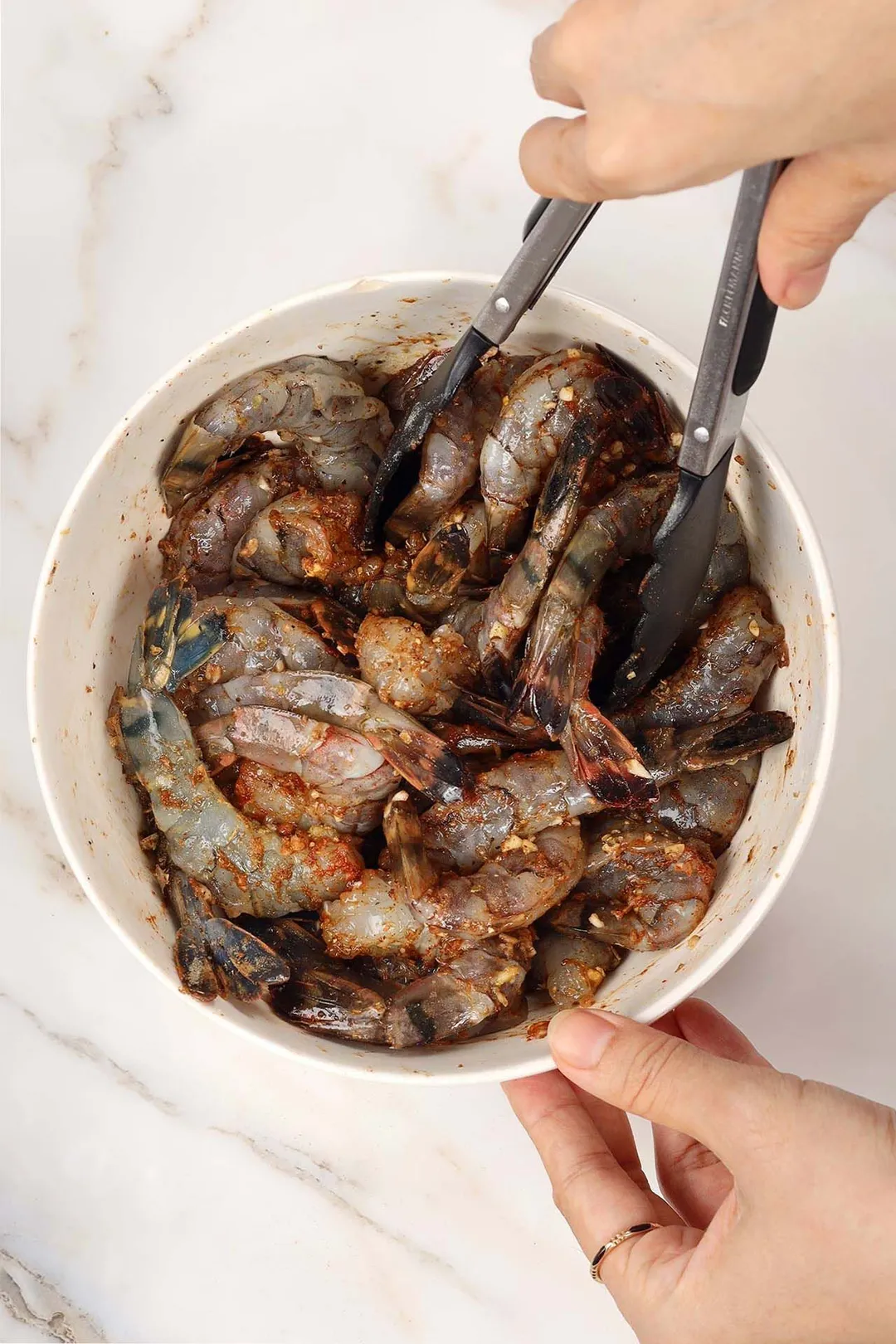 Karri Flater

March 7, 2023 at 5:21 AM

After trying out various shrimp seasoning recipes, I can safely say that this article nailed exactly how I want my shrimp seasoned every single time - fiery & oh so flavorful!