This shrimp stew recipe with vibrant colors and bold flavors represents the heart and soul of Louisiana cuisine. It features cooked shrimp, chickpeas, onions, and red bell peppers. All the ingredients are simmered in a pot of thick homemade tomato sauce, creating a delectable dish. It's best to enjoy it with a bowl of white rice.
Differences Between Stew and Soup
Though stew and soup are quite similar in the cooking method, the final dishes are quite different. So, before going any further, let our chefs help you distinguish between them.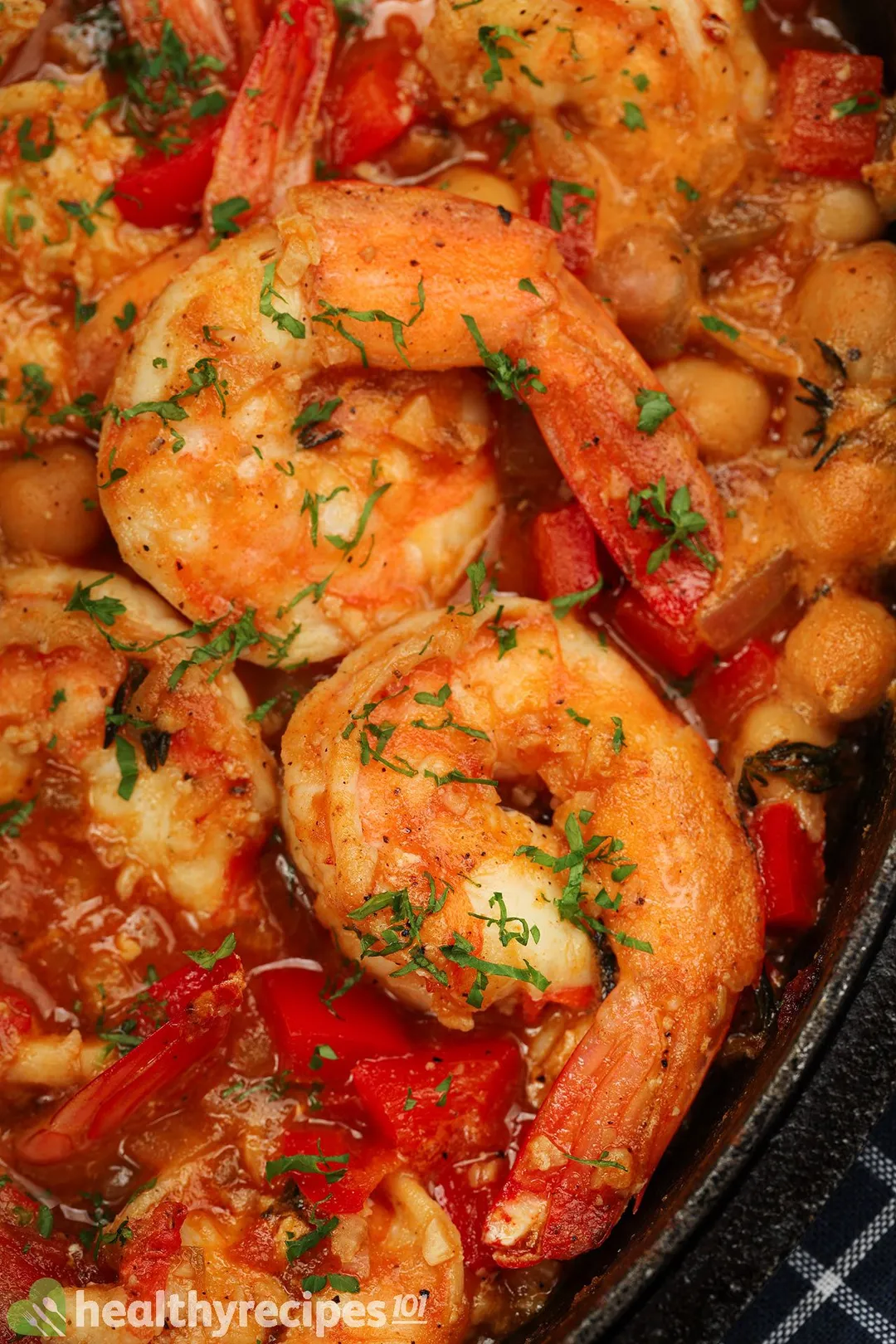 1. Soup
Soup is a liquid-based dish that can be brothy, creamy, or even as thick as a purée. 
In soup, all the vegetables and meat are chopped into small chunks and submerged completely in the broth. Besides, some soup recipes also take less time to pull together than stews.
2. Stew
On the other hand, a stew is thicker in texture and more complex in flavor than soup. The ingredients are cut into larger chunks and allowed to sit longer in the pot. Also, stew requires less amount of liquid than soup - just enough to cover the vegetables and meat.
Though most stewed dishes can take hours to make, this is not the case for our shrimp stew recipe, as it only takes 35 minutes from start to finish. This recipe is made with shrimp, but you can also make Beef Stew or Chicken Stew for equally hearty and warming meals.
Is Our Shrimp Stew Healthy?
This shrimp stew dish is jam-packed with protein, minerals, and dietary fiber.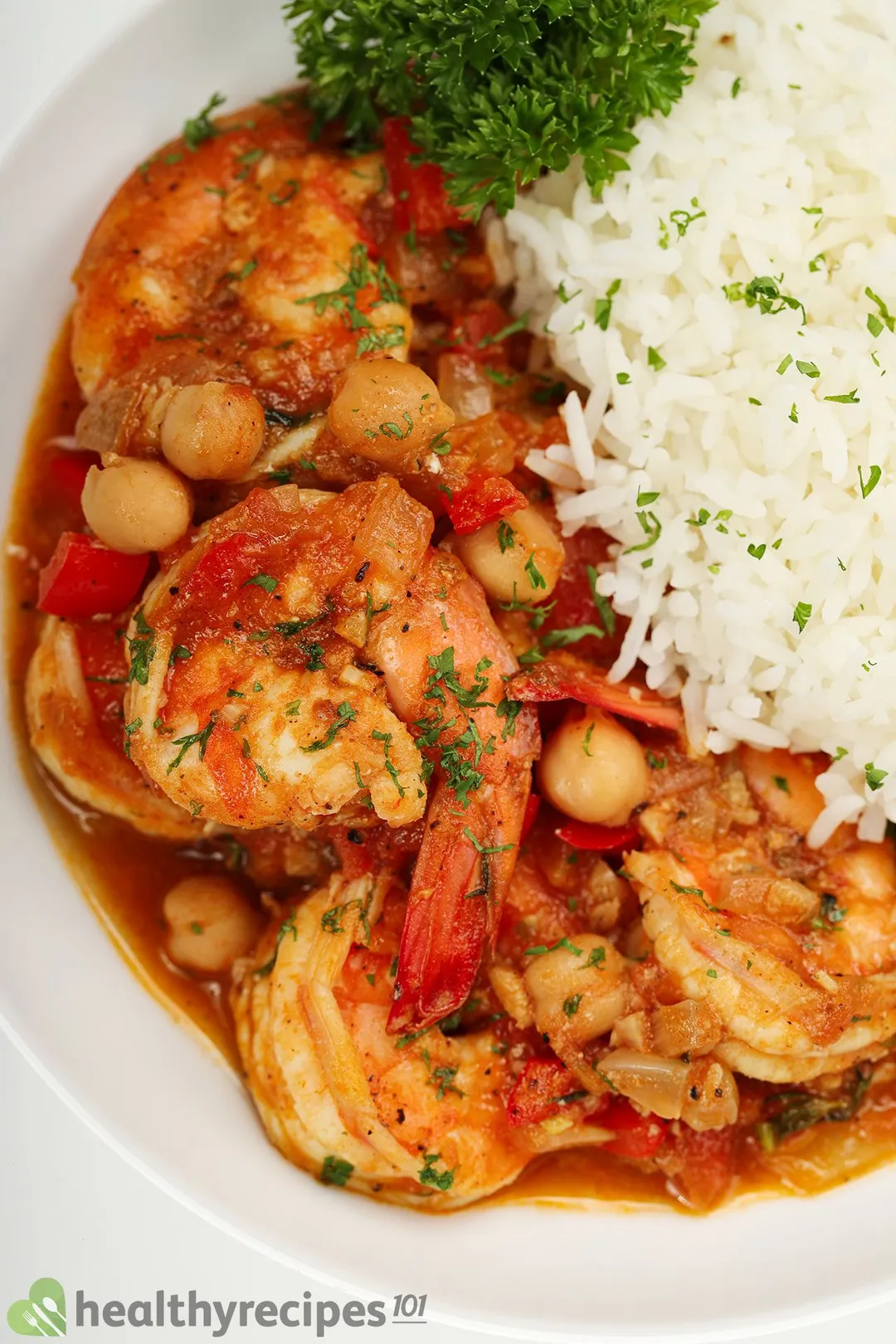 Shrimp is an excellent source of lean protein, as a serving of 3.5 oz provides up to 20.1 g of protein. A high protein intake has been shown to have positive effects on metabolic health and weight loss. Plus, they contain a considerable amount of omega-3 fatty acids, which can help support heart health and brain health.
Chickpeas, red bell peppers, onions, and other ingredients also play an essential role in our recipe, taste-wise and nutrition-wise. They contribute more vitamins, minerals, and plant-based protein to your diet.
Our chefs have carefully calculated the ingredient amounts to ensure each serving contains around 498 calories, 537.1 mg sodium, 4.1 g saturated fat, and 3.2 g sugar. These figures comply with our healthy eating guidelines and stay perfectly within the health limits.
Ingredients for Shrimp Stew
We keep our ingredient list as simple as always: shrimp, all-season vegetables, and basic seasonings. You can either find them in your pantry or purchase all these items at the grocery stores.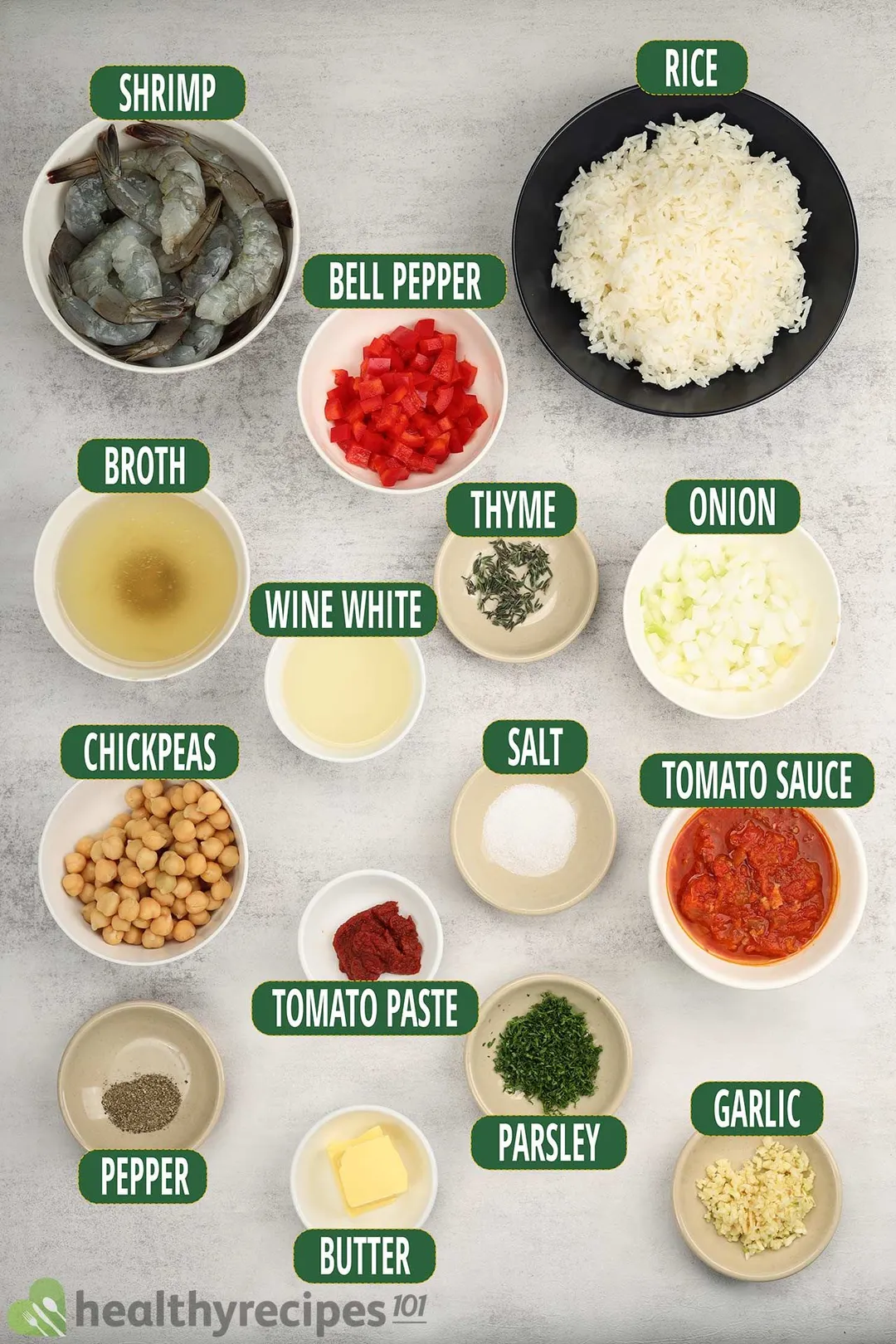 Shrimp: Shrimp is the main protein of today's dish. Though they can be a little bit tricky to peel and devein, after a little practice, you will be able to master this skill. Our chefs recommend using small to medium-sized shrimp for this recipe, as they're easier to spoon up and serve with rice.
Chickpeas: Chickpeas, also known as garbanzo beans, are our favorite legumes for stews, soups, and salads. They possess an earthy flavor with nutty undertones, which pair well with a tomato-based sauce. For convenience, we opt for low-sodium canned chickpeas.
Red bell pepper: Red bells are the sweetest and juiciest of all the varieties. Red bells not only add flavors, textures, and colors but also tons of nutrients.
Onion and garlic: Diced onion and minced garlic sautéed in butter until translucent and fragrant complement the taste of fresh seafood. 
Herbs: The combination of thyme and parsley gives off a distinctive aroma.
White wine: The secret to a rich and flavorful sauce is a splash of white wine. It sharpens our dish without leaving any alcoholic taste.
Homemade tomato sauce: Forget about the store-bought tomato sauce with a lot of artificial ingredients and preservatives since you can make a healthier version at home. The natural sweetness of homemade tomato sauce cannot be replicated by any store-bought kind, not to mention the nutritional values. Lycopene, a powerful antioxidant, is found in fresh tomatoes, which helps balance free radical levels.
What Else Can You Add to This Stew?
Have you ever thought of trying different versions of shrimp stew? If yes, do not miss out on these incredible ideas:
Try adding some lemon juice and lemon zest at the end of the cooking process. Lemon not only perks up the savory taste of tomatoes but also enhances the freshness of shrimp.
For those who fancy some spicy kicks in their seafood, try out the cajun version of shrimp stew. All you need to add are some all-purpose flour, a pinch of ground black pepper, cayenne powder, and bay leaves. You should stir the mixture occasionally with a spatula to avoid any lumps and bumps.
Last but not least, we want to introduce you to a traditional Brazilian shrimp stew - Moqueca de Camaroes. This special version calls for some cilantro, chilies, red palm oil, and coconut milk blended in a homemade tomato-based sauce.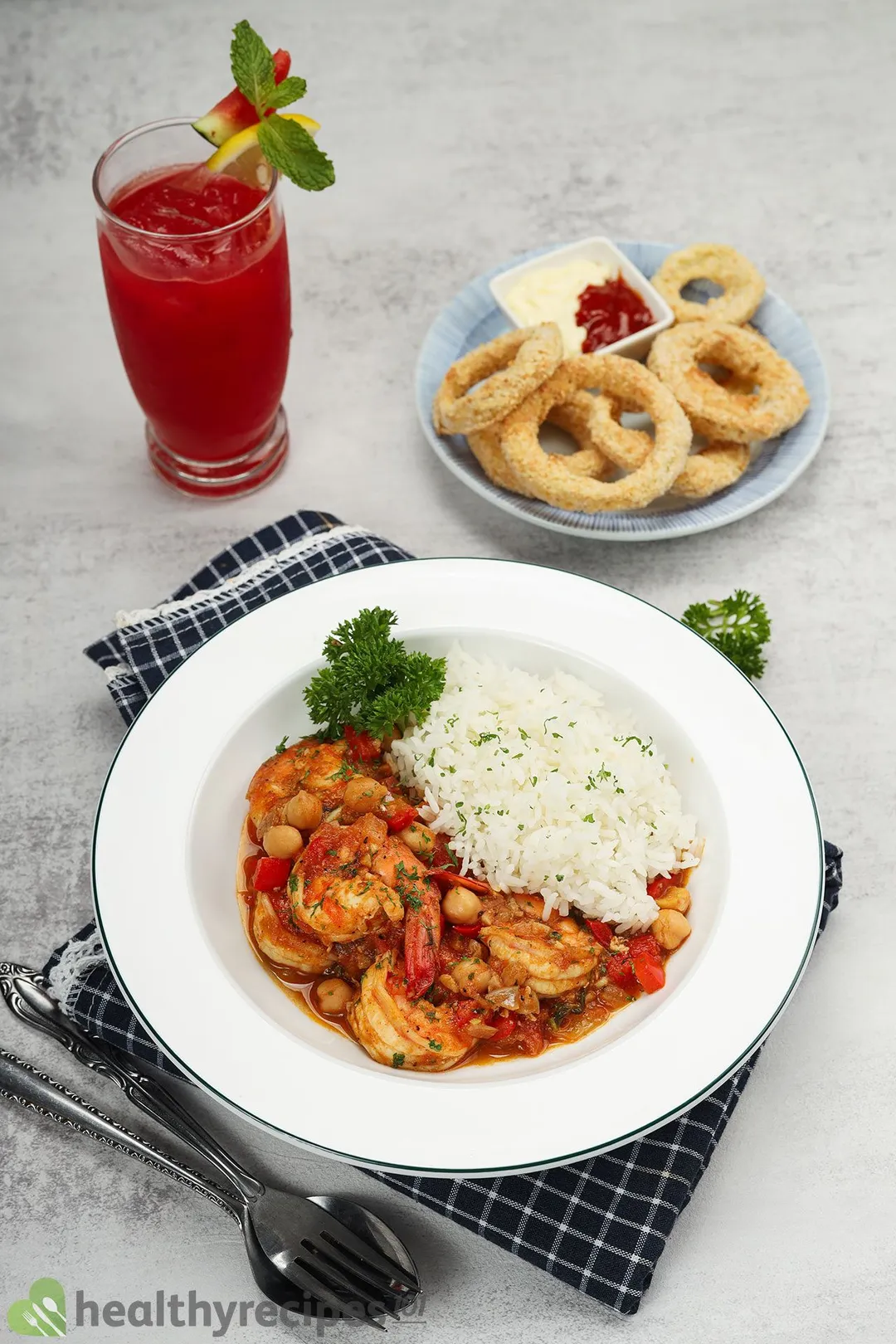 How to Store and Reheat Leftovers
If you plan to make this dish ahead of time, we suggest storing the cooked shrimp and the sauce separately in two airtight containers. They will last for up to 4 days in the fridge. When it's time to serve, place the shrimp and sauce in a saucepan over a medium heat until heated through.
Though shrimp stew is safe to freeze, our chefs don't recommend going for this method, as the quality will decrease as time progresses.
What to Serve with Shrimp Stew
Summer is right around the corner, so why not pair this luscious creation with some crispy air fryer onion rings and refresh with a lemon watermelon juice?
If you are seeking some pairings for this scrumptious shrimp stew dish, check out our top recommendations:
Watermelon Juice
Air Fryer Onion Rings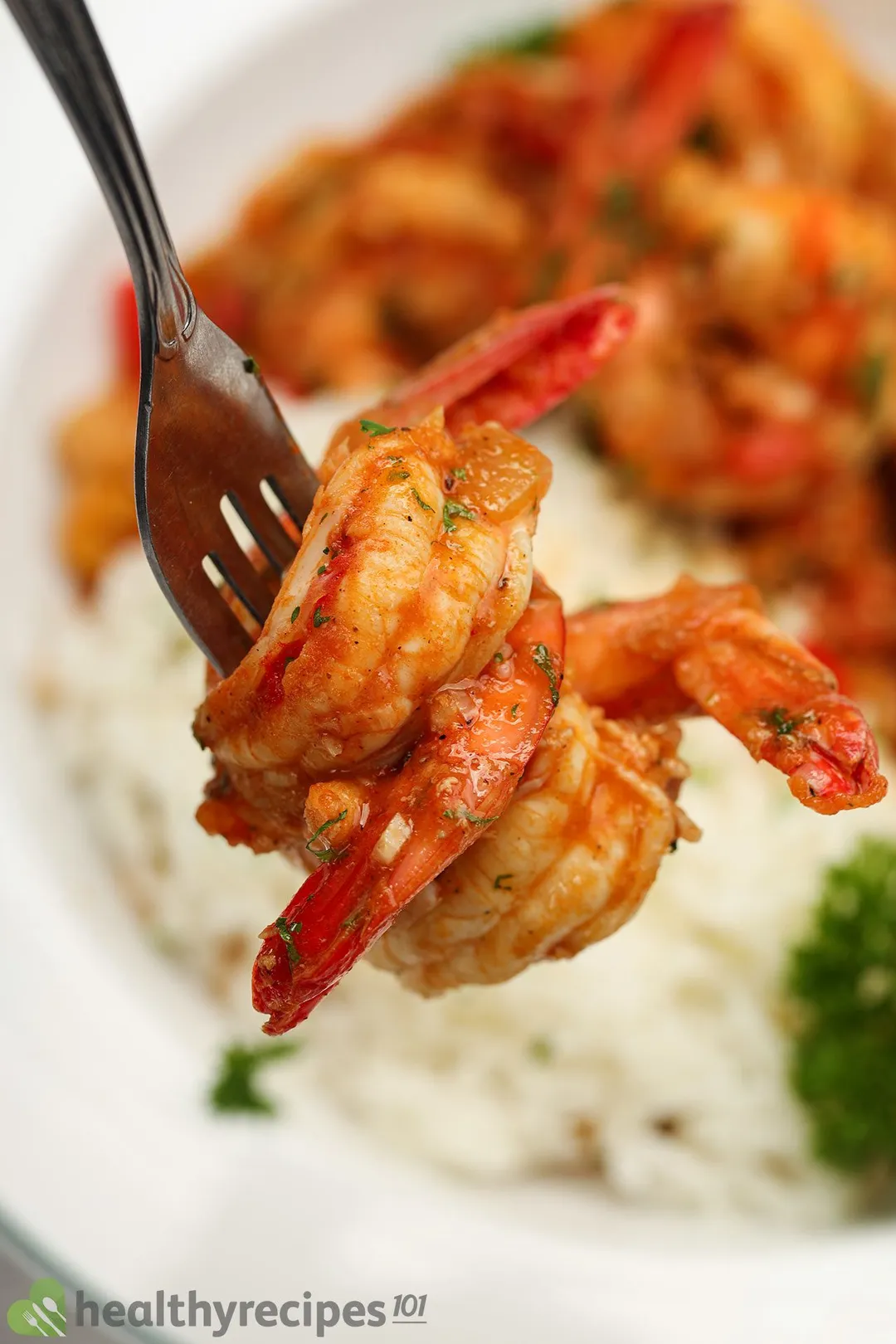 You May Also Like
How to Make Shrimp Stew
Today's shrimp stew recipe features a variety of top ingredients for an ultimate burst of flavor. Plus, it's also budget-friendly and easy to make ahead!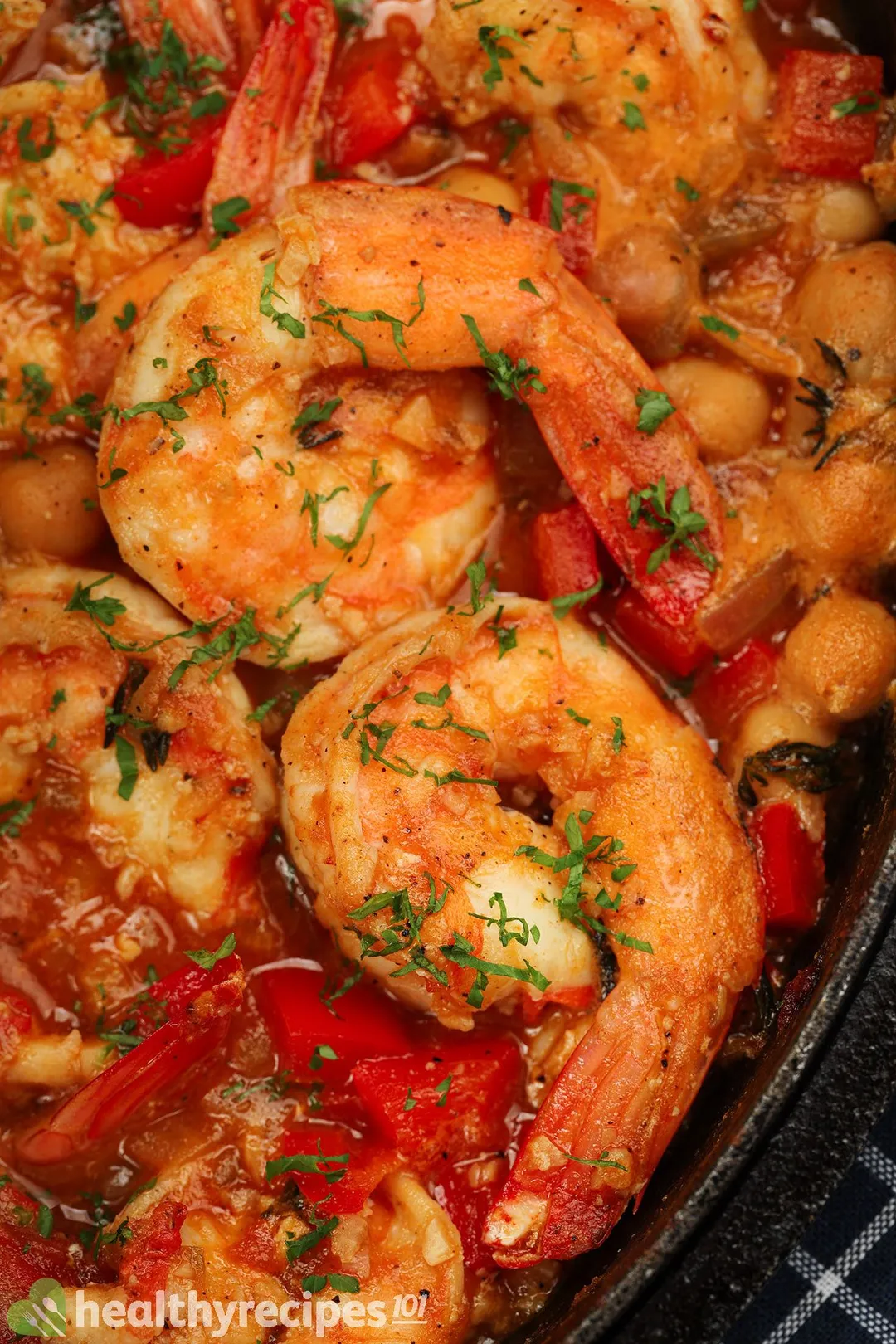 cook TIME

22 mins

prep TIME

13 mins

total TIME

35 mins
COURSE

Main Course

CUISINE

American, Louisiana Creole

SERVINGS

CALORIES

498 kcal
INGREDIENTS
12 oz

peeled shrimp

(from 24 oz whole shrimp)

2 oz

red bell pepper

(diced)

3 1/2 cups

cooked medium-grain rice

3/4 cup

unsalted chicken broth

1/2 cup

homemade tomato sauce

1 tbsp

Hunt's tomato paste
INSTRUCTIONS
Cook:
1
On a medium heat pan, add 2 tbsp unsalted butter, 2 diced oz onion, and 1 tbsp minced garlic. Cook until the onion is translucent and the garlic is fragrant, about 2 minutes.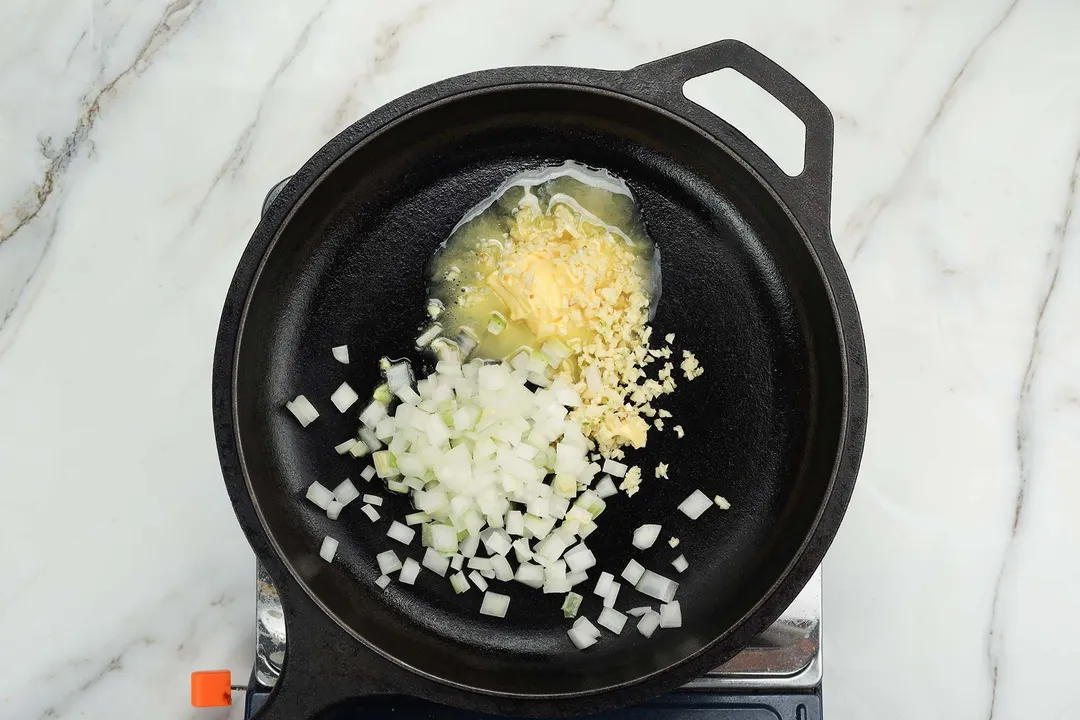 2
In the same pan, add 12 oz peeled shrimp. Sear both sides for about 2 minutes ( 1 minute for each side).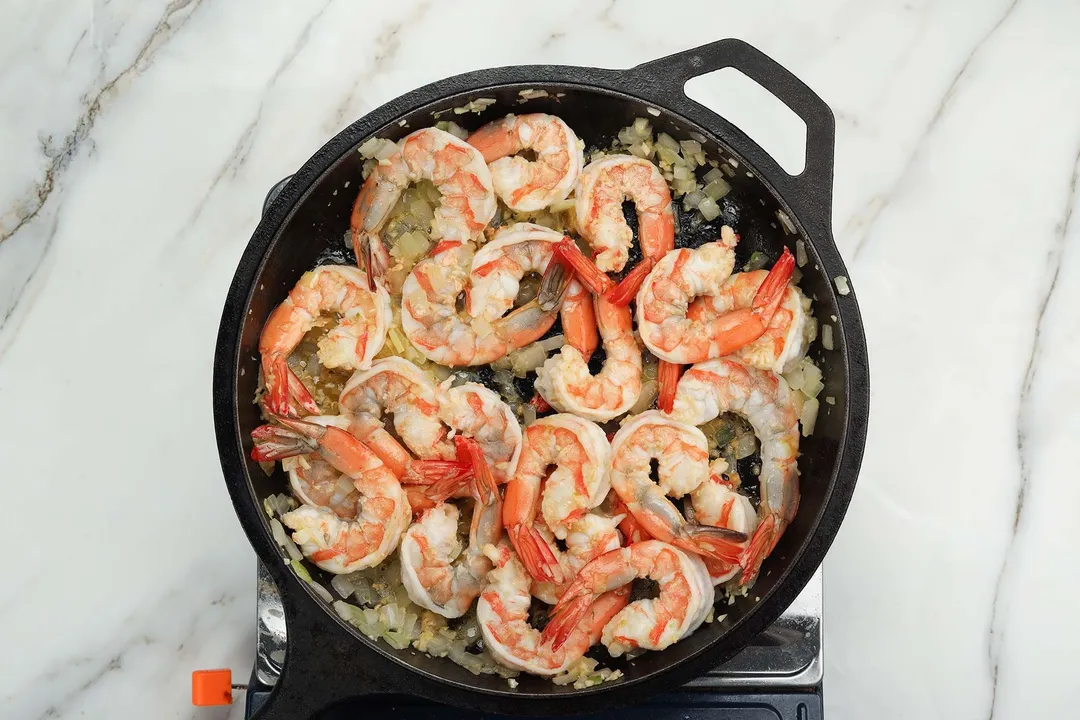 3
Continue to add 2 oz diced red bell pepper, 1 tbsp Hunt's tomato paste, 1 tsp thyme, 1/2 tsp salt, and 1/2 tsp pepper. Cook for another 2 minutes.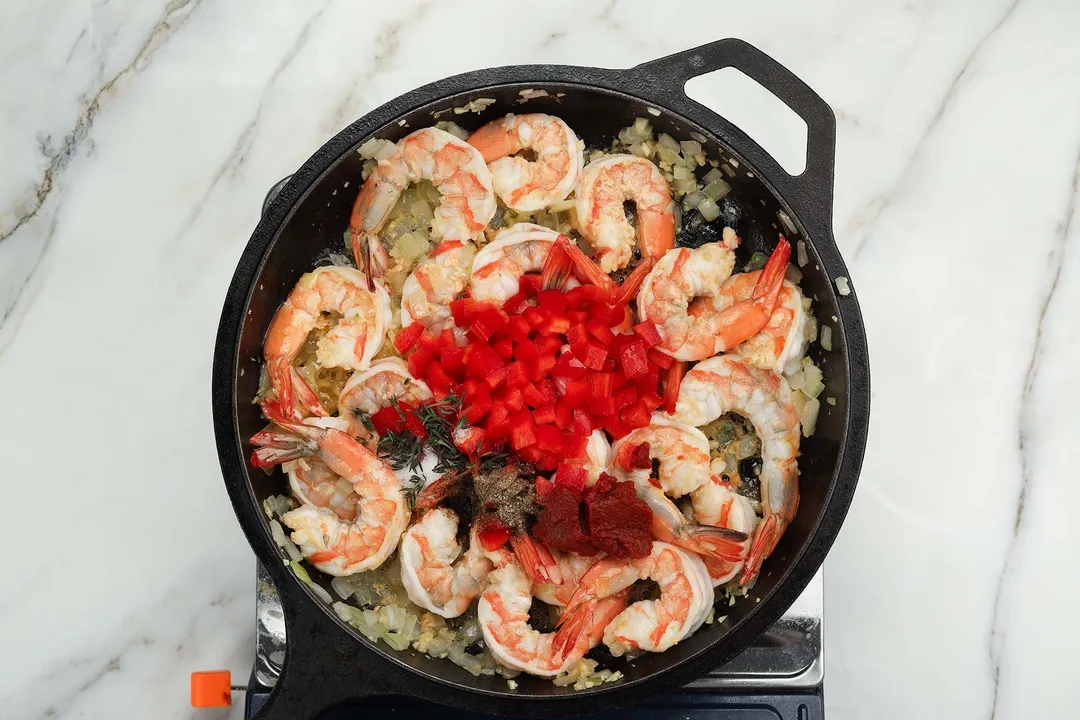 4
Stir in 2 fl ozs white wine. Cook until the wine has evaporated, about 1 minute.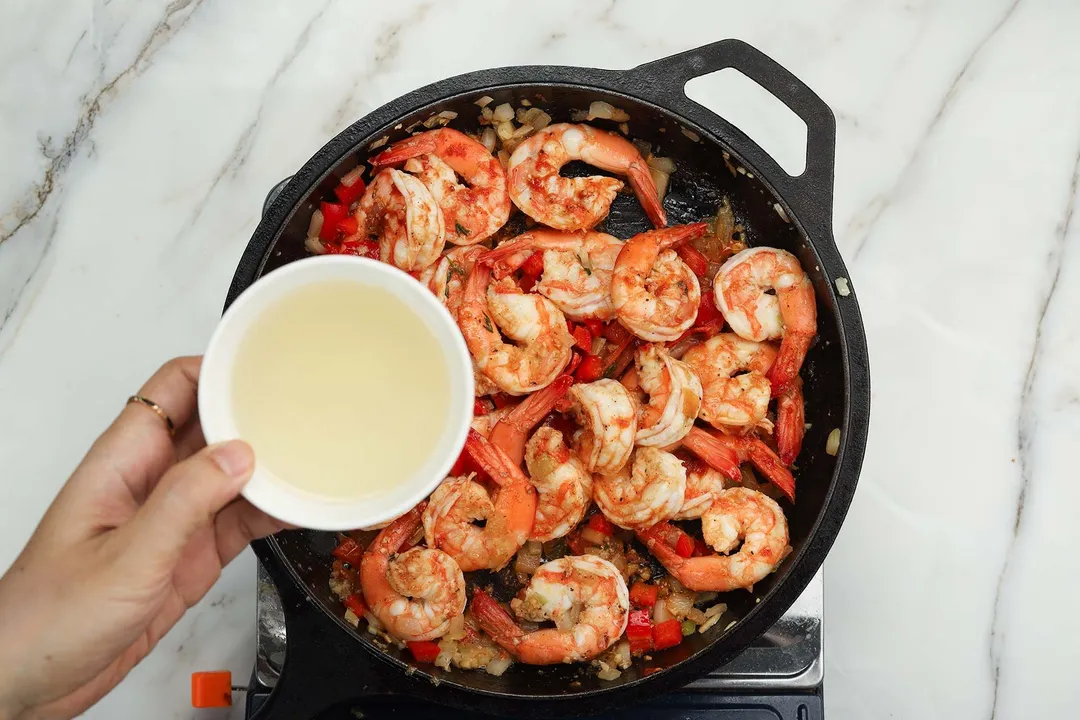 5
Next, add 3/4 cup unsalted chicken broth, 1/2 cup homemade tomato sauce, and 4 oz canned chickpeas. Bring them to a boil then reduce the heat. Let them simmer for 15 minutes.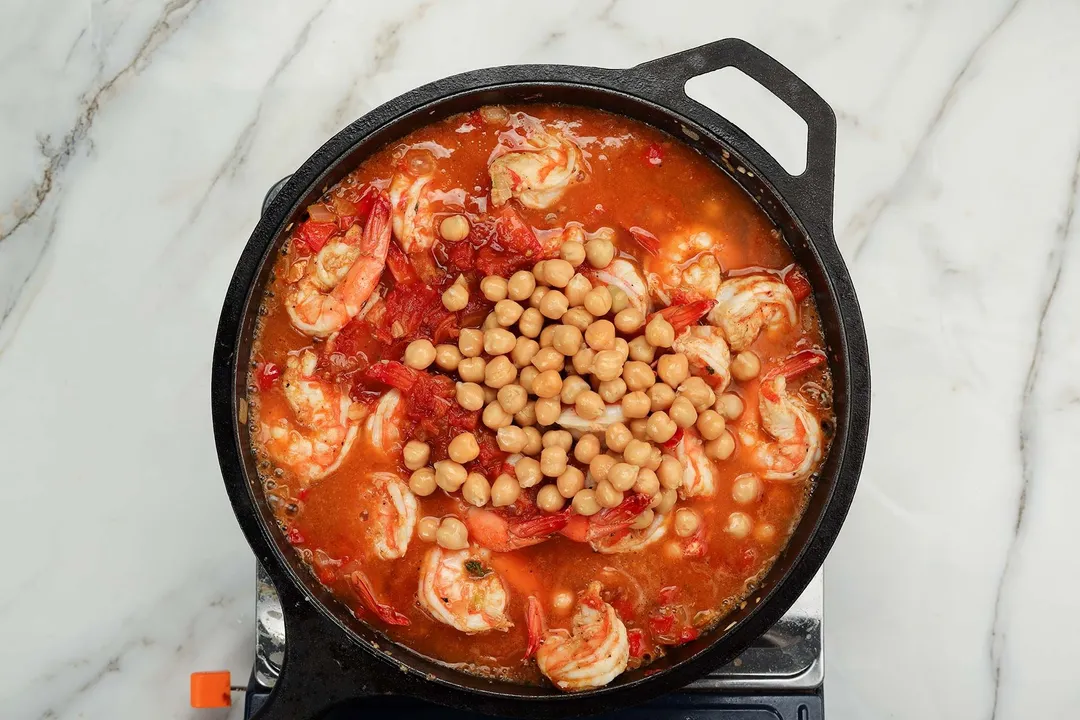 6
Finally, remove from heat. Sprinkle 2 tbsp chopped parsley on top and enjoy with 3 1/2 cups cooked rice.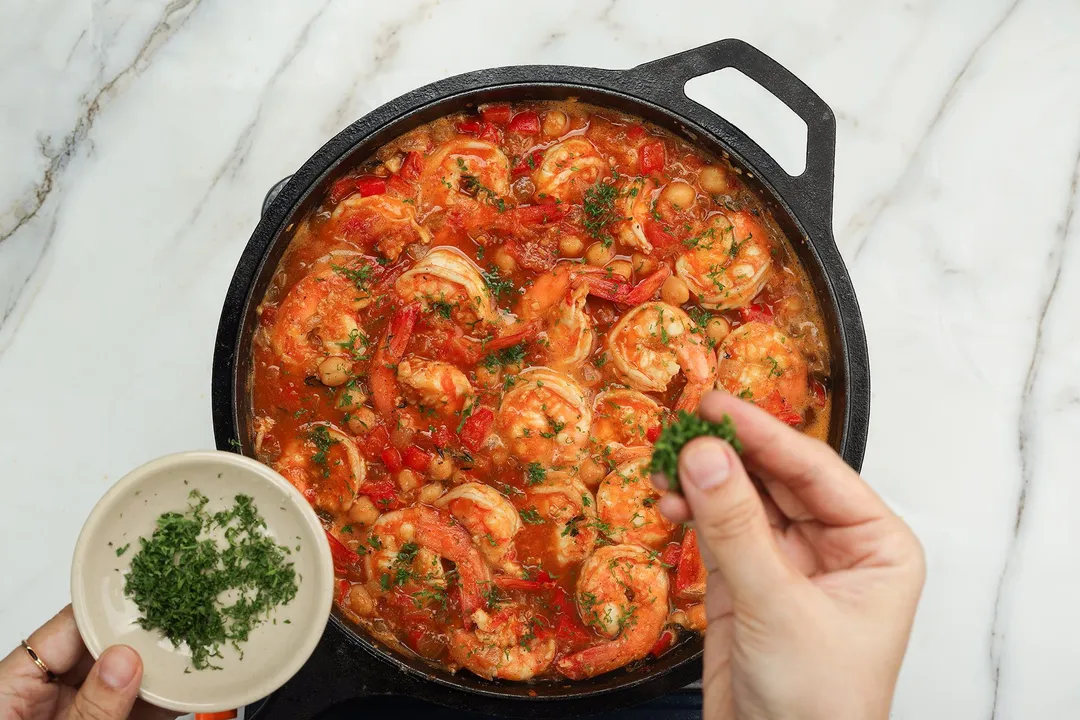 NUTRITION
Nutrition Facts
How to Make Shrimp Stew
Amount Per Serving (1 serving)
Calories 498
Calories from Fat 90
% Daily Value*
* Percent Daily Values are based on a 2000 calorie diet.
Keywords: how to make shrimp stew, shrimp stew, shrimp stew recipe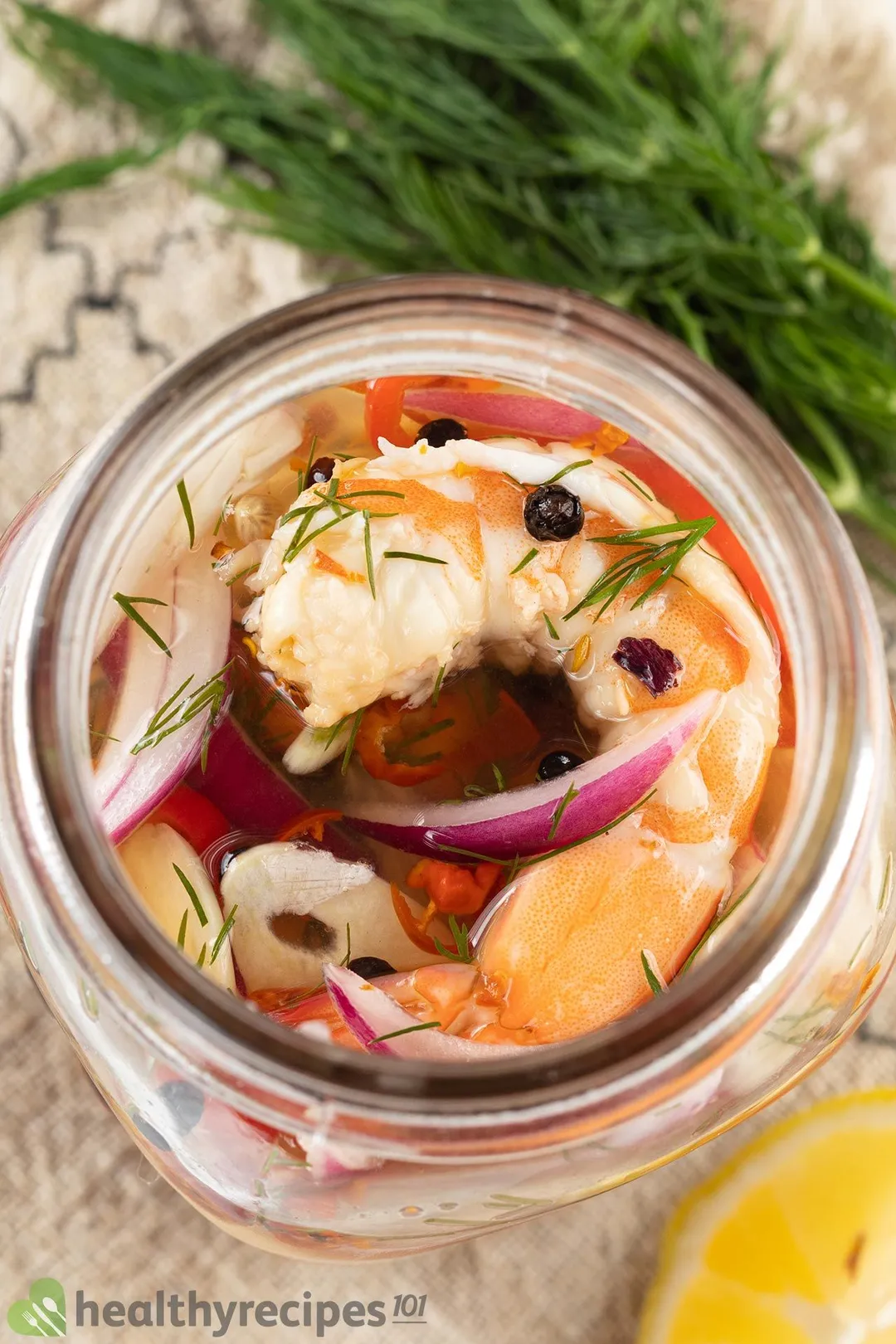 Previous Recipe
Pickled Shrimp
Pickled Shrimp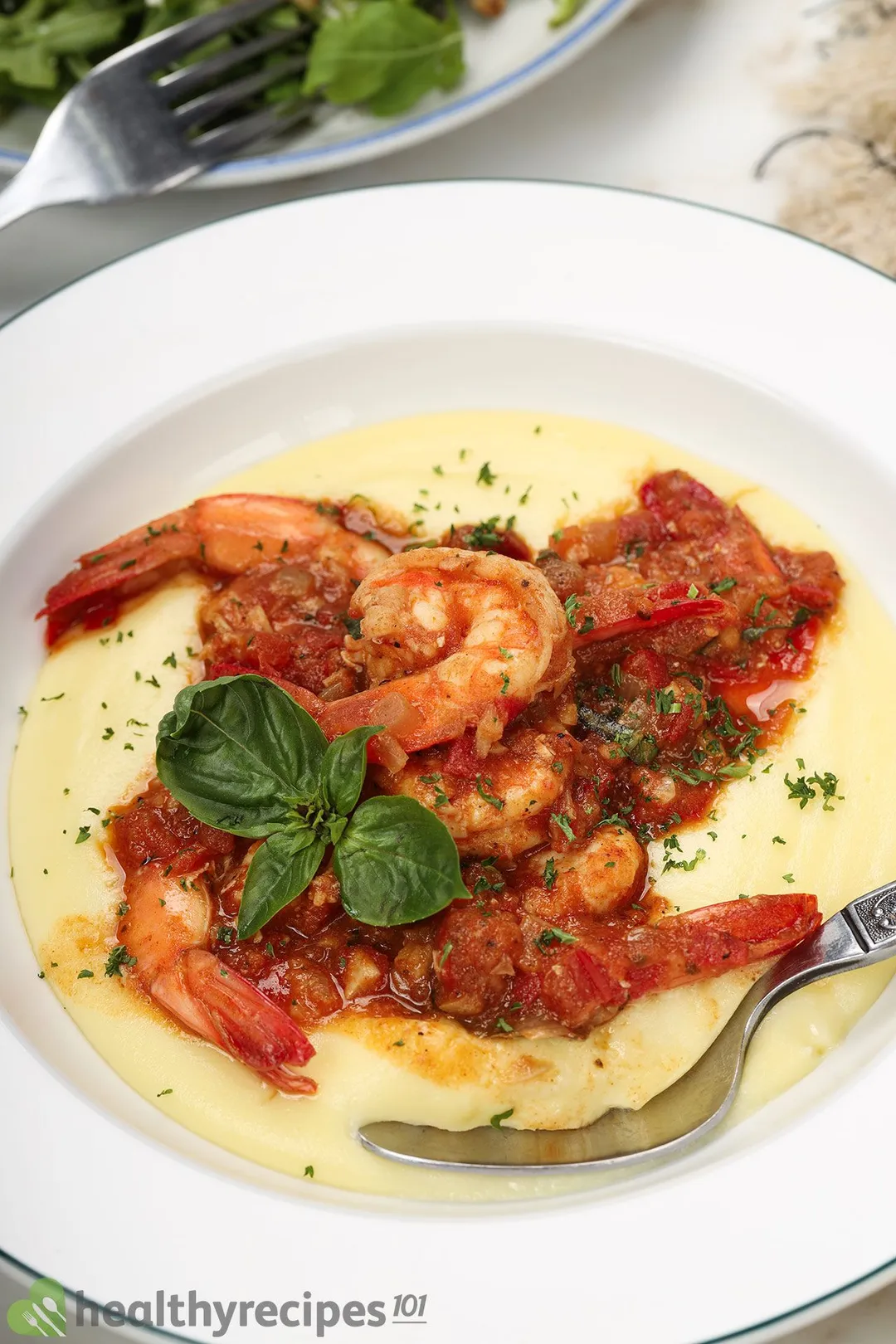 Voodoo Shrimp
Head Chef, Culinary Consultant
Tuyet Pham is an award-winning Saigonese chef who believes that joy is the secret ingredient to delicious food. At Healthy Recipes 101, Tuyet personally tests and simplifies every recipe, ensuring maximum flavor with minimal effort. With a background at prestigious French restaurants P'TI Saigon and Le Corto, Tuyet knows how to make every dish exceptional.
Writer, Author
Luna Regina is an accomplished writer and author who dedicates her career to empowering home cooks and making cooking effortless for everyone. She is the founder of HealthyKitchen101.com and HealthyRecipes101.com, where she works with her team to develop easy, nutritious recipes and help aspiring cooks choose the right kitchen appliances.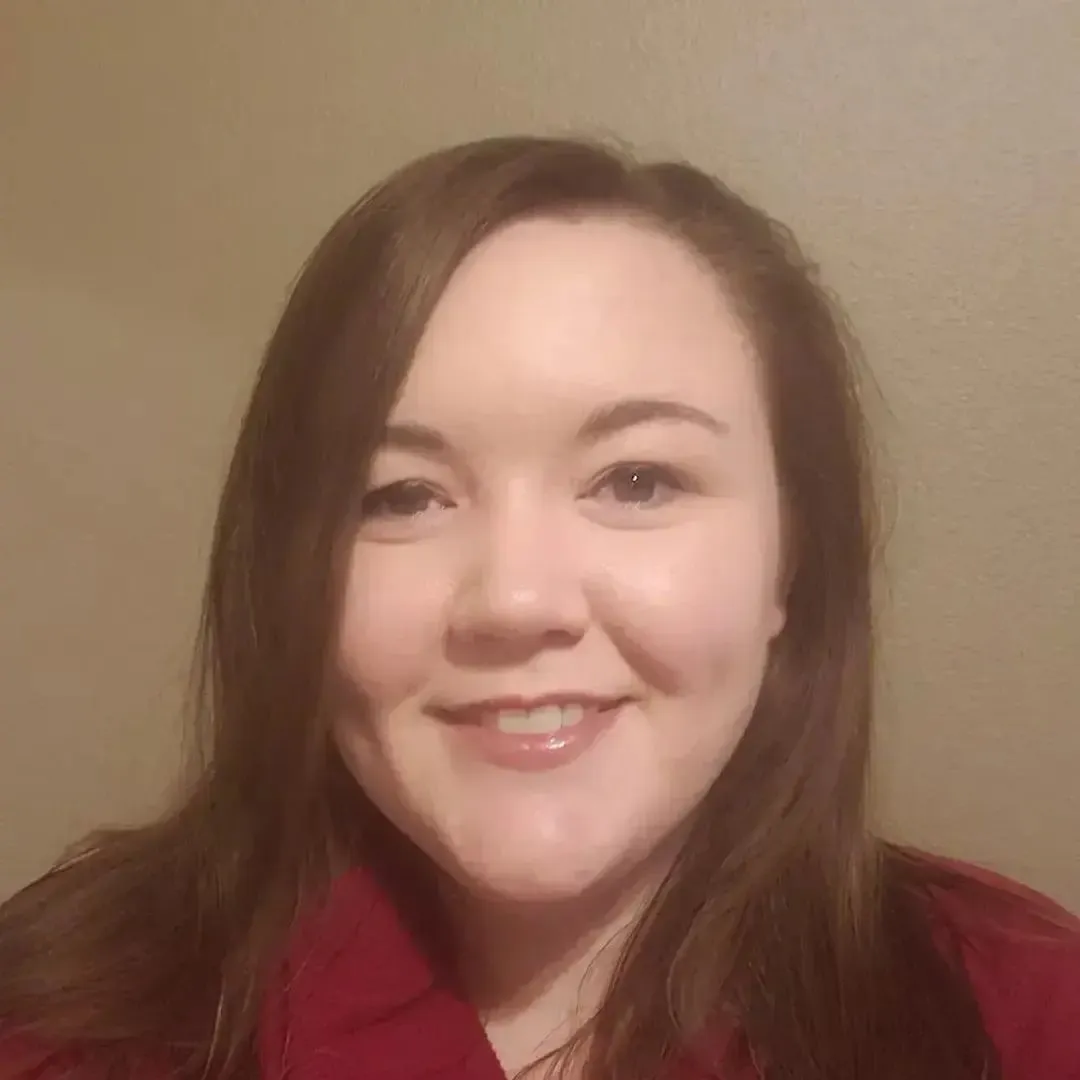 Nutrition Reviewer
SaVanna Shoemaker is a registered dietitian and freelance health and wellness writer. She's passionate about whole food-based eating and holistic nutrition, and uses her platform to help people embrace real food and reduce their sugar and processed food intake. Her work has appeared on Healthline, Greatist, Livestrong, Verywell Health, and more. In her free time, she enjoys gardening, reading, cooking, and weight lifting.
A Hearty and Flavorful Seafood Dish!