Today's carrot smoothie recipe is another tasty way to get a healthy dose of veggies and fruits. The vibrant puree is full of tropical flavors from orange pineapple. This carrot smoothie is a great idea for a wonderful make-ahead snack or healthy post-workout drink.
Benefits of This Carrot Smoothie
Made from whole carrots and tropical fruits, our carrot smoothie is full of nutrients.
The drink not only provides fiber (6% of the recommended daily intake) but is also rich in vitamins. Each serving of our carrot smoothie contains up to 40% of the RDI of vitamin A and 18% of the RDI of vitamin C. Drinking this smoothie can help support the immune system and improve eye and skin health. 
Also, carrots are a great source of carotenoid — a pigment that gives fruits and vegetables their orange-red color. Once consumed, carotenoids are converted into antioxidant vitamin A, which can assist the body's cells in fighting free radical damage.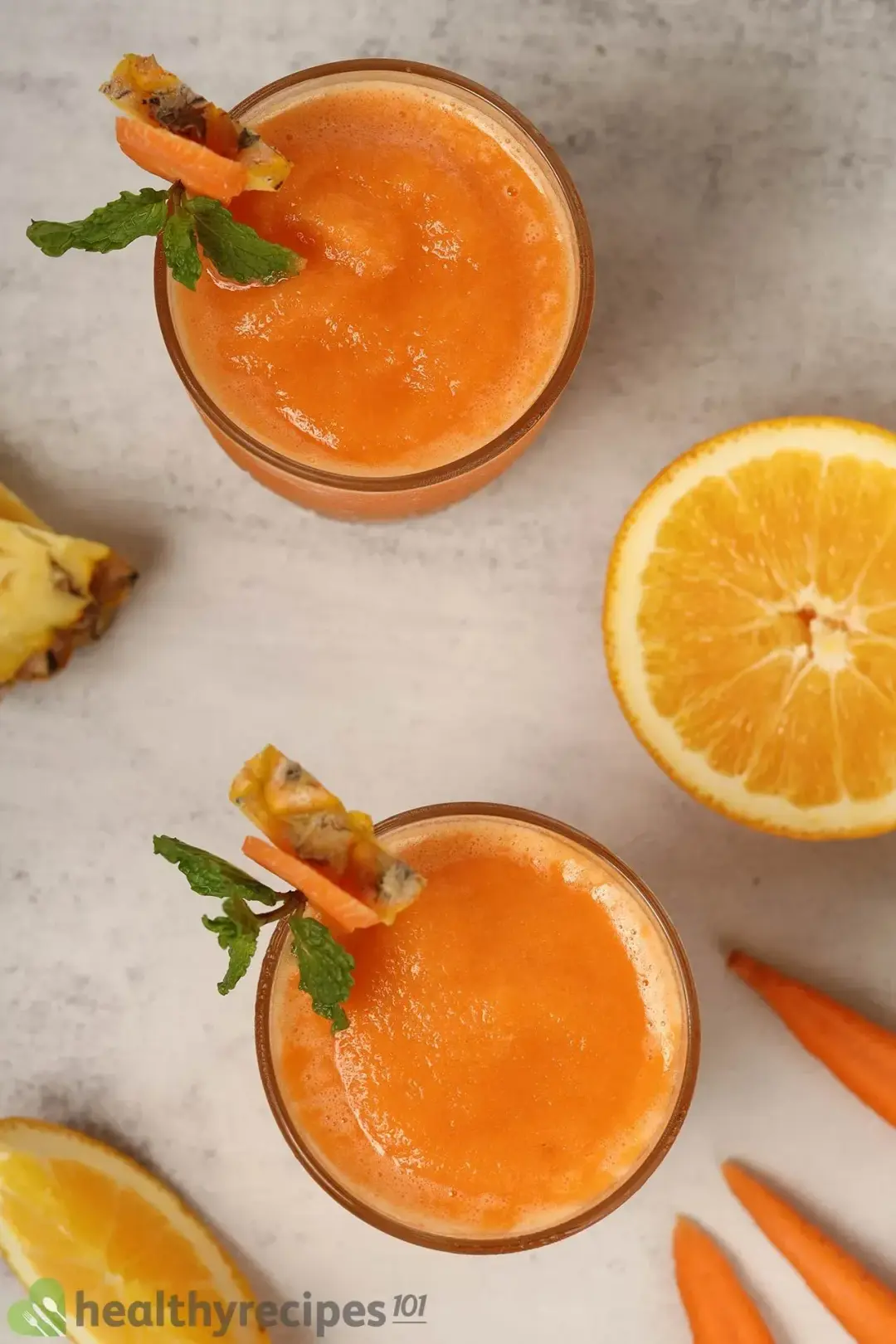 If you're looking for more healthy carrot juice recipes, check out our Carrot Mango Juice, Strawberry Carrot Juice, and Pineapple Carrot Juice to amp up your beverage collection.
Ingredients for Carrot Smoothie
Carrots: Either large or baby carrots work in this recipe.
Pineapple: Pineapple adds texture and sweetness. It also blends perfectly with the carrot's taste.
Orange Juice: Orange juice is the true flavor maker in this smoothie. The citrus fruit brings out the crispness of the carrot, making for a more lip-smacking fresh experience.
Sweetener: Depending on the sweetness of your fruits, you may adjust the amount of added sugar used in the recipe. We used half a tablespoon of sugar for each serving for the perfect fresh, sweet taste.
Ginger: Ginger lends a slightly spicy kick and brightness to the mix. If you don't have fresh ginger on hand, try ¼ teaspoon of ground ginger instead.
Ice: To quickly create that deliciously satisfying chilly, fluffy texture.
Mint Leaves: For extra freshness and garnishing.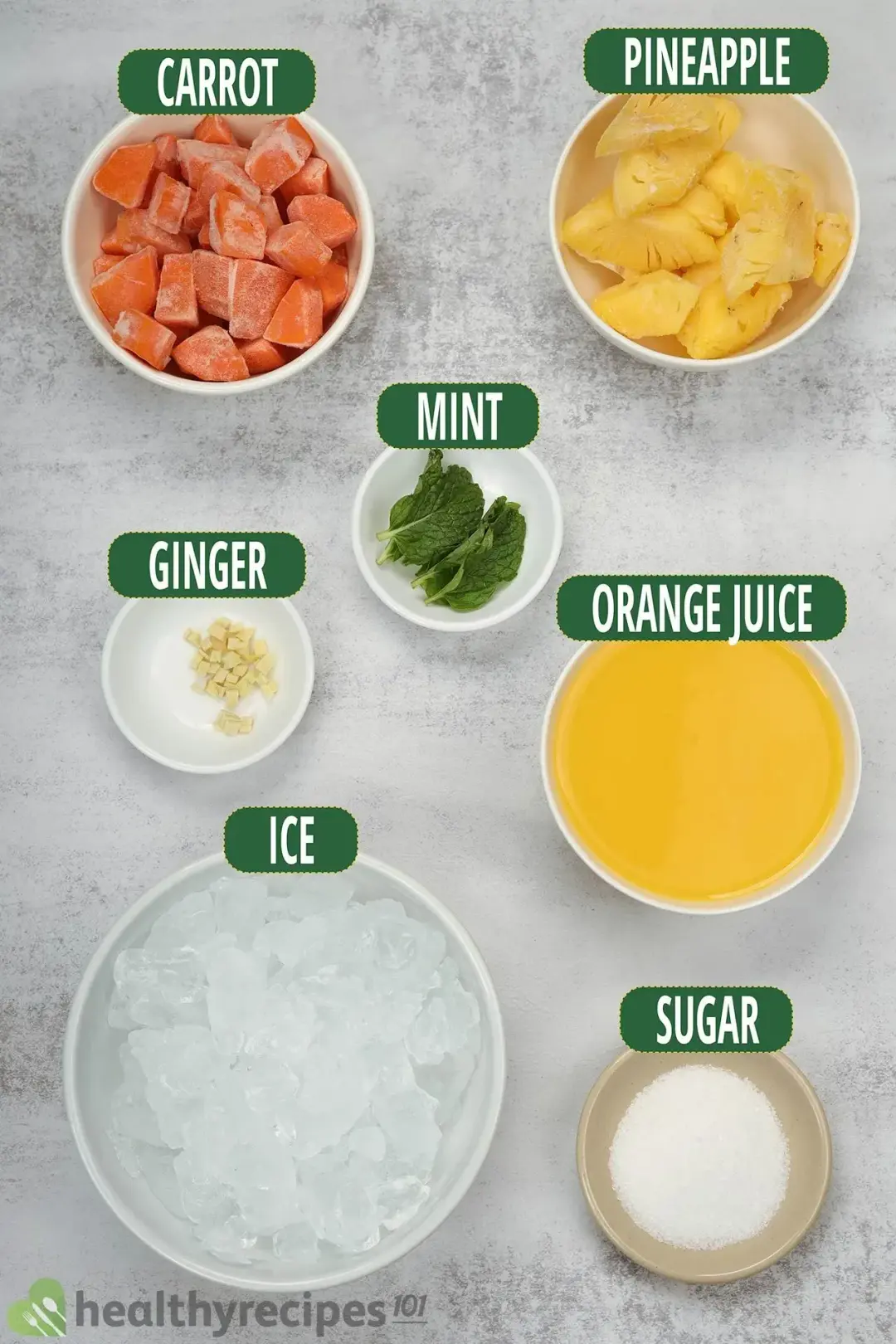 Can You Eat Carrot Skin?
You should always prep your fruits and vegetables by washing and peeling them first. But is this totally necessary for carrots?
Actually, it's not so important to peel carrots since it's perfectly fine to eat the skin. Moreover, there is a certain amount of nutrients, such as vitamins C and A, to be found in carrot skin. If you want to maximize your nutrient intake, we recommend keeping the peel.
However, many people find that carrot skin has an earthy flavor that they find quite unpleasant. If you're one of them, there's no harm in removing it.
How to Make Carrot Smoothie
Made with carrot, pineapple, orange juice, ginger, sugar, and ice, this carrot smoothie is pleasantly sweet and silky smooth with a fruity aroma. The drink is a delicious treat that the whole family can enjoy daily. 
Here's how we made the carrot smoothie: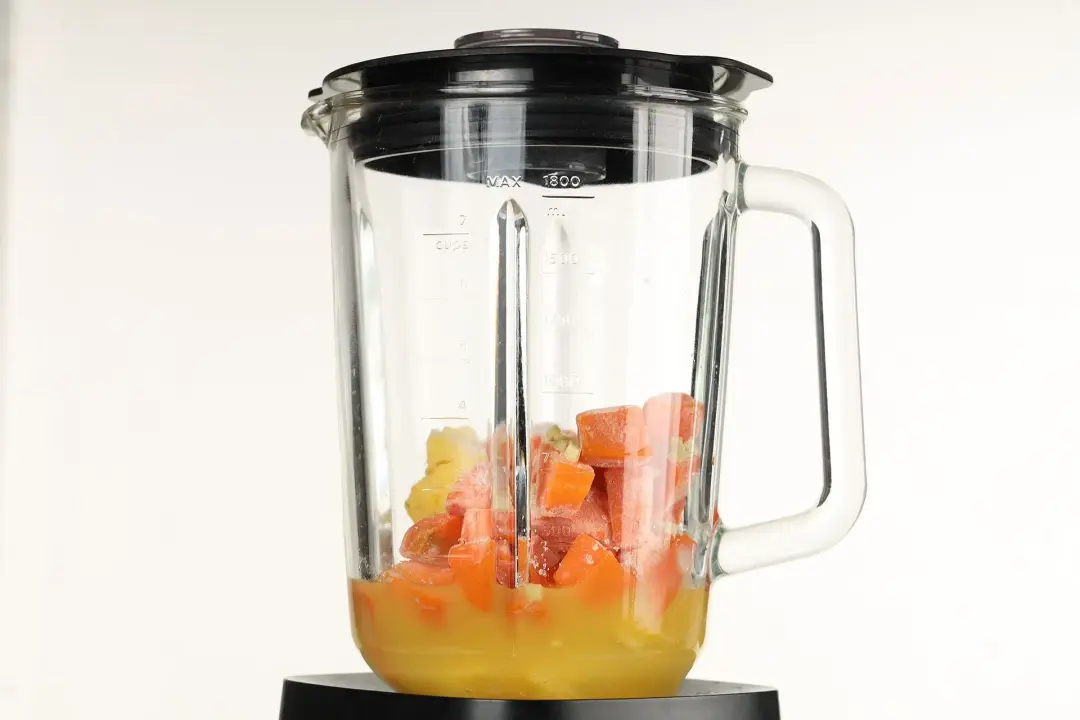 Blend ingredients until completely smooth.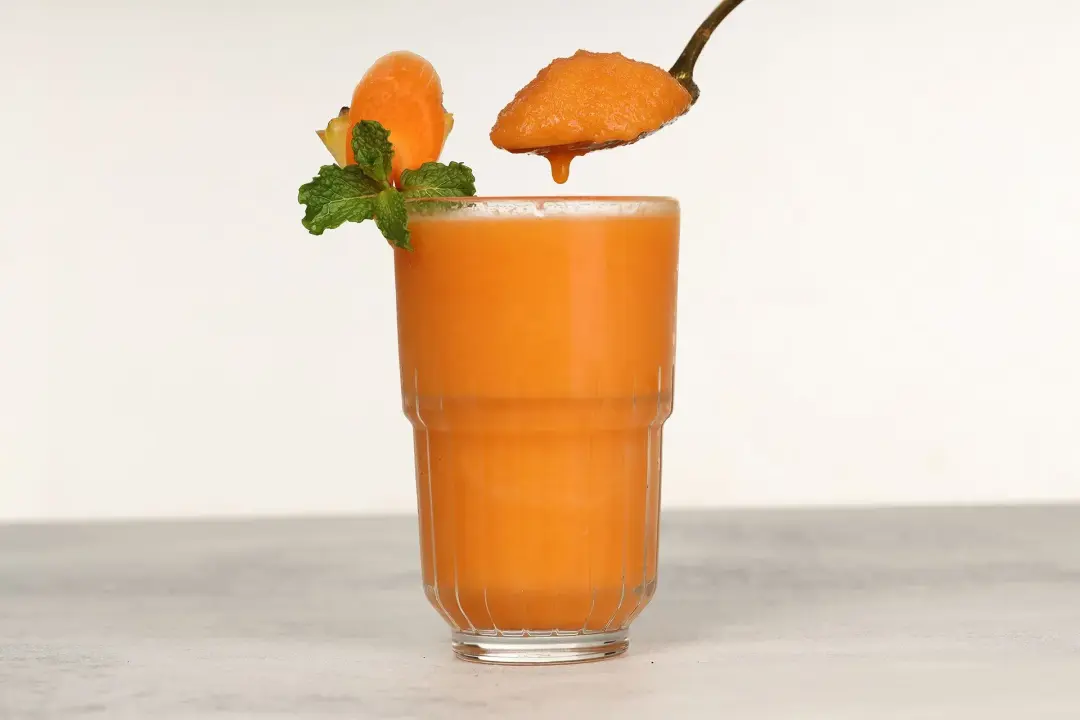 Pour the mixture into serving glasses.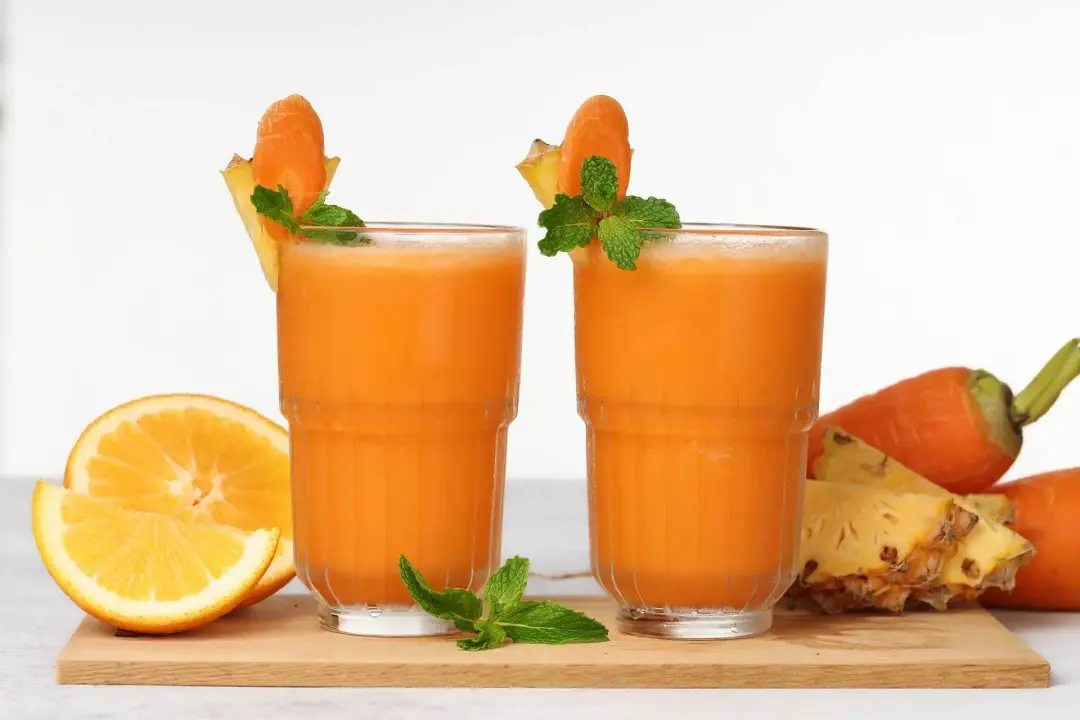 Storage and Freezing The Leftover
While the most recommended way to consume smoothies is to drink them immediately after blending, you may sometimes feel the need to save some for later. Indeed, storing this carrot smoothie is quite easy.
If there's any carrot smoothie leftover, pour it into an airtight container and place in the refrigerator. The drink lasts for 3 – 4 days in the fridge.
For longer storage, keep the drink in the freezer for up to 3 months. Also, be sure to leave a little space when filling up the containers since the liquid expands slightly when frozen.
When you feel like consuming, simply remove it and let it thaw in the fridge overnight. This way, by the time you wake up, your smoothie will have the perfect chilled consistency for sipping.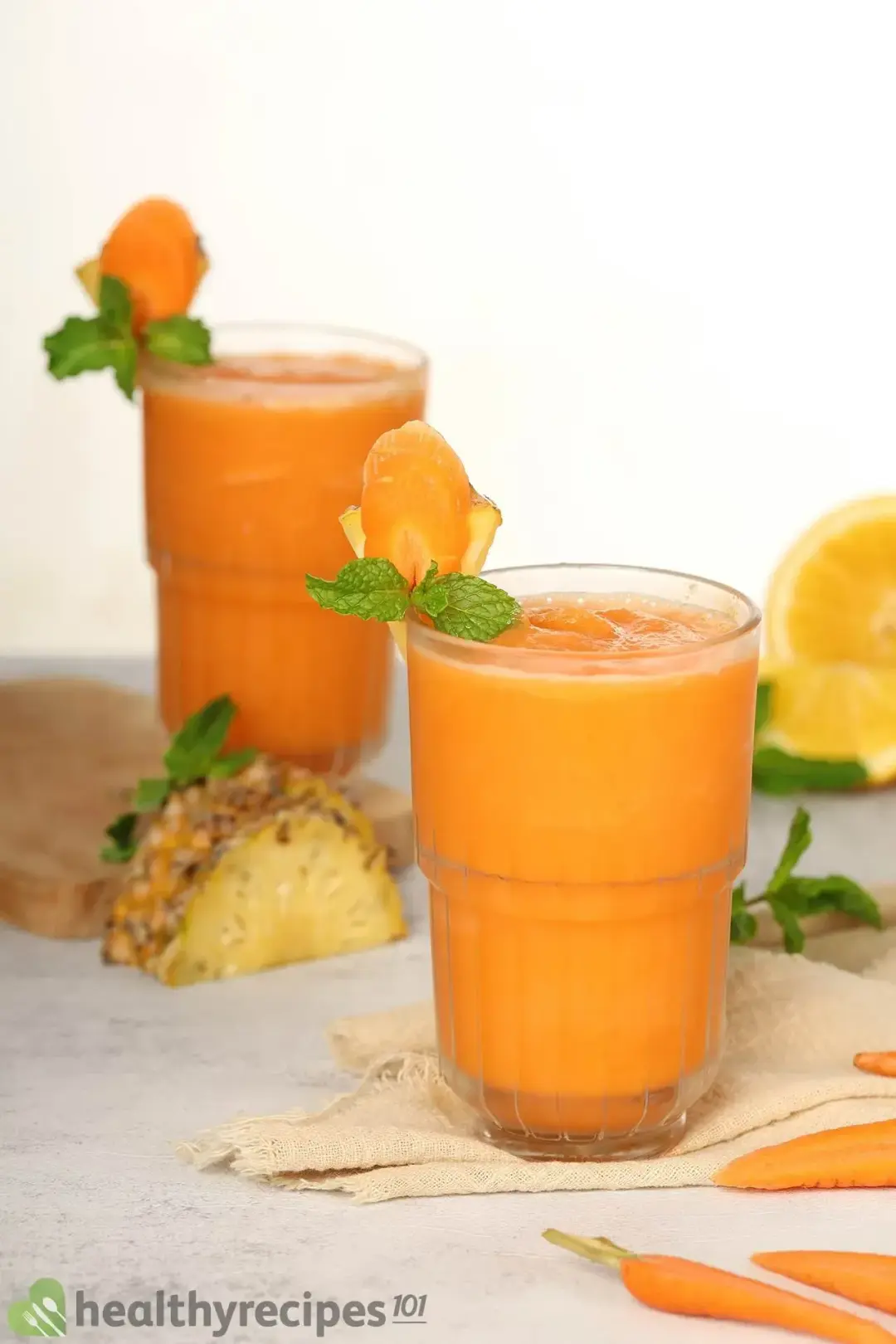 Carrot Smoothie Recipe
Our simple carrot smoothie recipe makes a drink that is bursting with summer flavors and full of nutrition in just 10 minutes.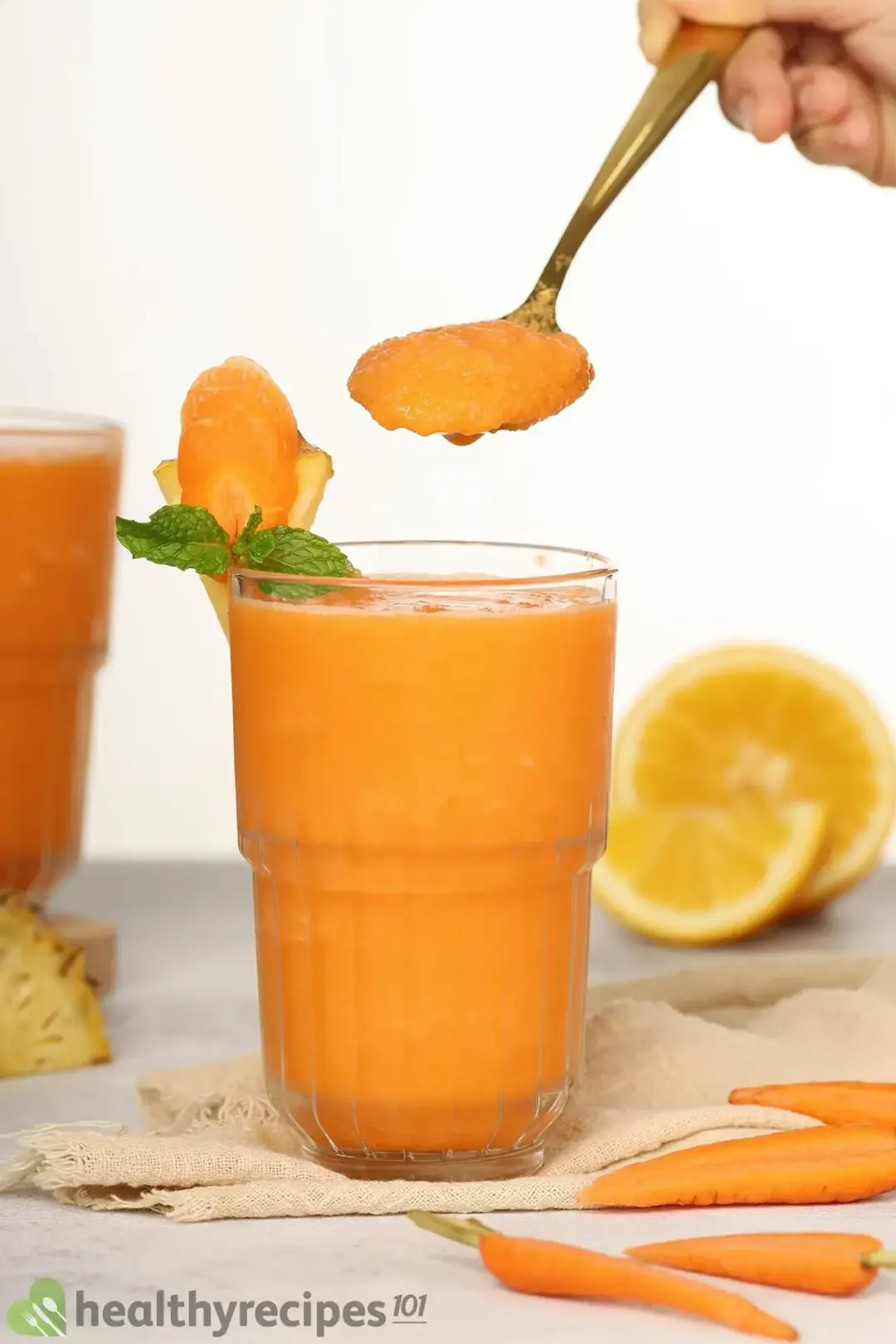 prep TIME

10 mins

total TIME

10 mins
COURSE

Beverage

CUISINE

Global

SERVINGS

servings

CALORIES

98 kcal
INGREDIENTS
6 oz

carrot cubed and frozen

2 cups

ice

4 oz

pineapple cubed and frozen

0.5 tsp

ginger chopped

1.5 cup

orange juice

2 tbsp

sugar

8

mint leaves
INSTRUCTIONS
1
Add 2 cups ice, 6 oz carrot, 4 oz pineapple, 1/2 tsp ginger, 1 1/2 cup orange juice, and 2 tbsp sugar into a blender. Blend until smooth.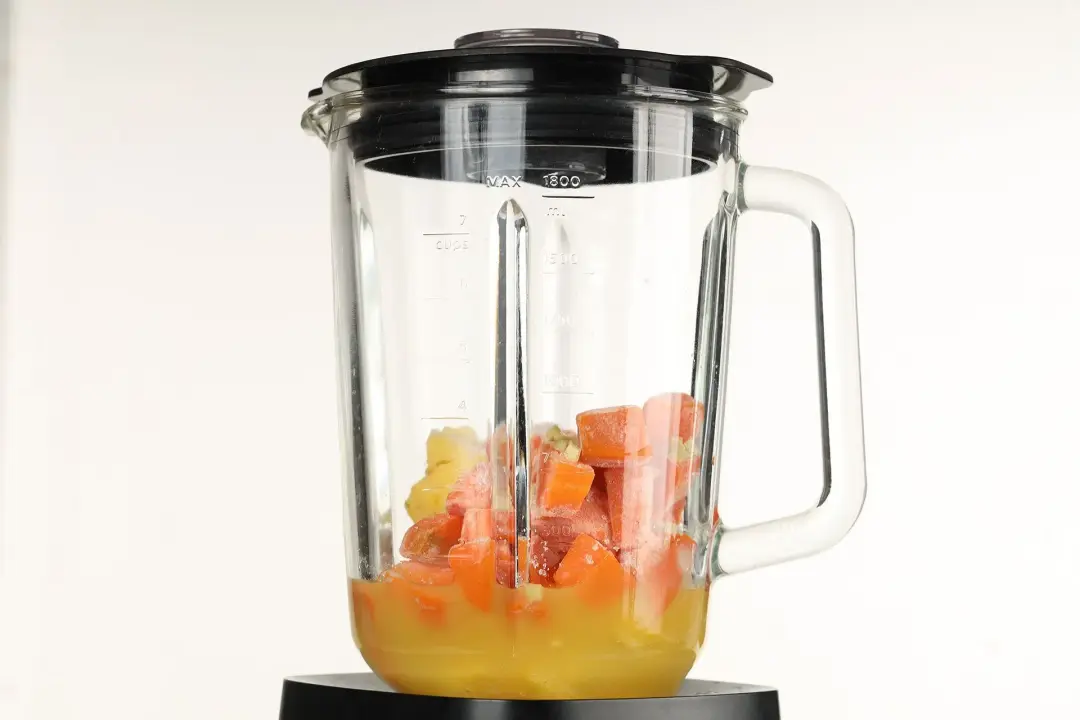 2
Pour into serving glasses.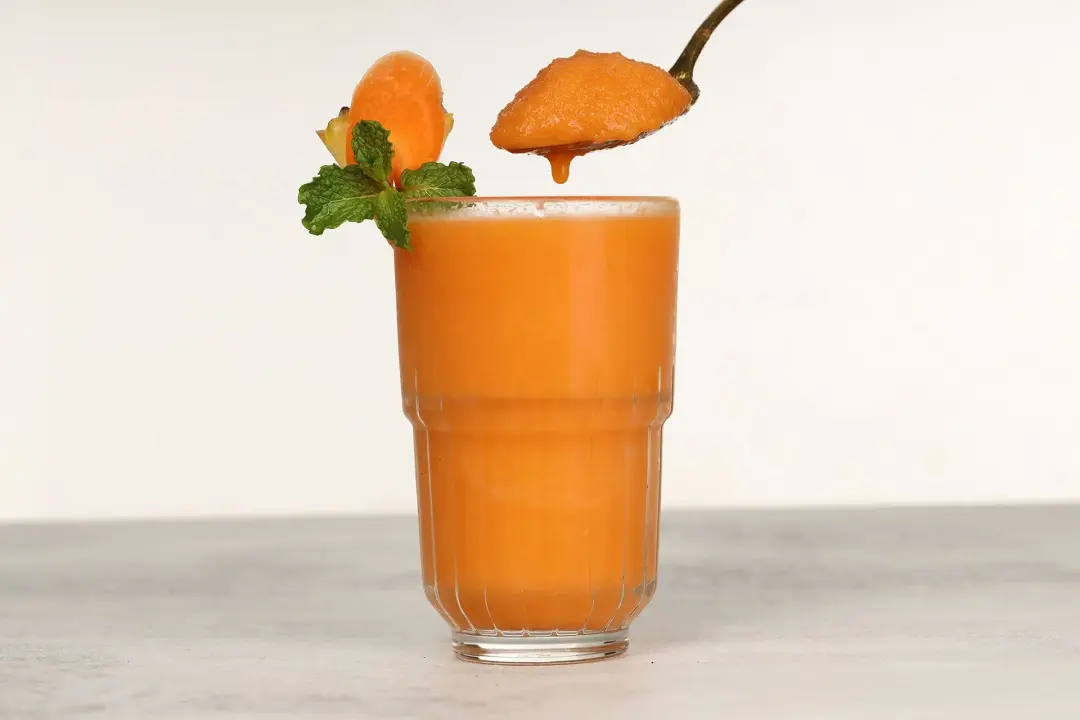 3
Garnish with mint leaves and serve cold.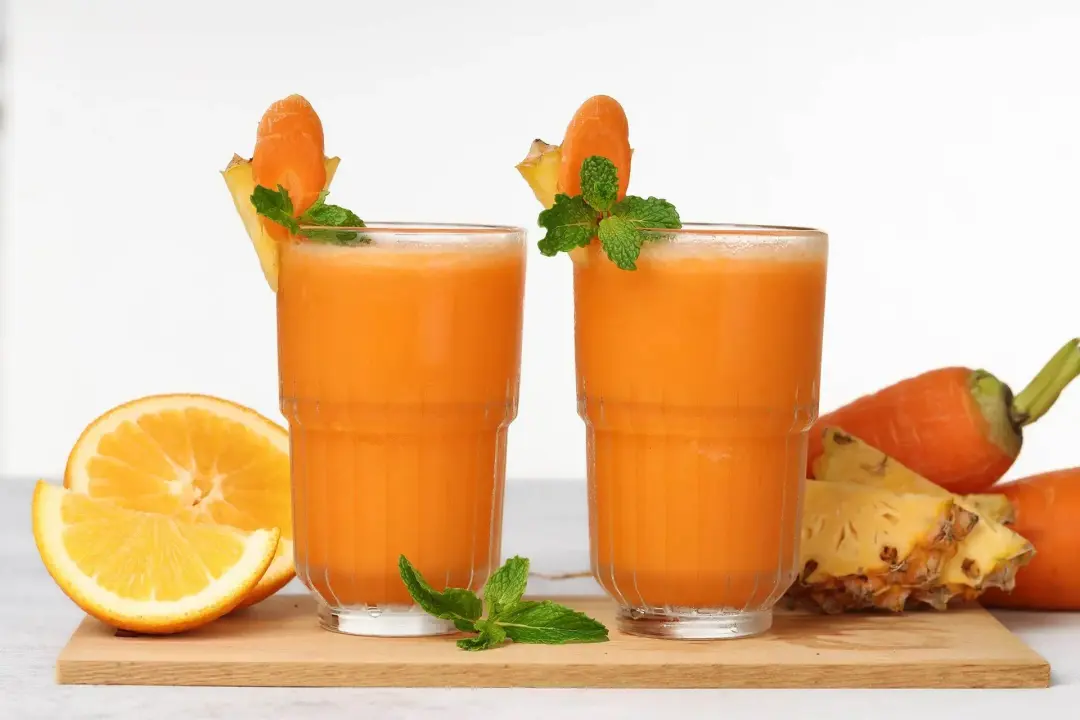 NUTRITION
Nutrition Facts
Carrot Smoothie Recipe
Amount Per Serving (1 serving)
Calories 98
Calories from FDA
% Daily Value*
* Percent Daily Values are based on a 2000 calorie diet.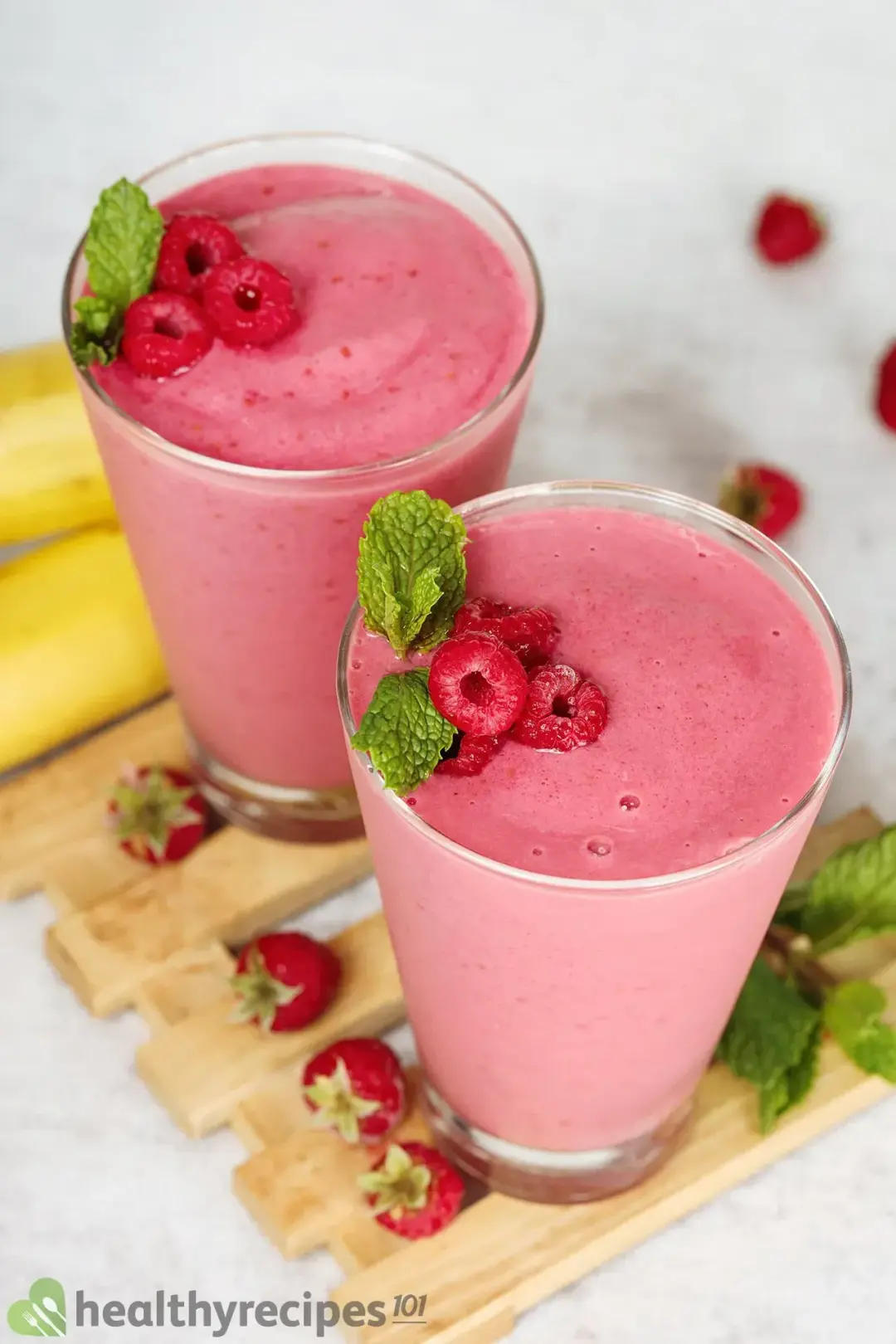 Previous Recipe
Raspberry Smoothie
Raspberry Smoothie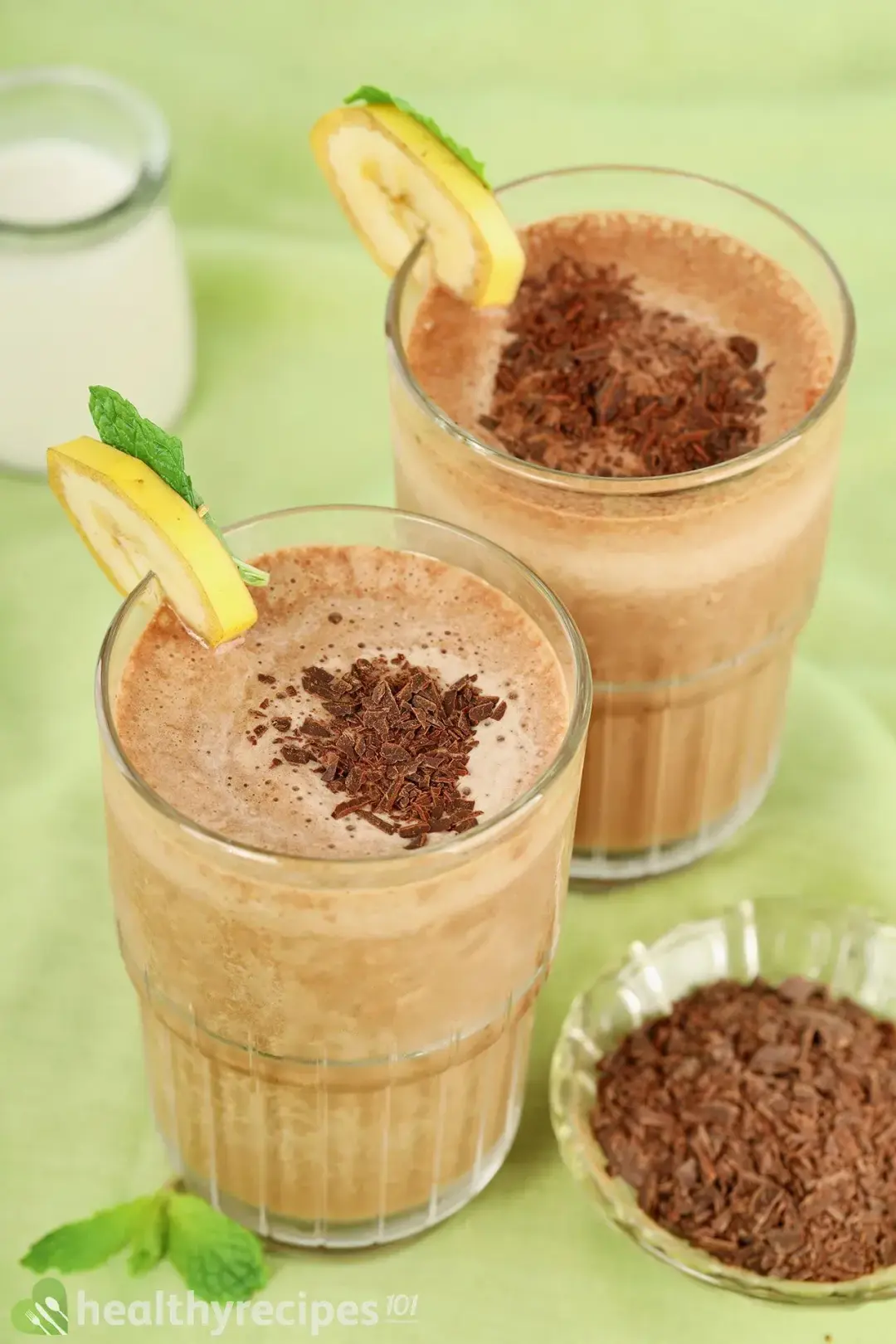 Next Recipe
Chocolate Smoothie
Chocolate Smoothie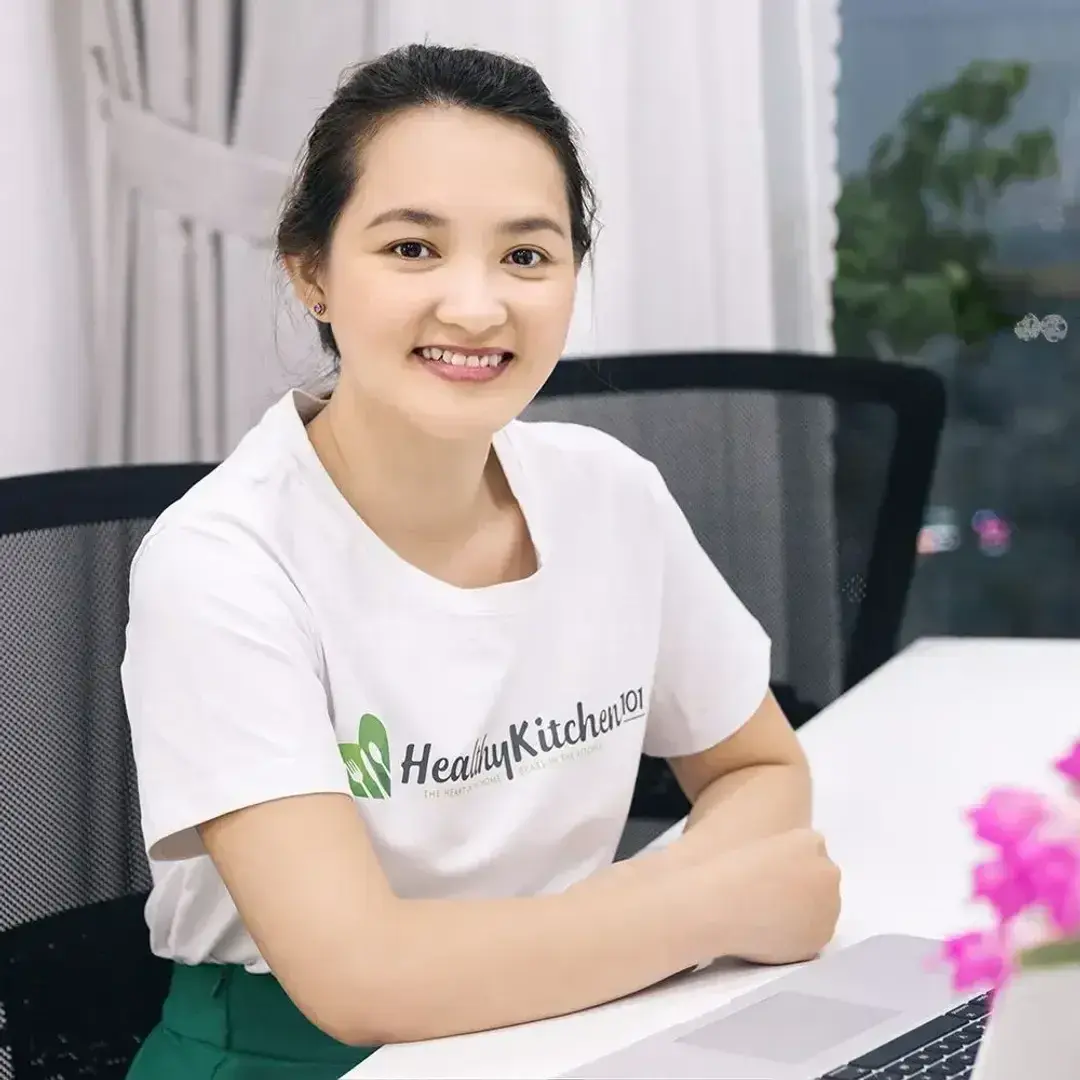 Luna Regina
Luna is the founder and chief recipe developer of Healthy Recipes 101. Apart from cooking, she also loves reading, programming, exploring the outdoors, and collecting useless facts about everything.