This dragon fruit and yogurt smoothie recipe is as straightforward and delicious as it gets! The drink is rich and creamy with gorgeous color and ideal for topping with your favorite ingredients.
Delivering wonderful tropical flavors, our dragon fruit and yogurt smoothie is perfect for a summertime breakfast or healthy snack.
Benefits of This Dragon Fruit and Yogurt Smoothie
Dragon fruit benefits your health thanks to its great nutrition content, including fiber, antioxidants, minerals, and vitamins.
The fruit has an abundance of vitamin C, which is essential for skin health. The vitamin C in dragon fruit helps minimize sunburn and prevent infection in the affected area.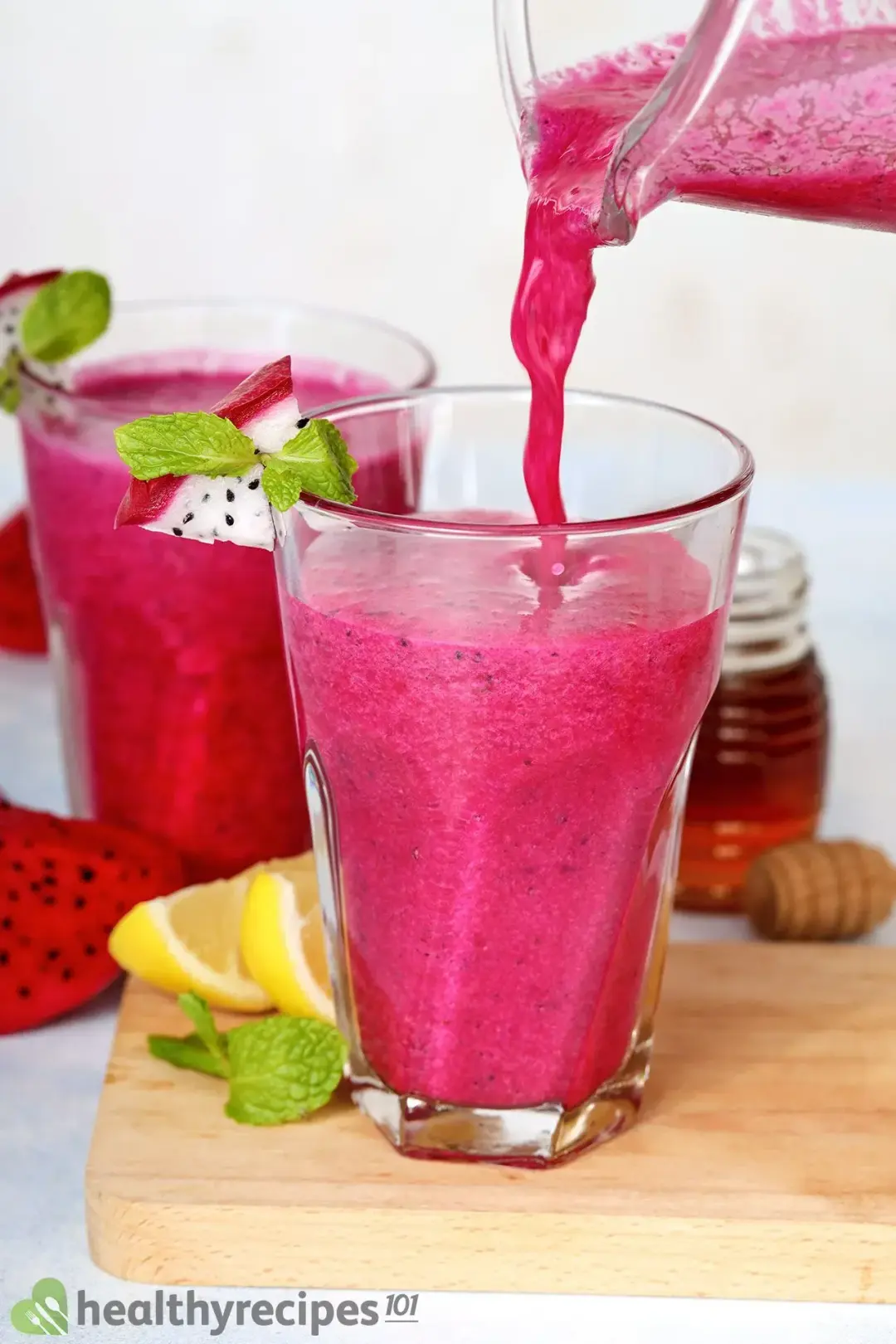 One of the most important health advantages of dragon fruit comes from its high fiber content. Dragon fruit has around 1.8 grams of fiber per 100 grams, which is about 8% of the daily value (DV). Including dragon fruit in your diet will fulfill your daily fiber requirements and promote regular bowel movements.
Furthermore, since it is one of the finest dietary sources of calcium, regular consumption of yogurt can have a favorable effect on your overall health and well-being. Calcium is necessary for the growth and maintenance of healthy bones and teeth as well as blood clotting, wound healing, and regulating blood pressure.
Probiotics in yogurt are a sort of beneficial microorganism for the gut. They aid in digestive system regulation and reduce gas, diarrhea, constipation, and bloating. Consuming yogurt and other probiotic foods can also improve vitamin and mineral absorption.
Ingredients for Dragon Fruit and Yogurt Smoothie
Made with a blend of yogurt, honey, lime, and the true star of the show, red dragon fruit, this delectable tropical smoothie tastes like a beach vacation in a glass. Here are the ingredients for getting started: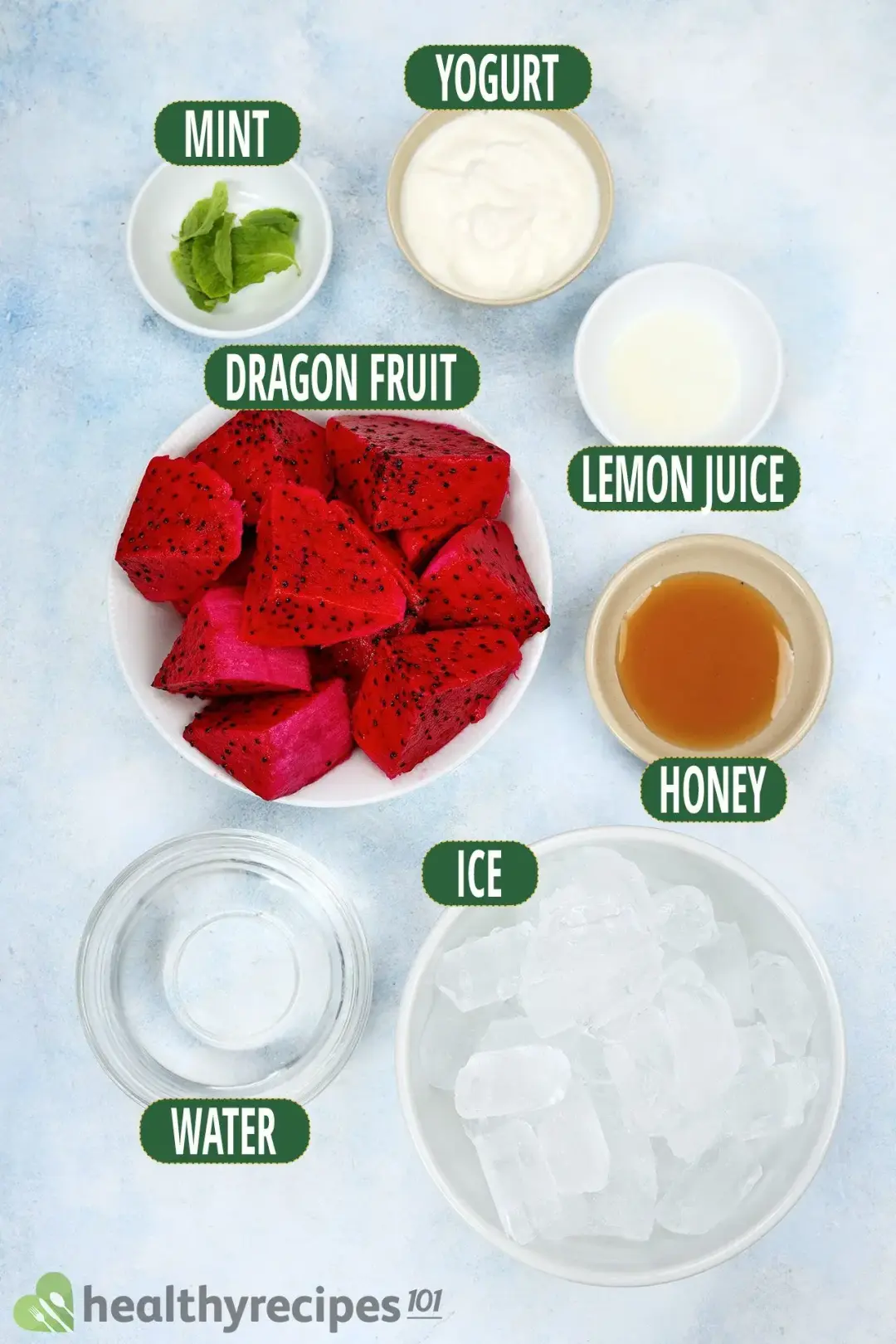 Red Dragon Fruit: Dragon fruit is subtly sweet and juicy, comparable to watermelon or pear. The dragon fruit does not provide much flavor to the smoothie, but the red variety gives it a beautiful pink hue.
Greek Yogurt: Plain Greek yogurt, whole milk yogurt, vanilla yogurt, almond milk yogurt, or any dairy-free yogurt can be used in this smoothie recipe.
Honey: Honey complements the fruit taste and rounds out the drink. Because the dragon fruit is naturally slightly sweet, we just needed to add 3 tablespoons of honey for 4 servings.
Lime: The acidity of lime juice enhances the flavor of the mild dragon fruit. Plus, the lime adds vitamin C to boost the smoothie's nutritional profile.
How to Cut Dragon Fruit for Smoothies
Although the exterior of dragon fruit appears resistant because of its scaly projecting leaves, it is simple to cut through. The surface of the skin is thin and soft, like a mango.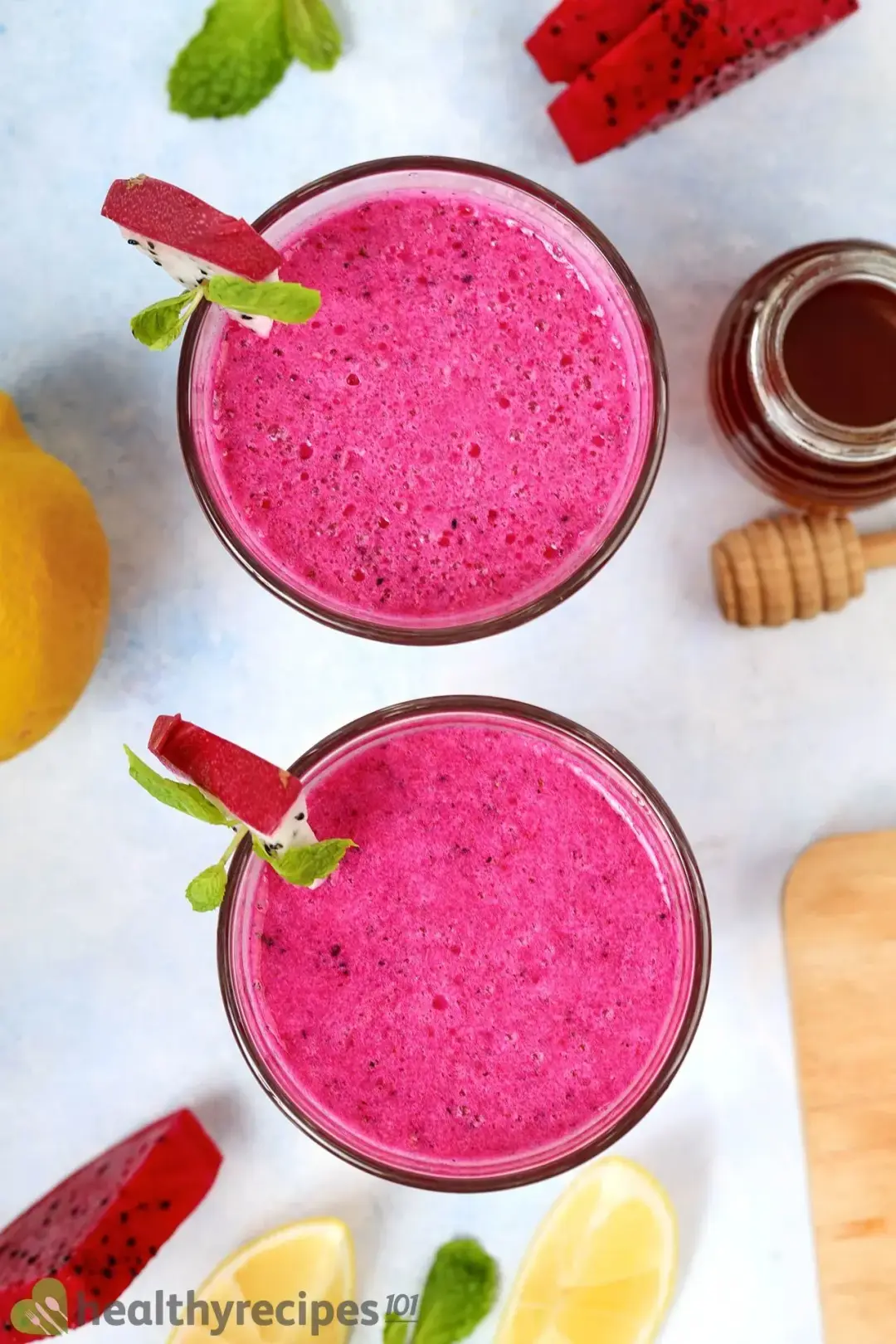 To cut a dragon fruit, place it on a chopping board. Using a sharp chef's knife, halve the fruit down its length. I suggest beginning at the top and working your way down through the thicker stem. The flesh can be eaten directly from the half using a spoon.
Alternatively, once halving the fruit, use your fingers to remove the peel. Then cut the flesh into cubes or slices as desired.
Storing and Freezing
1. The Smoothie
Without ice, the smoothie can be refrigerated for 2 – 3 days or frozen for up to 3 months. To avoid diluting the drink, ice should only be added when serving.
When you're ready for your frozen fruit smoothie, remove it from the freezer and let it defrost at room temperature for approximately an hour. Give the smoothie a stir and enjoy.
2. The Dragon Fruit
Dragon fruit cubes can be frozen by lining a baking sheet with wax or parchment paper and arranging them so that they do not touch.
Place the baking sheet in the freezer overnight, or until the individual pieces are completely frozen. Then, place the frozen cubes in a zip-top freezer bag, eliminating as much air as possible before sealing, and store for 3 to 4 months in the freezer.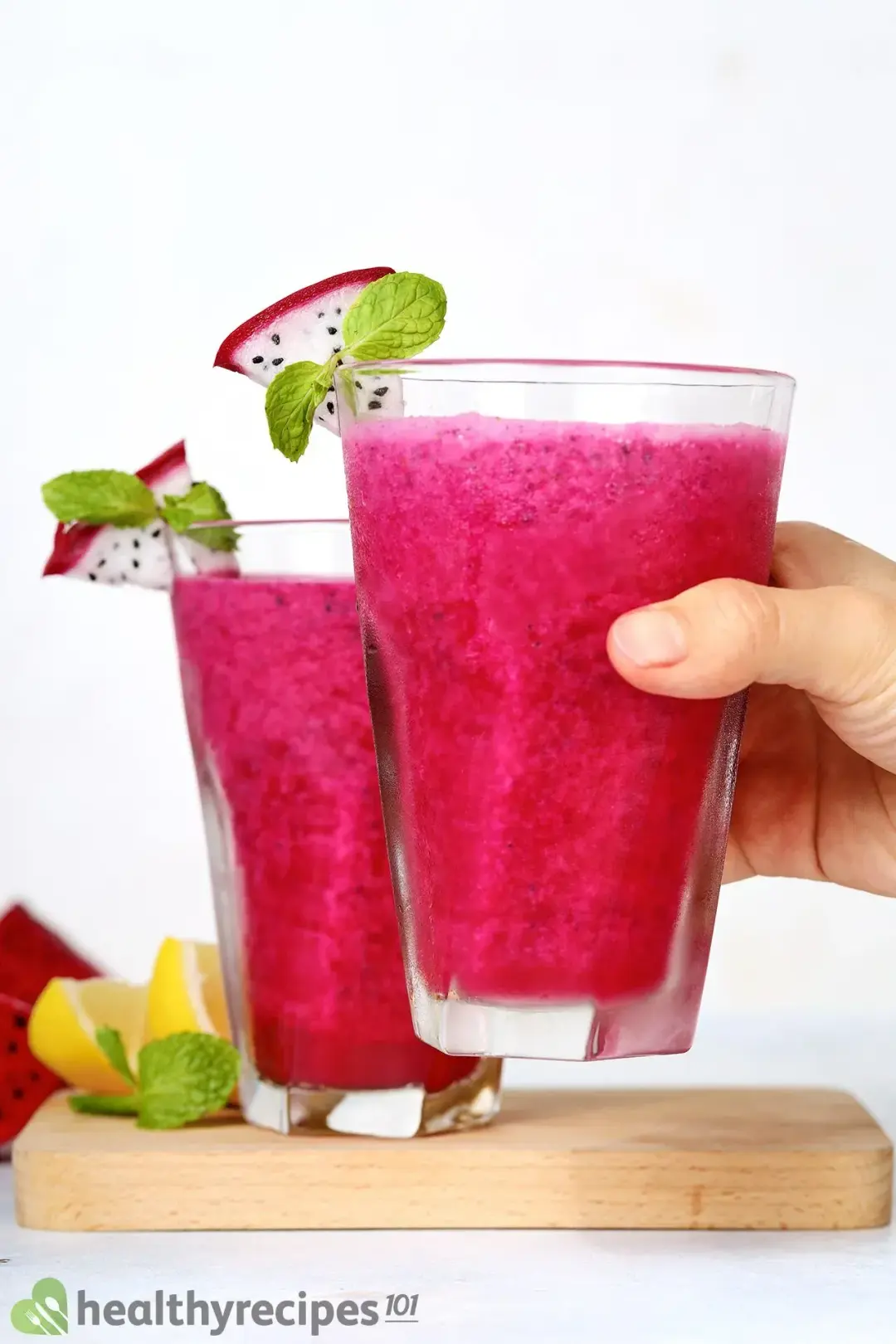 Dragon Fruit and Yogurt Smoothie Recipe
Our dragon fruit and yogurt smoothie recipe will satisfy your sweet tooth with a refreshing, healthy treat made with fresh fruits and yogurt.
prep TIME

10 mins

total TIME

10 mins
COURSE

Drinks, Smoothie

CUISINE

Global

SERVINGS

servings

CALORIES

135 kcal
INGREDIENTS
16 oz

dragon fruit

0.3 cup

plain Greek yogurt

2 cups

ice

1 tsp

lemon juice

0.5 cup

water

3 tbsp

honey

8

mint leaves
INSTRUCTIONS
Preparation:
1
Cut the dragon fruit into cubes.
Instructions:
1
Blend the smoothie: Put 2 cups ice, 16 oz dragon fruit, 1/3 cup plain Greek yogurt, 1 tsp lemon juice, 1/2 cup water, and 3 tbsp honey into a blender. Blend until smooth.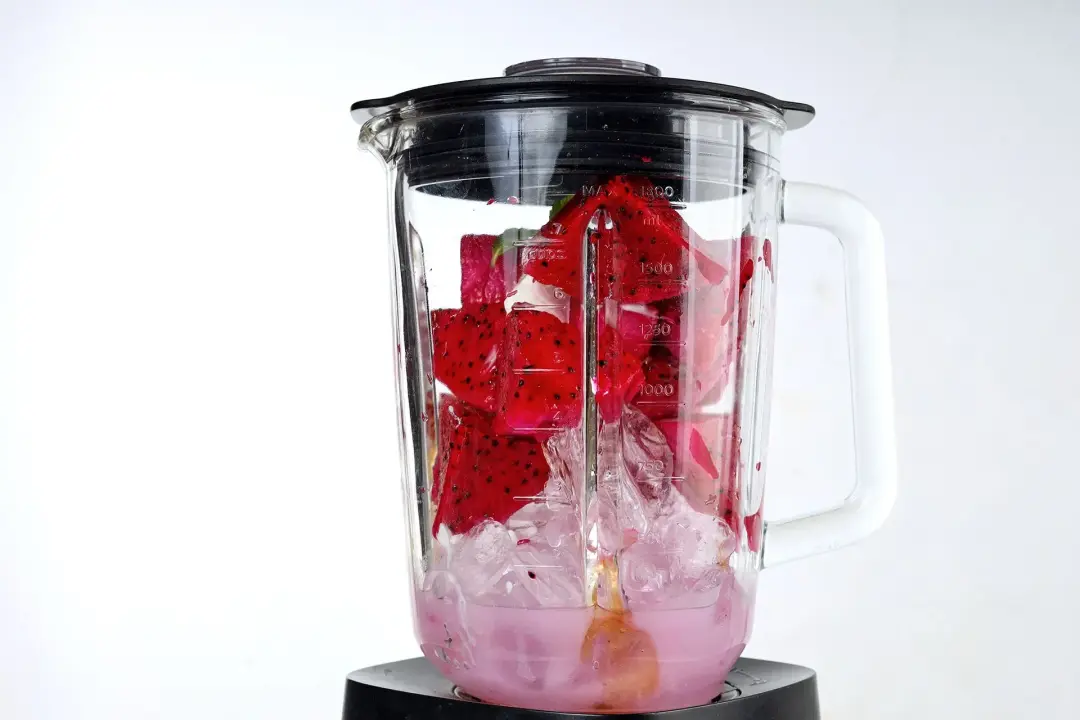 2
Serve the smoothie: Pour the smoothie into serving glasses. Garnish with 8 mint leaves and serve the drink immediately.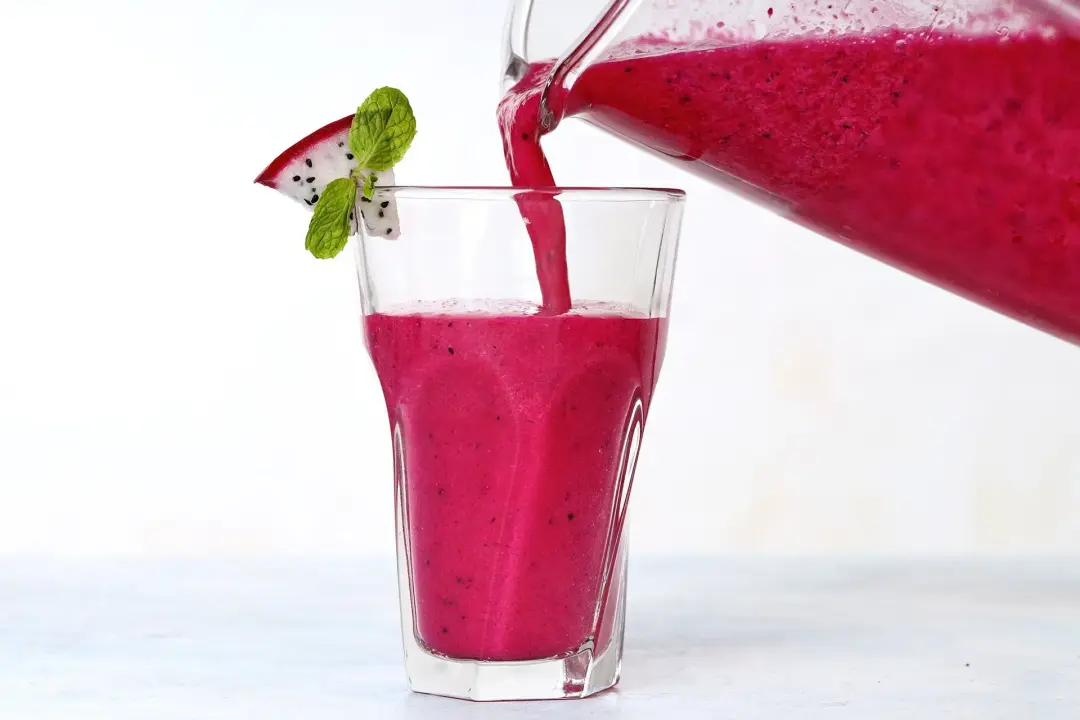 NUTRITION
Nutrition Facts
Dragon Fruit and Yogurt Smoothie Recipe
Amount Per Serving (1 serving)
Calories 135
Calories from FDA
% Daily Value*
* Percent Daily Values are based on a 2000 calorie diet.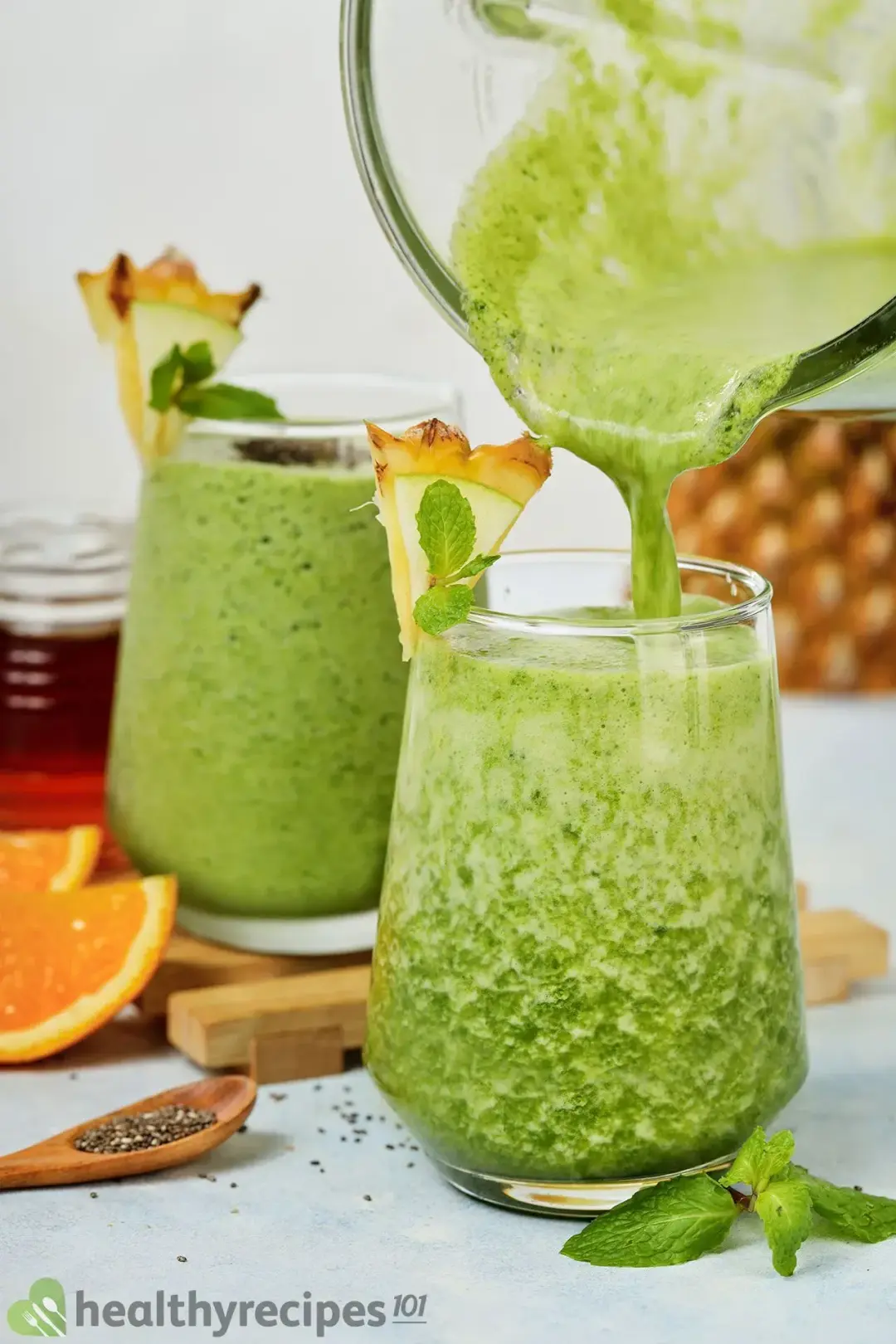 Previous Recipe
Green Apple Smoothie
Green Apple Smoothie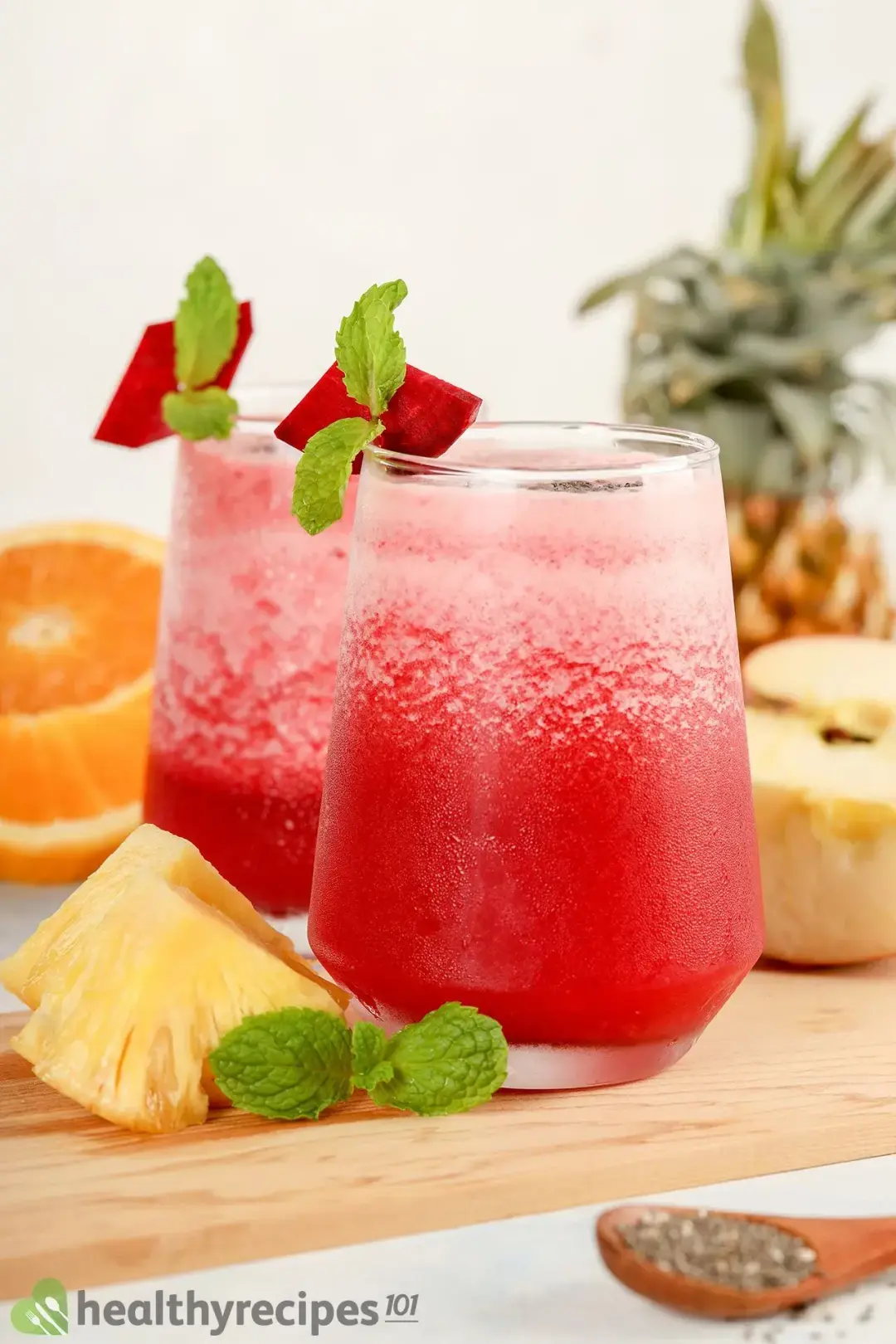 Beet Smoothie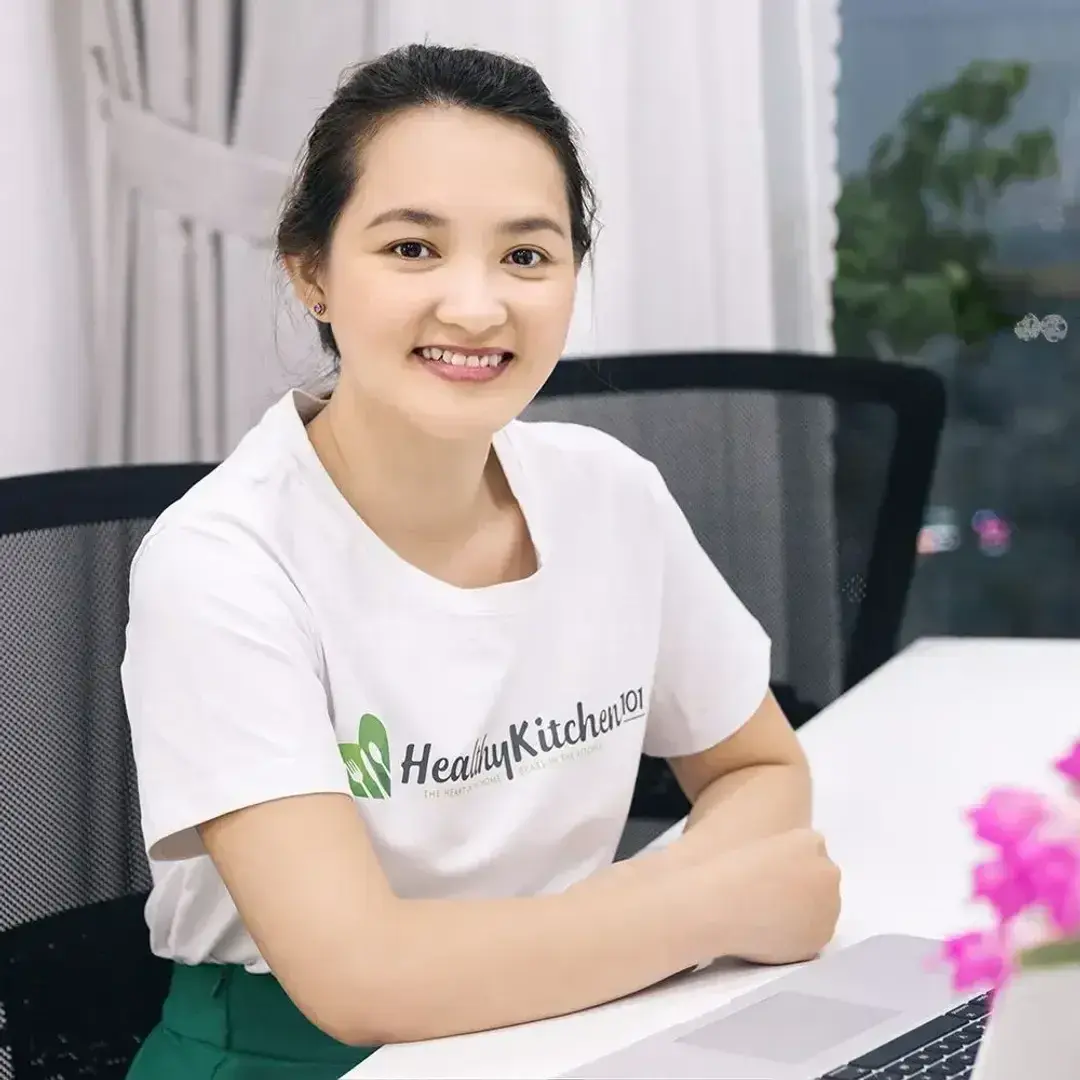 Luna Regina
Luna is the founder and chief recipe developer of Healthy Recipes 101. Apart from cooking, she also loves reading, programming, exploring the outdoors, and collecting useless facts about everything.