Our simple beet smoothie recipe is one of the most wonderful ways to incorporate beets into your diet. The blend of beets, pineapple, red apple, and orange juice creates a flavorful juice drink that is perfect for breakfast or as an afternoon pick-me-up.
Benefits of Beet Smoothie
When it comes to preparing smoothies, beets are one of those things that do not initially come to mind. However, beets are an excellent source of nutrients. Not only does their bright violet-red color give your smoothie great aesthetic appeal but they are also packed with antioxidants, fiber, and a handful of other vitamins and minerals.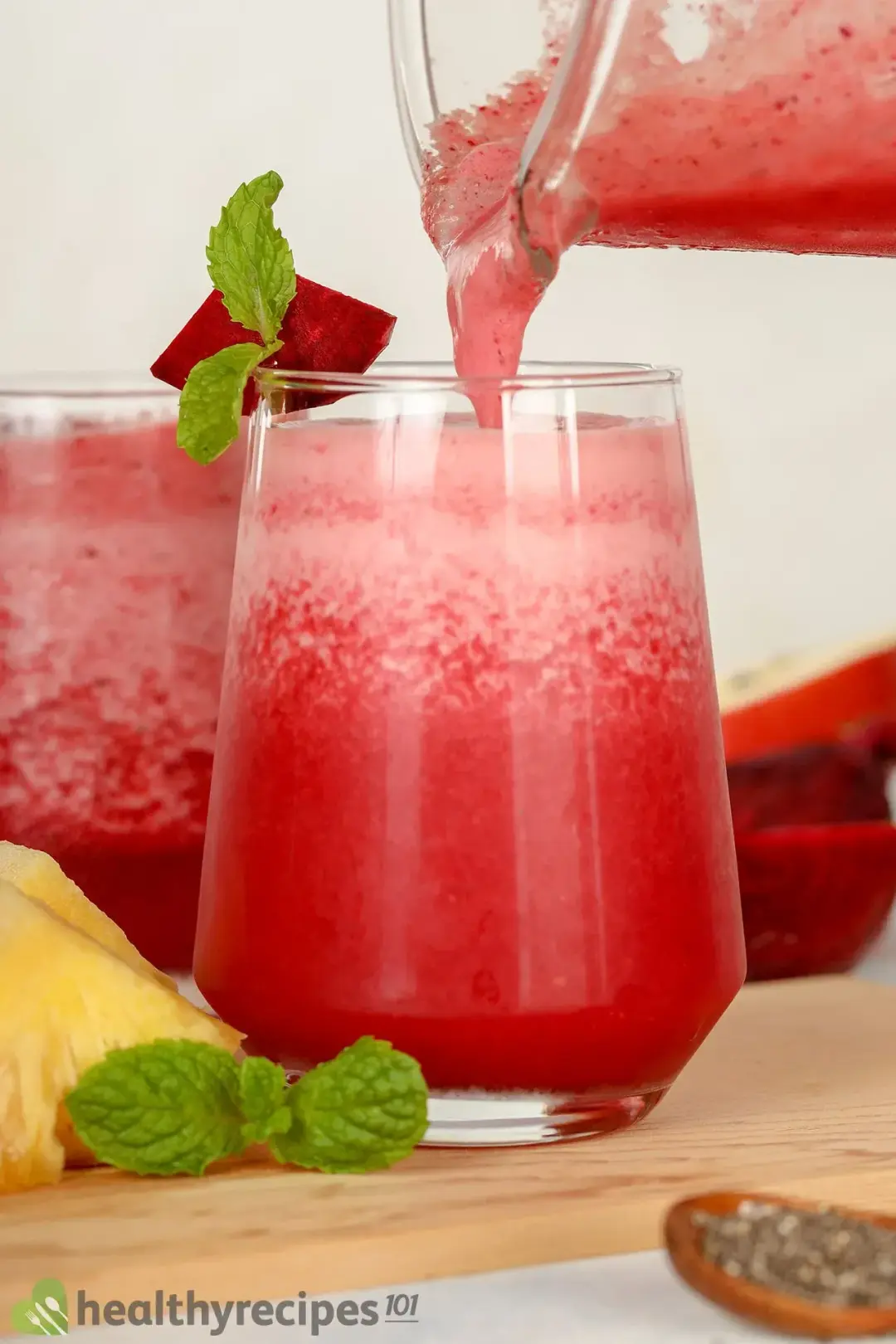 A serving of 100 grams of beets contains 9% of your daily potassium requirement. This electrolyte contributes to the health of nerves and muscles. Low potassium levels cause fatigue and sluggishness, thus, a glass of this juice can restore your potassium levels and revive you.
In addition, the vegetable contains antioxidants like rutin, epicatechin, and caffeic acid, which can lower oxidative stress and are associated with the protection of cancer and inflammatory illnesses.
Main Ingredients for Beet Smoothie
Our beet smoothie is a convenient and delicious way to add a variety of fruits and vegetables to your diet. Choose any fruits and vegetables that you like and try adding them to your smoothie to make it healthier.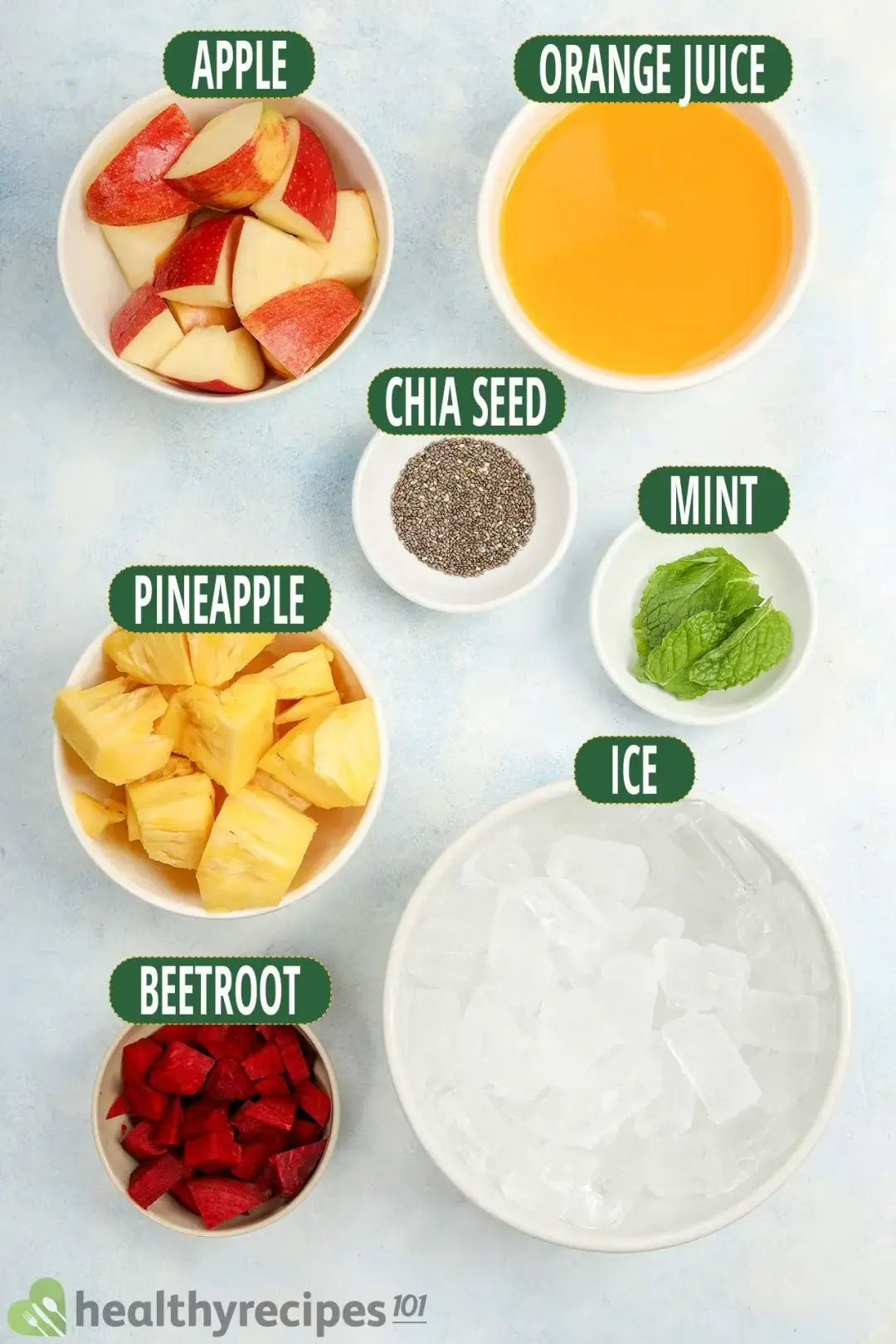 Beetroot: There are several types of beet, and each variation has a distinct flavor character. We've used red beets for this smoothie recipe, but you may use whichever color you desire. Given that beets are known for their earthy flavor, they must be paired with naturally sweet fruits such as bananas, berries, mangos, or pineapple.
Pineapple: This tropical fruit contributes a subtle sweetness and additional fiber.
Red Apple: Apples and beets are a complementary duo. Apples impart sweetness and texture, making them ideal for many smoothies.
Orange Juice: We prefer a nutritious liquid base such as orange juice to assist the blender's processing. The juice amplifies the sweetness of the beets and neutralizes their earthy taste. If you want to further hide the beet flavor, try the combination of orange juice and pineapple juice.
Chia Seeds: The inclusion of chia seeds adds a contrast in texture, making this smoothie even more delicious. Plus, they add extra fiber & omega-3 fatty acids.
Mint Leaves: For a wave of refreshing flavor and visual appeal.
Due to the high natural sugar content of the fruits and beets, no extra sweeteners or sugar are required in this recipe. It is already delightfully sweet and delicious.
Do Beets Need to Be Cooked Before Blending?
You may use either cooked or raw beets, whichever is more convenient. We've noticed that smoothies prepared with raw beets are often less smooth and a little more earthy in taste.
Storing and Freezing
This beet smoothie lasts 2 – 3 days when refrigerated in an airtight container or a mason jar with a lid. It may separate, which is a natural occurrence, but simply giving it a quick whisk will restore it to full deliciousness.
If you want to prepare the smoothie for the week's meals, divide the smoothie into portions and place them in the freezer for up to 2 months. When you're ready to consume it again, place the smoothie in the refrigerator and let it thaw overnight. Shake vigorously before serving.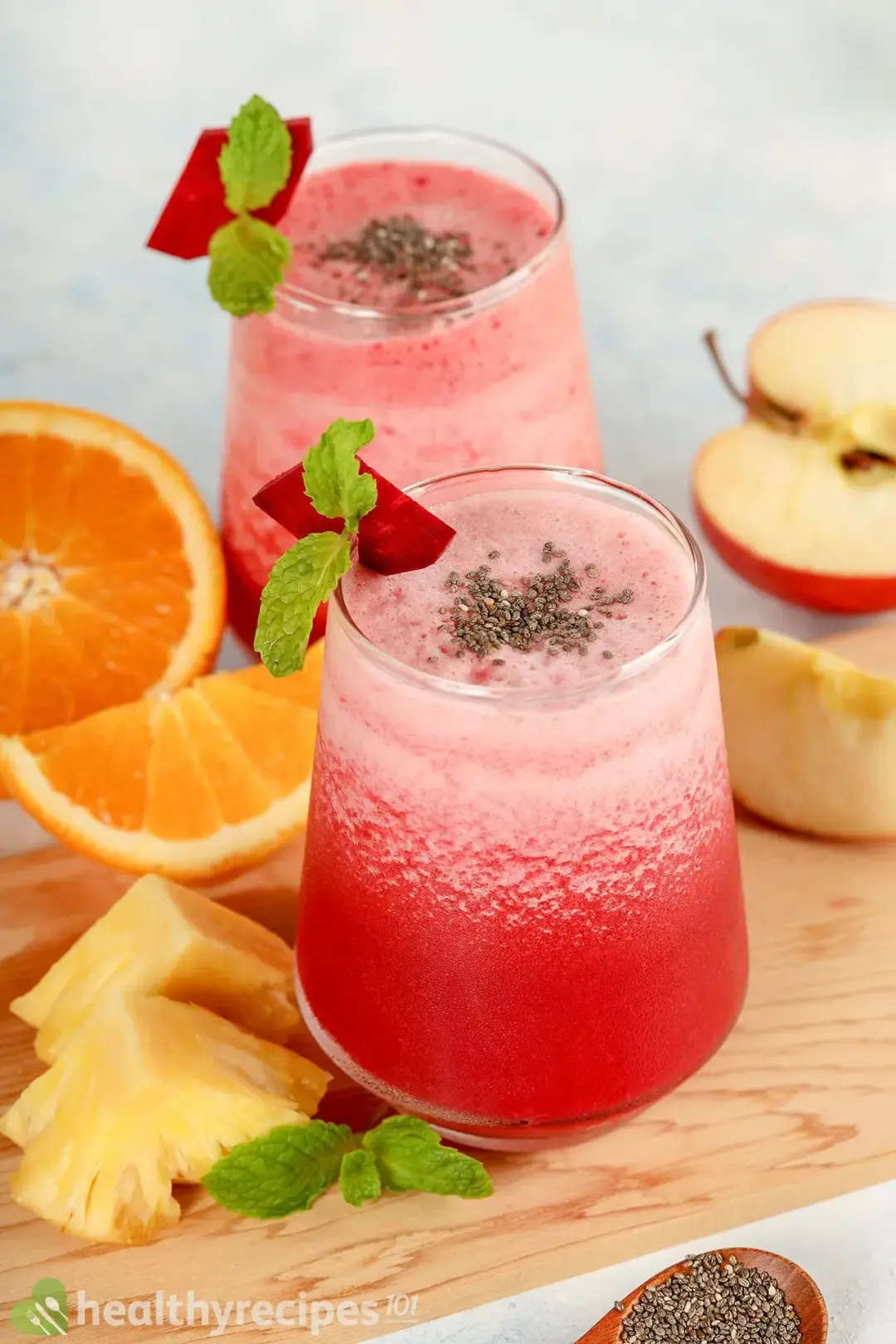 Beet Smoothie Recipe
This beet smoothie recipe is an excellent way to start the day. It's versatile, simple to make, and rich in nutritional content.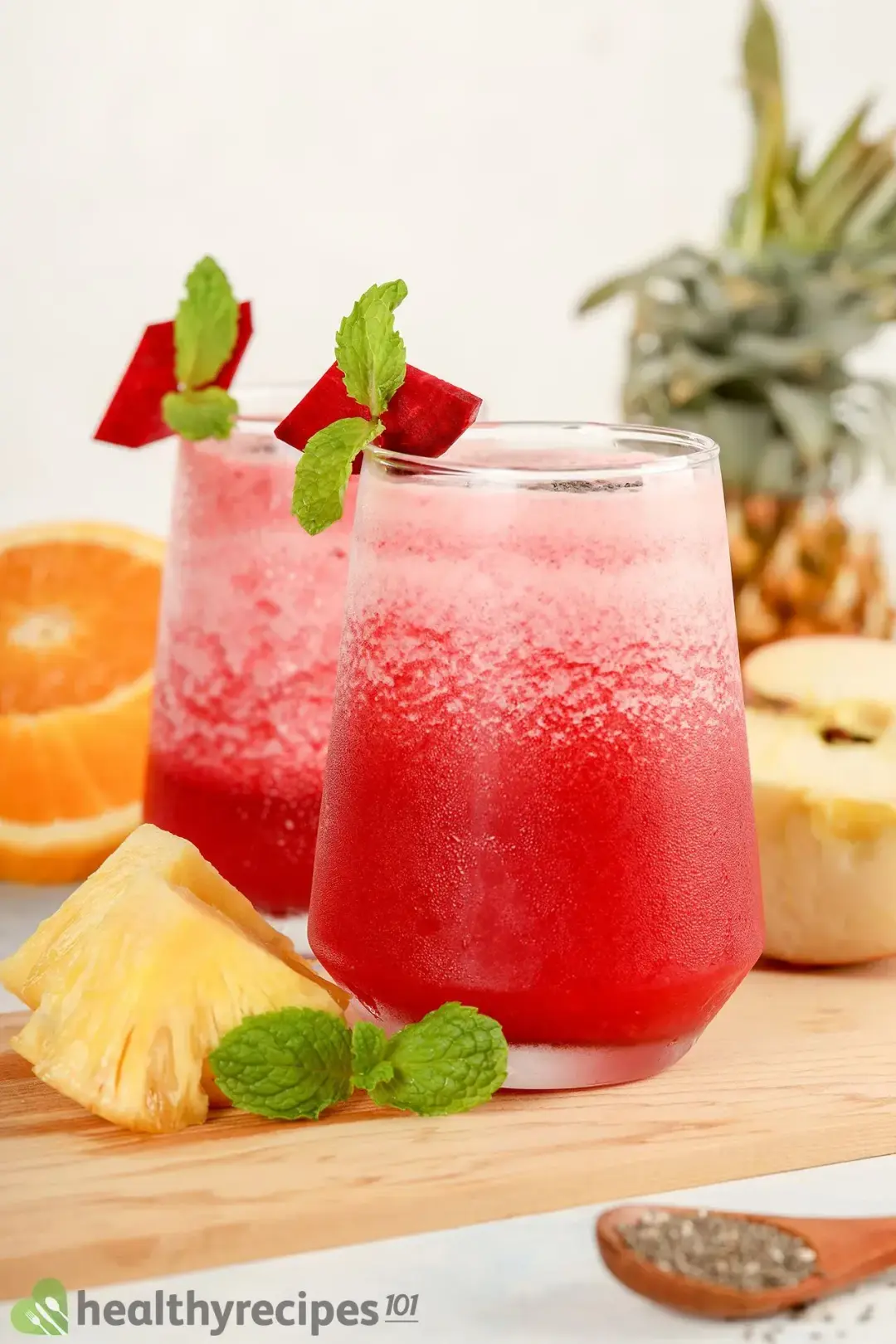 prep TIME

10 mins

total TIME

10 mins
COURSE

Drinks, Smoothie

CUISINE

Global

SERVINGS

servings

CALORIES

88 kcal
INGREDIENTS
2 oz

beetroot cubed

6 oz

pineapple cubed

6 oz

red apples cubed

2 cups

ice

1 cup

orange juice

0.5 tbsp

chia seeds

8

mint leaves
INSTRUCTIONS
Prep:
1
Cut 6 oz red apples into cubes.
2
Cut 6 oz pineapple into chunks.
3
Cut 2 oz beetroot into cubes.
Cook:
1
Blend all the ingredients: Put 2 cups ice, 2 oz beetroot, 6 oz pineapple, 6 oz red apples, and 1 cup orange juice into a blender and blend until smooth.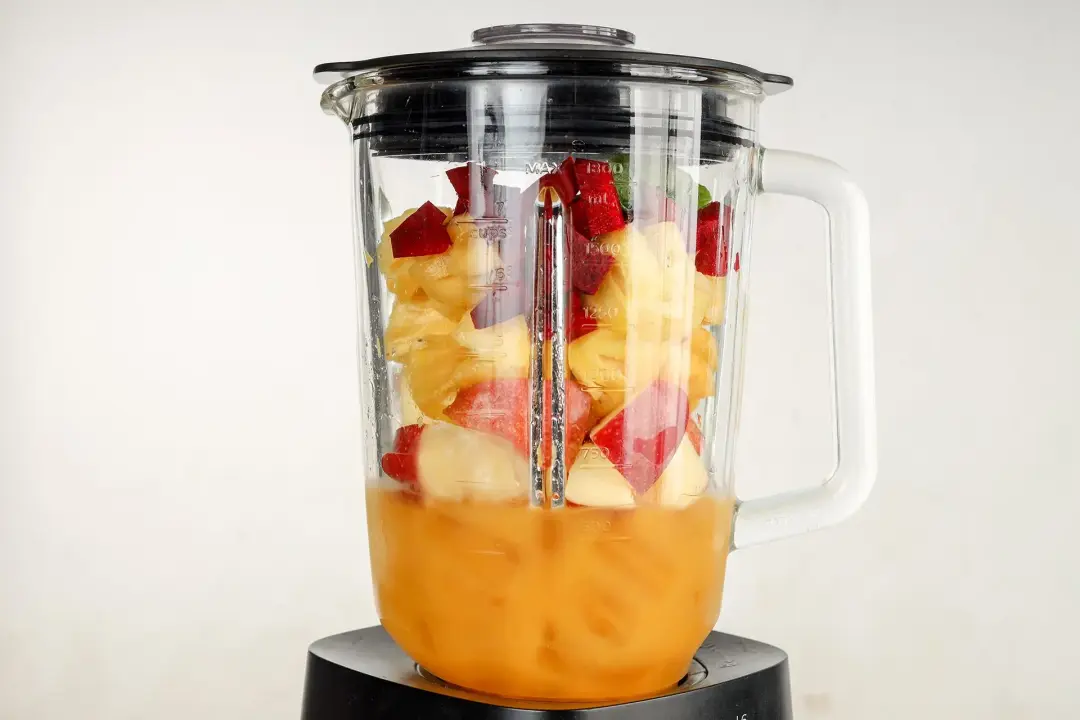 2
Serve the smoothie: Pour the smoothie into serving glasses. Sprinkle 1/2 tbsp chia seeds and garnish with mint leaves. Serve the drink immediately.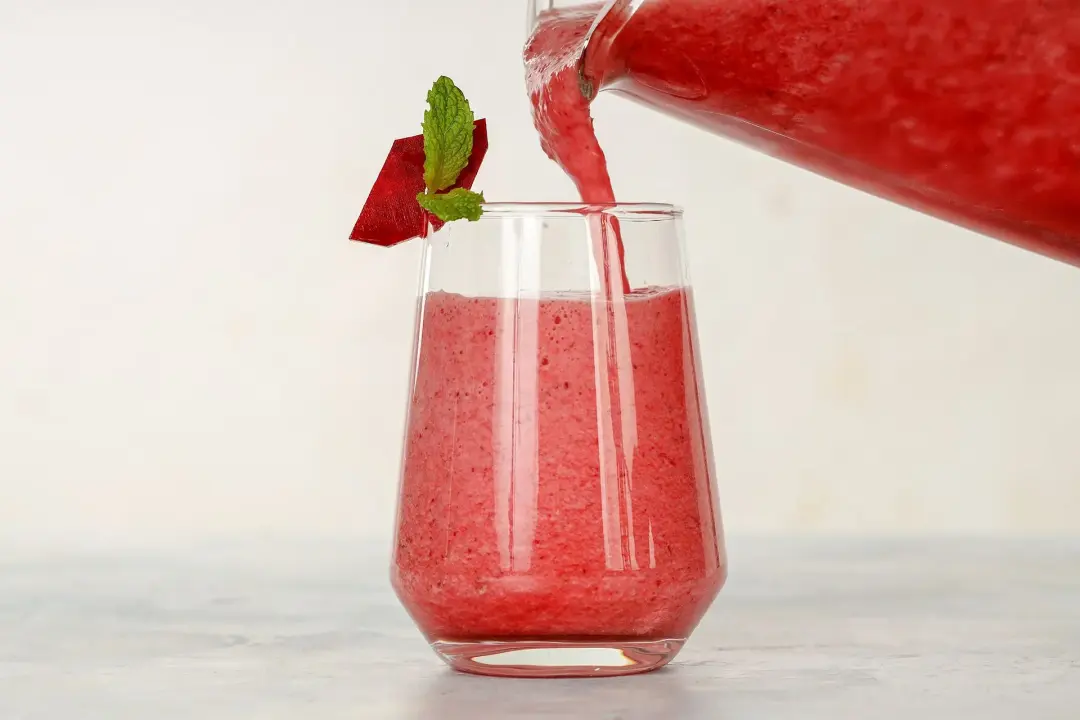 NUTRITION
Nutrition Facts
Beet Smoothie Recipe
Amount Per Serving (1 serving)
Calories 88
Calories from FDA
% Daily Value*
* Percent Daily Values are based on a 2000 calorie diet.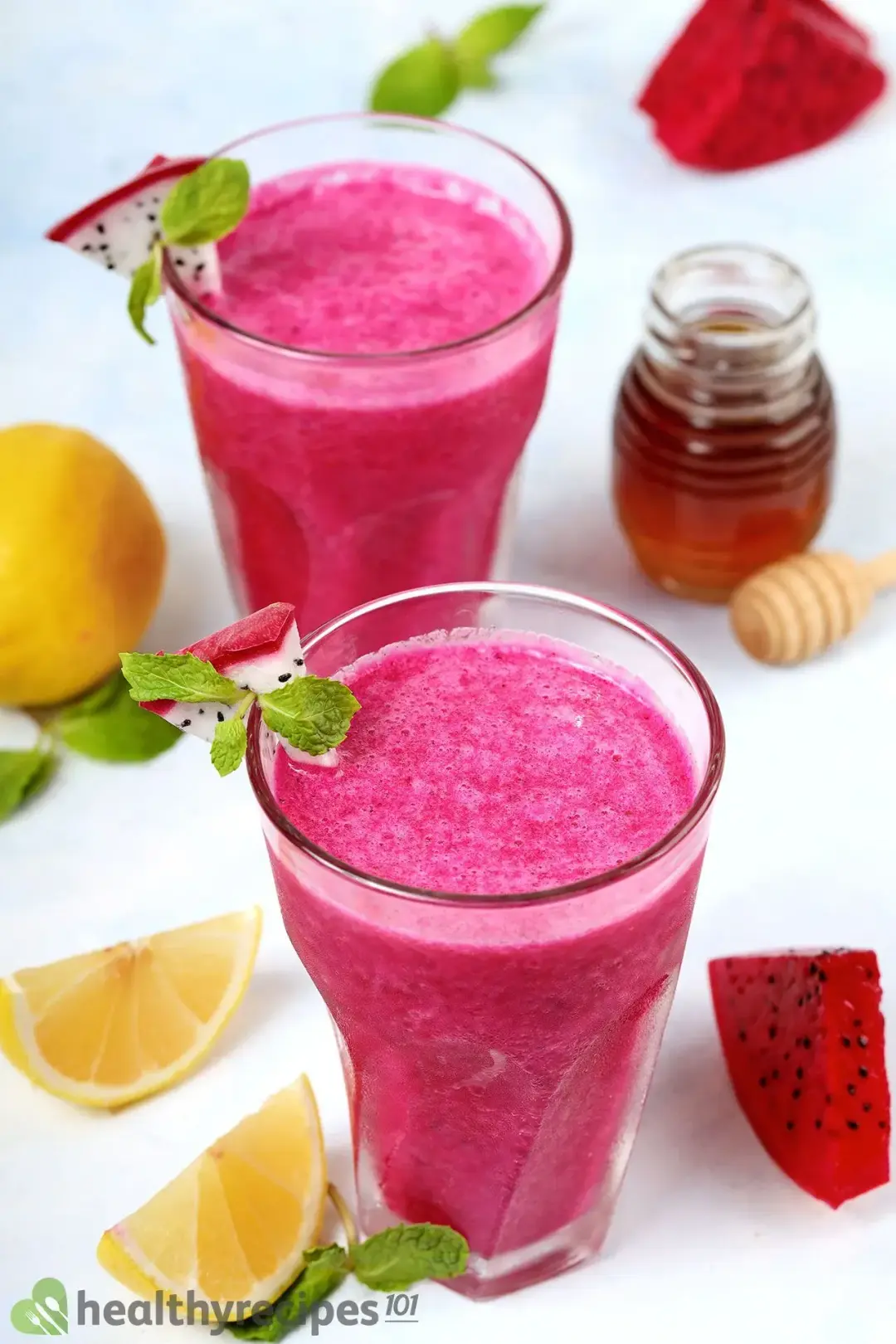 Previous Recipe
Dragon Fruit and Yogurt Smoothie
Dragon Fruit and Yogurt Smoothie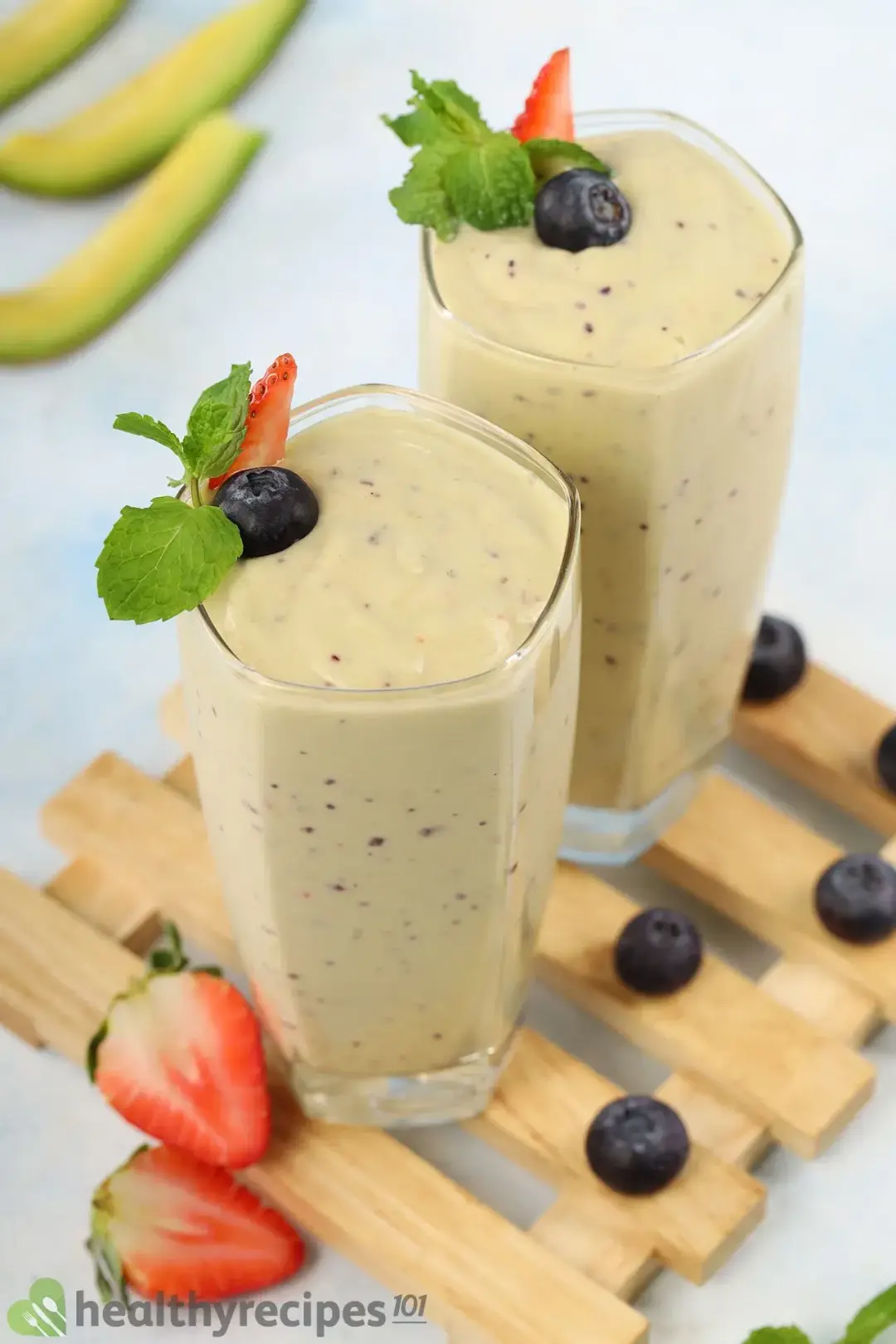 Next Recipe
Avocado Berry Smoothie
Avocado Berry Smoothie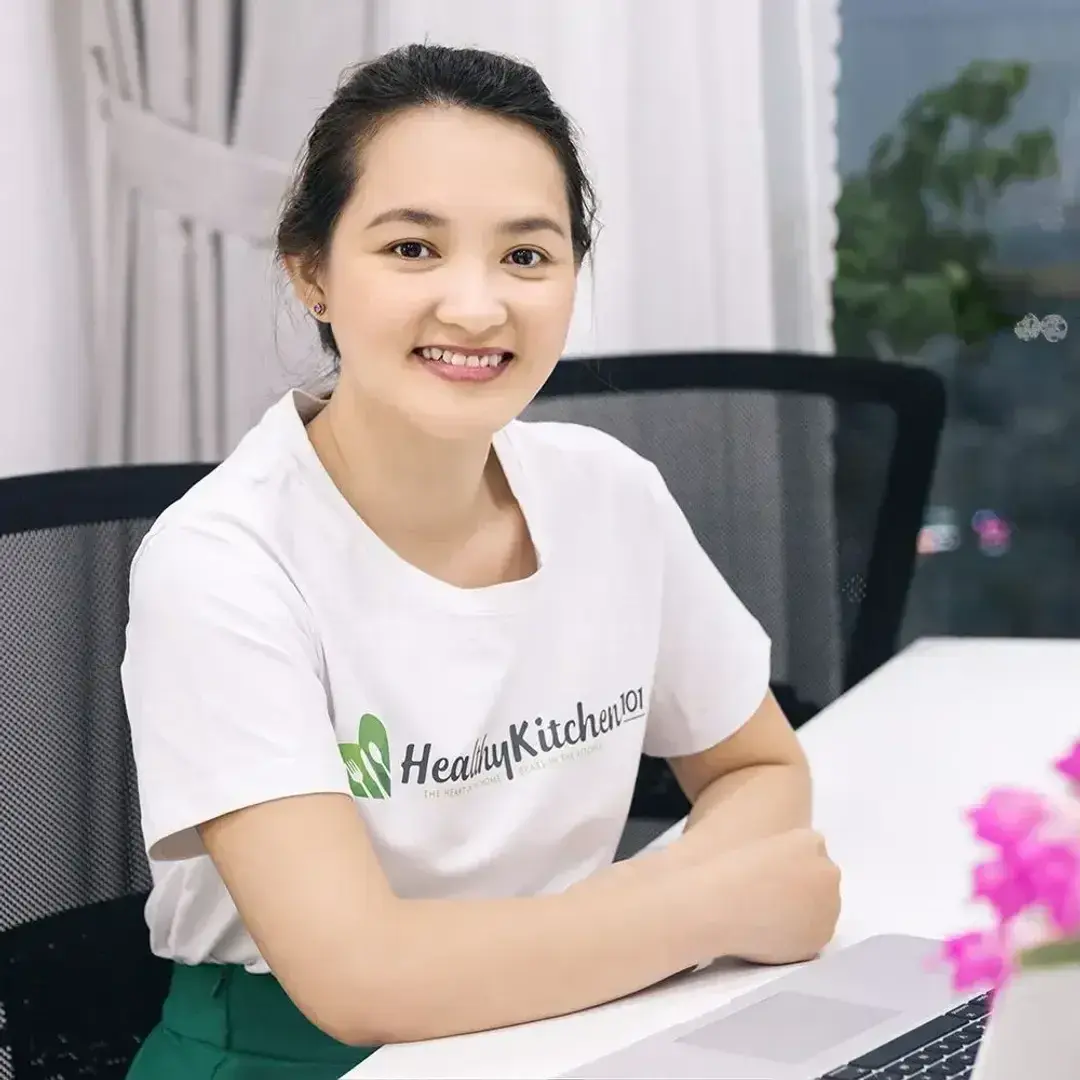 Luna Regina
Luna is the founder and chief recipe developer of Healthy Recipes 101. Apart from cooking, she also loves reading, programming, exploring the outdoors, and collecting useless facts about everything.