Our spinach fruit smoothie recipe is not made with any fancy ingredients, only takes 10 minutes to prepare, and works great as a quick nutrition-packed breakfast or snack.
Make this simple spinach smoothie for an instant energy boost. Each serving is a nutrient-dense blend of protein, fiber, vitamins, and minerals, thanks to the variety of fruits and veg.
Is This Spinach Fruit Smoothie Recipe Healthy?
Spinach is considered a superfood due to its high vitamin and nutrient content. There are many health benefits that come with consuming this vegetable, but here are just a couple:
This leafy green contains 27.9 mg of calcium per cup, which helps maintain the health of your bones, including your teeth. Additionally, to get the most out of spinach, it is recommended that you pair it with vitamin C-rich foods such as the fruits also contained in our smoothie to improve calcium and iron absorption.
Spinach is a good source of dietary magnesium, which provides a variety of health benefits. Magnesium is thought to boost metabolism, regulate cardiac rhythm, and keep blood pressure in check.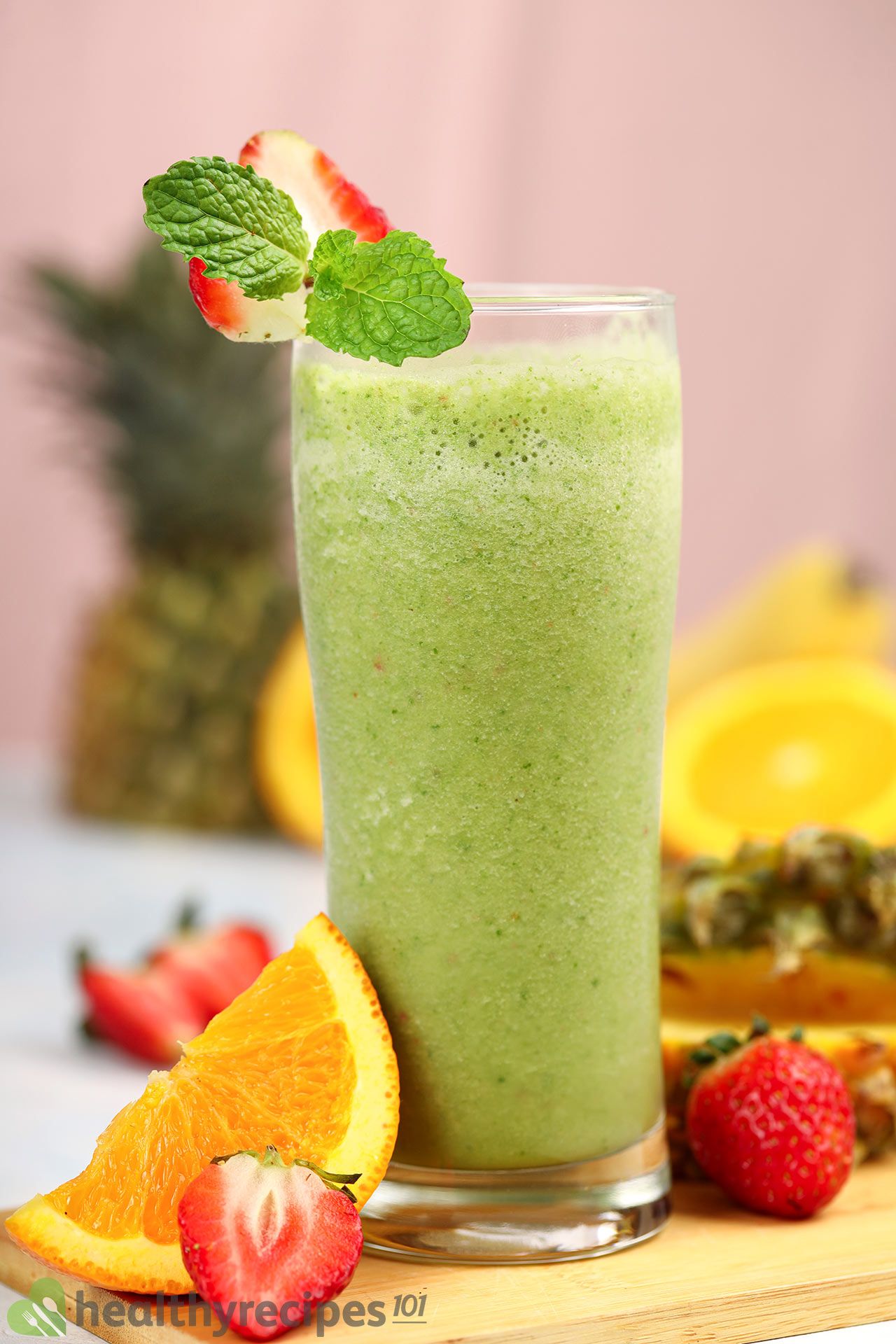 Besides the greens, this smoothie also contains a variety of fresh fruits, including pineapple, banana, strawberry, and orange juice. Bananas are high in potassium, a vital mineral and electrolyte for maintaining good health. Increased potassium intake has been shown to help lower blood pressure and reduce the risk of cardiovascular disease.
Other fruits in our recipe are not only flavorful and brightly-color but also packed with nutrients. They are a good source of vitamin C, helping to maintain a healthy immune system and smooth, elastic skin.
The combination of these ingredients makes this spinach fruit smoothie a healthful delight that can promote your well-being in a variety of ways.
Ingredients for Spinach Fruit Smoothie
Although the spinach imparts a distinct color to the smoothie, it is really mild in taste. This green smoothie has no discernible green flavor. You can also substitute kale or arugula, although the flavor and texture will be slightly different.
Ripe bananas naturally contain sugar. Once blended, they also help to thicken the smoothie. Whole fruits like pineapple and strawberries not only make this easy smoothie taste wonderful, but also make it super healthy for you.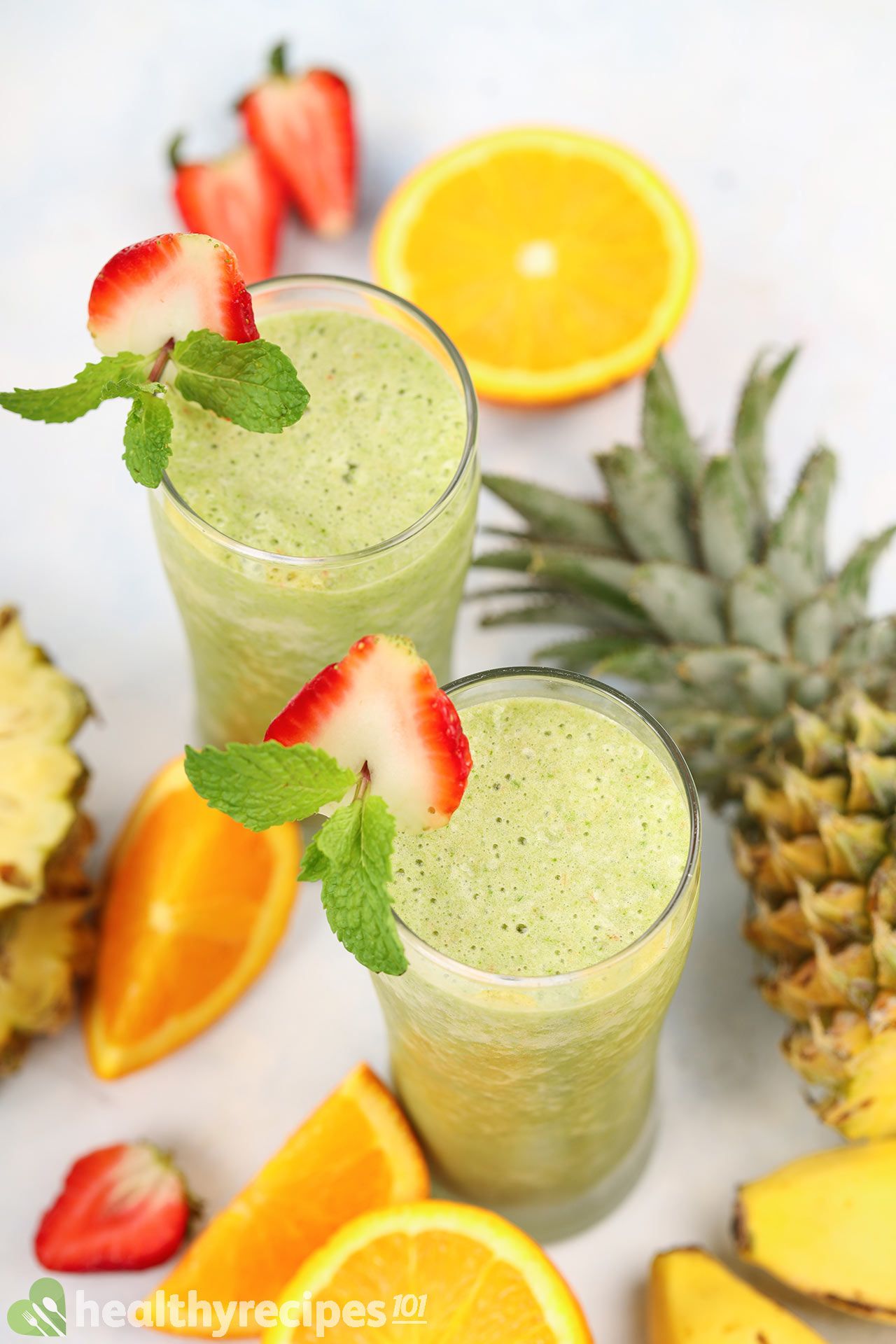 Fruit, whether fresh or frozen, works well in this spinach fruit smoothie recipe. We normally skip the ice if we're using frozen fruit straight from the freezer, but if we're using fresh fruit, we grab a handful of ice to add in.
You'll need some sort of liquid to incorporate into your smoothie and help it blend together. Orange juice lends a citrus note to the smoothie and complements the tropical flavors. If you can't get orange juice, use almond milk (or your favorite milk).
This is an optional step. Make the smoothie first and then add the honey if desired. Because bananas and pineapples are naturally sweet, you may not feel the need to add any extra sweetener.
You can easily substitute your favorite yogurt for almond milk to turn this smoothie into a vegan version, just know that the texture will be a bit thinner. This spinach fruit smoothie is also fantastic with peanut butter or half an avocado, if that's your preference.
Add a handful of ice cubes if you want your smoothie to be especially cold.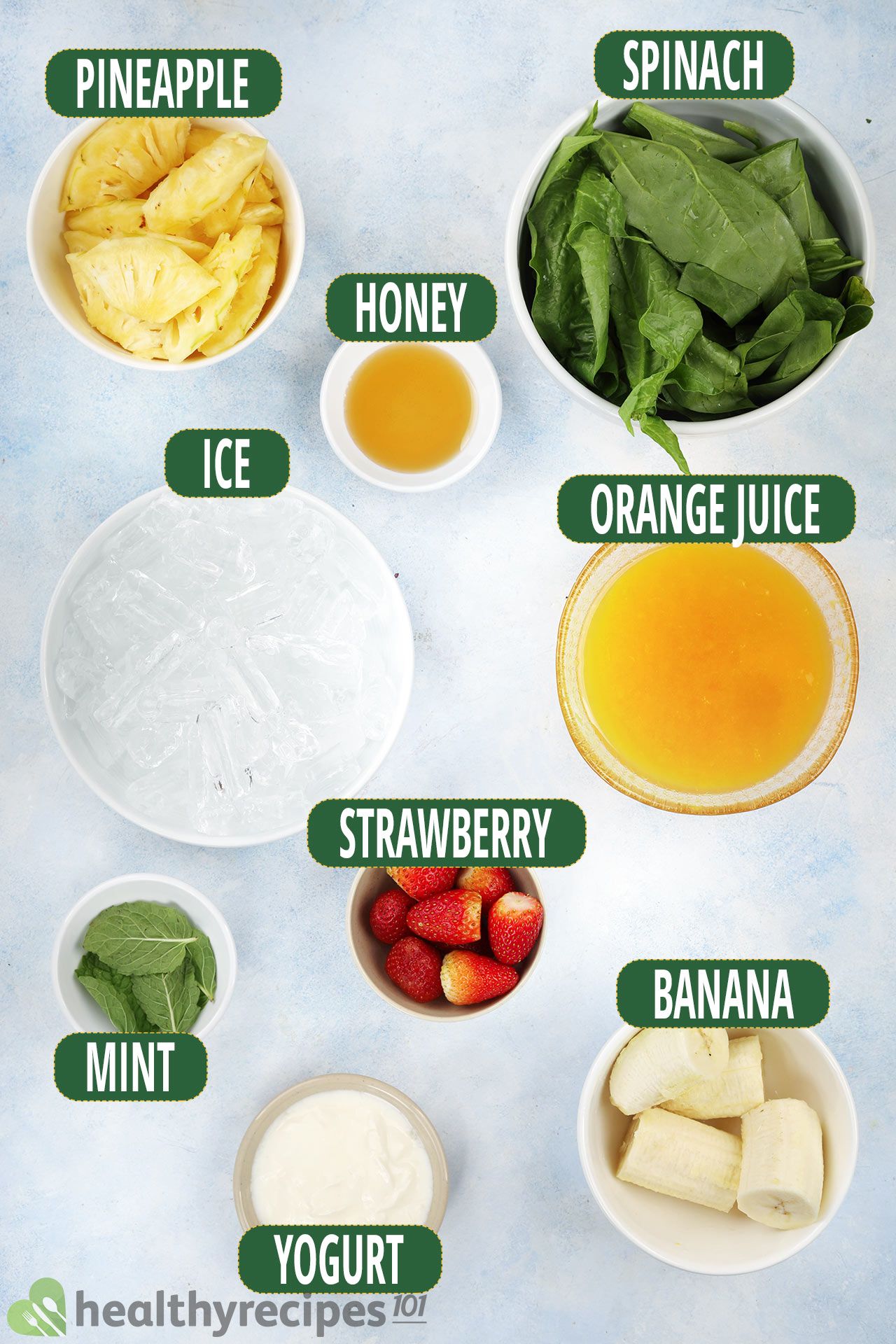 How to Make Spinach Fruit Smoothie
Simply combine all the ingredients in a blender and blend on high for 30 seconds to a minute. Feel free to adjust the amount of liquid or other ingredients (see below) to achieve your desired consistency.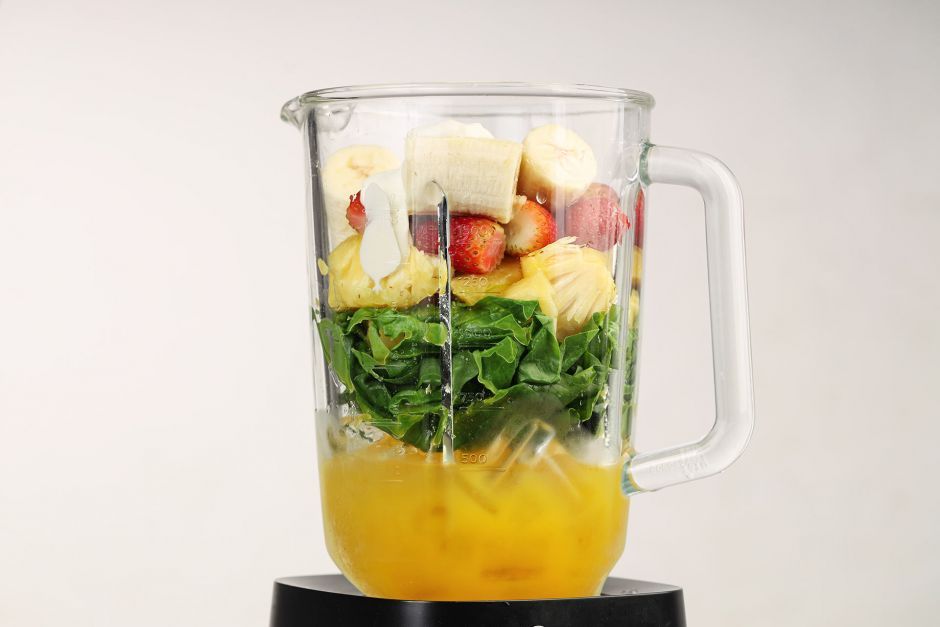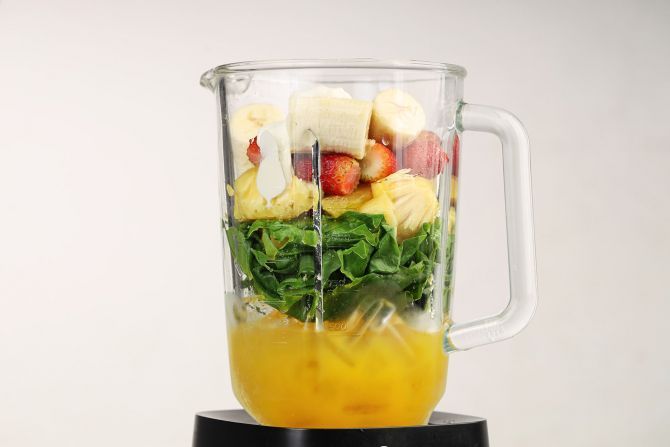 Blend ingredients.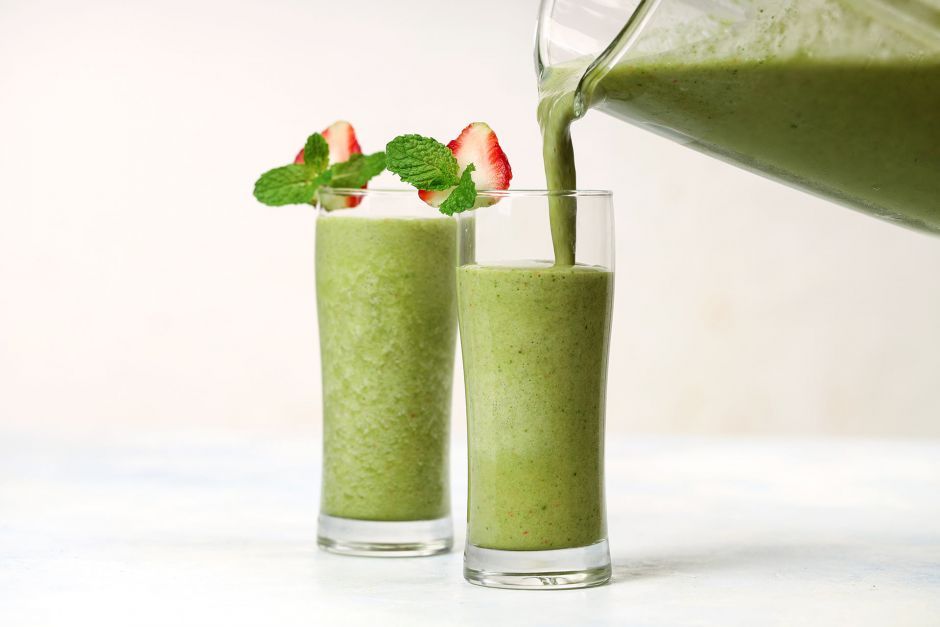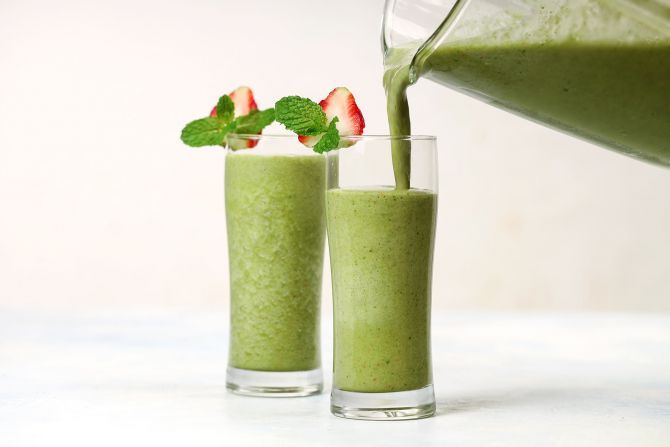 Garnish with mint leaves. Pour into serving glasses.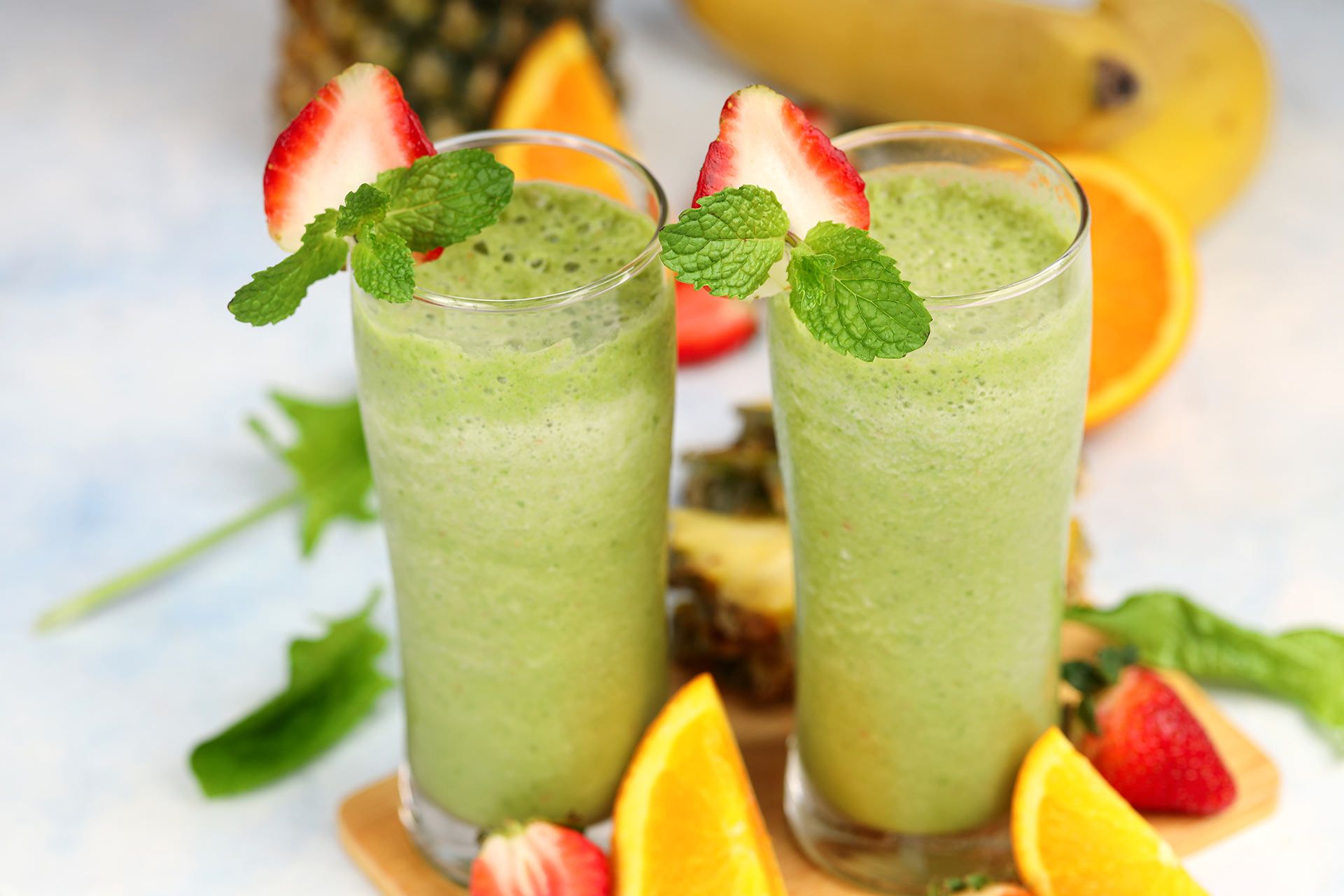 Serve immediately.
There are countless ways to spice up this green smoothie if you're not feeling inspired. Use this recipe as a base and experiment with your favorite ingredients, or ones you've never tried before.
Jump to Recipe
Storing The Leftovers
Smoothies are best consumed immediately after preparation. However, they can be refrigerated for 1-2 days in an airtight jar. After 48 hours, the flavor, texture, and nutrition will degrade significantly.
To extend the shelf life of your smoothie, keep it for up to 2-3 months in the freezer.
How to Freeze Fresh Spinach
Freezing spinach is a straightforward process that comes in handy if you want to keep additional vegetables in your freezer.
It's a breeze to freeze whole spinach leaves! Simply remove any offending leaves, insert the fresh spinach leaves into a Ziploc freezer bag, push out as much air as possible, and freeze. It doesn't get any simpler than this!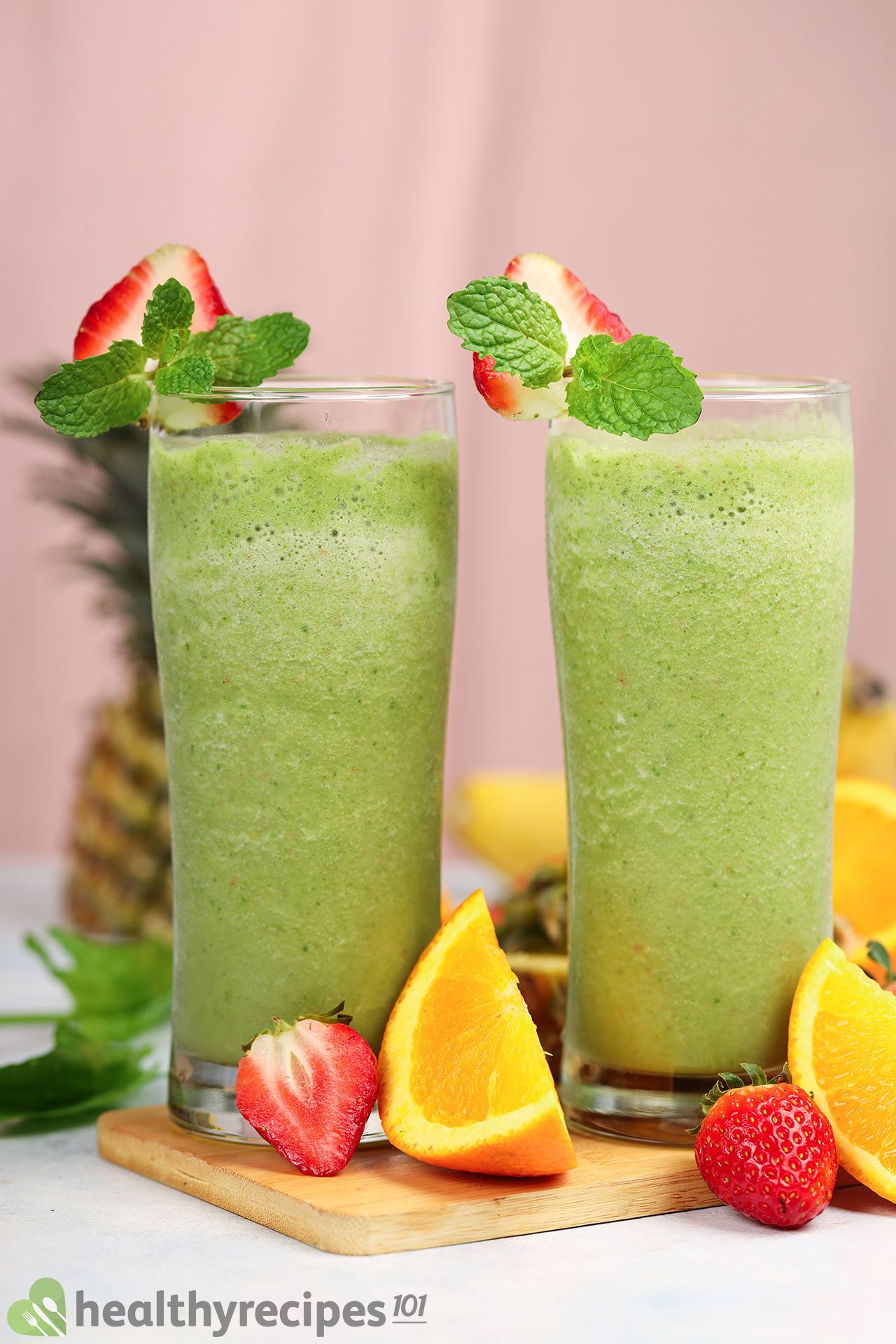 As is the case with the majority of frozen veggies, the spinach will be altered by the freezing-thawing process. Unfortunately, you can't freeze spinach and then thaw it for a fresh salad, but it still works great for cooking or blending into smoothies.
The best way to use frozen spinach is to incorporate it into recipes that call for cooked or blended spinach where consistency and texture don't affect the dish's flavor.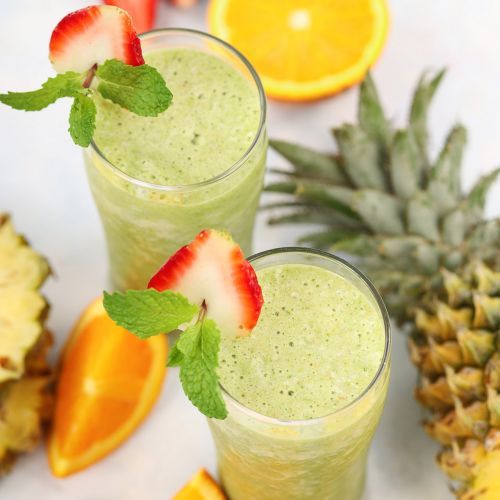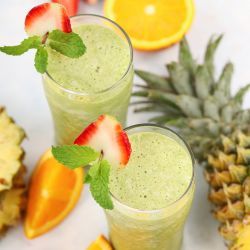 Spinach Fruit Smoothie Recipe
This banana spinach smoothie recipe is simple to prepare and is a delicious way to incorporate greens and fruits into your diet.
Ingredients
2

oz

spinach

6

oz

pineapple

2

oz

strawberries

4

oz

bananas

2

cups

ice

1

tbsp

honey

1

cup

orange juice

1/4

cup

plain Greek yogurt

8

mint leaves
Instructions
Put 2 cups of ice and 4 oz bananas into a blender. Add in 6 oz pineapple, 2 oz strawberries, 1 cup orange juice, 1/4 cup Greek yogurt, 1 tbsp honey, and 2 oz spinach to the blender. Blend until the mixture is smooth.

Pour into serving glasses. Garnish with mint leaves.
Nutrition
Nutrition Facts
Spinach Fruit Smoothie Recipe
Amount Per Serving (1 serving)
Calories 112
Calories from Fat 9
% Daily Value*
Fat 1g2%
Cholesterol 3mg1%
Sodium 29mg1%
Potassium 415mg12%
Carbohydrates 26g9%
Protein 2g4%
Vitamin A 1583IU32%
Vitamin C 67mg81%
Calcium 39mg4%
Iron 1mg6%
* Percent Daily Values are based on a 2000 calorie diet.