If you like a refreshing, fruity smoothie that's high in antioxidants and short on ingredients, then our strawberry blueberry smoothie recipe could be just what you're looking for. This delicious smoothie is sweet, tart, and creamy, with a hint of honey for complexity.
It's an excellent addition to your breakfast or a quick energy boost after a workout.
Is This Strawberry Blueberry Smoothie Recipe Healthy?
Yes, this strawberry blueberry smoothie is certainly healthy. This amazing blend of berries not only tastes delicious but brings with it a lot of nutrients, too.
1. Benefits of Strawberries
​​Strawberries are potent little bundles of nutrition packed with various beneficial compounds.
To begin with, strawberries are extremely low in calories—only 35 calories and 5.3 grams of sugar per 100 grams. Furthermore, due to their fiber content, this smoothie is less likely to trigger blood sugar spikes. Each serving of this smoothie contains up to 3.2 g of fiber, about 11% of what is recommended for daily intake.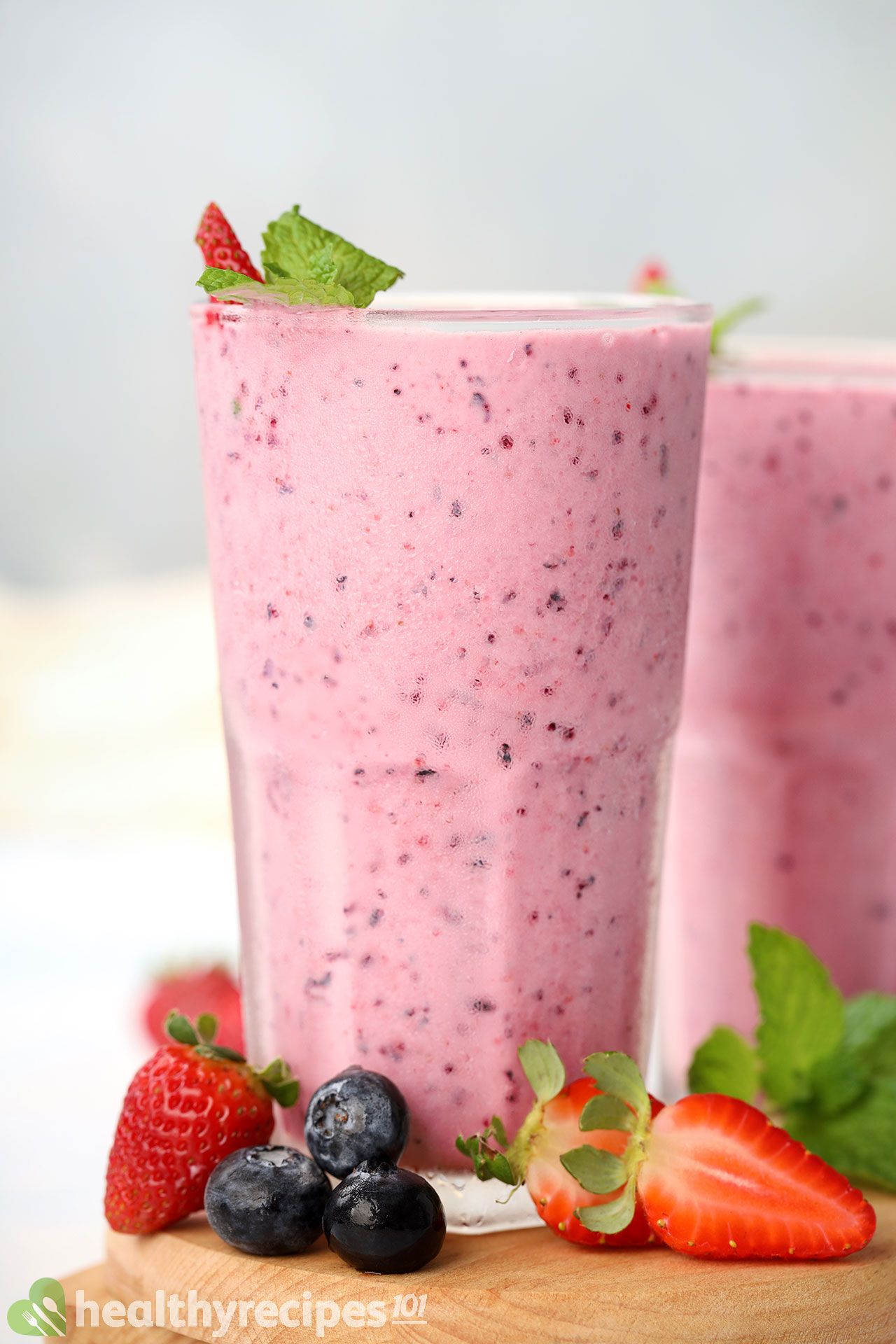 Strawberries also have a high concentration of antioxidants, including a variety of polyphenols and vitamin C. They can help protect cells from oxidative damage, hence boosting the immune system's function.
2. Benefits of Blueberries
Blueberries are a powerhouse of anthocyanins — an antioxidant that gives them their blue color. These flavonoids possess anti-cancer properties, reduce the risk of cardiovascular disease, and aid in weight control.
Blueberries contain vitamin K and vitamin C. One-cup blueberries contain 28% of the daily value for vitamin K1.
Vitamin K1, also known as phylloquinone, is a critical defense against clinical fractures and supports bone strength maintenance.
Packed with 2 types of berries, our smoothie is also an excellent source of vitamin C. Each serving provides 70% of your daily vitamin C needs. Vitamin C is essential for the development and repair of body tissues.
If you're looking for smoothies with berries as a base, check out our Blueberry Smoothie and Healthy Strawberry Smoothie. They are both quick to make and packed with great benefits.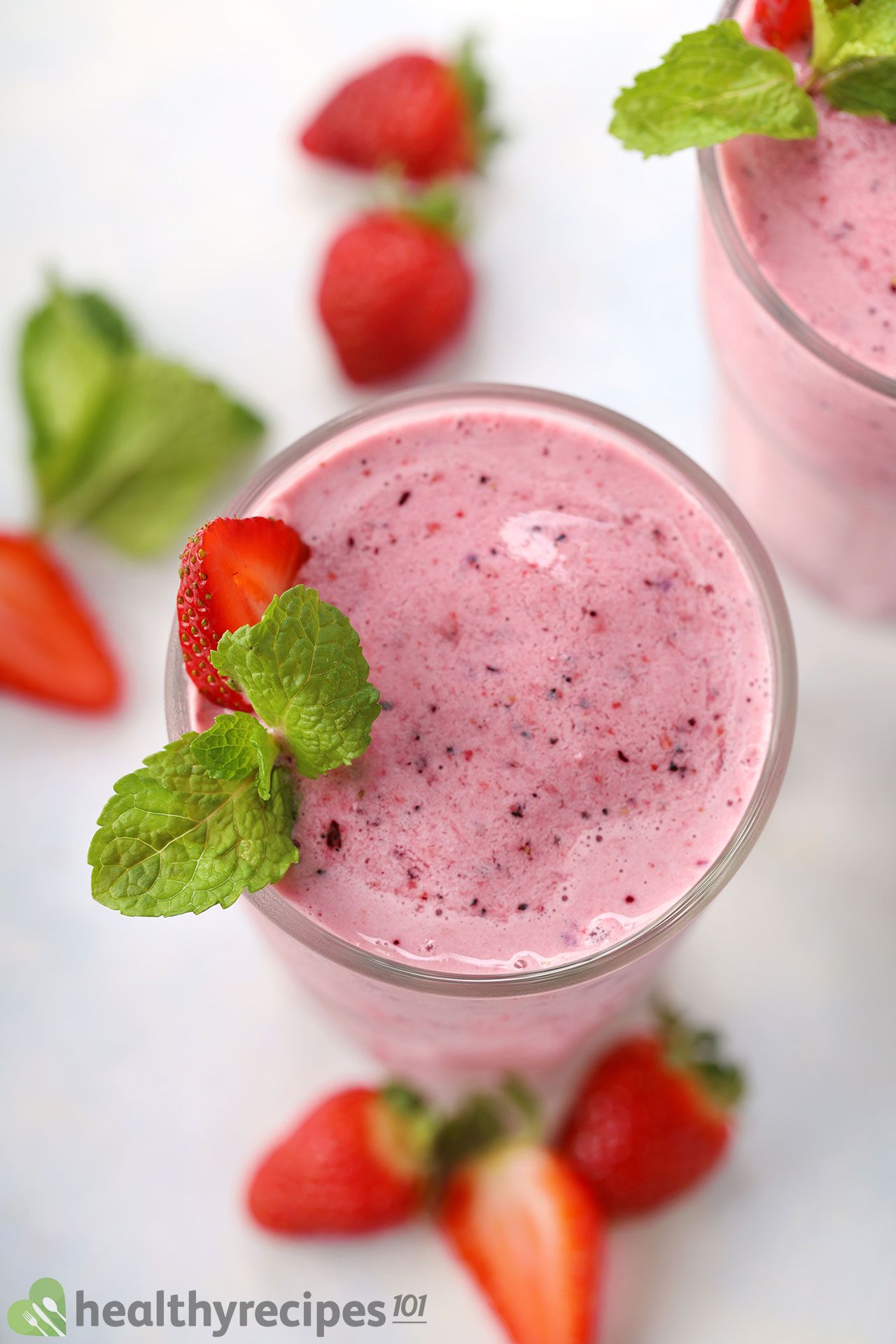 Ingredients for Strawberry Blueberry Smoothie
Today's strawberry blueberry smoothie is made with only a few simple ingredients. You don't need to search for any special stores for this drink.
Berries: We prefer fresh, ripe strawberries and blueberries for this smoothie, but frozen ones will also work just fine. Frozen fruits actually add the right icy texture, though you will want to double-check that they don't contain any added sugar.
Milk: For the smoothie to blend properly, you will need a liquid base. Regular whole milk is our favorite, but plant-based milk like almond milk or cashew milk will also provide a thick and creamy texture.
Yogurt: No-sugar Greek yogurt adds extra protein and probiotics, giving the smoothie a creamy flavor, making it extra filling and satisfying. If yogurt in smoothies isn't your thing, substitute it for other fruits like avocado or mango for extra thickness.
Honey: Our secret ingredient for this strawberry blueberry smoothie recipe. Its touch of earthy and pleasant sweetness balances out the final taste making the drink stand out among other berry smoothies.
Mint Leaves: For added freshness and a stunning finish.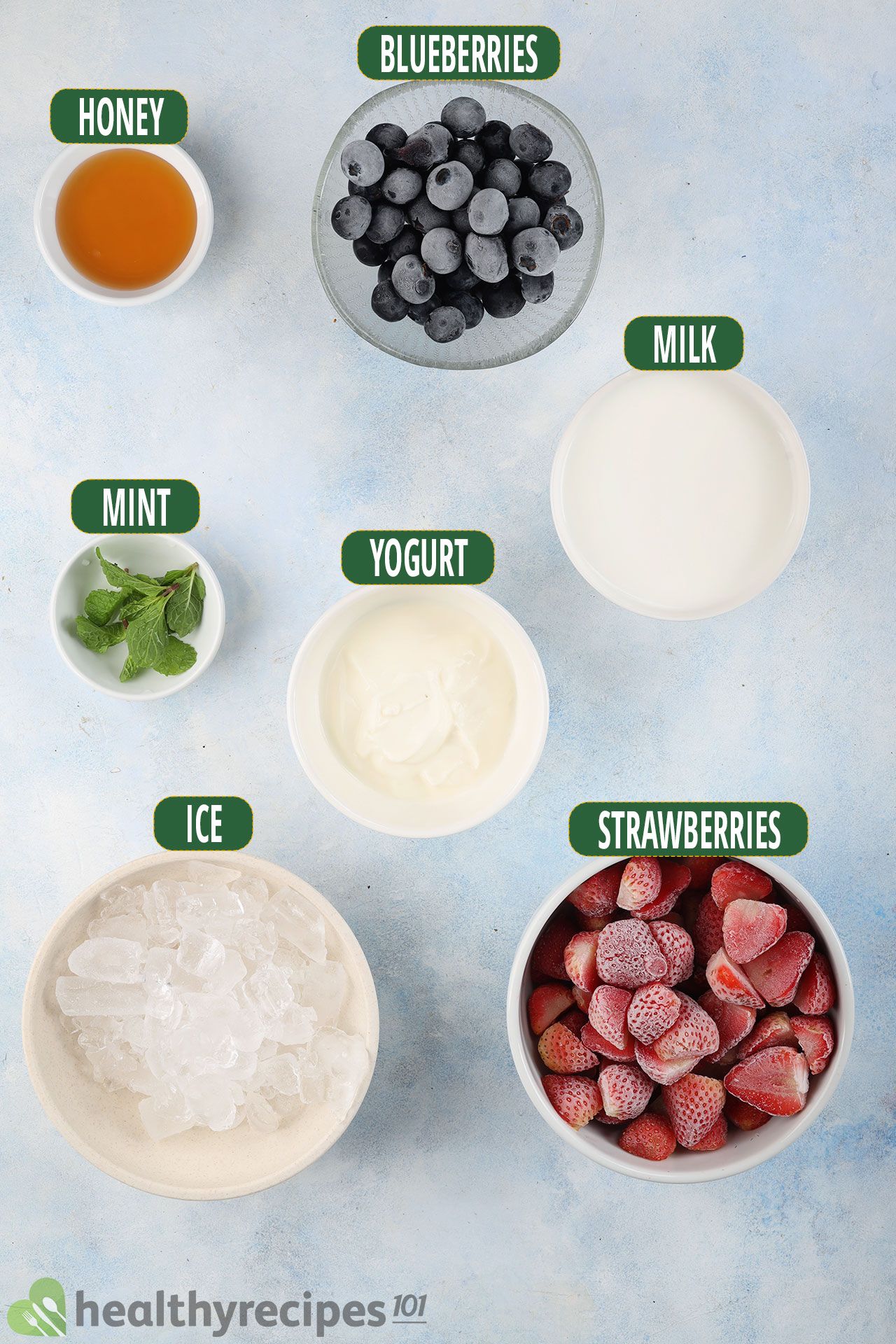 As delicious as this smoothie is, feel free to experiment with extra ingredients if you want to try something exciting. Leafy greens and chia seeds add fiber, while a tablespoon of almond butter provides more healthy fats, making the smoothie even more filling.
How to Make a Strawberry Blueberry Smoothie
Our smoothie is a perfect blend of fruity, creamy flavors. Plus, everything is made in a blender for a mess-free cleanup.
Here's how we made the smoothie: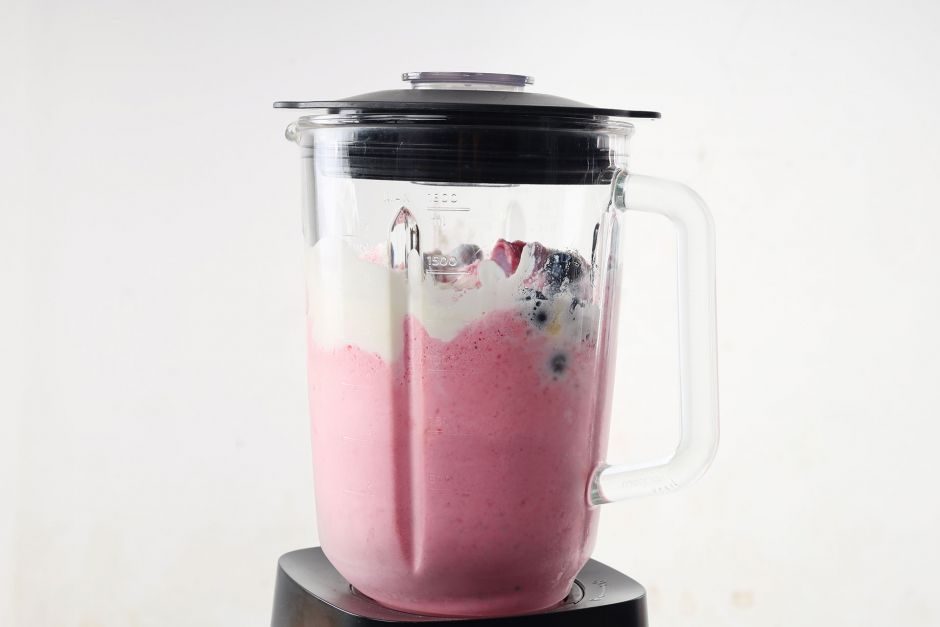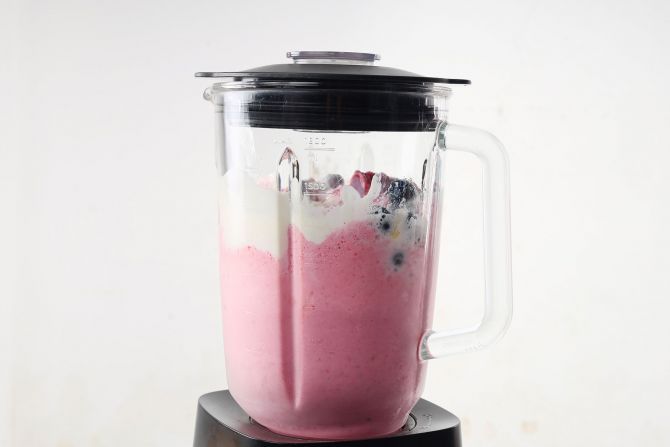 Blend ingredients.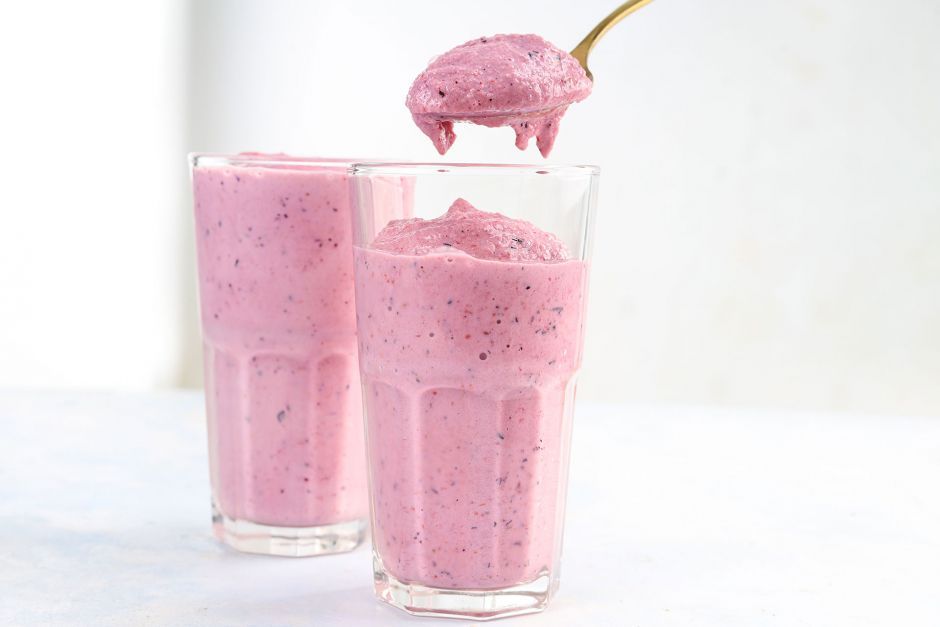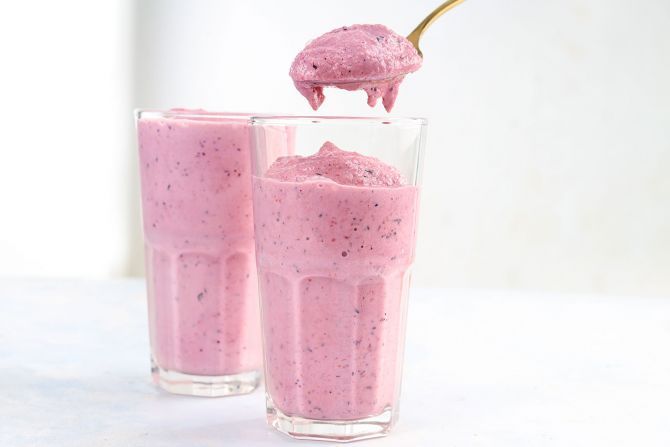 Pour the smoothie into serving glasses.
Garnish with mint leaves and serve.
Can Frozen Berries Be Refrozen?
The short answer is yes. It's perfectly safe to consume refrozen fruits; they will just not be as pretty as the fresh ones.
When fruits are frozen, the water inside the plant cells swells and bursts the cell wall. It then creates the delicious berry juice during the thawing process.
Unless this liquid is drained off, the berries at this point will form a block once refrozen. When you thaw them again, the berries will lose some of their structural integrity and will become soft and mushy.
As long as you do not need perfectly shaped berries—for example, for making jam, pie, or smoothies — refreezing is a great option to store fresh berries.
How Long Does Strawberry Blueberry Smoothie Last?
Smoothies, in general, should always be consumed freshly prepared. They are more flavorful and have a more vibrant color right out of the blender.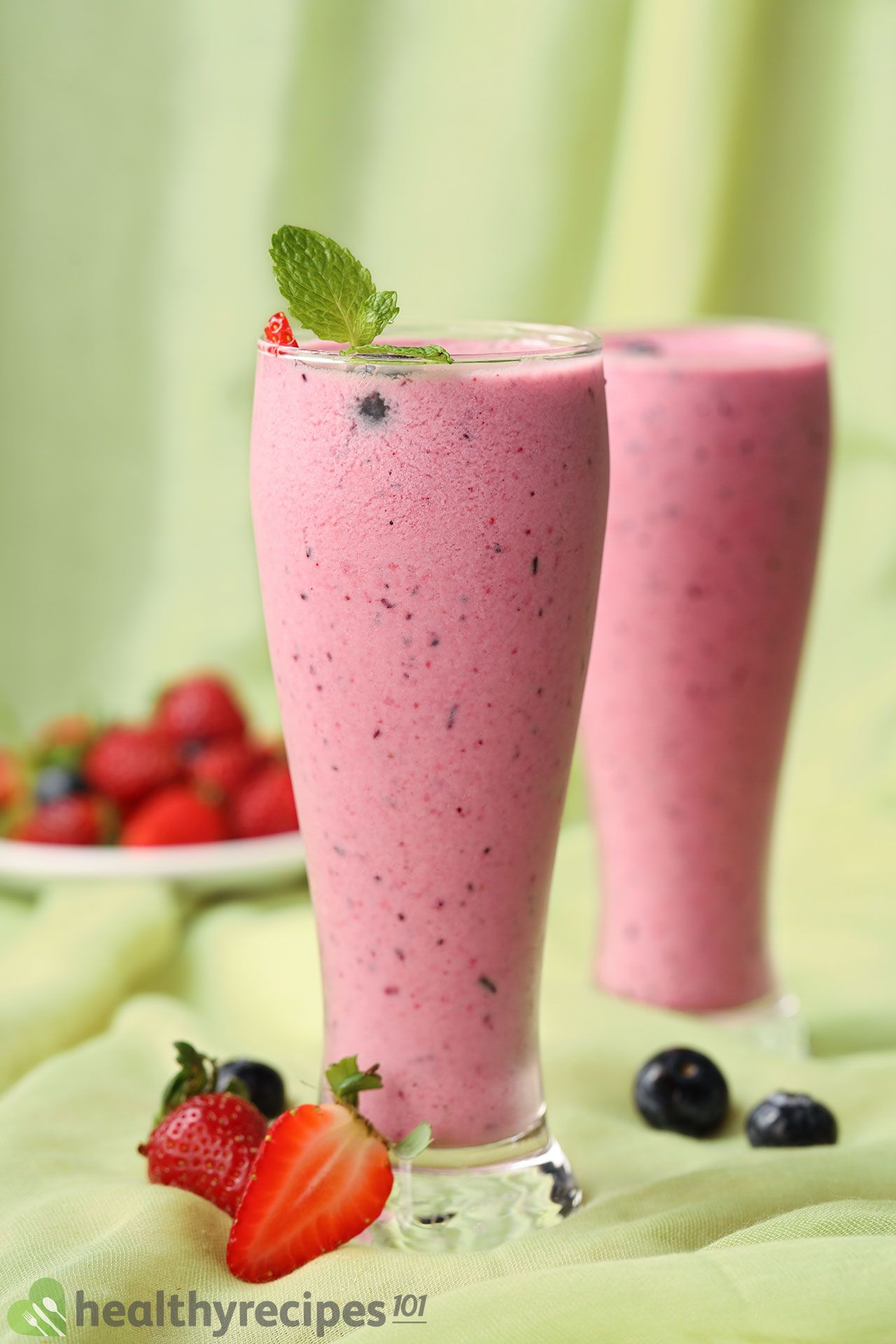 This strawberry blueberry smoothie will keep in the refrigerator for up to two days. We recommend storing the drink in sealed containers. For example, Mason jars can help keep the fruits from oxidizing.
Storing your smoothie in the freezer ensures a longer shelf life. When ready to use, pour it into a freezer-safe container and keep it in the refrigerator for a few hours to defrost before enjoying.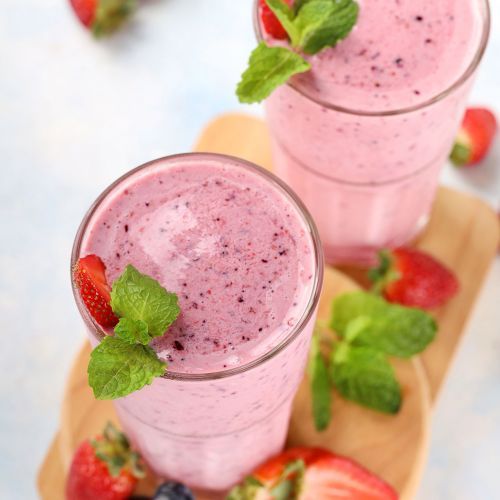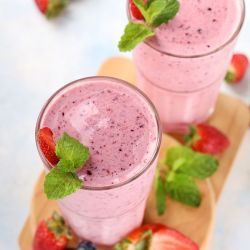 Strawberry Blueberry Smoothie Recipe
The two types of berries in this strawberry blueberry smoothie recipe offer a wide range of health-beneficial vitamins and nutrients.
Ingredients
14

oz

strawberries

6

oz

blueberries

2

cups

ice

1/2

cup

Greek yogurt

1

cup

milk

4

tbsp

honey

6

mint leaves
Instructions
Put 2 cups of ice, 14 oz strawberries, 6 oz blueberries, 1/2 cup Greek yogurt, 1 cup milk, and 4 tbsp honey into a blender. Blend at high powder until you get the desired smooth consistency.

Pour the smoothie into serving glasses.

Garnish with mint leaves and serve.
Nutrition
Nutrition Facts
Strawberry Blueberry Smoothie Recipe
Amount Per Serving (1 serving)
Calories 185
Calories from Fat 36
% Daily Value*
Fat 4g6%
Cholesterol 14mg5%
Sodium 51mg2%
Potassium 353mg10%
Carbohydrates 36g12%
Protein 4g8%
Vitamin A 197IU4%
Vitamin C 63mg76%
Calcium 102mg10%
Iron 1mg6%
* Percent Daily Values are based on a 2000 calorie diet.