Today's vodka and grape juice recipe is going to show you how to make a delicious drink for your next party. All you need is a few simple, fresh ingredients.
What Is Vodka and Grape Juice Called?
Our vodka and grape juice recipe is a take on the classic Transfusion cocktail. It's a type of famous alcoholic golf drink.
A glass of Transfusion usually consists of grape juice, lime juice, vodka, club soda, and ginger syrup. This drink is often available on the menu of most golf or country clubs.
Bartenders often add their own touches to the drink and give it more character.
For example, some mixologists use ginger ale or ginger juice instead of club soda. To take the drink to the next level, fresh made Concord grape juice is used instead of commercial grape juice.
Since Concord grapes are a type of wine grapes, they have a distinctive wine-like flavor that compliments the cocktail. In addition, the juice made from fresh Concord grapes has a strong fruity flavor that commercial bottled juice doesn't.
Types of Grapes for Vodka and Grape Juice
As mentioned, Concord grapes are commonly used in a Transfusion cocktail. However, if they're not available, here are a few other grape varieties to choose:
Moon drops: these finger-shaped grapes have a deep purple color and a similar taste as Concord grapes. Their sweet and slightly tangy flavor is perfect for any juicing.
Crimson seedless: these vibrant table grapes are both sweet and tart with an attractive fruity fragrance. When juiced, the bright red color of the skin will give the juice a tinted hue.
Is Vodka and Grape Juice Healthy?
Like this potent ACV beverage and our simple concord grape juice, most of our drinks are healthy, but today's vodka and grape juice recipe does contain alcohol. We wouldn't want to promote alcohol and call this drink healthy because that would be misleading.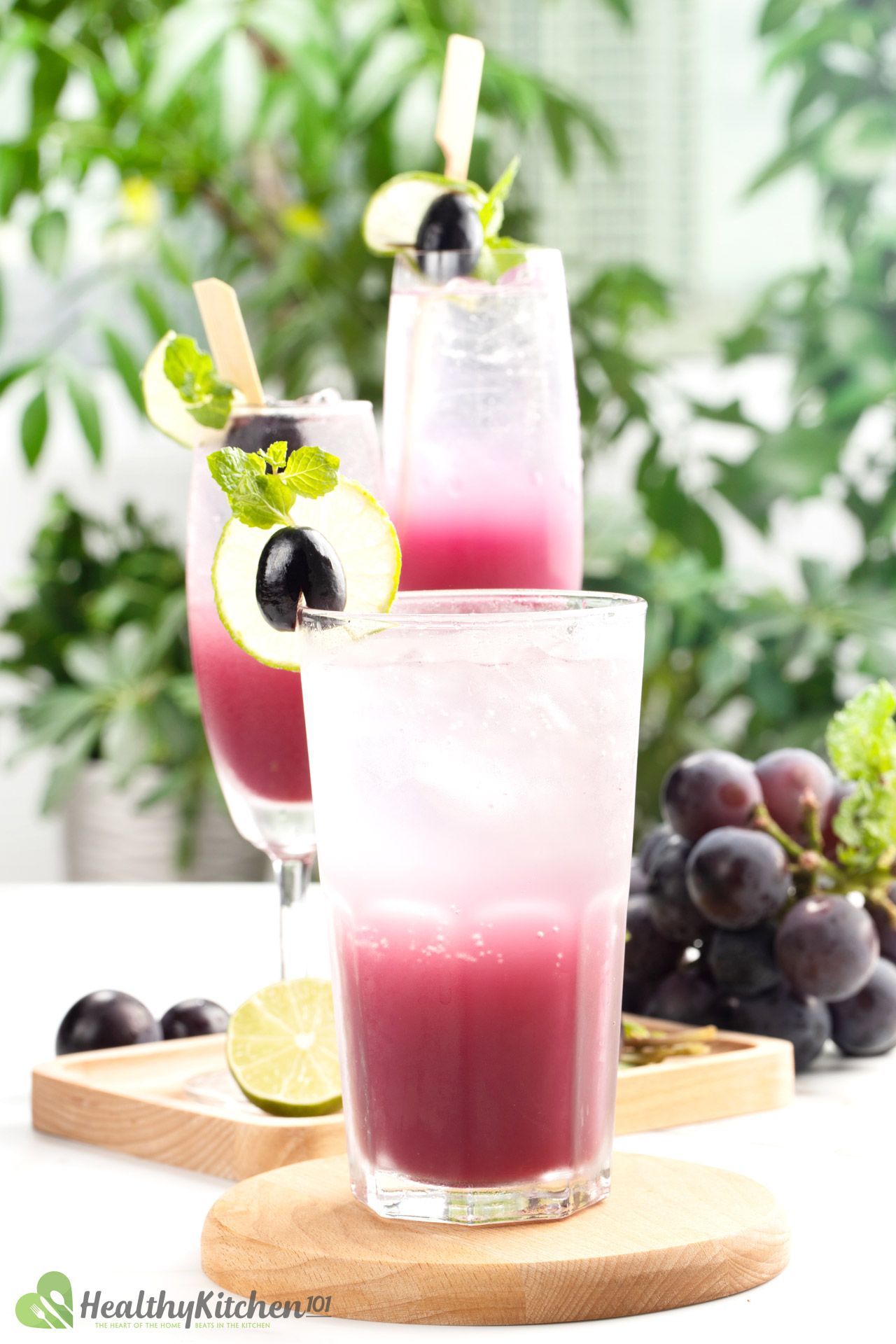 We do, however, recommend drinking in moderation. USDA dietary guidelines suggest drinking only one drink containing 1.5 fl oz of 80 proof alcohol per day.
That being said, our recipe contains only 1 fl oz of 80 proof vodka in one drink. This amount of alcohol is enough to adhere to USDA guidelines and maintain the cocktail's flavor.
Apart from alcohol, this drink also contains grape and lime juice.
Grapes are a great source of anthocyanins. This is a type of flavonoid with antioxidant effects.
It has been linked to have antidiabetic, anticancer, anti-inflammatory, antimicrobial, and anti-obesity effects .
Calories in Vodka and Grape Juice
There are 140 calories per serving of our vodka and grape juice.
With this amount of calories, you can pair this drink with a 2-course meal. It'll make an amazing refreshment after a meal.
Can You Drink Too Much Vodka and Grape Juice?
Overdrinking anything— from juice, alcohol, to even water, can be problematic.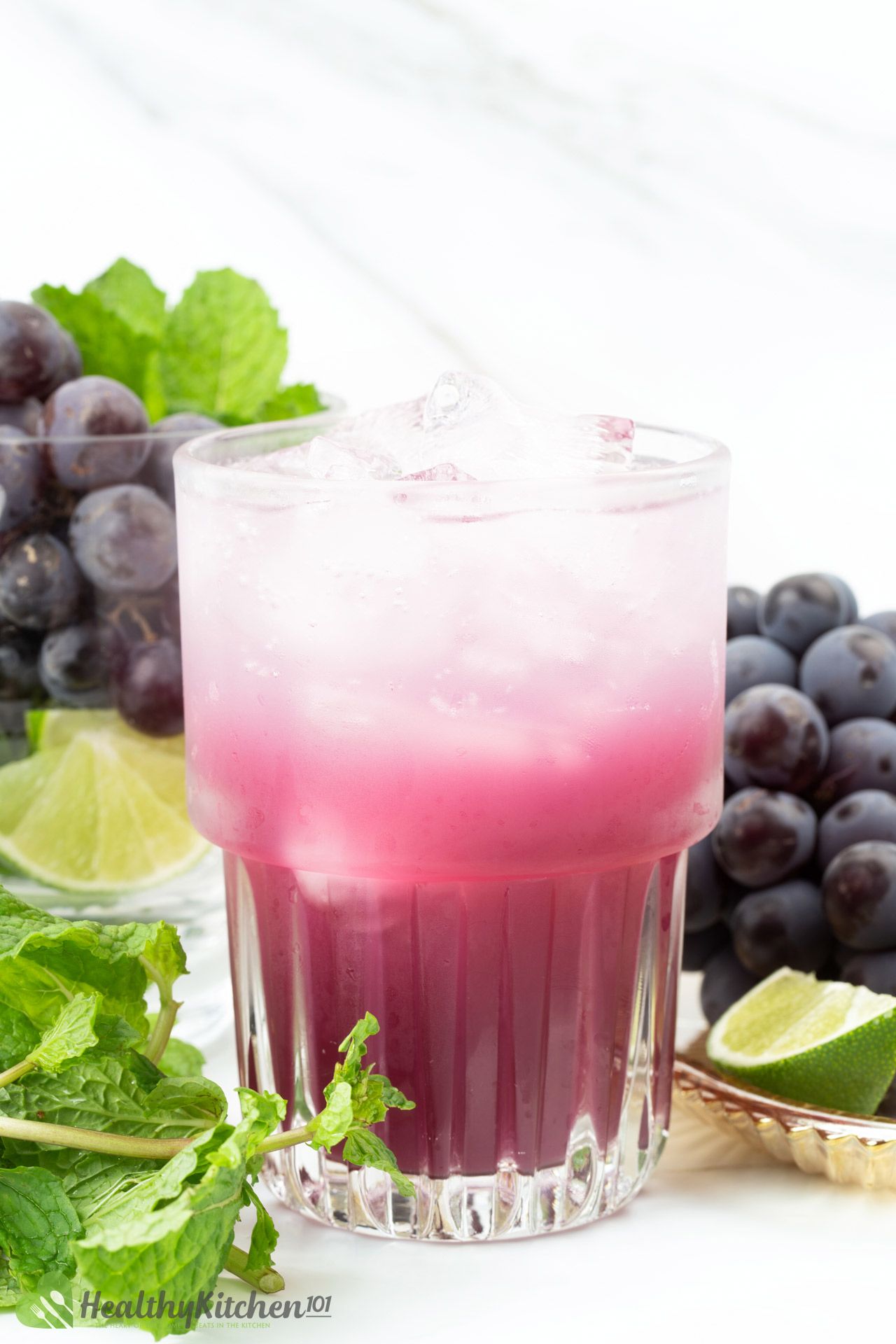 Drinking too much alcohol can lead to many health issues such as dehydration, bloating, and high blood pressure, etc.
As mentioned, you are advised to consume only 1.5 fl oz of 80 proof spirits per day. Heavy drinking is the consumption of 4 or more drinks per day, or 8 or more drinks per week.
"But what about grape juice? Isn't it healthy?", you may wonder.
Grape juice contains lots of micronutrients such as vitamin C, vitamin K, potassium, etc. It also brings many health benefits, including reducing "bad" cholesterol, preventing high blood pressure, and the risk of chronic disease.
However, grapes are high in sugar: 100g of grapes contain 15.48g of sugar. Meanwhile, unsweetened grape juice contains 14.2g of sugar per 100g.
There may not be a specific guideline how much sugar from fruits and vegetables you can eat per day. But it's best to keep your sugar consumption to a minimum.
Our vodka and grape juice contains just enough alcohol and juice so that you don't drink too much of them.
How to Make Vodka and Grape Juice
Here's a brief summary of our vodka and grape juice recipe:
Step 1: Juice the grapes
Step 2: Add vodka, sugar, lime juice, and lime zest
Step 3: Pour the drink into 4 glasses, add ice, and fill the glass with soda. Garnish with mint leaves and serve.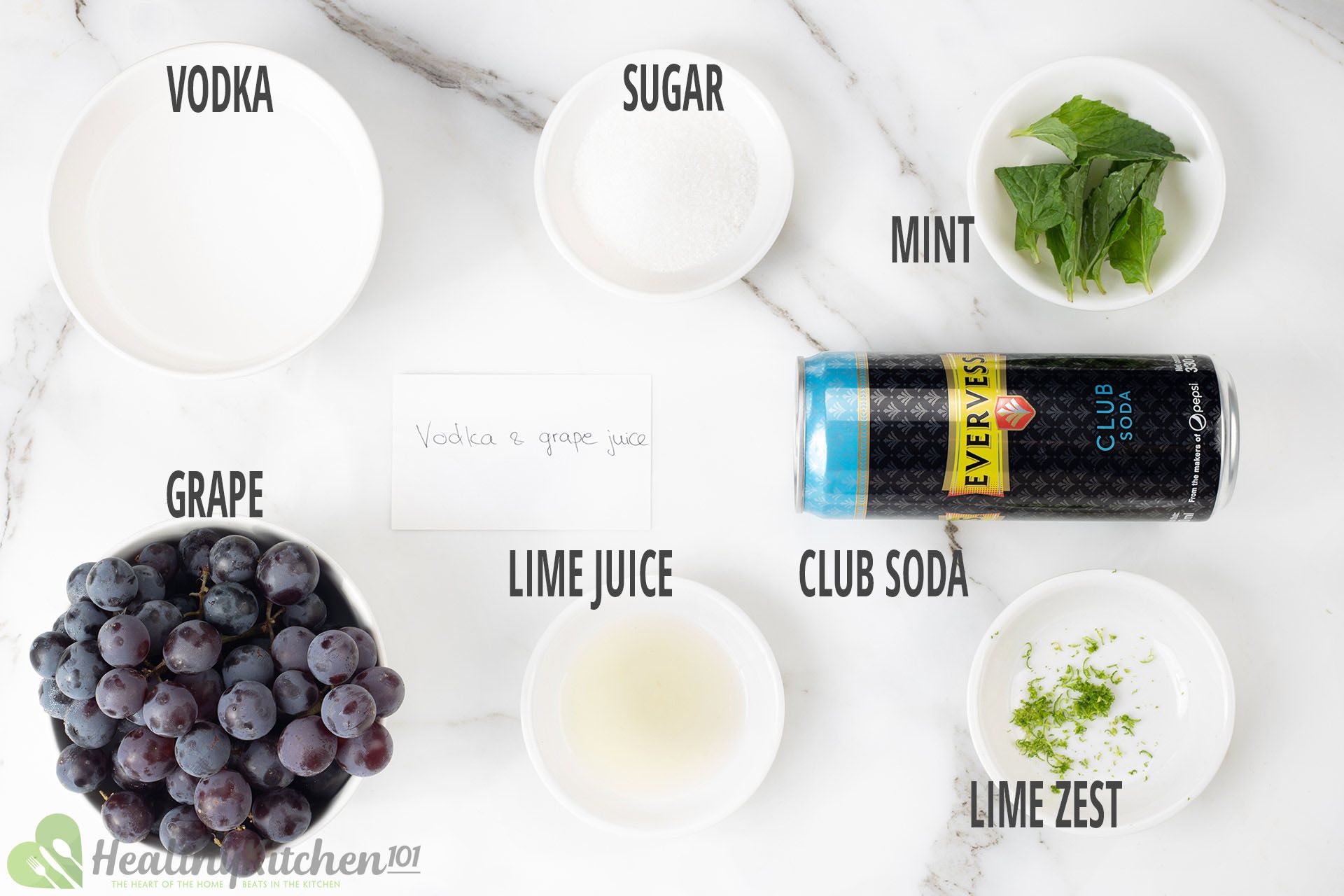 Garnishes play an important role in making cocktails because they breathe the soul to the drink and make it whole. Other than improving the drink's appearance, garnishes also represent the drink, suggesting the ingredients it's containing.
For today's Transfusion cocktail, grapes, a sprig of mint, and/or a slice of lime will make the best garnishes.
How Long Does Vodka and Grape Juice Last?
Since this vodka and grape juice contains alcohol and fresh fruit juice, it'll only last up to 48 hours. However, we recommend drinking the cocktail within 2 hours after you've made it to enjoy the best quality.
We use fresh lime juice and grape juice will get bitter and ruin the cocktail's flavor. The grape juice will lose its freshness over a few hours as well— making the drink less appetizing.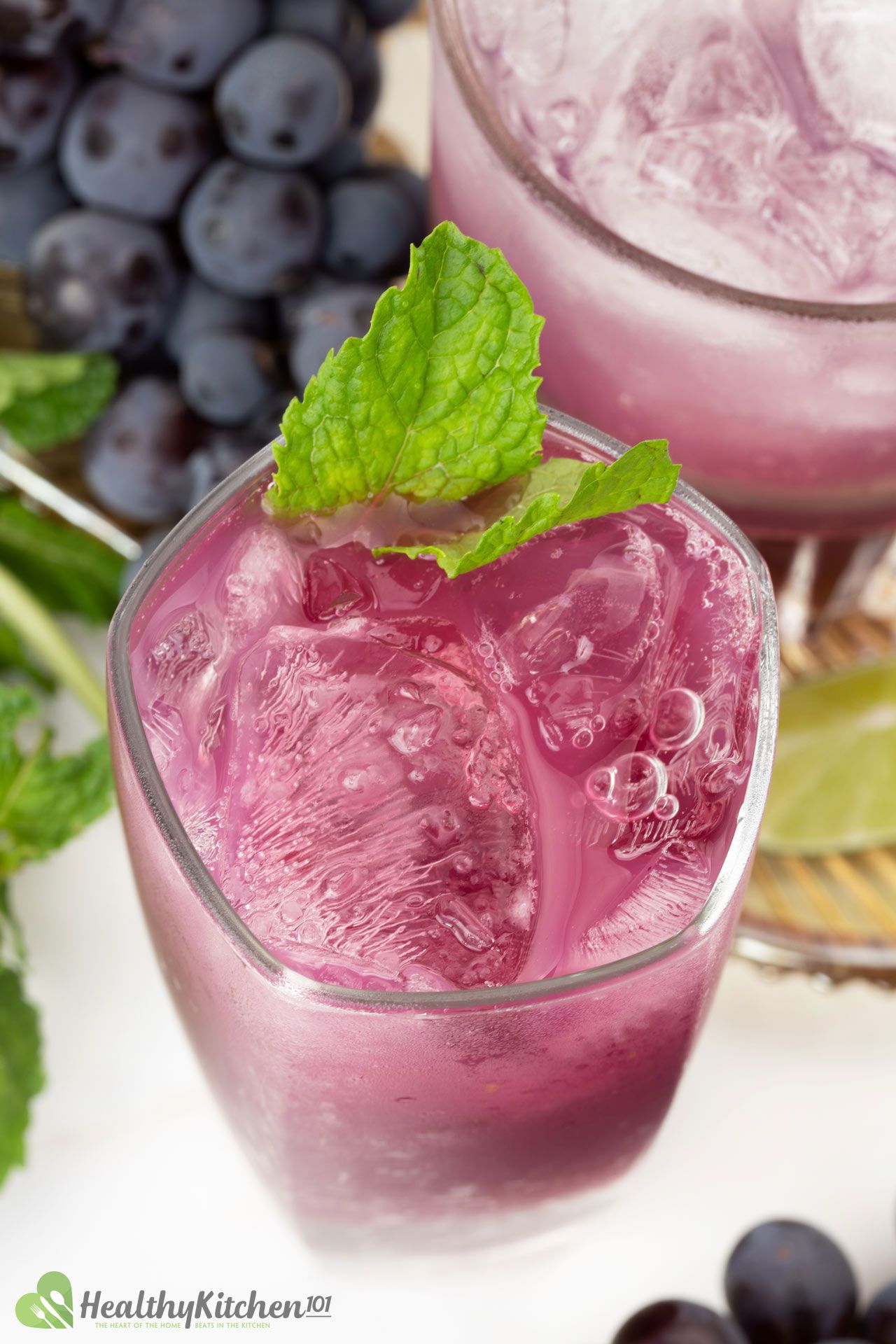 If you're a fan of grape juice, check out our fresh green grape juice or top 10 grape juice recipes to learn how to make these easy, delicious drinks.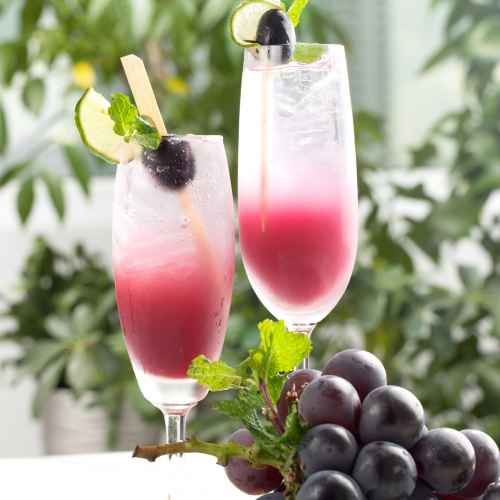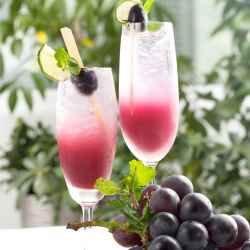 Vodka and Grape Juice Recipe
Although our vodka and grape juice recipe doesn't require many ingredients, it still makes an amazing drink. Let's take a look at the detailed recipe.
Ingredients
12

fl oz

grape juice

from about 14 to 16 oz fresh Concord grapes

4

fl oz

80-proof vodka

1 1/2

tbsp

sugar

1

tbsp

lime juice

1/8

tsp

lime zest

2

cups

ice

8

fl oz

soda club

8

mint leaves

for garnish
Instructions
Put the grapes in the juicer and collect the juice in a large pitcher.

Add vodka, sugar, lime juice, and lime zest. Stir to dissolve the sugar.

Pour the drink into 4 glasses, add ice, and fill the glass with soda. Garnish with mint leaves and serve.

Optional: you can also garnish the drink with a grape and slice of lime to make it more visually appealing.
Nutrition
Nutrition Facts
Vodka and Grape Juice Recipe
Amount Per Serving (1 serving)
Calories 140
% Daily Value*
Sodium 24mg1%
Potassium 110mg3%
Carbohydrates 19g6%
Protein 1g2%
Vitamin A 85IU2%
Vitamin C 2mg2%
Calcium 22mg2%
Iron 1mg6%
* Percent Daily Values are based on a 2000 calorie diet.