Our yogurt smoothie recipe features creamy yogurt, milk, sweet, dried fruits, and crunchy nuts. The drink is creamy, thick, and full of fruity hints, making this drink a delicious way to start the day, or perfect for a quick energy-boosting breakfast drink.
Is This Yogurt Smoothie Recipe Healthy?
The answer is yes, our yogurt smoothie recipe is healthy.
We carefully calculated the ingredients and avoided using excessive amounts of sugar in this recipe. Our yogurt smoothie contains about 20 grams of added sugar per serving, which is within the USDA's recommended limit.
Plus, thanks to the presence of Greek yogurt, our smoothie provides a good amount of protein (approximately 10% of the daily recommended intake). Protein helps control hunger and reduce the temptation to consume other high calorie snacks.
A 7-ounce (200-gram) serving of low-fat, plain, unsweetened Greek yogurt also contains up to 43% of the B12 Daily Value (DV), 35% of the Riboflavin (B2) DV, and 45% of the Selenium DV.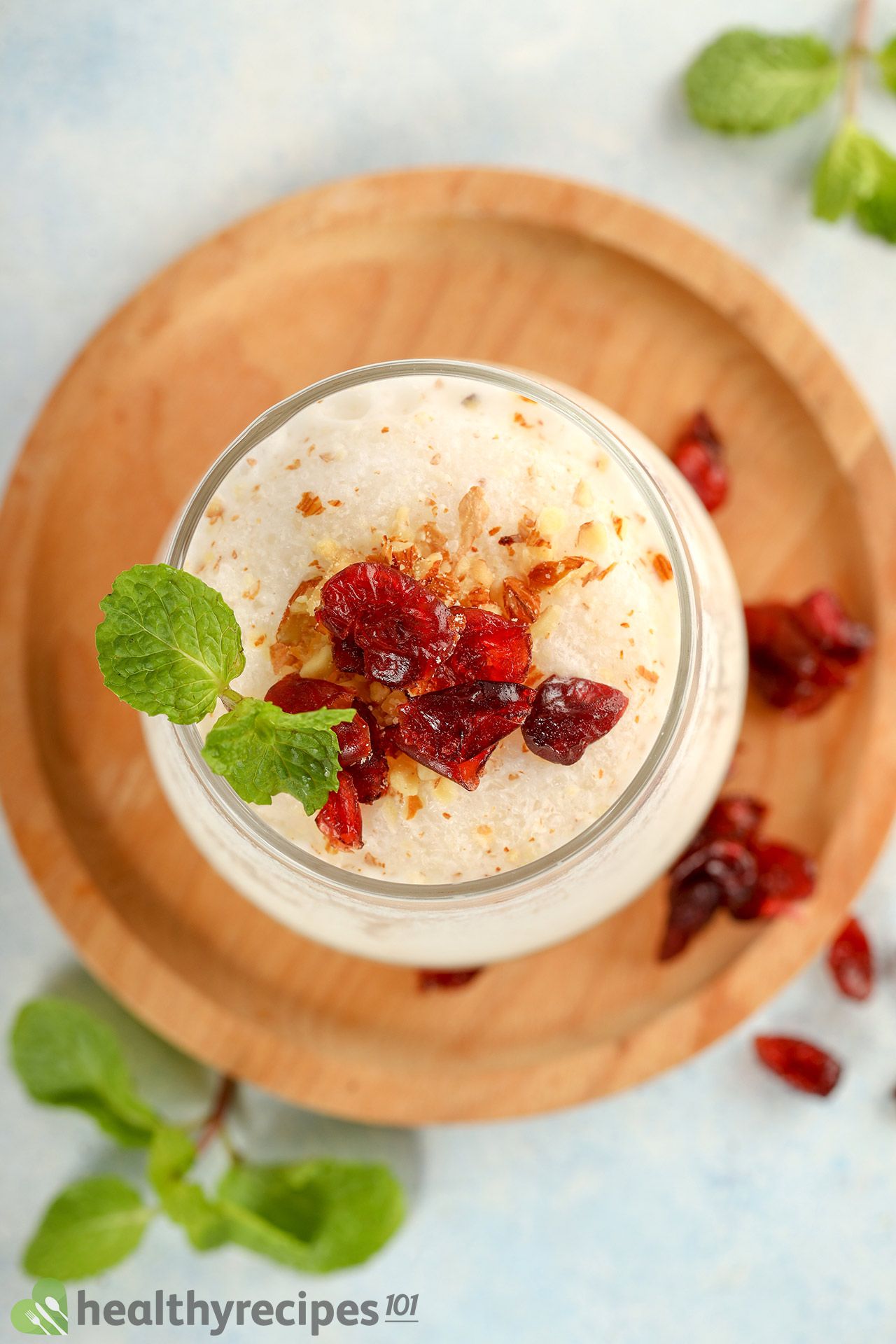 Ingredients for Yogurt Smoothie
Greek Yogurt: Due to its rich texture, tangy flavor, and high lean protein content, Greek yogurt is the star ingredient in this smoothie. Our recipe calls for plain yogurt since the flavored variants often have added sweeteners and artificial flavors.
Milk: In this recipe, we went with plain dairy milk, but you can try vanilla almond milk, oat milk, or even canned coconut milk. A dash of flavored milk or a splash of freshly squeezed orange juice would be delectable and gives an incredible depth of flavor.
Nuts: A tasty way to add protein, healthy fats, and creaminess to your smoothie is to add a spoonful of your favorite nut to it. Any type of nuts will work for this yogurt smoothie.
Dried Fruits: We paired this rich yogurt smoothie with sweet-tangy dried cranberries to get a more complex flavor.
Sugar: Sugar adds a touch of sweetness. Opt for your favorite sweeteners like honey or maple syrup if you want a nuttier aroma.
Ice: Ice helps to give a fresh chilled quality and an even smoother consistency.
Mint Leaves: For a visually aesthetic look.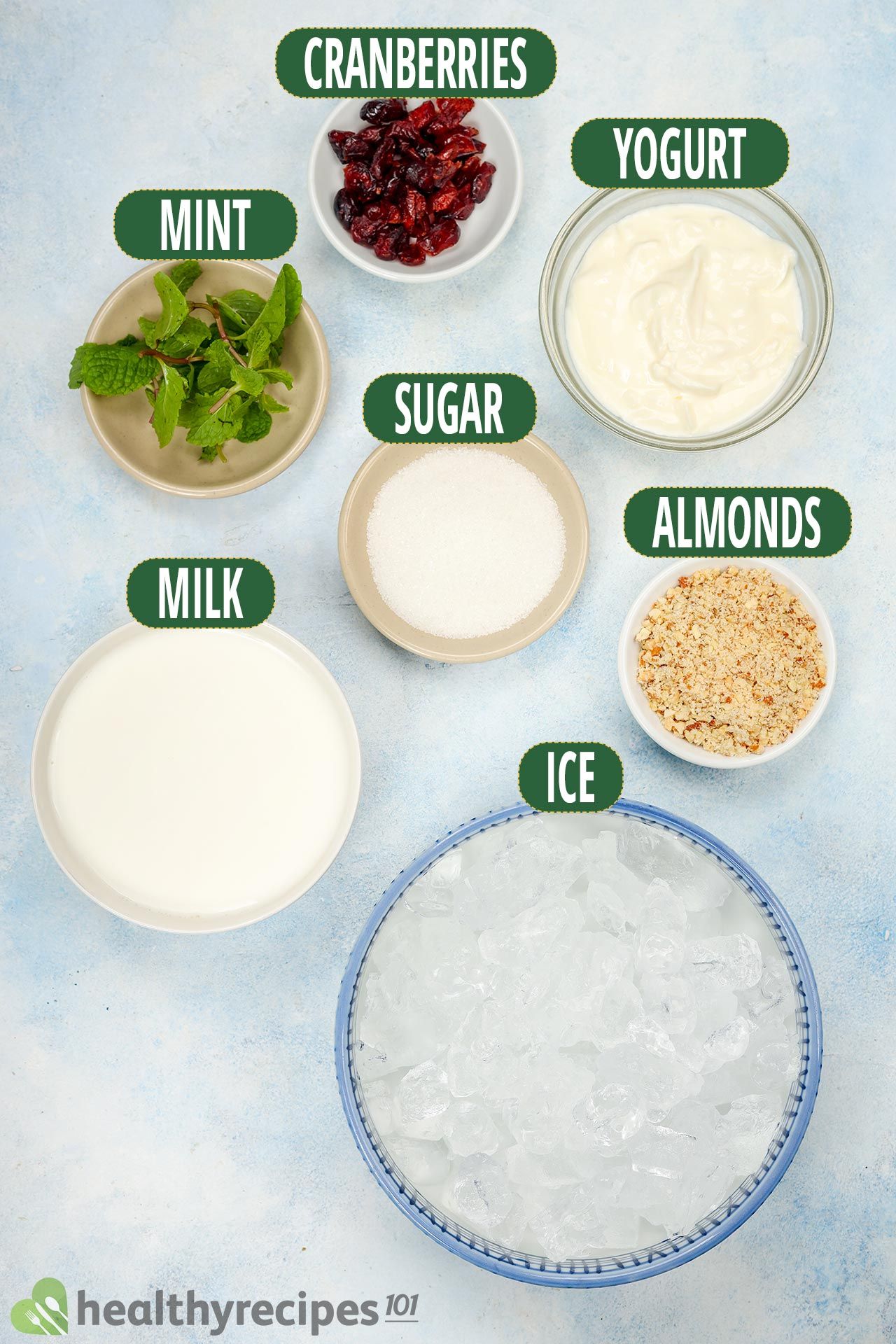 How to Make a Yogurt Smoothie
Our yogurt smoothie recipe calls for simple ingredients and provides a healthy dose of protein. Here's how we made the drink: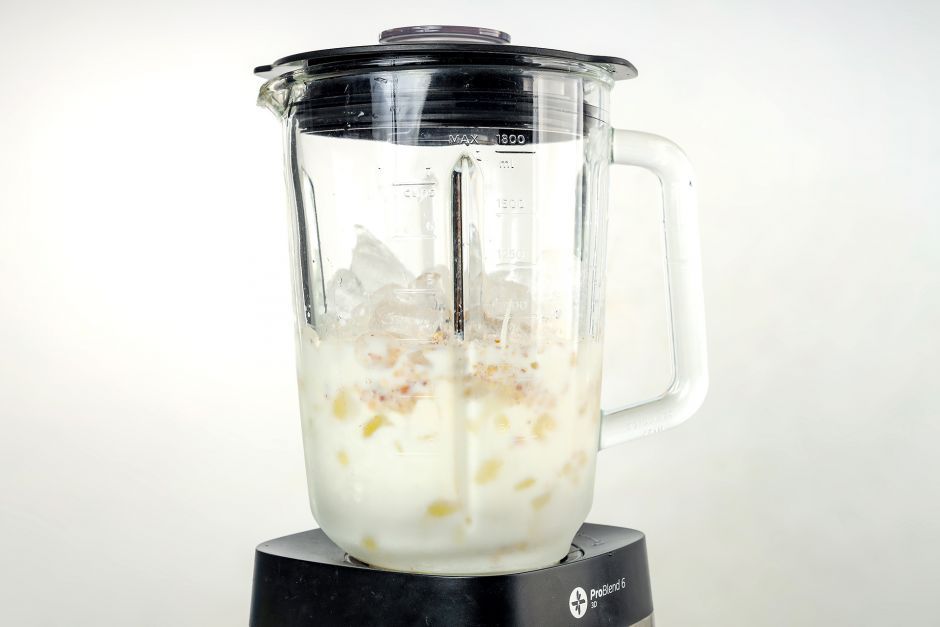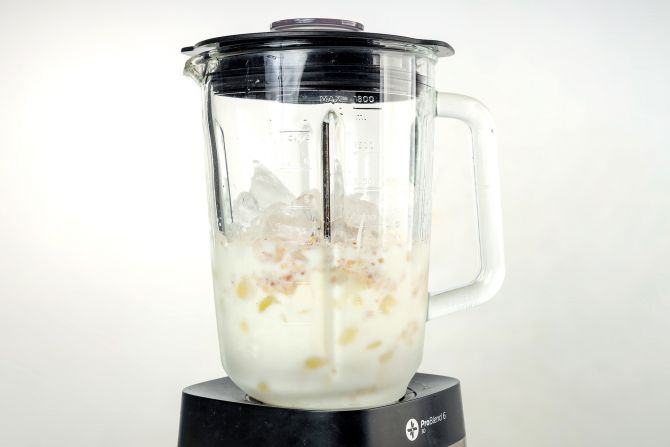 blend ingredients.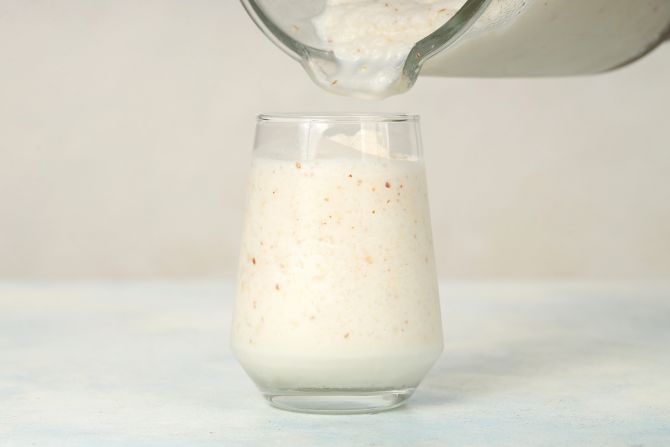 Pour into glasses.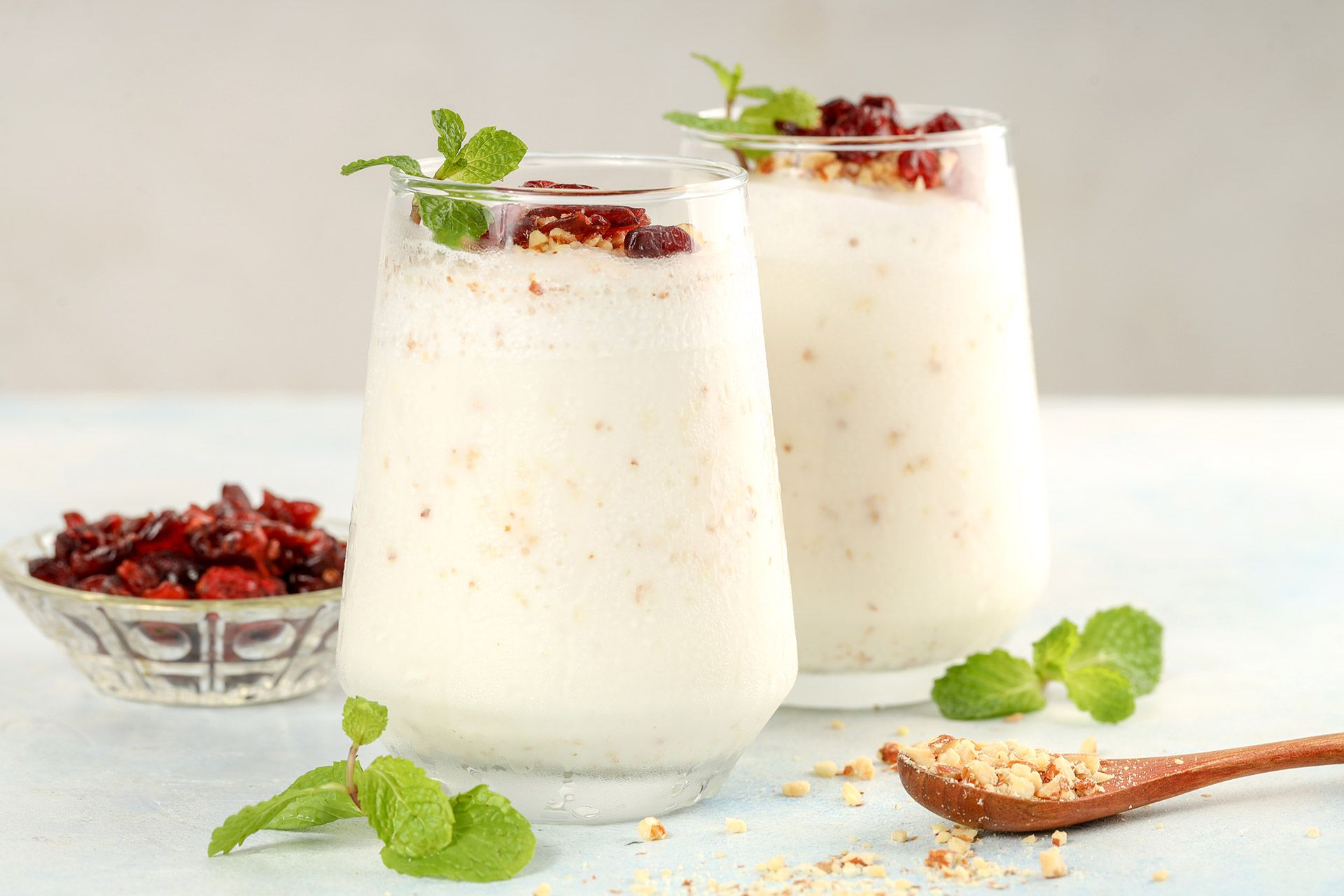 Garnish and serve immediately.
Can You Freeze Yogurt?
Yes, you can, and just like other products, it's best to freeze unopened ones. However, once opened, the yogurt can also be stored in an airtight container in the freezer.
It is always recommended to use a marker to identify the container with the date of freezing or the expiration date. Also, keep in mind that the opened yogurt should be kept frozen for a maximum of two months.
All frozen foods must be slowly and properly defrosted in the refrigerator. The thawing process should take place the night before you plan to use them.
Once thawed, the yogurt's texture may seem to have changed significantly, appearing more watery than it was previously. To return it to its original glory, stir vigorously for 30 seconds. This should smooth out the texture again. Don't worry, the yogurt will retain its original flavor in any case.
How Long Does This Smoothie Last?
Containing dairy products, our yogurt smoothie will only last 1 – 2 days in the refrigerator and should be placed in a clean container like a sealed bag or a mason jar.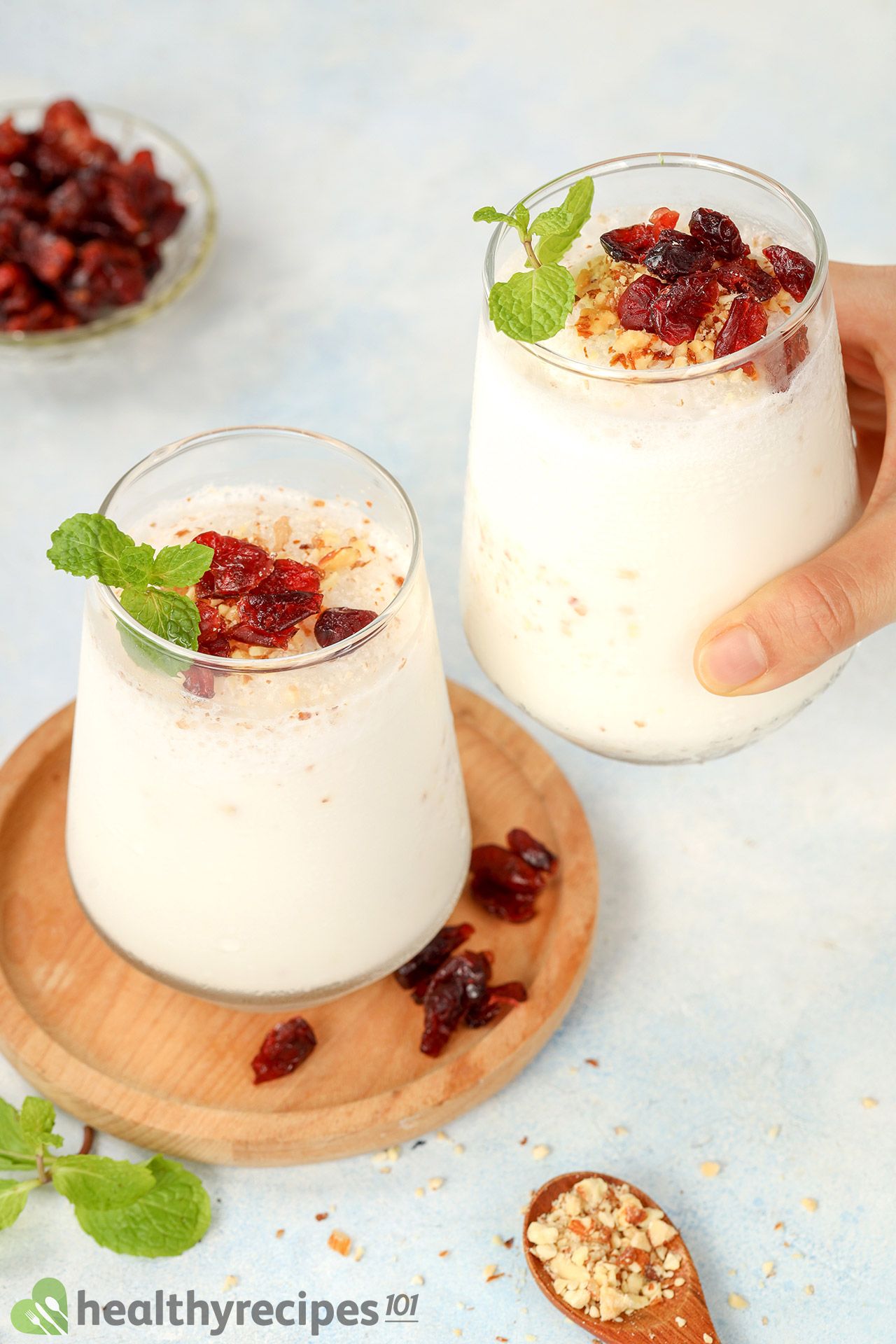 However, note that if you refrigerate the smoothie overnight, there will be a significant loss of flavor and texture. The ice will melt, leaving milder flavors and a less creamy texture.
Thus, the best way to store this yogurt smoothie is to keep it in a sealed container in the freezer, for up to 2 – 3 months. When ready to use, re-blend it until smooth. This way, your yogurt smoothie will be as delicious as on the day it was freshly made.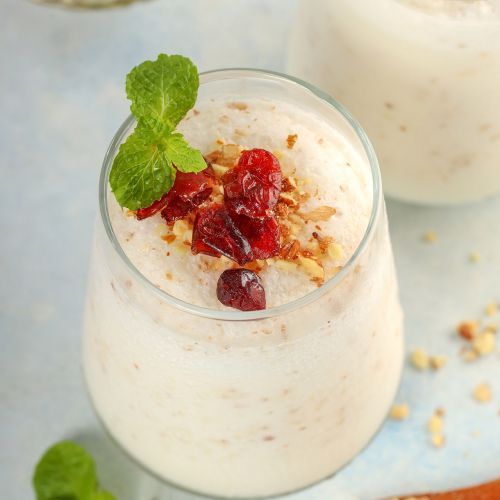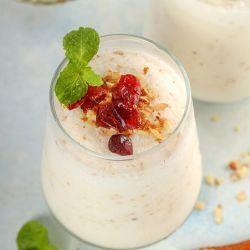 Yogurt Smoothie Recipe
Our easy-to-make yogurt smoothie recipe was inspired by protein-rich ingredients like yogurt and milk.
Instructions
Put 1/2 cup plain Greek yogurt, 1 cup milk, 3 cups ice, 3 tbsp granulated sugar, 1 oz dried cranberries, and 1 oz almonds into a blender. Blend until smooth and creamy.

Pour into serving glasses.

Garnish with 8 mint leaves. Serve cold.
Nutrition
Nutrition Facts
Yogurt Smoothie Recipe
Amount Per Serving (1 serving)
Calories 165
Calories from Fat 63
% Daily Value*
Fat 7g11%
Cholesterol 14mg5%
Sodium 52mg2%
Potassium 213mg6%
Carbohydrates 21g7%
Protein 5g10%
Vitamin A 184IU4%
Vitamin C 1mg1%
Calcium 104mg10%
Iron 1mg6%
* Percent Daily Values are based on a 2000 calorie diet.