Our avocado ranch dressing recipe gives you a new and easy way to enjoy this classic condiment. The addition of creamy avocados is a healthy and refreshing option for your next salad, pasta, or dipping sauce.
Can You Mix Ranch Dressing with Avocado?
Sure you can.
Avocado and ranch mix together very well since they both have creamy textures. Their flavors also complement each other nicely; while ranch is rich and acidic with hints of garlic and herbs, avocado is more mild and somewhat buttery.
Ranch is such a popular dressing you can find it at most restaurants and multiple processed versions of it at the store. The recipe we are introducing today will help you make your own ranch dressing and give you complete control over what goes into it.
Is This Recipe Healthy?
Despite being a popular salad dressing, ranch from store-bought and fast-food restaurants is not very healthy due to its higher level of saturated fat and preservatives.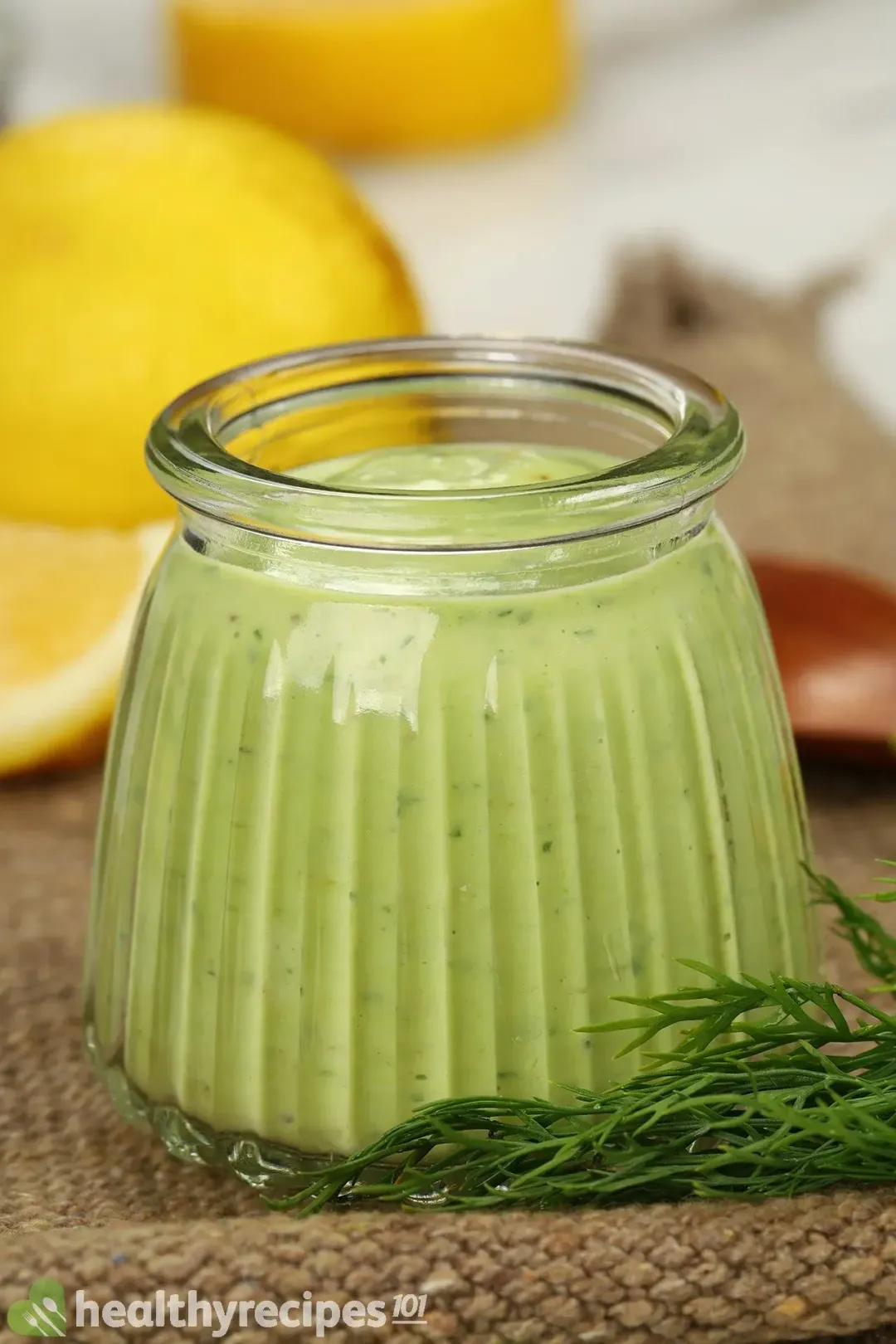 In our recipe, we try to utilize healthy ingredients and use alternatives to less healthy ones. We keep the number of calories at 152 kcal per serving and cholesterol at 14.6 mg. The addition of avocado also provides some health benefits due to many of its nutrients:
Avocados contain a lot of fiber, which is important for gut health.
Some research suggests avocados help to lower LDL cholesterol, which is beneficial for heart health. 
The abundance of potassium and magnesium may help to lower risks from hypertension and stroke.
They also contain antioxidants like vitamins C and E, which help to prevent free-radical damage.
Avocados may also aid weight loss thanks to their high fiber content.
Another ingredient used in this recipe that benefits health is Greek yogurt in place of regular yogurt. There are some differences between regular yogurt and Greek yogurt in how they are made which affects the level of nutrients, but all in all, yogurt brings multiple benefits to the table.
Overall, our avocado ranch dressing recipe utilizes many healthy ingredients while still maintaining the signature richness thanks to its abundance of healthy fats.
Main Ingredients
Our avocado ranch dressing recipe contains two main ingredients and some additional spices.
Fresh avocado is very important for this recipe and there are a few key things to note when picking out great avocados for your meal.
First is firmness which will tell you if the avocado is ripe or not. You can tell by applying pressure to it, but be careful not to squeeze it too hard so you don't bruise it. If there is no give, it may take a few days to become ripe.
Another indication is the skin. The darker it is, the riper the avocado is.
You can also look at the stem to tell if it is ripe or not. Pull off a bit of the stem and see what color it is underneath. If it's brown, it's too ripe. Light green, it may be unripe. Darker green, it's more likely to be just right and definitely the desired color.
Also, if the avocado has too many bruises on it, it's best not to use it.
The type of avocado you choose can affect overall taste and texture too. California avocados contain more healthy fats than Florida avocados which makes their texture more buttery and their flavor richer.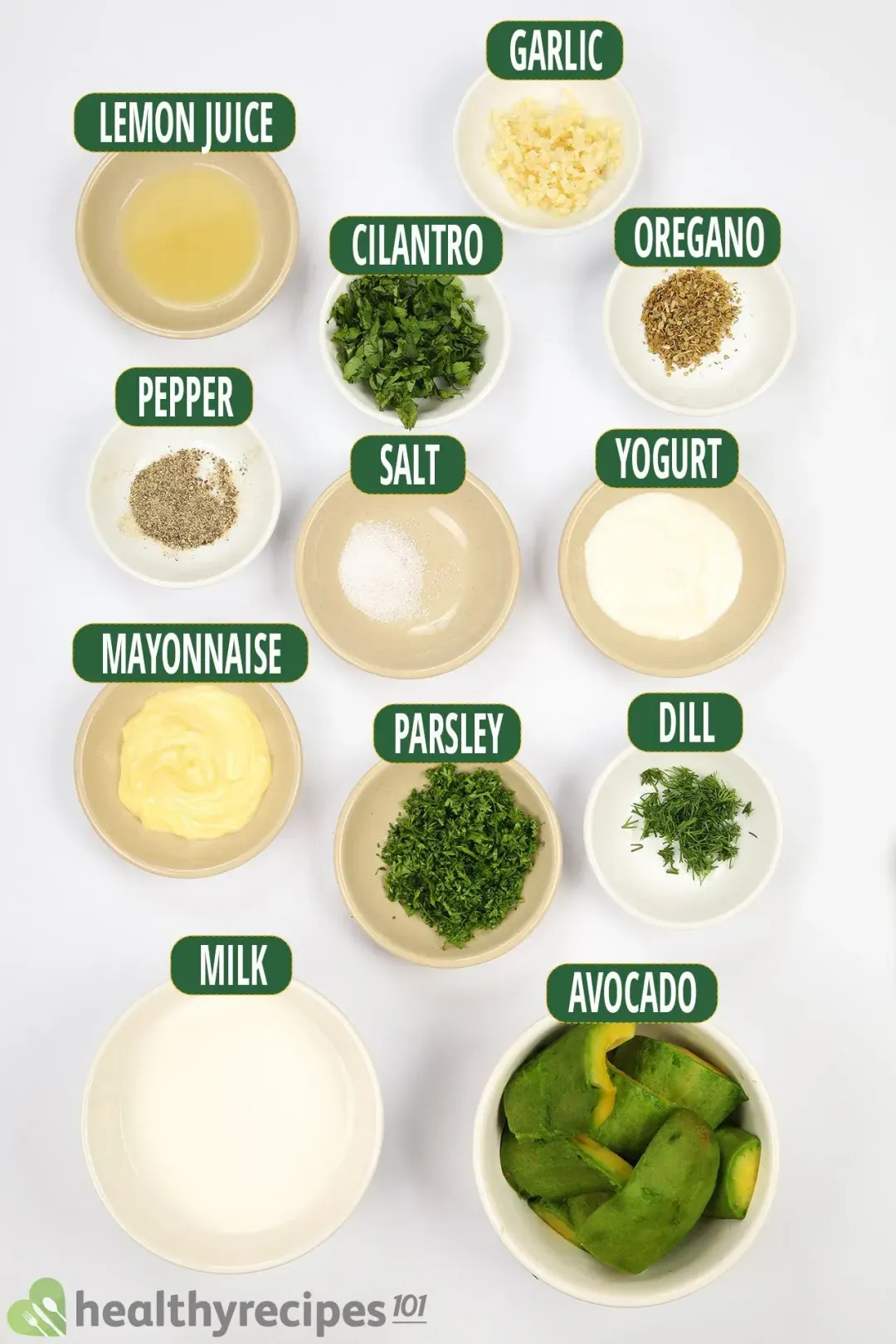 Dairy: Milk, Mayonnaise, Yogurt
Ranch dressing is mostly mayonnaise-based, so mayonnaise cannot be absent from this recipe. Mayonnaise is also where this dressing originally got its signature creamy texture.
Mayonnaise can be rather heavy so we use Greek yogurt to lighten it up a bit. It is also an option for people with lactose intolerance as yogurt contains less lactose than milk. Other potential alternatives could be sour cream, cottage cheese, or buttermilk. For vegans, oat milk, coconut milk, or nut-based yogurt can take the place of Greek yogurt. Also, vegenaise is a vegan-friendly replacement for mayonnaise.
We also include a bit of milk in the dressing to thin it out. For plant-based alternatives, try nut milks such as almond milk, or soy milk, etc.
To enhance the flavors of the dressing, the recipe also includes herbs and spices such as cilantro, parsley, dill, garlic, pepper, and lemon juice. All of these spices combined make the signature tangy flavor of ranch.
How to Thicken
Sometimes dressing doesn't have the consistency we're looking for, but not to worry, there are a few ways to thicken ranch dressing.
The first solution is to give it time to chill in the fridge. The dressing will need to rest in the fridge anywhere from 8 hours to a few days to thicken up.
If the dressing doesn't thicken, you may want to add cornstarch. Mix equal parts of cornstarch and water to form a paste. Add the paste slowly into the dressing and make sure to taste it as you mix, since the flavor will change as you add the cornstarch.
An even better solution is to add an ingredient that's already in the dish and we propose adding mayonnaise. Since the dressing is mayonnaise-based, the flavor will not change too much when you add more of it and it's easy to mix in.
What Can I Do With This Dressing?
Drizzle This Dressing for Salad: Chicken Salad
Ranch is one of the classic salad dressings. Since salad often starts as a mostly blank canvas, having the avocado ranch dressing gives you a more exciting experience with this familiar dish.
Make a Great Dip for Veggies
You could also deconstruct that salad, separating the vegetables and dressing. Blanch the vegetables first and then eat them with the ranch as a dipping sauce. It makes a great healthy snack.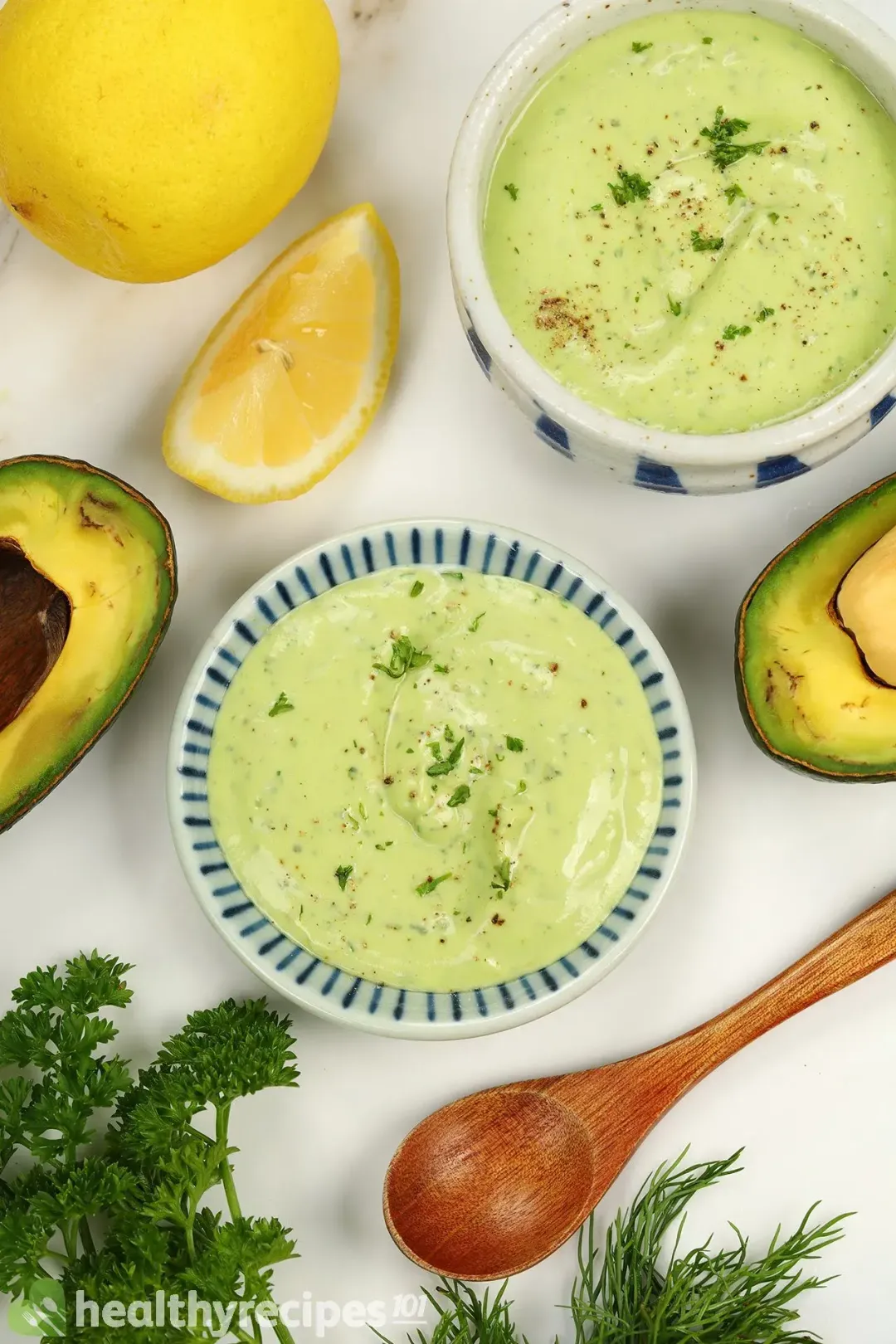 A creamy sauce like ranch usually goes well with pasta too. Thick pasta such as tagliatelle or penne is suitable for thick and creamy sauces as the shape of the pasta can hold the sauce well, making the dish more enjoyable. You could add avocado ranch and a source of protein for an extra delicious pasta dish.
Looking for more simple and easy avocado dishes? Find them all right here in our Simple Avocado Recipes collection.
How to Store The Leftover
The dressing contains ingredients like mayonnaise and dairy components such as milk and yogurt. They can all go bad if not refrigerated as mayonnaise is egg-based and heat will spoil dairy products.
It is important to store the dressing in airtight containers such as a mason jar or just any jar with a tight lid.
You may be inclined to freeze ranch dressing but we wouldn't recommend it. The freezing and thawing process can alter both the taste and texture of the dressing, making it less appealing. 
1. How Do I Keep Dressing From Turning Brown?
Avocados can turn brown when a cut surface makes contact with the air, allowing the flesh to react with oxygen. The surface turning brown is the result of this oxidation process. When avocados turn brown, they're still edible but become bitter.
To prevent this from happening, you essentially need to keep the surface of the dressing away from direct contact with air.
You can either press plastic wrap directly on the surface of the dressing or coat that surface with a thin layer of olive oil after every use.
Another technique is to squeeze some lemon or lime juice on the cut side of the avocado. Citric acid can slow down the oxidation process.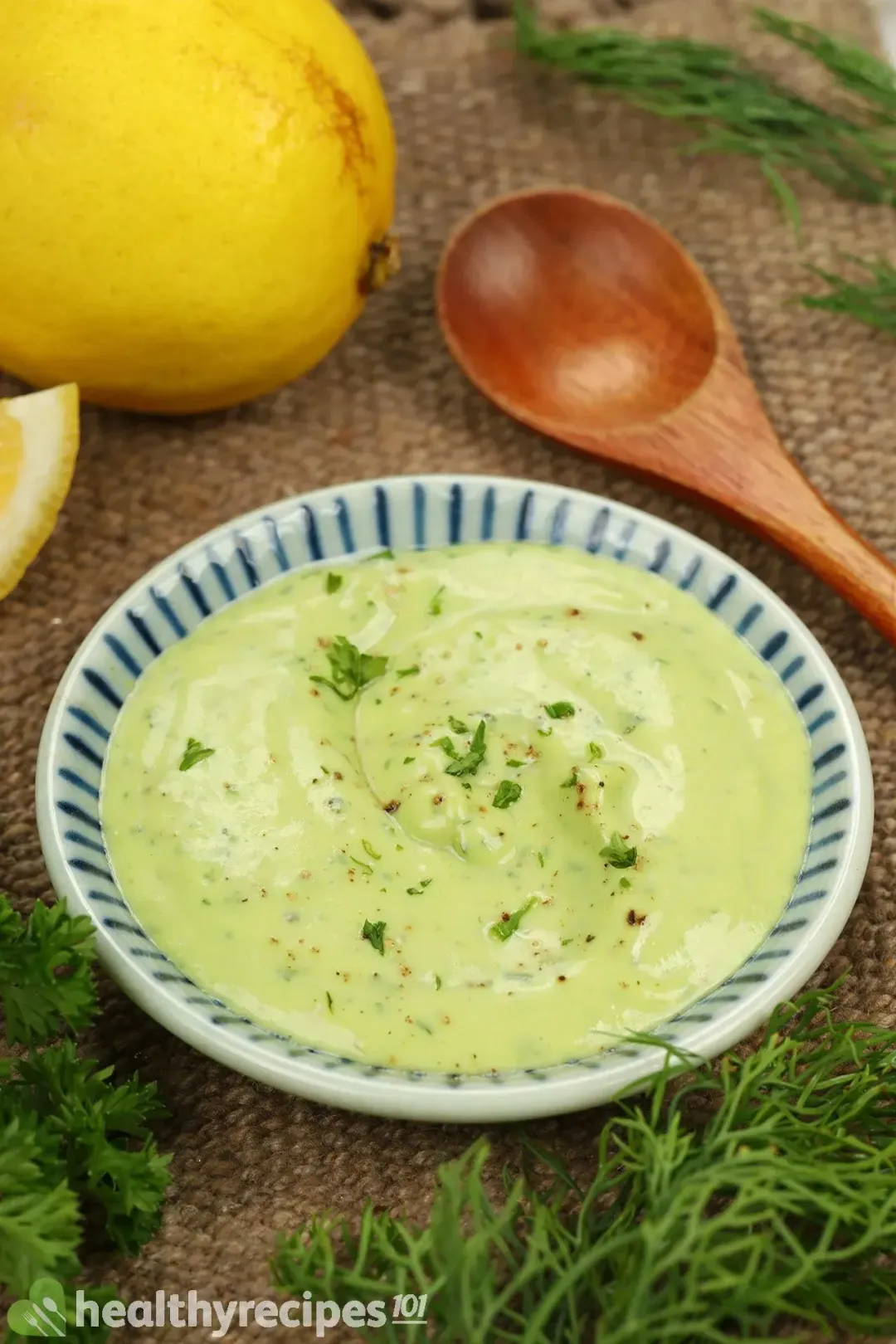 2. How Long Does This Dressing Last?
This depends on multiple factors like the surrounding environment and how often you open the fridge. The dressing can last up to one week when refrigerated. 
If the dressing has an off smell or appearance, don't hesitate to discard it and make a new batch.
Avocado ranch dressing is a healthy version of a popular condiment. It is easy to make, delicious, and versatile. This dressing will be a great addition to your everyday menu.
Other Delicious Ways to Enjoy Avocado
Avocado Ranch Dressing
Our avocado ranch dressing recipe gives you an easy homemade option of the popular classic. The addition of creamy avocados make this a healthy and refreshing option for your next salad, pasta, or dipping sauce.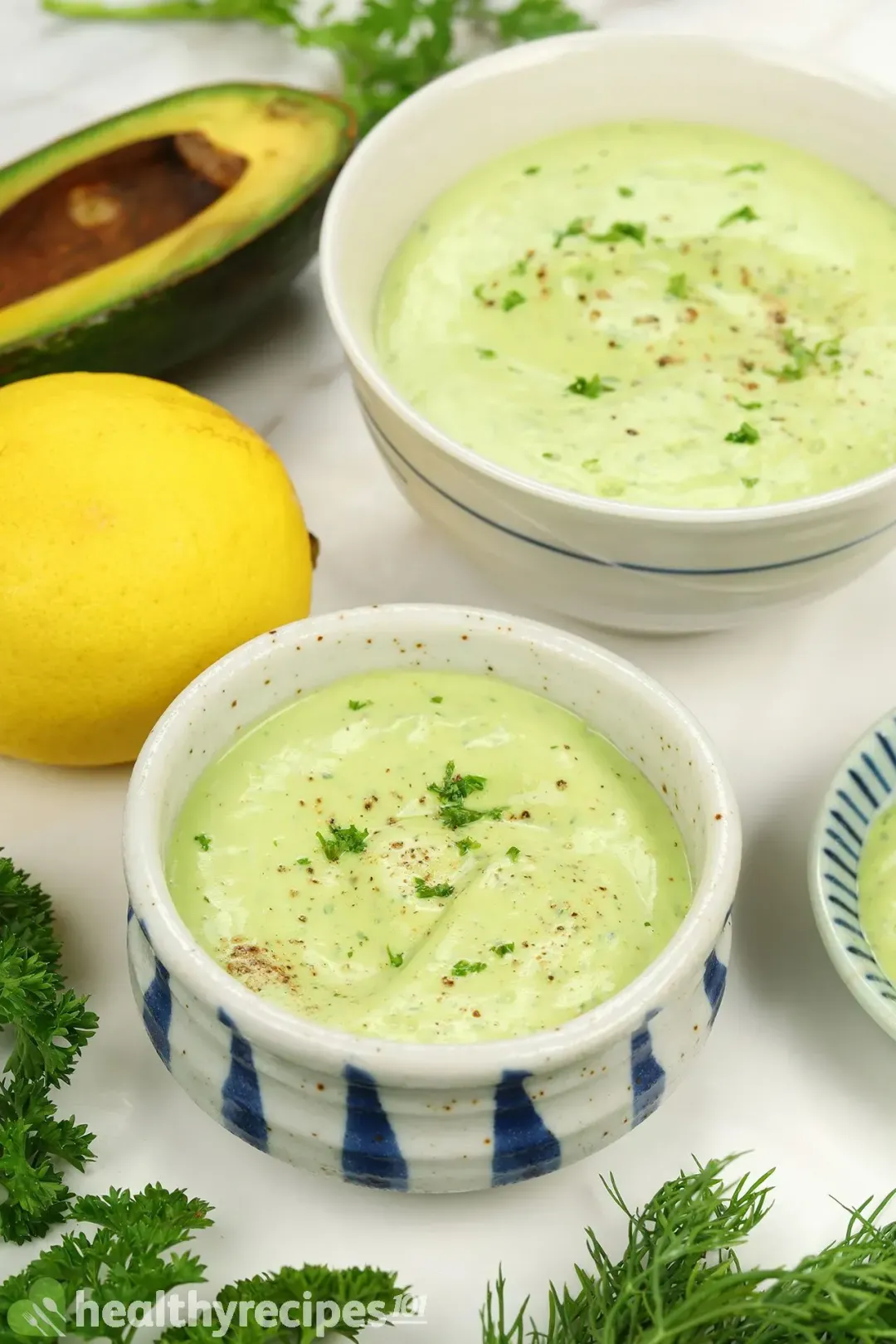 cook TIME

2 mins

prep TIME

5 mins

total TIME

7 mins
COURSE

Sauce

CUISINE

American

SERVINGS

CALORIES

152 kcal
INGREDIENTS
2 tbsp

Japanese mayonnaise

2 tbsp

plain Greek yogurt

2 tbsp

cilantro

(chopped)

1/2 tsp

oregano

(chopped)
INSTRUCTIONS
1
Chop garlic, cilantro, parsley, oregano and dill.
2
Put all the ingredients into a blender: 1 tbsp garlic cloves, 2 tbsp cilantro, 2 tbsp parsley, 6 oz avocado, 1 tbsp lemon juice, 1/4 tsp salt, 1/2 tsp oregano, 1/4 tsp pepper, 2 tbsp Japanese mayonnaise, 1 tsp dill, 2 tbsp Greek yogurt and 1/2 cup milk.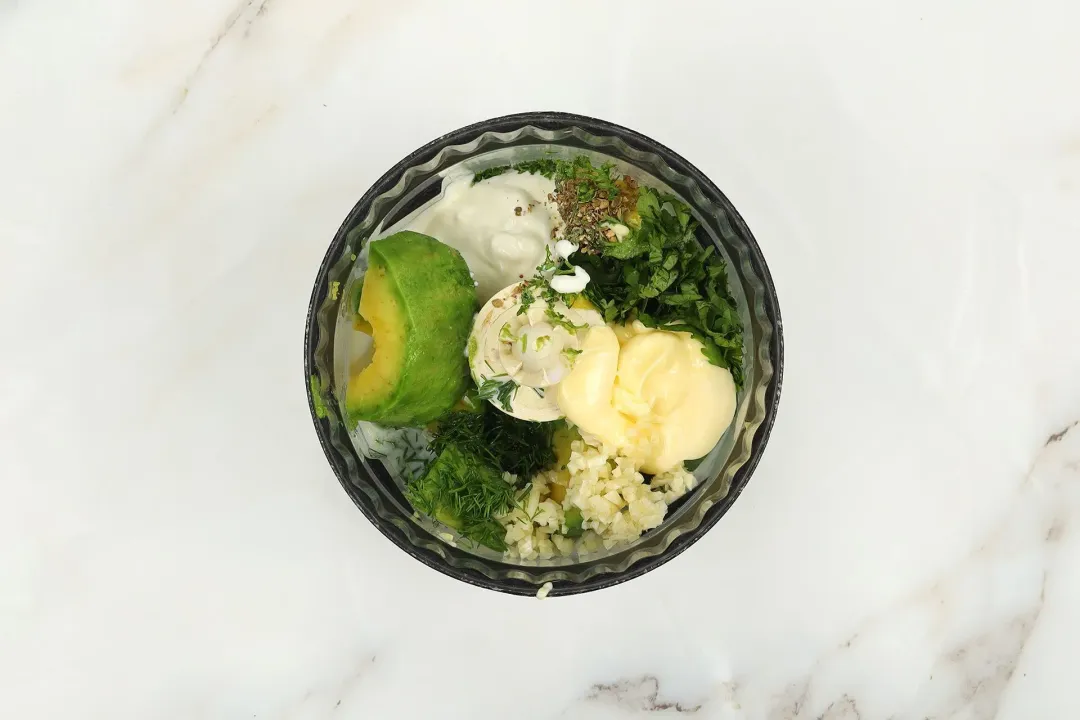 3
Blend in 20 - 30 seconds until smooth and creamy.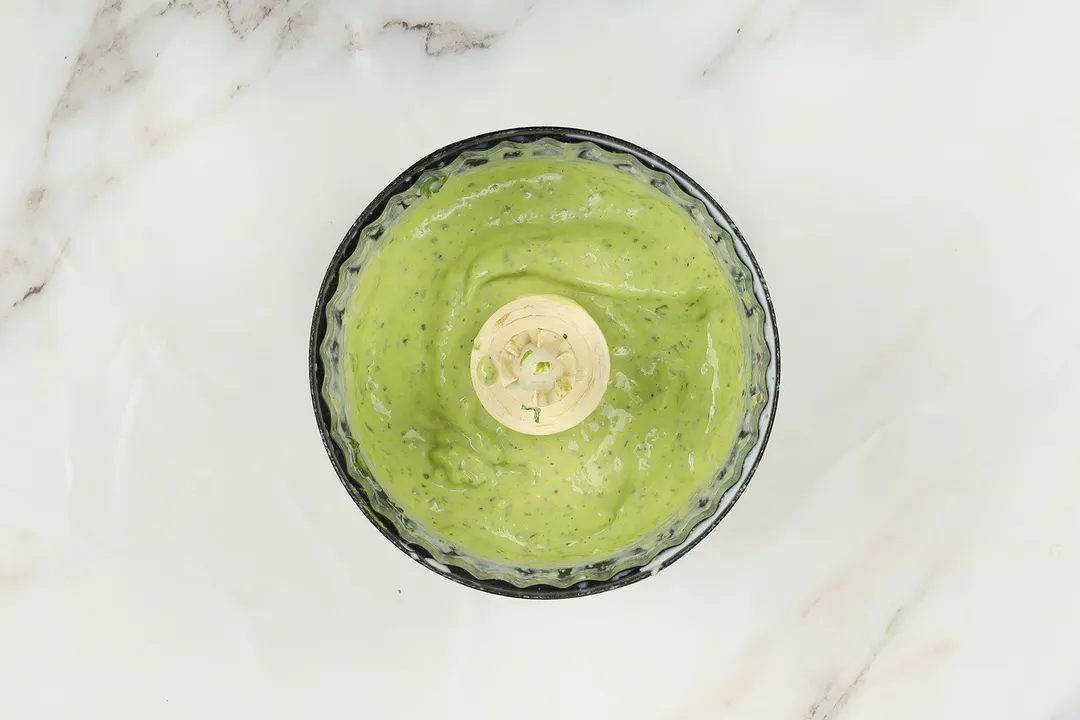 4
Pour the mixture into 4 glasses.
5
Sprinkle parsley and pepper on top and enjoy.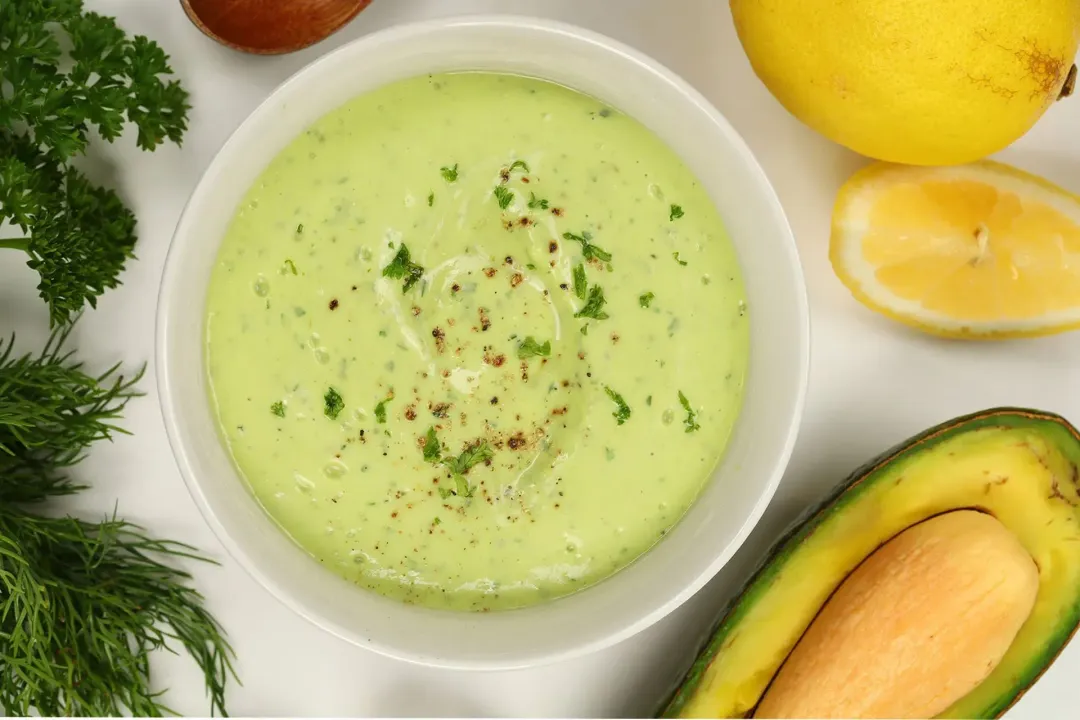 NUTRITION
Nutrition Facts
Avocado Ranch Dressing
Amount Per Serving (1 serving)
Calories 152
Calories from Fat 117
% Daily Value*
* Percent Daily Values are based on a 2000 calorie diet.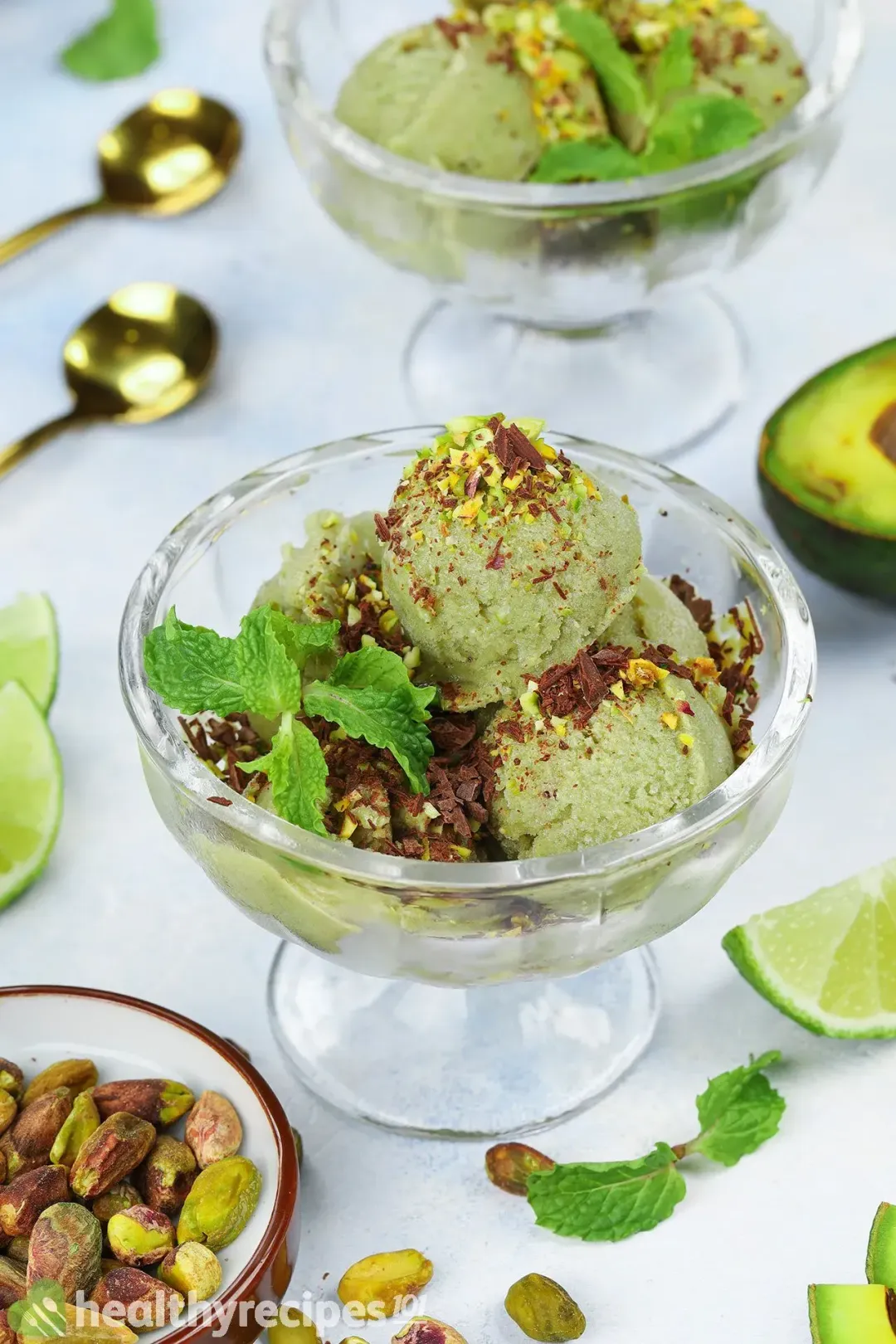 Previous Recipe
Avocado Ice Cream
Avocado Ice Cream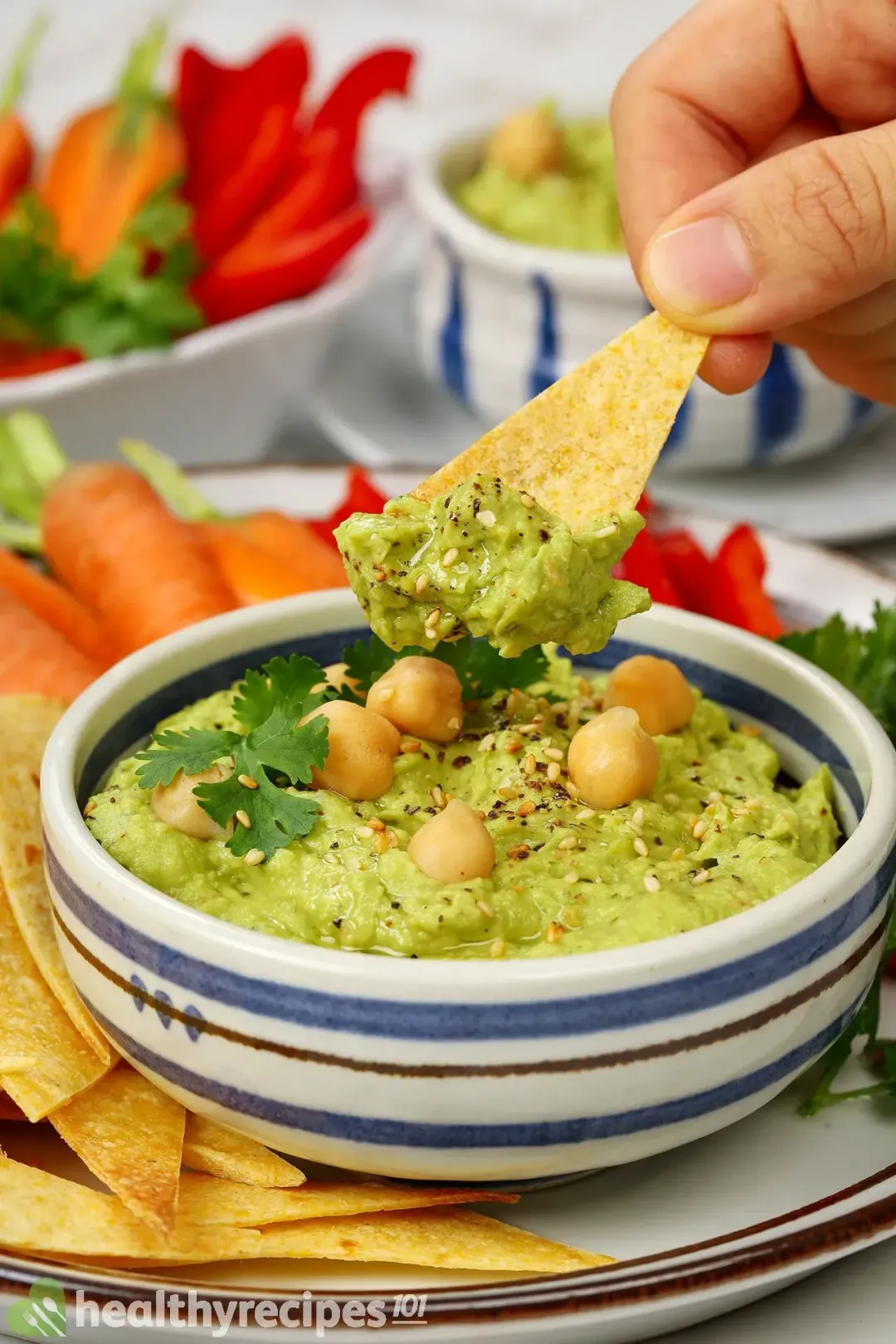 Next Recipe
Avocado Hummus
Avocado Hummus
Head Chef, Culinary Consultant
Tuyet Pham is an award-winning Saigonese chef who believes that joy is the secret ingredient to delicious food. At Healthy Recipes 101, Tuyet personally tests and simplifies every recipe, ensuring maximum flavor with minimal effort. With a background at prestigious French restaurants P'TI Saigon and Le Corto, Tuyet knows how to make every dish exceptional.
Writer, Author
Luna Regina is an accomplished writer and author who dedicates her career to empowering home cooks and making cooking effortless for everyone. She is the founder of HealthyKitchen101.com and HealthyRecipes101.com, where she works with her team to develop easy, nutritious recipes and help aspiring cooks choose the right kitchen appliances.
Nutrition Reviewer
Natalie Butler is a registered dietitian nutritionist with a passion to help others live their best life through food, fitness, safer beauty and a healthy lifestyle. She has expertise with a variety of diets and diseases and believes that there is no one-size-fits-all approach for health.
A really great, easy creamy and tangy avocado ranch dressing!