Promise yourself a satisfying dinner this week. You deserve it, and our beef fajitas recipe won't let you down! It's suitable for whenever you feel like you deserve a treat and when National Fajita Day (August 18) comes around.
If you love saucy beef wrapped in warm tortillas alongside peppers, avocados, and cheddar cheese, we have something special for you. We're talking skirt steak submerged in a flavorful marinade so juicy it'll leave the pan dripping.
We'll show you how to achieve this in 35 minutes or less. It's good for whenever you feel like you deserve a treat.
Are Beef Fajitas Healthy?
These beef fajitas make for a healthy meal wrapped in nutrients. There are the proteins from beef, good carbs from tortillas, fiber from the vegetables, and plenty of micronutrients — a pretty balanced meal.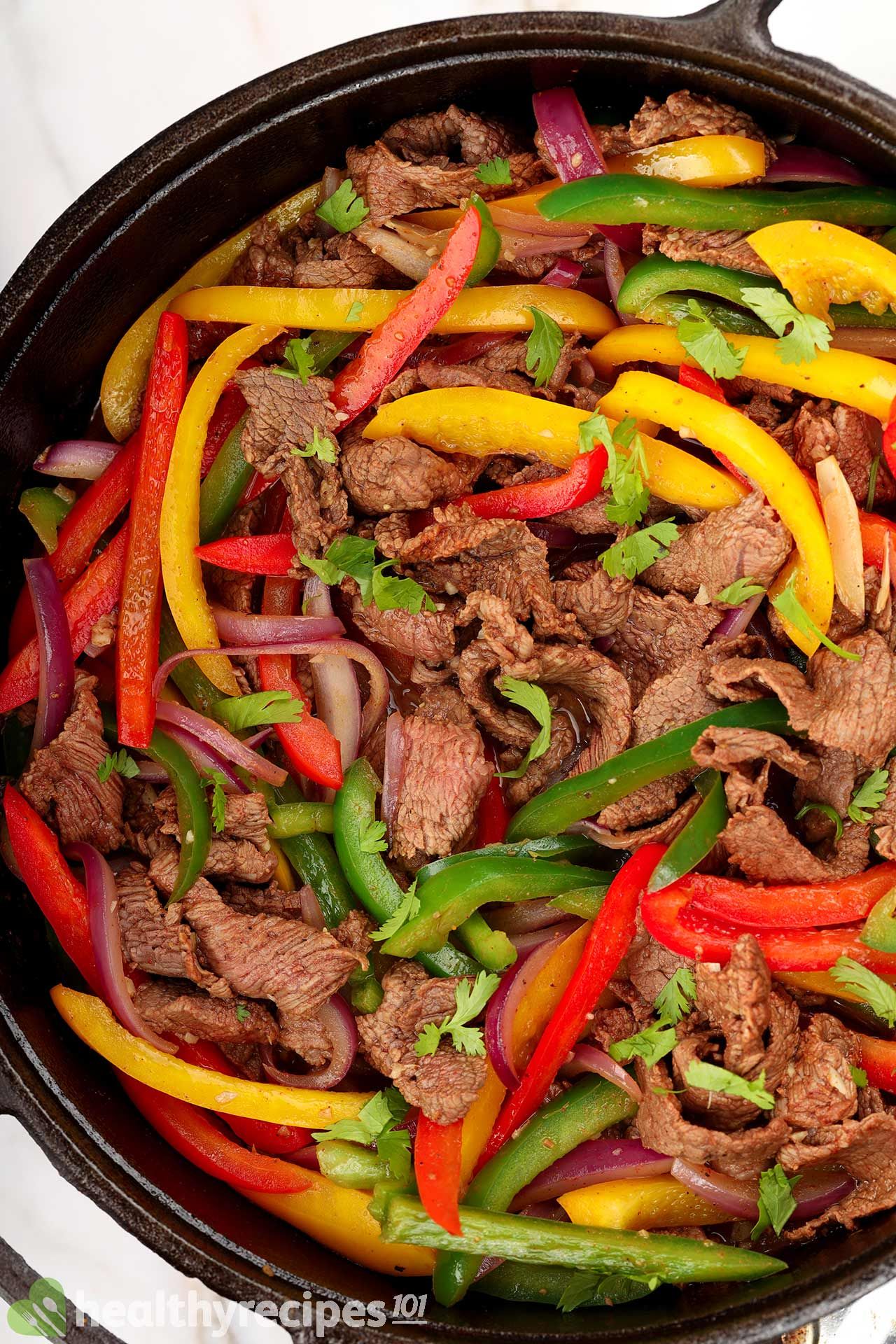 Of course, the other part of healthy eating is controlling your intake of sodium and saturated fat, and we've got you covered there as well. We measured our ingredients strictly, so the nutritional profile of our beef fajitas recipe complies with our dietary guidelines. We suggest you do the same.
Main Ingredients for Beef Fajitas
Let's take a look at the main components for this fine dish:
1. The Best Steak for Fajitas
Skirt steak is the traditional option because it used to be cheaper than other cuts back in the day. You can either choose that or flank steak, which is a little tougher but still just as tasty.
When dealing with tough cuts, always slice them against the grain and marinate them properly.
2. Steak Fajita Marinade
It may sound minor, but lime juice is a crucial ingredient for a beef fajita marinade. Its acid breaks down those chewy connective tissues making the meat softer and more enjoyable.
Any acidic fruit would do, but since this is a Mexican staple, we chose lime. Lime also has a signature zing that no other fruit quite matches (not even lemons).
When it comes to Mexican seasonings, cumin is the first in line. This spice alone will lend your food that distinctive Mexican aroma.
To the meat, we also added paprika, cayenne, and chili powder. These contribute to the kick of spice and the appetizing red hue Mexican food is so famous for.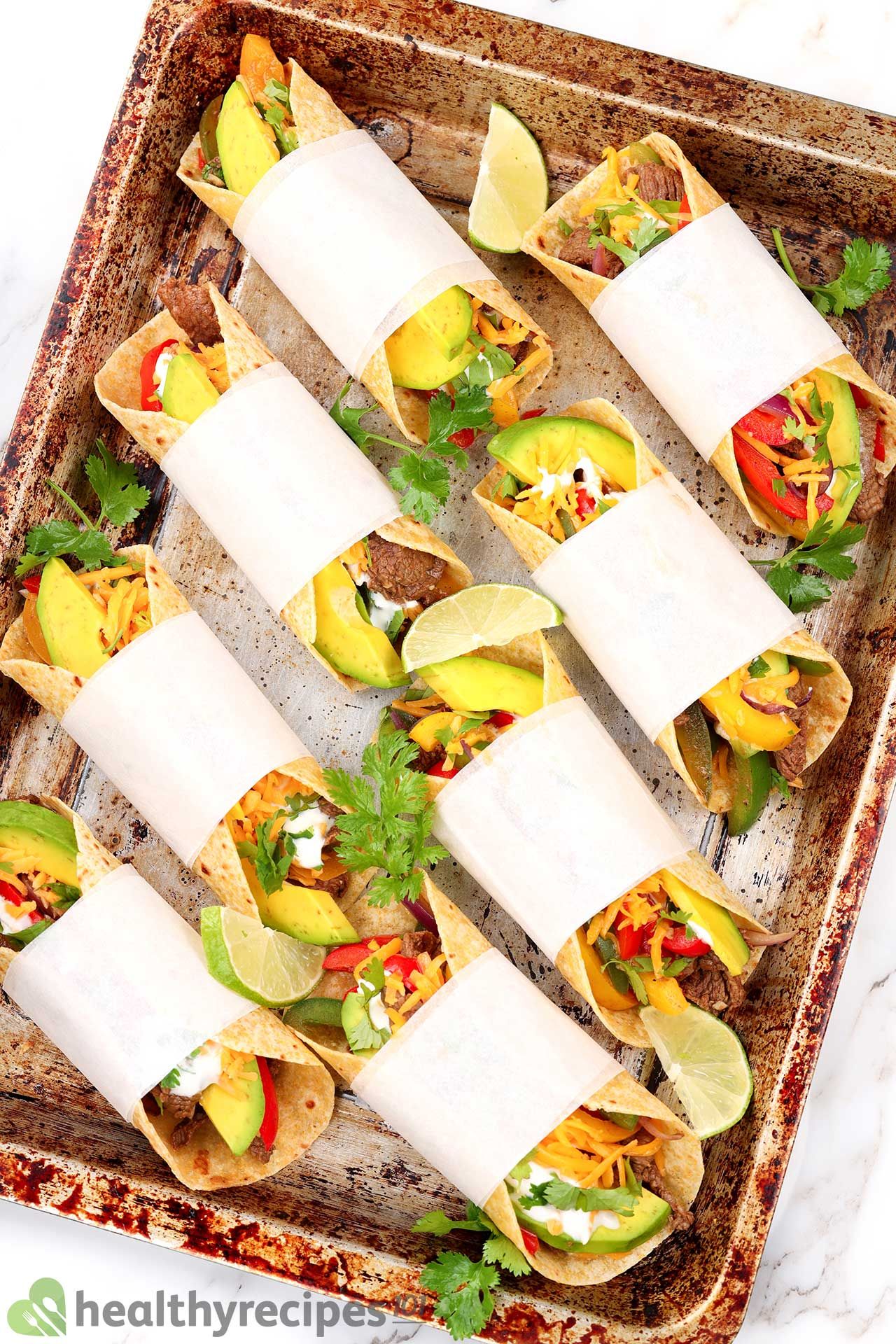 To take the meat flavor one step further, we used a little bit of mustard and Worcestershire sauce. Your beef will taste extra umami and have a depth of flavor we can't really explain in detail, but which you'll definitely notice.
Last, and of course not least, some salt and pepper will make the meat flavorful.
3. Vegetables for Beef Fajitas
Other recipes call for surprisingly small amounts of onions and bell peppers, but we felt like more was better. In fact, the meat-to-vegetable ratio of our recipe is almost 1:1.
We used all three kinds of bell peppers purely for the beautiful colors. They all come out equally tasty, so if you only have one color, it won't hurt anything.
These are not the only vegetables that go with the beef. We're making a salsa with lime juice, onions, tomatoes, jalapenos, and garlic to serve on the side. We'll outline that later.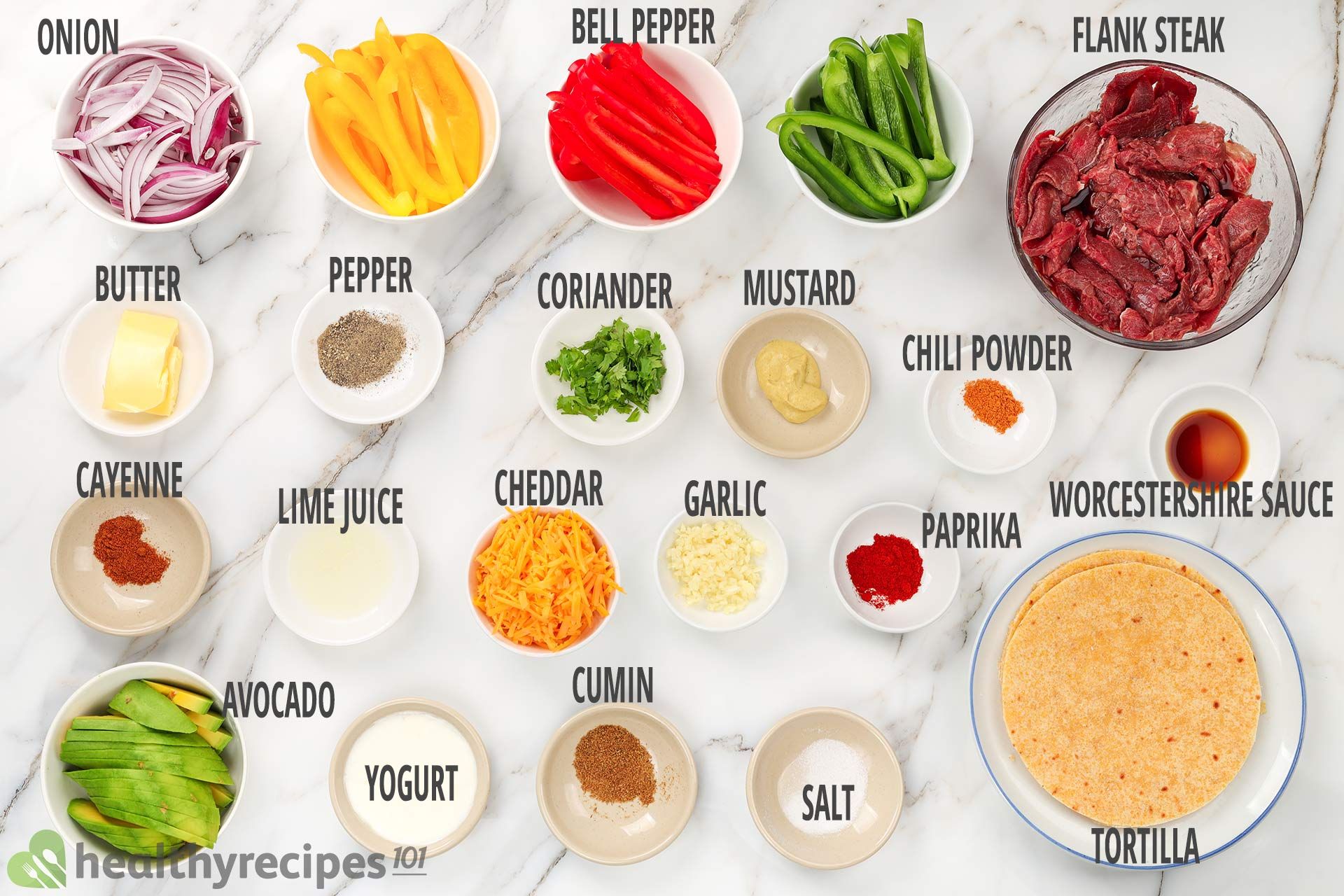 4. The Toppings
We have sliced avocados, shredded cheddar, roughly chopped coriander, and some greek yogurt. These are all classics.
If you're a big fan of jalapenos and lime juice, you can always add more of them. These ingredients make a difference in flavor but don't affect the nutritional value much.
How to Make Beef Fajitas
The recipe is really straightforward: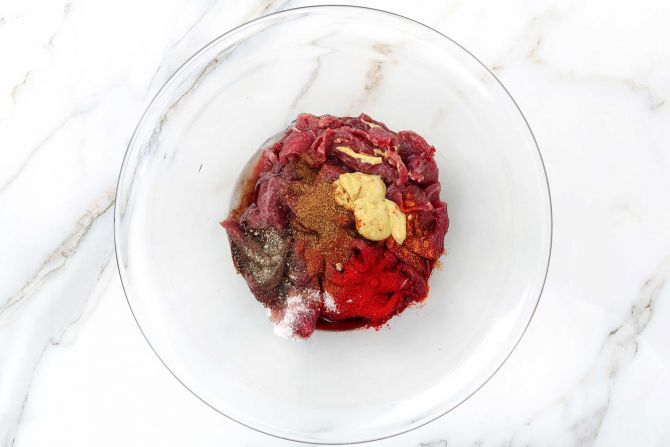 Marinate the beef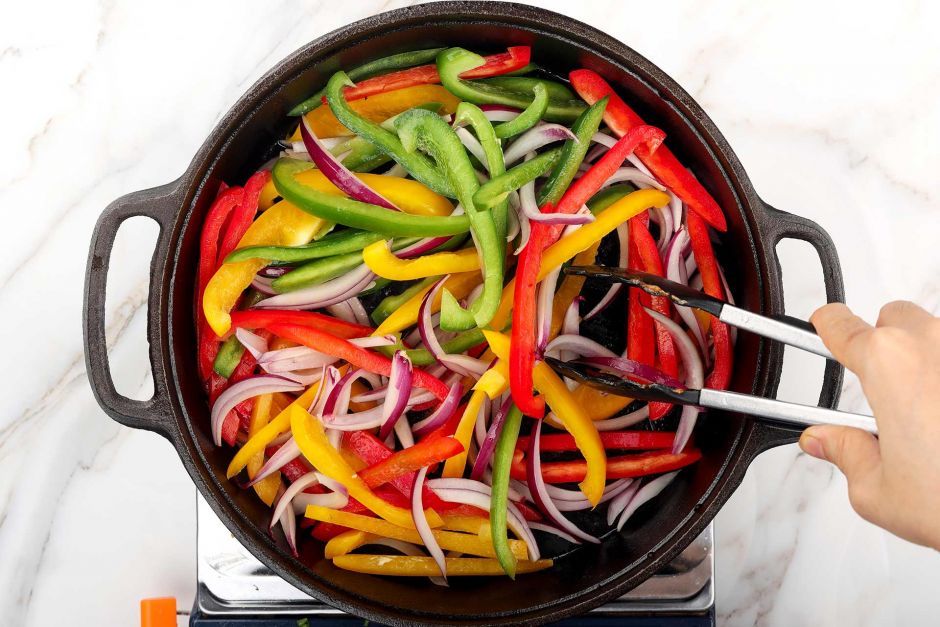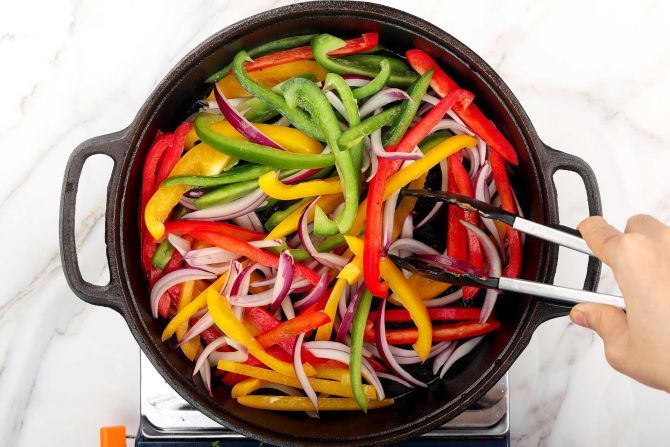 Cook the vegetables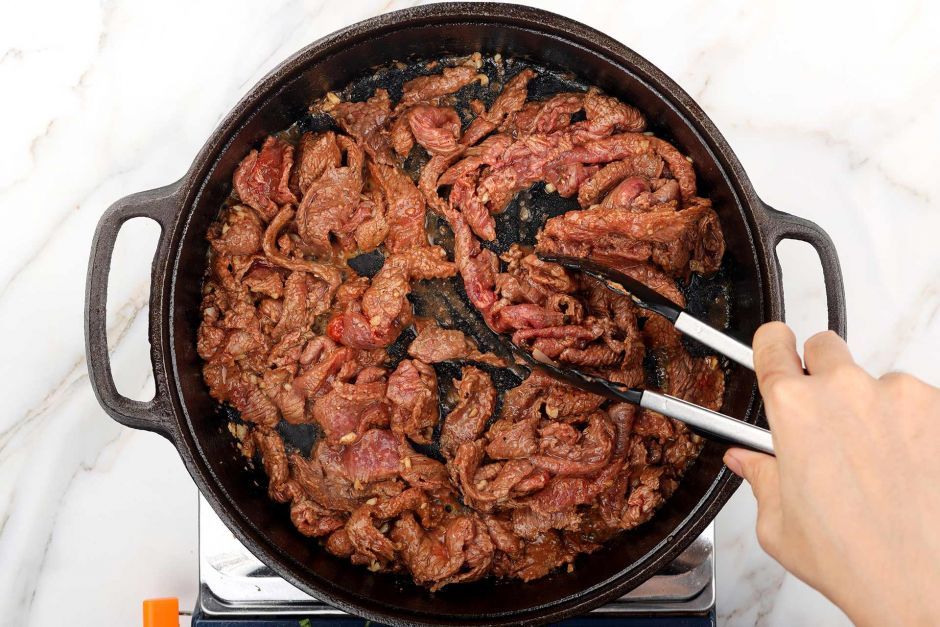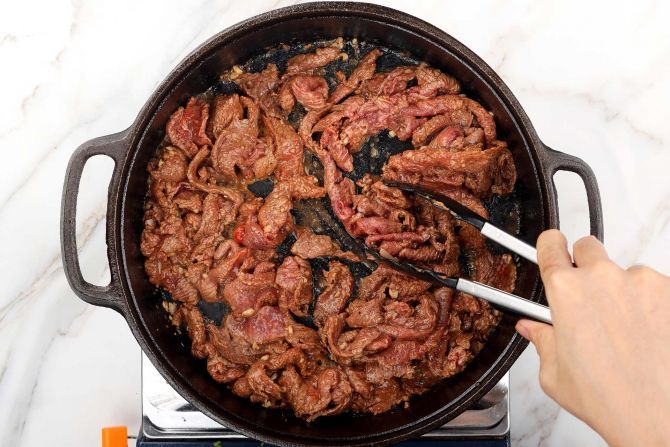 Cook the beef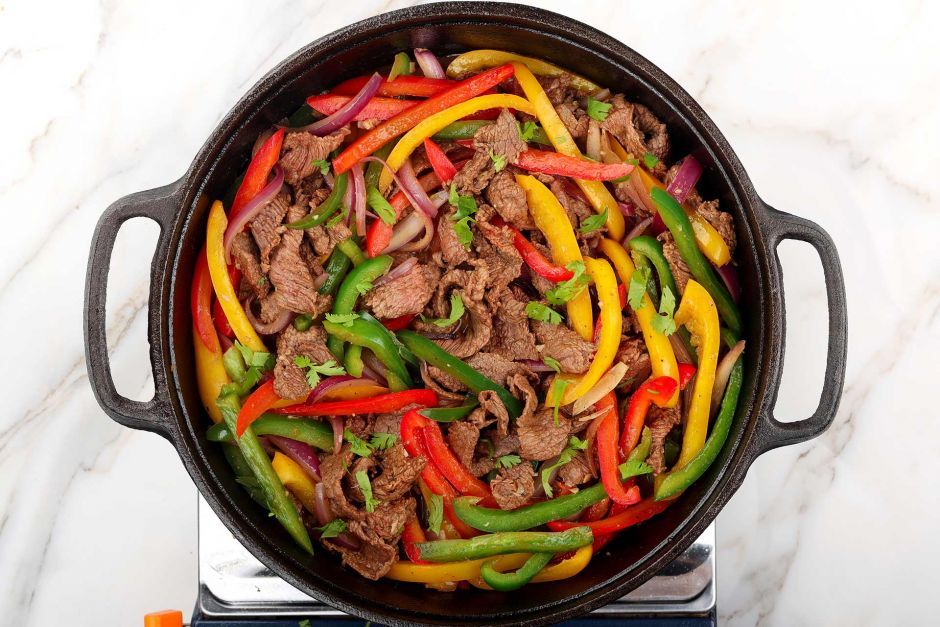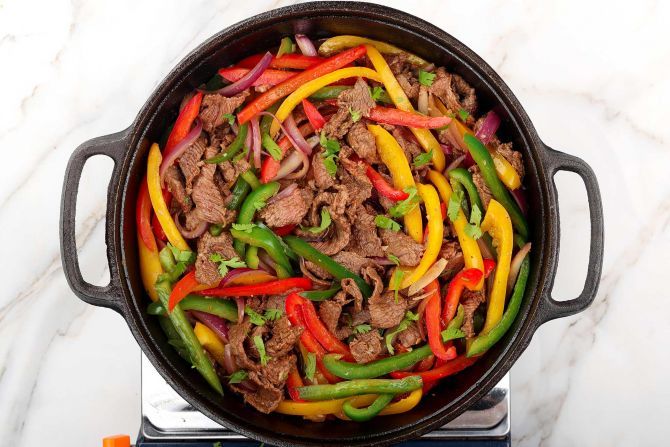 Sauté the two together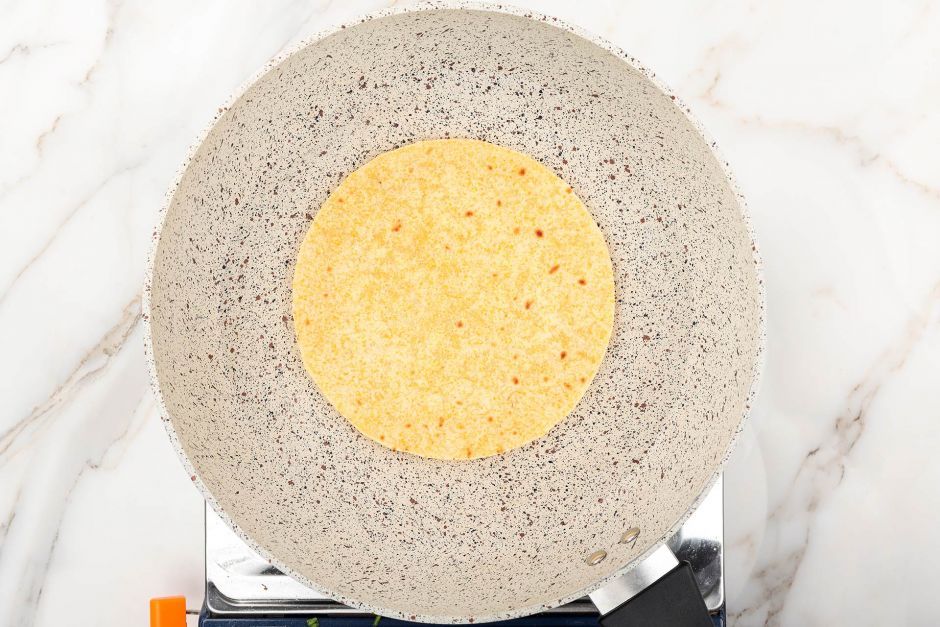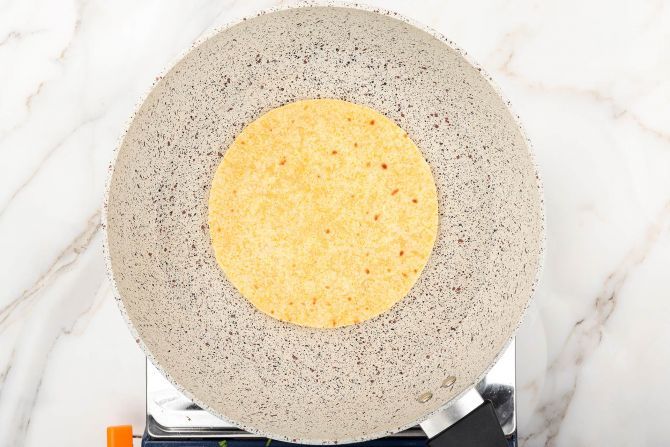 Toast the tortillas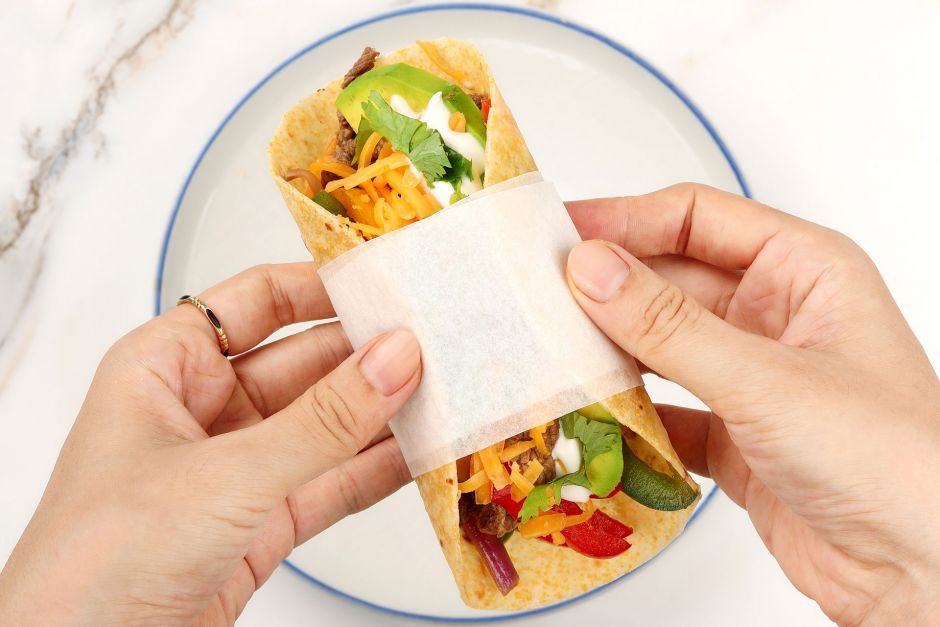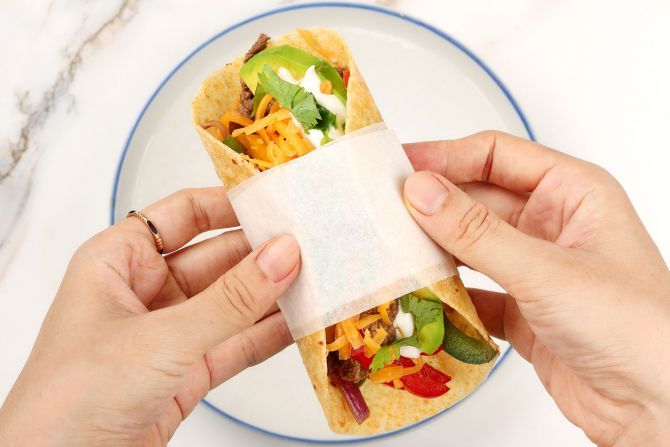 Assemble and serve
Measurements are listed in our beef fajitas recipe card at the end of this article.
Tips for Making and Serving Steak Fajitas
Since the beef takes a minimum of 10 minutes to marinate, you can use this time to prep the vegetables and cook them. You can also make the salsa and refrigerate it if there's still some time to spare.
Chances are good that you'll end up with a lot of meat juice, so pour it in a bowl and bring it to the table. Try drizzling it into your fajitas or smothering them in the juice. It's a delicious addition!
Finally, it's important to serve these rolls warm. Make sure that you do steps #4 and #5 right before serving.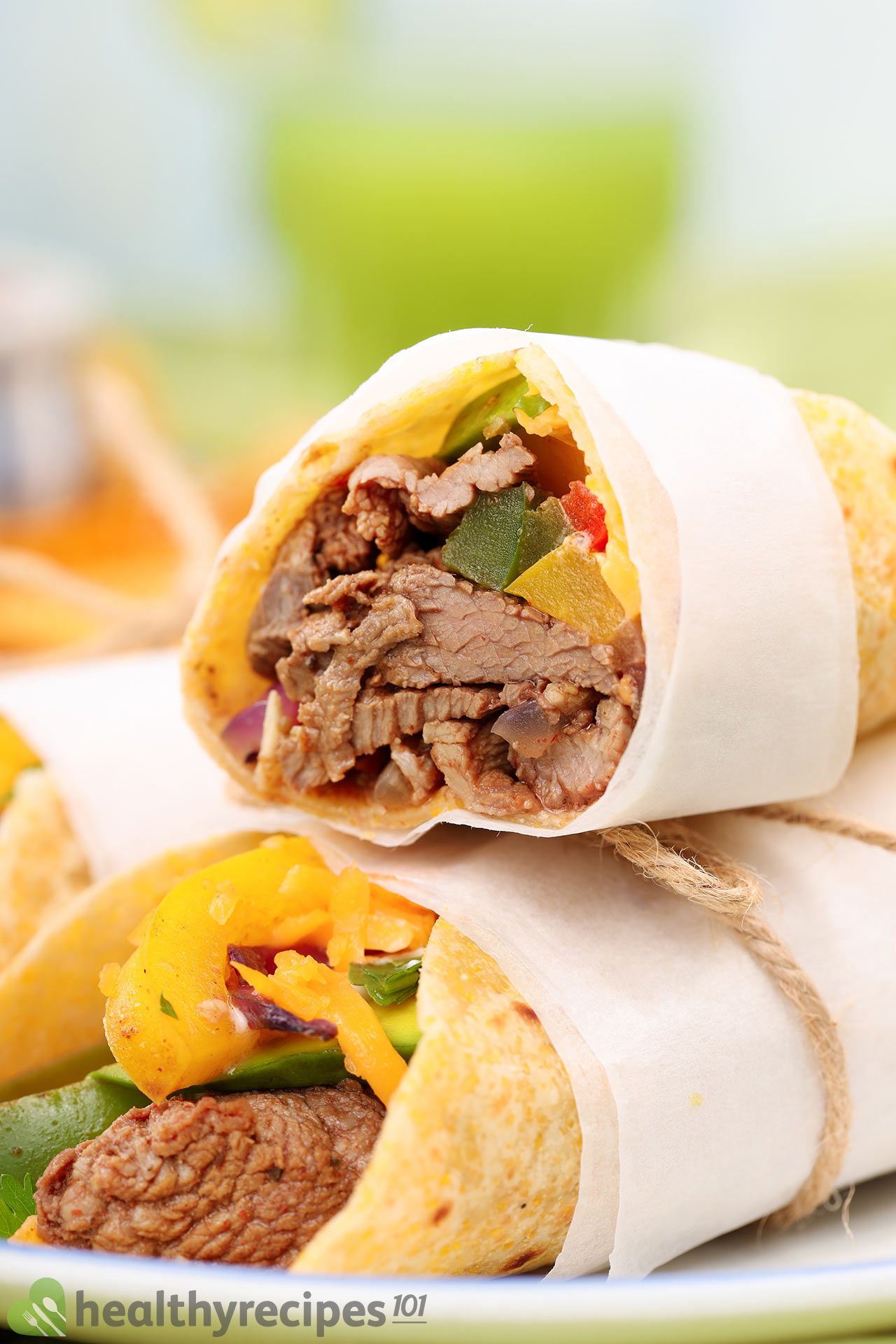 How to Store and Reheat Leftover Steak Fajitas
You can place the meat and vegetable mix in a container and refrigerate it. It only needs to be sautéd briefly to reheat everything.
You can do the same with the tortillas and the toppings. The toppings don't need to be reheated, but you will want to toast the tortillas in a pan until they're warm.
With the exception of the tortillas, these items won't last long, so they should be used up within 4-5 days.
What to Serve With Beef Fajitas
The salsa we mentioned earlier is called Pico de gallo, having the ideal freshness and tanginess to complement the beef rolls. It's easy to make: you can chop the vegetables up and toss with lime juice, or blend everything together in a food processor.
Since we have many strong flavors going on, we rounded the meal off with a refreshing drink. We chose cucumber and lemon juice — one of our favorites.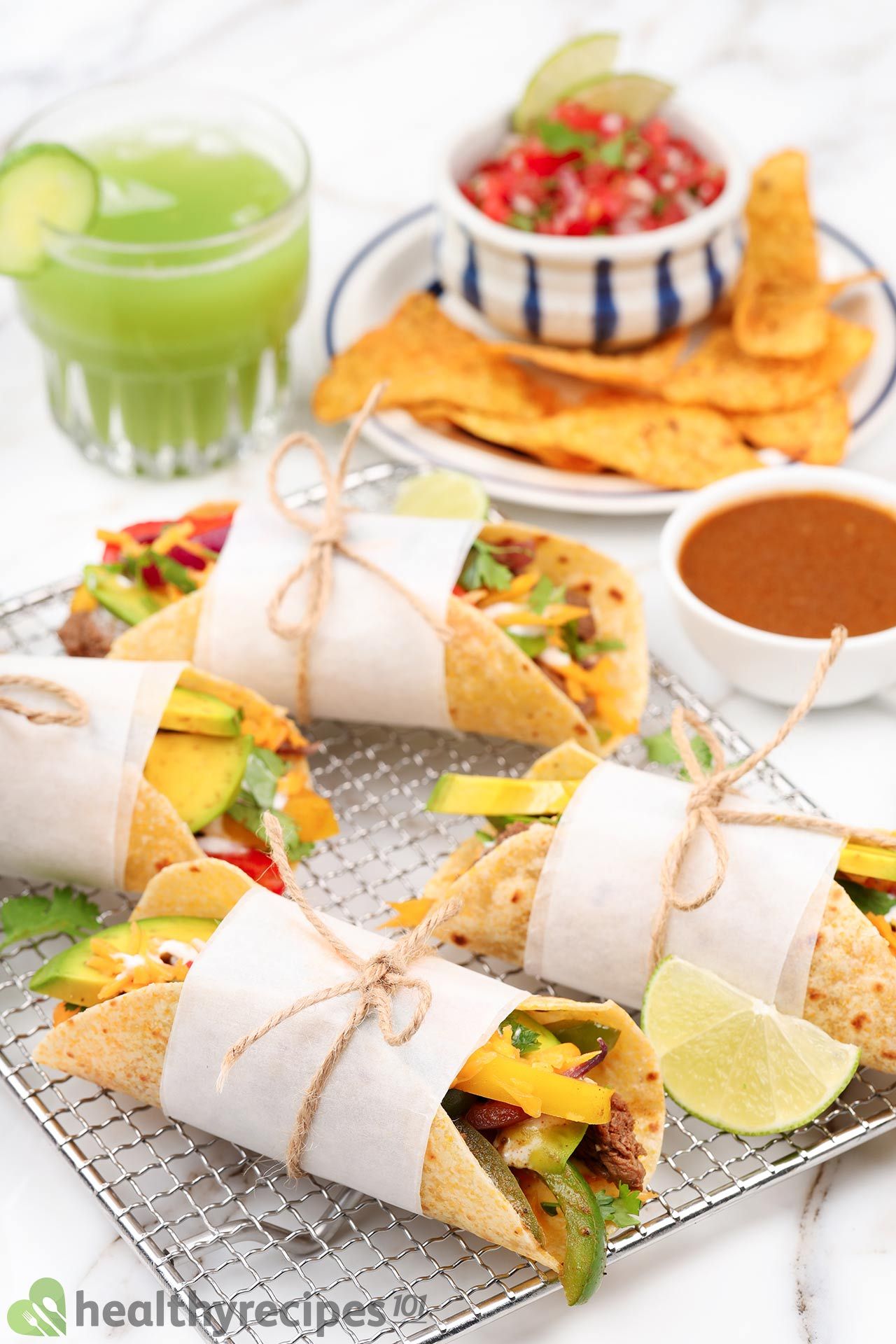 Nutritional values in this table vary somewhat to those below due to different app calculations. Read more...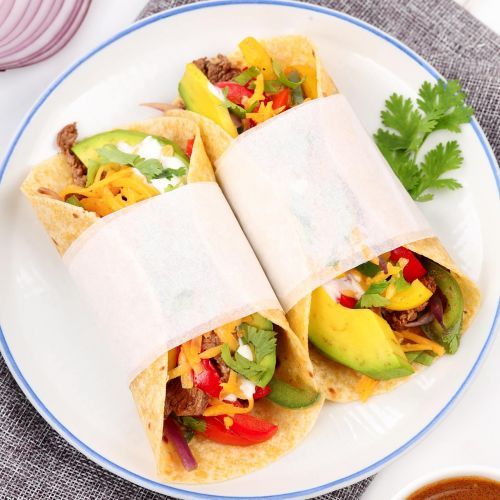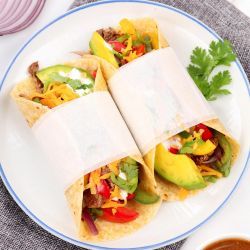 Beef Fajitas Recipe
This quick beef fajitas recipe makes an easy, delicious meal, even for busy weeknights. It's a comfort food to enjoy whenever you feel the need.
Ingredients
15

oz

flank steak

sliced

1

tbsp

lime juice

1

tsp

paprika

1

tsp

Worcestershire sauce

1/2

tsp

ground cumin

1/2

tsp

cayenne

1/2

tsp

salt

1/4

tsp

ground black pepper

1/4

tsp

chili powder

1 1/2

tbsp

unsalted butter

divided

4

oz

yellow bell pepper

sliced

4

oz

red bell pepper

sliced

4

oz

green bell pepper

sliced

4

oz

red onions

sliced

2

tbsp

garlic

minced

6

oz

avocado

sliced

2

oz

cheddar cheese

shredded

2

tbsp

coriander

roughly chopped

3

tbsp

plain Greek yogurt
Instructions
In a large bowl, toss 15 oz sliced flank steak with 1 tbsp lime juice, 2 tsp Dijon, 1 tsp paprika, 1 tsp Worcestershire sauce, 1/2 tsp cumin, 1/2 tsp cayenne, 1/2 tsp salt, 1/4 tsp pepper, and 1/4 tsp chili powder. Allow the meat to marinate for 10 minutes.

Meanwhile, heat a non-stick pan over medium heat. Melt half of the 1 1/2 tbsp butter (eyeballing the measurement is good enough), and add 12 oz bell peppers of all colors along with 4 oz red onions. Cook for 3 minutes, then place into a bowl and set aside. Wait for the beef to finish marinating.

Melt the remaining butter and sauté 2 tbsp minced garlic for about 30 seconds. Add the marinated beef and stir to cook for about 3 minutes.

Add the cooked vegetables and sauté everything for another 3 minutes, then remove the pan from the heat.

Heat another non-stick pan over low heat and toast 8 oz tortillas, about 1 minute per side or until they're charred a little on the outside.

Assemble 8 rolls: place a hefty serving of meat and veggies in the middle of the tortillas and add the remaining toppings. Drizzle the meat juice on top and serve.
Nutrition
Nutrition Facts
Beef Fajitas Recipe
Amount Per Serving (1 serving)
Calories 494
Calories from Fat 216
% Daily Value*
Fat 24g37%
Cholesterol 91mg30%
Sodium 550mg24%
Potassium 868mg25%
Carbohydrates 41g14%
Protein 32g64%
Vitamin A 1473IU29%
Vitamin C 120mg145%
Calcium 170mg17%
Iron 3mg17%
* Percent Daily Values are based on a 2000 calorie diet.