This jelly-free cocktail meatball recipe turns out your favorite treat with simple, familiar ingredients. The meatballs are made from scratch to achieve the best texture, then seared and glazed in a tomatoey sauce that bursts with flavor.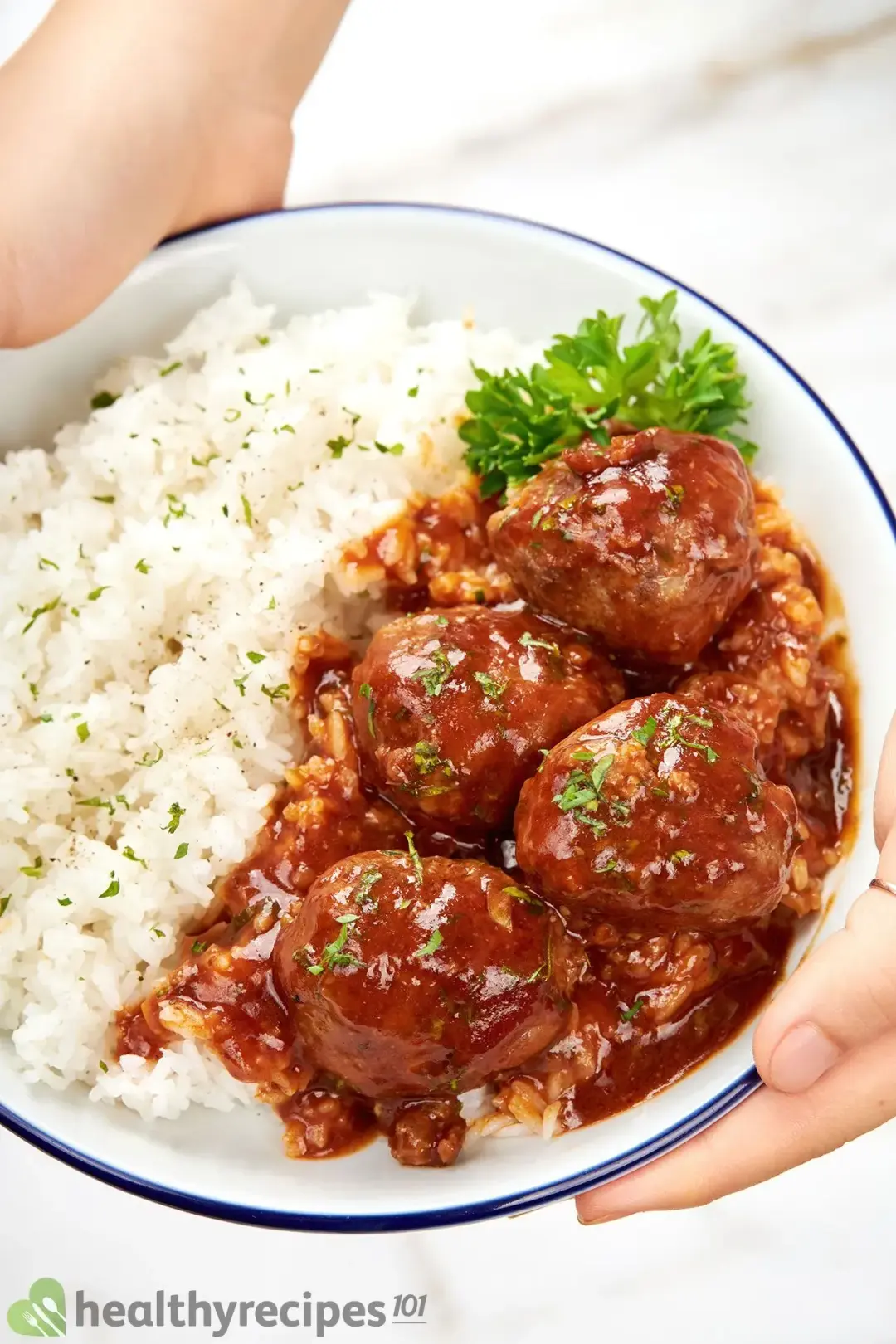 Even better, you can serve them either as a fun treat or a satisfying meal just by tweaking the portioning a little. This article will show you both ways. In our experience, these saucy meatballs make great rice killers.
Are Cocktail Meatballs Healthy?
Yes, cocktail meatballs are healthy when served correctly and in modestly sized portions.
First of all, each of these meatballs contains 26.6 g of protein — about 26-57% of what you need every day. There's a range because everyone's needs are different, but 26.6 g is a good amount for any meal.
If you serve them with 3/4 cup cooked rice, each serving of this recipe yields 503 calories, 6.7 g saturated fat, and 568.4 mg sodium. These numbers translate to less than 1/3 of the daily recommendations, making for a wholesome dinner or lunch.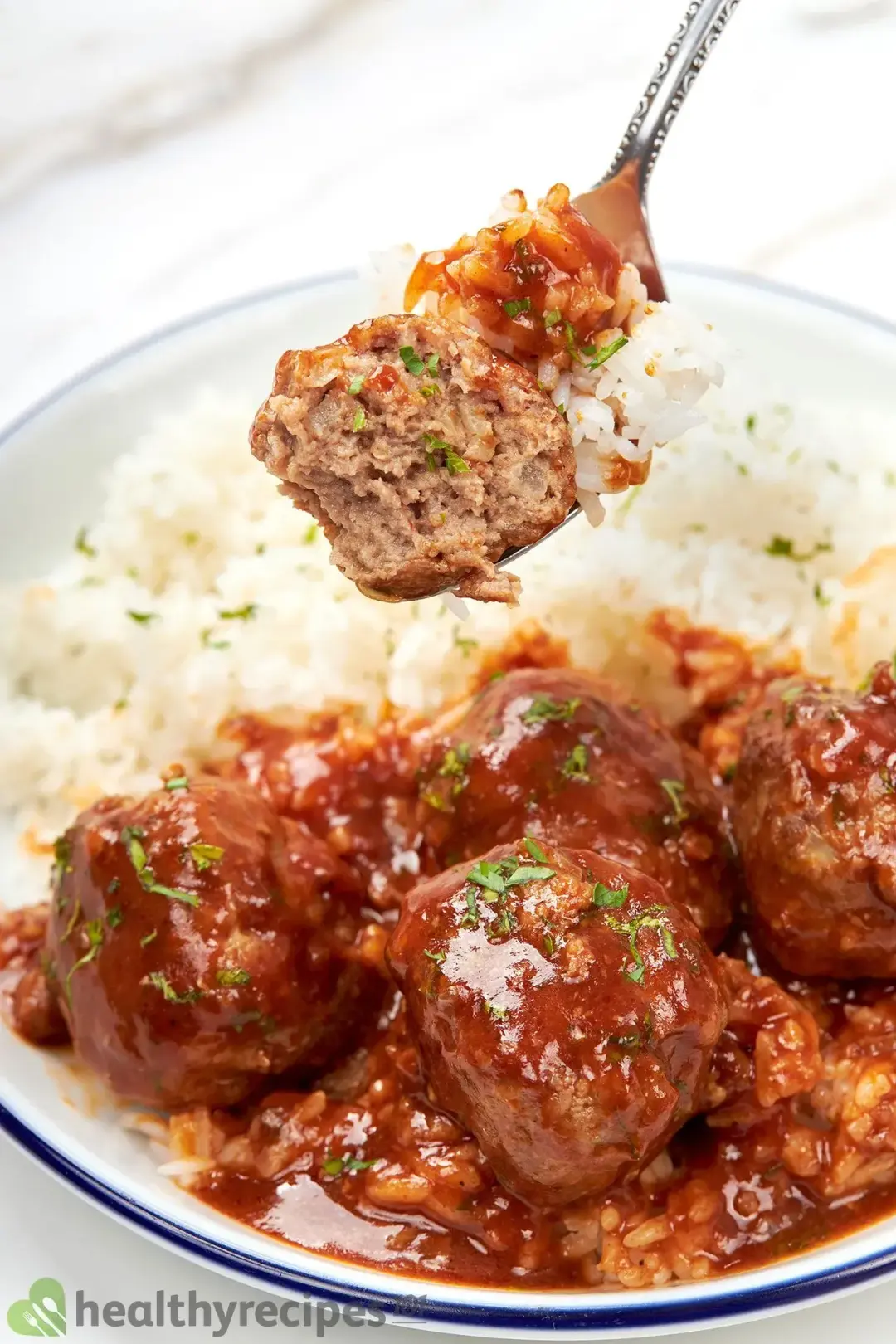 If you intend to munch on these meatballs as a snack, skip the rice. Instead of 4 servings of 4 meatballs each, use the same ingredient breakdown to make 20 smaller meatballs. It'll translate into 10 servings of 2 meatballs each.
This way, each serving will contain only 128 calories — an appropriate count for a snack.
Ingredients for Cocktail Meatballs
Tasty meatballs are more than just meat: they're a mixture of pork, beef, eggs, and breadcrumbs so they are light and soft when you bite into them. Fold in some chopped onions and minced garlic and you'll find them both tastier and healthier, with juicy, sweet morsels inside.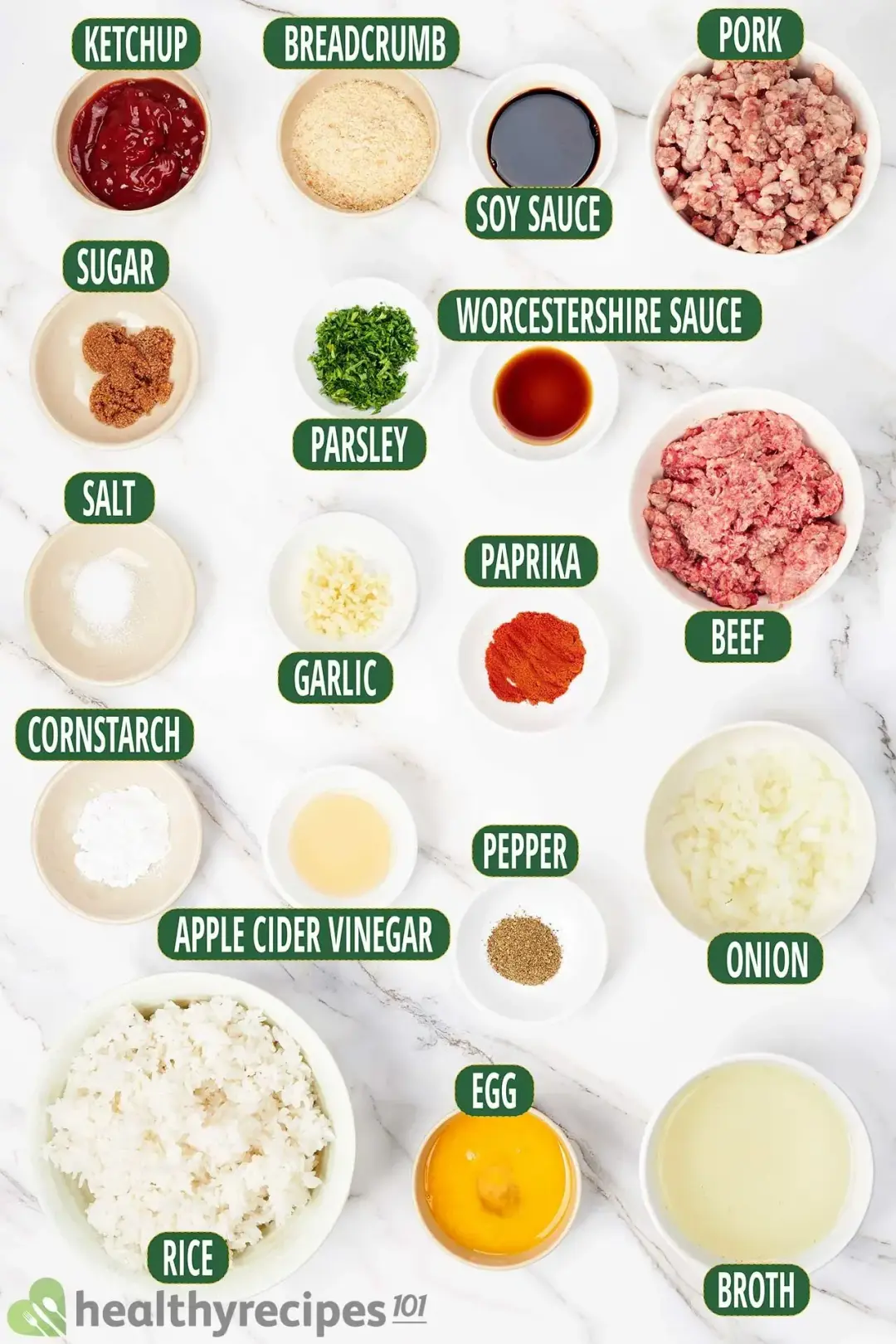 Sauce for Cocktail Meatballs
Besides some salt and pepper, we did not add any seasoning to the meatballs because all of the flavors lie in the sauce.
First, you need ketchup as a base for the sauce. Enhance the tartness with some vinegar, and balance everything with healthy amounts of sugar and soy sauce.
To this base, add some Worcestershire sauce to pump up the savoriness and some paprika for a slight kick. Finally, stir in a cornstarch slurry so the sauce will stick to the meatballs.
We make the cornstarch slurry with chicken broth. Water also works, but a good chicken broth will add extra flavor to the sauce.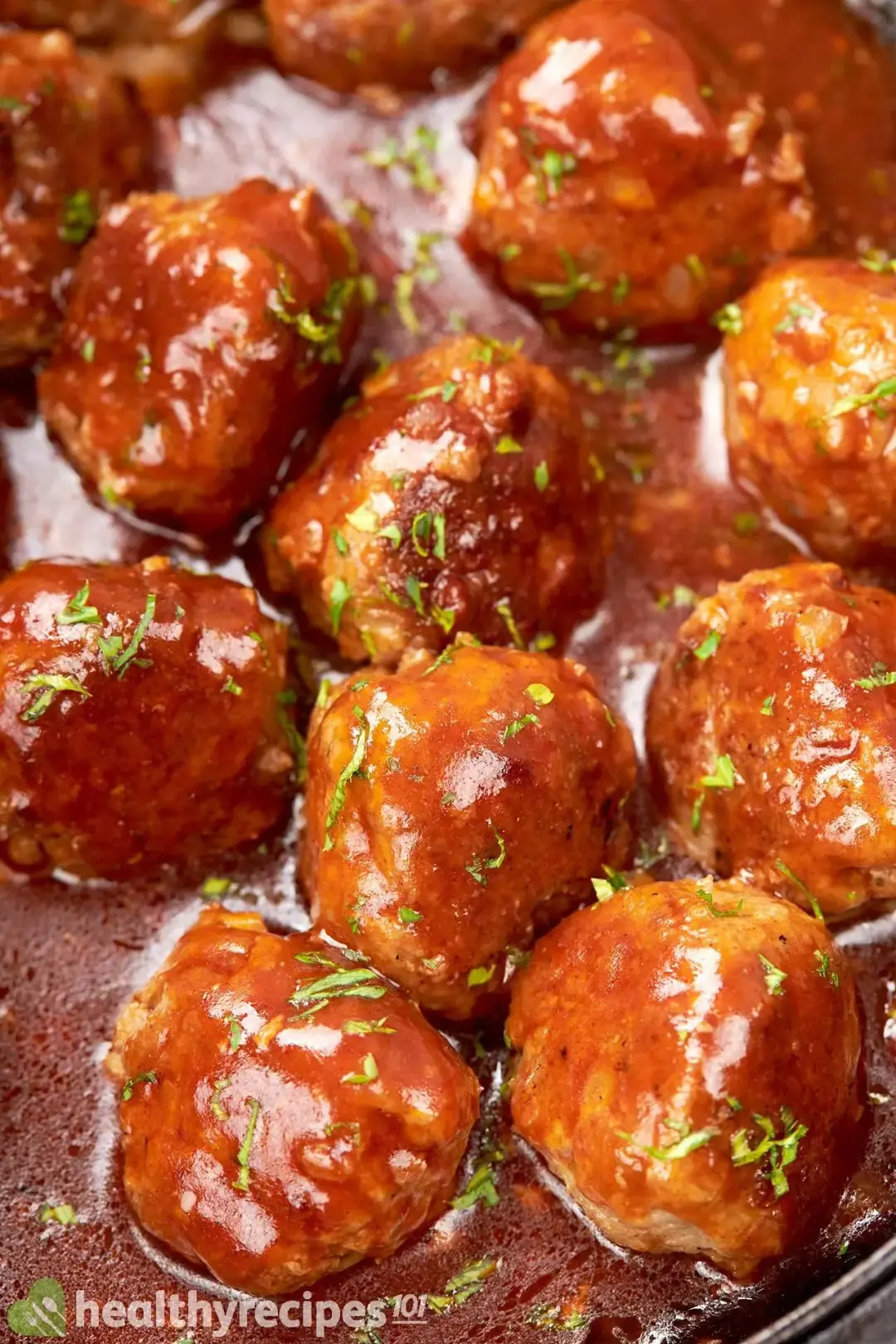 How to Make Cocktail Meatballs
Once you've gathered the ingredients: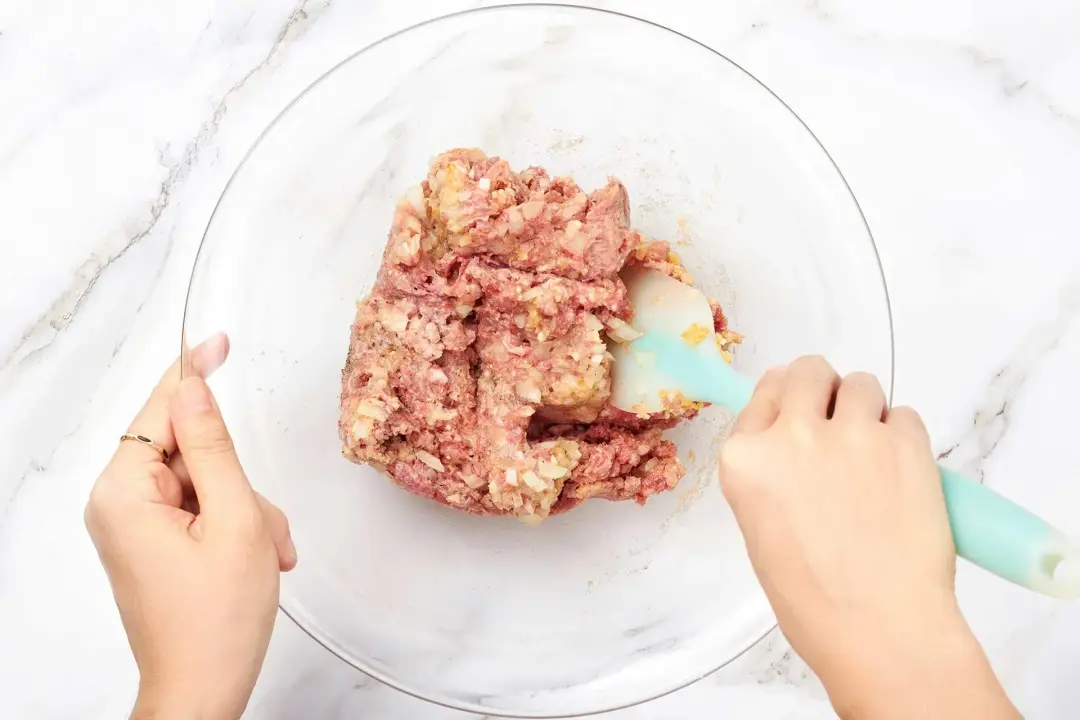 Make the meat mixture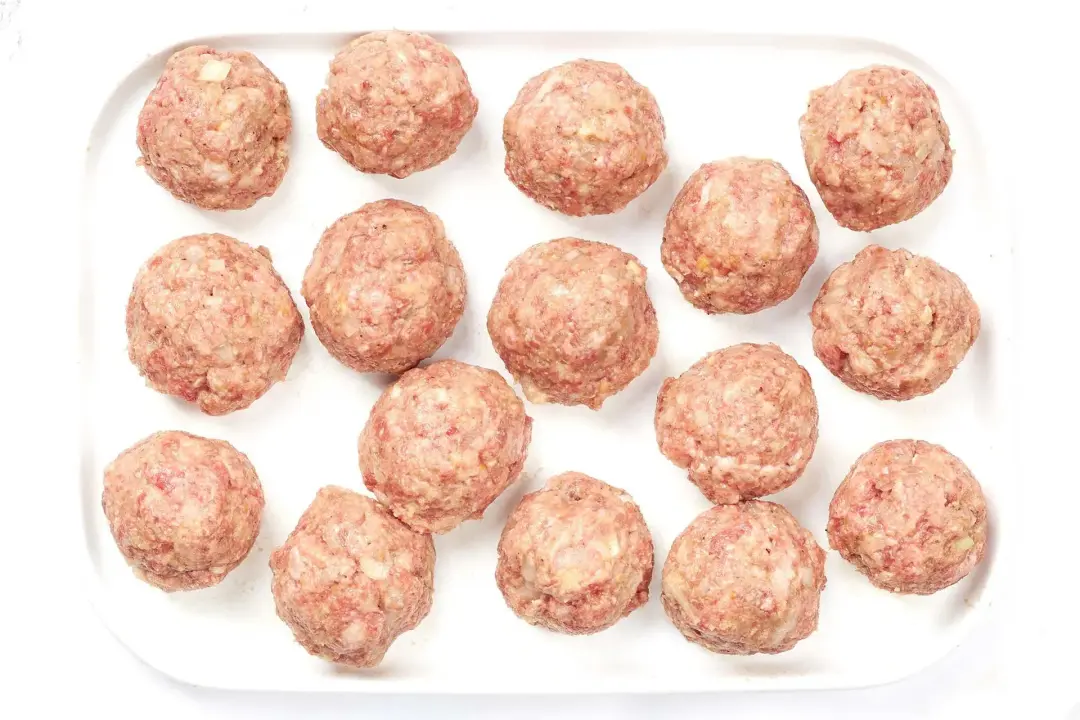 Form 16 balls (or 20 to make an appetizer/snack)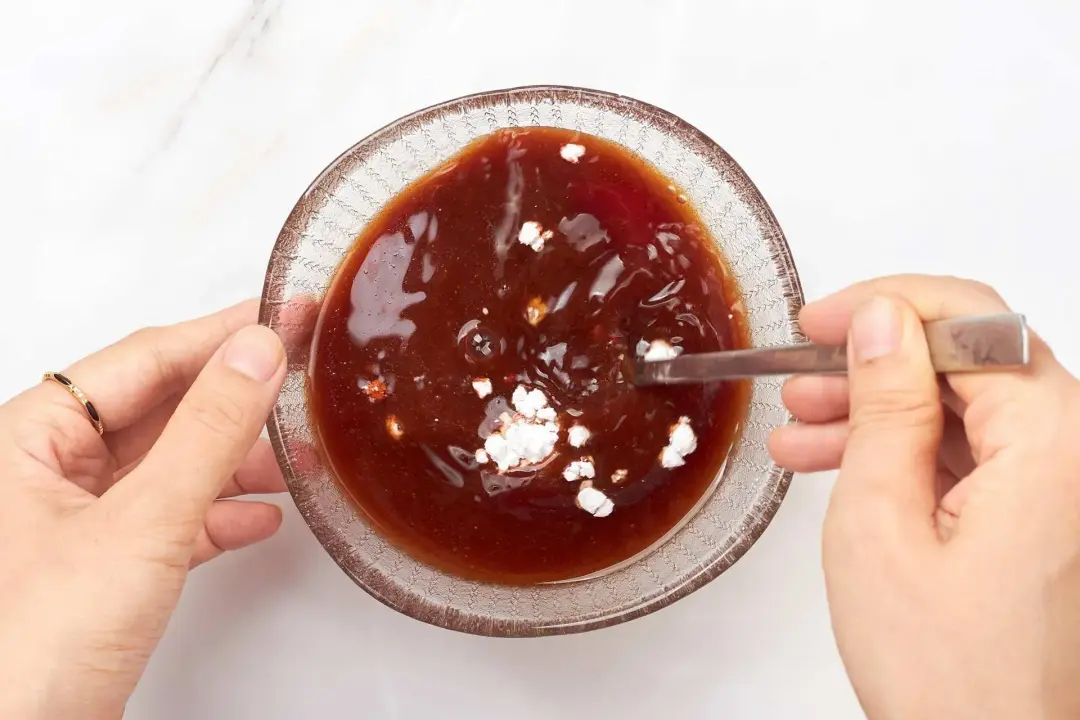 Combine the sauce ingredients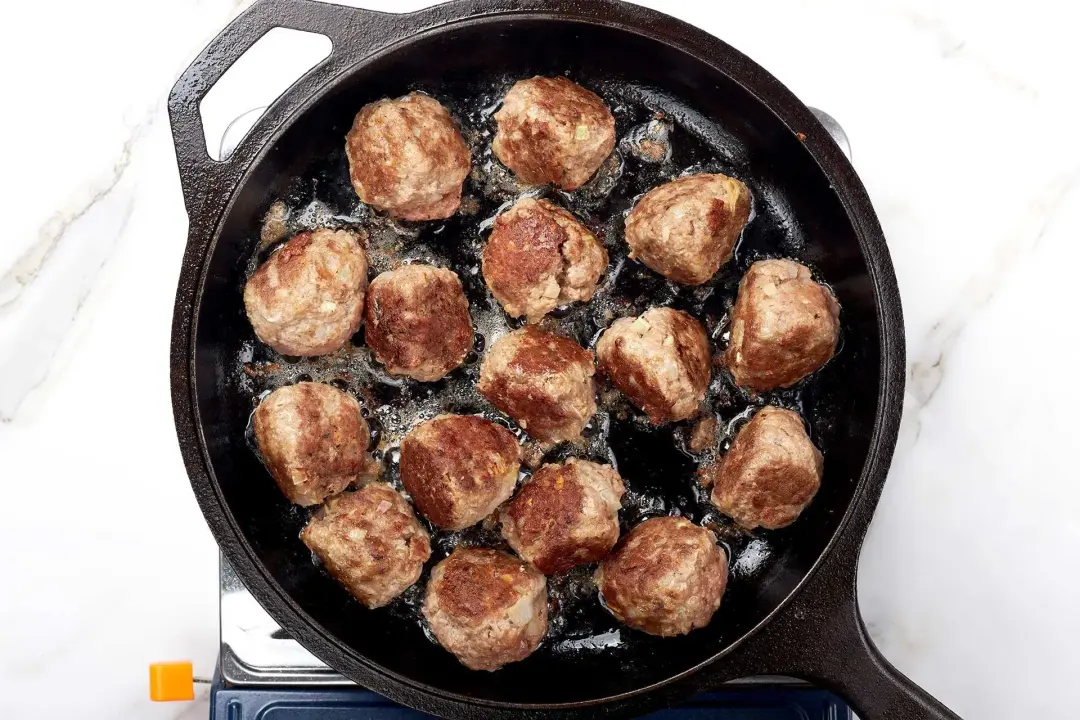 Sear the meatballs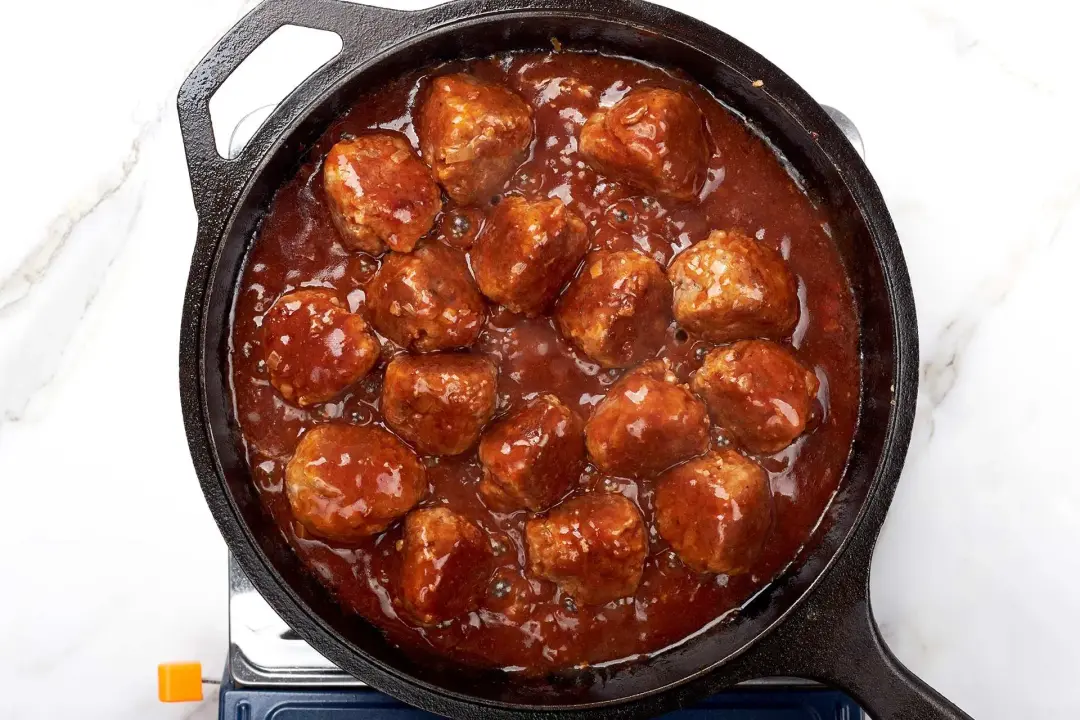 Add the sauce and reduce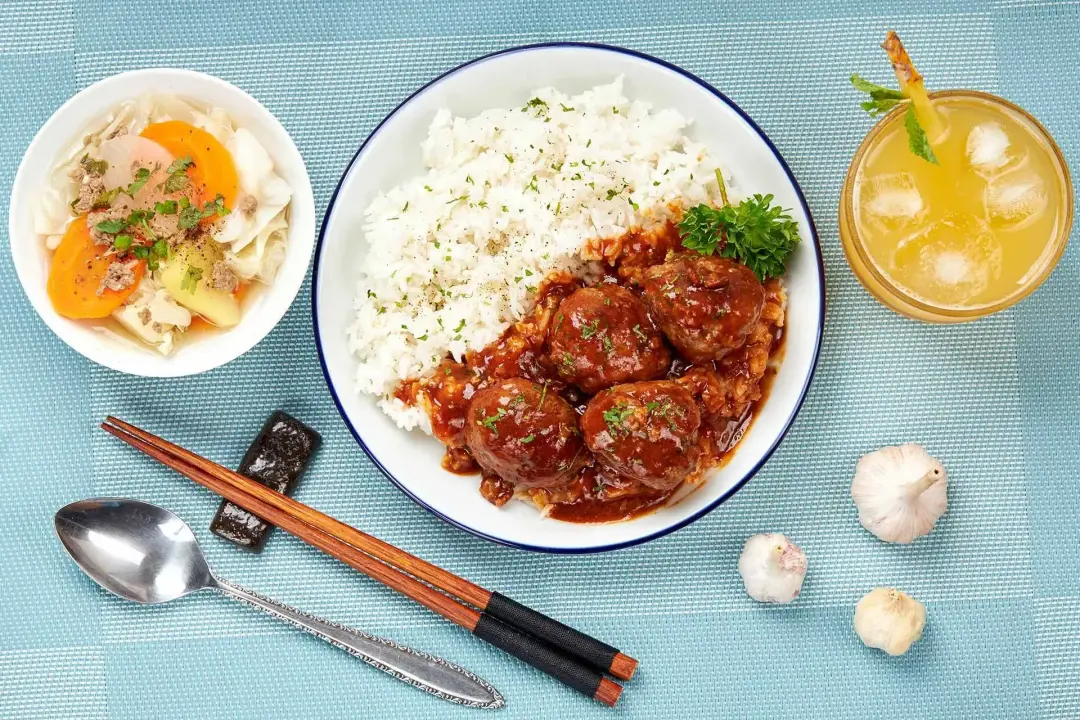 Serve
For more details and exact ingredient measurements, check out the cocktail meatball recipe at the bottom of this page.
Tips for Making Perfect Meatballs
Does the meat mixture feel too sticky? Wet your hands in advance to solve that problem.
If you have some extra time, place all the meat mixture ingredients into a food processor and blend. Gradually add 2-3 tbsp of ice-cold water in with the meat, and scrape the sides once in a while if necessary.
When you see that the mixture has become fluffy, pink, and uniform with no visible meat chunks, it's ready. The meatballs will turn out slightly bouncy and chewy.
This method works best when the meat mixture remains cold during the process, hence the requirement of ice-cold water. Otherwise, the fat will separate from the meat mixture. We want to prevent that so the balls can turn out juicy.
Without a scale, making 20 even meatballs is trickier than making just 16 and requires a proper method. Divide the mixture into 4 equal parts first, then cut each part into 5 and adjust their sizes as you go along.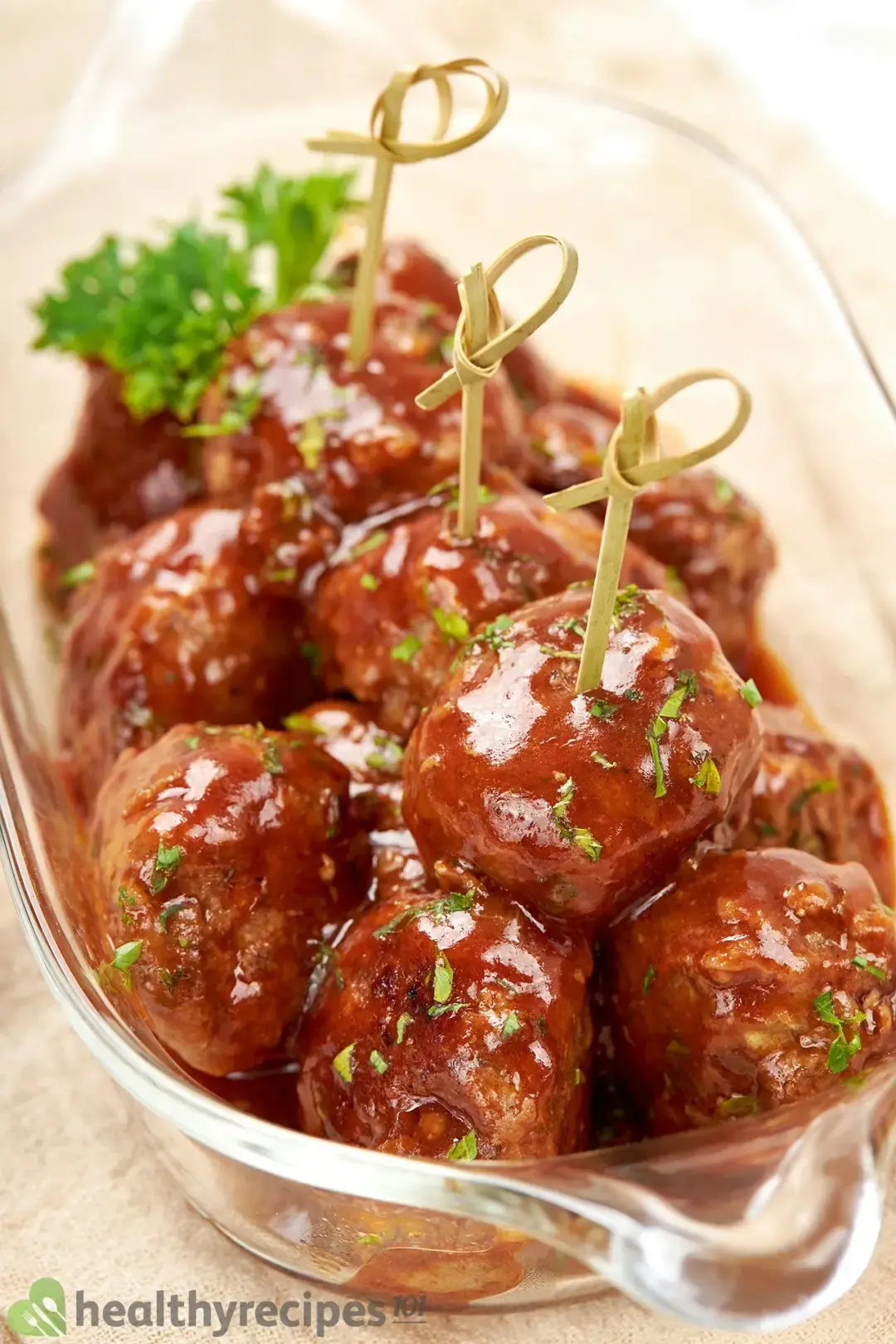 What to Do With Leftover Meatballs
Not a fan of rice? You can do a lot with these meatballs.
Place them into a baguette or a 'banh mi' with sliced veggies of your choice to make a delicious sandwich for tomorrow's lunch. It's quick and super convenient for when your schedule is tight.
The meatballs also go well with spaghetti, making for an alternative to the standard spaghetti-and-meatballs recipe. It won't taste Italian, but it works.
How to Store and Reheat Meatballs
Place the leftovers into a bowl or container that you can seal tightly, and store it in the freezer or fridge. Cooked meat typically lasts for 5 days in the fridge and up to 3 months in the freezer.
To reheat, place refrigerated meatballs into a saucepan with 1-2 tbsp water. They'll need to simmer for about 7 minutes.
Defrosting them, on the other hand, can be tricky without a microwave. We'd suggest slicing them in half so their centers are exposed — it'll help them reheat more evenly.
With a microwave, simply nuke them for 2-3 minutes on defrost mode and they'll be ready.
What to Serve With Meatballs
These meatballs needed something to mellow their intense flavors, and after a quick look through the archives, we settled on our cabbage potato soup. Take a sip in between spoonfuls of rice and saucy meat to enjoy the dish with a fresh palate.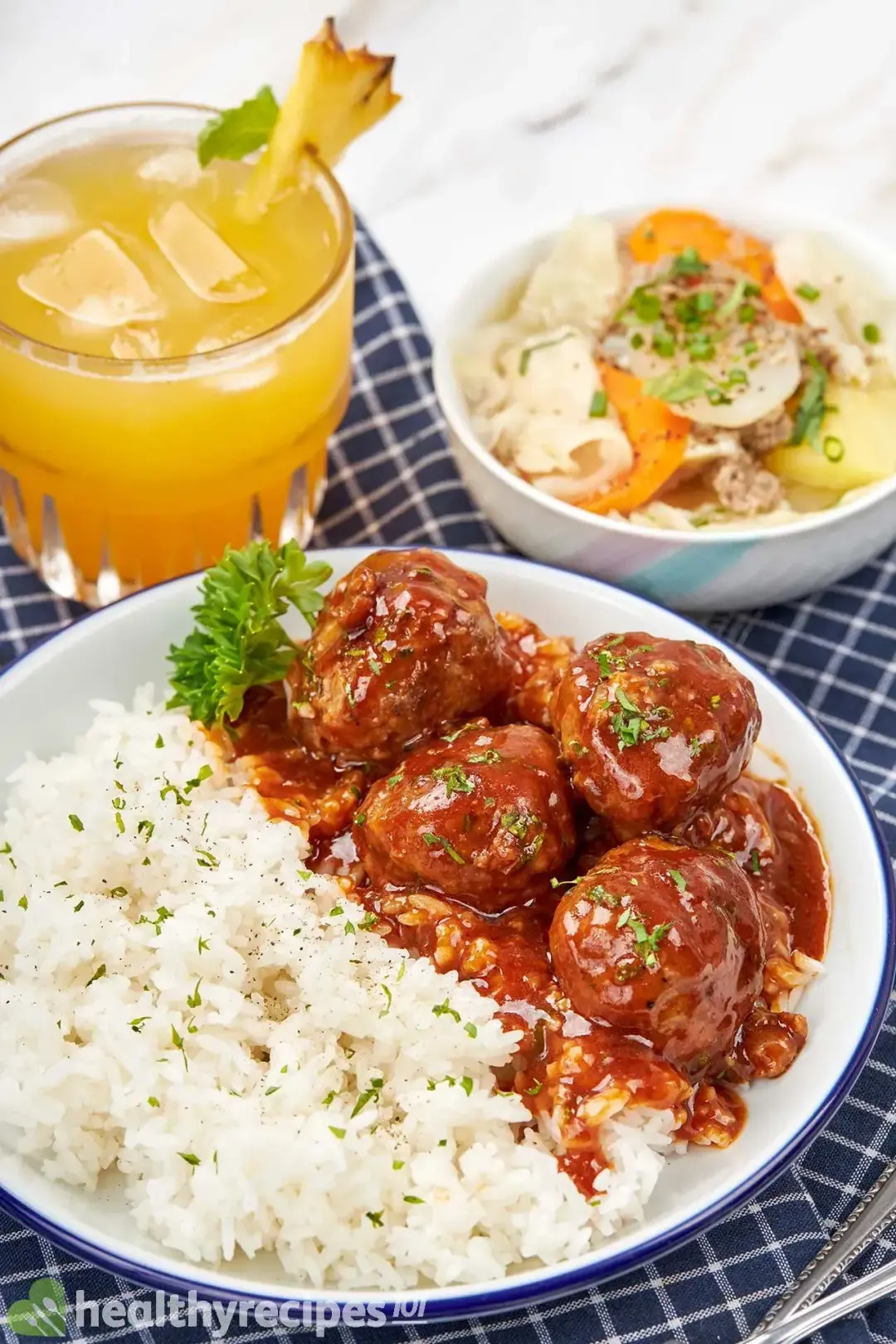 Once the two are finished, complete the meal with some orange pineapple juice. It's tangy and sweet, making for a delicious health boost.
Cocktail Meatballs Recipe
Our cocktail meatballs recipe can make a delicious snack or meal. Form 20 balls instead of 16 if you want a multi-purpose snack.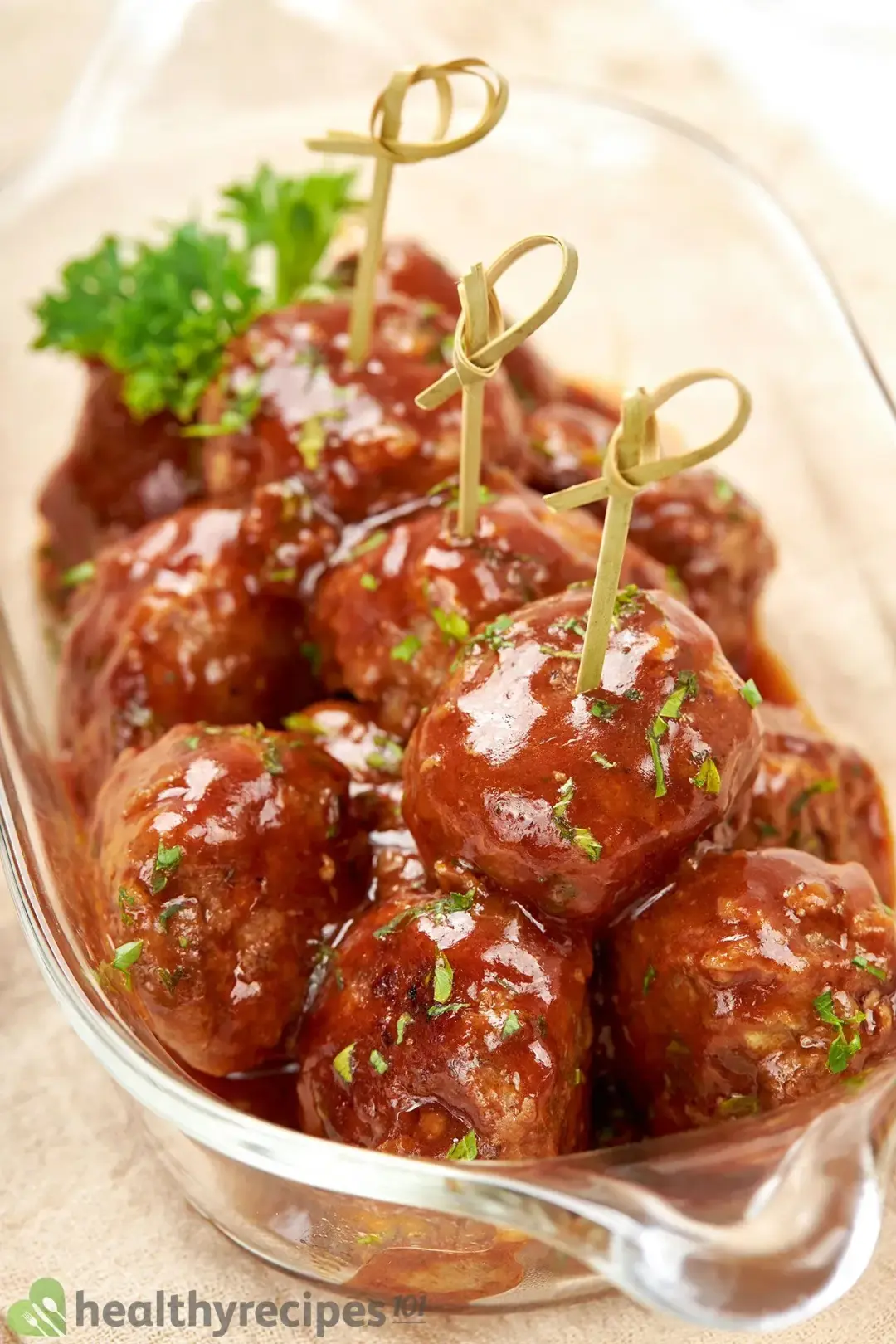 cook TIME

25 mins

prep TIME

5 mins

total TIME

30 mins
COURSE

Main Course

CUISINE

American

SERVINGS

servings

CALORIES

503 kcal
INGREDIENTS
8 oz

85% lean ground pork

8 oz

85% lean ground beef

1

medium egg

0.3 cup

plain Panko breadcrumbs

2 oz

onions (diced)

1 tbsp

garlic (minced)

0.5 tsp

ground black pepper

0.3 tsp

salt

4 tbsp

Heinz ketchup

1 tbsp

apple cider vinegar

1 tbsp

reduced-sodium soy sauce

2 tsp

brown sugar

1 tsp

Worcestershire sauce

1 tsp

paprika

0.5 cup

unsalted chicken broth

1 tbsp

cornstarch

2 tbsp

parsley (chopped)

3 cups

cooked medium-grain rice
INSTRUCTIONS
1
In a bowl, combine 85% lean ground pork and beef (8 oz each) with 1 medium egg, 1/4 cup breadcrumbs, 2 oz diced onions, 1 tbsp minced garlic, 1/2 tsp pepper, and 1/4 tsp salt.
2
Divide the mixture into 16 parts and roll them into balls (wet your hands to prevent sticking).
3
In another bowl, stir together 4 tbsp ketchup, 1 tbsp apple cider vinegar, 1 tbsp soy sauce, 2 tsp brown sugar, 1 tsp paprika, and 1 tsp Worcestershire sauce. Dilute it with 1/2 cup chicken broth, and stir in 1 tbsp cornstarch so it thickens when cooked.
4
Heat a non-stick skillet over low heat. Once it's hot enough to sizzle when you sprinkle water on it, sear the meatballs for 10 minutes (5 for each side).
5
Stir the sauce (the cornstarch will have settled to the bottom) and add it to the skillet to cook for about 3 minutes. Scrape the bottom to release the flavorful bits. Flip the meatballs so each side gets coated in the sauce.
6
Sprinkle 2 tbsp parsley on top and serve with 3 cups of cooked rice.
NUTRITION
Nutrition Facts
Cocktail Meatballs Recipe
Amount Per Serving (1 serving)
Calories 503
Calories from FDA
% Daily Value*
* Percent Daily Values are based on a 2000 calorie diet.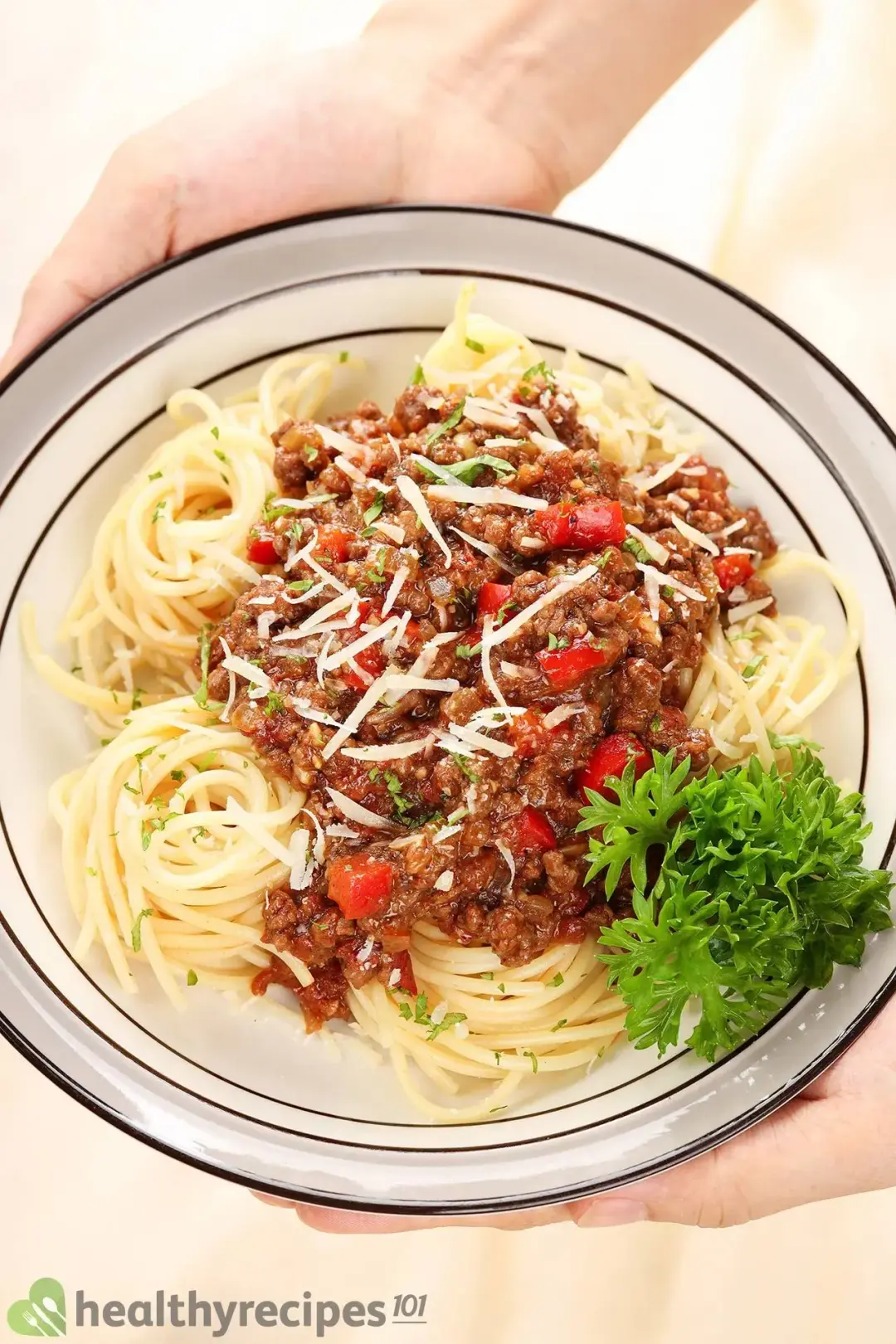 Previous Recipe
Spaghetti Bolognese
Spaghetti Bolognese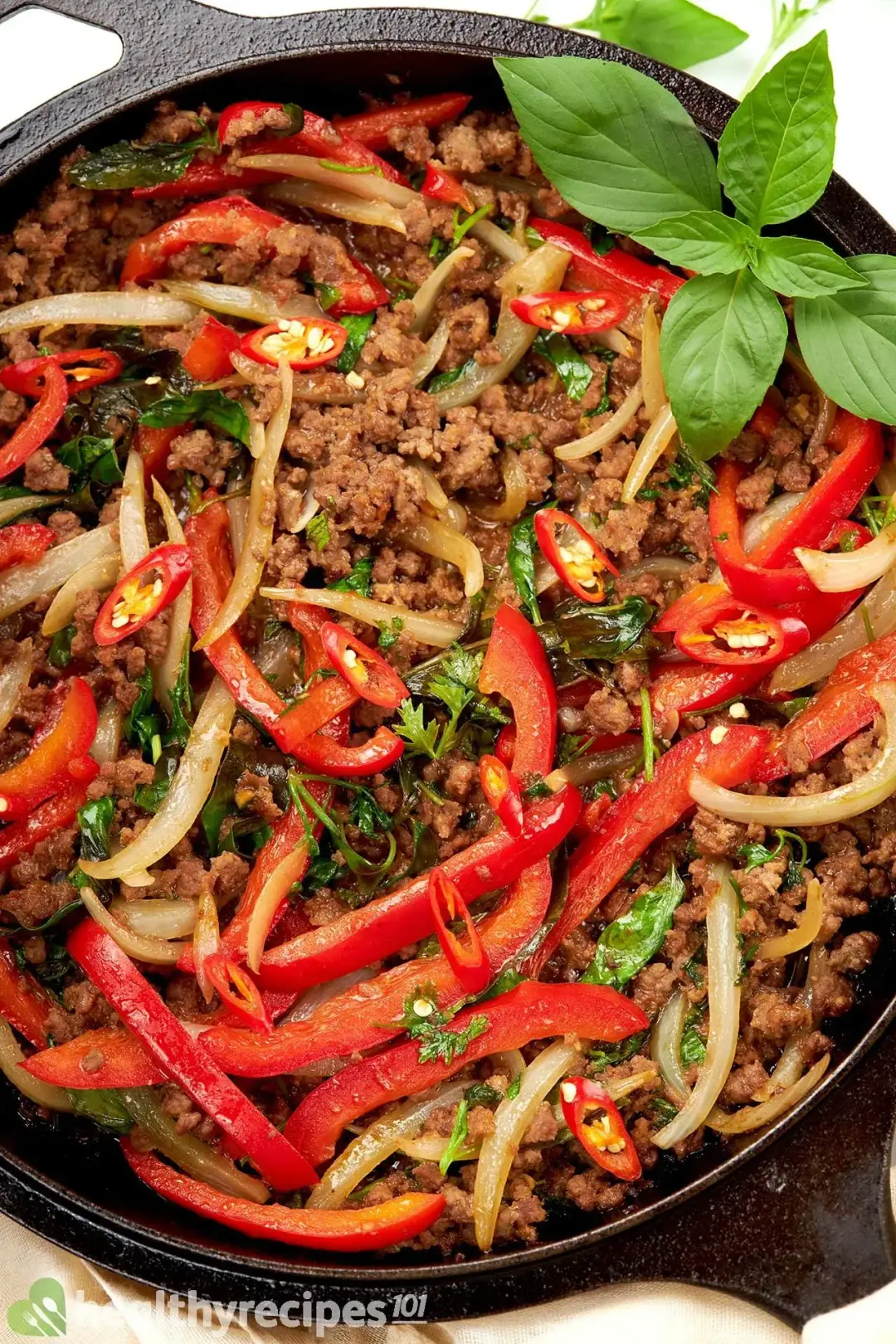 Next Recipe
Thai Basil Beef
Thai Basil Beef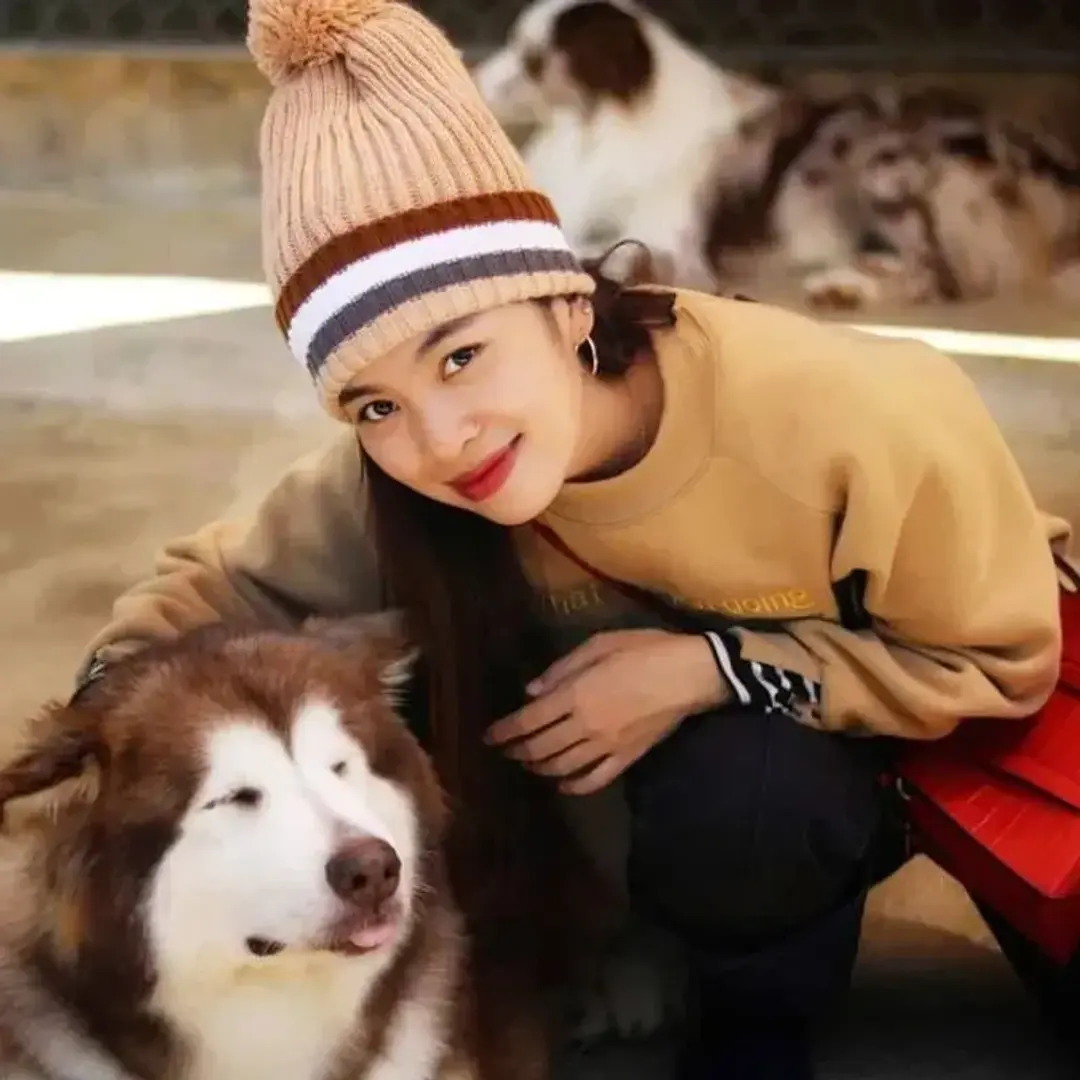 Chef, Culinary Consultant
Tuyet Pham is an award-winning Saigonese chef who believes that joy is the secret ingredient to delicious food. At Healthy Recipes 101, Tuyet personally tests and simplifies every recipe, ensuring maximum flavor with minimal effort. With a background at prestigious French restaurants P'TI Saigon and Le Corto, Tuyet knows how to make every dish exceptional.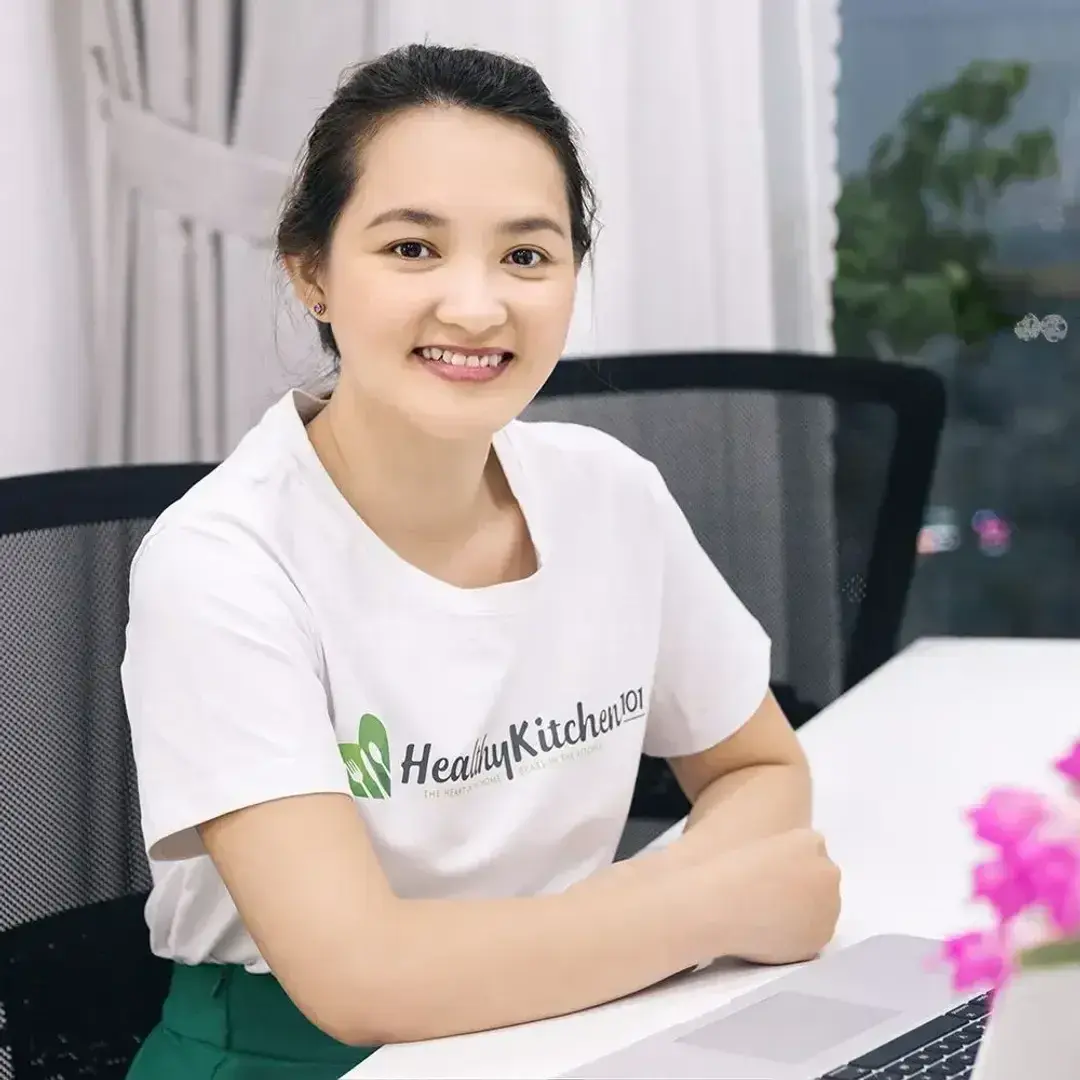 Writer, Author
Luna Regina is an accomplished writer and author who dedicates her career to empowering home cooks and making cooking effortless for everyone. She is the founder of HealthyKitchen101.com and HealthyRecipes101.com, where she works with her team to develop easy, nutritious recipes and help aspiring cooks choose the right kitchen appliances.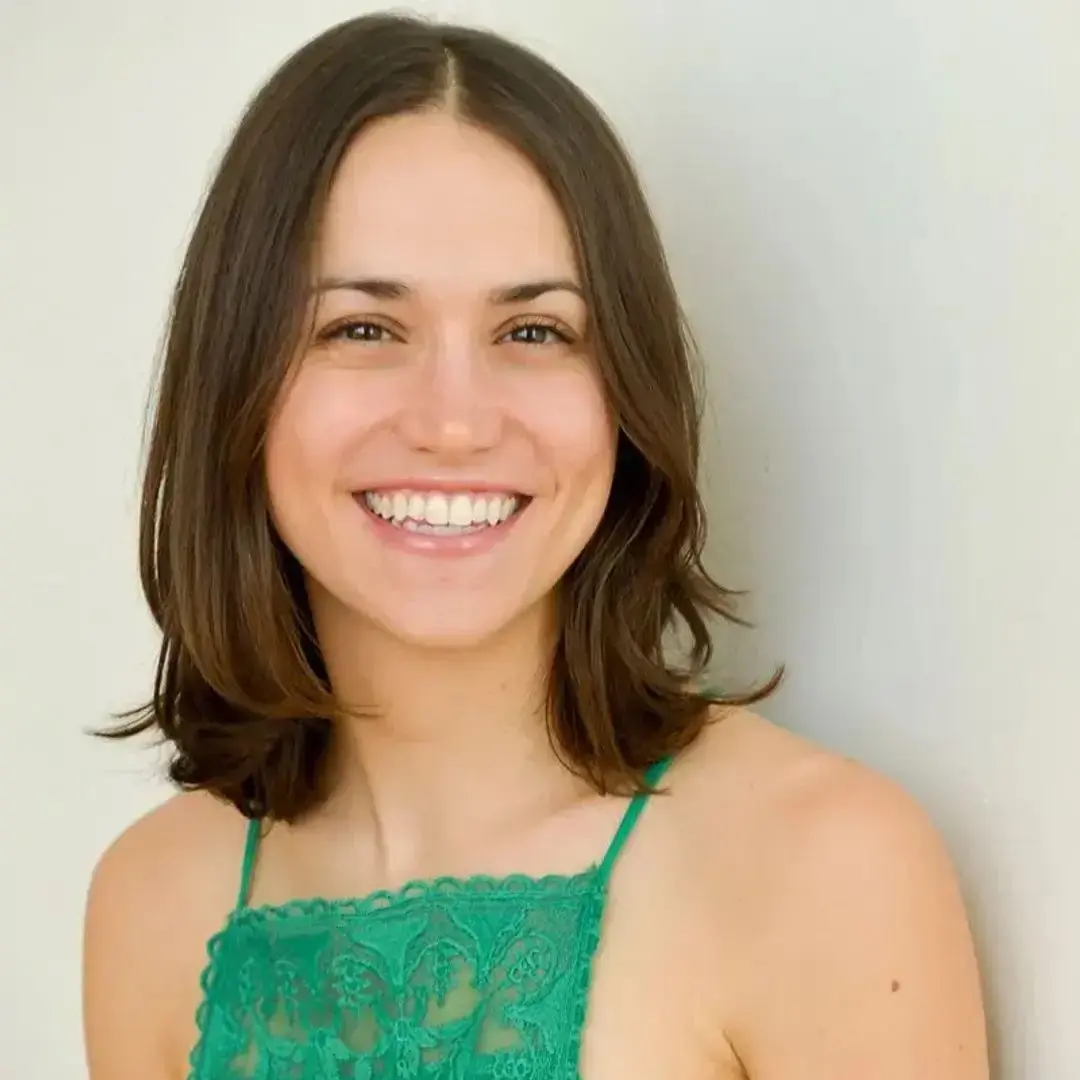 Nutrition Reviewer
Lizzie is a Minneapolis-based dietitian and founder of It's a Veg World After All. She completed her MS in Human Nutrition from Drexel University, and is an expert in culinary nutrition, recipe development, and nutrition communications.
Comments/ Reviews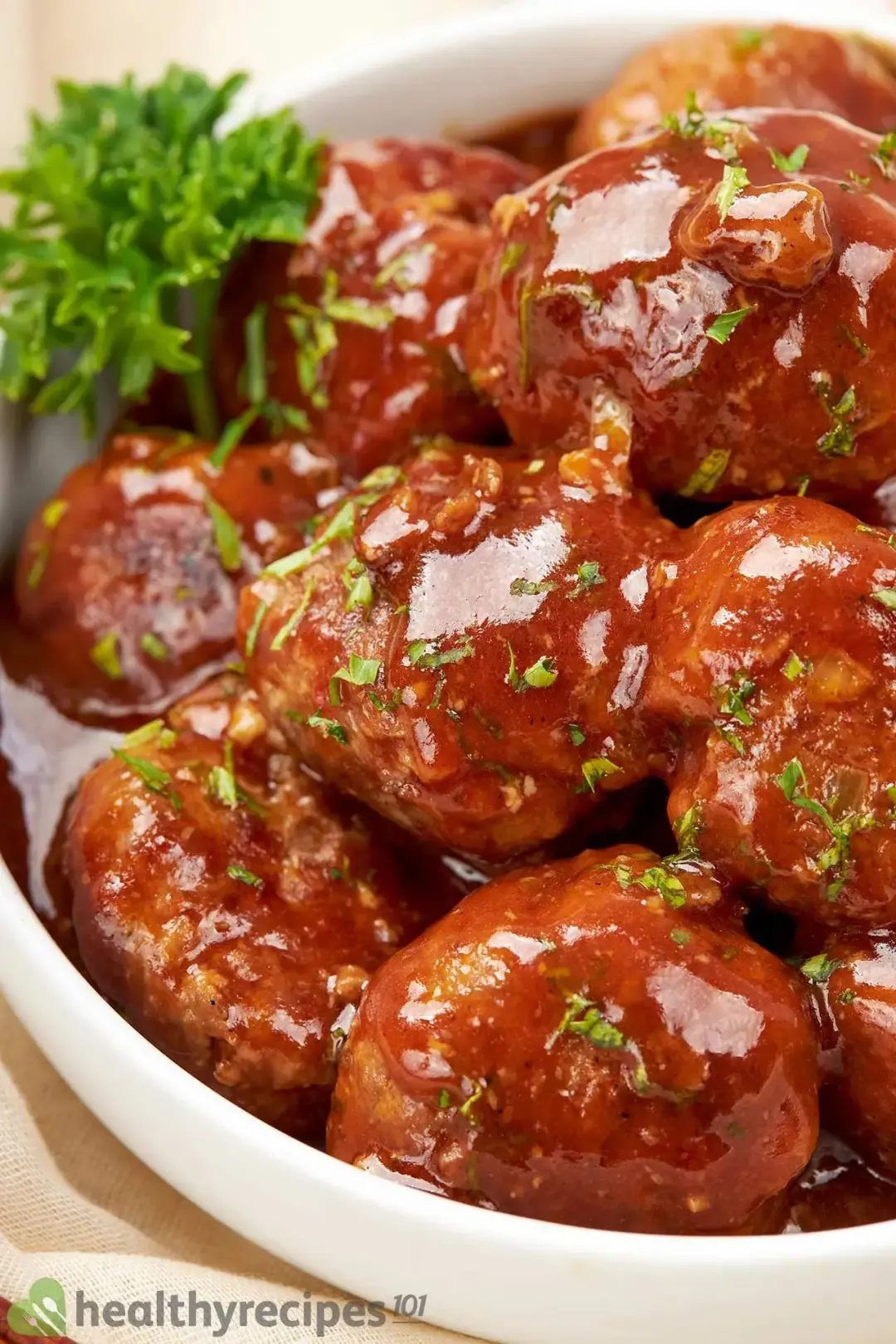 Cocktail Meatballs Recipe