This healthy meatloaf recipe doesn't only look good with the caramelized shiny glaze on the outside; it tastes amazingly flavorful as well. Serving it with some fluffy mashed potatoes and crunchy green beans yields a satisfying food combination.
What Is Meatloaf?
Meatloaf has been a staple of American comfort food for a long time. It is usually ground beef mixed with spices and tons of different ingredients like onions, eggs, and breadcrumbs, and then formed into a loaf shape.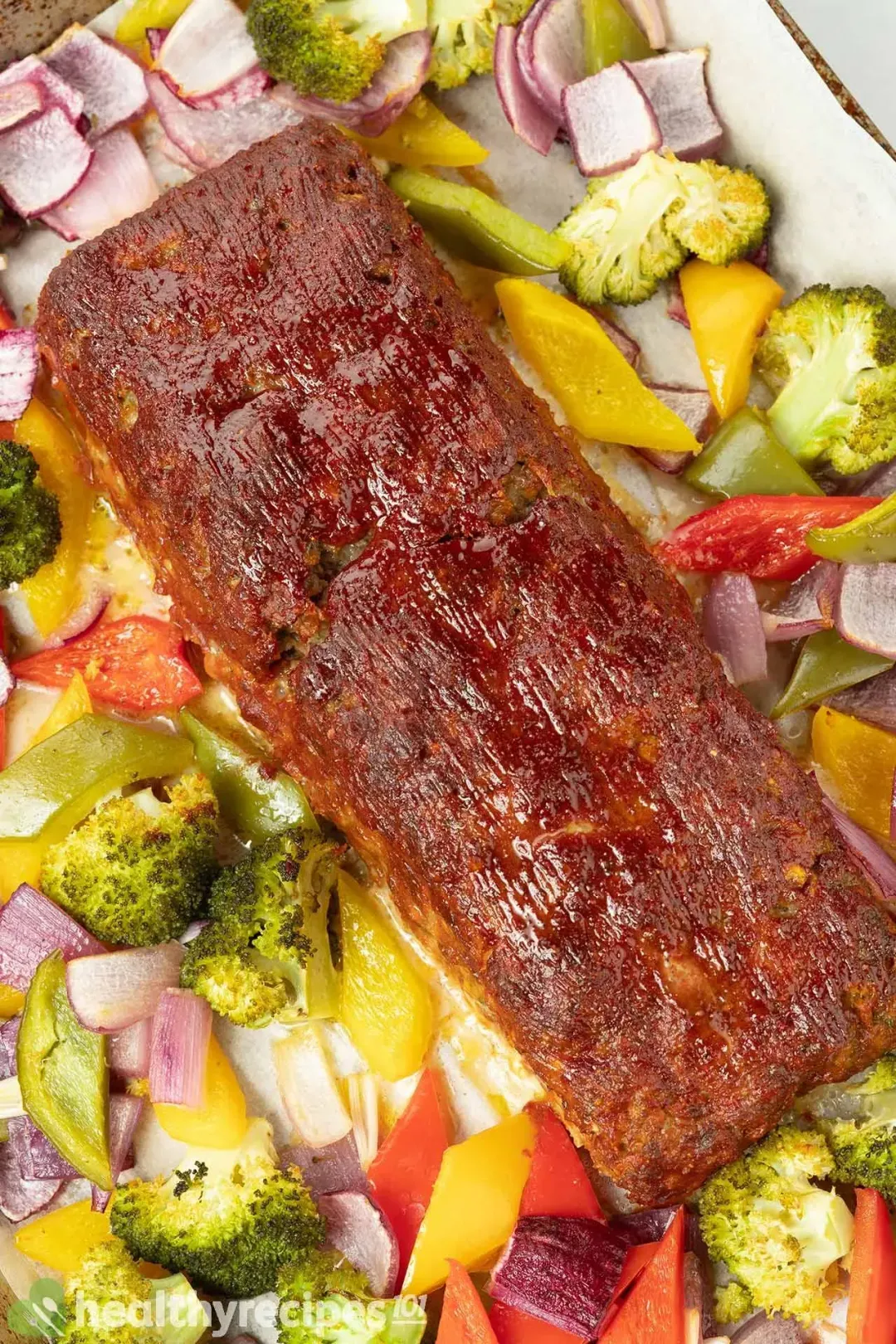 The loaf is then baked and can be topped with sauce. The most common meat used in meatloaf recipes is ground beef, but it can also be lamb, pork, chicken, turkey, or even goat.
There are also various ways to cook meatloaf. This recipe uses the oven, but you can also count on the Instant Pot (and this Instant Pot Meatloaf Recipe) for an equally satisfying dish.
Each country has its own version of the recipe. In Europe, people serve the dish with sliced potatoes while in Middle Eastern countries, this recipe is a filling for kebabs.
Simple to make and incredibly tasty, meatloaf is enjoyed and loved in many different cuisines around the world.
Is Easy Classic Meatloaf Healthy?
Combining a lot of ground beef or pork, easy classic meatloaf is often considered unhealthy. However, we can twist the ingredients and add more vegetables to turn the dish into a healthier yet still delicious dish.
1. Calories
Meatloaf is a good source of energy. One serving of our recipe provides you with 493 calories. Depending on the type of ground beef used, the calories will alter a bit.
For recipes made from chicken or turkey, calories can be a little lower compared to beef or pork. If you watch the types of meat and serving size, you can stay within the daily recommended calories.
2. Carbs
This homemade recipe contains 31 grams of carbohydrates, which account for about 10 percent of the recommended daily intake for carbs.
Healthy Meatloaf Ingredients
This healthy easy classic meatloaf recipe is packed with delicious flavors and so easy to make. Simply mix all the ingredients, put into a pan, and the oven will do the rest of the work for you.
The best part is that the recipe requires affordable ingredients that might already be available in your kitchen.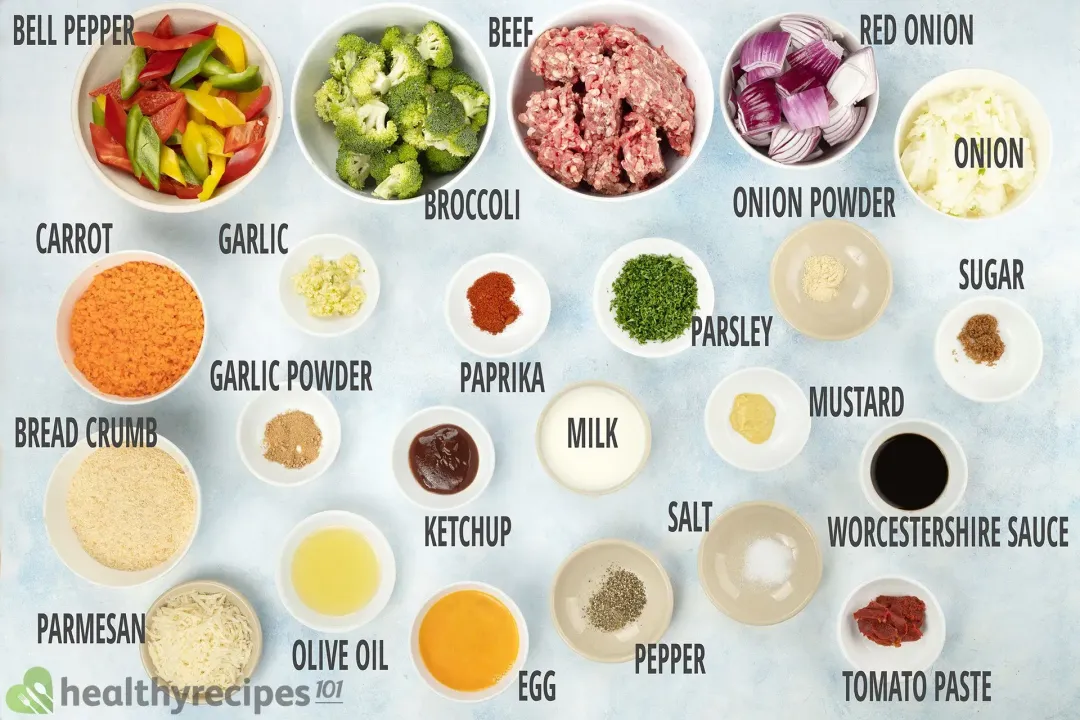 1. Beef
You can use a variety of meats for meatloaf recipes, but we believe nothing can beat the traditional lean ground beef.
The only thing that should be noted is that high-fat meat like ground beef can get messy once cooked. However, a proper ratio of beef to milk, egg, onion, and ketchup can help you avoid that problem and keep the shape intact.
It's also important not to overmix the meat mixture, as it might result in a tough texture when baked.
2. Eggs
Besides helping to bind the loaf, they also add richness, moisture and more nutrition to the meat.
3. Breadcrumbs
Breadcrumbs help to keep the meatloaf in shape and make it less dense. They also add fiber, which aids in digestion and keeps you full longer.
4. Milk
Some people think that eggs are enough to bind the meat and other ingredients, but you need a little bit of liquid to soften the loaf and get things going.
5. Onions
Onions are what make a regular recipe into an amazing dish. The sweetness from this veg offers a nice balance for the cheese, meat, and topping sauce.
Saute the onions (and other vegetables if you like) on low heat until they are tender and almost melt into the meatloaf. If you want a stronger taste, use white and red onions instead of yellow ones.
How to Make Healthy Meatloaf
How Long to Cook Meatloaf
Generally, the baking time will vary depending on the size of your meatloaf. For our healthy easy classic meatloaf recipe specifically, we use 14 oz ground beef, which needs to be cooked at 350°F for 55 minutes.
At 400°F
At this temperature, the cooking time should be around 40-45 minutes.
At 375°F
If you bake your meatloaf at 375°F, go for about 45-50 minutes.
At 350°F
Your meatloaf needs at least 50 to 60 minutes to be cooked thoroughly at 350°F.
The best way to know that your meatloaf is done is to check the internal temperature of the meat with a thermometer. To be fully cooked, it should reach an internal temperature of 160°F.
Let your meatloaf rest for 10-15 minutes to room temperature. This will ensure it does not fall apart and also allow the juices to absorb into the meat.
Sauce for Easy Classic Meatloaf Recipe
The glaze for this easy classic recipe is as important as the meat. The glaze should have the right balance of sweetness and tang. It is spread over the top during the baking process.
We use a mixture of ketchup, tomato paste, onion powder, garlic powder, mustard, brown sugar, ketchup, and paprika. This simple combination complements the dish and gives it a nice touch of spices.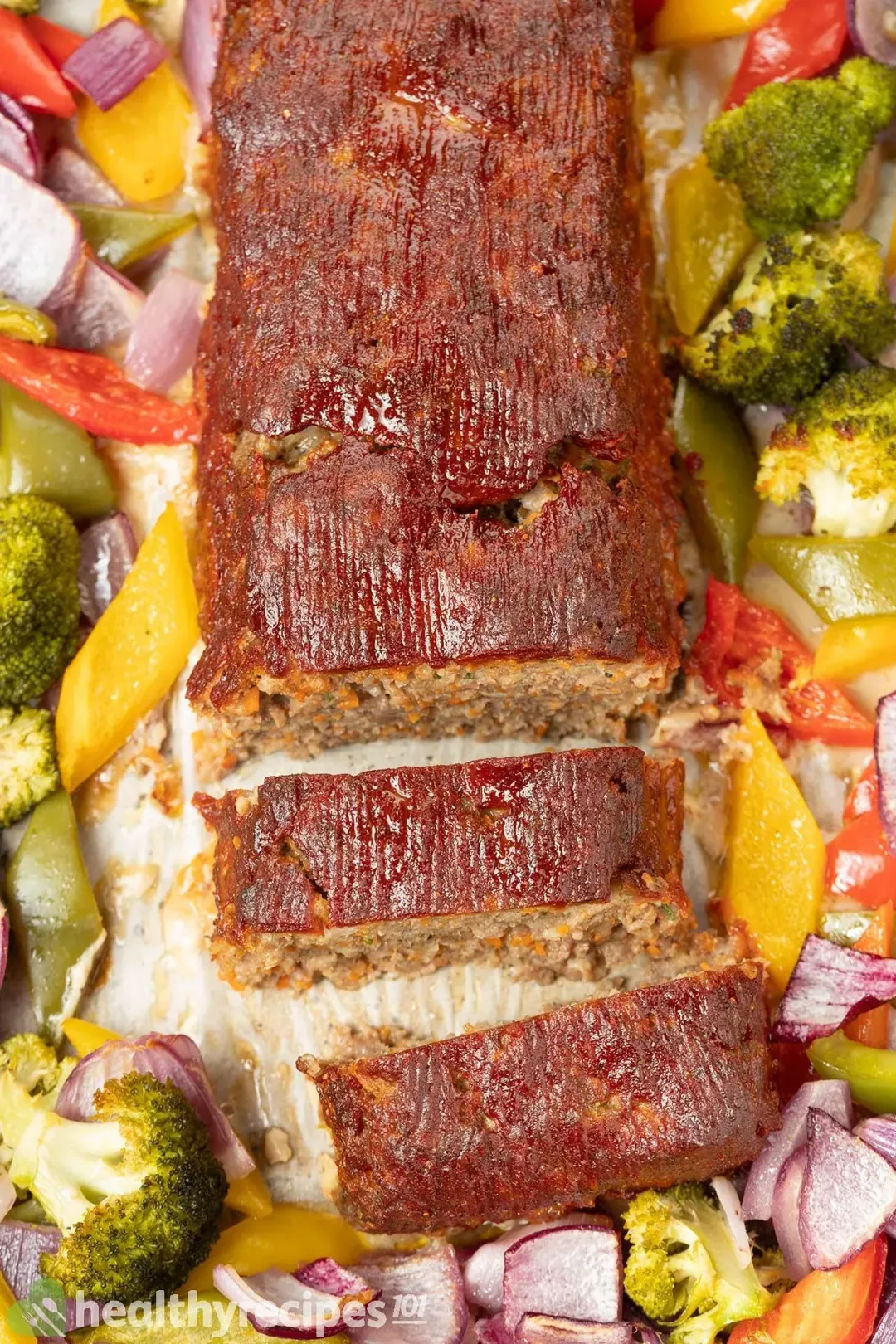 Meatloaf Topping
1. Cheesy
Add your favorite cheese on the top of the meatloaf. Any kind of cheese can turn an ordinary loaf into a cheesy and irresistible meal. 
2. Gravy
Gravy is a sauce that is made from the juice of meat or vegetables which is then thickened with cornstarch. This thick sauce adds tons of flavor to the meat. 
How Long to Cook an Easy Classic Meatloaf
Since we form meatloaf into a loaf pan, it takes a significant amount of time to bake. It also requires a low temperature during the baking process (about 50 minutes) so that the outside doesn't finish with a dried-out texture while the center is still not done.
What Goes with Meatloaf?
Here are some ingredients that are versatile and work nicely in almost any kind of meatloaf recipe.
1. Bacon
Bacon-wrapped meatloaf is an interesting twist on the classic meatloaf recipes. Bacon adds moisture and keeps your loaf juicy on the inside while having crunchy edges on the outside.
2. Potatoes
To prevent this recipe from becoming too dry and also add some moisture after baking, you can add mashed potatoes on the top (or side).
3. Mushrooms
Mushrooms are always a great companion to meatloaf. For a vegetarian-friendly recipe, you can omit the meat and use your favorite type of mushroom instead.
4. Oatmeal
The mixture of eggs, oatmeal, and milk will help you bind the meat and chopped vegetables together. And not to worry, you won't taste the oatmeal in the meatloaf at all.
5. Bread
Instead of using breadcrumbs to bind the loaf, there are some alternatives such as bread. Tearing up bread into small pieces to provide small pockets that absorb liquid to help soften the meatloaf.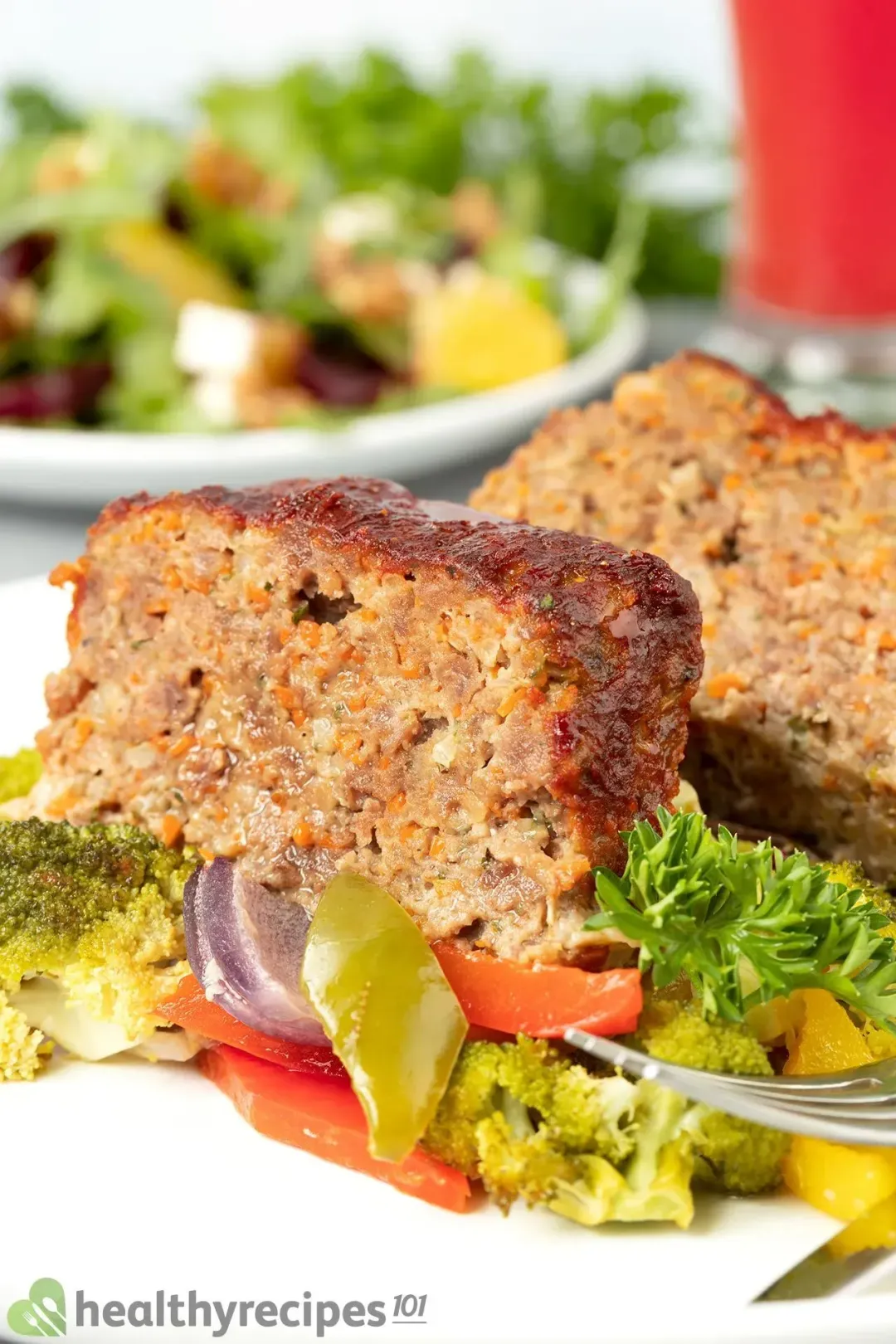 Can You Freeze Meatloaf?
It's possible to make this recipe ahead of time and freeze it if you don't plan to eat it in the next day or so.
First, follow the recipe to combine the ingredients. Next, place plastic wrap over a baking sheet and spray it generously with non-stick cooking spray to make it easier for the meatloaf to come off the wrap when you're ready to bake it.
Then, form the meatloaf on the plastic wrap and wrap it carefully and securely to prevent freezer burn and cross-contamination from raw meat. Finally, the wrapped meatloaf is placed in an airtight freezer bag and can last in the freezer for up to 6 months.
When you are ready to bake the frozen meatloaf, let it thaw in the refrigerator the night before and proceed with the baking instructions.
How do You Warm-up Meatloaf?
Firstly, preheat the oven to about 220-240°F. Temperature higher than this will lead to a dried out meatloaf.
Next, cover the leftover meatloaf with oven-proof foil to lock in moisture and help the meat cook evenly. Once the oven is ready, place the meatloaf inside and set the timer to 20 minutes.
After removing the meatloaf, let it sit for 5-10 minutes, and your meatloaf is ready to be served.
How Long Does Meatloaf Last?
1. In the Fridge
Before placing your cooked meatloaf in the fridge, you should keep it in a shallow airtight container or wrap it with plastic wrap. With a proper storage method, meatloaf will last for 3 to 4 days.
2. In the Freezer
To lengthen the shelf life of cooked meatloaf, you can freeze it. Simply place your meatloaf in an airtight container or wrap it with aluminum foil and keep it in the freezer.
A meatloaf which is properly stored will last well for about 3 months. 
What to Serve with a Healthy Meatloaf
With a hearty meatloaf, people often head straight to the classic combination of mashed potatoes and steamed vegetables. However, the long baking time of meatloaf allows us to be creative.
So here are some other options that can complement your easy classic this recipe: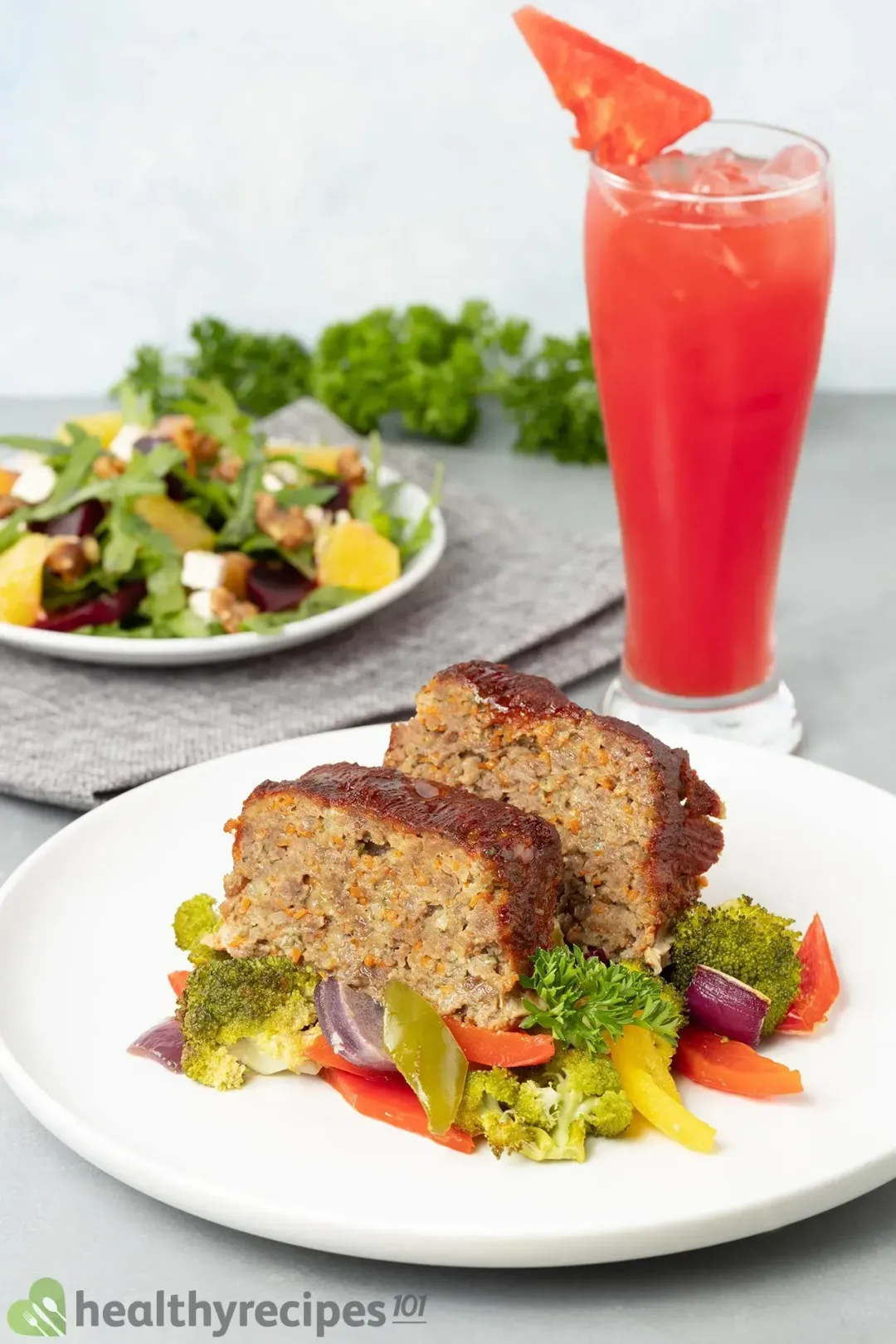 1. Sandwiches
A good side dish that can be served with this recipe is sandwiches. For a healthier choice, you can choose whole-wheat bread.
Meatloaf is already creamy and rich in flavor, so a simple side like sandwiches will balance it out nicely. Many people also enjoy eating as a sandwich filling.
2. Rice
Speaking of starch, rice is a side dish that can go well with almost any savory main dish. Rice also doesn't take much time and effort to prepare.
Rice can be bland on its own, but it can also easily be customized depending on your preference. For a simple flavorful version, add some cilantro and a touch of salt to your steamed rice. 
In case you want something fancy, fried rice is a great accompaniment. A mixture of rice with peas, carrots, and eggs pairs well with the meatloaf. 
We recommend serving with a fresh beetroot and feta cheese salad and watermelon cucumber on the side.
Here are the nutrition facts for the whole meal:
More Delicious Oven-Baked Beef Recipes for You to Try
Our tortilla pie recipe is a fun twist on one of Mexican cuisine's staples, with layers of seasoned ground beef, cheese, and crispy tortillas. This easy dish is perfect for a family dinner or potluck gathering.
Into something more classic? This beef pot pie is the perfect comfort food for a cozy night in. Made with tender beef, savory vegetables, and a flaky crust, it is sure to satisfy any appetite.
If you're a fan of oven-baked recipes with beef that are just as tasty, scroll through this roundup for more delicious ideas.
Healthy Meatloaf
If you are still wondering what to cook for dinner, look no further because the healthy easy classic meatloaf recipe is right here! Packed with rich flavors and coated with a delicious shiny glaze, this meatloaf and everything about it is just exceptional.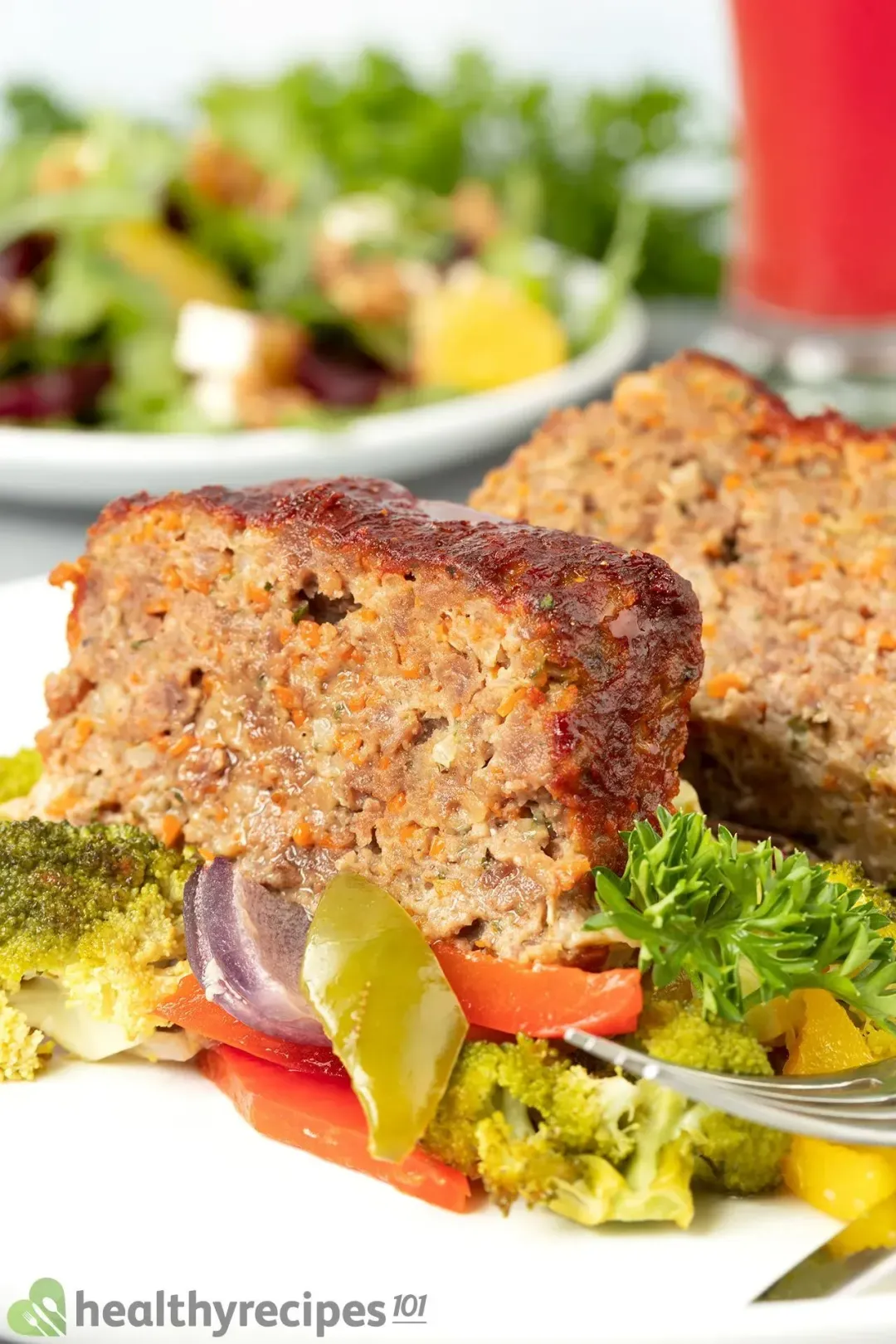 cook TIME

55 mins

prep TIME

15 mins

total TIME

1 hr 10 mins
COURSE

Main Course

CUISINE

American

SERVINGS

CALORIES

493 kcal
INGREDIENTS
16 oz

85% lean ground beef

8 oz

bell pepper

(chopped)

1 oz

shredded parmesan cheese

1/4 cup

parsley

(chopped)

3/4 tbsp

Worcestershire sauce

1/2 tsp

traditional Dijon mustard

1 tbsp

Amore tomato paste
INSTRUCTIONS
1
Preheat the oven to 350°F.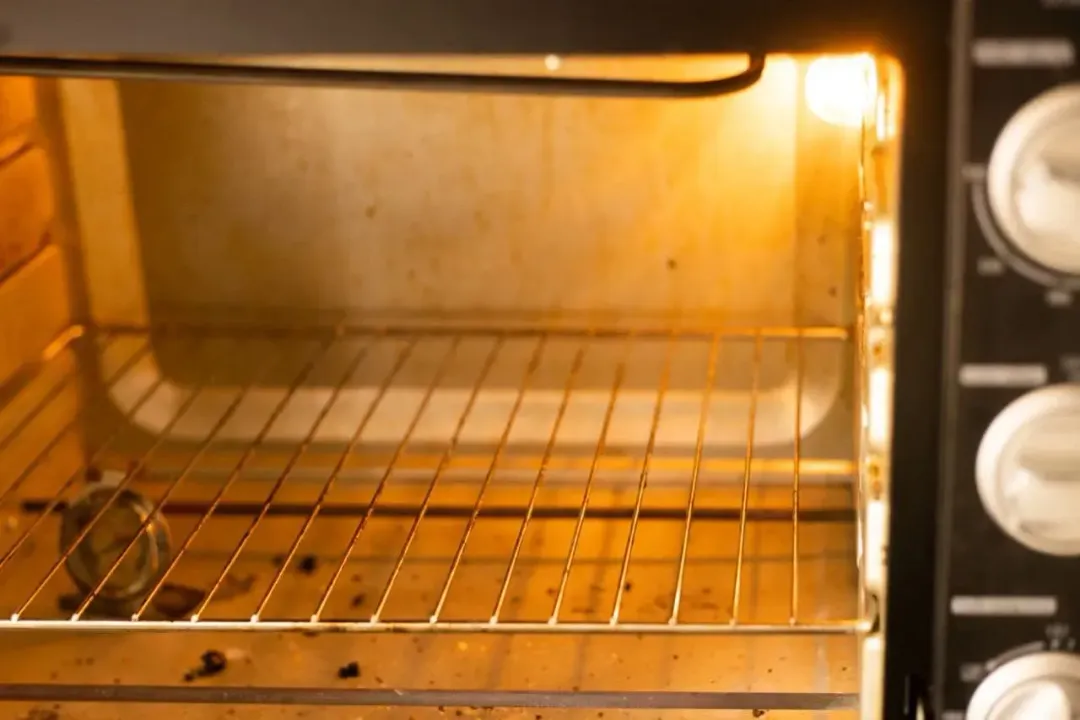 2
Heat a pan over medium heat, cook 4 oz onion, 3 oz carrot, and 2 tbsp garlic with 1/2 tbsp of olive oil for about 5 minutes until they are soft. Let them cool down completely.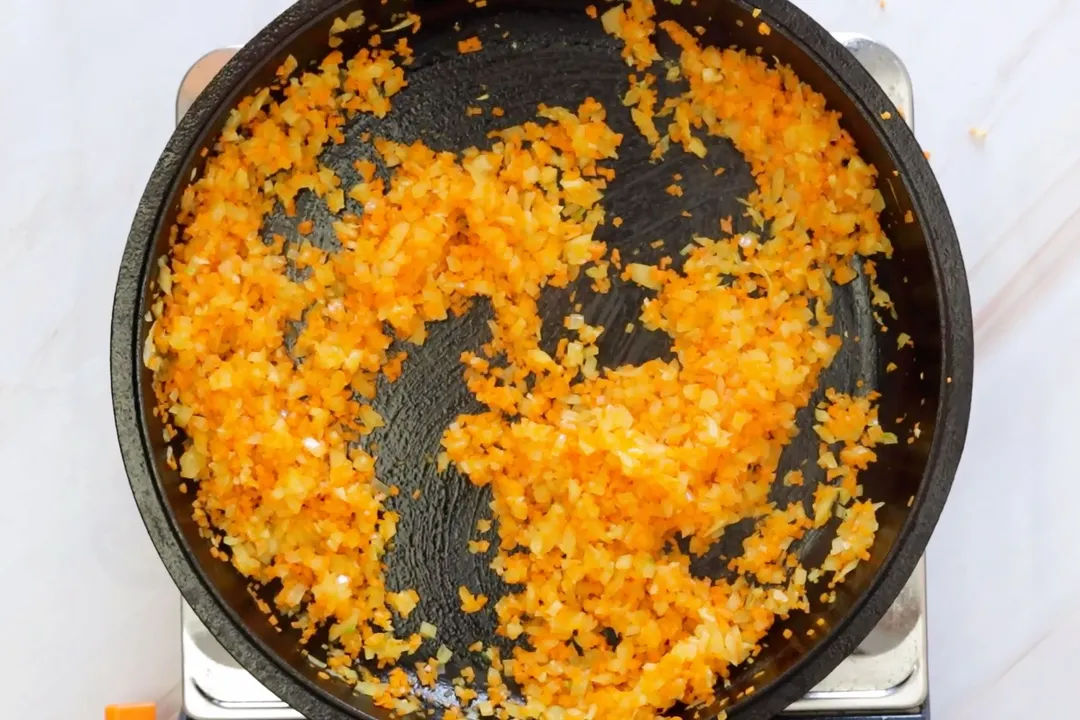 3
In a large bowl, combine the 16 oz ground beef, 1/3 cup milk, 2 oz bread crumbs, cooked onion and carrot, 1 oz parmesan, 1 egg, 1/4 cup parsley, 3/4 tbsp Worcestershire sauce, 1/t tsp salt, and 1/2 tsp pepper.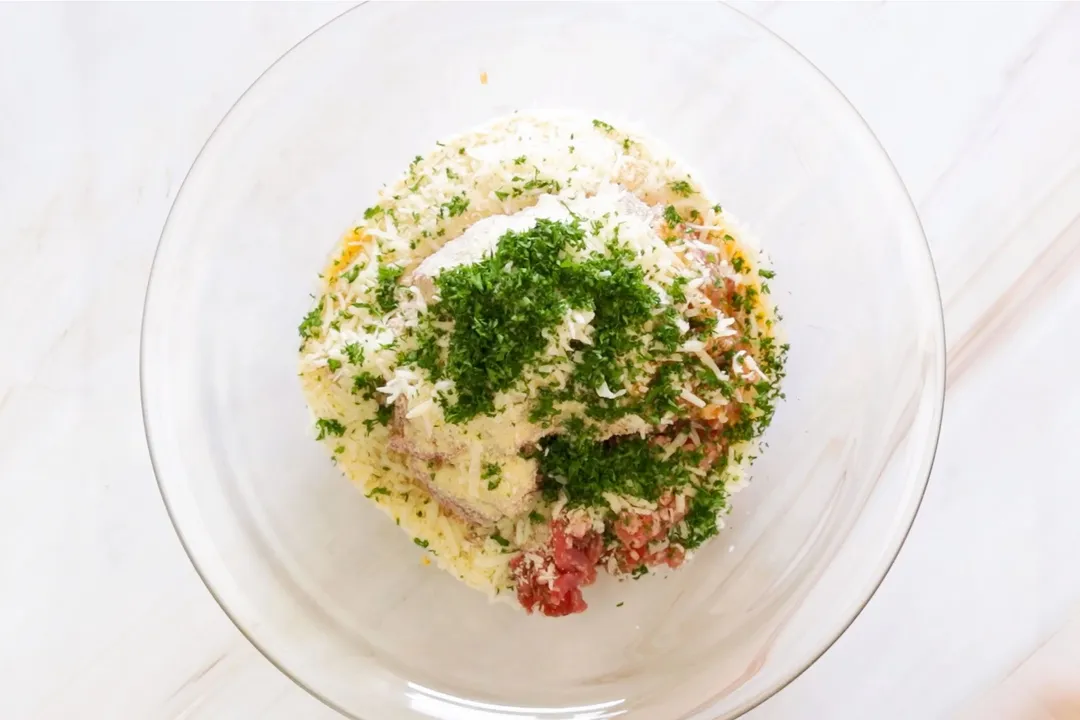 4
Mix until everything is well-combined but don't over-mix.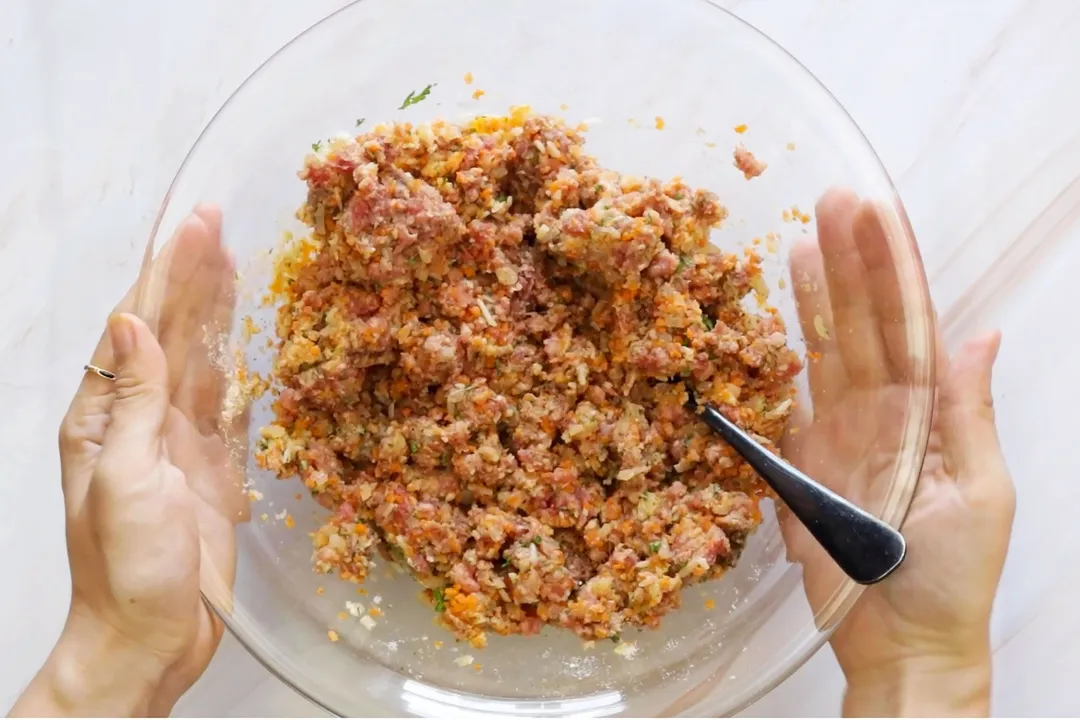 5
Place the beef mixture onto a baking sheet and form it into a loaf.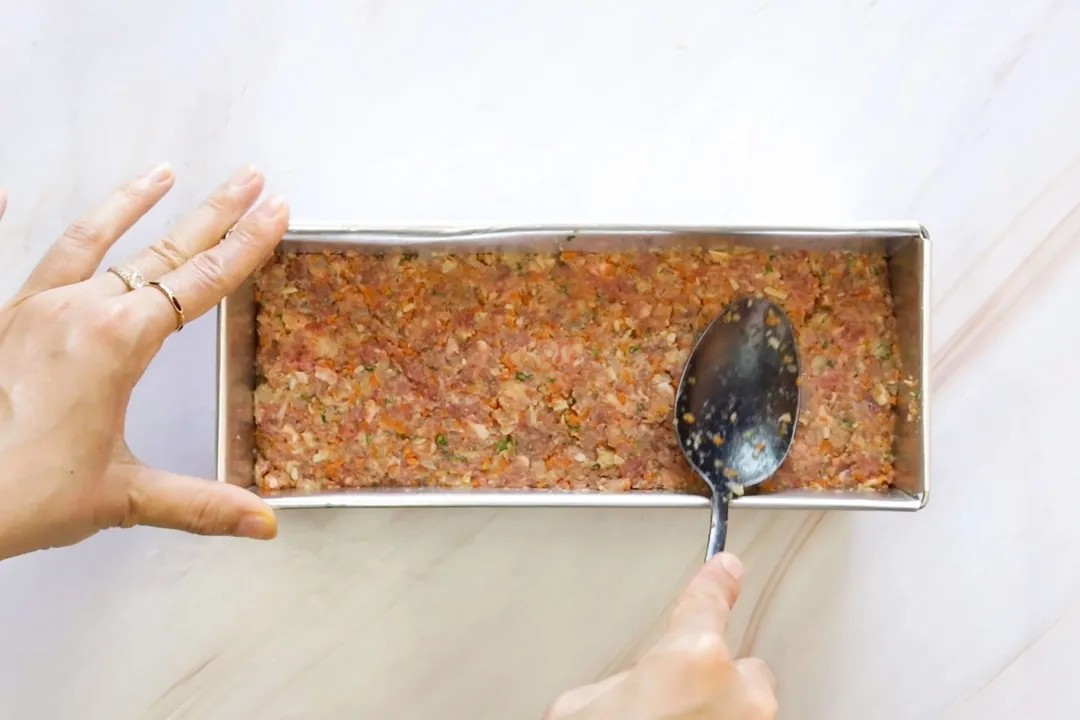 6
Put it in the oven for 20 minutes at 350°F.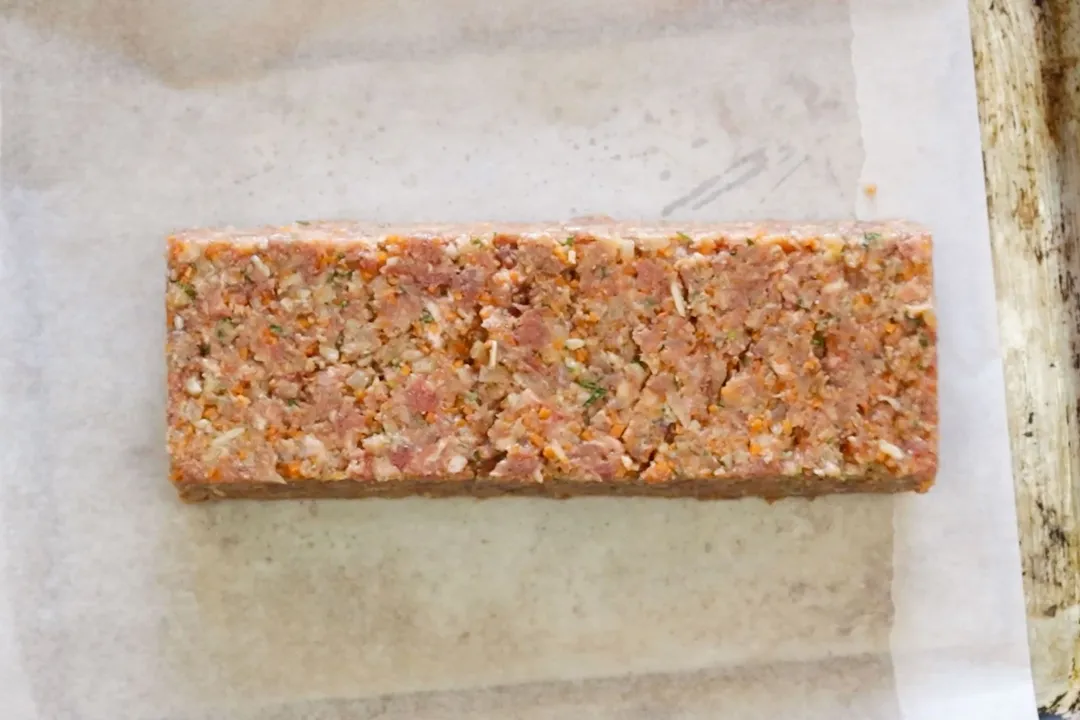 7
In a small bowl, mix vegetables (6 oz red onions, 6 oz broccoli, and 8 oz bell peppers) with 1 tbsp olive oil.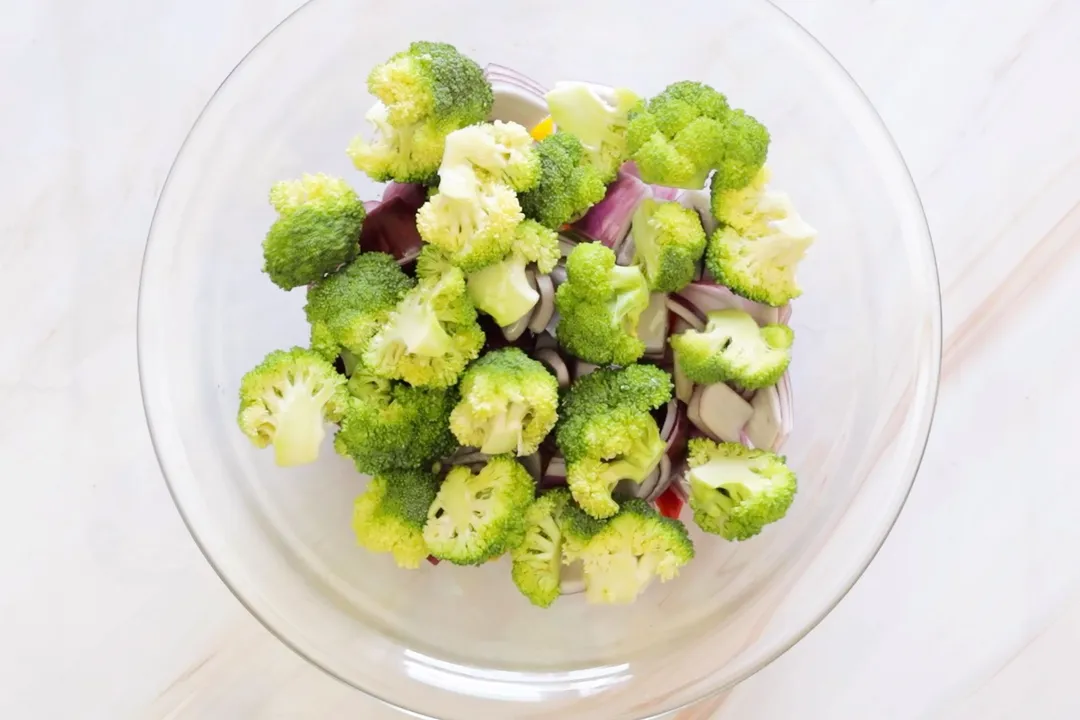 8
In another bowl, mix 1/2 tsp paprika, 1/2 tsp brown sugar, 1/2 tsp mustard, 1 tbsp tomato paste, 1 tbsp ketchup, 1/2 tsp onion powder, and 1/2 tsp garlic powder for the glaze.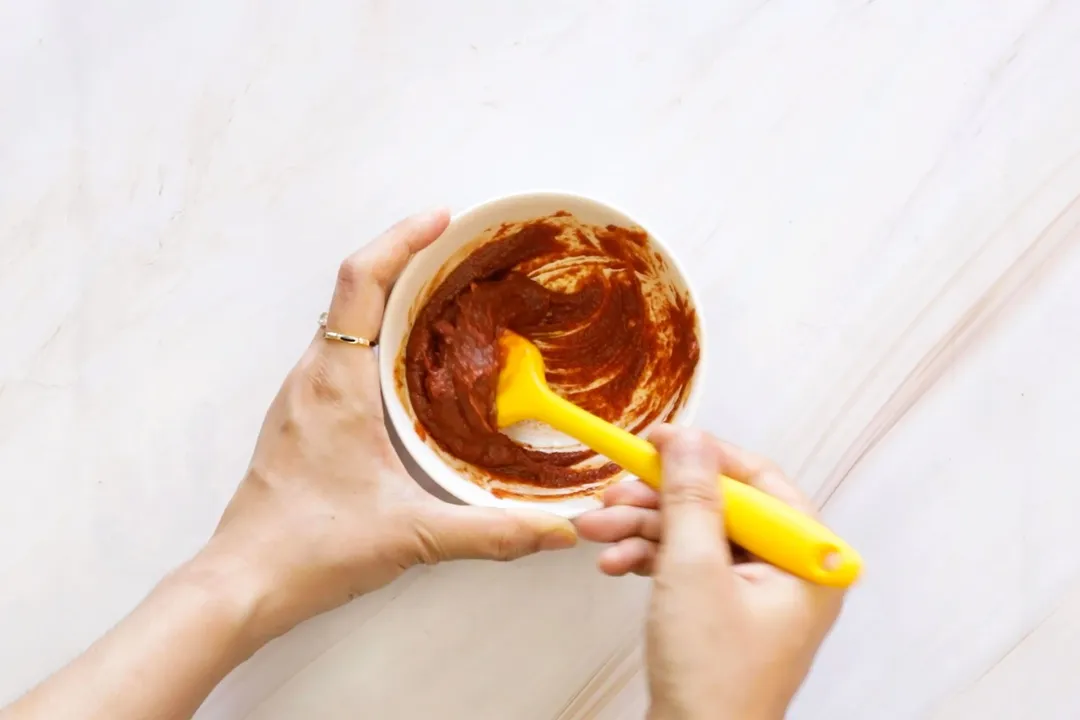 9
After 20 minutes in the oven, smear half of the glaze over the top of the meatloaf and place the vegetables around.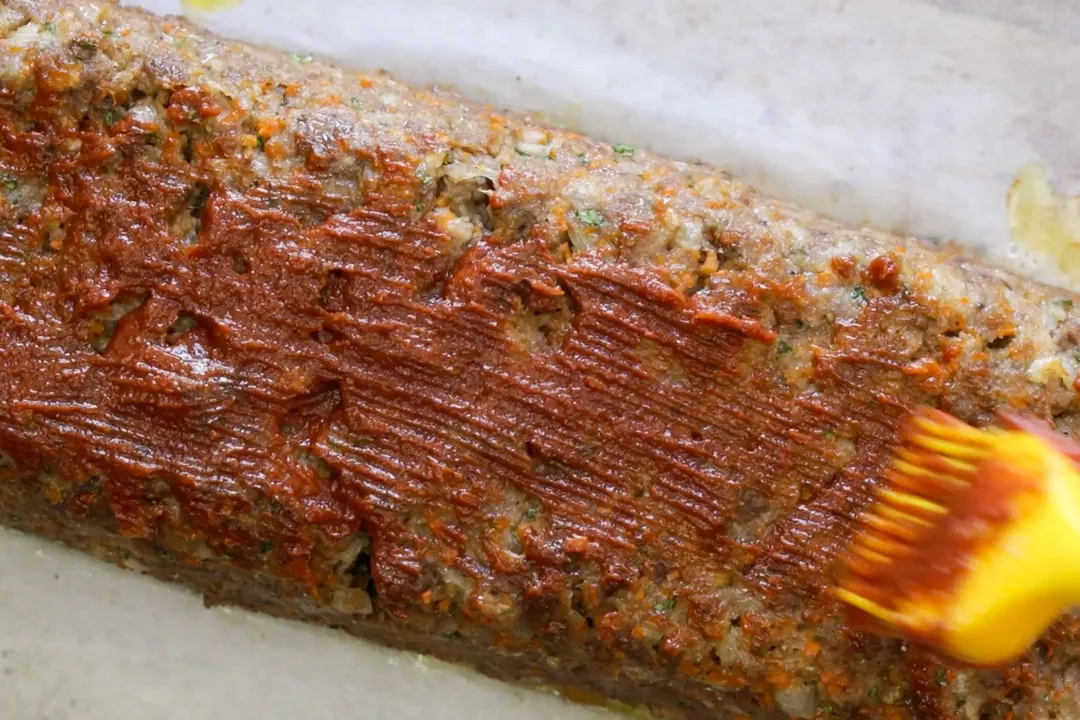 10
Place the baking sheet back into the oven for 20 minutes (at 350°F), then smear the rest of the sauce on top. Bake for a further 15 minutes.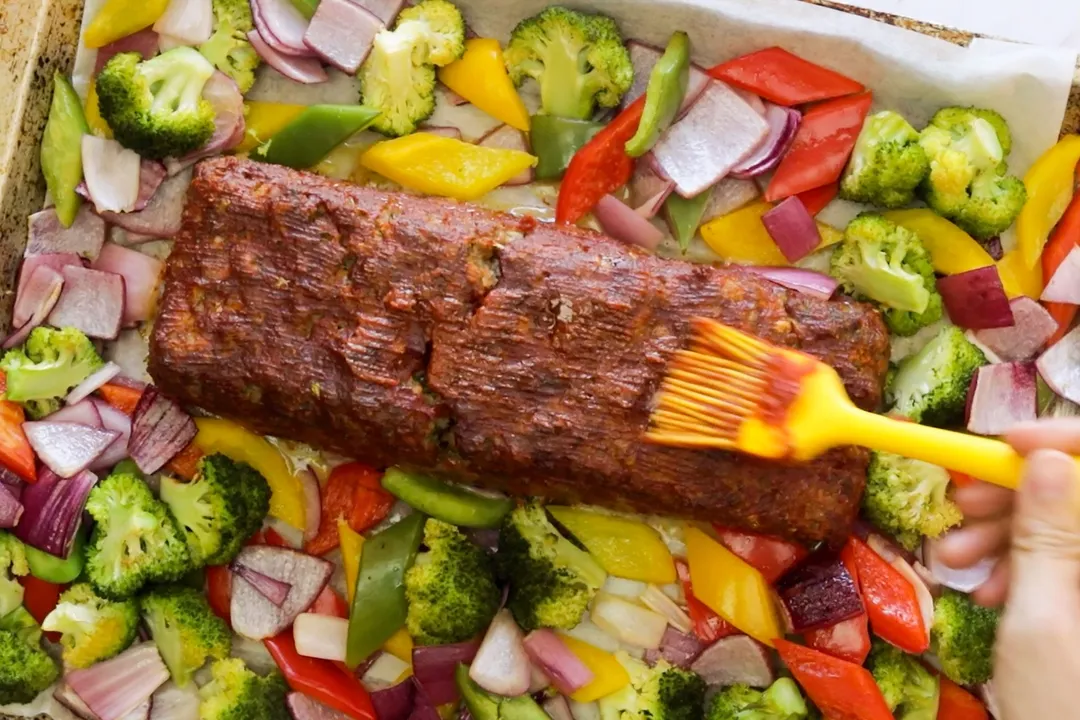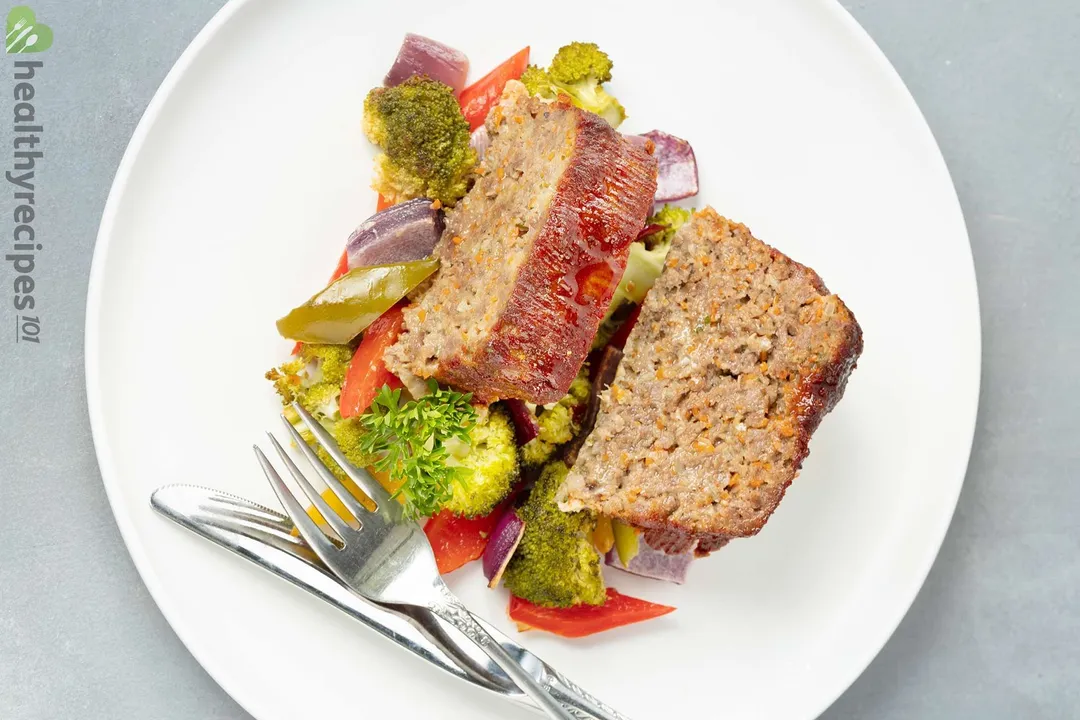 NUTRITION
Nutrition Facts
Healthy Meatloaf
Amount Per Serving (1 serving)
Calories 493
Calories from Fat 243
% Daily Value*
* Percent Daily Values are based on a 2000 calorie diet.
Keywords: easy meatloaf recipe, healthy meatloaf recipe, meatloaf, meatloaf recipe, meatloaf recipes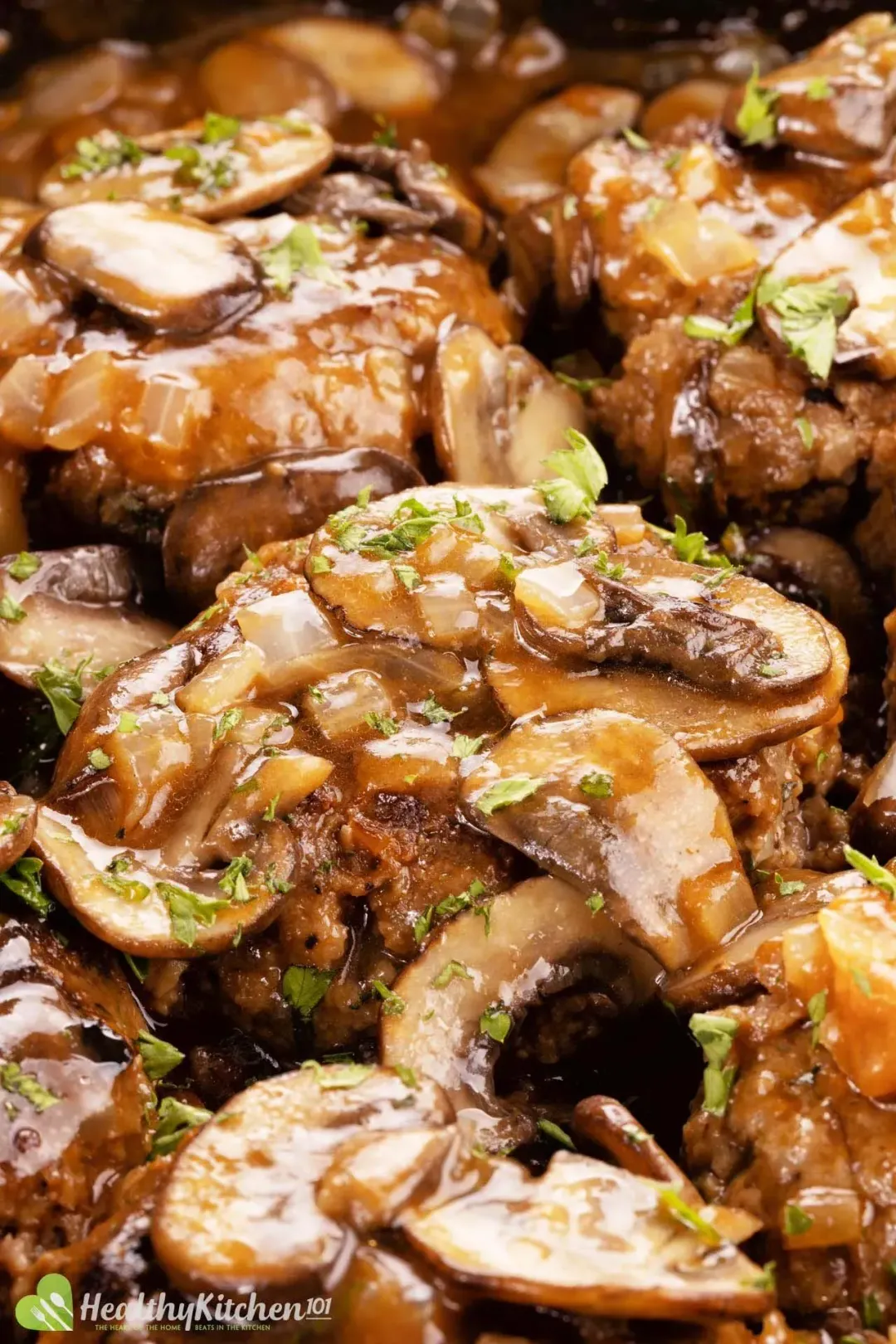 Next Recipe
Salisbury Steak
Salisbury Steak
Head Chef, Culinary Consultant
Tuyet Pham is an award-winning Saigonese chef who believes that joy is the secret ingredient to delicious food. At Healthy Recipes 101, Tuyet personally tests and simplifies every recipe, ensuring maximum flavor with minimal effort. With a background at prestigious French restaurants P'TI Saigon and Le Corto, Tuyet knows how to make every dish exceptional.
Writer, Author
Luna Regina is an accomplished writer and author who dedicates her career to empowering home cooks and making cooking effortless for everyone. She is the founder of HealthyKitchen101.com and HealthyRecipes101.com, where she works with her team to develop easy, nutritious recipes and help aspiring cooks choose the right kitchen appliances.
Nutrition Reviewer
Lizzie Streit is a Minneapolis-based dietitian and founder of It's a Veg World After All. She completed her MS in Human Nutrition from Drexel University, and is an expert in culinary nutrition, recipe development, and nutrition communications. Lizzie's philosophy is centered around making nutrition recommendations, and especially the advice to eat more vegetables, approachable and realistic. She is excited to be working with the team at Healthy Recipes 101 to ensure that their recipes are both nutritious and delicious.
A simple recipe with a great taste, i will make this again.