This stuffed shells recipe is sure to put a smile on your face.
Bathed in meat sauce and filled with three types of cheese, these 24 plump stuffed shells are both delicious and fun to make. They only take 20 minutes to prepare and 15 to bake — a pretty effortless meal that also happens to be freezer-friendly.
What Are Stuffed Shells?
They are an Italian staple consisting of jumbo conch-shaped pasta stuffed with a cheese filling and baked in a thick, herby tomato sauce with meat. The rich cheese filling comprises ricotta, mozzarella, and parmesan, giving a vast array of savoriness.
Stuffed Shells vs Manicotti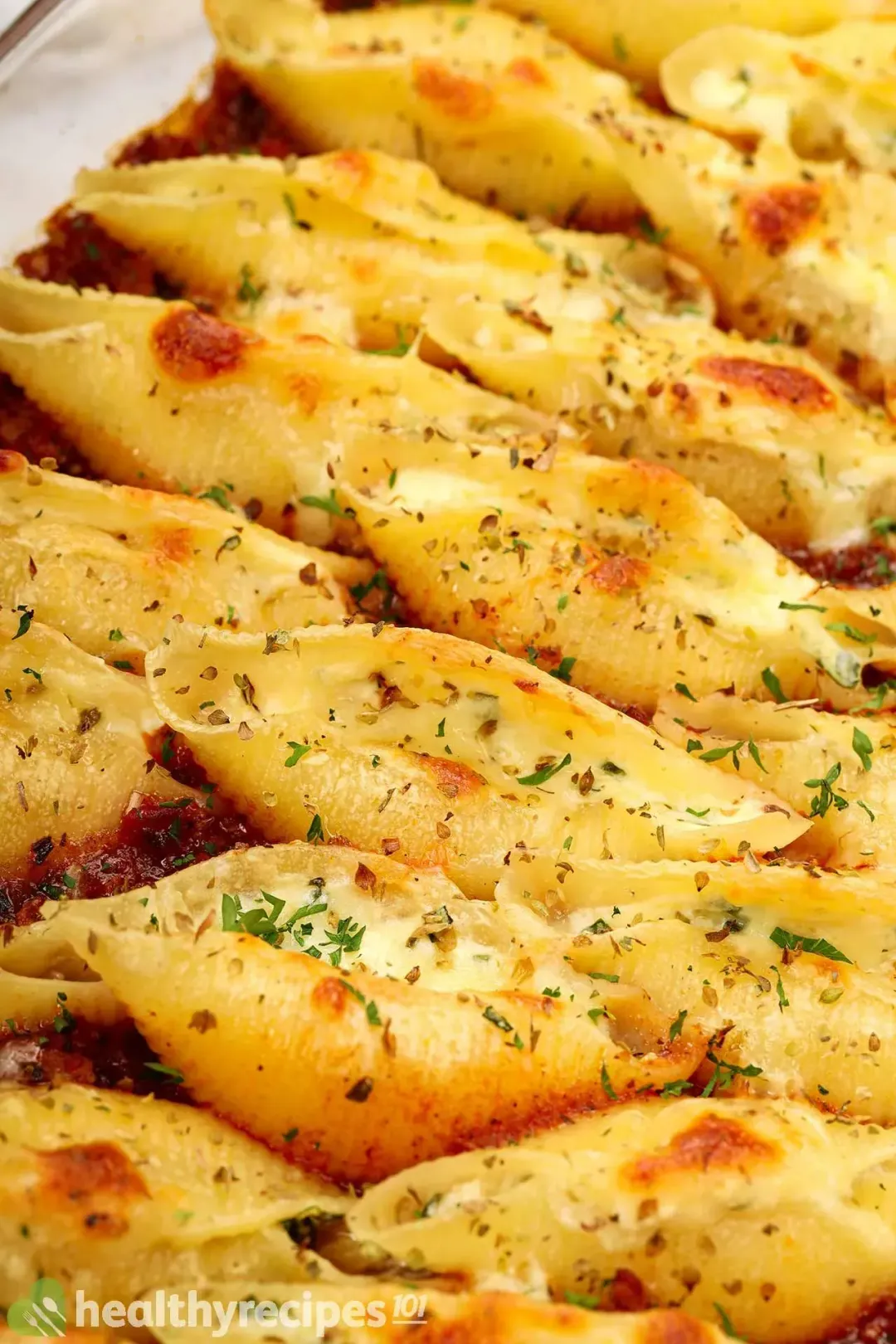 While stuffed shells are made with conchiglie, manicotti is a larger tube-shaped pasta (rigatoni or cannelloni). The term 'manicotti' means 'little sleeves', hence the pasta choice.
Plus, it isn't just cheese that goes into manicotti, but a mixture of ricotta, spinach, and sometimes even ground meat. They're topped with tomato sauce, béchamel sauce (made of flour, butter, stock, and milk), and cheese, and then baked.
As both manicotti and conchiglie are designed to hold filling, you can use them interchangeably. The end result won't look authentic, but will taste authentic.
Are Stuffed Shells Healthy?
If not moderately portioned, meaty and cheesy pasta dishes like stuffed shells can be unhealthy. A large portion contains lots of sodium (from salt), saturated fats (from the cheese and meat), and calories (from all the components).
Not only did we reduce the portion to a moderate size, we also refrained from using more cheese and salt than necessary. The amount of each in our stuffed shells recipe is enough to turn out a delicious dish but also have a sound nutritional profile:
475 calories: about 17.6-22.6% the suggested daily intake (2100-2700).
9.2 g saturated fats: about 30-40% the suggested limit (23-30 g).
550 mg sodium: 23.9% the suggested limit (2300 mg).
To achieve the same result, we recommend that you measure the ingredients precisely.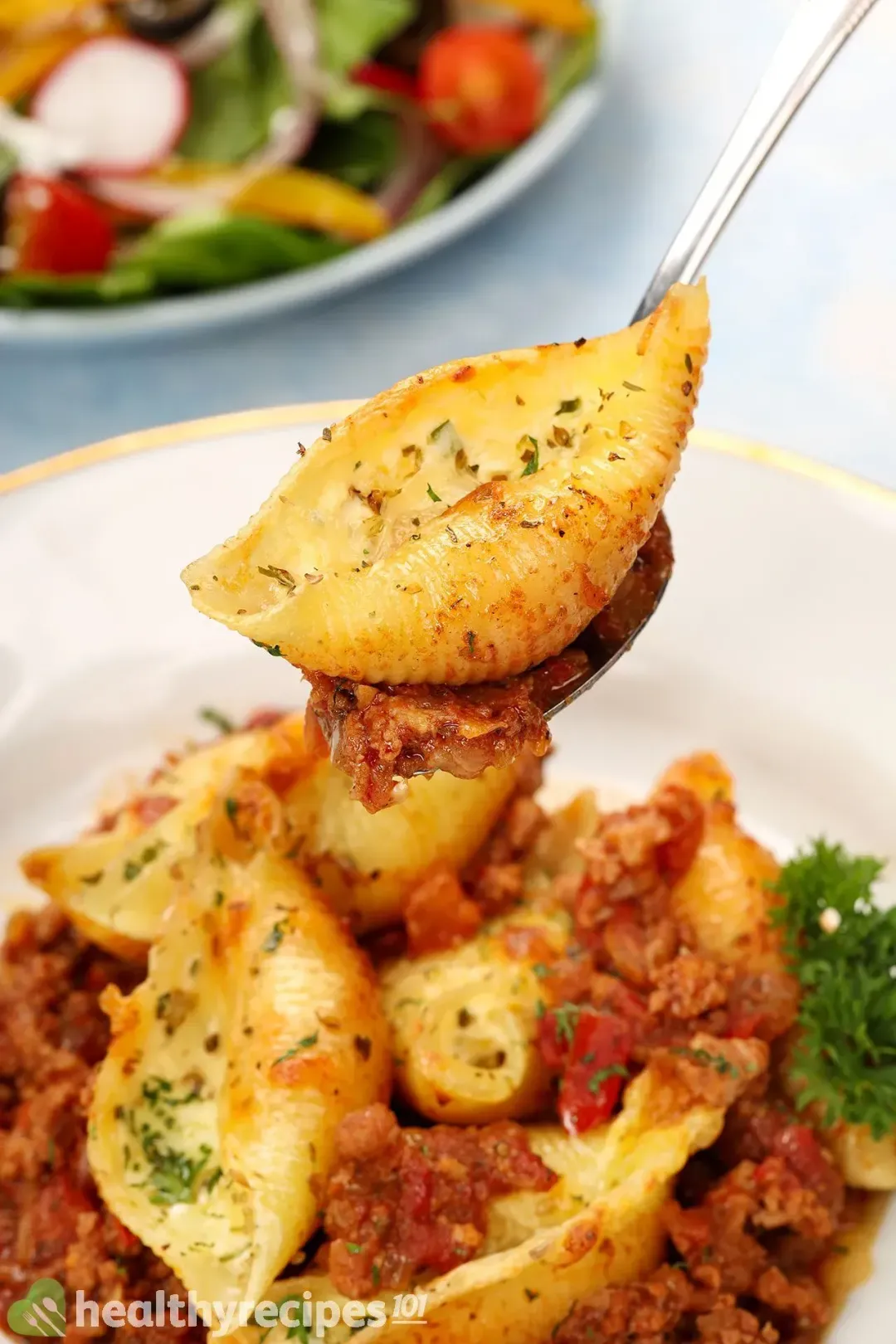 Ingredients for Stuffed Shells
1. Types of Pasta Shells You Can Use
As mentioned before, you can use any shell-shaped pasta like large conchiglie (sometimes sold as "jumbo shells") or even tube-like ones, like manicotti and cannelloni for instance. Still, we think conchiglie is the best — it has the most suitable size and shape and is widely available too.
2. Cheese Filling
Besides ricotta, mozzarella, and parmesan, we also add one beaten egg and mix it with the cheese. It enhances the filling's richness, adds a little extra nutrition, and binds the cheese together, so the end result doesn't look like a mess.
For an added freshness, we also chopped some basil and mixed it with the filling.
3. Meat Sauce
Many stuffed shells recipes call for canned or bottled sauce, but as we wanted to control the sodium level, we made our own. The ingredients for which include: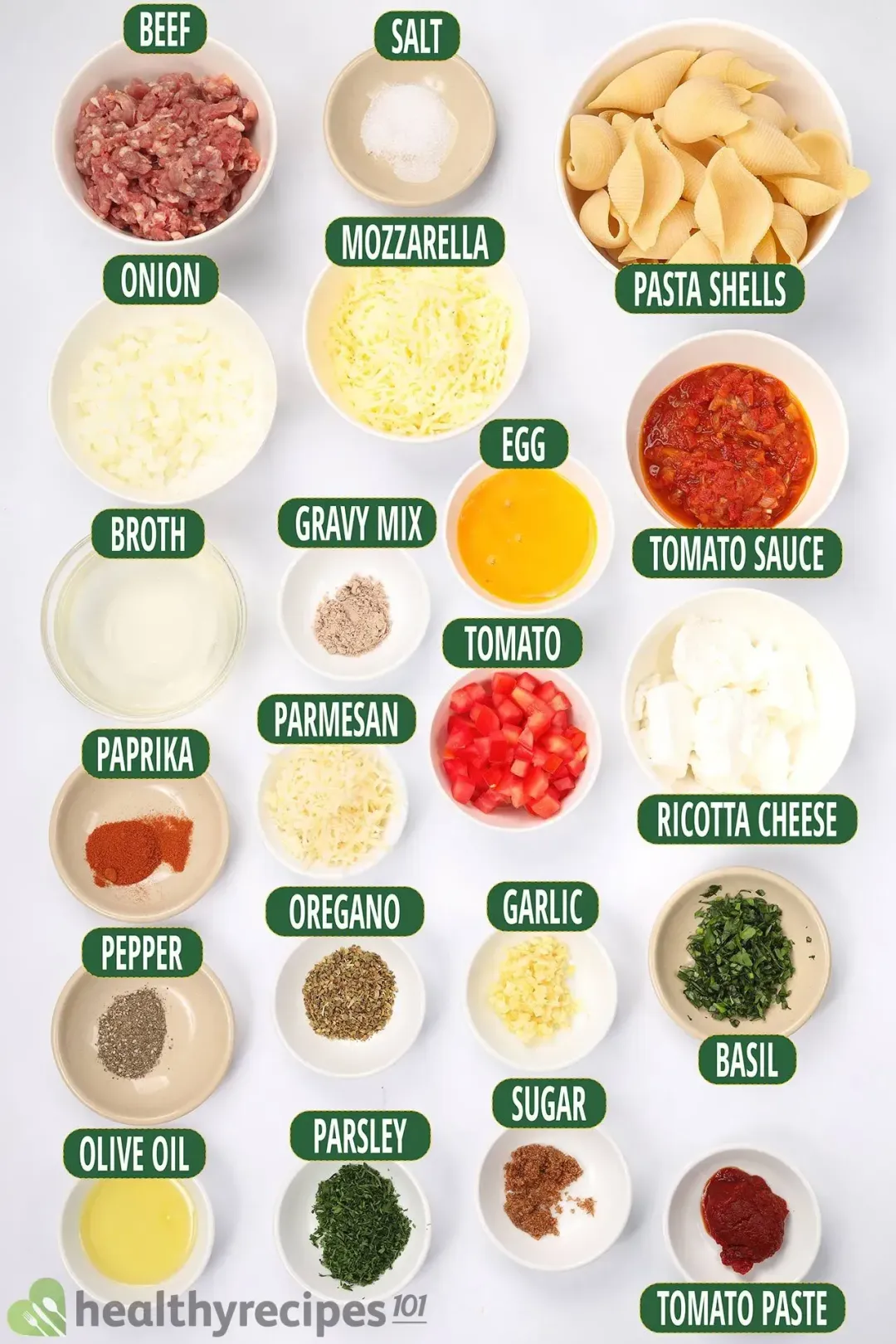 Ground beef: the 85% lean kind. It doesn't have too much saturated fat and is easier to find than leaner options.
Aromatics: chopped garlic and onions, cooked until fragrant. For that delicious fragrance meat sauce often has, we also added dried oregano.
Tomato sauce: you can use any unsalted tomato sauce, but as mentioned, we do prefer homemade stuff. We also included some chopped tomatoes for texture and tomato paste for added flavor.
Chicken broth: adds savoriness and fragrance. We also made it ourselves by simmering roasted chicken bones, veg, and herbs for an hour. If you haven't got the time, use an unsalted ready-made product.
Seasonings: since the tomato sauce has all the important flavors, we only adjust the taste a little with sugar, salt, pepper, and paprika for a little kick. For extra savoriness, we included some brown gravy mix, which is basically beef stock powder.
We list the measurements in the printable stuffed shells recipe card at the bottom of this article.
How to Store and Reheat Leftover Stuffed Shells
If you intend to eat the leftovers within 5 days, store them in an oven-safe container (covered) and place it in the fridge. To reheat, bake the whole container for 10 minutes at 400°F.
Can You Freeze Stuffed Shells?
Yes, you can. Put them in an air-tight container, label it '3 months from [today's date]', and freeze away. Try to eat it within the time period before it starts to go bad.
If you're freezing many portions, store them in separate biodegradable bags instead of one large container. This method allows you to reheat only the amount you want to use, and leaves the rest untouched and ready for later use.
To reheat, place the portions in a baking dish and bake for 20 minutes at 350°F.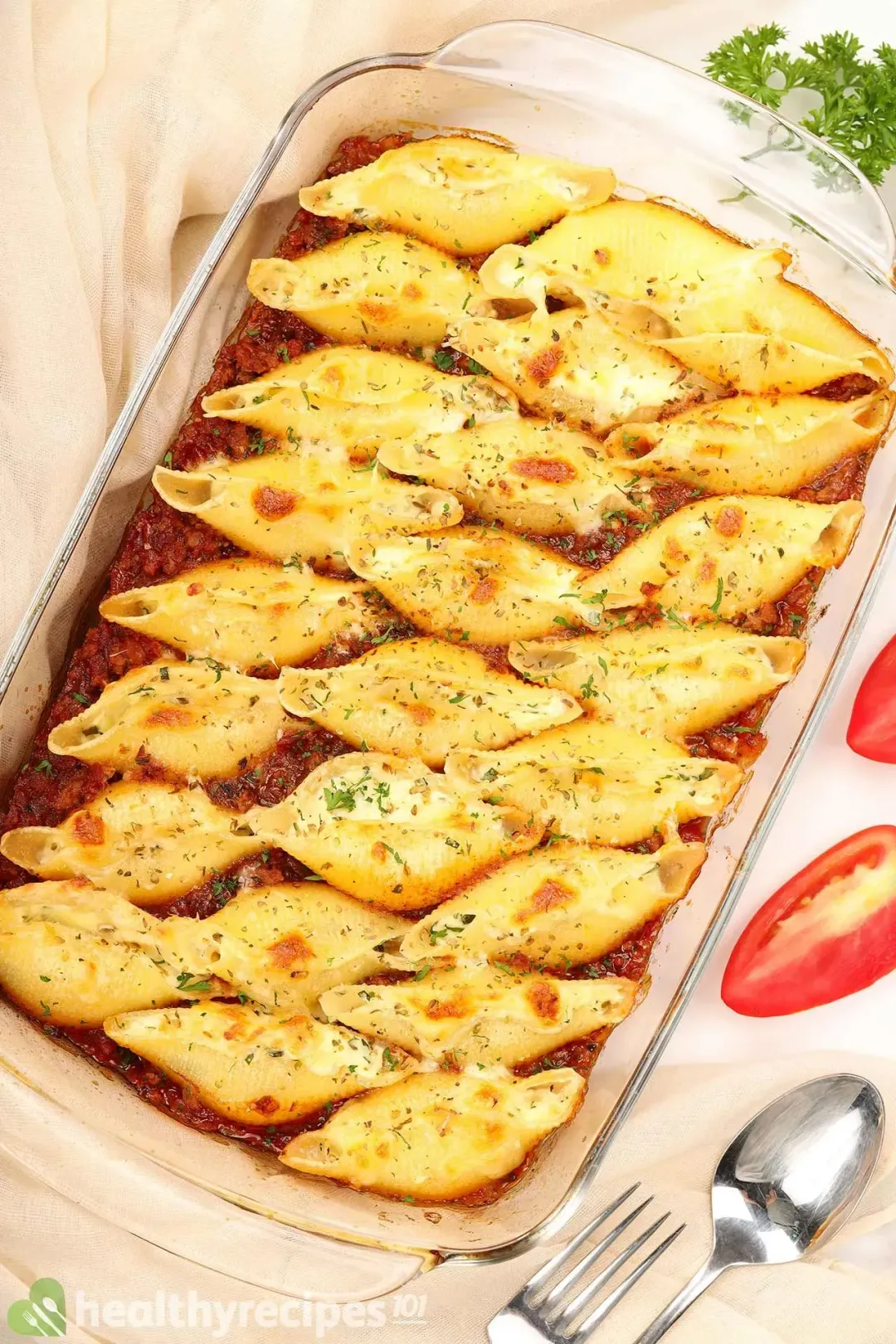 What Goes Well With Stuffed Shells
There are ways you can make these stuffed shells even better, like adding sausages. Cut your favorite sausage into chunks, then arrange it into the baking dish along with the stuffed shells. These slices lend a chewy texture and tons of intense flavor that you'll love.
Or, like manicotti, include some cooked spinach into the cheese filling for a melt-in-your-mouth texture (and added micronutrients). You can boil the spinach with the pasta, squeeze it dry, and it's ready — an easy, healthy addition.
Side Dishes for Stuffed Shells
The best side for this rich, flavorful pasta is something fresh and crunchy, like our Greek salad. It's simple, adds variety, is ready in minutes, and ticks all the boxes.
The final component we decided to add to complete the meal is our orange pineapple juice. It adds a sweet element and mild citrus aroma that the other two components lack, perfectly rounding off a beautiful meal.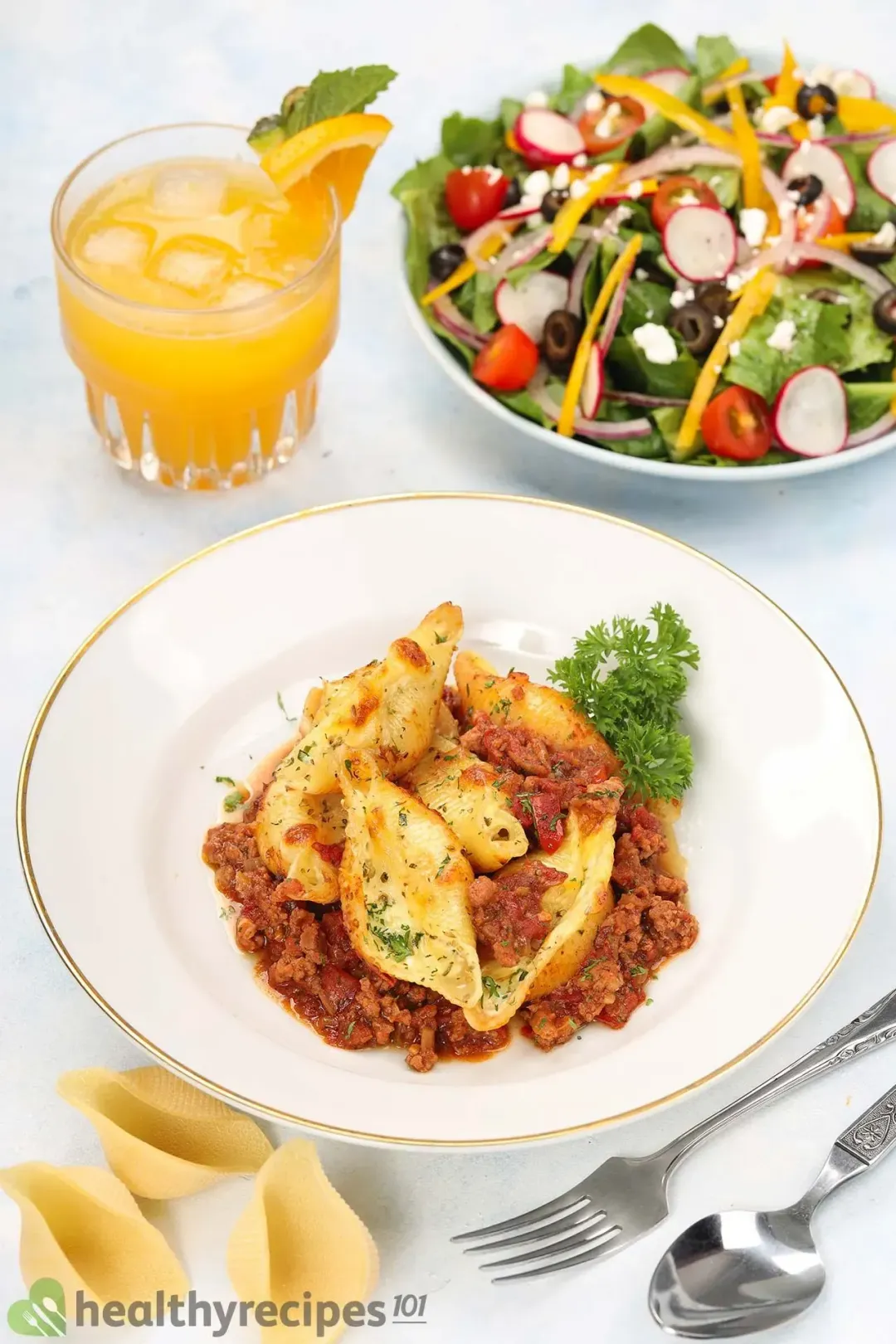 Treat Yourself to These Flavorful Beef Pasta Dishes
Beef Stroganoff is a classic Russian dish that has been popular around the world for centuries. This recipe from Healthy Recipes 101 features tender strips of beef cooked in a creamy mushroom sauce, served over a bed of egg noodles. Perfect for a cozy dinner at home or impressing guests with your culinary skills.
This Chinese-American dish is a classic stir-fry noodle recipe that combines tender beef, fresh vegetables, and flavorful sauces. With its savory taste and easy preparation, this Beef Lo Mein recipe is perfect for a quick and satisfying meal.
Are you a lover of all things beef and pasta? Then you'll definitely want to check out this roundup of our favorite recipes.
Stuffed Shells
Our stuffed shells recipe asks for nothing more than 35 minutes of your time and some simple ingredients, to turn out a rich, flavorful pasta dish.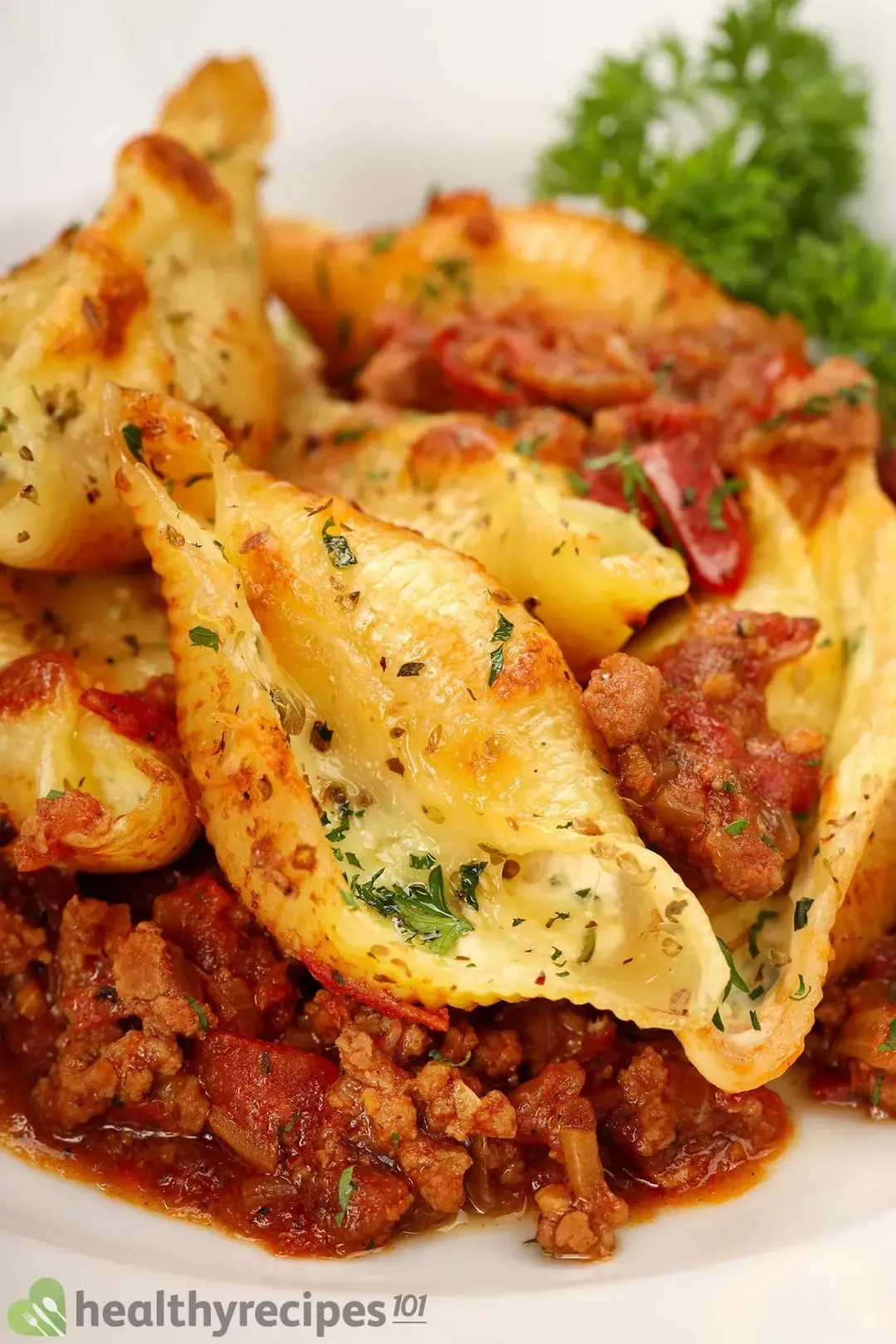 cook TIME

30 mins

prep TIME

5 mins

total TIME

35 mins
COURSE

Main Course

CUISINE

Italian

SERVINGS

CALORIES

476 kcal
INGREDIENTS
6 oz

85% lean ground beef

6 oz

dry conchiglie

(about 24 jumbo)

2 oz

onion

(about half a medium, chopped)

2 oz

tomatoes

(about half a medium, chopped)

1/2 cup

homemade tomato sauce

1/2 cup

unsalted chicken broth

2.5 oz

mozzarella

(shredded)

0.5 oz

parmesan

(shredded)

1 tbsp

Hunt's tomato paste

1 tbsp

garlic

(about 3 cloves, minced)

2 tbsp

parsley

(finely chopped)
INSTRUCTIONS
1
Preheat the oven to 400°F. Bring a pot of water to a boil, and add 6 oz dry conchiglie. Set a timer to 7 minutes. When the timer goes off, drain the pasta, and rinse them under tap water. Set aside. Meanwhile, prepare the sauce by following steps 2-6.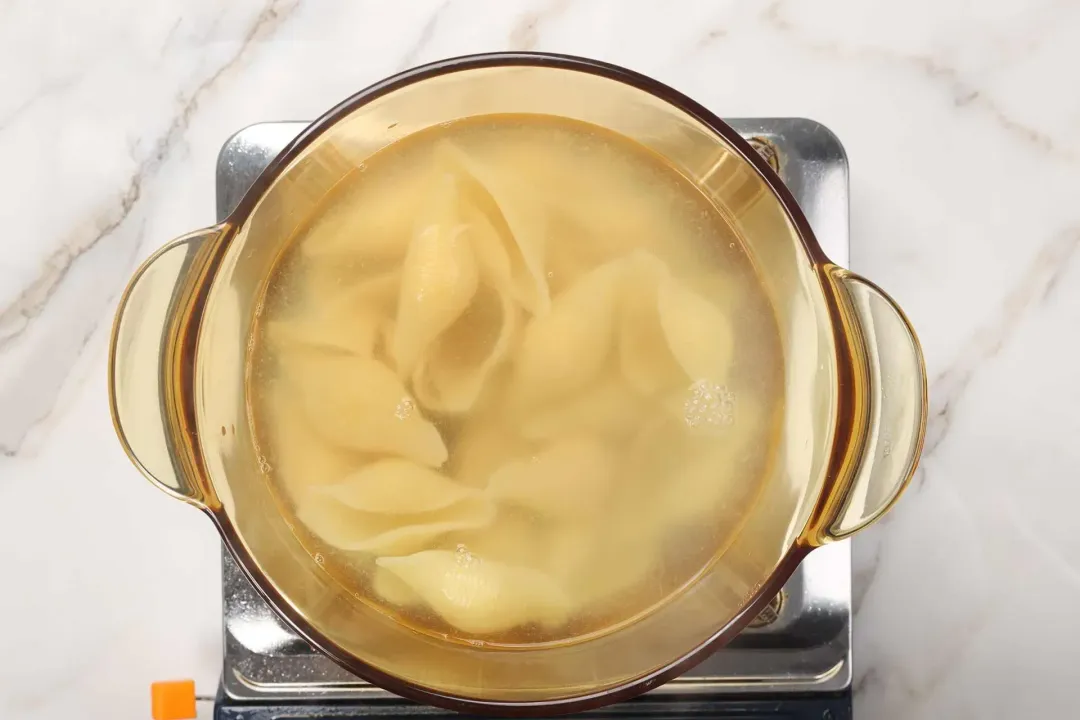 2
Heat 1 tbsp olive oil in a non-stick skillet over medium heat. Sauté 1 tbsp minced garlic and 2 oz chopped onions for about 30 seconds.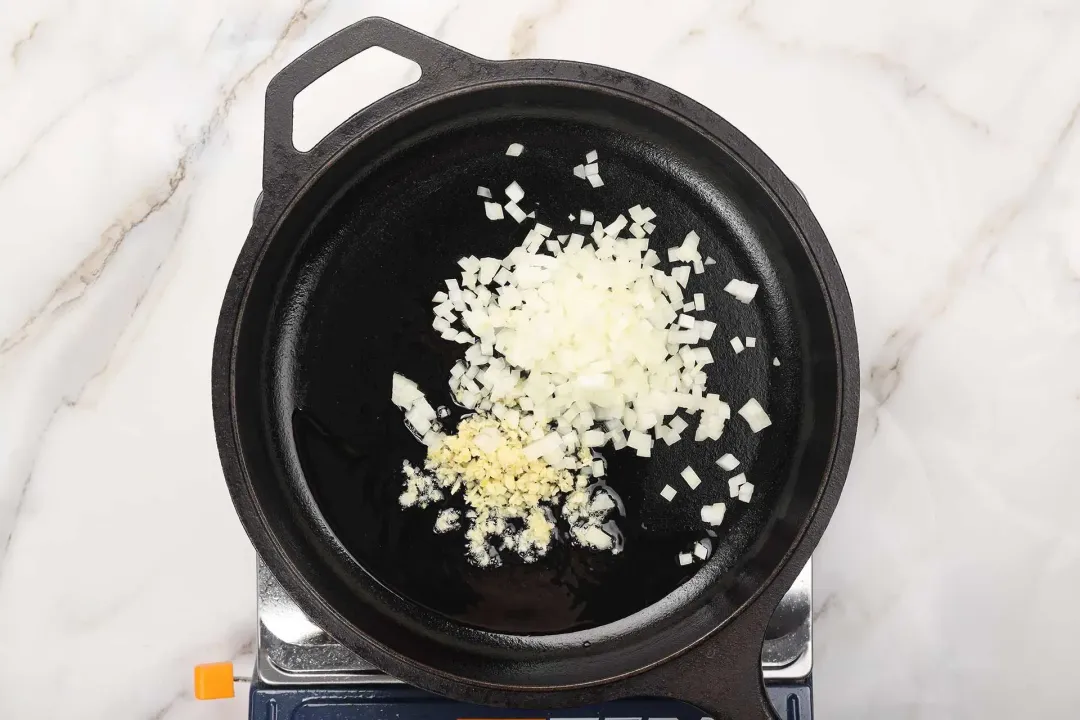 3
Add 1 tbsp tomato paste and stir until it becomes more liquid and coats the onions, about a minute or so.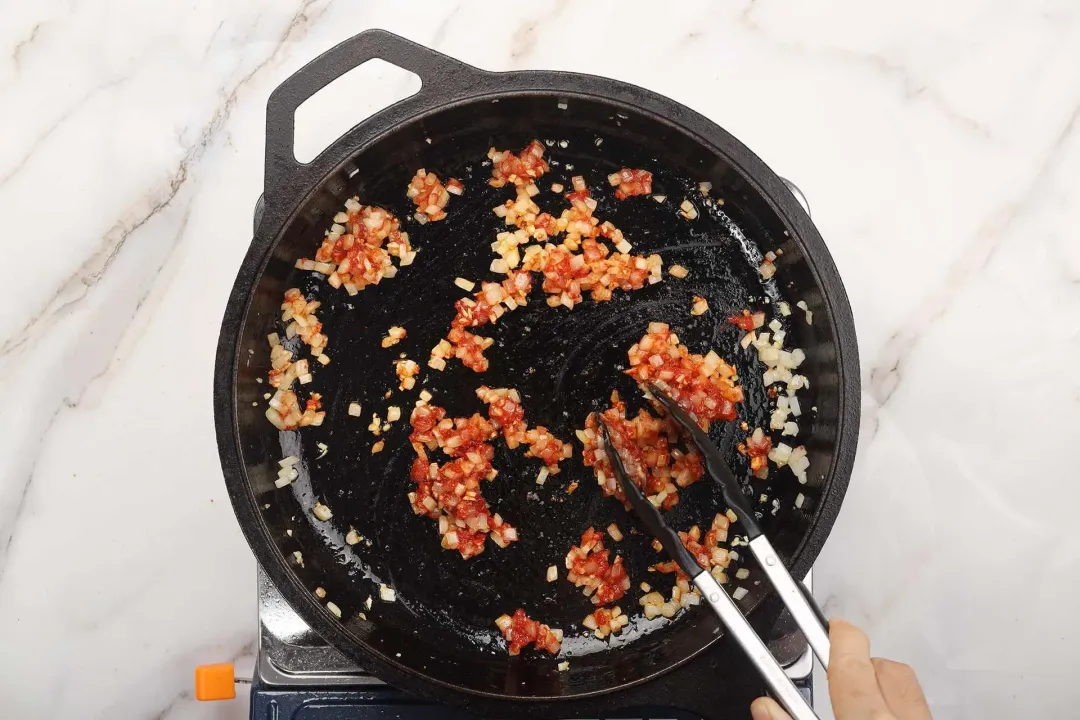 4
Add 2 oz chopped tomatoes and sauté for about 2 minutes or until everything looks more dry.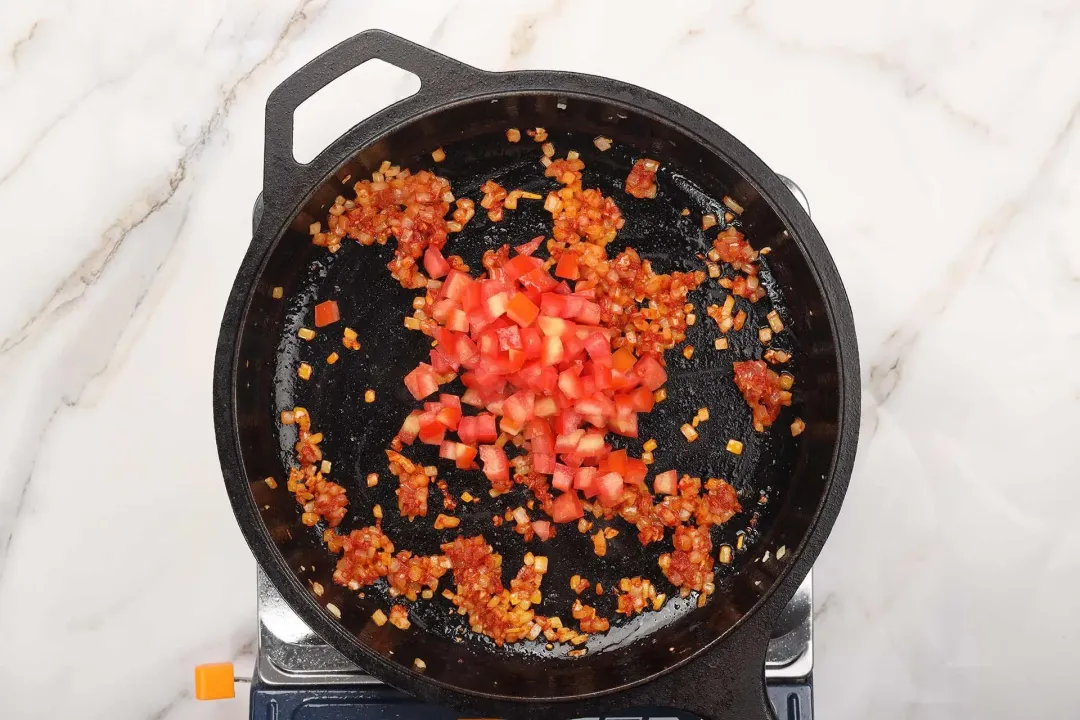 5
Add 6 oz ground beef along with 2 tsp dried oregano, 1 tsp brown sugar, 1/2 tsp brown gravy mix, 1/2 tsp paprika, 1/2 tsp salt, 1/2 tsp pepper, and 1/2 cup tomato sauce. Stir everything for about 2 minutes.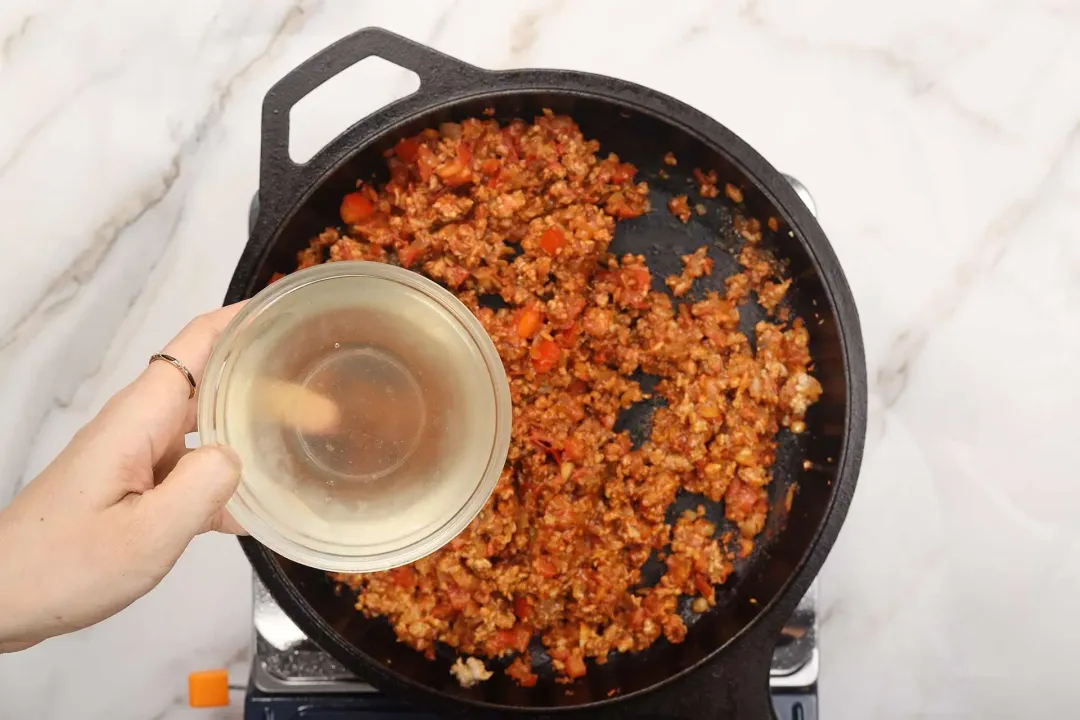 6
Pour in 1/2 cup chicken stock and simmer for another 2 minutes. Set aside when it's done, and go back to the pasta, which should be done by now.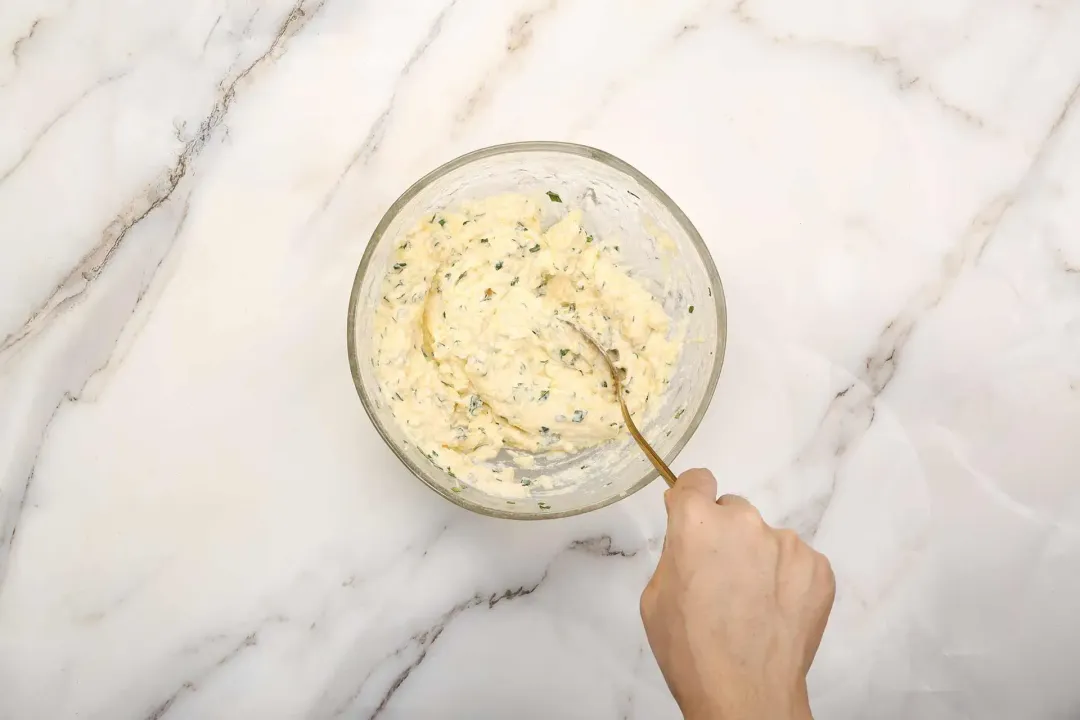 7
In a bowl combine 4 oz ricotta, 2.5 oz mozzarella, 0.5 oz parmesan, 2 tbsp julienned basil, and 1 egg. Stuff the filling into each shell (24 in total).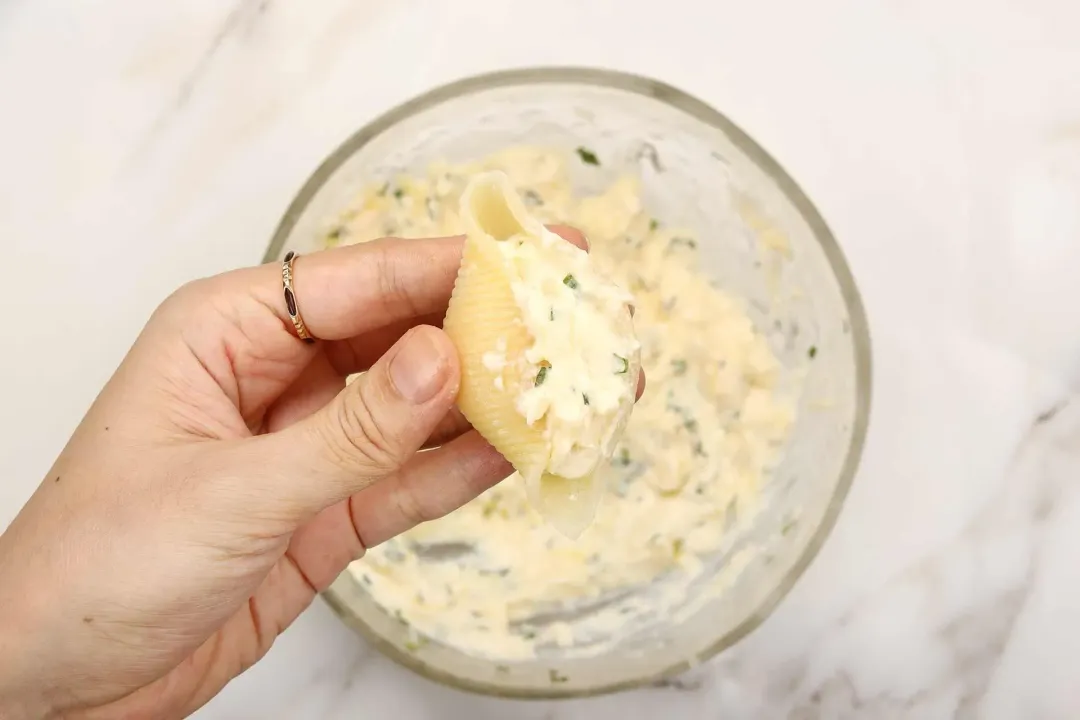 8
Take a baking dish large enough to hold the shells in one layer, and pour your meat sauce in. Place the stuffed shells on the meat sauce, and slide the baking dish into the oven. Bake for 15 minutes.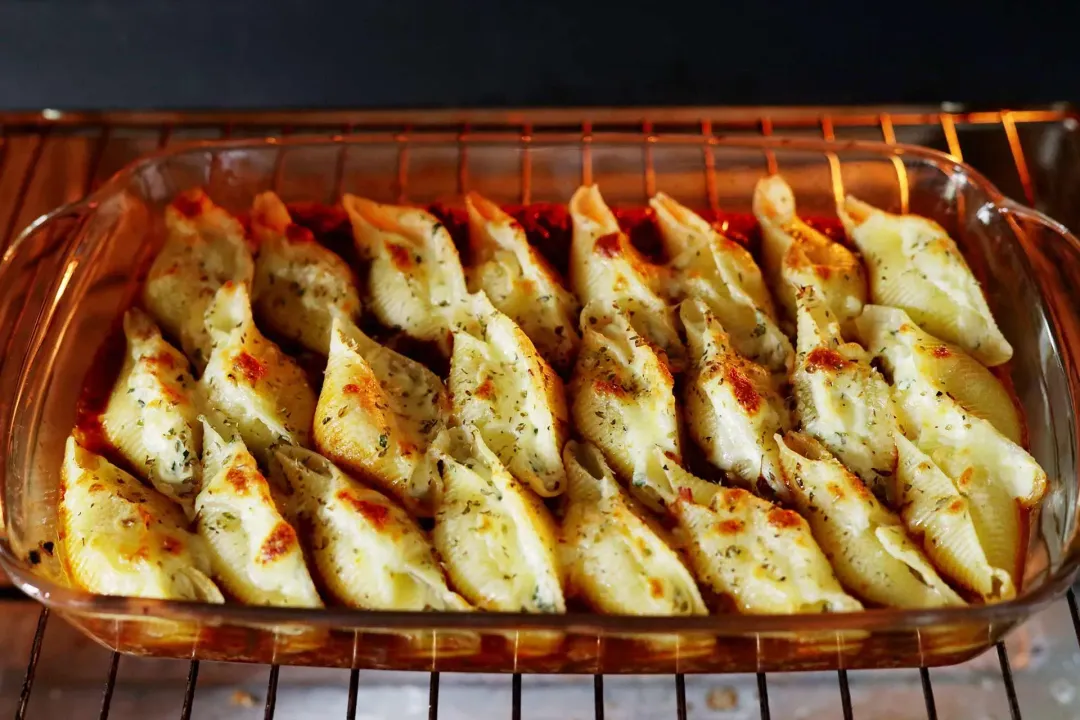 9
When it's done, take it out and sprinkle 2 tbsp chopped parsley on top and enjoy.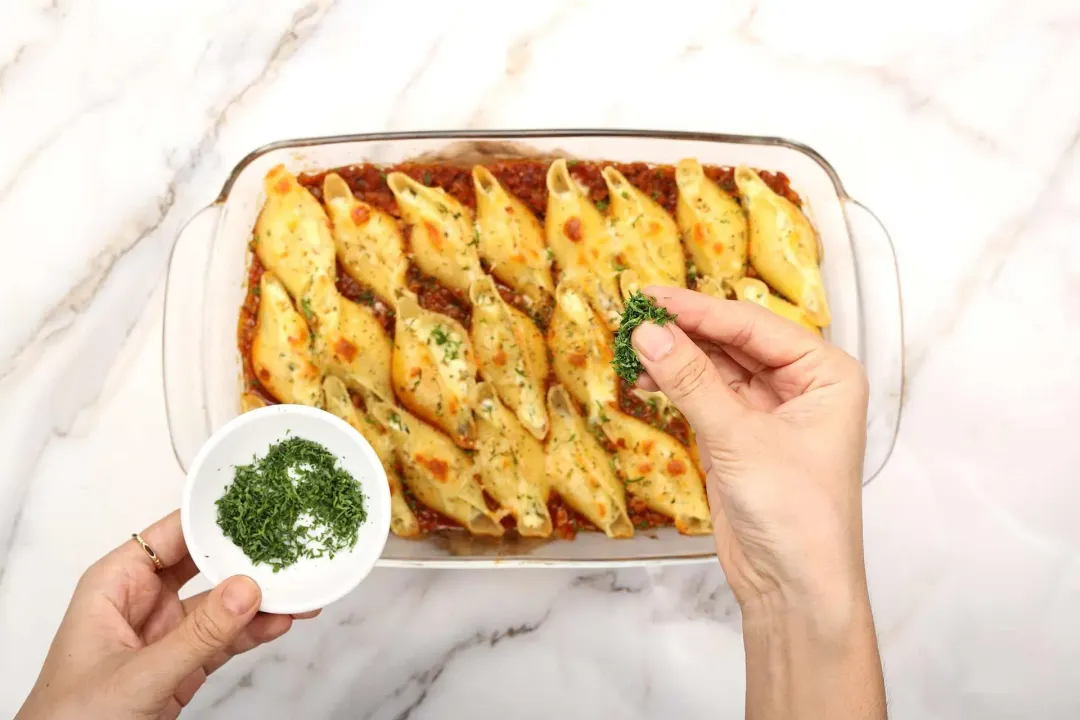 NUTRITION
Nutrition Facts
Stuffed Shells
Amount Per Serving (1 serving)
Calories 476
Calories from Fat 207
% Daily Value*
* Percent Daily Values are based on a 2000 calorie diet.
Keywords: how to make stuffed shells, stuffed pasta shells, stuffed shells, stuffed shells recipe, stuffed shells with meat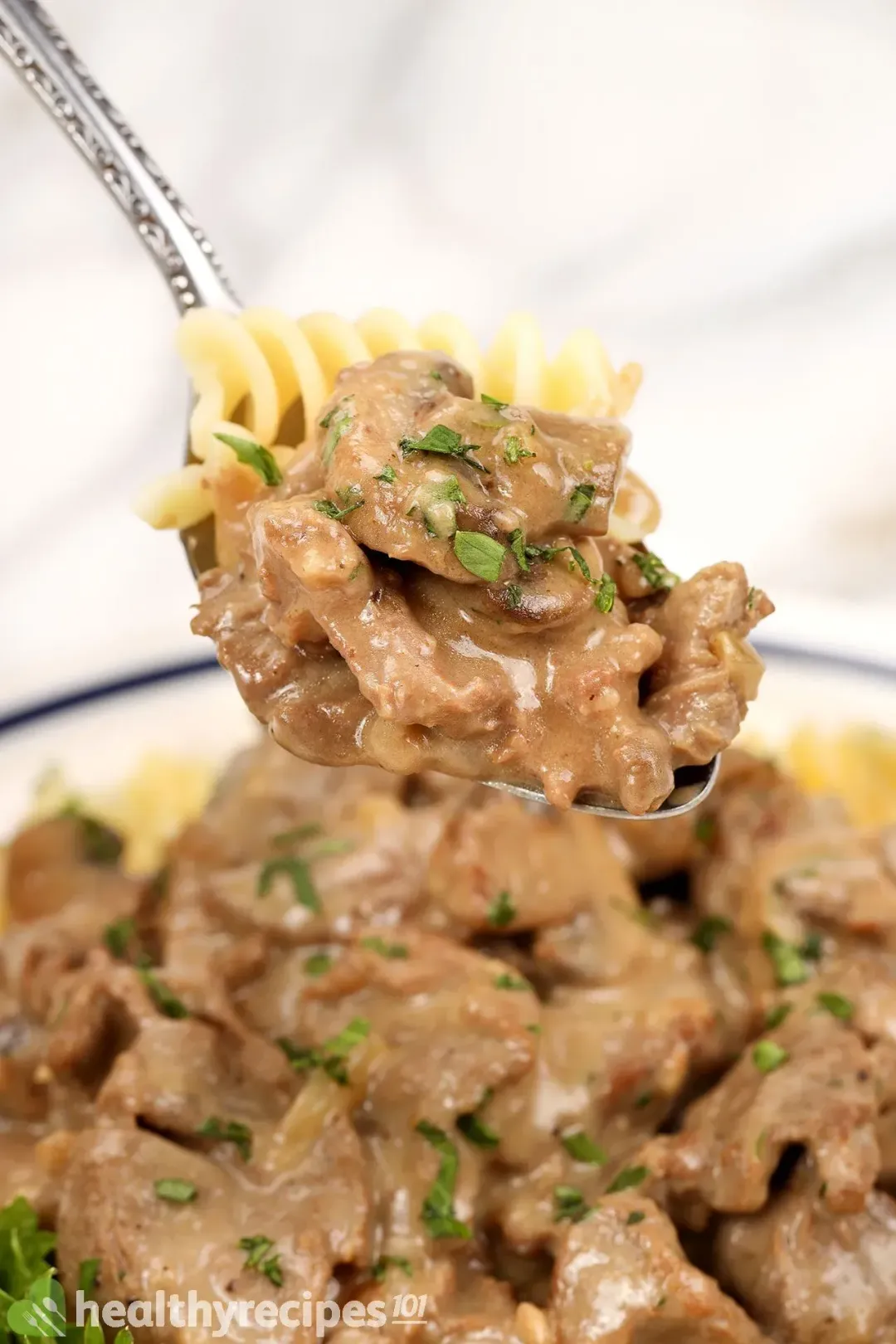 Previous Recipe
Russian Beef Stroganoff
Russian Beef Stroganoff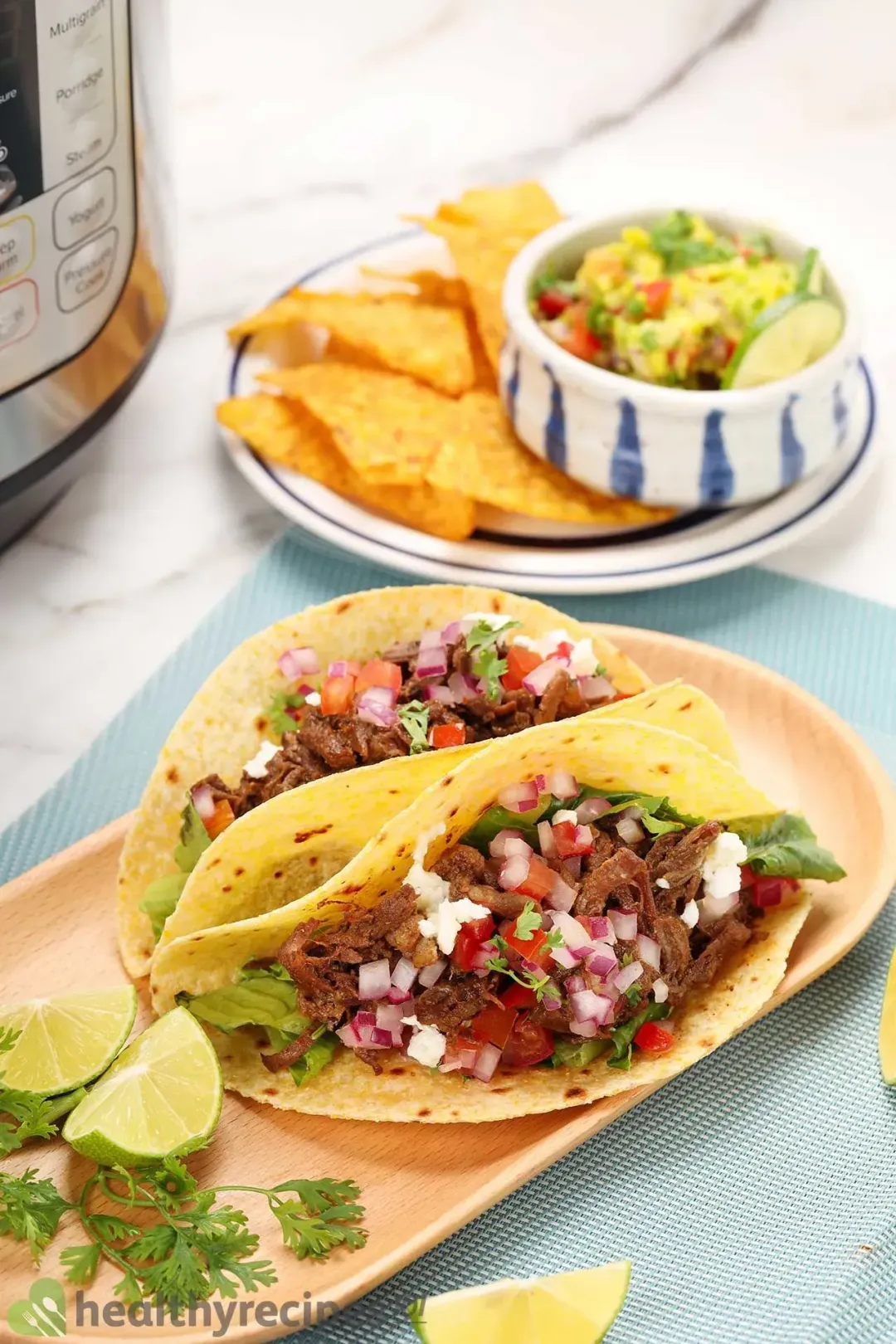 Next Recipe
Instant Pot Carne Asada
Instant Pot Carne Asada
Head Chef, Culinary Consultant
Tuyet Pham is an award-winning Saigonese chef who believes that joy is the secret ingredient to delicious food. At Healthy Recipes 101, Tuyet personally tests and simplifies every recipe, ensuring maximum flavor with minimal effort. With a background at prestigious French restaurants P'TI Saigon and Le Corto, Tuyet knows how to make every dish exceptional.
Writer, Author
Luna Regina is an accomplished writer and author who dedicates her career to empowering home cooks and making cooking effortless for everyone. She is the founder of HealthyKitchen101.com and HealthyRecipes101.com, where she works with her team to develop easy, nutritious recipes and help aspiring cooks choose the right kitchen appliances.
Nutrition Reviewer
Natalie Butler is a registered dietitian nutritionist with a passion to help others live their best life through food, fitness, safer beauty and a healthy lifestyle. She has expertise with a variety of diets and diseases and believes that there is no one-size-fits-all approach for health.
These stuffed shells are a crowd-pleaser! The beef and cheese filling is rich and savory, making it a perfect comfort food.