Today's collection of hearty beef soup recipes features ideal comfort food, with fork-tender beef chunks and an abundance of vegetables that have been cooked in a flavorful broth.
What Cut of Beef is Best for Soup?
Chuck roast and sirloin steak are the greatest pieces of beef to use in any soup. When cooked in soup, they always provide tender, succulent meat. 
Chuck roast is quite difficult to cook and requires time to get soft. We recommend using a slow cooker or Instant Pot for this cut for convenience and the best results.
Collection of Beef Soup Recipes
What Can I Add to?
If you want to improve the taste, texture, and flavor of beef soup broth, here are a few simple techniques and additions:
1. Herbs, Spices, and Seasonings
Herbs and spices provide the soup broth with fragrance, taste, and intensity. In general, fresh herbs should be used at the end of cooking, whereas dried herbs and spices should be added early on.
Consider fennel seeds and marjoram for Italian tastes, cumin and coriander for Mexican, ginger and sesame oil for an Asian twist, cinnamon and cardamom for Moroccan, and turmeric and mustard seed for an Indian twist. 
If your broth lacks flavorful depth, add tomato paste. It provides umami flavor and builds up complexity.
2. Vegetables 
Almost all vegetables will produce a flavorful soup. Sweet potatoes, zucchini, squash, turnips, tomatoes, celery, mushrooms, onions, leeks, cabbage, kale, chard, potatoes, celeriac, cauliflower, and broccoli are just a few examples.
Also, keep in mind that not all veggies require hours of cooking time. Add root vegetables at the beginning of the cooking process and save tender veggies for the end.
Different Ways to Cook
There are several methods to cook beef soup recipes. It can be prepared on the stovetop, in a slow cooker or crockpot, or in an instant pot. The steps are quite similar, but there are a few secrets that make sure each version is delicious.
1. Stovetop
This strategy is effective for good reason. Homemade vegetable beef soups can always be prepared on the stovetop with no need for special equipment such as a slow cooker or instant pot.
Simply brown the meat in a saucepan for a few minutes before adding the remaining ingredients. Then bring the pot to a boil, cover, and simmer on medium heat for approximately 30 minutes. The supper will then be ready to serve.
2. Slow Cooker
A slow cooker helps you to cook the soup in advance and allows it to slow-cook while you run to work and return to a ready-to-eat meal!
For added flavor, brown or sear the beef in a pan before placing it in the slow cooker. This is optional but strongly suggested for optimal flavor.
Then, combine your preferred vegetables, beef broth, and seasonings in the slow cooker, cover, and simmer on low for 7-8 hours, until the meat is tender and juicy.
3. Instant Pot
Normally, beef takes a lengthy, slow boil to become tender. However, cooking the beef soup under pressure in an Instant Pot makes this process quick and simple. It also allows you to sauté the steak and veggies in the same pan, making cleanup a breeze. 
The recipe starts with searing the beef chunks on both sides to enhance the rich, meaty taste. The result will be a delicious brown crust.
After browning the steak, add the veggies and toss everything together. Then, add the broth, seasonings, and spices before closing the lid. The cooking time for this soup is only 15 to 20 minutes, but the end product still delivers richness and flavor.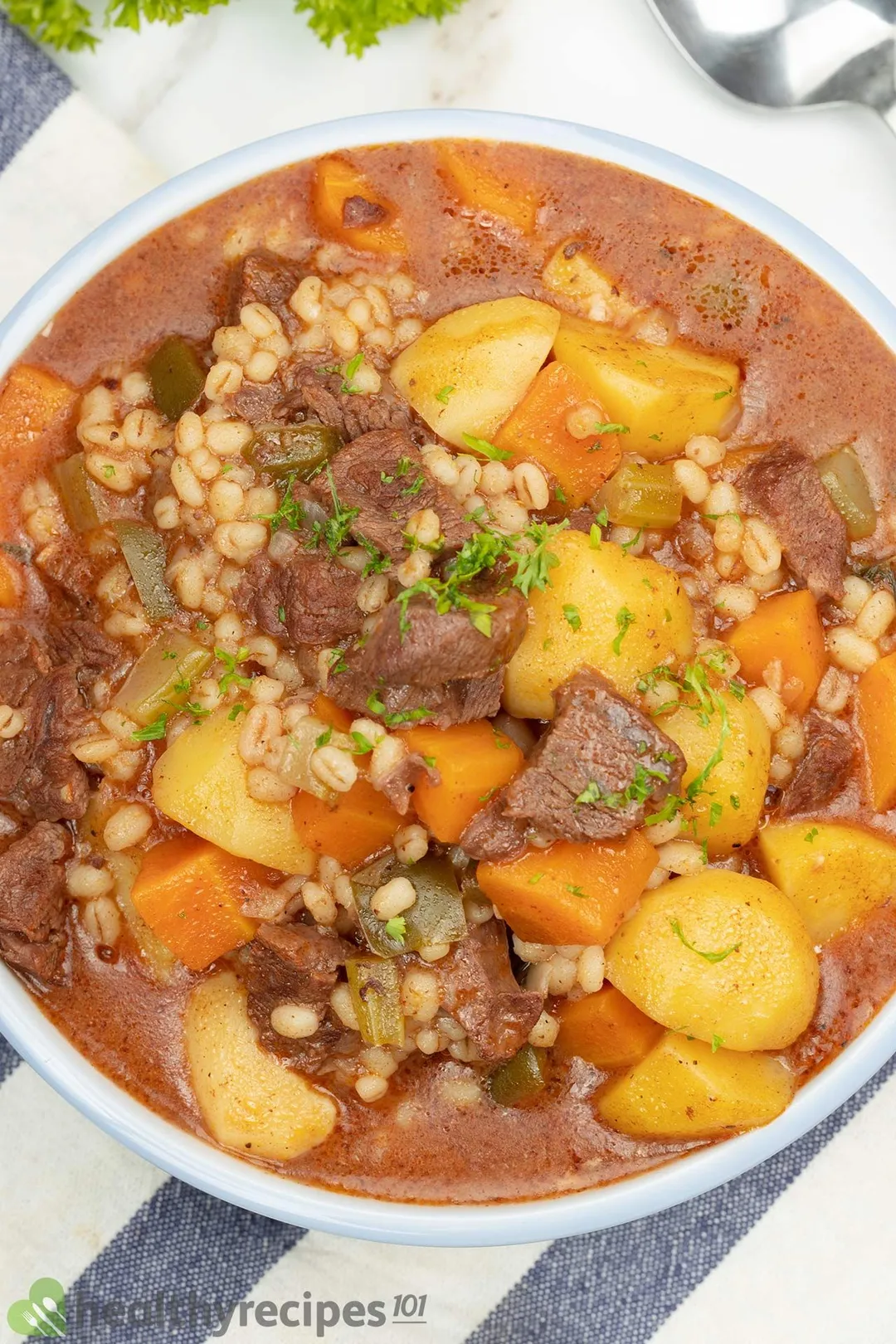 Beef Soup Recipes
Our beef soup recipes make hearty and satisfying meals for both the family and crowds, especially on those cold winter days.
Ingredients
Directions
Choose a recipe that you like.
Assemble all the essential ingredients.
Follow the instructions to give you incredibly tasty beef soup recipe in less than 45 minutes!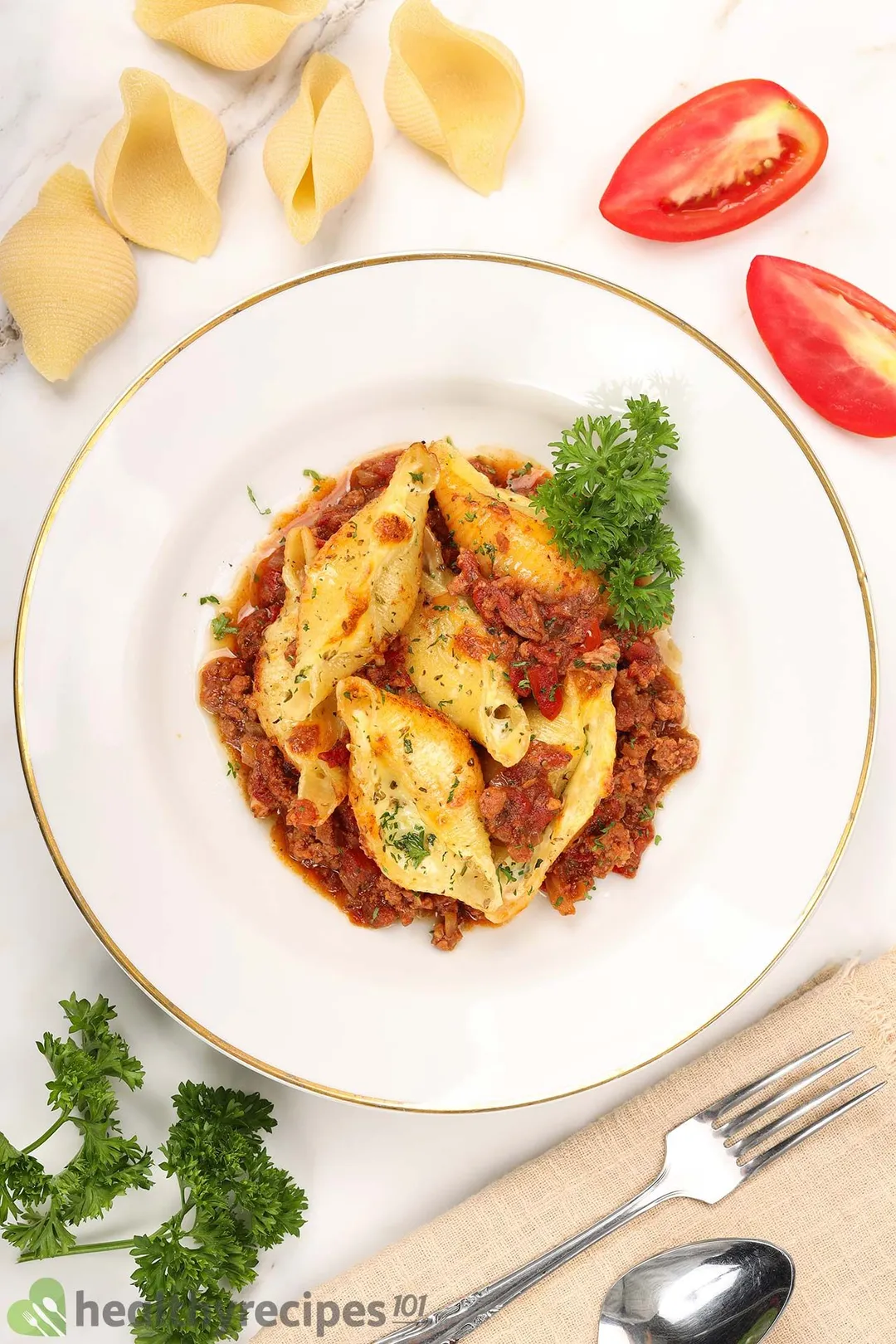 Previous Recipe
Italian Beef Recipes
Italian Beef Recipes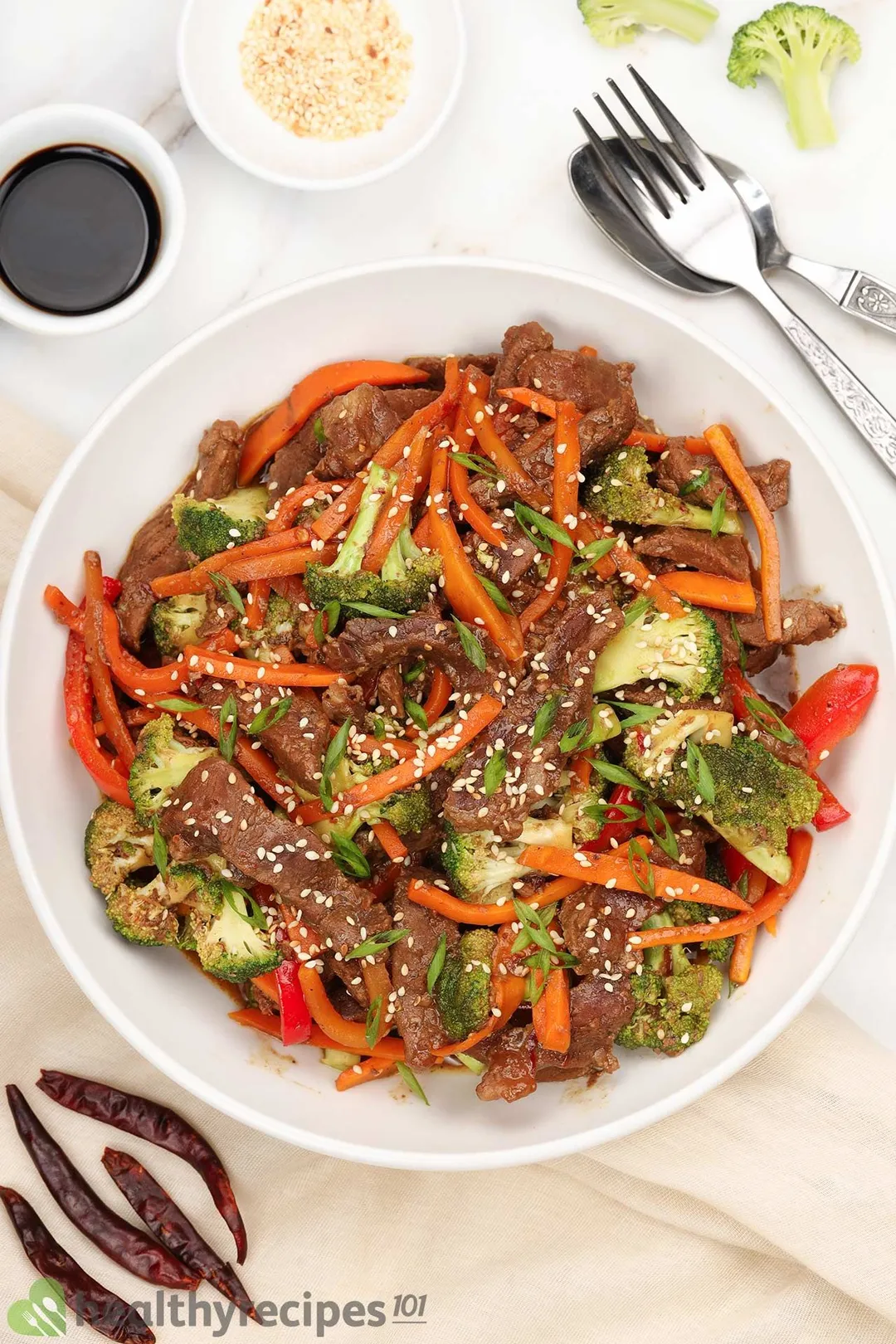 Next Recipe
Mongolian Beef Recipes
Mongolian Beef Recipes
Writer, Author
Luna Regina is an accomplished writer and author who dedicates her career to empowering home cooks and making cooking effortless for everyone. She is the founder of HealthyKitchen101.com and HealthyRecipes101.com, where she works with her team to develop easy, nutritious recipes and help aspiring cooks choose the right kitchen appliances.
Comments/ Reviews