Today's meatball soup recipe makes a hearty and scrumptious soup. We broil our meatballs until a tasty brown crust is developed, then add them to the soup. Pieces of veggies also form the meatballs and melt in your mouth as you take each spoonful.
Is Meatball Soup Healthy?
Meatballs themselves contain various micronutrients and plenty of proteins. They're cooked with an assortment of vegetables, a healthy source of carbs, fiber, and micronutrients.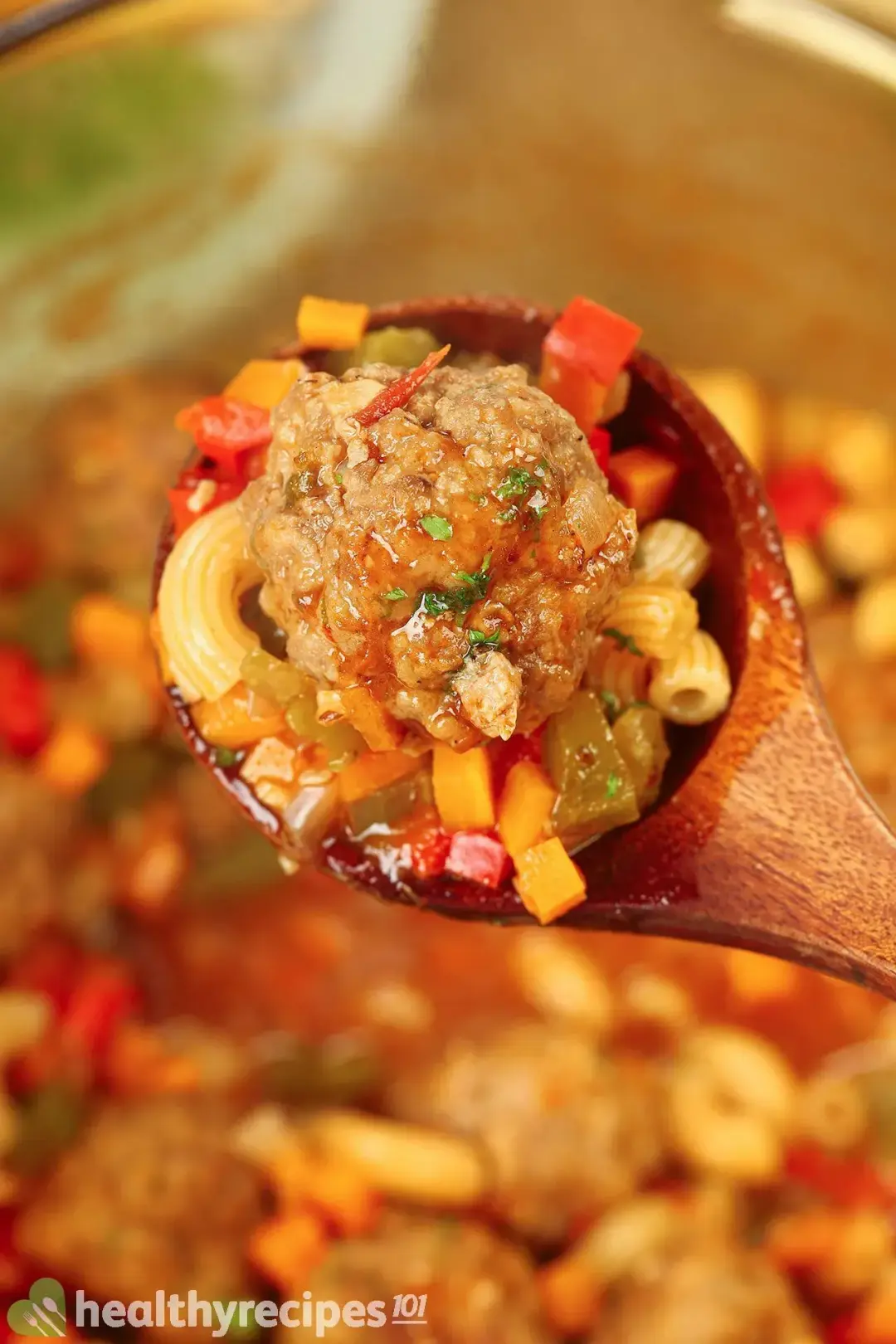 Changes We Made to Make It Healthier
The beef that's more popular in markets, 85% lean, contains up to 5.7 g saturated fat per 100 g meat. To keep the saturated fat level of this dish within moderation, we had to use less meat than what's usually called for.
Using less meat also allowed us to use less salt, lowering the sodium content of the dish as well.
Once happy with the taste, we adjusted the portion size so each contains around 500 calories.
Ingredients for Our Meatball Soup Recipe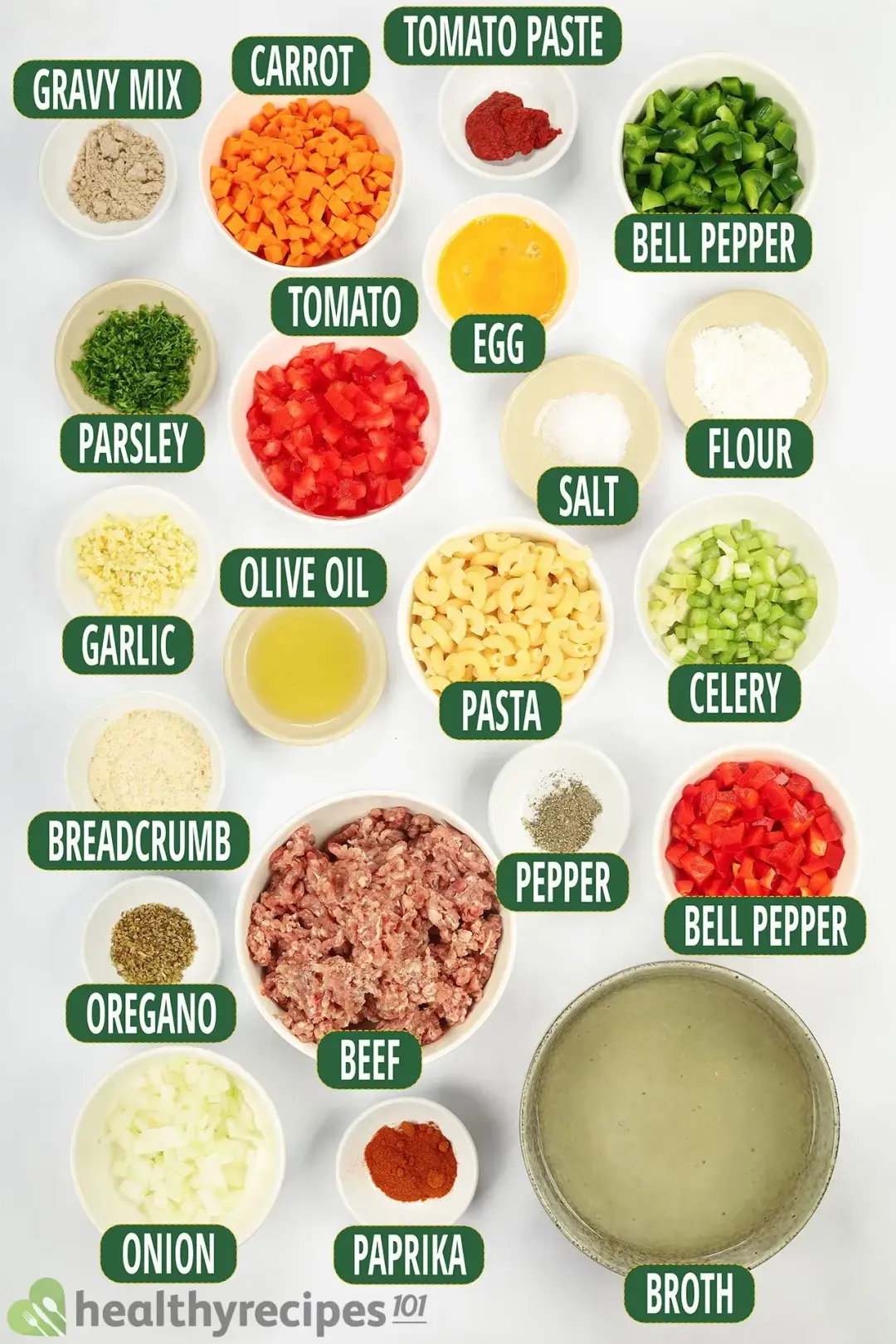 Ground beef: 85% lean. You can opt for leaner options (95% lean is maximum) to reduce the saturated fat content of the dish.
Ground beef seasonings: parsley, salt, pepper, egg, and breadcrumbs. The last two ingredients make the meatballs airier and softer.
Veggies: garlic, onion, tomatoes, bell peppers, carrot, and celery. The use of two types of peppers is solely to make the soup more colorful—you can use one type if you want.
Pasta: macaroni. Using uncooked pasta makes it difficult to tell how much liquid is needed, so we boil ours before making this soup. All that needs to be done is to cook it according to the package instructions (5-7 minutes), drain it, then add it to the soup at the last minute.
Seasonings: tomato paste, salt, pepper, beef gravy mix, oregano, and paprika. We cooked the tomato paste until it melted rather than adding it after the liquids, to develop more flavors.
Thickener: all-purpose flour. It slightly thickens the soup and gives it a silky mouthfeel.
How Do You Keep Meatballs From Falling Apart in Soups?
First of all, a binder. Ingredients like eggs, breadcrumbs, and flour help to glue the meat together.
The thing is it's hard to tell how much binder is sufficient. Using too much binder, on the other hand, can make the meatballs rather mealy.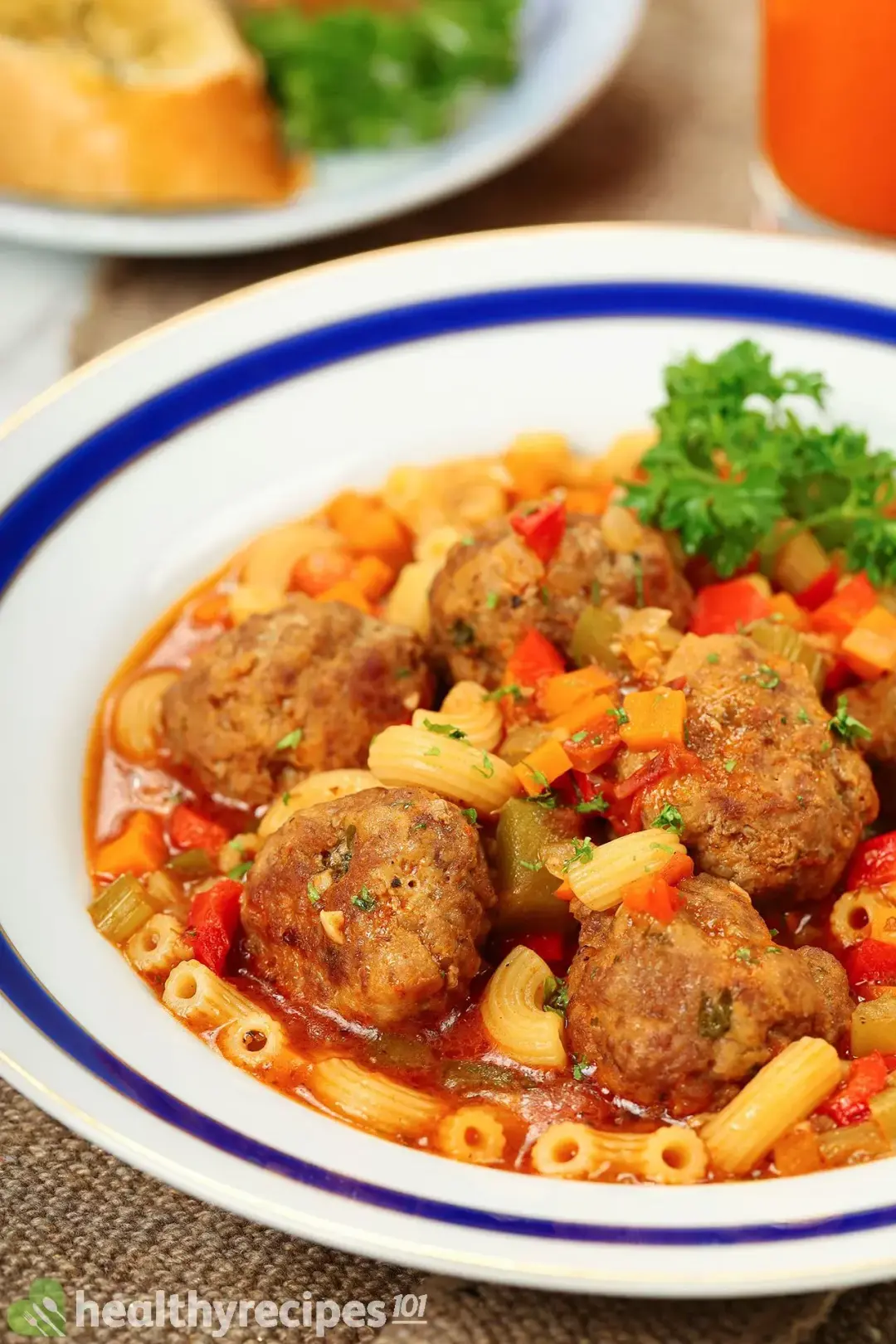 That's why besides using binders, we also need to cook the meatballs separately before adding them to the soup. Searing, deep-frying, air-frying, baking, and grilling are great techniques—we're baking them for the sake of convenience.
Variations and Add-ins
1. Meat Choices
Swap half of the ground beef for ground pork and you'll have bouncier, slightly chewier meatballs. Ground turkey and ground chicken are also great alternatives that are less in saturated fats as well, but they won't be as chewy.
2. Pasta Choices
This soup welcomes farfalle, orzo, gnocchi, etc. as long as they come in pieces as large as the chopped vegetables. Each requires a different cooking time, so keep that in mind when you start making the soup.
Storing and Reheating Meatball Soup
With macaroni, this soup keeps well in the fridge but doesn't freeze well—pasta loses its chewy texture once frozen.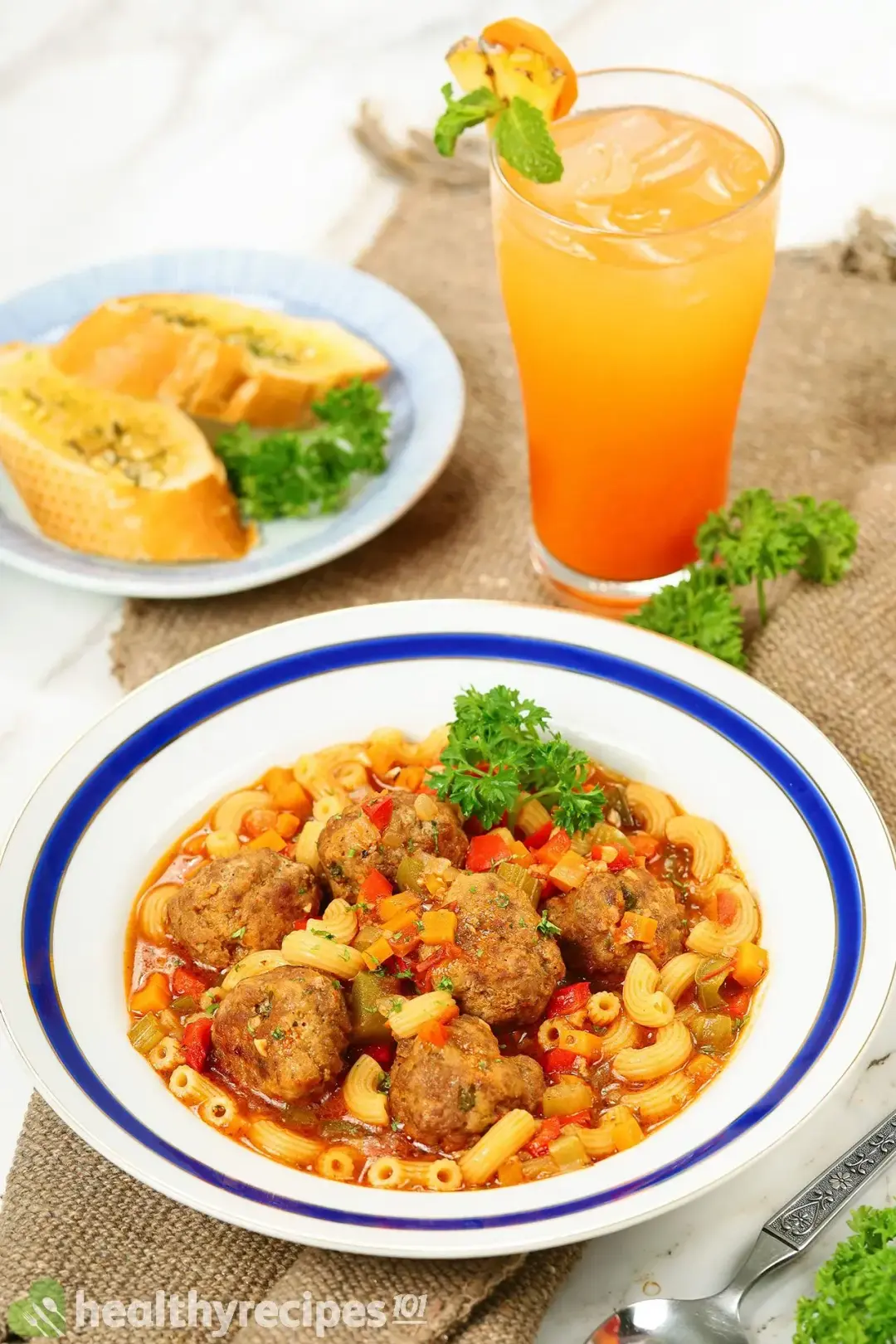 This leaves us with two choices:
Make the soup in its entirety and keep it for 4 days only, in the fridge. It can be divided into containers for easier portion management.
Make your soup without macaroni, then you can freeze it for up to 3 months. Cook some and add macaroni to your soup only before serving.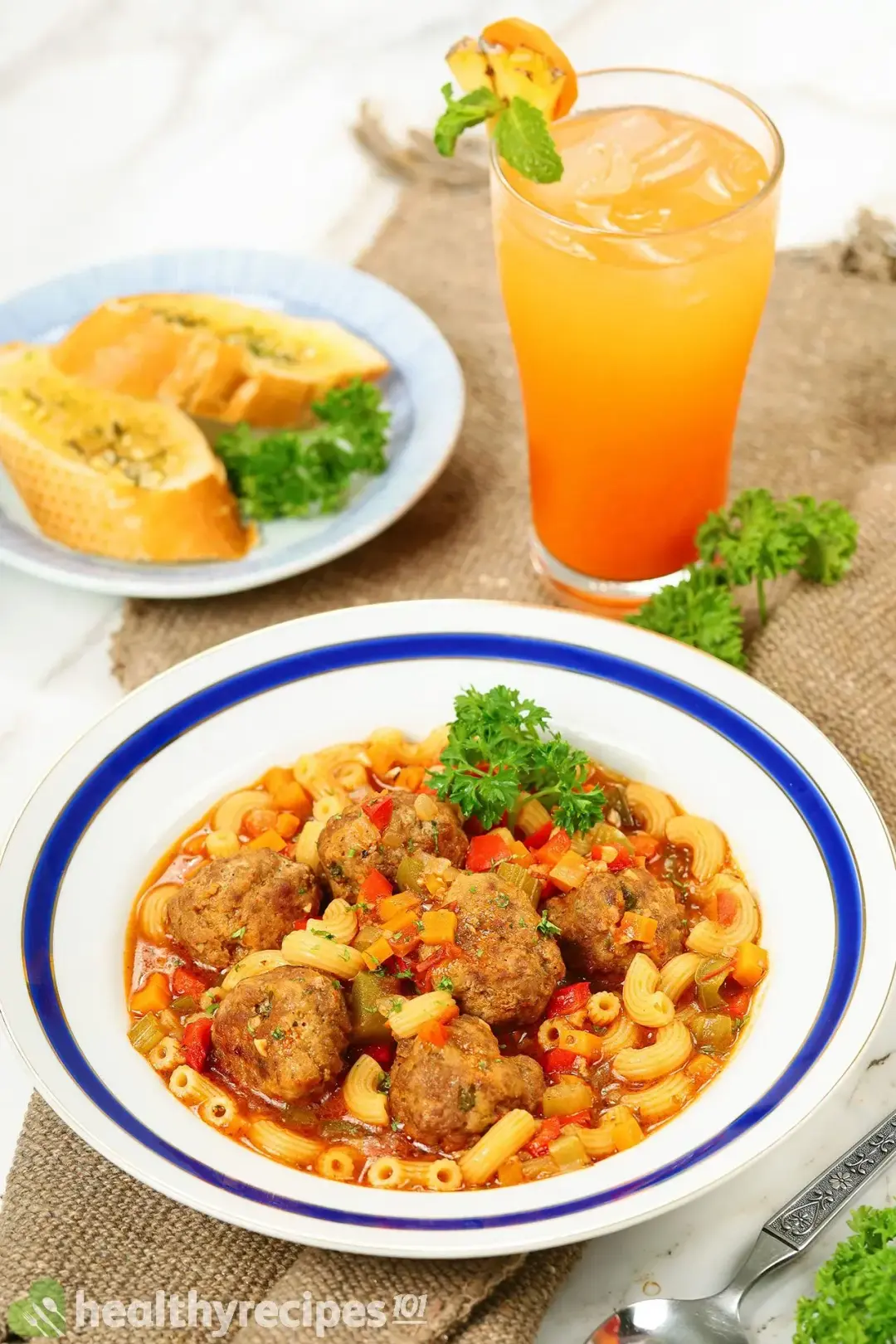 How to Make Meatball Soup
This meatball soup recipe yields a hearty, well-seasoned soup that's full of vegetables and springy meatballs. It's quick to make, too.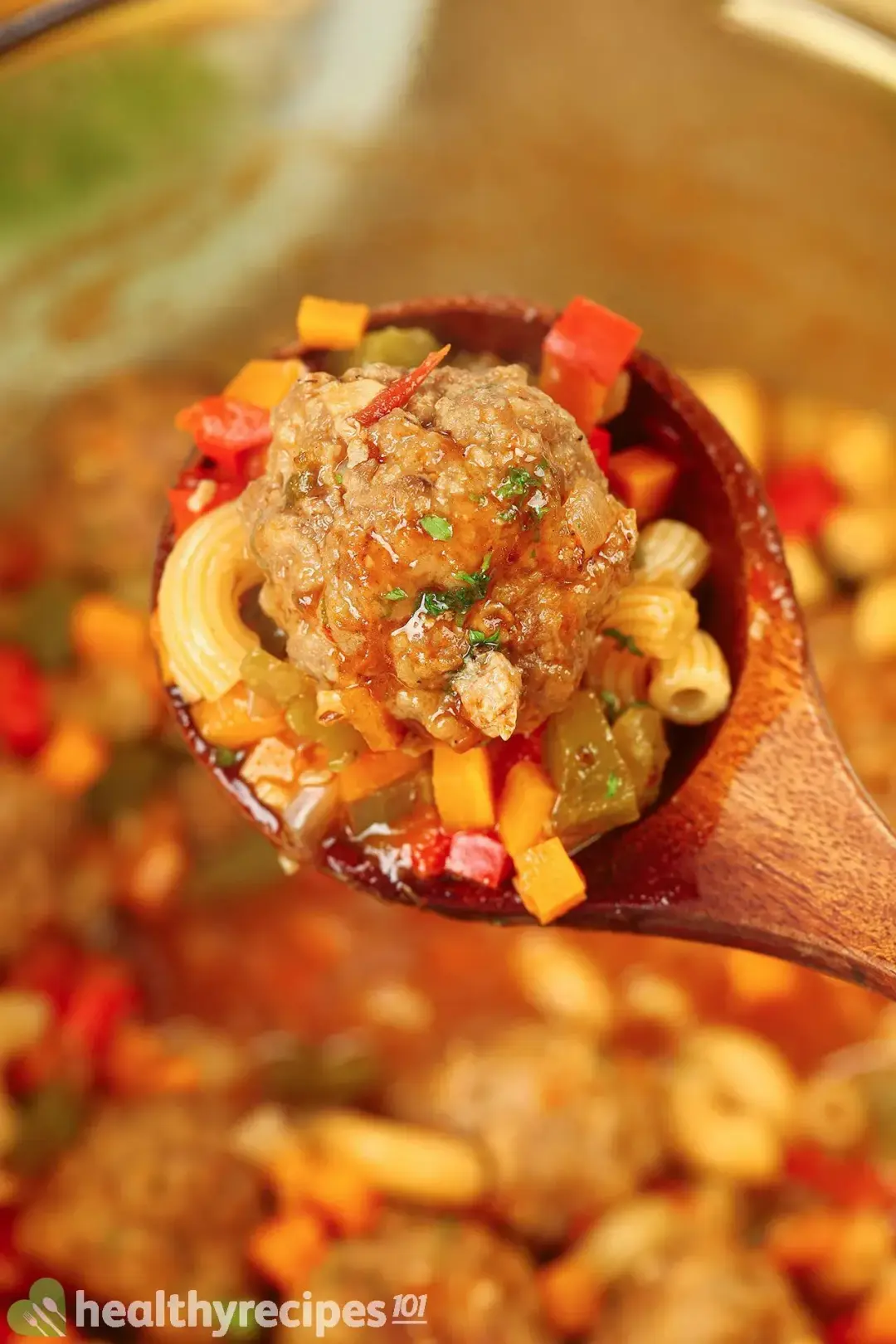 cook TIME

37 mins

prep TIME

8 mins

total TIME

45 mins
COURSE

Main Course

CUISINE

Global

SERVINGS

servings

CALORIES

505 kcal
INGREDIENTS
8 oz

cooked macaroni from about 7 oz dry

2 tbsp

garlic minced

2 tbsp

parsley chopped

2 oz

onion chopped

2 oz

celery chopped

4 oz

tomato chopped

4 oz

green bell pepper chopped

4 oz

red bell pepper chopped

4 oz

carrot chopped

16 oz

85% lean ground beef

0.5 tsp

ground black pepper

0.5 tsp

salt

0.3 cup

plain Panko breadcrumbs

1

medium egg

2 tbsp

olive oil

1 tbsp

Hunt's tomato paste

2 tbsp

all-purpose flour

1 tbsp

brown gravy mix

1 tsp

oregano

1 tsp

paprika

3 cup

unsalted chicken broth
INSTRUCTIONS
PREP
1
Cook the macaroni: Measure 7 oz uncooked macaroni and boil it according to package instructions. Drain and measure out 8 oz cooked macaroni.
2
Mince the garlic: Slice the head off of 3 cloves of garlic, and press them on your cutting board with your knife. Peel the skin away, chop them finely, and measure out 2 tbsp.
3
Chop the onion: Half an onion and store the other half away. Peel the half, chop it, and measure out 2 oz.
4
Chop the celery: Slice the leaves off of 1-2 celery stalks and chop the stalk. Measure out 2 oz. The leaves can be saved for making stocks or stir-fries.
5
Chop the tomato: Half one tomato and remove the green top. Chop both halves and measure out 4 oz.
6
Chop the green bell pepper: Slice the top off a green bell pepper and remove the seeds. Chop it and measure out 4 oz.
7
Chop the red bell pepper: Repeat with the red bell pepper. Wrap the leftovers with plastic wrap and refrigerate.
8
Chop the carrot: Slice off the carrot's head and peel the skin away. Cut it into 0.5" slices, cut the slices into fingers, then the fingers into chunks.
COOK
1
Preheat the oven: to 450°F.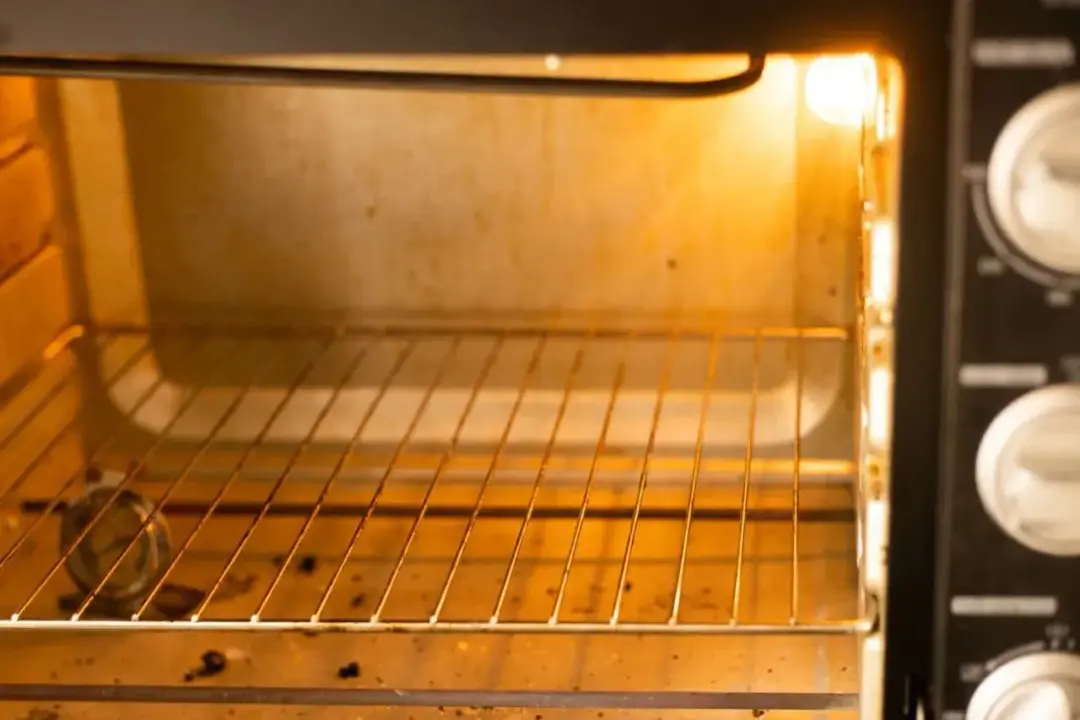 2
Make the meatball mixture: Combine 16 oz ground beef with 1/4 tsp salt, 1/4 tsp pepper, 1 egg, and 1/4 cup breadcrumbs.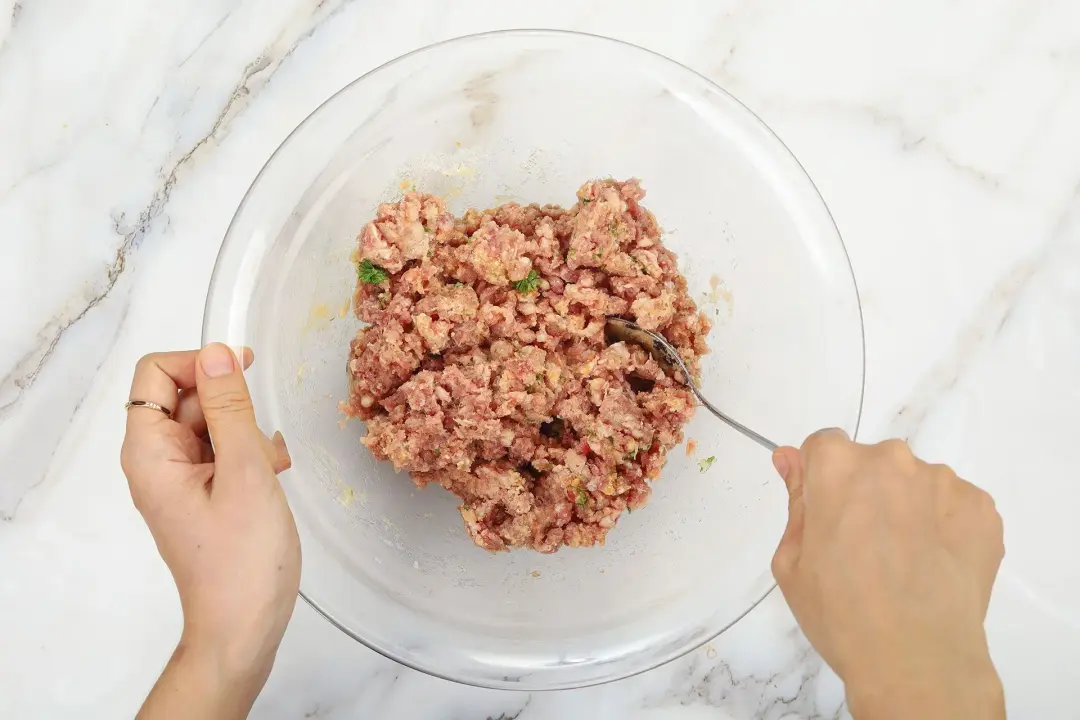 3
Form the meatballs: Scoop the meat mixture with a tablespoon, and form it into balls. Wetting the hands beforehand helps to make the meat less sticky.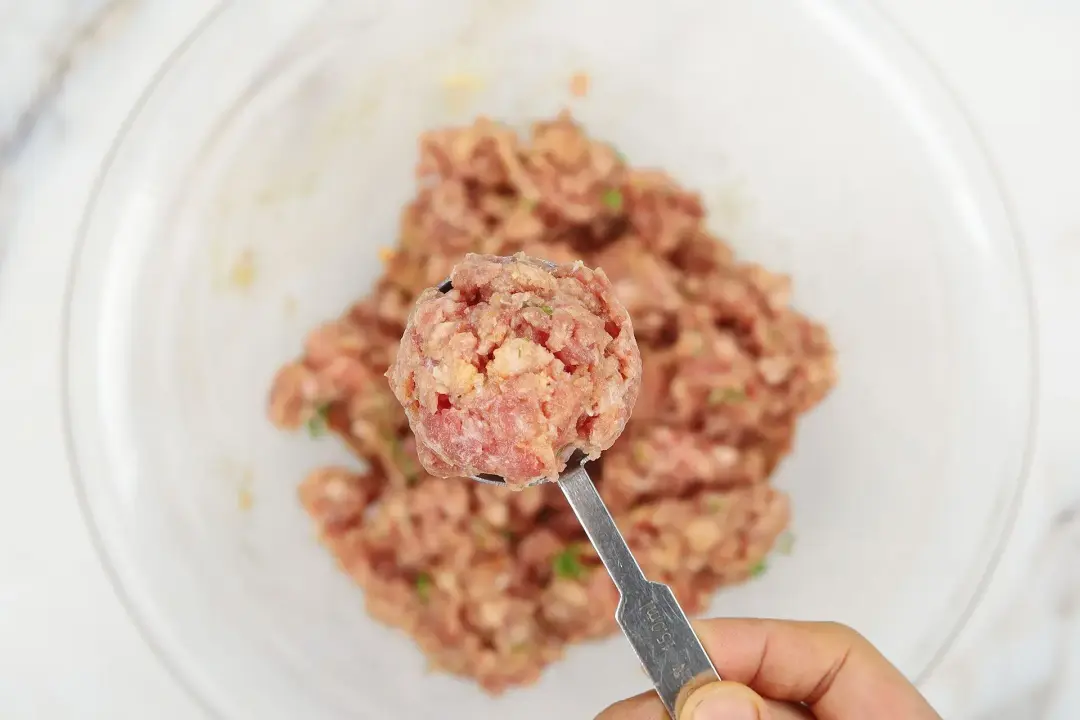 4
Broil the meatballs: Place the meatballs onto a parchment-lined baking sheet, and slide into the top rack of the oven. Cook for 10 minutes.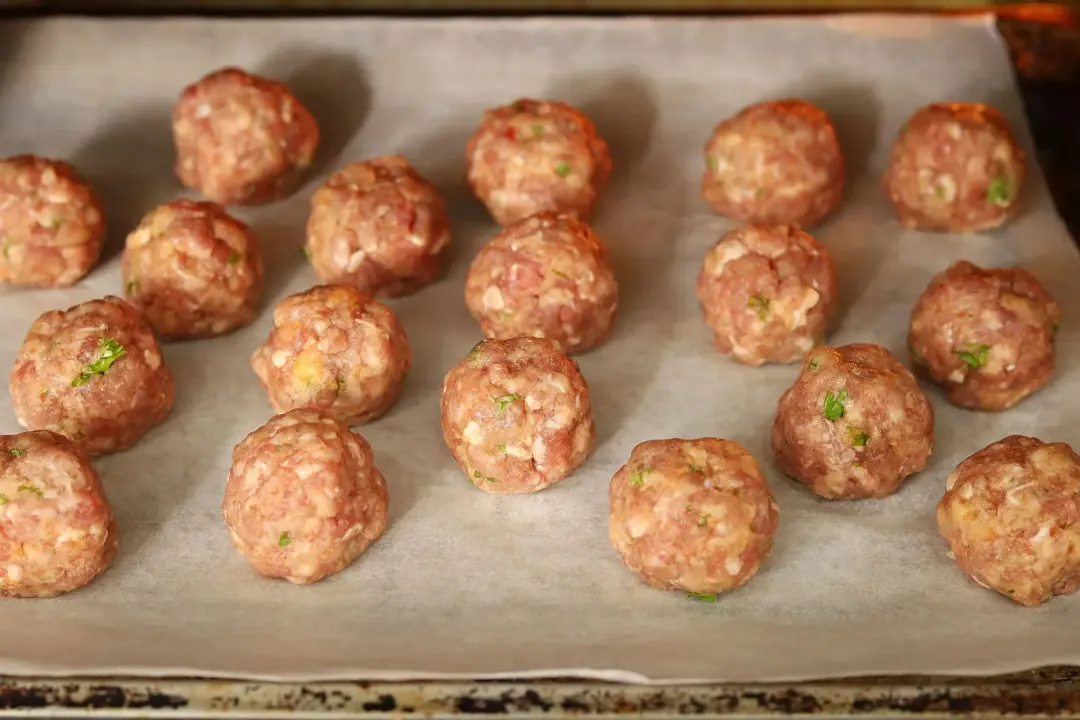 5
Cook the aromatics: Heat 2 tbsp olive oil in a pot and sauté 2 tbsp garlic and 2 tbsp onion for about 30 seconds.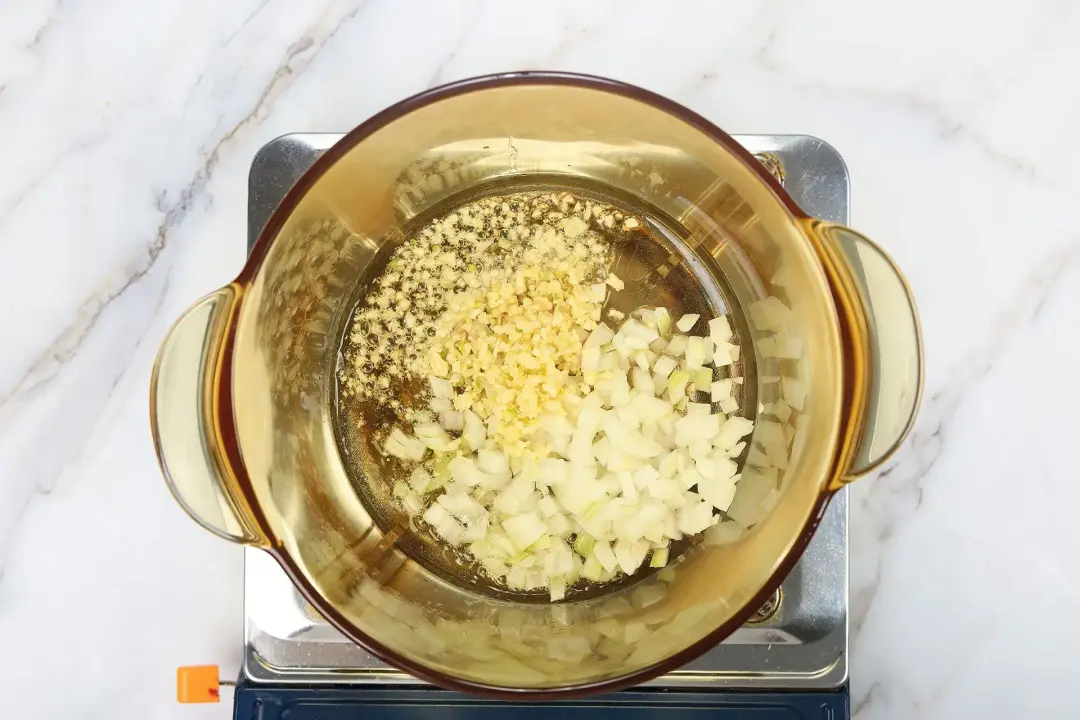 6
Add tomatoes and red peppers: Add 4 oz chopped tomato and 4 oz chopped red bell pepper. Stir to cook for 1 minute. Put the other veggies on hold as you don't want to cook them until smushed (as you do the tomatoes and red peppers).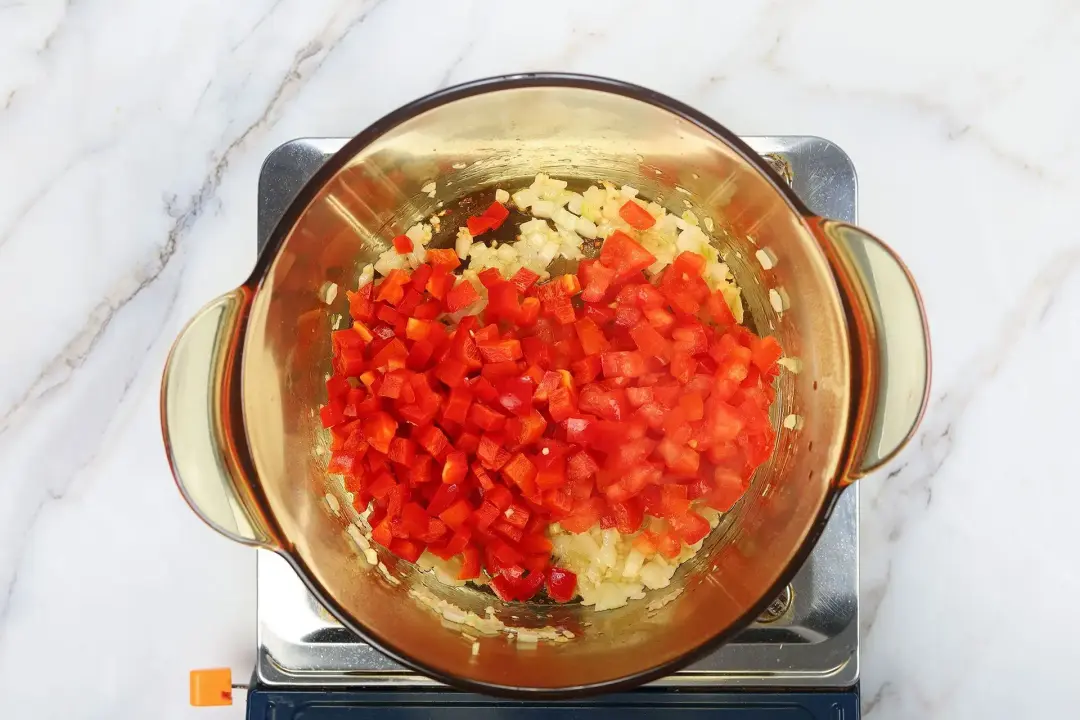 7
Stir in the tomato paste and seasonings: Add 1 tbsp tomato paste, 1/4 tsp salt, 1/4 tsp black pepper, 1 tbsp gravy mix, and 2 tbsp all-purpose flour to thicken the soup.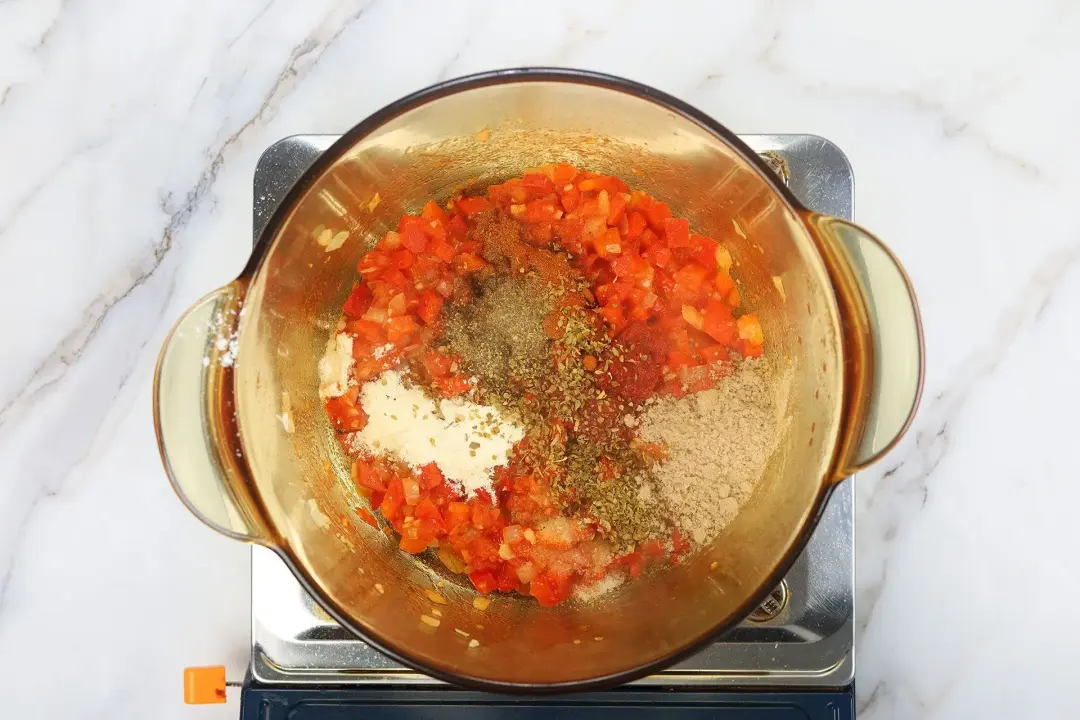 8
Add the remaining vegetables: Add 4 oz green peppers, 4 oz carrot, and 2 oz celery. Stir gently to coat them in seasonings.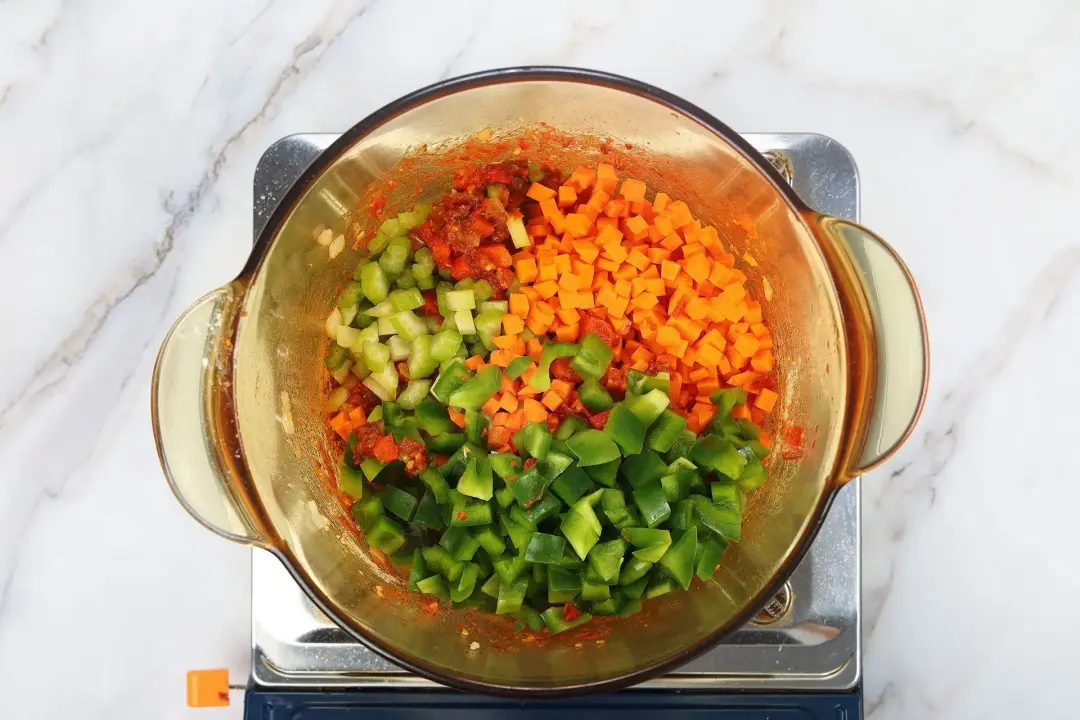 9
Add broth and simmer: Pour in 3 cups unsalted chicken broth.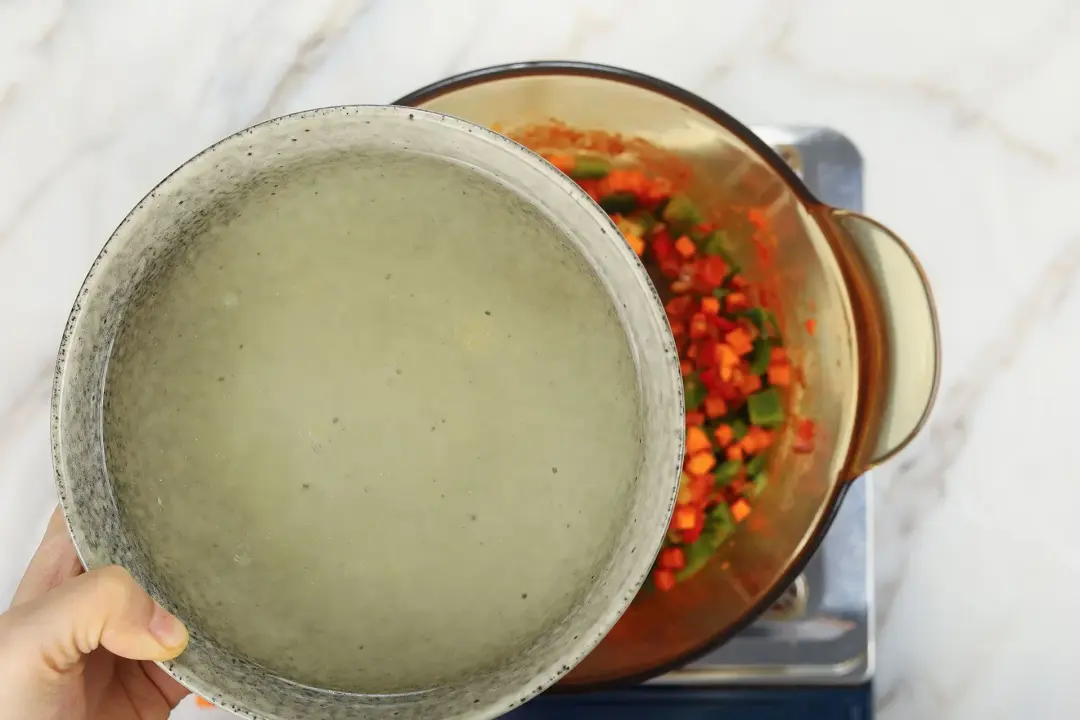 10
Add meatballs and simmer: Leave to simmer for 20 minutes on medium heat, without cover.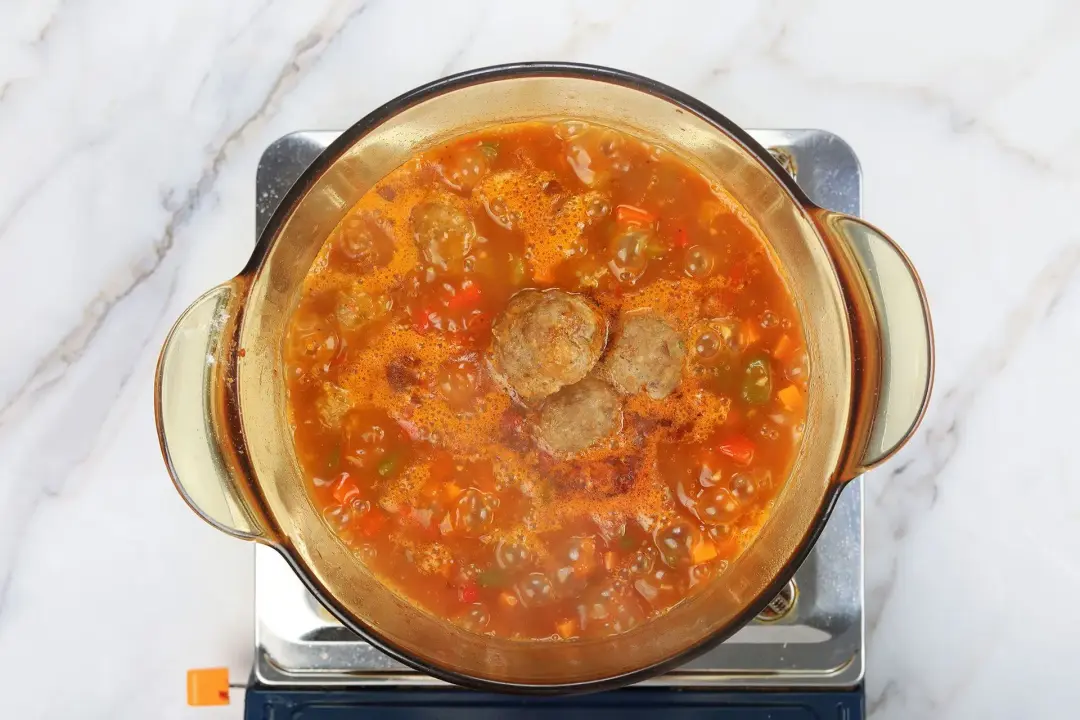 11
Add paprika: Add 1 tsp paprika. You can add cayenne if you want the soup spicy.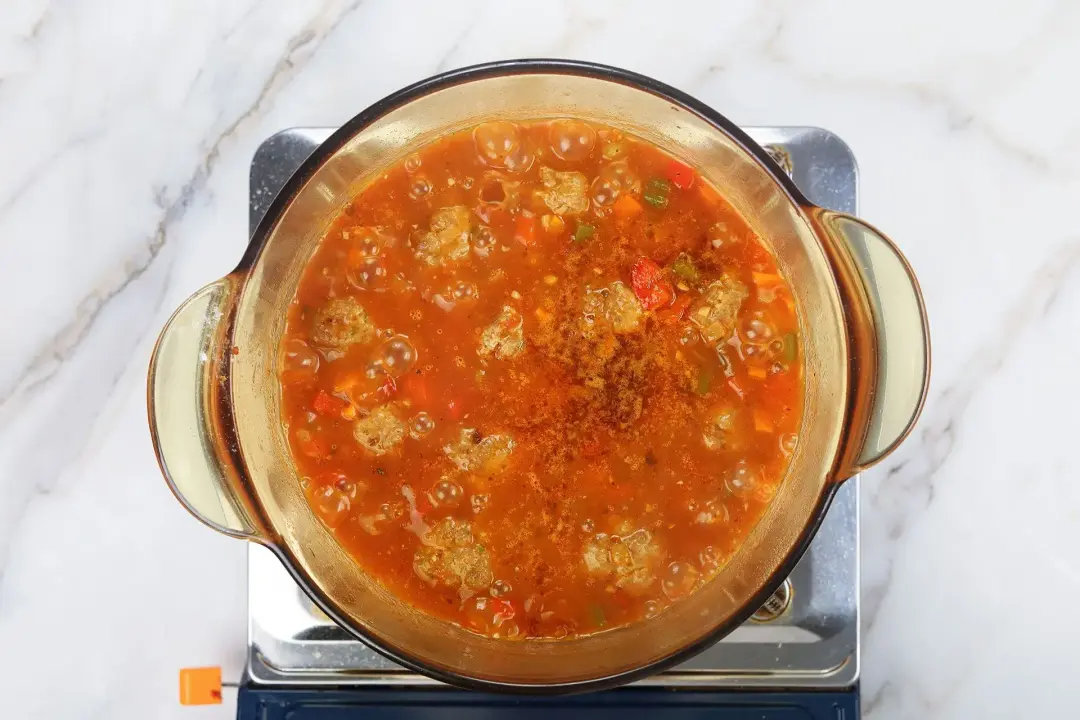 12
Add macaroni: Add 8 oz cooked macaroni and stir gently.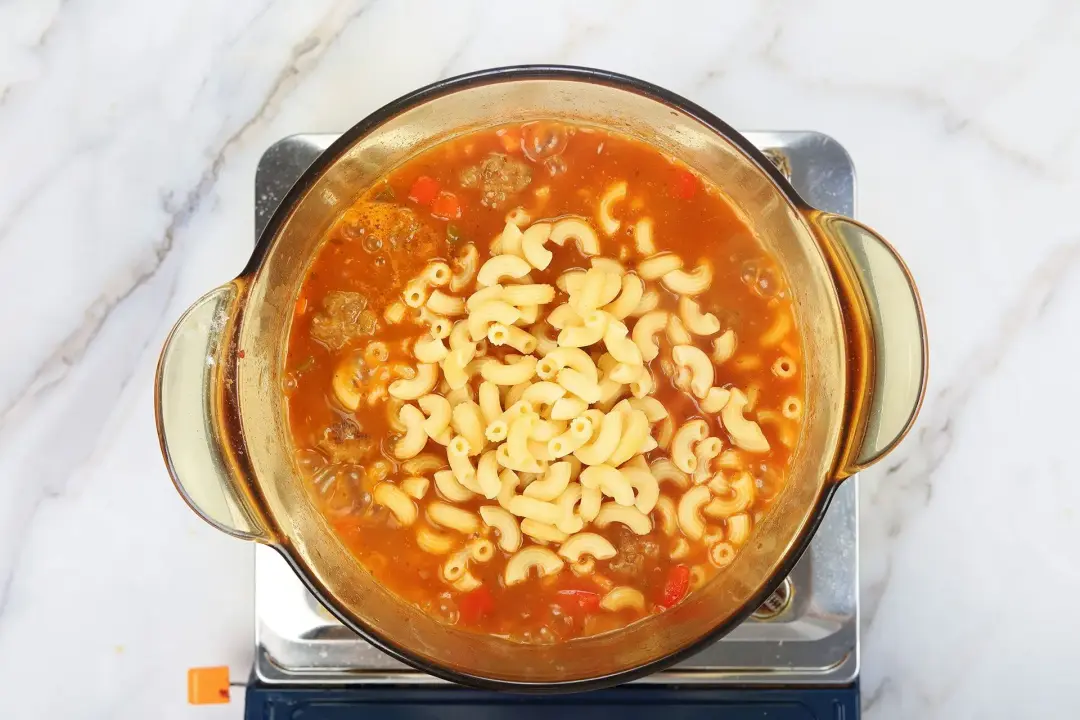 13
Garnish and serve: Ladle the soup into serving bowls, and sprinkle 2 tbsp parsley on top.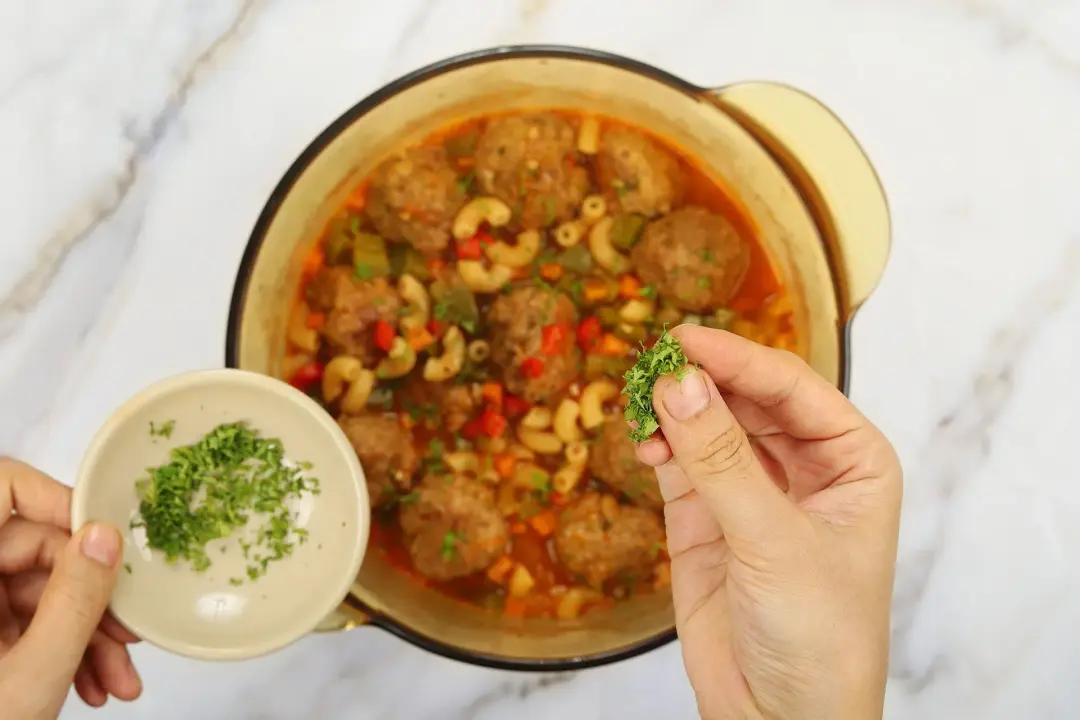 NUTRITION
Nutrition Facts
How to Make Meatball Soup
Amount Per Serving (1 serving)
Calories 505
Calories from FDA
% Daily Value*
* Percent Daily Values are based on a 2000 calorie diet.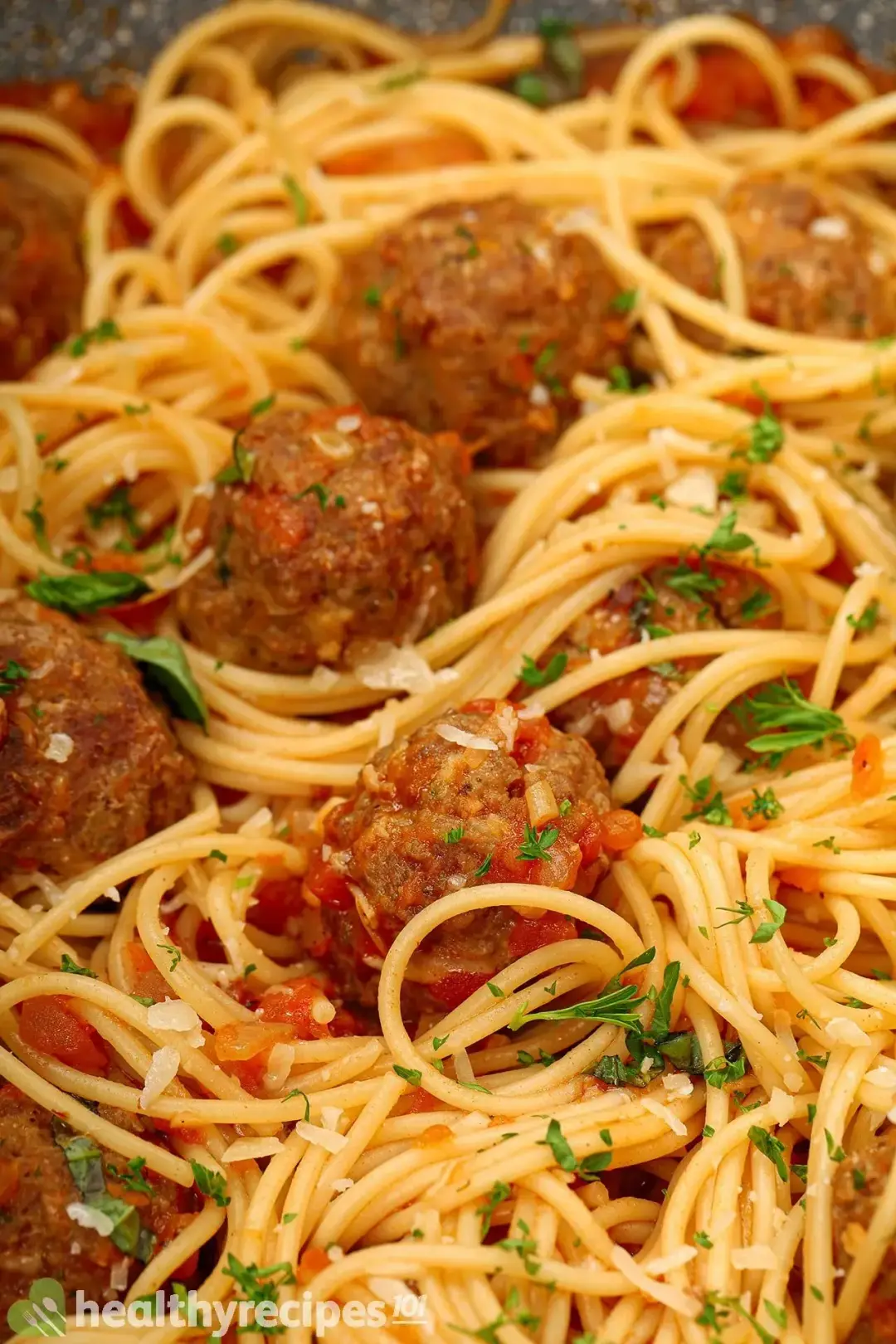 Previous Recipe
Spaghetti and Beef Meatballs
Spaghetti and Beef Meatballs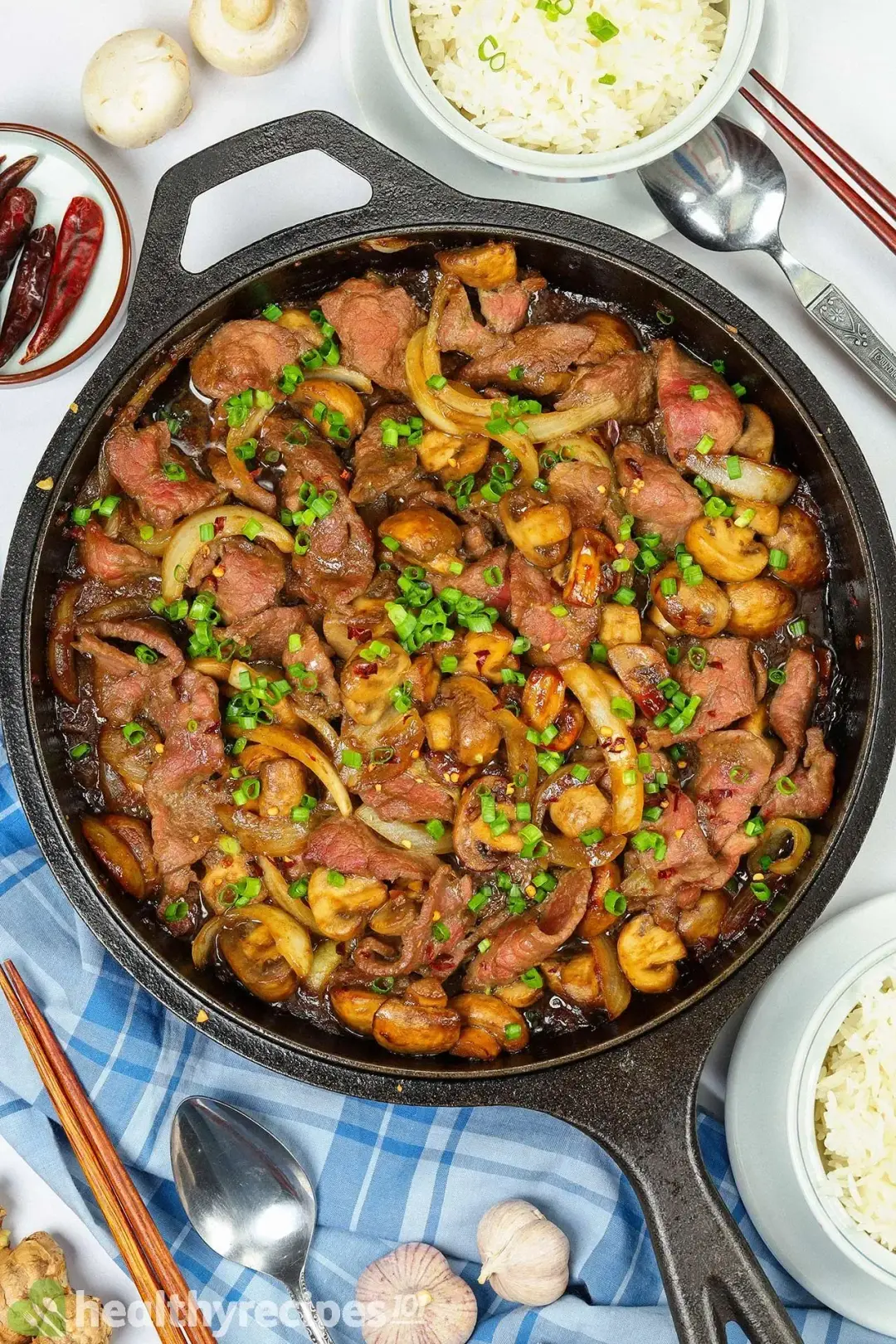 Next Recipe
Beef and Mushrooms
Beef and Mushrooms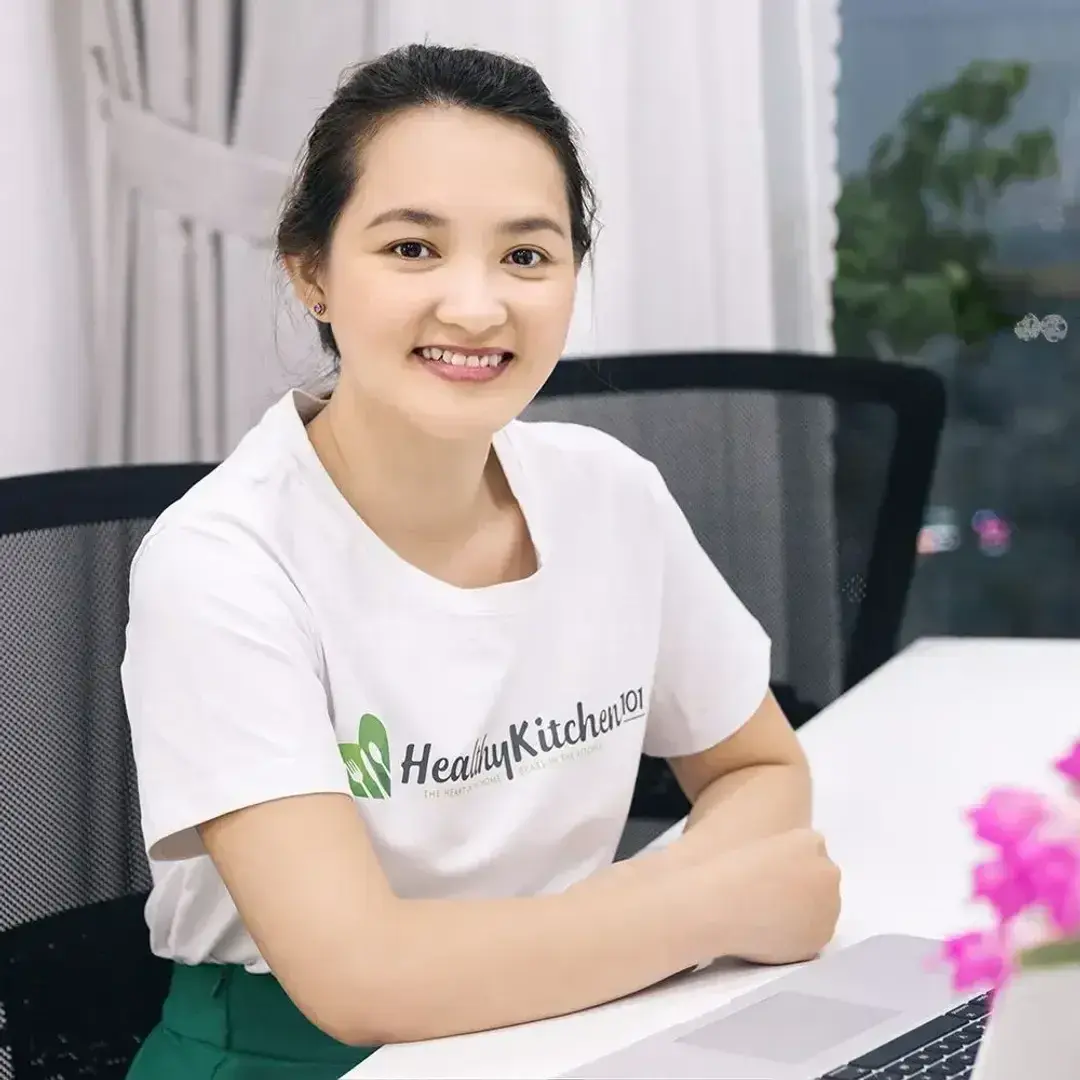 Luna Regina
Luna is the founder and chief recipe developer of Healthy Recipes 101. Apart from cooking, she also loves reading, programming, exploring the outdoors, and collecting useless facts about everything.