Our chicken bog recipe will turn out an economical, comforting meal using simple ingredients.
This chicken bog mixes rice with tender chicken and chewy sausages, all cooked down in a fragrant, savory broth. Each spoonful packs flavors and warmth, making for a wholesome, cozy meal.
So, click here and be transported to the recipe section in a blink. Or, read on to learn more about this amazing staple.
What Is Chicken Bog?
Chicken bog is a dish with rice, chicken, sausage, and vegetables, all simmered in a delicious broth. When it's done, you'll be left with moist, fragrant, savory bites of rice and meat.
Some people say that the term "bog" is to describe the dish's texture. Others suggest the term "bog" refers to the dish's origin, Southern Carolina, much of which is made up of swampy land.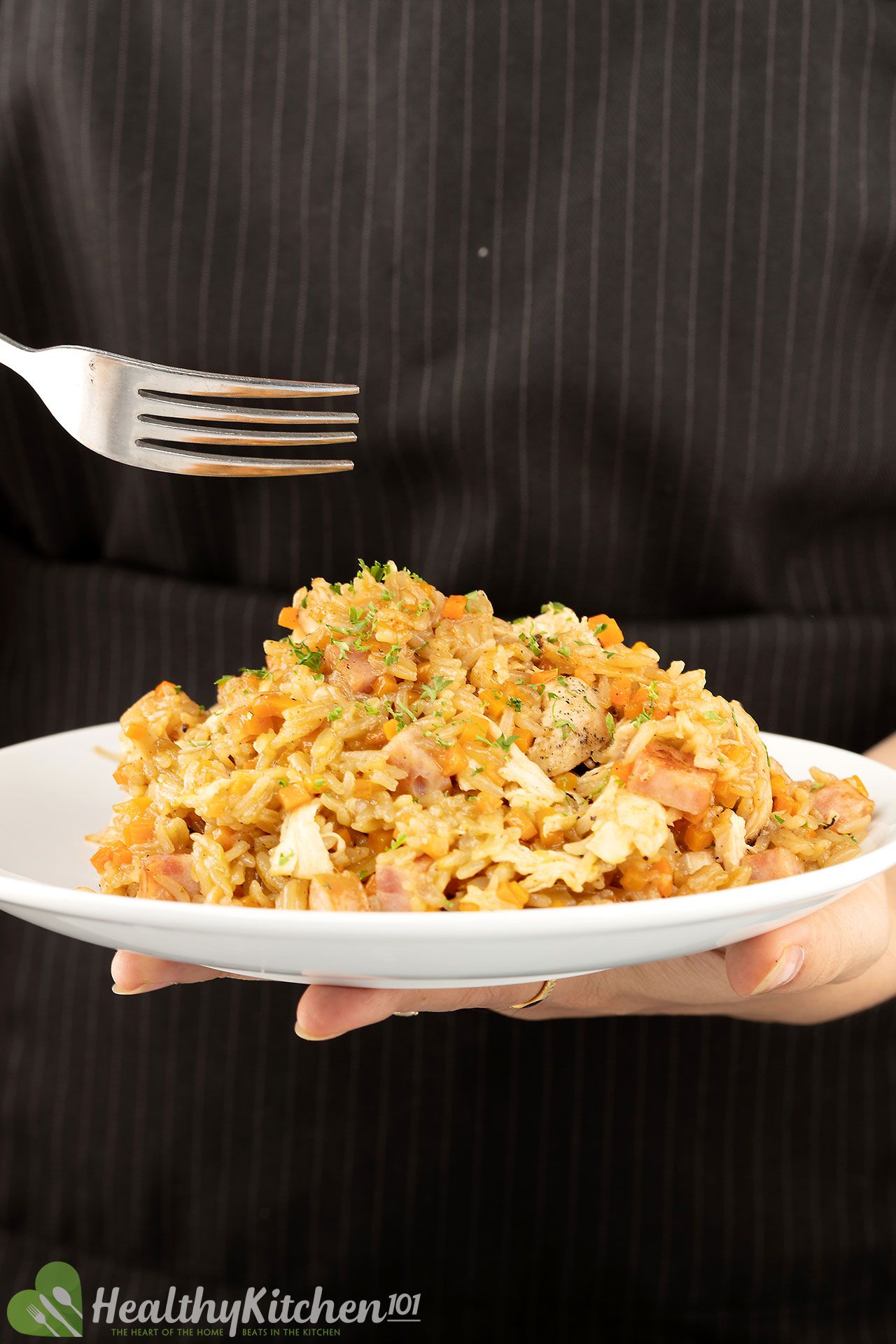 No matter what it's called, the dish has long been a crucial part of family meals for its wholesomeness and affordability. A meal of chicken bog, along with some simple sides, brings together healthy carbs, good fats, and lean proteins, yet costs less than $3.
What is the Difference between Chicken Bog and Chicken Perlo?
"Perlo," also known as "pilaf" or "pilau," refers to dishes with rice cooked in broth until it reduces, leaving the rice extra moist and flavorful.
Compared to chicken bog, chicken perlo is less moist, but that's it. There's very little difference between the two dishes.
Is Chicken Bog Healthy?
Chicken bog is a pretty healthy dish. You'll get healthy carbs from the rice, lean proteins from the chicken, and plenty of fiber and micronutrients from the veggies.
Usually, we are careful to keep an eye on saturated fat, sodium, and added sugar content (see why), but chicken bog is an exception. Since it contains little saturated fat and no added sugar, all we had to do to keep things healthy was go easy on the salt.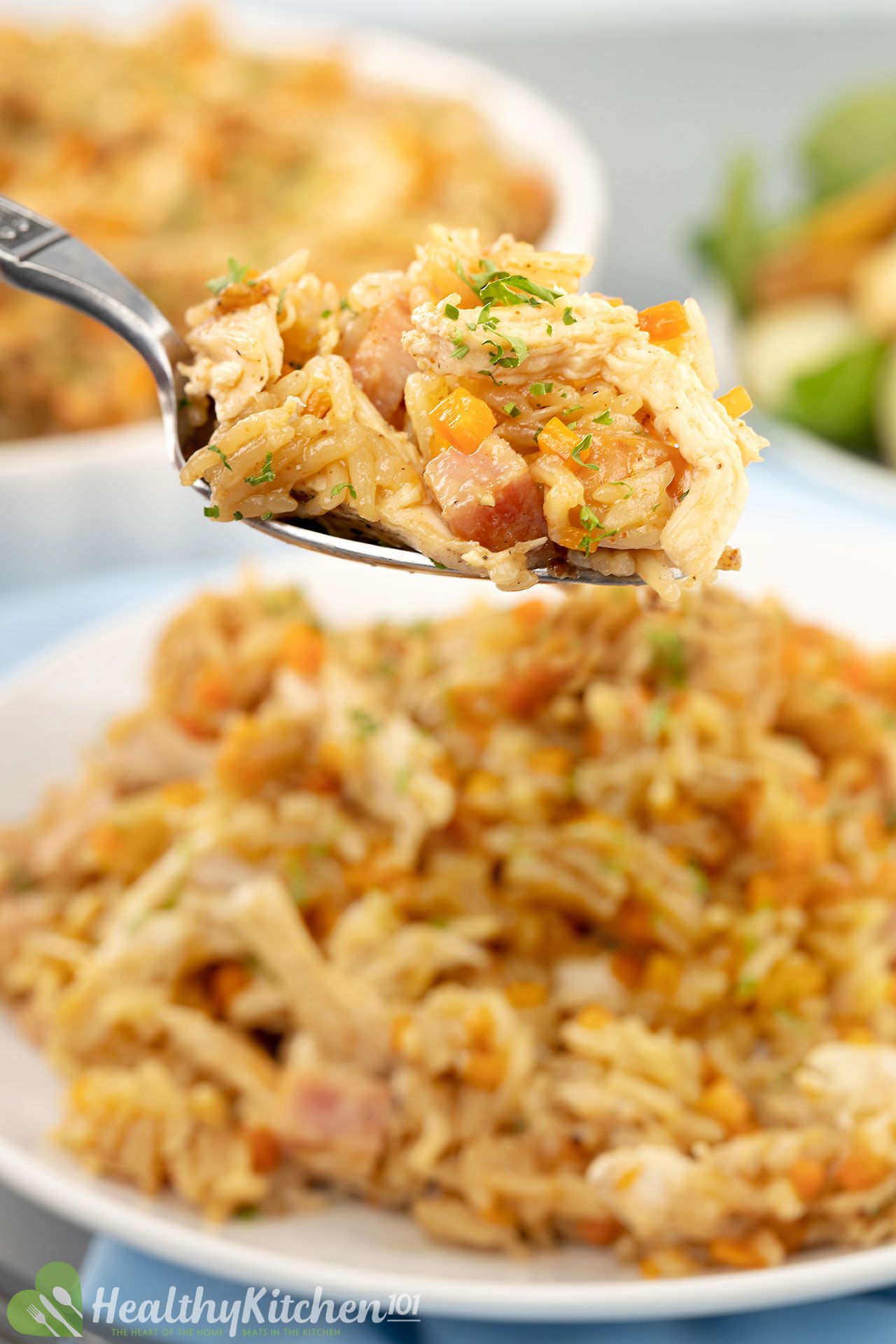 Ingredients for Chicken Bog
Let's have a look through the ingredients:
1. The Rice
Traditionally, chicken bog is prepared using long-grain rice — specifically Carolina Gold, a homegrown South Carolina export. We could've used that, but we want things to be easy for you, so we went for the more common Jasmine rice (which is just as good).
If you're thinking of using brown rice to introduce more B vitamins and minerals, we recommend saving it for another recipe. It doesn't create a fluffy texture the way white rice does, and that's basically what chicken bog is all about.
2. The Broth
The broth is the core of any chicken bog recipe because it will drive the overall flavor. We're using Swanson's unsalted chicken broth in this chicken bog recipe because it's easy to find.
While testing, though, we also had a go with homemade broth and the results were unforgettable.
If you really want to wow the crowd with flavorful, extra-fragrant chicken bog, make this broth. It's also ideal for soups, stews, noodles, anything you want:
Savoriness: chicken carcass/bones roasted at 350℉ for 30 minutes. We used one part of bones for every two parts water (by weight).
Sweetness and aroma: equal parts halved onions, chopped carrots, whole celery stalks and chicken bones. Also, one sprig of thyme for one part of veggies.
Place the ingredients in a pot with water, bring to a boil, then simmer on medium-low heat for around 45 minutes (20 in a pressure cooker). Either use the broth right away or allow it to cool to room temperature, and then freeze it in individual containers/Ziploc bags.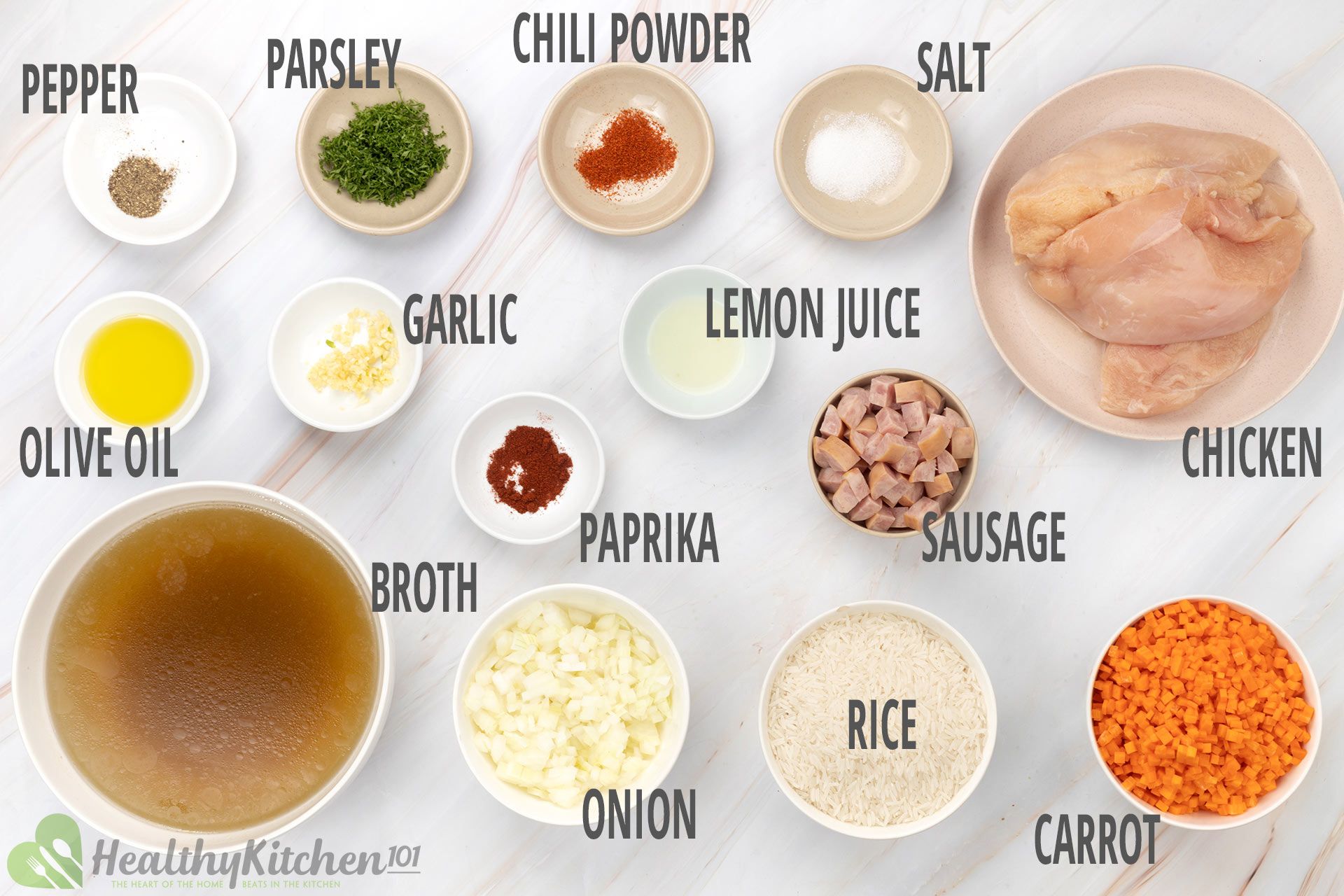 3. The Proteins
We used chicken breast and smoked sausages, the classic combo for a chicken bog recipe.
You can substitute chicken breast with your favorite cut of the bird. Thighs are the most flavorful, but removing the bones is a pain so we opted for boneless chicken breast.
4. The Veggies
The traditional recipe doesn't call for many veggies, so we're following suit for this recipe. Just diced onions and carrots.
You can add celery and bell peppers, but this is optional. With a quality broth, we doubt that adding more aromatics and veggies will make a big difference to the flavor.
Lastly, we seasoned the dish with salt, pepper, chili powder, lemon juice, and paprika for a kick. These don't seem like a lot, but it's all chicken bog needs.
How to Make Chicken Bog
Here's the short version of our chicken bog recipe:
Season chicken and allow it to marinate.
Sear the sausages and set aside.
Sear the chicken, allow to cool and shred.
Stir-fry the veggies with garlic.
Combine uncooked rice and seasonings.
Add broth and simmer until reduced.
Add chicken and sausages and turn off the heat.
Sprinkle parsley on top and serve.
For a more-detailed version (with timing and exact measurements), refer to our recipe card below.
How to Store Chicken Bog
Big batches of chicken bog are a great idea! For leftovers, you can refrigerate it for a maximum of 5 days, or freeze it in individual containers for several months. Reheat your bog using a microwave or heat it in a pot (with around one tablespoon of water).
Sides that Go with Chicken Bog
Despite all the healthy ingredients, what the bog's missing is plenty of good fats, so we decided to pair it with our nicoise salad. It has tuna (full of DHA and EPA), eggs, and is chock-full of crisp veggies that help you meet your dietary fiber and nutrient needs.
Recipes
Course
Calories
Saturated fat
Sodium
Chicken Bog
Main Dish
505
3.9 g
502 mg
Nicoise Salad
Side Dish
252
3.2 g
259 mg
Total
757
7.1 g
761 mg
Nutritional values in this table vary somewhat to those below due to different app calculations. Read more...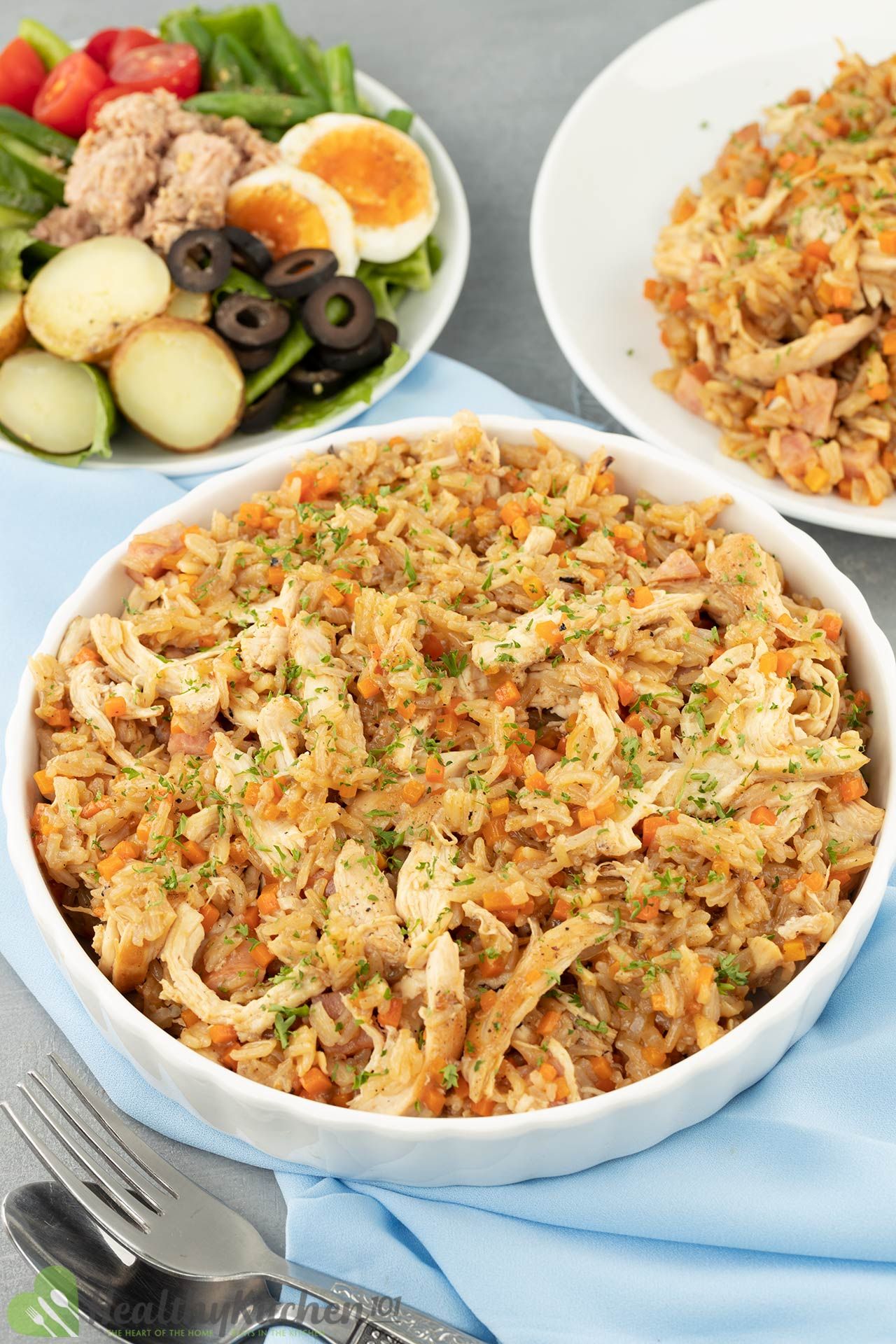 We also serve the rice and salad with lime watermelon juice, to match the recommended calorie intake and make the meal more satisfying. Lime is a good source of vitamin C, which builds a healthy immune system.
More Chicken & Rice Recipes to Try
Here are some tasty, easy chicken and rice meals that we just couldn't help but fall in love with: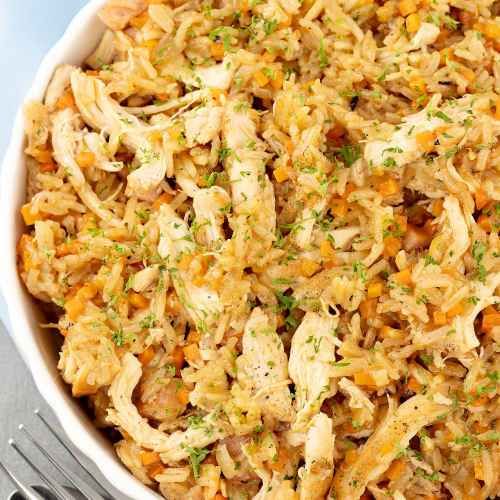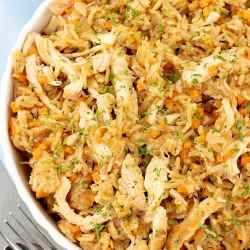 Chicken Bog Recipe
Our chicken bog recipe comes together in 40 minutes, and the end result is amazing. Use the simmering time to prepare your salad and juice, and you'll have a wholesome meal for a crowd in less than an hour.
Ingredients
16

oz

skinless boneless chicken breast

1/4

tsp

salt

divided

1/4

tsp

black pepper

4

oz

smoked sausage

cut into chunks

1

tbsp

olive oil

divided

1

tsp

garlic

minced

4

oz

onion

chopped

6

oz

carrots

chopped

1 1/4

cups

uncooked long-grain rice

1/4

tsp

chili powder

1/4

tsp

paprika

3 1/4

cups

unsalted chicken broth

1/2

tbsp

lemon juice

1

tbsp

parsley

chopped
Instructions
Rub the chicken breast with 1/8 tsp salt and black pepper.

While it's marinating, heat a pot over medium heat and sear smoked sausages for 1 minute or until golden brown. Place into a bowl and set aside.

In the same pot, add 1/2 tbsp olive oil and sear the seasoned chicken breast for 10 minutes (5 for each side). Place it into the sausage bowl and allow it to cool.

Add the remaining olive oil into the pot and stir in garlic, onions, and carrots. Cook for 5 minutes (stir occasionally, refrain from stirring too much).

Add the uncooked long-grain rice (we're using Jasmine) along with the remaining salt, chili powder, and paprika. Stir quickly to combine.

Add the chicken broth, place the lid on, and simmer over low heat for 15 minutes or until the rice absorbs all of the broth and becomes fluffy and moist. Set the timer and make your side dishes while it's cooking.

Add the shredded chicken, sausages, and lemon juice and turn off the heat.

Scoop the rice into serving bowls and sprinkle with parsley. Serve.
Nutrition
Nutrition Facts
Chicken Bog Recipe
Amount Per Serving (1 serving)
Calories 505
Calories from Fat 135
% Daily Value*
Fat 15g23%
Cholesterol 100mg33%
Sodium 502mg22%
Potassium 834mg24%
Carbohydrates 55g18%
Protein 35g70%
Vitamin A 7335IU147%
Vitamin C 7mg8%
Calcium 58mg6%
Iron 4mg22%
* Percent Daily Values are based on a 2000 calorie diet.