Today's mochiko chicken recipe gives you a straightforward and splendid way to enjoy one of the most famous Hawaiian staples.
In this dish, chicken chunks are marinated in a mochiko flour mixture and deep-fried until crisp and tender. This recipe can be served as an appetizer or you can pair it with rice, salad, or soup to create a filling and satisfying meal.
What Is Mochiko Chicken?
Mochiko chicken is a Hawaiian-style fried chicken and as the name implies, there are two main components: chicken and mochiko flour.
Any part of the chicken can be used in this recipe, however chicken thighs are the most popular. Thighs tend to be more fatty and flavorful than the leaner companions.
Mochiko flour is a sweet sticky rice flour from Japan. It is often used to make many types of sweet and savory dishes like mochi, poi mochi, and ozoni. When you use mochiko flour in the chicken batter and bring to fry, it creates a distinctive crunchy texture and palatable shell to the chicken.
Mochiko chicken can be served with rice or salad. This light, crispy chicken is tasty enough to steal the center stage, making it a popular dish at picnics, parties, and potlucks.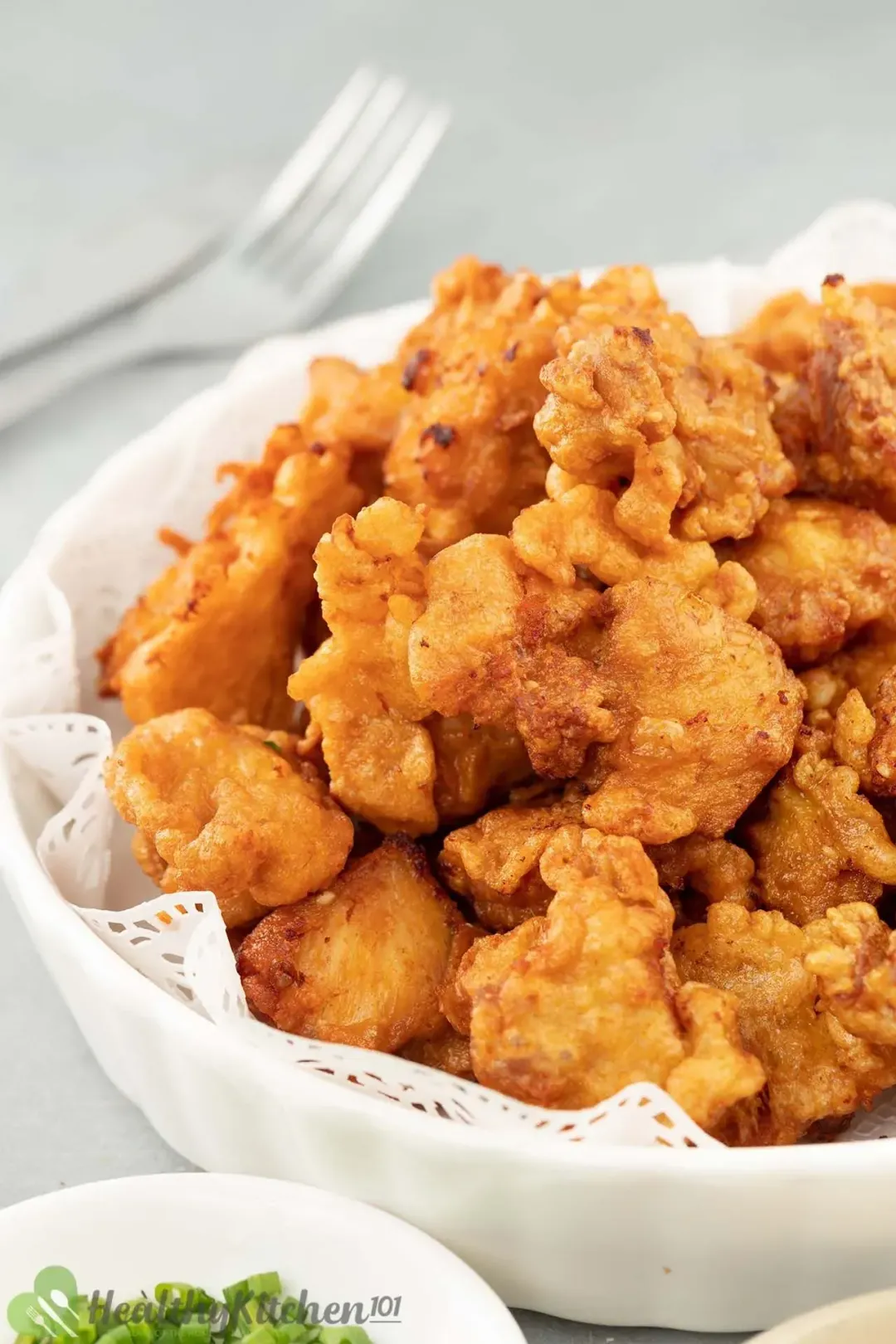 Shiratamako vs Mochiko
When making some Japanese dishes, you'll find shiratamako and mochiko are used intercharbly in most recipes. Despite the fact that both are glutinous rice flour, there are some significant differences between flours when it comes to the process, flavor, and texture.
The shiratamako flour goes through the wet-meal method. The rice is soaked and ground finely in water before being dried and crushed into coarse granules. Mochiko, on the other hand, is washed glutinous rice that is dehydrated and ground into fine powder.
In terms of texture, shiratamako is easy to form into a dough as the flour absorbs water quickly. Mochiko takes a longer time to incorporate the flour and liquid.
Once cooked, shiratamako dough is very smooth and bouncy while the texture of mochiko is lighter and less elastic.
Is This Dish Healthy?
The cooking method of deep frying may bring an impression of unhealthy food. Luckily, this doesn't apply for our this recipe.
In regards to cooking technique, we use the heat thermometer to ensure the oil reaches and maintains an ideal temperature for frying, at 350-375°F.
If the oil is not hot enough, the food will absorb the oil, making the final dish greasy. But if the oil is too hot, your food might end up burning the outside before the inside is cooked through.
Nutritionally, each serving of our mochiko chicken provides 493 calories. Pairing the dish with some light salad and a fresh juice, offers you a fulfilling yet nutritious meal.
Additionally, the dish is low in saturated fat (2.6 grams) and sodium (520 milligrams), making it one of the healthiest versions of mochiko chicken you can find.
If you're looking for another healthy twist to fried chicken, check out our buffalo chicken salad or chicken carnitas recipe. They are both nutritionally calculated and formulated to be in line with the USDA healthy eating guideline.
Main Ingredients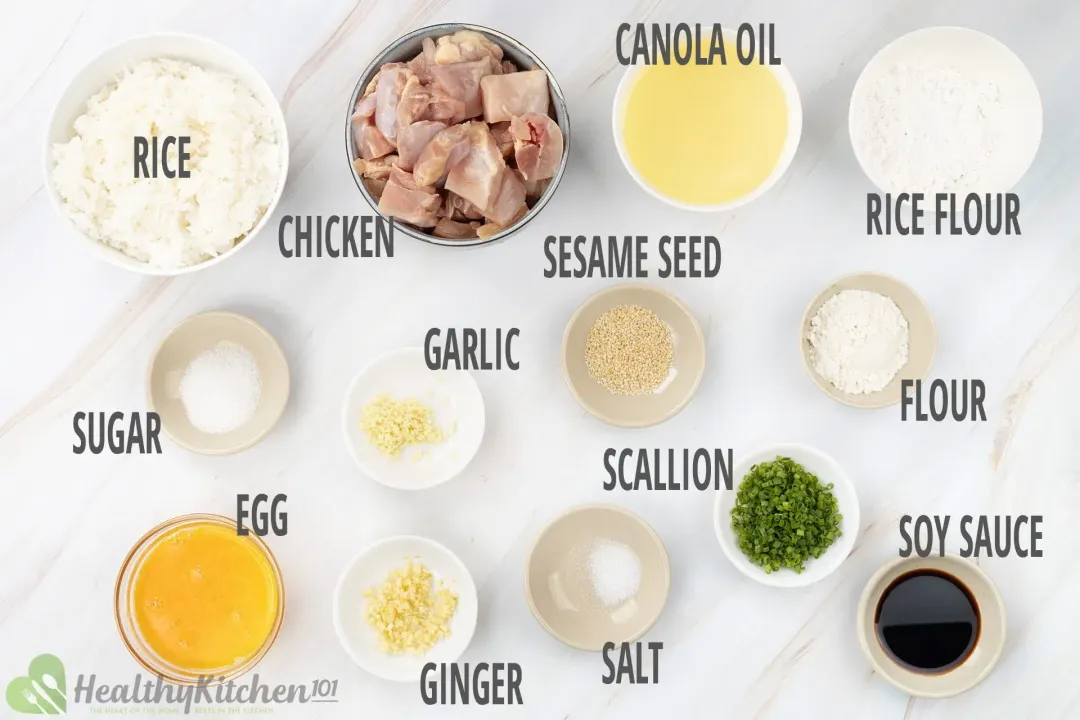 Our mochiko chicken recipe turns a few simple and easy-to-buy ingredients into a delicious experience. The list of elements includes:
Chicken: Due to the flavor and accessibility, chicken thigh and breast are the most common choice when it comes to the mochiko chicken recipe. Some other great alternatives that work well in the recipe include chicken wings and drumsticks.
Mochiko batter: Mochiko is a secret for the thin yet crispy cover of the chicken, we don't recommend altering this element in the recipe. Other Asian ingredients like soy sauce or sesame seeds can be added to enhance the flavor of the coating.
Oil: Oil is used for frying and our favorite is canola, since it is less in saturated fat and available for a reasonable price. Mochiko chicken requires a bit of oil for deep frying, so this variety seems like the most suitable choice in many aspects.
How Long Does It Last?
Mochiko chicken is best consumed within the day it's cooked. When stored in the fridge, the chicken stays no more than 3-5 days.
If you want to maximize the shelf life of this dish, we recommend keeping chicken in an airtight container or a freezer-safe bag and place it in the freezer. This will allow the dish to last for up to 2 months. 
Frozen mochiko chicken should be defrosted in the refrigerator overnight before being reheated or refried.
What to Serve with
Mochiko chicken is typically served "plated style" which means it comes with some carbohydrates like steamed rice, mashed potatoes, or macaroni salad. To complete a meal with this recipe, we side it with a chef salad and cucumber lime juice.
Salad and juice add a healthy dose of fiber, vitamins, and other essential nutrients for a healthy body. Besides, they provide a note of freshness to balance out the final taste. This will make your lunch or dinner an irresistible time of the day.
Below is how nutritionally mochiko chicken, chef salad, and cucumber lime juice combines.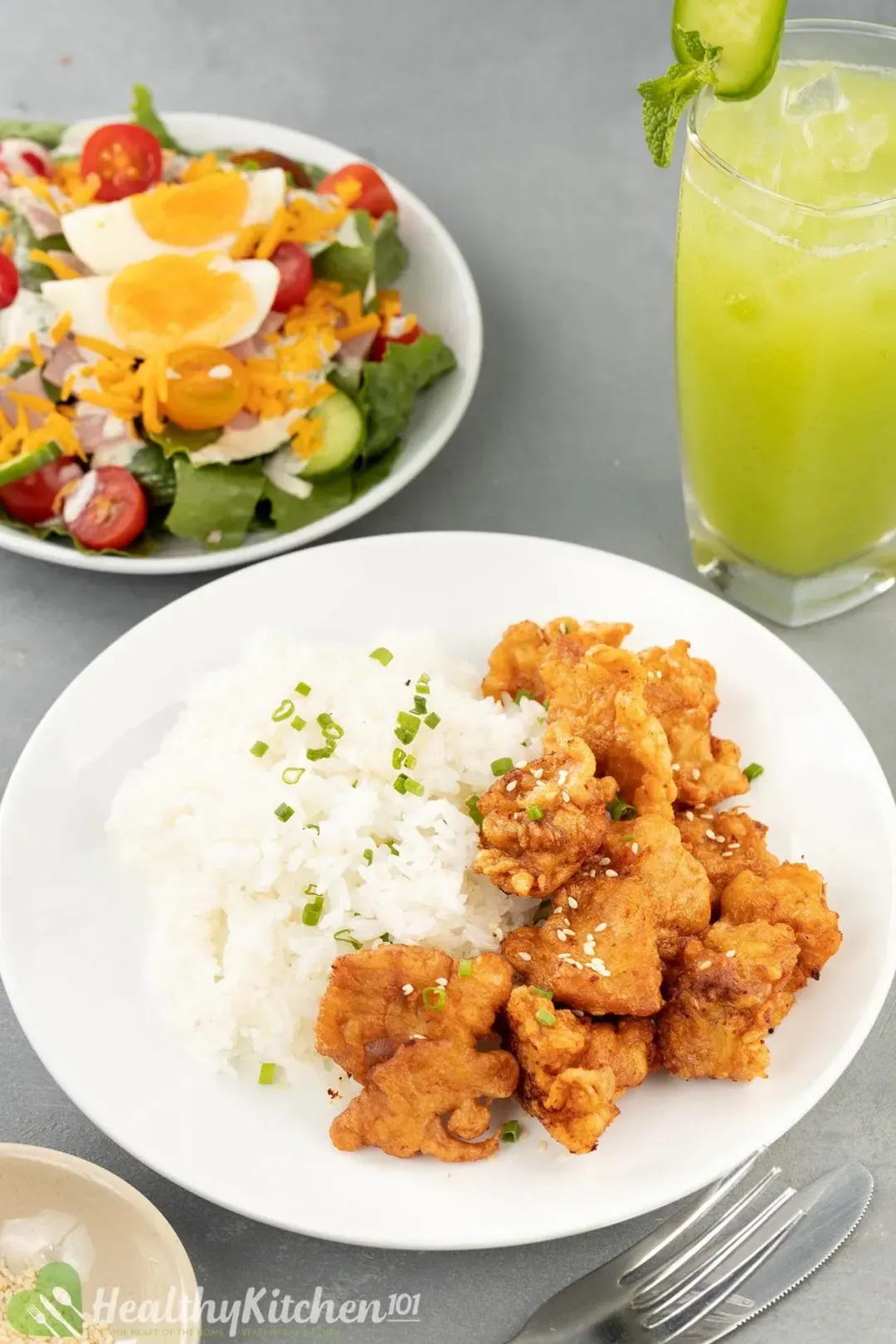 More Delicious, Easy Chicken Recipes You Can Make
Give your meal a zesty twist with this cilantro lime chicken recipe. The lively aroma of the fresh limes and the savory taste of tenderly baked chicken breasts goes well together. All is served with fresh Pico de Gallo and hot white rice.
These honey-glazed chicken nuggets, topped with sesame seeds, are also delicious. The sauce is thickened soy sauce, honey, and ketchup for that reddish, delicious finish. The entire meal of chicken, cooked rice, and steamed bok choy takes just 20-30 minutes to prepare.
There's a lot of sticky chicken skillets in this roundup of ours. If you like Chinese cuisine, give them a try.
Mochiko Chicken
If you are looking for some Japanese-inprised recipe, our mochiko chicken recipe can be a great new way to cook and enjoy simple ingredients you have in the kitchen.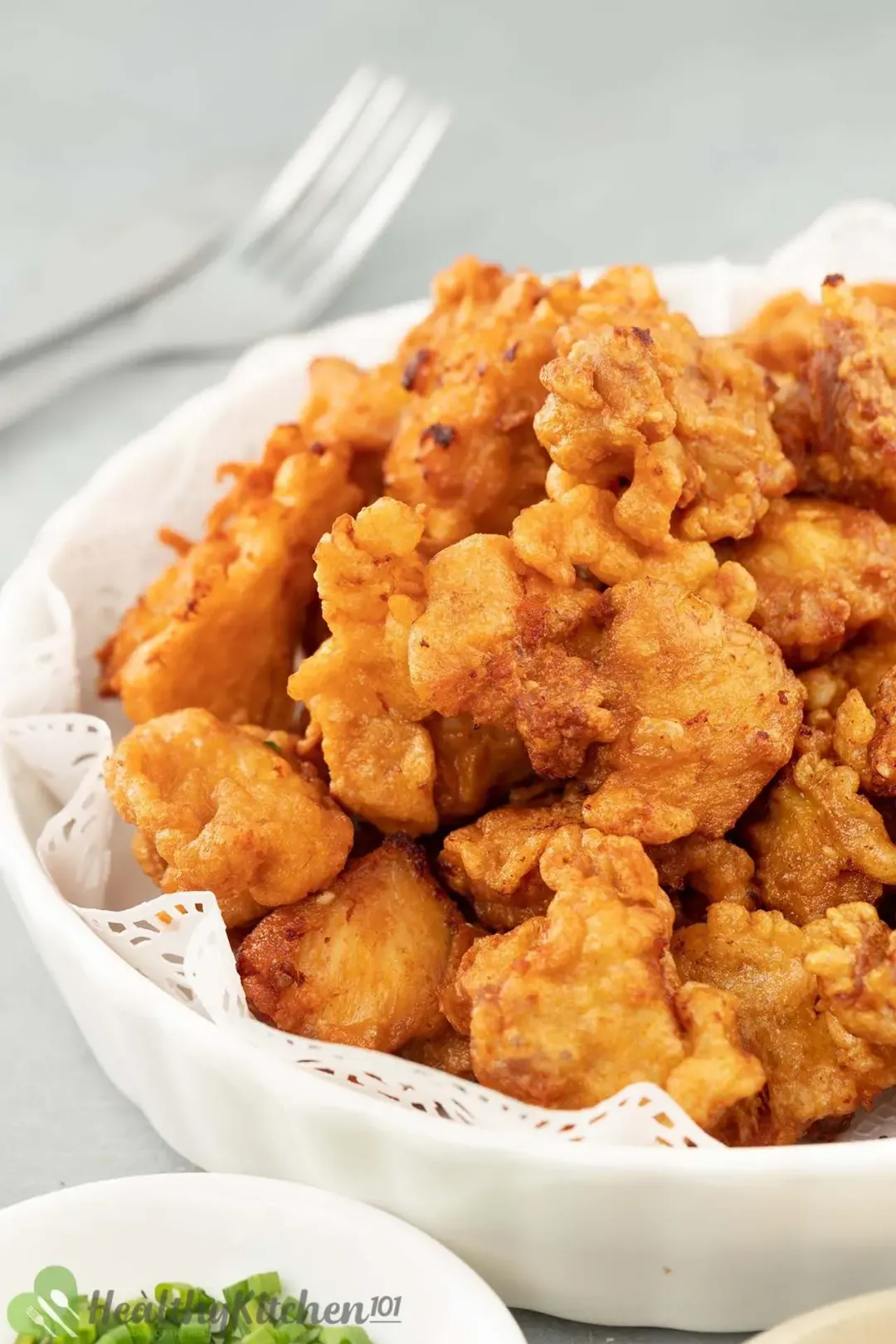 cook TIME

10 mins

prep TIME

20 mins

total TIME

30 mins
COURSE

Dinner, Lunch, Main Course

CUISINE

American

SERVINGS

CALORIES

493 kcal
INGREDIENTS
24 oz

skinless boneless chicken thigh

(cut into 2-inch cubes)

5 tbsp

mochiko sweet rice flour

1 1/4 tbsp

reduced sodium soy sauce

0.25 oz

scallion

(chopped)

1 tbsp

sesame seeds

(divided)

3 cups

cooked long-grain rice
INSTRUCTIONS
1
In a small bowl, whisk together 5 tbsp mochiko flour, 2 tbsp all-purpose flour, 2 eggs, 1/4 tsp salt, 1 tsp garlic, 1/2 tsp ginger, 1 tsp sugar, 1 1/4 tbsp soy sauce, and 1/2 tbsp sesame seeds.
2
Add 24 oz chicken chunks to the marinade and toss to thoroughly coat both sides. Let the chicken sit for about 15 minutes in the refrigerator.
3
In a small pot, deep fry chicken in 1 cup canola oil over medium-low heat until the chicken is crisp and golden brown.
4
Transfer the chicken to a plate. Garnish with 0.25 oz scallion and the remaining 1/2 tbsp sesame seeds. Serve hot with steamed rice.
Only part of the oil will end up in the final product and we have calculated nutritional values based on that amount. The whole amount is needed for frying, but what actually ends up being consumed is 2 tsp of olive oil between four servings.
NUTRITION
Nutrition Facts
Mochiko Chicken
Amount Per Serving (1 serving)
Calories 493
Calories from Fat 117
% Daily Value*
* Percent Daily Values are based on a 2000 calorie diet.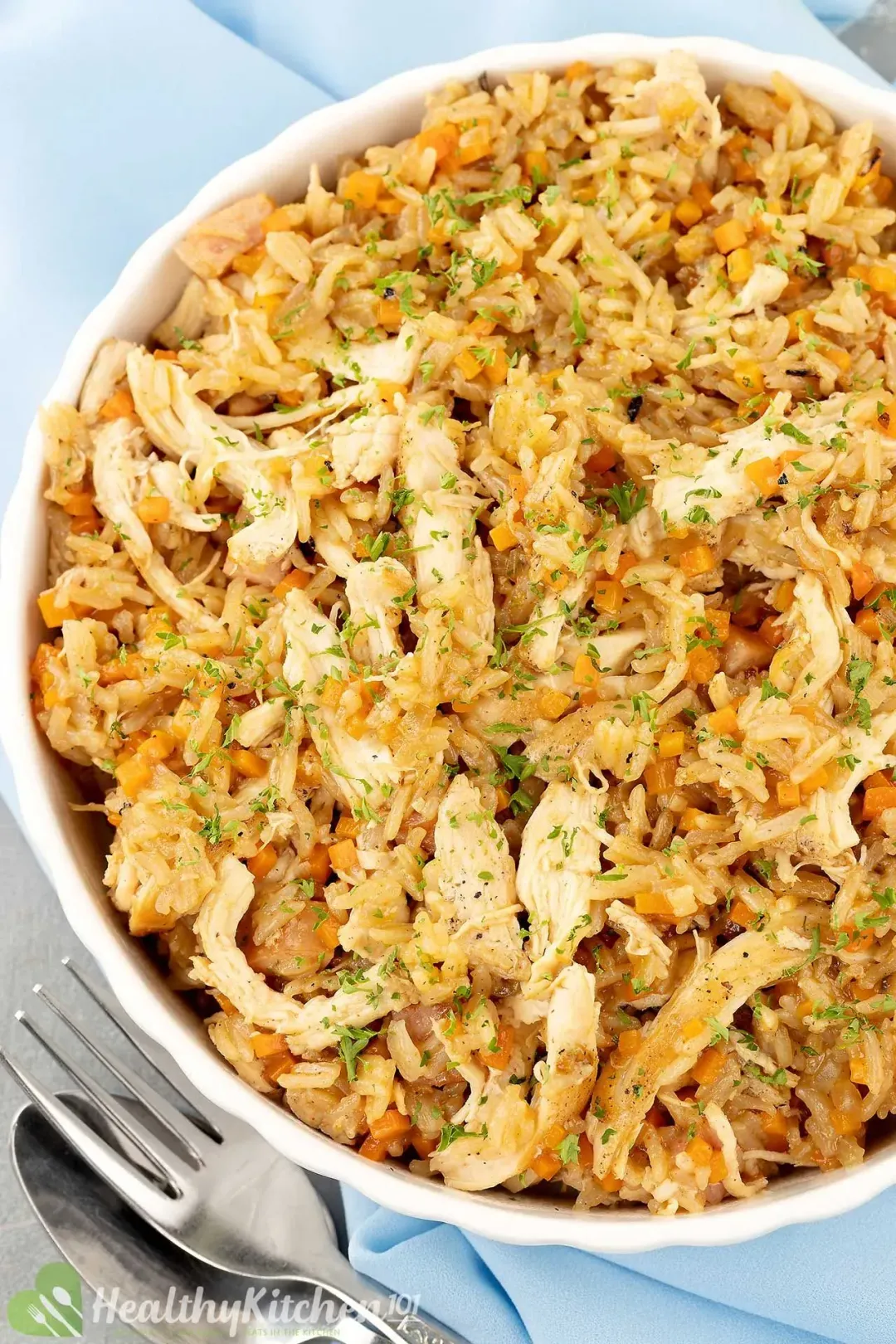 Previous Recipe
Chicken Bog
Chicken Bog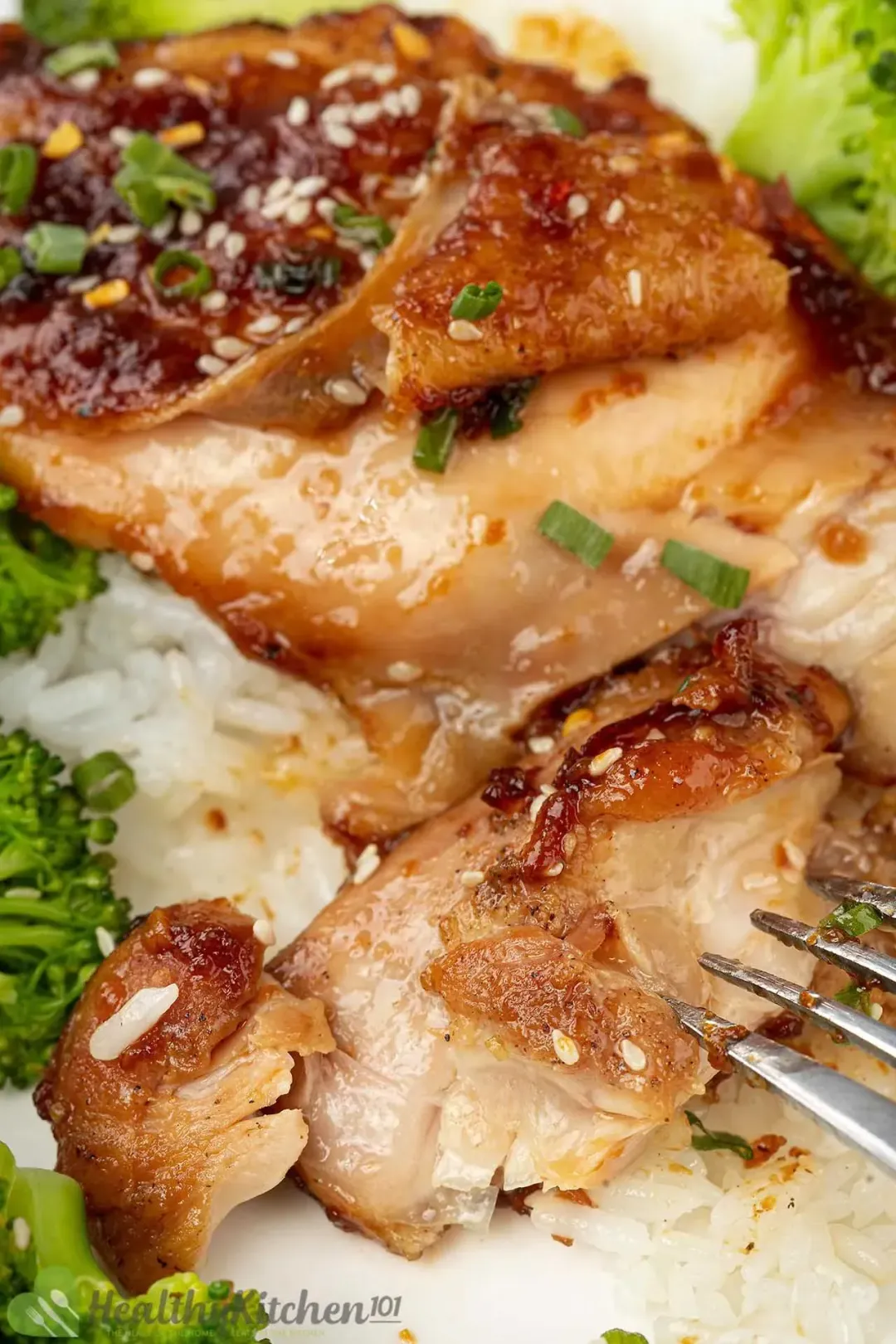 Shoyu Chicken
Head Chef, Culinary Consultant
Tuyet Pham is an award-winning Saigonese chef who believes that joy is the secret ingredient to delicious food. At Healthy Recipes 101, Tuyet personally tests and simplifies every recipe, ensuring maximum flavor with minimal effort. With a background at prestigious French restaurants P'TI Saigon and Le Corto, Tuyet knows how to make every dish exceptional.
Writer, Author
Luna Regina is an accomplished writer and author who dedicates her career to empowering home cooks and making cooking effortless for everyone. She is the founder of HealthyKitchen101.com and HealthyRecipes101.com, where she works with her team to develop easy, nutritious recipes and help aspiring cooks choose the right kitchen appliances.
Nutrition Reviewer
Lizzie Streit is a Minneapolis-based dietitian and founder of It's a Veg World After All. She completed her MS in Human Nutrition from Drexel University, and is an expert in culinary nutrition, recipe development, and nutrition communications. Lizzie's philosophy is centered around making nutrition recommendations, and especially the advice to eat more vegetables, approachable and realistic. She is excited to be working with the team at Healthy Recipes 101 to ensure that their recipes are both nutritious and delicious.
Like this recipe. The use of rice flour gives the chicken a unique taste and texture that is worth trying.