Today's air fryer chicken enchiladas recipe is yet another version of our classic chicken enchiladas.
How Our Recipe Healthier
This air fryer chicken enchiladas recipe may be healthier than most recipes including the ones at your favorite Mexican restaurants. Here are a few reasons why:
Our recipes are tailored to ensure that each dish and meal provides you with the appropriate amount of calories. We also make sure that each dish is well-seasoned and rich enough without adding too much saturated fat and sodium to your diet.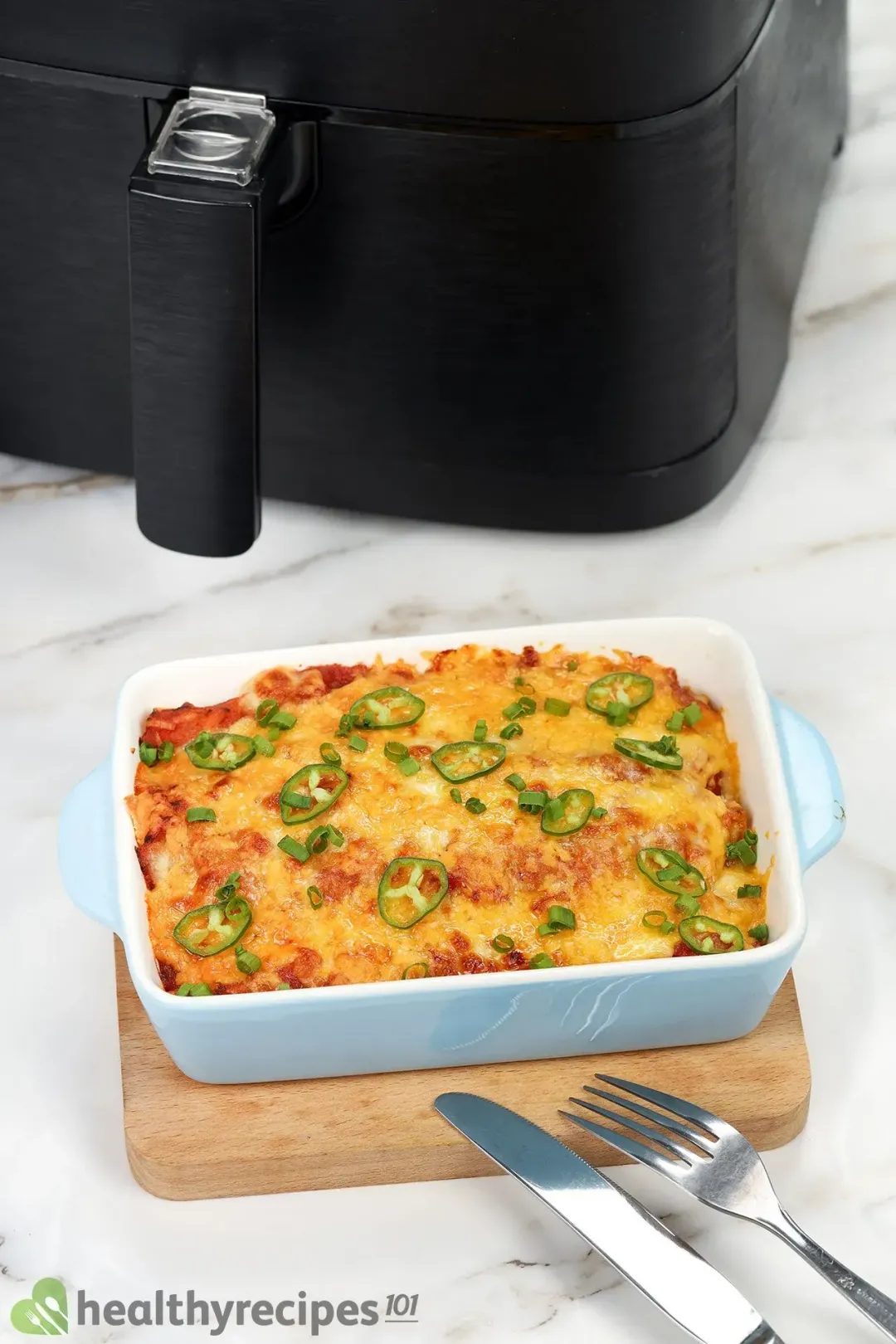 For example, one serving of today's air fryer chicken enchiladas recipe can provide:
505 calories
40 g protein
7 g saturated fat
574 mg sodium
As you can see, this dish is relatively rich in protein. Our main source of protein for today's recipe is boneless, skinless chicken breast.
Since this specific cut of chicken doesn't have skin, it's super low in fat, making it more appropriate for a low fat diet than other types of meat.
And, though we do add two types of cheese, we only need a small amount of each. That's enough to make the dish rich and flavorful without exceeding the sodium limit.
If you'd like to know more about the proper daily intake of calories and sodium, check out our healthy eating guidelines.
Ingredients You'll Need
Today's air fryer chicken enchiladas recipe entails:
Chicken breast: As mentioned above, we are going to use boneless skinless chicken breast for this recipe.
Corn tortillas: Corn tortillas are the standard for enchiladas and we think they're more flavorful than the alternative. They have a unique texture that crisps up nicely after being baked in the oven.
Seasonings: We use lots of aromatic ingredients, including cumin, garlic powder, onion powder, dried oregano, etc.
Cheese: We use both shredded cheddar and mozzarella cheese in today's recipe. The cheddar cheese provides a deep savory flavor and lends the dish its golden color. Mozzarella, meanwhile, will make the enchiladas taste richer and give them a satisfying ooey-gooey texture.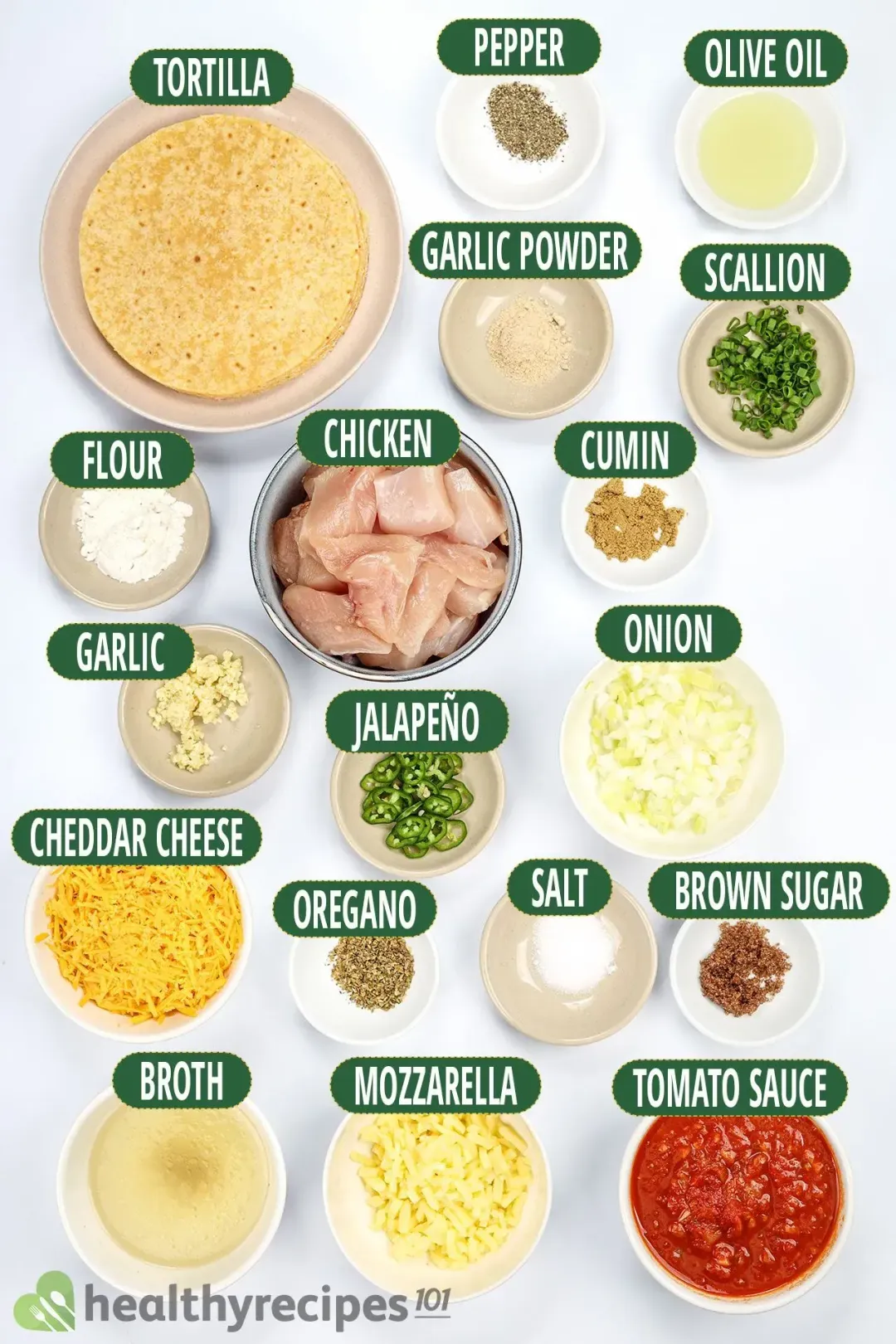 Do You Cook Corn Tortillas before Making Enchiladas?
No, we don't. There is no need to cook, bake, or preheat the corn tortillas before filling them with stuffing.
What Else Can You Put In Enchiladas?
Think of our air fryer chicken enchiladas recipe as a basic guide on how to cook the dish. With that in mind, be creative and try out different ingredients to customize this dish to your preference. Allow us to give you some suggestions:
Mushrooms: Sautéed mushrooms may not be a traditional enchilada stuffing, but they will surely elevate the dish's flavor.
Spinach and cream cheese: Blanch spinach leaves for 30 seconds in boiling water. Shock them in an ice bath immediately afterwards and squeeze them to wring out all the excess water. Mix them with room-temperature cream cheese and add them to your enchilada filling to make an extra cheesy dish.
Beans: Refried beans are a traditional component in many chicken enchiladas recipes, but you can get away with drained canned beans as well. Beans are a great way to add more protein and fiber to your dish.
If you don't have an air fryer, don't worry. We have another chicken enchiladas recipe where we provide instructions on how to make these delicious, meaty Mexican rolls in the oven.
Storing and Reheating the Leftover
Leftover enchiladas should be stored in airtight containers and put into the fridge. You can expect them to last about three to five days.
When you want to finish these leftovers, transfer them to a microwavable container and let them heat up for 2 minutes.
Our chicken enchiladas are excellent as part of a long-term meal prep plan too. You can store them in the freezer for up to a month.
That being said, don't just chuck them all into the freezer; do this instead:
Divide the chicken enchiladas into portion-size servings.
Put each serving into meal-prep containers. Be sure to use containers that are airtight and freezer-safe.
Put labels on the containers so that you know when their contents were cooked.
Put the containers in the freezer.
When you want to eat them, allow your frozen enchiladas to thaw slowly in the fridge overnight or defrost for about 5 minutes in the microwave. After that, microwave them for 2 minutes to reheat and they should be warm all the way through.
What Do You Eat with This Dish?
Having trouble deciding what side dishes to pair with your chicken enchiladas? Allow us to help you come up with a meal plan.
Since chicken enchiladas are among the most iconic Mexican dishes, it seems only right to pair them with another Mexican staple: pico de gallo.
The fresh pico de gallo will balance the rich and cheesy flavor of the casserole, making both dishes more addictive with every bite.
Lemonade is one of our favorite beverages because of its versatility. It's light and refreshing, and its citrus flavor is great for cleansing your palate after a meal.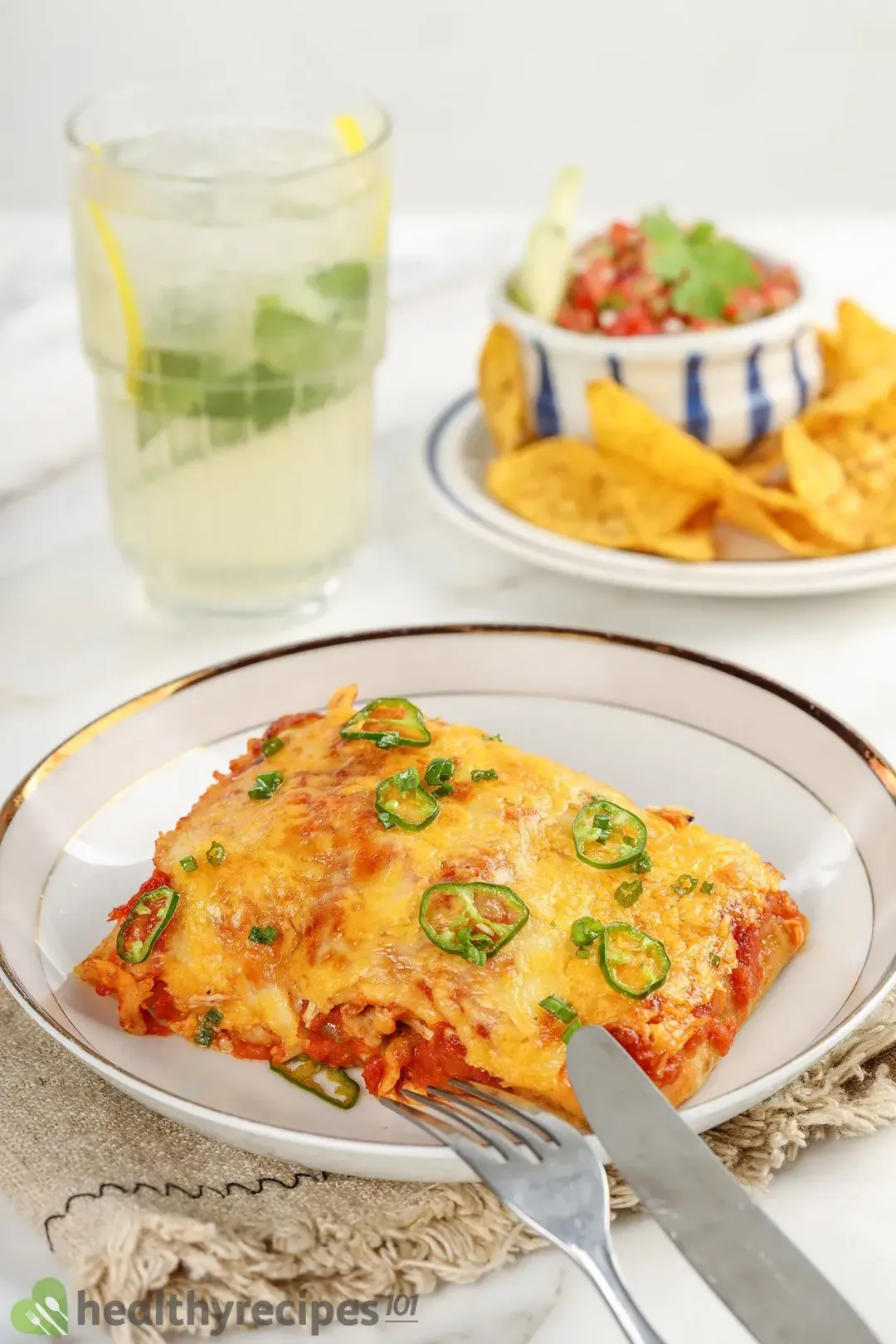 Air-Fried Chicken Snacks That Are Essential to Have on Hand
Need some hassle-free crispy chicken patties real quick? Here, check this out. Each patty is more than one-inch thick, sandwiched between two classic sweet buns, and served with fries that also cook in the air fryer. It looks far from impressive but actually tastes good.
Deep-fried chicken nuggets, crunchy on the outside and juicy on the inside, are hidden behind the glossy sauce. Soy sauce, orange juice, vinegar, and sugar combine to create a delicious balance of sourness, sweetness, and saltiness.
Air Fryer Chicken Enchiladas
Today's air fryer chicken enchiladas recipe is our take on a Mexican classic that everyone knows and loves. Let's check out the ingredients.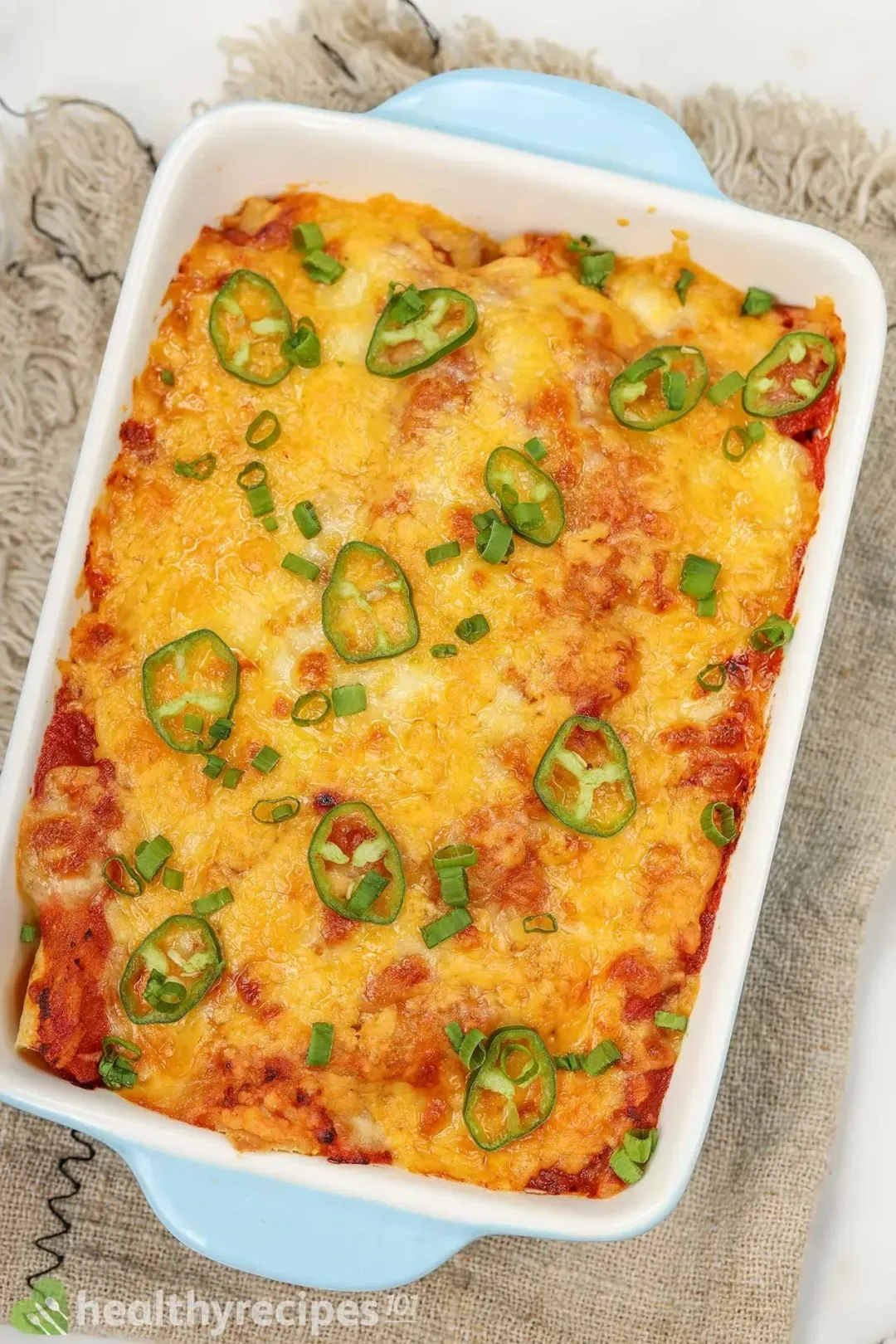 cook TIME

21 mins

prep TIME

14 mins

total TIME

35 mins
COURSE

Main Course

CUISINE

Mexican

SERVINGS

CALORIES

499 kcal
INGREDIENTS
18 oz

skinless boneless chicken breast

(cut into 1 ½-inch or 2-inch chunks)

2.5 oz

cheddar cheese

(shredded)

2 oz

mozzarella

(shredded)

1 oz

onion

(finely chopped)

3/4 cup

unsalted chicken broth

0.5 oz

jalapeño pepper

(thinly sliced)

2 tbsp

scallion

(finely chopped)

1 cup

homemade tomato sauce

(divided)
INSTRUCTIONS
1
Sauté the chicken: Add 1/2 tbsp olive oil to a cast iron skillet and wait for it to heat up for a few seconds. Add 1 oz chopped onions and 1/2 tbsp minced garlic and sweat for 1 minute. Continue to add 18 oz chicken, 1 tsp garlic powder, 1/2 tsp dried oregano, 1/2 tsp ground cumin, 1 tsp brown sugar, 1/2 tsp black pepper, and 1/2 tsp salt. Stir constantly for 2 minutes.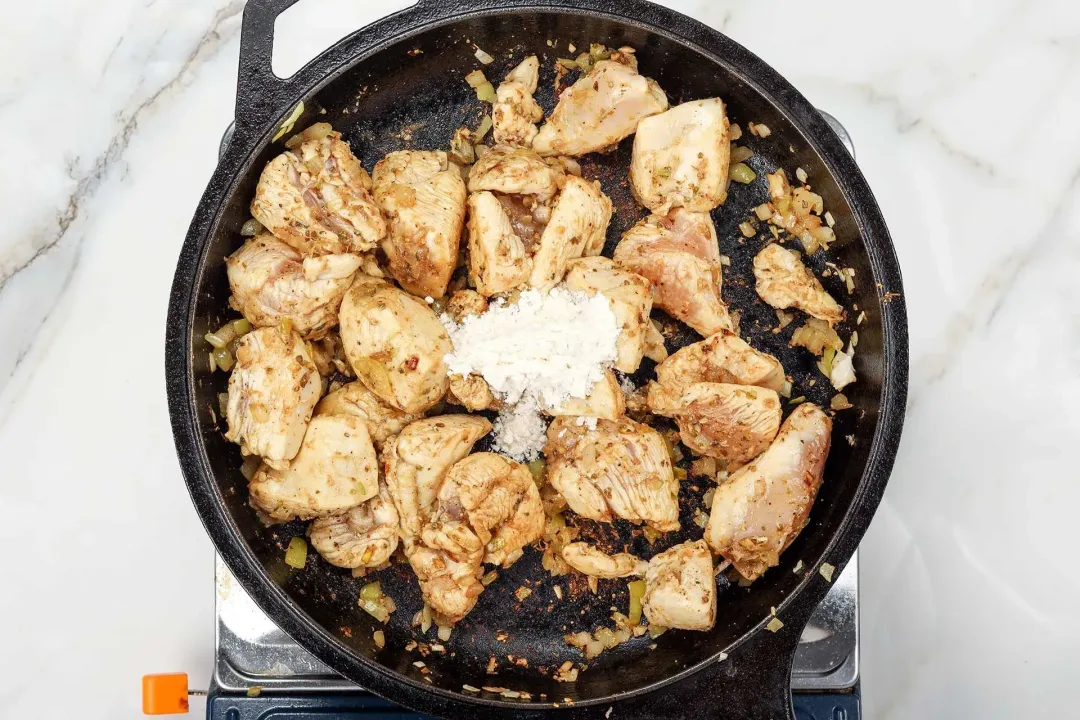 2
Cook the chicken in broth: Add 2 tsp all-purpose flour and stir to coat the chicken evenly. Add 3/4 cup unsalted chicken broth and 1/2 cup tomato sauce to the pan. Gently stir to combine and bring to a boil. Once boiling, reduce the heat to low and cook for 10 minutes, uncovered.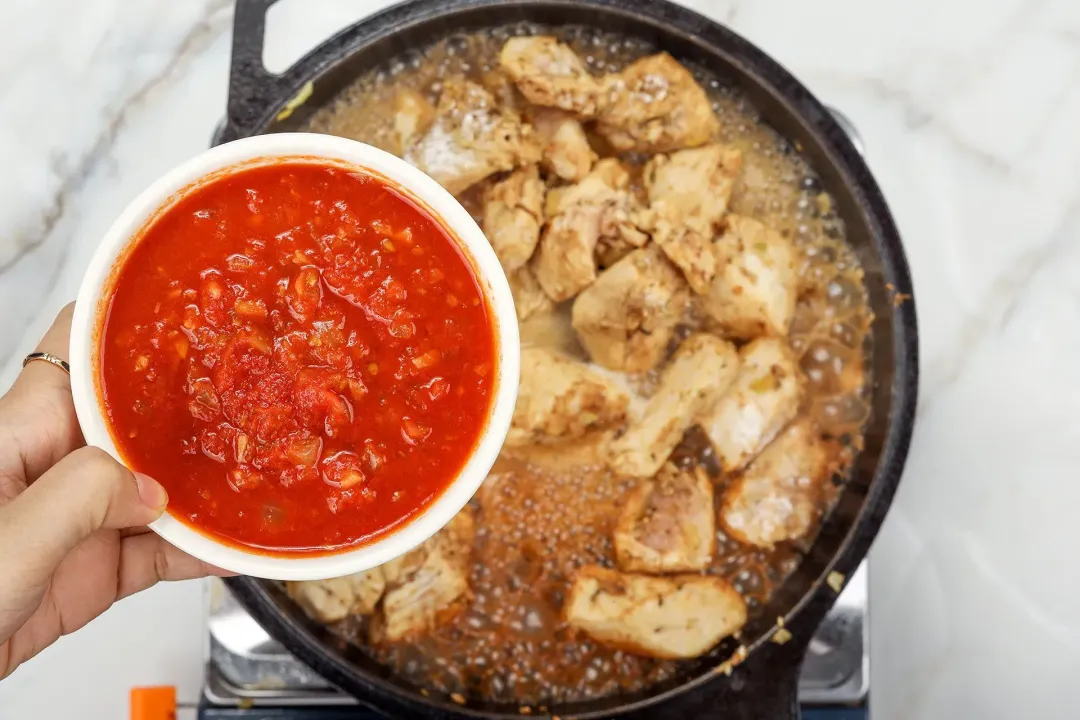 3
Shred the chicken: Once the chicken is tender, turn off the heat and keep it in the skillet while you use two forks to shred the chicken, allowing the chicken to soak up the broth.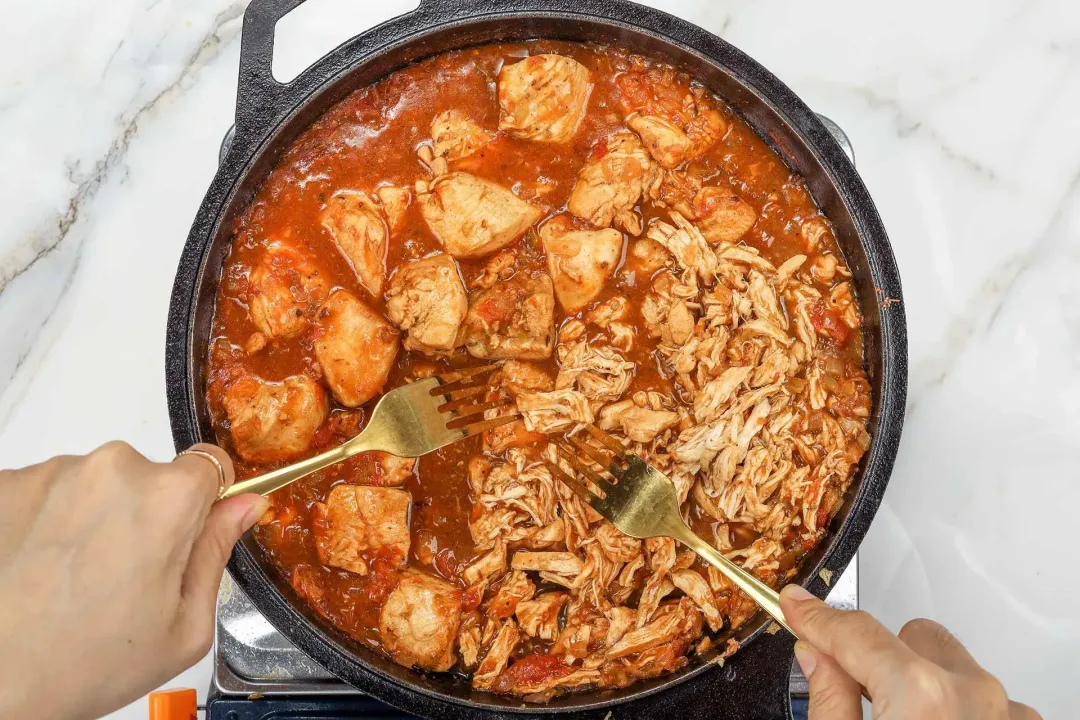 4
Roll the enchiladas: Before you start, Preheat the air fryer at 390°F for 5 minutes. While you wait, place a corn tortilla on a plate. Scoop 1/8 of the shredded chicken and place it on top of the tortilla. Roll it fairly tightly and put it in the baking dish. Repeat with the remaining shredded chicken and tortillas. (Since our baking dishes are quite small, we divided the enchiladas into 2 baking dishes and had to overlap the enchiladas a little.)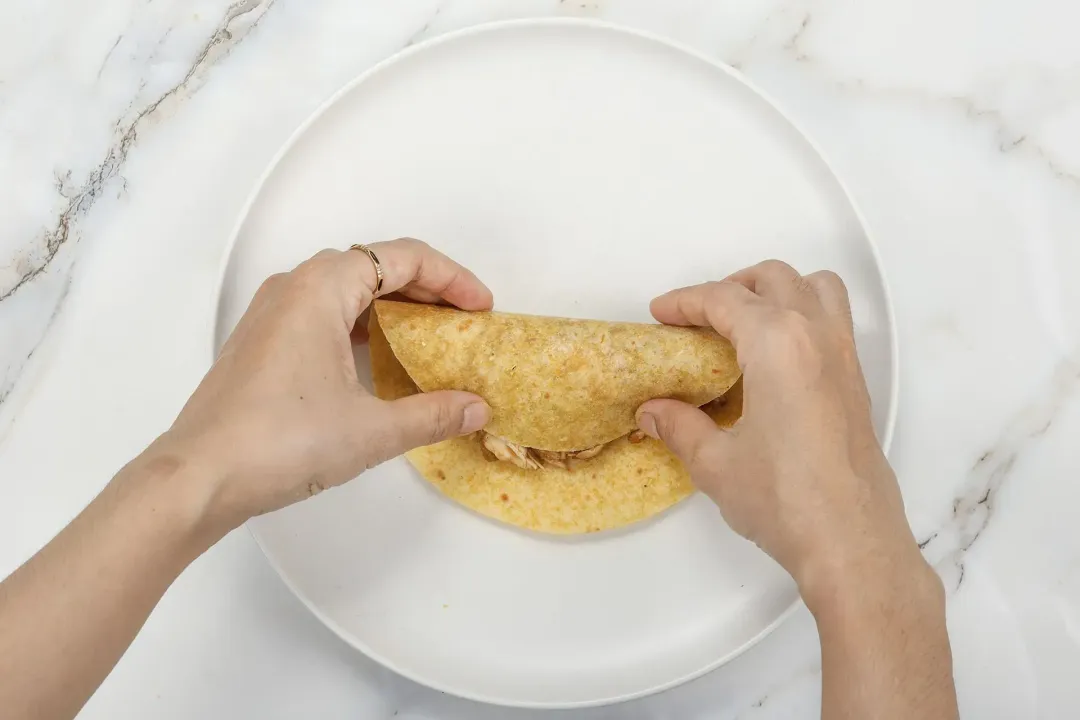 5
Bake the enchiladas: Spread the remaining 1/2 cup tomato sauce evenly over the enchiladas. Finally, sprinkle 2 oz shredded mozzarella and 2.5 oz shredded cheddar cheese on top. Put the baking dish into the air fryer and bake for 4 minutes. Once the first dish has finished baking, repeat with the second baking dish.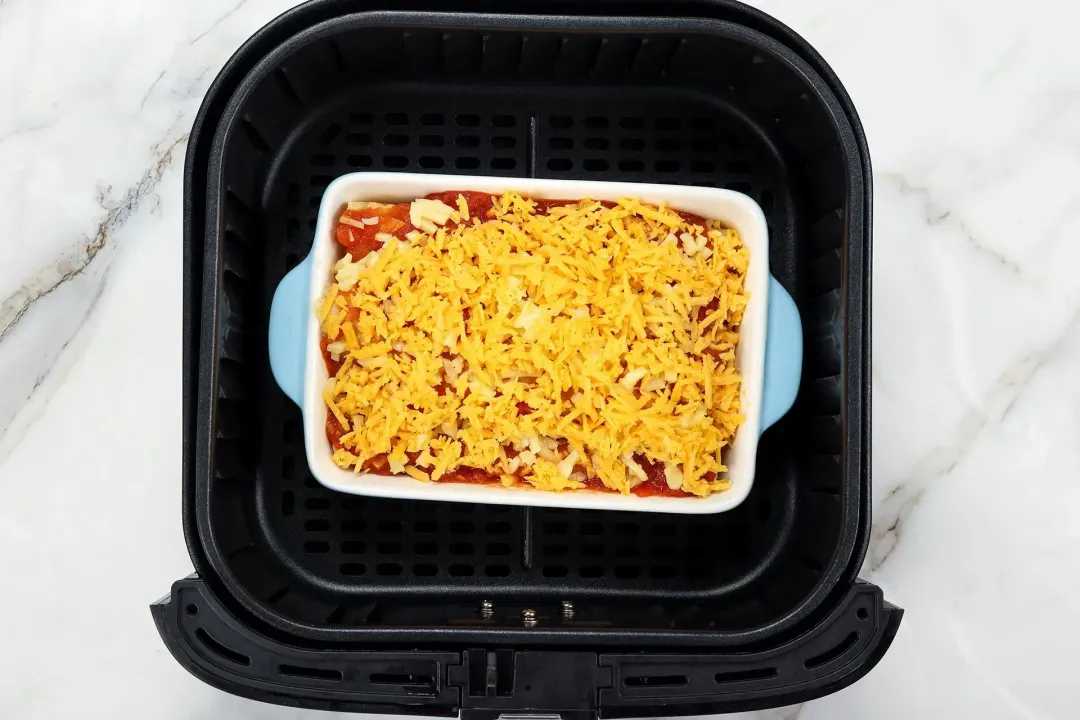 6
Garnish and serve: Sprinkle 2 tbsp chopped scallions and 0.5 oz sliced jalapeño pepper over the top of the enchiladas. Serve immediately to enjoy it at its best quality.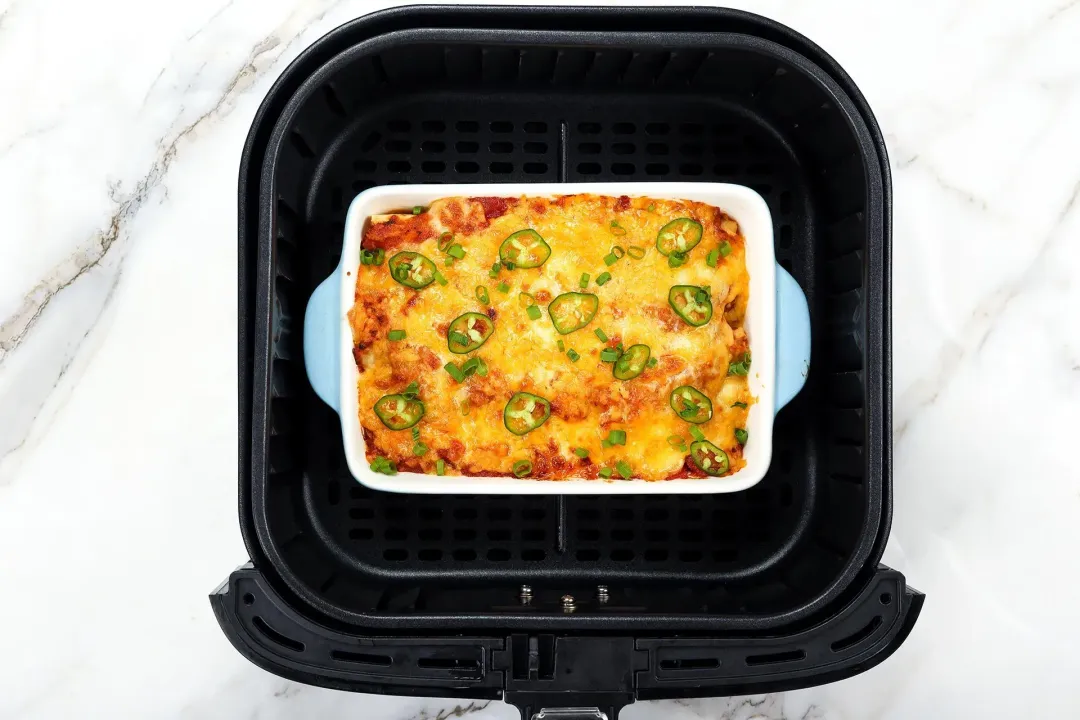 NUTRITION
Nutrition Facts
Air Fryer Chicken Enchiladas
Amount Per Serving (1 serving)
Calories 499
Calories from Fat 196
% Daily Value*
* Percent Daily Values are based on a 2000 calorie diet.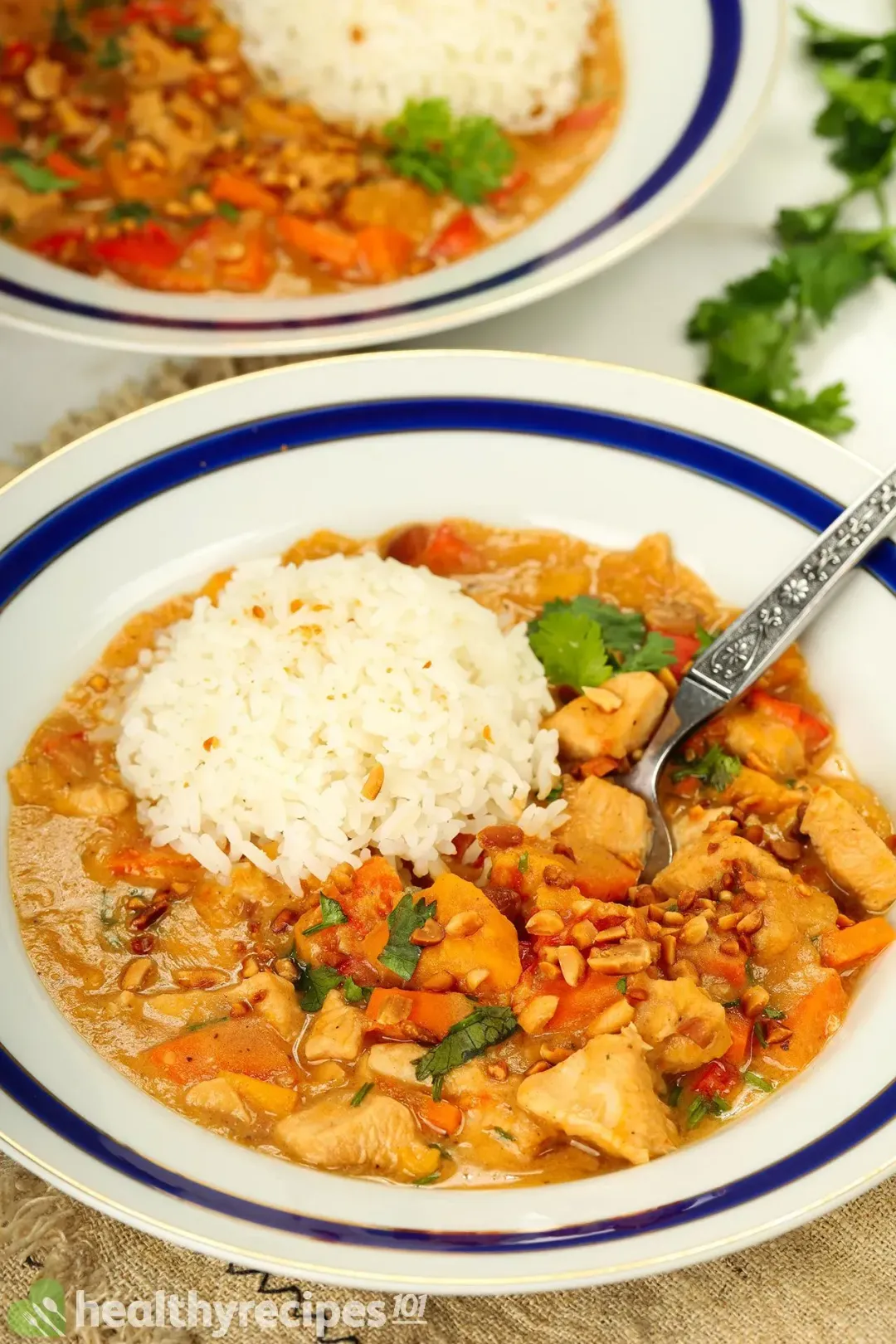 Previous Recipe
Peanut Butter Soup (African Peanut Soup)
Peanut Butter Soup (African Peanut Soup)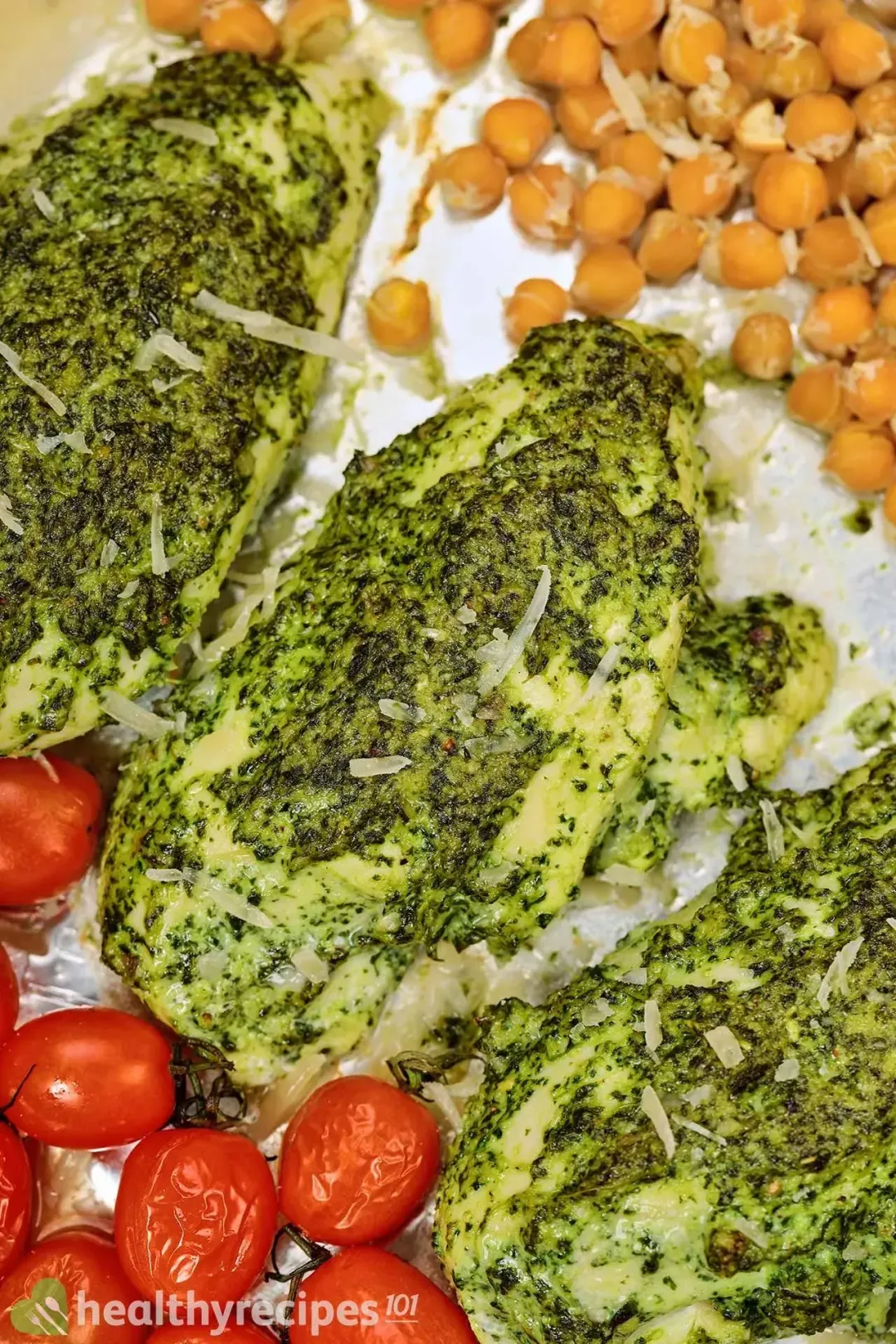 Pesto Chicken
Head Chef, Culinary Consultant
Tuyet Pham is an award-winning Saigonese chef who believes that joy is the secret ingredient to delicious food. At Healthy Recipes 101, Tuyet personally tests and simplifies every recipe, ensuring maximum flavor with minimal effort. With a background at prestigious French restaurants P'TI Saigon and Le Corto, Tuyet knows how to make every dish exceptional.
Writer, Author
Luna Regina is an accomplished writer and author who dedicates her career to empowering home cooks and making cooking effortless for everyone. She is the founder of HealthyKitchen101.com and HealthyRecipes101.com, where she works with her team to develop easy, nutritious recipes and help aspiring cooks choose the right kitchen appliances.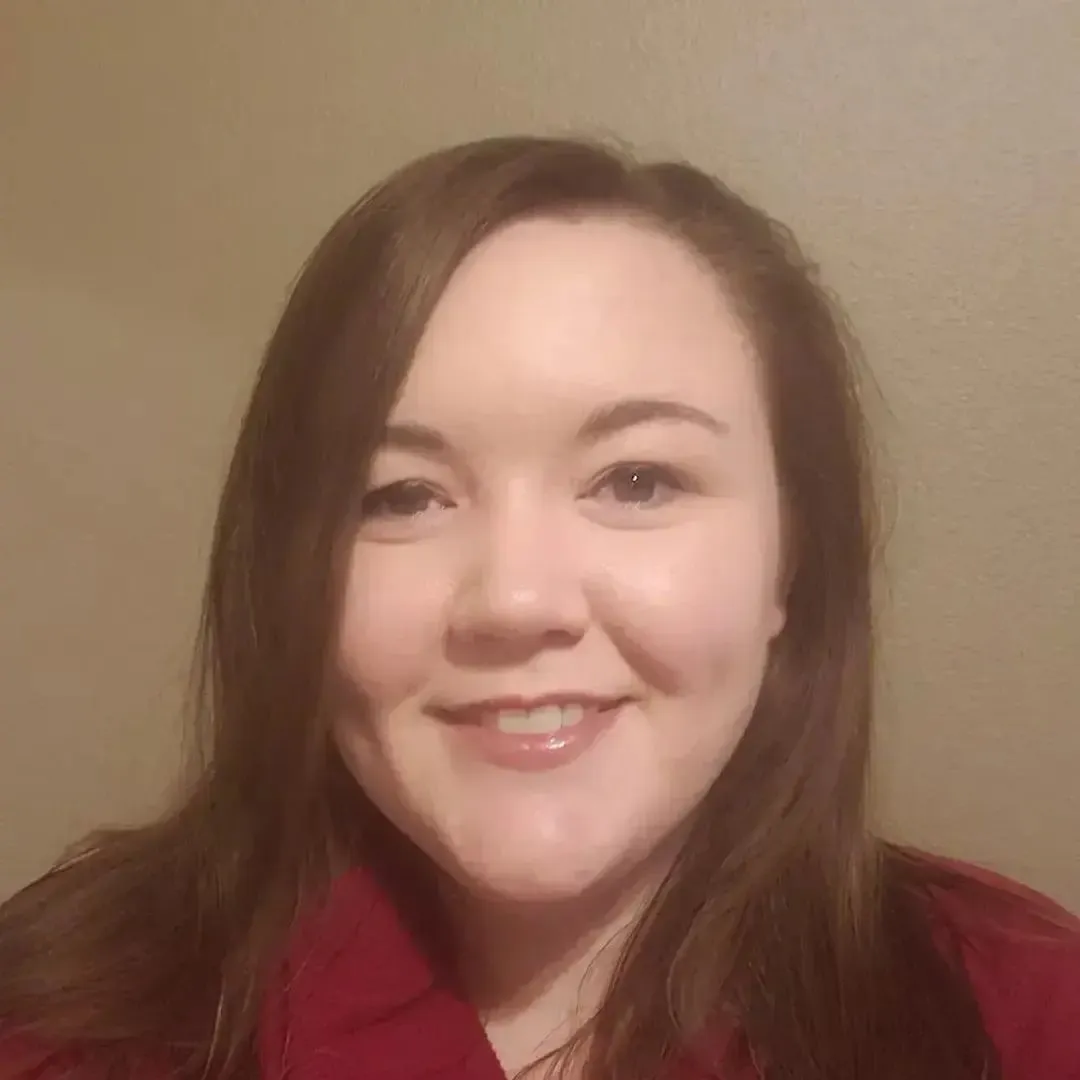 Nutrition Reviewer
SaVanna Shoemaker is a registered dietitian and freelance health and wellness writer. She's passionate about whole food-based eating and holistic nutrition, and uses her platform to help people embrace real food and reduce their sugar and processed food intake. Her work has appeared on Healthline, Greatist, Livestrong, Verywell Health, and more. In her free time, she enjoys gardening, reading, cooking, and weight lifting.
The crunchy outer layer of the tortilla is complemented perfectly by the juicy, flavorful chicken filling. Perfect for a quick and easy weeknight meal.