If you're searching for a quick and easy air fryer chicken patties recipe that's perfect for those busy nights, you've come to the right place.
Making chicken patties is usually a job for the frying pan, but today we're going lean and clean. With an air fryer, you can easily cut down on cooking time — as well as greasy fats.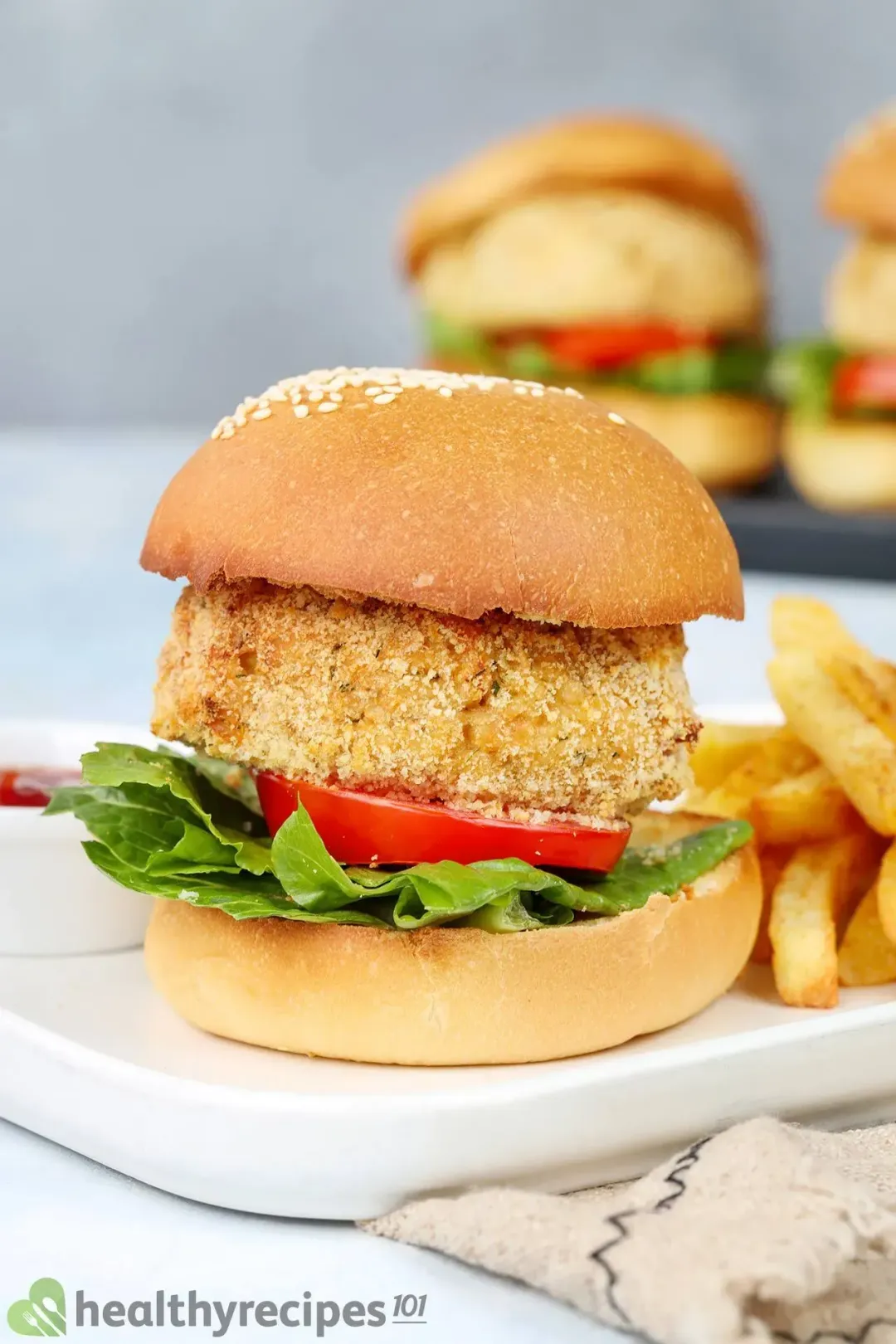 Before we delve into the recipe, let's answer the burning question:
Are Chicken Patties Healthy?
Yes, prepared in an air fryer, chicken patties are sure to be healthier than their pan fried counterparts. You'll enjoy a fresher, less greasy meal, which naturally means you're consuming fewer calories.
Nutritionally, the principal ingredient in this recipe is chicken breast which, of course, is an abundant source of protein. Besides keeping you full and satiated, you can also benefit from the muscle-building properties of protein-packed foods.
This is why many bodybuilders favor chicken breasts as a significant part of their eating regimen.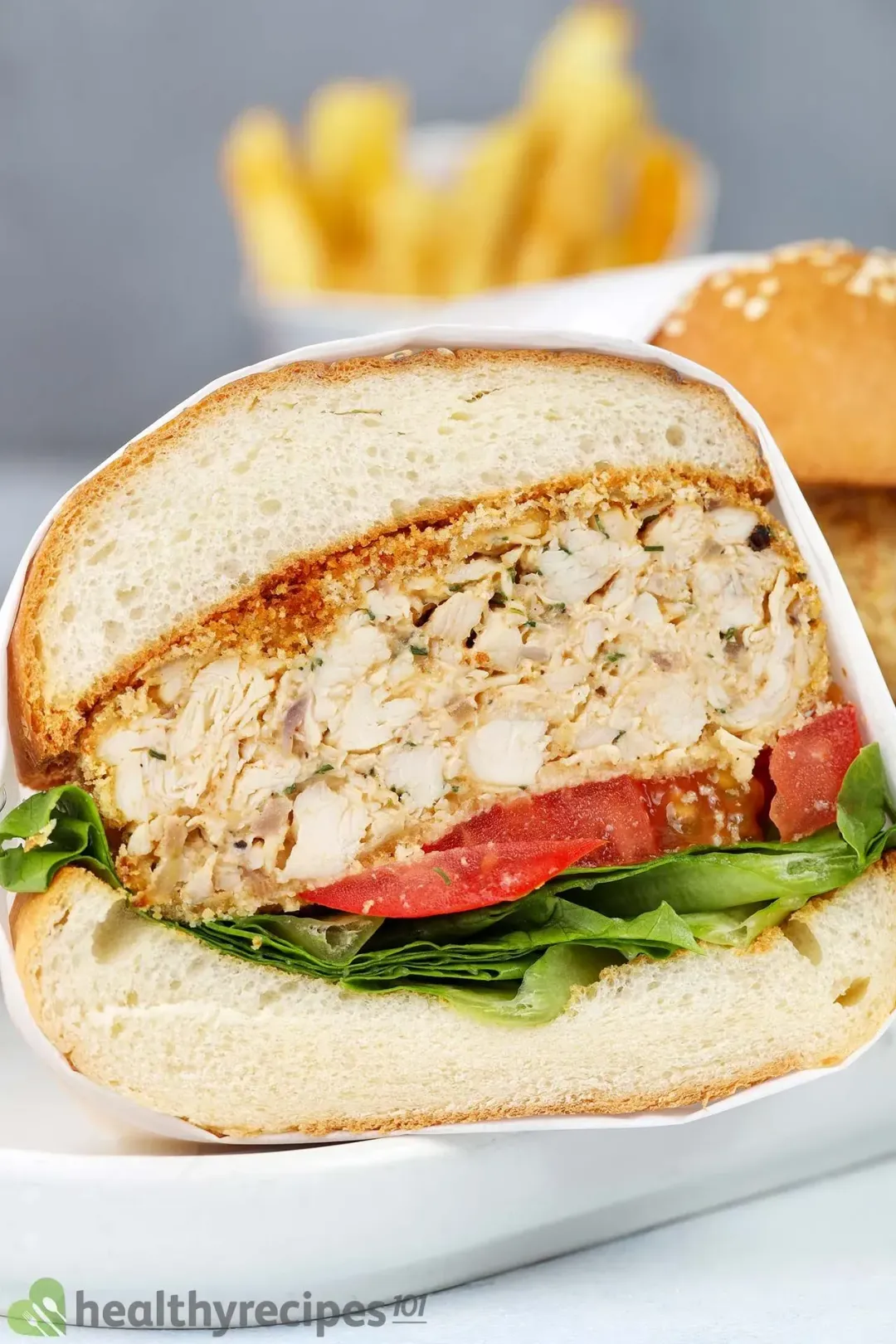 "What makes this recipe for air fried chicken patties different from a McChicken one?" you may be asking. For one thing, it includes all the love you can put into it and none of the preservatives.
In other words, incorporating homemade chicken patties into your diet is better for promoting a healthier you. Given this, you'll find that our recipe limits fats and sodium to moderate amounts.
Ingredients for Air Fryer Chicken Patties
In addition to chicken, the following are the main ingredients in this air fried chicken patties recipe:
Onion and garlic powder: To season the chicken with an alliaceous flavor.
Breadcrumbs: To ensure a crispy coating that adds an exciting texture to the patties.
Egg: The main binding element for the patty mixture.
Dijon mustard: You can substitute Dijon with yellow mustard, but keep in mind that the latter is slightly sharper in taste.
Mayonnaise: Together with the mustard, it will help hold the ingredients together while adding a slight tang.
Paprika and pepper: To add a bit of heat and spiciness to the patties.
Flour: To act as a thickening agent for the patties.
Romaine lettuce and tomato: Together they form a salad filling for the burger.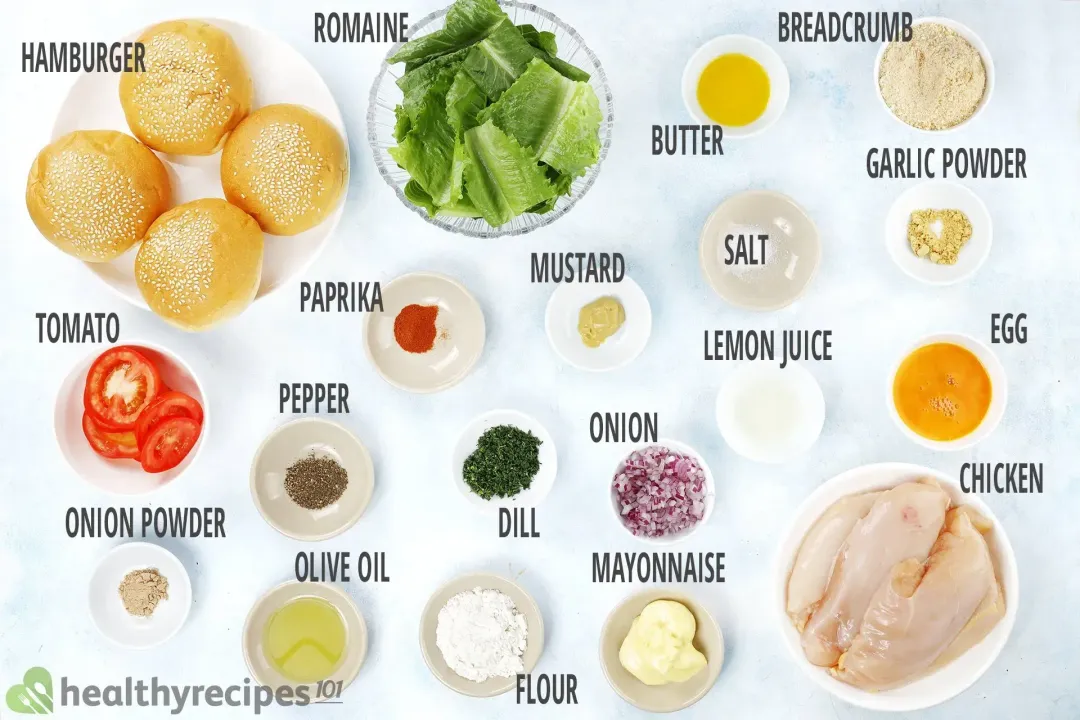 How Long to Cook Chicken Patties in an Air Fryer
Chicken patties take 15 minutes to cook at 355 °F in an air fryer. Just like in an oven or on a stovetop, you want to avoid overcooking the chicken.
You can easily check if the chicken patties have crisped up enough. If not, continue cooking, making sure you don't leave them for much longer than 2-3 minutes in the air fryer.
For more air fryer dinner ideas, check out this roundup article. If you're a big fan of chicken, have a look at our collection of the best air fryer chicken recipes.
Tips for Making Perfect Air Fryer Chicken Patties
Here are some of our chef's tips for creating the best chicken patties:
Ensure that the patties hold their shape. If your patties are too dry, they may collapse during cooking. Add a little more egg mixture if you find that they're falling apart. On the other hand, if your patty mix is too runny, you can add a little flour to make it thicker.
Make the patties wide. Be aware that the heat from the air fryer will cause the patties to shrink. It's better to make them wider than the burger buns to start with so you end up with nicely proportional buns and patties.
Make patties in batches. By making a large batch of patties, the next time you feel like it, you can simply pull some raw patties from the freezer and defrost them before air frying.
You can find more patty-making tips in this Air Fryer Chicken Sandwich Recipe.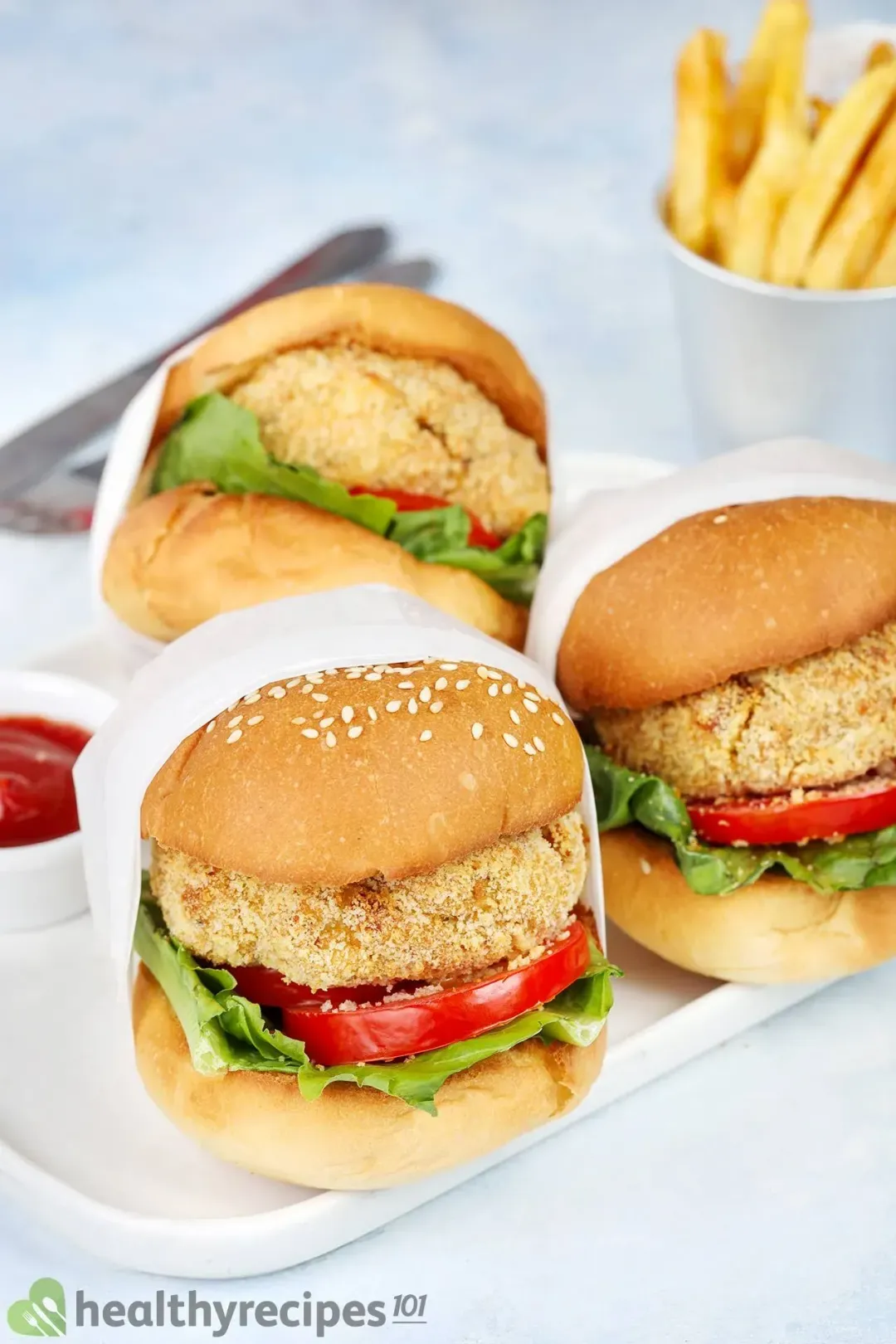 Can You Freeze Raw Chicken Patties?
With the above tip in mind, yes — you can freeze raw chicken patties. You'll enjoy a shorter prep time as you won't have to busy yourself with mixing the ingredients again.
When you're ready to enjoy the chicken patties, just place them in the refrigerator for a few hours until partially thawed. Two hours should be enough for the patties to still hold together but to have defrosted enough to cook quickly.
We also have this top delicious chicken roundup and 20 chicken thigh recipes, dedicated to chicken lovers. The recipes are easy to follow and complied with our healthy eating standards.
What Goes Well With Chicken Patties?
1. Burger
In a burger is by far the best way to eat our air-fryer chicken patties. Typically, you want the patty and a few vegetables to be the heart of the burger, so they dominate the dish.
2. Mashed Potatoes
Mashed potatoes are an excellent pairing for our air fried chicken patties. They make an excellent accompaniment if you're looking for something silky and creamy but still fulfilling.
3. Salad
If you're looking for a delicious and healthy way to complete the meal, go with a light salad. Salads are a great way to add character to any dish.
If you play your cards right, you'll get crunchiness, zest, and refreshment all in one bowl.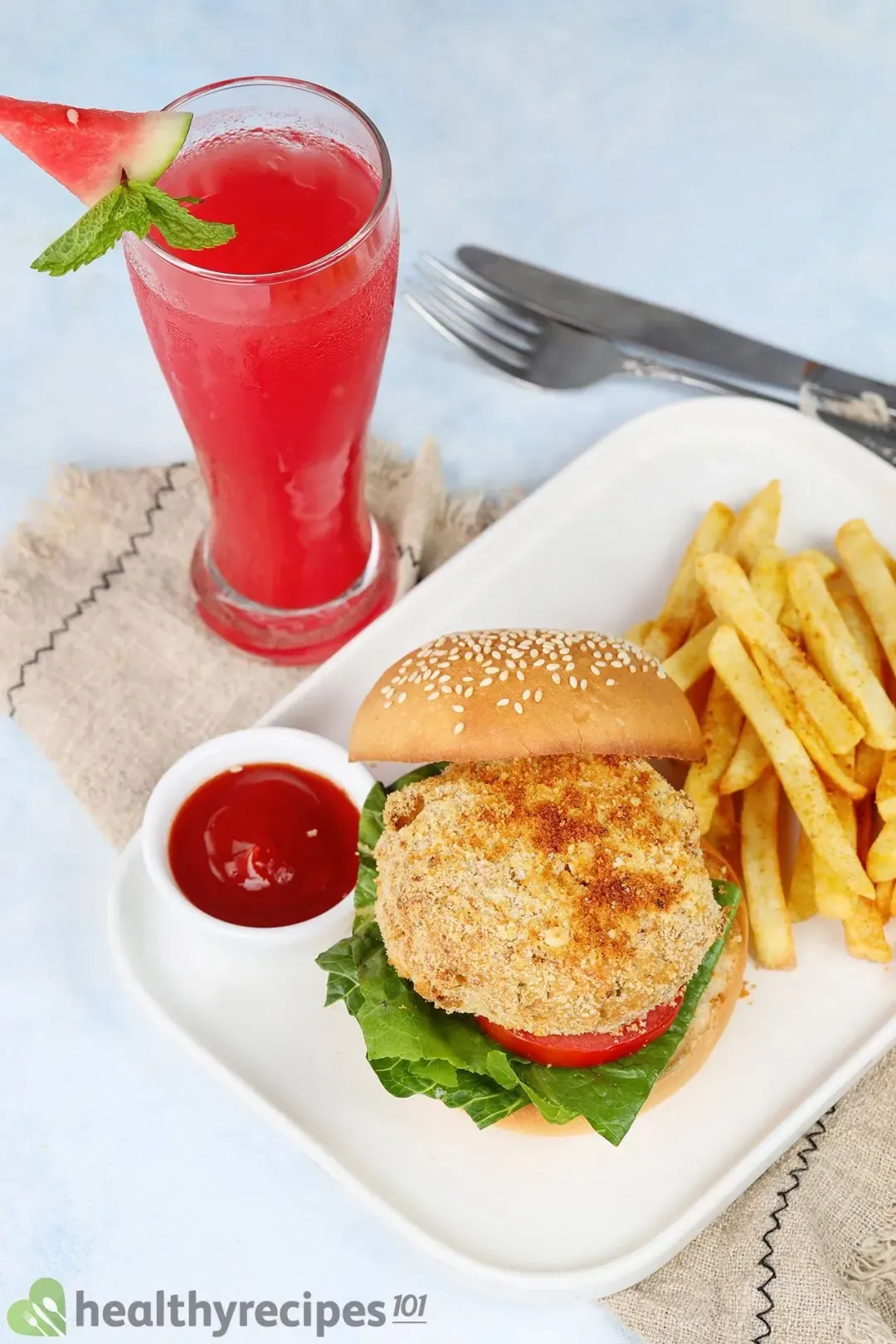 Give These Air-Fried Chicken Dishes a Try, too
This air fryer BBQ chicken recipe makes a deliciously savory meal with gorgeous golden-brown chicken thigh and smoky potato wedges. Pair it with fresh green lettuce and juicy cherry tomatoes for a boost of veggies.
This recipe features burnished-skin chicken served with a rich green sauce that adds layers of complexity and delicious Peruvian flavors. The combination of tangy, savory, spicy, creamy, and citrusy flavors is so perfect it might please the pickiest eater.
Air Fryer Chicken Patties
This quick and easy Air fryer chicken patties recipe takes the work out of making a delicious burger! Enjoy with a light beverage for the perfect meal.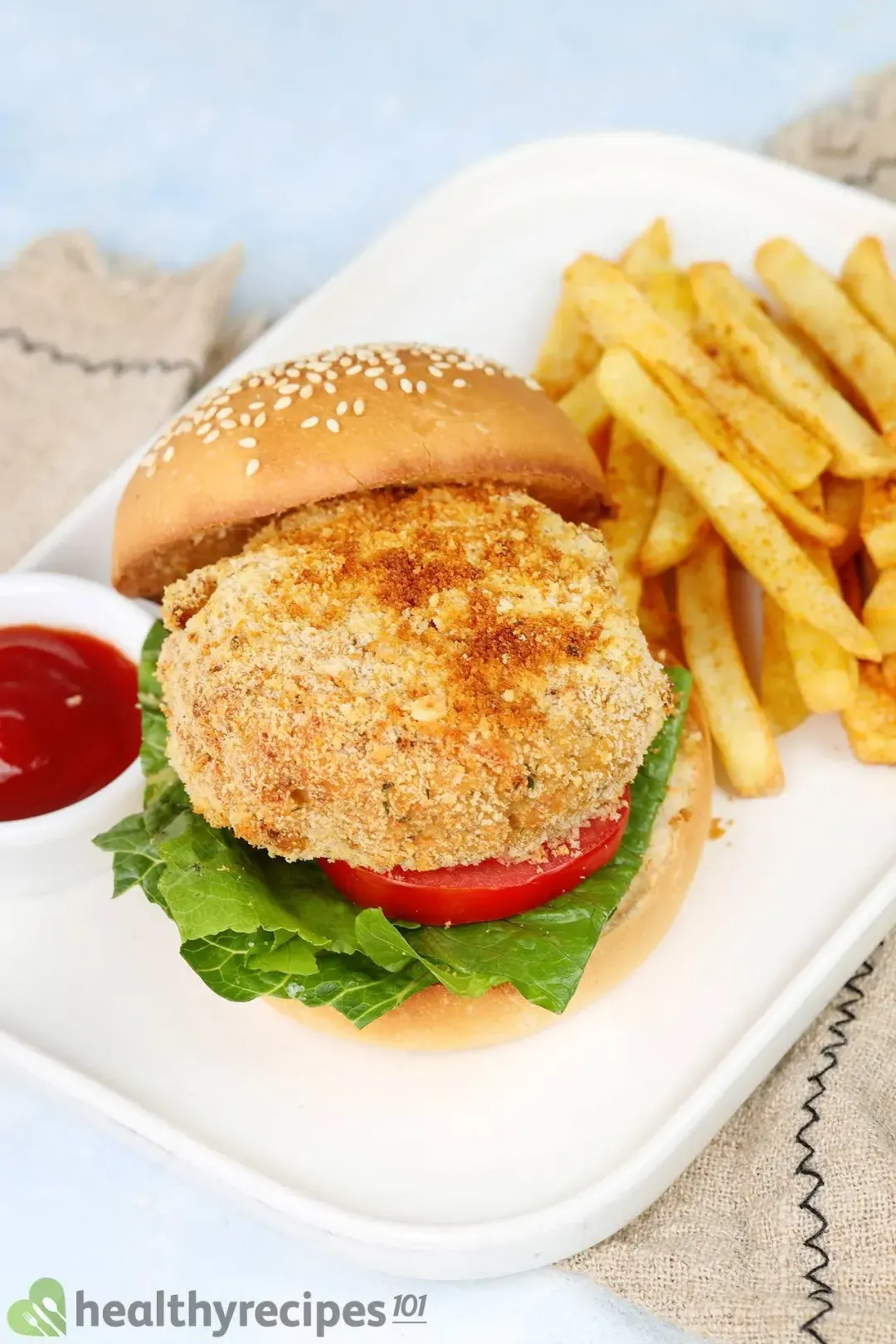 cook TIME

32 mins

prep TIME

10 mins

total TIME

42 mins
COURSE

Main Course

CUISINE

Global

SERVINGS

CALORIES

499 kcal
INGREDIENTS
20 oz

skinless boneless chicken breast

1/2 cup

plain panko breadcrumbs

1/2 tsp

black ground pepper

3 tbsp

Japanese mayonnaise

1 tsp

traditional Dijon mustard
INSTRUCTIONS
2
In a large bowl, marinate 20 oz chicken with 1 tbsp olive oil, 1/2 tsp onion powder, and 1/2 tsp garlic powder.
3
Bake the chicken in the oven for 15 minutes.
4
In another bowl, mix 1/2 cup breadcrumbs and 1 tbsp butter.
5
Remove the chicken from the oven and let it cool.
6
Use two forks to shred the chicken and mix it with 1 egg, 1 oz chopped onions, 1/2 tsp pepper, 2 tbsp dill, 1 tsp lemon juice, 1/4 tsp salt, 2 tbsp flour, 1/2 tsp paprika, 3 tbsp mayonnaise, and 1 tsp mustard.
7
Divide the mixture into four equal parts and form them into patties.
8
Coat the patties with the breadcrumb mixture.
9
Put the chicken patties in the air fryer and cook at 355 °F for 15 minutes. Once finished, remove the patties from the fryer.
10
Slice 4 burger buns in half horizontally and bake them at 400 °F in the oven for 2 minutes with the cut side facing up.
11
Remove the buns from the oven and place some lettuce and tomatoes on each bun.
12
Place a chicken patty on each pair of buns and serve.
NUTRITION
Nutrition Facts
Air Fryer Chicken Patties
Amount Per Serving (1 serving)
Calories 499
Calories from Fat 180
% Daily Value*
* Percent Daily Values are based on a 2000 calorie diet.
Keywords: air fryer chicken patties, air fryer chicken patties recipe, chicken patties in air fryer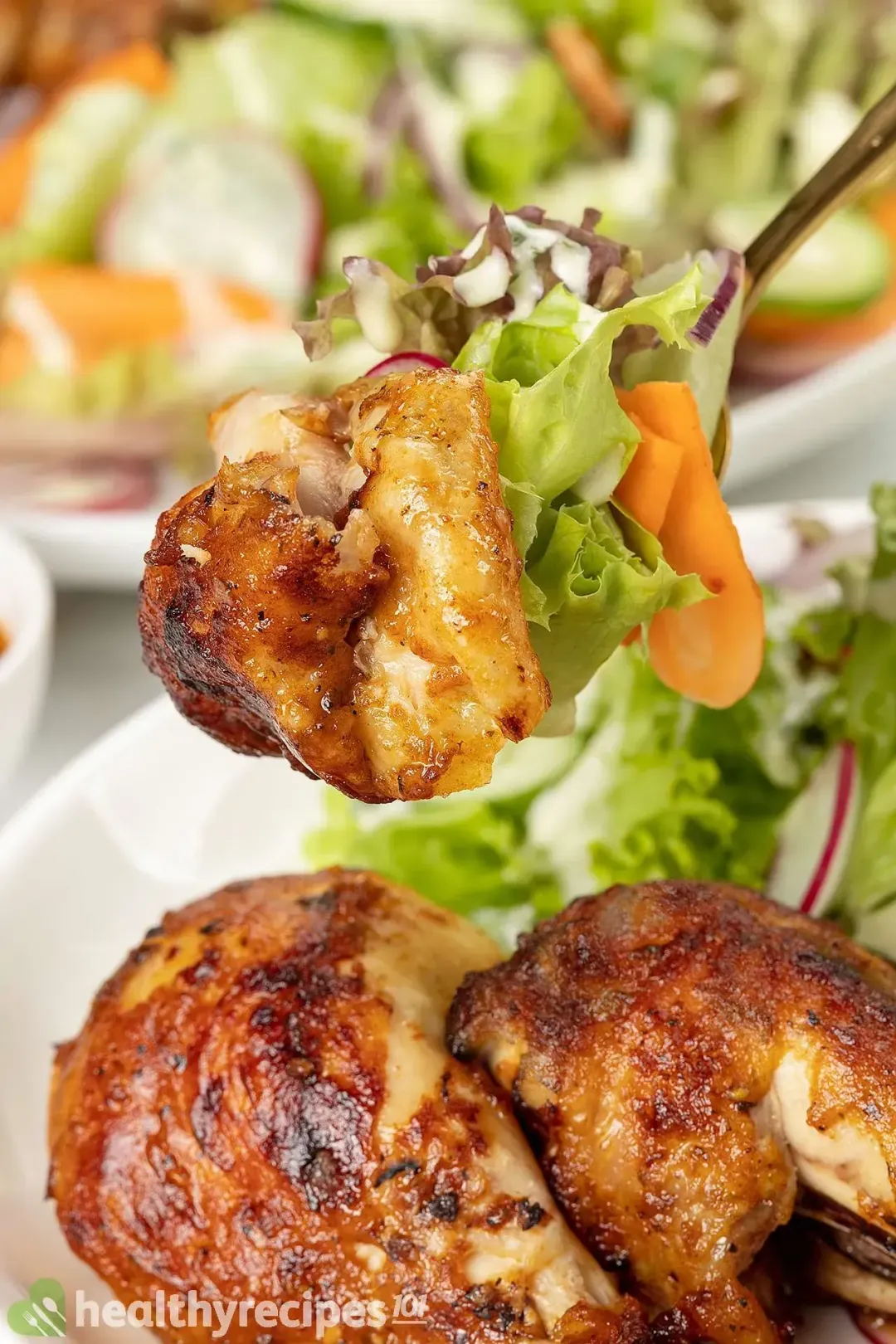 Previous Recipe
Instant Pot Chicken Legs
Instant Pot Chicken Legs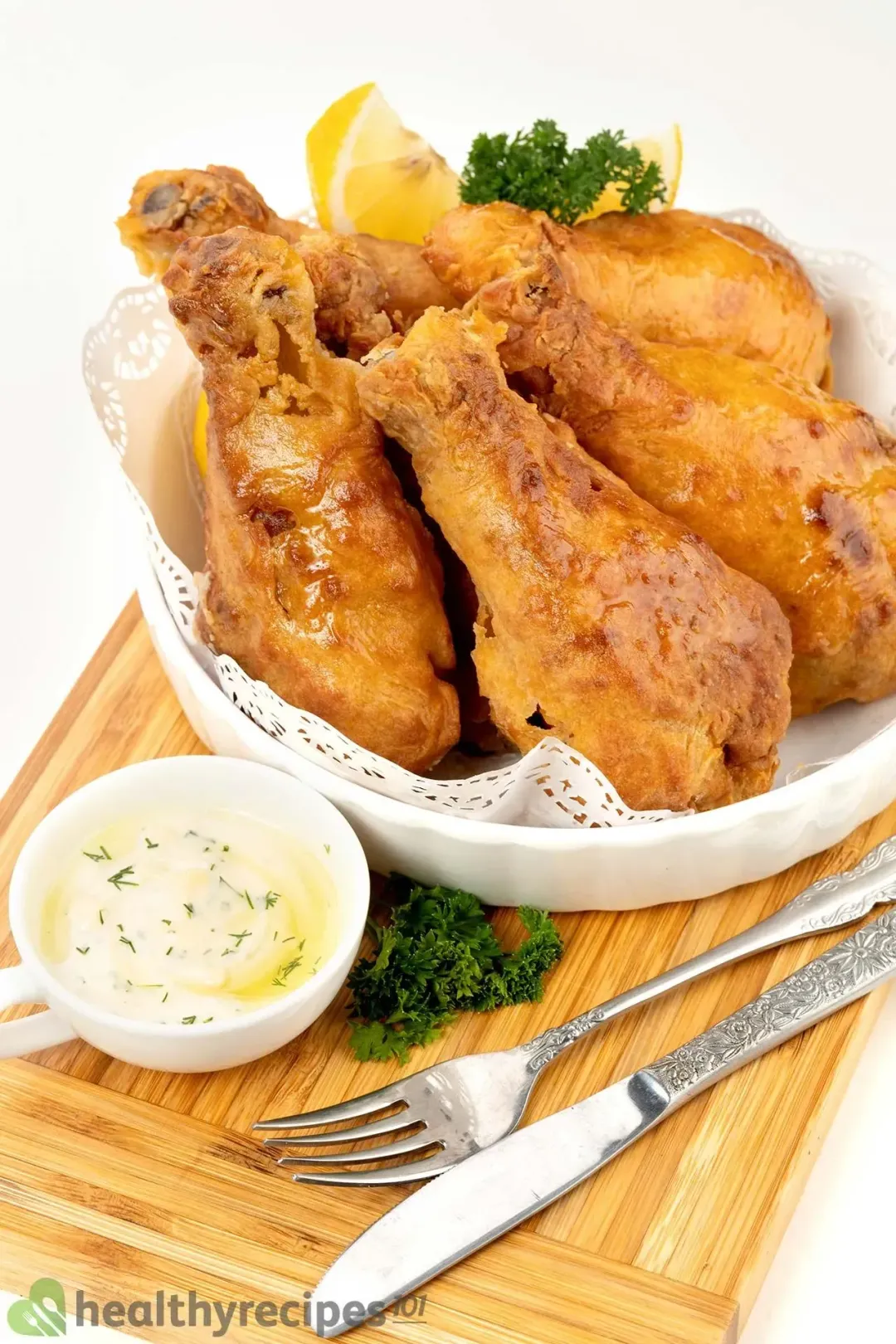 Next Recipe
Air Fryer Buttermilk Fried Chicken
Air Fryer Buttermilk Fried Chicken
Delicious and easy air fryer chicken patties.