If you're looking for a healthy chicken enchiladas recipe to add to your repertoire, this one won't let you down.
What Are Enchiladas?
"Enchiladas" are corn tortilla rolls filled with meat, beans, veg, cheese, etc. and covered in a savory sauce. It is a common dish in Mexico and has been around for a long time.
Enchiladas have a lot of variations. There is even a street version, which includes no filling but only slightly toasted corn tortillas dipped in chili sauce.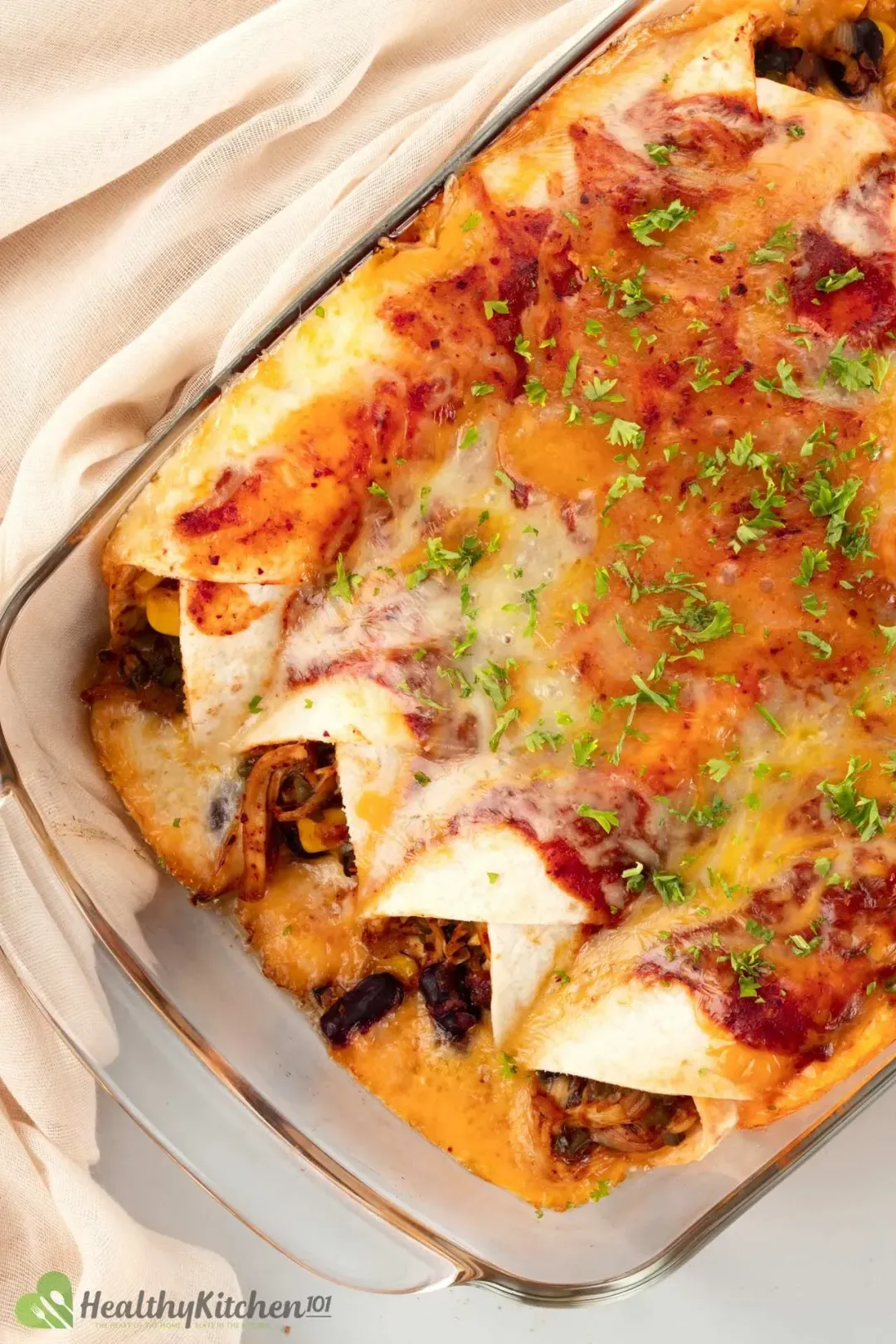 In this chicken enchiladas recipe, we're using the basic combination of chicken, beans, corn, bell pepper, and cheese. Of course, they are baked in our hands-down best homemade enchilada sauce.
Is Our Recipe Healthy?
To begin with, this chicken enchiladas recipe complies with our healthy eating guidelines, based on the USDA's dietary guidelines. It is moderate in calories (around 487), saturated fat (7 g) and sodium (589 mg).
As for the protein, we used skinless, boneless chicken breast, known to be the leanest cut of the chicken. It packs protein (about 22.5%) and contains very little saturated fat, often regarded as unhealthy fat.
If you're interested in chicken breast recipes, check out our delicious baked chicken breast recipe.
Besides chicken breast, kidney beans make for an additional source of protein and healthy carbs.
Corn and bell peppers not only add crunchiness and lots of flavors but they're also loaded with vitamins: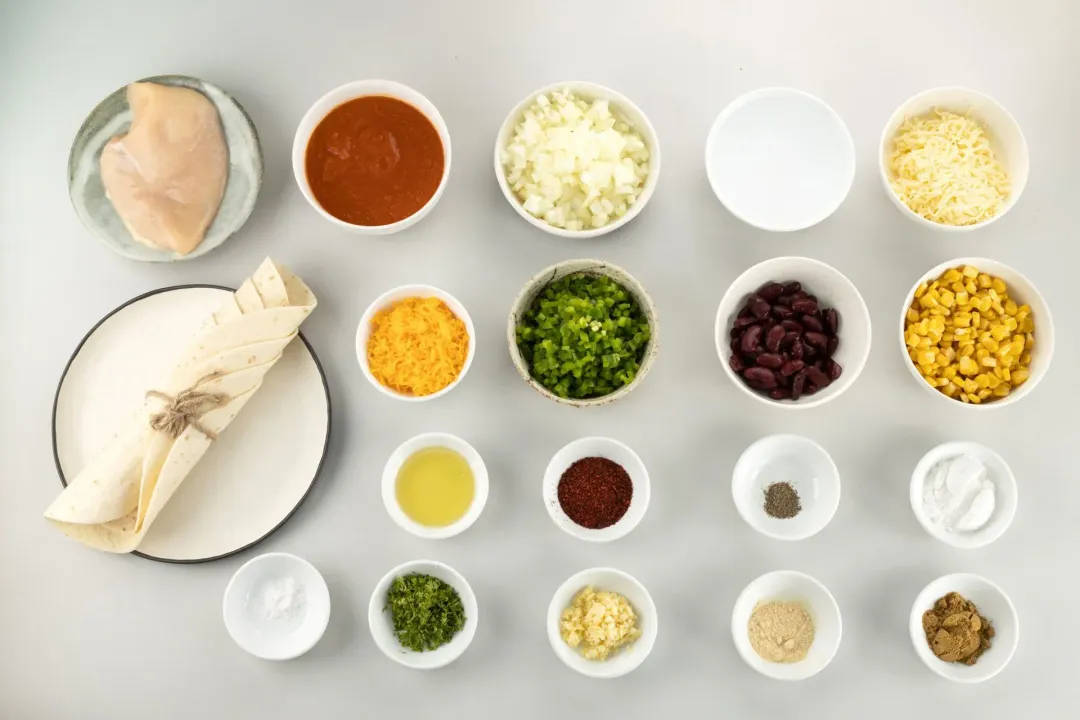 How Long Should You Bake?
Because the filling is thoroughly cooked, there's no need to stress over undercooked meat or vegetables. At this point, the oven's job is to cook the corn tortillas to tender perfection and infuse it with flavors.
With that said, at 400ºF, the tortillas need only 20 minutes to cook, covered with foil. You can turn the oven to 350ºF and cook them uncovered for just 15 minutes.
If you want more enchiladas dishes, feel free to try our Instant Pot Chicken Enchiladas Recipe and Shrimp Enchiladas versions.
Tortillas for Enchiladas
To help you run your errands more quickly, here's a short review about corn and flour tortillas:
1. Corn Tortillas
These are what the recipe originally calls for, and they have the best texture. Made entirely of corn, the dough contains no gluten and turns tender when cooked.
Corn tortillas also hold a distinct smell that no other types of tortilla share. It is thanks to the process of making the masa dough, involving steeping dried corn kernels in a special solution.
2. Flour Tortillas
Flour tortillas, on the other hand, contain gluten and have a more chewy texture.
There are two versions of flour tortillas, plain flour and whole wheat. While plain flour often tastes better uncooked, wholewheat offers a little more fiber, and both work well with enchiladas.
Although not as flavorful as corn tortillas, flour tortillas are great for burritos and quesadillas. They are easier to maneuver when it comes to holding large amounts of filling.
Our chicken enchiladas recipe calls for flour tortillas. You can use corn tortillas if you prefer.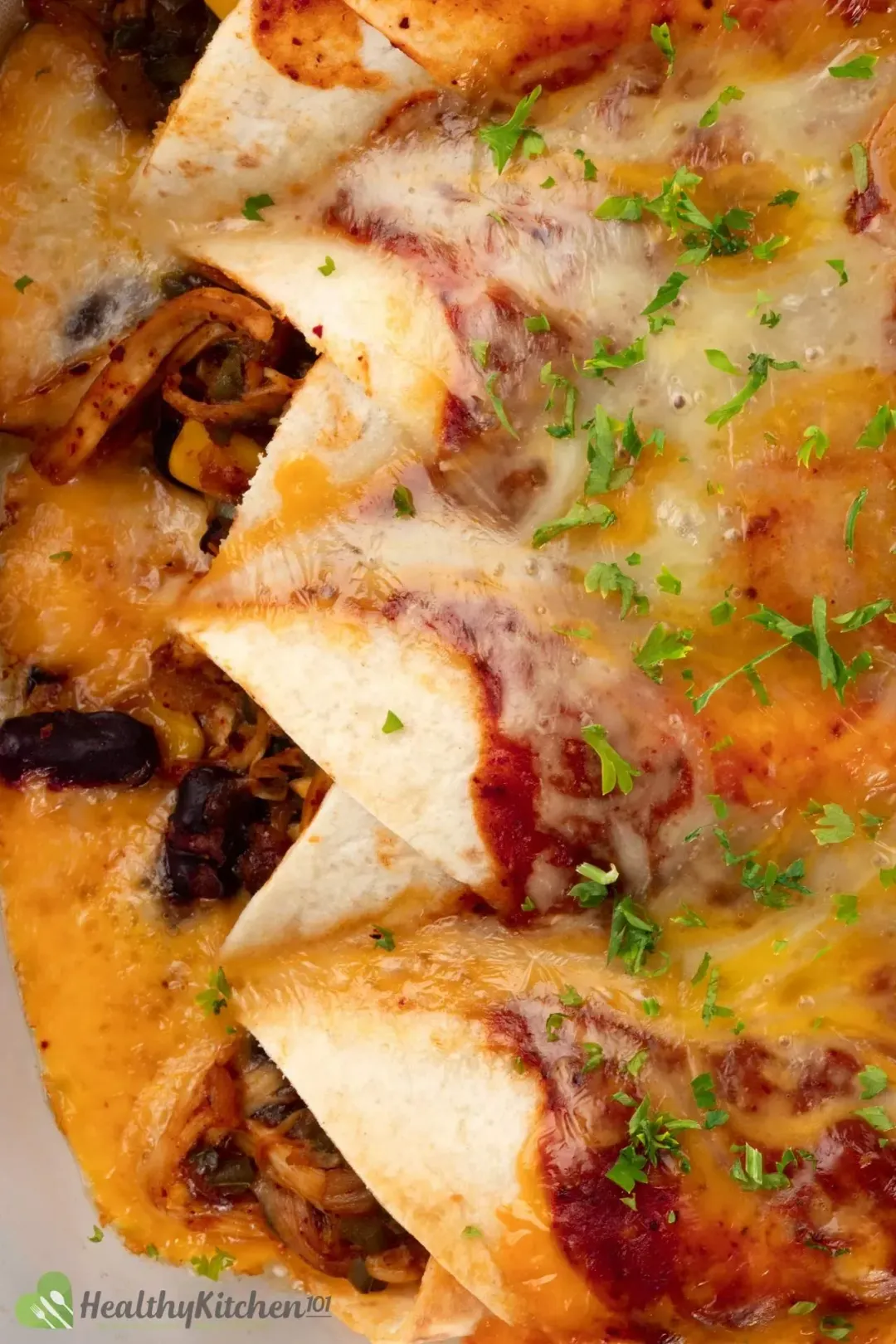 Sauce
Originally, chicken enchiladas were best complemented when paired with red enchilada sauce. But as mentioned earlier, there are many variations, which might require the following instead of enchilada sauce:
1. Red Sauce
Red sauce is another name for enchilada sauce, and of course, the most popular. You can expect how it tastes by how it look— mildly hot and really pungent.
We begin by cooking the dry ingredients in the leftover fat from cooking the chicken. These include spices like cumin, chili powder, onion powder, and cornstarch to thicken the sauce without adding gluten.
Then, add tomato sauce and water and simmer until it thickens. Season with salt and pepper, and you have an easy red enchilada sauce.
2. White Sauce
You'll find this version under a more popular name, "white chicken enchiladas". As the color of the sauce is from sour cream, it's also called "sour cream chicken enchiladas".
To make the white sauce, first, make a roux by melting butter over medium heat and whisking in flour. Let it cook for a minute then add chicken broth and simmer until the consistency becomes thick.
All that's left to do after that is to add sour cream, green chiles (to taste), and season the sauce with salt and pepper.
3. Green Sauce
The vibrant green color emanates from salsa verde, and that's right, this bad boy gives loads of heat! If you're a fan of the tangy, spicy salsa, green enchiladas surely won't let you down.
You can use store-bought salsa for convenience, or simply gather the ingredients and blend away for an easy homemade sauce. The ingredients are tomatillos, jalapeños, white onions, cilantro, lime juice, and salt (to taste).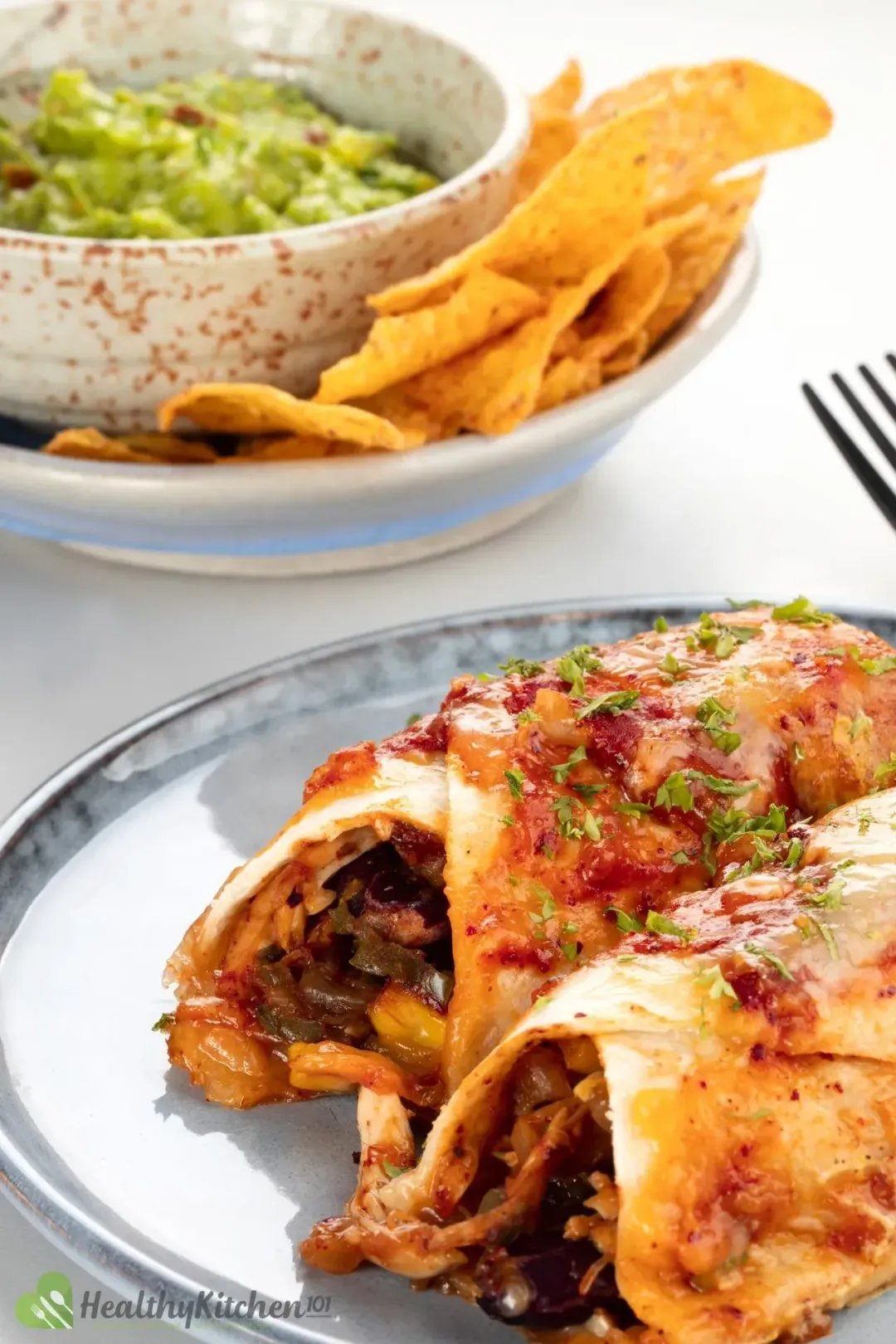 What Goes with This Chicken?
1. Cream Cheese
The cheeses used in this chicken and enchiladas recipe are cheddar and mozzarella. We enjoy their chewy texture, and it's fun to see how long it can stretch.
Cream cheese, on the other hand, may not have the stretch, but it's definitely creamier. Besides, it gives a slightly tangy taste, which pairs really well with the enchilada sauce.
2. Beans
While corn adds crisp texture and freshness, the beans add tenderness to every bite. It would be a big loss without beans in enchiladas.
The recipe originally calls for black beans, as it's the most favored kind in Mexican cuisine. We used red kidney beans instead, and we believe the result is still as good.
3. Sweet Potato
For a vegan version of enchiladas, sweet potatoes are often included in the filling, along with beans, corn, and bell pepper. Their sweetness mellows out the tangy, pungent taste of the enchilada sauce, and hence makes the dish more balanced.
4. Mushrooms
Unique in texture and taste, mushrooms can make any dish tastier when properly sauteed.
If you don't know which kind to add to this enchiladas recipe, go for the basic button mushrooms. You can hardly go wrong.
How Long Can Enchiladas Last in the Fridge?
Like most foods, chicken enchiladas can last for about 2 days in the fridge, covered in plastic wrap. We recommend eating them up as quickly as possible, because the longer they sit, the mushier they become.
If you're a big fan of chicken, this healthy and delicious chicken roundup might be of help.
What to Serve with
At Healthy Kitchen 101, we plan the menu for you! Here's what you can have with chicken enchiladas to make a full meal:
Guacamole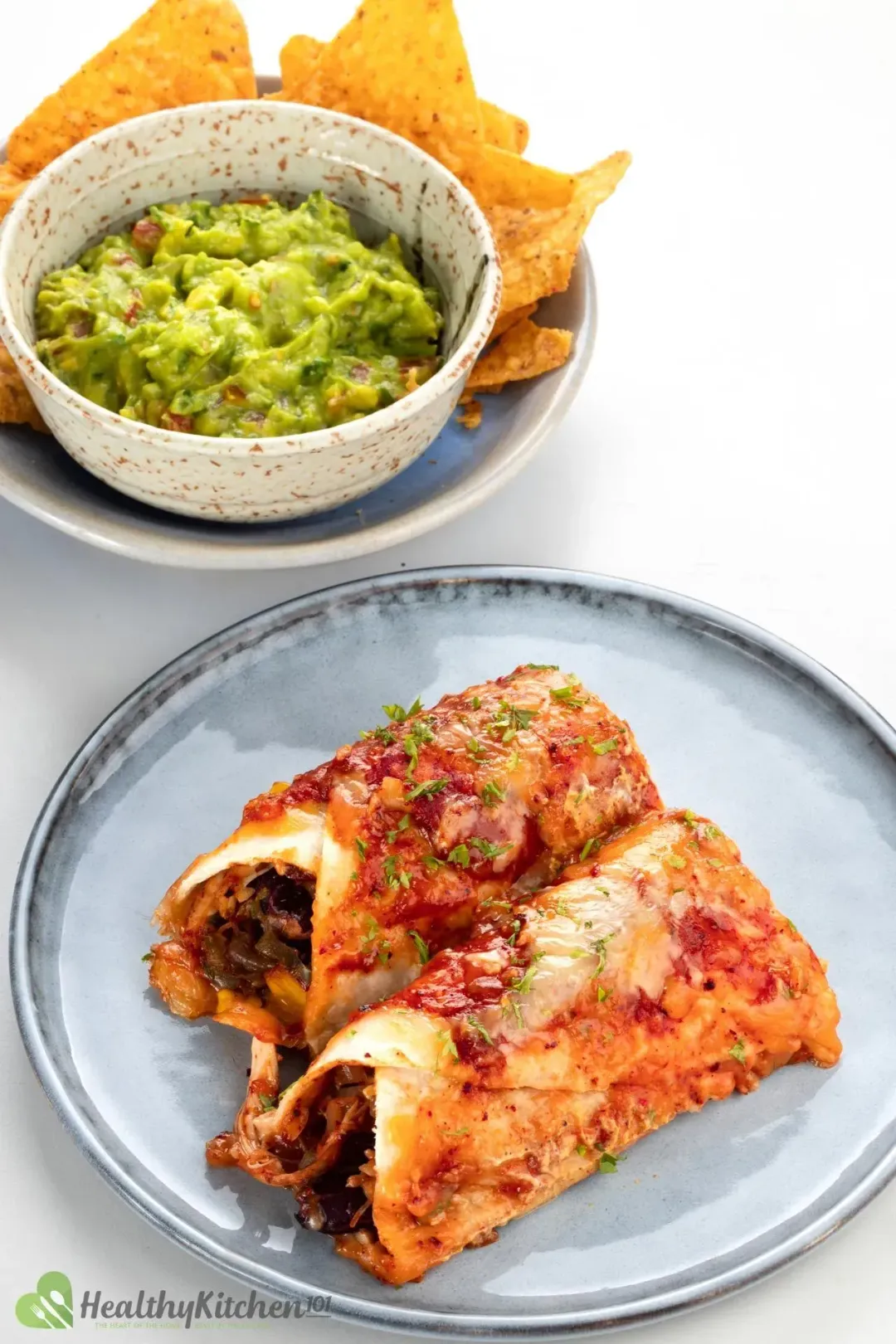 Belonging to the same cuisine, guacamole has a creamy texture to take the enchiladas up a level. Also, the guacamole comes with crispy Doritos, giving not only the missing texture but also the saltiness.
Other Tasty Chicken Recipes
This chicken nacho tray with 500 calories is a good way to please your craving and fill your tummy. It's packed with flavors and proteins.
In the same manner, these crispy taquitos can please crowds. They're baked, so you know that each and every calorie comes from nutritious ingredients.
We have more of these delicious recipes in our collection of 21 Mexican chicken dishes. Check them out and pick your favorites.
Healthy Chicken Enchiladas
Crammed with tender chicken strips, then covered in cheese and a red hot tomato-based sauce, these Chicken Enchiladas recipe are both satisfying and healthy at the same time.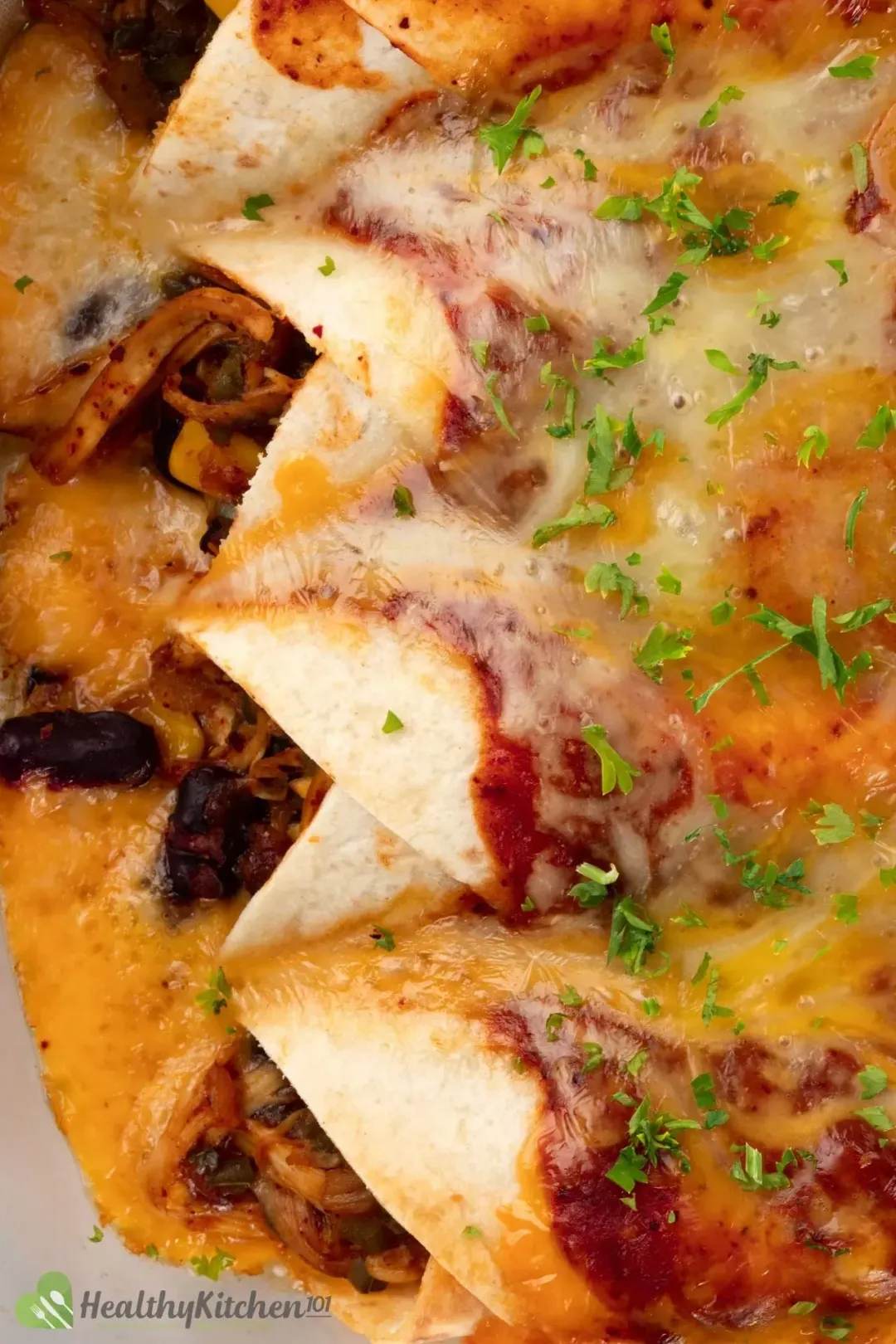 cook TIME

1 hr

prep TIME

15 mins

total TIME

1 hr 15 mins
COURSE

Main Course

CUISINE

Mexican, Tex-Mex

SERVINGS

CALORIES

487 kcal
INGREDIENTS
6 oz

skinless boneless chicken breast

5.3 oz

green bell pepper

(minced)

3.5 oz

unsalted dark red kidney beans

(drained and rinsed)

2.3 oz

Cheddar cheese

(shredded)

2 oz

Mozzarella cheese

(shredded)

1 1/2 tbsp

garlic

(minced)

1/8 tsp

ground black pepper

(divided)

2 tbsp

olive oil

(divided)

1 cup

Hunt's unsalted tomato sauce
INSTRUCTIONS
1
Preheat the oven to 400°F.
2
In a cast iron skillet, sear 6 oz chicken on medium high heat with 1 tbsp olive oil for about 5 minutes per side. Season each side with half the amount of salt (1/8 tsp) and pepper (1/16 tsp). When it's done, take the chicken out and leave to cool.
3
In the same skillet, mix the 1/8 tsp onion powder, 2 tsp cumin, 2 tbsp cornstarch, 1 tbsp chili powder, the remaining 1/8 tsp salt and 1/16 tsp pepper, and stir for 2 minutes. Add 1 cup tomato sauce and 1 cup water. Simmer for 8 minutes. Turn off the stove and set aside.
5
In a new skillet, stir-fry 5.3 oz onion and 1 1/2 tbsp garlic with 1 tbsp olive oil for 5 minutes. Add 5.3 oz green bell peppers and cook for 2 minutes. Add 5.3 oz corn and cook for 1 minutes. Turn off the stove and mix in shredded chicken, beans, half the amount of sauce and 1 tbsp parsley.
6
Divide the filling into 4 equal parts. Carefully roll the tortillas and place them onto a baking dish.
7
Pour in the remaining sauce over the top and sprinkle with 2.3 oz Cheddar cheese and 2 oz Mozzarella cheese. Cover it with foil.
8
Bake at 400ºF for 20 minutes. When it's done, uncover and broil for 4 minutes or until the cheese gets bubbly.
NUTRITION
Nutrition Facts
Healthy Chicken Enchiladas
Amount Per Serving (1 serving)
Calories 487
Calories from Fat 198
% Daily Value*
* Percent Daily Values are based on a 2000 calorie diet.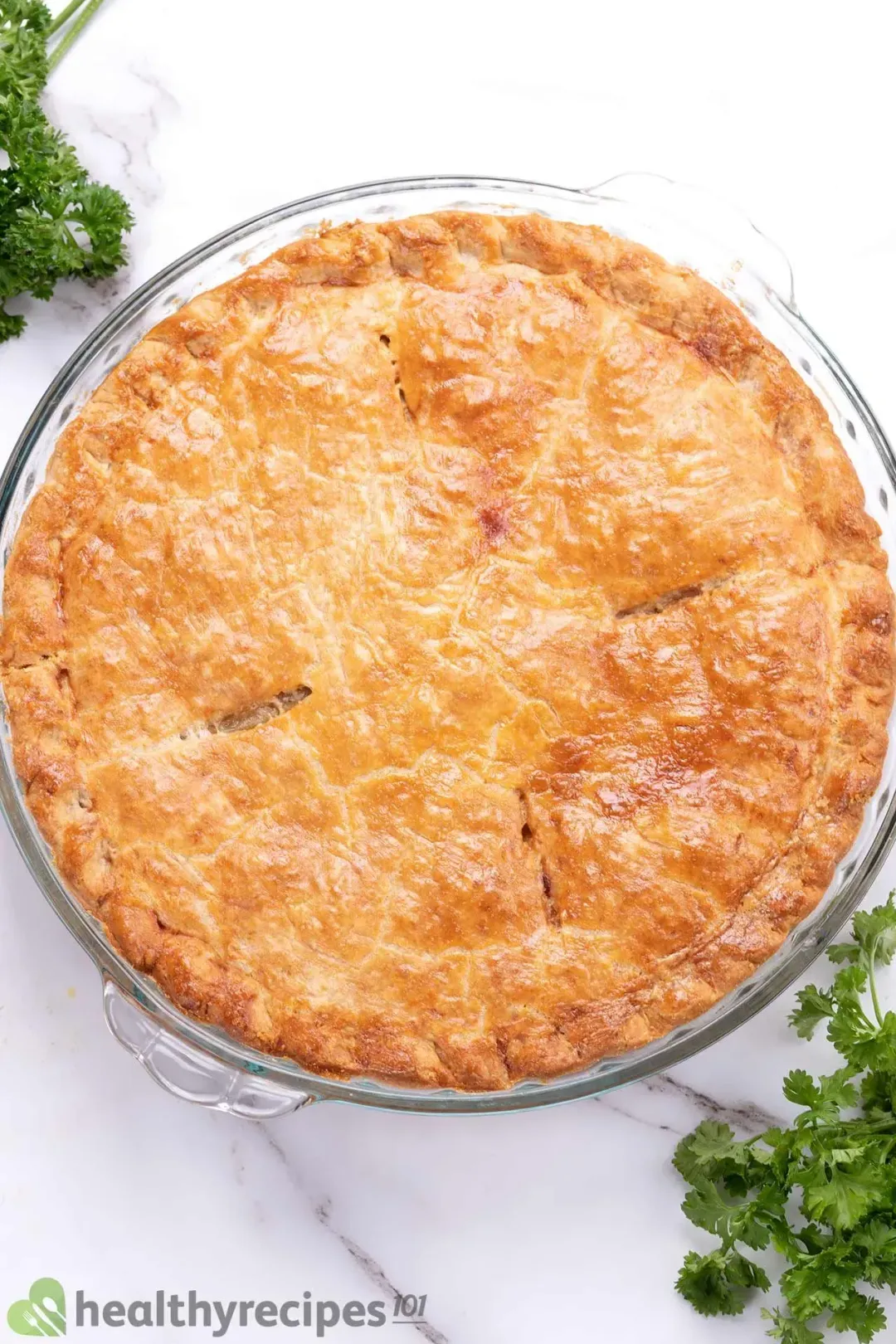 Previous Recipe
Healthy Chicken Pot Pie
Healthy Chicken Pot Pie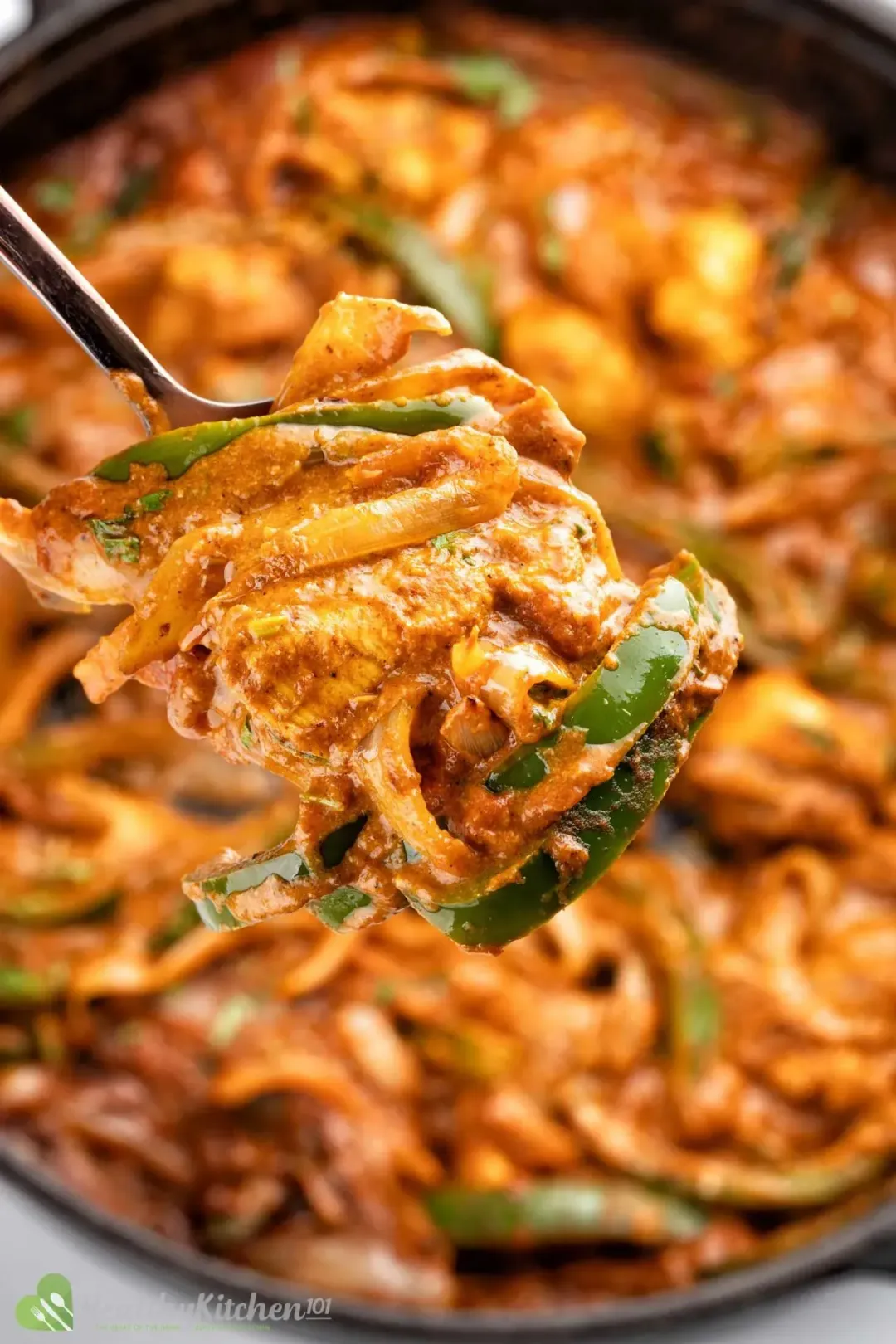 Next Recipe
Chicken Tikka Masala
Chicken Tikka Masala
Head Chef, Culinary Consultant
Tuyet Pham is an award-winning Saigonese chef who believes that joy is the secret ingredient to delicious food. At Healthy Recipes 101, Tuyet personally tests and simplifies every recipe, ensuring maximum flavor with minimal effort. With a background at prestigious French restaurants P'TI Saigon and Le Corto, Tuyet knows how to make every dish exceptional.
Writer, Author
Luna Regina is an accomplished writer and author who dedicates her career to empowering home cooks and making cooking effortless for everyone. She is the founder of HealthyKitchen101.com and HealthyRecipes101.com, where she works with her team to develop easy, nutritious recipes and help aspiring cooks choose the right kitchen appliances.
Nutrition Reviewer
Lizzie Streit is a Minneapolis-based dietitian and founder of It's a Veg World After All. She completed her MS in Human Nutrition from Drexel University, and is an expert in culinary nutrition, recipe development, and nutrition communications. Lizzie's philosophy is centered around making nutrition recommendations, and especially the advice to eat more vegetables, approachable and realistic. She is excited to be working with the team at Healthy Recipes 101 to ensure that their recipes are both nutritious and delicious.
The chicken enchiladas recipe is a flavorful and easy-to-make dish that's perfect for a family dinner or a party.