Filled with creamy chicken and vegetables, our air fryer chicken pot pie recipe is an easy way to recreate this American sweetheart.
Is Air Fryer Chicken Pot Pie Healthier Than the Regular?
This pot pie is a nutritious meal with lean meat, vegetables, cream sauce, and a pie crust. Together, they give you varying amounts of many crucial nutrients: proteins, fats, carbs, vitamins, minerals, and fiber.
To make the pot pie healthier, we've lowered its saturated fats and sodium levels by using just the right amount of cream, milk, and salt. Now they are at 7.5 g and 563 mg respectively, within the suggested upper limit.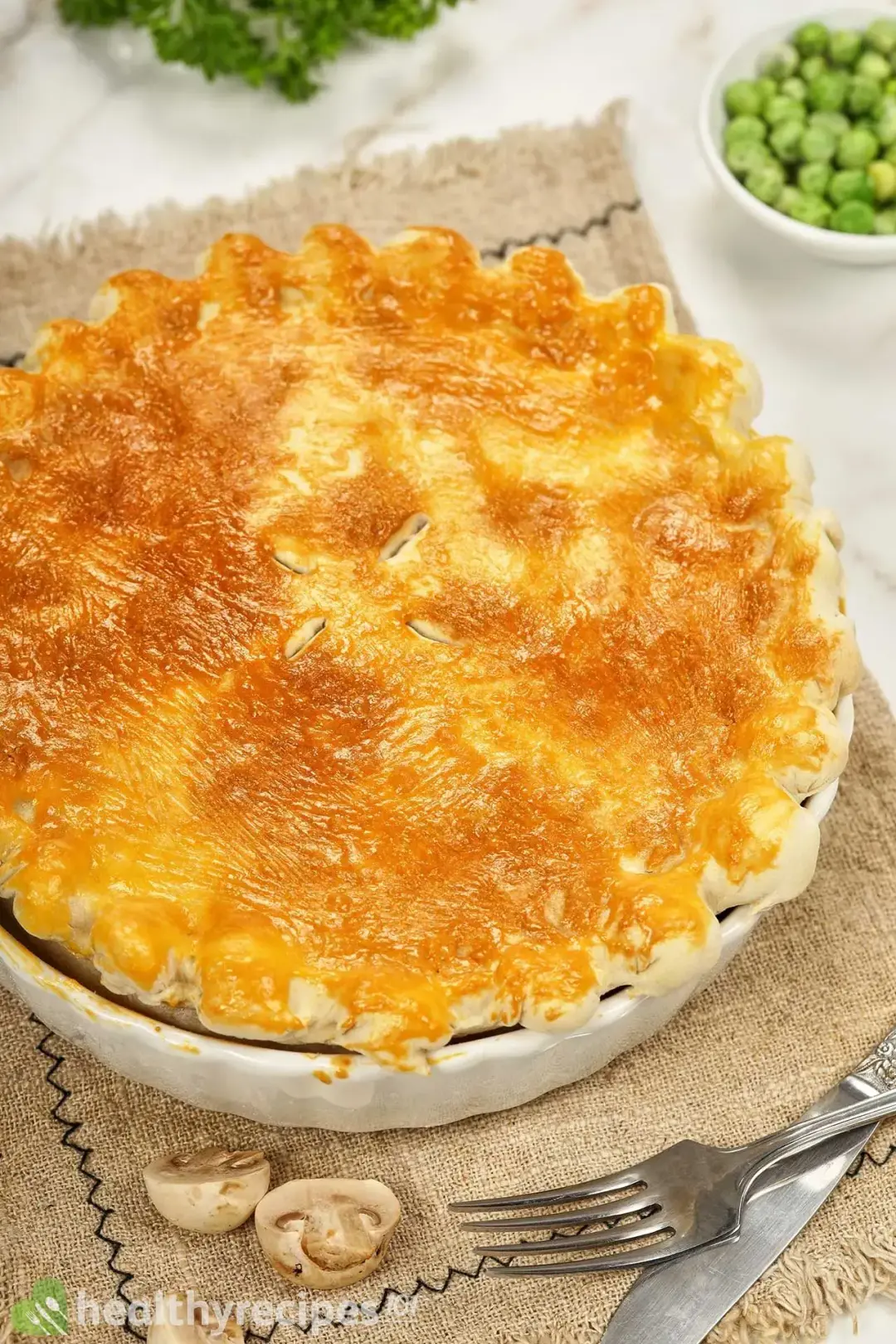 Ingredients You'll Need
Here is everything our air fryer chicken pot pie recipe calls for:
Although it's not an ingredient, we feel the need to remind you to find a baking dish that fits your air fryer. We made the mistake and had a terrible time redoing the crust.
We used chicken breasts for the filling. To prevent this cut from drying out, avoid cooking it for too long by adding it after the vegetables have already been cooked.
For the veg, we selected the usual suspects: carrots, peas, onions, celery, and mushrooms. Mushrooms are actually our own addition — they add a deliciously chewy texture to the pie.
Once all is cooked with butter and garlic and nicely seasoned with salt and pepper, add the liquids. The sauce comprises chicken broth, cream, and milk, which are then thickened with some all-purpose flour to create that luscious, rich texture.
When the filling is finished, move on to preparing the pie crust.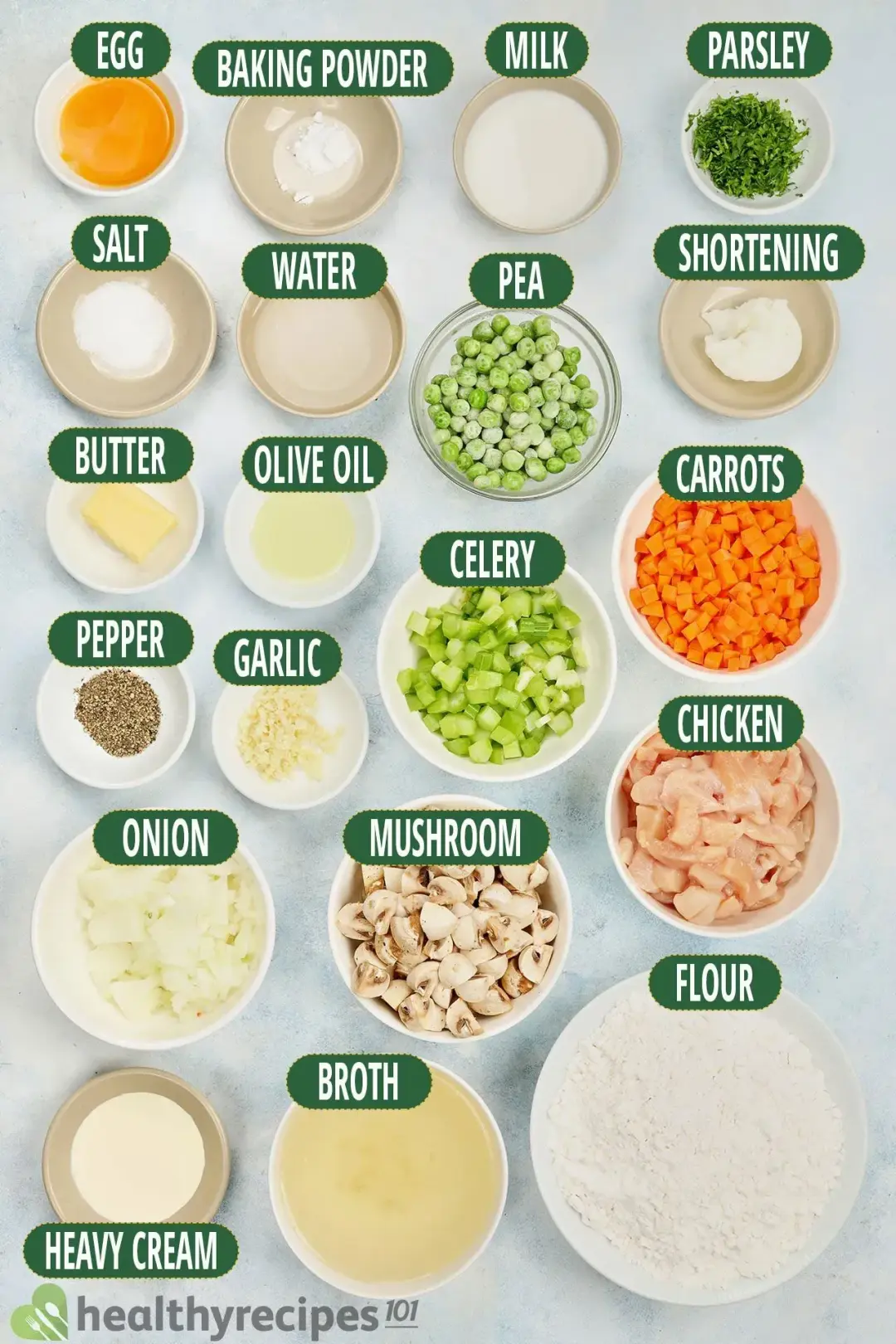 The crust comprises all-purpose flour, shortening, a pinch of salt, baking powder, and water. It's a good idea to start kneading the dough before dealing with the filling so the gluten can have some time to relax.
If you've seen our chicken pot pie recipe, you may have noticed how we didn't use chilled ingredients. Unlike butter, shortening can be used at room temperature to get that flaky crust without chilling the ingredients first.
Once the dough is kneaded and has had time to relax, roll one half out, line a baking dish with it, and bake it separately. This crucial step prevents the runny filling from penetrating the crust.
When that's done, the filling is added and the other half is rolled out and layered on top. Finish everything with some egg wash and all there's left to do is to air fry the whole pie.
How To Make Chicken Pot Pie in an Air Fryer
Here's the preview of our air fryer chicken pot pie recipe: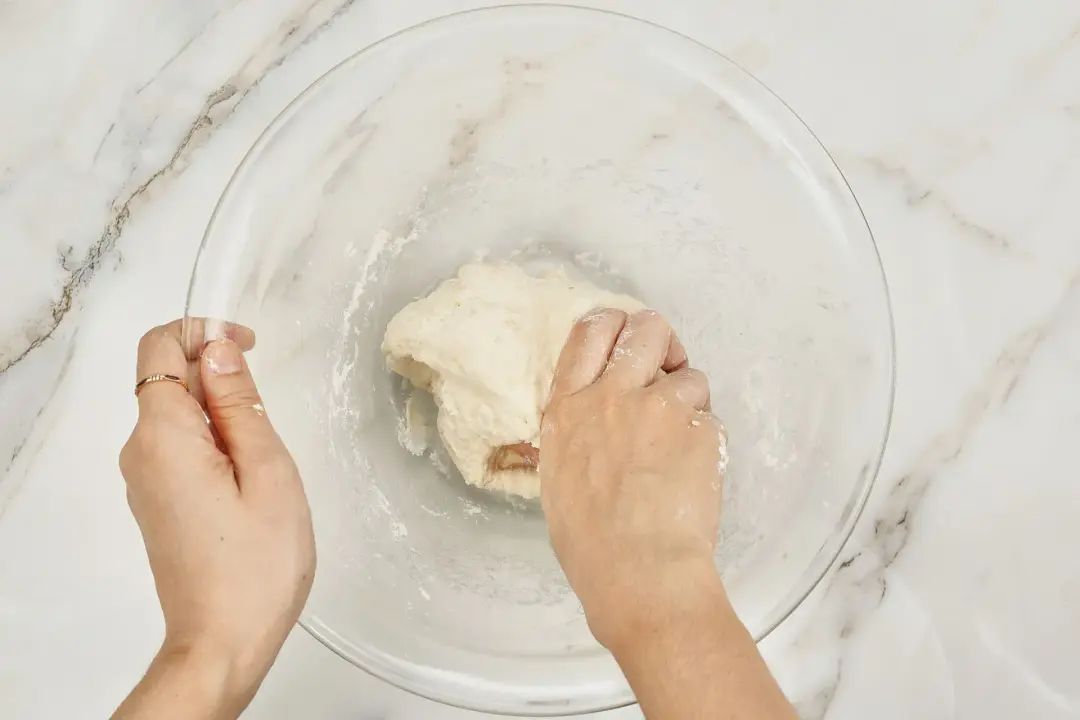 Combine the dough ingredients. Knead it and set it aside.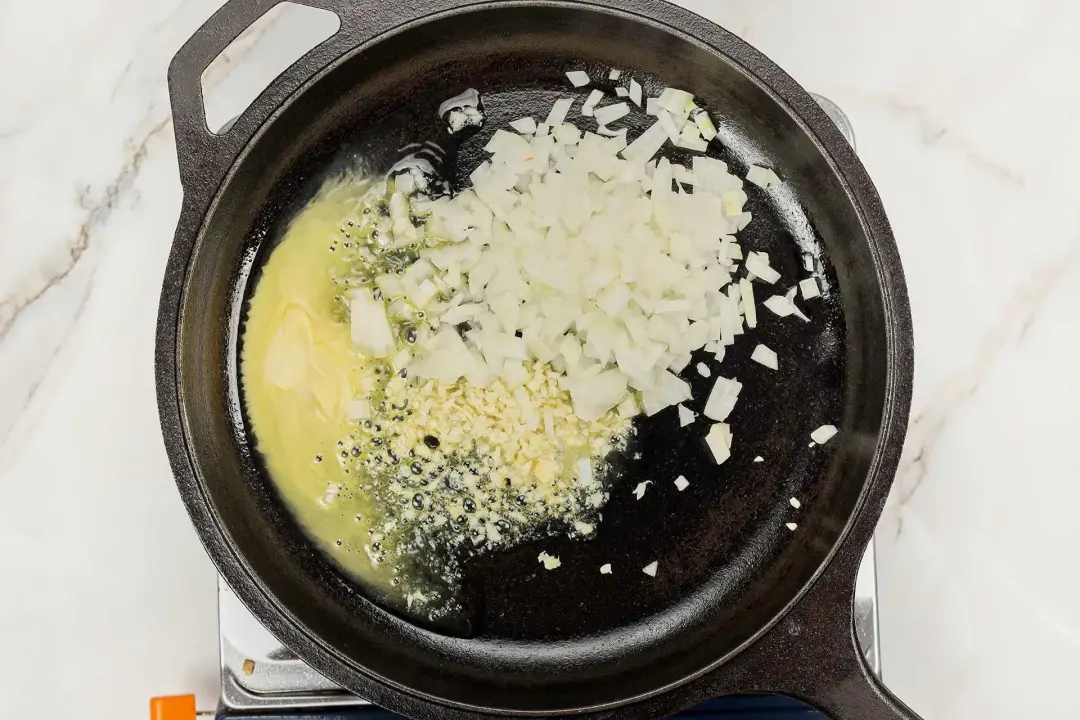 Cook the aromatics with oil and butter.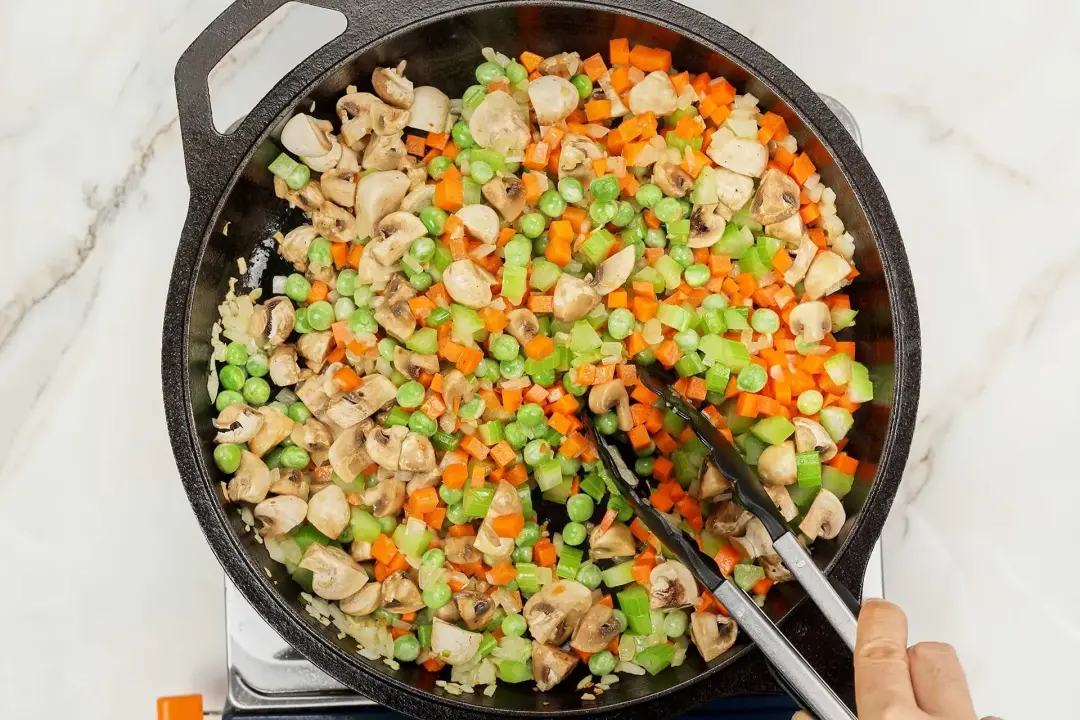 Add the vegetables and cook.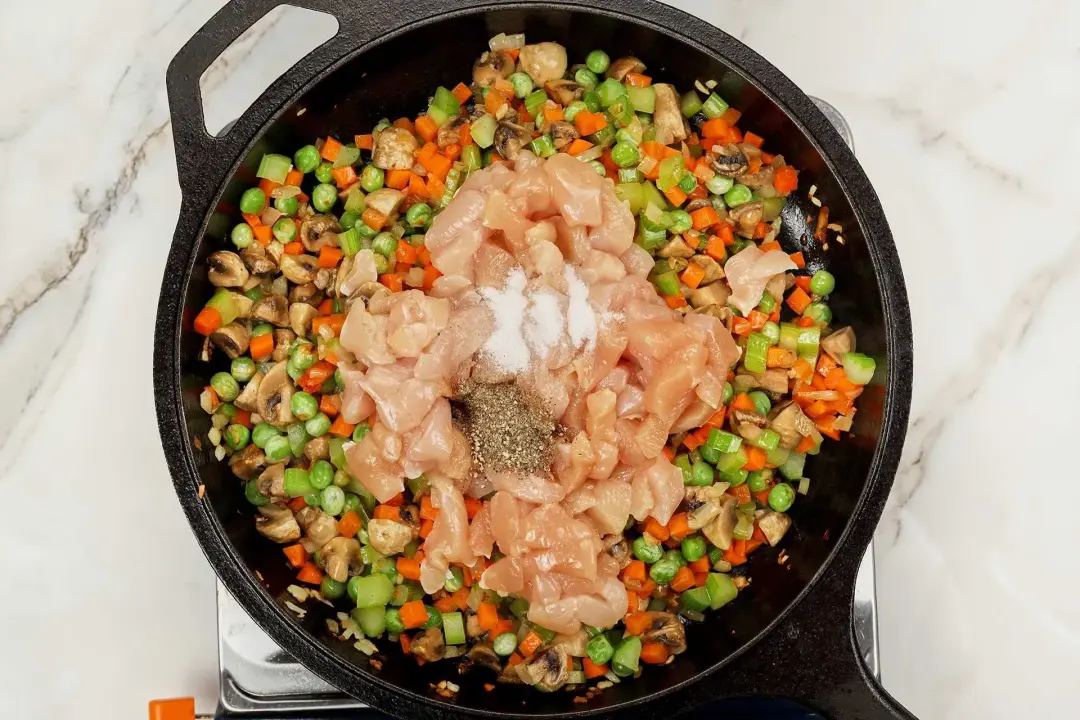 Add the chicken, seasonings, and cook.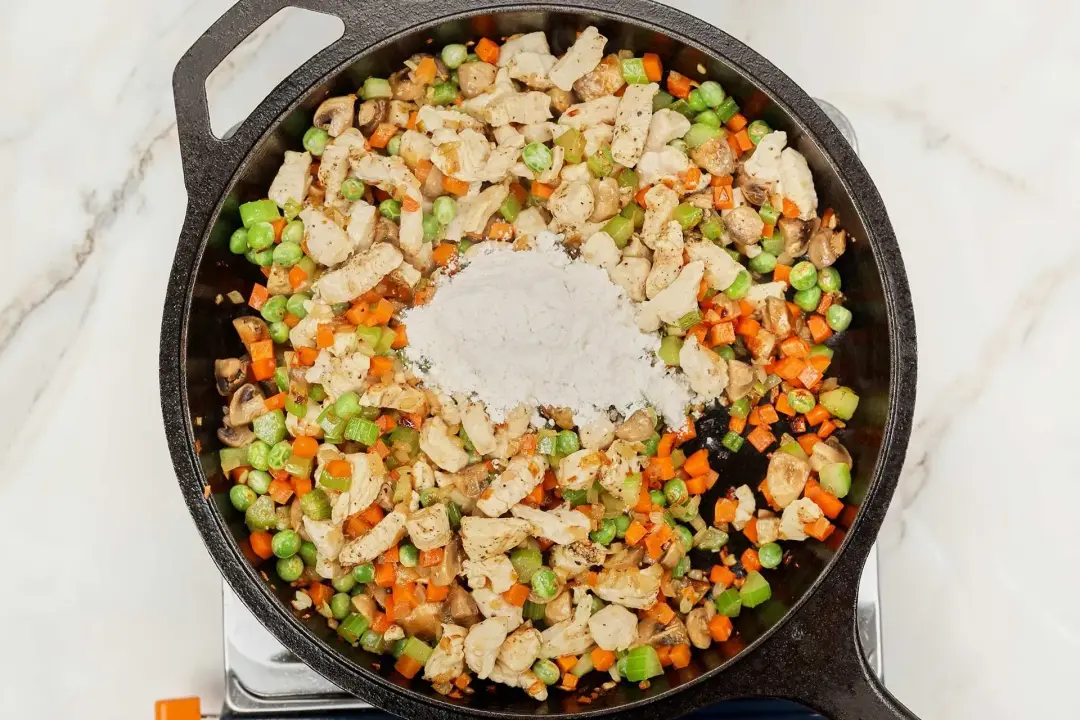 Stir in the flour.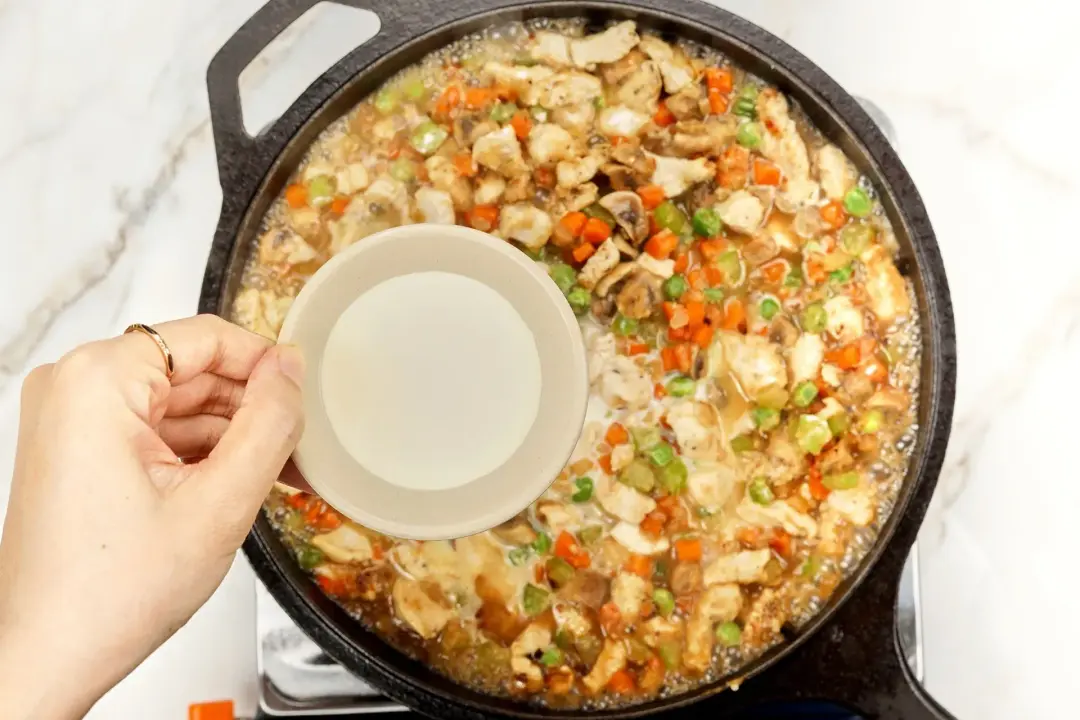 Add the liquids, stir, and turn the heat off.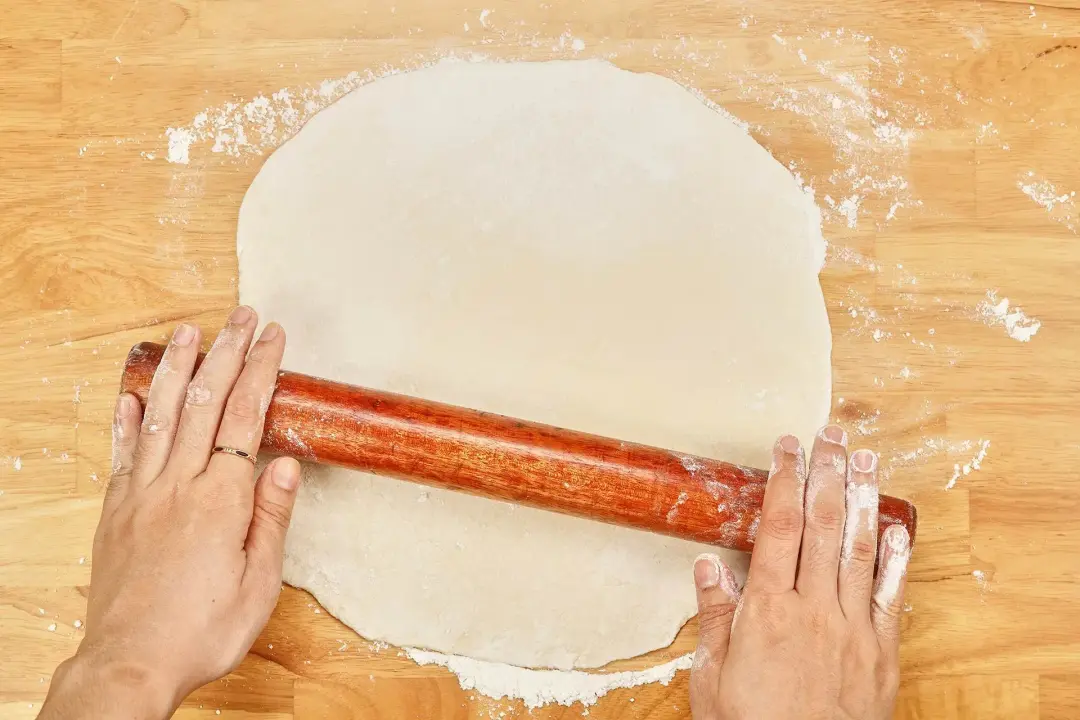 Divide the dough and roll out one half.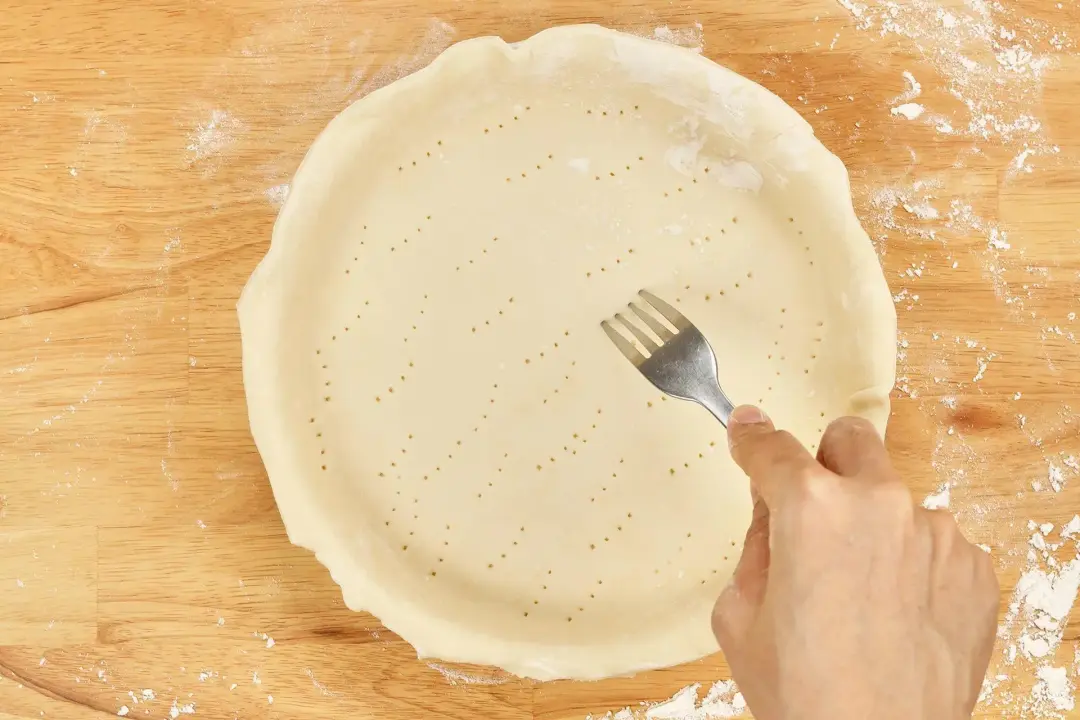 Line the baking dish with the dough sheet and trim the excess.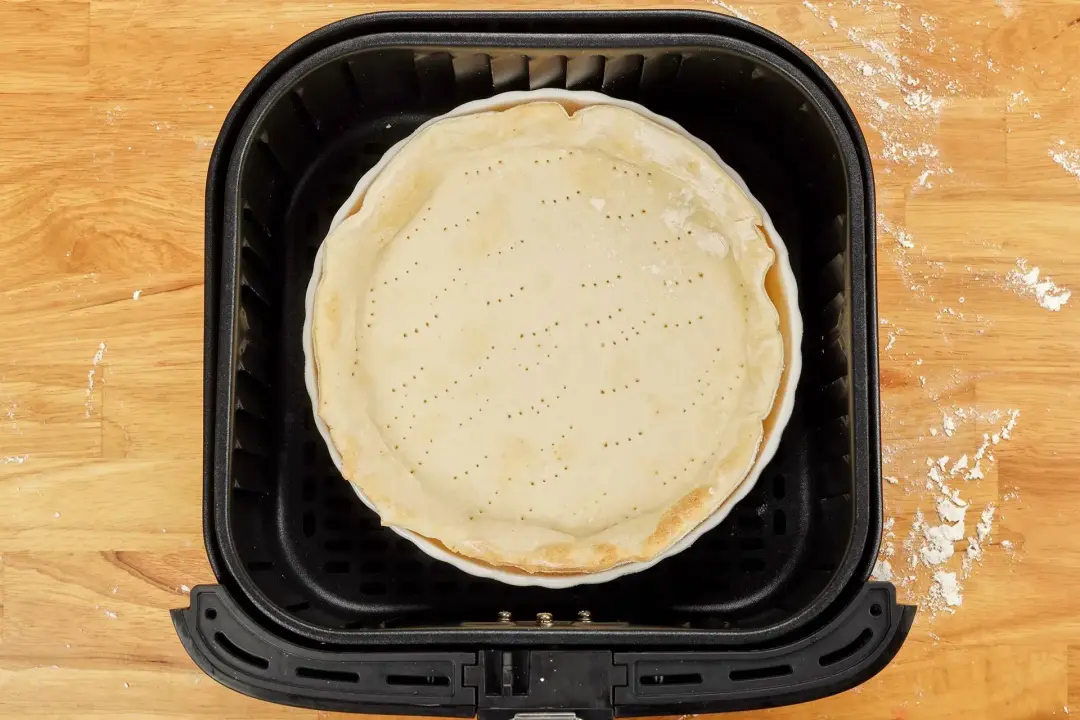 Air-fry the crust and roll out the other half while waiting.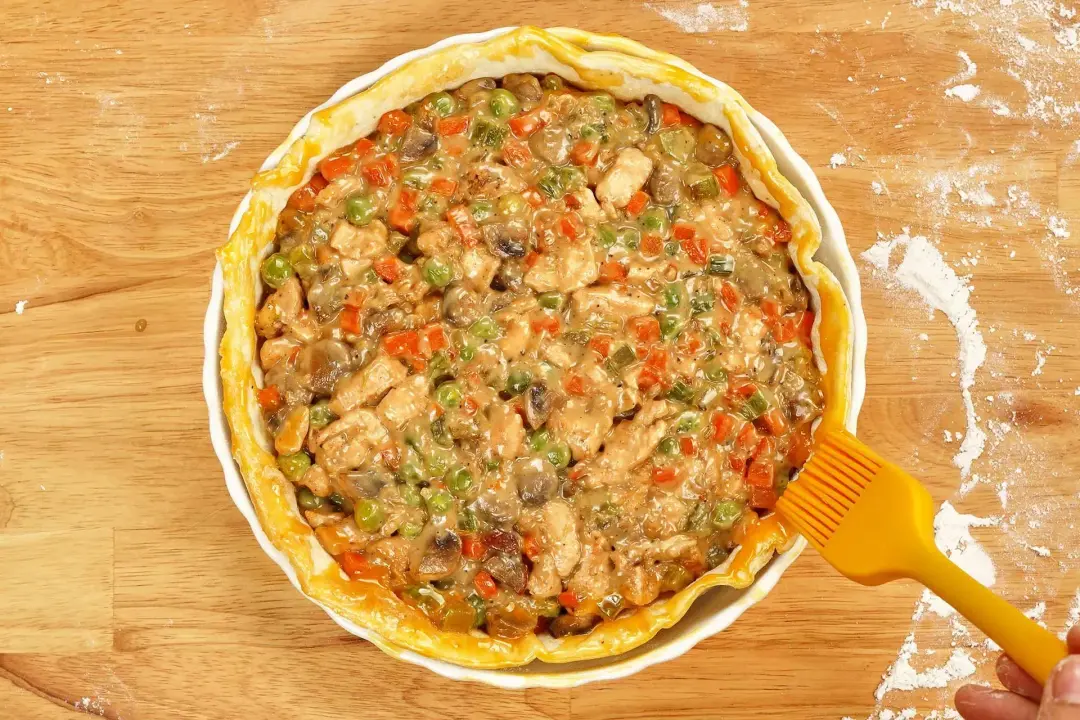 Transfer the filling into the pie crust and brush the edges with the egg wash.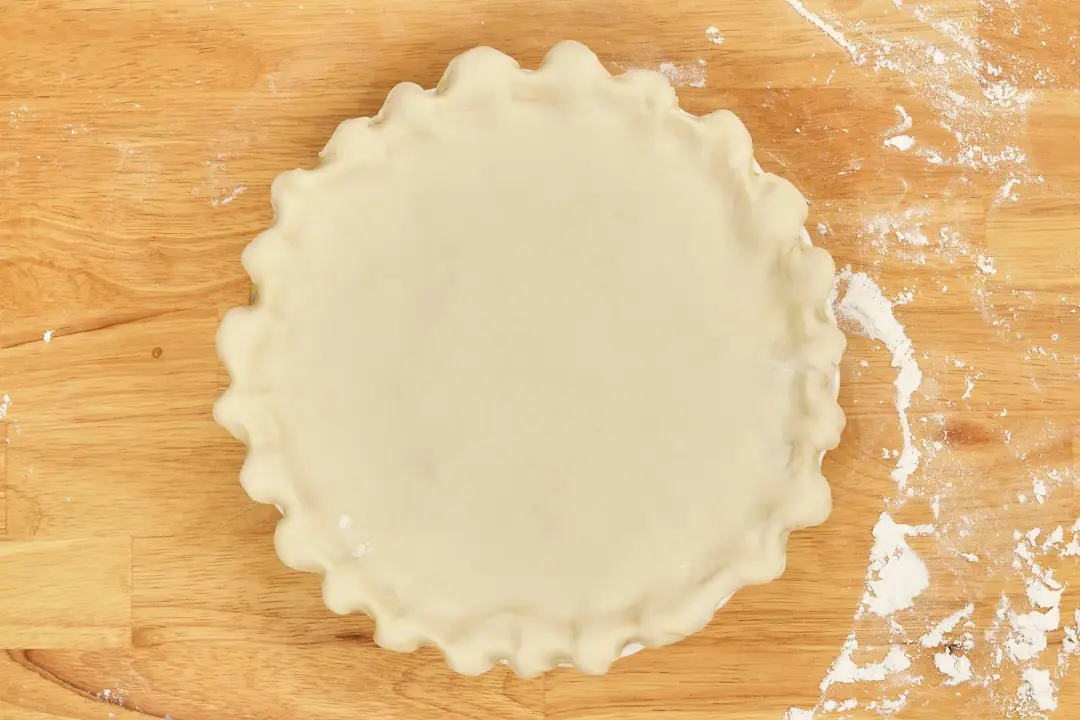 Center the dough sheet on top.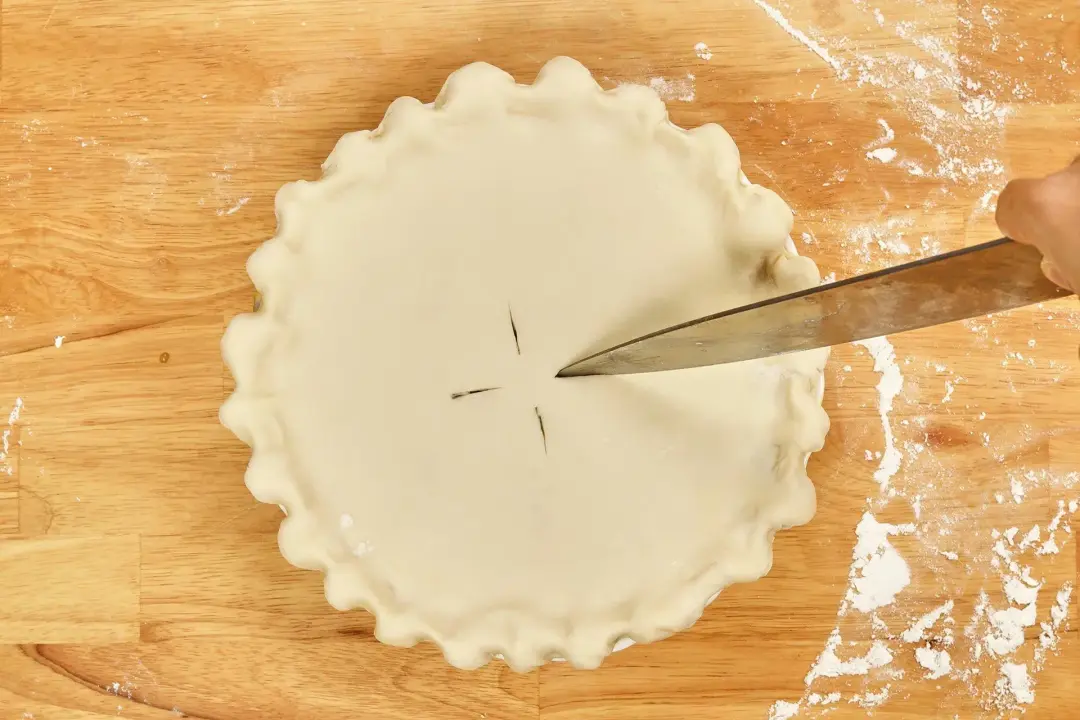 Crimp the edges to seal and create holes for the steam to escape.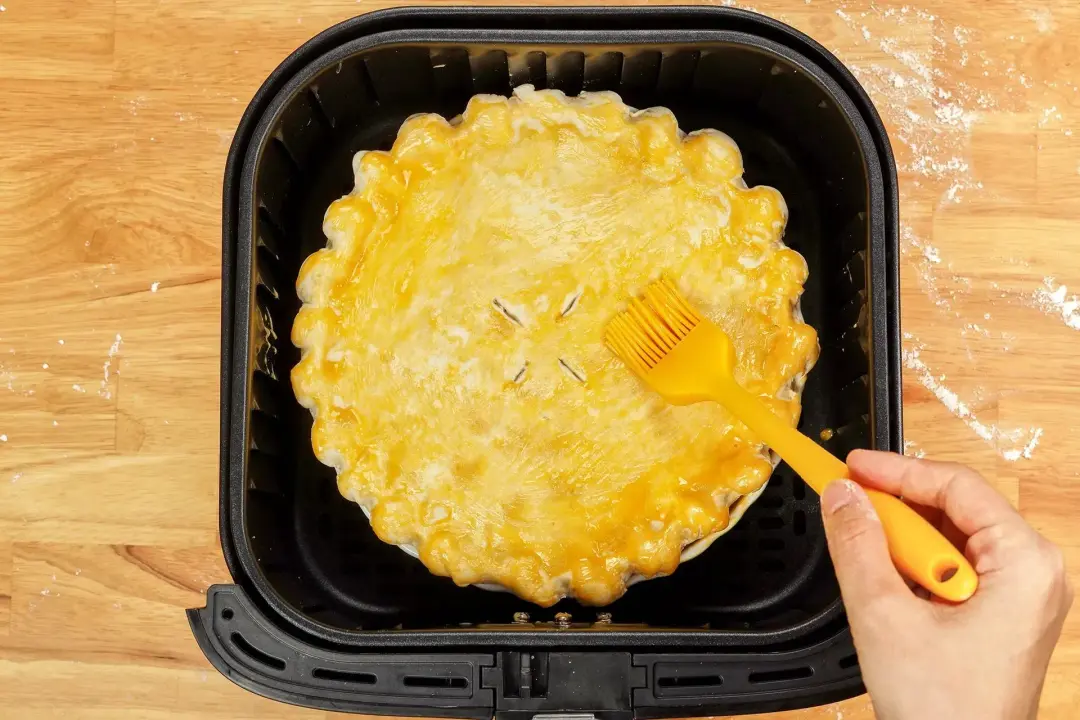 Place everything into the air fryer, brush it with egg wash, and air-fry.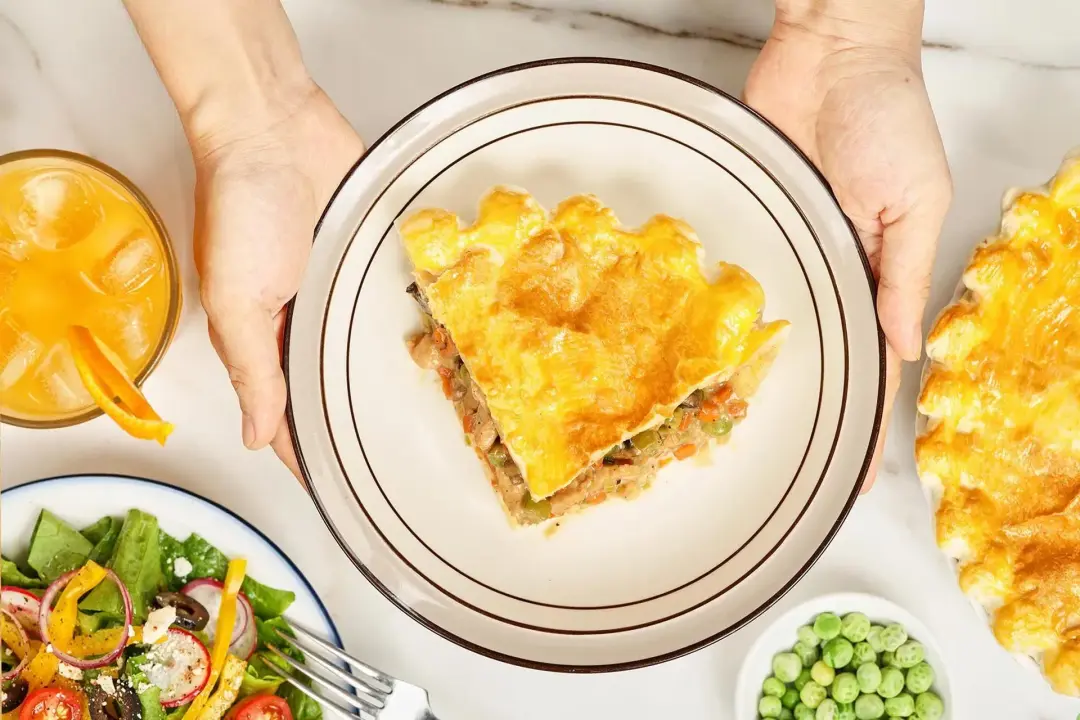 Garnish with parsley on top and enjoy.
How Long to Cook Chicken Pot Pie
The filling needs about 10 minutes, the pie crust needs to be pre-baked for 5 minutes, then everything is finished off in the air fryer for a final 10 minutes. That's 25 minutes in total, excluding the 15 minutes to prep the ingredients as well as the dough.
How to Store and Reheat the Leftover
Place the leftovers in a large container and either refrigerate for about 4 days or freeze for up to 3 months. Our pie's filling isn't as runny as other versions', so it's possible to cut the pie into portions and store each one in separate containers.
Our favorite method is to chill the pie as a whole, slice it, then wrap each in plastic wrap. This method saves a lot of fridge space.
To reheat, you can either microwave the portions or place each into a small baking dish and bake/air-fry as you would cook it. They need approximately 4-6 minutes in the oven/air fryer.
Side Dishes for Chicken Pot Pie
Our chicken pot pie pairs perfectly with a tangy salad and a sweet, citrusy beverage. Among our archive, these two tick all the boxes: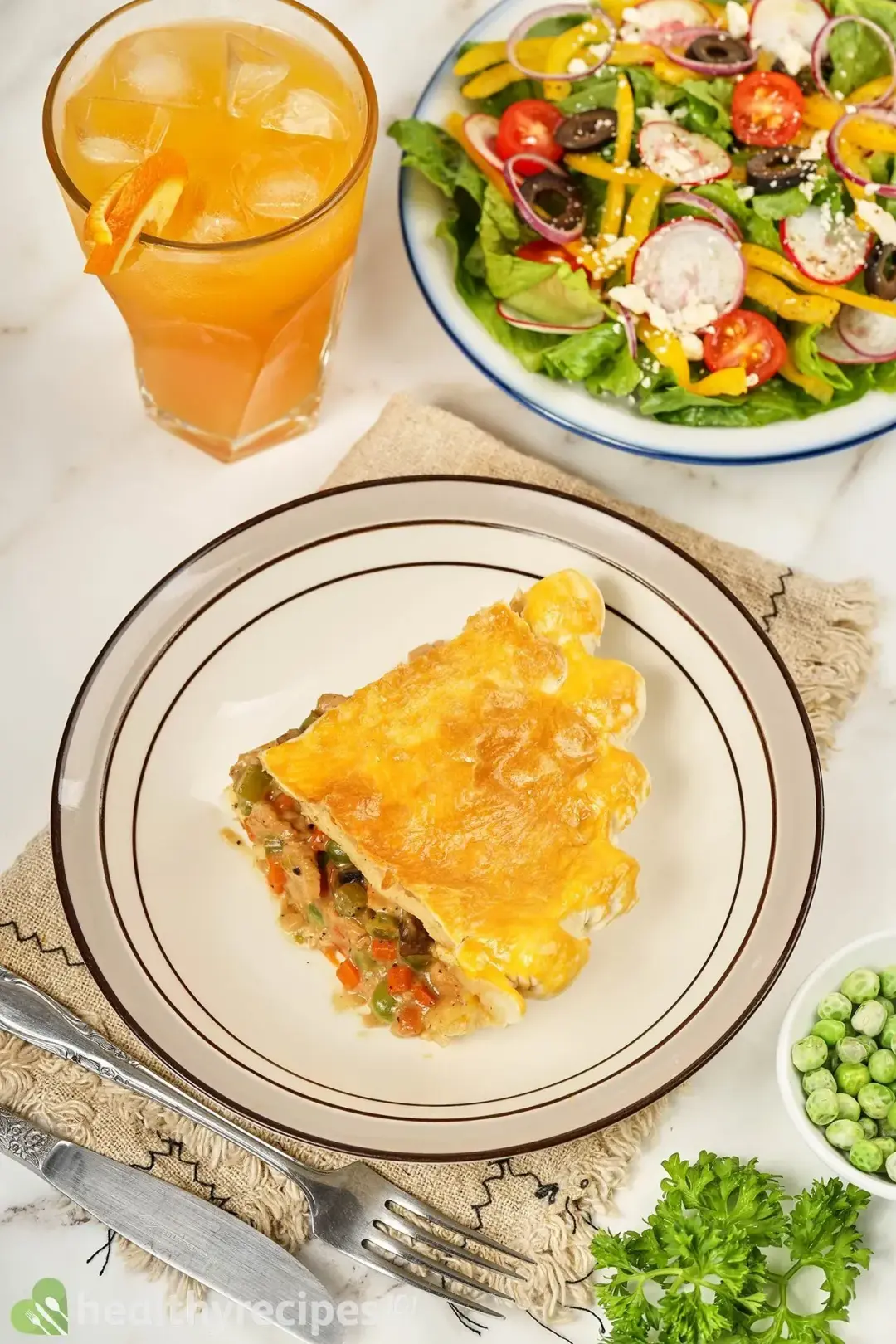 Air Fryer Chicken Pot Pie Recipe
Today's air fryer chicken pot pie recipe will show you an innovative way to cook this iconic American favorite comfort food. Let's begin.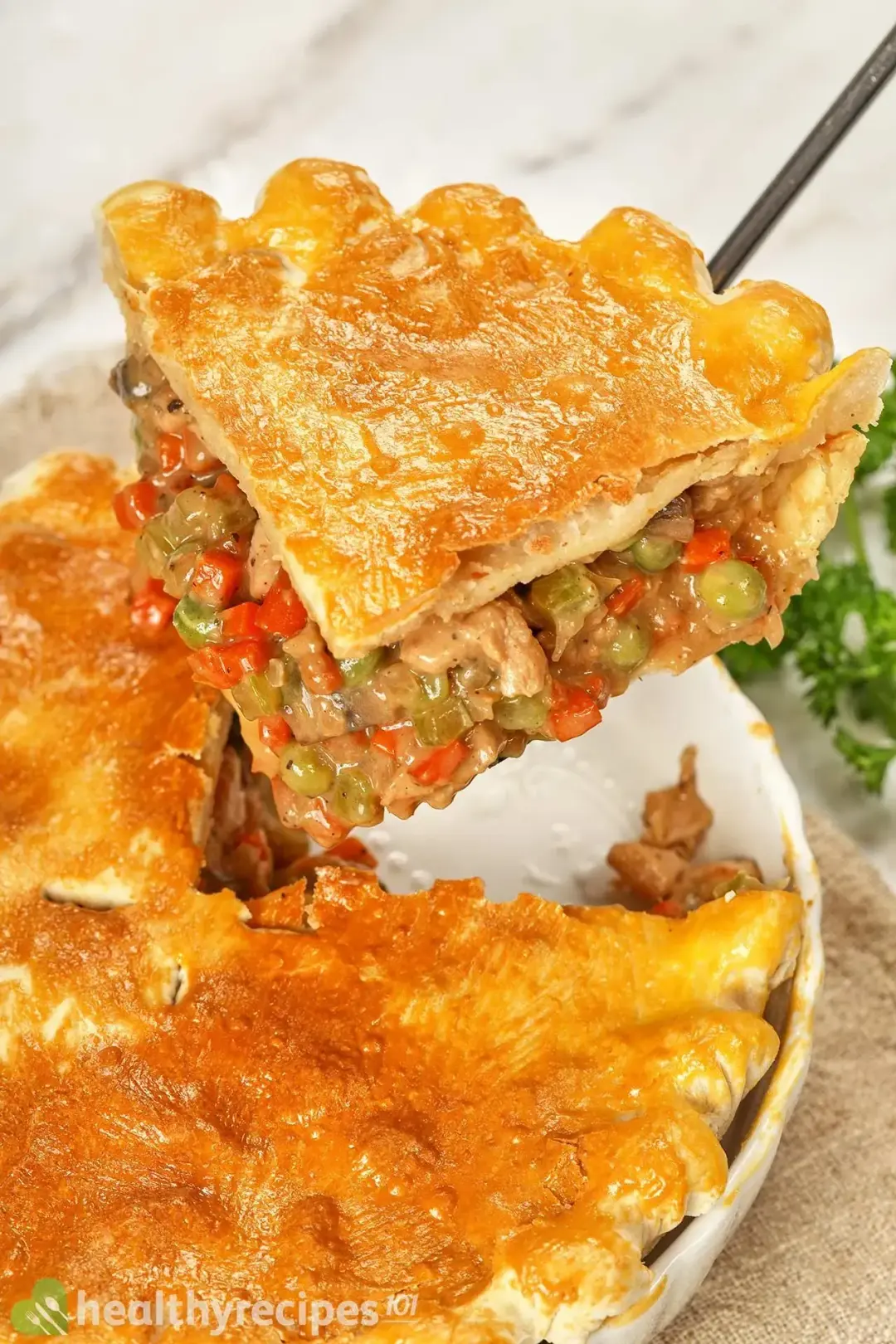 cook TIME

43 mins

prep TIME

7 mins

total TIME

50 mins
COURSE

Main Course

CUISINE

American

SERVINGS

servings

CALORIES

499 kcal
INGREDIENTS
2 cups

all-purpose flour

0.8 tsp

salt (divided)

0.3 tsp

baking powder

1 tbsp

vegetable shortening

0.5 cup

cold water

1.5 tbsp

olive oil

2 tbsp

unsalted butter

3 oz

onions (chopped)

1 tbsp

garlic (finely chopped)

4 oz

white mushroom (quartered)

3 oz

celery (chopped)

3 oz

carrots (chopped)

0.5 cup

peas

8 oz

skinless boneless chicken breasts (cut into 1-inch pieces)

0.5 tsp

ground black pepper

1 tbsp

heavy cream

3 tbsp

whole milk

1 cup

unsalted chicken broth

2 tbsp

parsley (finely chopped)

1

large egg yolk
INSTRUCTIONS
1
Place 2 cups all-purpose flour into a large bowl, and measure out 1/4 cups to save for later. To the bowl add 1/4 tsp salt, 1/4 tsp baking powder, 1 tbsp vegetable shortening, and 1/2 cup cold water. Combine and knead until smooth. Wrap the dough with foil and set it aside.
2
Heat 1 1/2 tbsp olive oil in a large non-stick skillet over medium heat. Stir 2 tbsp unsalted butter with 1 tbsp garlic and 3 oz chopped onion until the onion turns translucent.
3
Add 4 oz mushrooms, 3 oz celery, 3 oz carrots, and 1/2 cup peas. Stir to cook for about 3 minutes.
4
Add 8 oz chicken along with salt and black pepper (1/2 tsp each) and stir to cook for about 5 minutes.
5
Stir 2 tbsp all-purpose flour into the filling and cook for about 1 minute.
6
Add the liquids (1 cup chicken broth, 3 tbsp milk, and 1 tbsp heavy cream) and stir until thickened. Remove from heat and set aside.
7
Remove the foil from the dough and divide it into two parts. Lightly dust your working surface and rolling pin with the rest of the all-purpose flour and roll the part that looks a bit larger into a circular thin sheet 11" or 12" in diameter. Cover the other with a cloth to prevent drying out.
8
Gently place one sheet into a baking dish (ours is circular, 8-inch wide, and 1 inch deep). Press the dough down so it lines neatly with the inside of the baking dish. Run a knife around the edge to trim the excess, but leave a rim like shown. Poke the bottom with a fork to let the steam escape.
9
Air-fry it at 360°F for 5 minutes. Meanwhile, combine the excess dough into the remaining dough, and roll it out into an 8" or 9" circular sheet.
10
Transfer the filling into the pie crust. Brush the edges with the egg yolk (we used 1 large egg yolk).
11
Gently lift the dough sheet and center it on top of the baking dish. Crimp the edges to seal the top layer with the baked crust and crimp the edges with your fingers and knuckles.
12
Create four indentations in the middle of the top layer with a knife for the steam to escape, like so:
13
Place the baking dish into the air fryer. Brush the top layer with egg yolk and air-fry at 360°F for 10 minutes.
14
Sprinkle 2 tbsp parsley on top and serve.
NUTRITION
Nutrition Facts
Air Fryer Chicken Pot Pie Recipe
Amount Per Serving (1 serving)
Calories 499
Calories from FDA
% Daily Value*
* Percent Daily Values are based on a 2000 calorie diet.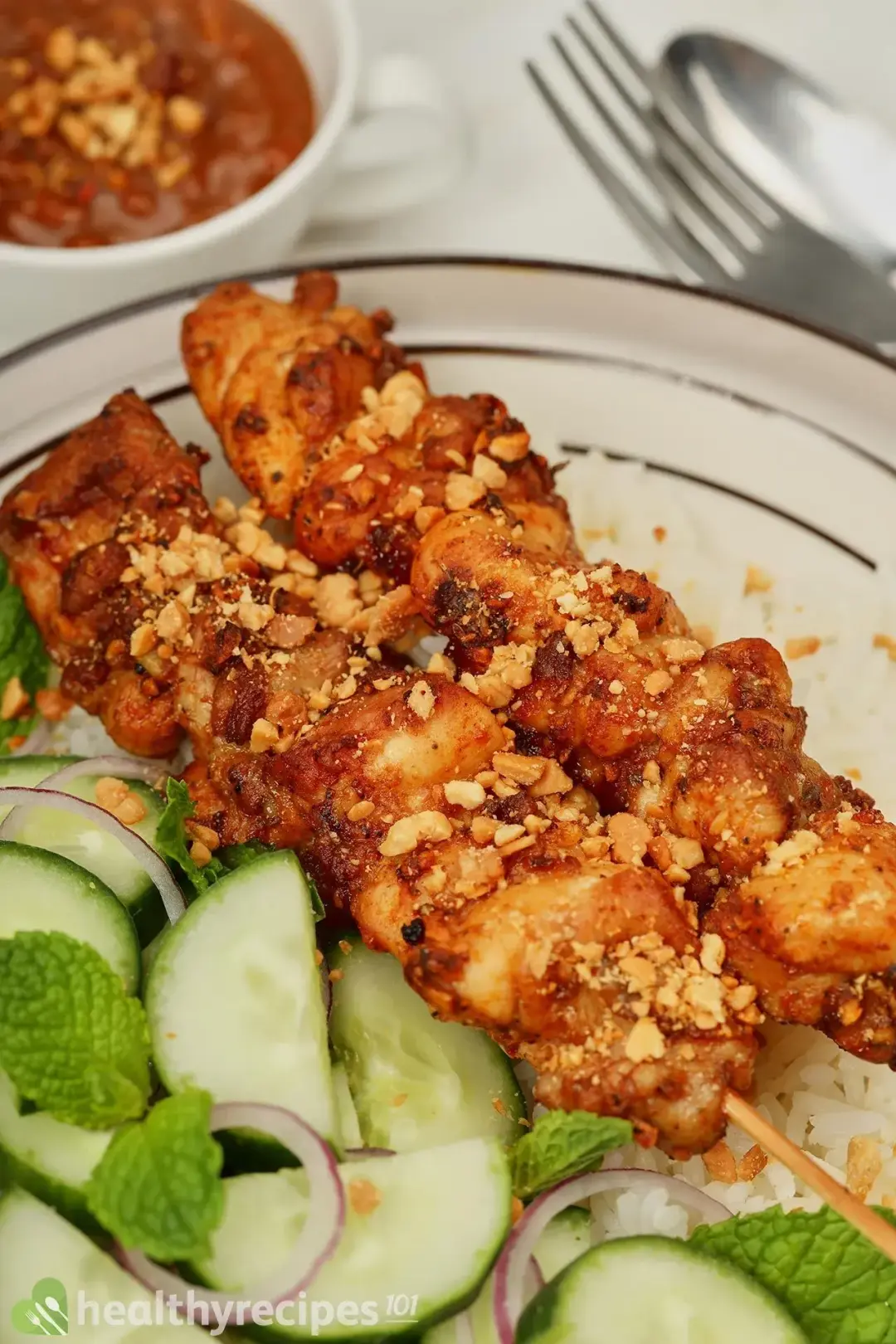 Previous Recipe
Air Fryer Chicken Satay
Air Fryer Chicken Satay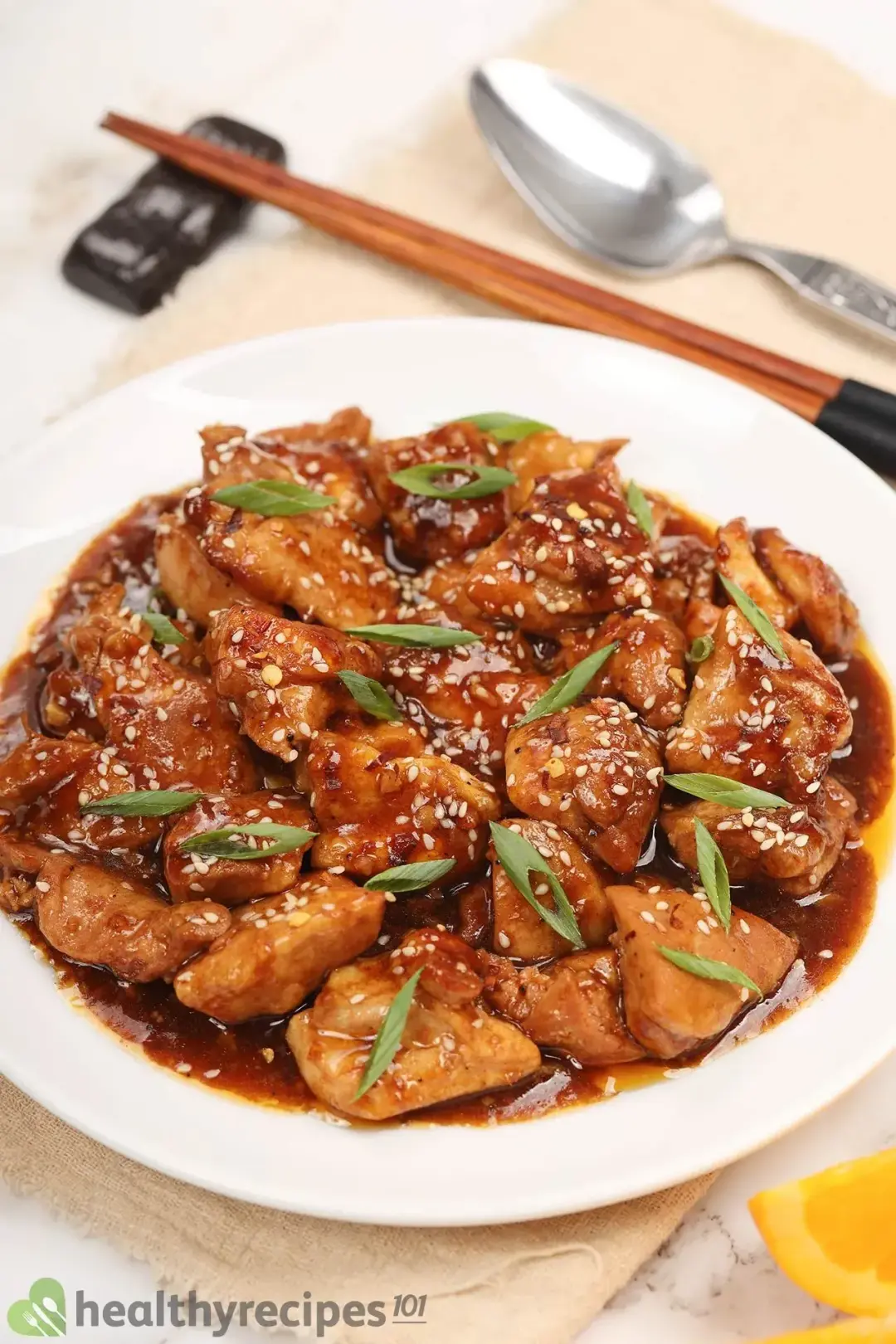 Next Recipe
Air Fryer Orange Chicken
Air Fryer Orange Chicken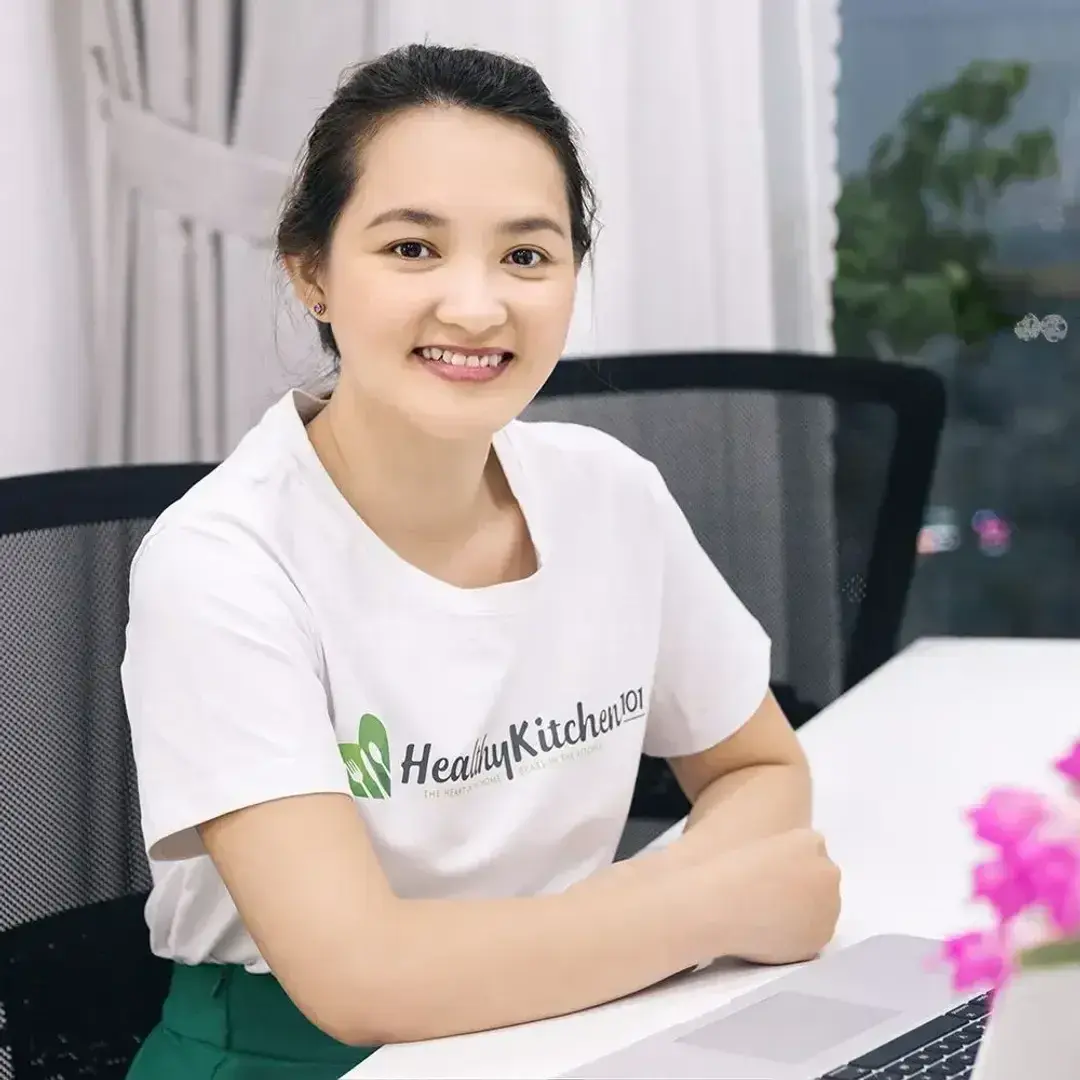 Founder
Luna Regina is an accomplished writer and author who dedicates her career to empowering home cooks and making cooking effortless for everyone. She is the founder of HealthyKitchen101.com and HealthyRecipes101.com, where she works with her team to develop easy, nutritious recipes and help aspiring cooks choose the right kitchen appliances.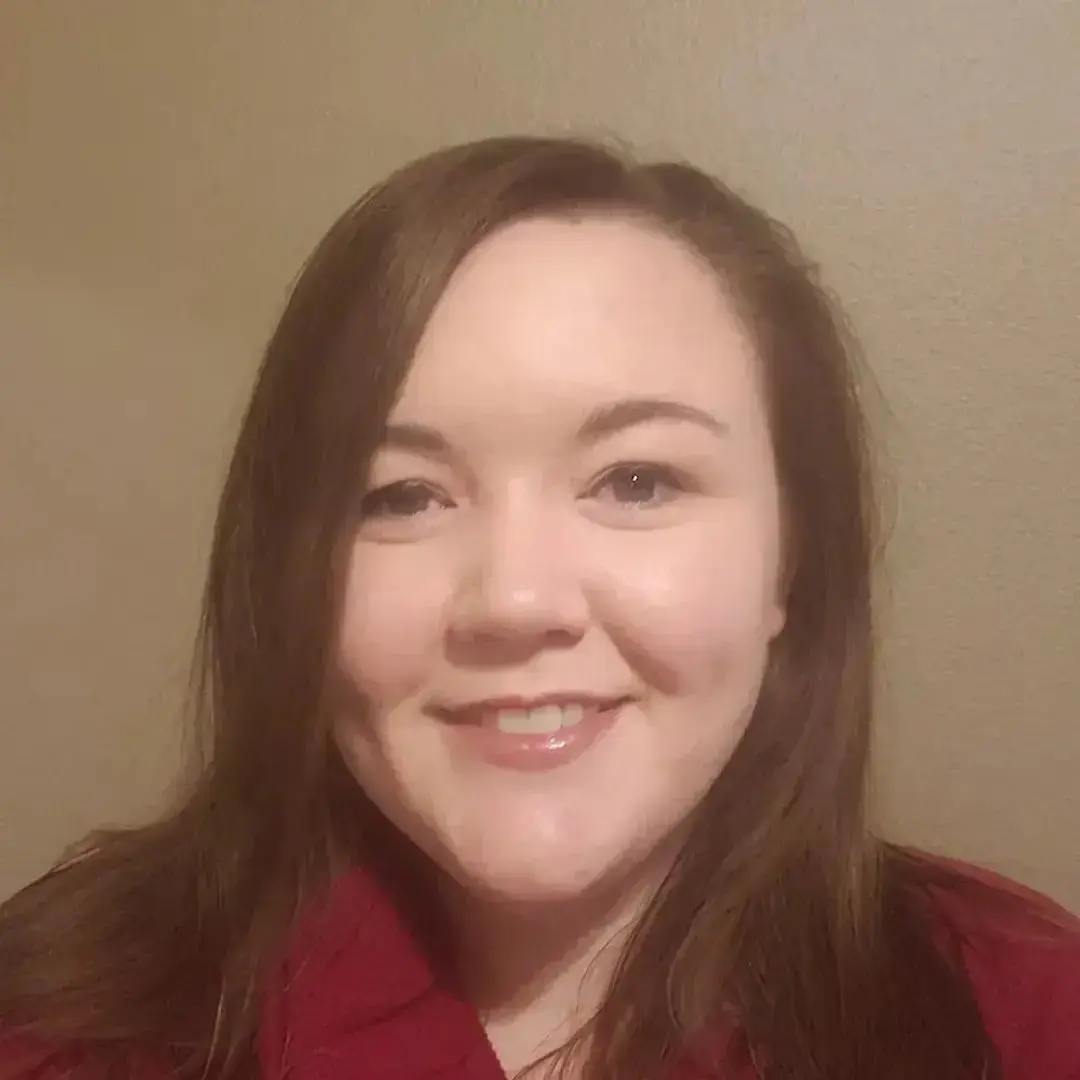 Nutrition Reviewer
SaVanna Shoemaker is a registered dietitian and freelance health and wellness writer. She's passionate about whole food-based eating and holistic nutrition, and uses her platform to help people embrace real food and reduce their sugar and processed food intake. Her work has appeared on Healthline, Greatist, Livestrong, Verywell Health, and more. In her free time, she enjoys gardening, reading, cooking, and weight lifting.
Comments/ Reviews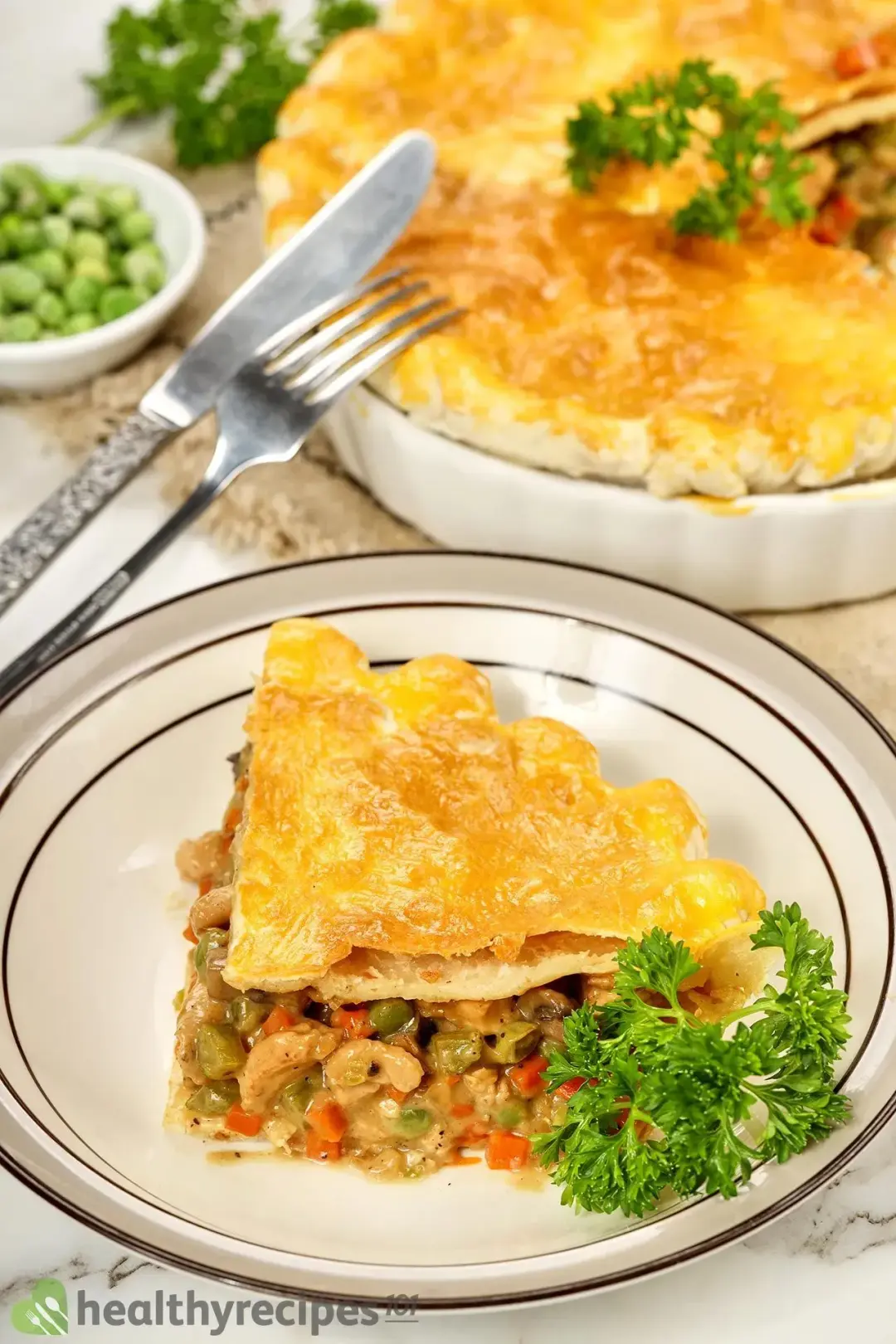 Air Fryer Chicken Pot Pie Recipe