If you're looking for a light lunch and a wonderful alternative to lettuce wraps, then this air fryer chicken salad recipe is for you.
This all-star recipe includes lean chicken breast as well as an abundance of veggies and dried fruits. Add a dressing made with olive oil, fresh lemon juice, and Italian seasoning, and the flavors are out of this world.
Is This Air Fryer Chicken Salad Recipe Healthy?
The short answer is yes, our air fryer chicken salad recipe is healthy.
We modified the components to ensure that the nutritional composition complies with our nutrition standards. This salad includes around 250 calories, 210 mg of sodium, and 1.9g of saturated fat per serving, making it an excellent option for a snack or side dish.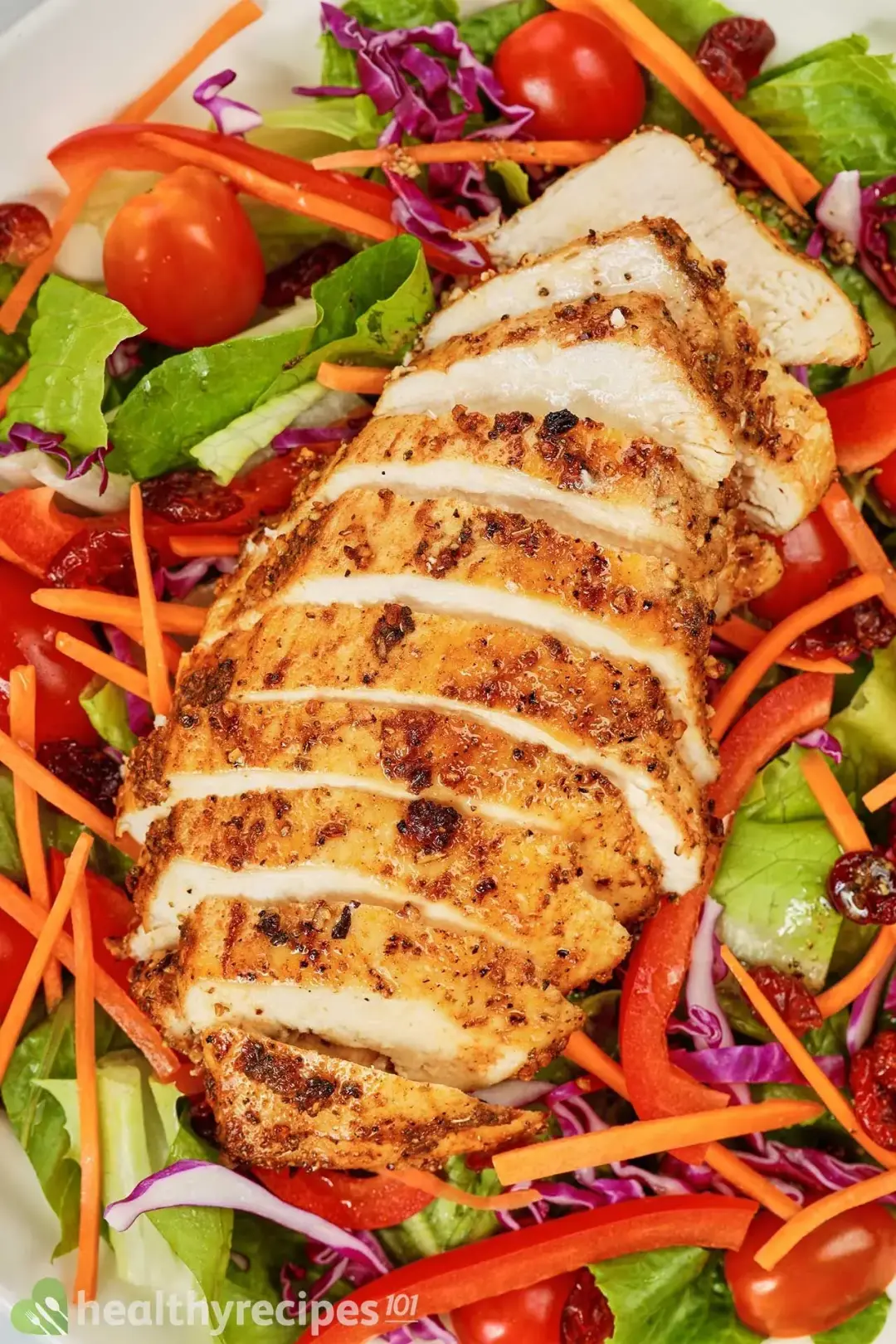 The chicken breast itself is low in fat and high in protein. The average 4-ounce serving of raw boneless, skinless chicken breast has around 136 calories and 26 grams of protein, according to the USDA. Protein is particularly important for growing and mending tissues and maintaining muscle mass.
This recipe's remaining vegetables (lettuce, tomatoes, carrot, bell pepper, and red cabbage) make this meal high in antioxidants, which may aid in the prevention of cancer, heart disease, and lung disease. Additionally, eating veggies has been associated with improvements in skin and digestive health.
Ingredients for Air Fryer Chicken Salad
This air fryer chicken salad is tasty, versatile, and simple to prepare. You might want to prepare all the ingredients separately at the beginning of the week and then combine them for a quick lunch or supper during the week. Here's what you'll need: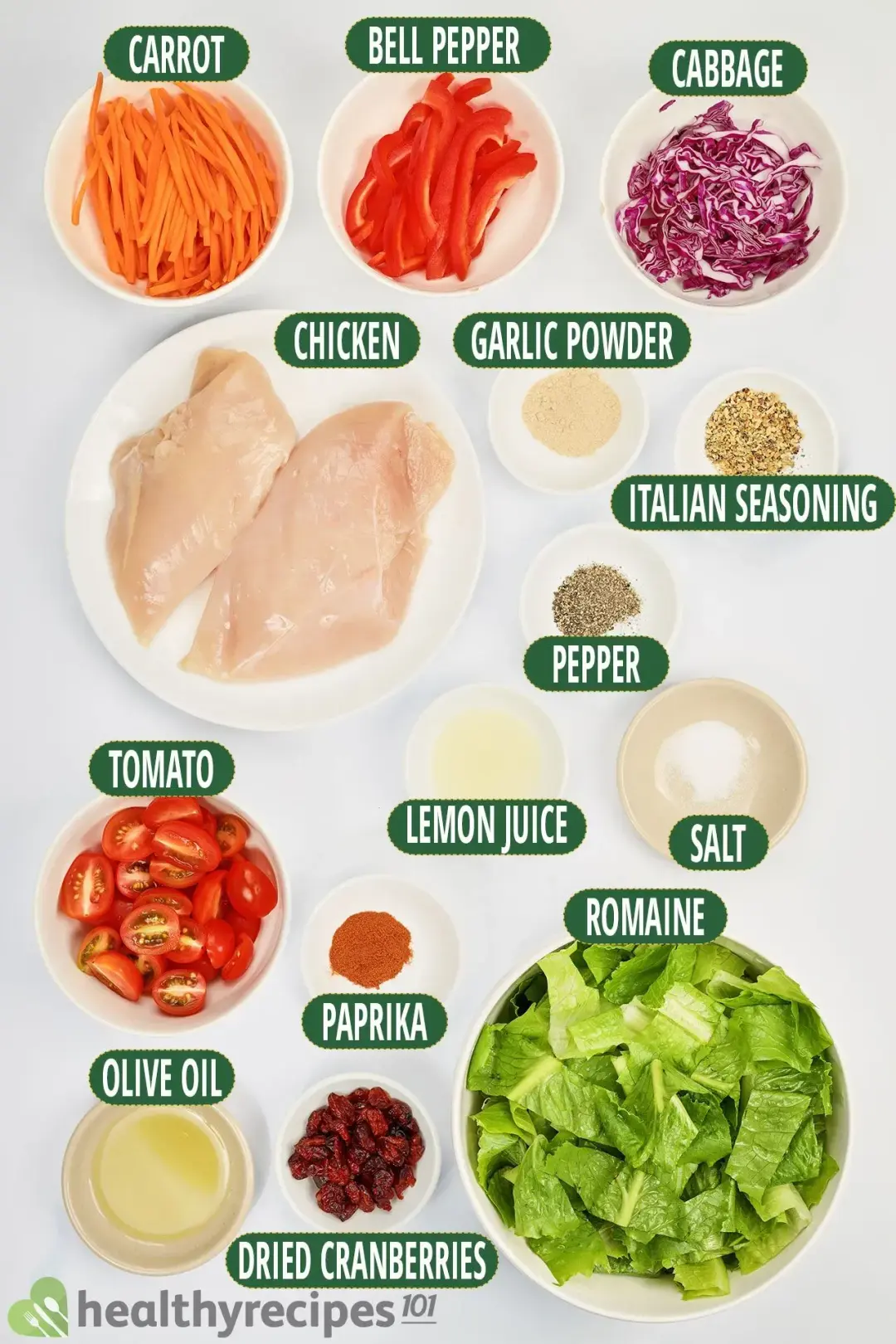 Chicken: We love adding chicken to salads since it is an excellent source of lean protein and can be easily seasoned to taste. Both chicken breast and chicken thighs are suitable for use in this recipe.
Rub for Chicken: We used salt, black pepper, paprika, garlic powder, and Italian seasoning for the chicken rub. However, you may use any of your favorite chicken spices in this recipe.
Vegetables and Fruits: Crunchy lettuce, red cabbage, carrots, and sweet cherry tomatoes round out the texture and flavors of your salad bowl.
Dried Cranberries: Dried fruits are something that most people will have around the house. They are simple, but really elevate the chicken salad by adding sweet, fruity notes.
Dressing: The blend of olive oil, salt, Italian seasoning, and lime juice has the right flavor combination to complement the chicken.
Storage
If you need to preserve this salad, do not combine the ingredients. Keep the lettuce base, chicken, veggies, toppings, and dressing in separate containers for up to 2 days in the refrigerator. Reheat the chicken in the air fryer or microwave and put the salad together in only a few minutes.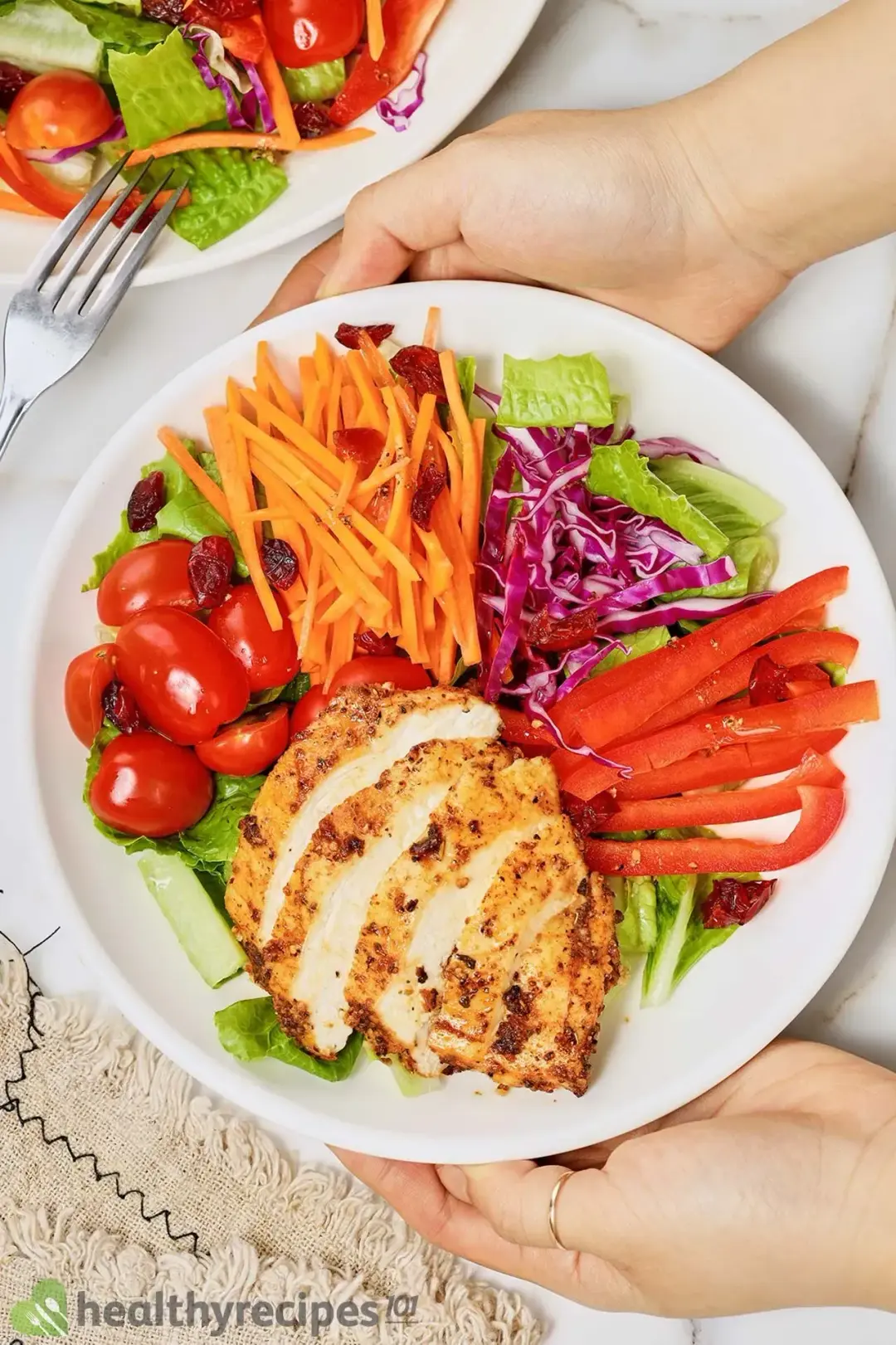 Air Fryer Chicken Salad Recipe
This air fryer chicken salad recipe is the ideal option for a quick and healthy meal when you have less than 30 minutes in the kitchen.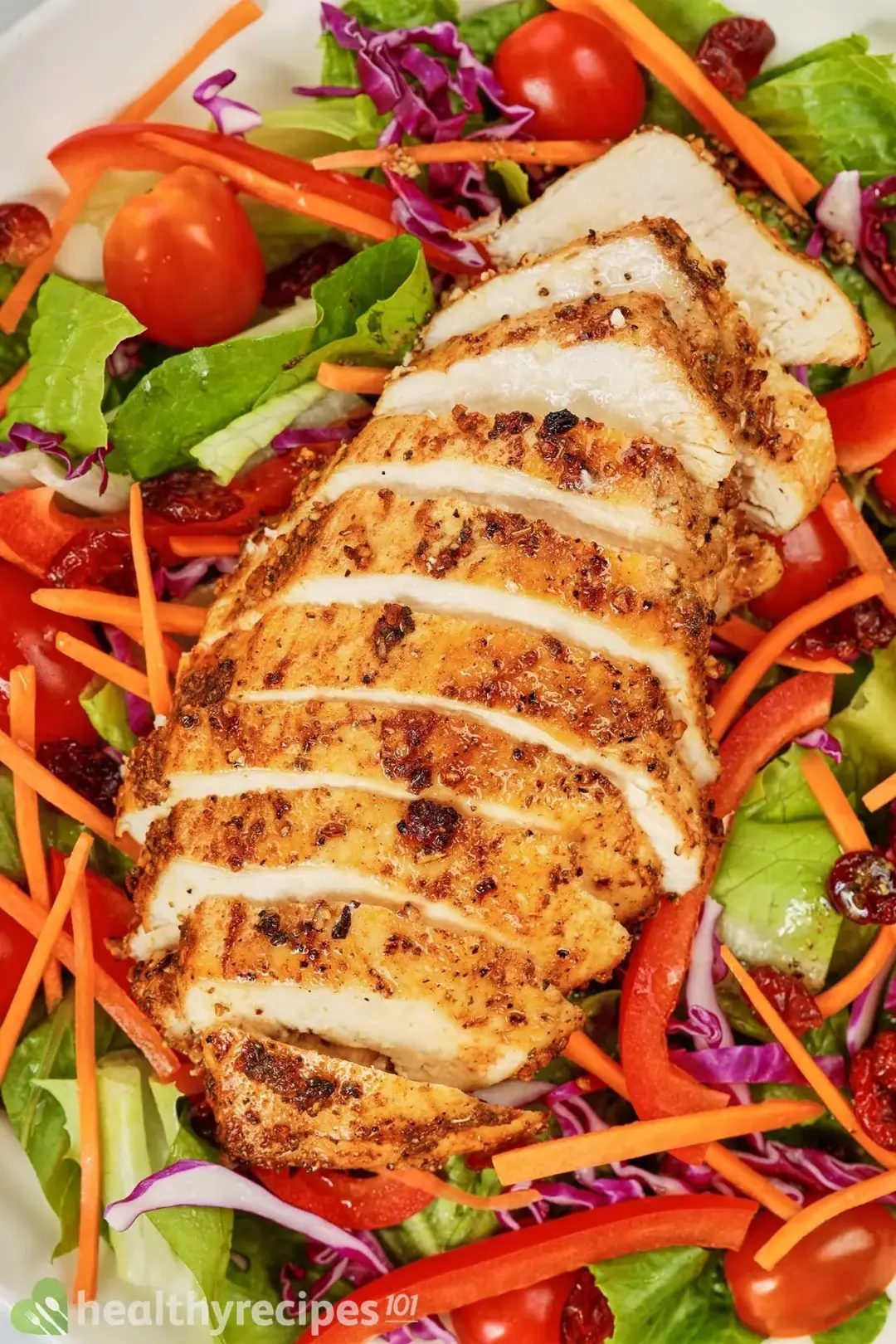 cook TIME

15 mins

prep TIME

10 mins

total TIME

25 mins
COURSE

Side Dish

CUISINE

American

SERVINGS

servings

CALORIES

247 kcal
INGREDIENTS
16 oz

skinless boneless chicken breast

0.3 tsp

salt

0.5 tsp

paprika

0.5 tbsp

Italian seasoning

0.5 tsp

garlic powder

0.5 tsp

black pepper

2 tbsp

olive oil

2 tsp

lemon juice

4 oz

romaine lettuce chopped

4 oz

cherry tomatoes halved

1 oz

red cabbage sliced

2 oz

red bell pepper sliced

2 oz

carrot julienned

1 oz

dried cranberries
INSTRUCTIONS
Prep:
2
Slice the tomatoes into halves.
Cook:
1
Butterfly the chicken: Place 16 oz chicken breast on a clean work surface. Holding a long, sharp knife parallel to the long side of the bird, carefully saw through the breast nearly to the end, taking care not to cut all the way through.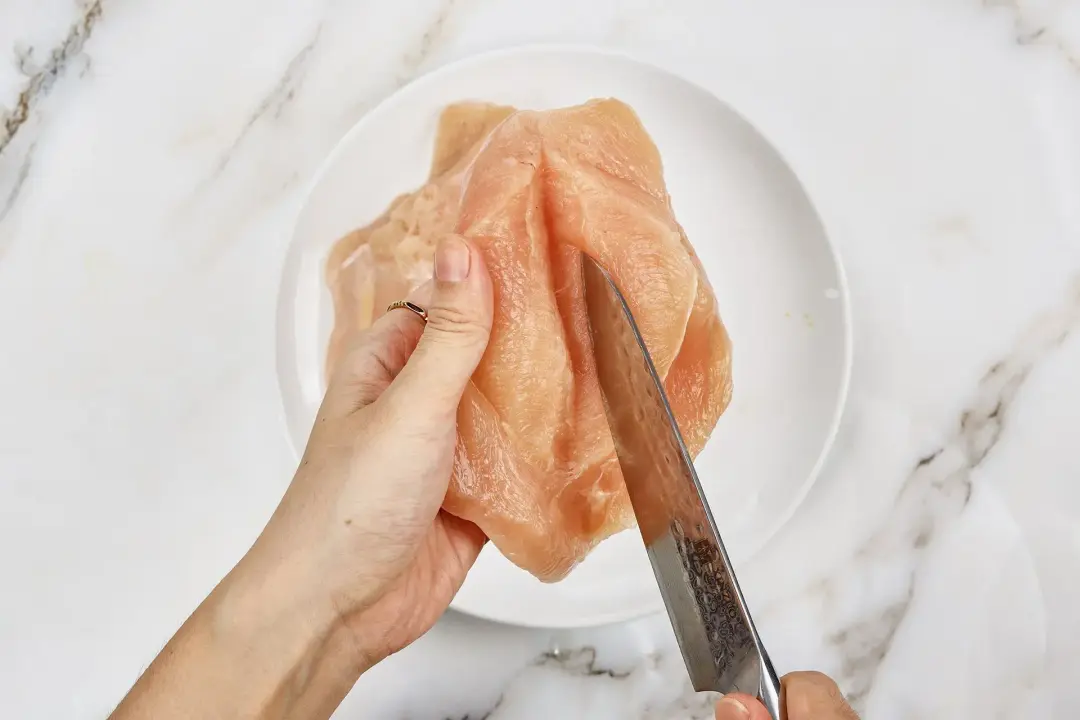 2
Season the chicken: Rub 1/4 tsp salt, 1/2 tsp paprika, 1/2 tbsp Italian seasoning, 1/2 tsp garlic powder, and 1/4 tsp black pepper on both sides of the chicken breast.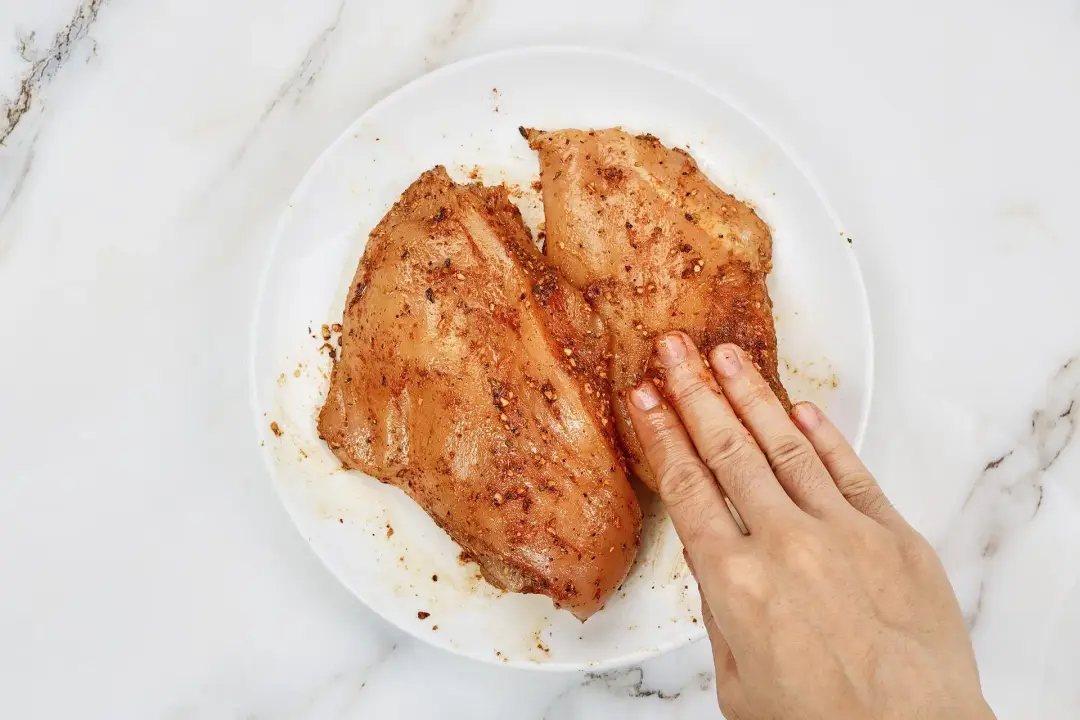 3
Air-fry the chicken: Place the chicken in the air fryer basket and cook 374 ℉ for 15 minutes. Once the chicken is done, cut it into slices.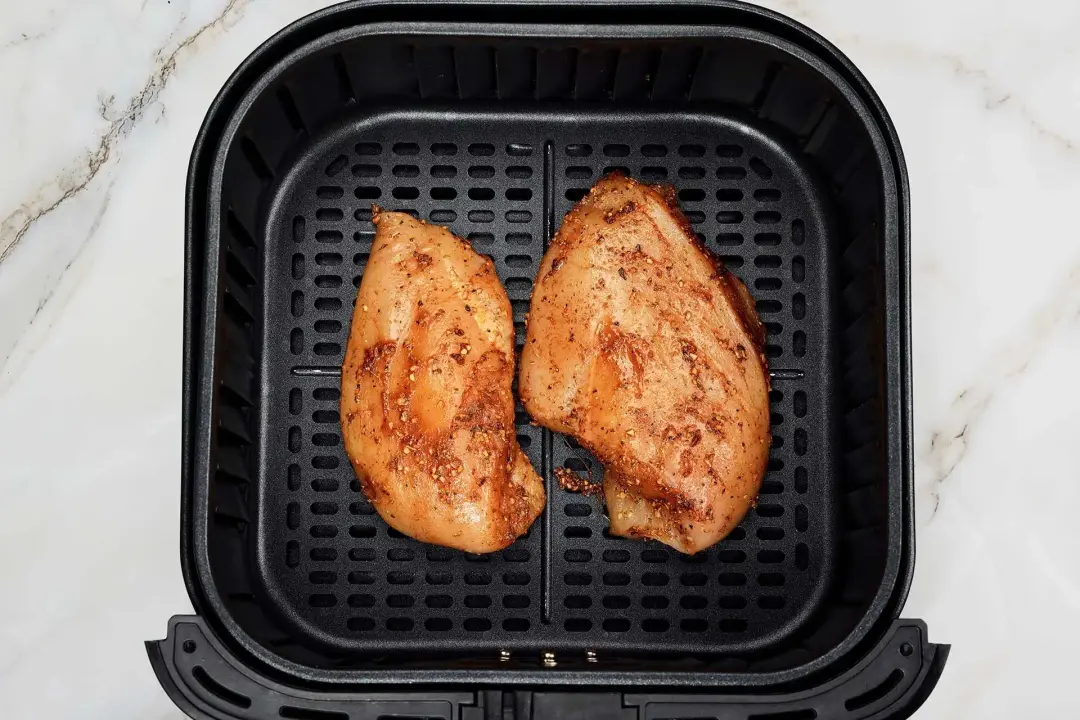 4
Make the salad dressing: In a small bowl, combine 2 tbsp olive oil, 2 tsp lemon juice, and 1/4 tsp black pepper. Whisk until everything is well combined.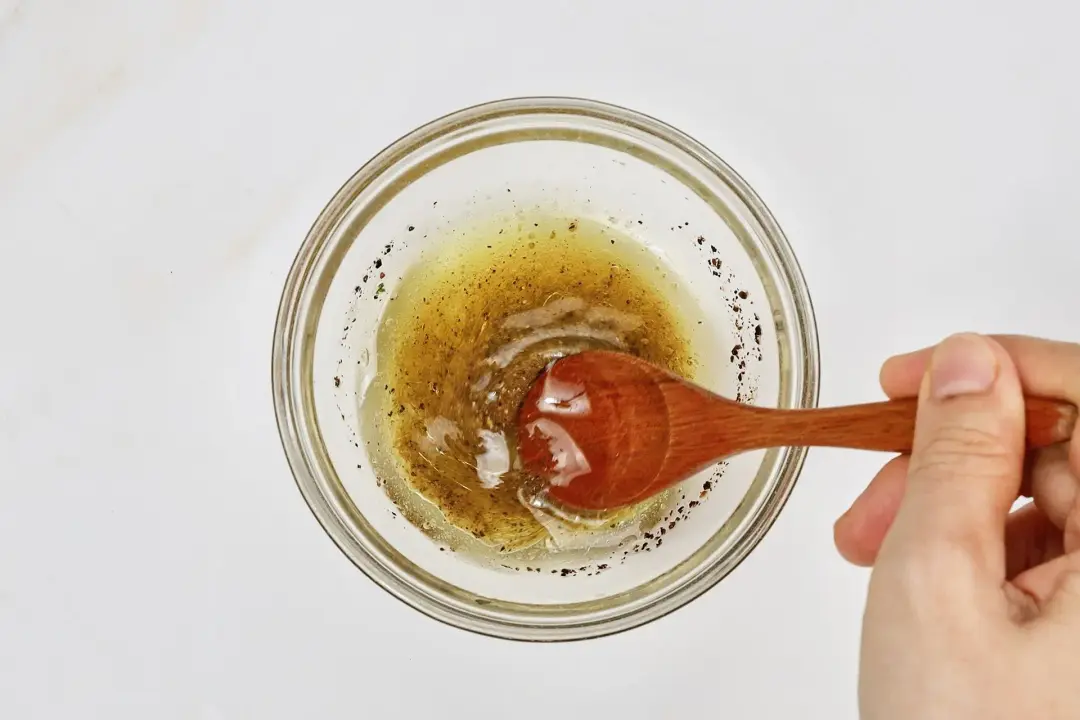 5
Assemble the salad: Layer 4 oz romaine lettuce, 1 oz red cabbage, 2 oz red bell pepper, 2 oz carrot, and 4 oz cherry tomatoes onto a big salad plate. Top with air-fried chicken and 1 oz dried cranberries.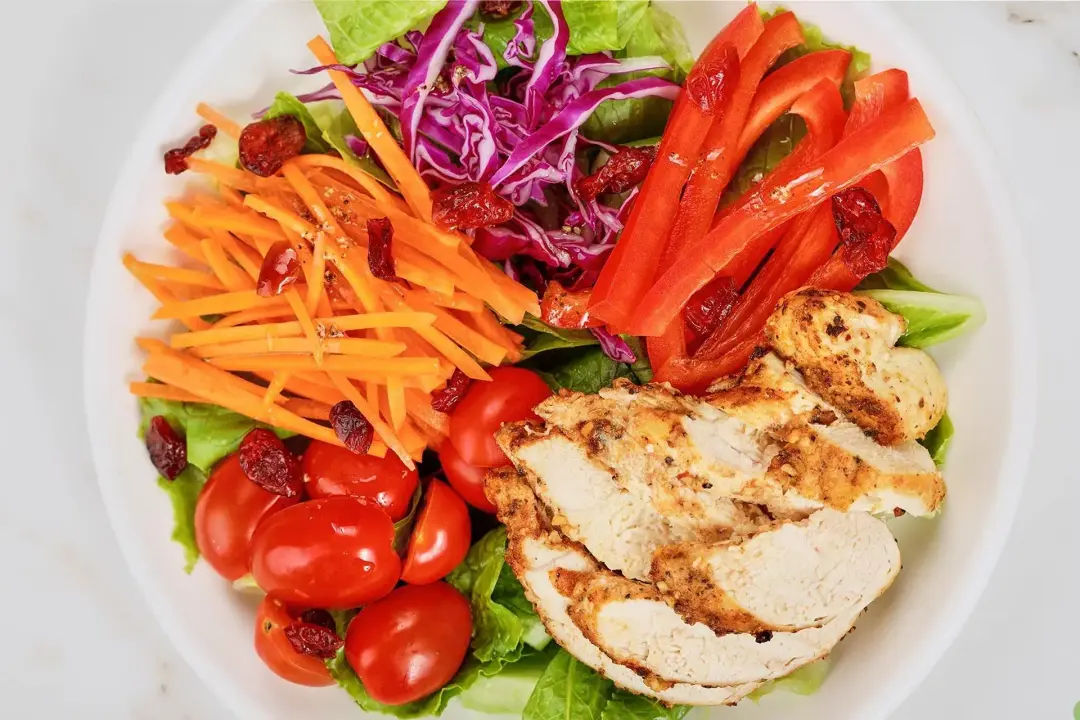 6
Serve the salad: Drizzle the dressing over the salad. Serve.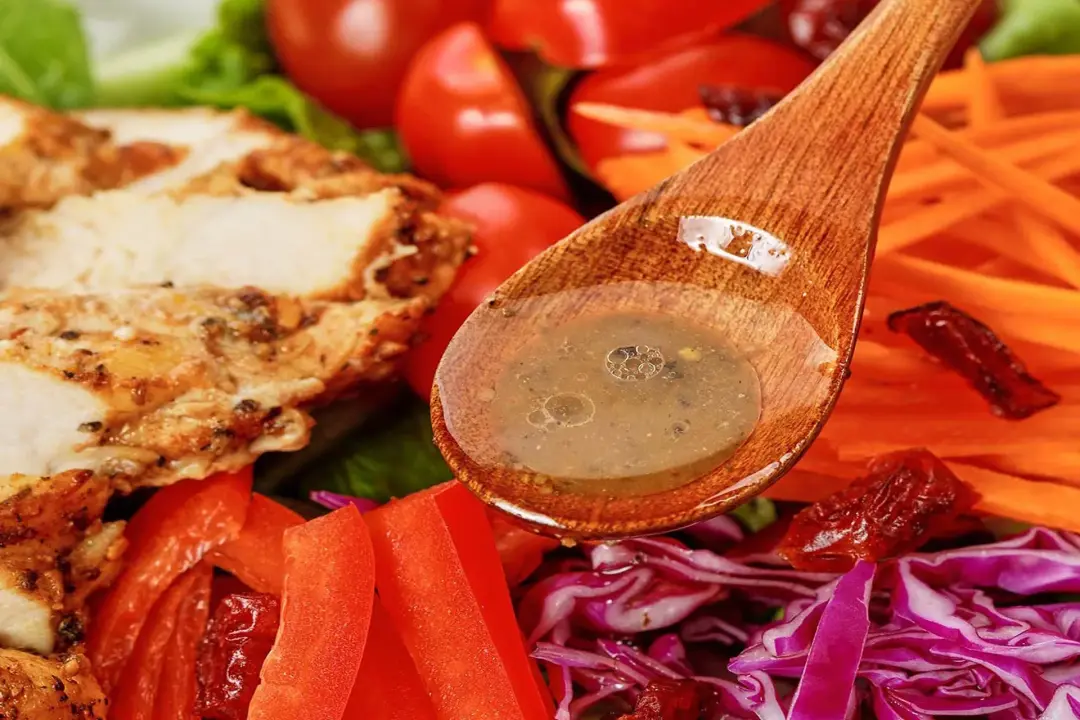 NUTRITION
Nutrition Facts
Air Fryer Chicken Salad Recipe
Amount Per Serving (1 serving)
Calories 247
Calories from FDA
% Daily Value*
* Percent Daily Values are based on a 2000 calorie diet.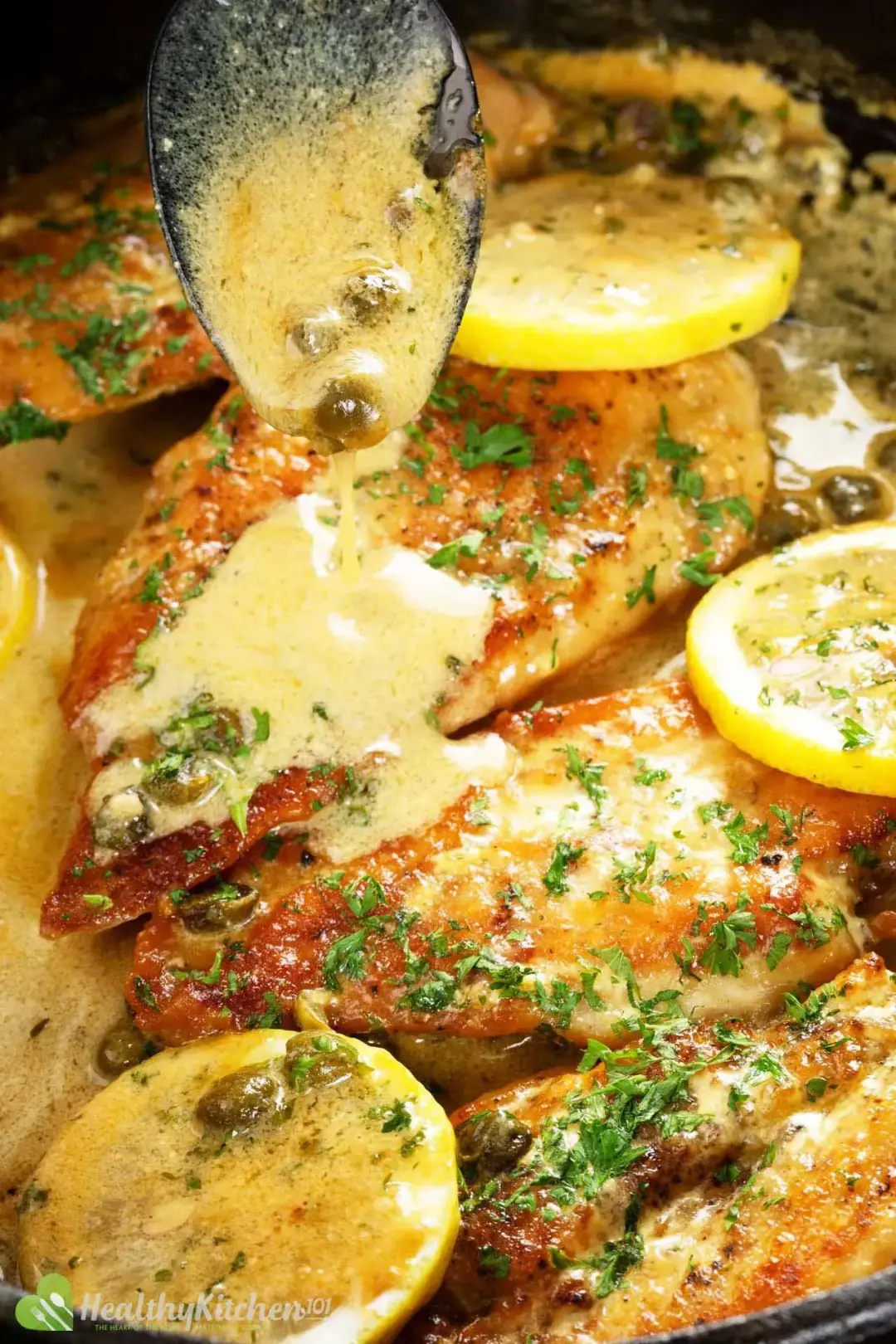 Previous Recipe
Healthy Chicken Piccata Recipe
Healthy Chicken Piccata Recipe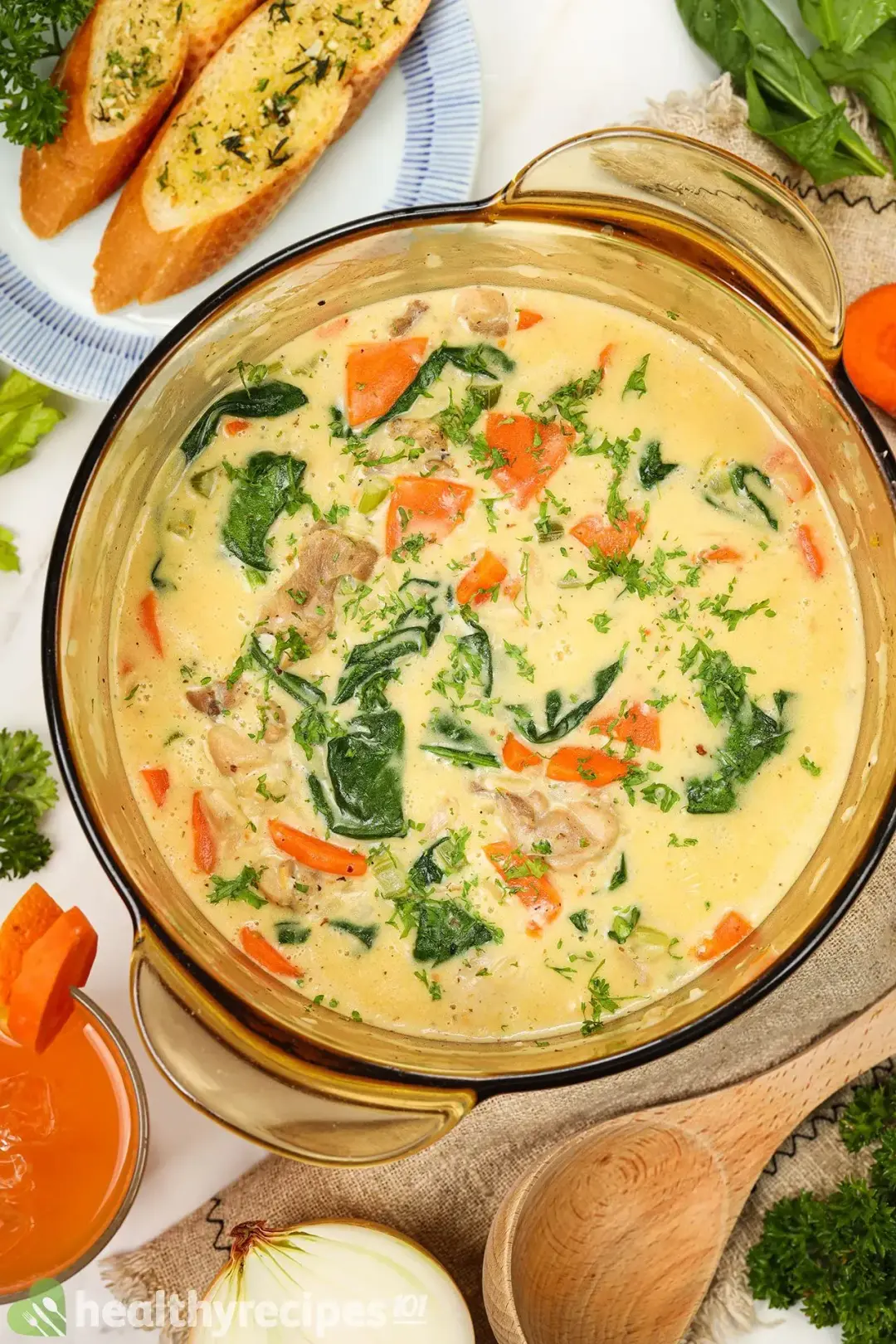 Next Recipe
Chicken Florentine Soup
Chicken Florentine Soup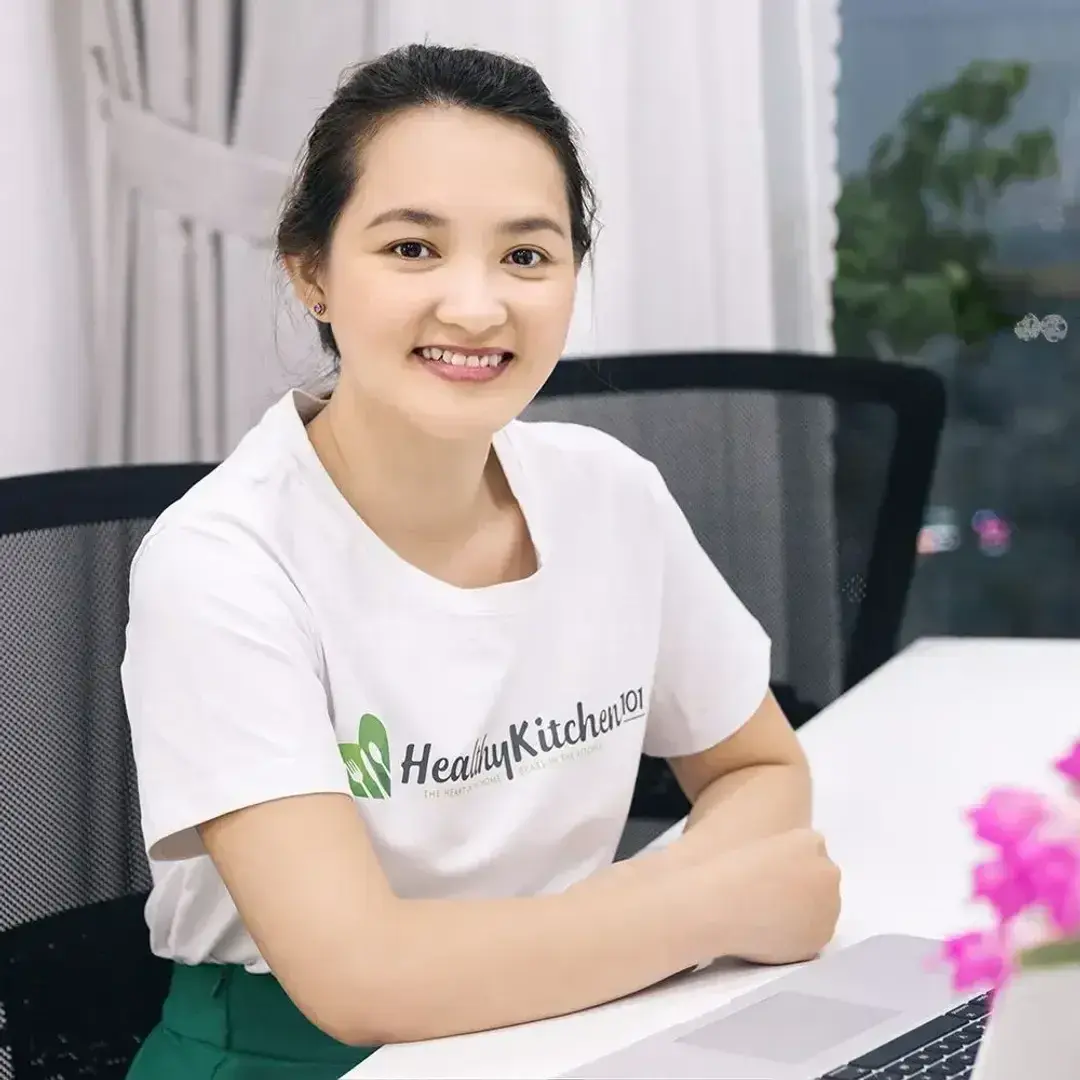 Luna Regina
Luna is the founder and chief recipe developer of Healthy Recipes 101. Apart from cooking, she also loves reading, programming, exploring the outdoors, and collecting useless facts about everything.