If you're looking for a quick recipe for dinner, this healthy chicken piccata recipe is the one for you. It's simple and takes less than 30 minutes to make.
For those who've never had chicken piccata before, here are some interesting facts about the dish to get you started.
What is Chicken Piccata?
"Piccata", or "picatta" is an Italian term to describe a way of preparing food. Usually a piccata dish has two main elements: the meat and the sauce.
First, you have to pick what type of meat or fish you want. It can either be red meat, poultry, or fish, but the common options are chicken or veal. 
The meat will then be coated with flour before getting shallow-fried. This gives the meat a crispy, golden brown exterior. 
Once the meat is ready, you can proceed to make the sauce. It's a light sauce as it only requires butter, chicken broth and/or white wine, capers, and lemon juice.
Combine the meat and sauce and there you have it, a piccata dish.
It may sound fancy and complicated, but it's actually simple and quick. Our chicken piccata recipe takes less than half an hour to make.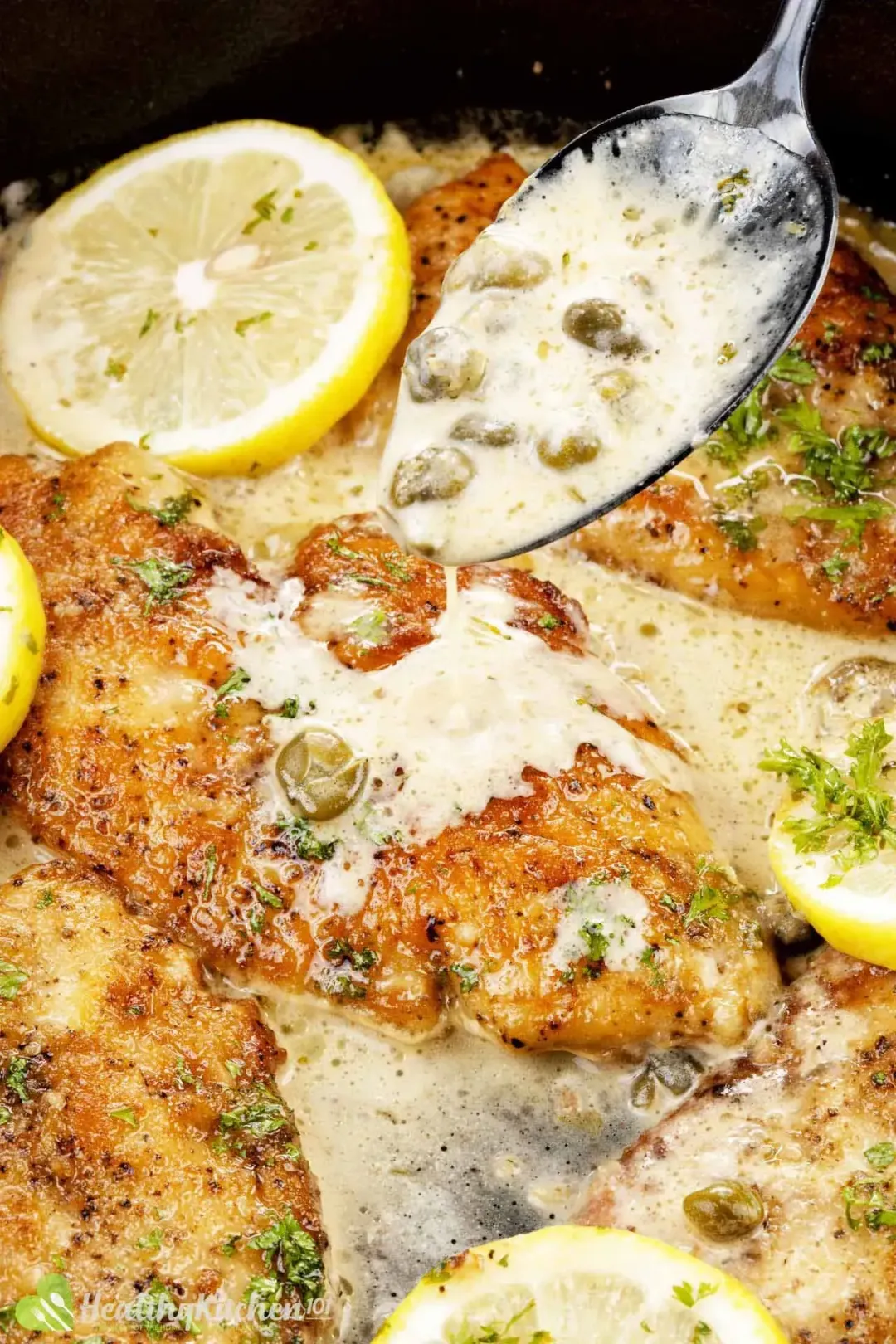 You only need one pan to cook in, from start to finish. This will make the cleaning a lot quicker too.
And, this recipe is kid-friendly. You can have your children help you coat the chicken with flour (just remember to wash hands before and after!)
These reasons all come together to make this chicken piccata recipe continue to grow in popularity. Now, let's see how simple this recipe is.
Is Our Recipe Healthy?
We would say our chicken piccata recipe is healthy. Here's why:
It contains lean, boneless, skinless chicken breast. This cut of meat is high in protein and low in fat, and can help you build muscle mass faster.
Our chicken piccata with pasta and asparagus only has 8 grams of saturated fat. Despite having heavy cream and Parmesan cheese, this chicken piccata recipe is still rather low in saturated fat.
It's well-rounded with a combination of protein, fat, carbs, and fiber. Every element is within the limits of DRI— making it a relatively balanced dish for your diet.
Main Ingredients
For today's chicken piccata recipe, you will need the following ingredients:
Boneless skinless chicken breast. Or, if you prefer, boneless skinless chicken thigh.
All-purpose flour to coat the chicken.
Grated parmesan cheese: to mix in with the flour.
Olive oil: to shallow-fry the chicken.
Unsalted butter for the sauce.
Chicken broth or water. However, we do highly recommend the broth as it will give the sauce more depth of flavor.
Brined capers: this is the one ingredient that really makes a piccata dish.
Heavy cream: it may not be traditional, but we like to be creative with our recipe. And you should, too.
Fresh lemon juice for the sauce.
Lemon slices, to garnish.
Fresh herbs: dill, basil, oregano, sage, tarragon, etc., choose your favorite. For today's recipe, we're using parsley.
Finally, salt and ground black pepper for seasoning.
First, slice the chicken breast in half lengthwise. Depending on the thickness of your chicken and your taste, you may want to flatten it out with a mallet.
After cutting the chicken, season it with salt and freshly ground black pepper on both sides.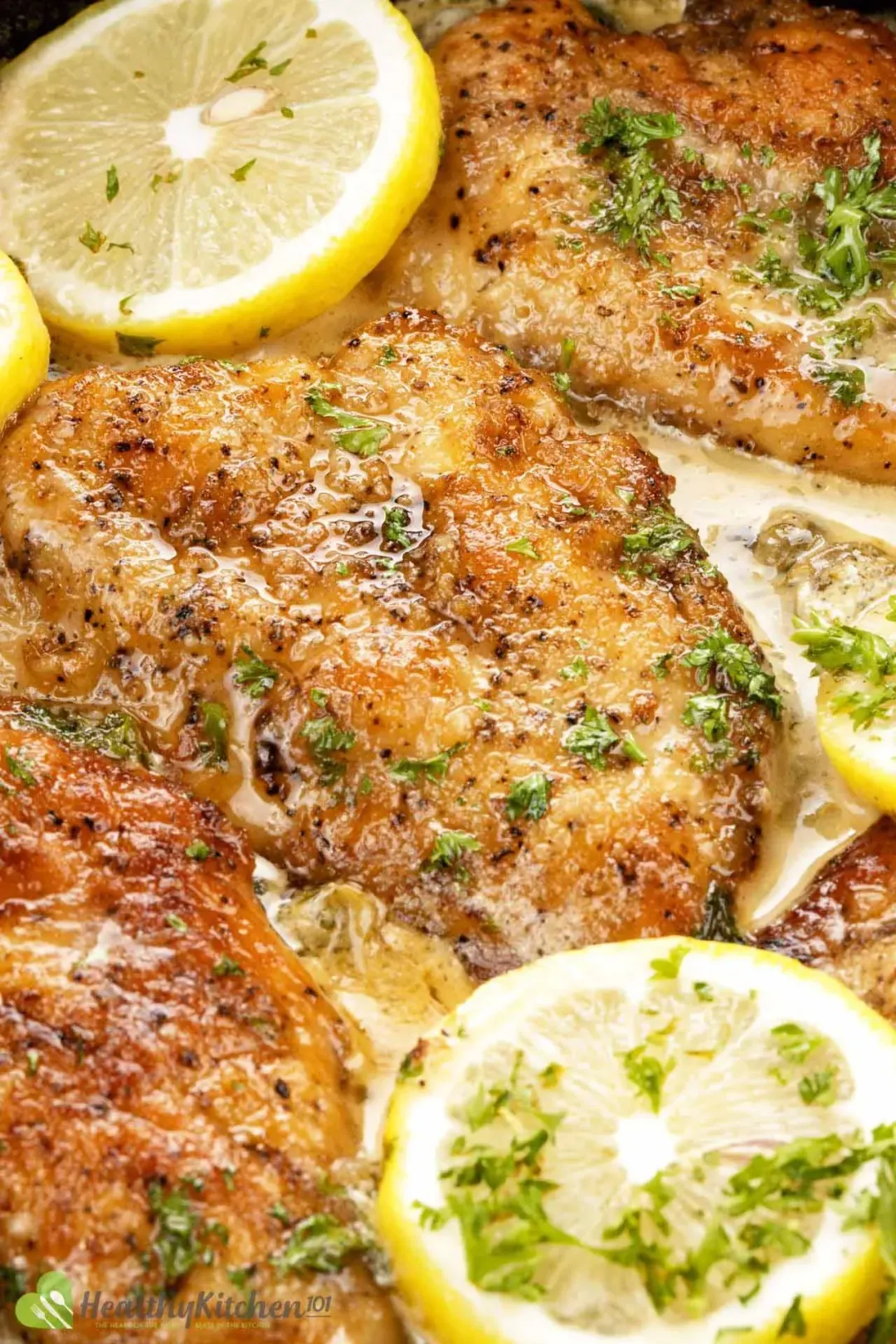 Dip chicken in a mix of flour and grated parmesan cheese. Coat the chicken thoroughly with the flour mix and then shallow-fry it in olive oil and butter.
It's important to shake off any excess flour when you coat the chicken. If you don't, the excess flour will fall off the chicken when you fry.
Each flour particle is more exposed to hot oil and burns quickly. It will end up burned and give your sauce a bitter taste.
This rule applies to any similar breaded fried food. So be sure to shake off excess flour to avoid any unpleasant culinary experience.
Now that your chicken is fried to perfection, let's get on with the sauce.
What Is Piccata Sauce Made Of? 
As mentioned, this sauce contains chicken broth, capers, heavy cream, lemon juice, and herbs.
The citrusy lemon juice adds a light, refreshing yet acidic punch to the creamy, rich sauce. Then, the sharp and salty taste of capers cut through, creating a sensational and harmonized taste— all in one sauce.
Now then, once your chicken is golden brown, transfer it to a plate and set aside. You will make the sauce using the same pan.
Add chicken broth, lemon juice, and capers to the pan. Turn the heat up to high and allow the sauce to boil. The salty and sour capers will release their flavor and season the sauce as it boils.
Once boiling, reduce the heat to low, add heavy cream, and stir to mix it in.
Avoid adding heavy cream, or any dairy product, to a boiling pan as the high heat may cause curdling. Although it may not affect the flavor, a lumpy sauce is not very appealing.
Now that your sauce is creamy, add the chicken back to the pan. Baste the chicken with the sauce to let the flavor seep in.
Keep in mind that we cook our chicken in the sauce, which will cause the chicken to lose its crispiness. If you want to reserve that golden crust, leave the chicken out.
When you serve, you can put the sauce on a plate and put the chicken on top. Or, ladle the sauce over the chicken.
Either way, you will have one side of perfectly crispy chicken to enjoy.
If you're interested in other chicken recipes as healthy as this one, this healthy chicken roundup have a bunch of ideas.
What to Serve with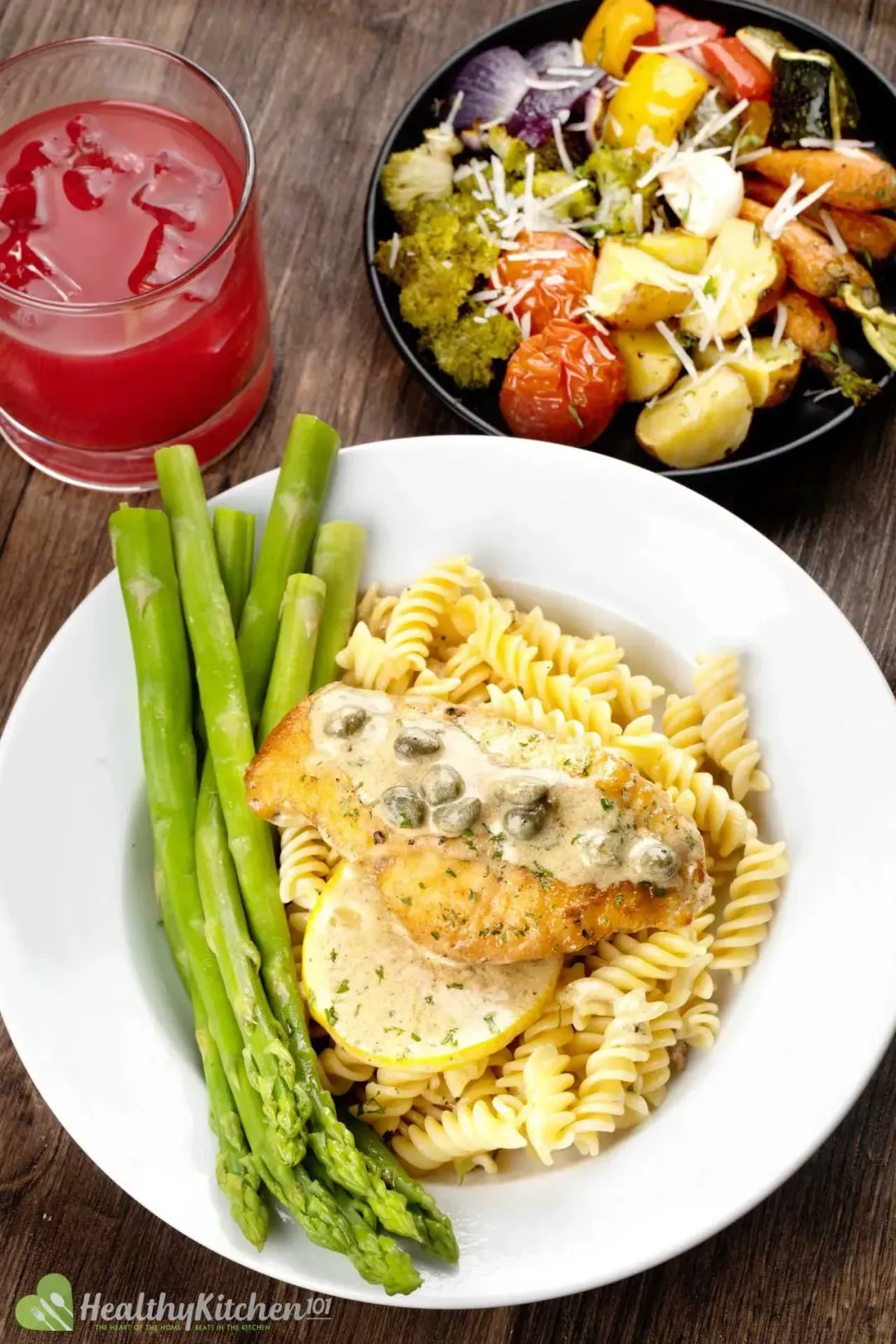 Usually a chicken piccata recipe does not come with a side dish to go with it. This can make it a little harder for home cooks to know what to serve with chicken piccata. We have a few suggestions for you:
1. Rice
Rice is a versatile side dish that goes well with almost any food, especially this chicken piccata recipe.
From short-grain to long-grain, the variety of rice is so vast that it may be hard to pick a type. 
Since chicken piccata is a saucy dish, you want a type of dry rice that isn't sticky. Because when you serve, the sauce will soak into the rice— making it either soft or soggy.
Here are some we would recommend:
Basmati rice: common in Indian cuisine, basmati rice has a very distinct nutty, floral flavor. Its long grains tend to be separate and rather firm— perfect for curry and saucy dishes.
Brown rice: whether it's short or long grain, brown rice is famous for its nutty flavor and chewy texture. Brown rice can bring many health benefits, including helping you lose weight.
Jasmine rice: this is a type of long-grain rice that's popular in Asian countries. The rice has a subtle flowery scent that is both refreshing and aromatic.
All of these types of rice, though different in their flavor profiles, should pair well with chicken piccata. They are pretty common and can be found in any grocery store.
But which one should you use? The answer is simple: pick your favorite.
Now then, how should you cook the rice? Since we want to keep it simple, steamed rice is the best option.
The warm, fragrant steamed rice, when paired with rich and tangy chicken piccata, creates a satisfying feeling in every bite.
2. Pasta
Pasta always goes well with Italian recipes, and our chicken piccata recipe is no exception. 
Same as rice, there are many types of pasta to choose from. However, unlike rice, we reckon any type of pasta would pair perfectly with chicken piccata, so pick your favorite.
All you need to do is boil the pasta and serve. Or toss the pasta in piccata sauce to give it more flavor before serving.
And if you love Italian-inspired chicken and pasta recipes, check out our chicken cacciatore recipe and chicken alfredo recipe. Just like today's chicken piccata recipe, they are both delicious and simple and easy to make.
3. Mushrooms
To add mushrooms to your chicken piccata, cook the mushrooms before making the sauce.
Caramelize the mushrooms by sautéing on medium-high heat. This will help bring out their flavor and texture.
Once the mushrooms are golden brown, add chicken broth and proceed with making the sauce.
4. Artichoke
We recommend using partially-prepared products as raw artichoke hearts can be difficult to prepare.
Canned artichoke hearts are usually brined. The brining juice can be salty so ideally, you should drain and rinse the artichokes to remove the saltiness. 
Cut artichoke hearts into bite-sized pieces. Add them to the broth and let them boil with the capers.
Similar to capers, boiling brined artichoke will bring out its flavor and season the sauce.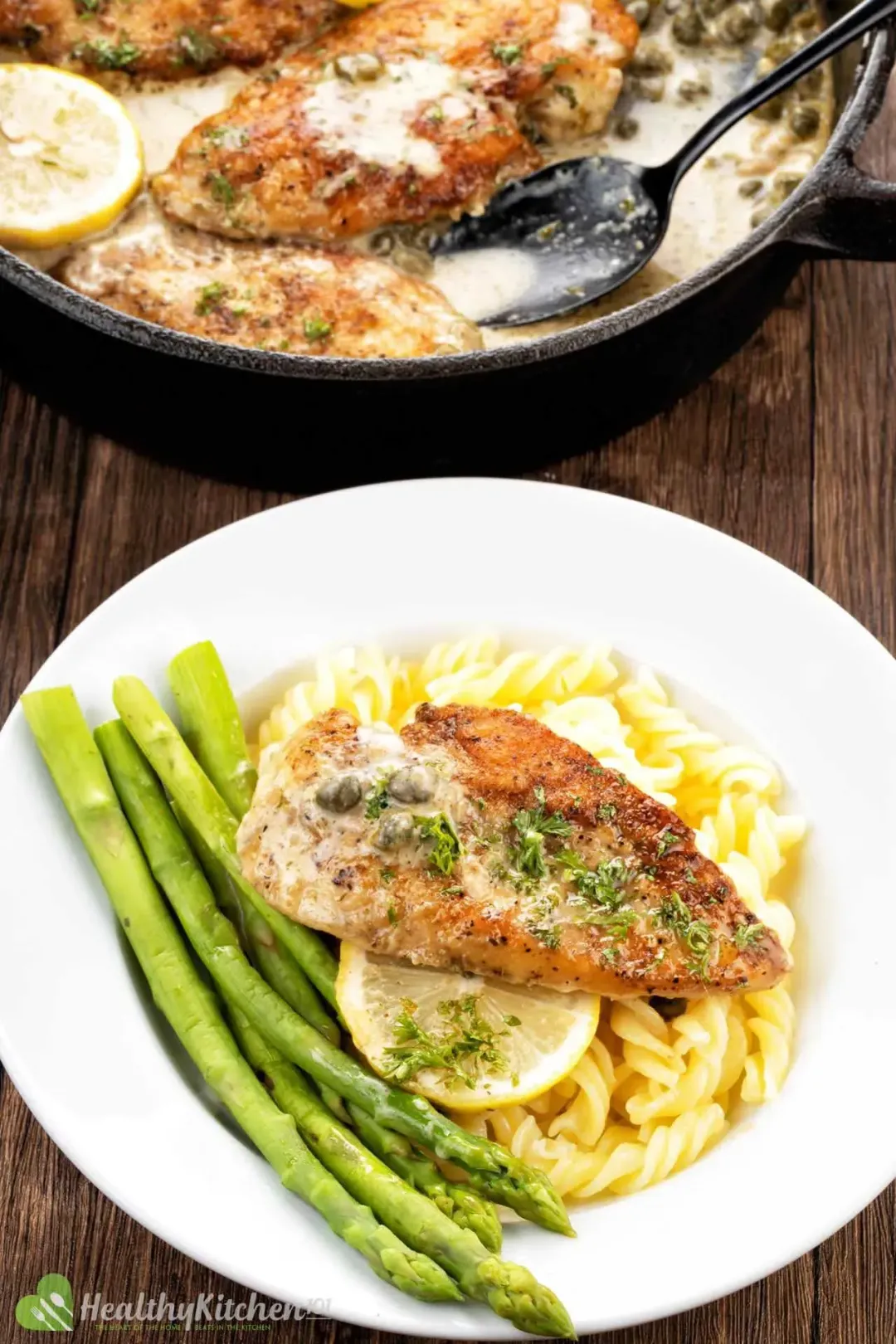 Nutrition Facts
1. Calories
A serving of our chicken piccata, without cooked rotini pasta and boiled asparagus, contains only 293 calories. While a serving of chicken piccata, including pasta and asparagus, has 476 calories.
2. Carbohydrates
For our recipe, a portion of chicken piccata alone has only 7 grams of total carbohydrates. Meanwhile, a serving of chicken piccata with pasta and asparagus has 41.5 grams of total carbs.
More Easy Chicken Dinners
FAQ
Below are some frequently asked questions about chicken piccata recipes.
1. What Kind of White Wine Do You Use for This Recipe?
Although we don't use it in our recipe, white wine is a common ingredient in a piccata sauce. Here are a few options:
Sauvignon Blanc: this type of wine usually has a note of lime, green apple, or peach. The flavor can be citrusy, zesty, or flowery.
Pinot Grigio: usually sharp with acidity and a subtle almond flavor.
Pinot Gris: the common fruits used to make pinot gris are lemon, lime, nectarine, apple, or pear. It can have a citrusy or fruity note with a hint of sweet honey.
Chardonnay: it has a mild acidity and alcohol scent. It can have a note of lemon or tropical fruits, sometimes with a hint of vanilla or oak.
Whichever type of wine you choose, it will brighten your sauce and take it to another level. So just pick one within your budget.
Add white wine before making the sauce. Let it boil for a minute and allow the alcohol to evaporate. 
2. What Is the Difference between Chicken Piccata and Chicken Francese?
The main differences between chicken piccata and chicken francese are the breading and the sauce.
The breading for chicken piccata usually contains flour, sometimes with parmesan cheese. Meanwhile, chicken francese requires an extra step of dipping the floured chicken into beaten eggs before sautéing.
And despite having a similar tangy, lemony sauce, a piccata sauce contains brined capers while chicken francese doesn't.
Healthy Chicken Piccata
This healthy chicken piccata recipe is simple with ingredients that may already be available in your kitchen. And it takes less than 30 minutes to make. Let's get started.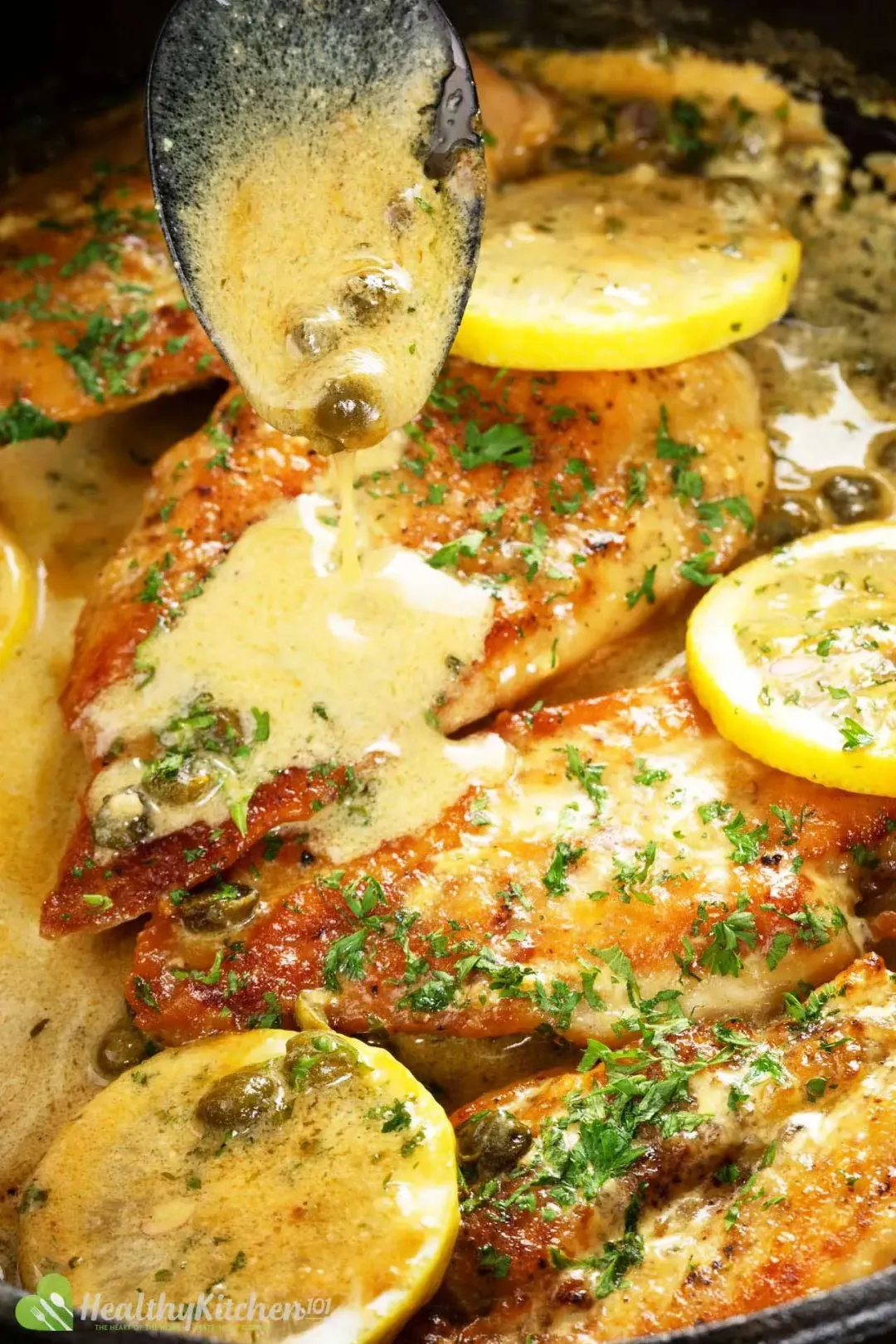 cook TIME

15 mins

prep TIME

10 mins

total TIME

25 mins
COURSE

Dinner, Lunch, Main Course

CUISINE

Italian

SERVINGS

CALORIES

476 kcal
INGREDIENTS
12 oz

skinless boneless chicken breast

(2 medium)

1/2 cup

all-purpose flour

(to coat (*))

1.2 oz

grated Parmesan cheese

(to coat (*))

1 cup

unsalted chicken broth

1/2 tsp

black pepper

(divided)

2 tbsp

brined capers

(drained)

2 tbsp

parsley

(chopped, optional)

4 cups

cooked rotini pasta

4

lemon slices

(for garnish, optional)
INSTRUCTIONS
Prep
1
Place the chicken on a cutting board and slice it in half lengthwise to make 2 thin fillets. Repeat with the remaining chicken breast.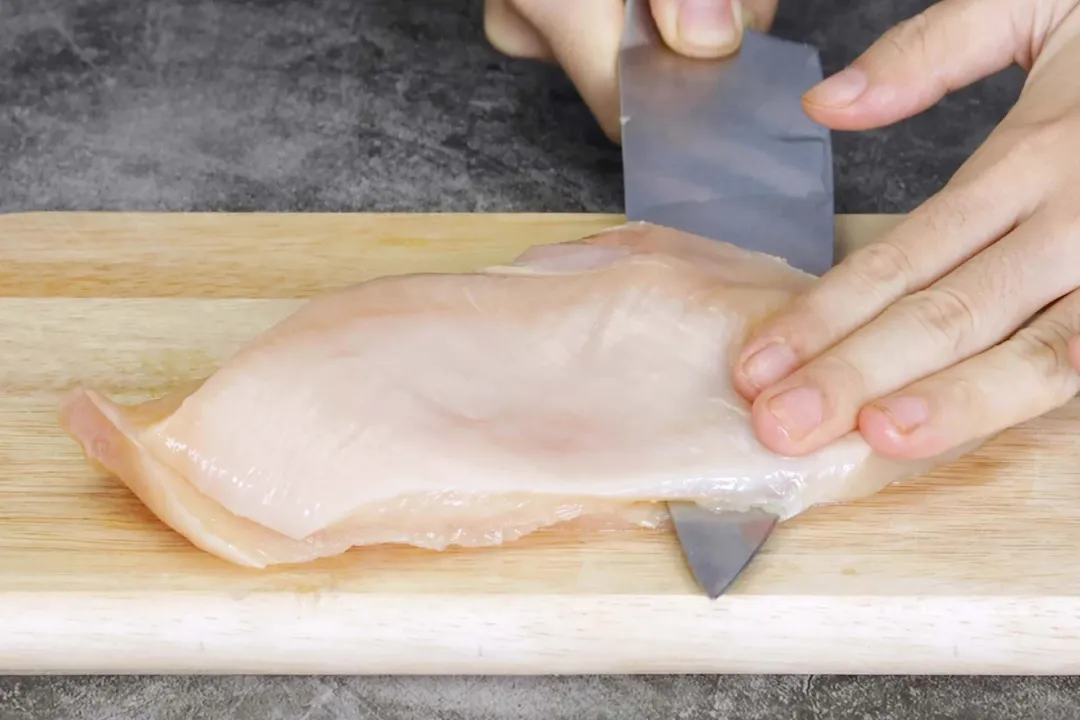 2
Season 12 oz chicken fillets with 1/4 tsp salt and 1/4 tsp pepper. Set aside.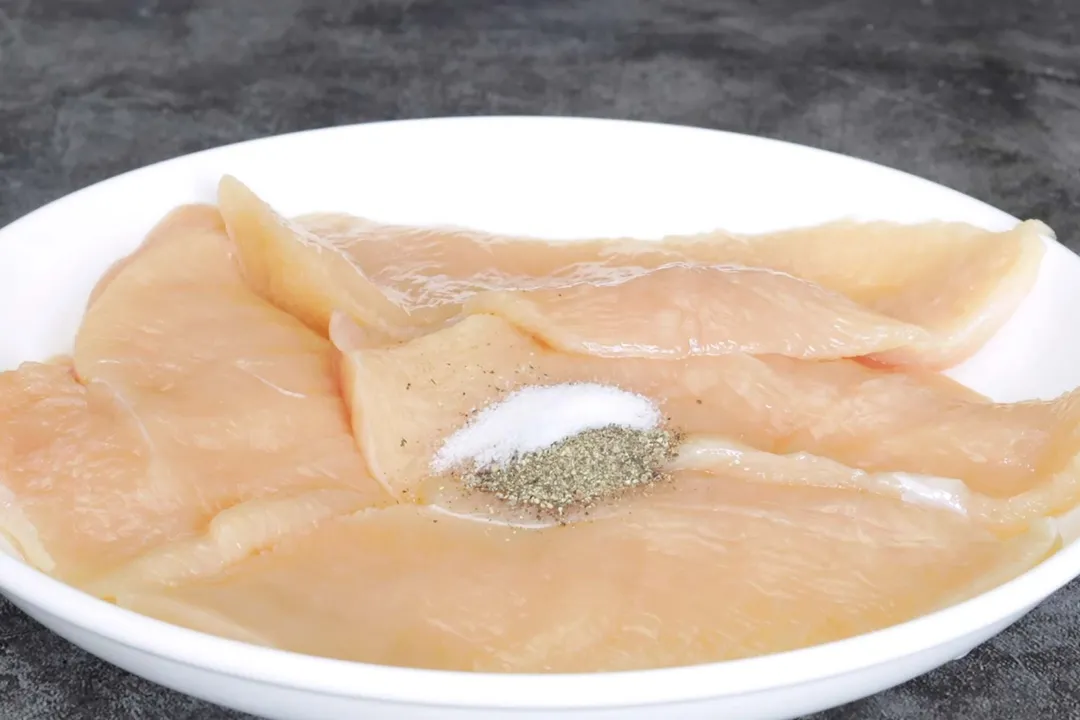 3
In a large plate, add 1/2 cup flour and 1.2 oz grated Parmesan cheese. Mix well with a fork.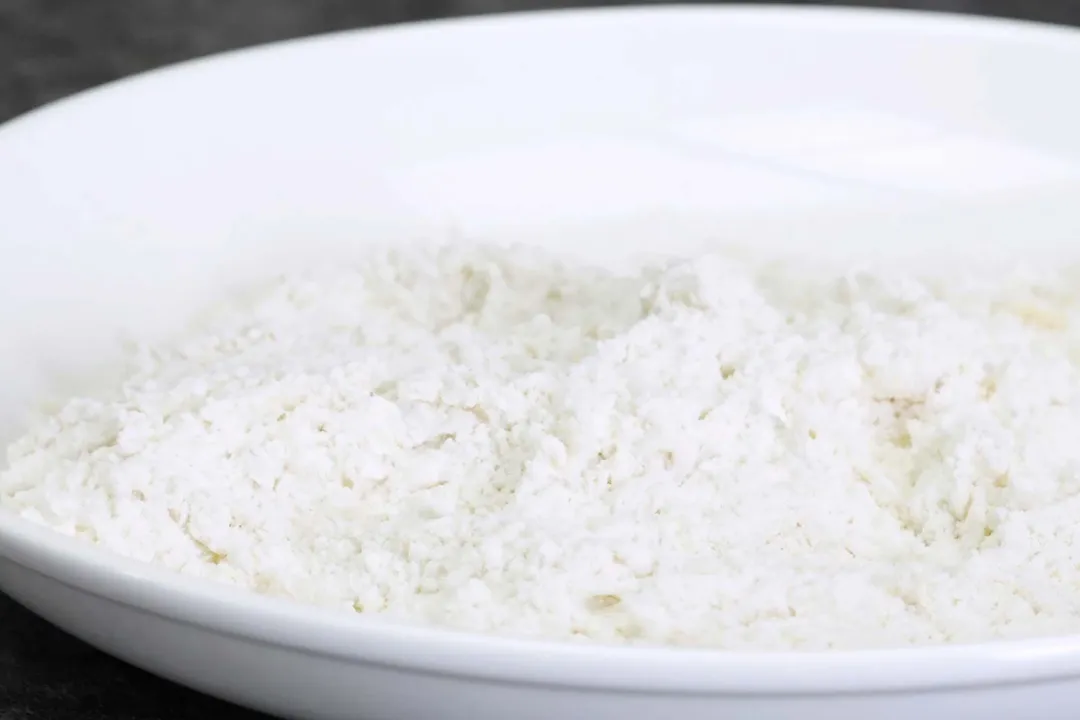 4
Place each fillet in the flour mixture and coat the chicken pieces thoroughly. Shake off the excess and set aside.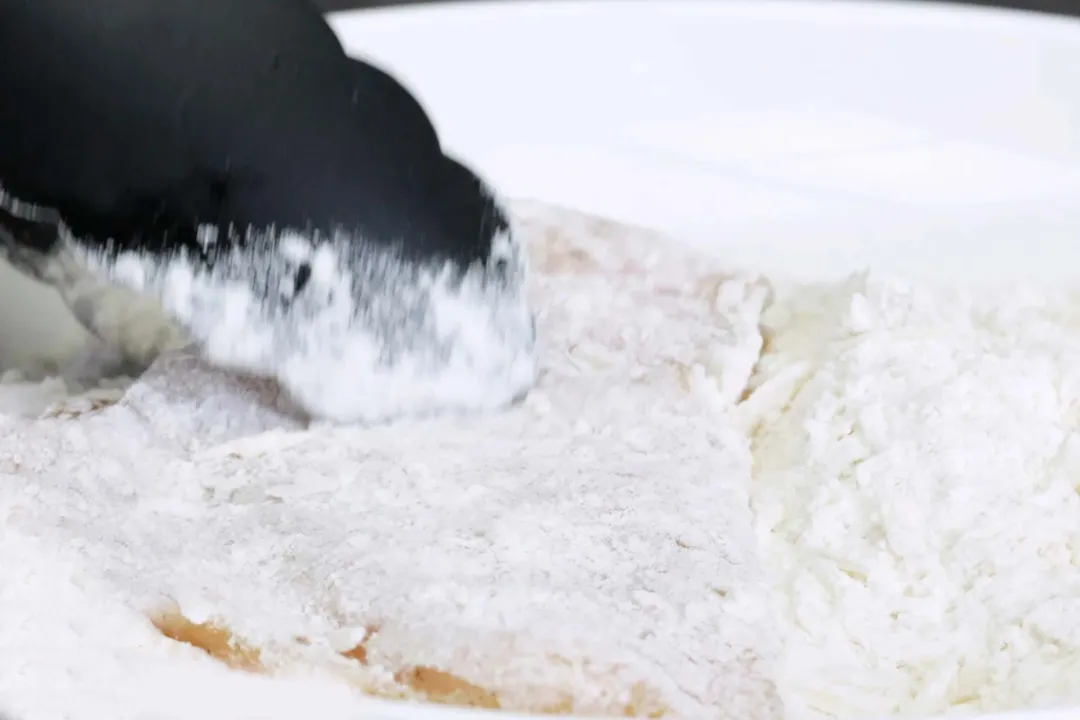 Cook
1
Cook the chicken: Heat 2 tbsp olive oil in a large pan over high heat. Place chicken fillets in the pan. Turn the heat down to medium-high and sear for 2 minutes. Lower the heat to medium. Add 1 tbsp butter to the pan and allow it to melt. Cook for a further 10 minutes or until golden brown on both sides, flipping halfway. Turn the heat off. Transfer chicken to a plate and set aside.
2
Make the sauce: Add 1 cup unsalted chicken broth, 2 tbsp capers, and 2 tbsp lemon juice to the pan. Turn on the heat to high. Bring the broth to a boil. Once boiling, reduce to medium-low heat. Add 1/4 cup heavy cream and the remaining 1/4 tsp salt and 1/4 tsp pepper. Stir well.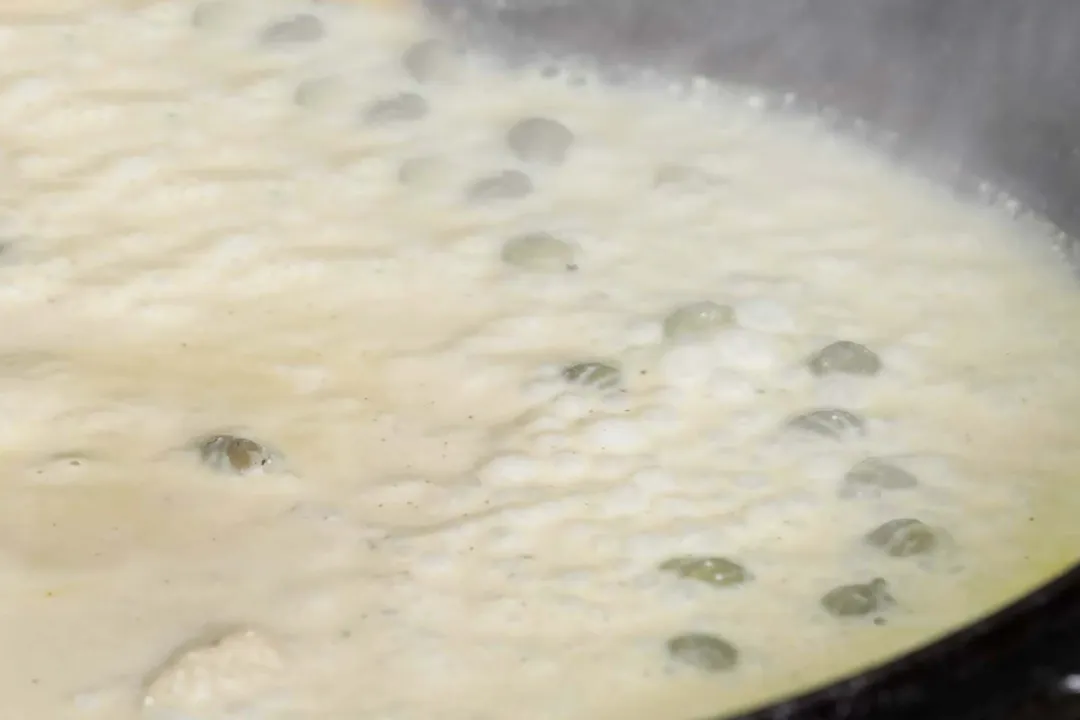 3
Put the chicken back in the pan. Baste the chicken with the sauce. Add 4 lemon slices and 2 tbsp chopped parsley. Turn off the heat.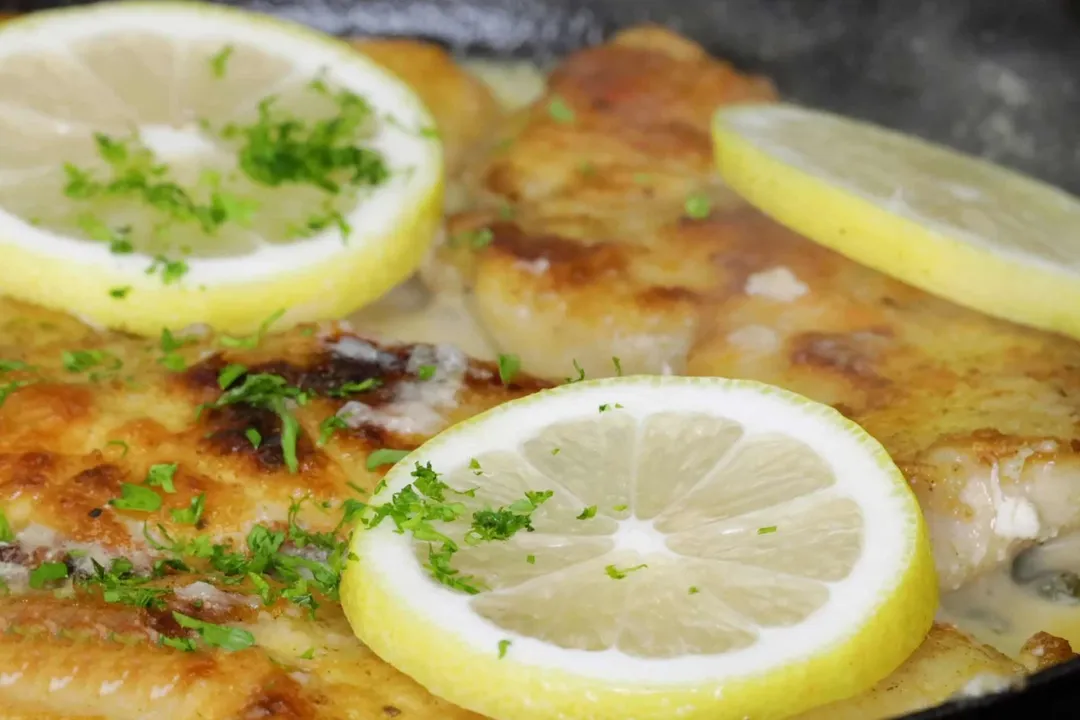 4
Plating: Arrange serving plates with a bed of 4 cups pasta and 10.5 oz asparagus on the side. Place the chicken on the pasta. Scoop the sauce and drizzle over the chicken. Serve immediately.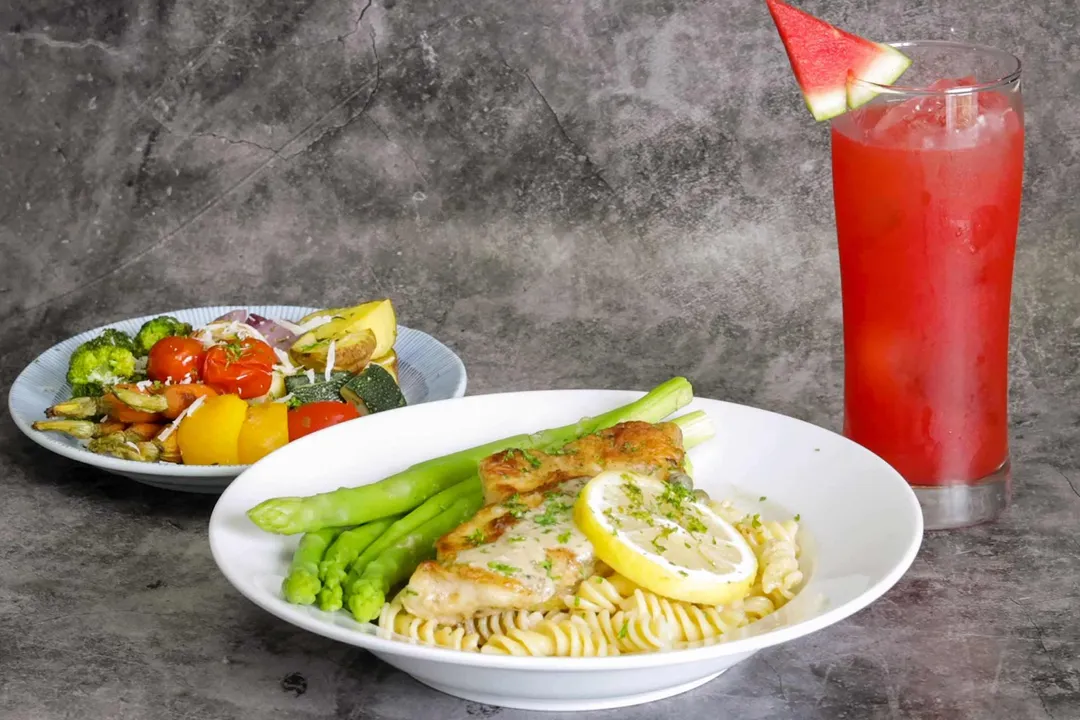 (*) Only part of these ingredients will end up in the final product and we have calculated nutritional values based on that amount. The whole amount is needed for coating the chicken, but once you dust off the excess flour and cheese, you will end up consuming less than the listed amounts. The actual amounts being consumed are approximately:
0.8 oz all-purpose flour
0.9 oz grated parmesan cheese
NUTRITION
Nutrition Facts
Healthy Chicken Piccata
Amount Per Serving (1 serving)
Calories 476
Calories from Fat 180
% Daily Value*
* Percent Daily Values are based on a 2000 calorie diet.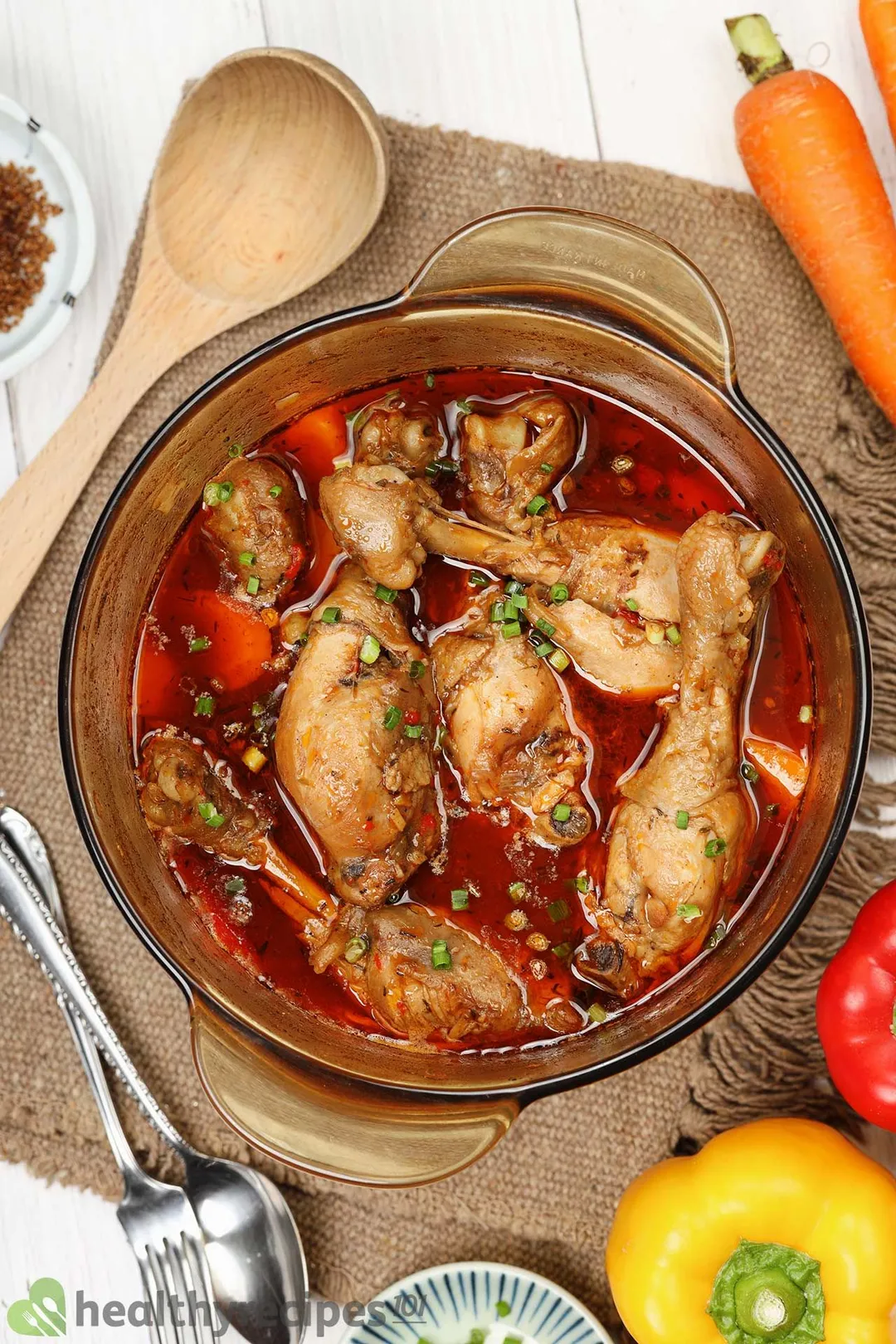 Previous Recipe
Brown Stew Chicken
Brown Stew Chicken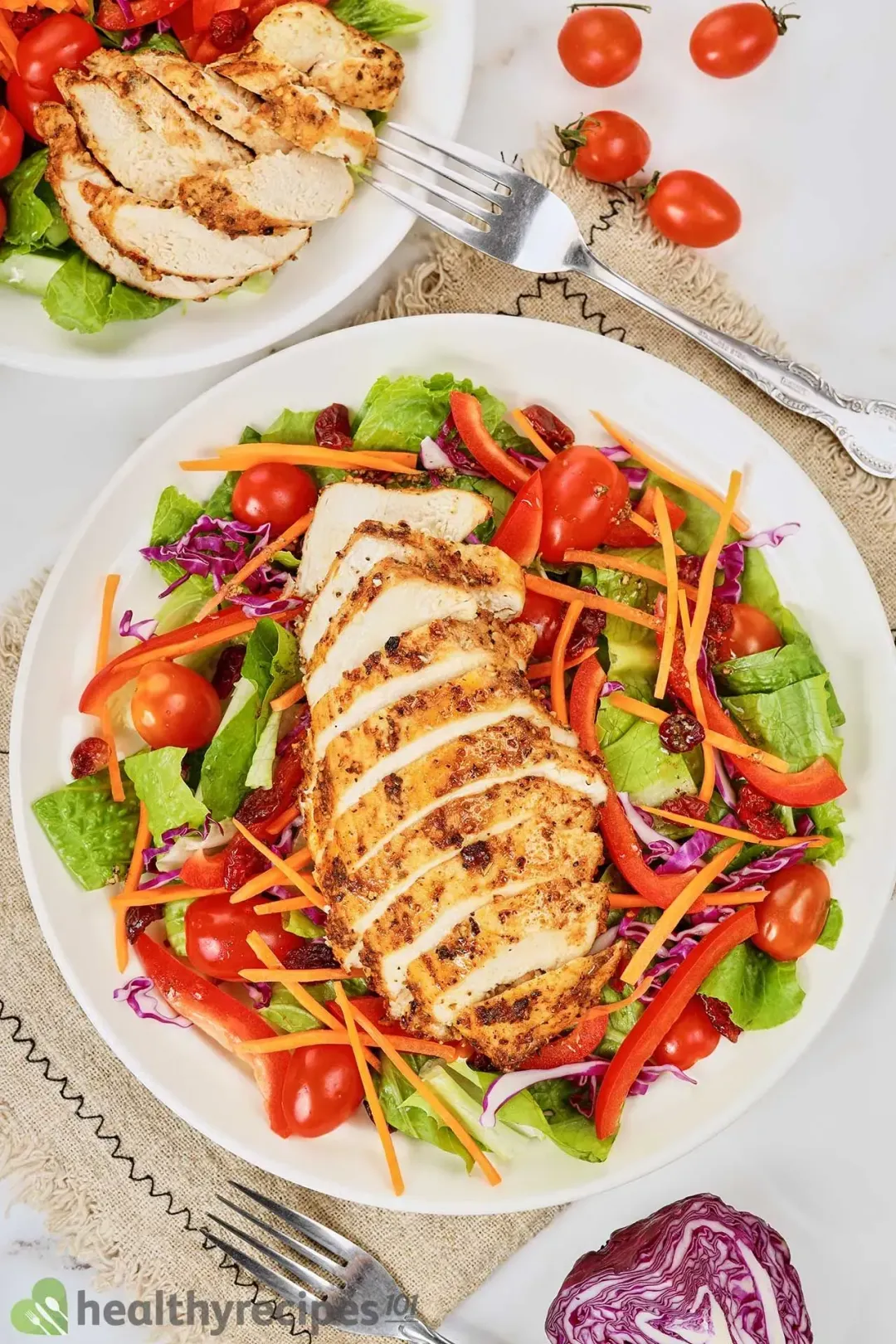 Next Recipe
Air Fryer Chicken Salad
Air Fryer Chicken Salad
Head Chef, Culinary Consultant
Tuyet Pham is an award-winning Saigonese chef who believes that joy is the secret ingredient to delicious food. At Healthy Recipes 101, Tuyet personally tests and simplifies every recipe, ensuring maximum flavor with minimal effort. With a background at prestigious French restaurants P'TI Saigon and Le Corto, Tuyet knows how to make every dish exceptional.
Writer, Author
Luna Regina is an accomplished writer and author who dedicates her career to empowering home cooks and making cooking effortless for everyone. She is the founder of HealthyKitchen101.com and HealthyRecipes101.com, where she works with her team to develop easy, nutritious recipes and help aspiring cooks choose the right kitchen appliances.
Nutrition Reviewer
Lizzie Streit is a Minneapolis-based dietitian and founder of It's a Veg World After All. She completed her MS in Human Nutrition from Drexel University, and is an expert in culinary nutrition, recipe development, and nutrition communications. Lizzie's philosophy is centered around making nutrition recommendations, and especially the advice to eat more vegetables, approachable and realistic. She is excited to be working with the team at Healthy Recipes 101 to ensure that their recipes are both nutritious and delicious.
Luna, what a collection of delicious recipes. I will be saving several to cook for my family. Keep up the great work!

Thanks Denise! Hope you and your family are having delicious meals 🙂

Thanks for sharing this simple and nice recipe. This looks so delicious.

Thank you! We hope you enjoyed it!

Quick, easy and delicious! Thanks!