Complying with healthy eating guidelines, our air fryer chicken Schnitzel recipe will show you how to prepare a nutritious meal of breaded chicken, spiced roasted vegetables, and Hollandaise sauce.
What Is Schnitzel?
Schnitzel (reads sh-nit-zel) is a German term that refers to breaded deep-fried thinly-pounded meat. It can be chicken, beef, pork, veal, or others.
Because the method is quite simple, each country develops its own 'Schnitzel' and gives its creation a different name. America, for instance, has 'chicken fried steak'.
Is Air Fryer Chicken Schnitzel Healthy?
It's impossible to claim that this dish is healthy without taking portion size into consideration. Overconsumption of fried foods, or just about any food, can lead to unwanted weight gain, obesity, and many health complications.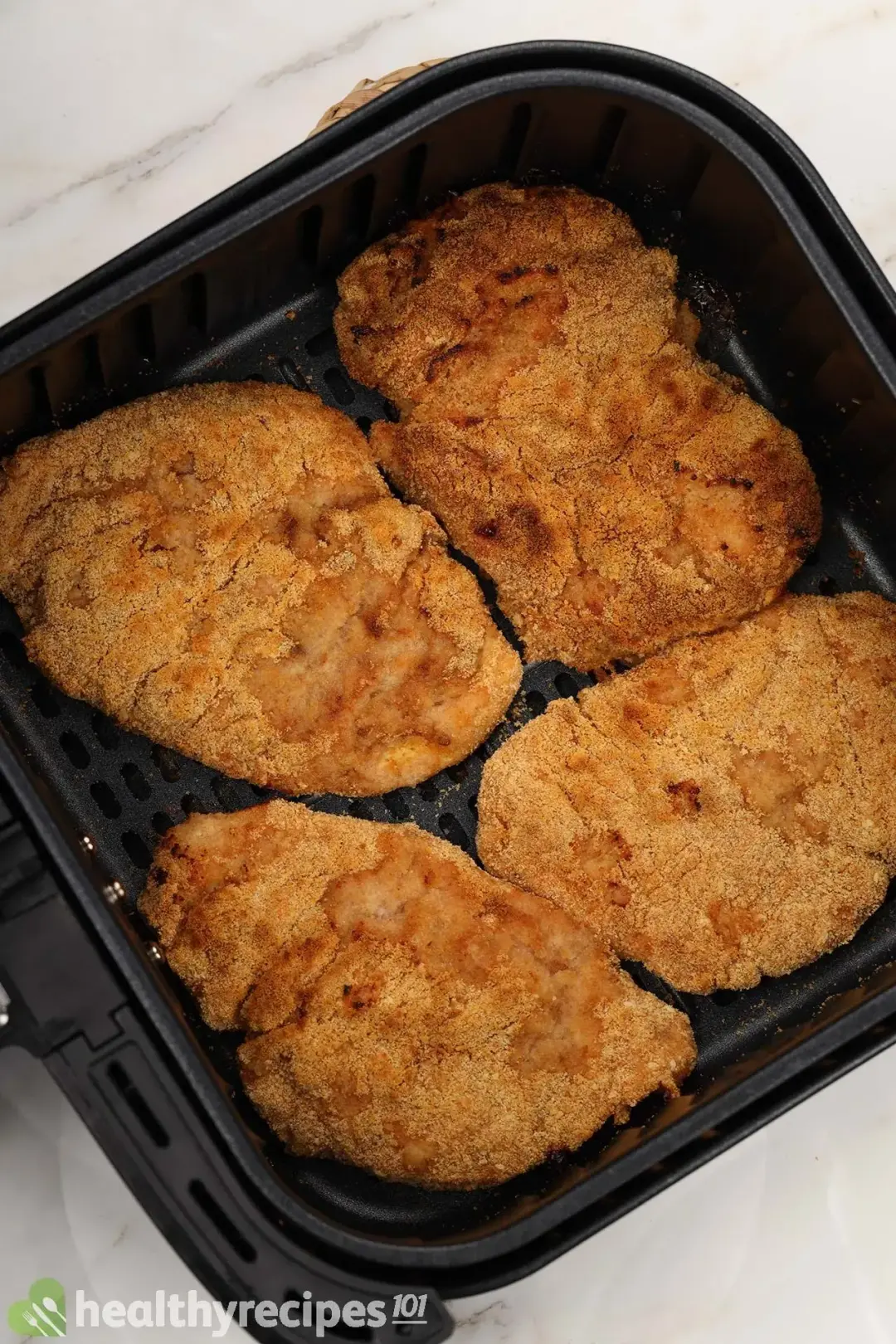 What we mean by portion size goes beyond calories — there's also sodium and saturated fats among other substances whose levels should be carefully considered. For main dishes like this one, we aim to keep the calories around 500, the sodium below 600 mg, and the saturated fats below 11 g. Details can be found in our food philosophy.
Because this is a fried dish, we try our best to reduce the cooking time as well as the frying oil. By doing so, we can lower the acrylamide level in our fried dishes making them a healthier option.
We also try to include different food groups in our recipes to make sure you get a variety of loads of micronutrients. The chicken in this recipe, for instance, is served with cooked green beans and potatoes.
Ingredients for Chicken Schnitzel
Our air fryer chicken Schnitzel recipe calls for: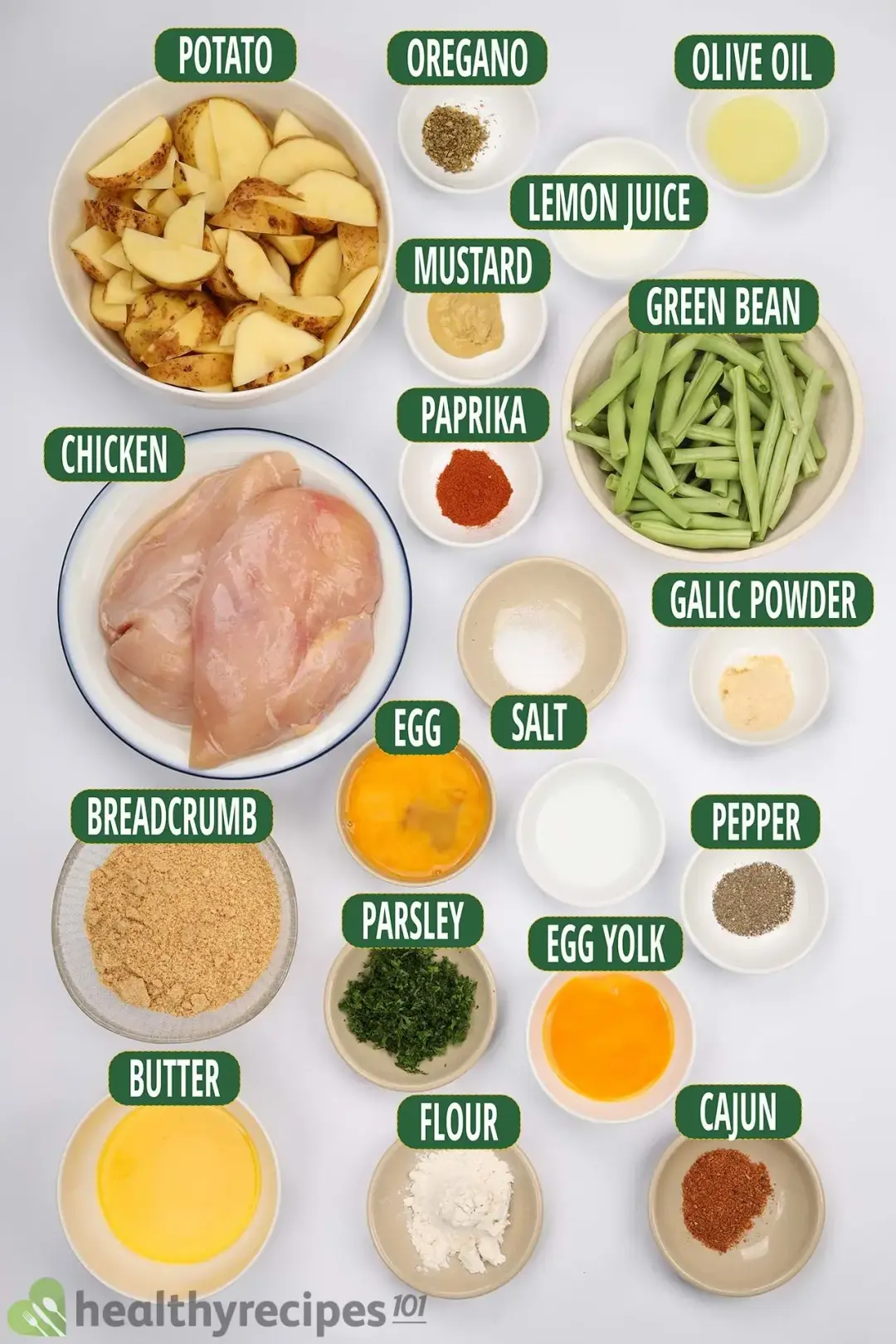 We chose skinless, boneless chicken breasts to save our prepping time since other cuts don't naturally come boneless. If you don't mind, thighs are a juicier, more flavorful option. Once skinned and deboned, chicken thighs can be used right away.
The chicken can be seasoned with anything you like. We're using a classic mix of salt, pepper, garlic powder, and for a spicy note: paprika and Cajun.
The breading station is quite traditional: all-purpose flour, eggs, and breadcrumbs. You can put the seasonings above into the flour instead of onto the meat.
Simultaneously, we season some potato wedges and green beans before cooking them. We simply toss them with paprika, oregano, and olive oil.
Sauce for Chicken Schnitzel
Today's sauce is a simple Hollandaise, which requires a food processor or immersion blender. Although all it needs is egg yolks, lemon juice, butter, and mustard, it's quite easy to mess up. Our next section will cover this in detail.
How to Make Chicken Schnitzel in an air fryer
First, place the potatoes into a bowl, cover it with cling wrap, and microwave for 8 minutes. This significantly reduces their cooking time in the air fryer later.
While that's going, butterfly the chicken breasts and slather them with the spice mix. Pound the meat with a meat mallet to flatten it.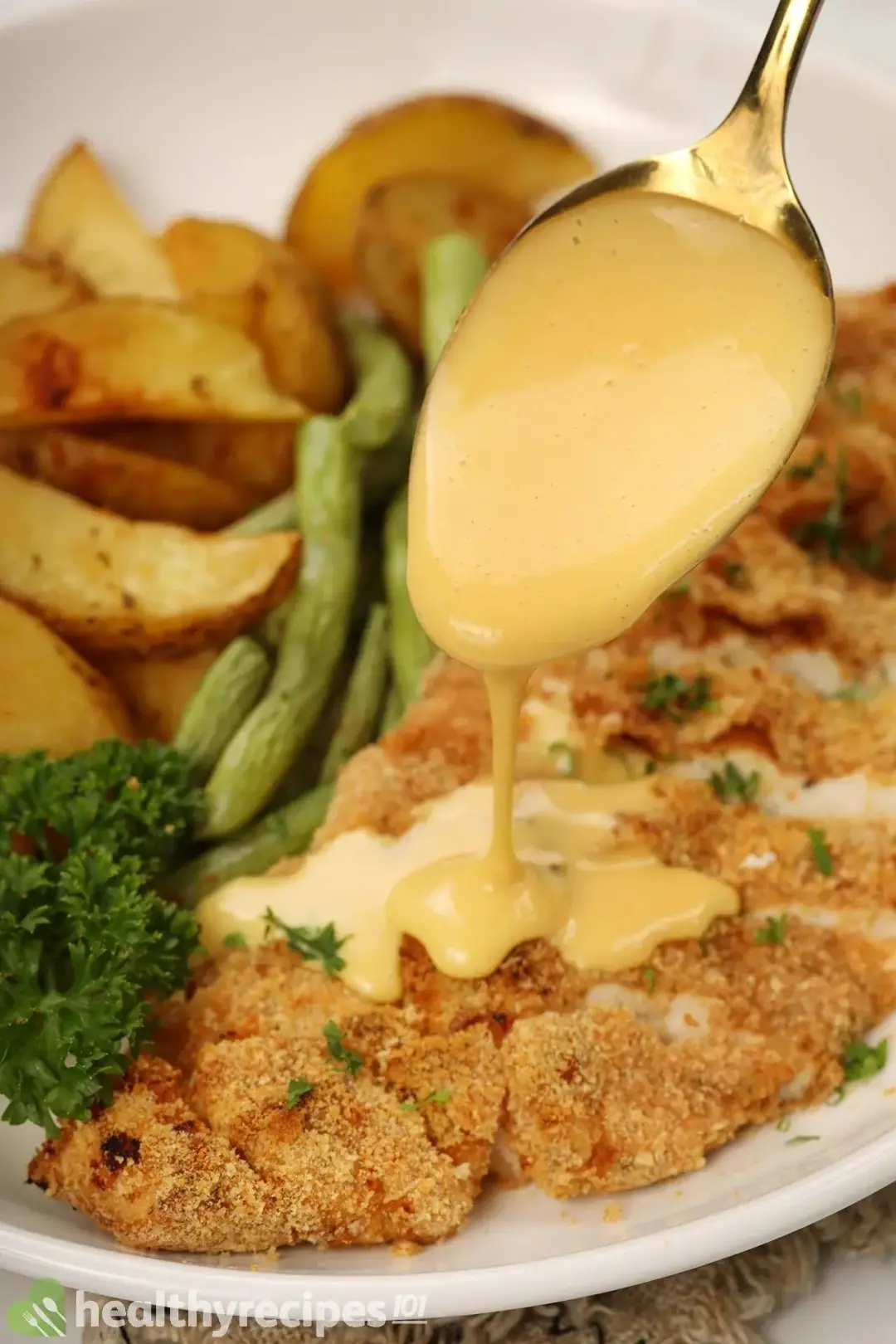 By the time the potatoes are done, add the green beans and cook similarly for 2 more minutes. We don't add them from the beginning because these two have different cooking times.
Once that's done, toss the potatoes with seasonings and air-fry for 15 minutes. Then, add the green beans and cook for 5 more minutes, for the same reason.
While they're cooking, dredge each chicken breast through flour, eggs, breadcrumbs, then eggs again, and breadcrumbs again. Remember to keep one hand dry — you don't want the sticky one to touch the flour or breadcrumbs.
Transfer the veggies to serving bowls and cook the chicken for 17 minutes. Meanwhile, we focus on the last mission: not messing up the Hollandaise.
Making the Hollandaise
First, if you're using an immersion blender, add the ingredients to something tall and narrow like a measuring cup. The mixture should double in size once finished, so choose wisely.
Next, blend the yolks with lemon juice, mustard, and salt. Keep the motor running on low in one hand, and, with the other, gradually add the butter into the mixture very slowly.
If you're not feeling the mixture thickening, you're adding things too quickly. The mixture can't be saved at this point, so toss it away, try a new batch and be careful with the speed.
If everything turns thick like yogurt, congratulations, and enjoy the meal. Otherwise, feel free to communicate your problem in the comments section below and we'll try to help you fix it.
Here's a recap: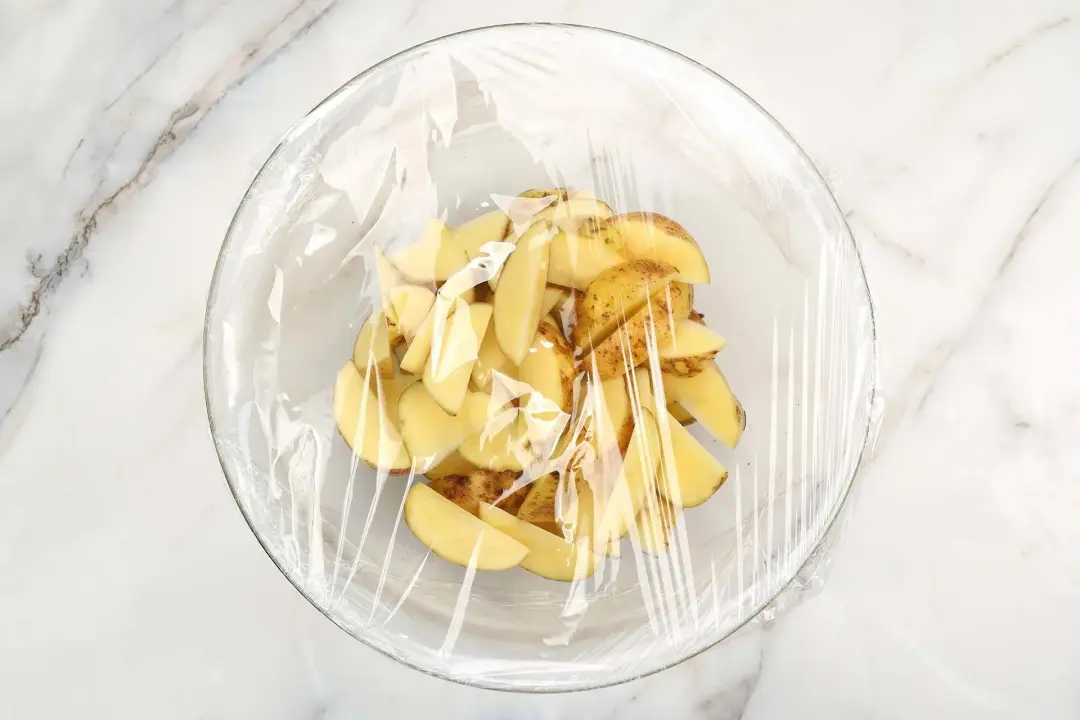 Microwave the potatoes.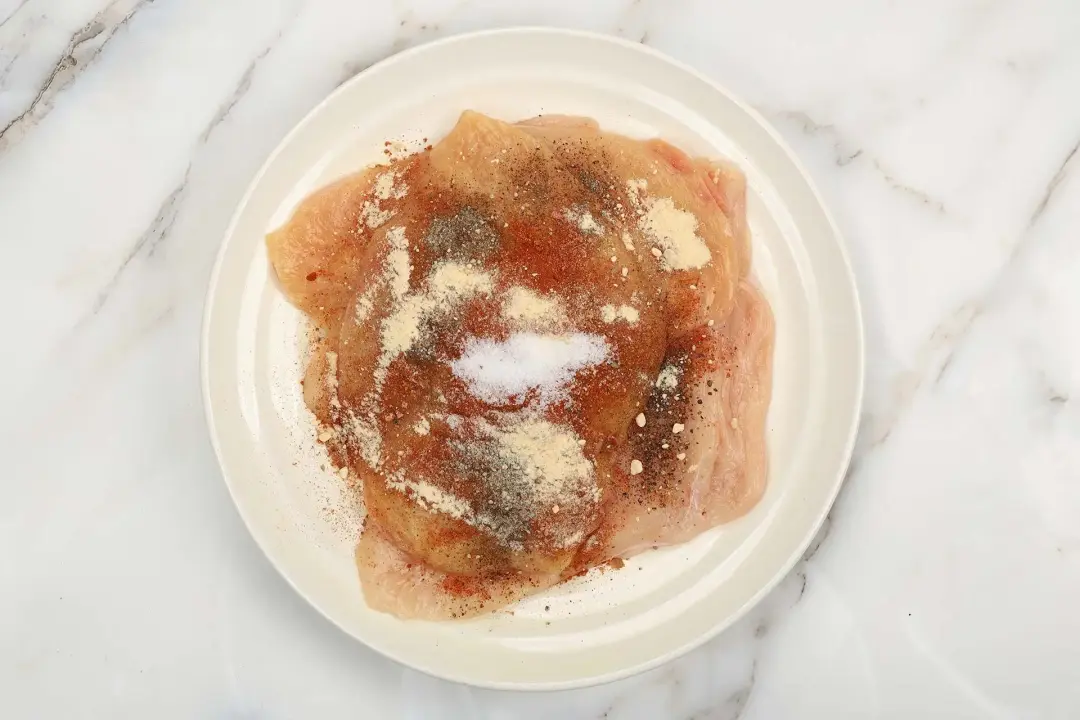 Butterfly and season the chicken.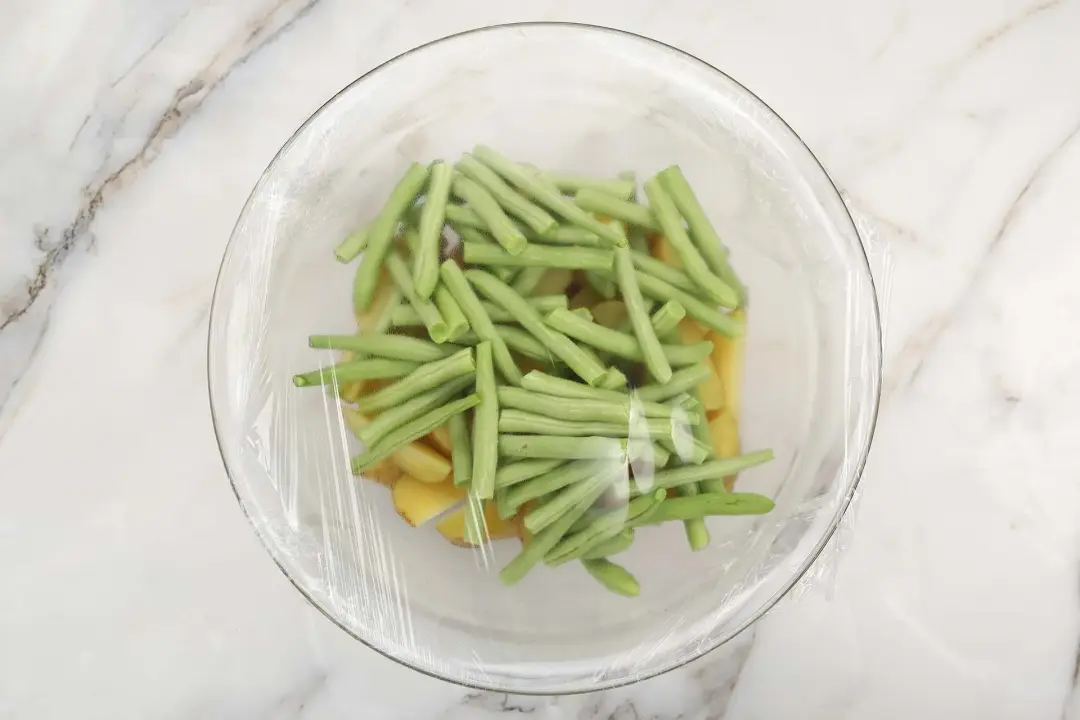 Microwave the green beans.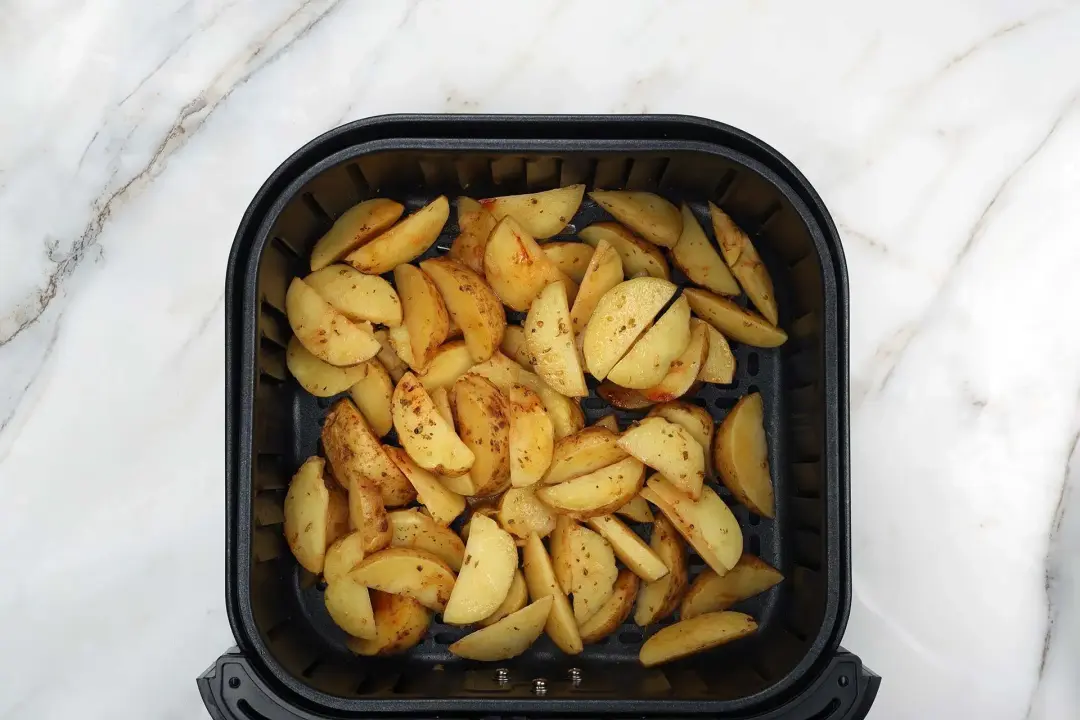 Season the potatoes and air-fry them.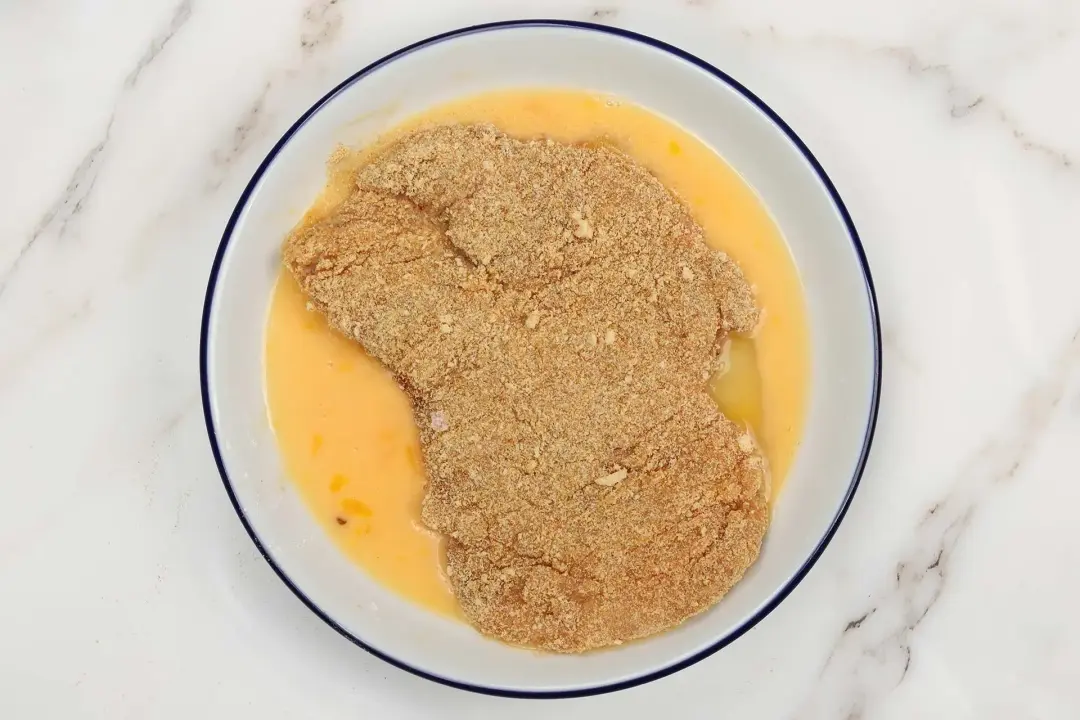 Coat the chicken breasts with flour, eggs, and breadcrumbs.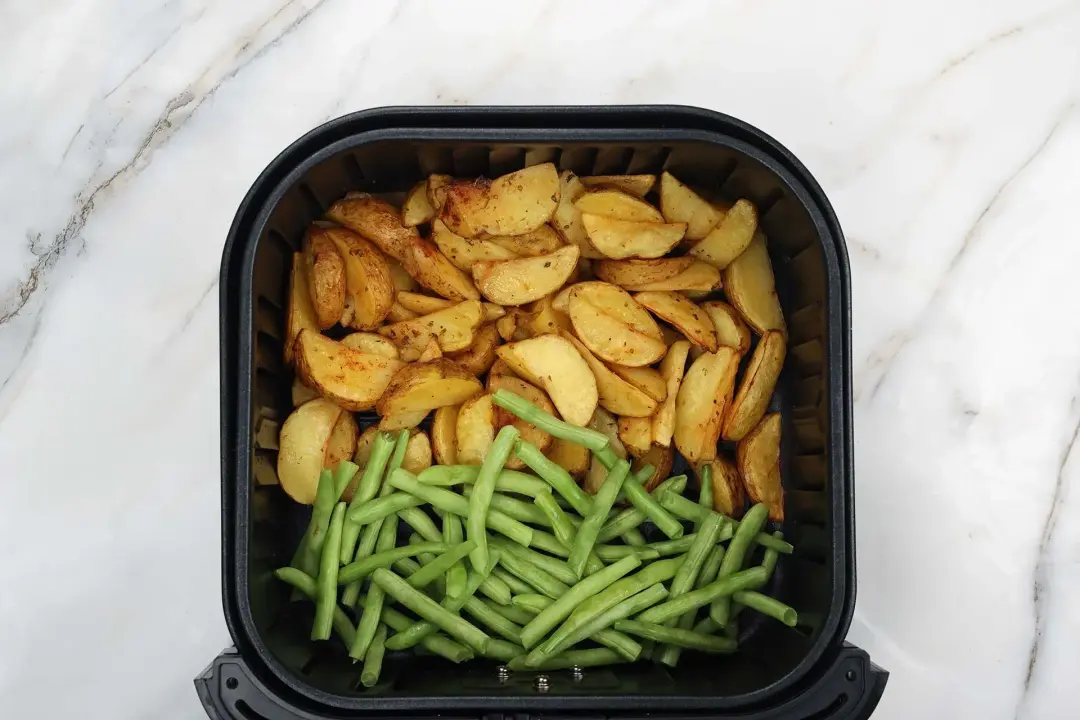 Add the green beans and air fry some more.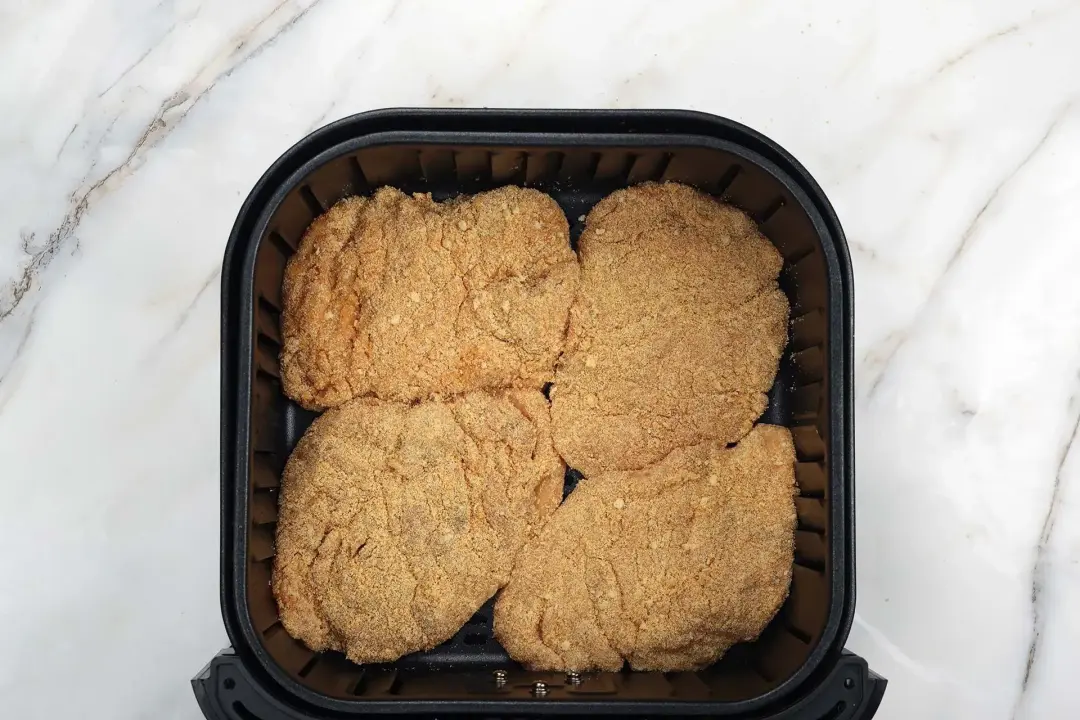 Put the veg away and air-fry the chicken breasts.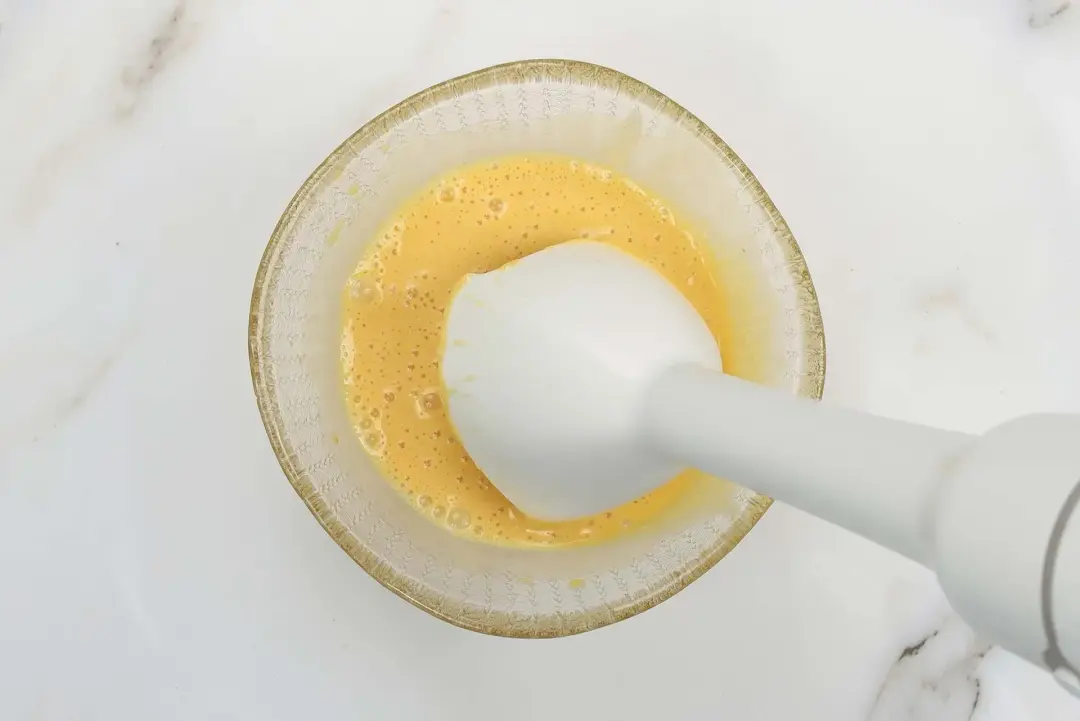 Make the Hollandaise sauce.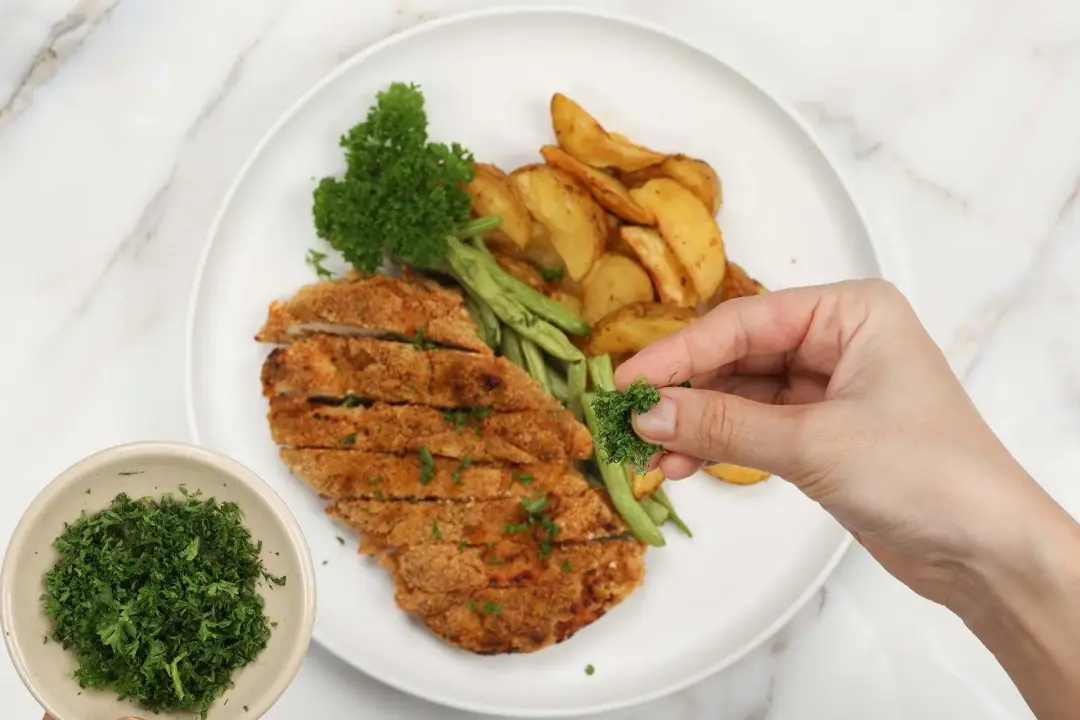 Enjoy the meal.
For more details, refer to our 'Air Fryer Chicken Schnitzel Recipe' at the bottom.
Can You Air Fry Frozen Chicken Schnitzel?
Yes, you can. In fact, that's how we'd meal prep — bread the chicken breasts, then store them in the freezer for up to 3 months. Since they're already flattened, they will take just about 3 – 4 minutes extra to air-fry.
Storage and Reheating Leftover Chicken Schnitzel
Leftover chicken can be nicely sealed in containers/bags and stored in the fridge for 5 days or the freezer for 3 months. 
The texture of reheated fried foods doesn't compare to freshly fried chicken. Hence, we recommend you try the method above to save you some time and still produce delicious Schnitzel.
What to Serve With Chicken Schnitzel
We're serving it with a simple side salad and drink. They bring freshness to the meal and balance out the rich sauce.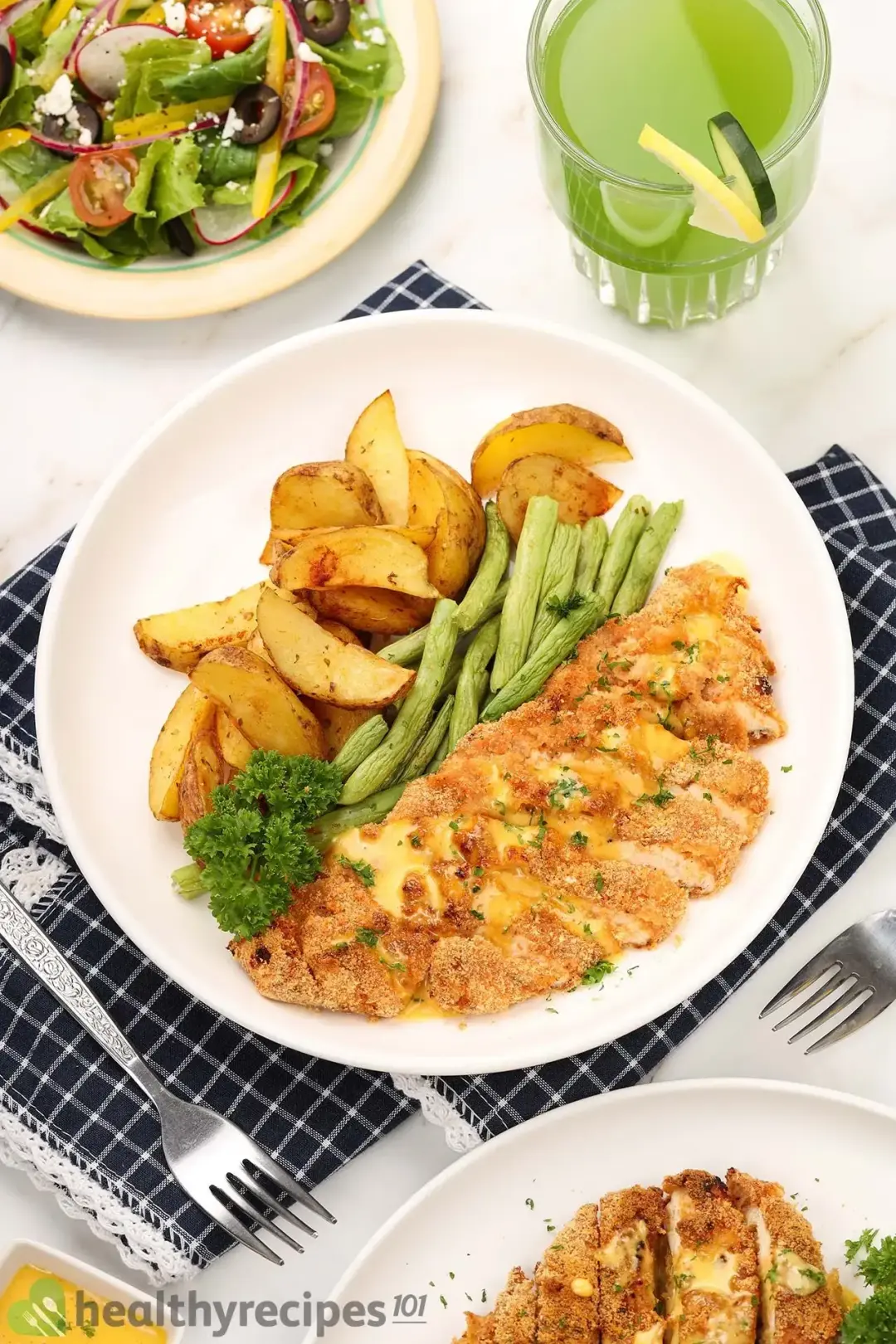 Air Fryer Chicken Schnitzel Recipe
This air fryer chicken Schnitzel recipe will help you prepare a crunchy chicken dish with spiced roasted veggies and rich Hollandaise sauce. It's simpler than you might think.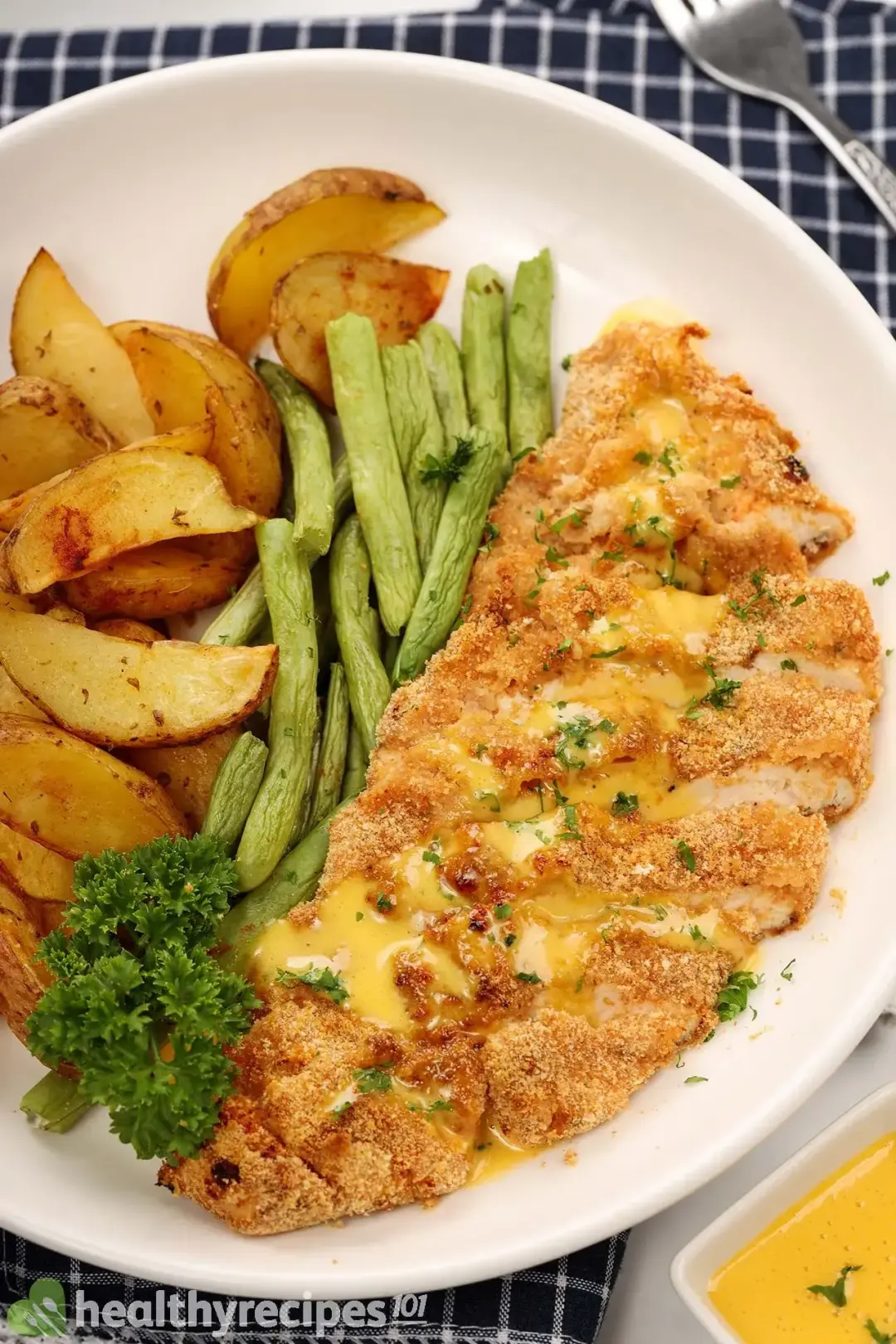 cook TIME

47 mins

prep TIME

8 mins

total TIME

55 mins
COURSE

Main Course

CUISINE

German

SERVINGS

servings

CALORIES

501 kcal
INGREDIENTS
20 oz

potatoes (cut into wedges)

6 oz

green beans (cut into bite-sized segments)

20 oz

skinless boneless chicken breast

1 tsp

paprika (divided)

1 tsp

Cajun seasoning

0.5 tsp

garlic powder

0.5 tsp

salt (divided)

0.5 tsp

ground black pepper

3 tbsp

all-purpose flour

1

medium egg

0.8 cup

plain panko breadcrumbs

0.5 tbsp

olive oil

0.5 tsp

dried oregano

3.5 tbsp

unsalted butter (melted and cooled)

2

large egg yolks

2 tsp

traditional Dijon mustard

1 tsp

lemon juice

2 tbsp

parsley (chopped)
INSTRUCTIONS
1
Place 20 oz potatoes into a bowl, cover with plastic wrap, and microwave on medium for 8 minutes.
2
Meanwhile, butterfly 20 oz chicken breasts and season all sides well with 1 tsp Cajun, 1/2 tsp paprika, 1/2 tsp pepper, and 1/4 tsp salt. Set aside.
3
Add 6 oz green beans to the potato bowl, cover, and continue to microwave for 2 minutes.
4
Transfer the green beans to another bowl and set aside. Toss the potatoes with 1/2 tbsp olive oil, 1/2 tsp dried oregano, and the remaining paprika (1/2 tsp), then air-fry them for 15 minutes at 400°F.
5
While waiting, prepare the breading station by adding 3 tbsp all-purpose flour, 1 whisked egg, and 3/4 cup breadcrumbs to separate bowls. Dredge each piece of butterflied chicken breast through the flour, eggs, breadcrumbs, then eggs again, and breadcrumbs again. Shake to remove the excess, and set aside.
6
Once the potatoes are done, add the green beans and cook for another 5 minutes.
7
Transfer the veggies to a bowl and set aside. Add the chicken to the air fryer and cook for 17 minutes at 375°F.
8
In a food processor blend together 2 large yolks, 2 tsp mustard, 1 tsp lemon juice, and 1/4 tsp salt. Keep the machine running while (very slowly) pouring in 3 1/2 tbsp melted unsalted butter, and blending until the mixture is thick and smooth. Select a tall container like a measuring cup if you're using an immersion blender.
9
Plate the chicken, cooked veg, and sauce. Garnish with parsley and enjoy.
NUTRITION
Nutrition Facts
Air Fryer Chicken Schnitzel Recipe
Amount Per Serving (1 serving)
Calories 501
Calories from FDA
% Daily Value*
* Percent Daily Values are based on a 2000 calorie diet.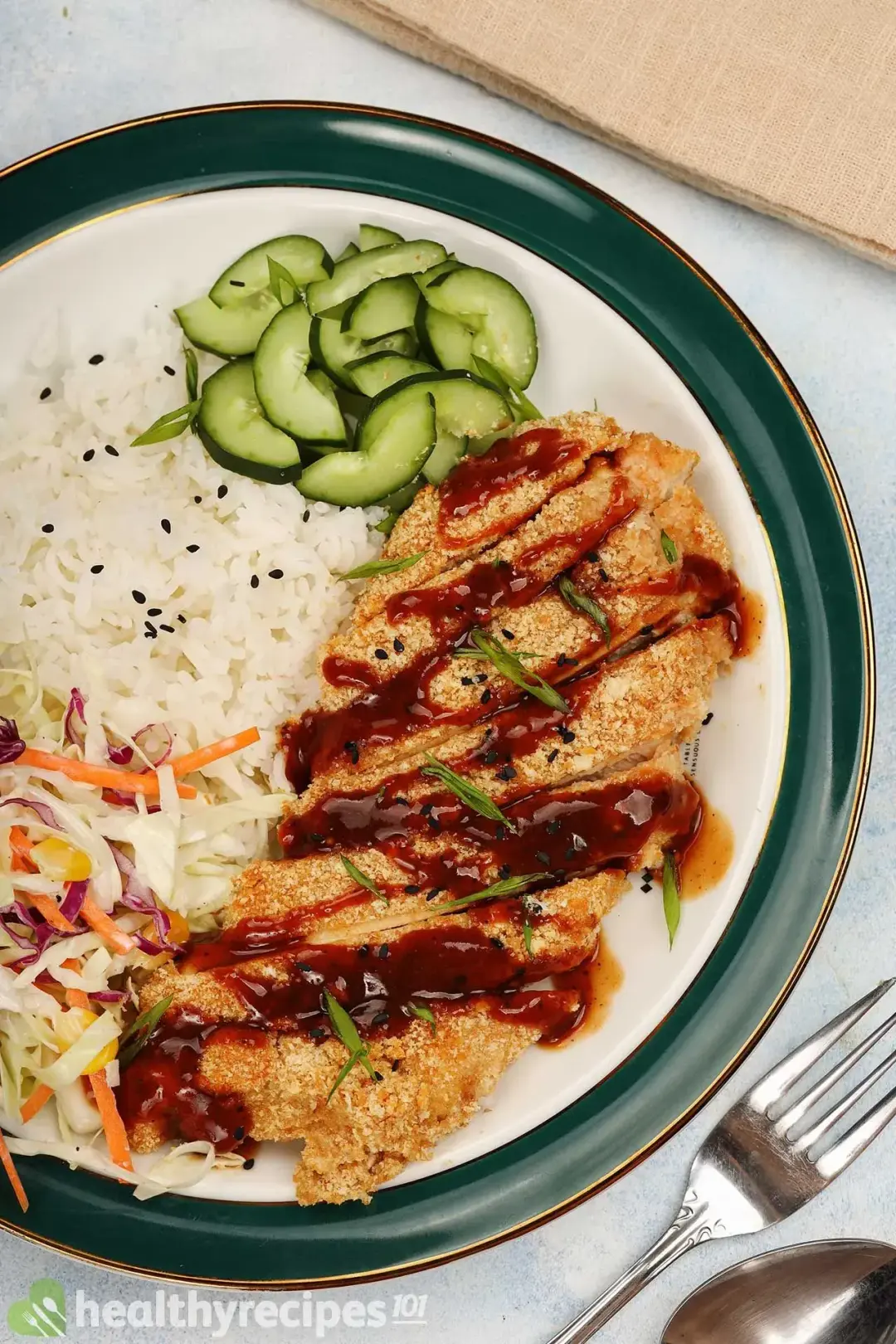 Previous Recipe
Air Fryer Chicken Katsu
Air Fryer Chicken Katsu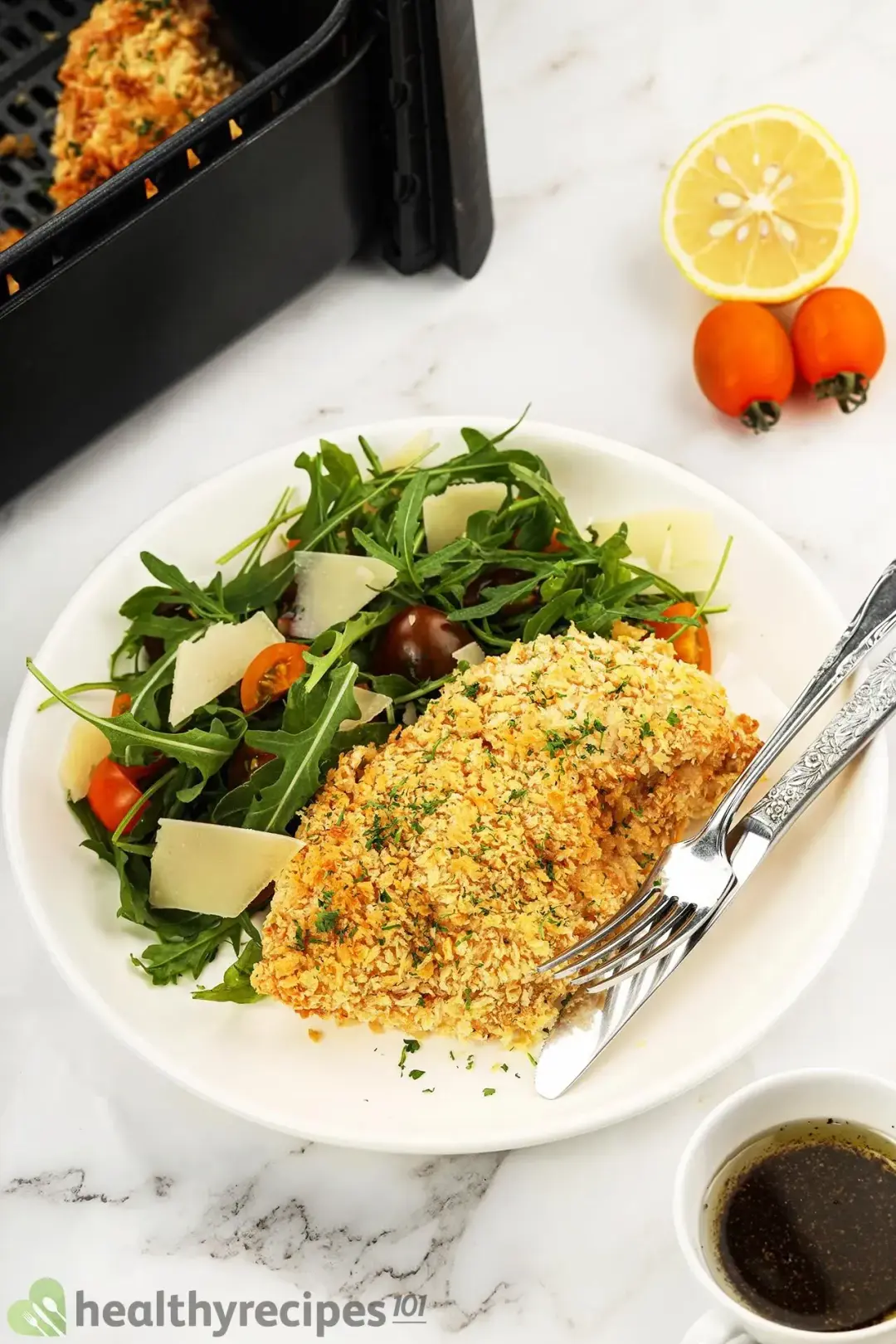 Next Recipe
Air Fryer Chicken Milanese
Air Fryer Chicken Milanese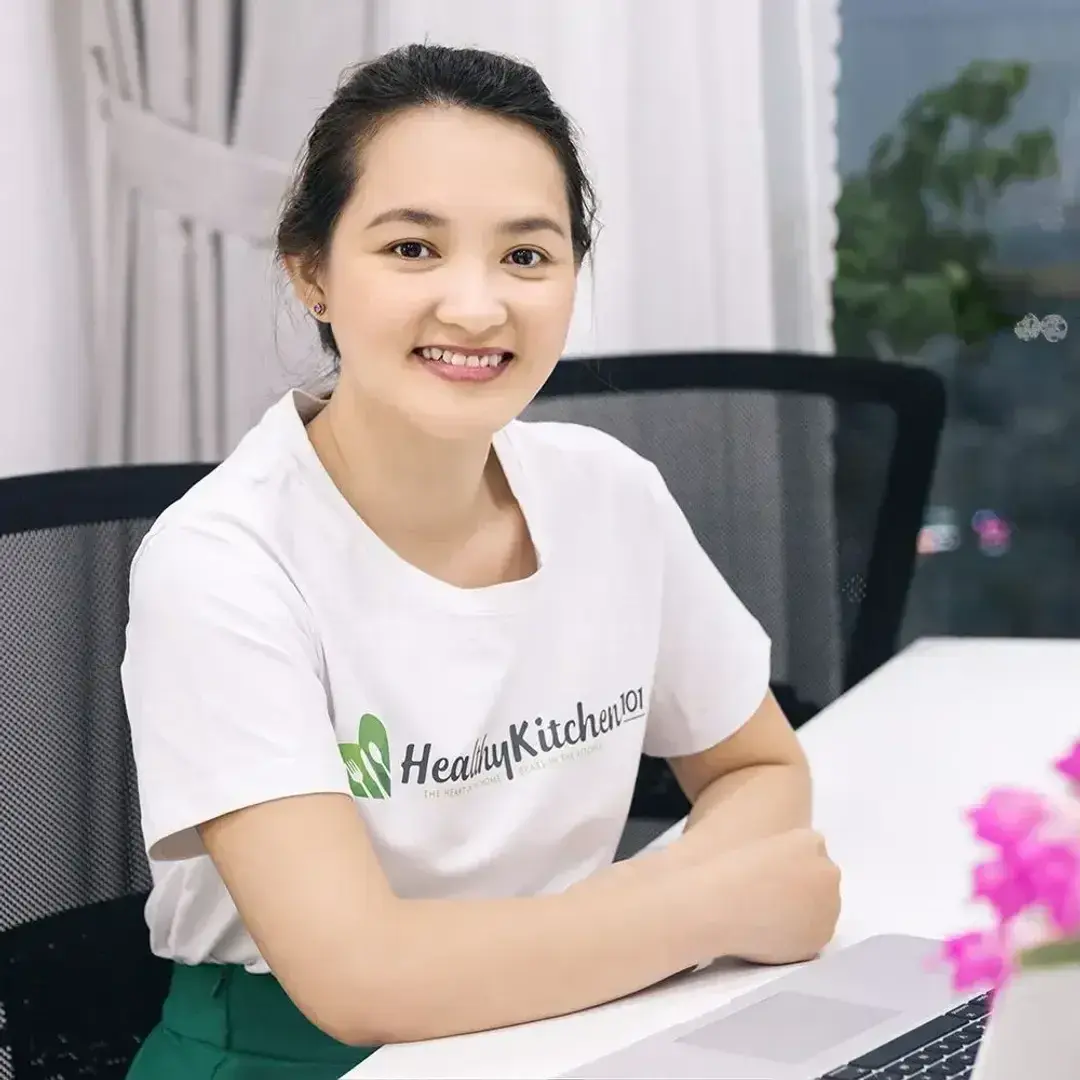 Founder
Luna Regina is an accomplished writer and author who dedicates her career to empowering home cooks and making cooking effortless for everyone. She is the founder of HealthyKitchen101.com and HealthyRecipes101.com, where she works with her team to develop easy, nutritious recipes and help aspiring cooks choose the right kitchen appliances.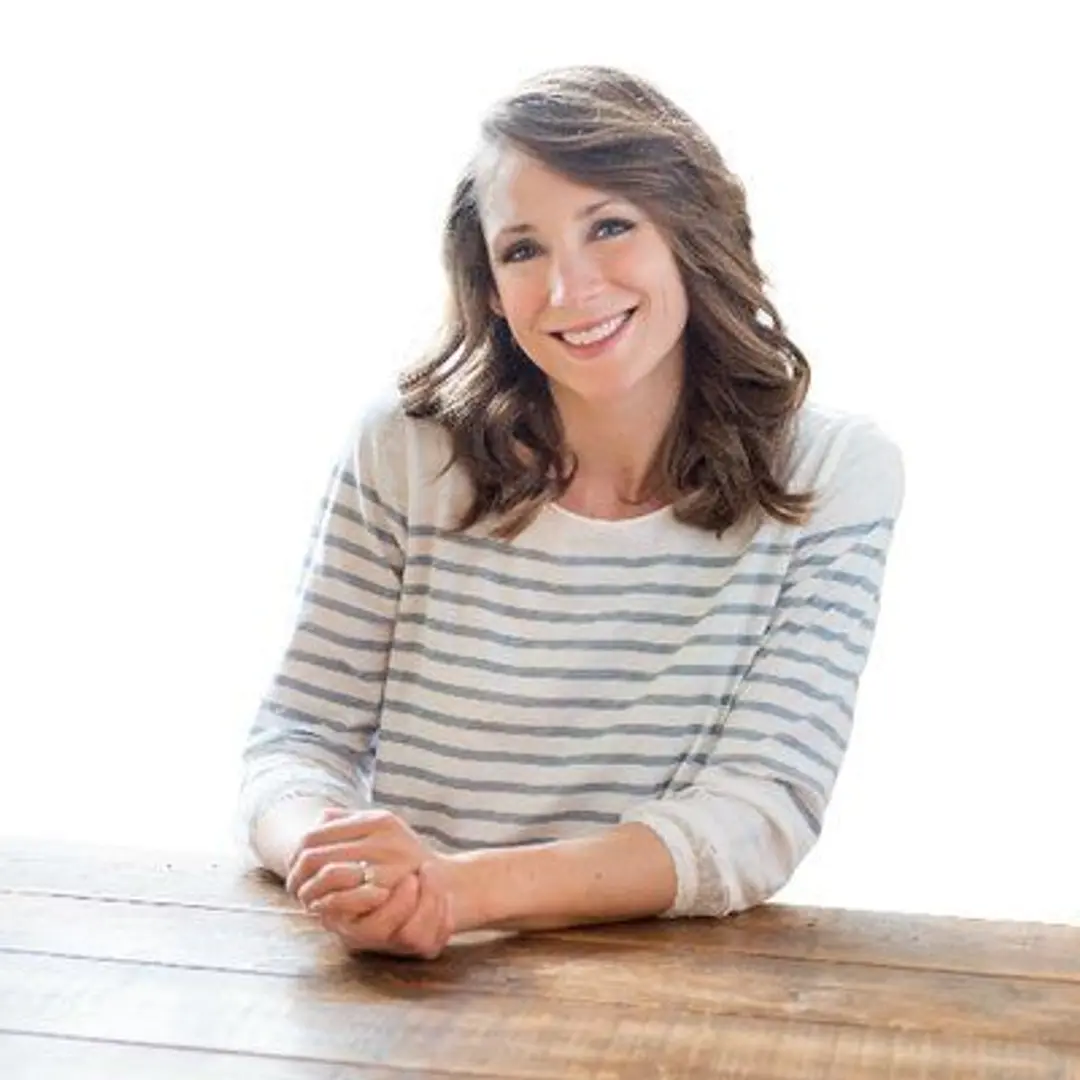 Nutrition Reviewer
Natalie is a registered dietitian nutritionist with a passion to help others live their best life through food, fitness, safer beauty and a healthy lifestyle. She has expertise with a variety of diets and diseases and believes that there is no one-size-fits-all approach for health.
Comments/ Reviews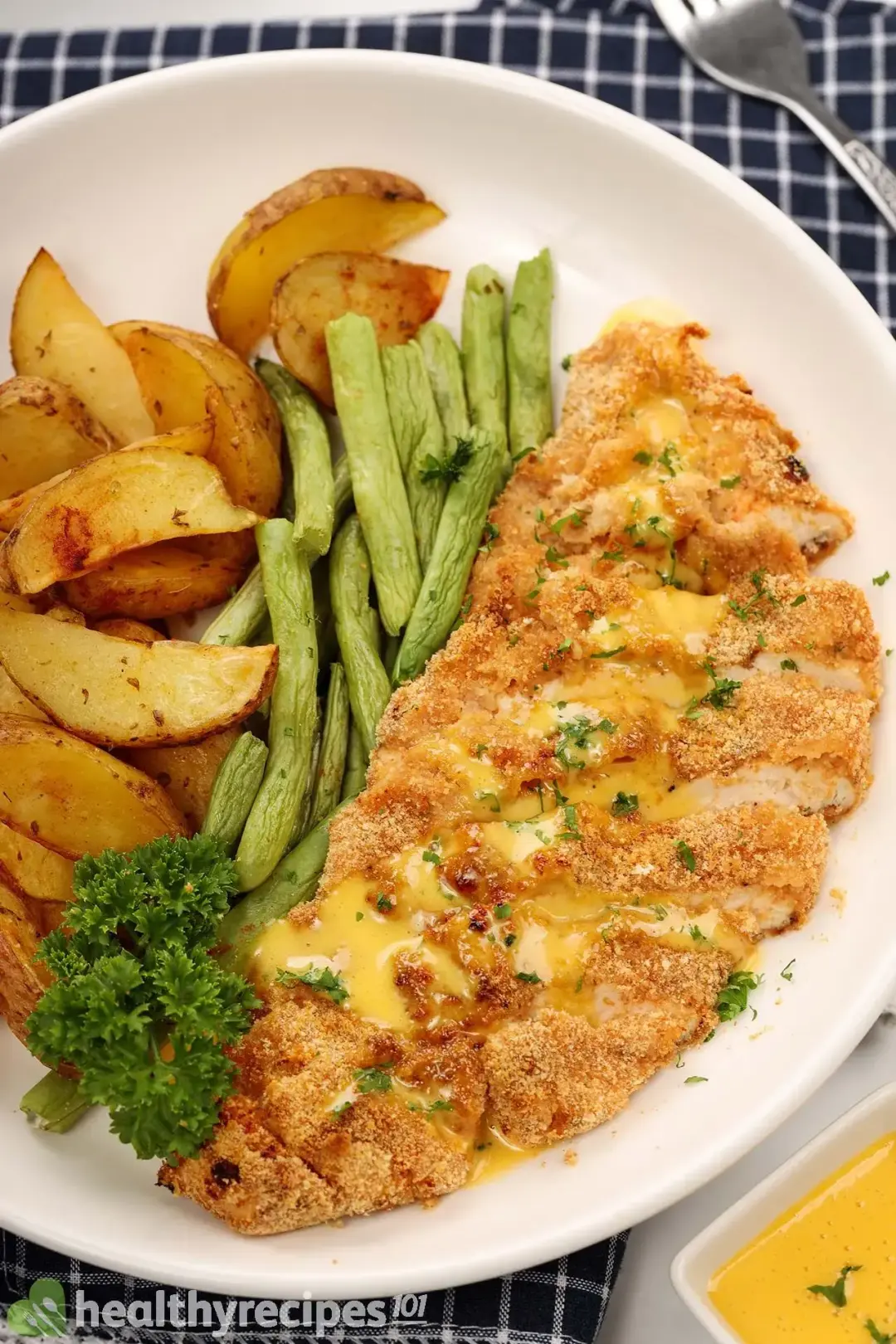 Air Fryer Chicken Schnitzel Recipe